Many New Yorkers argue that Brooklyn has overtaken Manhattan as the cultural epicenter of the city. We firmly Plead the Fifth on this, but we have seen that Brooklyn event venues are taking the city by storm. We have rounded up a private dining room Brooklyn compendium here for your restaurant-based events. You'll notice some themes with the private dining space Brooklyn has to offer, including a particularly beloved combo: Italian food and exposed brick. That said, each of the following BK dining spots have their own unique offerings with culinary interpretations, ambiance, decor, and everything in between. They all have their own stories to tell, whether they've been around for generations or opened last month. 
Incredible Private Dining Rooms in Brooklyn
Most of the following offer restaurant buyouts or a versatile use of space, but private dining rooms are a little world unto itself. Here's a dozen of our favorite Brooklyn private dining options to get the ideas flowing.
1. Olmsted
Neighborhood: Prospect Heights
Capacity: 24
If you happen to be a landscape architecture aficionado then you have definitely heard of Frederick Law Olmsted. His work–and that of his sons, known as "the Olmsted Brothers"–can be seen throughout the country, from prestigious academic institutions to iconic parks. The most famous of those recreational areas is undeniably Central Park, although cross over the Brooklyn Bridge and you can also see his legacy in Prospect Park. It was due to the latter resume item that chef-owner Greg Baxtrom named his farm-to-table restaurant Olmsted, located just two blocks away.
This whimsical restaurant in the heart of the borough only opened in 2016 but it has already solidified itself as a neighborhood staple with its fresh, vegetable-friendly menu and low-key charm. Full restaurant buyouts are available, but if you would like to book their new private dining room for 24 seated or 30 standing, accessing it is an experience unto itself. In the garden, walk into a hallway with a bespoke, floor-to ceiling forest installation created by floral designer Michelle Double. The inspiration? Part Jumanji, part "The Upside Down" from Stranger Things. A touch of quirky is an added bonus for every occasion.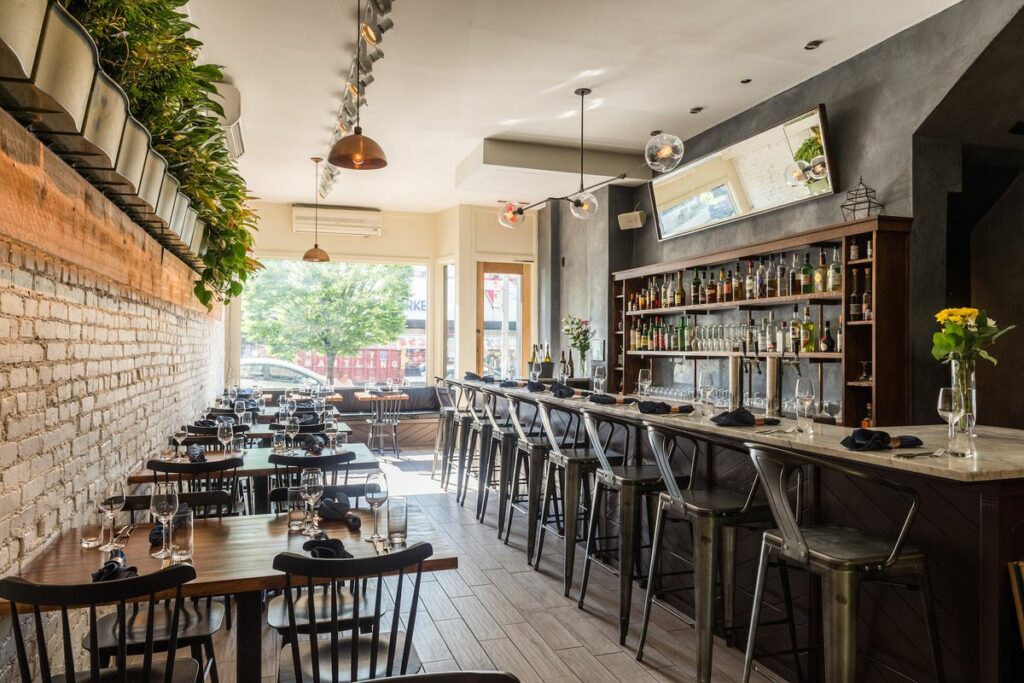 2. Vinegar Hill House
Neighborhood: Vinegar Hill
Capacity: 20
As if pulled from the pages of A Tree Grows in Brooklyn, Vinegar Hill House sits off a cobblestone street in an historic, waterfront neighborhood. The restaurant is a dream if you're looking for an intimate dinner event. There are two (indoor) private dining options available: their designated private dining room or their carriage house, each with a capacity of 20. If you're a fan of the private dining at Palma or Freemans over in Manhattan, then Vinegar Hill House is definitely up your alley. There's something for everybody on the menu, whether that's farmstead cheese with raspberry jam, cast iron chicken, or butter lettuces.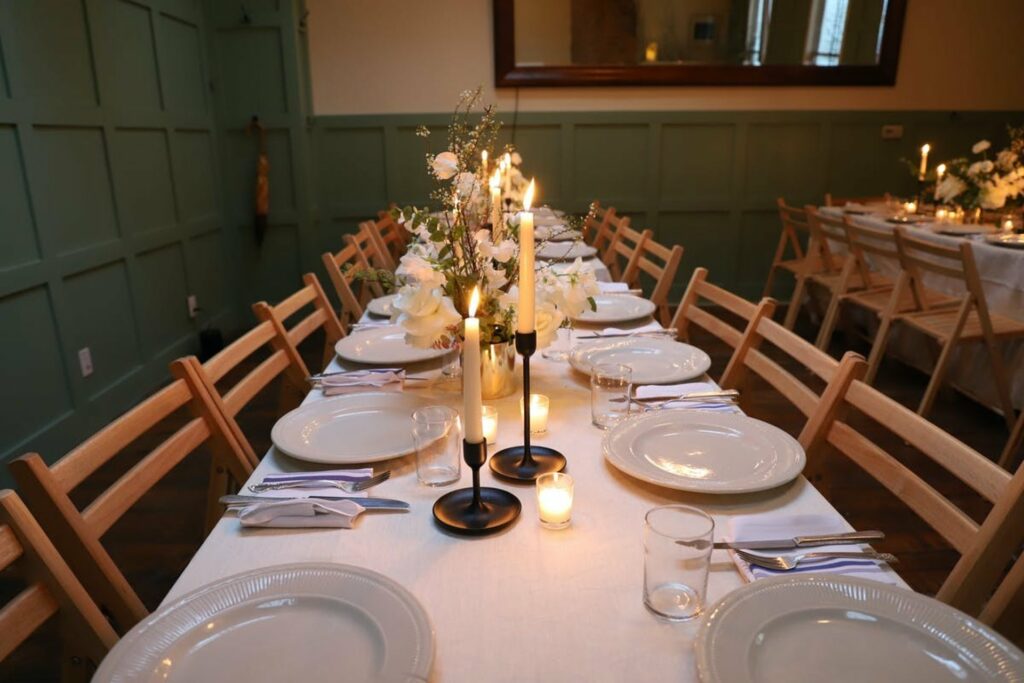 3. Sunday in Brooklyn
Neighborhood: Williamsburg
Capacity: 18
Despite its name Sunday in Brooklyn actually has three locations: the Seaport in Manhattan, London (!), and Williamsburg. There's a lot on offer at the Brooklyn (the actual Brooklyn) location. You can do a full buyout with the three story space, and with that you get a lot: the second floor sunroom (small wedding ceremonies have actually been held here), and a covered rooftop garden. However, their third floor private dining room is a special option if you're on the hunt for a space that can accommodate 18 people. A long wooden table, exposed brick, and vintage accents set the scene for a lunch/dinner event that feels unique but not overdone.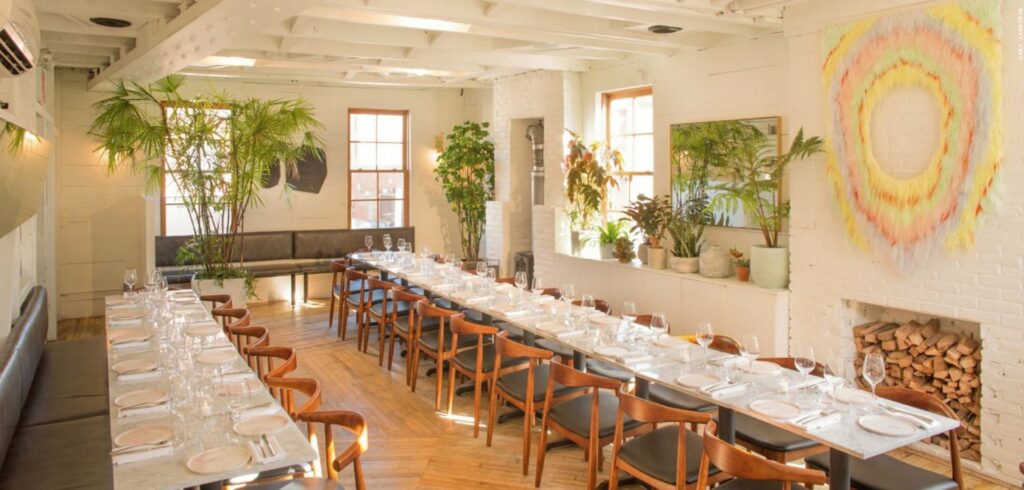 4. Bacchus Bistro
Neighborhood: Boerum Hill
Capacity: 50
French eatery meets wine bar at Bacchus Bistro. The food is exactly what you would hope at a place like this: who doesn't love mussels marinières? The wine list is extensive but approachable, and represents all the major wine regions of France—particularly from vineyards that focus on sustainable viticulture. This place has been around since 2015, but the private dining room is newly available. There's a real sense of occasion here, as well as a complete sense of privacy. It has access to one of the bistro's gardens, so guests can mill about. When it comes to private dining rooms this is on the slightly larger end for up to 50 people, so that in combo with the garden access means a nice flow.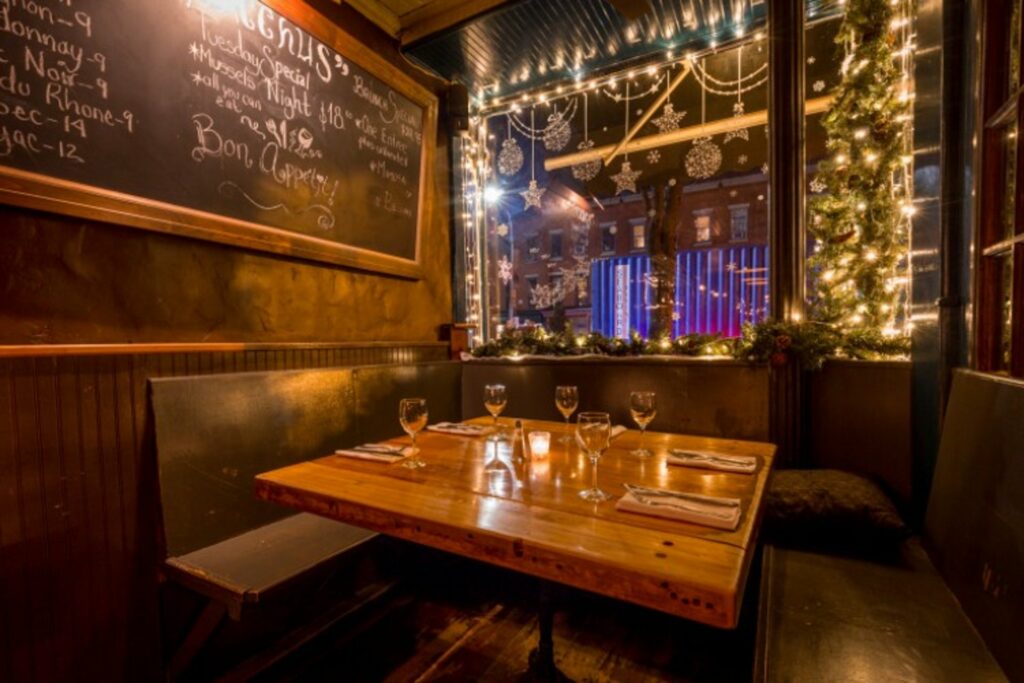 5. Leuca
Neighborhood: Williamsburg
Capacity: 26
Andrew Carmellini is a boldface name with his Noho Hospitality restaurant portfolio. That signature high-standard is on display at Williamsburg's Leuca where the menu takes a nod from Southern Italy. Situated in The William Vale, Leuca's Southern Italy inspired menu hits the spot with its wood-fire pizzas and homemade pastas. The restaurant itself is named after a town in Puglia, a region that boasts 50-60 million olive trees and accounts for almost half of Italy's olive oil production.
The private dining room "La Caletta" (which means a small bay or little harbor) reflects its Italian moniker accordingly. Hand-painted frescoes inspired by the coast and a long, white marble farm table evoke a Mediterranean atmosphere. This also has a separate cocktail bar and a built-in flat screen TV, so if you're looking to combine food with a presentation or show a slideshow at a rehearsal dinner, this spot is definitely user friendly for up to 30.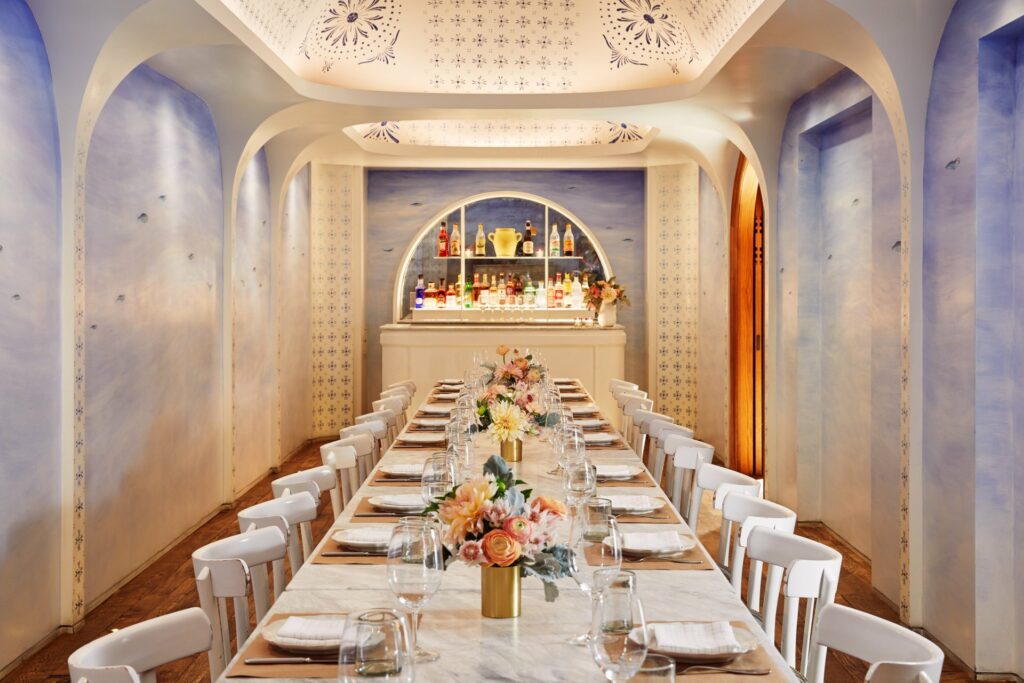 Make your event a little sweeter. Browse the top dessert caterers in New York!
6. Lilia
Neighborhood: Williamsburg
Capacity: 20
Continue your Italian wanderlust via Brooklyn at Lilia where classic cocktails, wood-fired seafood, and hand-crafted pastas render an epicurean experience that transports. There's a semi-private dining room for up to 20, and food is meant to be shared here which adds a warm, convivial touch. Chef-owner Missy Robbins has long been on the Italian food scene in Chicago and New York and she's received a number of accolades. Her most recent 2021 book Pasta: The Spirit and Craft of Italy's Greatest Food, with Recipes was also critically lauded.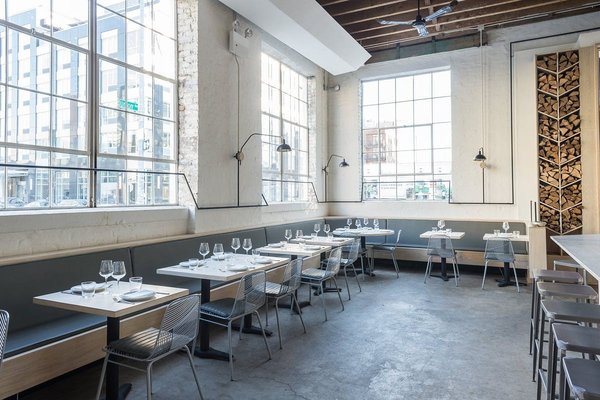 7. Verde on Smith
Neighborhood: Cobble Hill
Capacity: 50
At Verde on Smith you get a delightful indoor/outdoor feel—the patio doubles as an enclosed outdoor dining room, and can be customized in layout for up to 50 people, be it cocktail reception or seated dinner. The space is completely separated from the main dining room by a glass wall, so privacy remains intact. Patios may not scream "open in the winter" but it is here. Since it's enclosed and heated it works any month of the year. The food itself is Italian, delicious, and focuses on fresh and flavorful–yet simple–ingredients, rounding out a win-win for your event.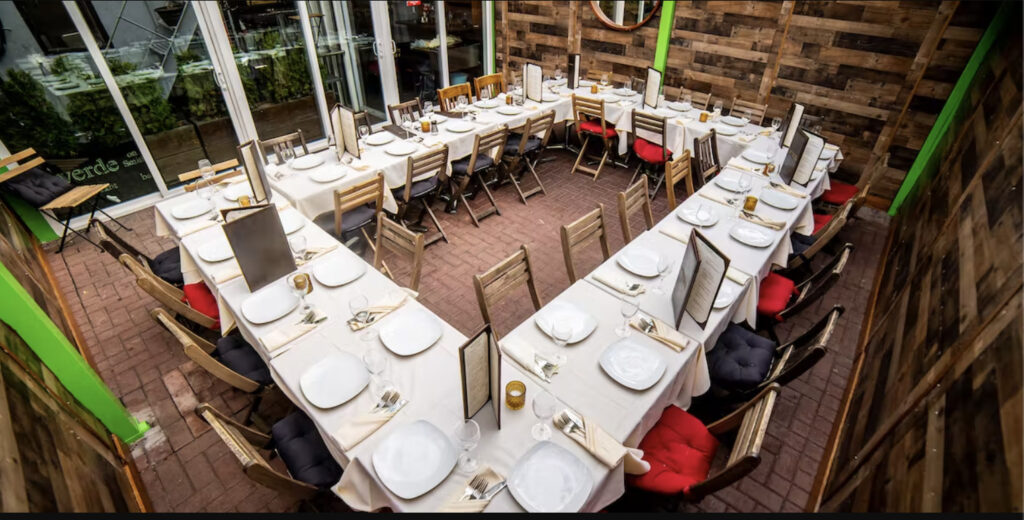 8. Dino
Neighborhood: Fort Greene
Capacity: 10 seated
Fort Greene's Dino is an upscale yet no frills place with a culinary focus on (you guessed it!) Italian. Particularly Northern Italy. This rule isn't hard and fast, but in general Southern Italian food takes its cue from the sea, while Northern Italian is more about the land. North, South, East, West…. The food is fantastic here. There's a contemporary feel, but the exposed brick adds that quintessential touch of Brooklyn. Meanwhile the upstairs private dining room has a flexible layout for up to 40 standing, and good natural light.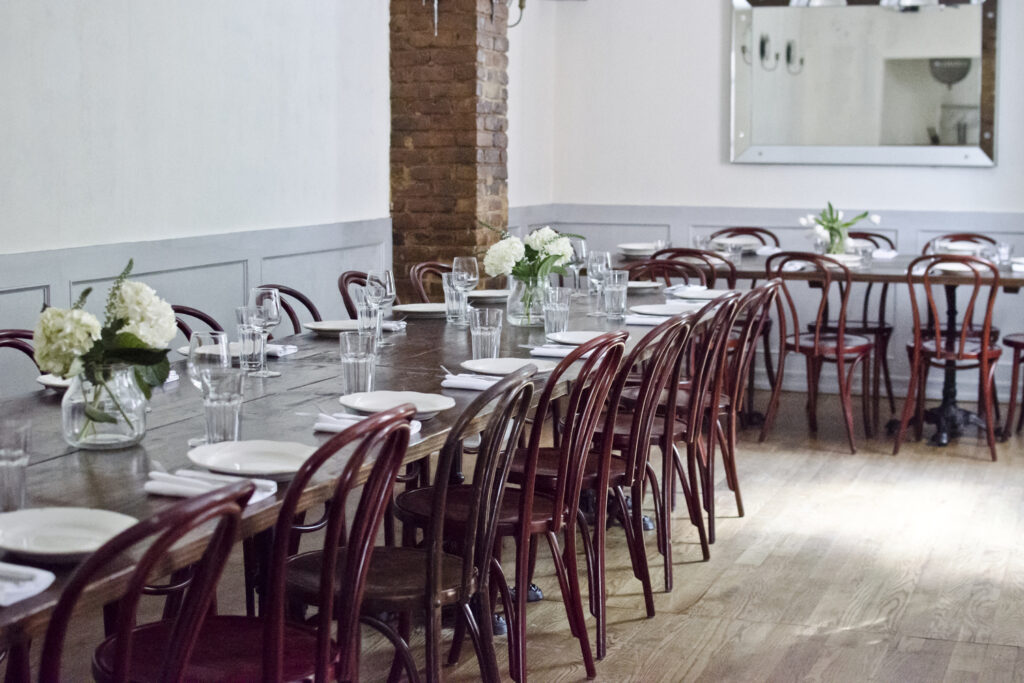 9. Aurora
Neighborhood: Williamsburg
Capacity: 50
The ivy-covered Aurora eatery has only been around for a decade or so, but it's already been established as a Williamsburg landmark. That said, Brooklynites and those from other boroughs, cities, states, and countries will become enamored of the enclosed patio which can be exclusively reserved for 50. Romantic and warm twinkle lights woven throughout a semi-covered awning creates an oasis-like feel, while the combination of greenery and wood evoke that intangible Best-of–Brooklyn aesthetic. If wine is on the mind there's over 150 labels to choose from and the food is * chef's kiss*.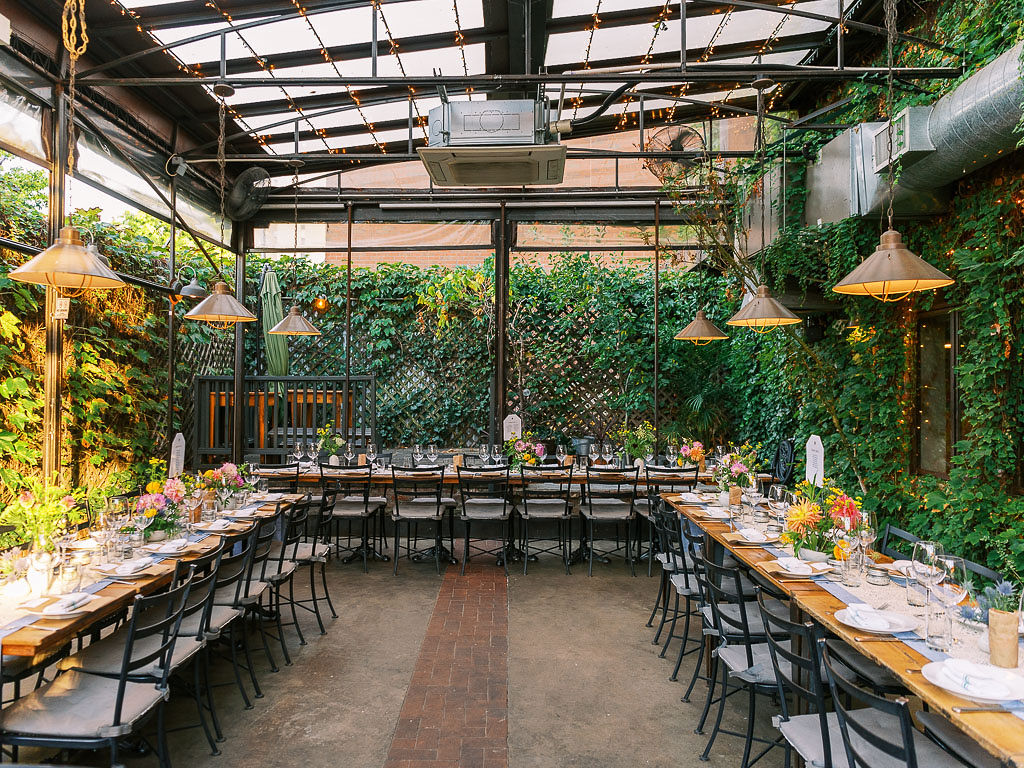 10. The River Café
Neighborhood: DUMBO
Capacity: 100
It's impossible to talk about The River Café without talking about Michael "Buzzy" O'Keeffe. This dapper and homegrown New Yorker is arguably responsible for spearheading the transformation around the Brooklyn Docks. New Yorkers now associate the DUMBO ("Down Under the Manhattan Bridge Overpass") area with multi-million dollar apartments, sweeping enviable views, and a thriving cultural scene. In the 70s, not so much—it was essentially an abandoned dockside area, with the only signs of life being trucks coming and going from the pier. It was depressing to say the least and also a fitting backdrop for the city's financial woes. What follows is the stuff of New York lore and a story for another day, but in short: the restaurant opened in 1977, a Michelin star followed, and legendary chefs cut their teeth in the kitchen. Buzzy is still in the director's chair over 40 years later.
So, if you opt for The Terrace Room–which can accommodate up to 100 guests–for your next event, you're not only getting a room with some of the most breathtaking views out there, but you're getting a real slice of Brooklyn history.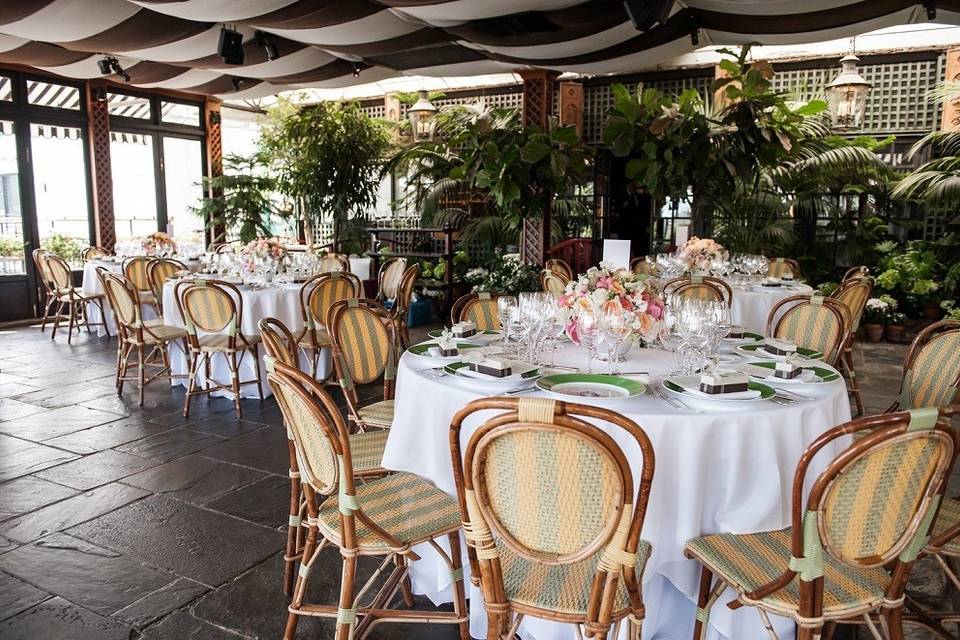 11. Colonie
Neighborhood: Brooklyn Heights
Capacity: Contact for more info
While the food is seasonal American, the name of the eatery pays tribute to the city's Dutch roots. In the mid-1600s, in the days of New Amsterdam, Bruijkleen (alternatively Breukelen) Colonie was established, named after a town in The Netherlands. Flash forward a few centuries or so and we get Colonie. It's all about the community here. They use as many local farms as possible, and it's a real neighborhood spot to have a meal or a drink at the bar. While the menu is all-encompassing this is especially vegetarian friendly (perhaps because one of the owners is one).
12. Convivium Osteria
Neighborhood: Park Slope
Capacity: Contact for more info
Enter through what looks like an old storefront, complete with antiques in the windows, and you'll find yourself in Convivium Osteria. For over 20 years this has been continuously celebrated for the authenticity of their Italian food, and that's high praise in a city that takes this cuisine seriously. Private dining here perfectly complements a sense of old world charm, where you can have a candlelit event in the wine cellar straight out of an Italian farmhouse. About that wine: there's over 300 labels to choose from.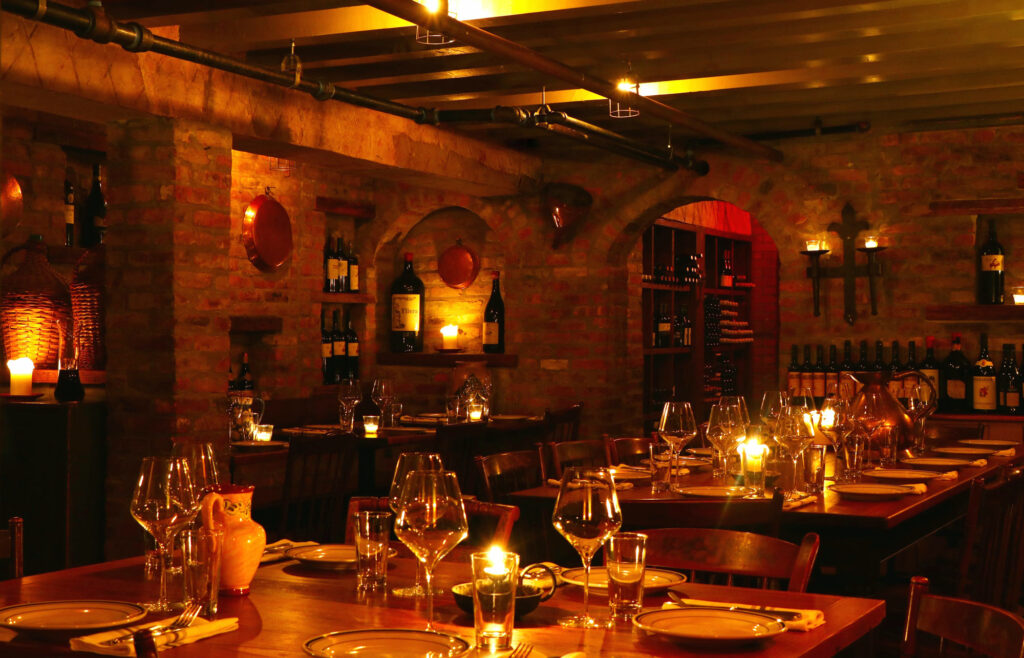 Why Finding the Right Restaurant for Your Event is So Important
So you're hosting an event in NYC? Good choice. Zero-ing in on Brooklyn for your gathering will get you extra "cool points" for sure. Even if you're handling a larger dinner event, there's something inherently more personal and intimate about holding it in a restaurant, and even more so when it's a private dining room. Restaurants are typically not raw space, but come with a particular personality, atmosphere, and food. Rather than creating your own vision for the space it's about working with what's there, so take your time and visit before booking when possible.
When Should You Consider Booking a Private Dining Room for an Event
Private dining rooms can be used for a variety of events, although usually it's going to be on the smaller side. That can include team gatherings, corporate lunch/dinners, celebratory team nights out, you name it. There are exceptions to the rule of course, and you can always consider these private dining rooms in the context of doing a restaurant buyout.
Top Things to Consider When Booking a Private Dining Room
First and foremost (after budget): the food! Nine out of ten times you're going to use in-house catering, so familiarize yourself with the menu. Something can look objectively delicious, but maybe for your lunch event you're looking for something that's on the lighter side and less about wood-fired pasta. That works the other way, too.
Private dining rooms/areas (when not doing a buyout) have their capacities, but when possible still check it out in person. Just because a certain number can be safely accommodated, you might feel like the max makes it feel a skosh crowded. That's usually not an issue, but still good to be aware of.
Another big one is light: many private dining rooms are not necessarily covered with floor-to-ceiling windows and are either below street level or in the interior of a building. That can create a really cozy, intimate, and romantic feeling at night but if natural light and/or views are really important to you and your client, assess accordingly.
Find the Best Private Dining Rooms on The Vendry
The Vendry has helped industry professionals with in-person, virtual, and hybrid events of all sizes, from small pop-ups to large conventions. If the need for a private dining room is on deck, we would be delighted to help you narrow down your needs and start a proposal—no matter what side of the East River you're on. Get started on your private dining room search today.
Read More:
Go Big With Your Event at One of These Large Event Venues in Brooklyn
Jaw-dropping Rooftop Venues in Brooklyn You'll Fall in Love With
Take in the Scenery at the Top NYC Venues with the Most Stunning Views