A big event means a big venue. Portland is just the city to give your next large-scale corporate meeting, conference, product launch, or company off-site that perfect backdrop. From the Central Eastside to the Pearl District, Portland's diversity and charm lends itself as a canvas for a memorable event. When it comes to getting your important message across, read on to source out Portland venues worthy of hosting your customers, clients, or colleagues.
15 Large Event Venues in Portland for Your Next Big Event
Venues in Portland have lots to offer. From ballrooms with connecting hotels or spaces that offer an outdoor element, you will certainly find what you are looking for in the City of Roses. Check out these large event venues in Portland to secure your spot for your next upcoming corporate event.
1. The Loft at 8th Avenue
Neighborhood: Northwest District
Capacity: 40
Modern industrial is the vibe at The Loft at 8th Avenue, a large multi-space venue in Southeast Portland. It can be hard to find a venue this large with indoor/outdoor functionality, but the Loft at 8th Avenue nails it. The Annex and Outdoor Patio offer up more than 8,200 square feet of workable space, including exposed-strut ceilings, polished cement floors, and neutral walls. Enjoy the outdoors with The Annex's retractable doors that open up to the Outdoor Patio, a space that is easily tented all year long. Most impressive is the space's dedicated audio/visual,  hosted by Really BIG Video, featuring a high-powered distributed down throw system, complete with projection. Rental of these two spaces also includes use of the venue's Green Room and Tasting Room. (©Evrim Icoz Photography)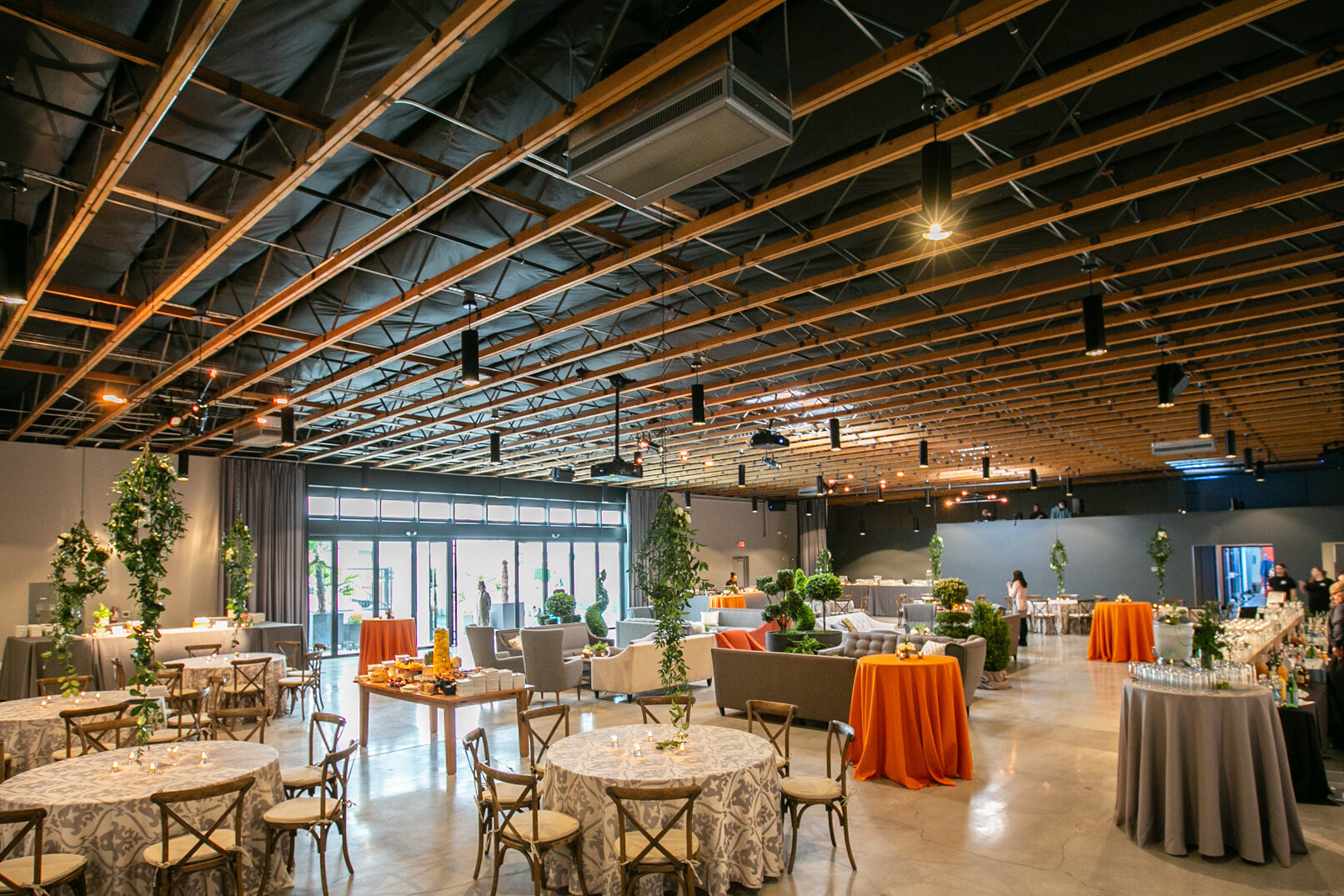 2. Leftbank Annex
Neighborhood: Lloyd District
Capacity: 500
Situated in the busy Lloyd District is Leftbank Annex, a two-story, blank canvas of a venue just waiting to host your next large corporate event. The Greatroom is located on the upper level, offers more than 7,000 square feet of high ceilings and big windows, and features "the nest", an elevated loft space above the crowd perfect for photobooths or emcees. On the lower level, enjoy use of The Clubroom, a 4,000-square foot space that lends itself for meetings, presentations, or more intimate occasions. Tie it all together by partnering with one of the caterers from Leftbank Annex's preferred list, and you've got yourself a great space.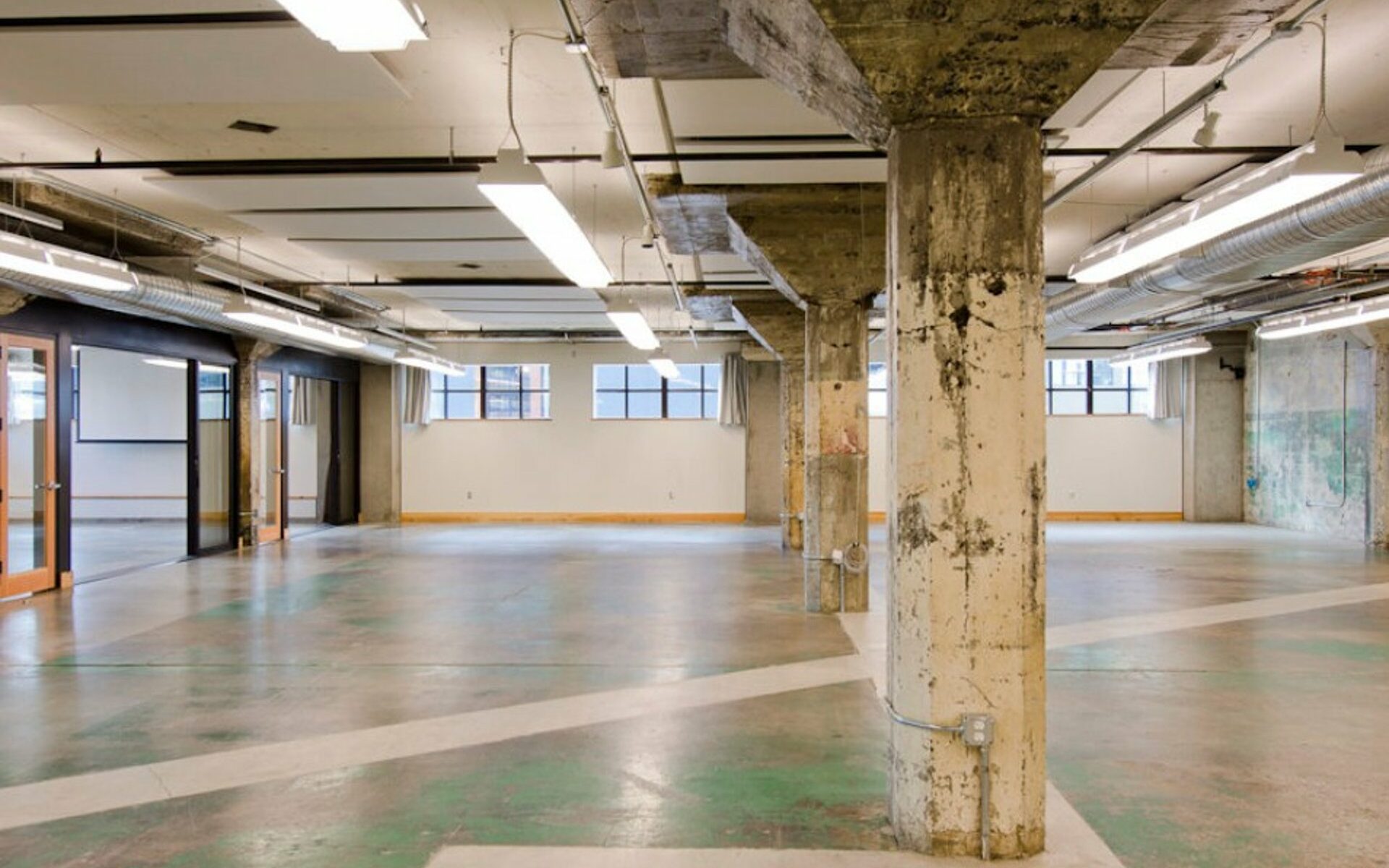 3. The Redd
Neighborhood: Central Eastside
Capacity: 670
Sprawling across two city blocks in the Central Eastside Industrial District is The Redd, a food hub of eating, cooking, learning, and celebrating. There are four spaces within The Redd, all of which can be combined or stand on its own. The largest option is The Redd's Plaza & Parking, a 22,000 square feet courtyard that has lounge furniture, space for food trucks, and an enhanced audio/visual package. At 8,000 square feet, the Main Hall is an industrial-chic indoor space that is fully customizable, complete with integrated audio/visual, and a full commercial kitchen. The Big Dawn Board Room is 500 square feet, perfect for breakout sessions with an in-room wet bar. And finally, the Commercial Kitchen, a place that embodies what The Redd is all about, just right for a corporate outing or interactive demonstration. (©Evrim Icoz Photography)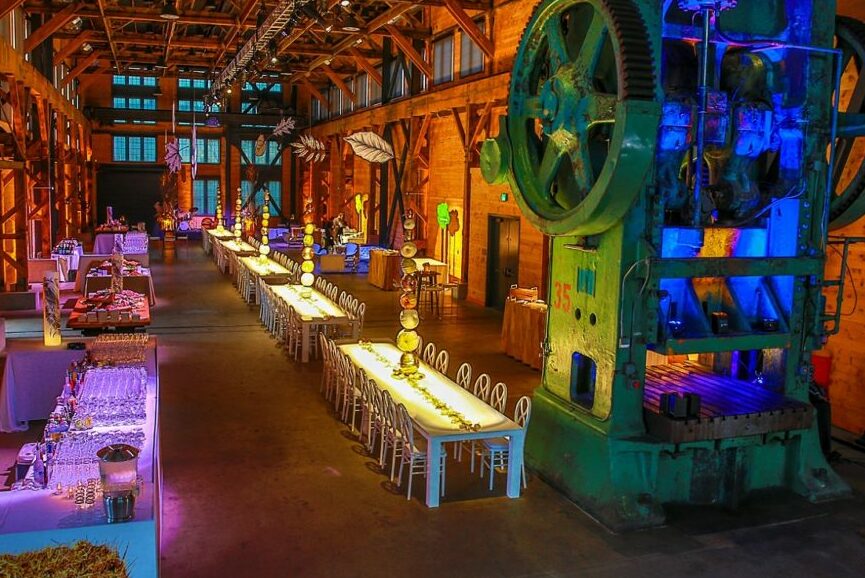 4. Oregon Convention Center
Neighborhood: Lloyd District
Capacity: 8,000
If you need to go big, this is big. And stunning. And creative. The Oregon Convention Center (OCC) and its distinctive spires is the largest of its kind in the Pacific Northwest. There's a whopping 255,000 square feet of exhibit space here, with 52 meeting rooms, two ballrooms, three VIP Suites, and a large Skyview Terrace. No need to worry about food and beverage, as the OCC's in-house Levy Catering offers full-service options. With 800 spaces at their underground parking garage and professional event managers on-site, the OCC is one of the most gracious hosts of large scale events in town.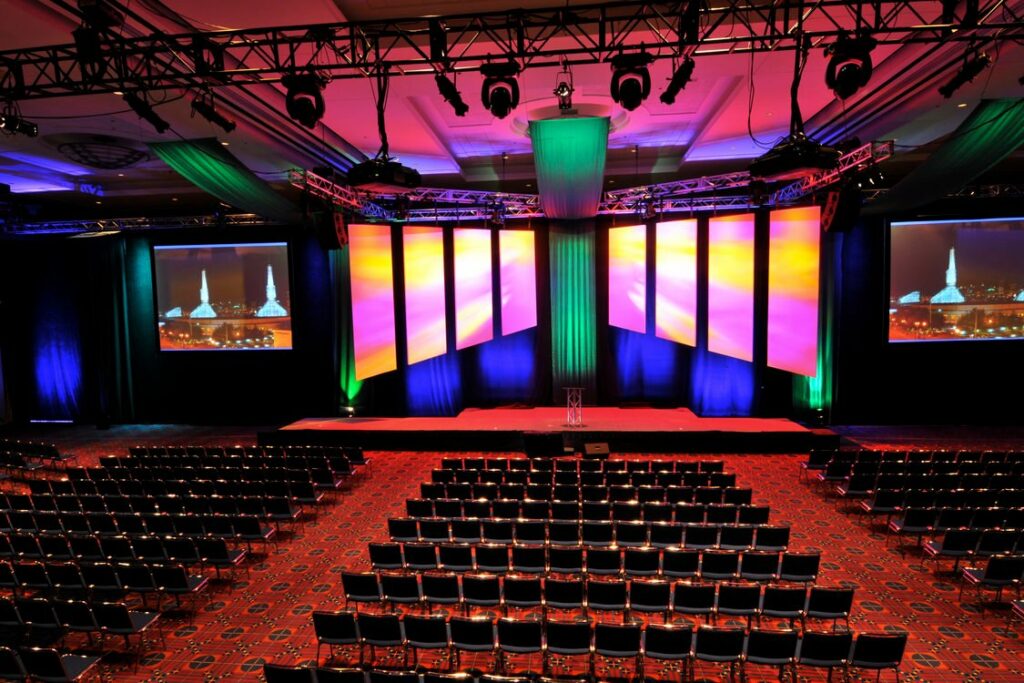 5. Ironlight
Neighborhood: Lake Oswego
Capacity: 250
A dynamic venue in charming Lake Oswego just south of Portland, Ironlight offers panoramic views of Mount Hood and the Cascades in a breathtaking display. Celebrate the fresh air with their indoor/outdoor space that features glass doors that open into to separate rooftop terraces. There's about 4,000 square feet of workable space at Ironlight, including a kitchen and executive suite. Work with their experienced staff to curate your meeting however you'd like, just hope your colleagues will be able to concentrate with that stunning view.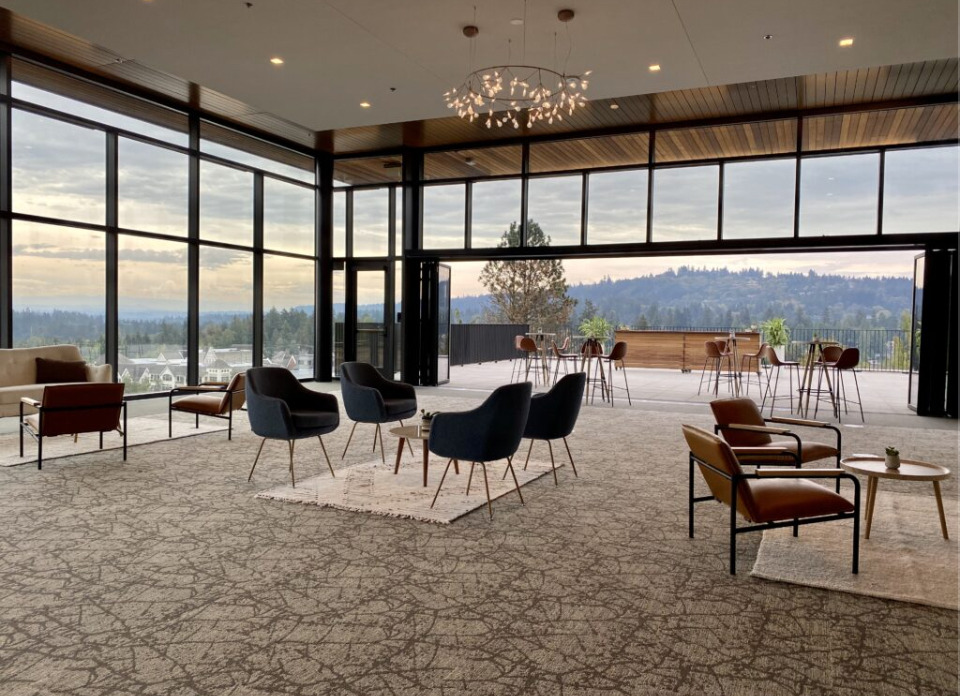 Create a moment guests will always remember! Browse the top experiential agencies in Portland!
6. The Melody Event Center
Neighborhood: Central Eastside
Capacity: 800
The recently restored Melody Event Center is a centrally located venue perfect to host your next corporate event in Portland. Offering six different event spaces, the floorplans at the historic Melody are flexible. The crown jewel of the venue is the Ballroom, which boasts 6,000 square feet of space with 30-foot ceilings, crystal chandeliers, a portable stage, and a built-in sound system. Six hundred can sit theater-style in the Ballroom. If your needs are a bit smaller, consider the Morrison, Portlandia, or Hawthorne Rooms. Book the Broadway Room with its natural light and audio/visual capabilities for a breakout session.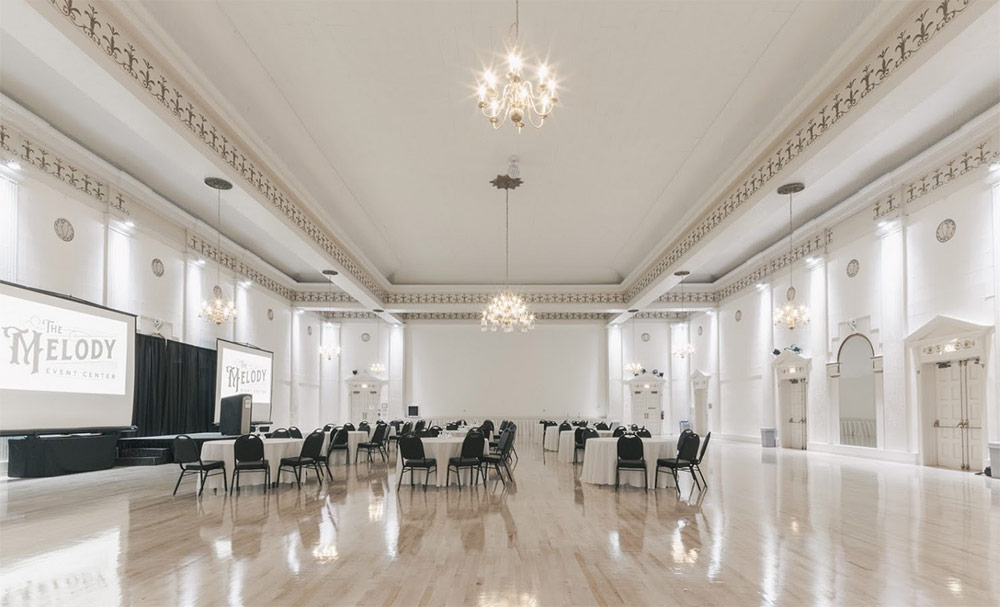 7. Jupiter NEXT
Neighborhood: Southeast Portland
Capacity: 300
Jupiter NEXT is an innovative hotel with amazing Portland views and awesome options for meeting spaces. The Arium Ballroom @ NEXT can seat up to 300 people and has an airy feel with its tall ceilings. Combine The Arium with The Secret Garden @ NEXT to host up to 100 outside, perfect for cocktail receptions or an invigorating outdoor meeting. Get down to business at The Bunker @ NEXT, a perfect spot to host a meeting for 30, complete with floor-to-ceiling windows, a blackboard wall, flat screen monitor, Wi-Fi, whiteboard, and executive table. The knowledgeable staff at The Jupiter Hotel will work with you to put aside a block of rooms so your meeting and accommodations can be a seamless affair.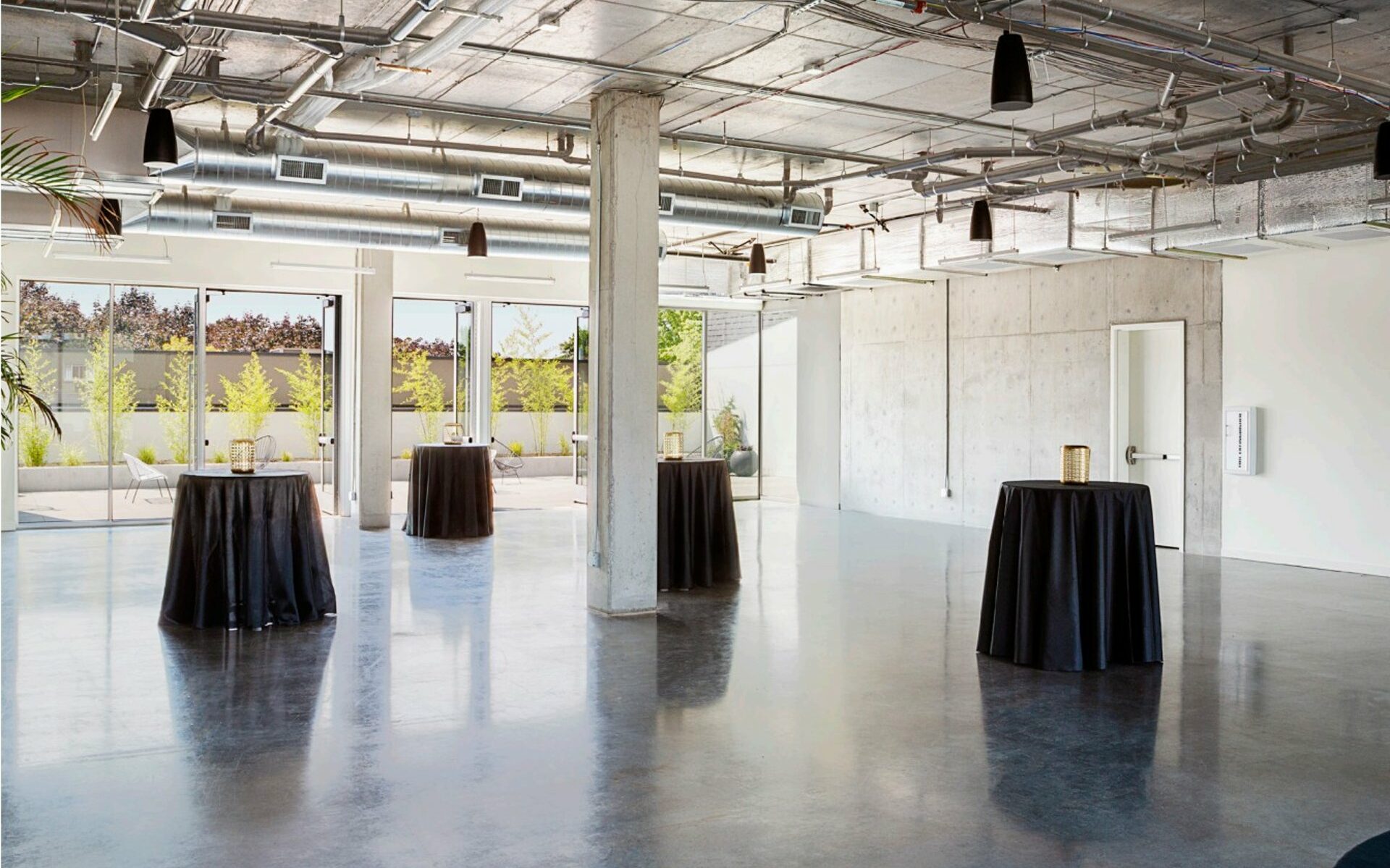 8. Castaway Portland
Neighborhood: Pearl District
Capacity: 600
Get ready for 10,000 square feet of wide-open space, 14-foot ceilings, sash steel windows, and exposed wooden beams when you book at Castaway Portland, a revamped warehouse from 1929 with endless possibilities. If you are looking to host a major presentation or product launch, this might be your spot. Their in-house tech includes a retractable 220" projection screen with projector, built-in interior/exterior sound system, a customizable mobile stage, and ample power. There's a full catering kitchen and even a great outdoor space. They have chairs, tables, and a great staff ready to make your event come to life.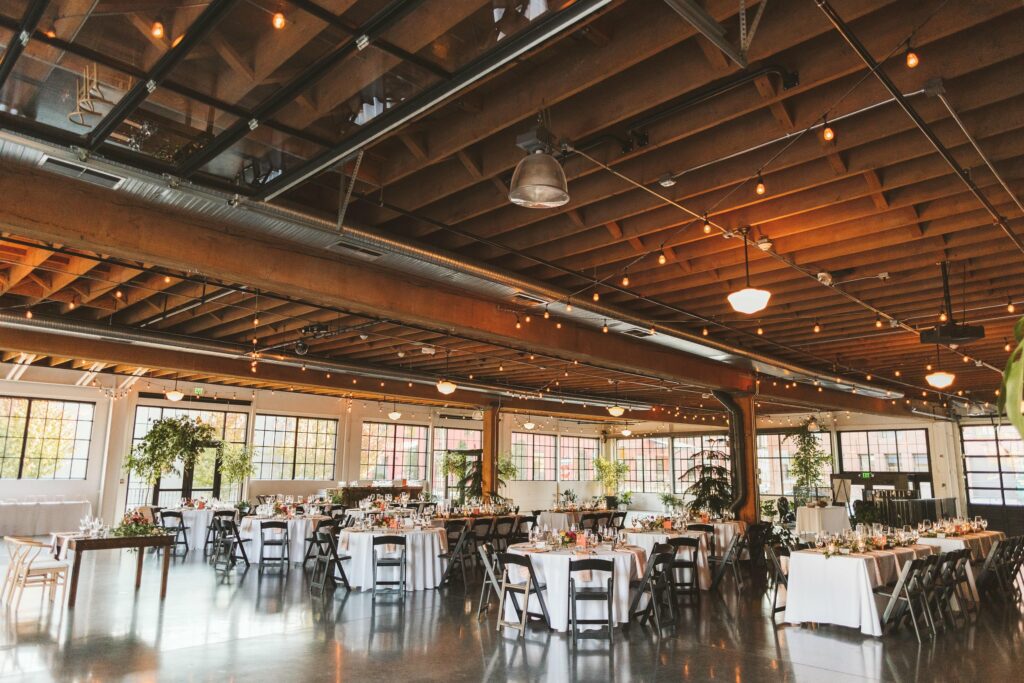 9. The Evergreen
Neighborhood: Buckman
Capacity: 550
The Evergreen is family owned – one step through the door of this old-meets-new venue and you'll feel it. There's tons of natural light, original brick and hardwood floors, and a lofted mezzanine. Not only does The Evergreen have the flexibility to host a large corporate event, they have the technical infrastructure. They pride themselves on having a Void sound system, as well as some of the best acoustics in Portland. The venue is pre-wired with a DMX system to lend itself for a serious installation of any and all lighting, all which can be managed from a central lighting panel.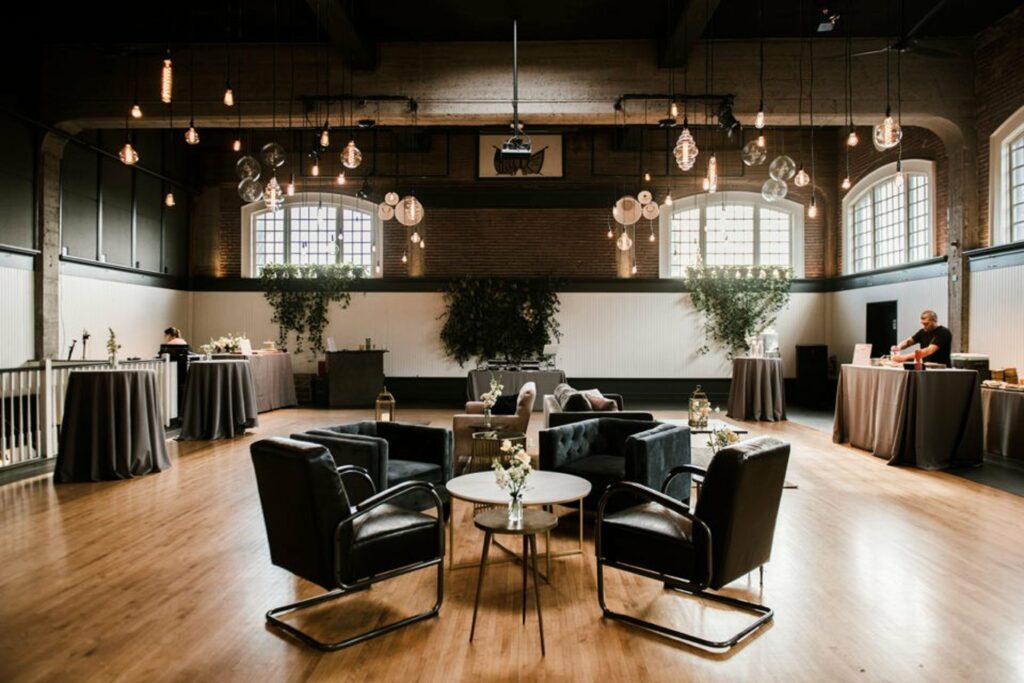 10. Hotel Eastlund
Neighborhood: Eastside
Capacity: 400
The Cosmopolitan Grand Ballroom at the Hotel Eastlund is exactly what you want for a meeting space in Portland: tons of room, flexible space, and great views of the city thanks to floor-to-ceiling windows. With more than 3,500 square feet to work with, the ballroom can be partitioned into different sized salons, making space for a breakout room. And presentations are a snap – the hotel has loads of sound and tech, as well as a 12-foot projection screen perfect for presentations or product launches. In addition to the Cosmopolitan, there's state-of-the-art conference boardrooms, private dining rooms, and other customizable meeting spaces at this buzzy hotel.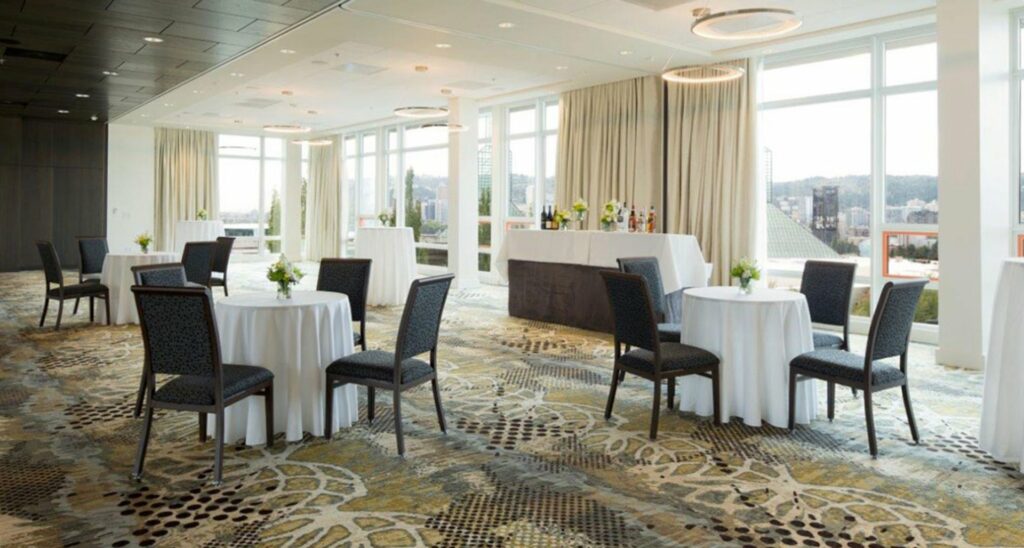 11. Coopers Hall
Neighborhood: Central Eastside
Capacity: 225
Coopers Hall Winery and Taproom has a "hospitality first" philosophy, and they consistently deliver. It's hard to believe this gracious and charming urban winery of over 10,000 square feet was once an auto body shop. There's natural light, two-story ceilings, and bursts of greenery. Book the Mezzanine, which overlooks the Winery and Taproom, for a daytime workshop or training session. And Coopers Hall is no stranger to full buy-outs, which gives you space to use their Barrel Room, Winery, and Mezzanine for up to 225 standing.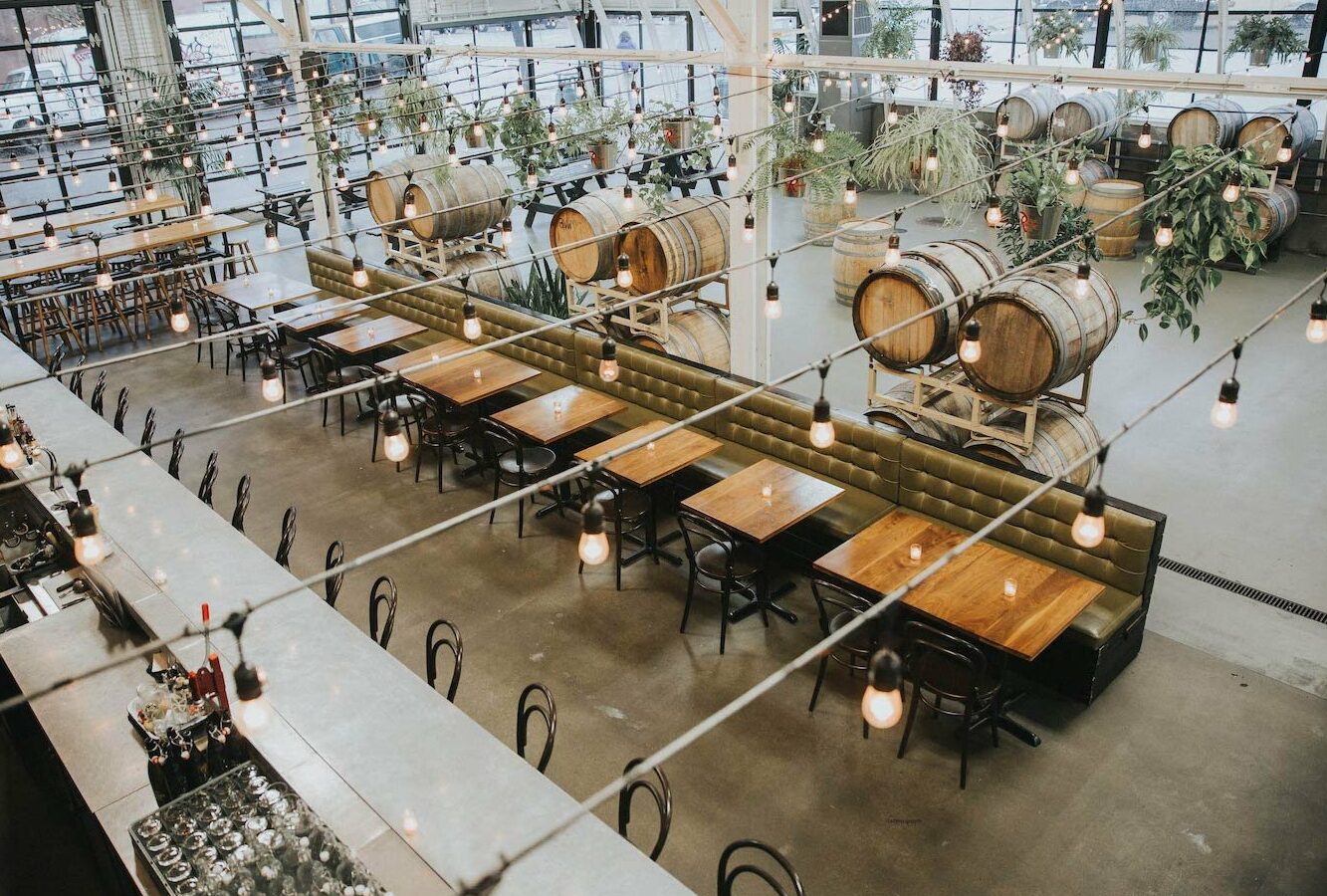 12. UNION/PINE
Neighborhood: Central Eastside
Capacity: 300
The quirkiness of Portland comes to life at UNION/PINE, a social space on the Central Eastside that has two separate, flexible layouts for your next corporate event. Originally a storage facility for Volunteers of America in the 1960's, this clean, modern space has tons of nooks and crannies perfect for private meetings. Or host your annual sales meeting or off-site in their Main Venue, a big space which has tons of mid-century modern furniture at your disposal. Upstairs is The Loft, a 3,500-square-foot space above the Main Venue that can seat 40.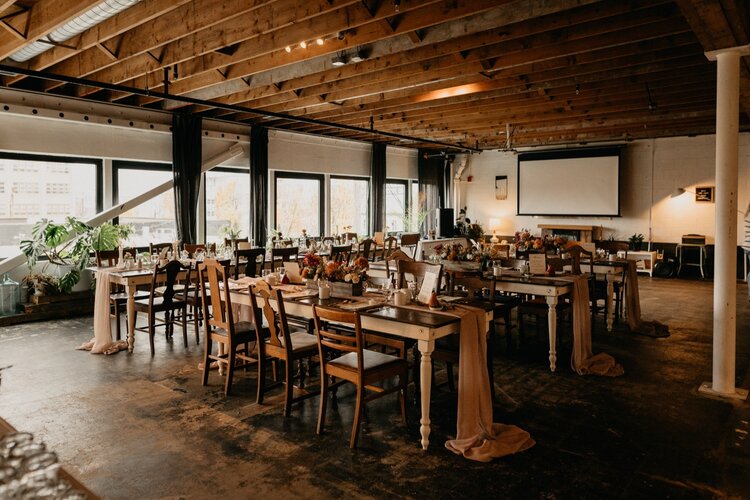 13. The Laurelhurst Club
Neighborhood: Laurelhurst
Capacity: 250
As historically fresh as it gets in Portland, The Laurelhurst Club was renovated just last year to much acclaim. A true canvas, this venue offers up 5,300 square feet of indoor space, featuring cathedral ceilings, hardwood floors, exposed beams, and the opportunity to seat 150 guests. There's an old world charm here, with a mezzanine that overlooks the ballroom. Utilize their outdoor garden for a cocktail hour after a day full of meetings, a charming space surrounded by tall evergreens. Your guests will delight in visiting this historic neighborhood northeast of downtown, likely to inspire with its old world charm.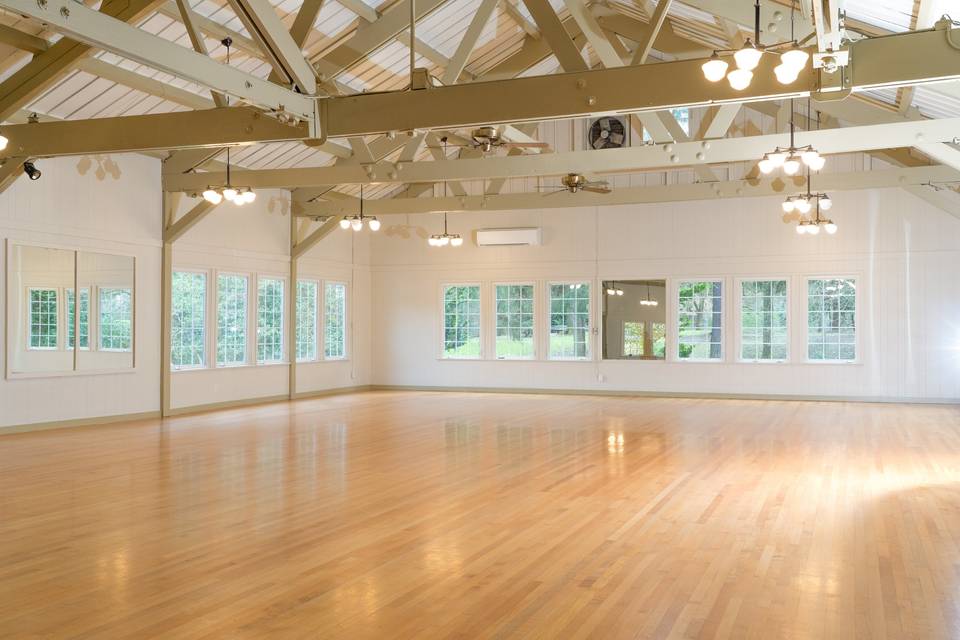 14. Everett West
Neighborhood: Pearl District
Capacity: 300
A true blank canvas waiting for your inspiration, Everett West is in the heart of the fashionable Pearl District. Exposed brick, reclaimed wood walls, polished concrete floors, and sparkly chandeliers make this space distinct, making it a terrific backdrop for your special event. They have the most complete vendor list around, with partners for rentals, audio/visual, desserts, floral, and more. And with in-house catering by Artemis Foods, there won't be anything to toil over when it comes to fare. Even if you are hosting daytime meetings at Everett West, make sure your crowd sticks around for cocktail hour, as they offer a seasonal menu for mixed drinks, as well as an extensive local wine and beer menu.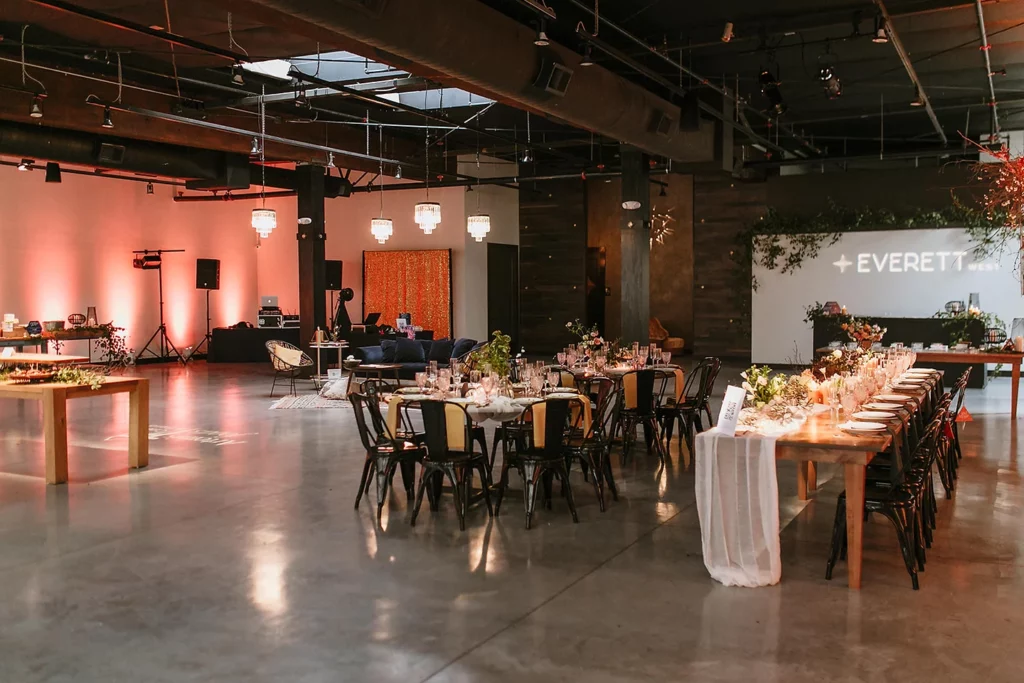 15. Exchange Ballroom
Neighborhood: Central Eastside
Capacity: 425
The Exchange Ballroom is situated on the east bank of the Willamette River, housed in the Eastside Exchange Building, which is on the National Register of Historic Places. 
Managed by Vibrant Table Catering & Events, this venue offers full food, beverage, and production services for your next large-scale event. The ballroom has 6,200 square feet of neutral space. This venue already has tons of rentals and tech equipment on-site, and that 125-spot parking lot cannot be overlooked.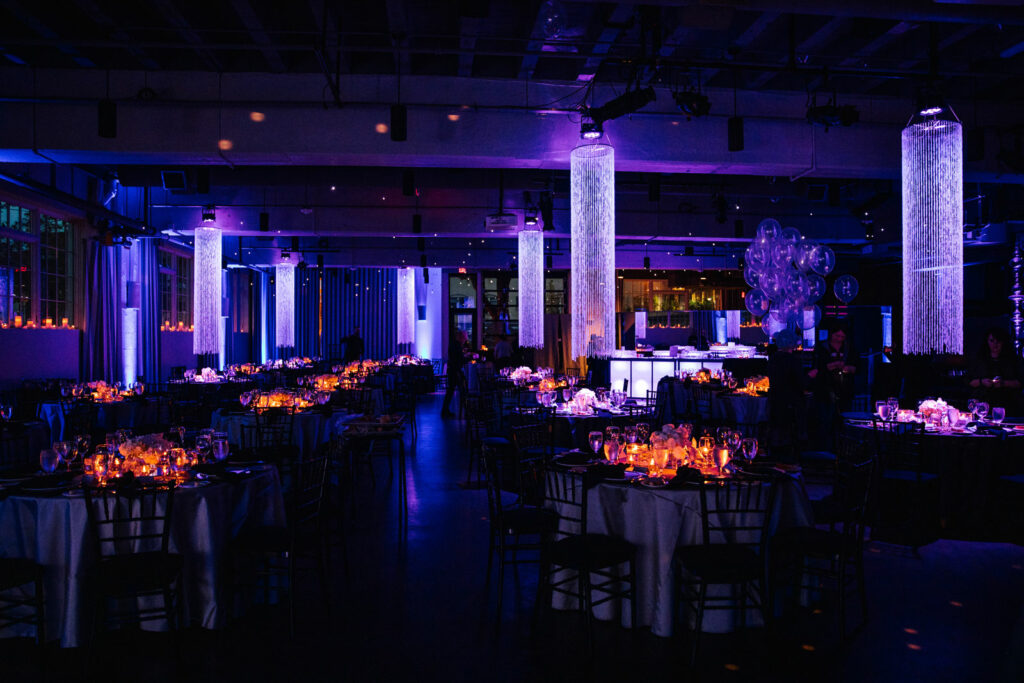 Why Choosing the Right Venue for Your Event is So Important
Hosting a large-scale event in Portland can be easy if you understand not every venue is created equal. Take a hard look at what your event's needs will be when planning in this unique and quirky city. The venue you select will not only set the tone, but help take your event's messaging to the next level by increasing engagement and hopeful retention. Do you want to showcase Portland and it's city views? Do you want a ballroom that has an adjacent hotel? Will you have to plan for your catering in Portland? Ask yourself what your most important elements are and work backward with all the amazing choices Portland has to offer.
The Top Things to Consider When Booking a Venue For a Corporate Event
Rest easy knowing that Portland is an excellent choice for a city when hosting a conference, corporate meeting, off-site, or product launch as it as a variety of different venue types to choose from. But before you sign the dotted line of that contract, have a few items on your event checklist ironed out:
Event tone. As stated above, tone is everything. The tenor you provide for your meeting or affair will lean into your event's objective.
Event budget. This is a big one, so be certain to ask all the right questions. Know what is included in your venue rental fee, and what you'll need to outsource. Some spots have it all there, while others are truly an empty space you'll need to fill.
Event tech. Ask your venue what audio/visual tech they have in-house, or use their resources to find a partner. If you are planning for experiential elements, be certain your space has the rigging and tech you need.
Event format. Presentations. Breakout sessions. Training. Product rollouts. There are many things on your event's agenda, so be certain the venue you select has the means to aid in your event's flow.
Event safety. As the professional you are, you've adapted to the unique times, but there are always considerations when bringing a large group of people together. Does your venue have lots of space so everyone feels comfortable and distanced? What's the plan if there's an emergency? Is it ADA compliant?
Find Unique and Versatile Event Venues on The Vendry
Portland is the perfect city to hold your event, but now you need to find the perfect venue. Allow The Vendry to help you find what you are looking for by using their search functions and filters to land in the right place. Request proposals on the spot right from your results to book your next venue in Portland.
Read More:
The Most Stunning Large Venues in Boston for Your Next Event
Go Big at One of these Incredible Large Event Venues in Seattle
Fabulous Large Venues in Denver for Your Next Big Event