Seattle is home to titans of industry. Tech, healthcare, food, and beverage all dominate the professional landscape of this gorgeous city in the Pacific Northwest. So when it comes time to gather, Seattle goes big. Let The Vendry kick-off your search for the right event venue in Seattle by breaking down the options. Below are large-crowd venues that are sure to take your next big corporate outing, conference, product launch, or networking event to the next level.
15 Large Event Venues for Your Next Big Event in Seattle
If you're looking to plan an event in Seattle, you've landed in the right spot. When it comes to setting the tone for a large event in Seattle, the venue will likely be the biggest statement. This unique city sets expectations high when it comes to finding a space for your professional crowd. As you set out on your search, consider putting these people-pleasing venues on your short list:
1. Seattle Design Center
Neighborhood: Georgetown
Capacity: 899
A marketplace for textiles and home furnishings by day, Seattle Design Center is home to some of the area's most memorable events. Here, there's space to spare. High ceilings full of natural light and over 8,500 square feet of fresh space make the SDC stand out. The Atrium is the star, where audio/visual partners make the space come to life at night, hanging twinkling lights from the functional balcony. Work with their long list of local caterers and vendors, and enjoy the 90 (90!) parking spots that come with your space rental.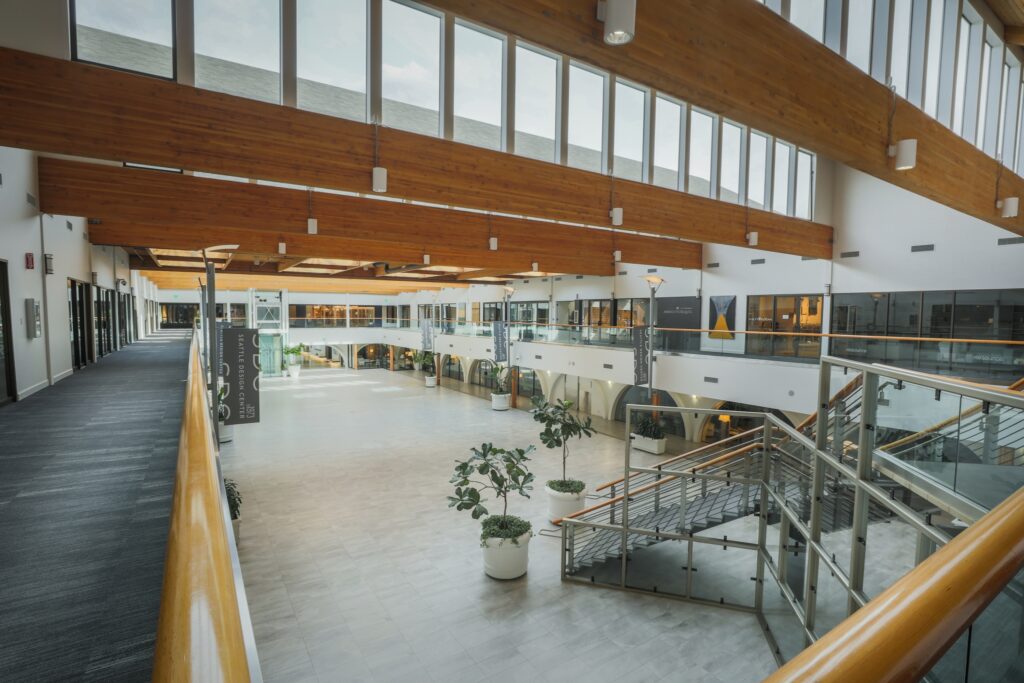 2. Hyatt Regency Bellevue
Neighborhood: Bellevue
Capacity: 1,500
Sometimes when it comes to large events, it's comforting to have a partner whose entire business is devoted to hospitality. Enter the Hyatt Regency Bellevue. Full amenities are the name of the game when utilizing a hotel to host your meeting or conference, and this beautiful one on Seattle's Eastside is no exception. You have 70,000 square footage worth of event space from which to choose. From the Grand Ballroom at 17,745 square feet to the Cedar Ballroom at 2,090, this refined hotel has room for any crowd size. There's a high-tech auditorium with tiered seating and 61,000-watt surround sound speakers. Oh, and it also has a world-class culinary team at your disposal all attached to a 732-room hotel. Full amenities, indeed.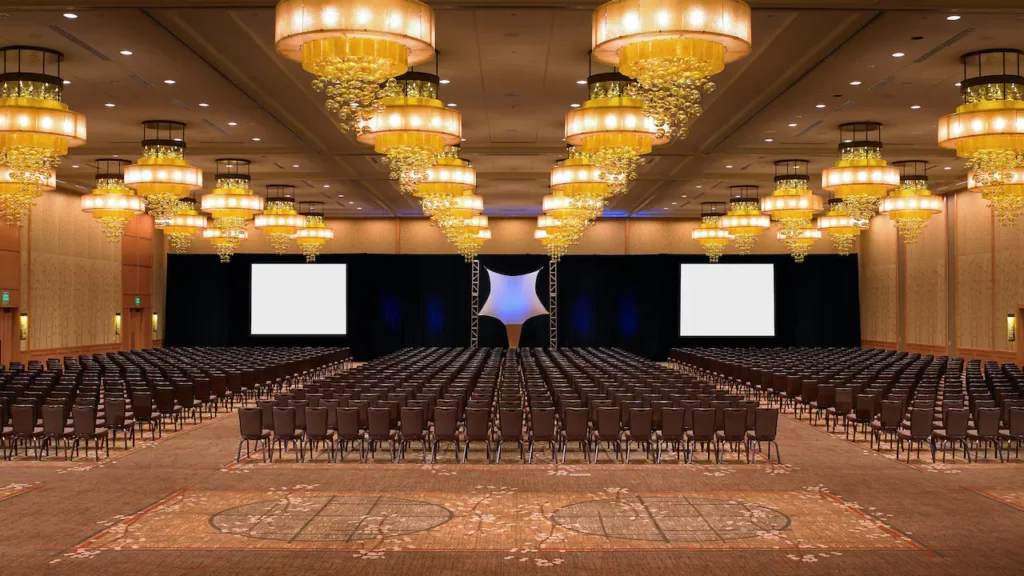 3. Seattle Aquarium
Neighborhood: Pike Place Market
Capacity: 800
A treasure along the waterfront, the Seattle Aquarium hosts genuine, one-of-a-kind events. Situated on Pier 59 on the edge of Puget Sound's Elliott Bay, the Seattle Aquarium really engages all the senses. The Ackerley Foundation Puget Sound Hall boasts the "Window on Washington Waters", a 120,000-gallon, 20x40-foot glimpse of the fish and sea creatures under the surface of Washington's outer coast. The experienced staff helps you plan your event from tip to tail, like entertainment and menu selections.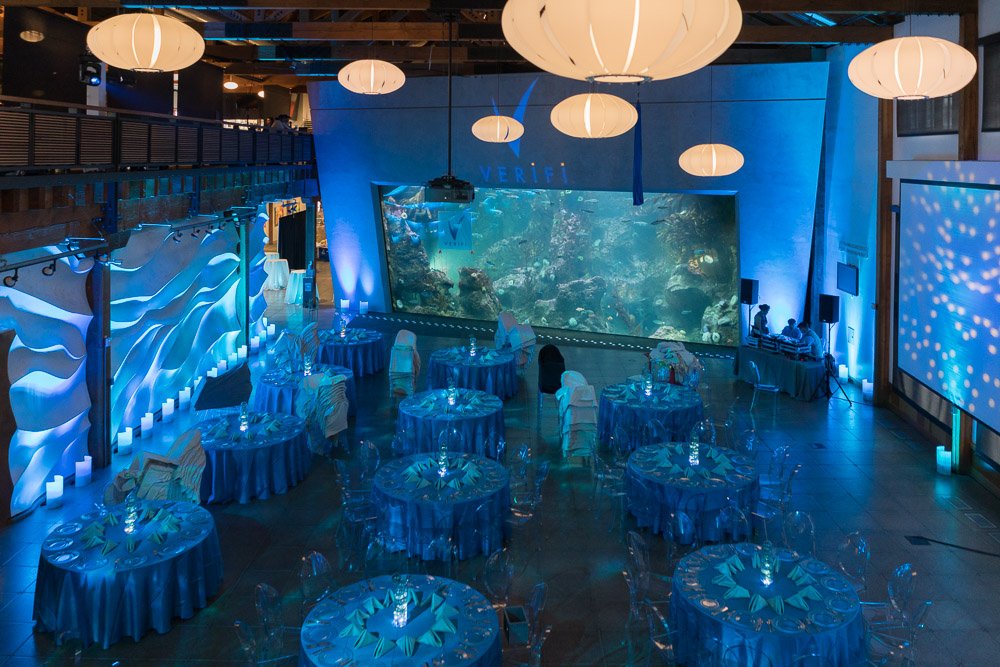 4. Bell Harbor International Conference Center
Neighborhood: Waterfront/Belltown
Capacity: 1,000
Fresh off their multi-million dollar renovation, the Bell Harbor International Conference Center is more equipped than ever to host your large crowd. If you are looking to host an event with righteous views of Seattle, this is the place, with its 180-degree vistas of the Olympic Mountains, Mount Rainer, Elliott Bay, and Seattle skyline. Offering 100,000 square feet of conference, meeting, and event space, Bell Harbor can accommodate 25 to 1,000. The pros here know meetings, and they offer a hassle-free CMP (Complete Meeting Package), which is a top-to-bottom, comprehensive approach to checking every worry off your list. Little details like sound proof walls and abundant white boards make this venue efficient. And don't forget their venue-wide green initiatives that plan to make your event sustainable.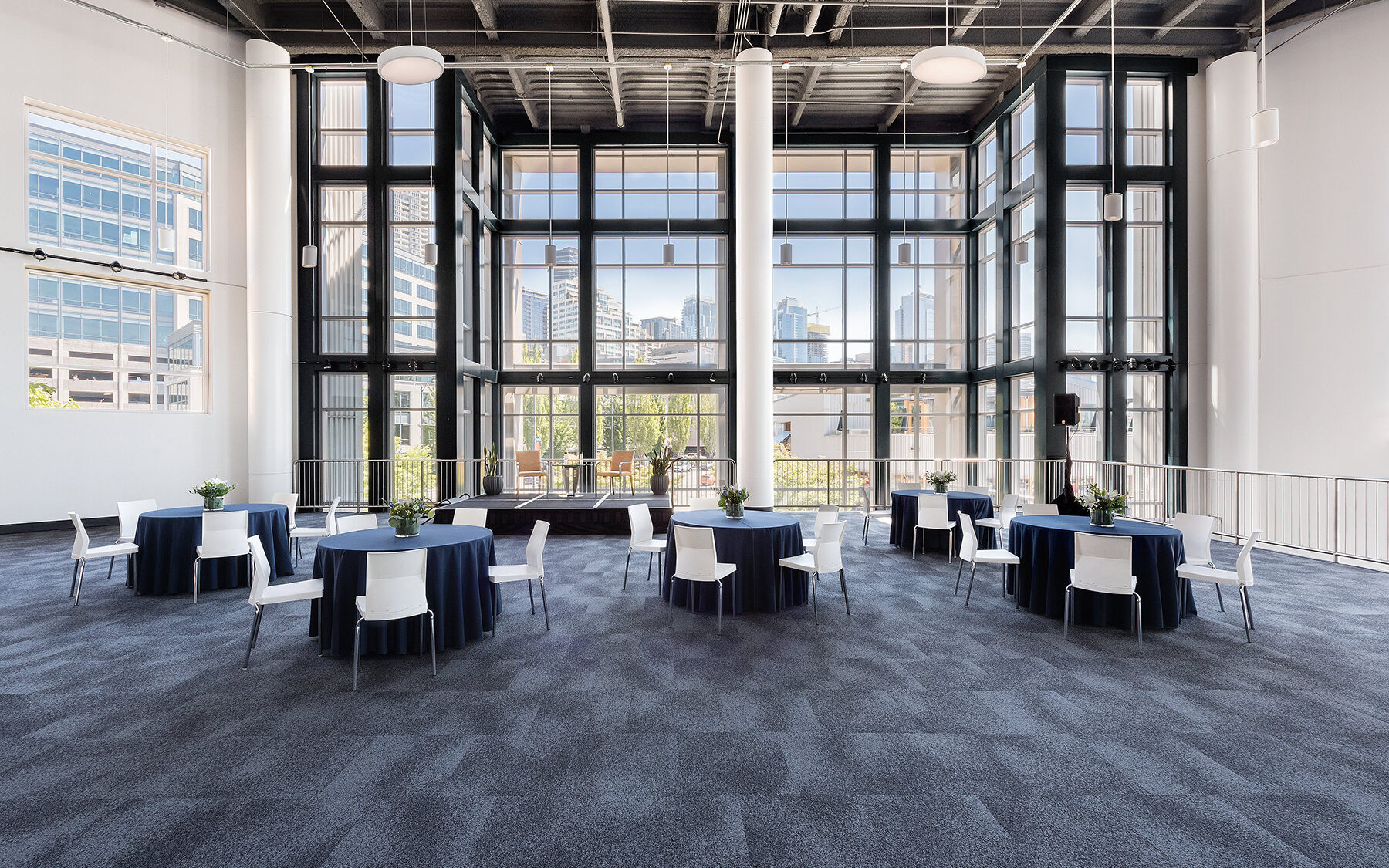 5. The Collective Seattle
Neighborhood: Uptown
Capacity: 1,000
Within The Collective Seattle, there are eight spaces in which to host your event, each one as stylish as the next. There's spaces like the fully customizable Slack Tide Ballroom to The Shelf + The Cove, a lounge with caramel leather banquettes and a stage. Don't miss The Alpenglow that accommodates 175 standing, and features a campfire circle, hammock garden, and hanging egg chairs perfect for collaborative moments. If your choice is a full buy-out, end your day of busy meetings within The Dock, the outdoor patio space that can easily be tented to keep those famous Seattle raindrops at bay.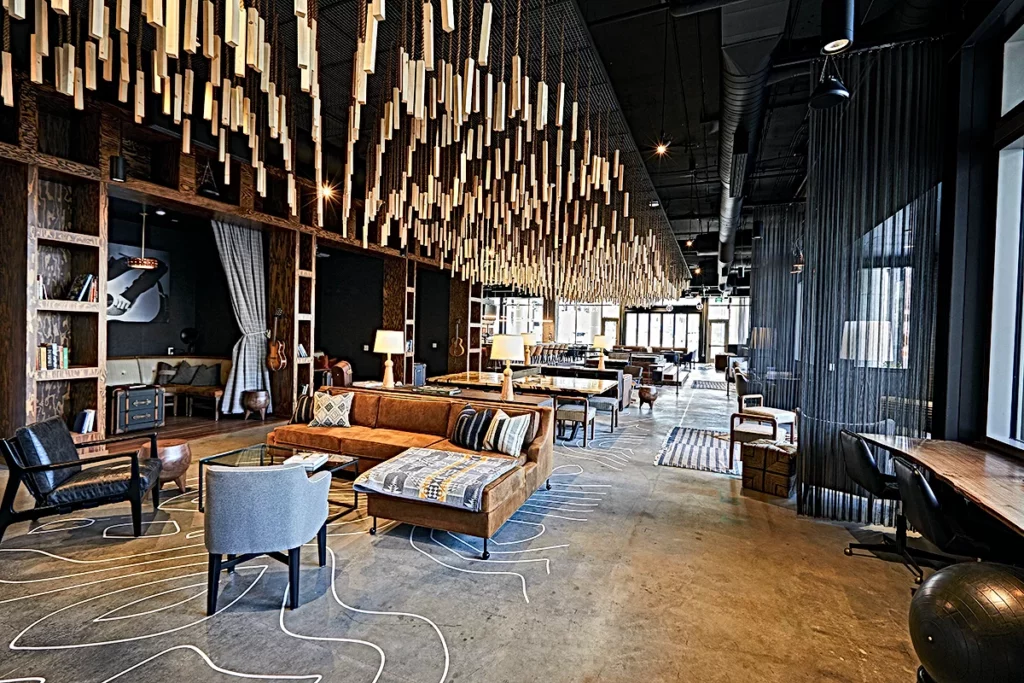 Leave your guests hungry for more! Find the top caterers in Seattle.
6. Sodo Park
Neighborhood: SoDo
Capacity: 500
At Sodo Park, ambiance is the star. A perfect spot to host a company meeting, product launch, or even holiday party, the talented staff will help you curate your event with custom menus and event design. This space is flexible. As a former manufacturing facility, Sodo Park offers up 7,500 square feet of exposed beams and soaring ceilings, all quintessential Northwest. They have a long list of event partners like DJs or audio/visual specialists, and even offer free parking for its guests.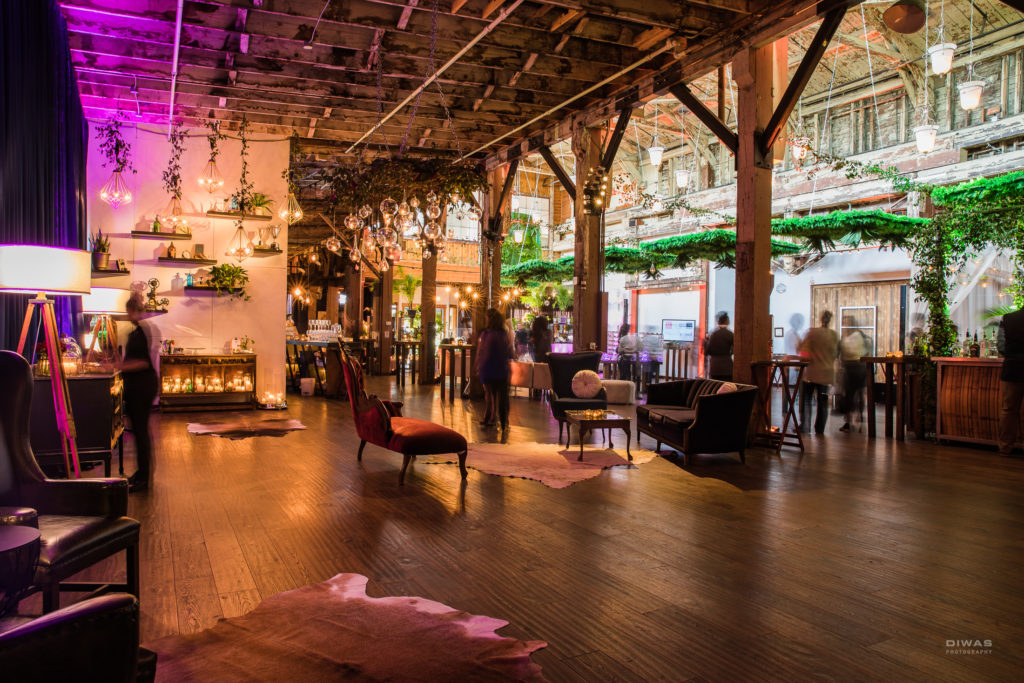 7. Seattle Convention Center
Neighborhood: Downtown
Capacity: 25,000
Seattle Convention Center (note: formerly the Washington State Convention Center) is truly at the heart of the professional meetings, conferences, trade shows, and exhibits in the Seattle area. Know that there are two buildings to this mammoth convention center: Arch at 705 Pike and Arch at 800 Pike. Together they make the largest meeting and convention facility in Washington state, offering a whopping 414,722 square feet of rentable space and 72 total meeting rooms. Not only is this venue right in the thick of it all, it allows your guests to have their pick of more than 10,000 hotel rooms within a 11-block radius. And opening in January of 2023 is Summit, the addition that will – wait for it – double the square footage of Seattle Convention Center. It goes without saying, space will not be an issue here.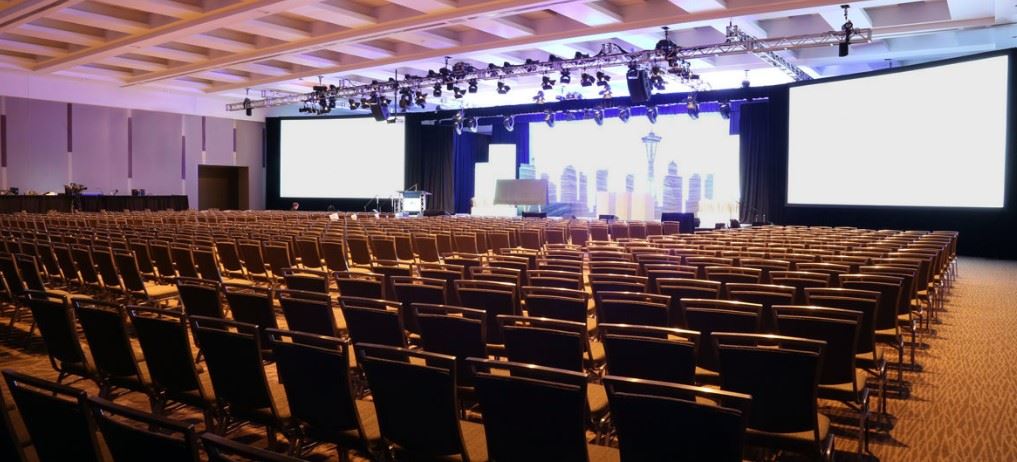 8. Georgetown Ballroom
Neighborhood: Georgetown
Capacity: 300
Warm and inviting, Georgetown Ballroom – once the Mission Theater and warehouse garage – is a go-to, hidden gem of a spot for locals and out-of-towners alike looking to host a beautiful event. The high ceilings and exposed brick work give this venue an old-world feel, but contemporary comforts abound. Host your meeting or holiday party in the heart of the Georgetown neighborhood, a retreat for all day meetings or a promo party. Their on-site catering makes all the difference, too. The professionals at Georgetown Ballroom believe that their amazing atmosphere demands equally amazing fare.
9. 415 Westlake
Neighborhood: South Lake Union
Capacity: 300
If you are looking for a blank canvas of industrial-chic space that embodies what the Northwest is all about, look no further than 415 Westlake. With 5,000 square feet of space and a fully workable kitchen, the possibilities are endless for hosting everything from your award presentation to cooking class, from product launches to a corporate retreat. This spot feels fresh. There's big open spaces without beams, and centrally located bathrooms (important!). Tables and chairs are provided at no cost, and there's no need to source out A/V, because it's all right there.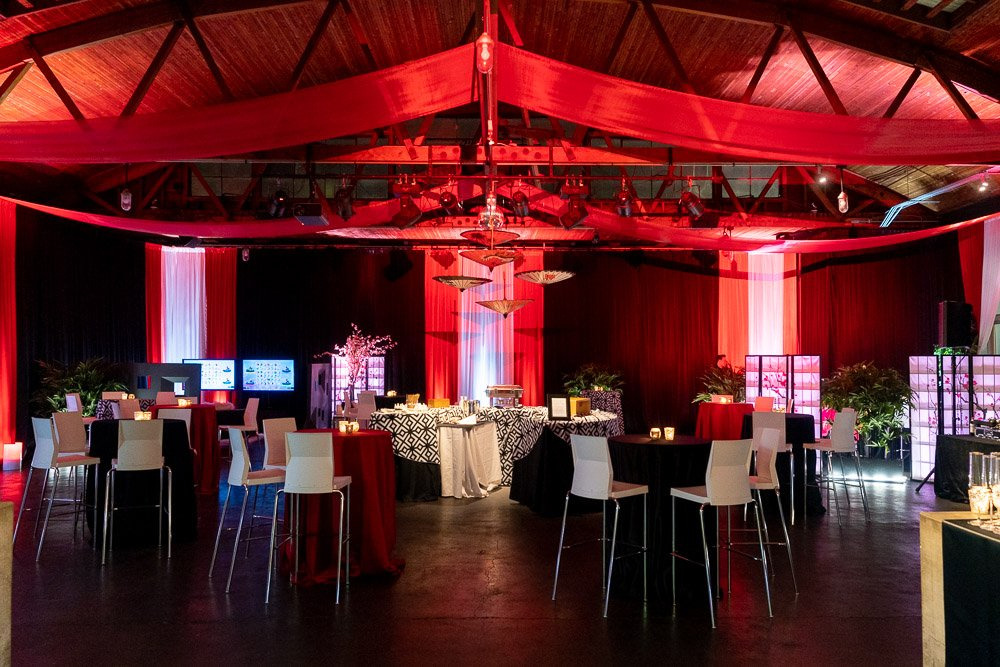 10. AXIS Pioneer Square
Neighborhood: Pioneer Square
Capacity: 550
Offering 10,000 square feet in the 1889 Globe Building in Pioneer Square, AXIS is ready to host any event you can imagine. The Main Space and Gallery can be combined together, rooms that were designed by actual industry professionals. Host your event underneath 15-foot brick archways, in a space complete with movable walls and bars. Lots of natural light abounds in this industrial, yet modern, space. Fundraisers to fashion shows, AXIS has seen it all. Spill out the back door to find yourself in the heart of the ever-expanding Pioneer Square, full of restaurants and nightlife.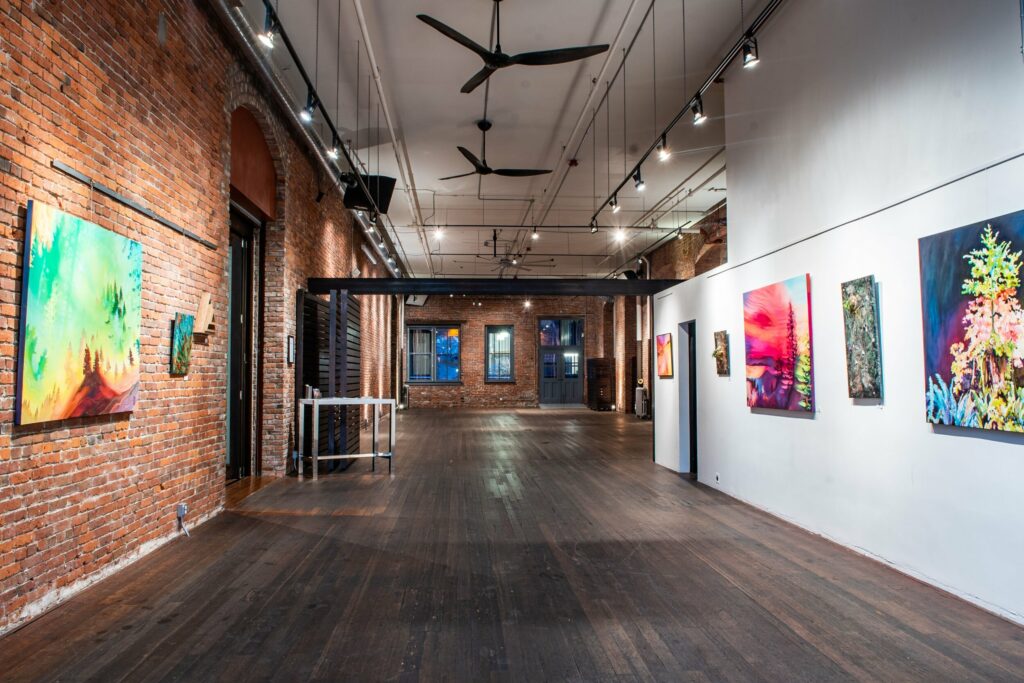 11. Fremont Foundry
Location: Fremont
Capacity: 350
Touted as a modern, industrial canvas, Fremont Foundry offers remarkable views of North Seattle. A spot that boasts indoor/outdoor capabilities, this tri-level venue has 11,000 square feet of workable event space. Host your conference or holiday event here, just as Microsoft has in the past. While this facility harkens the history of the Northwest, it has been retrofitted for modern technology and has a ton of in-house amenities thanks to its exclusive partnership with the professionals at Landmark Event Co. You will feel Fremont Foundry's personal touch, and your every event need will be met, from lighting to catering, floor planning to accent furniture.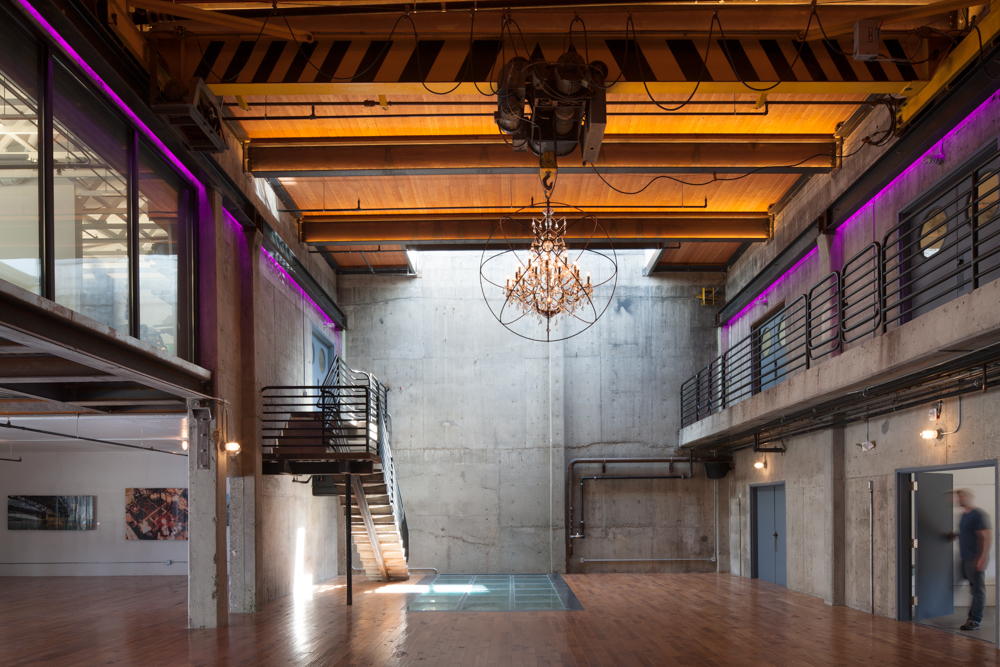 12. Block 41
Neighborhood: Belltown
Capacity: 720
Block 41 is a chic, impressively cool space in Belltown just waiting to host your next big event. Inspiration abounds at Block 41, and so do the amenities. Combine their fully functional spaces and use their ceiling-mounted projectors, drop-down screen, a DMX control lighting system, and audio equipment for a worry-free experience. Take a break in their fully private landscaped outdoor courtyard. Between the two floors at Block 41, the possibilities are endless and the "it" factor is on overdrive.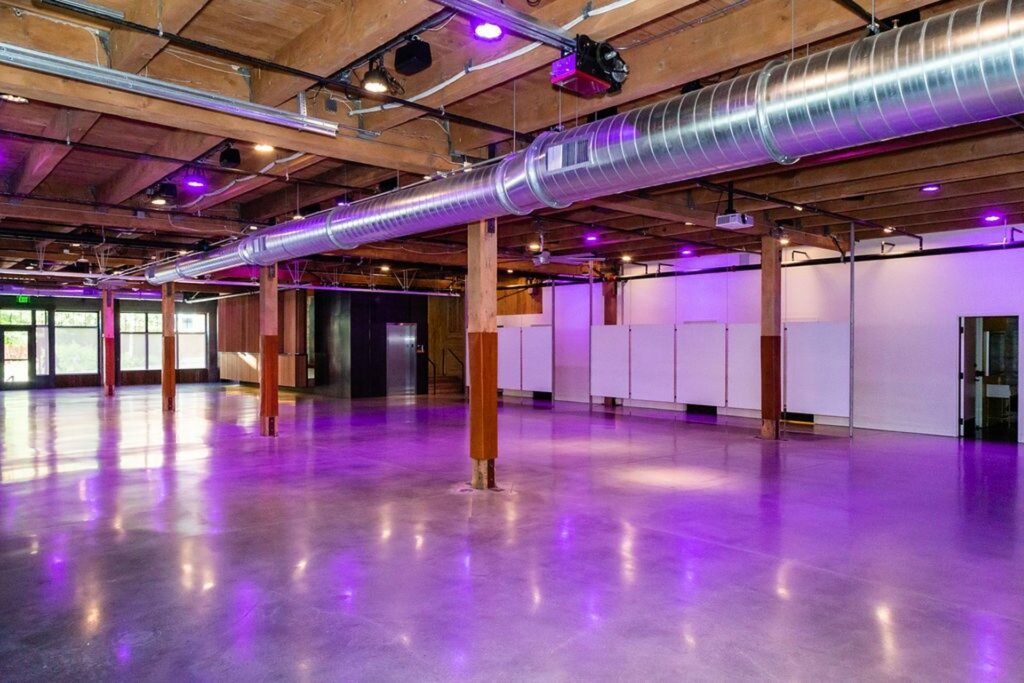 13. Motif Seattle
Neighborhood: Pike Place Market
Capacity: 600
Another stunner by Hyatt, Motif Seattle will grant you all your meeting and event wishes in one wave of its hospitality wand. There's ballrooms, conference rooms, and boardrooms (multiple, mind you) each outfitted with everything you'll need to make your large scale event run smoothly. The Conference Level has ergonomic chairs, non-glare surfaces, great acoustics, and electronic reader boards. It's almost a certainty you'll find everything your conference or meeting needs in this 22,000 square feet paradise of well thought-out event space.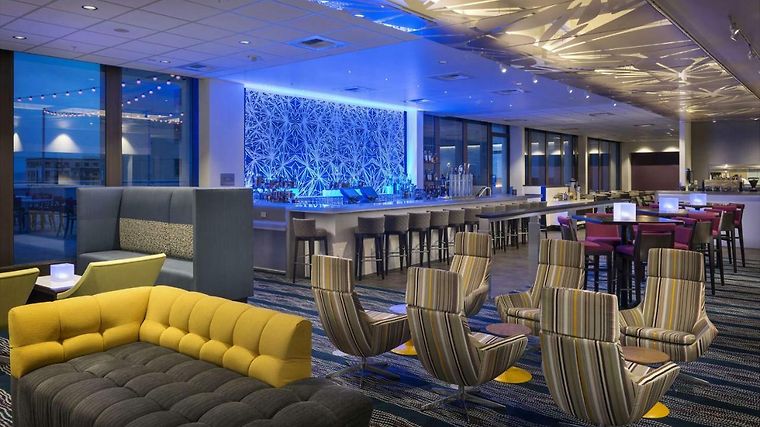 14. Canvas Event Space
Neighborhood: SODO
Capacity: 350
Canvas Event Space lives up to its name. A clean background just waiting for inspiration, this 8,000-square foot modern building packed with history elevates your meeting or corporate networking event. There's two levels that weave the theme of their minimalistic approach to the maximum. Your guests will chatter over the art installations, not the least of which are Canvas' signature chandeliers. This space has character, thanks to the balcony and varied ceiling heights. Transform this industrial chic, mid-century modern wonder into whatever you'd like.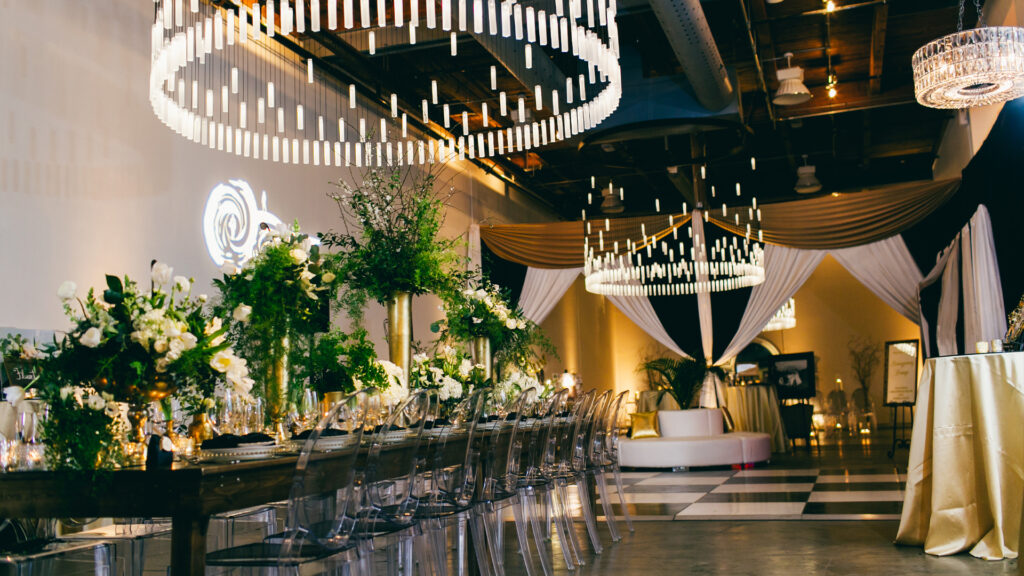 15. Beach Park Auditorium
Neighborhood: Des Moines, Washington
Capacity: 525
A half hour ride outside of Seattle is the Beach Park Event Center and its Auditorium, a historic 5,700-square foot venue, which is nestled in the trees. This space can truly provide a retreat away from the big city, and is ideal for trainings, meetings, and seminars. The Auditorium features cathedral ceilings with exposed wood beams, vintage stained-glass windows, and all the open space you'll need. Hook up the 5,700-square foot Auditorium with the 1,800-square foot tree-lined patio for an unforgettable experience. There's a Monday through Thursday 50% discount for rentals during business hours, and you'll have an on-site attendant for the duration of your stay.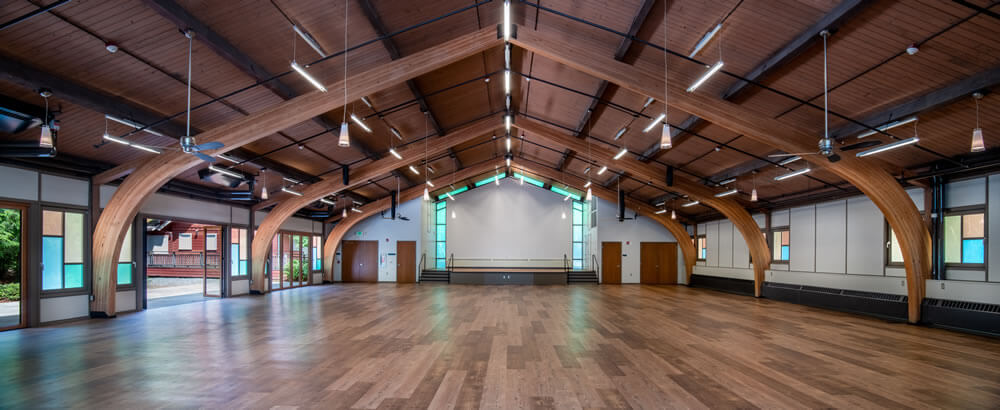 Why Finding the Right Venue for Your Event is Important
There is a lot that goes into finding the perfect venue. So you need to consider what's most important to you when it comes to where your event is held? Do you want your guests to get the full Seattle experience? Do you want to highlight the splendors of the Northwest? Finding the right venue for your event will also mean a partnership between you and your chosen locale. If it feels right with the staff and vendors, then the event should be easily executed. Ease of execution almost ensures your employees or clients will be informed or delighted (or both) by their experience, shining a favorable light on your company.
Top Thing to Consider When Booking an Event Venue
From its cool, coffee-swigging vibe, to its outdoorsy character, each of Seattle's large event venues have their own personality, too. Before selecting a locale, be sure to consider the following:
Time of year. If your calendar allows for flexibility, September and October are commonly referenced as the best time to come to the Pacific Northwest, especially Seattle. But many would argue that July and August are the driest months, far better to see the sights. Outline what your event will entail, then schedule accordingly.
Crowd Size. From the Seattle Convention Center to the smallest art galleries in Pioneer Square, the size of the group you'll need to accommodate will likely determine your venue. Look carefully at standing-vs-seated-vs-theater crowd size options when selecting your spot.
Cost. Outlining your budget before you knock on doors will sketch out where you can land venue-wise. Be sure to ask if the event space will require you to bring in added items like rentals and audio/visual. Some venues come equipped with lots of amenities, others don't. Ask up front to avoid any surprises to your tight budget.
Attendee needs. Will your event require transportation for your guests? Lodging? Will they want a place to walk to after the event for dinner? Anticipating the needs of your clients or employees will make everything you've planned for appear even more seamless.
Find the Best Event Venues on The Vendry
Finding the right large event venue in Seattle can be less stressful when your first stop is The Vendry. The Vendry will help you source venues, vendors, and more in the Seattle area and beyond.
Read More:
Host Your Next Team Dinner at One of These Top Private Dining Rooms in Seattle
Not Your Average Venue: The Most Unique Venues in Seattle
The Most Fabulous Large Event Venues in San Francisco