Planning an event is an exciting prospect, but one that can quickly become a decision overload tsunami. At the end of the day, an event hinges upon one thing: the venue (cue jazz hands). Venues have come a long way... Gone are the days of sterile conference spaces with no windows in hotel basements or launch parties in blah receptions rooms. These days you can find fashion shows on rooftops, meetings in treehouses, fundraisers on decommissioned aircraft carriers, and just about everything in between. It's an exciting but inevitably overwhelming process finding a venue, often leading to the question of where to even begin? There are five major considerations to keep in mind: 1) First calculate your budget. 2) Find the best location along with parking. 3) Consider capacity and layout. 4) What are the services and amenities? 5) Make sure to visit the site. To help streamline the process and breakdown these considerations, read on for The Vendry guide on how to find a venue for an event.
How to Start Looking for a Venue
The first step to help navigate the venue search process is to consider the lead time. Ideally a venue should be booked at the very least four to six months in advance, which allows ample time to get all the ducks in a row. (A notable exception to this timeline is when planning a wedding, which depending on the scope and scale should be done a year-plus in advance.) More popular locations will inevitably be booked farther out and depending on where you are located some venues may be seasonal. Give yourself ample breathing room to ensure an organized process from start to finish, and if possible, try to be flexible on your timing in order to find that perfect fit. The Vendry has comprehensive lists of venues across the country to help jumpstart this thought-process.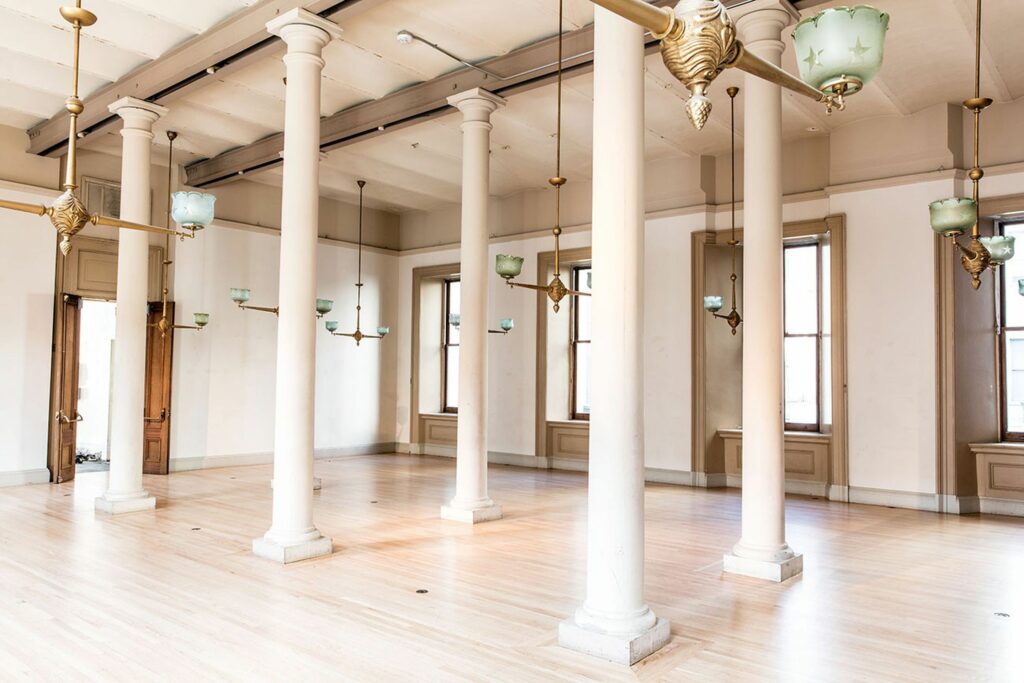 Plan According to Your Target Audience
Your event venue should be a direct reflection of your target audience. This isn't a hard-and-fast science but consider the overall flavor of the type of audience you're delivering to and proceed accordingly. If you're planning for the techy crowd, choose a place that will be able to accommodate a tech-immersive event. If you're planning a sophisticated celebration for a crowd that skews older, maybe don't go for the nightclub downtown. It doesn't always have to be as matchy-matchy as this, but a book party at a library (or even on a library rooftop) has a certain ring to it. In a nutshell, think about what type of venue would make your audience excited about walking into.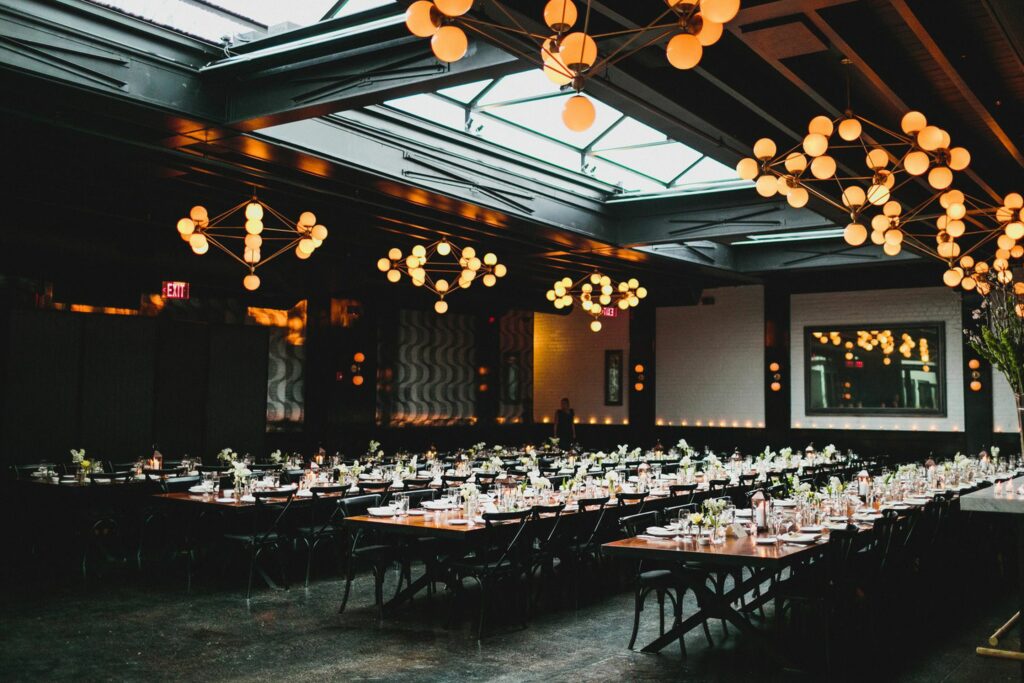 How to Make an Event Unique
The more unique an event, the longer the impression lasts. This is an opportunity to have fun and think outside the box to relay your unique point of view. This consideration can be achieved through event elements big and small.
Get Creative with the Venue: Black-tie event? Look into a museum. Going for an industrial-chic aesthetic? Think about historic buildings or even breweries and distilleries. Looking for something with an outside feel, but don't want to worry about weather? Maybe an atrium in a botanical garden or up on a covered rooftop. Options are endless. Other off-the-bat unique venues to get the ideas flowing range from renting out a summer camp—many camps do this in non-summer months as added revenue—train station spaces, warehouses, minor-league sized stadiums for company-wide parties, boats and yachts for a product launch… The world's your oyster.
Technology: Always an opportunity for an immersive experience. You could even hire someone to code an app specifically for your event—it lets your audience engage with it before, during, and after.
Lighting: Strategic lighting quite literally sets the tone and is a key method of fine tuning your desired ambiance. For your next trivia night: mood lighting is by no means a novel concept… Ancient Egyptians strategically polished pyramid limestone to create brilliant light forms that reflected across the sand. (Sadly, the Giza Pyramids are no longer available for rental as an event venue, but they must have been nice for B.C. conferences and product launches.)
Gift or Gift Bag: They make the attendee feel valued, it leaves a lasting impression, and it promotes your brand. The trifecta. Want to take it to the next level? Consider customized gifts.
Consider a Theme: just don't go overboard which can result in a shtick factor. But event themes in general? A very good idea.
Just starting the planning process?
Take

the first step and find the perfect venue for your event.
What Makes an Event Great?
It's in the details: A great event is the sum total of many components. Have you ever been to an event that had a great guest speaker, but the actual (audio) speakers didn't amplify the sound well enough? Good acoustics can set a good event apart from a great one. How about an event where the food was delicious, but it took forever to be served? Again, the difference between a good and great event. The table centerpieces are beautiful but block the view of people across your table… good vs. great.
Stick to the agenda: Make sure the entertainment or guest speaker(s) start on time and communicate the time limit to them way beforehand. It keeps the flow of the event moving in an effective fashion and avoids down-time.
Complementary activities: Extra activities or items can also add a nice touch, depending on the budget. Consider a photo booth (an inevitable hit), or if it's a late-night outdoorsy event hire a fun food truck for late night snacks. Regardless of how meticulous your planning is, things happen beyond our control—as is life—but anticipation re: details large and small is a key ingredient to your event's overall success.
Contingency plans: In that same vein, try to have contingency plans for various scenarios as much as possible.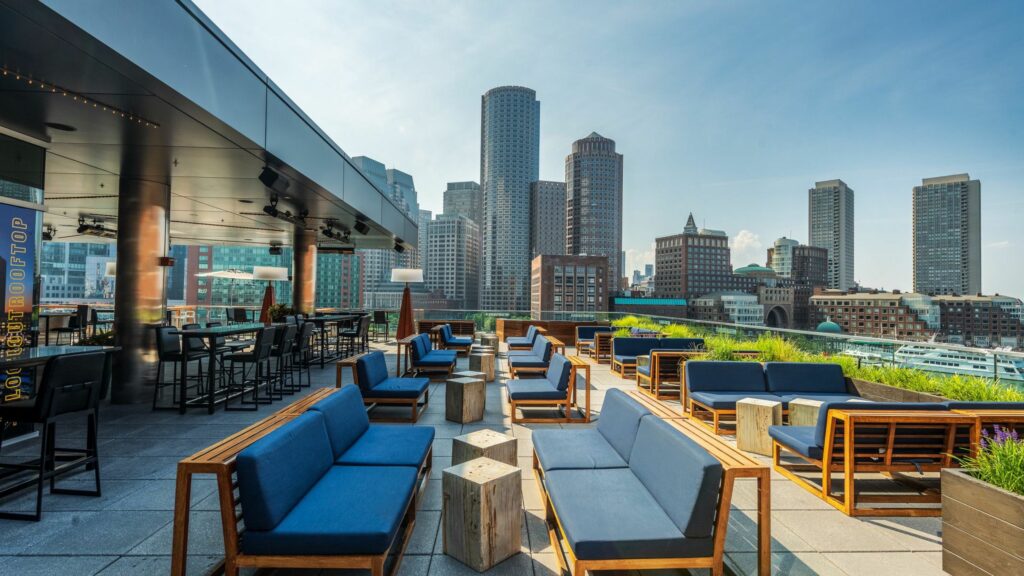 5 Major Considerations before Searching for an Event Venue
While there's a lot of factors to weigh when searching for an event venue, it can really be boiled down to five major considerations:
1. Calculate Your Budget
Set your budget before you even start the search since that will pretty much dictate all else. However, think of what your priorities here are, too—within that budget how do you want your spending to be allocated? Have that breakdown of what you're willing to spend on each element—from a guest speaker fee to gift bags—before you start your search. One event hack to always remember is that when holding an event on a rooftop, you can save money on other décor, since views are a statement piece alone. Same goes for something like an aquarium or museum; you're not dealing with a blank canvas with these kinds of spaces.
Another potential cost-cutter is booking a venue with in-house tables and chairs for larger events (if you like the look of them). Otherwise, you'll be looking at furniture rentals as an added cost. Of course, keep the insurance factor in mind, as always. The pandemic has taught us force majeure is a real thing. Lastly, don't forget to investigate if a venue has an F&B minimum when using in-house catering. There's sometimes room for negotiation here for adding on a complimentary element like upgraded A/V support if you commit to a certain number.
2. Find the Best Location
This is a vital point but also one that can be greatly influenced by geographic location. Parking is inherently less of a concern in New York, for example, because the main methods of transportation tend to be Uber/Lyft/Etc., taxis, and subways. That said, be cognizant of how your location impacts parking needs and plan accordingly. Parking snafus tend to be an event Debbie Downer, for attendees and planners alike. If a parking garage or parking lot is a necessity, try to either rent it out entirely or if that's not possible reflect the anticipated cost of parking in the overall ticket price. You can link to a parking app in your event information when applicable.
Another option to consider is some sort of shuttle from a centralized location. Long a popular move for weddings, it's really an applicable mode of transportation with any type of event. For events where drinking is, frankly, a major component—like if you're hosting an event which involves wine tasting—shuttles may be appreciated anyways, regardless of parking availability. Shuttles are another option to show your mark, and they don't have to just be your go-to charter bus experience. Consider snacks and a theme or choose a unique vehicle like a trolley. Remember: the event experience starts before you even arrive at the venue.
Planning an event from afar? Check out our City Guides for all the information you need — from top venues and vendors to weather and transportation.
3. Consider Capacity and Layout
An underrated dilemma to ponder: just because a venue can accommodate a certain number, doesn't mean that's always the ideal situation. Consider the flow and layout in addition to the square footage and people capacity to find that perfect balance of not-too-crowded, which prevents mingling, but also not a place that will overwhelm the number of attendees. For instance, you don't need to book a 5,000 square foot roof deck for an intimate rehearsal dinner. It's also important to understand what your audience's accessibility needs are. If you know there will be a guest or guests with special needs make sure that the venue can meet those accordingly (e.g., does it have an elevator).
4. Check the Services and Amenities
These days possible amenities and services are pretty much unlimited. Here's a starter list of things to consider based on your potential services and amenities needs: in-house catering, kitchen, livestream capabilities, A/V equipment, dance floor, green room, DJ booth, air conditioning, heating, views, rooftop, private entrance, street level access, bar, green room, LED walls… There's a lot out there, it's just a question of what checks your desired boxes, which The Vendry is here to help you with.
Also, beware—confirm beforehand if the venue has a set-up/cleanup crew, which isn't always the case. This can be an unpleasant last-minute surprise. Event planners are an industrious bunch but try to preserve your sanity on this front.
5. Visit the Site
Do not buy the dress without trying it on first when it comes to finding a venue!
Think of finding an event venue like online dating. Things can look good on their profile, but you won't really find out if a person is that perfect match before you meet them.
How to Find an Event Venue Online
The Vendry has been lucky to help event planners across the county navigate the venue selection process from start to finish. Whether it's helping you curate a list of potential venues based on budget or helping you finetune your needs which will determine your venue choice, The Vendry is a one-stop destination to help out on all fronts, whether it's virtual, hybrid, or live. When you're ready to get proposals going, we're here to help with all that, too.
Find the Perfect Venue with Ease

Finding a venue for an event can be a daunting prospect. With a slew of options out there it can be hard to break down exactly what works for you, your host, and your target audience. By breaking it down into the five aforementioned main considerations—calculating your budget, finding the best location along with parking, factoring in capacity and layout, and considering services and amenities—the process can become much more easily digestible. There's a place out there for everything and anyone.
Ready to take your event planning to the next level? Find the right vendor for your event - from the planning to the decor.