Article updated 5/01/23
What's the best way to show appreciation to clients for their business? What about employees for their loyalty? Why a thoughtful corporate gift, of course! A carefully curated basket, a personalized tech item, or a reusable, practical gift consistently makes people feel recognized and valued — whether they're in the office or working from home. Corporate gifts are having an elevated moment, so there's no time like the present to show your gratitude.  
From colleagues to clients, let's discover 50 of the hottest corporate gifts rolling into 2023. 
Why is Corporate Gifting Beneficial?
Any gift given by a company to its staff or customers/clients can be considered a corporate gift. One thing all corporate gifts have in common is respecting the boundaries of professionalism. It should be a thoughtful token that is general enough in nature to not offend, but feels sufficiently personal, acknowledging the unique relationship between the giver and recipient. And considering the last few years the world has had, business gifting should always connect people – whether at home or down the hall. It can be difficult, however to find a unique gift that will really spark a smile. That's why it's important to take the time to research and find the best gifts for your audience.
Internal or external, the right kind of corporate gift should always evoke a positive response to make the employee feel valued and apppreciated. It's simply a tried-and-true way of bonding directly with your internal audience. Remember that physical gifts are more memorable than anything digital. Requiring your gift to stand out is truly paramount. Lasting impressions lead to brand awareness, paving the way for loyalty and goodwill.
Looking for something with a bit of branding?
Shine on a light on your company's personality with one of these 50 Customized Gift Ideas.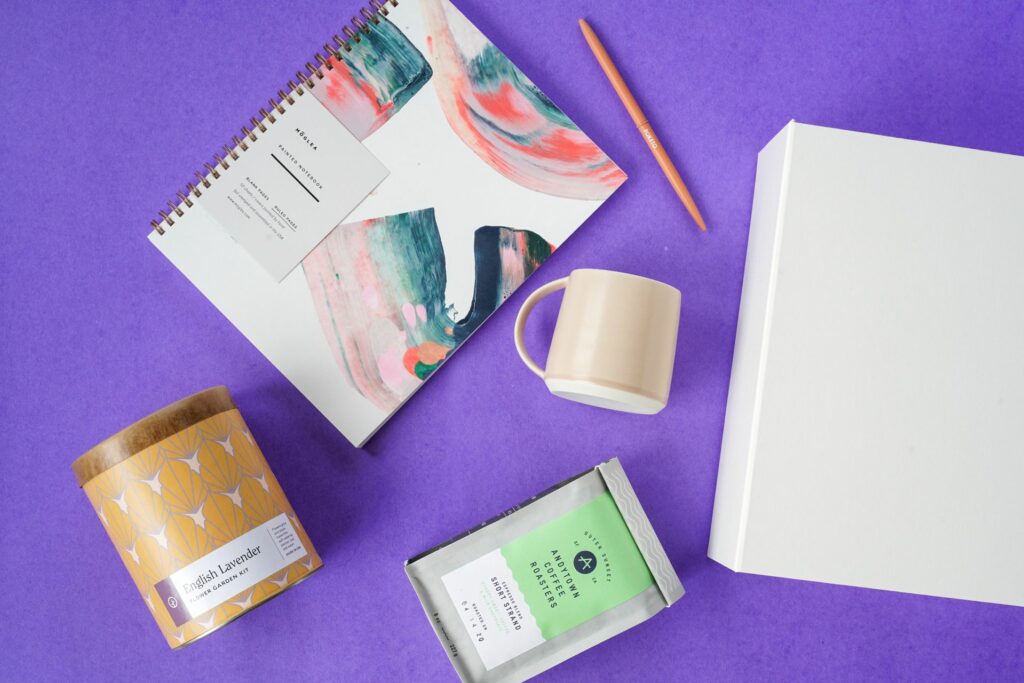 Things You Want to Keep in Mind
Be sure to give your gift selection the time and attention it deserves. Here are a few items to consider when shopping around:
Personalize Your Gift
A handwritten note or a hang tag made out directly to the person by name always makes a gift next level. Try to work in some sort of personalization, no matter your budget.
Do Not Compromise in Quality
If you are making a grand gesture, follow up with an item worthy of the way your company feels. There are too many good gift items out there, and your savvy clients and staff will know if you have skimped.
Try to Avoid Promotion
As tempting as it is to slap a logo on every gift, this is about showing gratitude to them, not promoting you. Save the promotional urges for swag bag items.
Keep Recipients Choice in Mind
Research your recipient, internal or external, to find a corporate gift that reflects their personal lives, or maybe even the region in which they live.
Keep Your Budget in Mind
Make a list of recipients (staff, clients, service providers, etc.), which will help decide the average price for each gift. Perhaps set giving "tiers" for certain VIPs within your groups.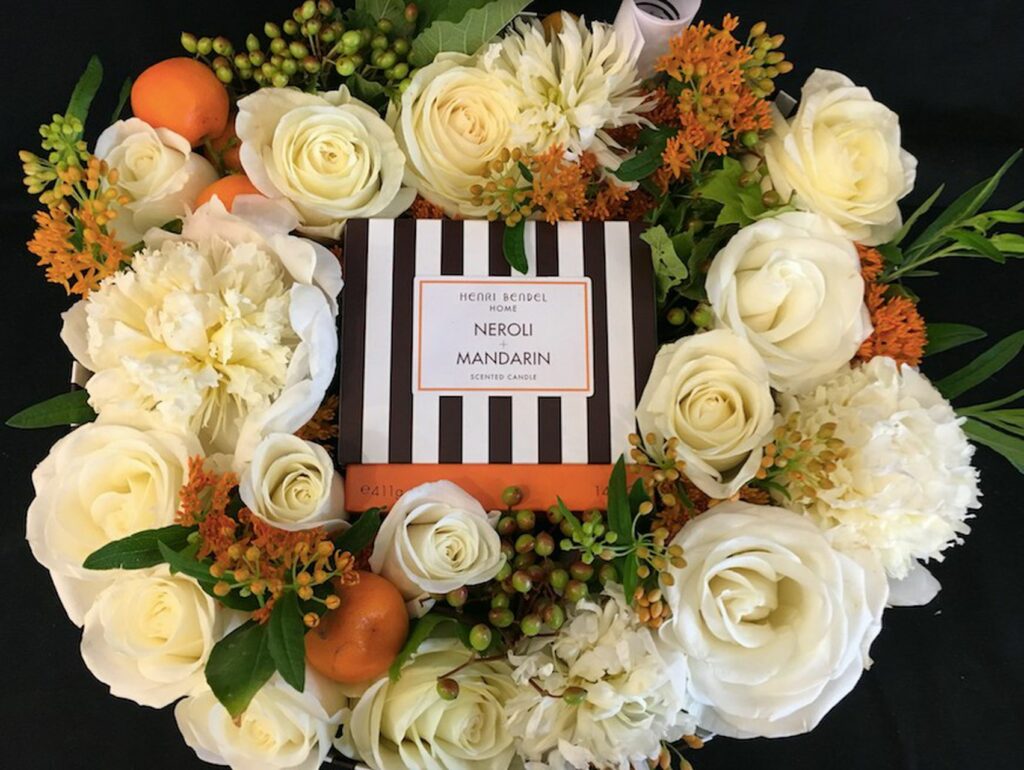 50 Most Unique Corporate Gift Ideas for 2022
Feeling the gratitude but stumped for ideas? We've compiled some of the finest and most unique corporate gift giving ideas for 2022.
1. Chic Coffee Table Book
Selecting an elegant coffee table book with a conversation-sparking cover is always a wise choice. A gorgeously bound book could be placed in a waiting room or displayed on a desk.
2. Levitating Bluetooth Speaker
In the "Whoa, that is so neat. Where did you get that?" category, is the levitating Bluetooth speaker. This device plays audio or music wirelessly as the speaker seemingly floats in the air above the base (psst…the magic is magnets). It's as much of a cool conversation piece as it is functional.
3. Beer Brewing Kit
Whose interest has always been piqued by home brewing? But who has the space and supplies? Northern Brewer has the answers with their Siphonless 1-Gallon Craft Beer Making Kit, complete with all the equipment your clients need to make quality beer in home. Pro tip: throw in a 12 pack of glass bottles for good measure.
4. Unique Wine Glasses
Uncommon Goods knows corporate gifts, including standout wine glasses. Sip in style from their "Historic Women Who Dared" collection, or "Stemless Aerating" glasses. Need help deciding? Work directly with Uncommon Goods' corporate service team to pick the perfect gift goblet.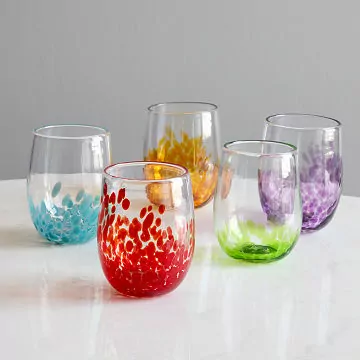 5. UrbanStems
UrbanStems ushers in the era of elegant, affordable floral arrangements finally done right, delivered directly to your employees' or clients' doorstep. And they are more than just petals. Design something special with a corporate gift planner to design memorable gift boxes, too.
6. Baked by Melissa
To send all your corporate gifts at once, Baked by Melissa has you covered (with frosting!). Choose from their mini cupcake samplers, wrapped in personalized gift boxes, done up in your choice of logos or colors. Pick your products and select the arrival date – even send Baked by Melissa your recipient list. Done!
7. YETI Rambler Mug
If giving a quality gift is number one on your list, look no further than YETI. A Rambler Mug adorned with any kind of personalization is a high-quality, impressive way to say you care. Choose from a variety of colors and sizes.
8. Cheese Board Set
Williams-Sonoma knows everything culinary. A personalized cheese board makes for a substantial, striking gift. Even let Williams-Sonoma help you select cheese and charcuterie to throw in for an added touch.
9. SnackBOX Movie Night Bundle
Complete with a one-night DVD rental code for Redbox, this sweet corporate gift contains all the classic movie theater candy you can dream of in a SnackBOX's compact, red and white box.
11. Professional Notebooks
Though it's a common gift, a notebook is a useful gift that always seems to be greatly appreciated. Have your clients tell their story with a personalized Moleskine notebook. From screen printing, foil, blind debossing, or laser engraving for the cover, a corporate gift from Moleskin is anything but by the book. 
10. Indoor Putting Green
There isn't a golf enthusiast around who wouldn't want to take an afternoon break with the Perfect Putting Mat from the PGA Superstore. Order personalized practice balls to complete the set.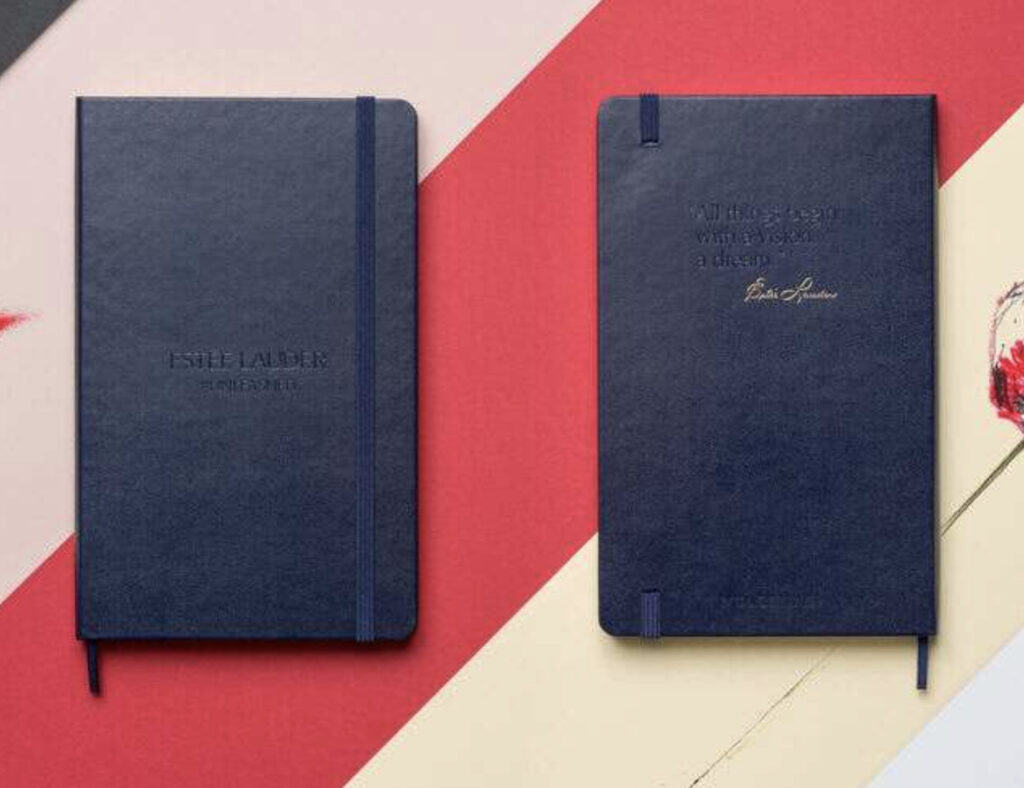 12. Starbucks Gift Card
A surefire winner, any sort of gift from Starbucks is certain to be valued. Co-branded gift cards not only get your company name out there in the coffee world ether, but will be used time and again when your eco-conscious clients or staff reload their card.
13. Seasonal Fruit Baskets
An originator in the corporate gifting world, Harry & David delivers remarkable, hand-crafted baskets season after season. When it comes time for your corporate gifts, look no further than their savory and sweet baskets, which overflow with ripe fruit, snacks, and collectibles.
14. Truffle and BonBon Boxes
Bar & Cocoa makes it easy to give some of the world's most delectable chocolate. Their award-winning truffles and bonbons come in customizable gift boxes, ensuring your gift arrives carefully and personalized.
15. Sugarwish
Just as the name implies, let your client or employee choose their sweet or savory of choice using Sugarwish. You choose the size of box to give, then an email or text is sent to your recipient. They get to decide the box's contents, selecting from candy, cookies, popcorn, and snacks. Lucky!
16. Whiskey Box Gift Set
Let Reserve Bar do what it does best – deliver quality spirits to even the most discerning of customer. Perfect for your in-house whiskey lover, this whiskey set boasts sophistication. Send the Reserve Bar "Whiskey Worth Knowing" set to really flex your gifting muscles.
17. Virtual Fitness Class eGift
The perfect gift for fitness lovers, a ClassPass gift card allows your employees to visit top-rated fitness studios and gyms for far less than typical drop-in rates. They can also try other options like bootcamps, cycling, Pilates, or yoga. Whatever they choose, it keeps your VIPs moving and happy.
18. Baked Goods by Mini Melanie
Sisters Melanie and Diana Moss, winners of Food Network's Chopped, own Mini Melanie, an out-of-this-world bakery that offers three tiered options for corporate gift giving. Each carefully packed box showcases their finest cake pops, cookies, truffles, or cookie cakes. Yum!
19. Vosges
There's truffles, then there's Vosges. Let their "concierge be your guide" as you select truffles to send your customers or employees. There are few experiences like Vosges truffles, created by master chocolatiers who use the world's finest spices, nuts, roots, herbs, and liqueurs from around the globe.
20. Gourmet Food Baskets
It might be easier to list what isn't an option for Olive & Cocoa's overflowing, delectable food baskets. With cookies, nuts, popcorn, toffee, and even an "Italian Market Snacks" basket, the options are as plentiful as their gifts. A personal account specialist will be assigned to you, guiding you through each delicious choice.
21. Hot Chocolate Kit
BOXFOX delivers a comfy, thematic hot chocolate gift suite, complete with milk chocolate hot cocoa from Compartes, a mug, socks, and a fragrant candle. Pretty cozy indeed.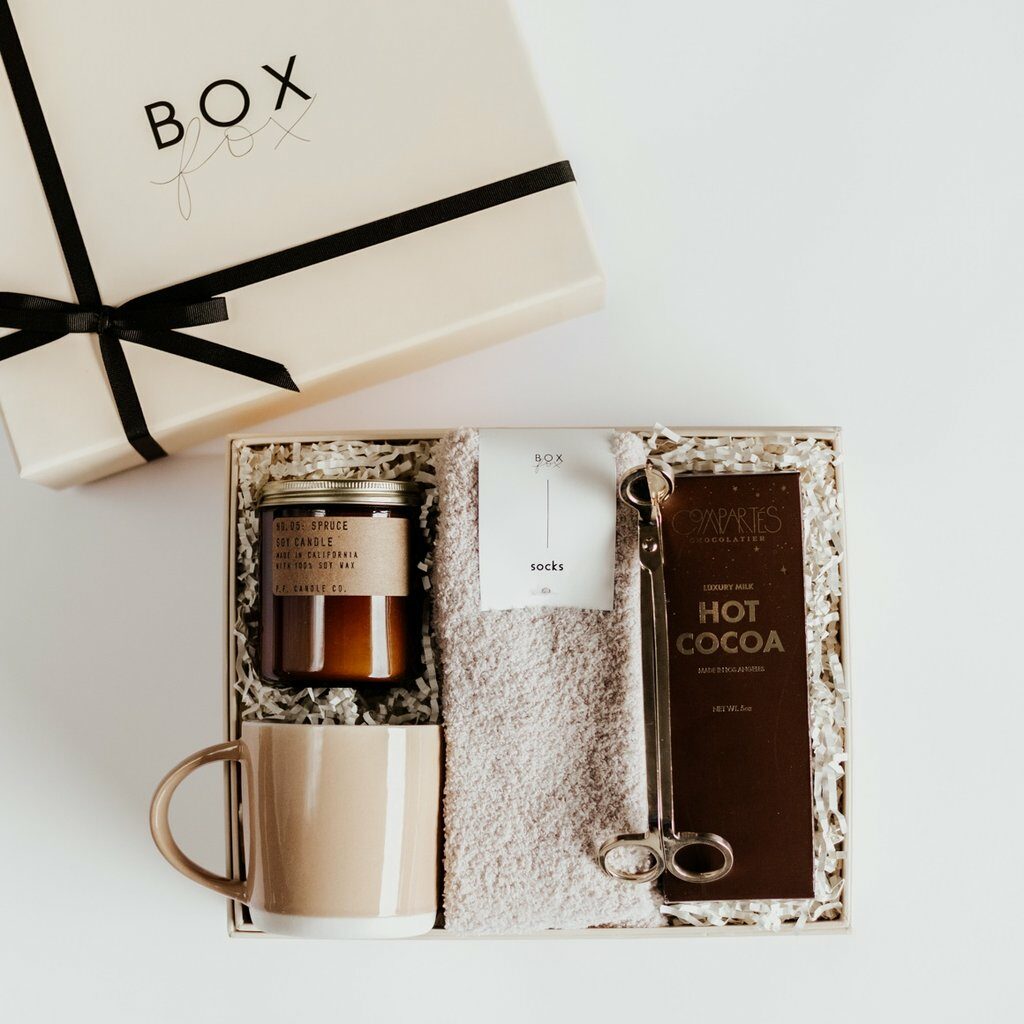 22. Pop-Up Holiday Greeting Card
Want to make a statement but have a large crowd to cover? Lovepop creates millions of memories with their nothing-like-it, pop-up card designs, offering bulk discounts and card customization.
23. Whole Bean Coffee
Gift the comfort of coffee with sustainable, eco-friendly Driftaway, where you can personalize whole bean subscriptions with their beans-by-mail model. You can customize the roasts, the region, and even the compostable packaging.
24. Happy Socks
Hard not to feel anything but cheer when your employee or customers open a box of Happy Socks. Themed box sets by the stocking purveyor come in a range of prices and styles for everyone on your list, from "Sport Socks" to "Monty Python".
25. Healthy Pen
Antimicrobial and coronavirus-inhibiting, the Hygiene Plus pen from Switzerland-based Prodir is a premier writing instrument made from antibacterial plastic, likely an appreciated gift during these times.
26. Wine from VINEBOX
Sleek and intriguing, a gift box from VINEBOX is a tasting experience sure to impress anyone on your corporate list. Send a curated box of three, six, or nine wines, each sent in sexy packaging with single-pour tubes of wine.
27. Chocolate Covered Oreos
Bonnie & Pop New York sends out their unbelievable "Drenched Oreos" in an elegant gift box, with each classic cookie smothered in rich chocolate. They are even individually wrapped for freshness and hygiene, but don't go expecting clients to share this treat.
28. Custom Golf Gifts
If there's a crowd that is discerning on their equipment, it's golfers. So make sure to show you know your stuff by gifting custom golf balls from Titleist. And they are fast when it comes to customized printing. Your favorite golfer will have their gift in hand within ten business days. Want to go a step above? Consider a streamlined golf bag from Sunday Golf. With bags weighing less than 2 lbs, (and very sleek designs), your gift receipt will feel (and look!) their best for tee time.
29. Happy Hour Box
Mouth.com encourages companies to "give great taste" and they deliver with fun gifts and subscription choices. Their "It's 5 o'clock Here" box includes a pineapple lime cocktail mixer, small-batch nibbles and spreads, spicy pistachios, and a cute canvas tote.
30. Omaha Steaks
Gifting Omaha Steaks is a classic move for a reason. The heartland-based mainstay offers a Concierge Service for large orders, as well as expert help on putting together one of the most coveted gift boxes around.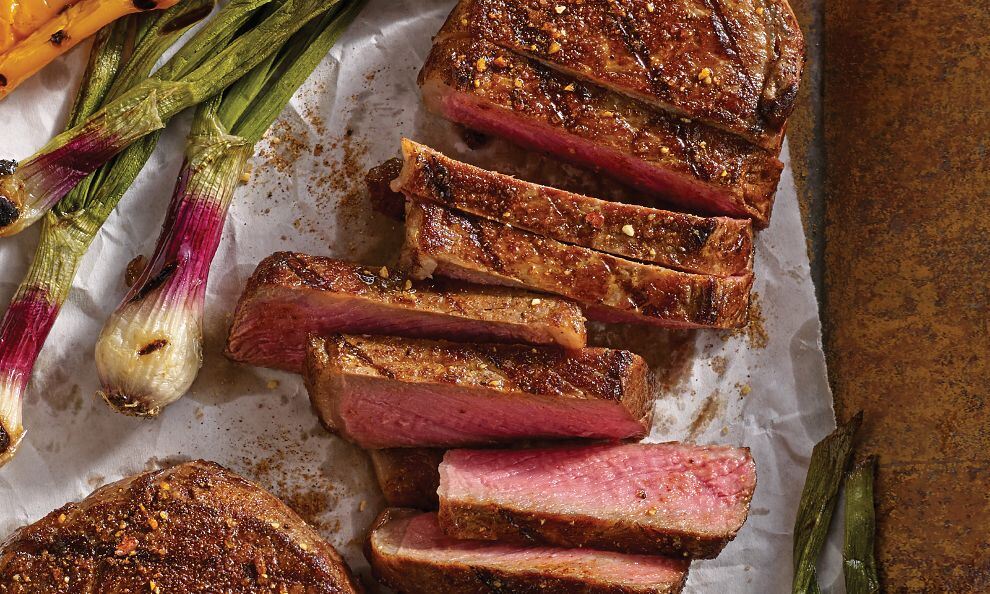 31. Restaurant Gift Cards
While it might be tempting to send your staff or clients to your favorite haunts, choosing to give gift certificates to large restaurant groups allows them to dine freely. Sending a gift card from restaurant conglomerates like Lettuce Entertain You or Union Square also go on to support the service industry we hold so dear.
32. Luggage
A smart corporate gift is one that can be used again and again. Away luggage, bags, and travel accessories are a gift designed to last, and can be personalized with printing, embroidery, or engraving.
33. Self-Heating Mug
The pioneer in the temperature-controlled mug space, Ember keeps your hot drink of choice perfectly set at your desired drinking temperature, all controlled by your phone. Work directly with Ember to design the smartest mug your VIPs will ever get their hands on.
34. Custom AirPods Pro
As it ever shall be, Apple leads the way in tech, with a custom engraving option for the latest version of their AirPods Pro, making it a most righteous gift for top clients or personnel.
35. Holiday Spirit Box
With an impressive list of previously served clients, getting your recipients in the holiday spirit has never been easier than with Simone LeBlanc. With box options like "Good Tidings" and "Holiday Fine Food", the company offers fully bespoke gifting selections sure to make a lasting impression.
36. K-Cup Coffee Sampler
Coffee is always an excellent way to perk up your customers and say thank you. Here's a Keurig Coffee Lovers Collection of 60 choices, sure to make the whole office wake up and smell what's brewing.
37. Bamboo Charging Station
Custom order a MobileVision Bamboo 10-port Charging Station for your corporate gift, a clever desktop device that hides those nasty cords, keeping all your VIPs' gadgets in on convenient, sharp-looking place.
38. Headphones
Reward excellence with excellence. Bose headphones are engineered to deliver premium sound with noise-cancelling greatness, a hallmark of a great gift for 2022.
39. Bean Box Coffee
Give your employees access to award-winning roasters and endless variety to some of the world's finest artisan coffee. Bean Box has the market cornered on deluxe gift boxes or monthly subscriptions to keep the office percolating all year.
40. Wireless Speaker
Everyone knows the quality of JBL speakers, so why not share? Their bulk purchase program offers great discounted prices for large orders, and products can even be personalized.
41. Sunglasses
The fit-on-every-face, carbon neutral, polarized, sporty sunglasses brand goodr offers a sprinkle of light-heartedness to your corporate gift giving options.
42. Healthy Snack Haul
Caroo makes mindful corporate gift giving a modern twist. Keeping better-for-you selections top of mind, craft a healthy snack basket to send the office to show you care, all while keeping in your budget.
43. Tote Bag
Give a slice of Americana with a Lands' End tote bag. This canvas wonder is as much of a classic as it is practical, with monogramming and embroidery options aplenty.
44. Mini Rub Jars
Spiceology knows flavor, and its 12-pack of Mini Rub Jars lives up to the hype. And you can give knowing your gift is from a place that has a worldly view – the company cites sustainability, giving, equity, inclusion, and diversity as their "bigger picture".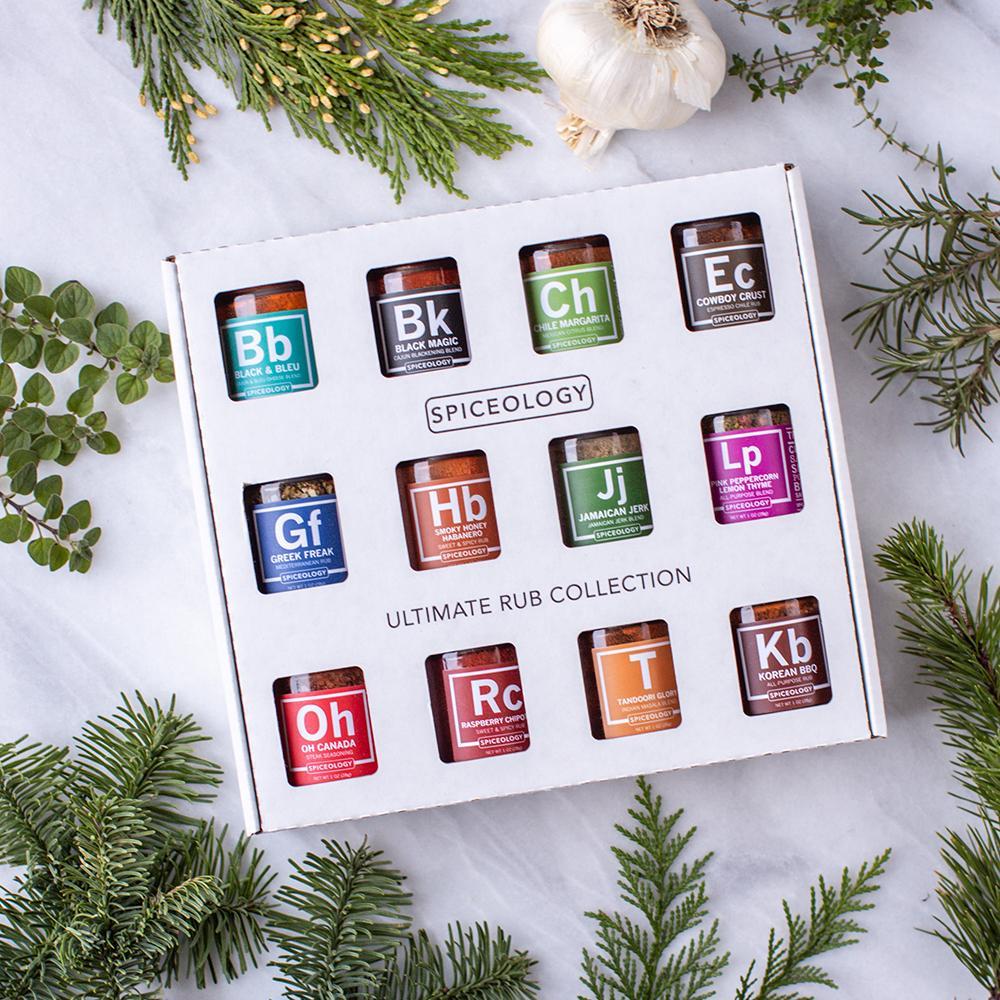 45. Electronics Organizer
For the real tech lover, Bellroy keeps all their beloved gadgets organized. Your employees or customers will appreciate a travel accessory for all their chargers, cords, headphones, etc. in a sleek case that exemplifies style and function.
46. Custom Coffee Mug
Deneen Pottery is handmade in the United States and is a solar-powered wonder in the artisan mug market. You can upload your company's logo or other personalization to become the mug your VIP reaches for every morning.
47. Wellness Gift Set
Knack has a, well, knack for offering the perfect gift basket for the occasion. Their wellness options include a "Life in Balance" box complete with stacking stones, as well as a "Finding Your Zen Tea Set" with adorable tea pot.
48. Cocktail Courier
Cocktail Courier offers up cocktail kits (spirits included!) for bar-quality drinks at home. Their group order guide makes it painfully easy to select what you'd like to send to that lucky gift recipient.
49. Whoopie Pie Baking Kit
For an out-of-the-box idea, send a baking kit, like this Whoopie Pie Baking Kit from Baketivity. It's the type of corporate gift everyone can enjoy, bringing the whole family into the kitchen. Saying thank you has never been so delicious or engaging.
50. Hydro Flask
A high-value, slam-dunk gift for employees or clients alike, Hydro Flask offers corporate gift options galore. With the ability to customize colors and personalize with engraving, the fast-growing company now offers lunch totes and coolers.
Why Corporate Gifts are Important in 2023
The VIPs in your company's corporate orbit deserve appreciation and recognition. Whether you're gifting internally, or sending out momentos to special clients, a token of a appreciation can go a long way — especially in this remote world. Selection of a proper gift is easy when you see all the high-quality, buzz-worthy choices 2023 has to offer.
From chocolate tastings to floral design classes

, find the service that's right for your event.