'Tis the season to be jolly… and generous. Last year's holidays were a muted celebration marked by opening presents over Zoom with relatives who have questionable internet connection and hosting virtual holiday parties with coworkers you hadn't seen in 10 months. While still different, this year things are returning to an end-of-year sense of normalcy. Corporate gifting is applicable to your business all year long, but during the holiday season it becomes a particularly salient point of conversation—not just to gear up for end-of-year festivities, but to analyze and plan your gift-giving process and budget for the year ahead. Whether you are putting together goodie bags for a networking event or looking for a new client welcome gift, read on for The Vendry guide to the who, what, where, when, and how of corporate gifts. That said, for many this begs the initial question: what is corporate gifting?
What is Corporate Gifting?
In a nutshell, corporate giving is exactly what it sounds like: sending a gift from your business. Recipients could be employees, customers, clients, or even prospective professional relationships. Reasons to give a corporate gift can include (but are by no means limited to):
Holiday Gifts
Client Appreciation
Birthday Presents
Welcome Gifts for Employee or Client Onboarding
Work Anniversary Gifts (Employee or Client)
Launch Parties
Thank You Gifts
Give your brand a chance to shine with one of these 50 Customized Gift Ideas.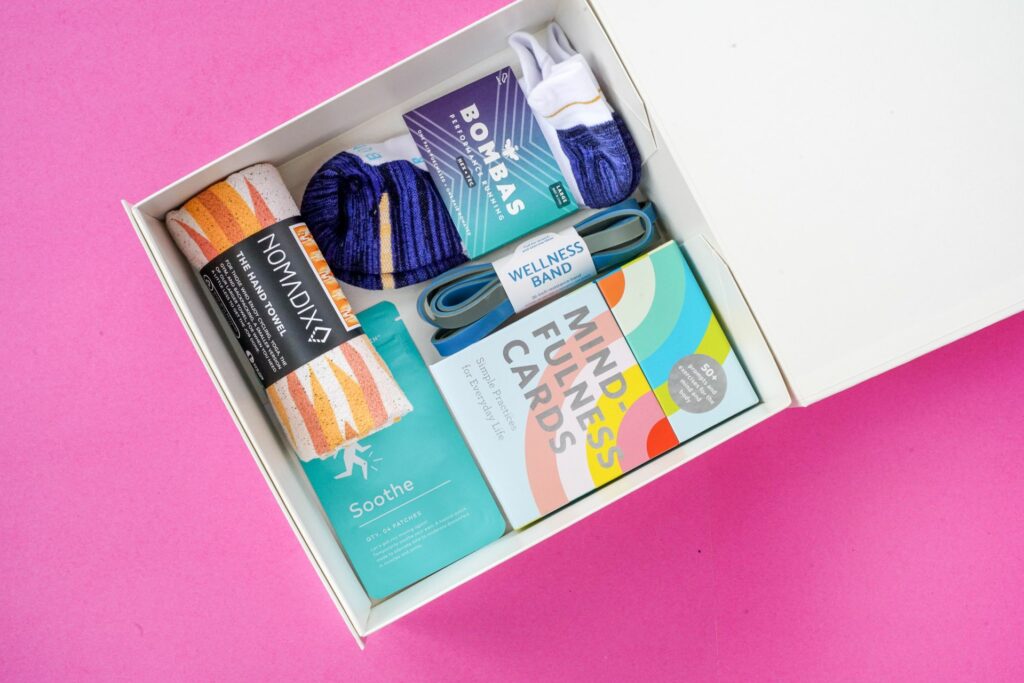 Why Do We Give Gifts? The Psychology Behind the Corporate Gifting
Perhaps you remember being told by a parent when you were younger that "it's better to give than to receive." As it turns out there's an anthropological truth to that adage. Gifting has been part of our social fabric since, quite literally, the cavemen days. It's believed that our ancient ancestors used gifts to show dominance and affection, which could be in the form of animal teeth or stones. You gotta start somewhere…
Ever wonder where the tradition of birthday gifting comes from? You can thank the Ancient Egyptian pharaohs for originally starting that trend. (Fun trivia fact: the tradition of blowing out candles on your birthday comes from the Ancient Greeks, who would symbolically blow out a candle while making a wish to the gods to protect a birthday girl or boy). Gift giving spans every nation, culture, and creed throughout history. Country-to-country gifts range from the infamous—Trojan Horse-gate—to the celebrated, like the Statue of Liberty as a sort of extravagant friendship bracelet from France.
From a psychological standpoint, the purpose of gift giving is multifold; reasons that have developed over the millennia. Gift giving can build and reinforce relationships, show love and devotion, and help others. It is a symbolic method of communication, whether it is your personal or professional life. So, through corporate gifting you are in fact adhering to a worldwide social construct.
Why Corporate Gifting Is Important for Your Business
Whether it is a gift for a client or an employee, the reasoning behind corporate gifting serves multiple purposes:
Shows the Recipient they are Valued: Whether you are welcoming a client or employee, celebrating a work anniversary, or saying thank you for a successful quarter, the act of gift giving is a fun and innate act of positive acknowledgement.
Builds Relationships with Clients: As discussed, gift giving has been a form of relationship building since, well, forever. In modern times, it's also a flat-out expectation in some cultures. For instance, gifting is a central tenet in Japanese business culture. Etiquette dictates the unspoken expectation that gifts will not only be exchanged at initial meetings, but subsequent business dealings as well.
Motivates Your Team/Creates a Positive Work Culture: Gift giving is not dangling a carrot, but rather a symbolic thank you and motivation tactic in any workplace. Hard work reaps rewards, and it's been proven that a thankless environment in fact has the opposite effect on productivity. Think of corporate gifting as conducive to both workplace morale and performance.
Brand Ambassadorship: Saying thank you and promoting a brand can be a two-birds-one stone situation with corporate gifting. It's a way for your brand ambassador to continue carrying the flag, while also feeling appreciated for their efforts. Corporate gifting simultaneously serves the purpose of both acting as a brand reminder and promoting brand loyalty. Call it altruism with a business perk.
What are the Different Types of Corporate Events?
There are myriad types of corporate events which provide an opportunity for goodie bags and other types of gift giving. Conferences and seminars are no longer associated with sterile rooms in a hotel basement, but rather an opportunity to create an immersive experience and think outside the box. Product launches, board meetings, networking events, year-end functions, charity events… all of these provide a golden opportunity to curate swag as a thank-you-for-coming and also brand promotion plus loyalty.
What Types of Gifts Suit Corporate Events
Having some sort of goodie bag or item/s at your event leaves a lasting impression beyond when an attendee walks out the door. Items can run the gamut from a ballpoint pen to chocolate and everything in between. However, keep in mind the audience when making these en masse for a varied crowd, the appeal should be universal and something that speaks to people of all ages, genders, etc. Of course, when the audience falls into a particular interest niche, gifts can be catered accordingly.
Looking to jazz up a virtual event?
From chocolate tastings to floral design classes

, find the service that's right for your event.
What Types of Corporate Gifts to Avoid
Corporate gift giving etiquette can really be summed up with the following: read the room.
Make sure the tone and cost of your gift matches the recipient and try to avoid any gaffes. For example, when working with a non-profit at a charity event aimed at tackling poverty, avoid what might be deemed more "lavish" gifts. If you are gifting a new client a customized bottle of Veuve Clicquot (more on that later) as a welcome, subtly make sure they drink beforehand. Also, always research a country's gift giving protocol when dealing with international clientele to avoid a faux pas. E.G., don't give a Chinese client something sharp, like a letter opener or scissors, since that could signify the severing of a relationship. Don't give a Russian individual flowers bundled in even numbers and avoid lilies or carnations—it's associated with funerals in their country. In France, giving a client something with your logo can actually be considered in poor taste—and unlike Japan don't bring a gift to the first meeting, but afterwards it's acceptable. It's in the details and try to think of international corporate gifting and diplomacy as going hand-in-hand.
There are also tax implications to be aware of. Remember that if you gift somebody an item over a certain value from your business—say, a watch from your brand to an ambassador both as a thank you and to promote your label—you'll need to navigate IRS rules. Under $25 per person re: corporate gifting is usually tax deductible. As always with your business, make sure the ethical compass points north. Gift giving is no exception.
Awesome Corporate Gift Ideas
Custom Bags
An oldie but goodie. At Vanity Fair the iconic editor Graydon Carter used to celebrate employee birthdays by gifting them bespoke Anya Hindmarch canvas totes—and/or a themed beach towel, depending on the length of your tenure—specially designed with vintage VF covers, usually from the 30s.
Ice Cream
We all, always, scream for ice cream. Ohio-based Graeter's Ice Cream has been producing handcrafted, artisanal French Pot ice cream for over 145 years. The boutique ice creamery has a whole section for corporate gifts, which can be shipped nationwide using dry ice. Insider tip: their signature black raspberry chocolate chip flavor is next level. (Dairy-free ice cream available.)
Custom Face Masks
Here's hoping this eventually becomes obsolete, but in the meantime…
Luggage Tags
What better way to celebrate the return of travel by gifting custom luggage tags to frequent fliers? There's plenty of options out there but try checking out Mark and Graham monogrammed tags to get an idea of what could work.
Gift Cards
Don't underestimate the enduring appeal of gift cards/eCards. Whether it's for a fashionable restaurant in a client's area, a pass to the museum, a year-long Spotify membership, or even a good old Starbucks card, these go a long way. Remember, too, that gift giving does not have to break the bank!
Spirits
Again, an oldie but goodie. (As aforementioned make sure the recipient drinks first, otherwise it makes for an awkward thank you moment.) At ReserveBar you can not only pick out a client or employee's favorite bottle, but also get custom engraving.
Yeti
An ongoing trend in corporate gifting is the ever-popular Yeti Rambler or Tumbler, with a custom logo. A surefire way to be a brand reminder at home and the office.
Flowers
The floral industry generates roughly $5 billion a year in the U.S. Options out there are plentiful, but consider taking a gift of flowers to the next level. Offering an interactive floral design class as a gift will create an added wow factor that is sure to get your recipients attention. Important to drive home: flower gifts do not just appeal to women, there's something out there for everybody.
PopSocket
Slap your logo or brand name onto it and you're all set.
Nostalgia
Old is very much contemporaneous when it comes to corporate gifting. A polaroid camera is not just a throwback novelty, but a talking point. Retro office supplies have a vintage appeal while also serving a purpose.
Books
Likely a gift that you bestow on a client or employee you know well, since literary tastes are so subjective. However, for the bookworm in your professional sphere, consider a unique book set. Juniper Books has gorgeous jacket covers, with customization/personalization available.
Unique Snacks
Again, a lot out there to choose from. Handcrafted Fairytale Brownies can be personalized for that extra something. If you're looking for a unique touch to show employee appreciation in the New York area, reserve a super cute Sigmund's Pretzels cart—some of the best artisanal pretzels out there—for an afternoon at your newly-reopened office. Brooklyn-based, Sigmund's Pretzels ships all over the U.S.
Corporate Gifting to Stand Out From the Crowd
Corporate gifting should be viewed not in terms of if but when, what, and how by businesses. It's an ingrained part of worldwide human interaction since the beginning of time and should be viewed as an inherent part of your overall yearly budget—though by no means needs to bankrupt you! A little can go a long way, and there's enough out there to accommodate the cost effective to the costly. Knowing your audience is key and when gifting in bulk choose items with universal appeal. Most of all, have fun with it! It's a creative win-win situation.
Just starting the event planning process?
Search for venues by neighborhood, vibe, capacity, and more.