In collaboration with Green Places
The event industry and its professionals are evolving right along with the science of climate change. Many pros are adding eco-friendly initiatives to their event checklists, both due to personal commitments to sustainability, as well as attendee expectation. With some thoughtful consideration in your event preparation, your corporate outing, conference, product launch, or special event can certainly become more green. Follow along as we help you with everything you need to know to plan a sustainable corporate event.
What is a Sustainable Event?
Hosting a sustainable event is the goal to work toward, but you must first understand exactly what that entails. In order to host in a sustainable mindset, your event must:
Initiate steps before, during, and after to preserve the natural environment
Promote a healthy, inclusive society
Support the thriving economy
Sustainable event management is truly the process of making individual choices that look to reduce the environmental impact of your event, big or small.
But lowering the carbon footprint of your event is no small feat, often impacting all of your planning decisions. "Incorporating sustainability initiatives is challenging for many businesses mainly due to a lack of resources and guidance," explains Alex Lassiter, CEO of Green Places, an organization offering sustainability solutions for businesses. "Companies can feel pressured to do it all, all at once, but that's not realistic. It's really about getting started with attainable goals and small initiatives. Implementing sustainable practices in all areas of business is the best way to solidify your commitment to climate action."
Going virtual?
Read our 12 Tips to Host a Successful Virtual Event.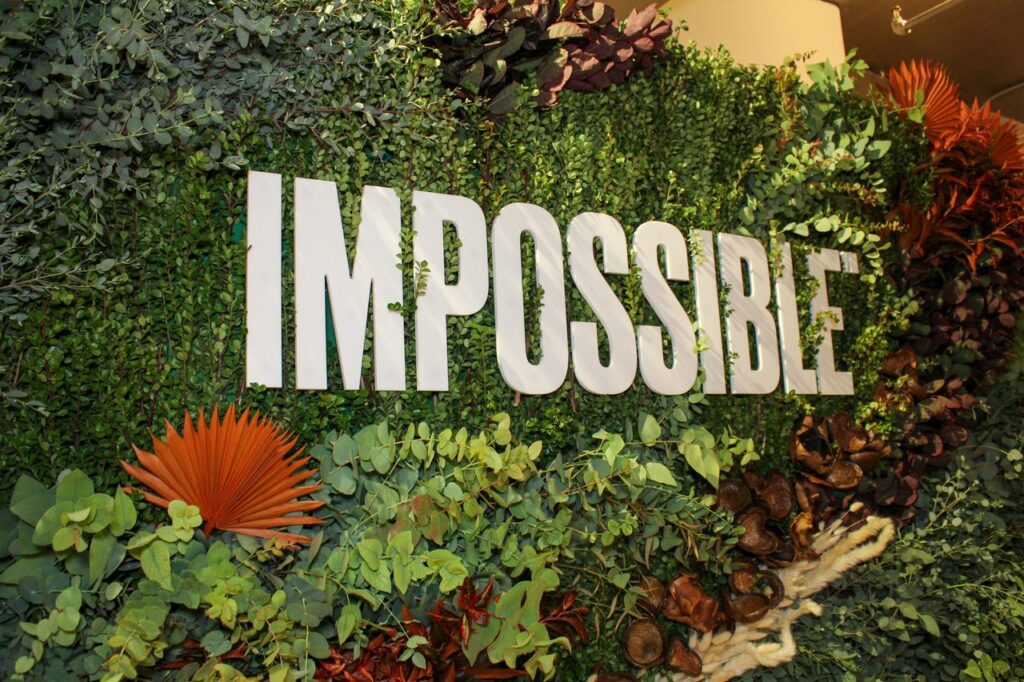 What are the Benefits of Making an Event
Sustainable?
It only seems right to make your event eco-friendly. But questioning the benefit to the steps you are carefully taking only seems natural. Let's examine the numerous advantages planning an eco-friendly event offers.
Improve and Decrease Your Environmental Impact.
Assessing your event's footprint is no easy task. Event planning practices of "more is more" don't seem to fit into 2022 standards. The Events Industry Council (EIC) in 2019 developed a guideline for professionals, complete with suggestions and best practices for becoming more green. Embracing a shared duty for communicating sustainable practices, implementing social considerations, and supporting thriving economic means were outlined by the EIC, urging all planners and vendors to take responsibility.
Cost Reduction.
Thanks to technology, cost reduction has become more streamlined for an eco-friendly event. From event management software and emailed invitations, to digital display signage and mobile apps, there's plenty of steps to be taken before and during an event to bring down cost, improve ROI, and help the environment.
Stakeholder Expectations.
Organizations tend to seek out companies whose values align with their own. Reducing your event's footprint can draw the attention of those who believe in what you believe, leading to relationship building, partnerships, and a healthy bottom line. And don't forget the individual consumer, who is now more likely than ever to support a brand or company that believes in sustainability.
How to Plan a Sustainable Event Using These 9 Easy Ideas
Planning a sustainable event might feel overwhelming at first, but The Vendry is here to help. That's why we partnered with Green Places to bring you 9 easy ideas that can help make your event more environmentally friendly. Green Places is simplifying sustainability for businesses through its climate tech platform and services. Green Places helps companies calculate their carbon footprints, set sustainability goals, track their progress, and report their accomplishments.
Here's where to start when planning your sustainable event.
1. Book a Sustainable Venue
Savvy venues of this generation are constantly seeking ways to implement green initiatives and features. When booking a venue, you must ask vital questions like:
What environmental credentials does your venue have?
How does your venue handle food waste reduction?
Does your venue have a recycling program?
How close is your space to public transportation?
What sustainable materials are used in your restaurant/meeting room/ballroom?
Exploring questions like these might lead to surprise answers, like spaces within the venue of which you weren't aware, or thoughtful partnerships between the venue and sustainable groups. Take for instance the Conrad New York Downtown, which has a green roof that operates as a garden, as well as a link to a food program. "Our hotel is partnered with ReThink Food Program, a New York City organization we donate the hotel's unused food to," explains Meaghan Herndon, the Conrad's Assistant Director of Events. "ReThink picks up unused, excess food from restaurants, farms, and other food purveyors to repurpose it into delicious and nutritious meals for underserved New Yorkers."
2. Source Sustainable Vendors
To host a truly green event, collaborate with sustainable suppliers. Just like when you sourced your venue, ask questions of your caterer or rental company:
What type of environmentally-friendly options do you offer your clients?
Does your organization have a sustainability program or directive?
Can this décor be reused?
Is your food locally sourced?
Interest in food and drink sourcing, in particular, has grown in recent years. "As a priority, sustainability is top of mind with our farm-to-bar cocktail program where we only serve locally sourced, hyper-seasonal, organic ingredients for both food and beverages in our catering division," says Tyler Hollinger of HighLife Productions. "Our Upper East Side cocktail Café, Festival, as well as our annual 1000-person festival, Secret Summer, both celebrate local farms with global brands."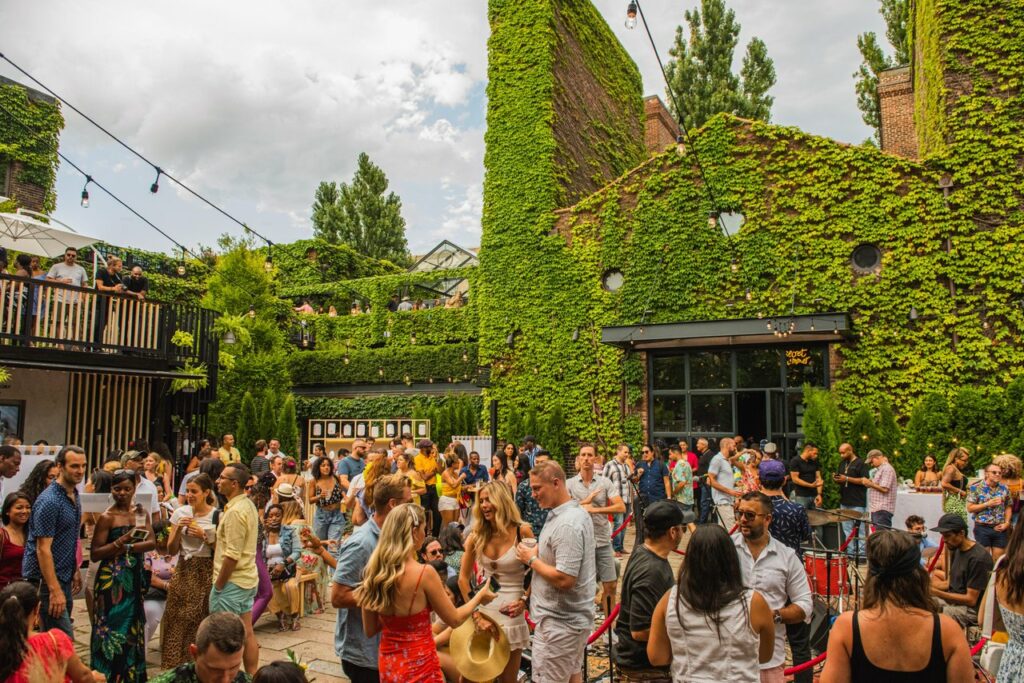 3. Use Digital Invites
A paper-free approach is a sound one when planning a sustainable event. Arranging to communicate digitally removes potential waste, and most times, makes for smoother event accessibility. Your invite to your corporate outing, private dinner, conference, or product launch could include all key information and e-tickets. You can customize a beautiful invite, and reach a bigger audience faster with less waste. If you are looking to go the extra mile, you can always hire a professional to curate your e-invite experience. There's no loss on stamps or printing, plus often you can view who has opened or viewed your invite, tracking RSVPs with ease.
4. Reduce Paper Use Overall
In addition to the invites, help diminish the impact of deforestation on climate change by hosting a completely paperless event. Think about these paper alternatives when planning your event:
Create a bespoke event website with all key information instead of a paper packet
Make all event signage digital
Do not use paper plates, cups, paper towels, or paper napkins at your event
Provide digital check-in with a QR code instead of paper tickets
Be sure to make all guests and vendors aware of your paperless intentions!
5. Offer a Sustainable Menu
Smart event planners know looking local for food is the way to go. Sourcing fruits, vegetables and other food from nearby farms and producers means less travel, less carbon footprint. There are other ways to explore sustainability options in your food at events, too. Choosing to serve responsibly-caught fish instead of beef helps ensure future generations enjoy a plentiful ocean (to produce one pound of beef it takes 1,799 gallons of water and releases about 22 pounds of carbon). A sit-down meal proves for less waste than a buffet. Lastly, all packaging or presentation of your food should be paper-free, or at the very least minimally packaged in biodegradable or recyclable containers.
6. Offer Waste and Recycling Bins Throughout Your Event
You don't want your event to be a major contributor to the landfill. When talking with your venue or vendor partners, be sure to ask the following:
Can we place the waste bins in clustered sets for recycling and landfill throughout the venue?
Can we be sure that the bins used are clearly marked?
Do you have non-profit partners you work with to donate used conference/meeting/event materials?
How do we work together to reduce waste using items like cloth napkins, glasses and water pitchers, or reusable name tags?
7. Combine Your Venue With Your Accommodations
If possible, make it easier on your guests and the Earth by combining your venue with your accommodations. Choose a hotel for your employees with meeting room amenities right within the hotel to cut down on transportation. Need to host a big dinner after a day of conferences? Select a restaurant within the hotel, or at the very least one easily accessible by foot. If you have to use transportation, consider booking hybrid shuttle busses to considerably cut down on your crowd arriving individually by car, or encourage ridesharing.
8. Choose Sustainable Décor
Choosing décor that is upcycled or rented is far more accessible today than it's ever been. Rental companies are prepared to loan out their furniture or other items to be used again and again, often time styled or reworked to fit your event. Floral is such a special touch to your event, but also must be handled responsibly. Steer clear of florists that use oasis (the green, sponge-like foam used at the base of arrangements). Also consider a florist who offers to re-purpose the flowers and vases after your event to places like BloomAgainBklyn.
9. Use Recyclable Gifts for Giveaways
Time to ditch the plastic-y swag bags of yore for something more sustainable. There are oodles of companies out there that now offer recycled, Earth-friendly options. Consider gifting your employee, customers, or clients with a reusable grocery bag, perhaps outfitted with a reusable drinking straw, a recycled notebook, bamboo sunglasses, or a t-shirt made of recycled material. Another new and popular option is digital swag, which requires no bag or paper. Attendees can open a virtual "bag" that is emailed to them with discount codes, e-tickets, or access to other freebies, all with no waste.
Hosting a Sustainable Event Can Have a Lasting Impact
Nothing happens overnight. But when it comes to turning the tide of sustainable events, mindful changes go a long way. Holding professionals and partners up to a new standard will have an impact on sustainability for not only the industry at large, but the planet we call home.
Accessibility matters! Ensure that your virtual event is inclusive and accessible.
Check out 7 Ways to Make Your Next Virtual Event More Accessible