As you've probably come to learn by now, rejiggering an in-person event into a virtual one comes with a whole new to-do list of planning challenges. And that includes making the event as accessible and inclusive as possible, ensuring that attendees who have visual and hearing impairments can easily understand and participate.
"In general, the same best practices apply for making both in-person and virtual events accessible," says Eric Ascher, communications associate for RespectAbility, a nonprofit organization that works with employers, elected officials, policymakers, educators, nonprofits, faith-based organizations, philanthropists, and the entertainment and news media to fight stigmas and advance opportunities.
And because there's no physical venue, you don't have to worry about concerns such as mobility issues and accessible transportation. But virtual does introduce some new pain points for all attendees. "One issue can become screen fatigue, which is why having captions is not only important for people who are deaf/ hard of hearing and English-as-second-language learners, but also to help lower the cognitive load for everyone participating in a virtual event," Ascher explains.
Read on to learn how you can optimize the accessibility of your next virtual event with these tips from industry pros.
Make sure the invitations are readable.
To accommodate guests who are blind and/or use screen readers, make sure you provide plain-text versions of the event invitations and supply alt text descriptions for any images and logos. Also, in addition to including a Zoom link, consider offering the option for attendees to dial in by phone. This will allow people who might not have internet access to participate, regardless of disability.
Ask attendees if they need accommodations.
On the registration form, ask attendees if they will need any accommodations to participate in the event, or provide contact info that folks can use to get assistance with any accommodation requests. While you might not be able to facilitate every need, it's always wise to offer some communication channel. "Even when you think you have everything set, it is important to offer folks a way to ask for more accommodations through both email and phone," Ascher says.
Prep your presenters and speakers.
If you've ever phoned into an old-school conference call, you know how frustrating it can be when you don't know who's speaking or what the heck they're looking at, which is why you should coach your presenters and speakers ahead of time and share these best practices.
When someone is speaking, they should identify themselves every time—even if it's a video broadcast. According to RespectAbility, this helps people with a variety of disabilities, including people who are blind or have low vision, as well as individuals with cognitive disabilities. And remember to describe the presentation slides. Summarize key graphs, videos, images, and bullet points. Plus, you'll want to convert any collateral materials like decks into plain text and send the docs or presentations to attendees beforehand so they have time to review them. (PowerPoint offers a built-in tool to check for accessibility issues.) Also, the moderator or host should read comments posted in the chat box aloud to attendees during the event.
Program in breaks.
Consider providing 10-minute breaks every hour or so to allow attendees time to process information as well as head to the bathroom.
Add in closed captioning.
Captions make your event more accessible and engaging for numerous attendees, including those who are deaf or hard of hearing, people who have learning disabilities and have an easier time comprehending the written word, and people whose first language is not English. For live events, it's preferable to use a communication access realtime translation service (or CART) that employs live stenographers, which offer greater accuracy than automatic speech recognition (ASR) options. If your meeting or convention includes a lot of technical jargon like complex medical terms, you'll probably want to opt for a CART service.
Later this year, Zoom plans to roll out support for automatic closed captioning to free accounts. (Paid accounts currently have access to AI-powered transcription.) If you're a free account holder who needs access to the feature before then, you can manually request access to the Live Transcription feature via a Google Form on the website. Platforms such as Adobe Connect and Webex already offer support for live captioning, and most allow you to easily incorporate a third-party provider such as StreamText or Rev.
Offer an accessibility widget.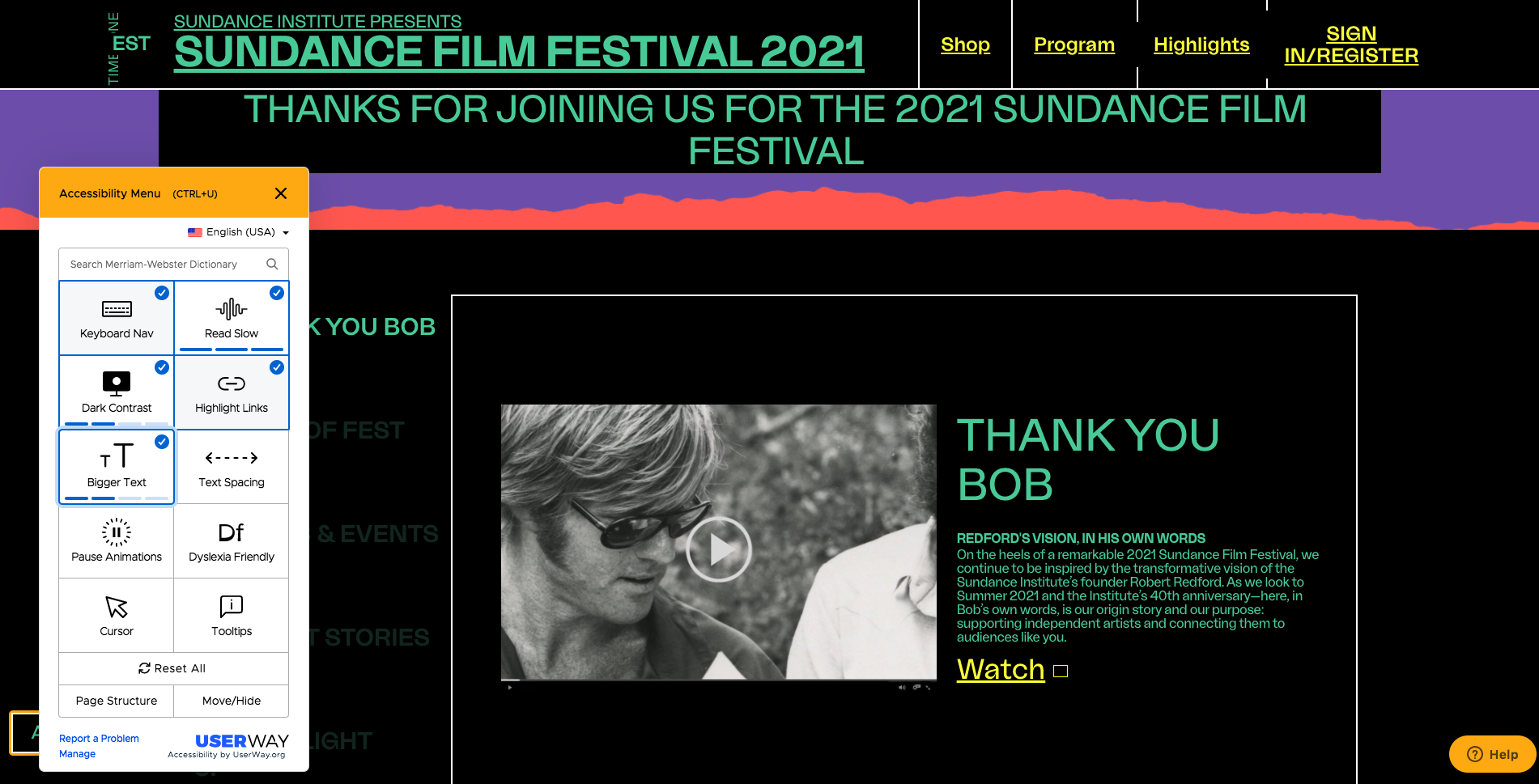 Since 2019, Easterseals Southern California (ESSC) has partnered with the Sundance Institute to incorporate accessibility practices into the annual Sundance Film Festival, including ASL interpreters and captioning services for virtual content. For this year's virtual film fest, the organization also employed the use of an accessibility widget on the event's website that allowed attendees to quickly adjust elements such as contrast, text size, spacing, and highlighted links; it was designed by UserWay, a company that creates advanced website accessibility solutions. Plus, during this year's festival, Easterseals hosted three panels that were focused on making the entertainment industry more accessible.
Provide multiple language options including ASL.
During this year's virtual CES, which took place in January, attendees were able to tune into an American Sign Language (ASL) interpreter, who translated the panel discussions. Jean Foster, S.V.P. of marketing and communications for Consumer Technology Association, the organization that produces CES, explained that the association worked directly with Microsoft (who had built the event's virtual venue) and its partners to offer closed captioning and ASL interpreters. Adding that, the closed captions were available in 16 different languages and were produced using AI translation.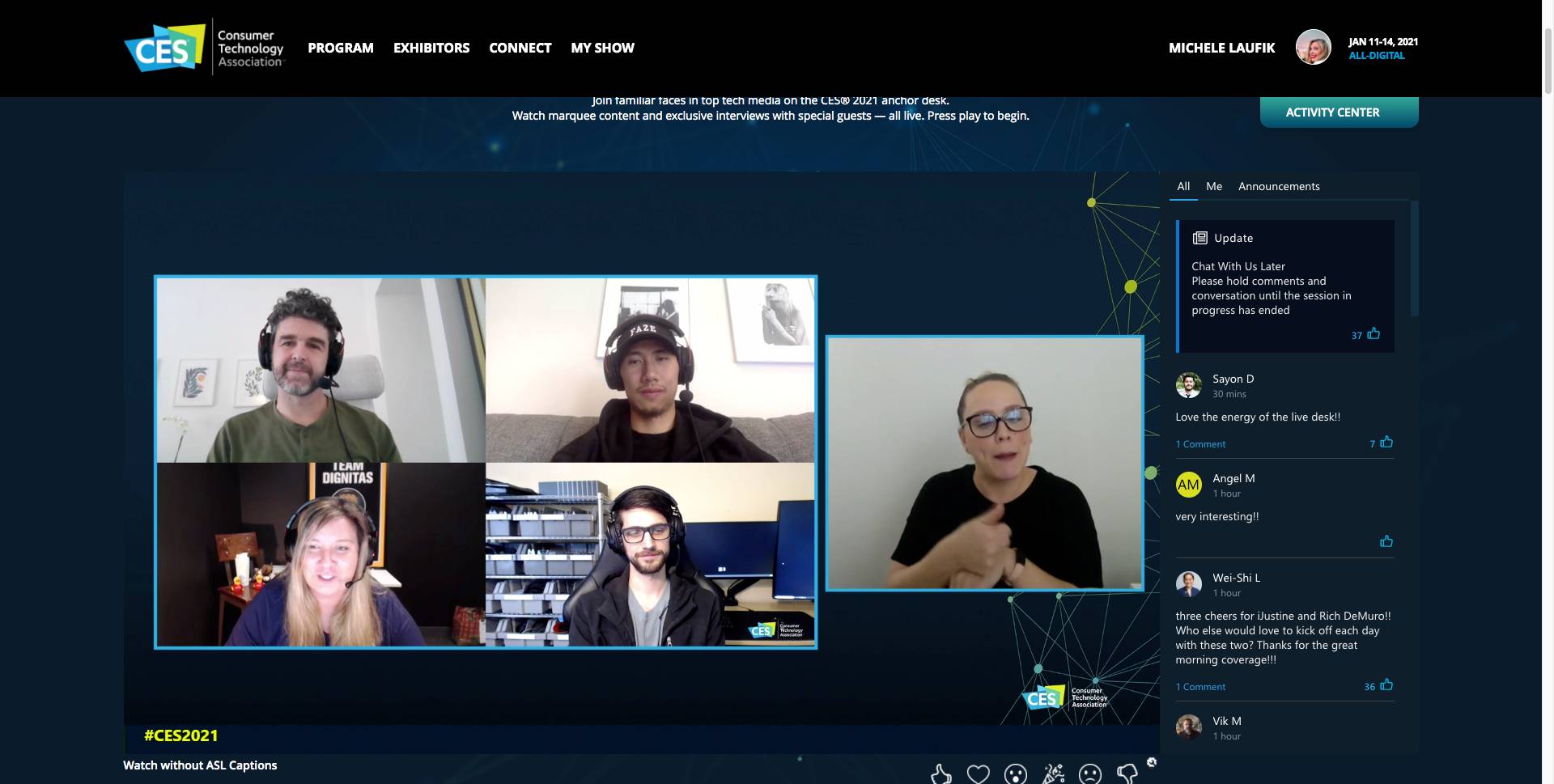 "CES is a truly global show, with brands and startups from around the world, and a strong international audience representing more than 160 countries, territories, and regions. We offered accessible programming to make sure our international audiences had personalized experiences and were able to engage in the conversation," Foster explains.
Companies like The Sign Language Company can provide real-time ASL interpreters for events on Zoom and other platforms. Planners should provide the names of any speakers, as well as presentation docs, ahead of time so the interpreters can become familiar with the material. Also, keep in mind that Zoom allows users to pin or spotlight multiple videos at once, instead of just one. This lets attendees pin the interpreter's video during meetings, keeping it visible at all times even when the call is in speaker mode.
Just as the events industry has adapted to the rise in virtual, so too has the disability community, introducing creative, innovative solutions that make digital events accessible and engaging for all.
---
Check out our Virtual Event Guide to find pros that can can help you leverage the power of professional video at your next virtual event.
---