For many, because of the ongoing coronavirus pandemic, this year's holiday party season will need to be reimagined into a virtual gathering with WFH colleagues and clients. But that doesn't have to mean "bah humbug." Here are some seasonal activities and ideas for planning a virtual holiday party that's filled with good cheer.
1. Play a virtual game.
Gather up your at-home team members for some fun, festive competition with a virtual game show, escape room, or scavenger hunt. There are plenty of team building game options available through companies like The Go Game and Wildly Different Team Building Experiences that will accommodate groups of all sizes and on any platform. A particularly jolly good one, Holiday Hijinks from Outback Team Building & Training splits up larger groups into teams to compete in holiday-themed challenges. The team with the most points is crowned champions.
2. Arrange for meal delivery.
As virtual events become de rigueur, more and more catering companies are developing delivery offerings including New York-based Abigail Kirsch Catering. Its new at-home event menu program called Prepped features custom-branded boxed and bagged menus, ranging from reception snacks to multi-course meals to D.I.Y. cupcake kits, that can be delivered to virtual event guests in separate locations throughout the tri-state area.
3. Book a wine tasting.
A virtual wine tasting is always a crowd-pleasing activity, especially around the holidays. To make it even more decadent, consider adding on some charcuterie, cheeses, or chocolates to nibble on as you sip. Many wine shops, wineries, and event pros offer tasting experiences and will host a virtual wine tasting tailored to your group as well as the season.
4. Send out festive mailers.
Of course corporate gifting during the holiday season is a given, but in addition to the branded presents, you might want to also consider sending out mailers filled with fun decorations, some eggnog, or even an evergreen plant to help spread the joy of the season.
5. Spin some jingles.
Program a playlist filled with holiday favorites or hire a virtual DJ to entertain your guests during the party. You can also plan a karaoke sing-along, if that's your thing.
6. Schedule a virtual movie screening.
Even the biggest Grinch can't resist a classic holiday movie, so coordinate a screening, via platforms like Netflix Party, and watch a heartwarming or humorous holiday movie like A Christmas Story, Home Alone, or Love Actually.
7. Organize a gift exchange.
Although you might not be able to give gifts in person, you can organize a virtual gift exchange through sites like Elfster, which takes the guesswork out of swapping names. You also might need to provide recipient addresses so you don't ruin the surprise. Or instead ask everyone to send digital gifts like a subscription to a streaming service.
8. Do some cookie decorating.
Some bakers and bakeries such as Paper Street Parlour offer virtual cookie decorating classes that you can book for a private group. Or you can plan your own version and arrange to have the necessary ingredients (or a shopping list) sent to the attendees ahead of time. This makes a good option for family-friendly work parties.
9. Book a mixology class.
Get into the holiday spirit (and mix up some spirits) with a cocktail-making class. One of the most popular offerings via Airbnb Online Experiences, Sangria and Secrets with a Drag Queen is a virtual cocktail class where attendees learn how to make authentic Portuguese sangria (since the hosts are based in Lisbon). It also includes live cabaret-style performances from the drag queen hosts for a rowdy good time.
10. Present awards.
Say so long to 2020 by offering end-of-year shout-outs to employees with either official company acknowledgements or fun superlatives or a combo of both. Some tech platforms like Hubilo specialize in awards show software in case you're planning a more formal celebration. Or you can host a casual event via Zoom. You can even create certificates easily using Canva and Adobe Express that can be downloaded and emailed to the award recipients.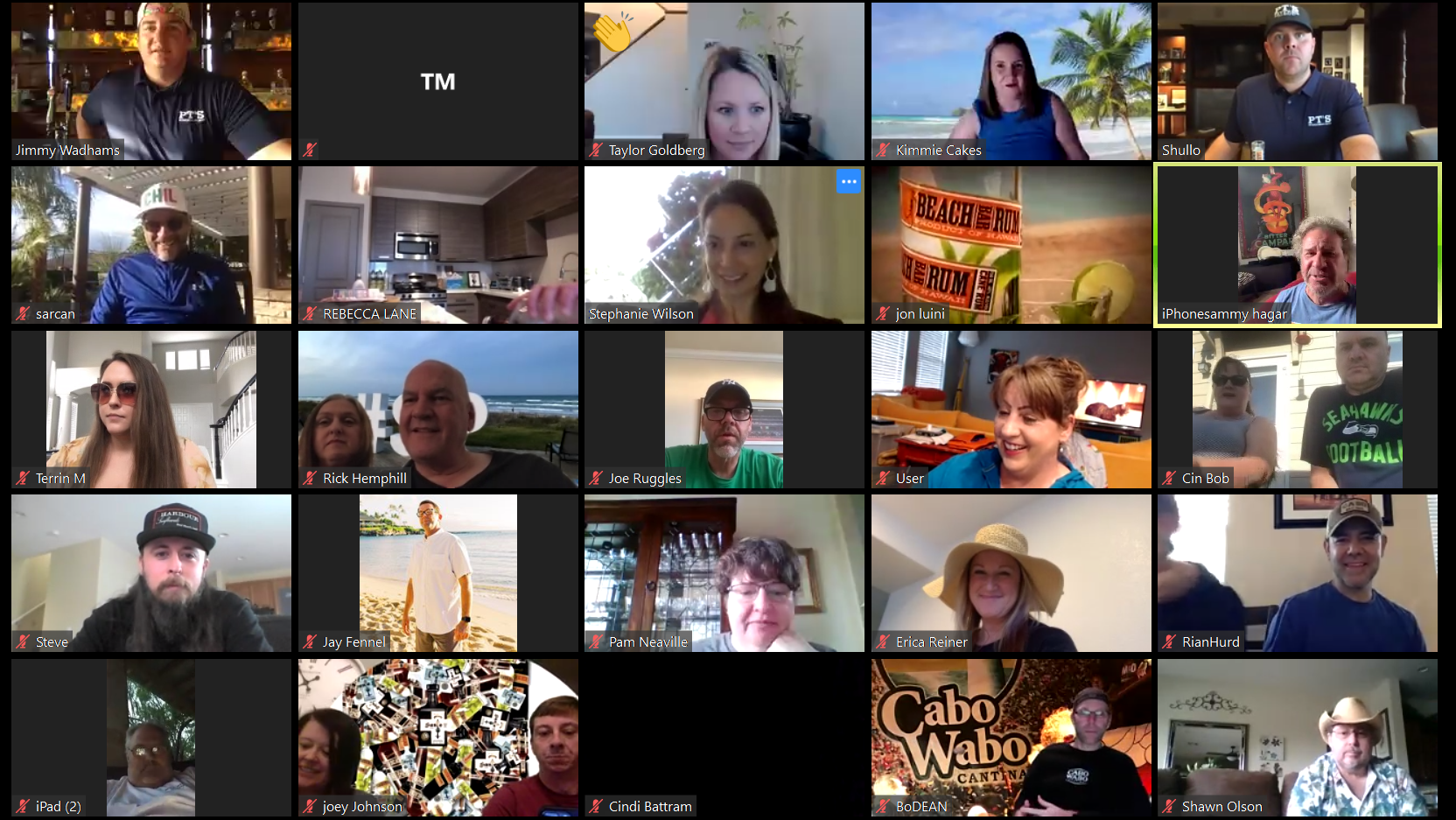 ---
Are you planning a hybrid or live Holiday gathering? Get inspiration from photos of Holiday events in our galleries!
---