Because virtual events lack an in-person physical space, the opportunities to display sponsor messaging might seem limited. After all, there are no booths where attendees can grab some branded swag.
But that doesn't mean sponsorship dollars are gone for good. In fact, because virtual events offer easier access to data and analytics (which are like digital gold to partners) they can actually be more valuable than in-person events.
"Now, more than ever, integrating brand sponsors in meaningful ways is essential in supporting both the event's purpose and impact, along with the sponsor's goals," says Ashley Orfus, founder of ALAB Group, an integrated marketing and communications consultancy.
Of course, virtual event sponsorship strategies can go way beyond a branded banner, pop-up ad, or awkwardly placed logo.
For example, this year, instead of gathering IRL in New Orleans for the Essence Festival, organizers created a virtual version of the annual event, the second and final weekend of which just wrapped up over the July 4th holiday.
In addition to the usual interstitial videos and panel sponsorships, brand integration during the 2020 festival included highly customized content and experiences such as Ford's virtual trade show booth, which featured many "live" elements like a photo booth, an art activation, a V.I.P. lounge, and digital vehicle tours with chances to win.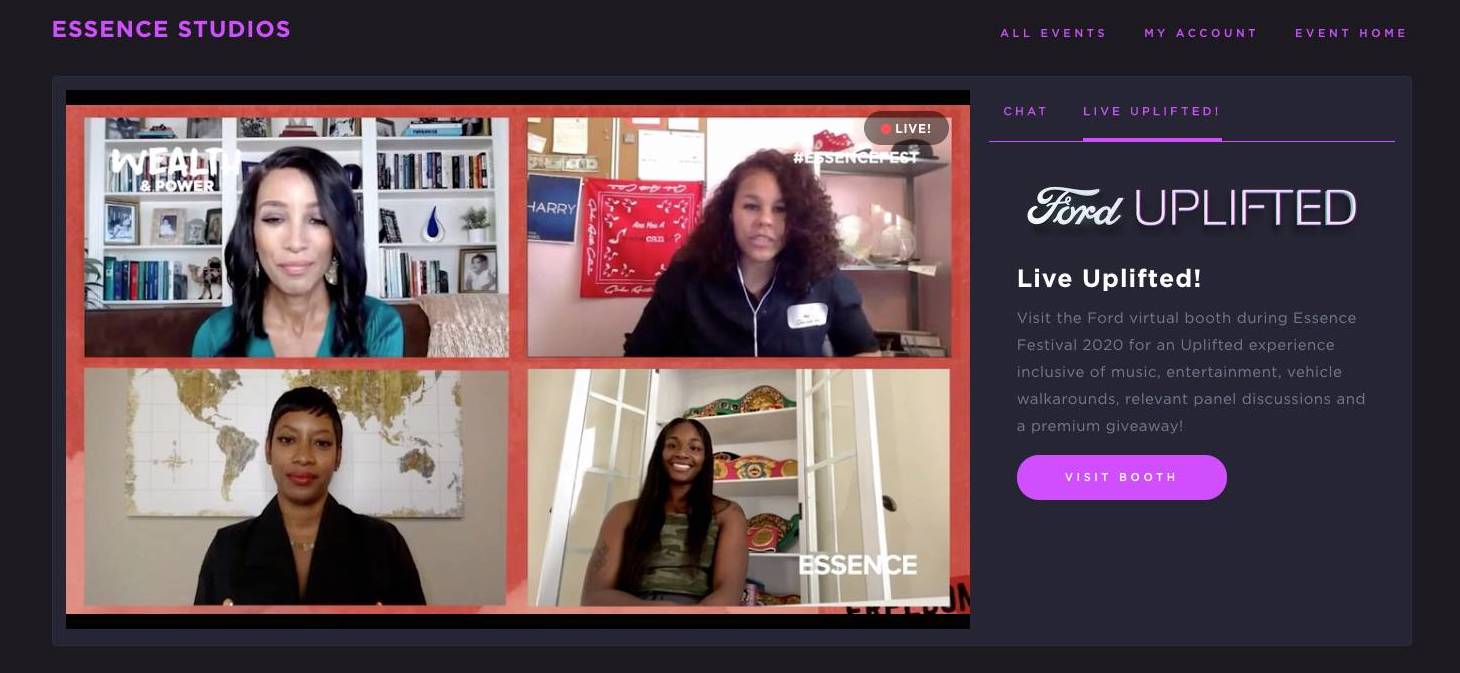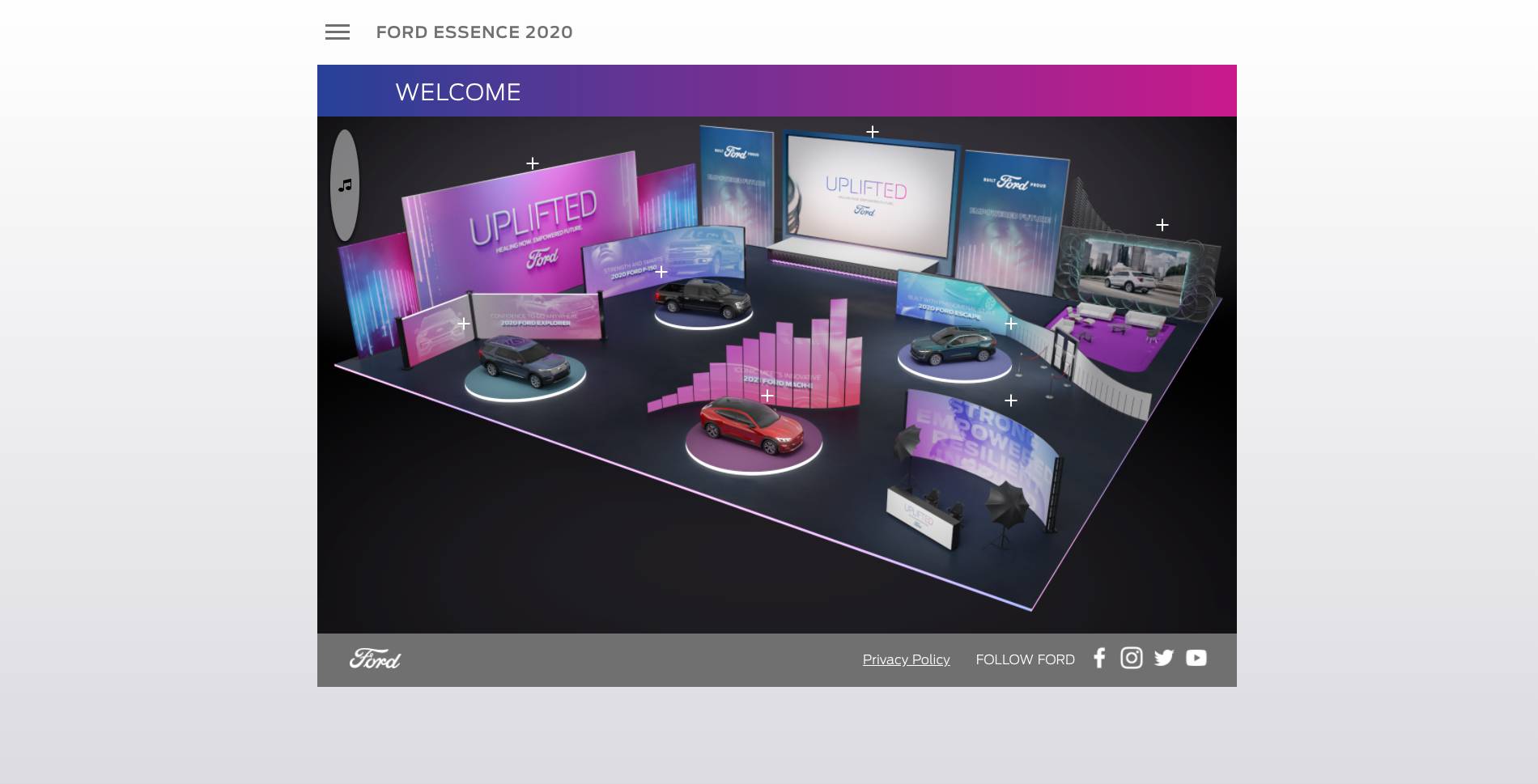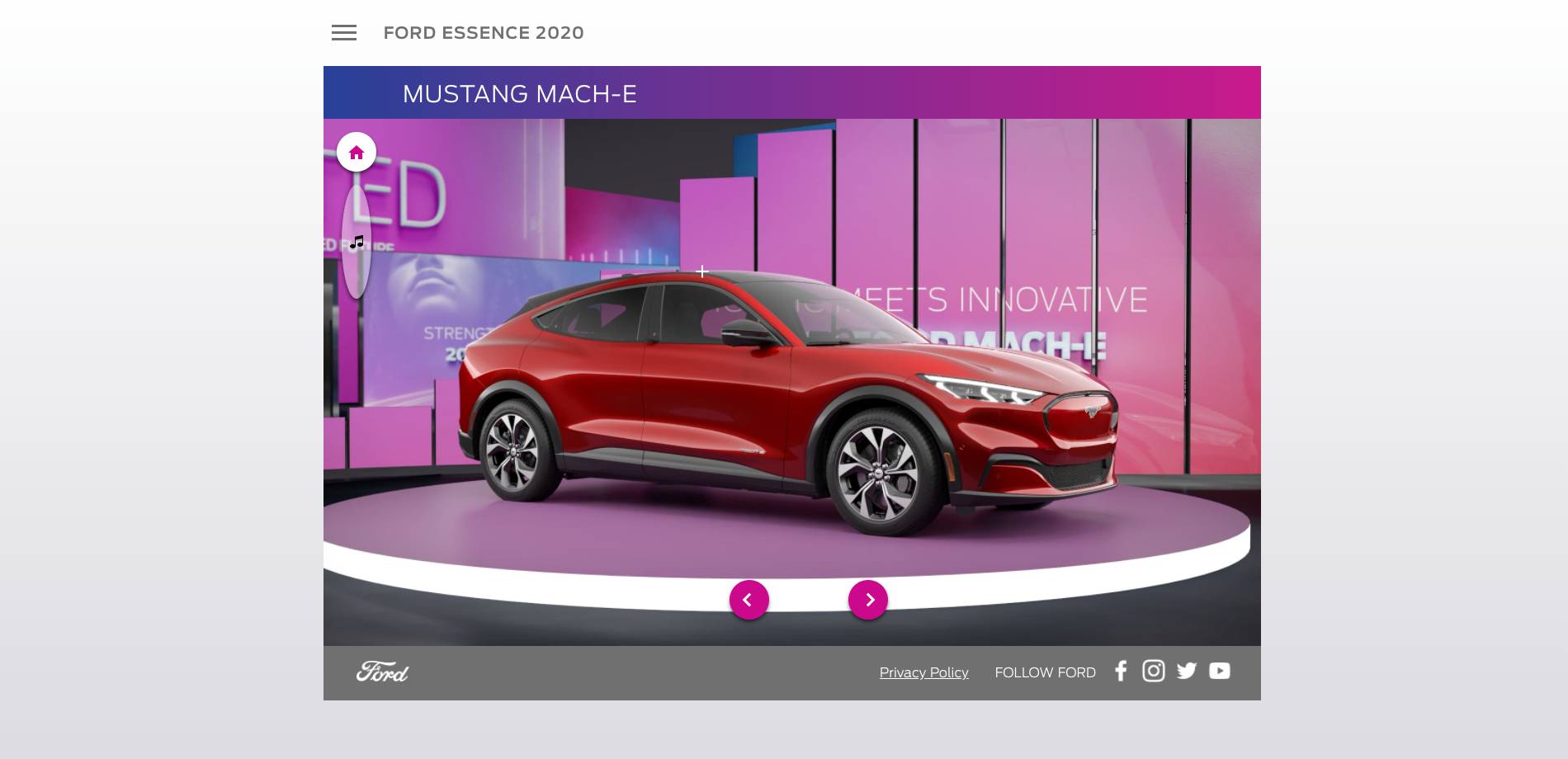 With a penchant for collecting information, the car company required visitors to complete a separate registration in order to enter the booth as well as vehicle surveys for lead generation purposes.
Jovanca Maitland, director of live events and experiential for Essence, coordinates sponsorship packages for the in-person and now digital event, ensuring that important deliverables are met while keeping partners satisfied and attendees engaged. She explains that this virtual booth mimicked the in-person experience that Ford, a long-time partner of the festival, typically offers attendees, adding that working with sponsors on a virtual event is the same as IRL.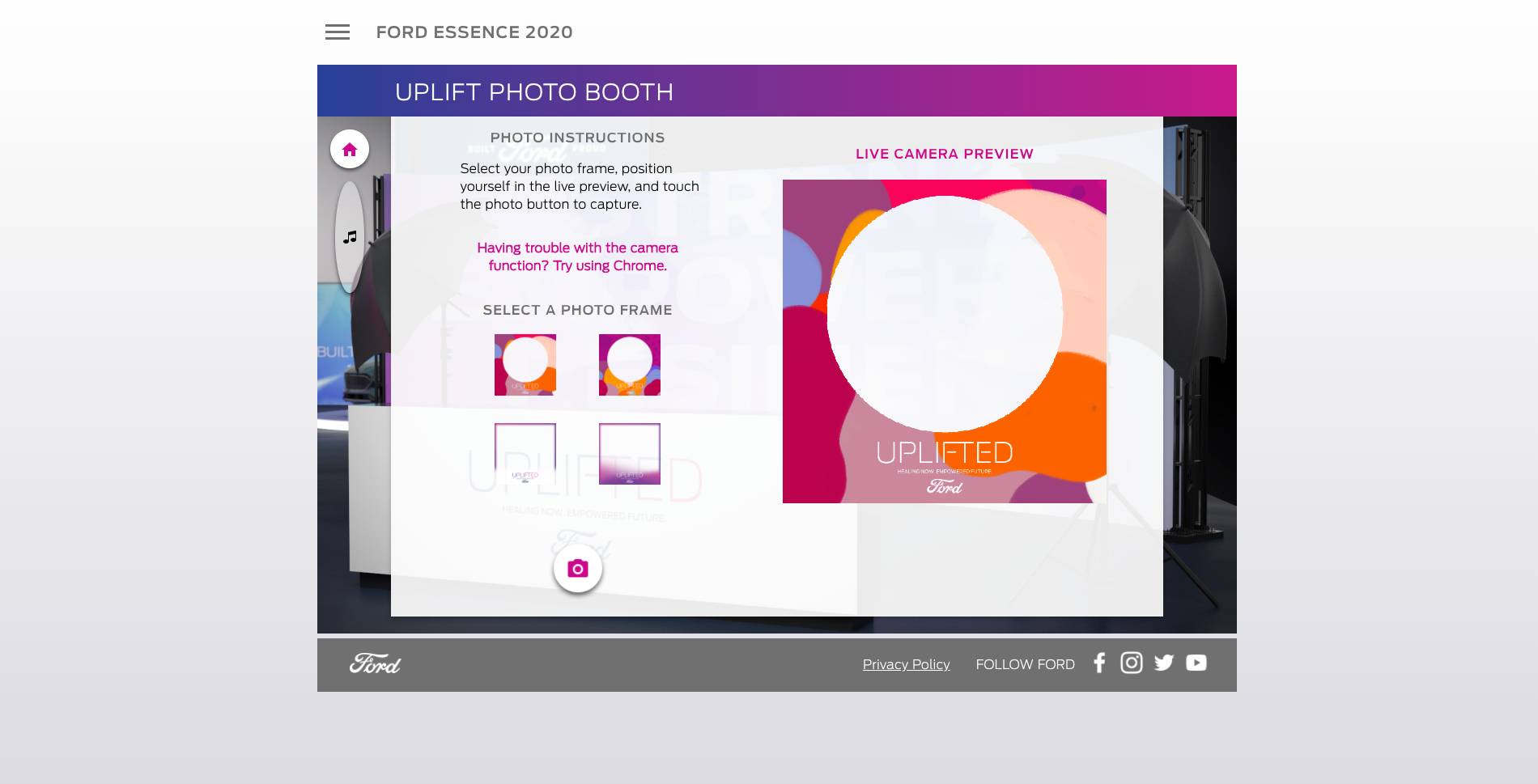 "It's really about being a partner and a good listener to the sponsor to really see and understand what they'd like to do. Because it is a digital world, there are a lot of fun things that you can do. There are a lot of extra things that can be done," she says, pointing to a photo mosaic mural presented by McDonald's where attendees could upload their photo to create a tiled image. Users were then eligible to receive a free tote bag.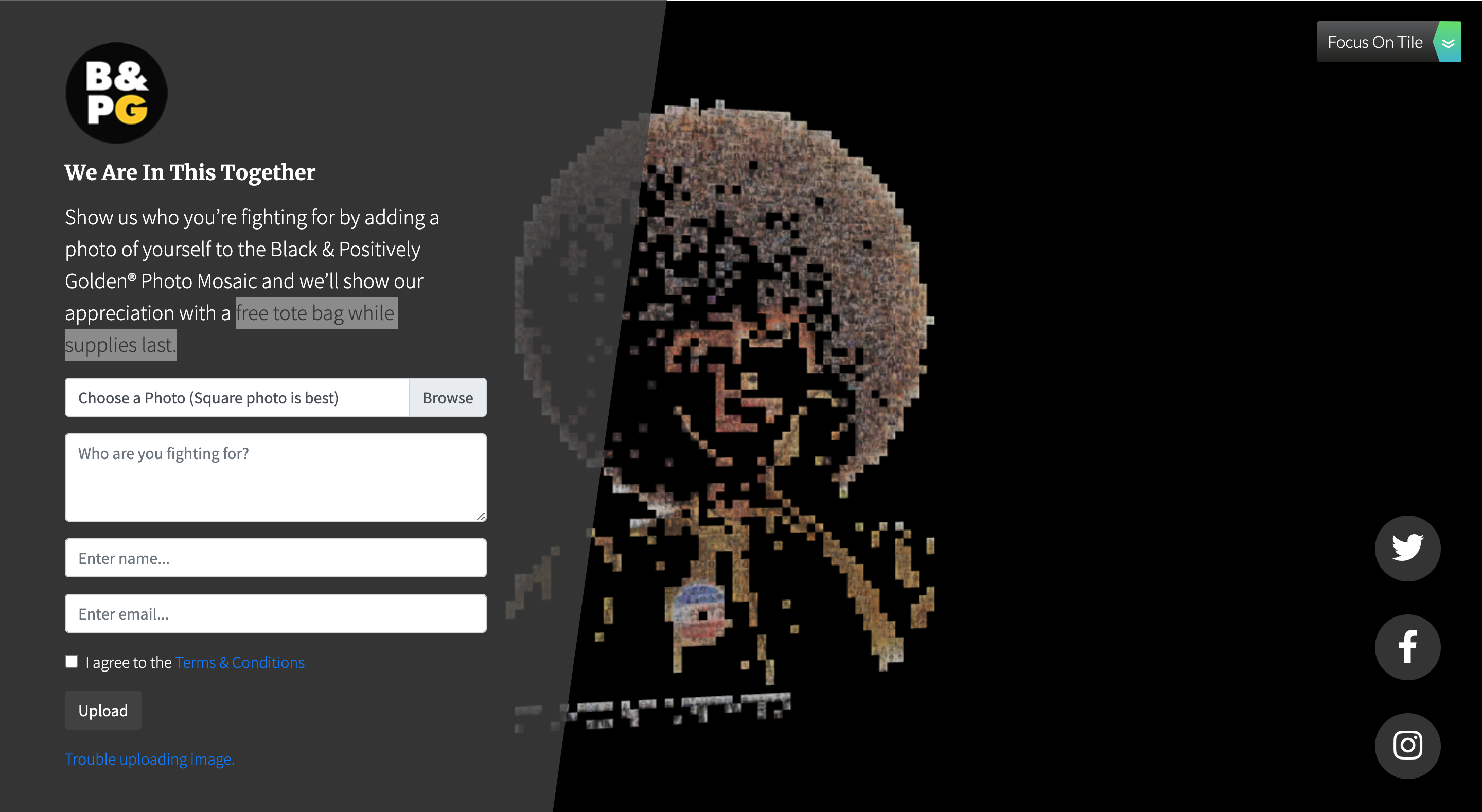 Also, similar to the in-person event, some brands hosted content leading up to the festival such as Pine-Sol's Build Your Legacy Contest for Black female entrepreneurs, the winner of which was announced during the broadcast and was awarded $100,000. Walmart also hosted a pitch contest for Black female entrepreneurs for a chance at secure shelf space at the retailer.
It's about "understanding what [the sponsor would] like to see and what they'd like to get out of it. And then it's up to us as creatives to say, 'this would look really cool based on what we know and what we've done in the past with you.' It's for us to get a little more creative and challenge our programmers and developers to help us execute."
New York-based event producer Melissa Park agrees, saying that now is the time to show off your creative chops. "In a virtual event setting, engagement and impact is more important than ever. Simply popping a logo on a screen or making an M.C. announcement to introduce a session will not cut through the digital noise and distraction, so organizers and sponsors alike need to be innovative when creating online sponsorship opportunities."
To increase brand awareness, Park suggests sponsors host private, invite-only virtual roundtables to target select attendees prior to the actual event, along with a mailer filled with product goodies, if applicable. She adds that this type of roundtable also allows for the opportunity to send a "thank you" or "we missed you" gift afterwards as "the perfect excuse for a follow-up call," she explains.
Similarly, Valerie Bihet, director of the Vibe Agency, recommends integrating sponsored coffee breaks between sessions that include a delivery of a small snack box or coffee pack to attendees' homes at a set time, adding that "this is really impactful and a nice surprise to the attendees."
Orfus expands upon the idea, suggesting sponsors virtually host kick-off activities such as a five-minute dance party or yoga session or post-event happy hours.
To help brands engage with attendees, Bihet also suggests gamifying the experience by awarding points toward a prize or special V.I.P. access during the event when an attendee views, comments, or downloads from a designated sponsored virtual "room" or section.
As for persuading sponsors to buy into the virtual vision, Maitland says that since the Essence Festival already maintains long-standing partnerships with several brands, organizers didn't need to sell them on the event or its audience, because "they know that our passion and commitment is going to come through."
Like the sponsors, Maitland is eagerly awaiting the post-event feedback to "understand what worked and didn't work." Adding, "like everyone else, we're all entering into this virtual world and trying to make sure we fine-tune it wherever possible and make the experience more interesting for the user."
As is the case with virtual event technology in general, effective, money-making virtual event sponsorship strategies are a constantly evolving area for both novice and experienced event producers. And just because face-to-face interaction might be gone for now doesn't mean brands can't be top of mind with event attendees.
---
Looking for inspiration for your next virtual event? Check out our virtual event galleries. Have any other tips for incorporating sponsors into virtual events? Email us at

[email protected]

for a chance to be featured!
---