Even though we all could use a drink right about now, many bars and restaurants remain shuttered (or are shuttered again), which means getting together for a few is still tricky. But thanks to a plethora of video conferencing technology, hosting a cocktail party, while adhering to social distancing guidelines, is totally doable. So cheers to that!
Whether you're digitally gathering your work colleagues for a happy hour or planning a convivial event for a virtual conference or meeting, here's what you need to know to host a virtual cocktail party. And even though your cocktail event might look and feel different than in-person, never forget that ever-important event planning checklist. Taking the right steps beforehand makes all the difference when it comes to your guests' experience.
1. Send Out Invites

Just as you would for an in-person event, you'll need to properly notify your guests. Depending on the type of party, you can choose to send out a simple email with the details, a festive evite, or even an old-school paper invitation for a more formal occasion. But, in addition to the hard copy invite, also remember to email the link to the virtual meet-up as well to make access as easy as possible.
2. Select a Tech Platform
If it's a casual gathering of friends or close-knit coworkers, you might be able to host via FaceTime (make sure everyone has an iPhone though), Skype, or Zoom. Keep in mind that the free version of Zoom tops out at 40 minutes, so if you're planning to host a true happy hour, you may need to upgrade to the paid service. For a larger virtual conference, you'll probably be using a more robust platform that allows you to create a breakout room for after-work drinks. Or if you're hosting a networking happy hour, use Icebreaker, which matches up guests for one-on-one sessions based on their answers to games.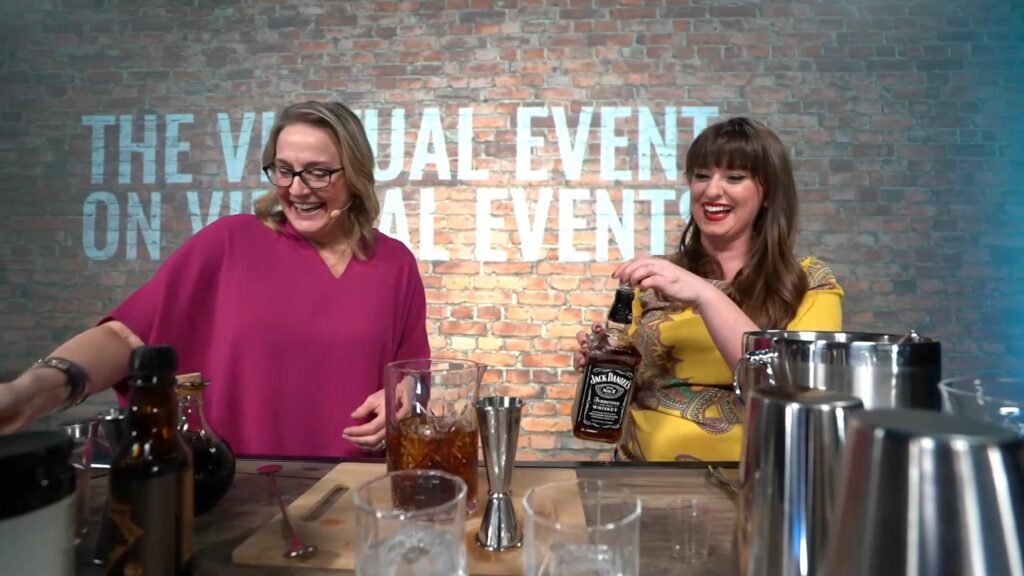 Google Meet is an obvious platform choice, but only works if everyone has a Gmail account. Think about that if you are hosting co-workers who function off another server. Instead, explore event-specific platforms that could take your virtual cocktail party to the next level. Weve will host an event from 10 people to 2,000, and even offer up games, as well as a professional host to guide your guests through the evening. If you want to keep things on the intimate side, Mixily has a boutique feel, with custom branding and an awesome landing page for your event.
3. Choose a Cocktail or Two
Since this party's mixologist is the collective moi, pick a cocktail recipe that will appeal to everyone in the group and isn't too complicated to mix up. Then share it in advance to allow time for folks to wrangle up the ingredients before the party. Here are some ideas:
Aperol Spritz: Jason Shullo, Golden Entertainment's corporate vice president of food and beverage, suggests this classic cocktail, especially as a late afternoon or pre-dinner cocktail. To make: Combine 1.25 oz Aperol, 3 oz Prosecco, and a splash of soda water and serve on the rocks in a wine glass, garnished with an orange slice.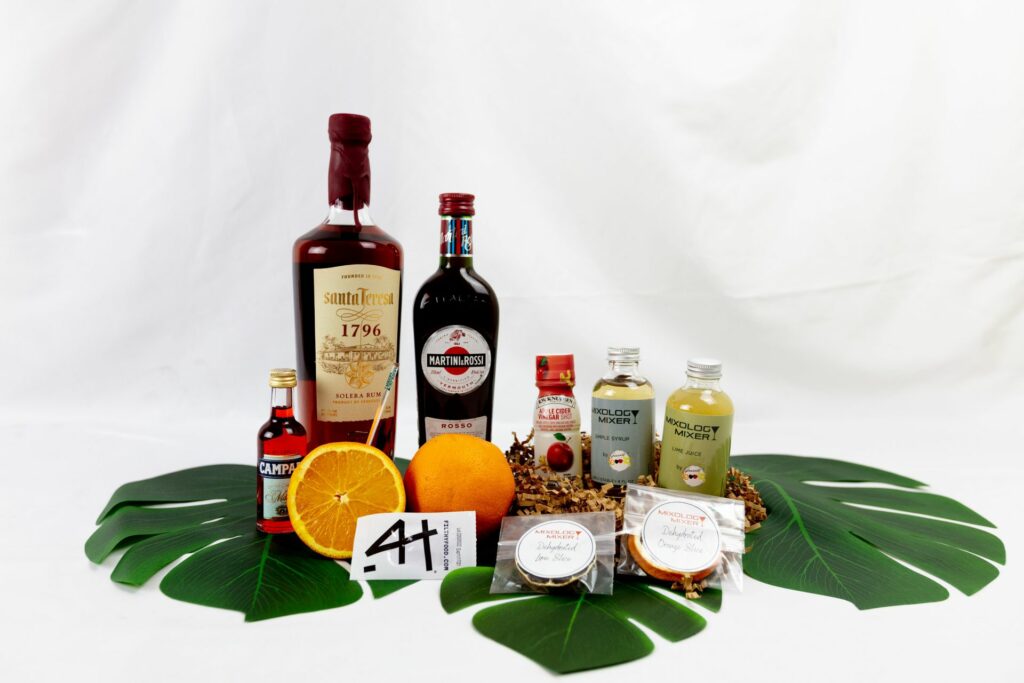 Watermelon Mojito: Shullo says this cocktail "will make you look like a pro but is easy to make." His recipe: 1.5 oz of Sammy's Beach Bar Rum, 1 oz of fresh lime juice, .5 oz of simple syrup, watermelon, and mint leaves. Muddle three pieces of watermelon and six mint leaves with simple syrup and lime juice. Add rum and ice, shake it up, and pour into a highball glass and garnish with a mint sprig. To make simple syrup at home, boil, reduce, and cool equal parts sugar and water. Shullo says that this drink can be a great non-alcoholic option too. After muddling the watermelon and mint with lime juice and simple syrup, add soda water or tonic instead of rum.
Margarita: "I love a good margarita, and the beauty of it is that when you have the basics (lime and tequila), you can change it up by adding almost any fruit," says Abby Borden, a Los Angeles-based event consultant and owner of Table Set Go. She suggests dressing it up with watermelon, pineapple, or blood orange.
"The best cocktails to create at home always start with the ingredients you already have available," says Kevin Ramsawack, vice president of events and sales at Neuman's Kitchen in Long Island City, New York. He suggests creating some classic cocktails: Manhattan (2 oz rye whiskey​, 3/4 oz sweet vermouth, 2 dashes of angostura bitters, and a Maraschino cherry as a garnish); Martini or "Quarantini" (3 oz gin or vodka, 1/2 oz dry vermouth, and a lemon twist or olive as garnish; and Moscow Mule (1.5 oz vodka, 1/4 oz lime juice, 4 oz ginger beer, and a lime wedge as garnish).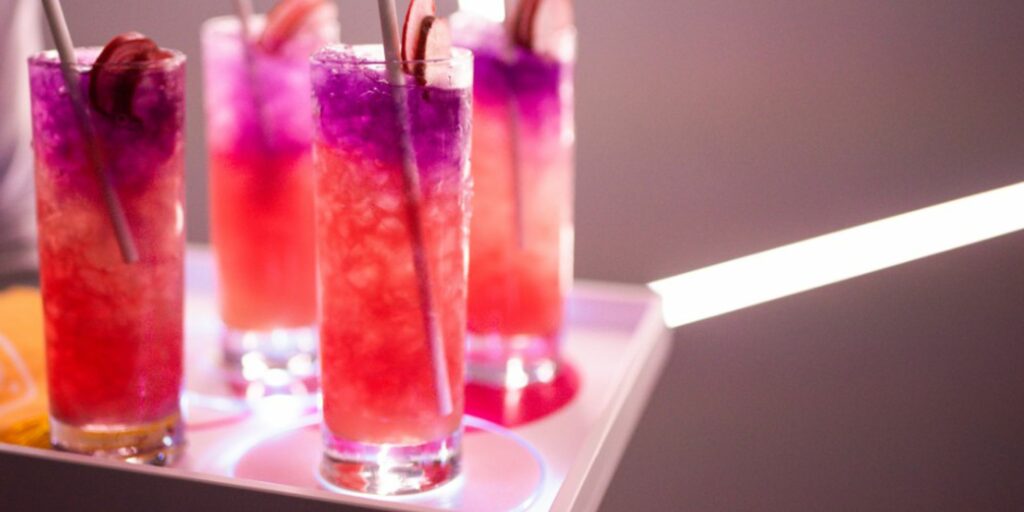 4. Suggest Hor d'oeuvres
Coordinate with a local restaurant and create a tasting menu that either each guest can choose to order for themselves or you can arrange to have the items delivered at a specific time. Or send along some tasty snack suggestions with the accompanying cocktail recipe. Crowd-pleasing apps and finger foods like deviled eggs, pigs in a blanket, crudite, and cheeses are easy to make (or to buy frozen).
5. Mail Cocktail Ingredients and Gear
Arrange for your liquor (or beer or wine) of choice to be delivered to your guests through services such as Drizly or Saucey. These services might also be able to provide the necessary accoutrements like corkscrews and glasses as well.
But if your guests couldn't mix their way out of a paper bag, perhaps try sending them a party box where it's all spelled out for them. Cocktail kits are all the rage. Companies like The Cocktail Architect will send your guests a gorgeously prepared box filled with all the ingredients, spirits, and barware they will need. Just add ice!
6. Set the Mood
First, pick a theme or determine the type of party such as a boozy brunch or even a black-tie cocktail party before a gala. Send along a link to a Spotify playlist or even hire a pro (Borden recommends DJ Keelez) to spin tunes during your party. You can also hire a bartender to host the party and encourage guests to send tips via Venmo. As for decor, ask folks to download a custom virtual background to create a digital fiesta.
Another important element to consider when it comes to vibe is dress code. Athleisure is of course the cultural norm now, but it's probably time to put on some pants. Your virtual cocktail party is a great excuse to get your guests dressed up. And it certainly doesn't have to be black-tie. Ask guests to match the theme. Maybe even give an award for best outfit. Either way, when everyone sees a little effort on the screen before them, they'll feel like they are a part of something special.

Also, consider adding an element of competition. Shullo, who organizes virtual happy hours for PT's Taverns in Las Vegas, suggests playing virtual drinking games (if appropriate) "to keep the energy high and ensure that everyone is having a good time." For example, select a designated word for the evening, then whenever the word is spoken throughout the call, everyone has to take a drink. Thankfully, no one has to worry about driving home.
---
Are you planning a virtual cocktail party?
Find a company to help with your livestream and production.
---
7. Plan Entertainment
If you were hosting this event IRL, you wouldn't have your guests just sitting around a table staring at one another. So just like you organize under normal circumstances, plan for a way to keep your guests entertained. Think of activities like a trivia game or a how-to demonstration. Maybe plan a game show experience or a sketch & sip. Book a musical act like dueling pianos. Be creative on any way to keep your guests chatting with one another.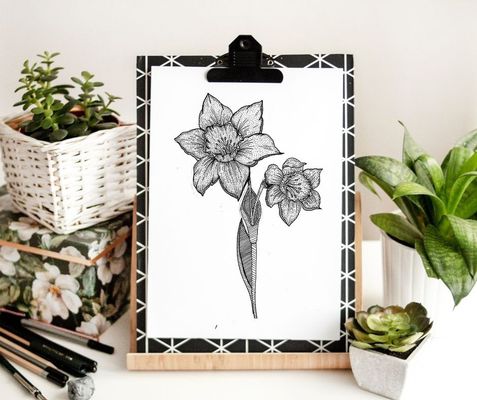 8. Encourage Interaction
When throwing an event, either virtual or in-person, the worst plan is always no plan. Having a sequence of events of how your virtual cocktail party will play out will always keep attendees interested. Breaking the ice is a great way to start – try simple games like "two truths and a lie" or a ranking poll to get everyone talking. Conversation starters encourage people to interact, contributing to more lively discussions down the road.
9. Lead the Conversation
Now that the proverbial ice is broken, your guests should feel energized to chat more. Just like you would float around as host of a real cocktail party, you'll have to do the same at a virtual one. It will be your responsibility to make introductions, as well as nudge the conversation along should things slow down. This is where the importance of your guest list comes in – think of how attendees will interact and what each of them brings to the table. It will also be your job to wrap up the event, so be mindful of timing.
10. Make a Toast
The rules of a great toast apply online, too. Decide the best time during your cocktail party to cheers. Is it best as a kick-off? Or would it be better to raise a glass in between the entertainment? Either way you land, thank everyone for attending. Recognize how unique the format is but how happy you are that they carved out time for the occasion. Keep it short, filled with gratitude, free of inside jokes, and sincere.
11. Make Mementos
Perhaps guests can utilize the glasses you sent in the party box as a playful reminder of your virtual cocktail party. Or maybe have a virtual photo booth on hand during your event so guests can pose together to remember their time, then send everyone a final copy. Any way attendees can memorialize their time spent during their virtual cocktail party will have lasting (and marketable) effects.
As the world navigates closures, vaccine cards, and mandates, cheers-ing from home can be a safe option right now. If you properly plan an engaging and entertaining space for your guests during a virtual cocktail party, raising a glass within your friendly confines can be just as celebratory.