Even though we all could use a drink right about now, many bars and restaurants remain shuttered (or are shuttered again), which means getting together for a few is still tricky. But thanks to a plethora of video conferencing technology, hosting a cocktail party, while adhering to social distancing guidelines, is totally doable. So cheers to that!
Whether you're digitally gathering your work colleagues for a happy hour or planning a convivial event for a virtual conference or meeting, here's what you need to know to host a virtual cocktail party.
1. Send out invites.
Just as you would for an in-person event, you'll need to properly notify your guests. Depending on the type of party, you can choose to send out a simple email with the details, a festive evite, or even an old-school paper invitation for a more formal occasion. But, in addition to the hard copy invite, also remember to email the link to the virtual meet-up as well to make access as easy as possible.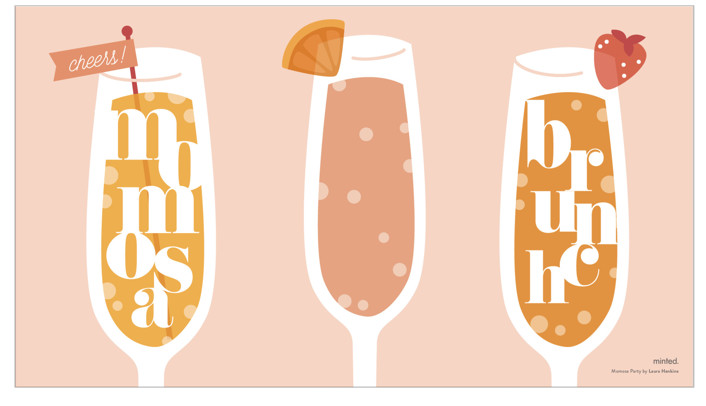 2. Select a tech platform.
If it's a casual gathering of friends or close-knit coworkers, you might be able to host via FaceTime (make sure everyone has an iPhone though), Skype, or Zoom. Keep in mind that the free version of Zoom tops out at 40 minutes, so if you're planning to host a true happy hour, you may need to upgrade to the paid service. For a larger virtual conference, you'll probably be using a more robust platform that allows you to create a breakout room for after-work drinks. Or if you're hosting a networking happy hour, use Icebreaker, which matches up guests for one-on-one sessions based on their answers to games.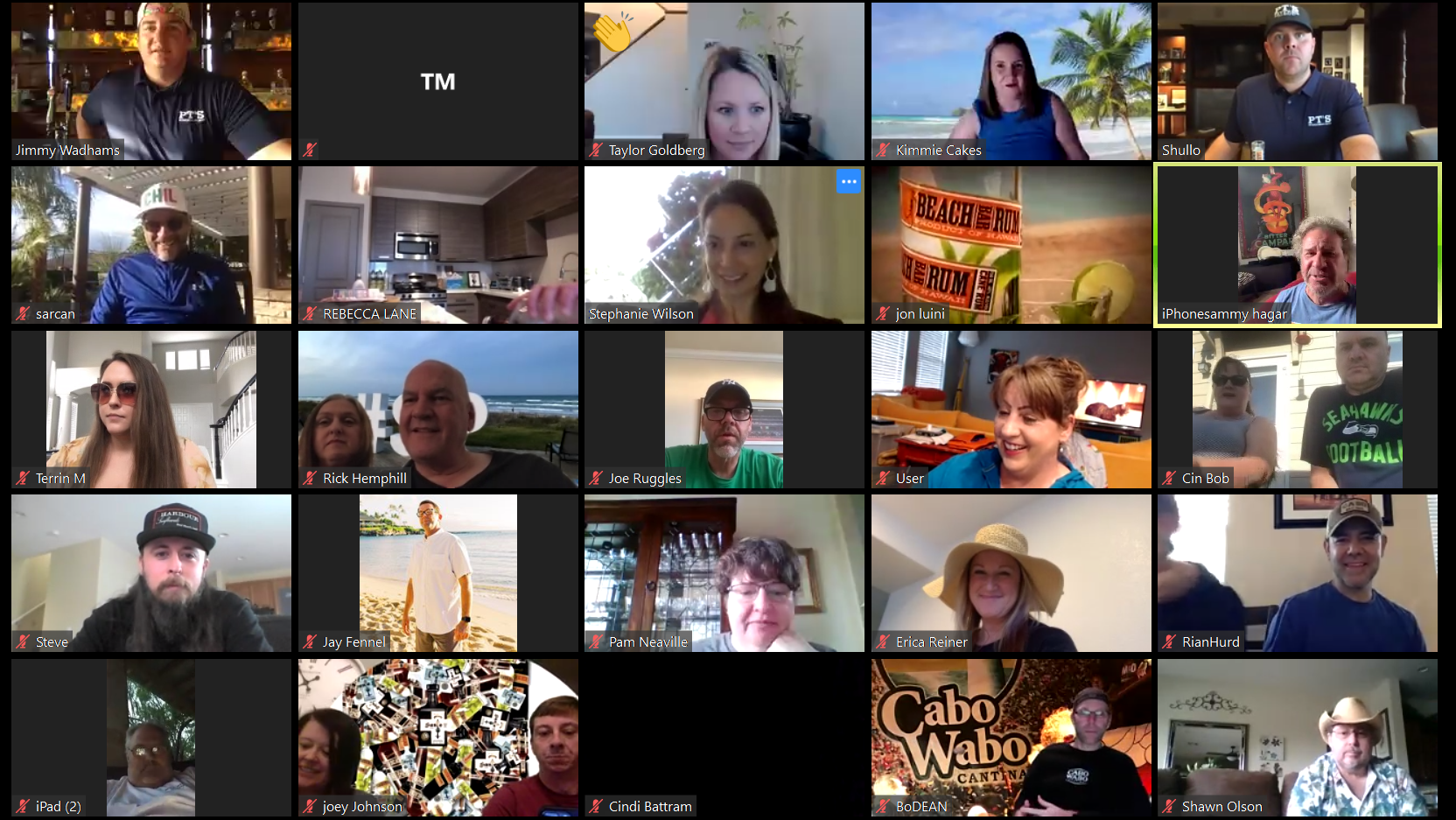 3. Choose a cocktail or two.
Since this party's mixologist is the collective moi, pick a cocktail recipe that will appeal to everyone in the group and isn't too complicated to mix up. Then share it in advance to allow time for folks to wrangle up the ingredients before the party. Here are some ideas:
Aperol Spritz: Jason Shullo, Golden Entertainment's corporate vice president of food and beverage, suggests this classic cocktail, especially as a late afternoon or pre-dinner cocktail. To make: Combine 1.25 oz Aperol, 3 oz Prosecco, and a splash of soda water and serve on the rocks in a wine glass, garnished with an orange slice.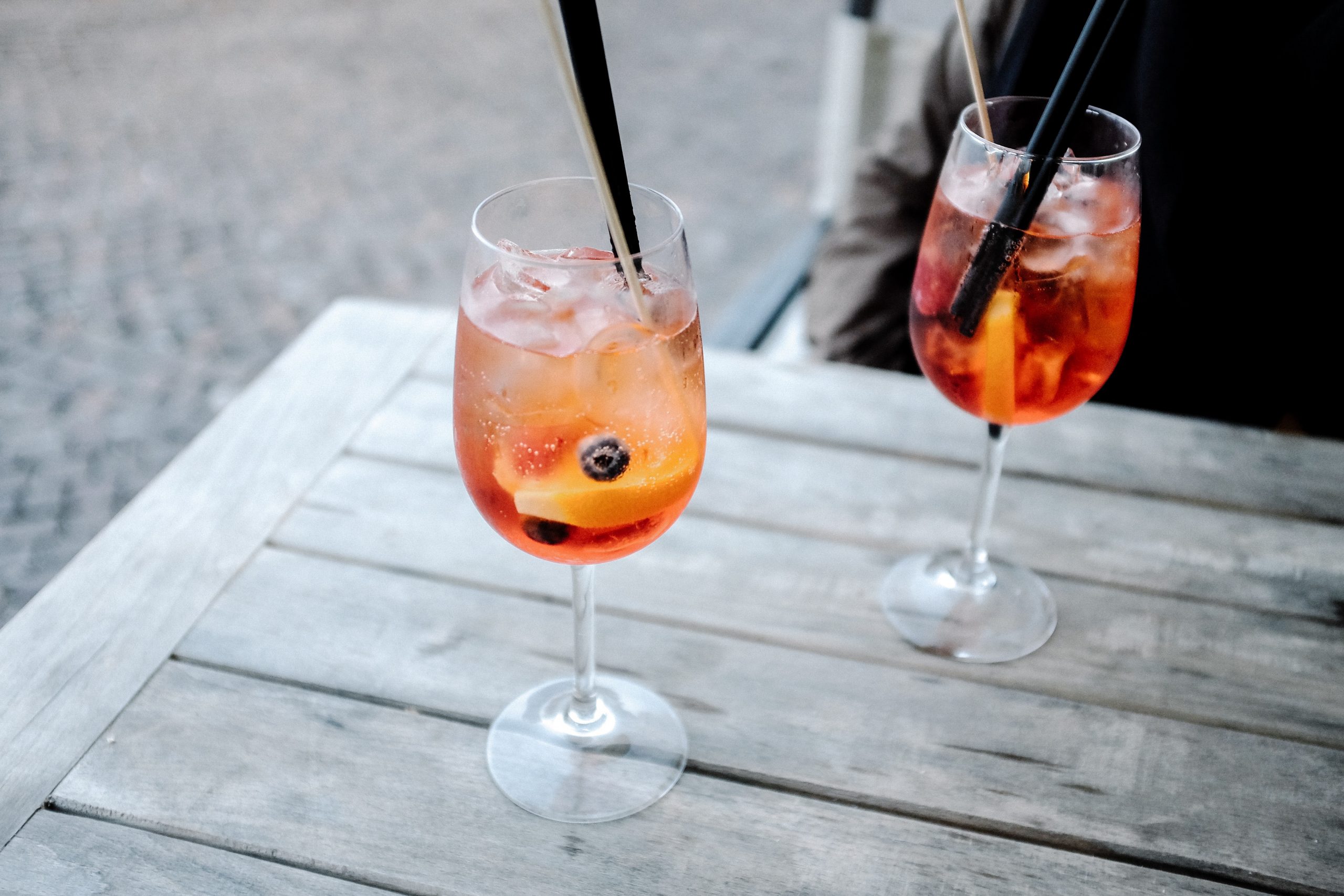 Watermelon Mojito: Shullo says this cocktail "will make you look like a pro but is easy to make." His recipe: 1.5 oz of Sammy's Beach Bar Rum, 1 oz of fresh lime juice, .5 oz of simple syrup, watermelon, and mint leaves. Muddle three pieces of watermelon and six mint leaves with simple syrup and lime juice. Add rum and ice, shake it up, and pour into a highball glass and garnish with a mint sprig. To make simple syrup at home, boil, reduce, and cool equal parts sugar and water. Shullo says that this drink can be a great non-alcoholic option too. After muddling the watermelon and mint with lime juice and simple syrup, add soda water or tonic instead of rum.
Margarita: "I love a good margarita, and the beauty of it is that when you have the basics (lime and tequila), you can change it up by adding almost any fruit," says Abby Borden, a Los Angeles-based event consultant and owner of Table Set Go. She suggests dressing it up with watermelon, pineapple, or blood orange.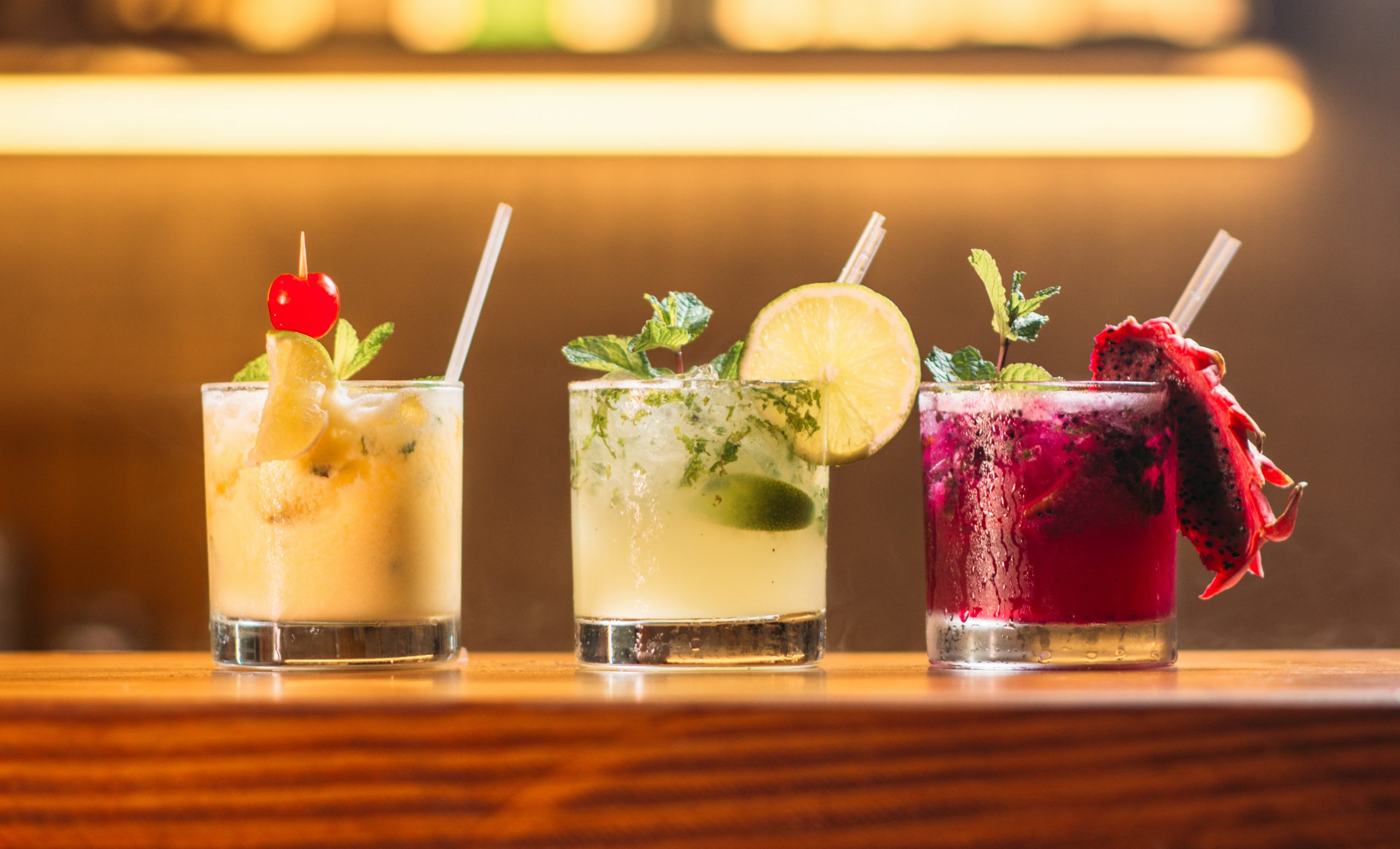 "The best cocktails to create at home always start with the ingredients you already have available," says Kevin Ramsawack, vice president of events and sales at Neuman's Kitchen in Long Island City, New York. He suggests creating some classic cocktails: Manhattan (2 oz rye whiskey​, 3/4 oz sweet vermouth, 2 dashes of angostura bitters, and a Maraschino cherry as a garnish); Martini or "Quarantini" (3 oz gin or vodka, 1/2 oz dry vermouth, and a lemon twist or olive as garnish; and Moscow Mule (1.5 oz vodka, 1/4 oz lime juice, 4 oz ginger beer, and a lime wedge as garnish).
4. Suggest hors d'oeuvres.
Coordinate with a local restaurant and create a tasting menu that either each guest can choose to order for themselves or you can arrange to have the items delivered at a specific time. Or send along some tasty snack suggestions with the accompanying cocktail recipe. Crowd-pleasing apps and finger foods like deviled eggs, pigs in a blanket, crudite, and cheeses are easy to make (or to buy frozen).
5. Mail cocktail ingredients and gear.
Arrange for your liquor (or beer or wine) of choice to be delivered to your guests through services such as Drizly or Saucey. These services might also be able to provide the necessary accoutrements like corkscrews and glasses as well. If you'd rather not mail alcohol, Borden suggests going with citrus or hibiscus mixers that guests can combine with their preferred spirit. Plus, they can be mixed with sparkling water for a fun non-alcoholic fizz, she adds. Borden also recommends including something extra like a mini umbrella or a branded straw or stir stick, as well as a recipe card of the featured cocktail.
6. Set the mood.
First, pick a theme or determine the type of party such as a boozy brunch or even a black-tie cocktail party before a gala. Be sure to alert guests of the dress code—and give them a reason to put on pants! Or take a cue from Meryl Streep, Christine Baranski, and Audra McDonald and do some imbibing in your bathrobe. Send along a link to a Spotify playlist or even hire a pro (Borden recommends DJ Keelez) to spin tunes during your party. You can also hire a bartender to host the party and encourage guests to send tips via Venmo. As for decor, ask folks to download a custom virtual background to create a digital fiesta.
Shullo, who organizes virtual happy hours for PT's Taverns in Las Vegas, suggests playing virtual drinking games (if appropriate) "to keep the energy high and ensure that everyone is having a good time." For example, select a designated word for the evening, then whenever the word is spoken throughout the call, everyone has to take a drink. Thankfully, no one has to worry about driving home.
While some brick-and-mortar bars are serving up drinks again, virtual cocktail parties and happy hours are still the safest form of imbibing right now. Plus, cheers-ing from home can be just as celebratory.
---
Are you planning a virtual cocktail party? Find a company to help with your livestream, a DJ to play great tunes, a graphic designer to make an eye-catching invite, or an awesome mixologist to make the experience even more special!
---