Article Updated 4/30/23
There's always a place to hold a meeting in New York. But then there's gorgeous, stylish, stop-'em-dead-in-their-tracks venues in the city that strike inspiration, promote collaboration, and deliver motivation to each and every attendee. If you are gathering with employees for the first time in a long time, why not have it unfold in an exhilarating meeting spot? And rolling out a new product to clients shouldn't have to only take place in a stuffy boardroom. Open your options and your mind to what else is out there to rent and utilize. Planning a meeting or event in NYC shouldn't have to be so hard. Below The Vendry has put together some of the most energizing and talked-about meeting rooms and venues in NYC.
The 17 Most Beautiful Meeting Spaces in NYC
New York is the world's center of commerce, business, and tourism. The city that never sleeps not only sets the urban stage to host meetings, it thrives on making all your event planning dreams come true. With the best venues (and best views!) NYC is the right pick to host any type of an event. But there's a job to be done, so why not get down to business in some of NYC's most beautiful – yet workable – meeting event spaces.
1. The Wall Street Hotel
Neighborhood: Financial District
Capacity: 200
Located in the heart of New York City's Financial District, The Wall Street Hotel is a prime choice for hosting meetings and events. One of its standout features is the spacious Ballroom, which at over 2,000 square feet, offers flexibility in space arrangements to cater to your specific needs. While the Ballroom is great for a large conference, The Wall Street Hotel has other more intimate spaces — like The Gerdau Lounge and Exchange Room — which make for ideal breakout meeting rooms. The hotel's strategic location places it within easy reach of major financial institutions and corporate offices, ensuring convenience for your attendees — whether you're booking a large conference or small team offsite.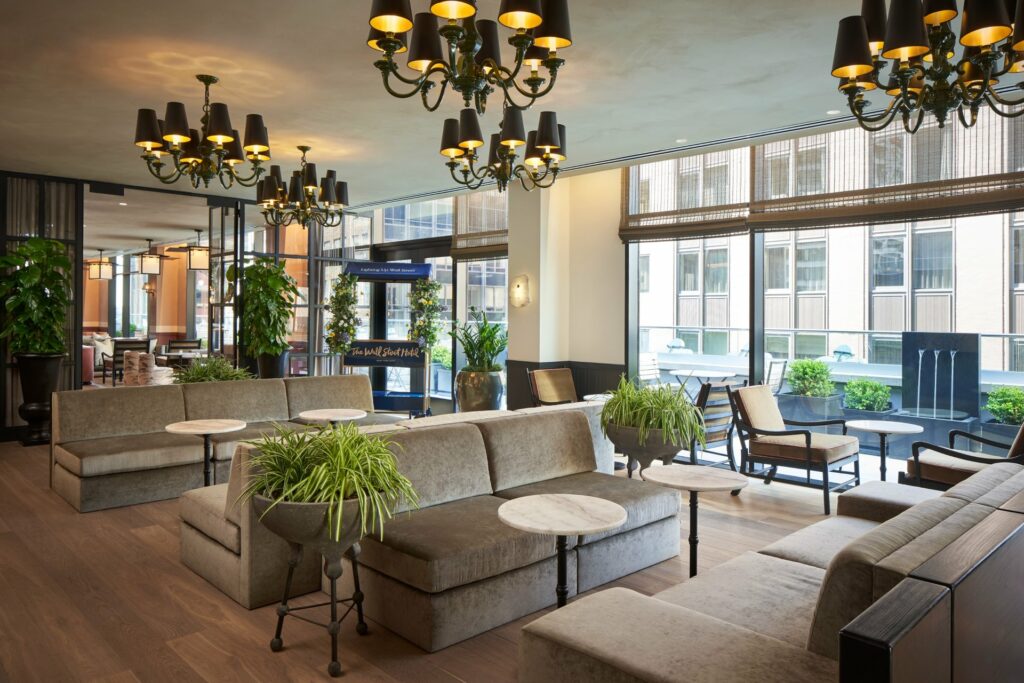 2. Well& by Durst - 151 W 42nd Street
Neighborhood: Theater District
Capacity: 450
Well& by Durst, situated on 42nd Street in NYC, is an excellent choice for hosting a corporate meeting due to its strategic location, amenities, and variety of meeting spaces. This modern and professionally designed space offers a versatile setting that is well-suited for productive corporate gatherings and presentations of any size.
The spaces range from The Bryant which hosts up to 203 attendees (perfect for large conferences and SKOs) to The Greenacre which is a stylish conference room that comfortably seats 14. In addition to its variety of spaces, Well& by Durst's central location makes it easily accessible for attendees from all parts of the city, minimizing commute hassles. Whether you're conducting team brainstorming sessions, client presentations, or strategy meetings, Well& by Durst provides the ideal backdrop for a successful and efficient corporate gathering.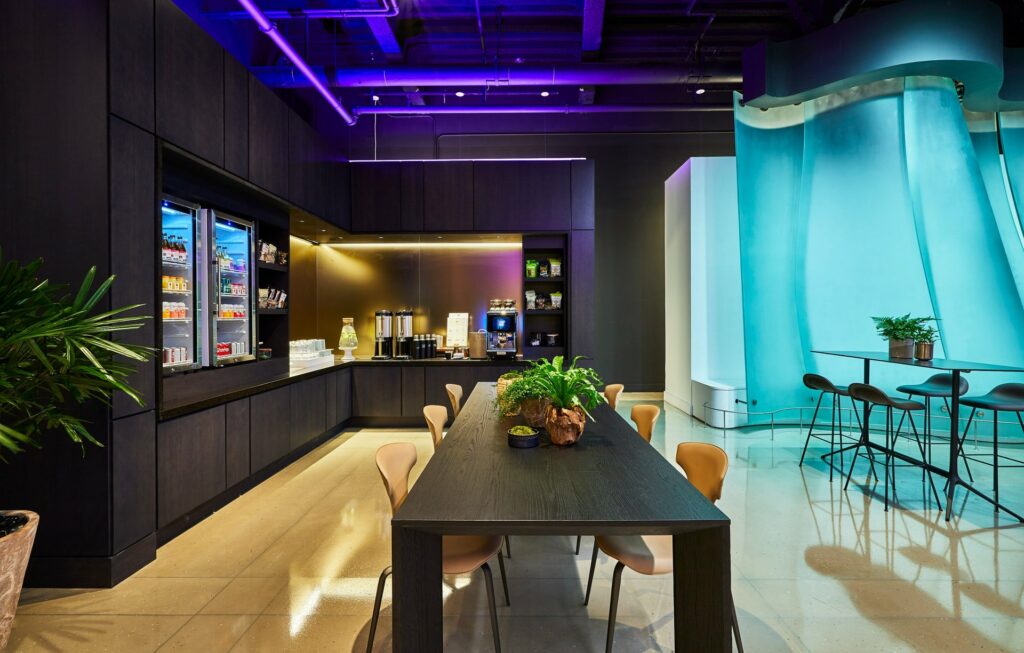 3. The Farm Soho
Neighborhood: Soho
Capacity: 50
The Farm brings the country to Lower Manhattan, in this rustic-aesthetic meeting venue deep in the Soho jungle. This energizing spot – with exposed brick walls, industrial-chic décor, and wood-topped conference tables – has it all for your next corporate gathering, including staff and catering. The Farm has four polished and professional conference rooms, each able to hold at least 6-16 people. But if you need to go bigger, the Main Event venue is a configurable, sun-soaked space high above the bustle of SoHo, boasting room for up to 50 people, an audio/visual system, and even a DJ booth. Most captivating is The Farm's Rooftop, which is a perfect place to retire after a day packed with meetings. With its inspiring views and 2,300 square feet of workable space, the Rooftop easily hosts 50 people for an event that will certainly make an impression.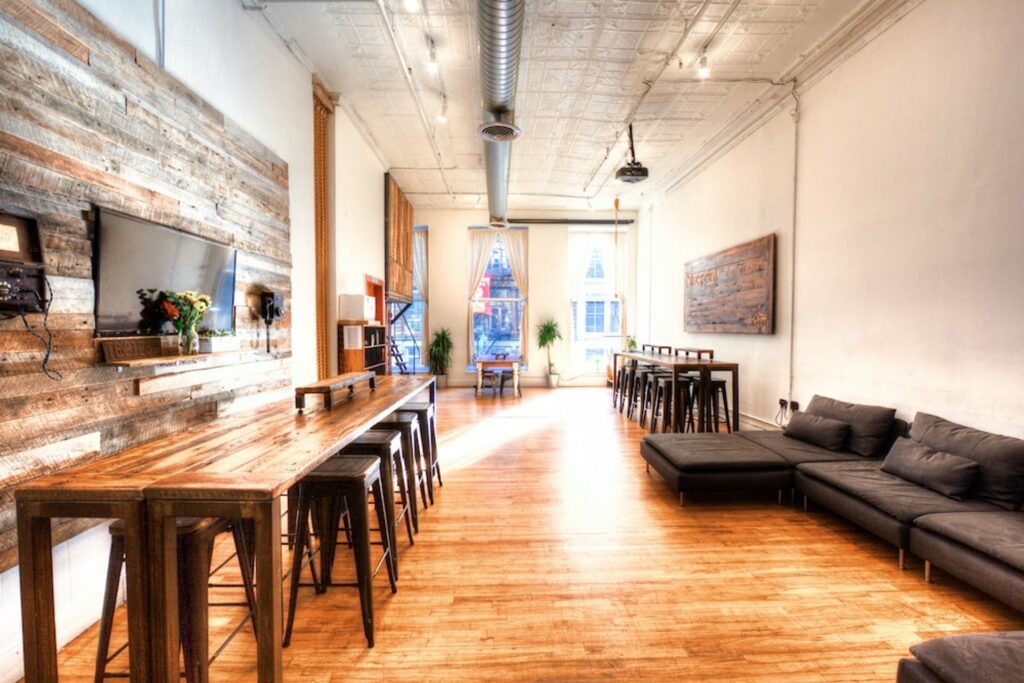 4. OBSERVATORY
Neighborhood: Williamsburg
Capacity: 30
Located on a quaint and quiet street in Brooklyn, the OBSERVATORY is developed by the New York-based organization, OBSERVED, with the intention to create an inclusive space for people to gather. Able to host 30 people for a seated meeting, OBSERVATORY has an open floor plan, a chef's kitchen, and even a private outdoor patio. The lofted mezzanine really engages the space, overlooking the main floor. There's dimmable LED track lighting, motorized blackout shades, and pretty much all the tech you would need to run a successful meeting.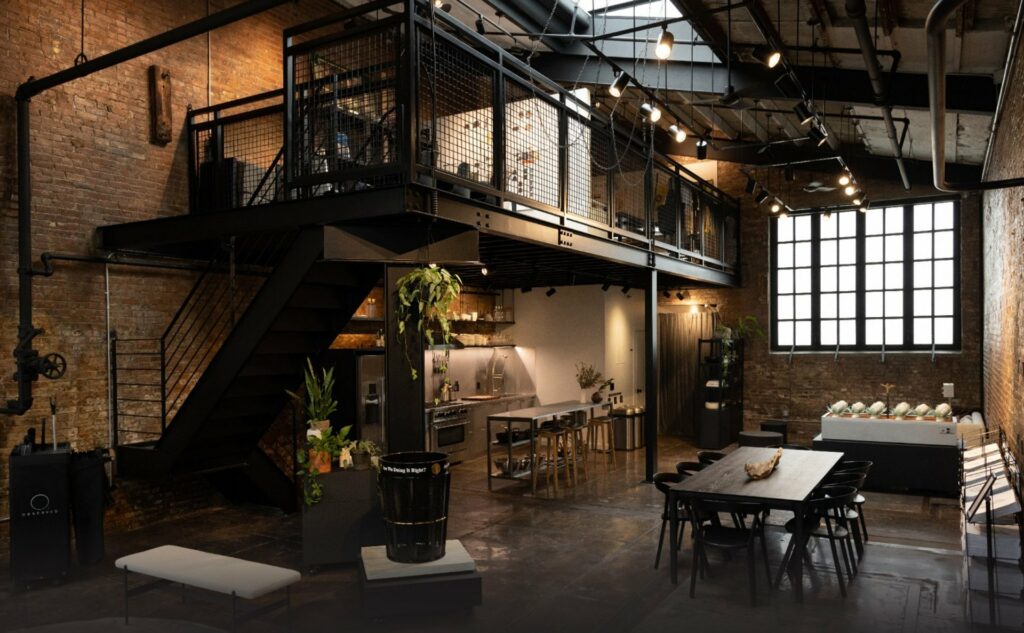 5. The Hoxton Williamsburg
Neighborhood: Williamsburg
Capacity: 60
If the team needs to get together to problem solve, The Hoxton Williamsburg might be one of the most attractive (and completely practical) places in Brooklyn to do so. Attached to their 175-room hotel, the meeting room options at the Hoxton fits the bill with The Apartment, an airy space of five, creatively designed rooms. Each room can be rented individually for team offsites, or as a whole for a big networking event. The Play Room and Dining Room can be combined for a meeting space of up to 60, and there's even a Living Room with plush couches that can accommodate 16. Link the Pantry Kitchen on to your rental spaces, a help-yourself kitchen that's fully stocked with food and drinks. This space can easily transform into a bar afterhours.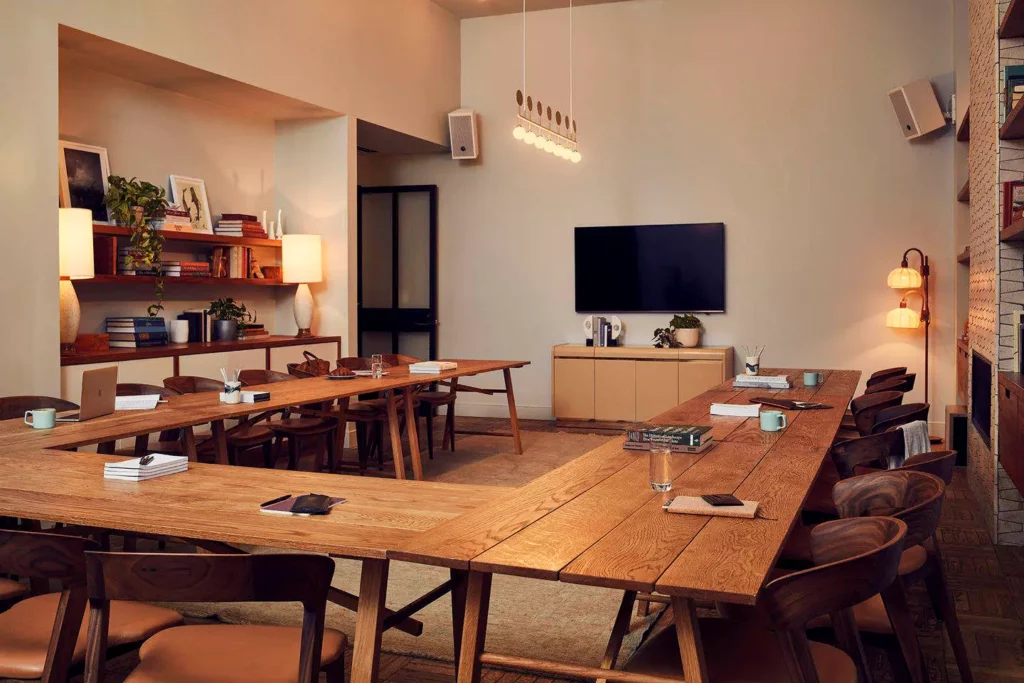 6. Swedish Gateway View
Neighborhood: Midtown
Capacity: 25
The Swedish-American Chamber of Commerce unveiled their meetings spaces several years ago in Midtown as a gathering place of much acclaim. While their offerings include a boardroom and meeting room, it's truly their Gateway View space that packs the "wow" factor. On the 29th floor within a Class A office building, this meeting room offers 250 square feet of space, as well as sweeping views of Manhattan. To say its fully equipped technologically is an understatement – high speed Wi-Fi, a huge 4-panel LED screen, 3 HD video conferencing cameras, and screen sharing capabilities make this meeting space ready for anything. There's even a private gym and kitchenette included.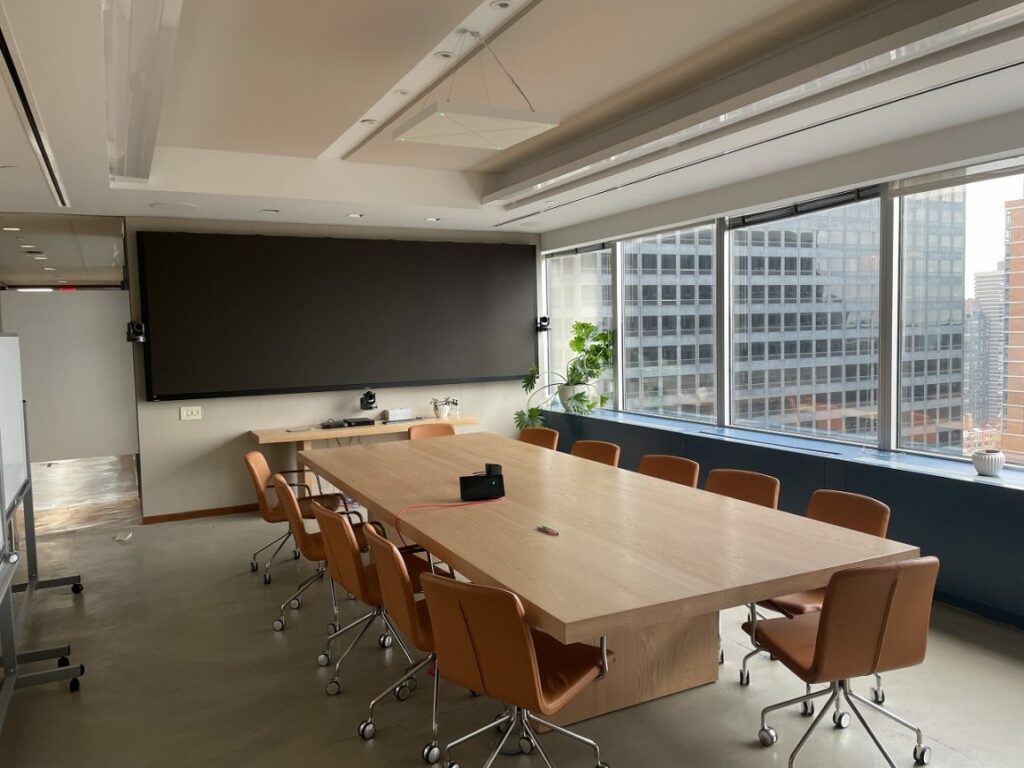 Party of 12? Book the perfect private dining room in NYC for your next corporate dinner.
7. Convene at 101 Greenwich Street
Neighborhood: Lower Manhattan
Capacity: 120
A veritable home-base for your business meetings, Convene at 101 Greenwich Street is a next-generation workplace deep in the heart of the Financial District. Convene is a powerhouse in the hybrid workspace arena, and 101 Greenwich space with its 58,000 square feet of amenities is considered a star in their country-wide line-up. Not only is this spot ideal because it can accommodate 120 people across three floors, there are several private offices, co-working spaces, and even farm-to-table culinary offerings from their executive chef. Clean lines, exposed brick, and greenery make this space as attractive as it is functional.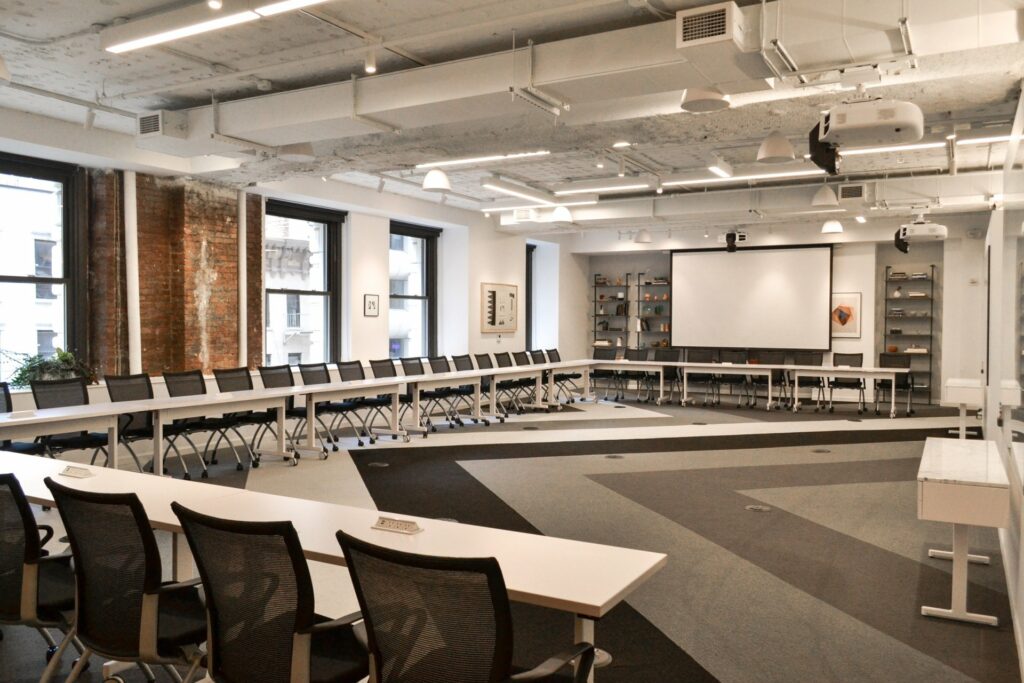 Treat your team to dinner. Find the best private dining rooms in NYC.
8. Congregate
Neighborhood: Bryant Park
Capacity: 400
Sleek as it is chic, Congregate is the place for your next offsite. This meeting space near Bryant Park is minimalistic and flexible, as you can customize your rooms (and your package) to fit exactly what your event needs. The convertible space offers private breakout areas, conference rooms, and even a large-scale event venue, all outfitted with the latest meeting technology. Your clients and guests will be surrounded by Congregate's modern art collection, and even treated with catering by world-famous Cipriani.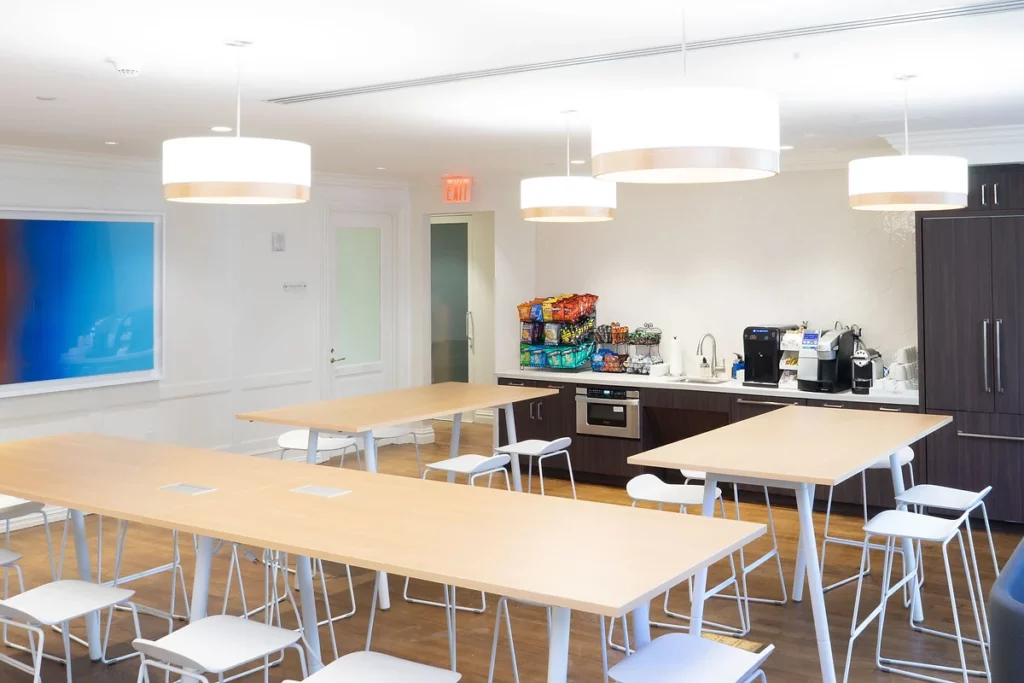 9. Flatiron Penthouse
Neighborhood: Financial District
Capacity: 80
How about a library, lounge-y vibe for your next meeting? Look no further than Flatiron Penthouse. Appropriately, this meetings space calls the Flatiron District home, and is a two-floor private penthouse with a fireplace, hardwood floors, a balcony, terrace, and rooftop. Comfy couches and a full kitchen await. But don't let the ease of this spot fool you – it's completely equipped with state-of-the-art tech equipment, several flat-screen televisions, and an integrated sound system.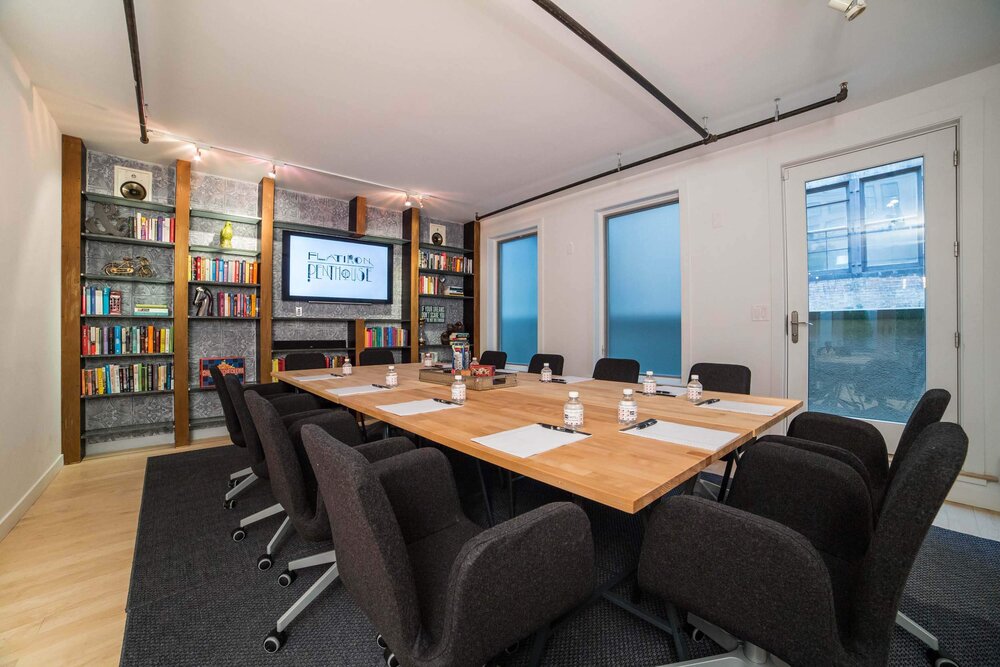 10. InterContinental New York Barclay
Neighborhood: Midtown
Capacity: 500
Hosting a business meeting alongside professionals who know the industry immediately brings down the stress level in event planning. That's why a meeting or conference planned at the InterContinental New York Barclay will not only be a stunning affair, it will feel effortless. Prepared to host a big crowd, this venue features 20,000 square-feet of workable space, as well as five breakout rooms. Meeting configurations are endless at the InterContinental, and classic details (thanks to the throwback 1920s style and recent multi-million dollar renovation) are felt throughout. Catering, technology, and rentals are easy to book, ensuring a real stunner of a business meeting.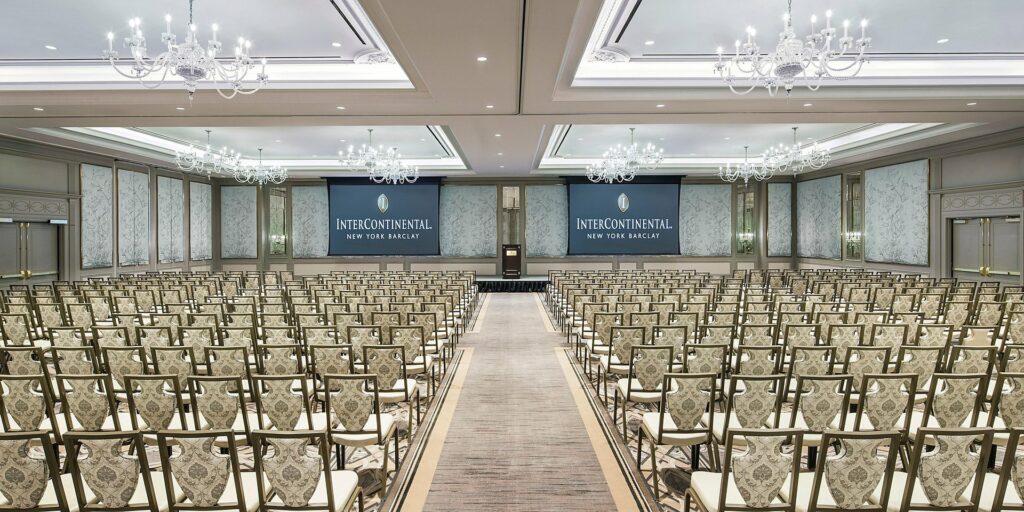 11. Dream New York Downtown
Neighborhood: Meatpacking District
Capacity: 300
There are six stunning spots within the Dream New York Downtown hotel that can accommodate your meeting of 25 to 250. The Gallery is their right-off-the-lobby ballroom offering, which is a fully customizable event space that can host 250 for a business meeting. Teak wood paneling enhances and natural light streams into The Library, a conference room for a 20-person board meeting. The GuestHouse can host 20 seated or 75 standing, serving as Dream's penthouse with its two stories and comfortable but chic atmosphere. After a day of meetings, retire to the PH-D Lounge, a rooftop with sweeping views of the Empire State Building and Hudson River. Host an out-of-the-box meeting with a poolside event at The Beach, a 4,800-squarefoot pool deck with a DJ booth and private cabanas. Lastly, the fashionable and functional choice is the Electric Room, which can host 40 seated or 120 standing, all enveloped in a speakeasy-type subterranean room with gothic-style chandeliers and tufted leather sofas.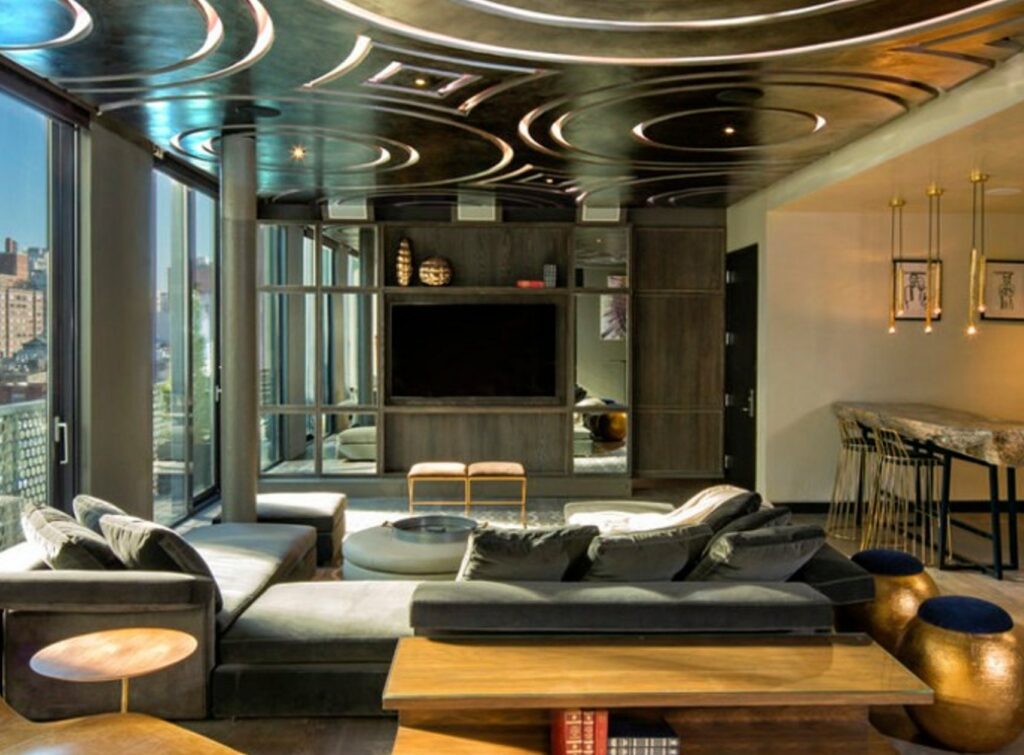 12. WorkLife Meetings by Industrious
Neighborhood: Midtown South
Capacity: 100
Aptly-named Industrious is an international meeting space company that has risen to the changing world of work. Their WorkLife Meetings location in New York lives up to the organization's high standards. Industrious invites you to "collaborate your way" with their vast options of meeting and event rooms, accommodating 6 to 100 people. There's hubs to work with an intimate group, small or large conference rooms, or multi-function rooms with floor-to-ceiling windows. The specialty rooms are the real standout: the Pitch Room is perfect to present your company's next big idea and the Studio is a sound-proof spot to host a video presentation or podcast.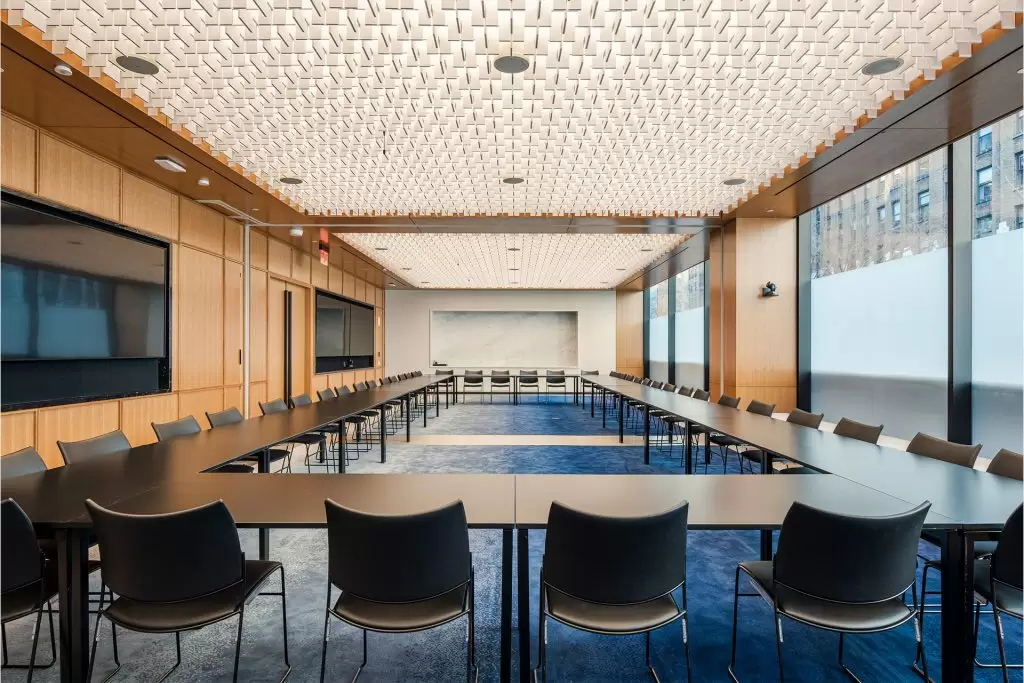 13. The Graduate Roosevelt Island
Neighborhood: Roosevelt Island
Capacity: 150
Roosevelt Island is a two-mile island located in the East River between Manhattan and Queens. Here resides The Graduate, a truly unique and beautiful spot to host your next business meeting. There's 3,800 square feet of indoor/outdoor flexible meeting space. The Eleanor Room is a preset boardroom for up to 12 people, the Cherry Blossom Room can seat 50 theater-style, and Minnehanonck Ballroom combines elegance and technology with seating up to 150. Let your employees in on Roosevelt Island, one of NYC's best kept secrets.
14. The Ace Hotel Brooklyn
Neighborhood: Brooklyn
Capacity: 200
In the true, throwback vibe of The Ace Hotel family, their Brooklyn location gives all the feels, especially when it comes to their meeting room options. They invite you to bring the group together at "Head to The Studio", a 1,674 square-foot perfectly appointed meeting room with floor-to-ceiling windows, a demo kitchen, and access to AV equipment. "Hang in the Stoop" has 1,930 square feet of space, complete with great natural light and a full bar. "Check out The Gallery" is a highly flexible space that can accommodate 200 people for a meeting or presentation, all drenched in the sunlight of the oculus skylight above.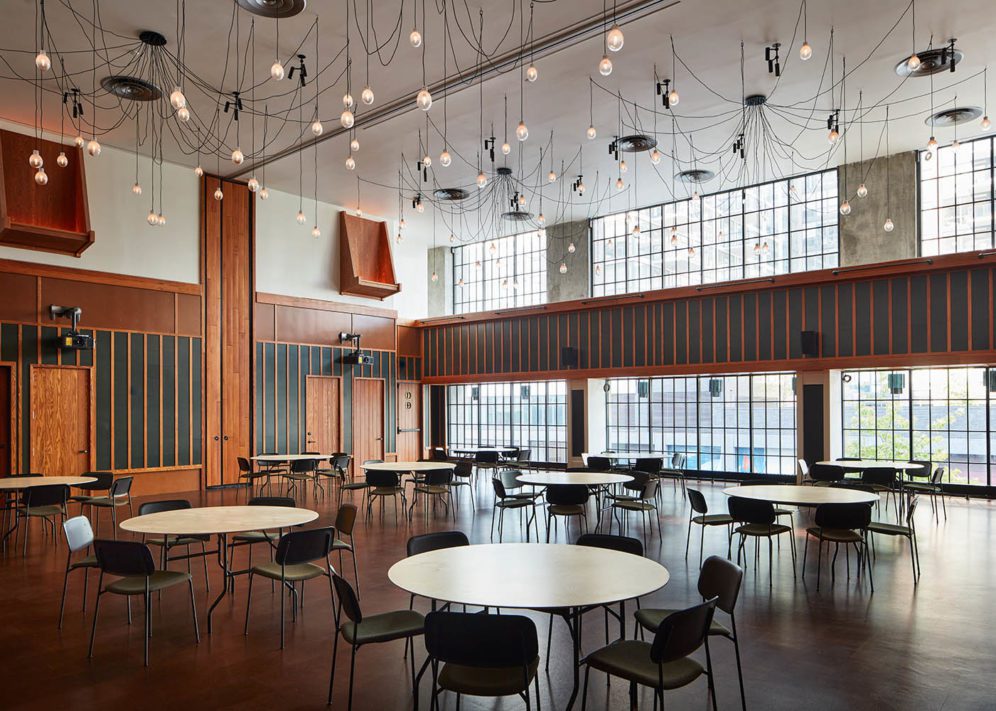 15. Little Owl the Townhouse
Neighborhood: West Village
Capacity: 40
Chef, restauranteur, author, and caterer Joey Campanaro expands his Little Owl offerings to include The Townhouse, a 40-person event venue in the West Village. The exposed beams and whitewashed brick space just beg to host your next business meeting. The Townhouse was built in 1910, is multi-level, and is the perfect set up for one long, conference table. This stunning setting should inspire, but don't be surprised if all anyone wants to talk about is Chef Campanaro's food.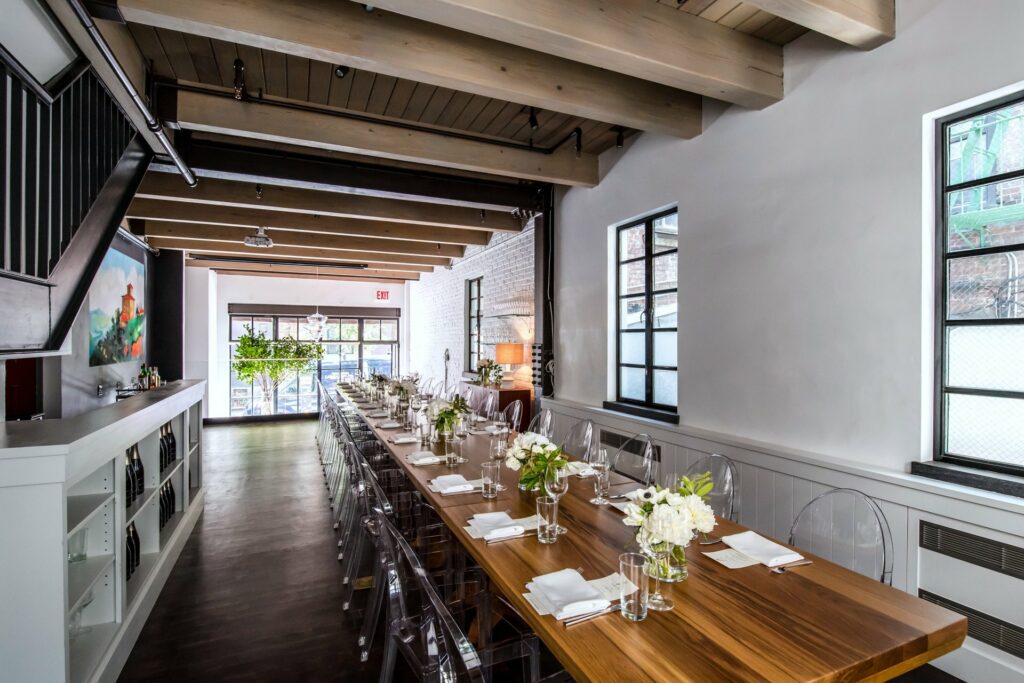 16. Moxy NYC Chelsea
Neighborhood: Chelsea
Capacity: 120
Certainly determined in spirit as the name implies, Moxy NYC Chelsea has the goods to back it up. With 10,000 square feet of smart meeting space, its likely this hotel and meeting center in the heart of Chelsea will have what you desire. You can choose from the two restaurants on premise for gatherings, but the Meeting Studios are the place to get work done. Located on the second floor, the two studios can be combined for 380 square-feet of boardroom space, perfect for up to 16 guests. The Moxy NYC Chelsea has state-of-the-art tech equipment, onsite catering, and convertible furniture that can transform in a snap.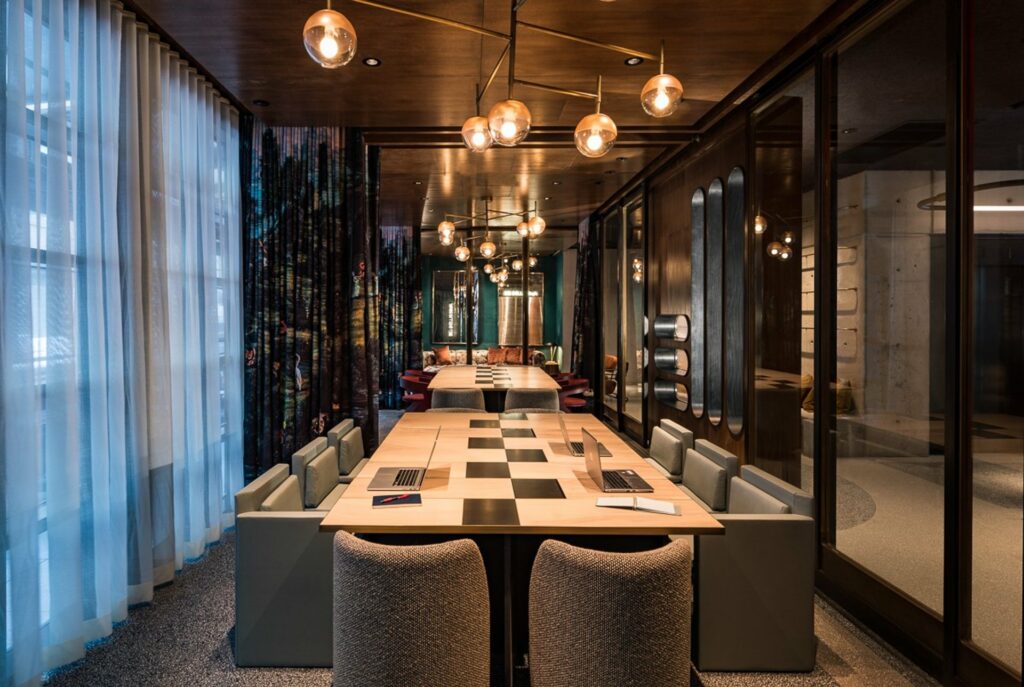 17. Meet on Chrystie
Neighborhood: Nolita
Capacity: 120
Meet Hospitality revolutionized the meeting industry years ago, providing out-of-the-boardroom locations for companies to host meetings, focus groups, and brainstorming sessions in Manhattan. Meet on Chrystie delivers on the company's promise, as the space has private access, an invigorating feel, and two fully appointed meeting rooms. The Bee Room is a 705 square-foot studio designed with custom made conference tables and is flooded with sunlight. There's even a projector, a stage, and a podium. The Salon, which can seat 80 theater-style, has two drop-down projection screens, making it perfect for presentations or screenings. Overall, the space can host up to 120 guests.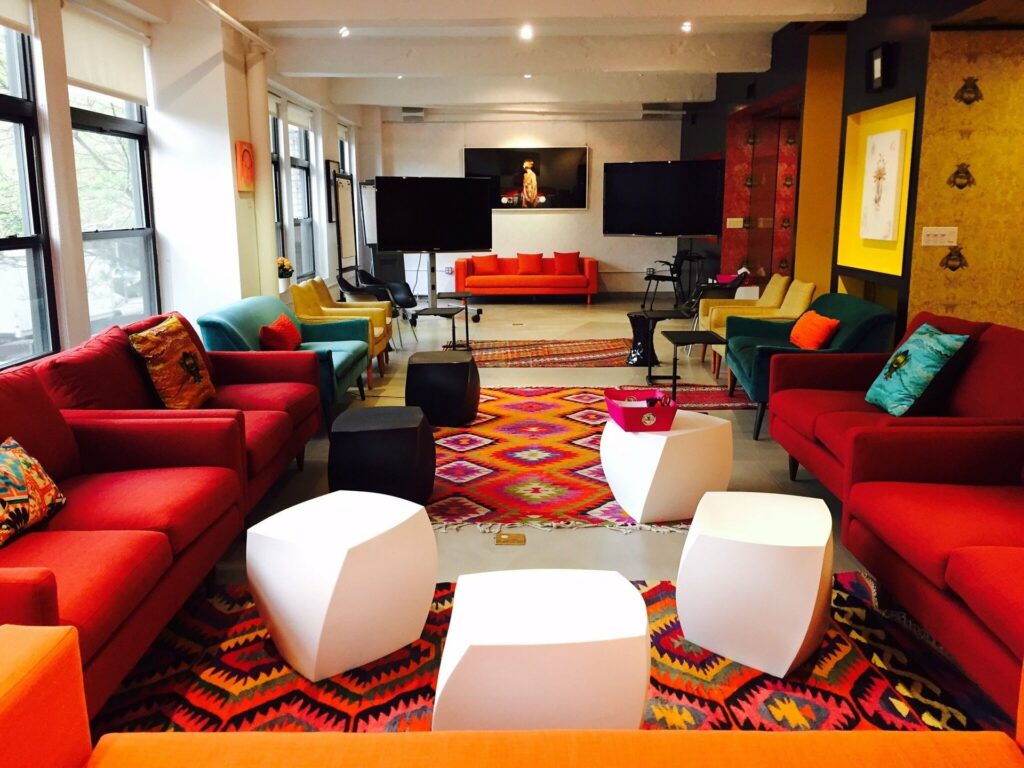 18. Library Hotel
Neighborhood: Midtown
Private Dining Capacity: 25
Draw inspiration as your team sits adjacent to the building that houses all the greatest stories at the Library Hotel, which offers thought-provoking meeting spaces a block from the New York Public Library. The Executive Inspiration Boardroom located on the 15th floor is a conference room for 12 people, with all the tech you will need to run a successful meeting. On the floor below sits the Writer's Den and Enclosed Terrace, a spot that embodies a private club feel, featuring a mahogany-paneled sitting room and a year-long garden terrace where you'll want to meet with colleagues. Lastly, delight in the Poetry Garden and Outdoor Terrace, a greenhouse and garden that will certainly spark ideas, providing views of the Public Library and Manhattan.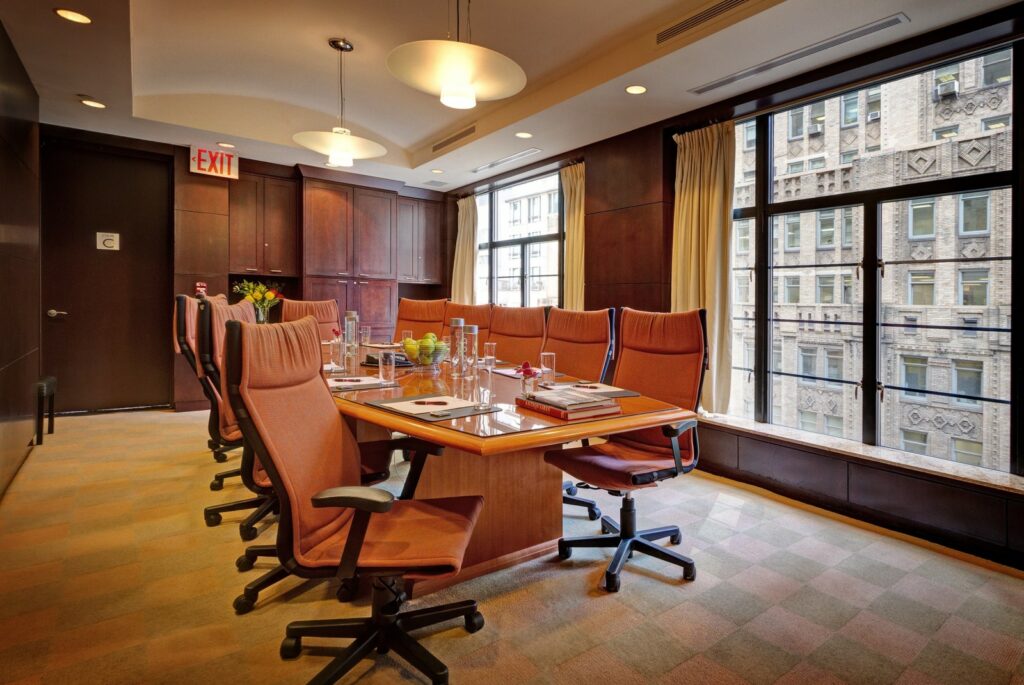 Why Finding the Right Meeting Space is Important
Making the employee workday or client presentation a memorable one is important to you. If your own headquarters or office surroundings don't quite convey the energy you are looking for, the right meeting venue can change that tone right out of the gate.
Employees have been at home, so hosting an internal meeting offsite not only shakes things up, it demonstrates to employees that your company cares enough to recognize their need to stretch out and find inspiration outside of their four walls. And when hosting clients for a new product launch or demonstration, an offsite meeting in a cool part of the city with amazing food will show them you've gone the extra mile to get their attention and continue to earn their business.
When Should You Consider Booking a Meeting Space?
A meeting space is simply a smart solution for bringing remote workers together, especially when hosting a company offsite. Most of the professional world is looking at productivity through a different lens nowadays. Why not give employees the room to grow in a new, energizing space from time to time? On the reverse, an invitation from your company to an important client to meet in a different part of the city, away from HQ, demonstrates initiative – especially if the space is impressive.
The Top Things to Consider When Booking A Venue for Your Meeting
Below are some items to actually think about when booking your corporate event in NYC:
Price. You will likely have developed a budget yourself, or be handed down your parameter of funds. Many meeting venues in NYC can rent by the hour or the day, and have packages or even discount for first-time bookers.
Meeting Elements. What is your meeting looking to accomplish? If its a brainstorming session with employees, be sure to have high speed Wi-fi. Is this an all-day presentation to a large group of clients? You'll need a large screen and loud microphone to project.
Ambiance. The vibe of your meeting counts. If you want to portray your company – whether to employees or clients – as sleek and cutting edge, you'll need to select a venue that reflects that image. If a more approachable tone is your goal, pick a spot within a quaint neighborhood.
Proximity/Locale/Accessibility. You are already in New York, so your people will likely travel by public transport, Uber, or taxi to your intended location. But is your event a multi-day meeting? Will you need to book close (or in) a hotel? Keeping your attendees as "happy campers" by providing ease of travel will make the meetings go more smoothly.
Safety. You can't be too careful these days. Make sure your intended venue has a health and safety response in place. Provide lots of space for your clients or employees to spread out so everyone feels comfortable when it comes time to get down to work.
Questions to consider asking when booking a meeting space in 2023
Hybrid and Virtual Options for remote attendees:
Does the meeting space offer hybrid or virtual event capabilities for remote attendees or presenters?
Are there technical support and equipment available to facilitate seamless virtual participation?
How is the venue adapting to the evolving demand for hybrid events in 2023?
Sustainability and Wellness Amenities:
What sustainable practices has the venue implemented, considering the increased focus on eco-friendly initiatives in 2023?
Are there wellness amenities available, such as improved air filtration systems or outdoor spaces for breaks, in line with the growing emphasis on participant well-being?
Find the Best Meeting Rooms and Venues on The Vendry
Surroundings as beautiful as these are meant to energize and inspire. The Vendry is here to help you find some of the most beautiful and buzzed about meeting venues in NYC. Dive-in, explore, and start booking venues all in one spot.
Read More:
The 15 Best NYC Rooftop Venues For Your Next Event
10 Unique Outdoor Event Spaces in NYC for Your Next Event
The Eight Best Offsite Locations Near New York City