Article updated 4/5/23

New York City is a hub for unique and exciting venues that provide an unforgettable experience for any event. Hosting an event at a unique venue in New York City not only adds to the ambiance and atmosphere, but it also provides an opportunity to showcase the city's vibrant character. The unique venues NYC has to offer range from aircraft carriers to old bank buildings and from ping pong bars to botanical gardens. New York is constantly outdoing itself, so we've curated a list to get you started. Read on for The Vendry favorites.
Unique Event Spaces in NYC for Your Next Event
The following offbeat, cool venues in NYC offer amazing locales — some with blank space to work with and put your own stamp on and some that come fully frilled. When planning an event in New York City, you'll have so much to work with! There's a lot to sort through when it comes to New York spaces, so we've narrowed this compendium down to 22.
1. American Museum of Natural History
Neighborhood: Upper West Side
Capacity: 1,000
The American Museum of Natural History has been a city landmark for over 150 years. The building's longevity, however, pales in comparison to some of its permanent residents, like the 65+ million-year-old Tyrannosaurus Rex and its other dinosaur posse. This museum is understandably a popular yet unique venue for corporate dinners, weddings, not-for-profit galas, screenings, conferences, and more. Within the museum there are different areas available. For starters, have a cocktail under the 94-foot blue whale in the Milstein Hall of Ocean Life, or hold your wedding reception in the Akeley Hall of African Mammals.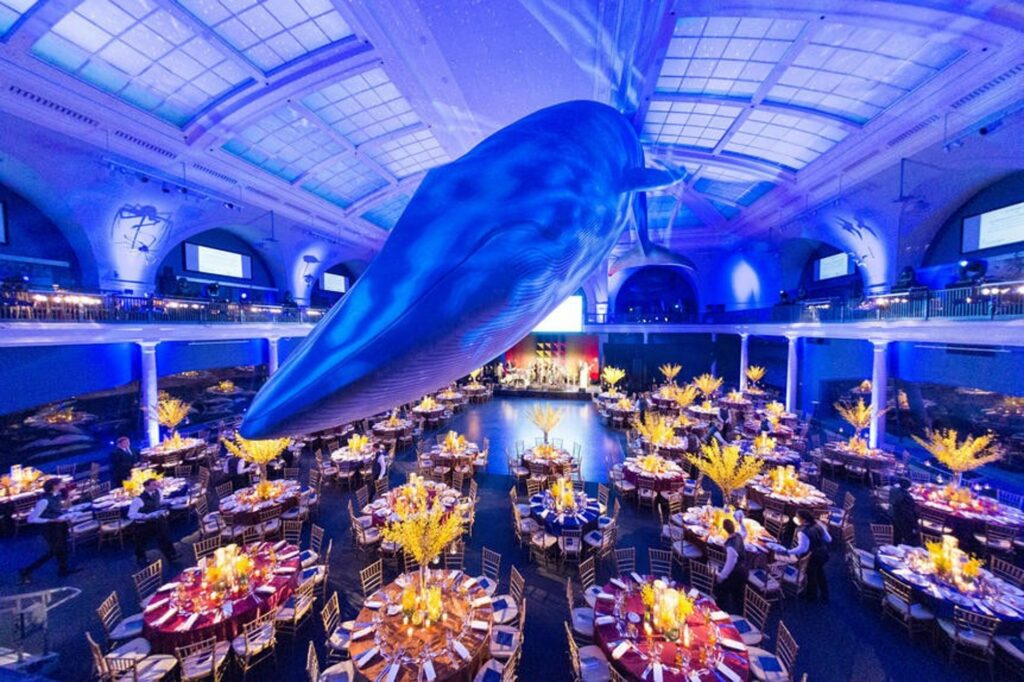 2. The Loeb Boathouse
Neighborhood: Central Park
Capacity: 300
Even if you've never set foot in New York, there's still a good chance you'll recognize The Loeb Boathouse, Central Park's iconic lakeside restaurant. Among countless film and TV examples: It's where Sally lunched with her girlfriends to gossip about Harry. Big and Carrie fell into the water after an argument… The Boathouse certainly has a romantic feel about it–even gondolas come with the vista–which also explains its popularity as a wedding destination for up to 300 of your nearest and dearest. That said, the 450 square foot deck and 3,300 square foot English Garden are great spaces to play with, regardless of your event type.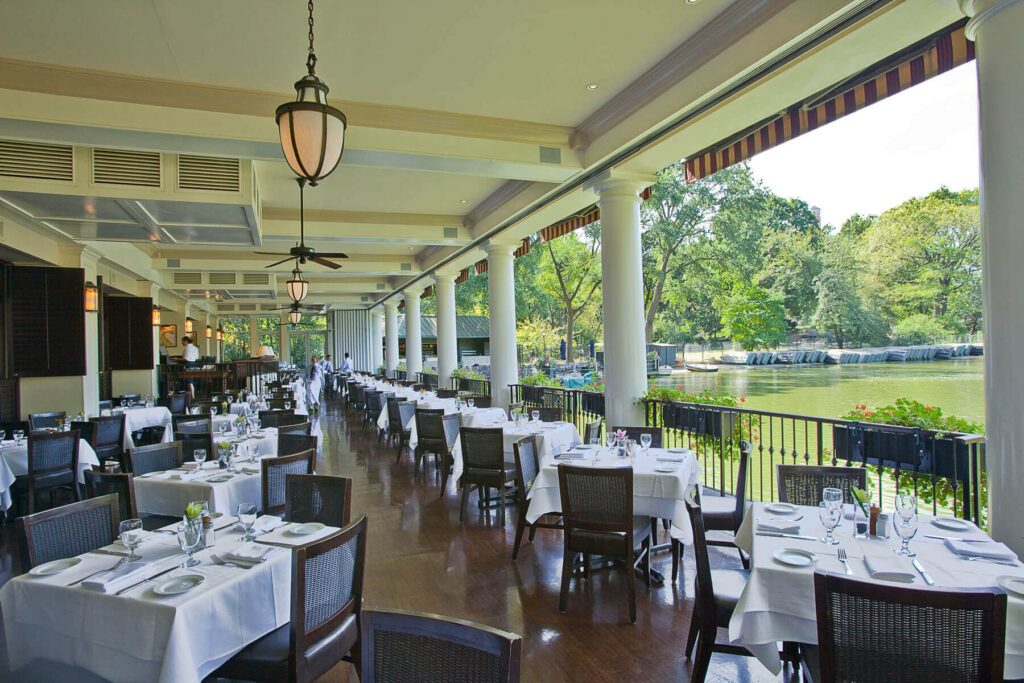 3. Tribeca Rooftop + Tribeca 360°
Neighborhood: Tribeca
Capacity: 720
Amidst the neighborhood's cobblestone streets and atop a 1920s printing press building you'll find Tribeca Rooftop + 360°. It's a spacious 15,000 square foot venue with 25 foot ceilings, a deck, and views to match. It has been used for many different types of events, but leaves an impression with its unique inside/outside feel.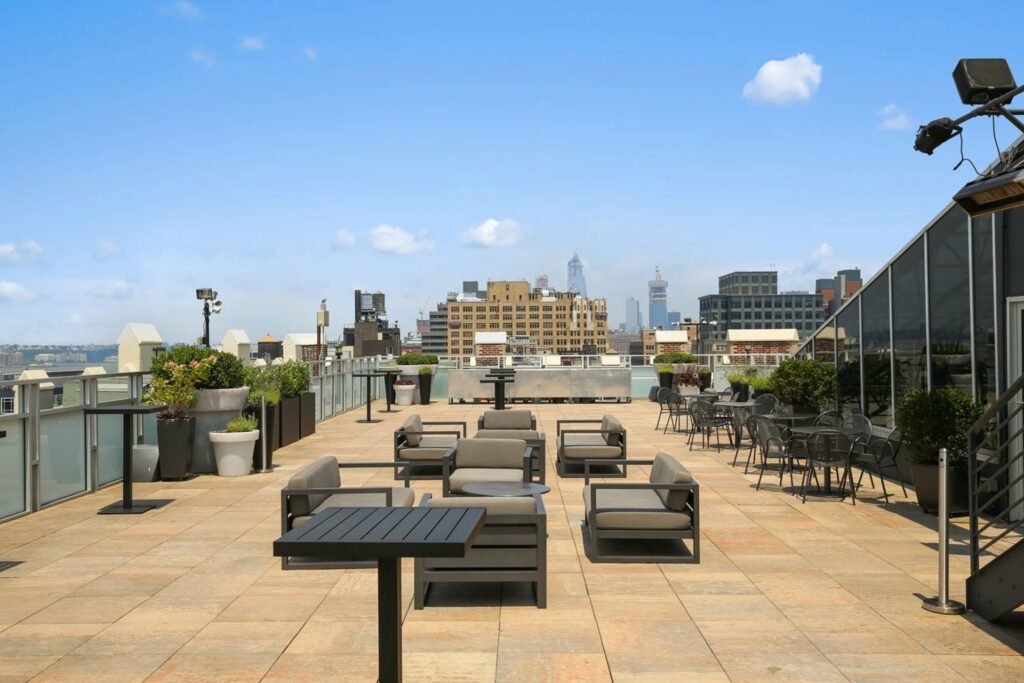 4. Gotham Hall
Neighborhood: Midtown
Capacity: 950
If you're going for cavernous chic (we've decided that's a thing), there's no better space than Gotham Hall. This unique and breathtaking venue is located in the former Greenwich Savings Bank building. Go for a candlelit aesthetic under the ballroom's 70-foot ceilings and ornate stained-glass sky light. The 9,000 square feet of space is great for an extra large event—up to 950 standing. Gotham Hall almost feels Cathedral-like, transporting you to a different place entirely from the typical Midtown craziness.
Give your guests a special takeaway ! Find the top gifts and swag vendors in New York for your next event!
5. Intrepid Museum
Neighborhood: Hell's Kitchen
Capacity: 3,000
If you're set on a unique venue then the Intrepid Sea, Air, and Space Museum is a good place to start. The USS Intrepid itself began her aircraft carrier career (say that three times fast) in World War II and went on to participate in many storied operations. She was decommissioned in 1974 before becoming the foundation for the eponymous museum in 1982. Despite its size you can actually have more intimate gatherings in one of the 13 spaces on offer, but if you're going big up to 3,000 attendees will be happy campers here.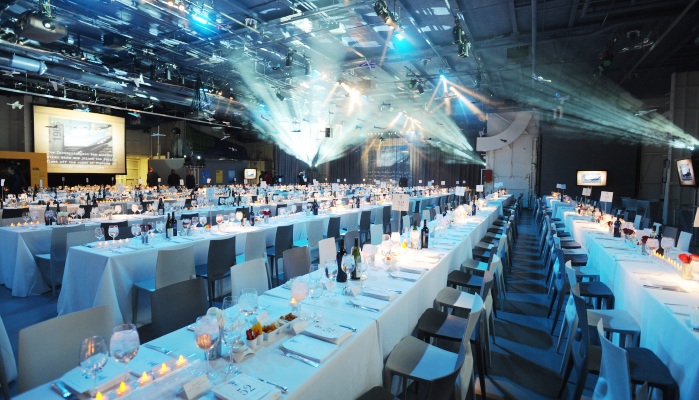 Make sure your venue is one to remember! Browse 10 Unique Outdoor Event Spaces in NYC for your Next Event!
6. Classic Car Club Manhattan
Neighborhood: Hudson Yards
Capacity: Contact for more info
This London-based franchise is one of the more unique carsharing enterprises. Classic Car Club exclusively provides and showcases vehicles of the classic and sports variety from 1959 on. If you decide to rent this space out for an event, car enthusiasts—and people who don't know a Subaru from a Suzuki–-will enjoy the private club's top-shelf restaurant fare while ogling James Bond-approved Aston Martins.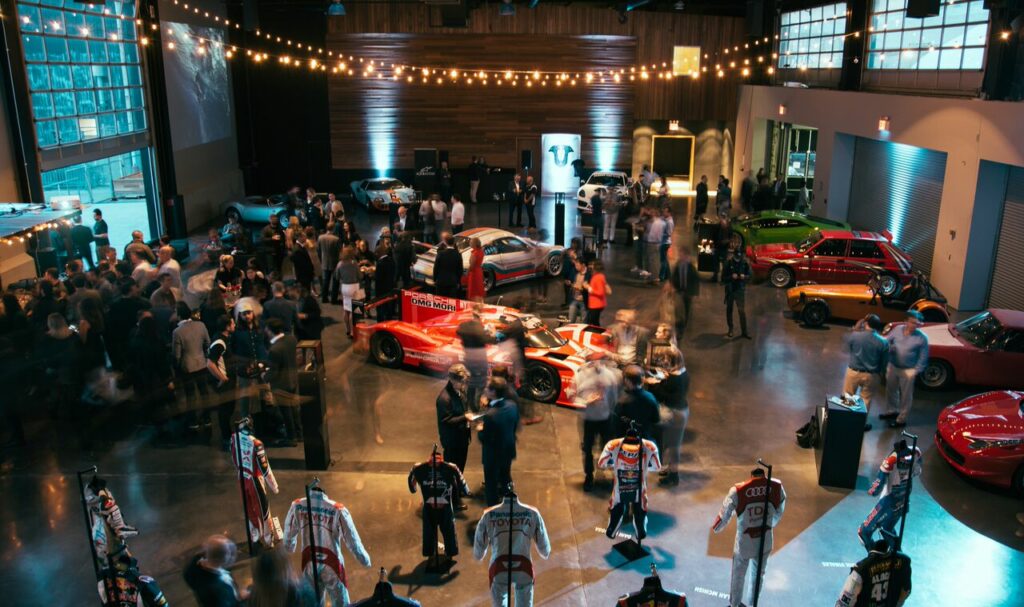 7. New York Public Library
Neighborhood: Bryant Park
Capacity: 750
Patience and Fortitude, the beloved New York Public Library marble lions, are a fittingly majestic entry for a unique event. This landmark Beaux Arts-style library is a bibliophile mecca but also an amazing venue for anything and everything. There's six spaces to choose between, but the largest by far is Astor Hall which can hold up to 750 standing.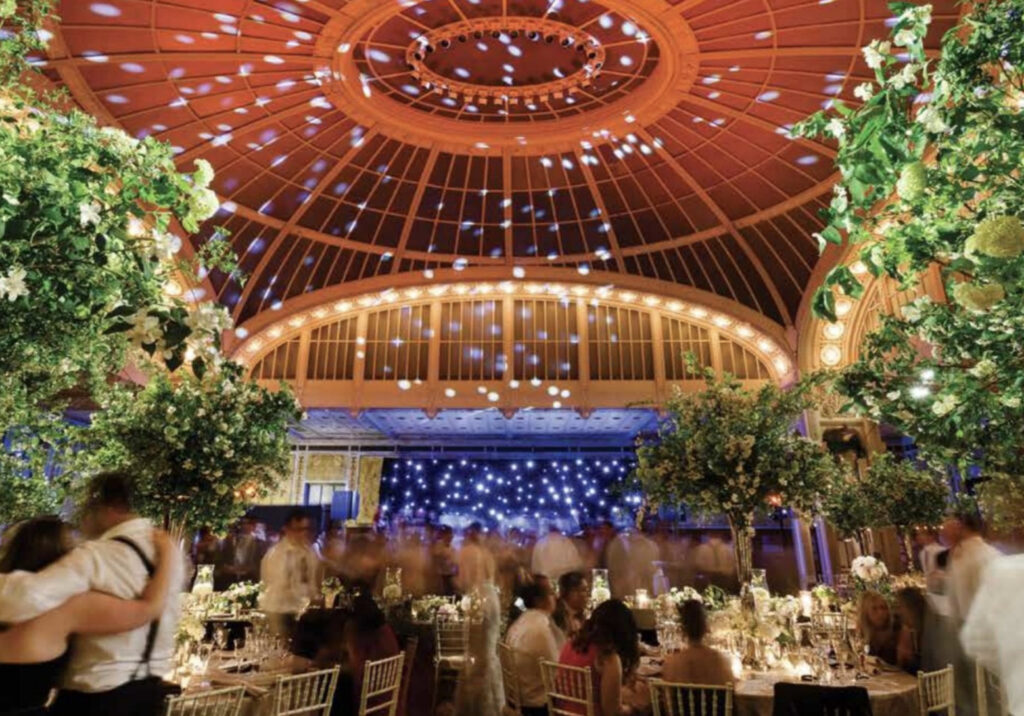 8. 620 Loft & Garden
Neighborhood: Midtown
Capacity: 165
Another distinctive venue that stands out is 620 Loft & Garden, located within the Rockefeller Center complex. Over 3,000 square feet of indoor/outdoor space are a great footprint to put your individual stamp on. Your 120-165 guests will also surely appreciate views of Fifth Avenue and St. Patrick's Cathedral. It's all very New York.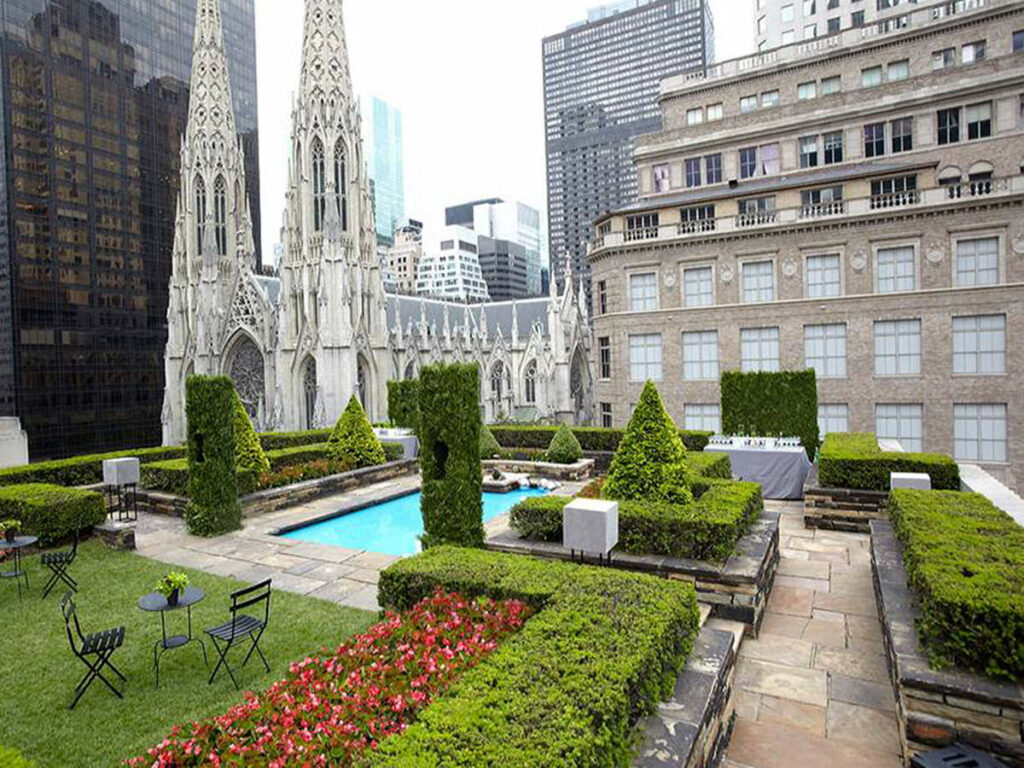 9. Clutchhouse at Manhattan Motorcars Inc
Neighborhood: Hell's Kitchen
Capacity: Contact for more info
Bring your next event to luxurious levels with Clutchhouse at Manhattan Motorcars Inc. The venue is a spacious and modern showroom that showcases high-end cars, providing a stylish backdrop for any event. With five expansive floors, Clutchhouse at Manhattan Motorcars Inc has ample space for events of any size. Want to take things outdoors? Utilize the rooftop which seats up to 300 guests and provides stunning views of New York City.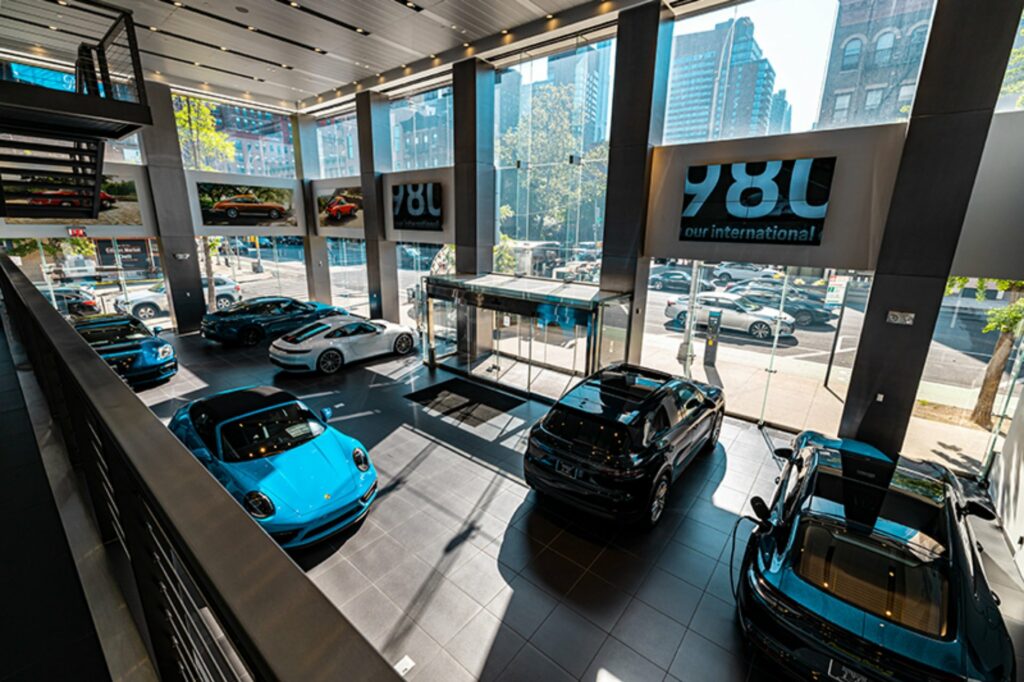 10. Sloomo Institute
Neighborhood: Soho
Capacity: Contact for more info
Don't let the vivid colors fool you. While the Sloomo Institute is a kid-favorite for its focus on sensory play where slime takes center stage, grownups are also flocking to the 12,000 square foot experiential place for "ooze and booze" nights and other types of private events. It's also a major hit when it comes to office events. One testimonial reads, "We came for our holiday party and two years later, everyone is still talking about it. As corporate executives who balance work and home life, it's rare to leave everything behind and feel like a kid again. We needed it!" It's ASMR at its finest.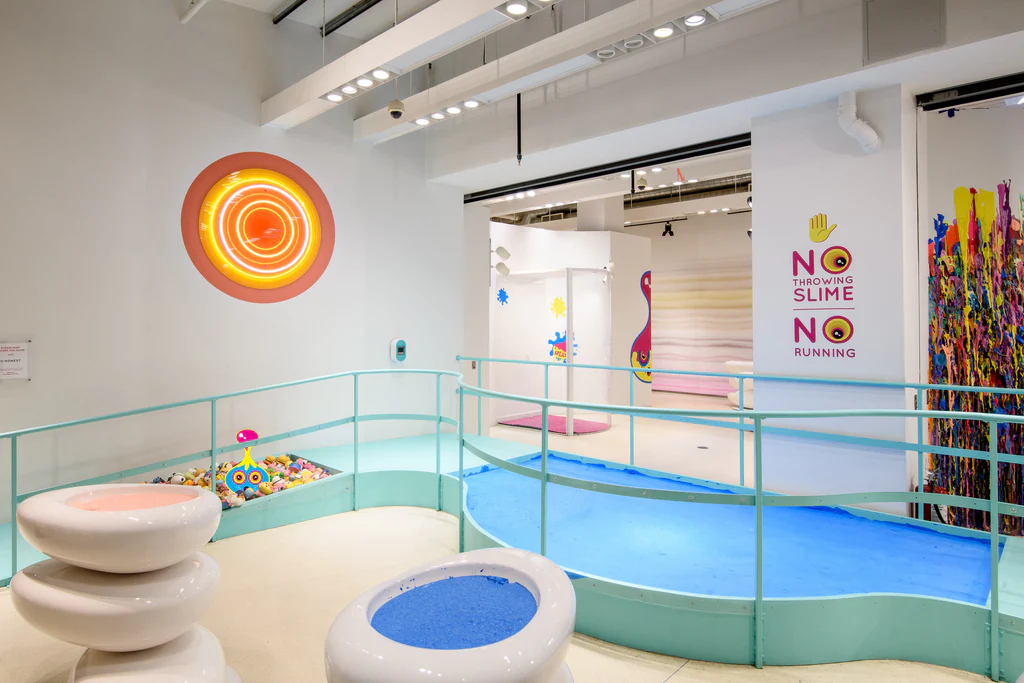 11. Museum of Ice Cream
Neighborhood: Soho
Capacity: Contact for more info
The Museum of Ice Cream is about experiencing everybody's favorite treat not just through taste but through all the senses. Highlights they offer: "EAT as many ice cream treats are you want; LEARN all about ice cream and its history across 13 multi-sensory installations; CONNECT with your loved ones through day and night activities; PLAY in the world famous sprinkle pool and slide down NYC's highest indoor slide." The museum caters to all kinds of corporate and social events, and it doesn't really get more Instagram-friendly than this.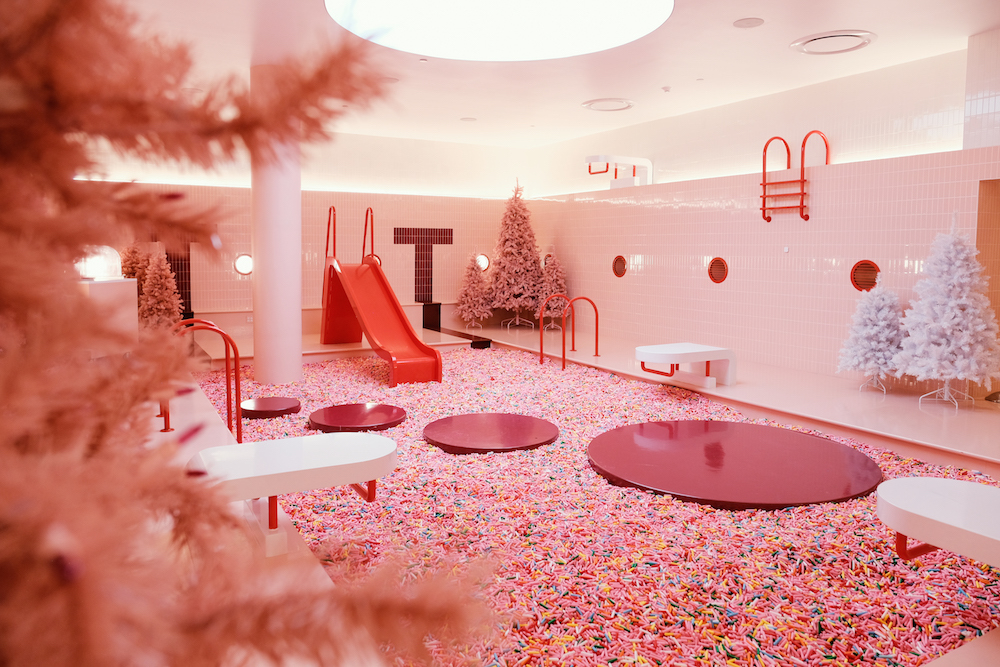 12. Pier 17
Neighborhood: The Seaport
Capacity: 5,000
If you're looking for something "big-big" but still something with a wow factor, Pier 17 brings it with the waterside location and views across the East River. The Seaport has become massively popular within the last ten years or so, and the historic area offers a lot when it comes to culture, restaurants, and bars. Within the Pier 17 complex there's about five different areas to work with, but the rooftop clocks in at a massive 60,000 square feet—so no matter what you decide to do with your event of up to 5,000 standing, space is on your side.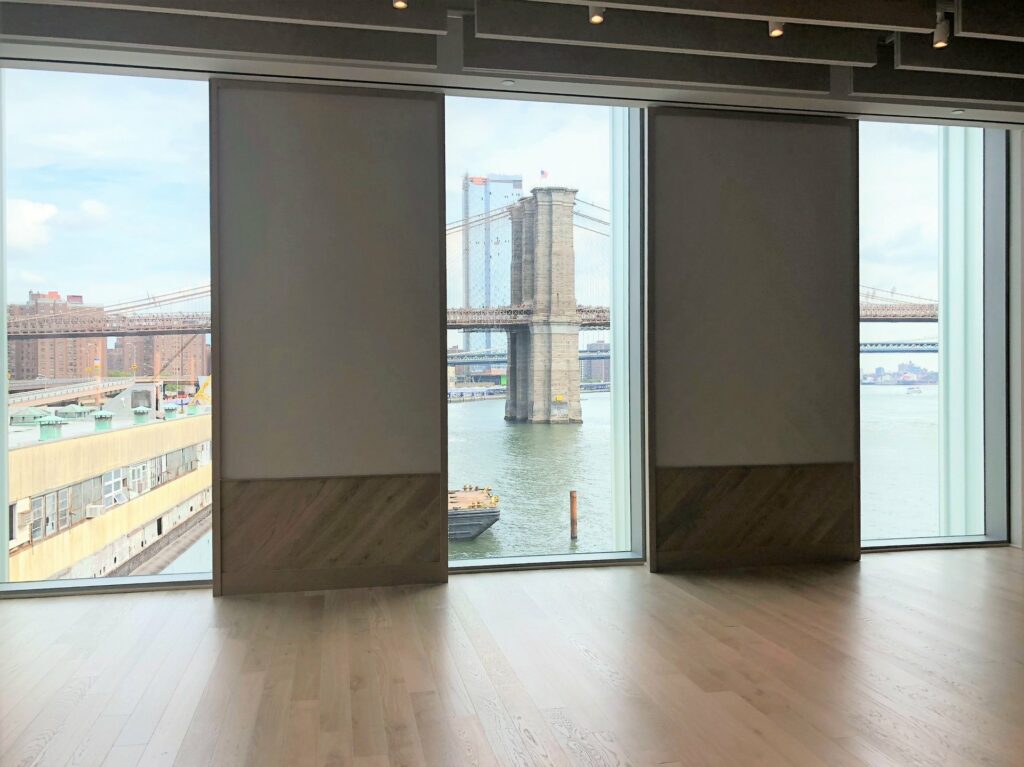 13. Capitale
Neighborhood: Little Italy
Capacity: 2,000
Beaux Arts architecture is a fitting byproduct of the Gilded Age in New York. Architect Stanford White was the go-to Beaux Arts maestro in the city, with his portfolio including the Washington Square Arch, branches of the New York Public Library, the Tiffany & Co. Building, and the Bowery Savings Bank—now home to Capitale. This massive 40,000 square foot venue is there for you to bring your individuality to light, but Corinthian columns, Venetian glass, 65-foot ceilings, and marble mosaic floors don't hurt with setting the tone. The venue is multi-rooms and multi-levels, so you can go small or big (up to 2,000).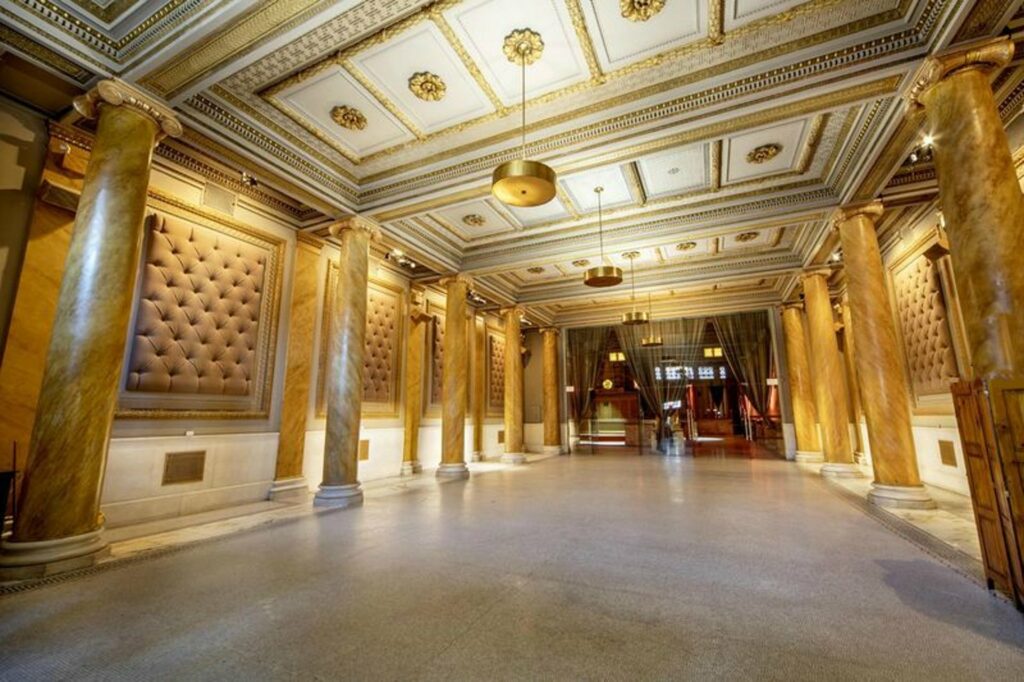 14. Pier Sixty
Neighborhood: Chelsea
Capacity: 2,000
Pier Sixty technically encompasses three locations, including Current and The Lighthouse, but Pier 60 itself is by far the biggest at 20,000 square feet. Situated right on the Hudson River, this is a spacious, column free space to work with and host up to 2,000 standing. A big plus is the host of amenities it comes with, along with a management team who ensure a seamless planning experience. While many black tie events happen here, it retains a quirkiness due to its Chelsea Piers location.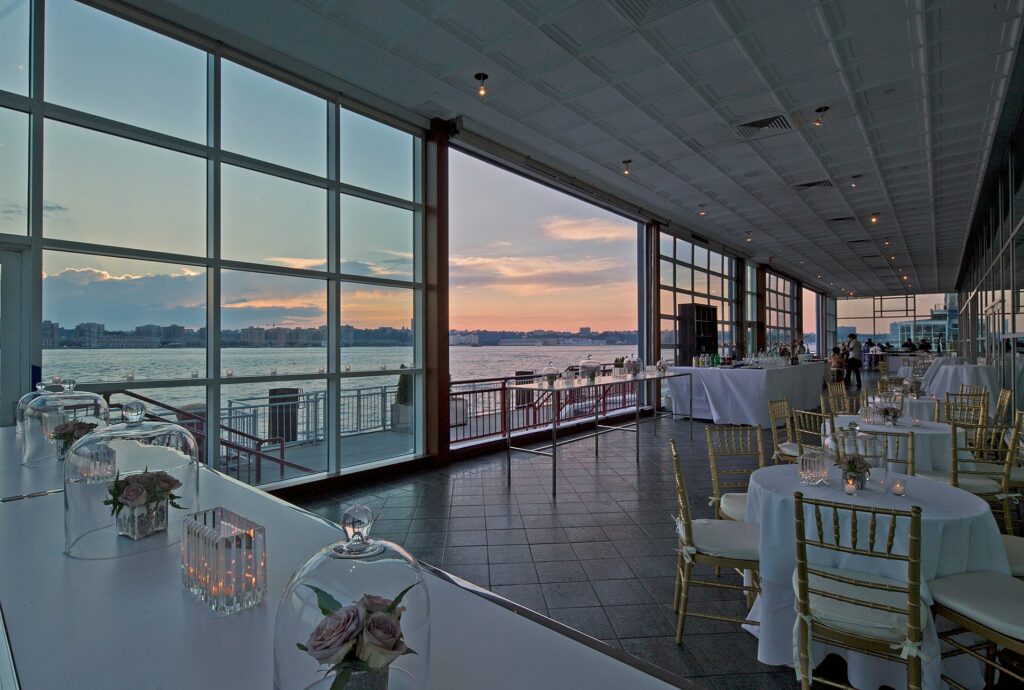 15. Raines Law Room at The William
Neighborhood: Bryant Park
Capacity: 300
The William, a luxury boutique hotel composed of two adjoining townhouses, was originally established in 1924 as a private alumni social club of the prestigious Williams College. Raines Law Room at The William is a craft cocktail bar in a well-appointed library setting, all with a vintage twist. While the food and beverage offerings are cutting edge, the experience of dining or imbibing at an event here feels like it could be 1924 or 2022.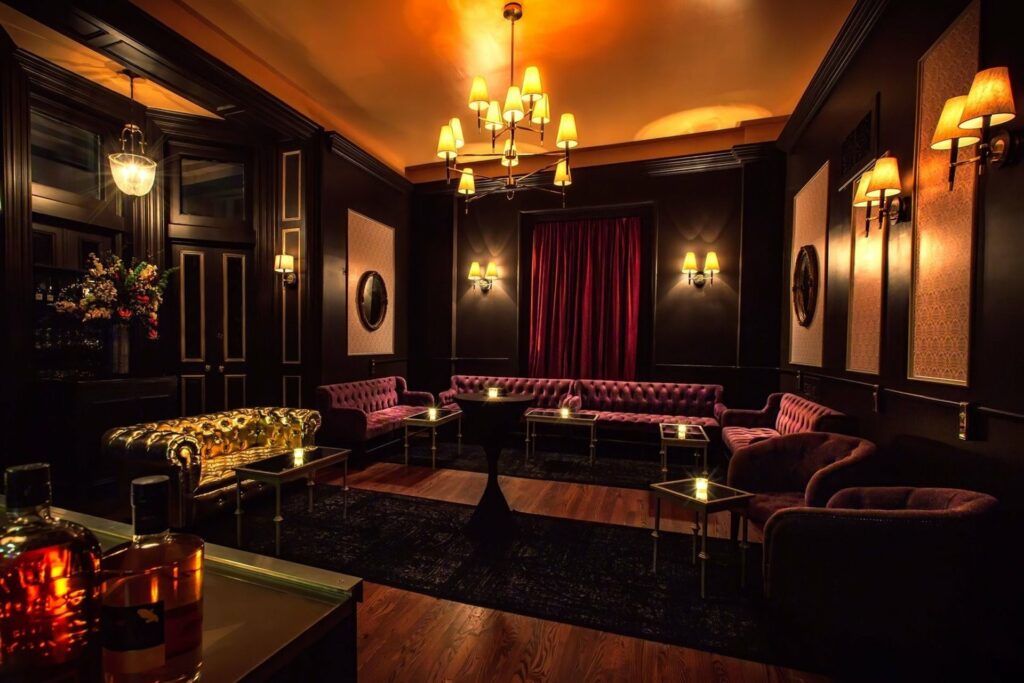 16. White Space Chelsea at Agora Gallery
Neighborhood: Chelsea
Capacity: 250
Among New Yorkers, Chelsea and art galleries are synonymous, and for good reason: there's over 400 in this neighborhood. White Space Chelsea is a good 4,000 square foot venue for a blank canvas, but one that still feels distinctive. There are two spaces to choose from, but you'll be able to accommodate up to 250 standing guests. Great for product launches, brand activations, pop-ups, non-profit events, and more.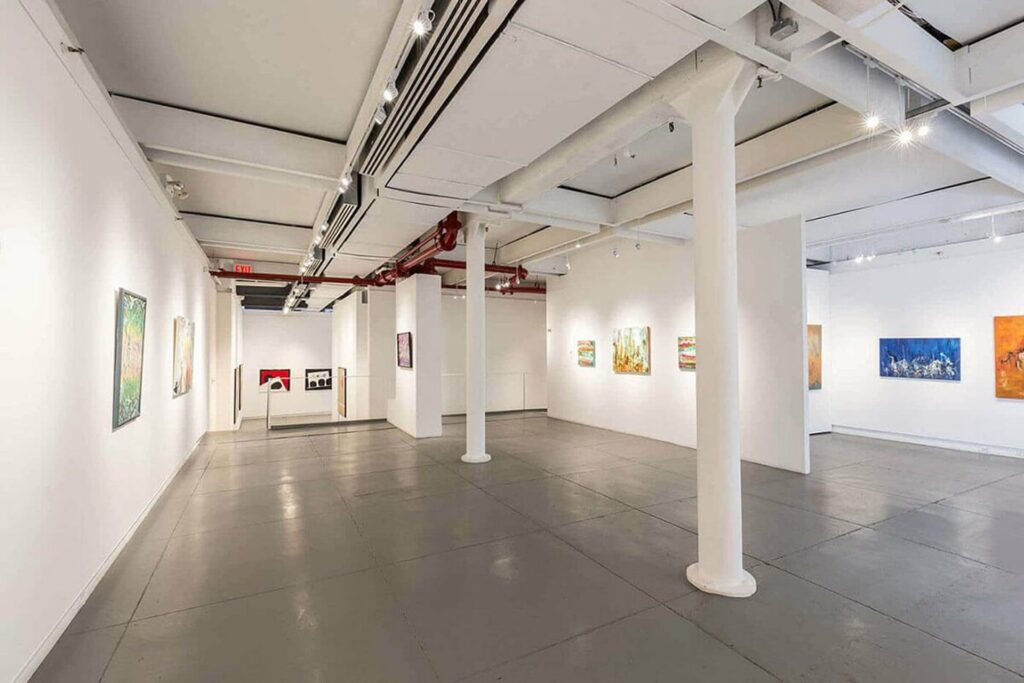 17. Elsewhere
Neighborhood: Bushwick
Capacity: 1,500
Math is in your favor at Elsewhere: it's 24,000 + square feet, has a 3,000 square foot rooftop, a 1,500 person capacity, 5 distinct spaces, and is a mere 15 minute subway from Union Square. This multi-room and multi-level is used as a music venue, nightclub, and arts space so really anything can go here event-wise. Buschwick has become a cultural epicenter for art and music in Brooklyn, so its location is very apropos.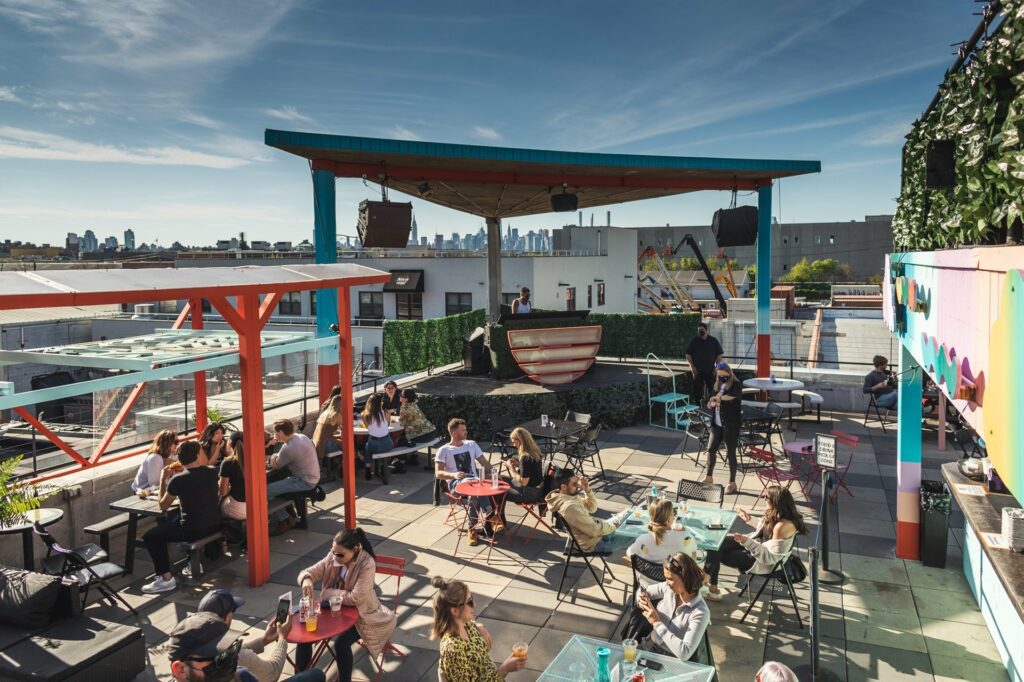 18. Brooklyn Botanic Garden
Neighborhood: Prospect Park
Capacity: 275
On the edge of Prospect Park, the Brooklyn Botanic Garden delivers with its oasis-within-a-city atmosphere. There's a few venues within this special spot to choose from. Among them is the ecologically sustainable Atrium with two-story, floor-to-ceiling windows—perfect for looking out on the Cherry Esplanade. Or you can head to the Palm House which is an all-glass Victorian-style conservatory with a terrace that overlooks the Lily Pool. A dreamy location with Secret Garden-vibes for up to 275 seated.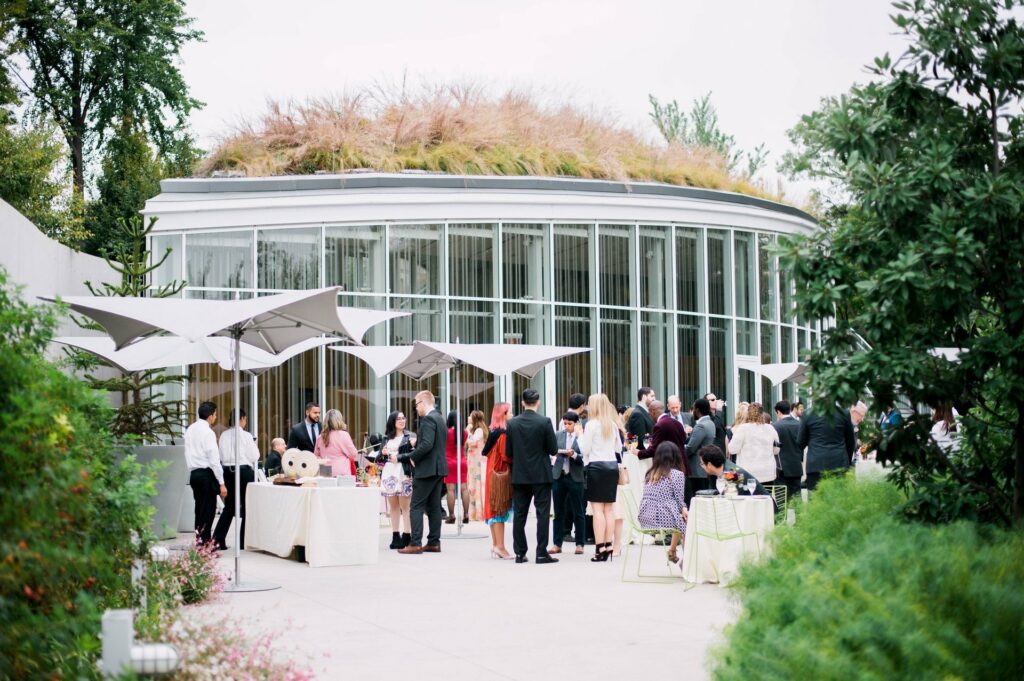 19. Tavern on the Green
Neighborhood: Central Park
Capacity: 500
On the western edge of Central Park you'll find another New York legend: Tavern on the Green. The restaurant has gone through different ownership over the past nine decades, but the building housing the restaurant was originally a sheepfold for the sheep who used to graze in the park. There's 11 spaces to work with here, but the courtyard is definitely the largest which can accommodate up to 500 standing people. While there's no more sheep to look at, it's still a remarkable venue with an historical edge.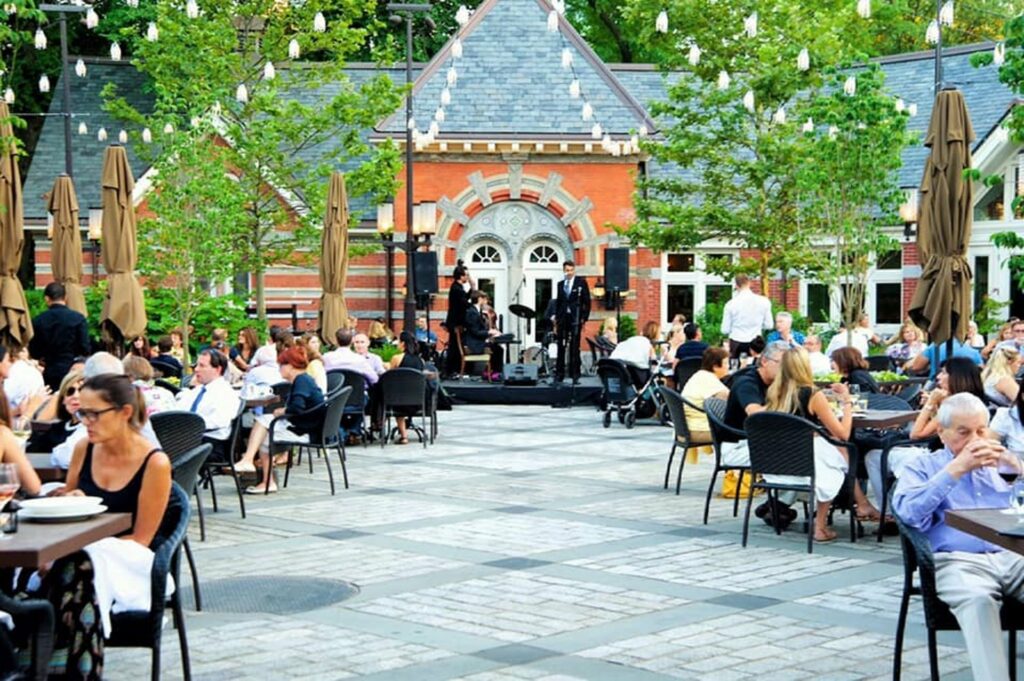 20. The Happiest Hour
Neighborhood: West Village
Capacity: 135
It's good vibes only at The Happiest Hour. This whimsical restaurant and bar evokes California and Florida resorts of yesteryear—the kind which would have inspired Slim Aarons. A buyout will get you all 2,000 square feet for 135 patrons, and the menu serves up simple yet classic and delicious American cuisine. A rock and roll soundtrack completes the #TBT atmosphere.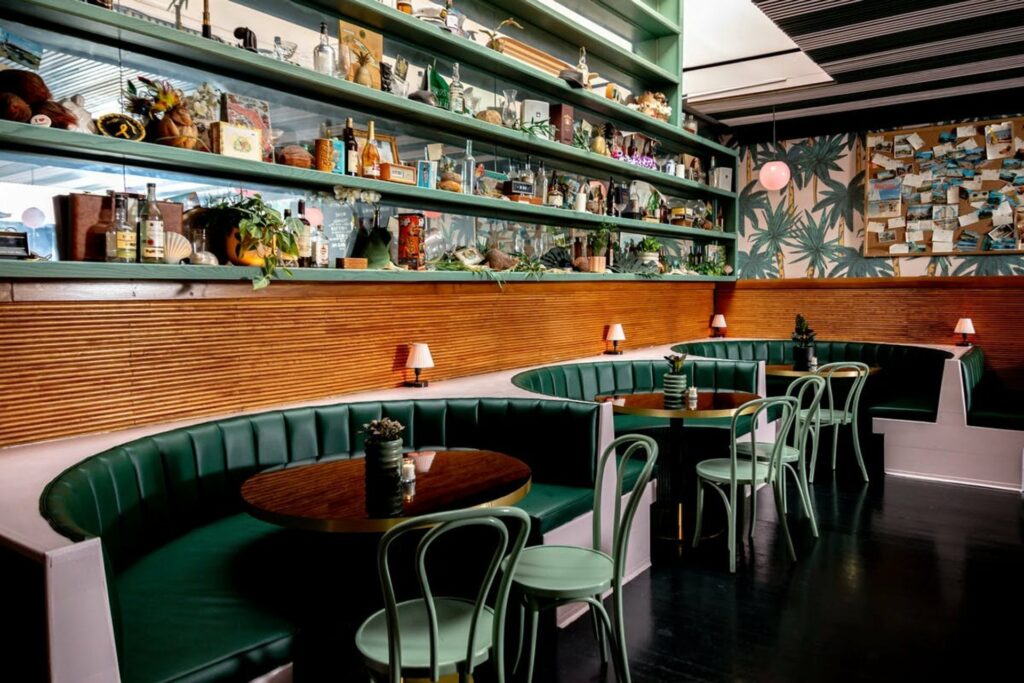 21. Yachts for All Seasons
Neighborhood: Upper East Side
Capacity: Contact for more Info
A well known truth is that some of the best views come from the water, and in New York there's nothing better than getting the skyline from different perspectives. Enter: Yachts for All Seasons. Private luxury yachts, party boats, sailboats, dinner cruises, and yacht charters are all on deck for the ultimate uncommon venue. Oh, and if you choose to get married on one of these you don't have to sweat finding a minister. Sea Captains can legally officiate.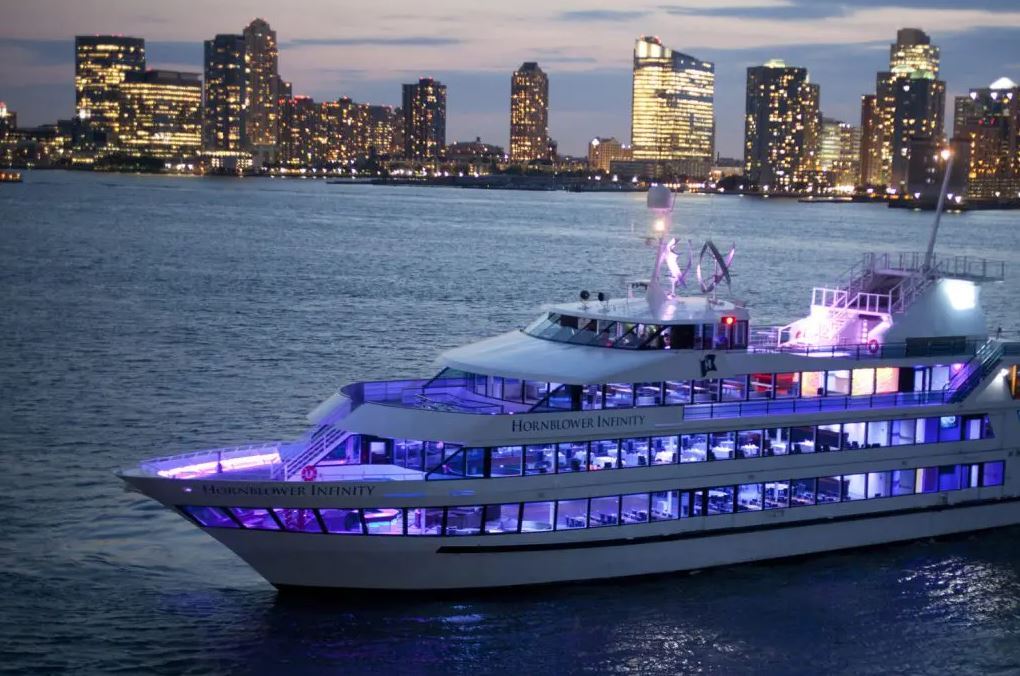 22. Color Factory
Neighborhood: Soho
Capacity: Contact for more info
Experiential art museum Color Factory is a vibrant option when it comes to unconventional event venues. This special museum aims, successfully, for people to experience the joy of color through a variety of methods like interactive installations and immersive rooms. Non-profits, art institutions, brand partners, and of course artists themselves collaborate with Color Factory to create meaningful and stimulating moments. The museum and its friendly staff offer a variety of booking options across time slots, including days that they're closed to the public.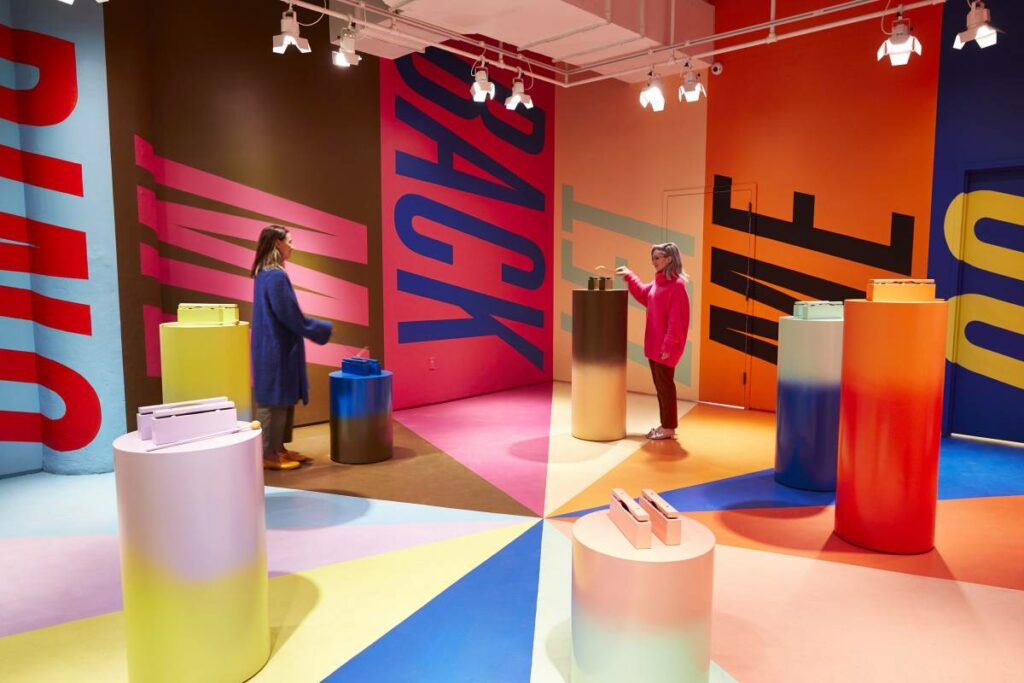 23. SPIN New York 23
Neighborhood: Flatiron District
Capacity: 200
In 2009 actress Susan Sarandon and her partners touched on an excellent combination: table tennis and bars. Since then SPIN has only become increasingly popular, but it remains delightfully idiosyncratic. They host myriad events, but it's a particularly great opportunity for an event where you can bond with coworkers. Among its offerings at the two New York locations: Their signature bathtub filled with ping pong balls, custom graffiti-style artwork, on-site catering, a retail shop, and more.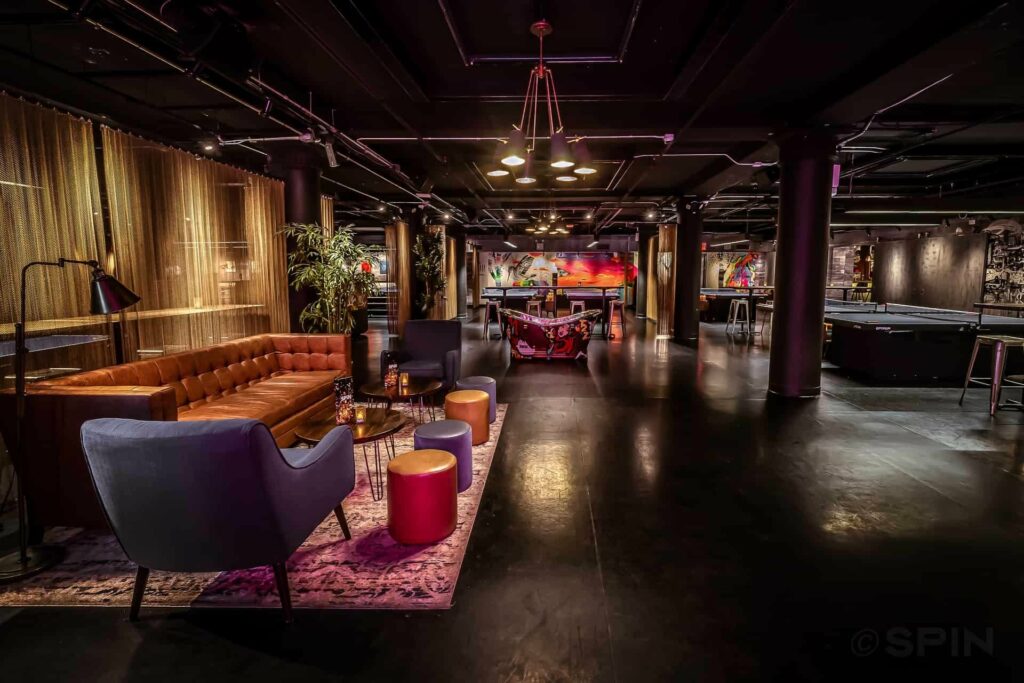 The Importance of Finding the Right Venue for Your Event
Choosing the right space for your event is critical because it's the nucleus of all other planning. Take as much time with the venue selection as you need, because it will dictate all else. Of course, when possible, visit the place before booking or have a trusted associate do so on your behalf.
When Should You Consider Booking a Distinctive Venue
A distinctive venue is always a great idea, even if it's a fundraiser-type event for a serious cause. The space is a talking point, adds to the sense of occasion, and gets solidified in people's memories so it's important to find the right venue. Unique venues are also available for a variety of budgets, so it doesn't have to be an occasion where you break the bank.
The Top Things to Consider When Booking a Venue
Corporate event planners should pay careful attention to various key factors when booking a venue, ensuring a seamless and successful event for their clients. Here's a breakdown of the essential considerations:
Location Accessibility: The venue's location should be easily accessible to all attendees. Opt for a central and well-connected site that minimizes travel hassle and encourages higher participation.
Capacity Alignment: Select a venue with a capacity that matches the expected number of guests. A venue that is too small can lead to overcrowding, while one that is too large might make the event feel sparse.
Audiovisual Facilities: Look for venues equipped with state-of-the-art audiovisual amenities. These facilities are crucial for presentations, workshops, and multimedia displays, enhancing the overall event experience.
Flexible Seating Arrangements: Choose a venue that offers adaptable seating layouts. This flexibility allows event planners to customize the seating based on the event's format and requirements.
Parking and Accommodations: Consider venues with ample parking space and proximity to accommodations. This makes logistics smoother for both local and out-of-town attendees.
Budget Considerations: While the rental cost is a significant factor, planners should also account for hidden fees, catering expenses, and potential customization needs. A comprehensive budget approach prevents unexpected financial strain.
Find the Most Unique Venues in NYC
The Vendry has been delighted to help bring all types of events to fruition, and in equally varied venues. Whether you are ready to start a proposal or just venue searching for now, the aforementioned places offer something outside the box. New York is unlike any other city, after all.
Read More:
Host Your Next Team Gathering at One of the Most Beautiful Meeting Spaces in NYC
Gorgeous Raw Event Spaces in New York City
Host Your Next Corporate Dinner at One of the Top Women-Owned Restaurants in NYC