After the recent trying times of the American food industry, it's downright inspiring to witness women restauranteurs and chefs emerge victorious. New York City has more women-owned businesses than any other city, many of them restaurants. As the world starts to head back out there, the support for women who take the lead is pouring in city-wide. Restaurants owned by women in NYC are topping "must-visit" lists the media over. Below, The Vendry highlights excellent female-led hotspots to hold your next business dinner.
The Top Women-Owned Restaurants in NYC
These women-owned destinations will not only satiate, they will elevate your next event. Whether hosting a big or small crowd, these restaurants intend to deliver the best food and atmosphere, all planned with a woman's touch.
1. The Butcher's Daughter
Neighborhood: Nolita
Private Dining Capacity: 35
Founder Heather Tierney applies her good sense of humor to describe her plant-based restaurant and juice bar as a "vegetable slaughterhouse" at her bright, bleached-wood eatery, The Butcher's Daughter, in Nolita. They treat fruits and vegetables like a butcher would – there's chopping, filleting, and carving the produce into healthy vegetarian dishes and pressed juices. Host your next corporate dinner here, as they can accommodate 35 guests in their 900 square-foot dining room, and 30 for outdoor seating.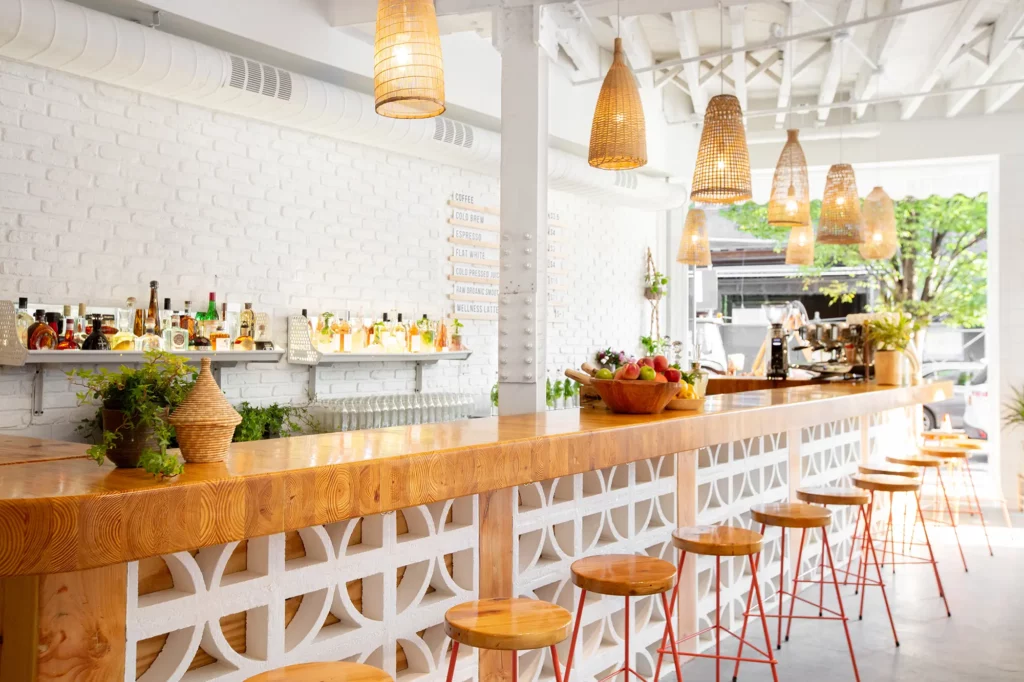 2. Lilia
Neighborhood: Williamsburg
Private Dining Capacity: 20
Opened in 2016 by James Beard Award-winner, Michelin Star-maintainer, author, and Obama family favorite Chef Missy Robbins, Lilia brings the very best of Italian fare to Williamsburg in Brooklyn. Simple Italian pasta and wood-fired delights are the star at this former auto body garage, with high ceilings and tall windows. Enjoy a semi-private business dinner for 20 in their designated space, as Chef Missy and her team provide a set menu that is served to share at the table.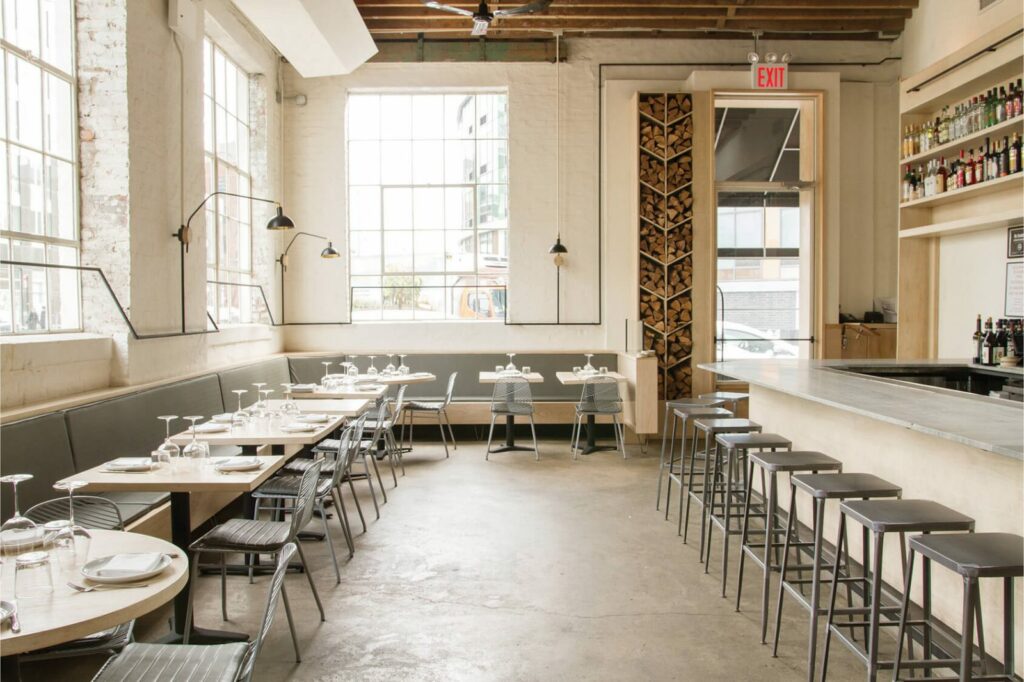 3. Misi
Neighborhood: South Williamsburg
Private Dining Capacity: 20
Lilia's resounding success prompted the opening of Misi, Chef Robbin's latest creation about a mile way. Misi is simpler. There's no wood-burning oven, but there is a delightful, glassed-in pasta-making room. This also serves as the spot for private dining, as 20 guests can sit around the butcher-block tables in the evening within the same spot where the pasta was made earlier in the day.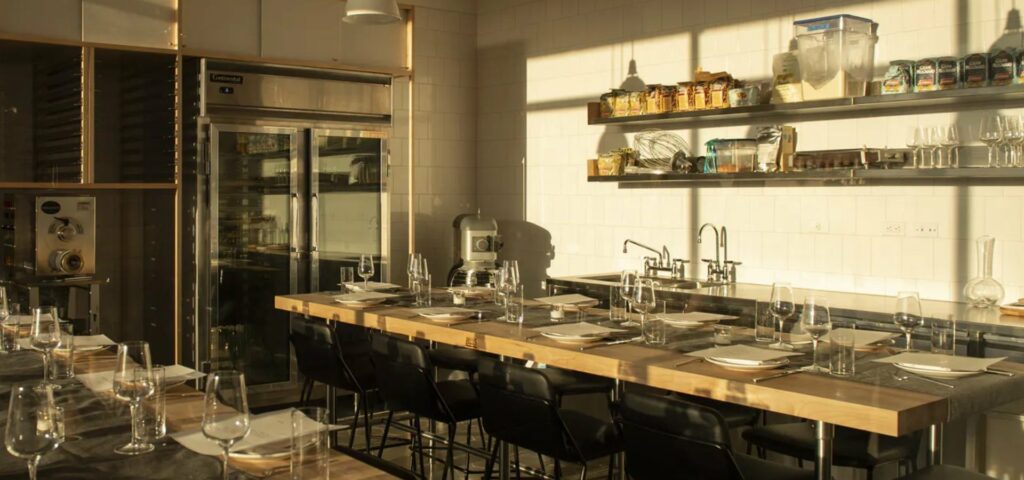 4. Insa
Neighborhood: South Brooklyn
Private Dining Capacity: 30
If an enveloping, unique experience is an event must-have, then be sure to look at Insa in South Brooklyn. Chef and Seoul native Sohui Kim opened Insa in 2016, serving up some of the freshest Korean fare and barbecue this side of the Gowanus Canal. There's nothing fusion here, this is authentic eats at its finest. Insa is perfect for an employee team building night, as you can buy-out the bar for 40, host a dinner in the dining room for up to 30, or rent the entire place for 200. And once you've all enjoyed some mai tais, perhaps take the microphones for a spin in the Jungle Room for some karaoke. No singing experience required.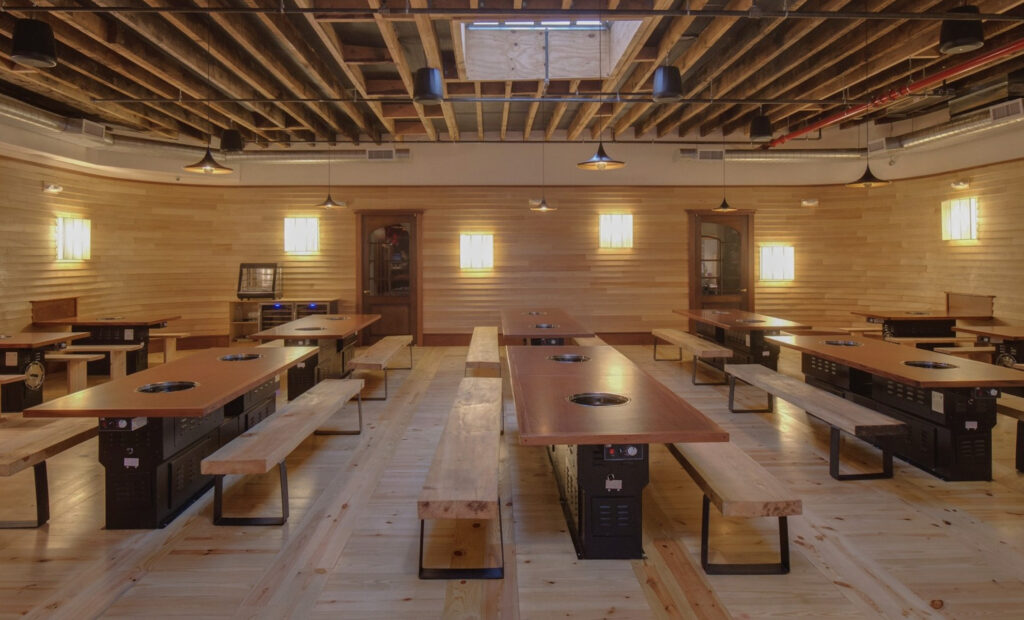 No event is complete without great food! Browse through the top Women Owned Caterers in NYC!
5. Fish Cheeks
Neighborhood: NoHo
Private Dining Capacity: 40
A private event held at owner Jenn Saesue's Fish Cheeks in NoHo will be one to remember. Her family-style Thai fare is so genuinely "straight to your soul", your guests will likely forget they are in Manhattan. Brightly tiled with white walls and primary-colored lacquered chairs, Fish Cheeks is named after the most tender, delectable part of a fish. The standout on this Pad Thai-free menu is the coconut crab curry and steamed whole fish. Have the run of the place with a full-restaurant buyout for 40 associates or clients.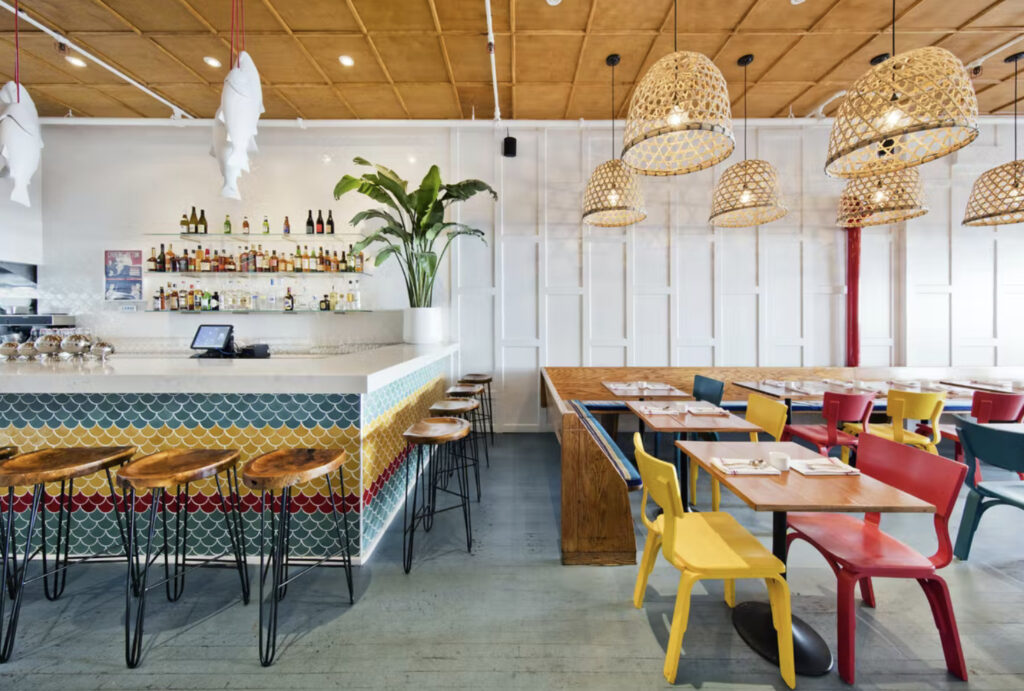 Need help choosing the perfect venue for your next event? Read The 8 Questions to Ask a Venue When Planning an Event to make sure it's a success!
6. Pig & Khao
Neighborhood: Lower East Side
Private Dining Capacity: 38
As chef and owner of Pig & Khao, Leah Cohen leads the way of this fun-loving Southeast Asian hotspot on the Lower East Side. She draws on her Filipino roots, as well as her travels through Asia, to deliver a lively menu and terrific atmosphere. Choose the back of the restaurant to host your next business dinner. You'll receive your own curated party-style menu that will feature Pig & Khao's greatest hits like Hainanese Duck and green papaya salad, all while classic reggae tunes playfully hang in the air.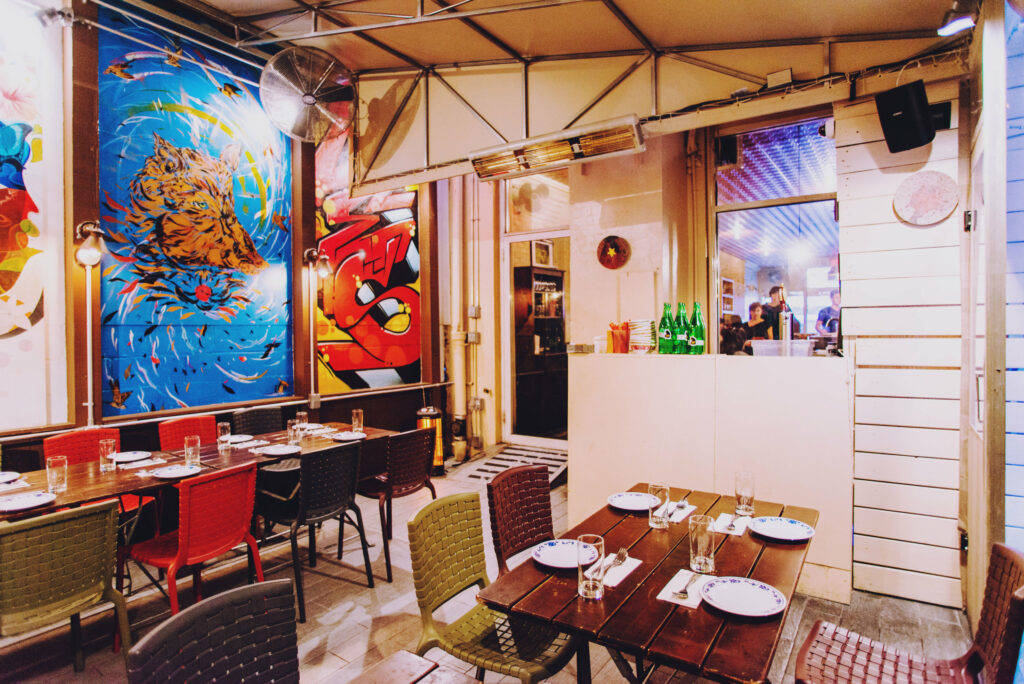 7. Balaboosta
Neighborhood: West Village
Private Dining Capacity: 20
Chef Einate Admony brings the best of Israeli spirit directly to her tables inside Balaboosta, which is a Yiddish term meaning "perfect housewife and mother", nestled deep in the West Village. This beautiful space – where you can genuinely feel the love of her Yemenite-Persian-Israeli heritage from one foot in the door – can be utilized several ways for private dining options. Host up to 8 guests semi-privately downstairs in the wine cellar, selecting from a prix fixe menu. If complete privacy is your route, Balaboosta can host 20 at one large table in the wine cellar, offering a four course, family-style menu with beverage package options. Lastly, for parties of 50, Chef Admony offers a full restaurant buy-out.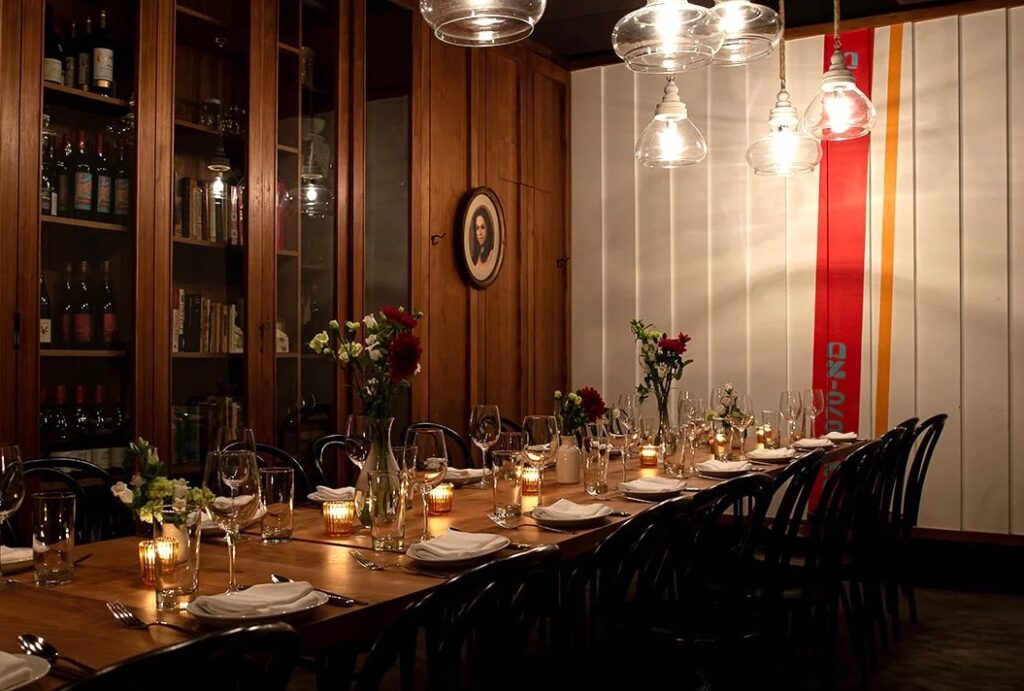 8. King
Neighborhood: SoHo
Private Dining Capacity: Contact for more info
Mediterranean-style bistro cooking, set in a casual yet elegant backdrop, is the vibe of King, a beloved SoHo establishment run by three experienced women. Annie Shi runs the front of the house, while Clare de Boer and Jess Shadbolt combine their vast experience to bring a daily-changing menu to patrons. King feels and acts like a European café, with its lunch and dinner inspired by Italy and southern France. They are not shy to hosting private events, but book well in advance, as neighborhood favorite King fills up fast.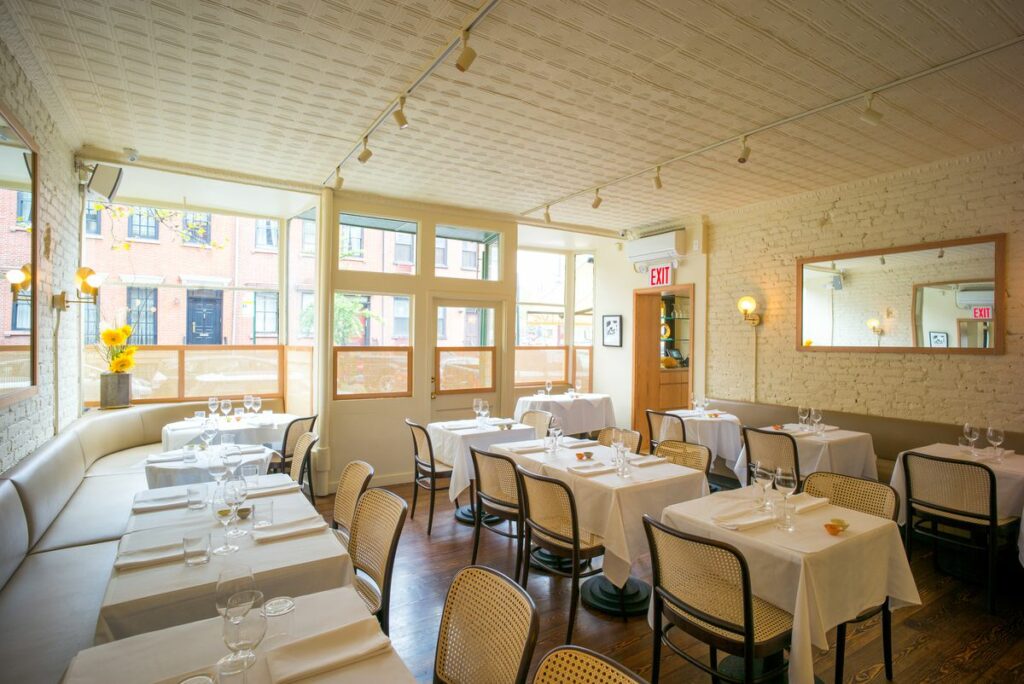 9. Khiladi
Neighborhood: Alphabet City
Private Dining Capacity: Contact for more info
Beloved Alphabet City is home to owner Sruthi Chowdary's Khiladi, an eatery focused on homestyle South Indian food inspired by this talented woman's childhood meals. Street market staples from India are all over the menu, as Chowdary's powerful influence can be felt with every selection (see, "Indian Chili Dog"). This colorful, lively place likes to party, so call ahead to make a reservation for your large group.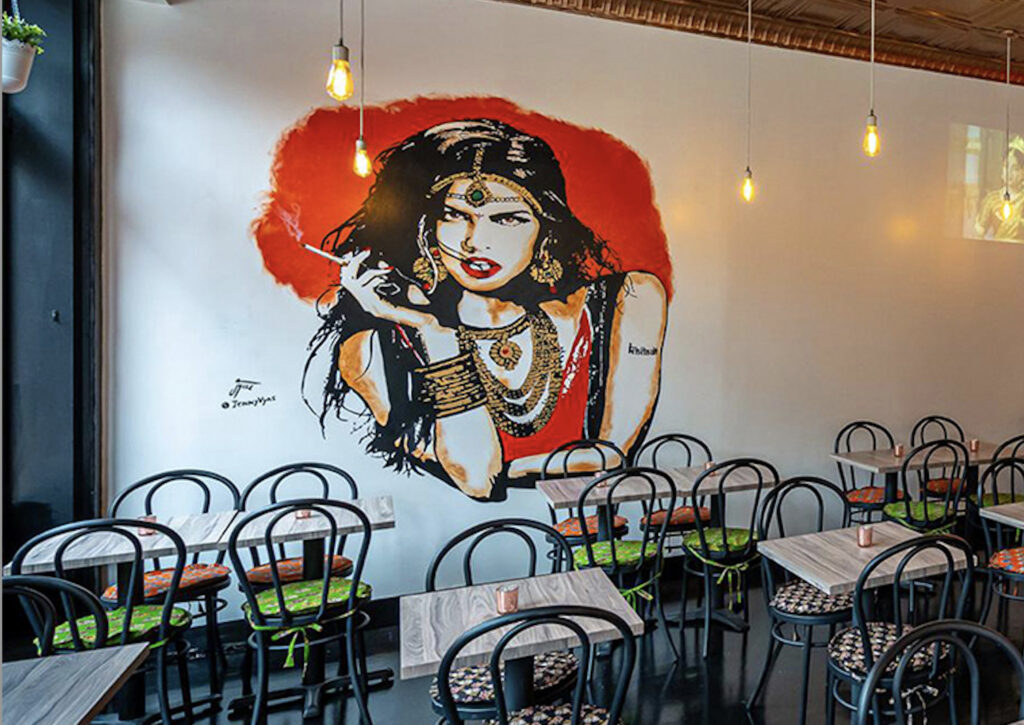 10. Il Fiorista
Neighborhood: Midtown
Private Dining Capacity: Contact for more info
If you are looking for a spot to host a corporate dinner in the New York area that is both unique and forward-thinking, look no further than Il Fiorista. This fresh, bright restaurant featuring murals by artist Leanne Shapton is leading the way in NYC's "floral movement", with owner Alessandra de Benedetti as its principal chef . Not only does the menu, bar, and café embrace flowers and all their benefits, Il Fiorista even offers private group classes related to floral design, health and wellness, crafts, and cooking. This might just be the perfect spot for an employee team-building dinner.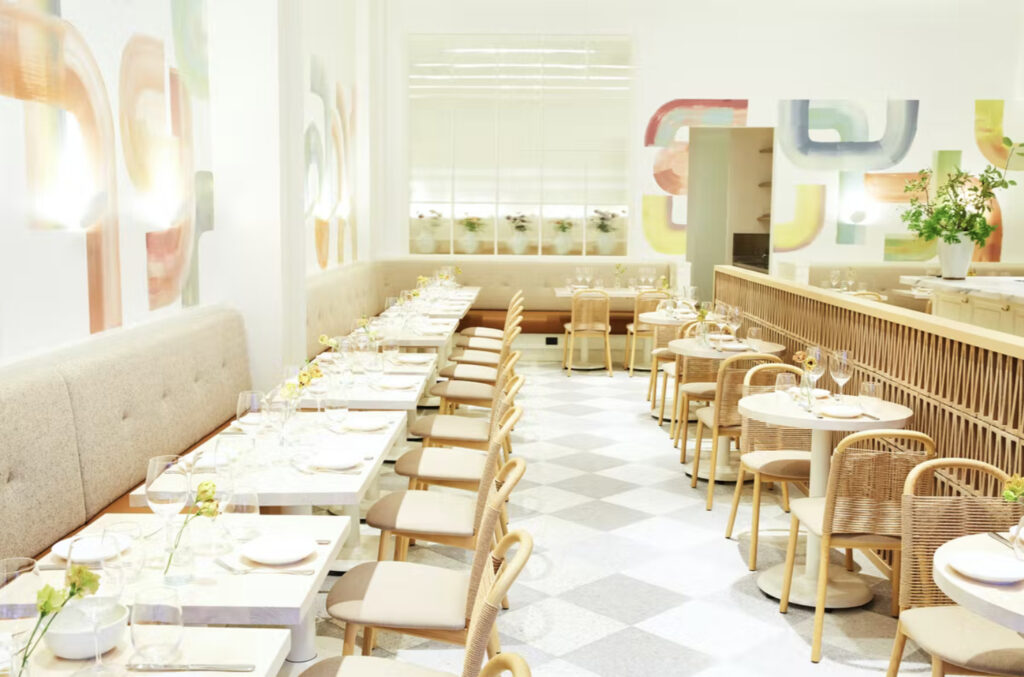 11. Villanelle
Neighborhood: The Village
Private Dining Capacity: 75
Catherine Manning opens up her 75-person private dining space to corporate events within Villanelle, a neighborhood restaurant bringing the bounty of the countryside to Greenwich Village. New American dishes are the star here, at this gorgeous, clean-lined eatery, which features seasonal, local, and sustainably sourced ingredients. There's a carefully chosen wine list, handcrafted cocktails, and understated elegance. Villanelle could arguably be an ideal setting for a corporate dinner.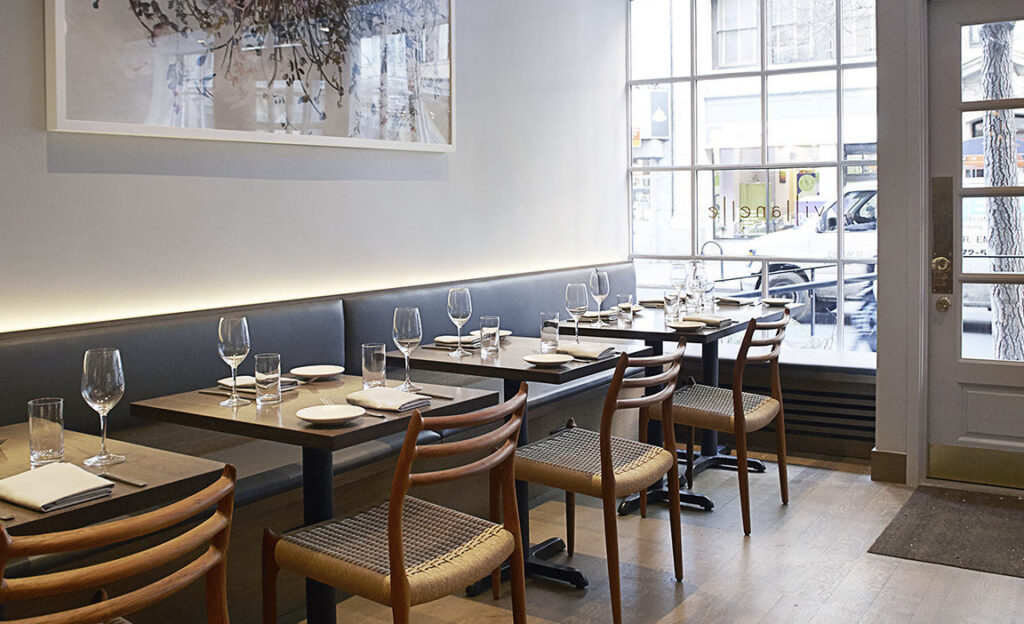 12. The Musket Room
Neighborhood: SoHo
Private Dining Capacity: 60
Be prepared to be impressed. The duo of Chef Mary Attea and owner Jennifer Vitagliano treat the SoHo neighborhood to The Musket Room, a Michelin-starred new American fusion restaurant, with dishes that "defy categorization". There's a totally amazing garden for dining al fresco for 20 guests. Hook that up with the back dining room to seat 30, or 40 standing. A full restaurant buy-out within The Musket Room's dining space that features a long bar and intimate nooks, can accommodate 60 for a seated dinner, or 80 for cocktails.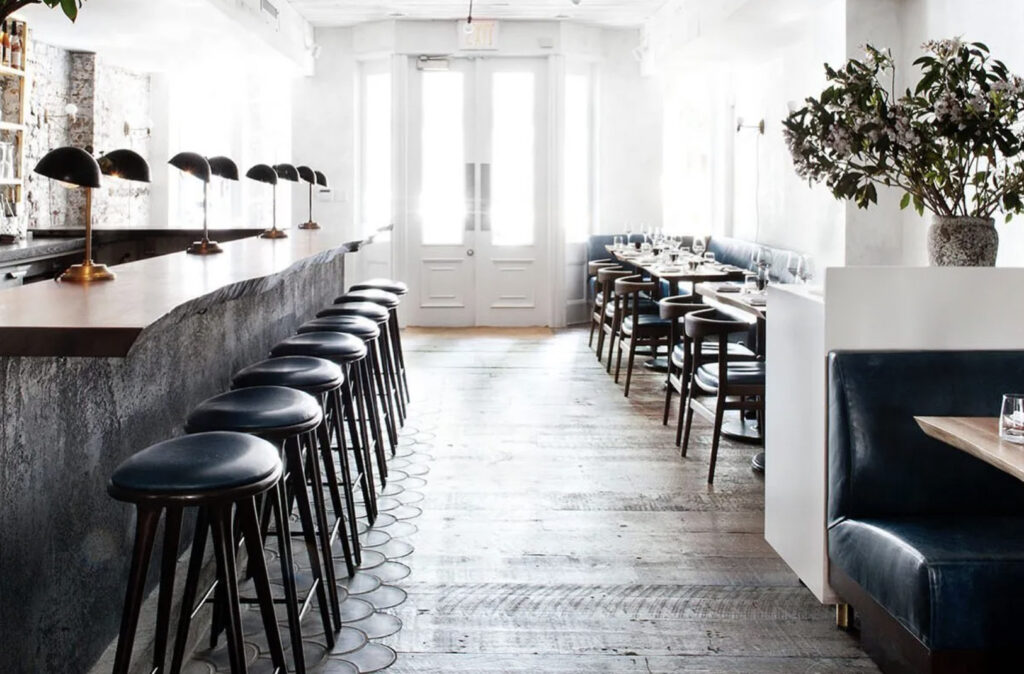 13. il Buco
Neighborhood: NoHo
Private Dining Capacity: 55
You might just want to join the il Buco family after feeling the warmth of this rustic Italian eatery, market, wine bar, and home goods store, all owned by former filmmaker Donna Lennard and her partner, Alberto Avalle. All three locations are nestled deep in NoHo, each providing a different spot to host your next business dinner. There's il Buco, which can comfortably seat 26 in its swanky, candlelit Wine Cellar. The il Buco Vita Showroom is another great option, and is just a few doors down from the flagship restaurant. The Showroom is a fully customizable space with food brought in from the culinary team at il Buco. Finally, there's The Loft, located on the second floor of il Buco Alimentari (the wine bar), a space that seats 55, and links to their garden Rooftop Terrace, ready to entertain any season of the year.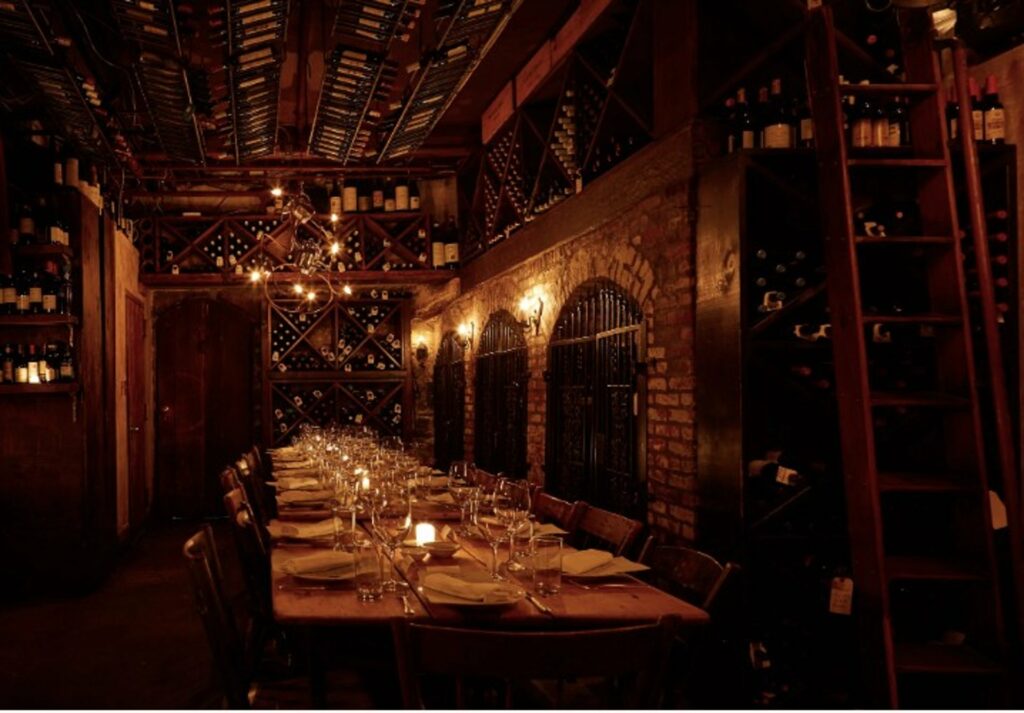 14. Sel Rrose
Neighborhood: Bowery
Private Dining Capacity: Contact for more info
From East Coast to West Coast, Sel Rrose will have all your oyster desires covered. Owned by Kristin Vincent, this cool spot is named after Rrose Selavy, the female alter ego of French artist Marcel Duchamp. And that Parisian turn-of-the-century influence is certainly felt, from the weathered walls to the stiff drinks. Host your next downtown event here, as Sel Rrose can accommodate 20 for dinner.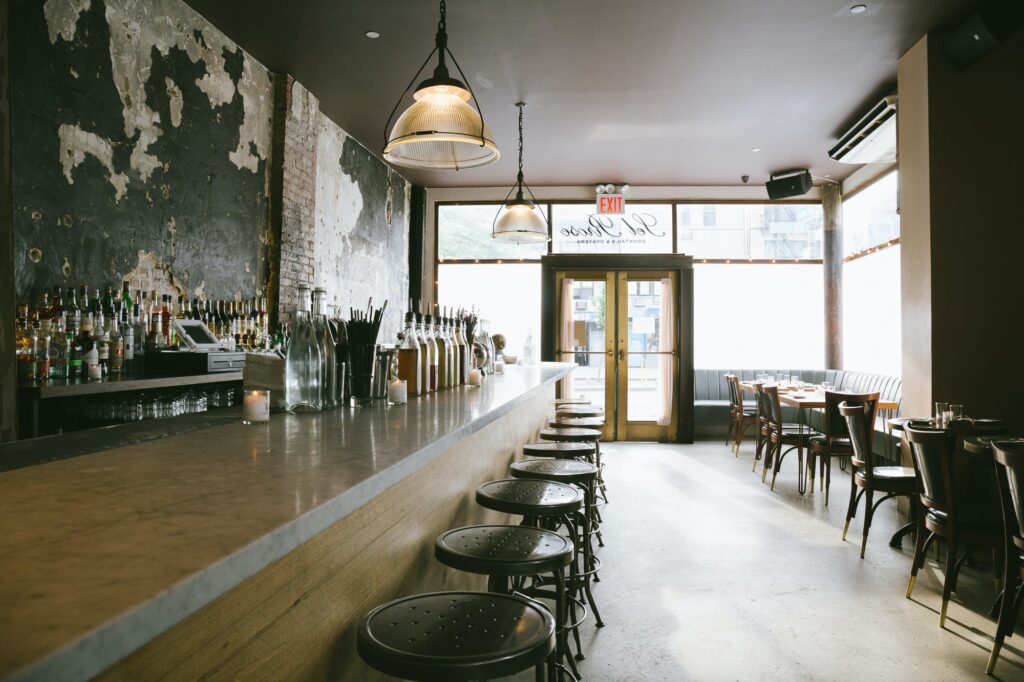 15. KOKOMO
Neighborhood: Brooklyn
Private Dining Capacity: Contact for more info
Ria Graham, with her husband Kevol, brings sophisticated Caribbean-inspired cuisine to the streets of Brooklyn with KOKOMO. Consider this 130-seat, sleekly appointed hotspot for your next business dinner, certain to transport guests to the islands. Refined and remarkable, the menu boasts quality meats, comforting starches, and intoxicating cocktails. Not only is KOKOMO a black-owned business that prides itself on diversity and inclusiveness, Ria has a staff that hails from 29 different countries (and counting).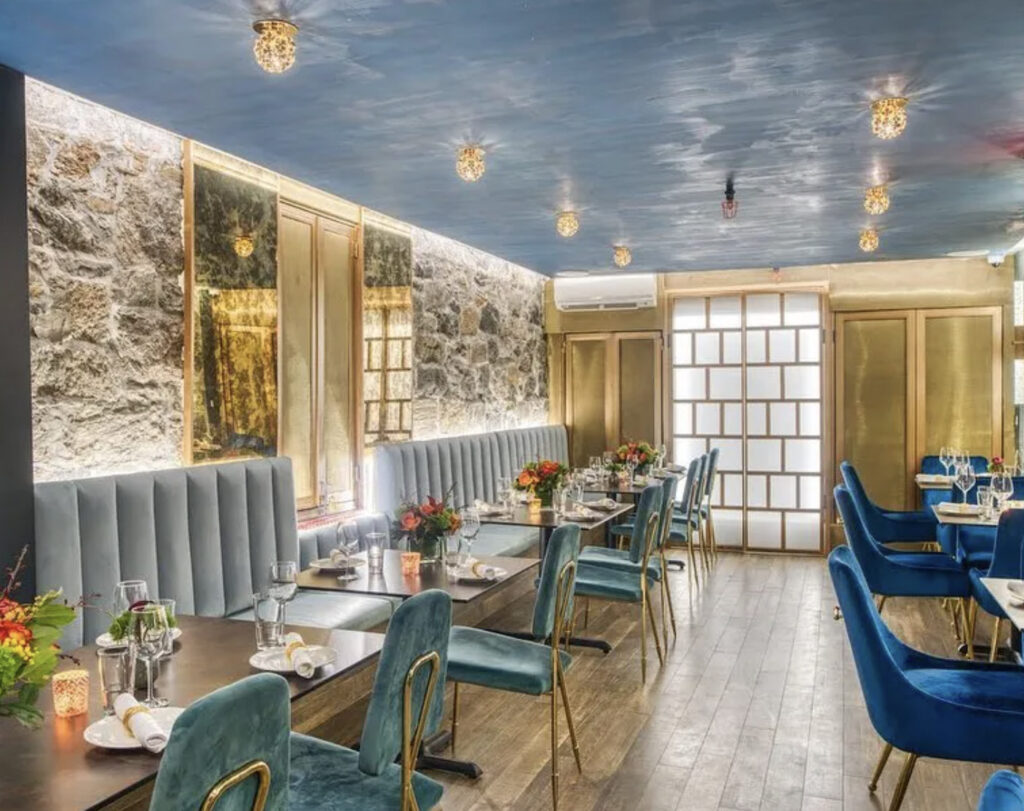 16. Marlow Bistro
Neighborhood: Upper West Side
Private Dining Capacity: 50
Believing in the power of community, Marlow Bistro delivers Mediterranean fare, all within a warm space on the Upper West Side. Striped awnings, exposed brick, and greenery make this special spot feel like a real respite, providing an ideal venue to host your next special business dinner. Owners Marjanne Motamedi and Dragan Ristovski not only support local farms and businesses in an effort to shrink the restaurant's carbon footprint, they partner with many non-profits to provide nutritious meals to feed New Yorkers in need. The combination of good food and goodwill makes Marlow Bistro a one-two punch for a socially responsible corporate dinner locale.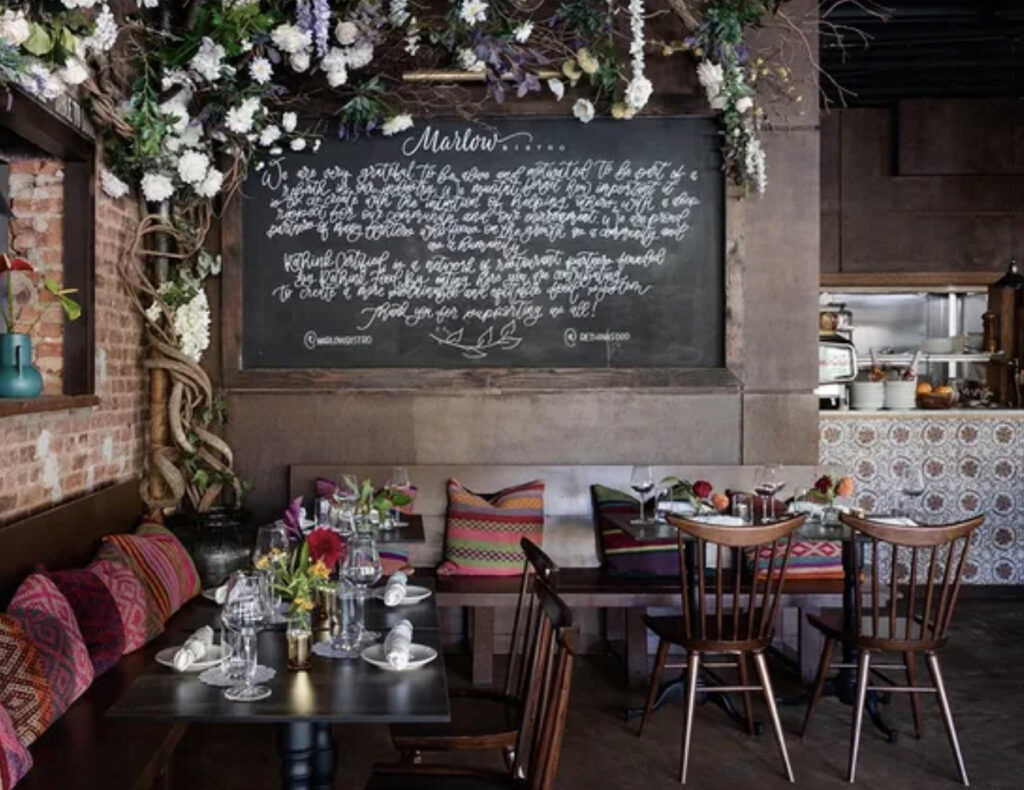 17. La Palapa
Neighborhood: East Village
Private Dining Capacity: 30
A Mexican kitchen run by a Mexico City native, La Palapa stands out for its freshness and authentic approach. Chef and owner Barbara Sibley has delivered a collection of rare, traditional, and ancient Mexican recipes to hungry patrons in the East Village since 2000. The flavor-packed tacos, rich moles, and fresh salsas are some of her favorites. Host your next employee gathering or entertain colleagues in the back dining room of her colorfully casual restaurant, prepared to sit 30 guests.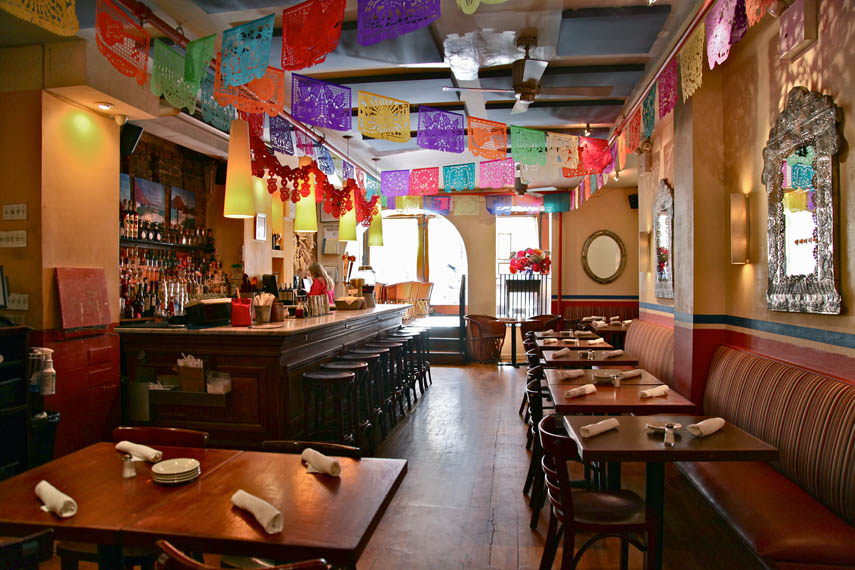 18. Dirt Candy
Neighborhood: Lower East Side
Private Dining Capacity: 40
Since 2008, James Beard-nominated Chef Amanda Cohen delivers the most tasty, wonderful, and unique servings of strictly vegetables that New York – or possibly the world – will ever witness at Dirt Candy. While it sometimes feels like it's all been done in NYC, Dirt Candy truly stands alone. Chef Cohen's goal is to make vegetables better than anything you've had before, considering her kitchen a laboratory. There is no tipping, here, as Dirt Candy waitstaff is paid hourly, with the intent to treat their people as essential as their bottom line. The wine list is made up entirely of selections from small-production, women-run wineries from around the world. Host your 40-person business dinner at this innovative and inspiring hotspot, where no one will holler at you to eat your veggies.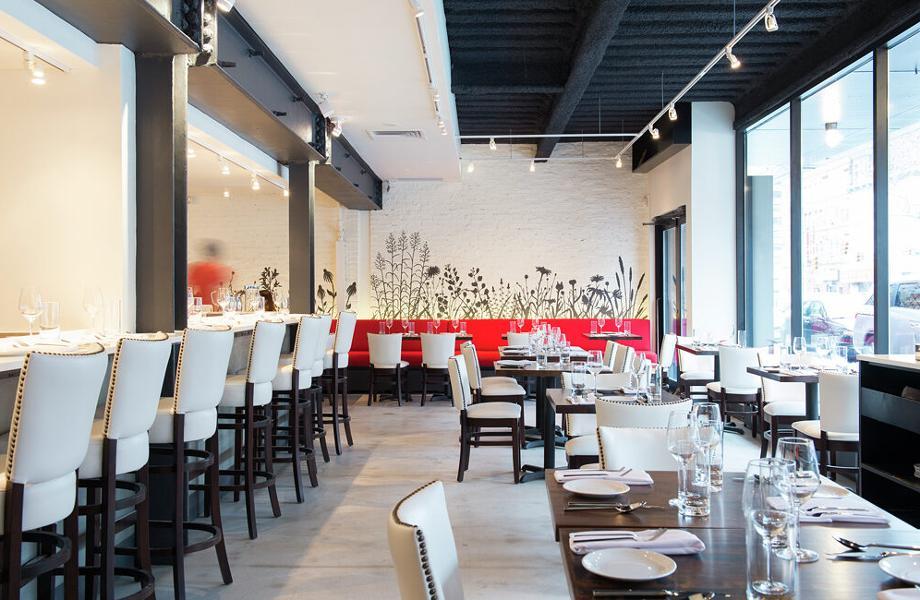 Why Finding the Right Venue Space is Crucial for Your Event
Planning an event in NYC is all about the vibe. What's the tone you want to set and what's the message you want to deliver? New York, with its unparalleled culture and effortless cool, is already the perfect city, so there's no doubt the women-owned restaurant you select should live up to your expectations.
At the beginning of your planning process, picking the right women-owned restaurant in the city is a numbers game. What is the date? How many can the restaurant hold? What is your budget? Then you can turn your sights to ambiance and capability: Do you want your event to be loud and scene-y? Or would something more intimate fit the bill? Will you need audio/visual? Wi-Fi? You will know your restaurant choice is the right one when you find some one easy to work with, by answering all your pressing questions.
What to Look for When Booking a Restaurant for a Corporate Event
When booking a restaurant in NYC, there are definitely line items of which you don't have to worry about. You aren't going to stress too much about guests driving to your event, so parking is not an issue. If you are in Austin or Miami, you might need to worry about a storm rolling in, but not so in New York. Every event happens, neither wind nor rain.
Below are some items to actually think about when booking your corporate event in NYC:
Ambiance. The feeling that hits your guests when they walk into that corporate dinner is everything. The hard work you've put into the details will make clients feel appreciated.
Full Privacy. How much does your event value a fully private venue? Will a semi-private dining space do the trick? Ask yourself how closed off your event needs to be. But on the flip side, perhaps the proximity and energy of the restaurant's other patrons will play in your favor.
Accessibility. Make sure your spot is easy to find, and is accessible to all your guests by taxi, public transportation, Uber, or on foot. Choose a restaurant that's also easy to get to in bustling New York – best not book a spot in the Upper East Side at 7 p.m. if meetings wrap up in Brooklyn at 6:30 p.m.
Amenities. Will you have a server(s) just dedicated to your party? Does the restaurant have a partner with whom they work with for floral, rentals, or décor design? Ask these questions out of the gate.
Tech. If your event requires a powerful mic and oversized screen, check with the venue's capabilities. Never assume those technical amenities just come with the space. And always do a tech check before your big event.
Find Women-Owned Restaurants in NYC with The Vendry
The Vendry is here to help you land on the right women-owned restaurant for your next corporate dinner or meeting. Not only can The Vendry help you source the right venue, it can assist you with all your New York event planning needs.
Read More:
The Eight Best Offsite Locations Near New York City
The 17 Best Private Dining Rooms in NYC
The 15 Best NYC Rooftop Venues For Your Next Event