In today's climate, a private dining experience allows your team, clients, or customers a perfect way to "be alone, together." Restauranteurs in forward-thinking Portland have recently rose to the occasion and prioritized private dining in order to host private dinners, presentations, meetings, or workshops. Both event venues in Portland and private dining spaces in Portland are popping up left and right to accommodate the city's growing demand. This dynamic city of fresh cuisine and artisanal coffee is the perfect place to find private dining options, no matter your headcount. Read on to learn more about private dining options in picturesque Portland.
13 Stunning Private Dining Rooms in Portland
It's well known that Portland is an excellent city in which to host an event. The number of venues in Portland is growing every day. are From the super-chic to the more familiar, chances are good the City of Roses is certain to have the right private dining option for your company. Whether you plan to host your corporate training or product launch right there in the restaurant, or utilize the private dining space as an after-hours venue, take a look at the options below to see all that Oregon's largest city has to offer.
1. Serrato Restaurant and Bar
Neighborhood: Northwest District
Capacity: 40
Take your team around the coast of the Mediterranean, experiencing the flavors of France and Italy at Serrato Restaurant and Bar, delivered by Executive Chef Tony Meyers. There are two options for private dining at Serrato, and combining them creates a space for 40 guests. After dinner, invite your colleagues and clients out onto their outdoor mezzanine, which is both elegant and heated. Work with Serrato's talented staff to put together a three or more course menu, or simply host a cocktail reception with passed or plated hors d'oeuvres. Hard to go wrong at a spot that has been hosting social and business gatherings since 1999.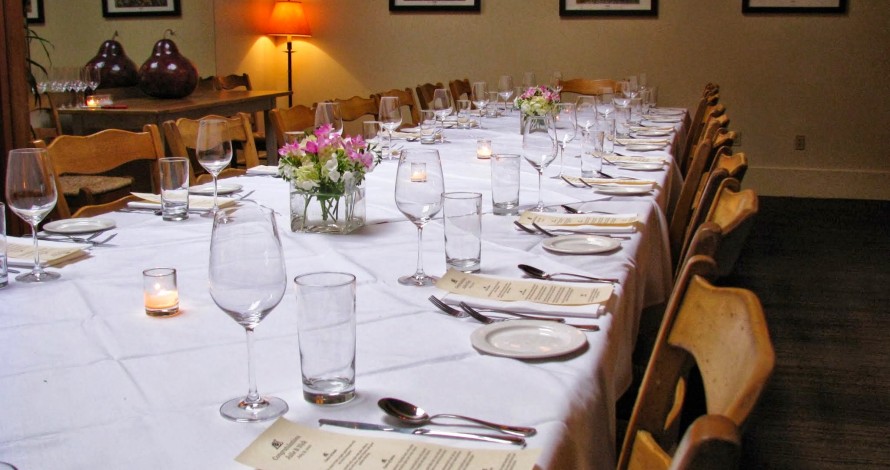 2. Nostrana
Neighborhood: Buckman
Capacity: 28
Nestled next to the popular Nostrana, is Enoteca Nostrana, the private dining option at this favorite spot, that when translated, literally means "local". If you are looking to impress customers, clients, or your colleagues with some dynamite Italian cuisine, this is the spot. Opened in 2005 by six-time James Beard Award finalist Cathy Whims, Nostrana and Enoteca Nostrana take the dining experience of Portland and make it "ours". Their modern, modular design of this buzzy hotspot delivers lots of eye candy with a two-story glass wine cellar of 3,000 bottles. The private dining is in the back and upstairs, but the vibe from the splashy dining room can be felt throughout. Work with their staff to design the best configuration for your event.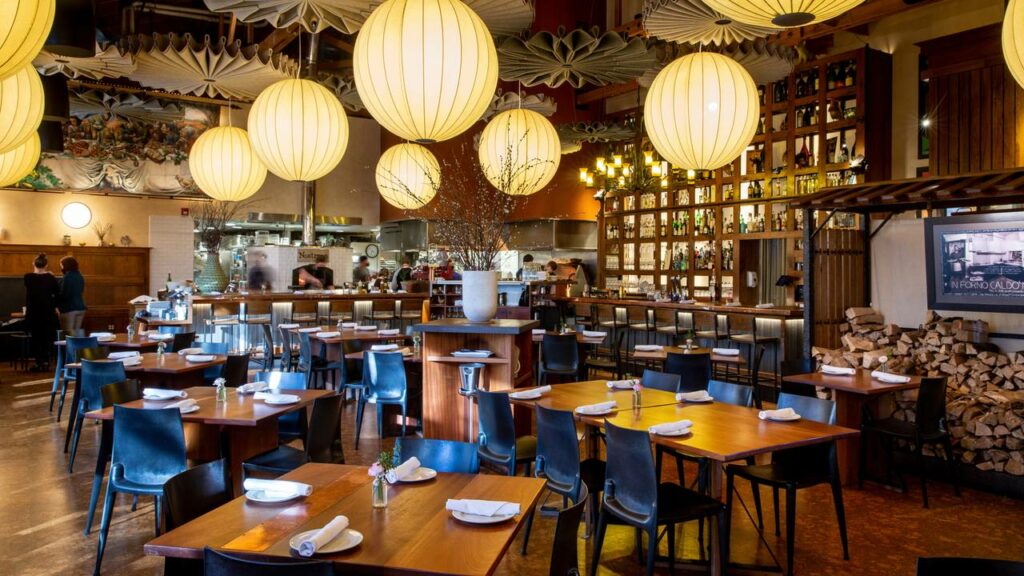 3. Departure Restaurant + Lounge
Neighborhood: Downtown
Capacity: 50
Perched high on the 15 floor of the Nines Hotel in Portland Downtown sits Departure Restaurant + Bar. True to its name, the view is unbeatable, transporting all who look out onto the city. If you are looking for sleek and chic, this is the place for you. Pan-Asian plates by Chef Gregory Gourdet make the menu unforgettable. At Departure, you have three private dining options. Their Sea of Love room is semi-private and can host 12, perfect for a small meeting. The State Room, another semi-private space available, is able to host double. But the West Deck is their genuine standout, featuring outdoor views of downtown Portland, the West Hills, and Pioneer Square. Be sure to check out Departure's list of extras, including access to state-of-the-art tech and a champagne greet.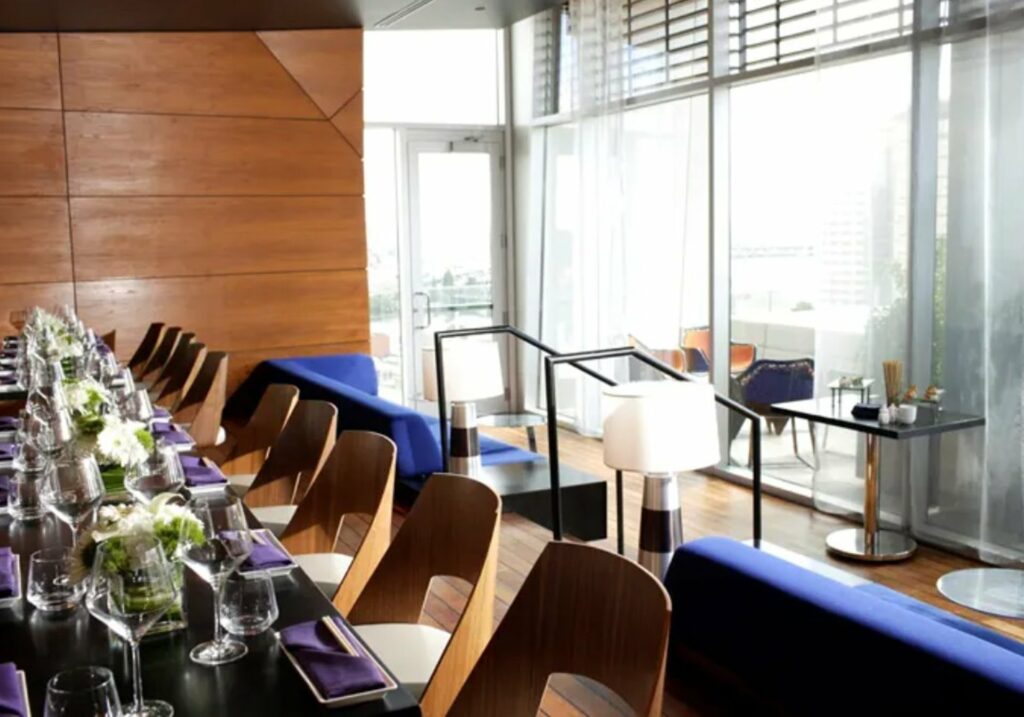 4. Andina
Neighborhood: Pearl District
Capacity: 66
Travel to the land of Peru when you and your team book a private dining room at Andina. You'll have plenty of rooms to choose from within this unique hotspot. Dive into Andina's family-style menu of tapas, while your guests collaborate in this elegant restaurant's quiet atmosphere and soft lighting. Enjoy the murals in the largest room Tupai, seating 66. The Kumbe Mayo Room can seat 18 comfortably for a presentation. Or take your group downstairs to the totally private La Bodega, a dark, moody space of wine and good food.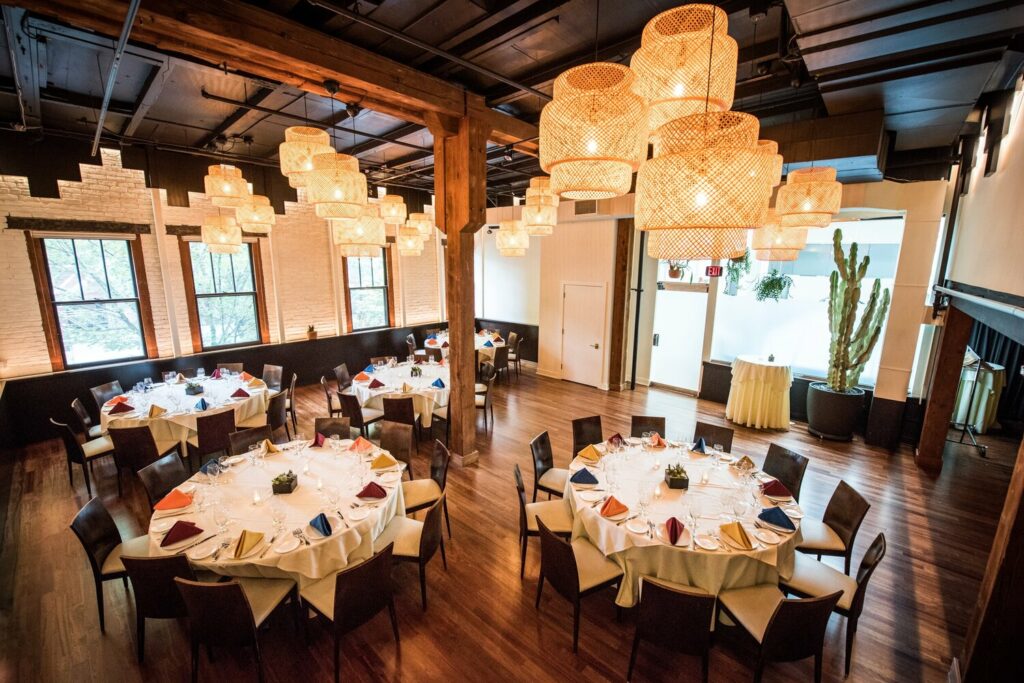 5. Kachka
Neighborhood: Buckman
Capacity: 40
Celebrating all Slavic cuisine, Kachka is a unique and buzzworthy space to hold your next private dining experience in Portland. Kachka offers up their Russian and Eastern European fare in their 40-seat Gallery private dining room, or book the Lounge for a more intimate experience. If you are looking for more space, consider a full restaurant buy-out. Book Kachka's famous caviar service to show your clients and customers you mean business.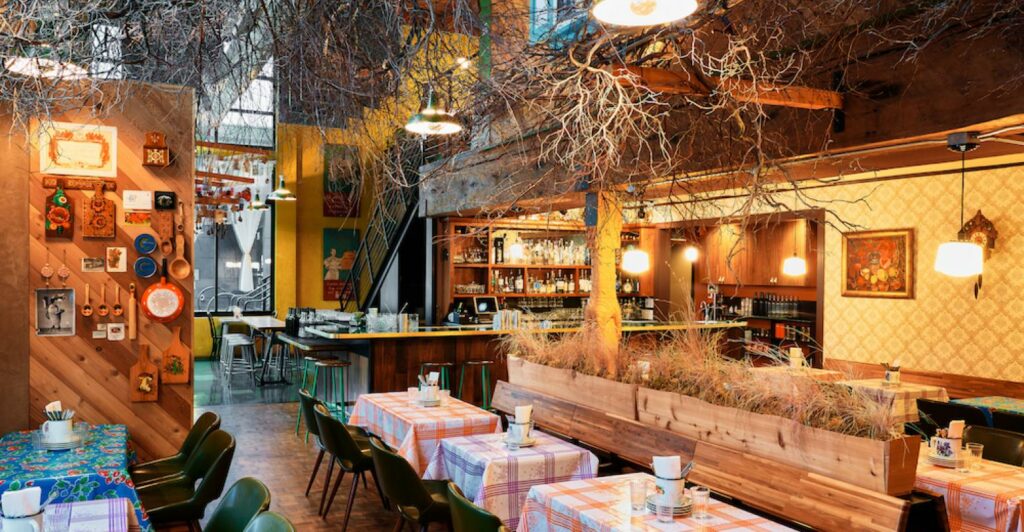 A picture's worth a thousand words! Browse the top photographers in Portland!
6. DAME
Neighborhood: Concordia
Capacity: 14
Grand indeed, DAME is a neighborhood spot with a relaxed vibe and a generous pour. The purveyors of DAME are always open to a full restaurant buy-out, but the private dining option here is just as quaint as the wood weathered floors and deep hunter green that cover the walls. The delicious menu at DAME compliments the vast wine selection. The hospitality is as gracious as you expect a neighborhood wine bar to be, so don't be surprise when your company is swept off their feet by the great DAME.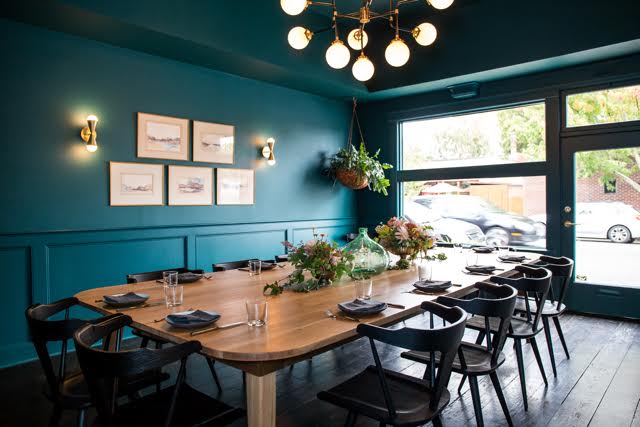 7. Renata
Neighborhood: Buckman
Capacity: 16
Perhaps your colleagues could benefit from some team building over a little pasta-making? Allow the seasoned folks at Renata to take care of them. There's two private dining rooms here at this Central Eastside District eatery known for their wood-fired Italian and ever-rotating menu of seasonal pasta and pizzas. Their private dining room seats 16, or enjoy a chef's counter and learn how to roll out that ravioli with your team members. If your headcount is higher, consider a partial or full restaurant buy-out. With pizza and pasta this fresh, you won't regret it.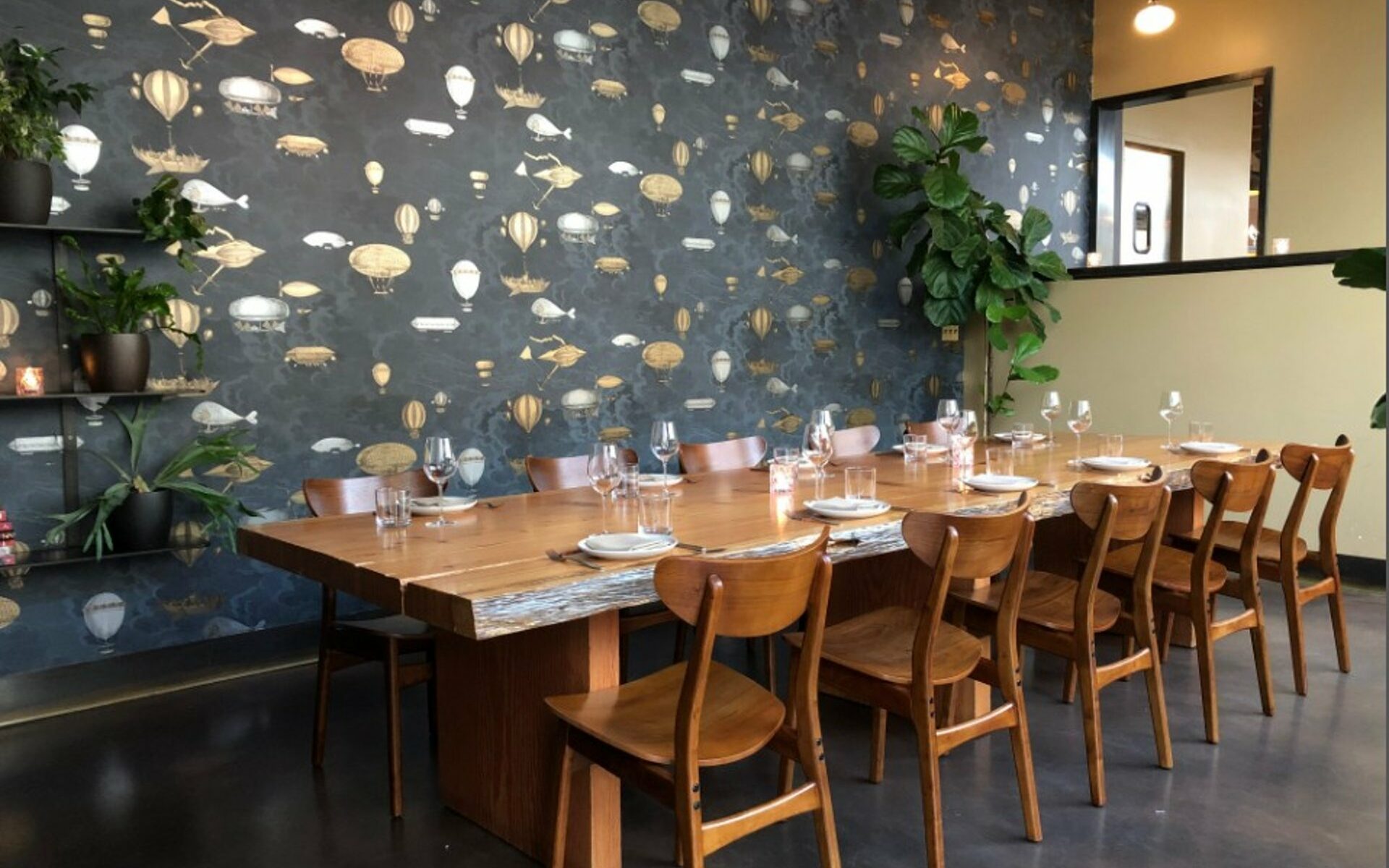 8. Xico
Neighborhood: Richmond
Capacity: 55
If you want an upscale feel without the big price tag, then consider Xico with its two private dining options. Indulge your attendees with the zesty Oaxacan cuisine of Xico when your party heads upstairs to their Private Dining Room, a 1,000 square-foot space that looks out onto Portland's bustling Division Street, complete with its own designated restrooms. The festive patio is broken up into day time and night time rates, and features tons of space, loads of atmosphere, and entrée to the back dining room and bar, seating 80.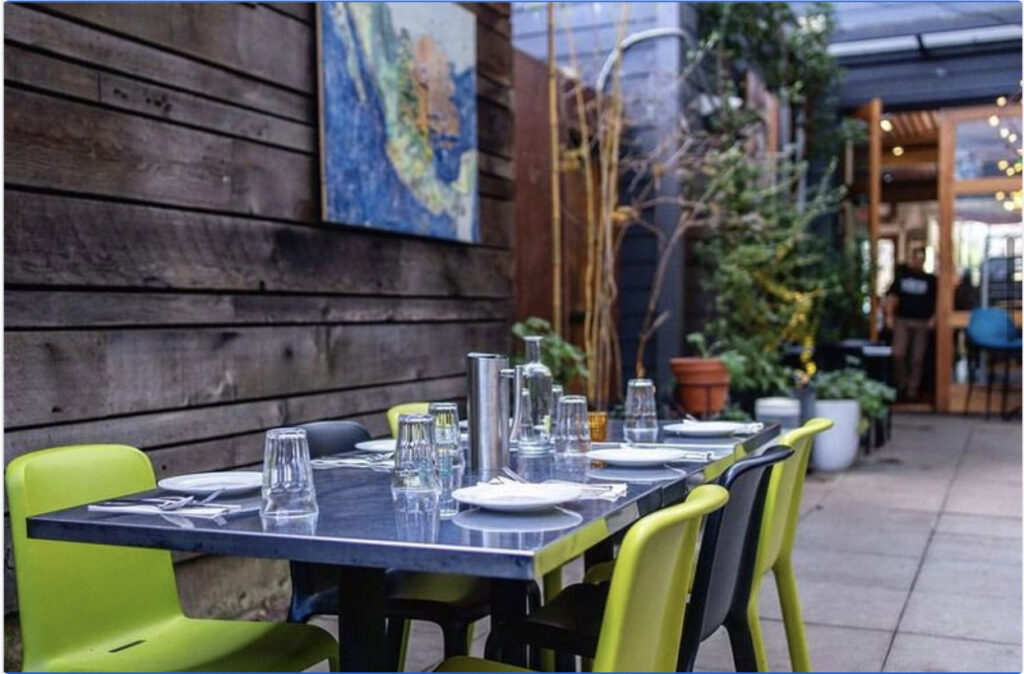 9. Portland City Grill
Neighborhood: Downtown
Capacity: 120
Elevate your next private dining experience with the Portland City Grill, an elegant spot 30 floors high above the city. The vibe hear feels like business, as Portland City Grill is a steak and seafood joint that lends itself to the corporate crowd. There are private rooms ready to host your next meeting, and all dining options include your choice of plated meals, appetizer receptions, or buffet service. Look into the exclusive Chef's Table experience, which includes a dedicated Sommelier, a six course meal of Pacific Northwest-inspired cuisine, and a bird's eye view into the active kitchen.
10. Firehouse Restaurant
Neighborhood: Woodlawn
Capacity: 40
The vintage feel of Firehouse Restaurant is for real. The structure of this comforting restaurant was built in 1913 as a fire station for the Woodlawn neighborhood, where the firefighters lived on the top floor and horse-drawn engines were housed on the lower level. Now, it is a bustling hotspot with private dining up on the second floor. Should you book here, expect Executive Chef Jedediah Dubiel to serve up family-style wood fired pizza and other Italian delights. For an unforgettable experience for your colleagues or clients, host a candlelight dinner upstairs, or buy-out the entire place to seat 160.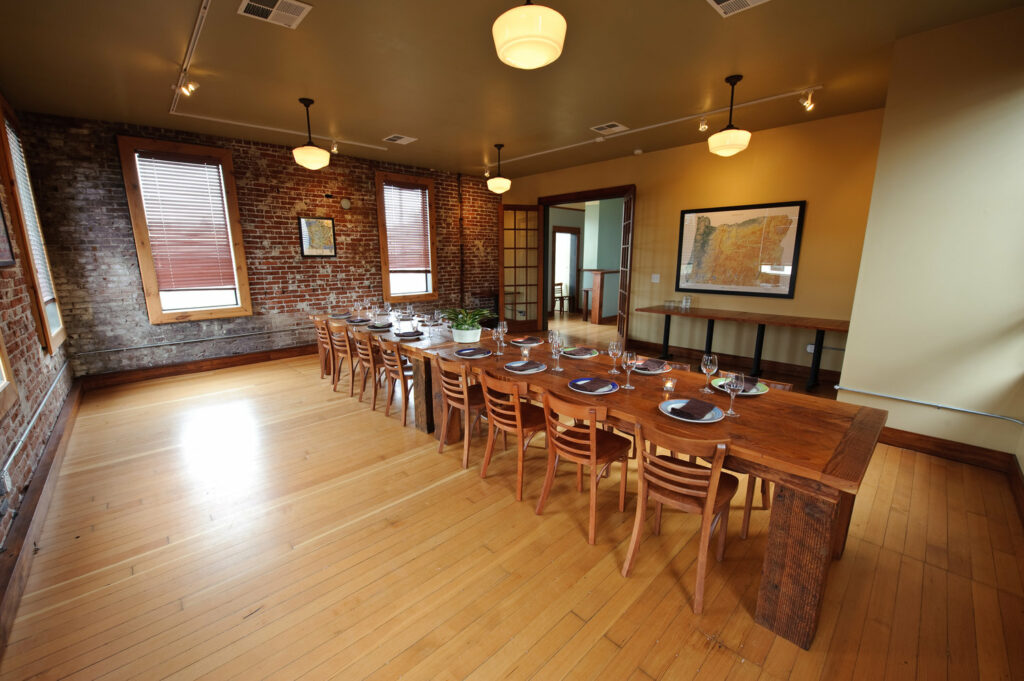 11. El Gaucho
Neighborhood: Downtown
Capacity: 75
Tucked in the Benson Portland Hotel is El Gaucho, an elegant steakhouse with several locations around the Pacific Northwest. This spot is perfectly old school, with a swanky bar, cigar lounge, and a large menu of dry-aged steaks and fresh seafood. El Gaucho brings its 25 years of experience to the table when it comes to private dining, and they are not short on choices. Often requested is their London Grill, a space with 12-foot ceilings and a rich feel on the lower level that is able to accommodate 75 for a sit-down dinner. Or choose the Vintage Room, an intimate setting that seats 16 surrounded by El Gaucho's working wine cellar.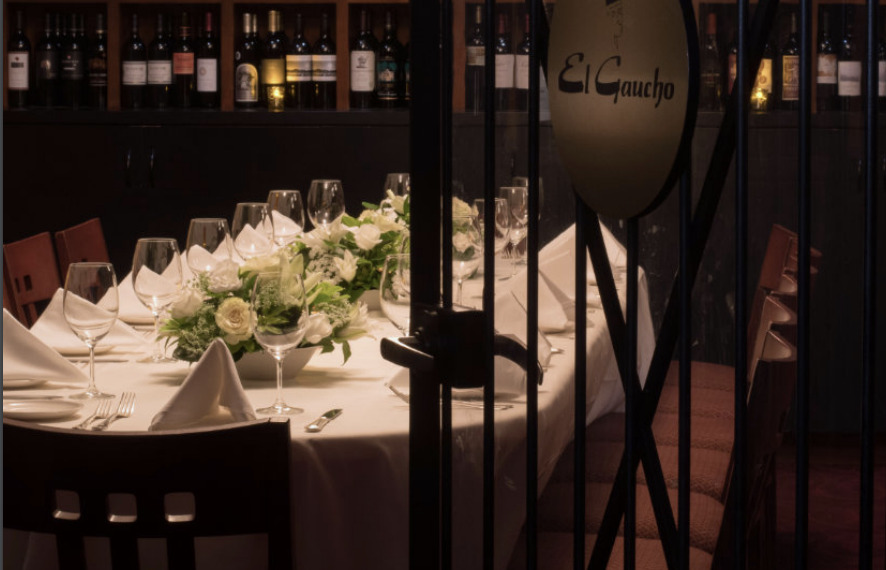 12. Urban Farmer Portland
Neighborhood: Lower Downtown
Capacity: 60
Urban Farmer has genuinely positioned itself as a leader in the private dining space in Portland for quite some time now. Their modern take on the traditional steakhouse and attention to detail both make for a very memorable corporate event. They have all the bases covered when it comes to headcount and accoutrement, as they have six options for private and semi-private dining. Choose the Library or the Barrel Room for their audio/visual capabilities. If you are looking for a special dinner and have no need for tech, consider The Pantry, a semi-private space seating 30 with repurposed wood and an open ceiling (you might even see the chef sneak in and grab a fruit or vegetable hanging from one of the wood shelves nearby).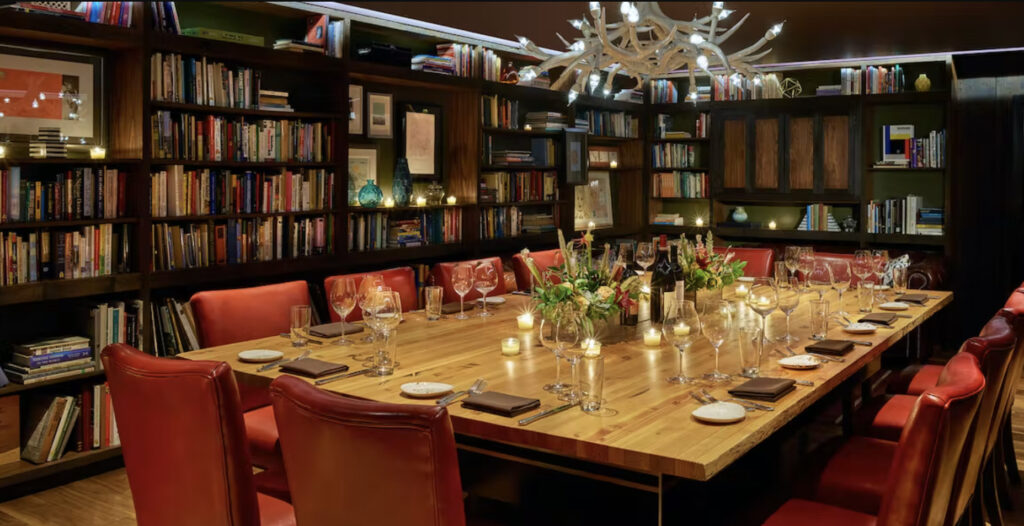 13. Clarklewis
Neighborhood: Industrial District
Capacity: 40
Celebrate everything Pacific Northwest at Clarklewis in Portland's Eastside Industrial District. An innovator in Portland's farm-to-table movement, this delightful restaurant has a seasonal menu that changes daily. The Kindling Room is separate from the main dining room, offers tech capabilities for a presentation, and promises unobtrusive service during your meeting. Launch your new product or celebrate an awards ceremony in this room made for successful meetings. Or consider a full Clarklewis buy-out, as their open kitchen and 60-foot glass doors that roll up to meet Water Avenue is about as gracious as it comes in Portland.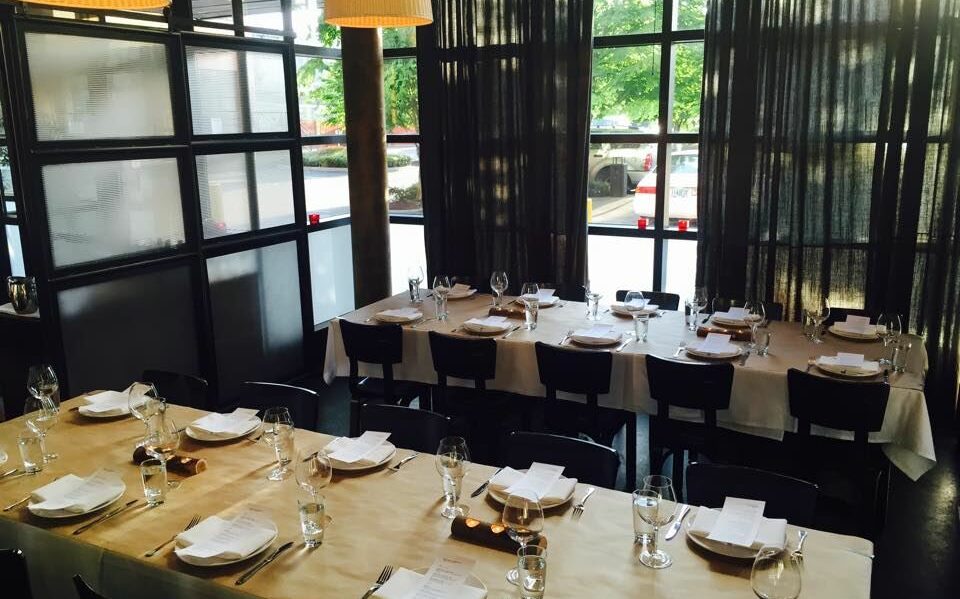 Why Finding the Right Venue is So Important
Portland seems to offer loads of private dining options, so you likely can't go wrong anywhere you turn in this fair city. You'll have to ask yourself what your needs are for your event. Will you have to get down to business for a presentation or training session? Or is this to be a night of celebration and awards for a job well done? Finding the right venue for your organization will set the tone for your meeting, proving to be the conduit of the messaging. The right private dining space can be a hopeful springboard to future relationships, knowledge, deals, sales, and opportunities.
Top Things to Consider When Booking an Event Venue
There's lots of items to consider before booking a private dining space in Portland. Be sure to have your punch list of items before you start your search. Ask yourself and your team:
How big is the crowd you are hosting?
Will my guests need parking?
How close is the restaurant to our office/conference center/meeting venue?
What amenities will the restaurant provide?
Will I need audio/visual, sound, or other tech equipment for presentations?
Do you need/want an outdoor element?
Are there any food allergies?
Does the restaurant/venue enhance the guests' Portland experience?
The more answers you have, the more prepared you will be. Preparation makes you focus better before and during the event. If you are at ease, your guests will feel it.
Find the best Event Venues on The Vendry
Portland is an exciting city, ready to host your next private dining meeting or event. The Vendry is here to help you find the best venue options. Source out where to host and what vendors to book, all in The Vendry's impressive marketplace of offerings.
Read More:
Host Your Next Dinner at One of These Incredible Private Dining Rooms in Brooklyn
Host Your Next Team Dinner at One of These Top Private Dining Rooms in Seattle
The Best Private Dining Rooms in Los Angeles