Article updated 4.13.23

Of all the best aspects of living in or visiting Los Angeles — the culture, the weather, the variety of activities at your fingertips — L.A.'s food scene is almost always at the top of the list. The wide array of cuisines available, from French to southeast Asian to vegan (to name a few), makes Los Angeles a foodie's dream. If you are interested in a more intimate dining experience in the L.A. area to show off the city's acclaimed fare, whether for a networking brunch or a corporate dinner, then booking a private dining room in Los Angeles might be your best bet. 
Below, we've gathered the best private dining rooms in the Los Angeles area, whether you're looking to hobnob in West Hollywood or for a more casual vibe in Santa Monica.
When Should You Consider Booking a Private Dining Room?
Depending on your event, booking a private dining room might be a better bet than traditional dinner reservations or arranging for another type of event space. Some things to consider before booking a private dining room in Los Angeles include
Cost: Set your bottom line budget first and then work backwards from there.
Headcount: How many people you plan to have at your event will determine what size space you need. This will also help you arrange with the venue what you'll need, like how many servers and staff will be required for your event, what the food setup will be, and what vibe you're trying to achieve.
Price: Think about if you want to serve a sit-down four-course meal or opt for something a little more casual, like cocktails and passed apps.
Privacy: As the name implies, a private dining room offers more, well, privacy than a standard table in the middle of a restaurant dining room. Take into account how intimate you want the experience to feel, such as having more discreet conversations and quality time without the distractions and disruptions of other customers.
Location: Since Los Angeles is pretty spread out (and the traffic is no joke), consider booking a place that's easy enough for all your guests to get to. As the saying goes: location is everything.
Other: If your event will require any kind of Audio & Staging needs, like a microphone for speeches or a screen for a slide deck presentation, make sure you can coordinate with the venue and select a space accordingly.
The Top Private Dining Rooms in Los Angeles for Your Next Event
Los Angeles offers a diverse and vibrant backdrop for corporate events, making it an ideal city to host such gatherings. Whether you're looking for some quality time with your family or to entertain your coworkers a in a more lively setting, a private dining room might be the perfect venue for your event. Check out our top picks below for the best private dining rooms in the Los Angeles area.
1. kodo
Neighborhood: Downtown
Capacity: 50
kodo is a modern Japanese American restaurant that seamlessly combines culinary innovation with an inviting atmosphere. What makes kodo stand out is its commitment to seasonality. The menu rotates with the changing seasons, ensuring that each visit offers a fresh and exciting gastronomic adventure. Whether it's the vibrant flavors of spring or the hearty, comforting dishes of winter, Kodo caters to diverse palates.
kodo's culinary excellence extends to its sushi counter, where guests can savor sushi creations made from locally sourced fish and imported delights from Japanese markets. Plus, its modern aesthetic, complemented by traditional Japanese design elements, creates an ideal backdrop for corporate gatherings.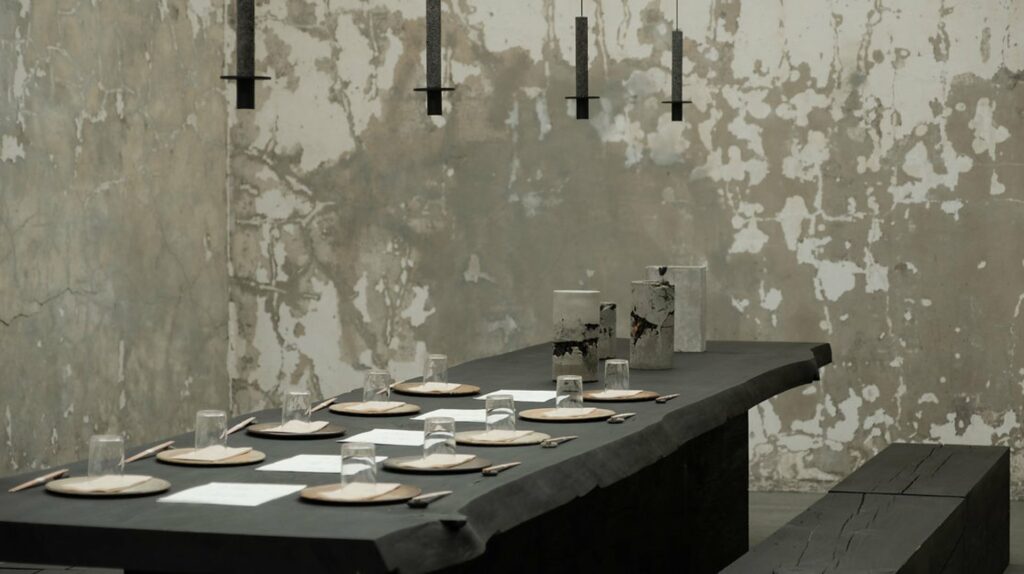 2. Gwen
Neighborhood: Hollywood
Capacity: 90
Gwen is the second restaurant from famed chef Curtis Stone, who partnered with his brother Luke Stone. Gwen boasts a European-style butcher shop in addition to the restaurant, which makes its way to the menu with rich starters and entrees (think: bone marrow, spaghetti alla chitarra, and duck fat potatoes).

Gwen offers a more intimate Mezzanine Wine Room, which is still spacious enough for larger groups: room for 30 seated or 50 standing. A full buyout of the venue can accommodate 90 people sitting or 115 standing. Choose from a pre-fixe or customized seasonal menu for your guests, and either a wine pairing, a la carte beverages, or open bar.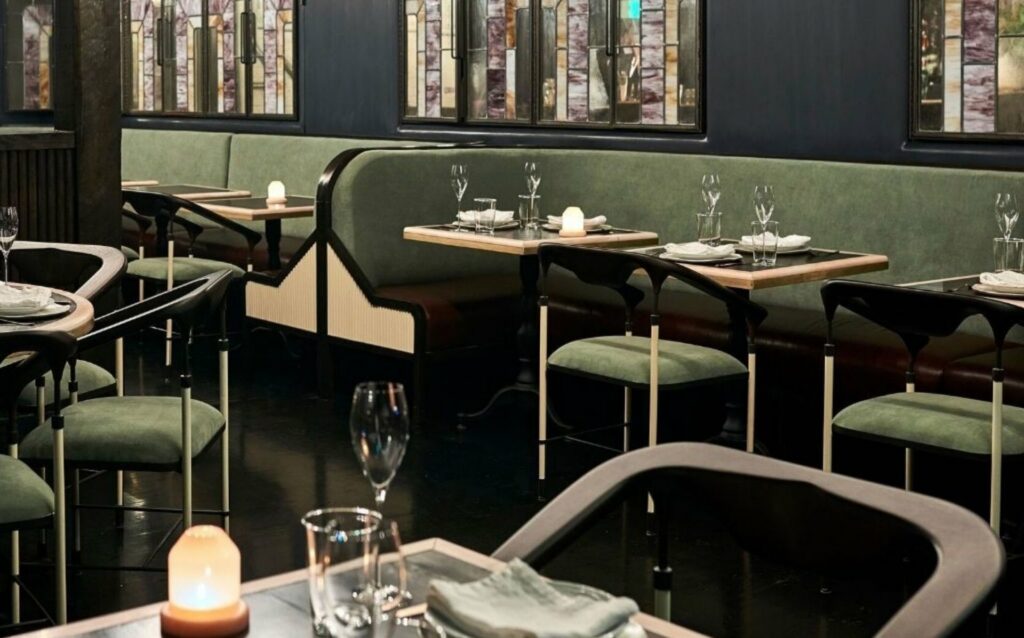 3. Cassia
Neighborhood: Santa Monica
Capacity: 125
Cassia is a partnership between husband-and-wife duos Bryant Ng & Kim Luu-Ng and Josh Loeb & Zoe Nathan, and celebrates Southeast Asian fare with mouthwatering menu items like spicy wontons, Grilled Spicy Lamb Breast, and Spicy Minced Duck Dan Dan Noodles. It feels like one of the trendier spots in Santa Monica, but has a more laid-back atmosphere.
Cassia also offers tons of private event space. If you're looking to enjoy the nice Santa Monica weather, book the Parklette (room for 25 seated and 45 standing), or the patio corridor (18 seated, and 25 standing). For a more intimate group, the Private Dining Room accommodates 18 people seated. For bigger groups, the tented patio can serve 45 seated or 75 standing, and the indoor wine room has room for 28 seated and 45 standing.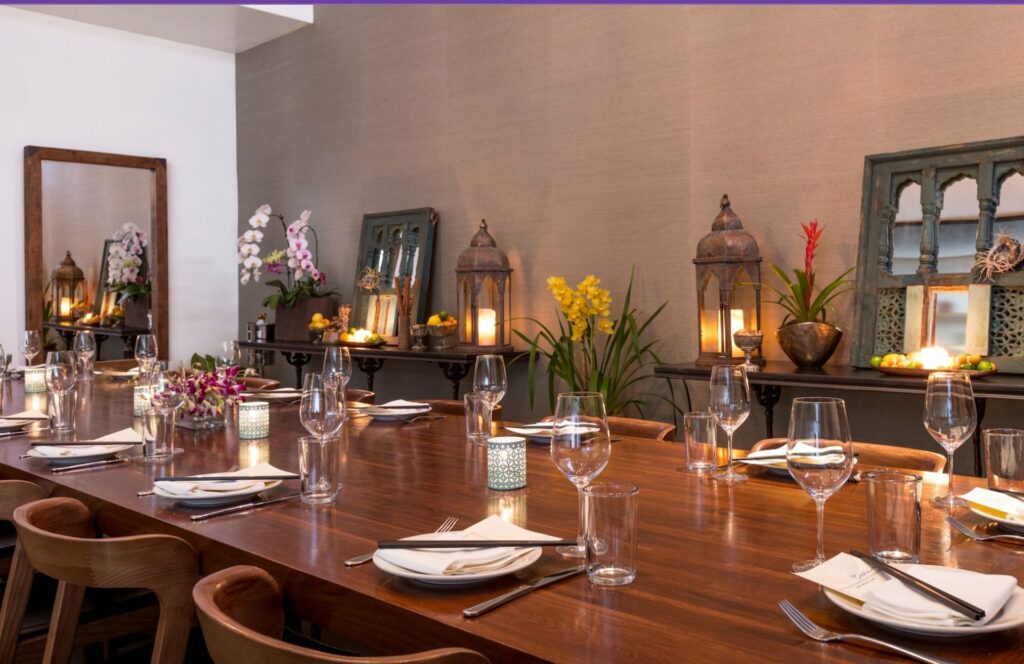 4. Melanie Wine Bar
Neighborhood: Beverly Grove
Capacity: 25
Located in the lively W 3rd Street neighborhood, Melanie Wine Bar prides itself on being a spot for wine enthusiasts while also being approachable for curious drinkers alike. To match its curated wine menu of just over two dozen bottles, Melanie Wine Bar also offers a rotating menu inspired by French and Mediterranean fare.
Melanie Wine Bar is the definition of intimate dining—at just 450 square feet, a buyout of the venue caps out at 25 diners seated. But this new-ish spot on West Third is perfect if you're looking for that cozy feel and are entertaining guests who fancy themselves wine devotees.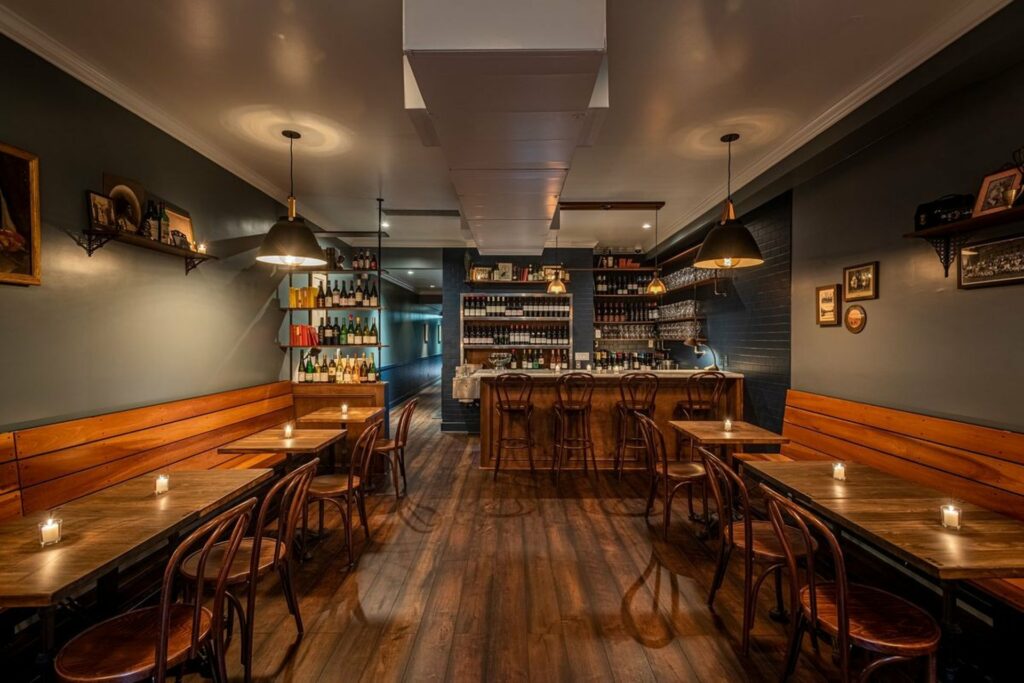 5. Tallula's
Neighborhood: Pacific Palisades
Capacity: 175
Just steps from the beach, Tallula's is a coastal Mexican restaurant that serves up tried-and-true entrees like tacos and grass-fed hanger steak, while also offering coastal delicacies like oysters on the half shell, mussels mazatlan, and grilled blue prawns. The drink menu also doesn't disappoint with a variety of fresh tequila and mezcal cocktails and a selection of small-batch agave spirits.
For private events, Tallula's has a private dining room that has space for 32 seated and 50 standing, and an outdoor patio that can accommodate up to 100 people. Felix's bar is better for smaller groups: 25 seated, 50 standing. The main dining room can seat 65 seated or 125 standing.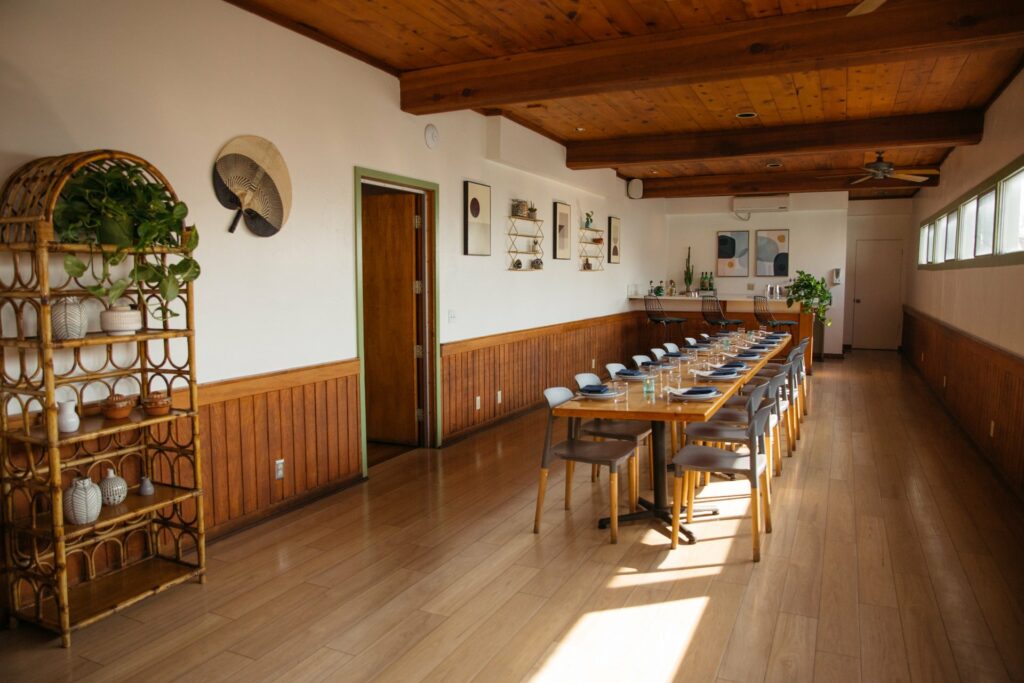 Don't put your guests up just anywhere. Browse the hottest hotels in Los Angeles.
6. République
Neighborhood: Hancock Park
Capacity: 154
République is an iconic Los Angeles spot in Mid City on La Brea. It isn't just a modern French restaurant; the gorgeous interior is worth its own visit. The building was constructed in 1928 by Charlie Chaplin and designed by architect Roy Seldon Price, originally as a mixed-use space with shops and office space. When the space was redone to accommodate République, it returned to its natural roots: brick, tile, and iron, with an open and airy feel.
République also has several private event spaces, from the alcove upstairs that seats 10 to the dining room that seats 64 with room for 80 standing. The Left Bank wine room can fit 18 seated, and the Right Bank Mezzanine accommodates 36 seated and 45 standing. To get a real feel of the space, book the communal Kitchen Table that can seat 34.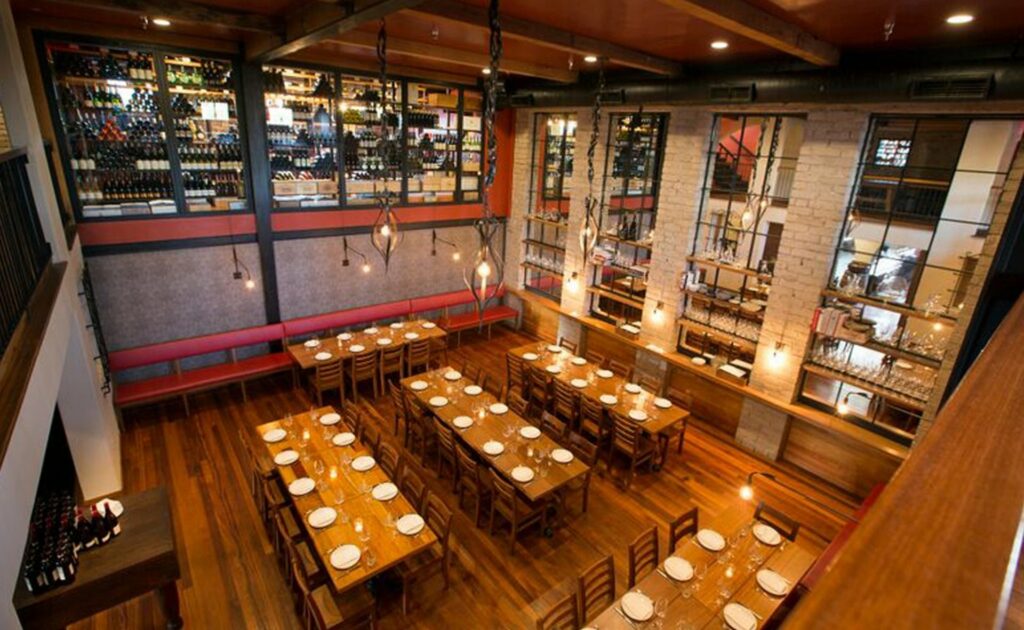 Elevate your event. Browse Los Angeles rooftop venues for your next gathering.
7. The Eveleigh
Neighborhood: West Hollywood
Capacity: 75
This stunning West Hollywood spot is ideal if you are looking to dine al fresco in style. Located on the Sunset Strip, Eveleigh is known for its beautiful patios and unmatched view. The menu boasts a selection of pizza, pasta, salads, and small plates like lamb meatballs and slow braised pork belly. You can opt for the hanger steak or roasted chicken as entrees, or go big with the 25 ounce bone-in ribeye for the table.
The full back patio at The Eveleigh has room for 75 seated or 150 standing, and the front garden patio seats 24 with room for 60 standing. If you're entertaining a small group, the partial back patio seats 15.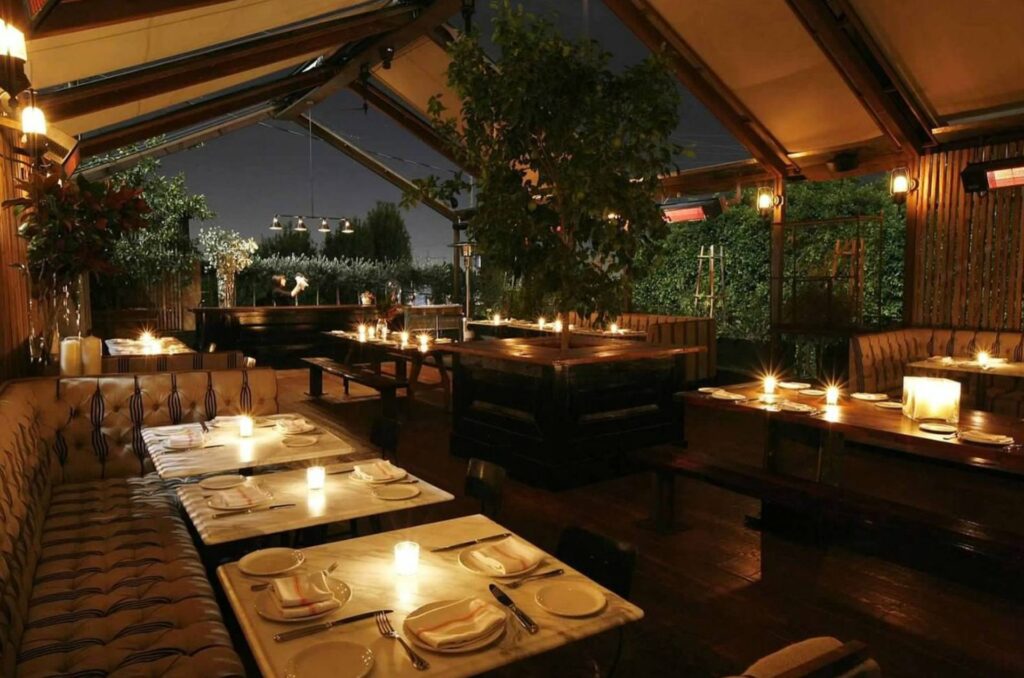 8. Spago
Neighborhood: Beverly Hills
Capacity: 330
Spago is the definition of elegance in the heart of Beverly Hills. The iconic restaurant is the flagship operation by the Wolfgang Puck Fine Dining Group, and it's been open for more than 35 years. The food is one the pricier side (which is what you'd expect from a fine dining establishment) — Keluga Caviar Rye Tart for $69, pizza with black truffles for $72, and $58 for a dozen of the Oshi and Henderson Bay oysters. The bartenders know how to mix up a cocktail that's worth the money, with a mezcal negroni and Pepinos's Revenge (fresh tequila, cucumber, basil, and lime), just to name a couple.
For a smaller group, private dining room #1 at Spago holds 24 people seated. Private dining room #2 seats 60. For a more sprawling event space, the Spago l'Exterieur, which is a large outdoor dining area, has room for 350 standing.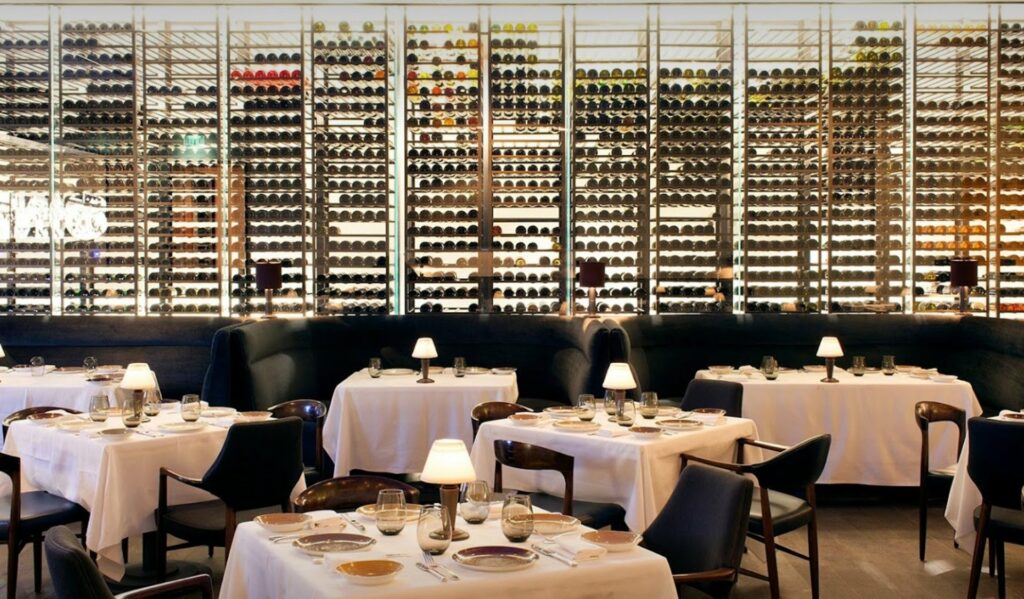 9. Otium
Neighborhood: Downtown
Capacity: 200
Otium is a beautiful space in Downtown LA that boasts both impressive indoor and outdoor event space. A creation by chef Timothy Hollingsworth, Otium is known for its fairly expansive menu that has something to please everyone: from caviar and braised lamb neck to potato gnocchi and roasted chicken.
The biggest appeal of Otium is probably the variety of dining areas: the garden mezzanine holds 30 seated, and the Hope Street dining room can seat 36 with 50 standing. For an outdoor event, the patio can seat 60 and accommodate 80 standing.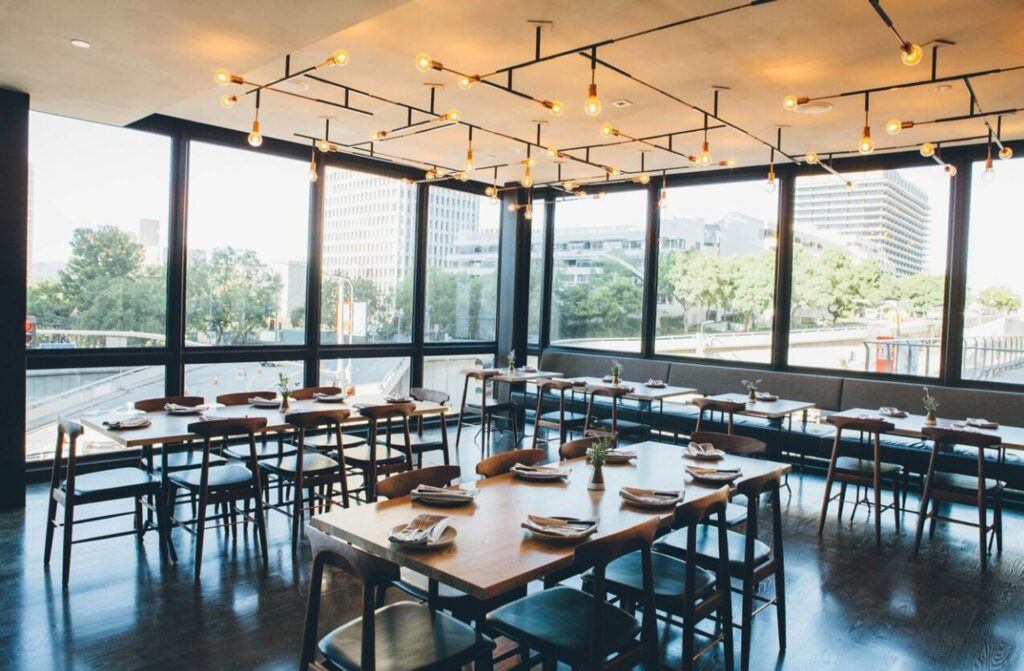 10. Crossroads Kitchen
Neighborhood: Beverly Grove
Capacity: 120
Crossroads Kitchen has become a bit of a West Hollywood institution, serving up Mediterranean-inspired vegan fare along with a full bar. The restaurant serves weekday lunch, daily dinner, and weekend brunch (think: chicken and waffles and impossible breakfast sausage burritos).
The inside of Crossroads Kitchen is more refined than your traditional vegan spot, and the private dining room is perfect for smaller parties (seats 20 with 25 standing). The wine room can accommodate 40 seated and 75 standing, and a full buyout is for 120 seated and 250 standing. Although the vegan menu is its calling card, most patrons don't even realize the food doesn't have meat—like the restaurant says, "Crossroads is defined not by what's missing but by what it is."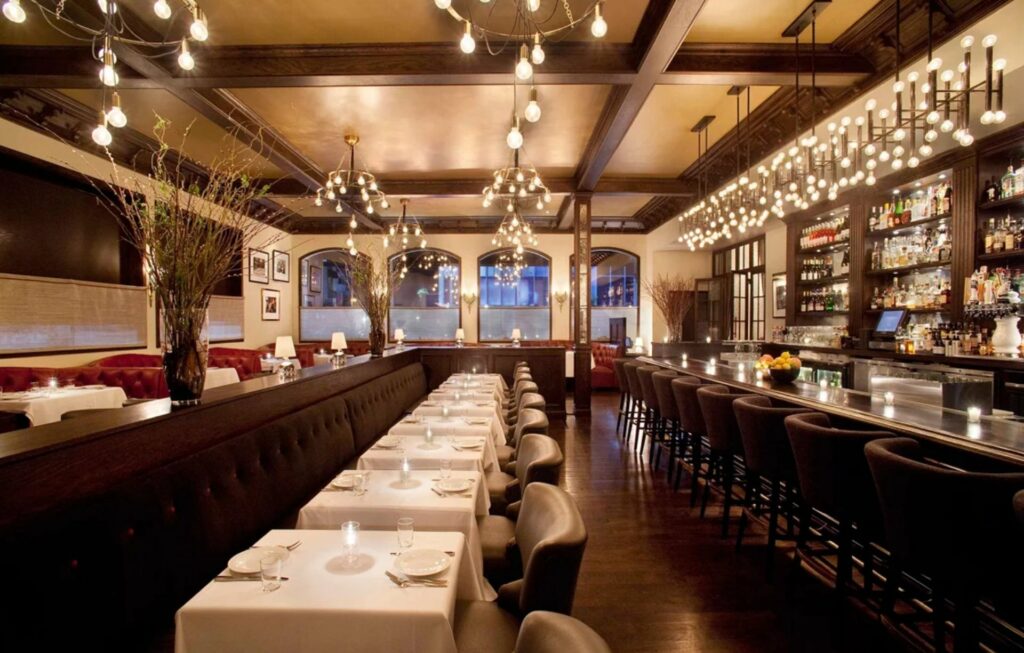 11. AOC Wine Bar & Restaurant
Neighborhood: Beverly Grove
Capacity: 70
This famed West Hollywood spot has gotten plenty of good press: Los Angeles Magazine named AOC Wine Bar & Restaurant the #1 best restaurant in LA, and was named one of the best wine bars in 2016 by Thrillist and Eater LA. And for good reason: AOC is known for pairing indulgent wine by the glass with market-driven plates, like lamb chops, scallops, and wood-roasted carrots.
If wine isn't your guests' thing, AOC also offers a robust cocktail menu with a full bar and fresh ingredients. Sip your beverage of choice on the outdoor patio that seats 70, or hold your event in the wine room that seats 40. The full restaurant serves 160 seated and 200 standing.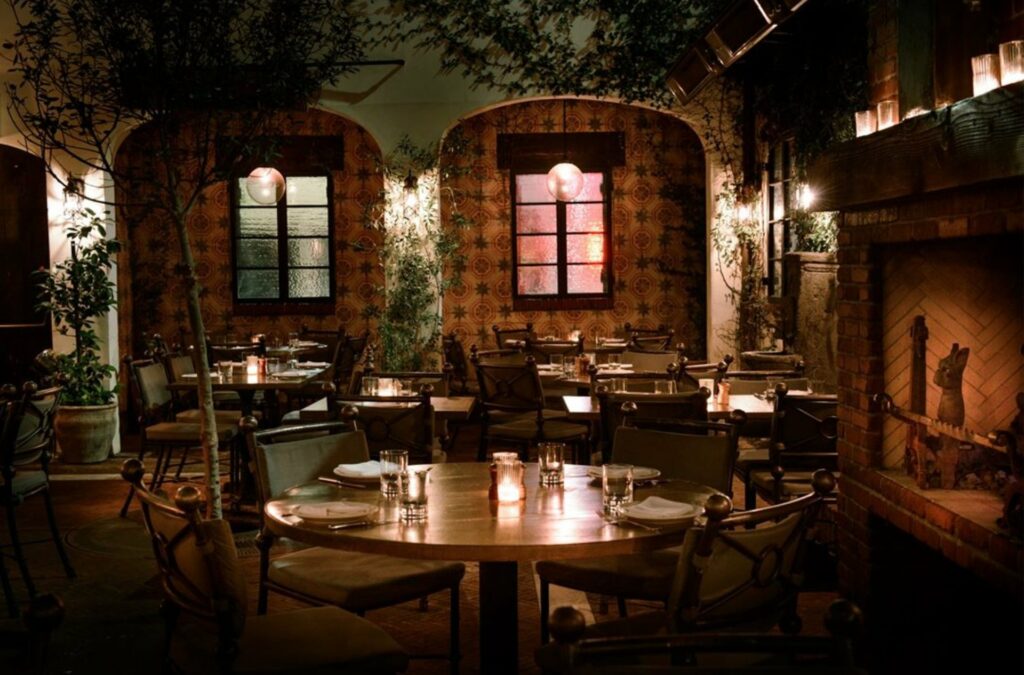 12. Craft
Neighborhood: Century City
Capacity: 15
Come to this Century City spot for the scallops and duck breast, and stay for the baked goods (chocolate chip cookies and brown butter chocolate tart, anyone?). The cocktail menu also has something or everyone with creations made from tequila, rye, mezcal, or vodka. Craft is actually a Los Angeles location of chef Tom Colicchio's New York restaurant, so all Top Chef fans will be impressed.
Craft offers indoor and outdoor dining; and the private dining room is a cozy spot that seats 15, while the outdoor patio accommodates 30 standing. Just make sure your guests don't leave without ordering dessert.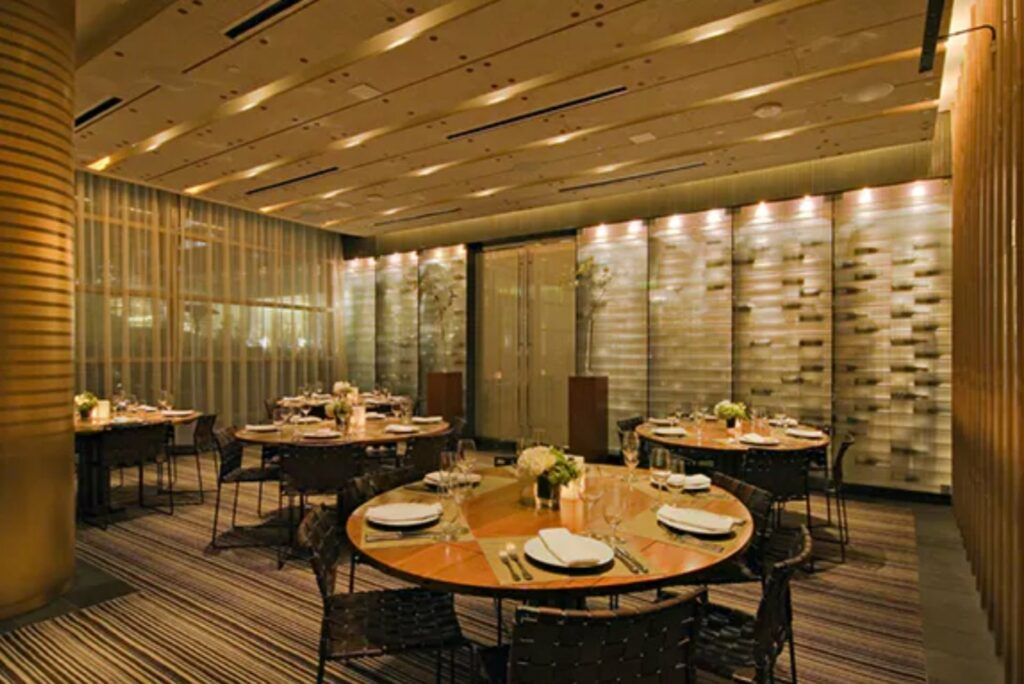 13. Osteria Mozza
Neighborhood: Hancock Park
Capacity: 36
Osteria Mozza, located in the Hancock Park neighborhood of Hollywood, serves up more refined, elegant Italian food, but with everything you didn't know you wanted: did we mention there is a mozzarella bar? Feast on more upscale versions of Italian classics like gnocchi with duck ragu, ricotta cavatelli, and Bavette Cacio e Pepe. Other mains include pan-seared filet and grilled yellowtail.
For your private event at Osteria Mozza, choose the Primo Ministro Room for a more intimate experience (think: dinner with your extended family), which seats 20. A partial buyout serves 36 seated and 40 standing, and a full buy-out can accommodate 150 seated and 200 standing.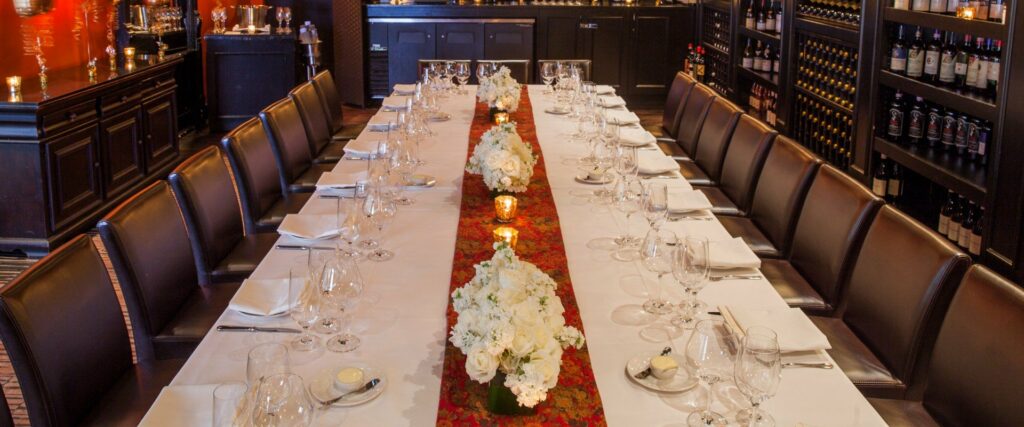 Read More:
The Best Private Dining Rooms in NYC
The Best Private Dining Rooms in Miami
The Best Rooftop Venues in Los Angeles
Planning an event in L.A.? Dive into our Los Angeles Event Planning Guide and browse the top venues, vendors, and much more!