Boston is a city that prides itself on its history, sports, academia, and food. The city caters to a lot of different sectors, so there is a lot to choose from when planning an event in Boston. If you're looking for private dining rooms for corporate or social events there's plenty to choose from, be it historic subterranean wine cellars or contemporary rooftop restaurants. Read on for our top picks for private dining rooms in Boston.
15 Incredible Private Dining Rooms in Boston
Despite its international renown, it may surprise people to hear that when it comes to major American cities Boston is not actually that huge. Boston is the 24th-most populous city in the country; roughly the same amount of people live within the city as El Paso, Texas. However, the restaurant scene is huge and thriving. There are a plethora of great venues in Boston. We've narrowed down the best 15 dining rooms Boston has to offer.
1. Contessa
Neighborhood: Back Bay
Capacity: Contact for more info
Located in The Newbury, a historic and glamorous hotel which was originally Boston's Ritz-Carlton, Contessa serves up a dining experience inspired by European old-world resorts (think Monaco of yesteryear) and grand Italian estates. The food itself represents the best of Italy, with a curated menu representing all the trattoria highlights. The big bonus here is that it's located on the hotel rooftop with a glass covering and retractable panels for an al fresco touch. The restaurant aptly refers to itself as a "garden in the sky." It's an appropriate moniker on a few fronts—the famed Boston Public Garden is right out front.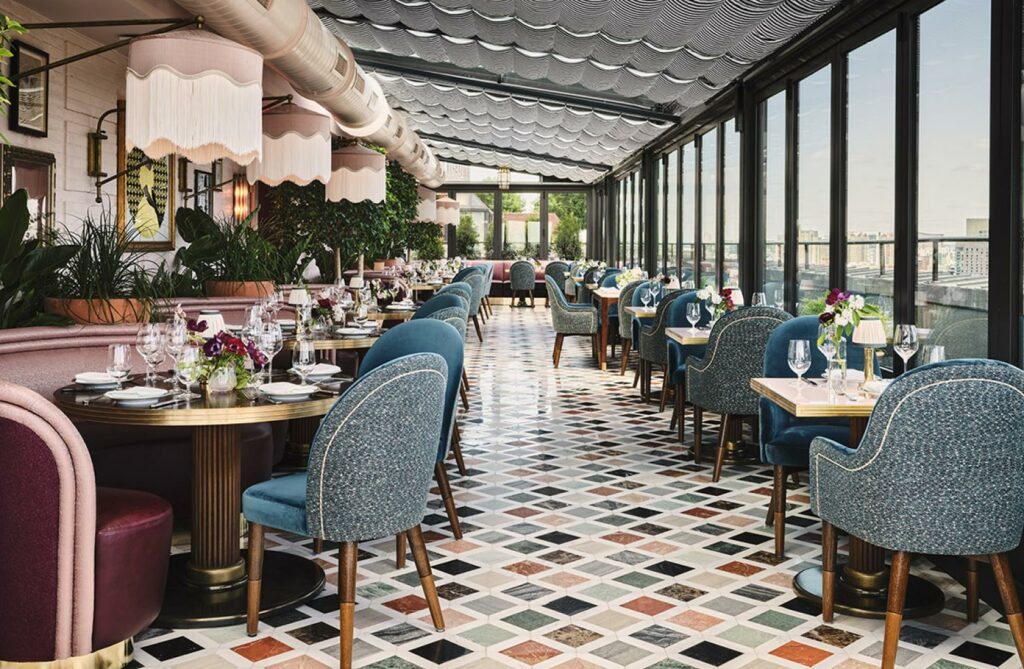 2. Catalyst Restaurant
Neighborhood: The Port
Capacity: 500
On the other side of the Charles River, Cambridge is known for its preeminent universities… and increasingly, fine-dining. Catalyst Restaurant, located on the intellectually buzzy Technology Square near MIT, can work with you for semi-private and private events from 6 people to 500. There are roughly seven separate spaces you can play with, from the cozy Fireplace Room to the literally named Private Dining Room (big enough for wedding receptions). Catalyst has been around for four decades and is something of an institution in Cambridge. The interiors are gorgeous with wood accents throughout, but each area has its own unique look and feel. The food? Delicious and local.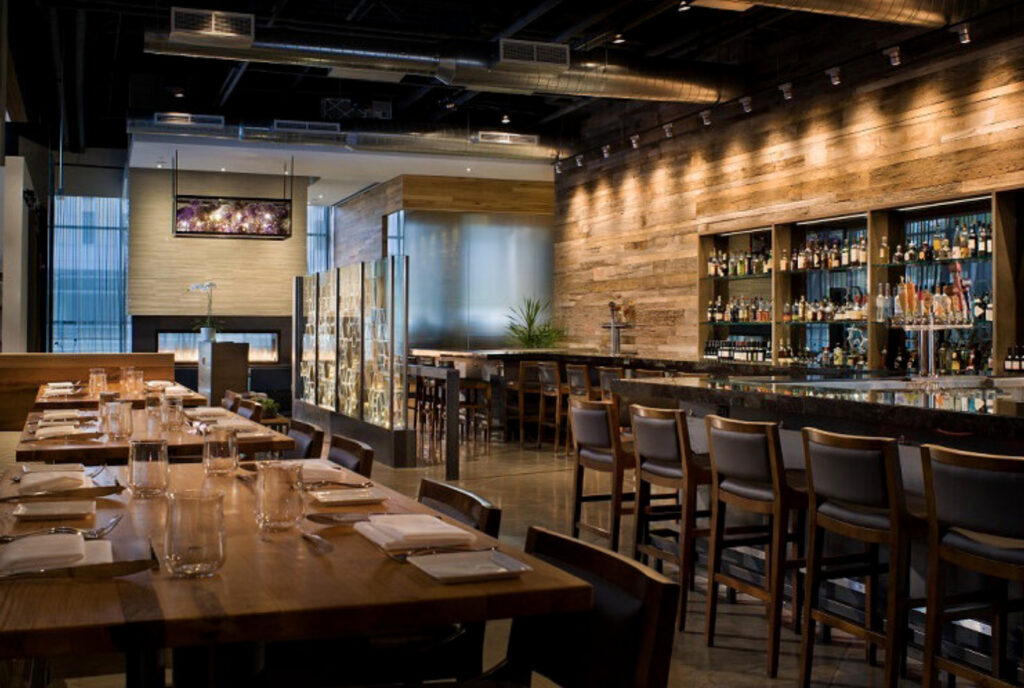 3. No. 9 Park
Neighborhood: Downtown
Capacity: 100
You can find No. 9 Park at, yes, 9 Park Street, one of Boston's most historic and picturesque neighborhoods. The Boston Common is right across the street of this townhouse restaurant, and there are plenty of private and semi-private options to consider, up to 100 for a cocktail reception. If you're looking for an intimate dining event, Chef Barbara Lynch's favorite is The Owner's Table with its views of the Common—considered the oldest public park in the U.S. If you're looking to (pun intended) mix it up, the restaurant also offers cocktail classes. Food and drink-wise you're in great hands. This spot is routinely on "Best of Boston" style lists, and in 2012 it received a very prestigious James Beard Award for its wine program.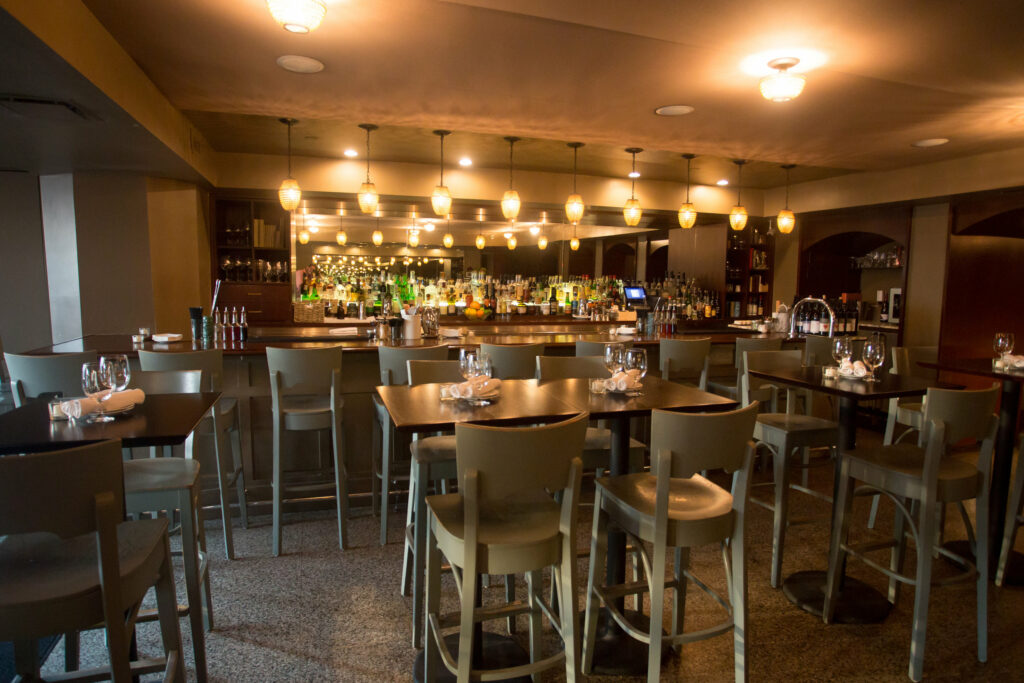 4. Mariel
Neighborhood: Downtown
Capacity: Contact for more info
To call Mariel a stunning place to eat is an understatement. Upon walking in you are transported to the feel of pre-revolutionary Havana, with a menu to match. It's decadent but not ostentatious, the art is pitch perfect, and the atmosphere lively. It's a Cuban epicurean experience here, from the pork empanadas to their rum take on Old Fashioneds.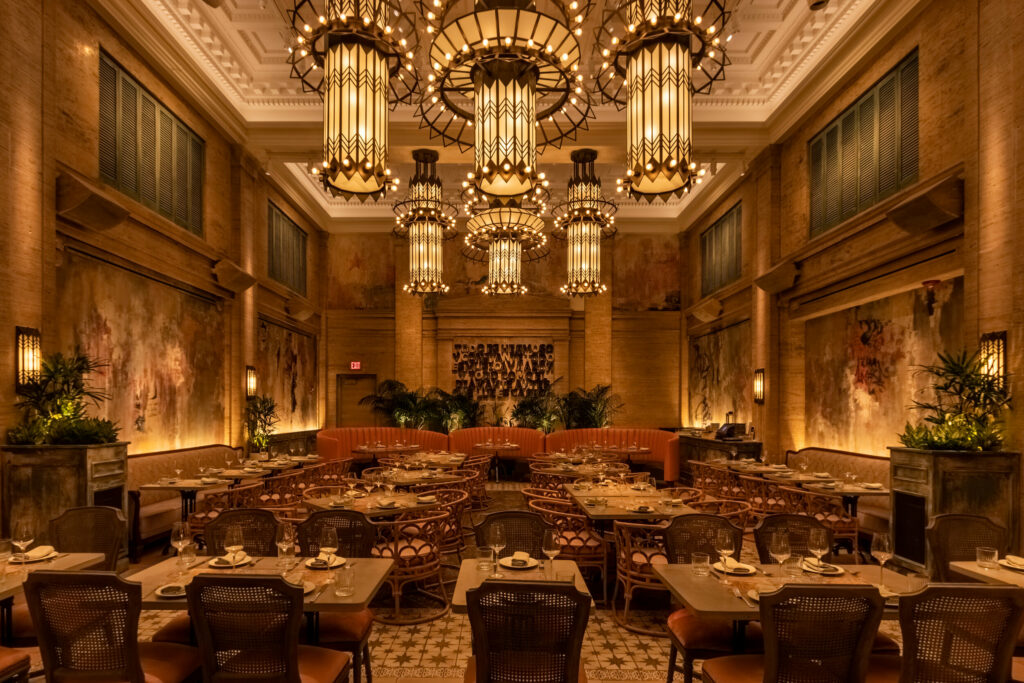 5. Hojoko
Neighborhood: Fenway
Capacity: 80
If you've ever been to Tokyo, then you're perhaps familiar with the unique nightlife there which is hard to articulate. That said, Hojoko is a great representation of the wonderfully unique Japanese tavern experience. It's definitely a party atmosphere here–it's by Fenway Park after all–and the food is top notch. Sushi, yakitori, premium sake, Japanese street food… You can't go wrong. There are a few private/semi-private options including two private options that will seat up to 30 guests. A full buyout will accommodate 80 seated or 237 standing.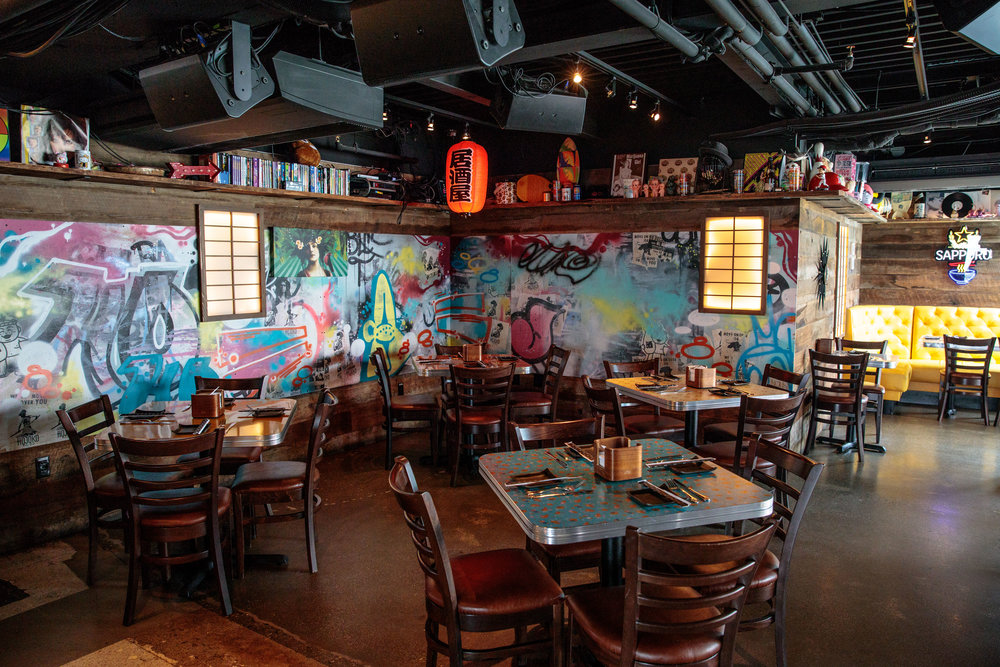 There is nothing like that finishing touch! Find the top floral designers in Boston.
6. Lucca Restaurant & Bar North End
Neighborhood: North End
Capacity: 100
Lucca Restaurant & Bar is the definition of chef's kiss. The menu centers on Northern Italian cuisine, but is created through fresh and locally sourced ingredients. The restaurant also has a particularly close relationship with the Massachusetts fishing community. When it comes to aesthetics it's warm, opulent, and intimate. The main dining room has a stunning mahogany bar and a stained glass panel by internationally lauded artist Lynn Hovey. Imported granite floors from Italy set the tone, too. There are seven private dining rooms here so you can consider this special spot for a variety of sizes, but if you want to book the main dining room you can host up to 100.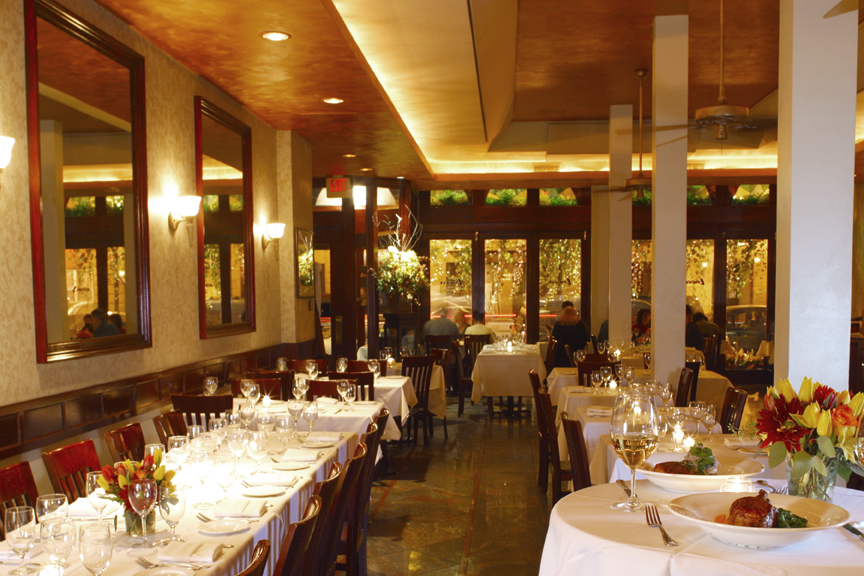 7. Pier 6
Neighborhood: Charlestown
Capacity: 40
Pier 6 is understandably considered one of Boston's premier waterfront dining establishments. There are sweeping views of the city skyline and harbor and it's literally steps from the USS Constitution, the oldest commissioned naval ship in the world. The food is classic New England at its best—the lobster roll deserves its own writeup. There's a private dining room here that can seat 12 around a long wooden communal table but the outdoor waterfront patio can hold up to 200 cocktail-style.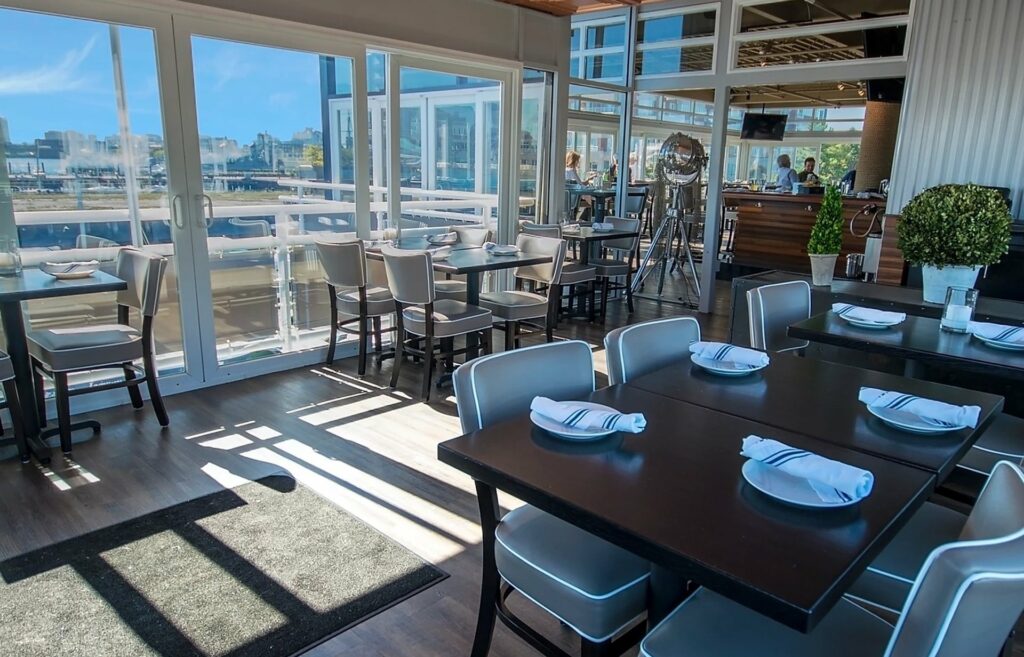 8. Harvest
Neighborhood: Cambridge
Capacity: Contact for more info
Cambridge's Harvest has been a Harvard Square gem since 1975. A veritable who's-who of New England chefs have passed through the kitchen (Sara Moulton, Lydia Shire, Frank McClelland, etc.) which serves up contemporary American. There are four private dining rooms here–a restaurant buyout is also possible–and they will work with you to create a memorable and customized menu for any occasion.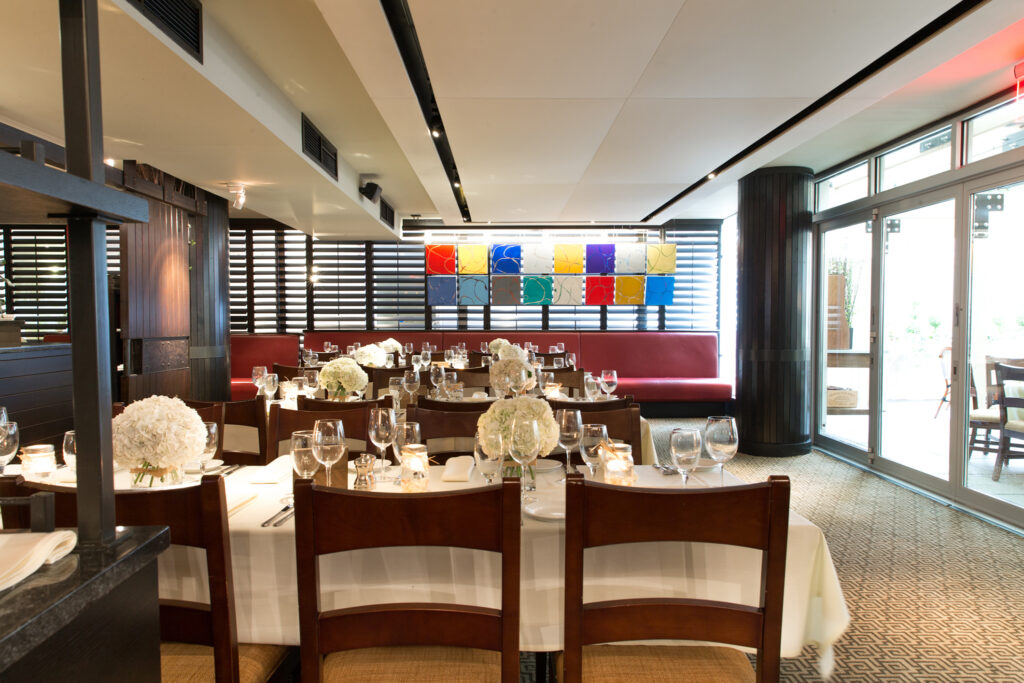 9. Puritan & Company
Neighborhood: Wellington-Harrington
Capacity: 70
If you're looking for a more casual setting but with superlative food and drink, Puritan & Company is an A+ choice. Chef-Owner Will Gilson mainly centers on a Modern American menu (particularly New England). It's all locally sourced here, and the dishes have a playful touch. There's a private dining room or you can do a buyout for your next relaxed lunch/dinner event.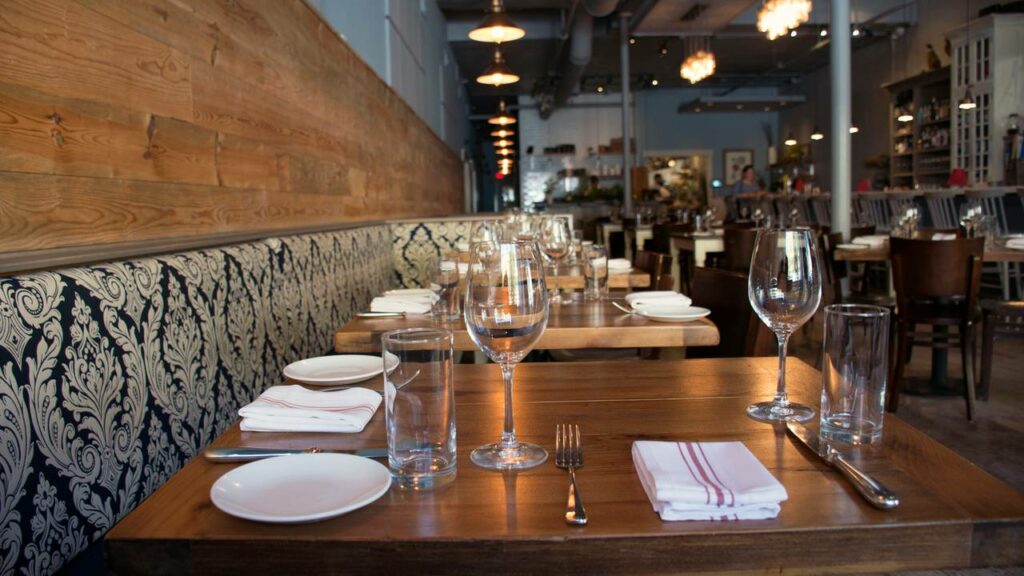 10. Mamma Maria
Neighborhood: North End
Capacity: 50
Boston as a city really leans into its deep history, and Mamma Maria is no exception. It's located on a small hill that overlooks the city and North Square, the oldest public square in the U.S. (It dates back to 1634, thank you very much.) It's known for its cobblestones and cameos from people like Paul Revere and Charles Dickens who all lived here at one point. The restaurant itself has been called Boston's most authentic Italian restaurant by The Boston Globe and The Boston Globe is a huge fan, too. There are five unique dining rooms but the largest will accommodate 50, however each has an intimate, warm feel.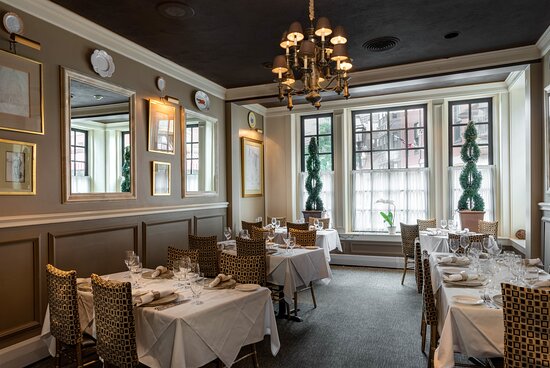 11. Porto
Neighborhood: Back Bay
Capacity: Contact for more info
Porto is a lively scene focused on modern Mediterranean fare. The restaurant's name itself comes from both the Italian and Portuguese word for port. It's light, airy, and feels informal but not casual. You can really play with different layouts here between the private dining room, semi-private dining area, bar/lounge, and patio. Their oyster program is also a favorite. Hot 4,000-Year-Old Tip: The rule of thumb is that oysters should only be eaten in months ending with the letter "R."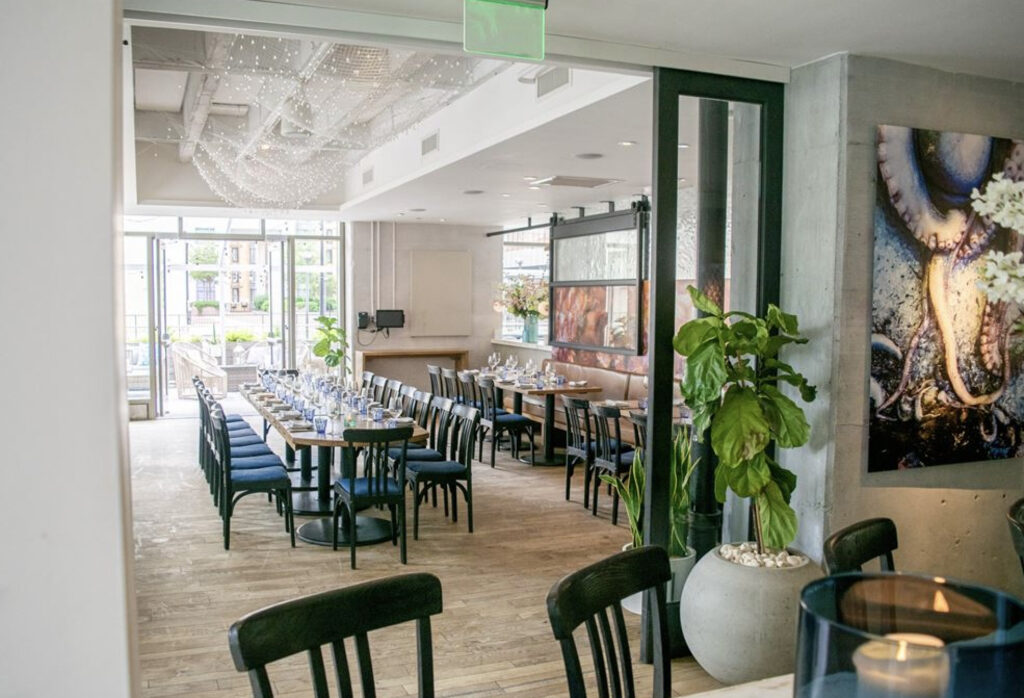 12. Mooo
Neighborhood: Downtown
Capacity: Contact for more info
If you're looking for an upscale steakhouse, look no further weary traveller. There are technically two locations but the flagship Mooo is in the swanky and historic Beacon Hill neighborhood. You can choose from a few private dining rooms, but The Wine Cellar room will give you a taste of the place: It's built on the foundation of a 1722 mansion. The decor includes an Italian tile mosaic from 500 A.D. The wine list includes vintages from as far back as the 1700s. Stuff like that.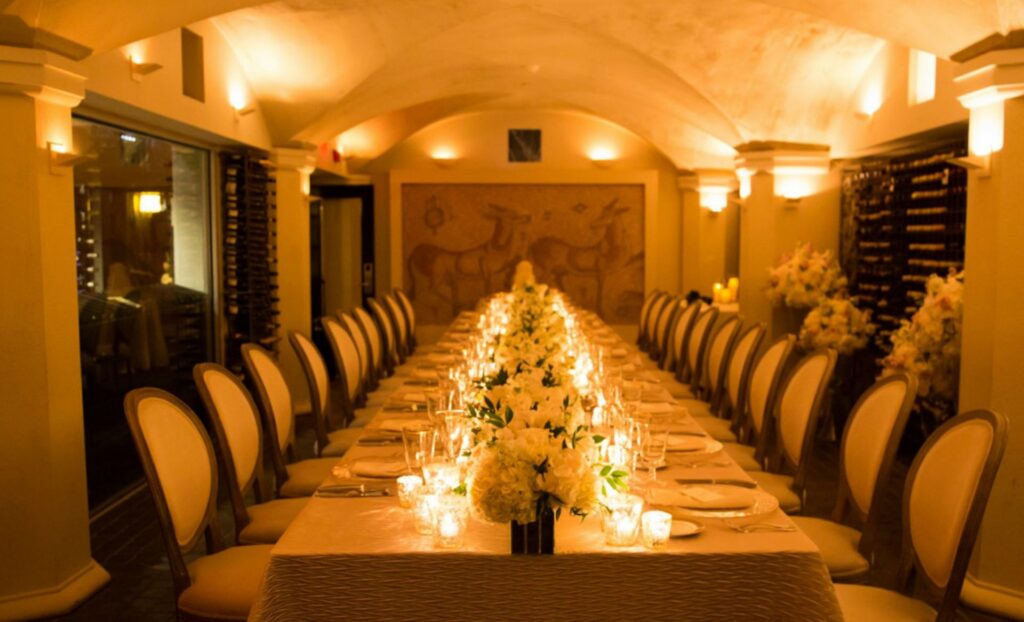 13. Menton
Neighborhood: South Boston Waterfront
Capacity: 45
Menton has a lot of fans. There's The Boston Globe, Bon Appetit, Esquire, the James Beard Foundation, Zagat… Barbara Lynch, who also helms No. 9 Park, blends French and Italian at this spot appropriately named after a a town in France right on the border with Italy. There are two private dining room spaces here: The Chef's Table for a smaller group which overlooks the kitchen, and the elegant Private Dining Room which can seat 45.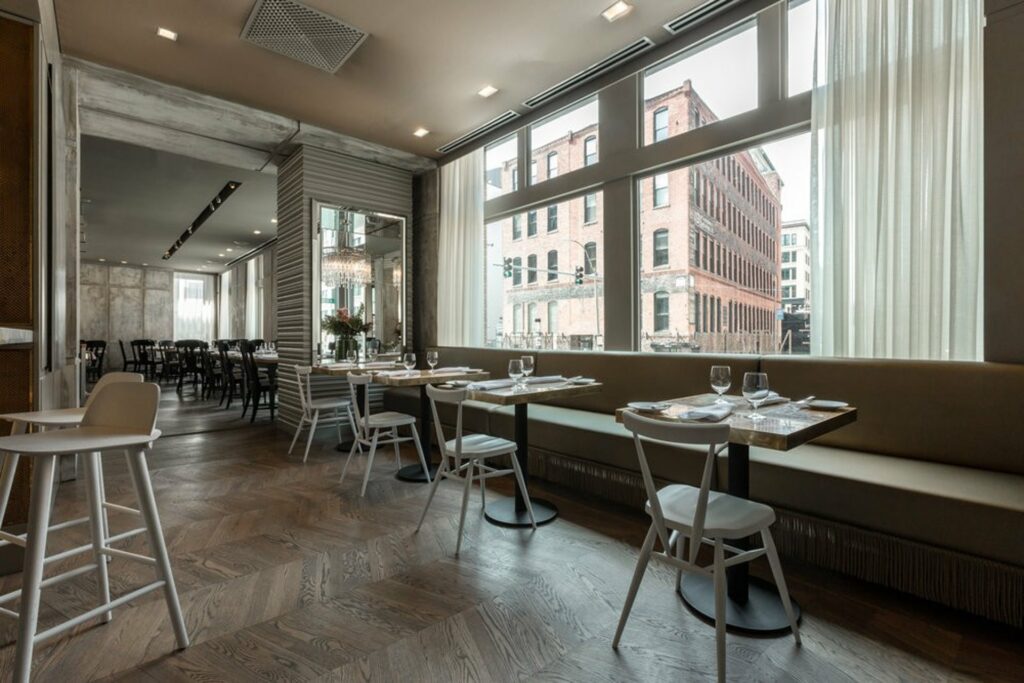 14. Mistral
Neighborhood: Back Bay
Capacity: 60
Speaking of France, Mistral takes the French Mediterranean palate to another level. Le Salon du Mistral, the private room, feels intimate but it's actually on the larger side, with space for up to 80 reception-style. The decor takes a cue from Provence, with hand-picked pottery, high ceilings, and arched floor to ceiling windows. Event planners, take note: this spot offers complimentary car service within metro Boston.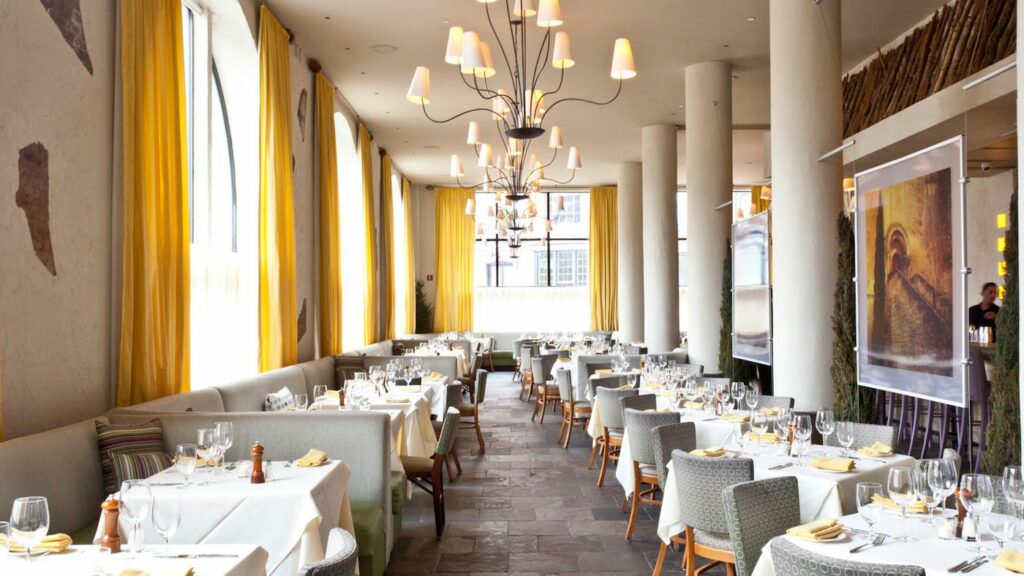 15. Alcove
Neighborhood: West End
Capacity: 270
Alcove has a storied background. The 1907 building where it resides was first home to the Submarine Signal Company. It's also served as cold storage for a candy company. These days it's part of the thriving Lovejoy Wharf area next door to the TD Garden and North Station for easy access in-and-out of the city. It's all about New England here, from line-caught seafood to locally sourced veggies and meat. The restaurant can cater to a variety of group sizes up to 270. The sunset views don't hurt, either!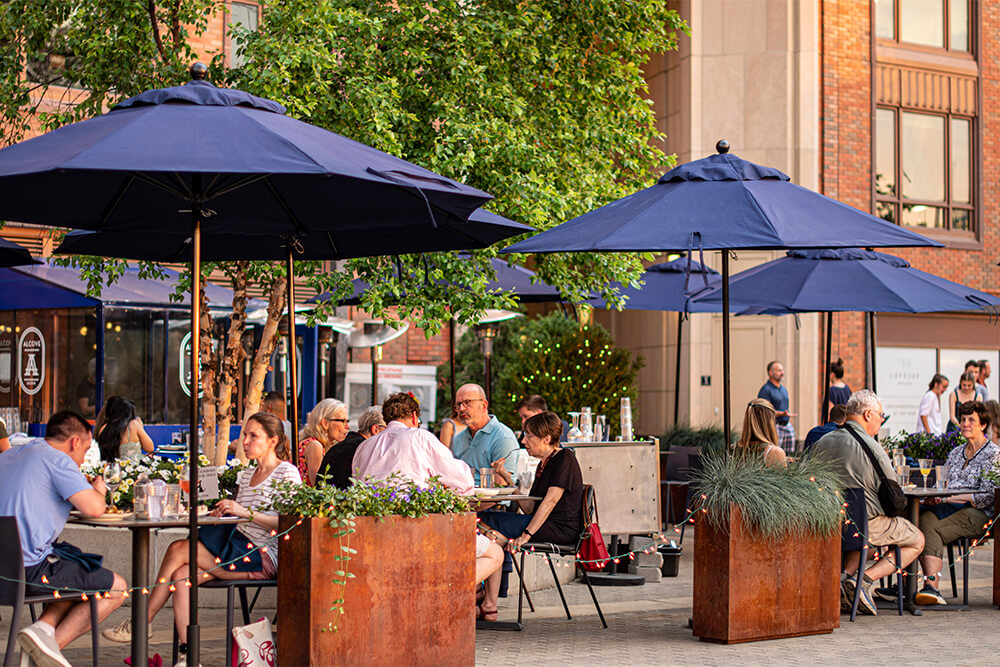 Why Finding the Right Private Dining Room for Your Corporate Outing is Important
When it comes to dining rooms, there's something inherently more intimate about that (corporate or personal) than other venues, even if you have a relatively large crowd. Finding the right place that ticks those boxes sets the tone for your event from top-to-bottom.
Top Things to Consider When Booking a Private Dining Room
This list can vary per city. For instance, parking considerations in New York won't be as important as Los Angeles. That said, here's a list for Boston to get you started:
Location, obviously!
Ambience.
Do you need semi-private or private dining options?
Transportation/parking.
FOOD!
Budget breakdown.
Do you have A/V needs?
Find the Best Private Dining Rooms on The Vendry
The Vendry has been lucky to help bring myriad dining events to fruition across the country. Whether you're Boston-based or just visiting, we're here to help your next event in Bean Town come to life. Head on over to The Vendry to browse thousands of spaces and find the perfect venue for your next event.
Read More:

The Best Private Dining Rooms in San Francisco
The Best Private Dining Rooms in NYC
The Best Private Dining Rooms in Washington D.C.