Article Updated 3/29/23

While administrations come and go, the food scene in our nation's capital has become a consistent perk of living in or visiting the District. It's not just about Cafe Milano anymore. The highest-caliber of chefs and restaurateurs have come here over the past 20 years, resulting in something of an epicurean renaissance, with all kinds of international palates represented. Food has become bigger than ever in Washington D.C..
Washingtonians tend to work hard and play hard and brunch culture here is deeply embedded in the town's Zeitgeist. On the corporate front, the city understandably caters to all kinds of private dining needs and spaces. Or, you're looking for that perfect spot for a rehearsal dinner, the hardest part is narrowing down the options. Read on for the best Washington D.C. private dining space available these days.
The Best Private Dining Rooms in Washington D.C.
On brand with the city itself, you'll find myriad cuisines to choose from reflecting the international presence in this city. If you're craving contemporary New American, that's also a popular food theme among D.C. eateries. When it comes to the private dining rooms D.C. has to offer, it really runs the spectrum from the classic to the contemporary in look and in taste. Here are 19 places to get you started. 
1. Compass Rose Bar & Kitchen
Neighborhood: U street Corridor
Capacity: 8
At Compass Rose Bar & Kitchen a sense of wanderlust permeates the atmosphere. Husband and wife team David Greene and Rose Previte first conceived of the idea to open a restaurant that celebrates travel on a 2011 trip across Russia, via the Trans-Siberian Railway. The result is this popular spot where international street food, handcrafted beers, and exotic wines grace the menu. During the pandemic restaurants across the country/world were tested on how to bring weather-independent eating outside the restaurant onto the street.
Compass Rose decided upon "Karenina's Carriage," a nod to that 2011 trip. Their Bedouin tent private dining experience was a massive hit in the city for years. When it came time to reopen and reconfigure their private dining offerings, post-pandemic Rose Previtte came up with an idea that speaks for itself: "Sunflower Coach," as a tribute to Ukraine. (Sunflowers are the Ukrainian national flower and a symbol of peace.) Modeled after a Ukrainian train car, the interiors are ornamented with lace curtains, silk tablecloths, wallpaper with deep blues and yellows (a nod to the Ukrainian flag), and a touching centerpiece vase full of sunflowers. Their small private dining room seats 8.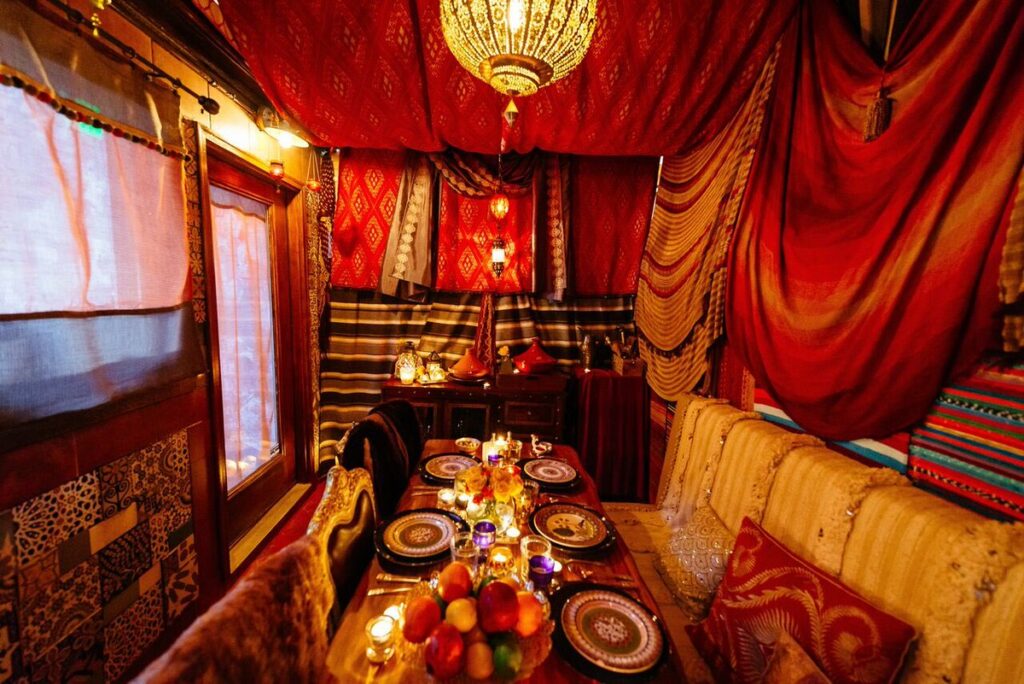 2. Blue Duck Tavern
Neighborhood: Georgetown
Capacity: 25
Michelin-recognized Blue Duck Tavern may focus on simple, rustic food with an artisanal twist, but the eating experience is anything but casual. An open kitchen with a wood-burning oven and a Molteni range (those can set you back over a quarter million dollars) help create a menu that will satisfy any cravings. They have multiple private dining options including the Chef's table which seats 20. Book a private dinner here to enjoy what Zagat has named one of the city's top restaurants.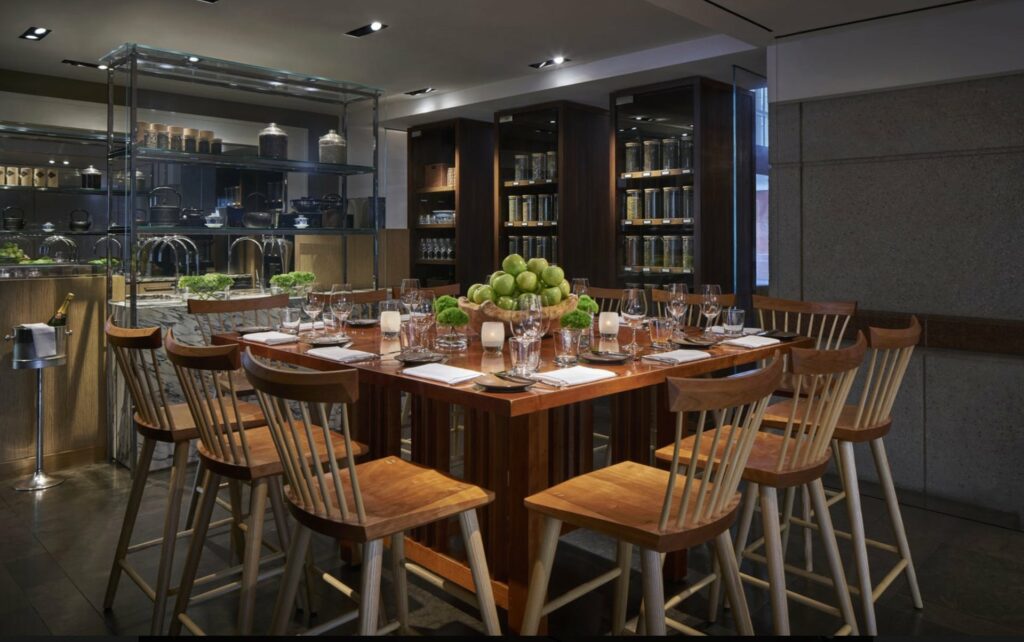 3. 1789 Restaurant
Neighborhood: Georgetown
Capacity: 60
1789 was a busy year: the Constitution was adopted, and on the local front Georgetown University was founded. 1789 Restaurant the restaurant was started by Georgetown alumnus Richard J. McCooey in a luxury Federal house dating back to the mid-1800s. The contemporary seasonal menu balances out the historic feel, resulting in a real sense of occasion when you dine here. Six private rooms, each with their own unique look and feel, are available to book with the largest accommodating up to 60 seated patrons.
Quick Trivia Tangent: Head to the basement and you'll find yourself in The Tombs, a legendary spot where Georgetown University professors and students head to for a drink and a bite. If you're a "Brat Pack" film fan you've probably seen 1985's St. Elmo's Fire about a group of recent Georgetown graduates. The St. Elmo's Bar was based on The Tombs.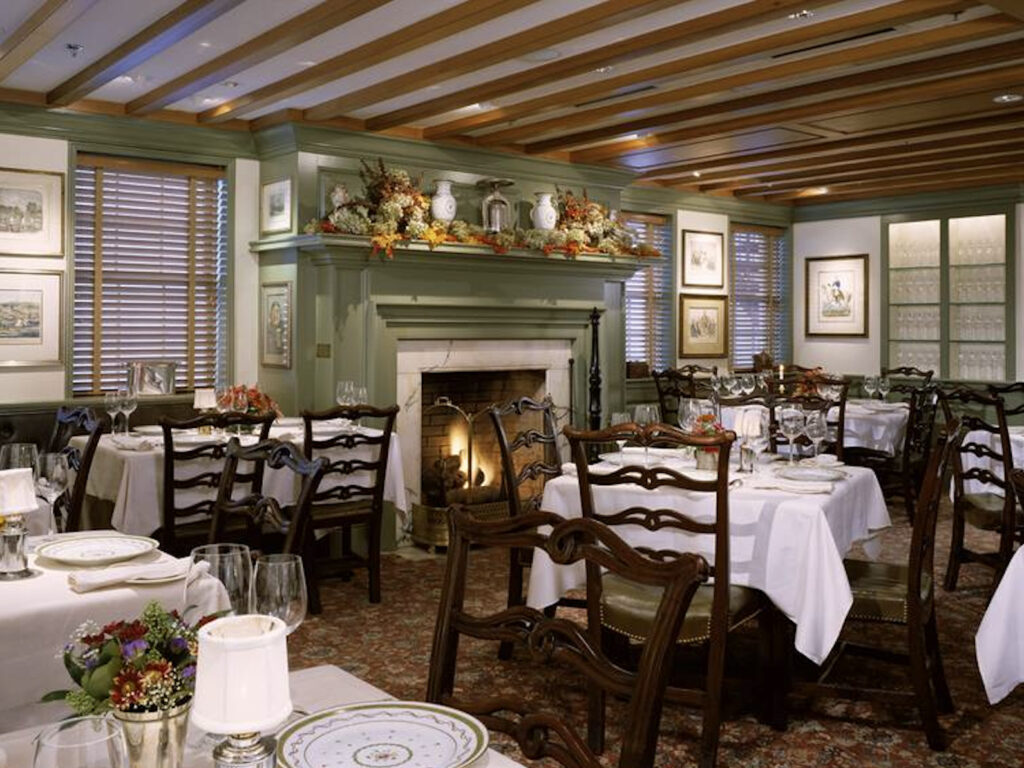 4. Officina
Neighborhood: The Wharf
Capacity: 64
Between the three Officina locations you'll be able to experience private dining for parties of varying sizes. While The Terrace Room seats 64, you can also buyout the entire restaurant to accommodate for 500. Officia, Italian for "workshop," is the culinary brainchild of Maryland native Chef Nicholas Stefanelli who had a lifelong desire to bring the best of Italian gastronomy to D.C. While the three locations offer various layouts, all offer stellar food, a sleek look, and quality drinks.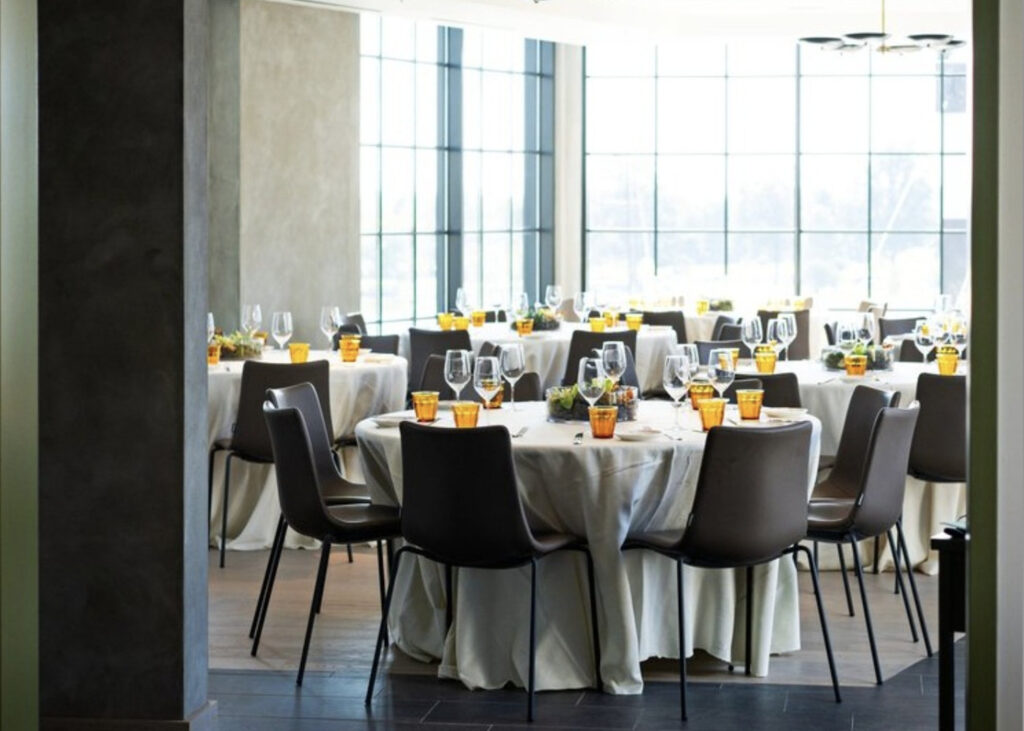 5. CIRCA at Clarendon
Neighborhood: Clarendon
Capacity: 14
All CIRCA locations (two of which are in D.C.) serve up the best of New American eats with a buzzy neighborhood bistro scene. The menu is seasonal and the wine list long, so no matter how many times you hold an event here there's always an opportunity to mix up the order. The private dining room, which seats 14, is nestled next to an impressive wine cellar, making for an intimate and sophisticated private dining experience.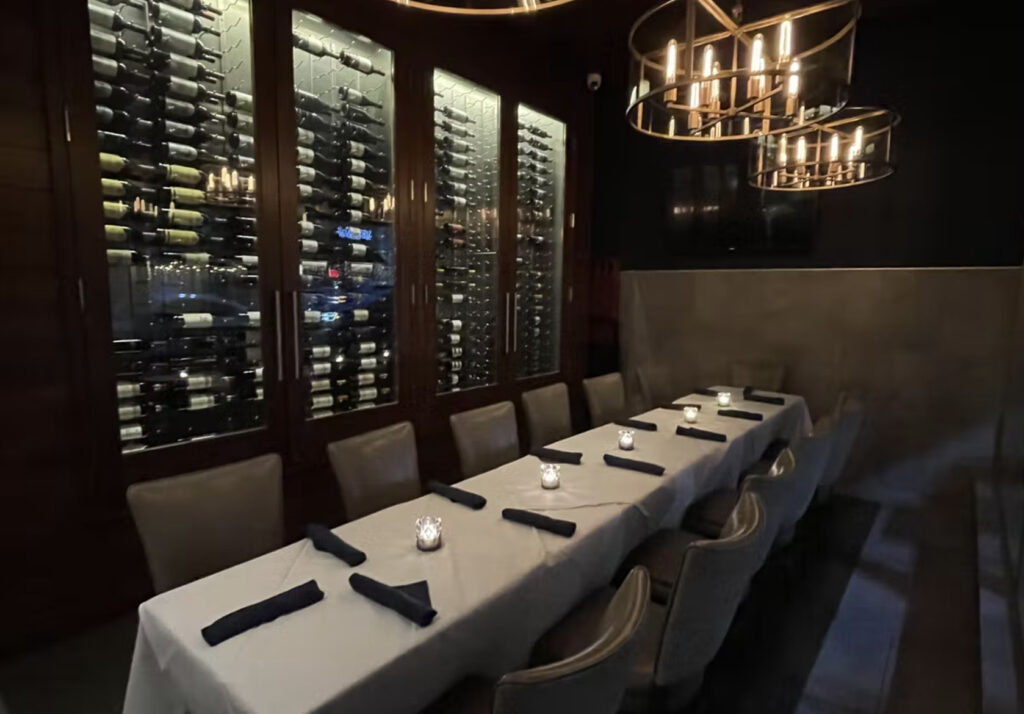 Planning an event can be stressful. Here's 11 Questions to Ask on Your Pre Event Planning Questionnaire.
6. Rasika West End
Neighborhood: West End
Capacity: 36
Rasika has been hailed as some of the best contemporary Indian food in the country. Both two locations (helmed by James Beard nominee Chef Vikram Sunderam), are Washington Post favorites. Here's some of the coverlines of stories they've written about the place: "Rasika Sets the Standard"; "The D.C. Restaurant Hall of Fame"; and "Where Ambassadors Eat." But how do they really feel? Enter: "What Michelin Gets Wrong about D.C.'s Dining Scene–Starting With Rasika."
The food is an authentic dining experience with regional curry dishes, tandoori, sawa, and other flavorful cuisine from the subcontinent. Private functions are frequently held at Rasika West End, be it a corporate or personal event. There are myriad space options available, both private and semi-private, including The Library which can seat up to 36, the Garden Room which can seat up to 12, or the Chef's Table Room which can seat up to 12 (where Barack Obama rang in his 52nd birthday).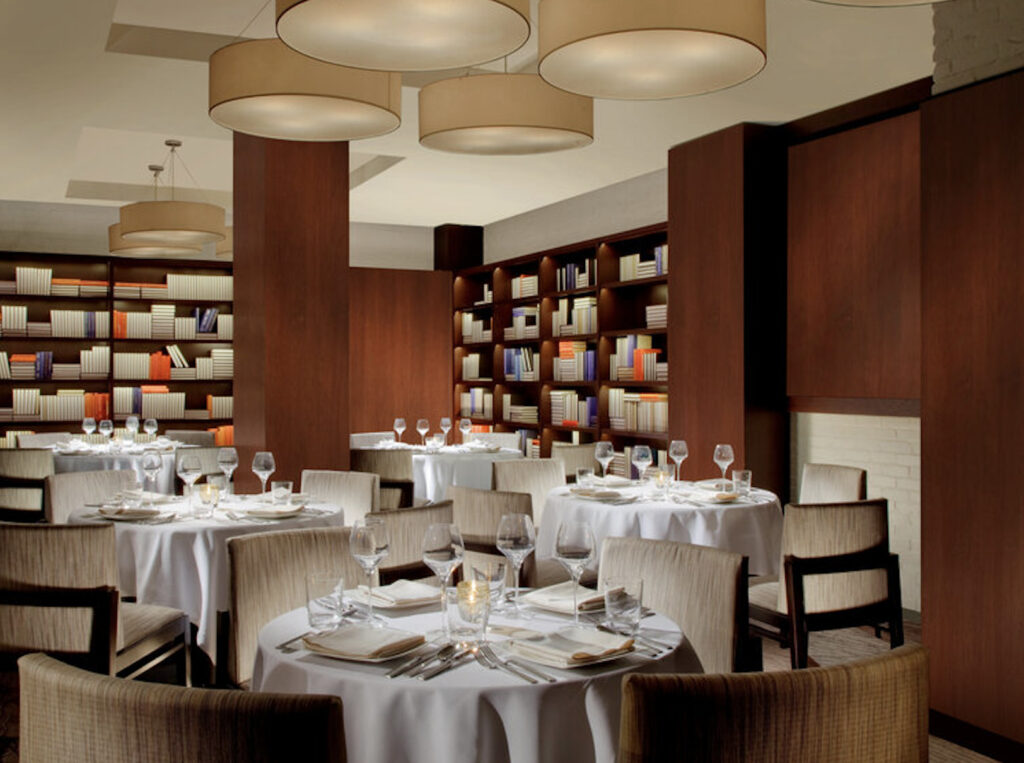 7. RPM Italian
Neighborhood: Mount Vernon
Capacity: Contact for more info
RPM Italian joins the list of great Mediterranean food in D.C. The restaurant can create an intimate private dining experience for 8, or if you want to go big, 300 (for a full buyout). Dishes are meant to be shared at this contemporary, chef-driven location resulting in a convivial atmosphere. While its sister location is in Chicago, this place has become an established D.C. favorite for menu items like wood-oven pizzettes, housemade pasta, and a much-appreciated bread service.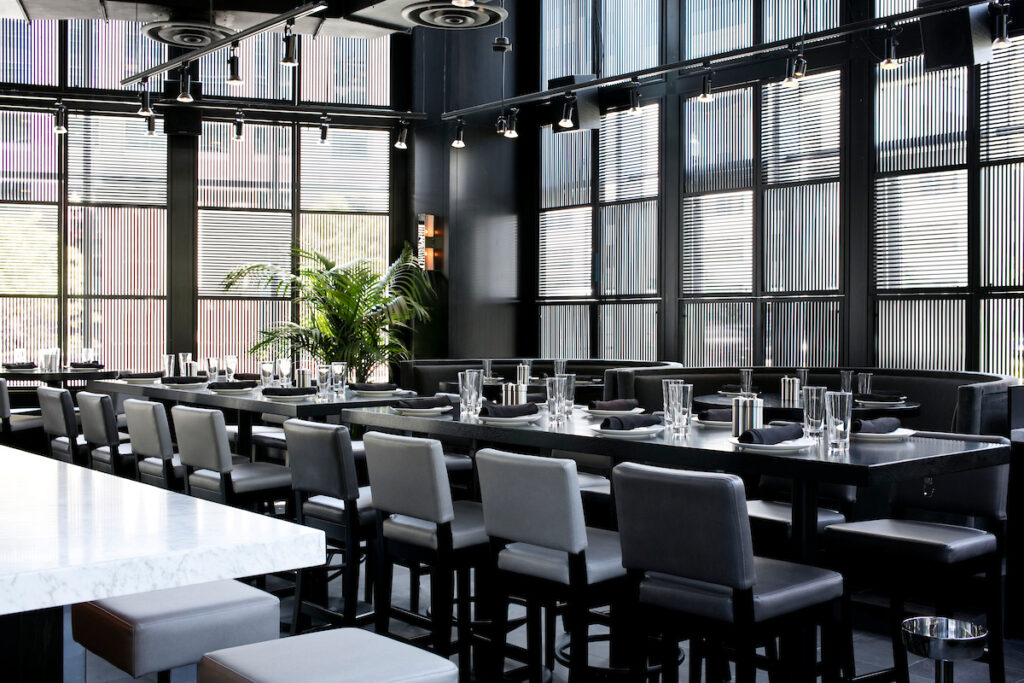 Capture the moment. Find the best photographers in Washington D.C.
8. Corduroy
Neighborhood: Mount Vernon
Capacity: 40
If you're looking for an exceptional farm-to-table meal, Corduroy would be a great choice for your next private dining event. The New American menu has mouthwatering choices like raspberry point oysters with champagne mignonette, mushroom pasta with a chardonnay sauce, or a duck confit cassoulet style. Wash it all down with Corduroy's bespoke handcrafted cocktails like a "Pearnicillin," a concoction of Harleston green scotch, honey ginger syrup, lemon, and pear nectar. Choose between two private rooms for up to 40 of your closest friends.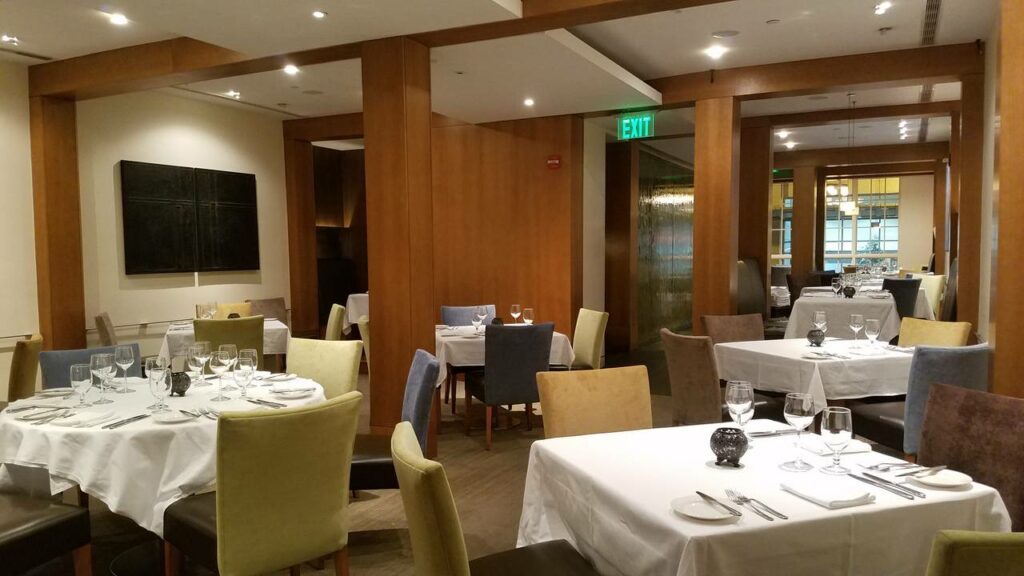 9. Modena
Neighborhood: Penn Quarter
Capacity: 40
It's La Dolce Vita at Modena. Milano design is on deck at this well-appointed eatery which can provide you with a variety of private dining options. Enjoy large scale Italian photography behind a stainless steel beaded curtain, or seat 40 (80 standing) under 13-foot ceilings next to giant windows.
Hungry? Chef John Melfi can help with that, be it fresh burrata or Amish chicken saltimbocca. On that note, here's a little factoid to file away: Within about a two hour radius of the metro DMV (DC, Maryland, Virgina) area are a lot of Amish and Mennonite farms. They're an important supplier for the D.C. food scene.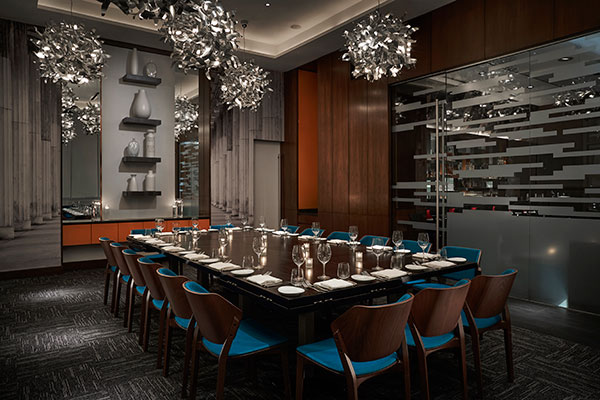 10. Masseria
Neighborhood: Union Market
Capacity: 60
Remember Chef Nicholas Steffanelli from Officina? He's also the culinary maestro behind Masseria. This restaurant takes its cue from Italy's Puglia region. The actual Italian meaning of Masseria refers to the area's centuries-old farmhouses in walled agricultural estates. Choose between distinct dining areas or do a full takeover for 60 seated/100 standing for a European old-world feel with an industrial edge.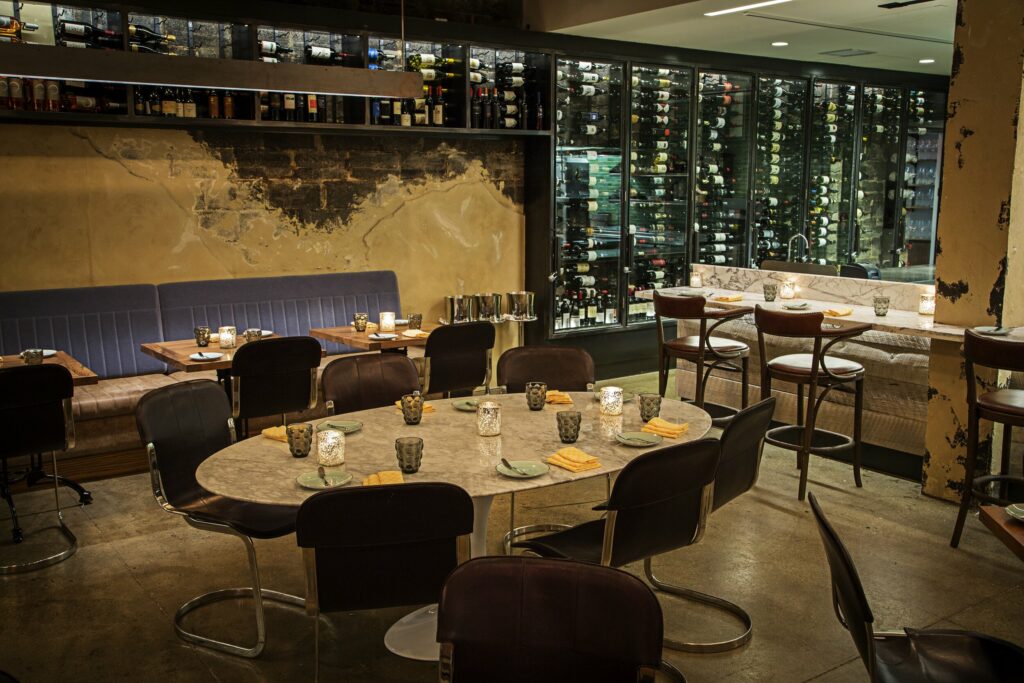 11. BLT Steak
Neighborhood: Downtown
Capacity: Contact for more info
BLT Steak is a highly-regarded international chain but keeps its focus on an American interpretation of the steakhouse. You're spoilt for views at this downtown location with the White House, the Washington Monument, and the Jefferson Memorial providing the vista. While the private dining room can seat 33 or make room for 50 standing, the roof is technically on offer for parties up to 400.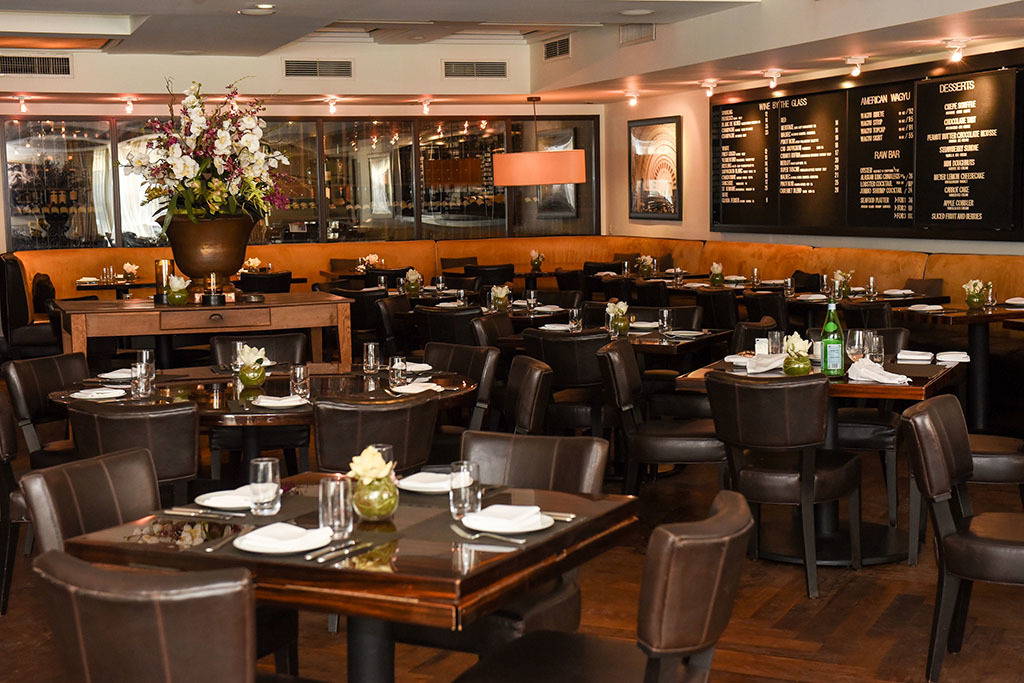 12. Fiola Mare
Neighborhood: Georgetown
Capacity: 36
Head to the marina area in Georgetown for Potomac River views and tasty Italian-themed seafood dishes at Fiola Mare. D.C.-based Italian chef and restaurateur Fabio Trabocchi has created a pescatarian-friendly menu with the best crudos, pastas, salads, and their signature "Carello del Pesce," a seafood cart with the daily best catch from Italy and beyond. There are plenty of private and semi-private options here, including an option for 36 seated at The Marea Room. Hosting a larger affair? Try a full buyout for 150 seated/300 standing.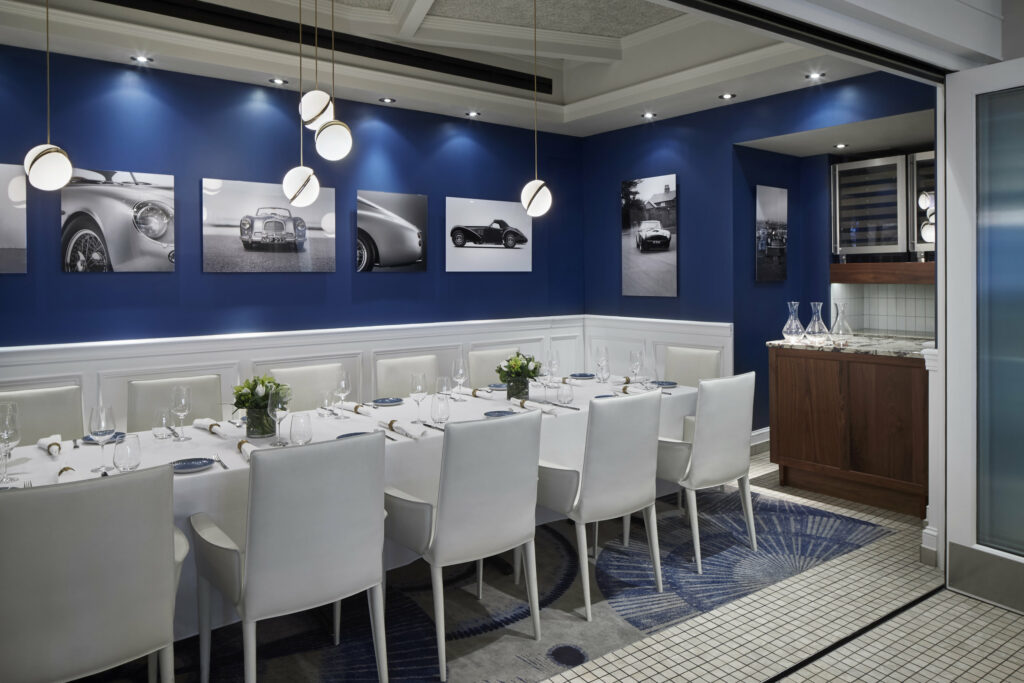 13. Old Ebbitt Grill
Neighborhood: Downtown
Capacity: 50
It truly doesn't get more D.C. than Old Ebbitt Grill. While it has been through different incarnations, this historic bar and restaurant was first established in 1856 and has been entwined with the city's history since.
Quite literally next door to the White House, this has been the go-to after hours watering hole slash restaurant for government workers since before the Civil War. Presidents Ulysses S. Grant, Andrew Johnson, Grover Cleveland, Theodore Roosevelt, and Warren Harding have all supposedly talked shop over a drink at the bar here.
Each table used to have a card that read, "Many other famous statesmen, naval and military heroes, too numerous to mention here, have been guests of the house." It even got a shoutout in The West Wing. While Washington has experienced a restaurant explosion over the last 20 years this spot remains a food-and-drink classic and a constant through the passage of time. Size-wise it's a big place so there are lots of semi-private and private areas to choose from including the Cabinet Room which seats up to 50 guests.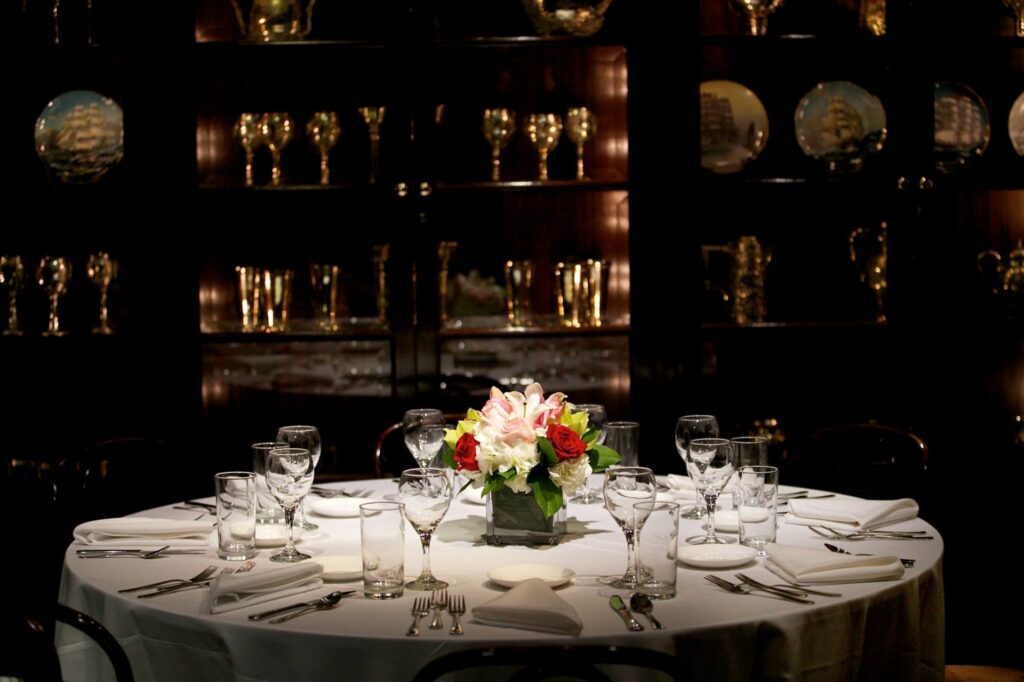 14. DBGB Kitchen and Bar
Neighborhood: City Center
Capacity: 22
If you're looking for a Washington D.C. private dining room, the Salon Rouge ("Red Living Room" for you non-Francophiles) at the DBGB Kitchen and Bar is a solid destination. The restaurant's name is a tribute to the iconic punk-rock venue CBGB in New York. At this Chef Daniel Boulud (as in THE Daniel Boulud) restaurant, French cooking technique meets casual American fare for meals like local crab taglioli or, of course, steak frites. Seat 22 or invite 40 reception style.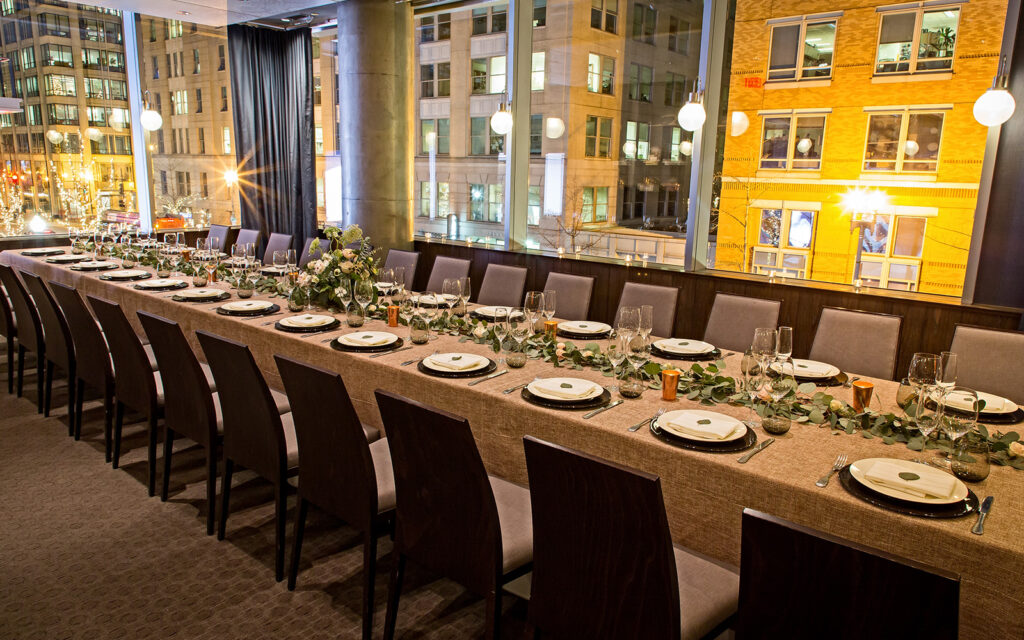 15. Charlie Palmer
Neighborhood: Downtown
Capacity: 300
At the heart of Charlie Palmer's eponymous restaurant collective is an approach to food inspired by his childhood in upstate New York where he worked in his family's vegetable garden. He was an early advocate for the farm over factory food movement, and his locations across the country reflect this principle. The Charlie Palmer D.C. location is a stone's throw from the Capitol Building and serves up artisan beef cuts, locally sourced seafood, and more. Semi-private and private dining options are available, including the Chef's Room which seats 24 or the Alcove which seats 63. For the record you can have a 'small' get-together for 500 on the roof with views over the National Mall.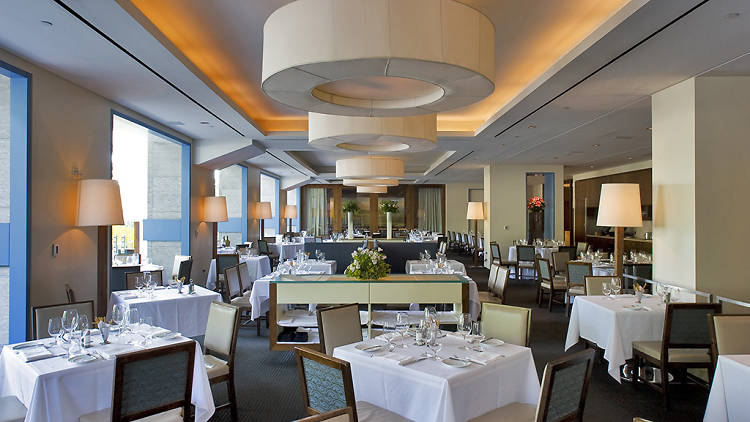 16. Café Riggs
Neighborhood: Penn Quarter
Capacity: 20
Café Riggs reflects the best of European brasseries with its vibrant atmosphere . The restaurant is located in the Riggs Hotel, né the Riggs National Bank building. Given its architectural origins you get a grand, polished aesthetic with an ornate ceiling and original marble Corinthian columns. There's a semi-private area for seated dinners and receptions up to 20, or a private room for a 16-person seated dinner. Before your event, sidle up to the impressive bar for a tipple inspired by early 20th century cocktails and wines.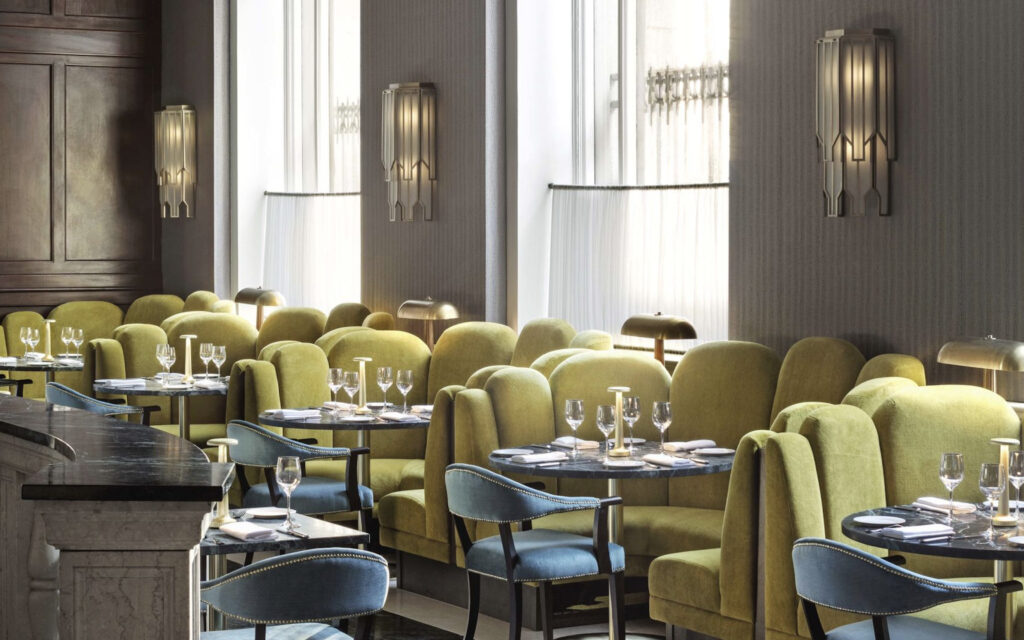 17. District Kitchen
Neighborhood: Woodley Park
Capacity: 90
Down the street from the National Zoo, District Kitchen can treat a dinner party to an appetizing New American meal. Exposed brick and elegant Edison-style pendant lighting gives it an appealing aesthetic and a casual but chic neighborhood atmosphere. The gastronomic approach is a focus on the Mid-Atlantic's best naturally raised and local ingredients, topped off with a draft beer, handcrafted cocktail, or a memorable bottle of wine. The private dining room experience can accommodate 90 seated and 100 standing guests.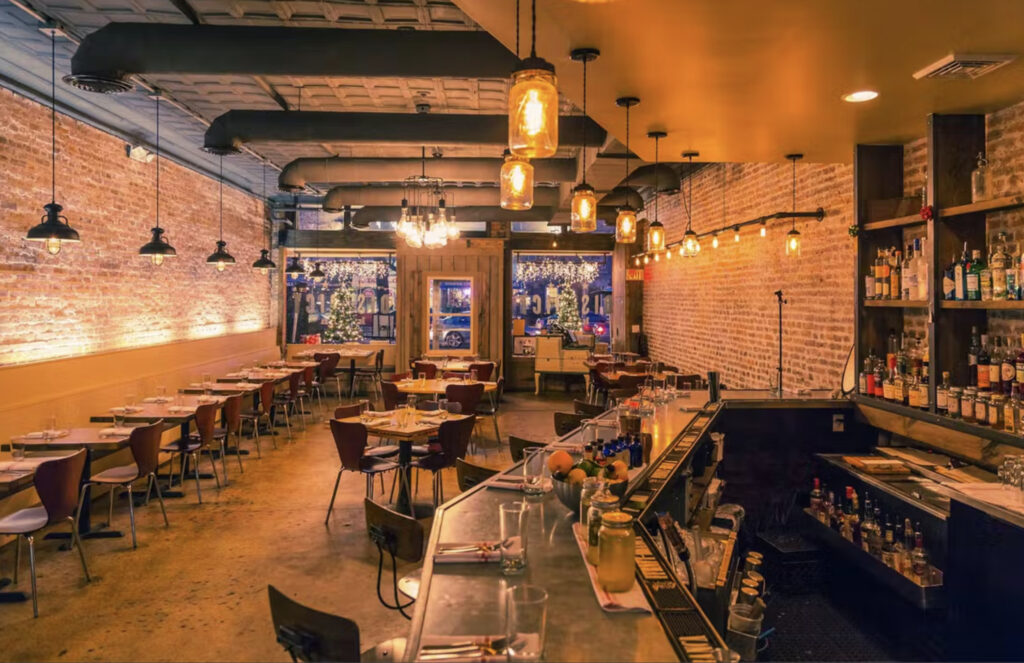 18. Ocean Prime
Neighborhood: Downtown
Capacity: 48
As its name suggests, seafood and steak is on the menu at Ocean Prime. This eatery is part of the acclaimed Cameron Mitchell Restaurants Group, and takes surf and turf to a deluxe level.
Ocean Prime is practically across the street from Old Ebbitt Grill, so politicians, lobbyists, and lawyers are known to take advantage of its location in the epicenter of the city's moving and shaking. The next business dinner/event you plan could happen in The Chevy Chase Room, The Georgetown Room, Arlington Room 1, Arlington Room 2, or a combo of the two Arlingtons for 48.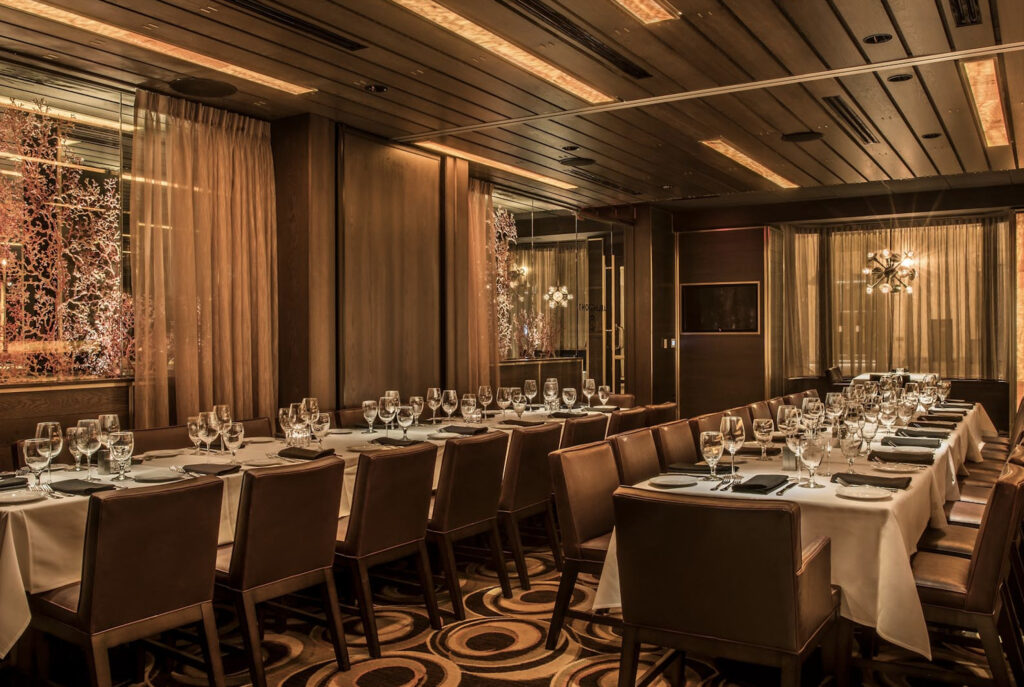 19. Lincoln
Neighborhood: Downtown
Capacity: Contact for more info
It's hard not to find something with a presidential name in D.C., but one place takes a really unique approach with its tribute. Lincoln restaurant is all about the enduring legacy of Honest Abe. Some of his favorite tastes are reflected on the menu, including chicken pot pie, oysters, and gingerbread.
Mason jars may hang from the ceiling but you can also use one to drink an infused bourbon or you can try moonshine (yes, moonshine) in an antique-style copper cup. Native Washingtonian pop artist Maggie O'Neill rose to the occasion with her colorful portraits of the 16th president and other Lincoln-themed designs. Even the bathrooms are a visual experience.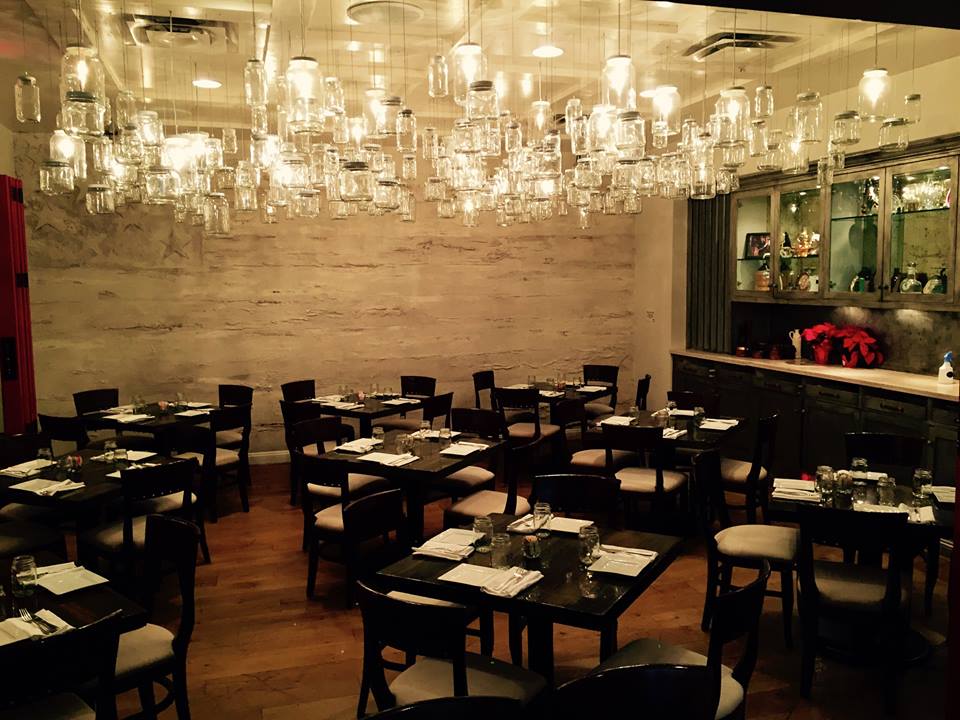 Why Finding the Right Space is Crucial for Your Event
Choosing the right space is always important when it comes to events, but unless you're going really large, a private dining gathering will have a more intimate feel. It's as much about atmosphere as it is the menu, so when possible do your scouting in person and reward yourself with a drink at the bar. All in the name of research, of course.
What Types of Events are Best Suited for a Private Dining Room
When it comes to hosting unforgettable events in the heart of the nation's capital, Washington, D.C., private dining rooms offer a plethora of possibilities to cater to every occasion. From elegant corporate gatherings and networking mixers to intimate celebrations and milestone parties, these exclusive spaces provide the ideal backdrop for any event. Picture hosting a sophisticated business luncheon amidst the political buzz, with historic landmarks just a glance away. Whether it's a formal dinner with distinguished guests or a relaxed family reunion, Washington, D.C.'s private dining rooms embody versatility, ensuring that your event becomes an unparalleled experience woven with the city's rich heritage and contemporary charm.
What to Look for When Booking Private Dining Room
Headcount is obviously important, as is location, and, of course, budget. However, also keep an eye out for the little things like what seating configuration will look like. If you're opting for semi-private over your own room, what are the acoustics going to be like? Do you know you have vegetarians/vegans in the group? Will the menu accommodate a variety of diets? It's in the details.
Find Private Dining Rooms in Washington D.C.
The Vendry has been lucky to help bring a variety of private dining events of all sizes to fruition across the country and would be delighted to help get the process started for you in D.C. 's thriving restaurant scene. As Albert Einstein said, "An empty stomach is not a good political advisor." Get started sourcing a private dining room today.
Read More:
The Best Private Dining Rooms in NYC
The Best Private Dining Rooms in Miami
The Best Private Dining Rooms in Los Angeles