Article Updated 8/28/23

Gatherings are calling and San Francisco is here to answer. As milestone celebrations, company happy hours, new product rollouts, and corporate outings roar (carefully) back onto the scene, there's plenty of spots in the Golden City to host your private event.
Featured on Flok's 20 Best Corporate Retreat Destinations, San Francisco serves as the perfect city for your next small or large group event. From parties of five to 75, this city is stacked with exclusive private event spaces to rent. From Union Square to Fisherman's Wharf, there is something for everyone. Pick your size, your vibe, and your budget, and a private dining room in San Francisco will be all yours.
Finding an inviting space for your guests, coworkers, or clients in San Francisco can be easy to come by if you know where to start. The Vendry has put together some of the best private dining rooms in San Francisco when it comes time for your next important event.
When Should you Consider Booking a Private Dining Room?
Does your next event merit a private dining space in San Francisco? Listing the needs of your event is the best place to start. You'll get your answer of whether a private event space is for you by asking these questions:
How many guests and what is their personality as a group? While this seems like a no-brainer, the size of your group will help you land on whether a private dining room will suit your needs. Additionally, your guests have a disposition all their own.
When determining your private dining room options, you'll have to assess if your crowd will want to retire after the evening is over, or slip down to the nightclub to keep the party going.
What is my budget? Again, another question that seems obvious, but really looking closely at all the costs of your overall event is always wise. If your budget doesn't allow for rentals or a caterer, maybe a blank canvas-type venue won't make sense for your event.
Where your event is hosted is likely your biggest ticket item. In order to make your guests feel special, really look at putting your money into what matters the most.
How private (or quiet) do I need my event? If your daytime team building event has four presentations and three breakout sessions on the menu, you might want to choose a private space that is on the quieter side. On the other hand, a buzzy restaurant in the heart of the city should suit your Friday happy hour networking event perfectly.
Can my event include an indoor/outdoor element? When booking a private dining room in San Francisco, look carefully at the season when your event will land. Typically, the city has very mild weather, but you don't want to book a venue that's entirely outdoors during the rainy season (especially if the restaurant doesn't offer a contingency plan). Many venues now offer that cool, Northern California element of open floor plans, welcoming in the outdoors. Just make sure your seasonal timing is right.
What tech capabilities do I need? If you are hosting 50 employees during a training session and everyone needs Wi-Fi, make sure that your venue has the bandwidth. Planning for several screens? Carefully examine the private dining room's outlet situation.
Making certain tech needs are met affects both your budget and peace of mind. If those options are not available in the space, you can always hire an AV and Production company to help with the technical aspects of your event.
The Top Private Dining Rooms in San Francisco Perfect for Your Next Event
Below are some private dining options in San Francisco sure to wow your crowd, from clients to coworkers to customers. Make your event one they'll be sure to talk about with these choices in and around San Francisco.
1. Aphotic
Neighborhood: South of Market
Capacity: 22
If you're looking for an exceptional venue for a private dinner in San Francisco, look no further than Aphotic. Aphotic came into existence driven by a clear need. Chef Peter Hemsley's mission was to create a seafood dining experience that prioritizes transparency and traceability. The goal was simple: to offer guests the highest quality seafood, combined with a captivating and innovative culinary approach. Their exclusive private dining room, The Driftwood Room, offers an intimate and inviting space that encompasses creative aspects of the Bay Area coastal culture. The Driftwood Room can seat up to 22 guests. As a fully private room with an independent entrance, the space is perfect for groups looking for intimacy and discretion.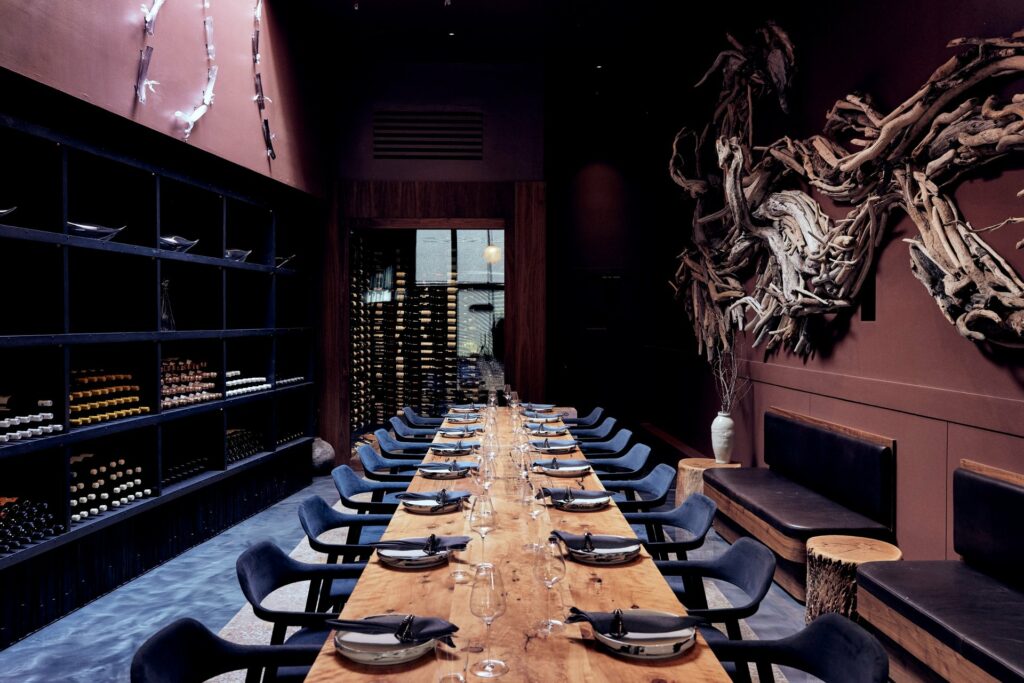 2. The Cavalier
Neighborhood: South of Market
Capacity: 50
Hotel Zetta is home to The Cavalier, an unabashedly British brasserie of the coolest sort. Bold colors and leathery, tufted banquettes await, as this place makes every chap and lass who steps in feel like part of the monarchy.
When it comes to private dining for your clientele or a special anniversary dinner, their options are as vast as their classic menu. The real standout is Marianne's, set behind the main restaurant. The space was once an invite-only salon, and boasts its own backdoor entrance, twinkling candlelight, and private bar. Book Marianne's for a seated dinner of up to 20 guests, or 50 guests standing.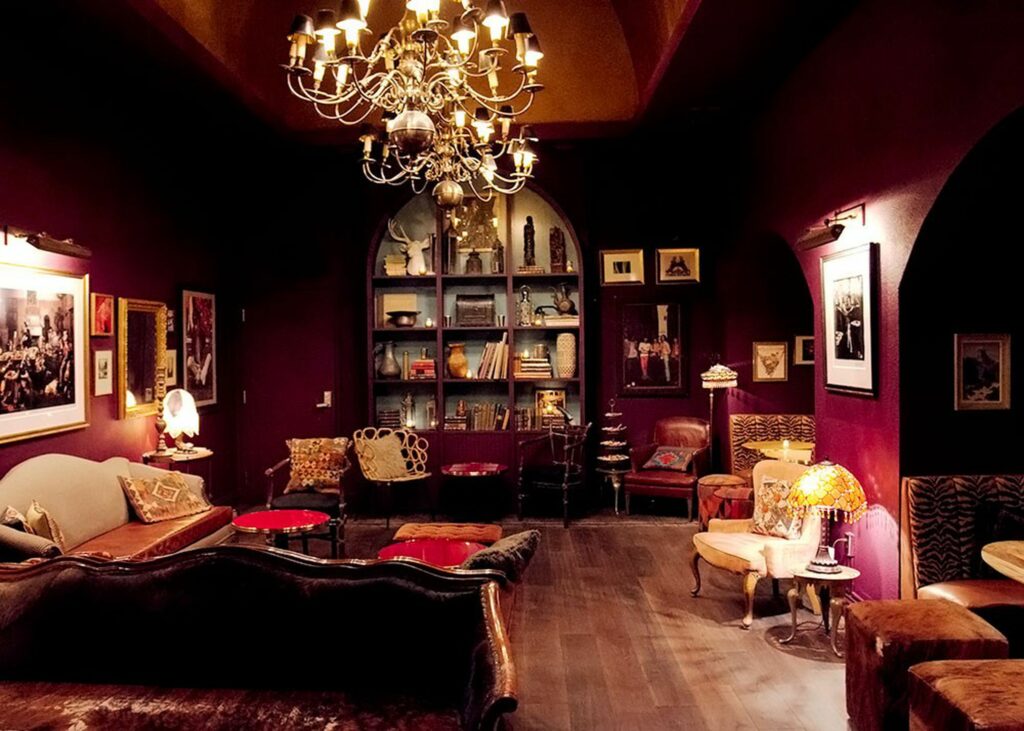 3. Penny Roma
Neighborhood: Mission
Capacity: 70
Penny Roma brings traditional, shared Italian dining to San Francisco's Mission District. Dimly lit with a California cool indoor/outdoor swagger, Penny Roma offers a few different choices for private dining. The Upstairs is available for parties up to 32 seated, where guests will be treated to a chef's choice tasting menu priced at $125 per person. Forty-five standing guests could also utilize
Co-Chefs Ryan Pollnow and Thomas McNaughton of the Flour+Water Hospitality Group designed Penny Roma with a full restaurant buyout in mind, as your guests can take over both the dining room and airy courtyard starting at $20,000 for a 70-person seated affair.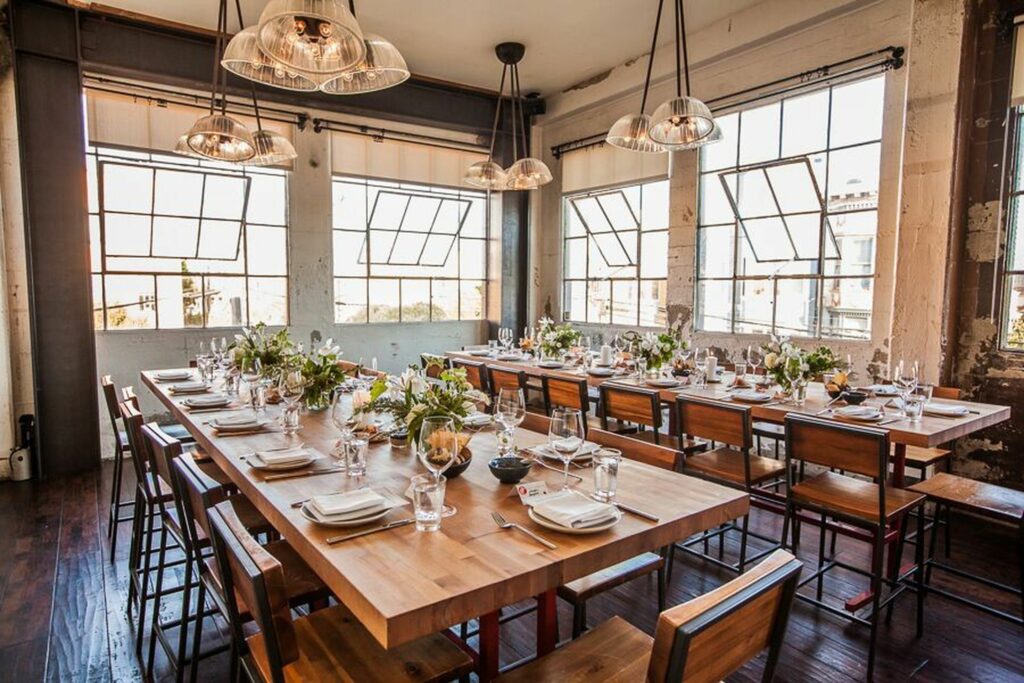 4. La Mar Cebicheria Peruana
Neighborhood: Northern Waterfront
Capacity: 100
If you seek lots of private dining options, look no further than La Mar Cebicheria Peruana, located on Pier 1 ½ on the popular Embarcadero. Peruvian food – a variety of ethnic backgrounds mixed together to make a delightful cuisine – is the true star of this waterfront hotspot. The Chef's Table, or Meson del Chef, is the restaurant's semi-private option, which seats up to 22 guests. Your VIPs can take in beautiful views of the San Francisco Bay while enjoying the carefully curated chef's tasting menu. Or perhaps you are hosting a corporate happy hour.
Consider the colorful Cebiche Lounge near the main entrance that can serve up to 70 guests, or the Lobby Bar overlooking downtown San Francisco, accommodating 80. The totally private City Room once served as the ticket office to the piers serving the bay, but now can host seated dinner for 50, or a cocktail event for 80. If you want to take things outside, the patio can accomodate 100 seated guests.
This space graciously lends itself for business meetings, as it has full audio/visual capabilities, as well as its own powder room, private entrance, and coat check. The final option is La Mar's Patio located directly on the waterfront, complete with remarkable sunset views. It's a fully customizable space, complete with a satellite bar, high top tables, or lounge furniture for cocktail parties. And should the rainclouds roll in, the Patio can be fully enclosed and heated in minutes.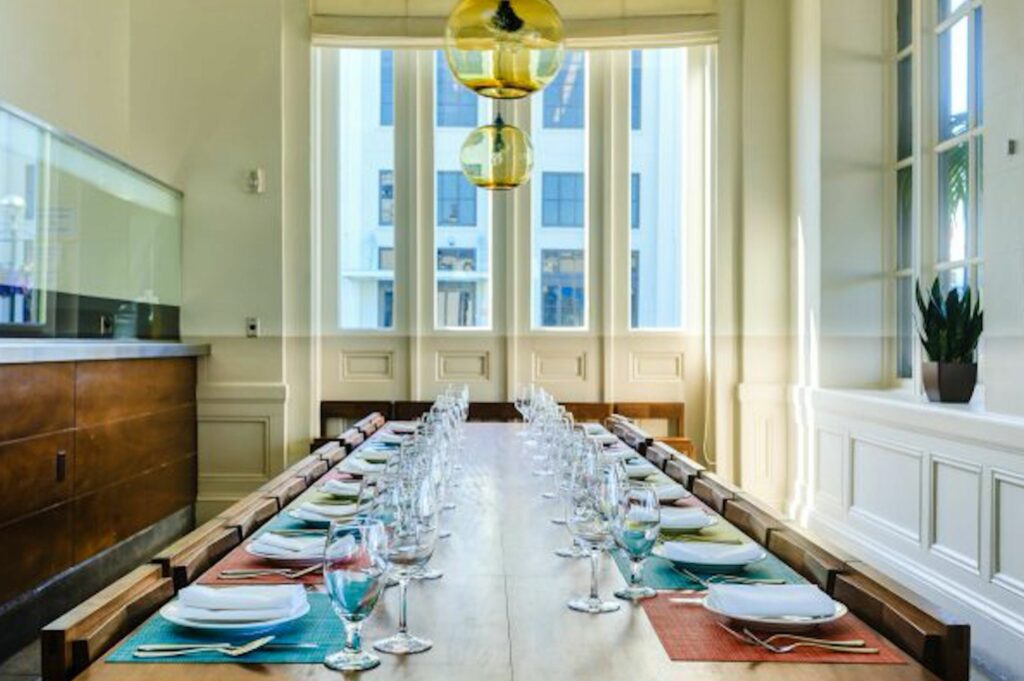 5. Che Fico
Neighborhood: Alamo Square
Capacity: 22
Focusing on Italian cuisine through the lens of California, Che Fico is warm, delicious, and a great place to host a private dinner in San Francisco's NoPa neighborhood. The Celentano Room is a secluded private room, colored with mixed-print tiles and album covers of the Italian crooner the space is named after. Choose what to feed your 14 guests from an array of seasonal menus that feature head Executive Chef Dave Nayfield's handmade pasta, pizzas, antipasti, house-made salumi, meat, and fish. Hosting a few more? The Familga table can accommodate up to 22 seated while a full restaurant buyout can host up to 75 seated.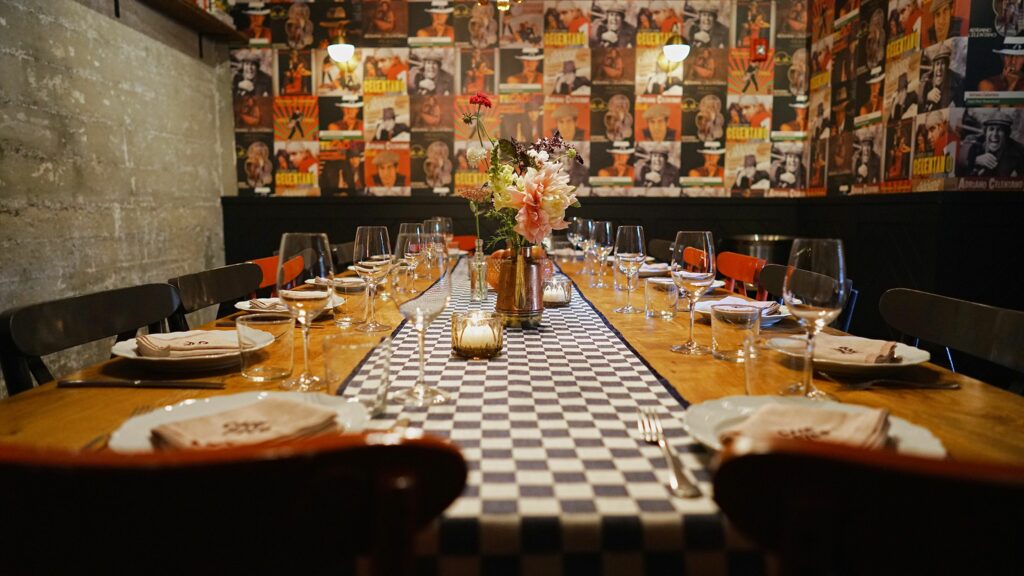 Don't forget décor! Browse the best Floral and Design companies in San Francisco to give your event that finishing touch it deserves.
6. 54 Mint Ristorante Italiano
Neighborhood: Alamo Square
Capacity: 50
Tucked into historic Mint Plaza, 54 Mint brings true Italian hospitality to San Francisco's South of Market. A true trattoria, this gathering spot reflects the ownership's deep heritage by celebrating the local, the sustainable, and the thoughtful.
Host your private birthday celebration, anniversary party, or private dinner in two spots here: the Wine Cellar or the Main Room & Bar. Secluded and charming, the Wine Cellar can be booked exclusively for 38 guests seated, or semi-privately for 24 or less. The entire eatery can be rented out, with seating for 50, or a standing reception for 75.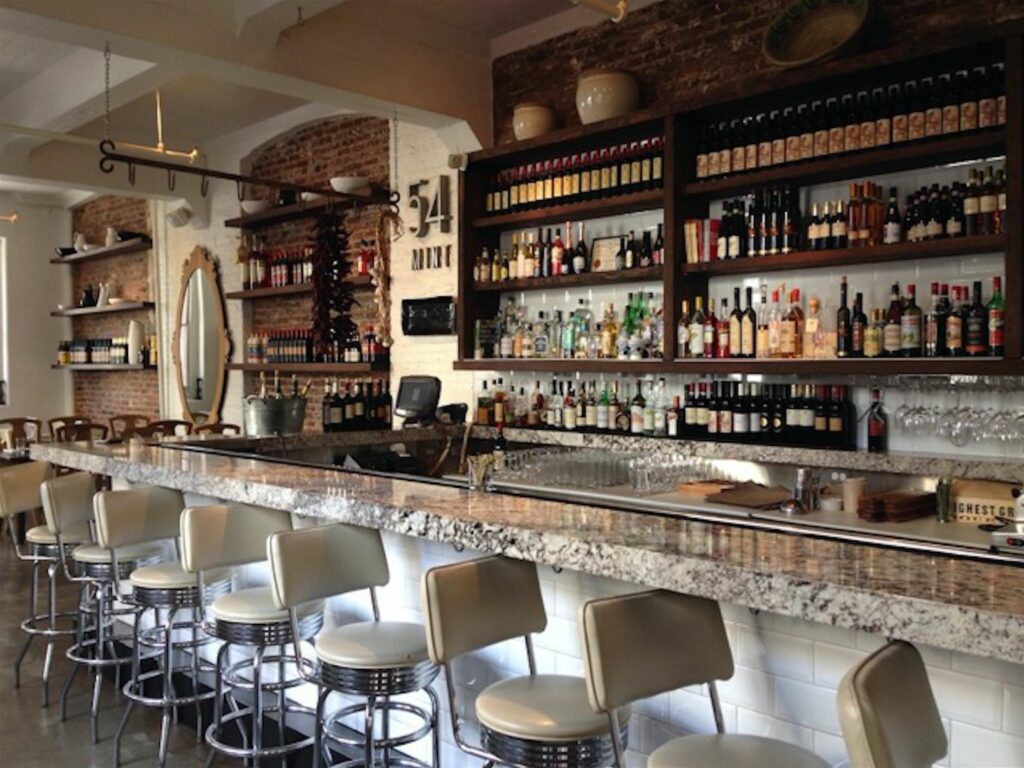 Make your event a sky-high affair! Browse San Francisco's top rooftop bars for your next event.
7. Marlowe
Neighborhood: South of Market
Capacity: 18
The SoMa District is home to Marlowe, a New American bistro bursting with charm and wherewithal. There's Poulet vert and Deviled eggs on the menu, but the real crowd pleaser is the Marlowe Burger with fries.
Marlowe's décor celebrates butcher shops of the past, with marble, subway tiles, and woodblock tables. Equally as charming is The Patio, Marlowe's private dining option that can accommodate 18 for a seated event, weather-proof and worry-free. If your event calls for it, consider renting the entire restaurant, which can seat 75 guests.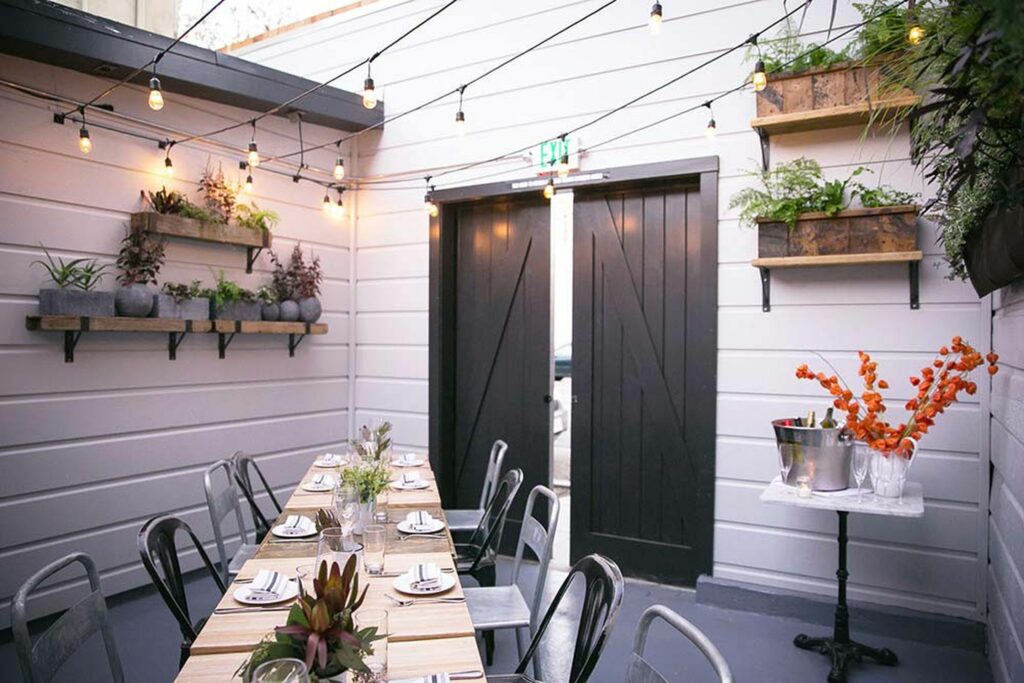 8. Harborview Restaurant + Bar
Neighborhood: Financial District
Capacity: 50
Elevated above the Embarcadero sits Harborview, serving authentic Cantonese Chinese cuisine to discerning San Francisco dwellers since 2018. Led by restauranteur K. Wong, guests flock here for steamy tea, dim sum, and Peking duck by the droves. The restaurant welcomes private parties, with several options from which to choose.
The Hong Kong room seats 26 or standing 32, and has remarkable views of the Ferry Building and Bay Bridge (and even has optional Karaoke if you want to turn up your event a notch). The Patio can accommodate 150 seated, but many prefer this spot for an afterwork or fundraiser cocktail event. Here, guests can enjoy beautiful views, festive drinks, and passed hors d'oeuvres or food stations, making for the ultimate private dining experience.
The Asia Room is an interior room that seats 50, making it perfect for privacy. Lastly, many like the large windows and lighting in the Bar & Lounge, which seats 100 or 200 standing.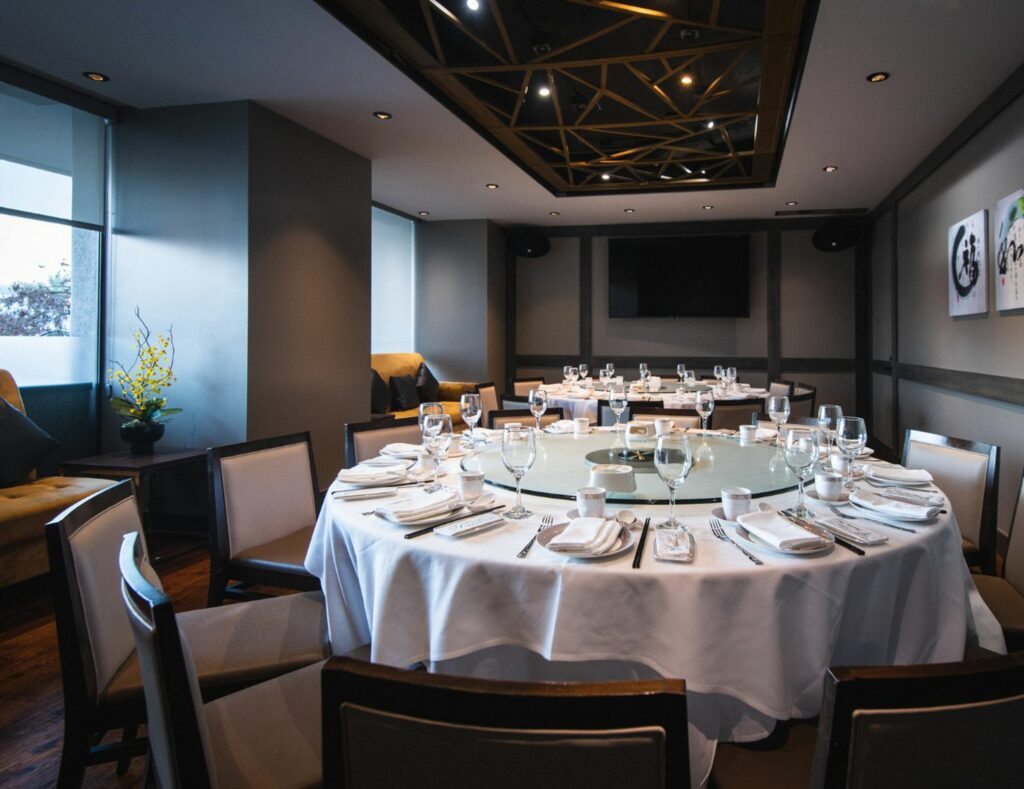 9. Credo
Neighborhood: Financial District
Capacity: 45
Latin for "I believe", the team at Credo believes that good food and good company goes hand-in-hand. A very hospitable Italian eatery, the walls of the main restaurant are playfully covered with 15 art panels, all featuring quotations from historic figures beginning with "I believe…". Another entity Credo believes in is their commitment to elegant private dining, as the options here are plentiful.
In addition to full and partial restaurant buyouts, there's the semi-private Chef's table located next to the open kitchen. This is a great option for a dinner for eight, along the lines of a company sit-down or milestone birthday.
It can be argued that The Archive, Credo's totally private downstairs dining room, is the real standout. The sleek, clean space is an excellent spot to host a business event, as it is equipped with a full bar, as wells as speakers, a mixer, a wireless microphone, screen, and projector. The Archive seats 45 guests, or 75 standing.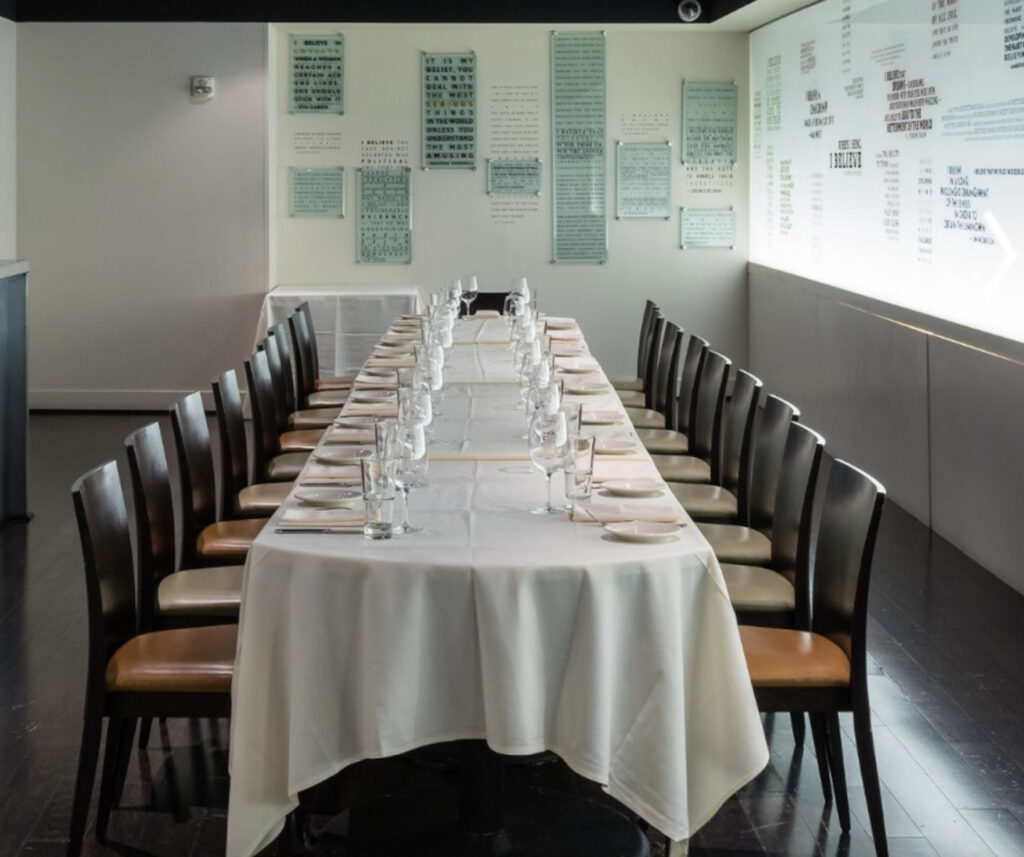 10. Mourad
Neighborhood: South of Market
Capacity: 40
A Michelin Star-rated stunner in the SoMa District, Mourad is a modern interpretation of the vibrant flavors of Morocco. One pass through the main dining room with its long, taper candles makes you realize you are some place special. Mourad treats its private diners no different – the options for your event are abundant.
The Boardroom with its exposed brick and colorful floor tile seats 20, and provides total privacy and complete audio/visual capabilities. If a semi-private choice suits your party, consider the 10-seat Alcove, which is tucked to the side of the downstairs dining room, vibing off the energy of the restaurant. The Mezzanine overlooking the kitchen is Mourad's largest room, and is an elegant choice to seat up to 40 guests at one long table. Or, if you're looking to host a larger affair a full venue buyout can accommodate 100 seated or 300 standing.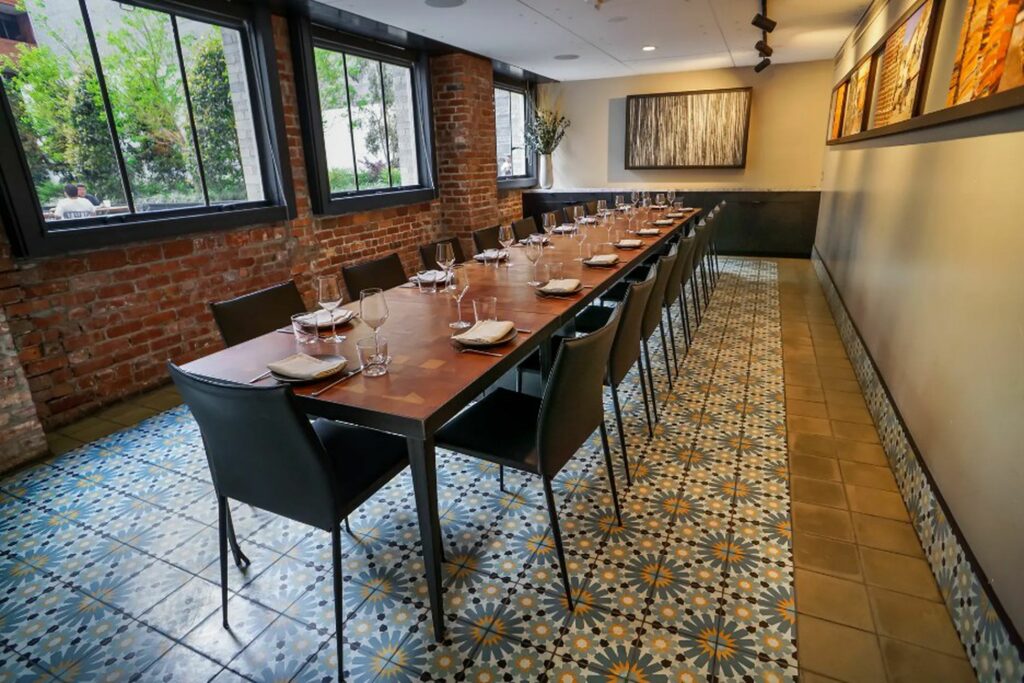 11. 25 Lusk
Neighborhood: South of Market
Capacity: 35
Now this is a vibe. Urban and sexy, it doesn't take long to see why Esquire named 25 Lusk the "Best New Architectural Restaurant in the Country". The tri-level restaurant has been a mainstay on the San Francisco culinary scene since 2010, perfectly finding that harmonious balance of unpretentious and unique. When it comes to hosting your corporate dinner, meeting, or celebration, 25 Lusk brings a lot to the table.
Seating 35 guests, or 40 for a cocktail reception, their private dining room is truly an exclusive space, perfect for business meetings or a special dinner. There's wireless internet, an LCD projector, a dropdown screen, VGA and HDMI connectivity, and even cable television. Work with the knowledgeable staff to curate a delicious menu special to your event, paired with simply awesome crafted cocktails.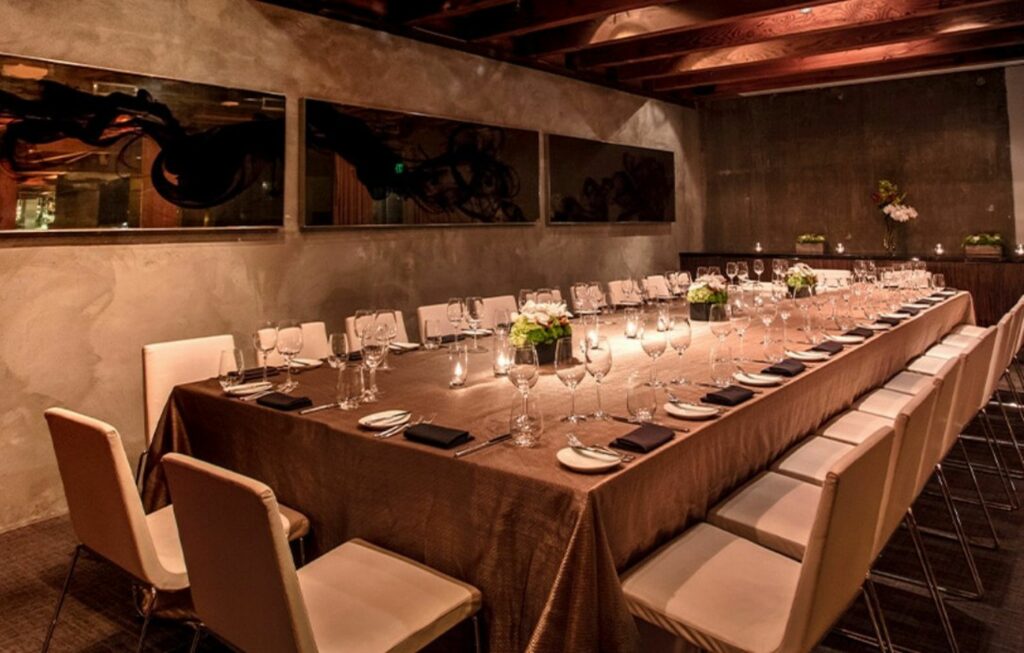 What to Look for When Booking a Private Dining Room?
Booking a private space in a restaurant in San Francisco can be simple if you know what to look for. Examine your event's needs, and work backward. Consider these elements to reach your conclusions:
Room capacity size – Firm up the guest list. Educate yourself on your venue's capabilities should your crowd size grow or shrink.
Cuisine and service capabilities of the restaurant – Naturally, deciding what your guests would like to eat is important, but also consider what service the venue can give you. Sadly, the service industry has been hit hard form the pandemic, so iron out the waitstaff assigned to your event beforehand.
Aesthetics – The feel of the restaurant or space will determine your guests' experience. A lunch or business dinner that's too loud, too crowded, or too hard to find will stay with your guests.
Cost – The room you book will likely be your biggest expense. And make sure to budget for gratuity!
San Francisco is a smart city, and it throws smart events. Get to know your options with The Vendry's full array of locations, and their easy-to-use functionality for proposals and booking.
Read More:
The Best Rooftop Venues in San Francisco
The Best Private Dining Rooms in NYC
The Best Private Dining Rooms in Miami
Headed to San Francisco for your next event? Browse the top venues, vendors, and much more!