Article updated 7/28/23

When your next corporate outing, conference, or meeting finds itself in the Windy City, it might be time to look past the usual suspects when it comes to venues. You will have options when planning an event in Chicago, as the city is full of spectacular and unique venues. Chicago is home to a bustling international airport, hundreds of hotels, historic architecture, and amazing sports teams, so why not select a spot that's as unique as this great city? With dime-a-dozen ballrooms all over the city, here's a list of 15 out-of-the-box ideas for unique event venues in Chicago, sure to deliver unforgettable experiences.
15 Unique Venues in Chicago
Unique venues in Chicago are easy to uncover when you know where to look. The Vendry has put together some of the city's most distinct locales to host your next corporate get-together, conference, product launch, award ceremony, or meeting.
1. The Ivy Room
Neighborhood: River North
Capacity: 200
Delivered by the renowned professionals of Lettuce Entertain You is The Ivy Room, a blank space that can be dressed up for day or night, deep in the heart of River North. This locale has several rooms of which to choose, from the grand to the intimate. After a day of meetings, retreat to the garden under twinkling lights. There's in-house catering, so choose from an innovative menu for all your meeting's needs.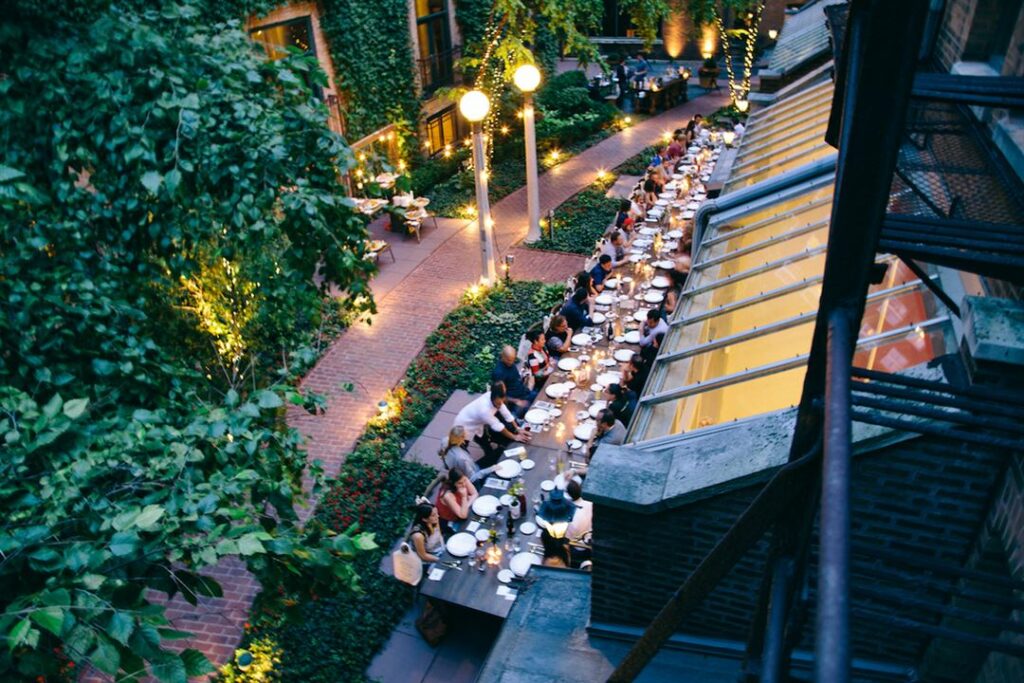 2. Untitled Supper Club
Neighborhood: River North
Capacity: 150
Old school Chicago comes roaring back from the '20s when you step foot in Untitled Supper Club, a standout choice for a unique venues in the city. There are four spaces for corporate events within this hotspot. Invite your guests to belly up to the pink marble bar at The Whiskey Library, which can accommodate 150. The Drawing Room has six Gatsby-esque private cabanas, as well as a champagne bar. Slip behind the 30-foot sliding door of the Cabaret, with its gilded trim and velvet booths, or invite a smaller group to The Backstage, a coveted spot that has a view of the mainstage.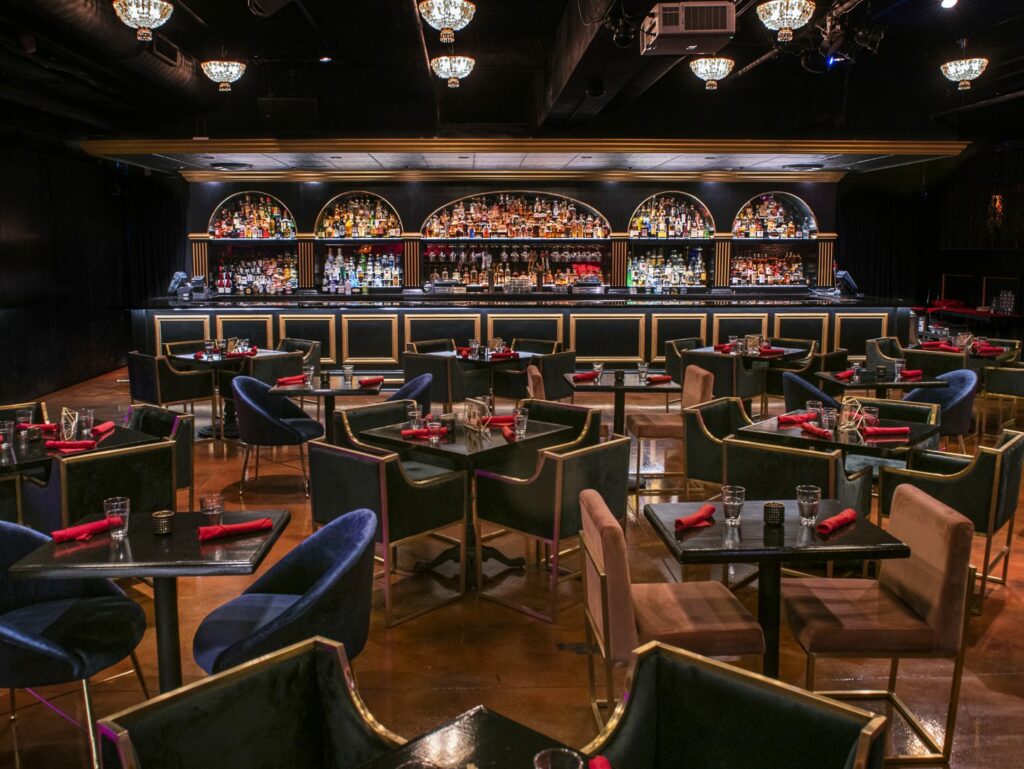 3. SPiN Chicago
Neighborhood: River North
Capacity: 600
SPiN Chicago serves up one of the most unique amenities you'll find on the list – 18,000 square feet of ping pong space. Perfect for a team building event, SPiN keeps your crowd entertained not only with rows and rows of ping pong tables, but with a DJ booth, full-service bar, and a delightful menu of shareable bites. Your event will be given dedicated servers at this social club, including Wimbledon-style ball catchers so play is continuous. No ping pong experience necessary, here. SPiN invites everyone to play, and play they will.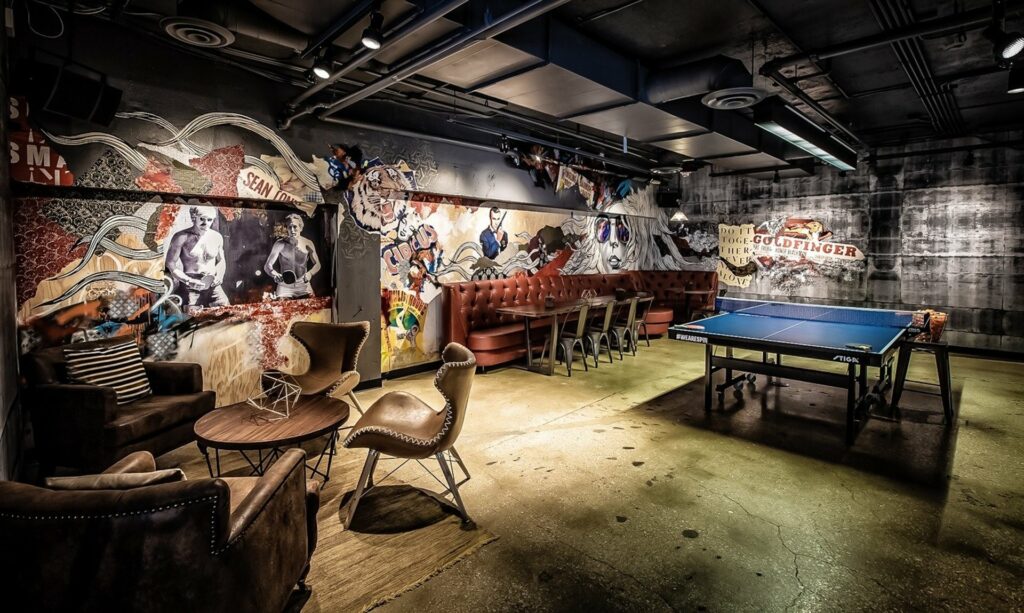 4. Greenhouse Loft
Neighborhood: Logan Square
Capacity: 225
Flooded with natural light, Greenhouse Loft in the trendy Logan Square neighborhood lives up to its name. There's 3,600 square feet of fully customizable space, complete with 16 foot ceilings and floor-to-ceiling glass windows. Adjourn for cocktails in the outdoor "skygarden". Make use of their in-house farm tables, Tolix chairs, security personnel, and vintage photobooth. And his spot puts an emphasis on reducing, reusing, and recycling, as they are one of the city's most sustainable venues.
5. Ovation
Neighborhood: Near West Side
Capacity: 250
It's time to stand up and give a round of applause for Ovation, just outside of the hustle of the West Loop. A former foundry, this industrial loft space is a quick-change artist: Monday through Friday, it's a workspace to creatives and designers, and through the weekend, is an active, sophisticated event venue. A sibling to Greenhouse Loft, Ovation is managed by a well-oiled machine of experienced event specialists. There's an in-house DJ, a VOID tri-motion sound system, and even access to a priceless Steinway should you have plans to tickle the ivories. If you are looking to make an impression with your team, make use of Ovation's 1959 Rolls Royce Silver Cloud, because every event needs a little class.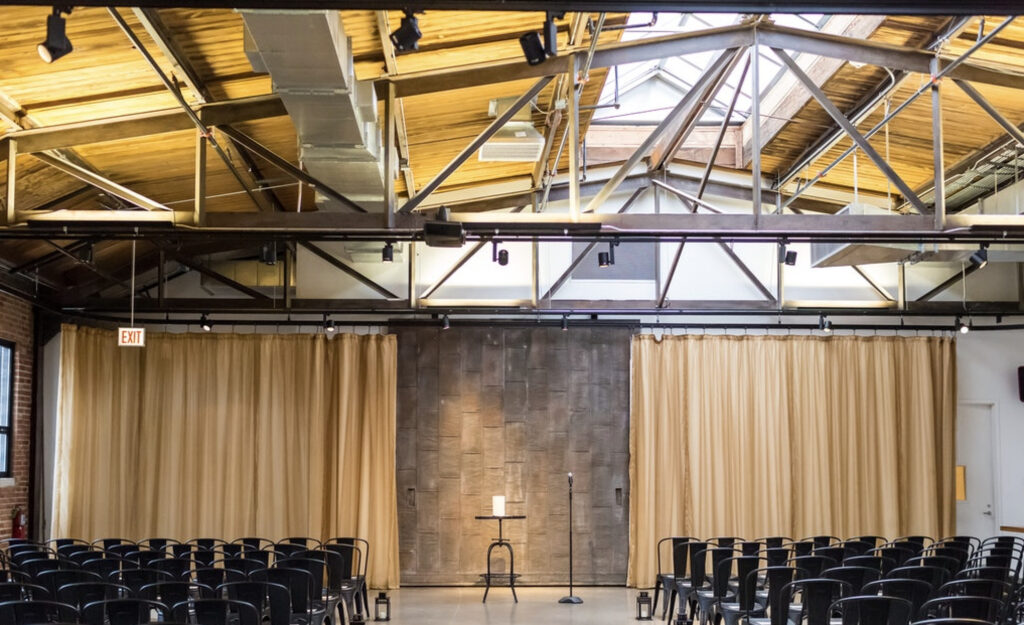 Drinks with a view > drinks without a view. Browse the most beautiful rooftop venues in Chicago.
6. City Winery Chicago
Neighborhood: West Loop
Capacity: 300
Appropriately deemed an "urban wine country" experience, City Winery Chicago is a great way to mix up the staid meeting space for your next corporate outing. The possibilities are endless here, as you can plan for a corporate luncheon or a cocktail-style reception with any size group. This hotspot is not only a winery, but a music venue, restaurant, bar, patio, and tasting room, so pick your poison. Utilize their main venue, which offers the rustic appeal of wine country with a state-of-the-art sound and lighting system, full private bar, private restrooms, and a full stage for presentations. Or scale it down to the Private Barrel Room which seats 32, offering views of the fully functioning winery.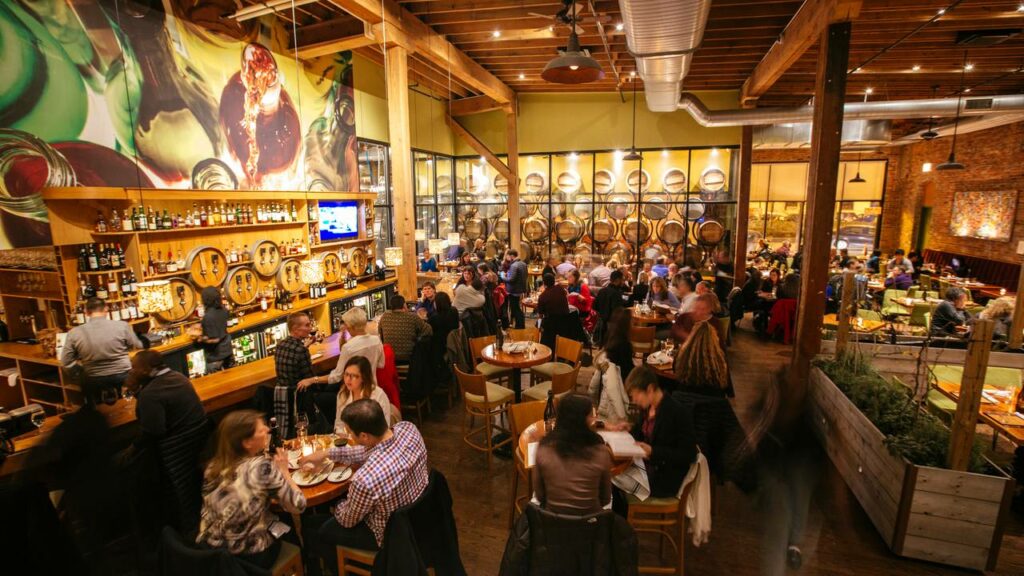 7. Firehouse Chicago
Neighborhood: Edgewater
Capacity: 100
An alarmingly unique locale up on Chicago's north side, Firehouse Chicago is truly unique, with its laidback, effortless style. This historic spot was built for Engine Company 70 in 1906, even before the first brick of Wrigley Field was laid. So if you are looking for a vintage Chicago feel, this is it, with its reclaimed wood bar and glazed brick touches. Firehouse Chicago is smack dab in the middle of a quaint neighborhood (just as a city firehouse should be) as secret garden with lush ivy awaits. The talented staff will help you plan from beginning to end, so be prepared to have a great partner for a successful event. But best of luck keeping your guests off the firepole.
8. Chicago Sports Museum
Neighborhood: Magnificent Mile
Capacity: 700
Chicago is a sports town. So it would only be appropriate for your next corporate outing to be held at a place that honors the likes of Michael Jordan, Ernie Banks, and any player from da Bears. The Chicago Sports Museum in famed Water Tower Place is home to lively corporate outings, with its unique and interactive exhibits. Where else can you learn to throw a curve ball from Cy Young Award Winner Steve Stone? From a full venue buy-out or a wide variety of halls, meeting rooms, and dining spaces, the Chicago Sports Museum is exactly what you think it is: fully-immersed, rollicking, sporty fun.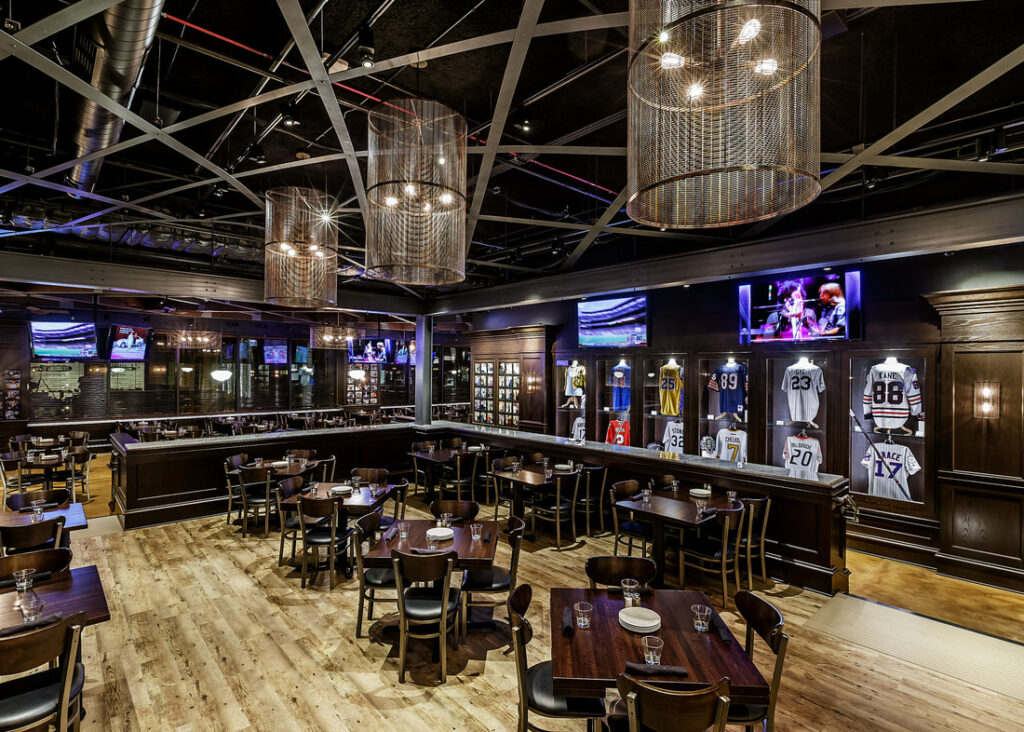 9. Zhou B Art Center
Neighborhood: Bridgeport
Capacity: 1,000
Surround your employees and clients in priceless works of art by contemporary artists in the 28,000 square foot event space of the Zhou B Art Center in historic Bridgeport. Positioned on two levels, Zhou B Art Center transitions into any kind of venue you want it to be. Natural light abounds in the Moongate space, while the Spirit Space features sliding doors that allow for privacy. Upstairs, enjoy the large expanse of the Group Dance space, then retreat to the outdoor splendors of the Life's Garden koi pond. Widely respected LM Catering offers customizable menus personal to your affair.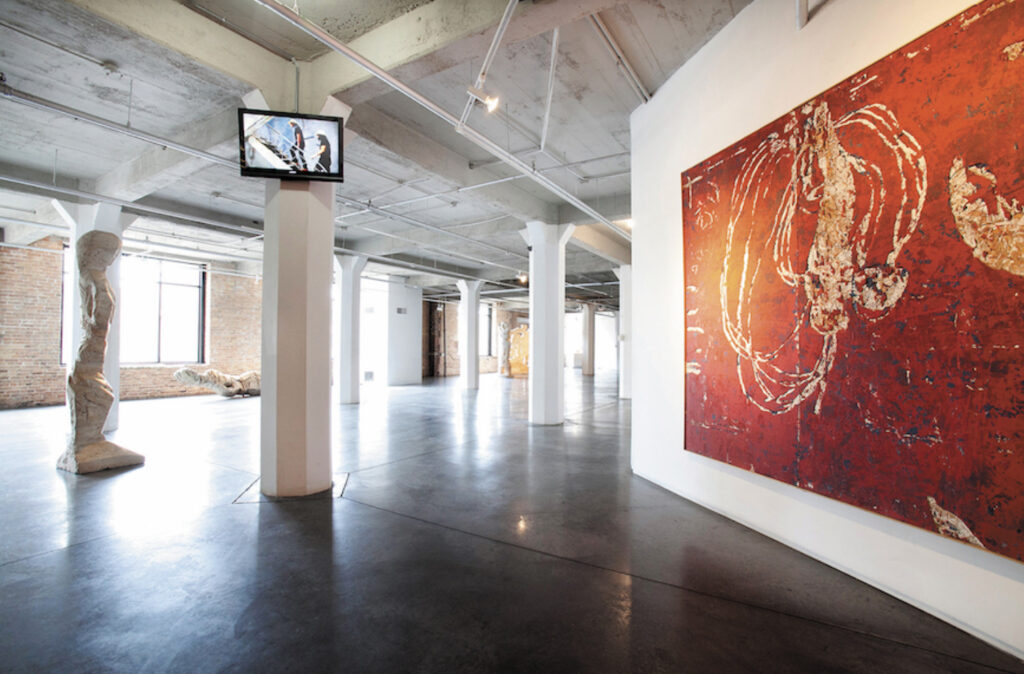 10. The Museum of Science + Industry
Neighborhood: Hyde Park
Capacity: 5,500
Looking for unique? How about hosting your corporate event in the only remaining structure from the 1893 World's Fair? The Museum of Science + Industry (MSI) is not only unique to Chicago, it's a treasure to the nation. There is a whopping 400,000 square feet of event space from which to choose, all at your disposal for corporate outings, award dinners, or daytime conferences. Choose from the spacious Rotunda or the outdoor South Portico, right down to hosting up to 700 in a World War II German U-505 Submarine. Or select the totally private Smart Home on the museum's campus, featuring an intimate setting for 100 right in the middle of the city. The MSI truly has hosting events down to a science.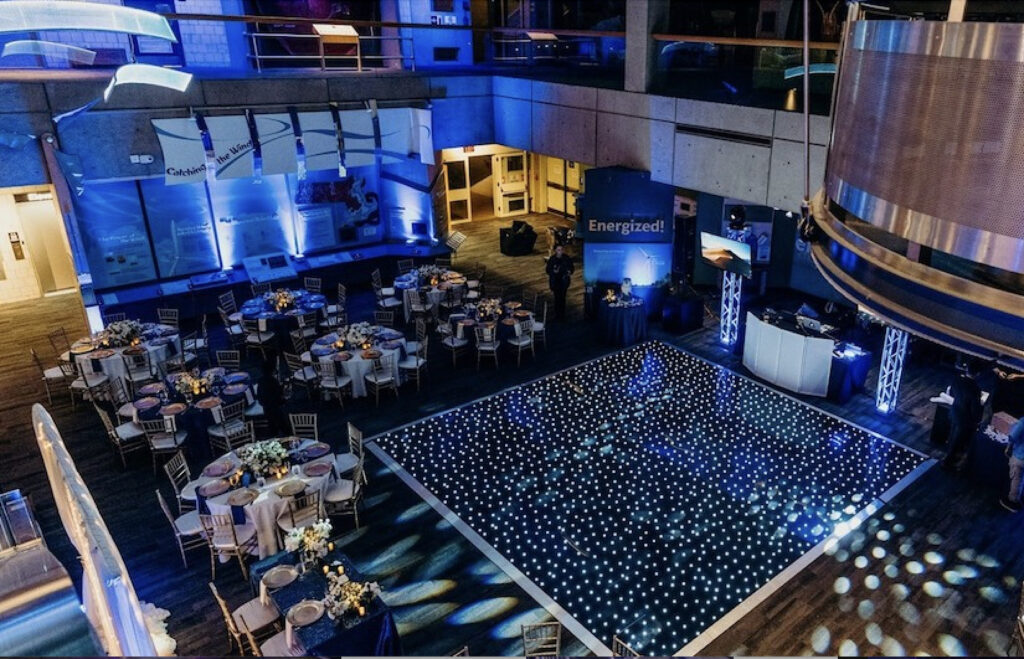 11. Skyline Loft
Neighborhood: Bridgeport
Capacity: 900
Located on the top floor of the famed Bridgeport Art Center, Skyline Loft needs no introduction. This open concept venue offers panoramic views of the Chicago skyline, and is completely transformable. In addition to the unreal scenery, you'll be in awe of the solid wood inlay flooring, 15-foot wood beamed ceilings with skylights, and exposed brick walls. There's 18,000 square feet of workable space that can be sectioned off. Enjoy complimentary parking in this busy area of Chicago, a total bonus to an already enviable space.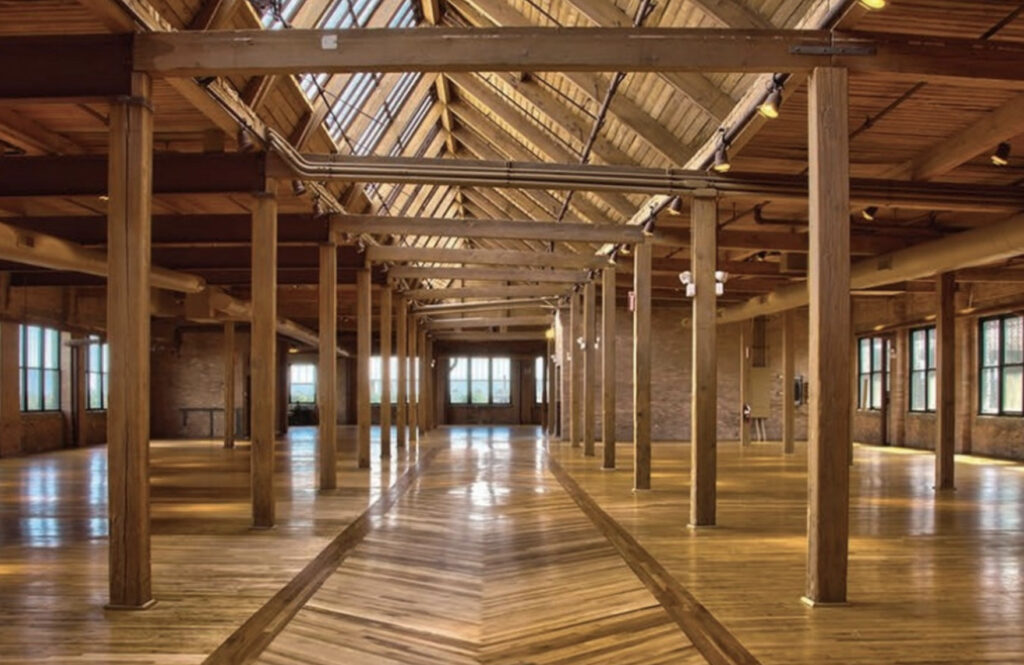 12. Morgan Manufacturing
Neighborhood: West Loop
Capacity: 1,700
Industrial elegance is the name of the game at Morgan Manufacturing, a 32,000 square foot wonder in Chicago's West Loop. Go big at this versatile venue. Product launches, live events, conferences, or award ceremonies – this really is the spot to hold major events requiring mega impact. The Skylight Gallery has a 23-foot bar and tons of natural light. The Concrete space has customizable LED lights and a sunken dance floor. And the Mezzanine offers Chicago skyline views and a DJ booth perched in a bird's nest. Pretty hard to make a wrong turn when hosting at Morgan Manufacturing.
13. Adler Planetarium
Neighborhood: Museum Campus
Capacity: 1,200
The universe is the limit when you book your next corporate outing or meeting at The Adler Planetarium, one of Chicago's cultural treasures. Their Skyline Solarium features floor-to-ceiling windows, as well as access to the terraces overlooking Lake Michigan. The Grainger Skye Theater provides an immersive, 360-degree experience, all under a domed, 36-foot ceiling. Food For Thought Catering provides the out-of-this-world options, and the Adler provides the best service this side of the Andromeda.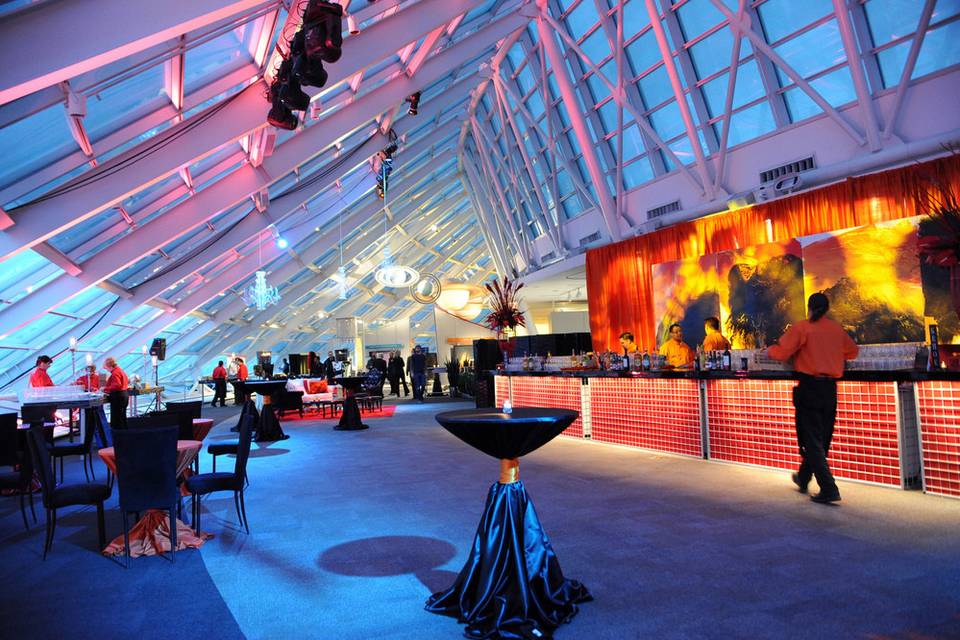 14. 360 CHICAGO
Neighborhood: Magnificent Mile
Capacity: 550
Take your corporate event to new heights with this spectacular attraction on the 94th floor of the historic John Hancock Center high atop the Magnificent Mile. Elevate your corporate outing at 360 CHICAGO, a space featuring genuine, all around views of the Chicago skyline and Lake Michigan. There are four space options and packages from which to choose, accommodating 10 to 500 guests. Take a break between meetings to visit the TILT, a moving platform floating your guests at a 30 degree angle 1,030 feet above the streets of Chicago.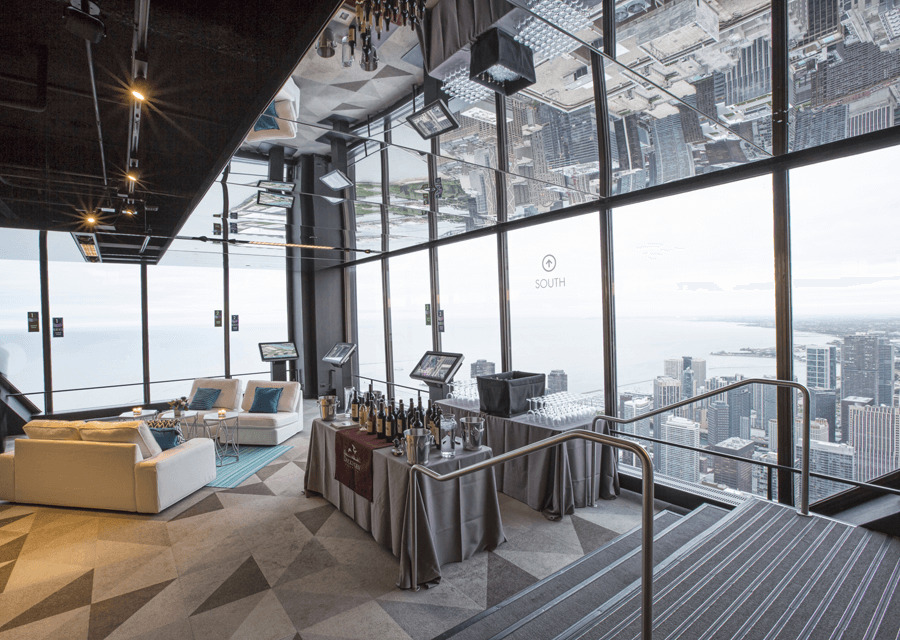 14. American Writers Museum
Neighborhood: Downtown
Capacity: 250
Noteworthy events are planned at the American Writers Museum, the nation's first museum celebrating the written word. Corporate outings or meetings held at the Museum have exclusive access to all its exhibits, including "The Nation of Writers" Gallery. This inspiring space will work within your budget to set up the right seating options, and offers loads of audio/visual equipment to suit your event's needs. Your corporate event will definitely be one to write home about.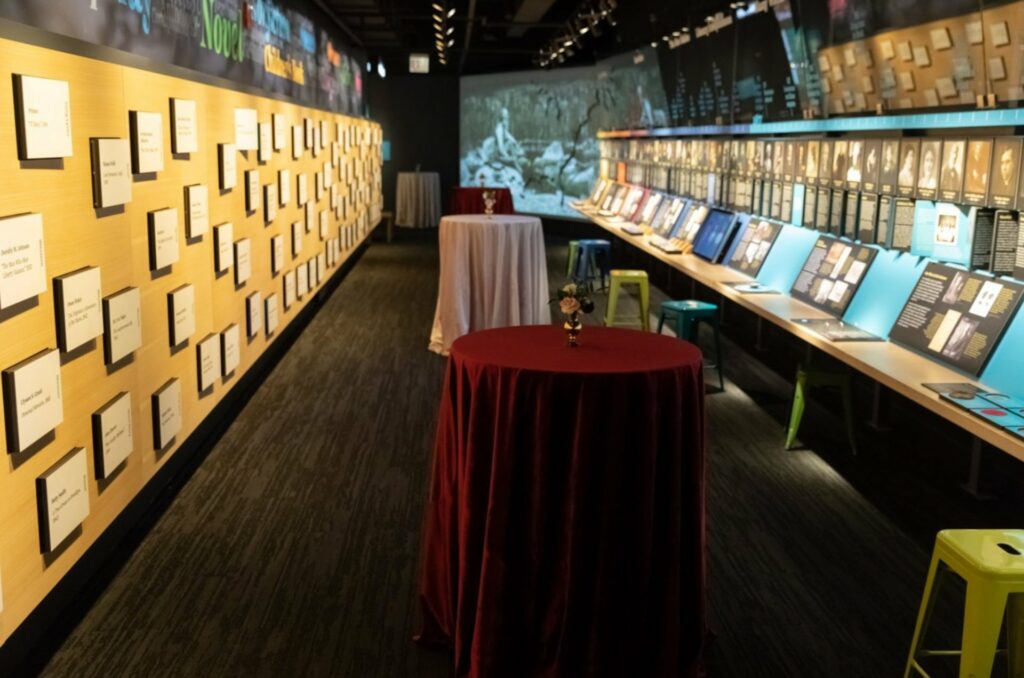 Why Finding the Right Venue is So Important
Even when you're looking for raw space that is more about your event conceptualization than anything else, choosing the right venue is still of the utmost importance. What is the overall setting? What are the amenities? Location always matters…
Top Things to Consider When Booking an Event Venue

Planning an event in Chicago is an exciting endeavor, but it comes with its fair share of considerations and questions to ensure everything goes off without a hitch. Here's a comprehensive list of the top questions you should ask when embarking on your event planning journey in the Windy City:
What is the Purpose of the Event?

Clearly define your event's goals and objectives to guide all your planning decisions.

Who is Your Target Audience?

Understanding your audience helps in tailoring every aspect of your event to meet their preferences and needs.

What Type of Venue Do You Need?

Consider the size, style, and location of potential venues to match your event's theme and accommodate your expected guest count.

What are the Venue's Capacities and Layout Options?

Ensure the venue can comfortably hold your expected number of attendees and inquire about various layout possibilities.

What is the Accessibility Like?

Ask about proximity to public transportation, parking availability, and the venue's compliance with ADA regulations.

What is the Cost Estimate for Venue Rental?

Understand the pricing structure, any additional fees, and payment schedules to align with your budget.

What Catering Options are Available?

Inquire about in-house catering or approved vendors, menu choices, dietary accommodations, and pricing.

Are There Any Restrictions on Catering or Alcohol Service?

Be aware of any venue-specific policies regarding outside catering, alcohol permits, and service hours.

What Audio-Visual Equipment and Technical Support are Provided?

Determine the availability of AV equipment, technicians, and compatibility with your event's technical requirements.

What is the Backup Plan for Inclement Weather (for outdoor events)?

In Chicago's variable climate, it's essential to have contingency plans in case of rain, extreme heat, or cold.

What Permits and Regulations Apply to Your Event?

Investigate the necessary permits, licenses, and local regulations for your event type.

Are There Any Conflicting Local Events or Festivals?

Check the city's event calendar to avoid scheduling conflicts that could impact logistics or guest attendance.

How Can You Ensure Attendee Transportation?

Explore transportation options such as shuttles, parking, and rideshare services to make it easy for attendees to reach your event.

What Accommodation Options are Nearby?

Recommend nearby hotels or lodging options for out-of-town guests and negotiate group rates if applicable.

What is the Venue's Cancellation Policy?

Understand the venue's cancellation terms and conditions to prepare for unforeseen circumstances.

Do You Need Event Insurance?

Evaluate whether event insurance is necessary to protect against unexpected liabilities.

How Can You Incorporate Local Chicago Flavor?

Consider adding local elements, such as cuisine, entertainment, or cultural touches, to give your event a unique Chicago vibe.
By addressing these essential questions, you'll be well-prepared to plan and execute a successful event in the vibrant city of Chicago, ensuring that both you and your attendees have an unforgettable experience.
Find the Best Corporate Event Venues in Miami
At The Vendry we love rounding up the big, the small, the unique, and the blank when it comes to venues. We're here whether you're searching for that perfect event space, or ready to start on a proposal.
Read More:
The Best Private Dining Rooms in Chicago to Host Your Next Dinner
The Best Large Event Venues in Chicago
The 15 Best Large Venues in Washington D.C.