A vibrant art scene. Pristine beaches. Innovative cuisine. Great nightlife. One thing is for sure – Miami has it all. Planning an event in Miami? Good idea. When hosting your next corporate meeting, conference, product launch, or networking event in this hot city of global influence, consider a venue that's different and unique. Miami is so sleek and sophisticated. Why not choose a host venue that matches the city's vibe? The Vendry has made it easy for you by putting together the top 14 most unique venues in Miami.
14 Unique Venues in Miami
Here are some ideas, perfect for your next big event in Miami. From the artist-loving community of Wynwood, to the pulsating lights of South Beach, below are some of the standouts when it comes to distinct venues in South Florida's most caliente city.
1. Redland Koi Gardens
Neighborhood: Homestead
Capacity: 200
Tranquility awaits at Redland Koi Gardens, situated on 2.5 acres in Homestead, just south of Miami. With more than a decade in the event business, the professionals here will guide you along in planning your next corporate outing or team-building event. This outdoor environment, draped in a lush canopy of greenery and fresh fruit trees, colorful koi ponds, and dulcet waterfalls, is about as serene as it comes. Besides offering a scenic view to spark inspiration, Redland Koi Gardens works for all budgets. If you are looking for a calm locale to get your company's Zen on, this is the spot.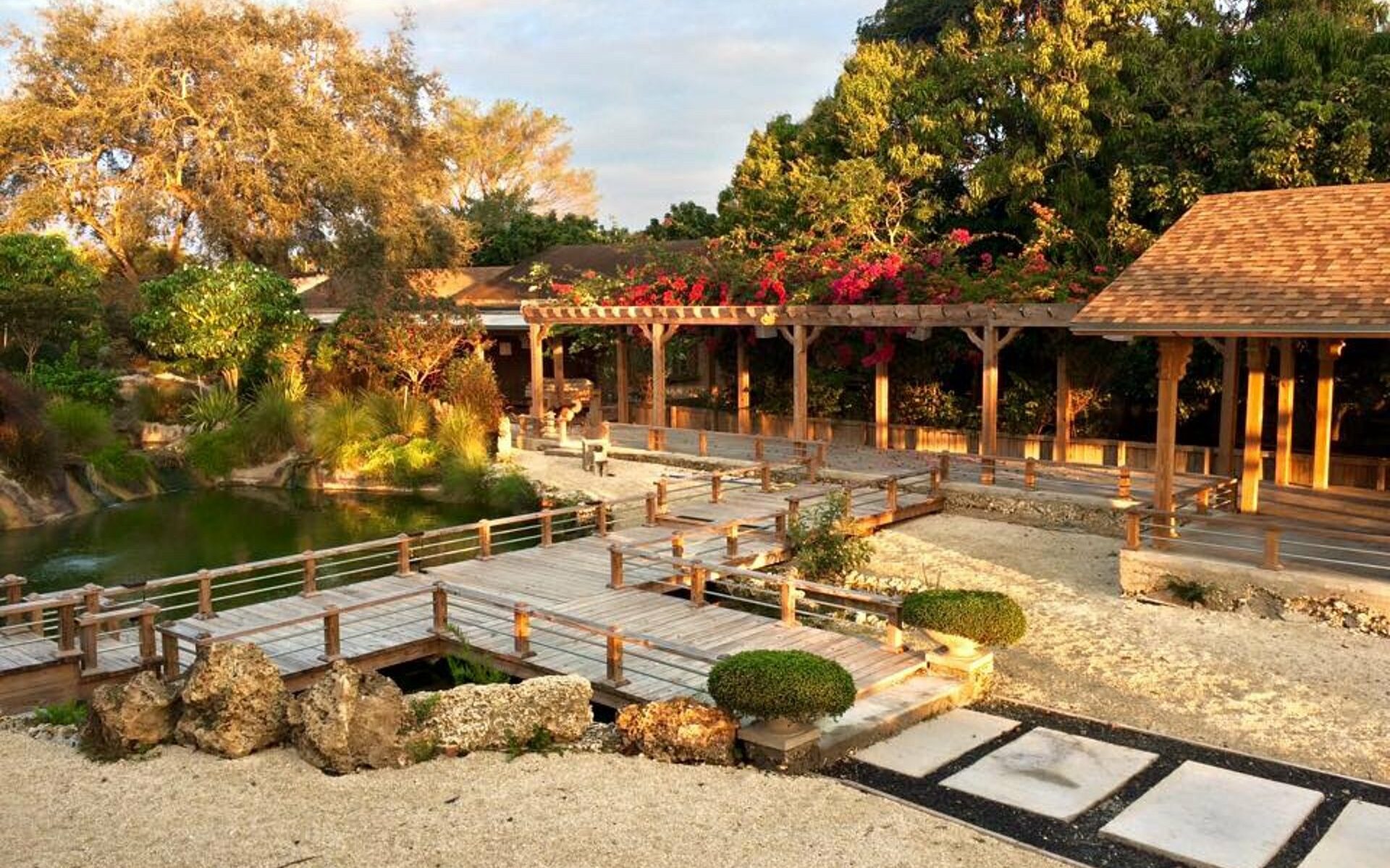 2. Superblue Miami
Neighborhood: Santa Clara
Capacity: 450
Enjoy a truly unique experience as well as 5,000 square feet of flexible event space at Superblue, an unforgettable venue in the Santa Clara neighborhood. This spot celebrates the visual arts in a big way, with a mirrored maze, as well as a multi-sensory interactive digital environment. There are four spaces within Superblue to hold your corporate event, including their 7,090 square-foot outdoor event area. Their dedicated event space is a white-walled, concrete floor private venue, complete with a back-of-the-house kitchen, private bathrooms, and audio/visual equipment. Superblue is ready to host your group and your group should be ready to be wowed.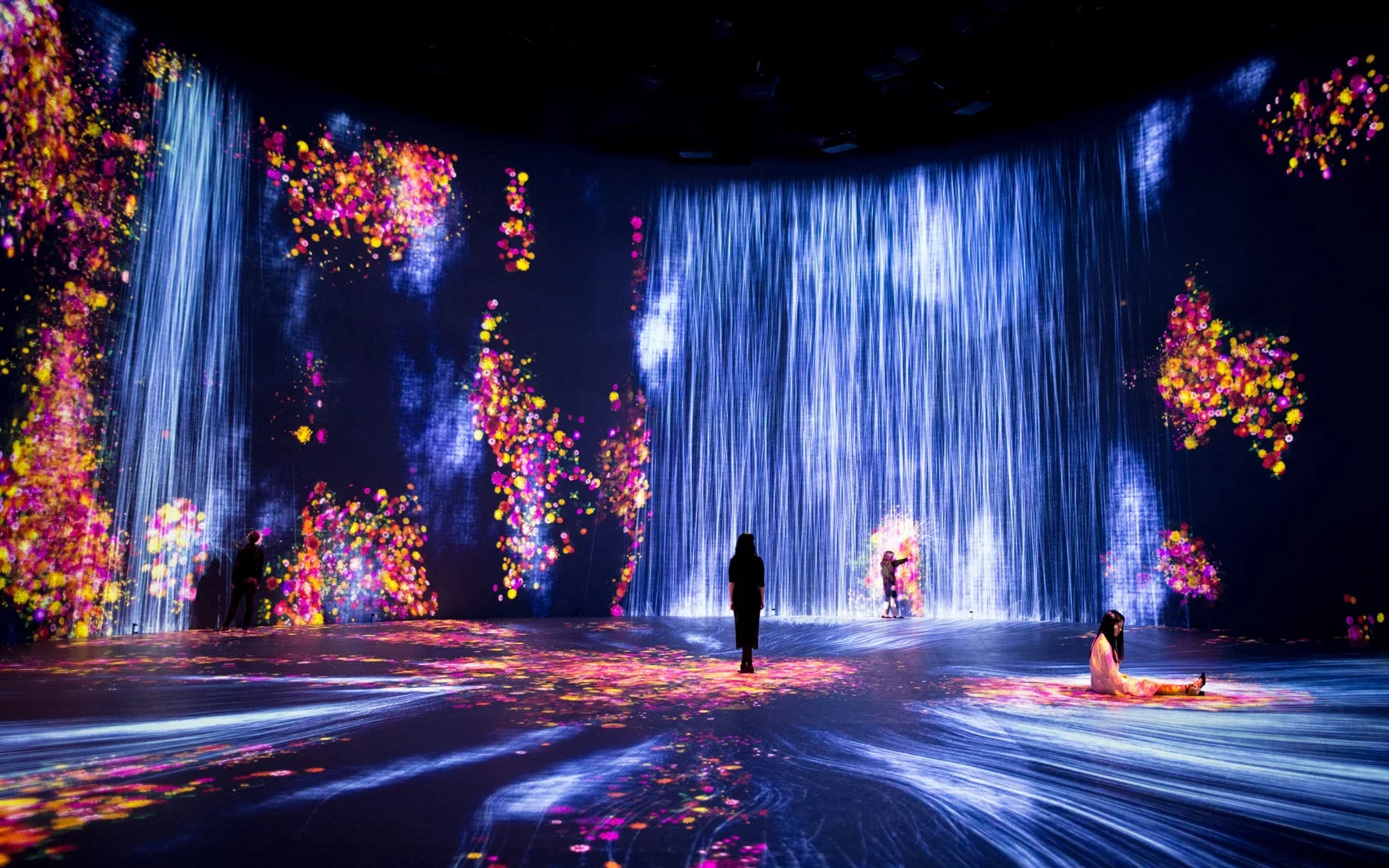 3. The Cruz Building
Neighborhood: Coconut Grove
Capacity: 700
Glamorous and grand are the words that come to mind when describing the opulence of The Cruz Building in Coconut Grove. This three-level stunner is adorned with a marble staircase, balconies, atrium ceilings, stained glass windows, and gas flame lanterns that bounce light off the high-hung antique crystal chandeliers. If you are looking for a deeply luxurious spot to host your corporate holiday party or product launch, this is the place. The intricately festooned Grand Staircase Courtyard and English Bar Room will create the dramatic backdrop you are looking for. The outdoor splendor of the Terraza de Leon will make your guests feel like they were plucked from reality and placed in the Louisiana Bayou. The Cruz Building can certainly accommodate a crowd and will not soon be forgotten.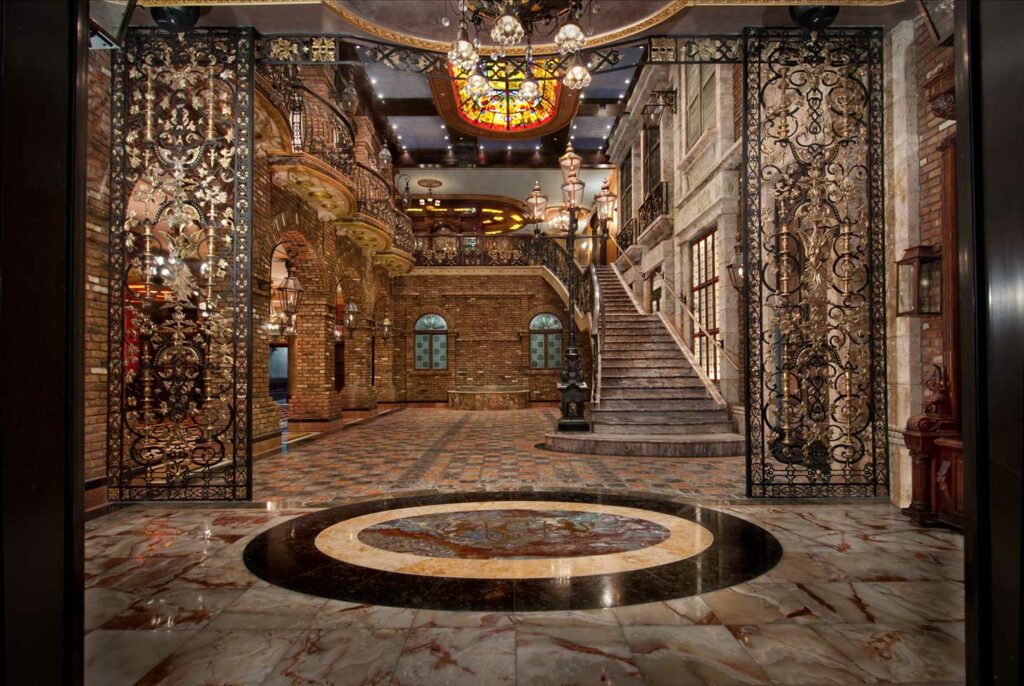 4. The Sacred Space Miami
Neighborhood: Edgewater
Capacity: 700
A tropical oasis dotted with modern elements, The Sacred Space Miami has an open floor plan and over 36,000 square feet of workable space, as well as a lush outdoor garden. The modular nature of the venue mixed with the high ceilings and overall breathtaking design makes this spot ready to host corporate events, networking cocktails, wellness retreats, or product launches. But the real magic lies in the outdoor options at The Sacred Space. There's room for tables by the guava grove, near the reflecting pool. This is truly a serene locale, likely to spark loads of inspiration. And for an extra bonus of ease? There's tons of private parking.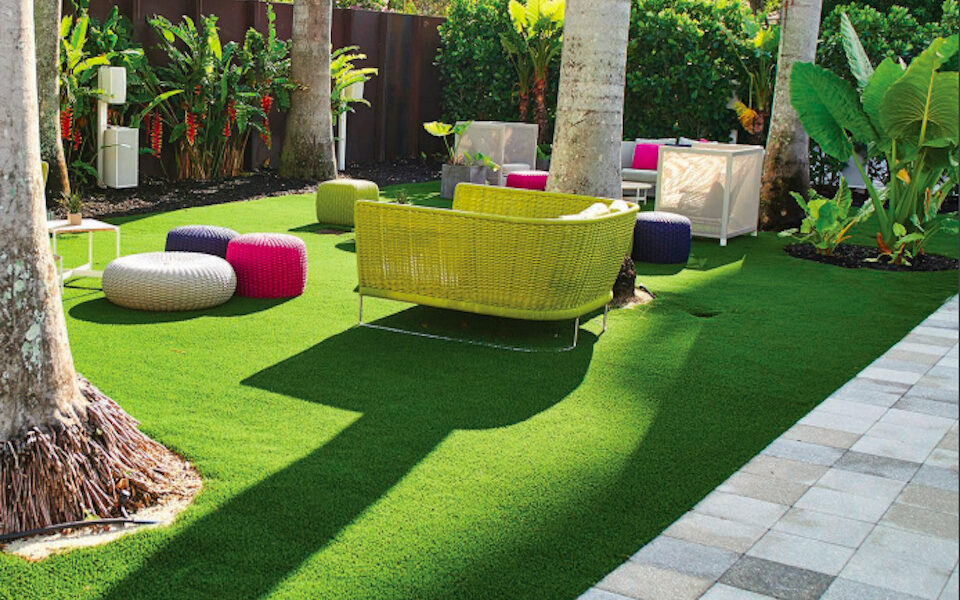 5. The Temple House
Neighborhood: South Beach
Capacity: 600
A blank canvas in the truest sense of the word, The Temple House is an award-winning, globally recognized venue in South Beach. The Grand Room boasts 5,000 square feet and has a 360-degree, floor-through-ceiling permanent projection mapping system that virtually creates any ambiance, atmosphere, or experience. Impress team members and clients alike with any type of customizable projection, certain to fit your theme or objective. The second floor's Outdoor Terrace is an Art Deco dream, perfect for private dinners, complimenting the indoor space perfectly. Your crowd will never forget their time at The Temple House.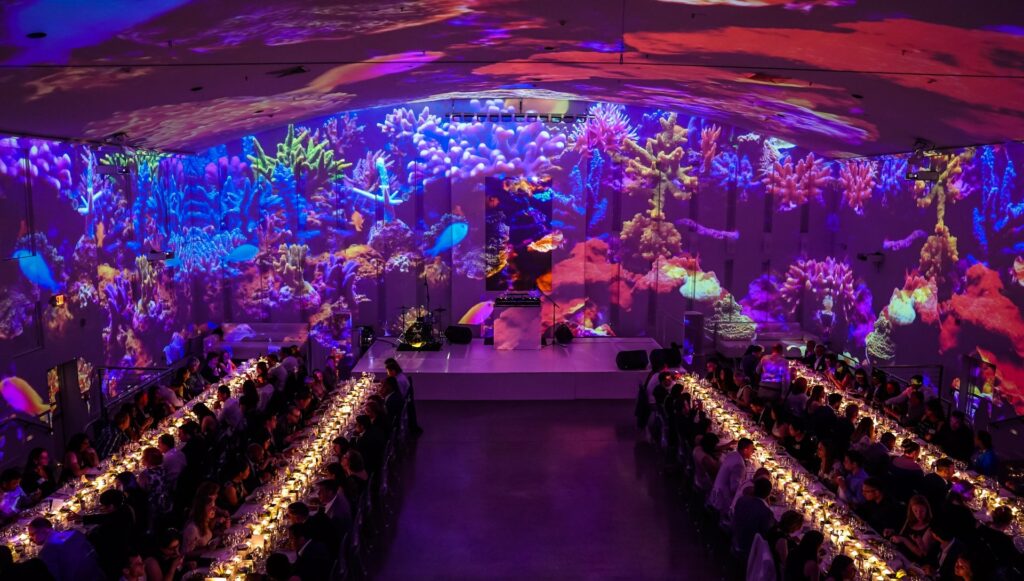 Keep your guests dancing all night! Browse the top DJs in Miami!
6. The M Building
Neighborhood: Wynwood
Capacity: 150
Totally distinct, The M Building is deep in the heart of the Wynwood District, and was formerly a manufacturing warehouse in the 1950's. Thanks to a wonderful restoration, this 12,000 square-foot, two story structure has five gallery spaces and a stunning garden terrace. Tropical and modern, this spot has a retreat feel and offers loads of natural light. There's a full kitchen and lots of lounge areas in which to collaborate. Your guests will likely be inspired by the art installations amid this tranquil environment.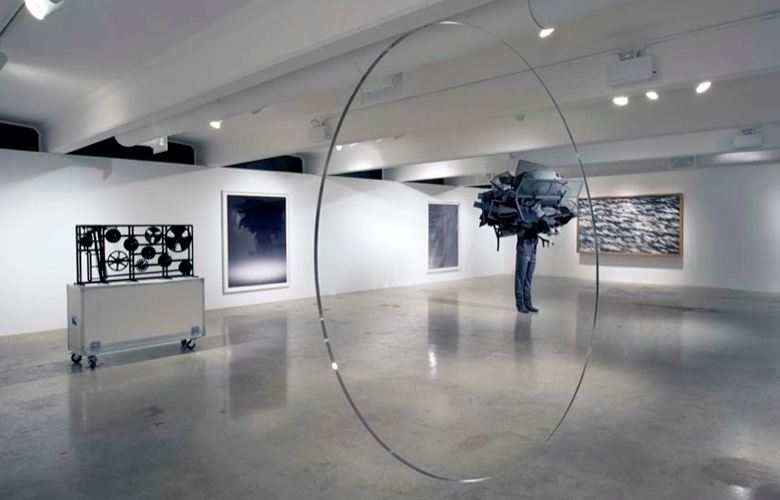 7. Frost Science
Neighborhood: Downtown Waterfront
Capacity: 5,000
The Philip and Patricia Frost Museum of Science – or Frost Science for short – is an architectural wonder with sweeping views of Biscayne Bay. Get down to business with several exhibition halls to choose from, as well as a three-level aquarium, a 250-person full dome planetarium with 4K projection capabilities, and a living rooftop terrace. No worries for tech at Frost Museum, as they offer complimentary wireless, as well as built-in audio/visual equipment with on-site support. Large or small, an event at Frost will be one to remember. Frost seems to have corporate events down to a science.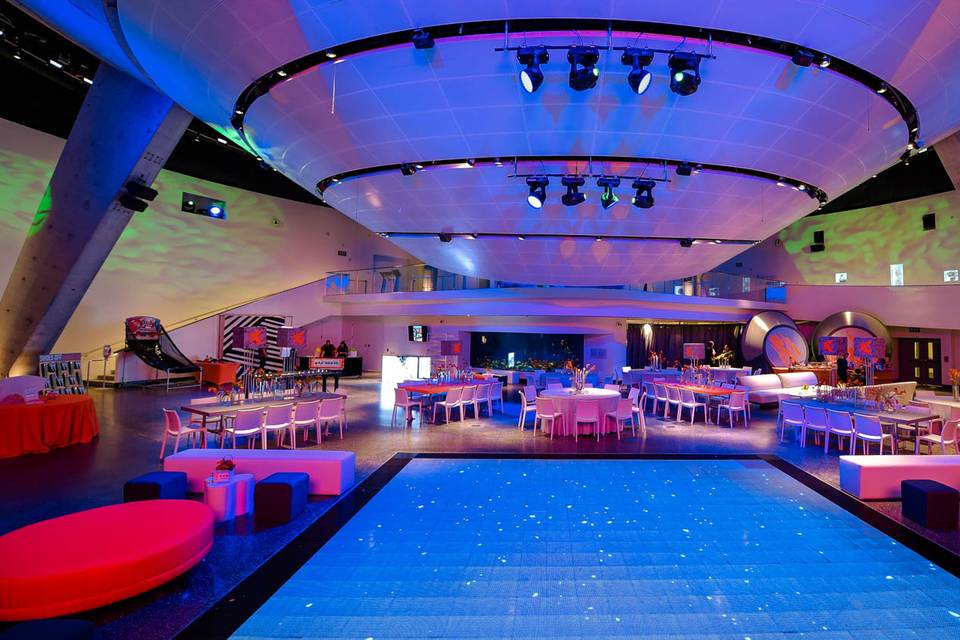 8. Perez Art Museum Miami
Neighborhood: Downtown Waterfront
Capacity: 6,000
A mainstay in Miami, Perez Art Museum Miami (PAMM) is a modern structure situated on the beach, overlooking Biscayne Bay. Quintessential Miami, PAMM is perfect for your next team meeting or product launch. There are spaces here that can suit almost every need and crowd size. If a full museum buy-out is too much, choose between the Auditorium, Learning Theatre, the East Portico, or many terraces. They have great tech resources and partner with Constellation Culinary Group to serve up some of the most innovative food styling in South Florida.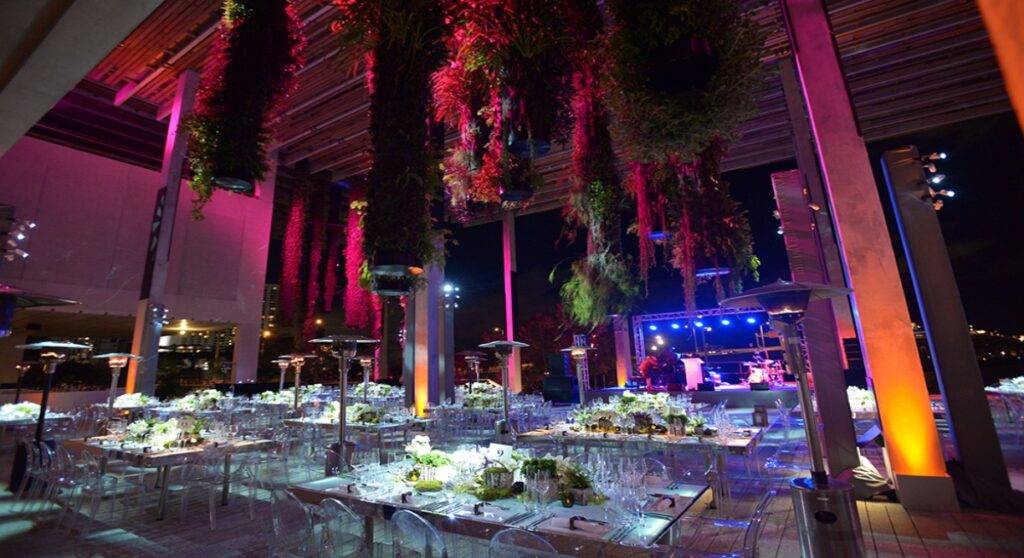 9. The Social Hub
Neighborhood: Brickell City Center
Capacity: 220
Only in Miami … The Social Hub is an interactive, content selfie museum, offering up 3,500 square feet of awesome, photography space. Situated in Brickell City Centre, this totally unique venue comes equipped with 20 themed and colorful selfie stations, props, and smart-phone compatible LED ring lights. This Insta-worthy playground is large enough to host your crowd, and has a surround sound system. There's nothing else like it, and your guests will have all the pics to prove it. themed studios, The Social Hub has become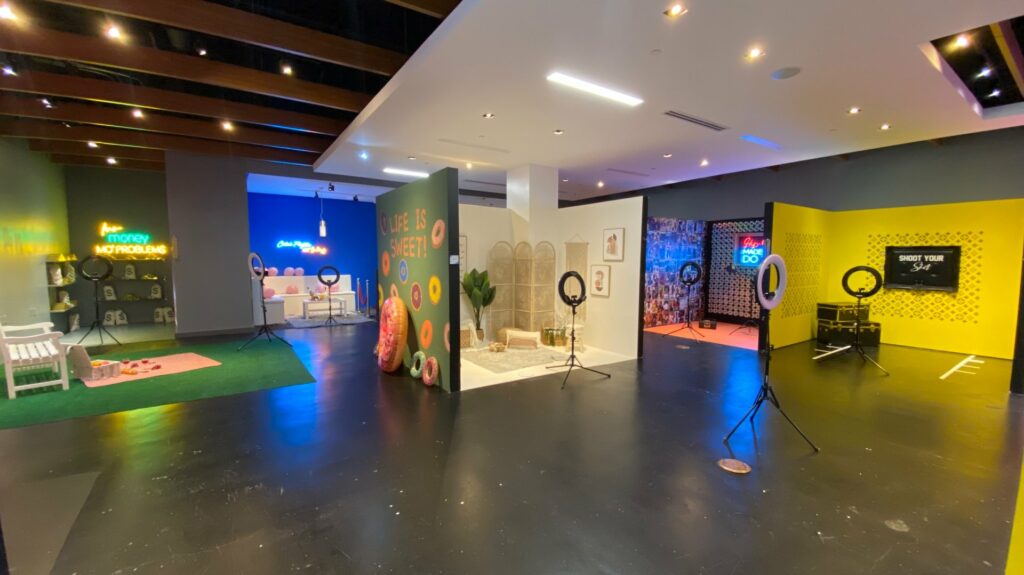 10. SGWS Wynwood
Neighborhood: Wynwood
Capacity: 120
In the heart of this artist loving community sits newly opened SGWS Wynwood, a 17,000 square foot, multipurpose center focused on hospitality. Launched by Constellation Culinary Group and Southern Glazer Wine & Spirits, the food and beverage focus of this venue is not surprising. The modern industrial chic vibe paired with the warmth of the space's multi-use functionality, make this spot a slam dunk to host your next Miami corporate event. There's the Founder's Room available to host private meetings during the day, then maybe round out the evening with a demonstration in the Tasting or Mixology Rooms. No worries on tech here either – SGWS Wynwood is prepared to meet all your needs.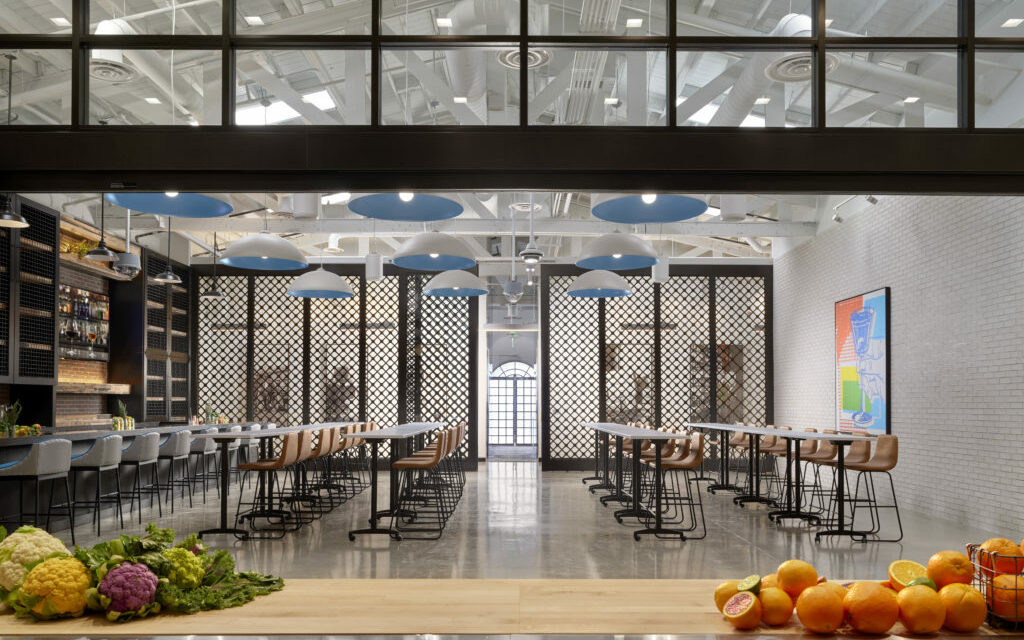 11. Oasis
Neighborhood: Wynwood
Capacity: 3,5000
Oasis is the new pulse of the vibrant Wynwood neighborhood. Combining restaurants, bars, art, live music, and shopping all in one place, Oasis is an open-air concept with a sprawling courtyard. Tower Bar is the focus at Oasis, a large structure built from shipping containers with a colorful mural. There's a stage, an indoor lounge, and tons of elevated culinary offering. Your clients and team members will certainly be treated right at this hotspot.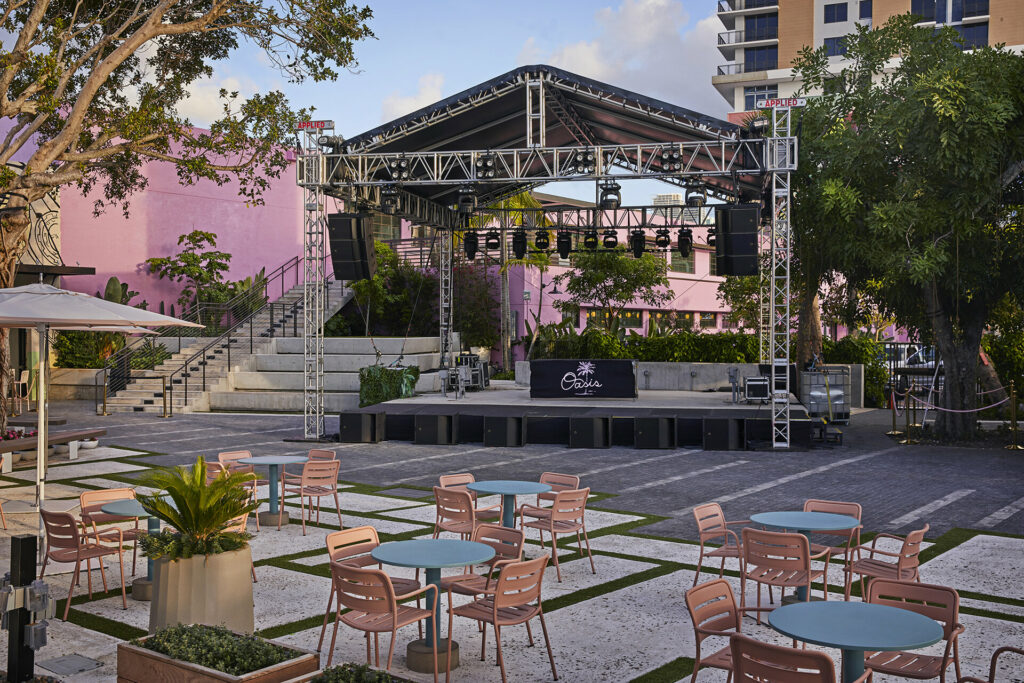 12. The Rubell Museum
Neighborhood: Allapattah Industrial District
Capacity: 400
Tonally perfect for your next meeting or panel discussion in Miami, The Rubell Museum is a contemporary art haven in Miami's famed Design District. Lauded as one of the world's premier private collection of paintings, sculptures, and photographs, this special place can host up to 400 for any creative event of your choice. The East Wing is the museum's dedicated event space, boasting 7,300 square feet of open space ripe with possibility. There's also several open galleries, as well as the Research Library perfect for a breakout session or lecture, and their Garden, overflowing with greenery native to South Florida. The Rubell Museum oozes sophistication and experience.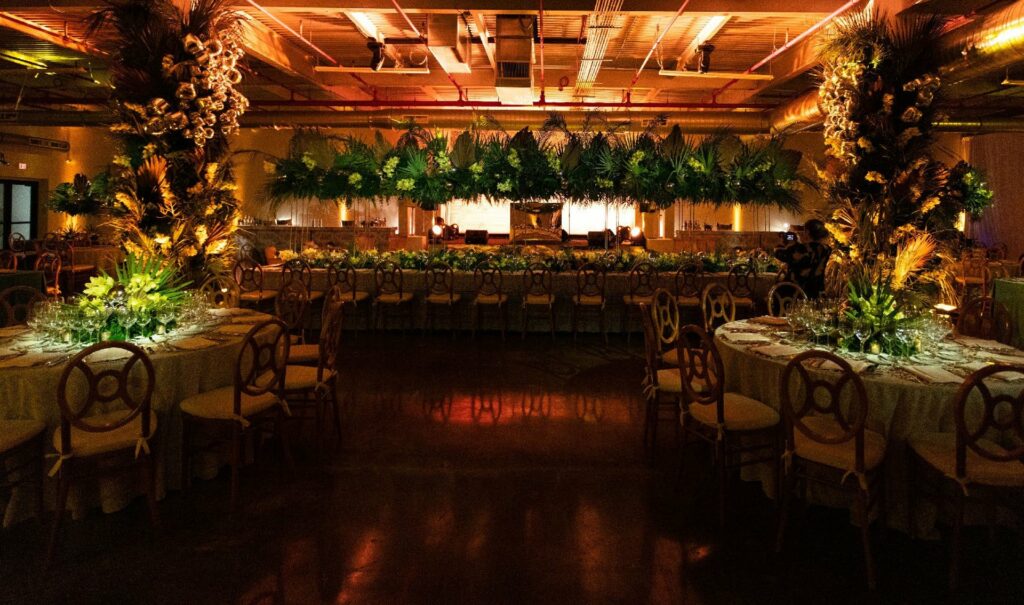 13. MAPS Backlot
Neighborhood: Fashion District
Capacity: 500
In need of a large outdoor space with full production services? Then MAPS Backlot might be just what you are looking for. It's a 10,050 square foot studio in the Wynwood district and serves as the only professional photography studio in Miami. Host your corporate event here with its four wet bars, catering amenities, and event drive-in capabilities. There's indoor/outdoor functionality, and the staff will be happy to assist in all your event's details. When it comes to unique, MAPS Backlot has the market cornered.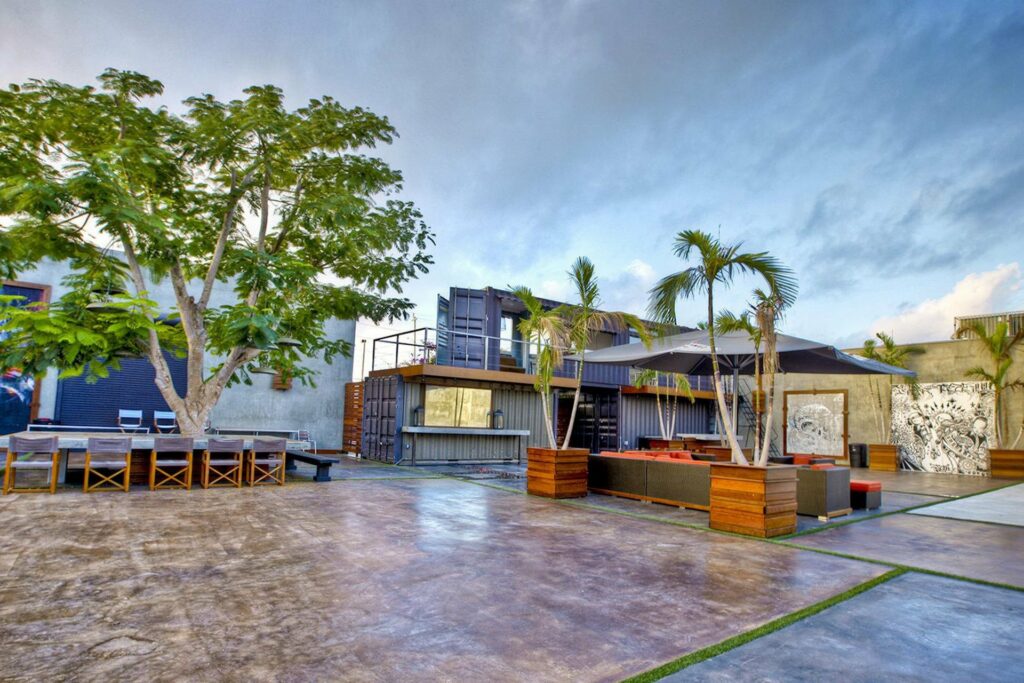 14. Showfields Miami
Neighborhood: South Beach
Capacity: 100
The self-proclaimed "lifestyle discovery store", Showfields defines unique. This place is fascinating, from its distinct store to wide myriad of public offerings and events, there's a little something for everyone at Showfields. Spending time and money here is mission-driven, as everyone they partner with has a cause. Book your corporate event with their team and expect the unexpected, as they rotate the artists and brands in the space all year long. The interior is two-story, with an expansive skylight, a stainless steel slide (yes, slide), and in-house catering.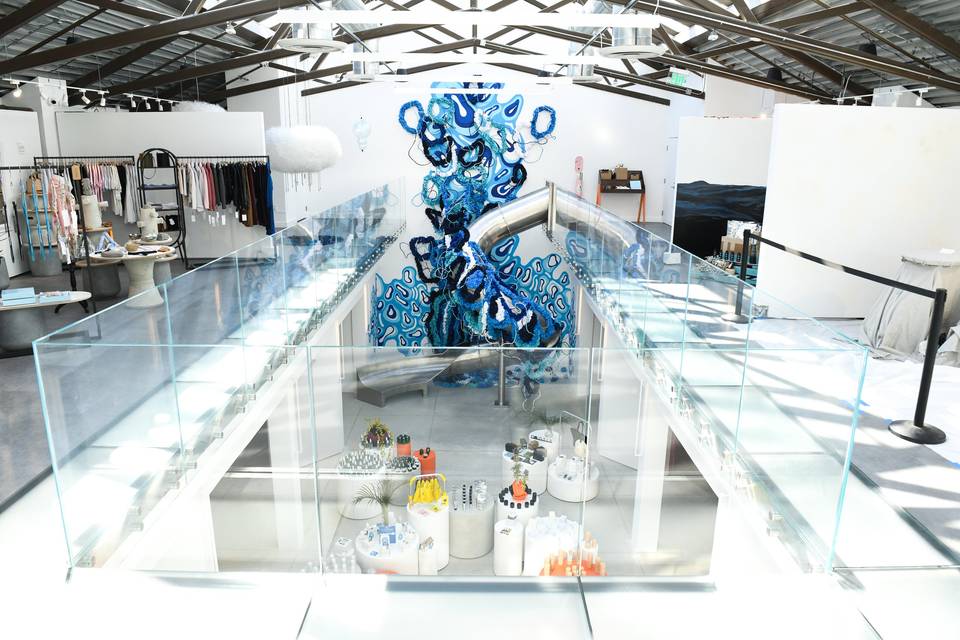 Why Finding the Right Venue is So Important
Hosting your corporate event in a unique venue shows your clients and team members that you've taken the extra step to show them a good time in Miami. While there's lots of venue choices in Miami to host a crowd, stepping outside of the typical comfort zone will give your guests the opportunity to experience a part of the city they might not otherwise have seen. Traditional spots like ballrooms and hotels certainly have merit, but venues like a lush garden with a koi pond or a gallery loaded with works from local artists will make your attendees feel like you went the extra mile – and hopefully win their business or increase their output in return. 
Important Factors to Consider When Booking an Event Venue
An event planner's work is never done. There's always so much to consider when planning a meeting or event. But when you are hosting in Miami, here are some specific items to think about:
Weather – If your event has an outdoor element, make sure there's an alternate or solution if bad weather rolls in.
Capacity – While this feels like a no-brainer, you don't want guests squished in a venue that's too small. The reverse of that problem isn't as much of an issue, as people these days like to spread out.
Tech – If you are launching a product or presenting a new concept, a venue's technical capabilities will need to run like second nature.
Accessibility – How will your guests get to and from your venue? Make sure to coordinate extra transportation if needed. Food and Beverage – Miami is a seasoned host to many events, so if there isn't already catering on-site, your venue should recommend who they like to use without hesitation.
Find the Best Corporate Event Venues on The Vendry
The Vendry is the source of the world's best venues and vendors, all in one place. Plan your next corporate event in Miami by using The Vendry's advanced search function. Source by dates, budget, location, crowd size, and other important details to find the unique and distinct venue just right for your special event. Research and request proposals all in one spot!
Read More:
The 17 Best Large Event Venues in Miami
Stunning Raw Event Spaces in Miami For Your Next Event
Unique and Exciting Venues in Washington D.C.