The funny thing about Washington D.C. is that people elsewhere don't tend to think of it as a place that people actually live. In actuality it's a diverse, residential city dominated by yes, politics, but also a bustling cultural and artistic scene with world-class restaurants and bucolic parks. Accordingly, D.C. event venues truly run the gamut. Maybe you're looking for a high-brow art gallery adorned with iconic images of presidents, or you're looking to impress a scholarly clientele in an historic government building. Maybe you're catering to the activities-oriented crowd so a basement ping pong club sounds appealing. Perhaps you're looking forward to some workplace bonding time over drinks and a little (safe) axe-throwing. Herewith, unique venues Washington D.C. edition.
15 Unique Venues in Washington D.C.
Read on for 15 out-of-the-box venues Washington D.C. has on offer to pique your interest and get the ideas flowing. 
1. Meridian House
Neighborhood: Adams Morgan
Capacity: 200
John Russell Pope made an architectural splash in Washington D.C. In addition to Meridian House he designed the Jefferson Memorial, the West Building at the National Gallery of Art, and the National Archives. A mere mile-and-a-half from the White House, this has long been a plush event location amongst Washingtonians. The campus is technically two distinct but adjacent homes (The Meridian House and the White-Meyer House), and offers an upscale and unique setting for up to 200 for weddings, corporate conferences, special events, and receptions.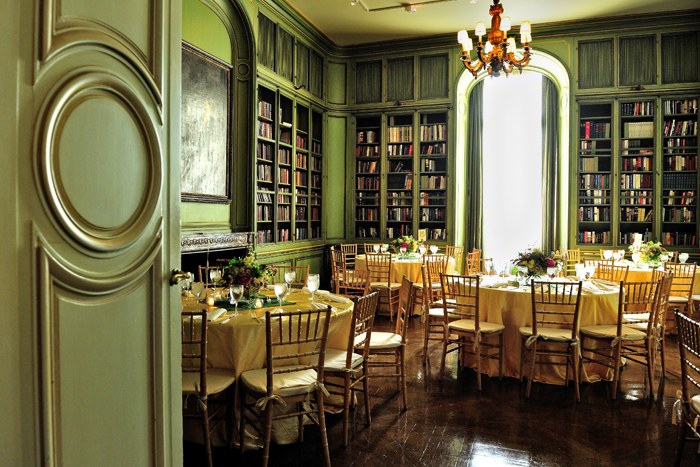 2. Renwick Gallery
Neighborhood: Lafayette Square
Capacity: Contact for more info
As a brief refresher, The Smithsonian Institute is the largest complex of museums and educational and research centers in the world. It was first created by the U.S. government in 1846 for the "increase and diffusion of knowledge" and has been an integral part of the city's fabric ever since. One of those museums is the 34,000-square foot Renwick Gallery which, when it was built in 1859, was known as "America's Louvre." Its designer, James Renwick Jr., is today best known for his architectural masterpiece St. Patrick's Cathedral in New York. Renwick Gallery is technically a branch of the Smithsonian American Art Museum and you can rent this prestigious place out for any number of events.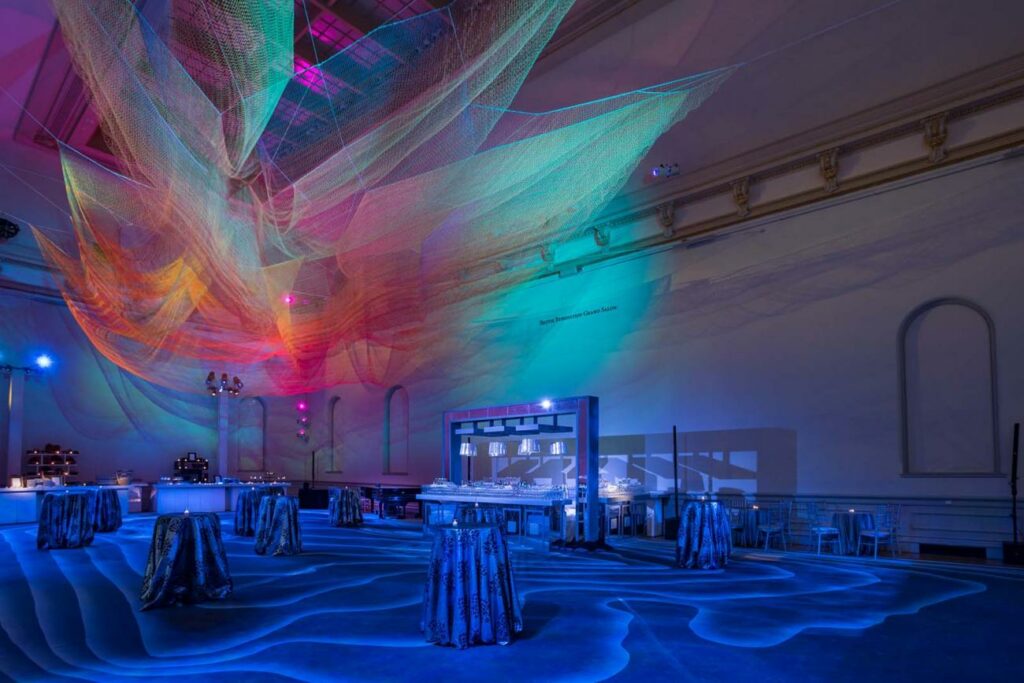 3. Culture House
Neighborhood: Southwest Waterfront
Capacity: 500
Heading to Culture House is going to be a visual experience. Instead of the District of Columbia, the people behind this lively space like to think of the city as the District of Culture. This quirky venue is based on the principle that art is a catalyst for change in the community, and the building itself makes an artful statement. The entirety of the exterior building was painted by celebrated Atlanta-based muralist HENSE, and the interior gives way to over 15,000-square feet of equally vibrant settings to play with. A full buyout can accommodate over 500 standing, or you can choose between the courtyard, lounge, and performance/event space. This community-minded location is a win-win for exhibitions, live performances, idiosyncratic weddings, and more.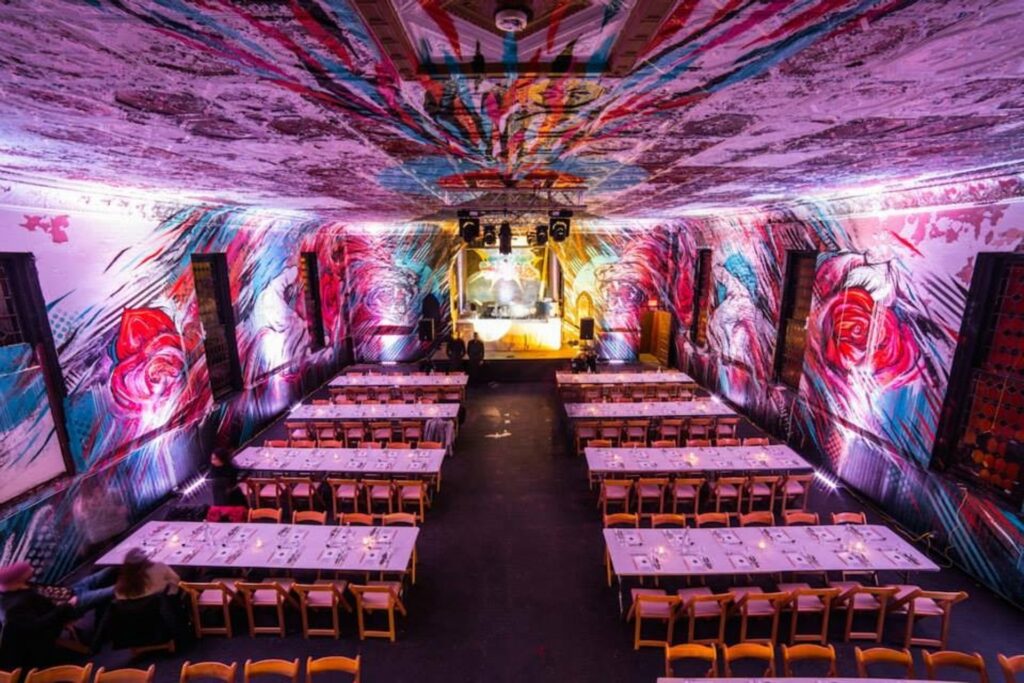 4. National Archives Museum
Neighborhood: Penn Quarter
Capacity: Contact for more info
If you've been on an eighth grade field trip to D.C. there's a 95% chance you've already been to America's VIP filing cabinet, otherwise known as the National Archives Museum. This is where original copies of the Declaration of Independence, the Constitution, the Bill of Rights and millions of other important documents call home. Nicolas Cage aficionados may remember it as a focal point in his magnum opus National Treasure. When it comes to events you are spoilt for choice. There's the breathtaking Rotunda Galleries and the state-of-the-art William C. McGowan Theater, or for meeting purposes there's the Presidential Conference Center with rooms named after the Four Founding Fathers: Jefferson, Washington, Adams, and Madison.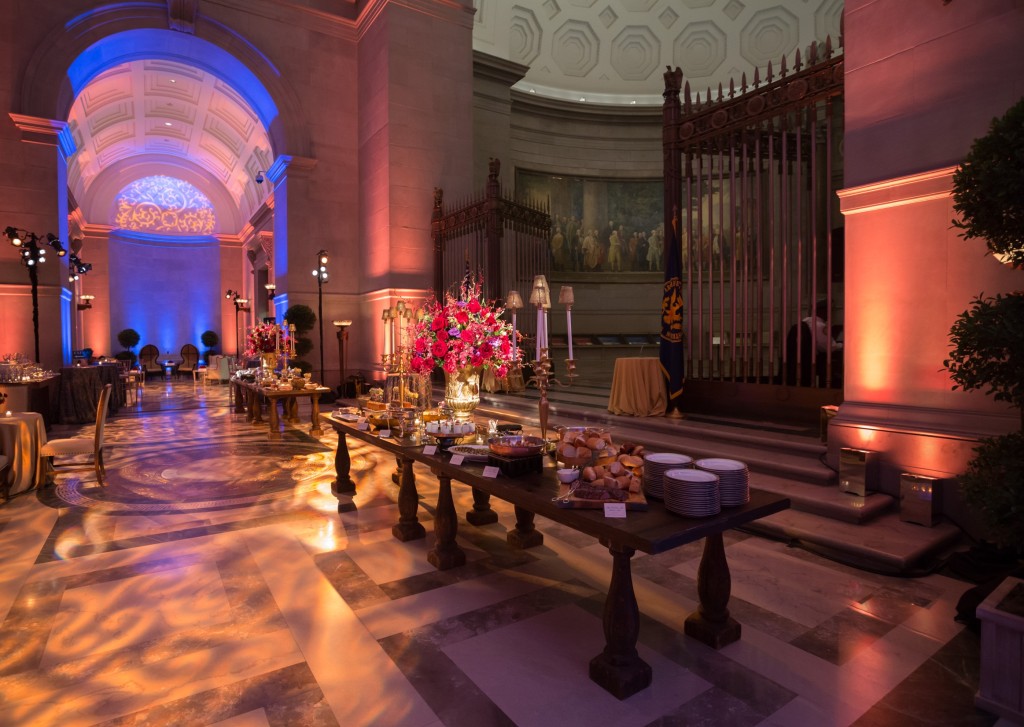 5. SPIN Washington D.C.
Neighborhood: Downtown
Capacity: 900
Everybody's favorite ping pong franchise officially has a presence in this city. SPIN Washington D.C. clocks in at a massive 12,000-square feet in the basement of the National Press Building. This location has all the offerings that helped cement SPIN's popularity in New York, from dedicated ball catchers to the delicious F & B menu. Due to the mammoth layout you can have an event here for up to 900 if need be, but small groups of as low as 10 are also a great fit in reserved areas.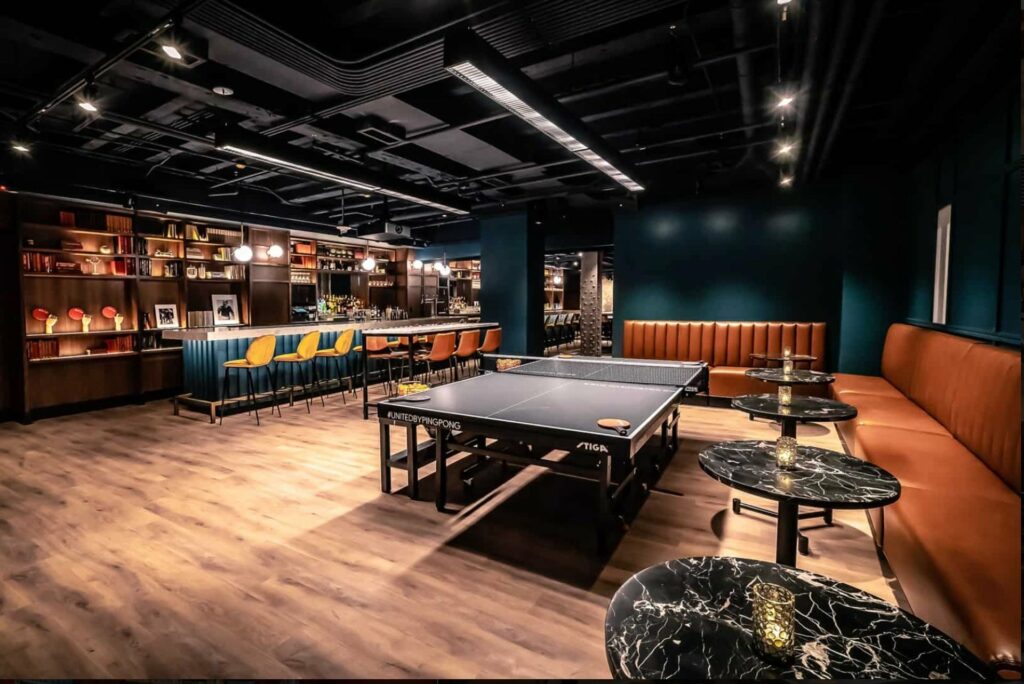 6. Studio Gallery
Neighborhood: Dupont Circle
Capacity: 100
Studio Gallery is located in the lively neighborhood of Dupont Circle, and near the Embassy Row area where around 170 embassies call home. (Full disclosure dear reader, this writer grew up pretty close to Dupont… alas, not in an embassy or ambassador's residence.) Studio Gallery, known for its impressive contemporary art collection, is located in one of Dupont Circle's ubiquitous townhouses and spread out over 2,300-square feet including two floors and a rear sculpture garden. It's an ideal light-filled event space which has been used for book signings, lectures, holiday parties, and more for up to 100 people.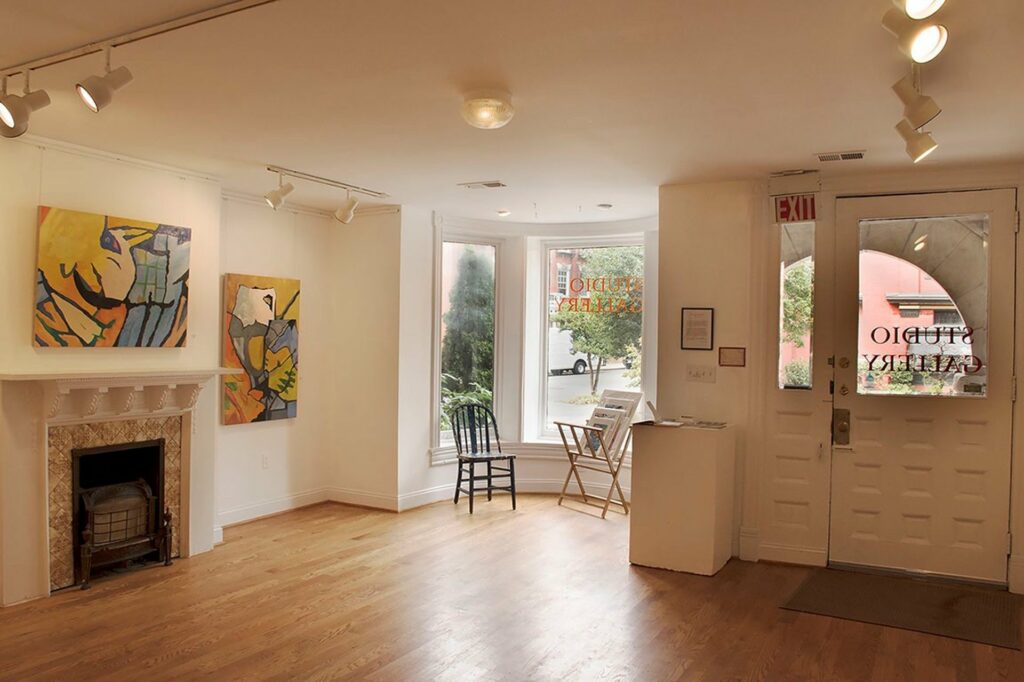 7. National Portrait Gallery
Neighborhood: Penn Quarter
Capacity: 1,200
Back in Smithsonian Institute land is the famed National Portrait Gallery, which is a truly elegant spot for any high-end occasion. This historic art museum focuses on images of famous Americans, from Abraham Lincoln to Michelle Obama. Black-tie weddings, galas, fundraisers, you name it. It's a massive space that can hold up to 850 seated/1,200 standing more myriad events, from black-tie weddings to non-profit fundraisers. No matter the event, it's both unique and breathtaking.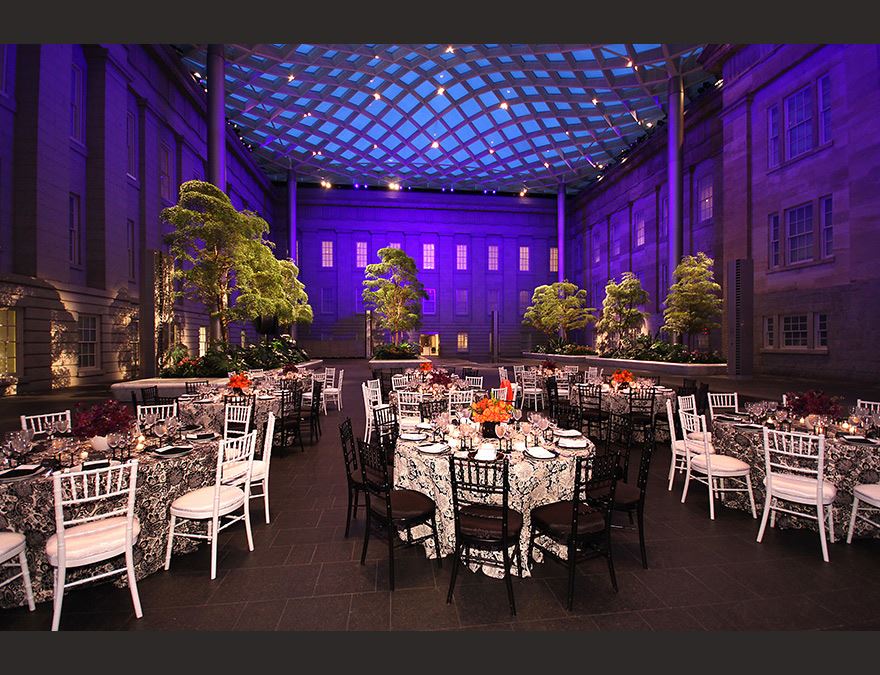 Bring life to the room!
Find the top florists and event designers in Washington D.C.
8. Kick Axe Throwing DC
Neighborhood: Ivy City
Capacity: 250
Axe-throwing is not just de rigueur in Brooklyn these days. The popular Kick Axe Throwing now has a D.C. location where you can (safely!) mix this…unique…activity with booze. (Quick side note, this narrator did the same thing in nature as a Vermont bridesmaid and it is indeed very satisfying.) Design-wise it has a super-cozy Canadian lodge feel, which is ironic given its 22,000-square foot layout and capacity for 150 seated/250 standing.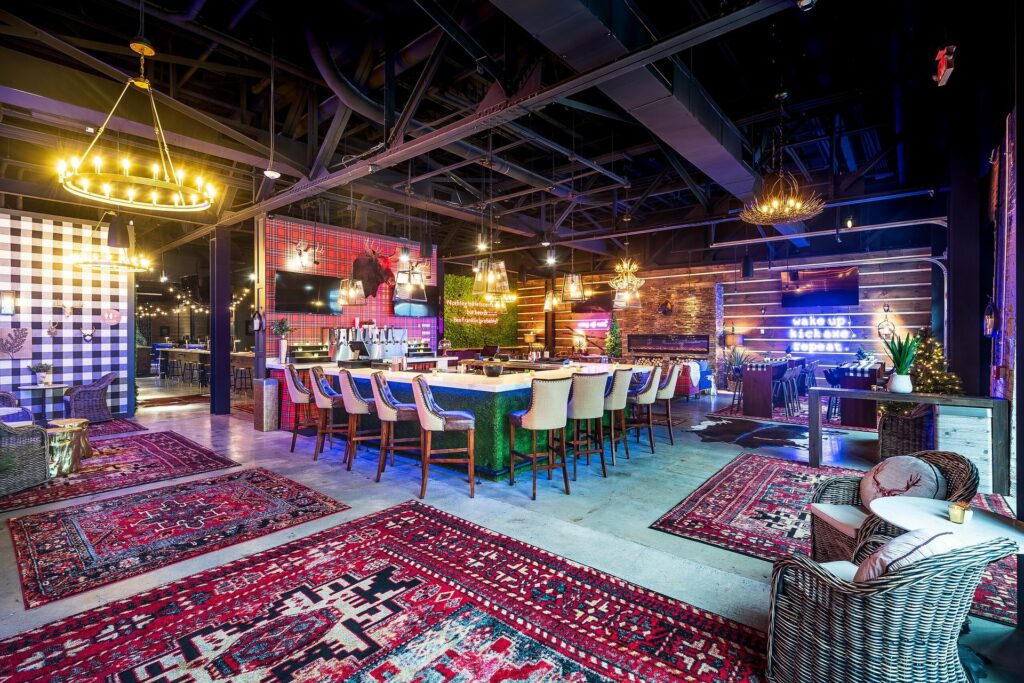 9. Dock 5 Union Market D.C.
Neighborhood: Union Market District
Capacity: 700
If you're looking for both a unique and blank canvas, then the 12,000 square feet of Dock 5 in the Union Market District is an excellent bet. While it has experienced different incarnations over the years, Union Market has been around in one way or another since 1871. Now it's a mini-city unto itself. Restaurants, small businesses, 35 independent merchants and food and drink vendors, make this a thriving community destination. Directly above the artisanal market is Dock 5 where you can enjoy a variety of amenities, including the opportunity to partner with Union Market vendors. The indoors hold up to 400 seated/700 standing.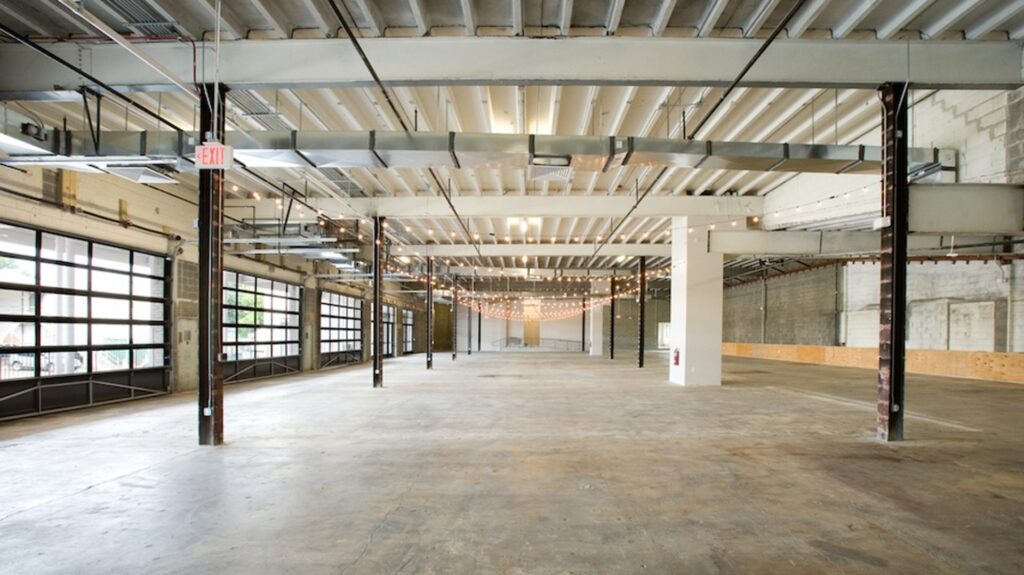 10. Dockmaster Building
Neighborhood: Southwest Waterfront
Capacity: 140
Dockmaster Building — in the The Wharf, an uber popular mixed-use development—is an intimate 2,000-square foot spot for up to 100 seated/140 standing. This two-story glass building is located at the end of the 450-foot District Pier over the Washington Channel, so not only is it an indoor/outdoor feel but you're actually on the water. It has 270-degree views and if you time the event right you'll experience D.C.'s iconic cherry blossom season in all its glory.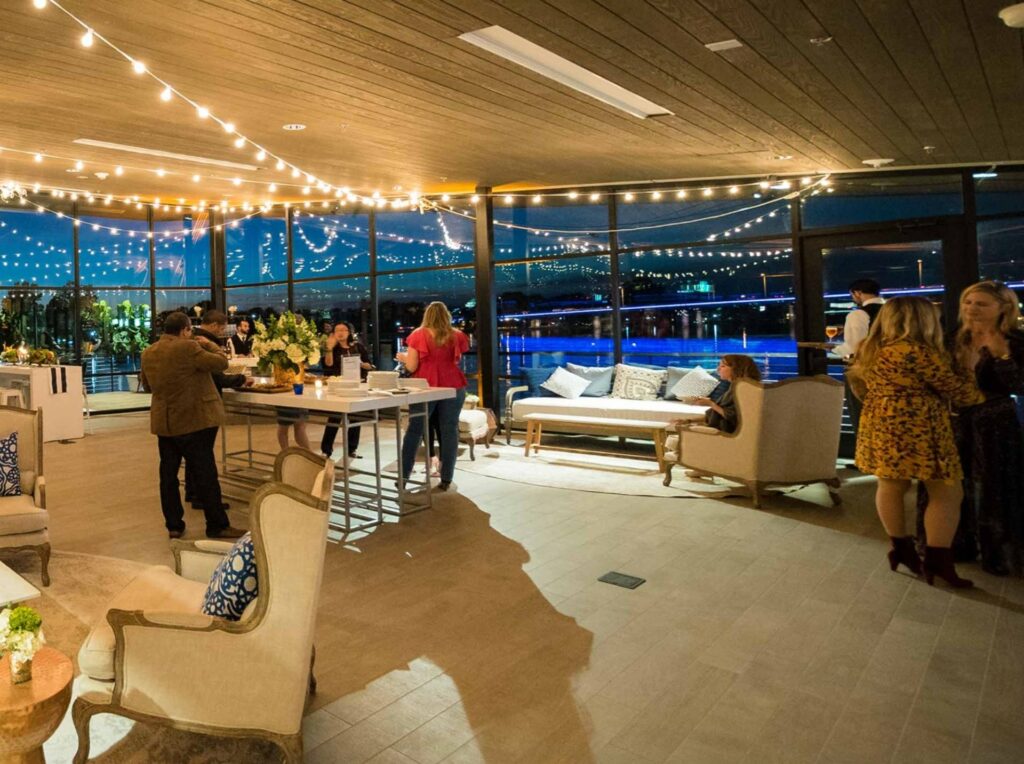 11. Decatur House
Neighborhood: Lafayette Square
Capacity: 300 standing
There is quite literally a 460-page book on the history and inhabitants of Decatur House so it's hard to boil it down into a few sentences, but here's a snippet. The Federal Style-residence, just across from the White House, was built in 1818 for renowned naval hero Stephen Decatur and his wife. Alas, he only enjoyed it for two years since he died in the house after being mortally wounded in a duel (à la Hamilton) two years later. That said, his ghost allegedly still calls the place home. Weddings have been held here for almost 200 years and it remains a favorite for its unique history and gorgeous facilities. If you're having a cocktail-style event you can accommodate around 300 by using the indoors and outdoors. (No need to include the ghost of Stephen Decatur in your projected headcount.)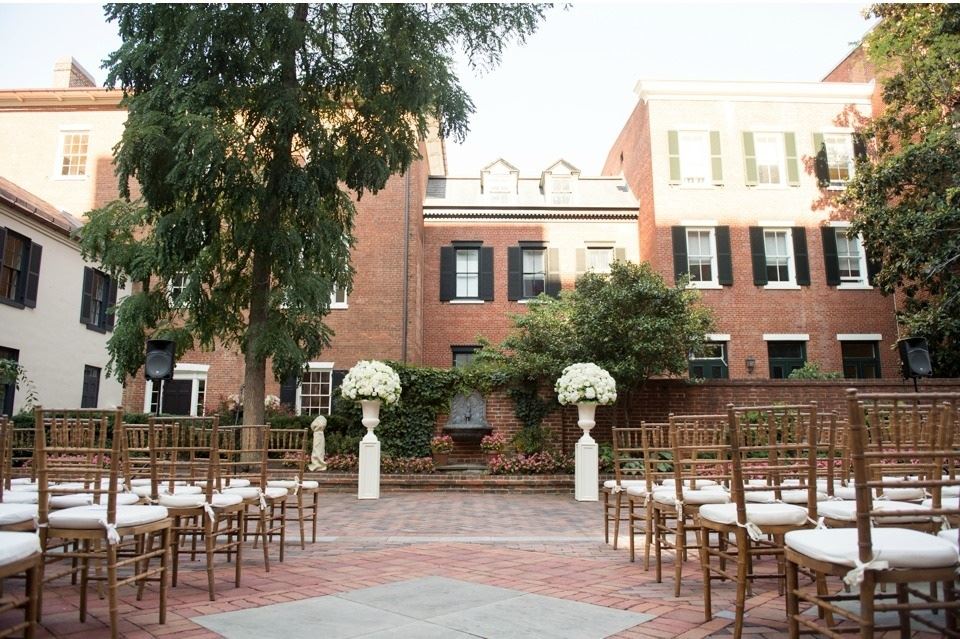 12. Hook Hall
Neighborhood: Park View
Capacity: 1,000+
There's not many places you can have an immersive safari experience in a beer garden but Hook Hall took that concept and ran with it where you can enjoy a libation in a tent with themed cocktails. The entirety of the place inside and out, or what they call "the full ship" is a whopping 13,500-square feet and can hold well over 1,000 patrons if you want to go big. (That said, there are plenty of places to go smaller and more intimate.) This is an events-venue powerhouse and current upcoming in-house activities range from "Sip and Script: Cocktails and Calligraphy" to "Mutts & Mimosas." Yes to both.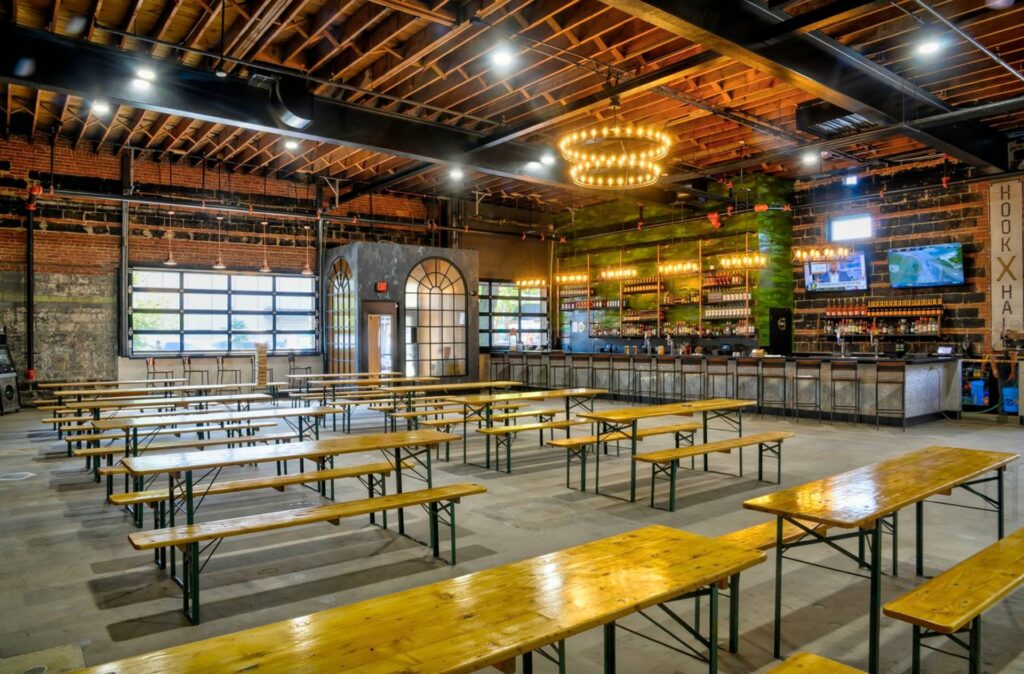 13. House of Sweden
Neighborhood: Georgetown
Capacity: Contact for more info
Scandinavian aesthetic never goes out of style, be it interiors or exteriors, or in this case, both. The relatively new House of Sweden contains the Embassy of Sweden, the Embassy of Iceland, office space, and an event center with exhibition and conference halls. The design is meant to reflect Swedish values. It's open, modern, and transparent which is actually quite unusual when it comes to more traditional embassy architecture. There are multiple places to choose from within, but you can expect those signature Scandi clean lines and chic minimalism throughout.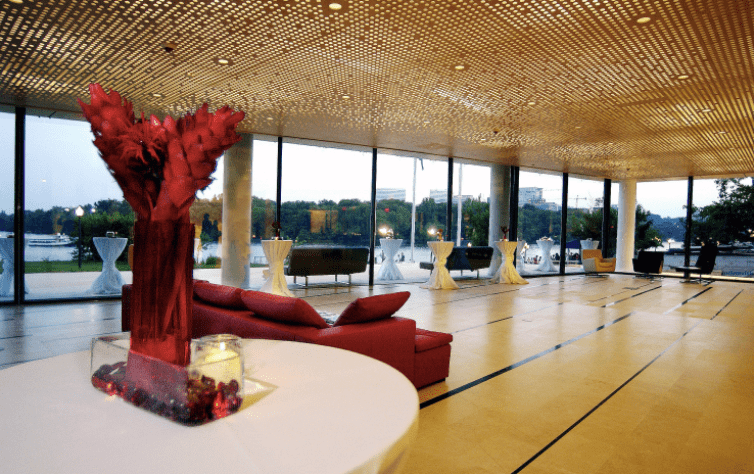 14. International Spy Museum
Neighborhood: Downtown
Capacity: 160
The International Spy Museum (also known as SPY) is an UH-MAZING museum that reflects the complete history of epsianage—its permanent collection of artifacts that dates back to ancient times. The 140,000-square feet building is a must-see for any tourist but on the local front it's also a brilliant and very much unique event venue. There's a few places to play with, and the largest will accommodate 160 +. The rooftop view here is the literal cherry on top.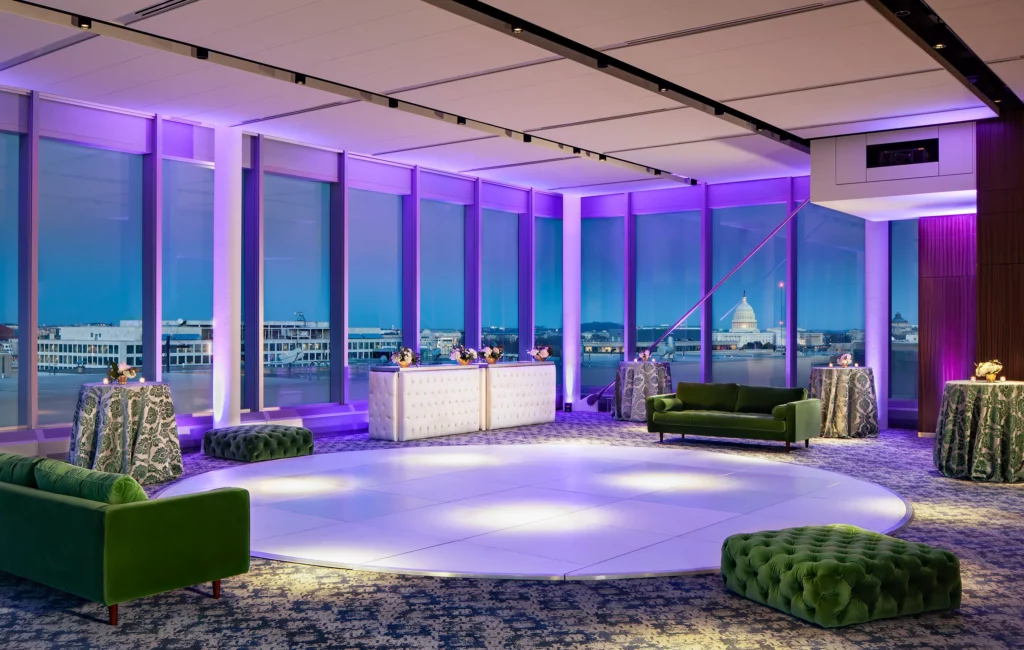 15. District Winery
Neighborhood: Navy Yard
Capacity: 450
Urban wineries are now very much part of the event industry zeitgeist, but they're still rare enough that it brings a unique flavor to an event. District Winery is a 5,000-square foot establishment that melds industrial chic with boutique charm. This premier, flawless event space is an all-inclusive venue for up to 200 seated/450 standing, so as a planner you won't need to do much heavy lifting with this one.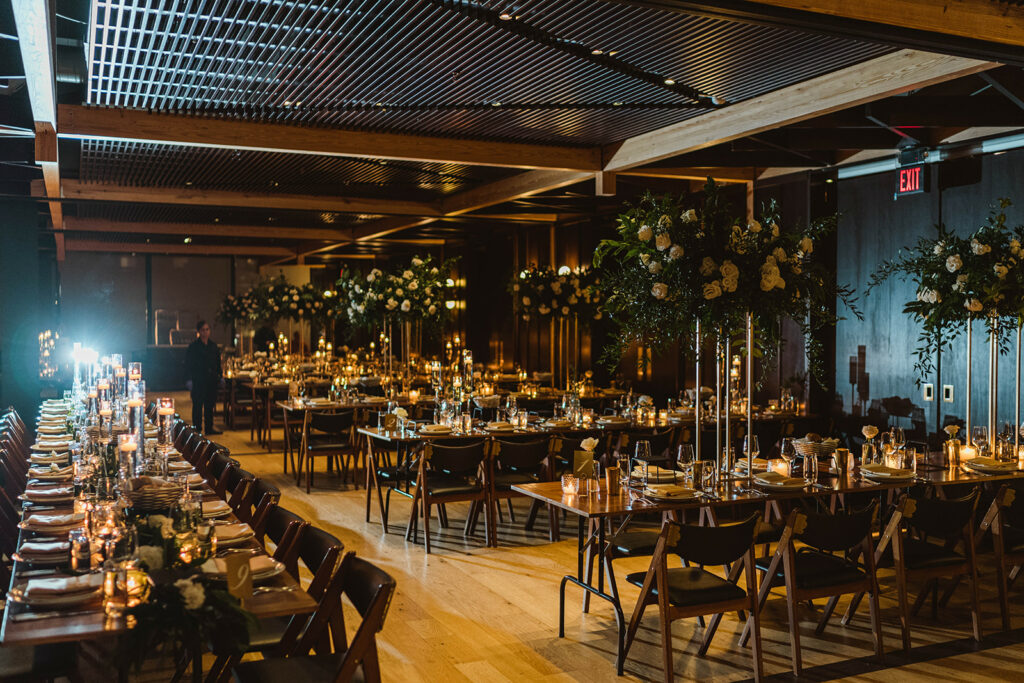 Why Finding the Right Venue is So Important
Unique venues are always a conversation starter, but most importantly it sets the tone for everything else. When venue searching for places that offer something different, remember that just because a venue looks fabulous and a special brand of quirky it may not be the right fit for what you have in mind. Do your research and visit it first if you can. 
Top Things to Consider When Booking an Event Venue
You know the drill — the big items to keep in mind:
Location, location, location!
A/V capabilities and needs.
Find the Best Corporate Event Venues on The Vendry
The Vendry loves unique venues, and especially ones that tell a story. Whether it's a chic urban winery, a museum devoted to espionage, or space with an embassy, we've got incredible D.C. venues for your to discover. Get started on your search today! 
Read More:
Soak in the Sun at One of the Top Rooftop Venues in Washington D.C.
The Best Large Event Venues in Washington D.C.
The Best Private Dining Rooms In Washington D.C.