Atlanta is a vibrant city with rich history, a diverse community, a lively music scene, and a plethora of iconic restaurants featuring anything you would want, from Southern cuisine to more modern farm-to-table eats. The year-round warm temps and energetic neighborhoods make it an ideal spot to host a large event, whether that's a convention, conference, employee training, or even a large wedding.
Home to the world's busiest airport, Atlanta is also convenient for guests to get to from all around the globe. But choosing the perfect Atlanta venue for your event can be a tough decision, especially with so many fantastic sites to choose from. We've selected 23 of the best large event venues in the ATL, and highlighted what makes each one stand out. Take a look at our list below, and get ready to plan your event in Atlanta. 
Incredible Large Venues in Atlanta
There are so many large event venues in Atlanta that offer what you're looking for, whether that's an industrial vibe in a refurbished warehouse, a more classic elegance in a grand ballroom, or something in between. Take a look at The Vendry's top choices for large event venues in Atlanta.
1. Georgia International Convention Center
Neighborhood: College Park
Capacity: 16,760
Georgia International Convention Center (GICC), located in College Park, is Georgia's second largest convention center with 400,000 total square feet. There is 150,000 square feet of exhibit space, and six 2,000-square-foot suites for meetings. There's also a 40,000-square-foot ballroom that can be divided into eight individual salons.
One of the biggest advantages of booking an event at GICC is the convenience: it's connected to the Hartsfield-Jackson Atlanta International Airport by the free ATL SkyTrain, close to MARTA transit, and off two major interstate highways. GICC is also connected to Gateway Center hotels by pedestrian walkways in case you need to think about lodging for your event.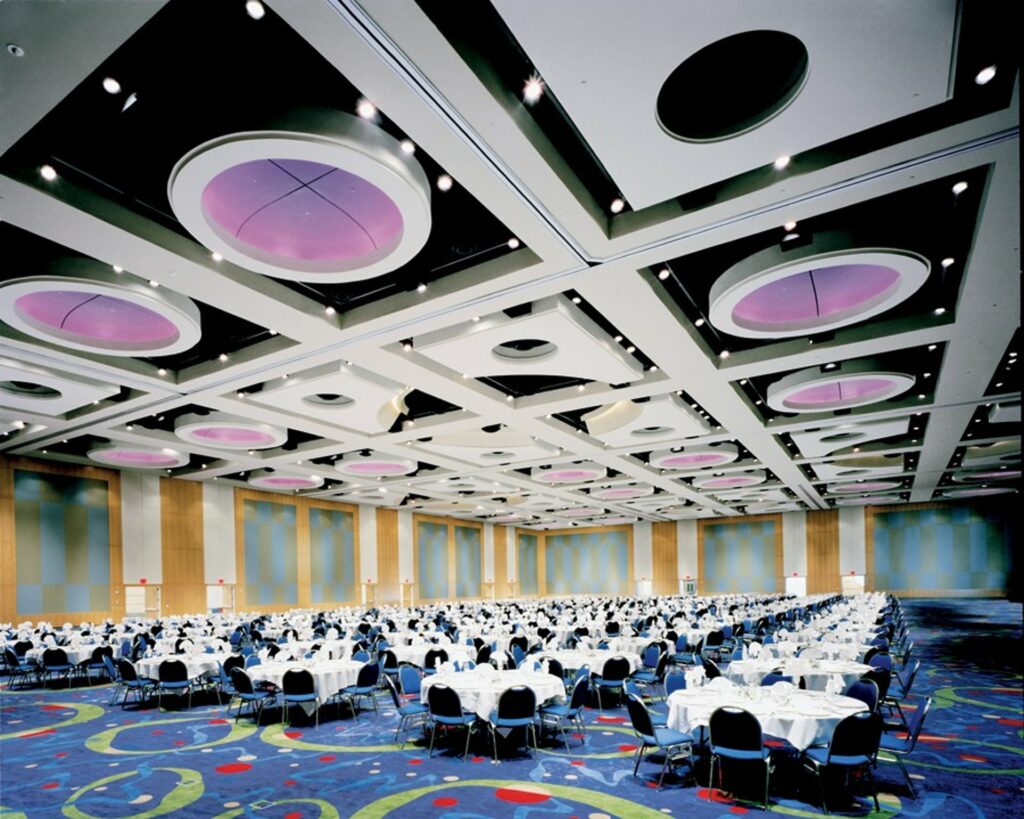 2. The Fox Theatre
Neighborhood: Midtown
Capacity: 4,665
The Fox Theatre is an iconic concert and event venue that started as a movie palace in 1929. Now, nearly 100 years later, the Fox Theatre is available for private events and ideal for all occasions, from corporate events to weddings and bar mitzvahs. The venue offers the auditorium, which seats 4,665 people, the Egyptian Ballroom, which is 6,840 square feet and holds up to 500 people at the banquet capacity (with a 600-person reception capacity), the Grand Salon and Terrace, which is 3,350 square feet and has a banquet capacity of 150 and a reception capacity of 200, and the Marquee Club, which is 10,000 square feet and has a reception capacity of 350 people.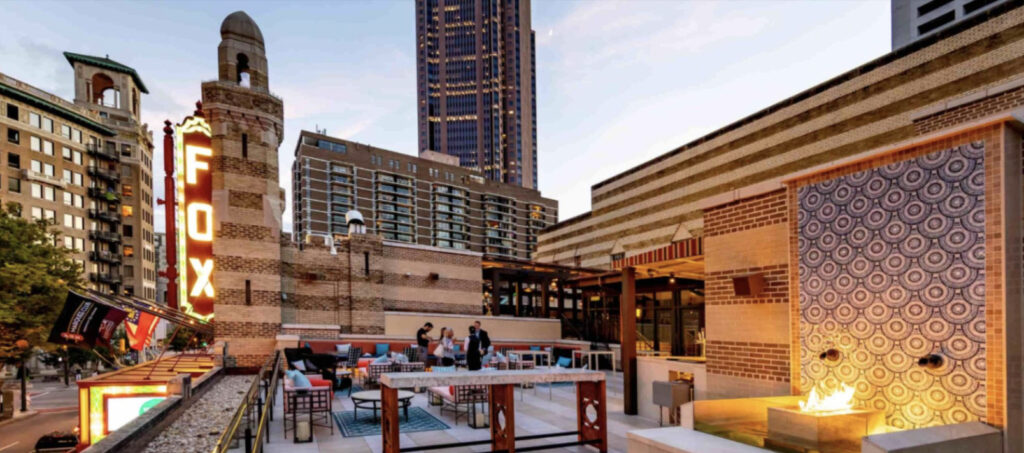 3. Georgia Aquarium
Neighborhood: Downtown
Capacity: Contact for more info
Give your guests an unforgettable experience at the Georgia Aquarium. Events are catered exclusively by Wolfgang Puck Catering, which has been the Georgia Aquarium's partner since it opened in 2005. The venue offers more than 23,000 square feet of flexible space, and you can reserve the entire aquarium, certain exhibits, the full Oceans ballroom, or smaller sections for your event. Some other private event perks include day-of on-site event coordination with your vendors, green rooms for talent, aquatic viewing windows for your guests, and more.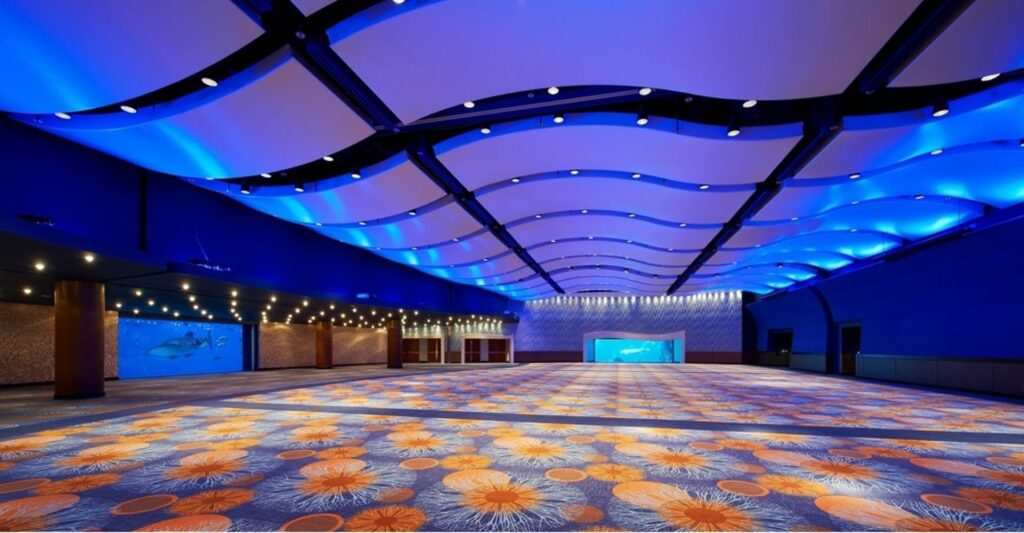 4. W Atlanta — Downtown
Neighborhood: Downtown
Capacity: 320+
The W Atlanta — Downtown is located conveniently on Ivan Allen Jr. Boulevard and boasts the WET Deck rooftop bool and adjacent WETBAR for cocktails and an onsite spa. The W has a total of 8 event rooms, 11,553 square feet of total event space, and the largest space can hold up to 320 people. The Great Room can hold up to 320 people for banquets and receptions, but is flexible to cater to much smaller events. The Great Room also has a pre-function space that is 3,326 square feet and designed for cocktail hour and passed apps. This venue also offers 6 studio spaces ideal for work conferences or smaller events and offer natural lighting, downtown views, and flexible seating.
5. Southern Exchange Ballrooms
Neighborhood: Downtown
Capacity: 1,075
Southern Exchange is located in the heart of downtown Atlanta and offers six private event spaces. The Whitehall Ballroom is 18,000 square feet with 30-foot ceilings and can hold up to 850 guests seated (or 1,075 people for cocktail receptions). The 155 space is ideal to hold theater-style events and can hold up to 250 people, and the Grand Loft features a modern loft aesthetic in 4,000 square feet and can accommodate up to 150 guests for a seated dinner and 300 people reception style.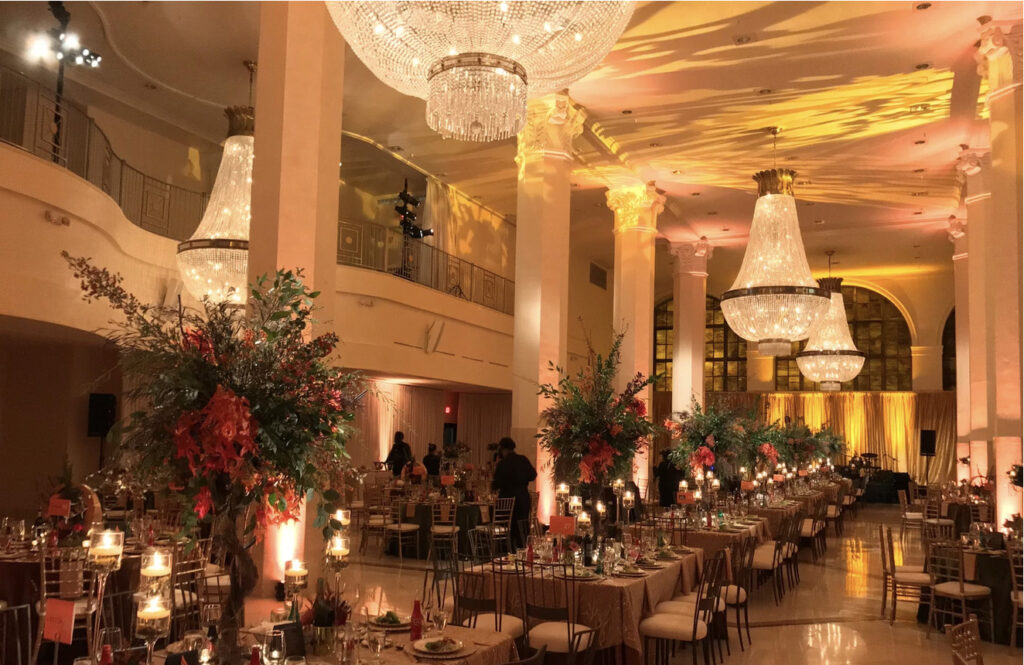 6. Coca-Cola Roxy
Neighborhood: Cumberland
Capacity: 2,650
Coca-Cola Roxy in The Battery Atlanta can hold up to 2,650 people (for the entire venue) and rental prices range from $5,000 to $30,000. There are smaller space throughout, including the balcony, which has a maximum capacity of 800, the main floor, which can hold up to 1,500 people, and the VIP room, which has a maximum capacity of 100 people.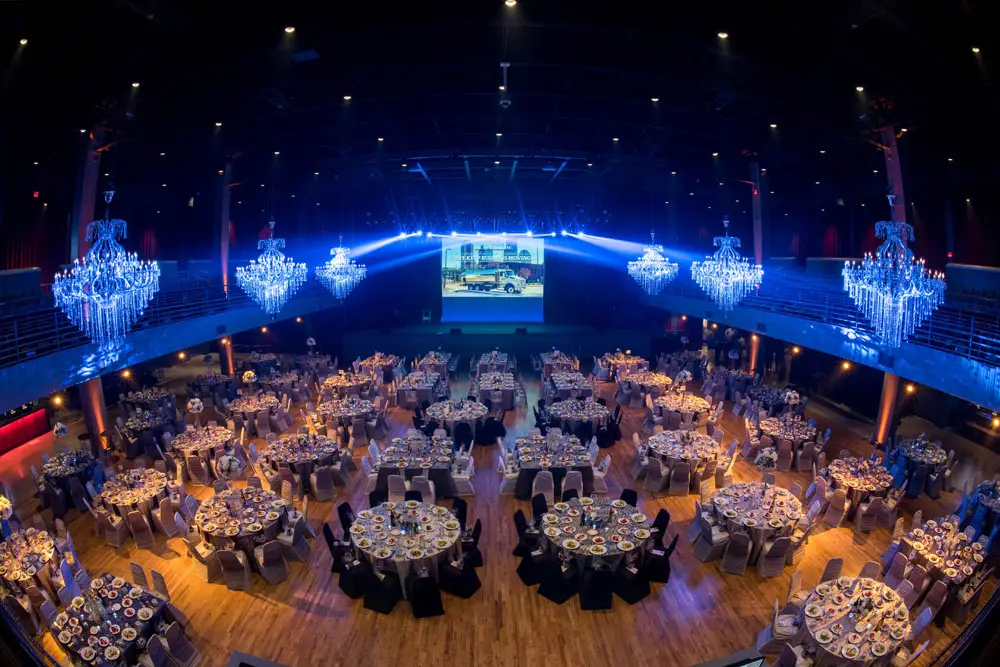 Need new field marketing ideas to take your event to the next level? Read 8 Field Marketing Strategy Ideas to Crush 2022 for some killer tips!
7. Delta Flight Museum
Neighborhood: Atlanta Hartsfield- Jackson
Capacity: 1,500
Hosting your large event in a renovated airplane hangar from the 1940s is something your guests will never forget. The Delta Flight Museum has 68,000 square feet of event and meeting space and several spaces. The largest space, the Jet Age Hangar, can hold up to 1,000 people banquet and 1,500 reception and features Delta's first Boeing 767 jet and a full-motion flight simulator open to the public. The Propeller Age Hangar accommodates up to 100 people banquet and 400 reception, while the American Express theater can hold up to 117 people and an additional five ADA positions.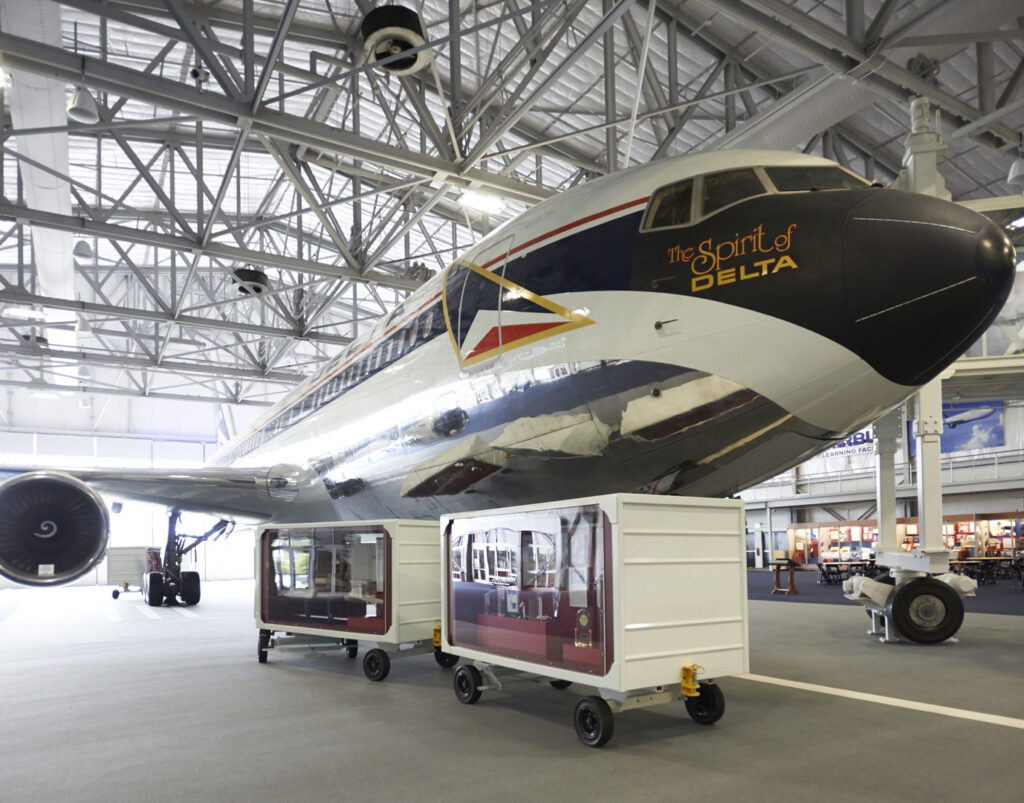 8. Zoo Atlanta
Neighborhood: Downtown
Capacity: 5,000
What's more unforgettable than an event with wildlife as the scenery? Zoo Atlanta is home to many event paces, including the Michael & Thalia Carlos Ballroom, which holds 620 standing and 550 seated, the Delta Savanna Terrace, which is a stunning outdoor space that holds 300 people standing and 150 seated, the Twiga Terrace, which holds 200 standing and 150 seated, and Ford Pavilion & Grand Patio that can accommodate 1,200 people standing and 950 seated. You can also purchase a full zoo buyout for up to 5,000 guests.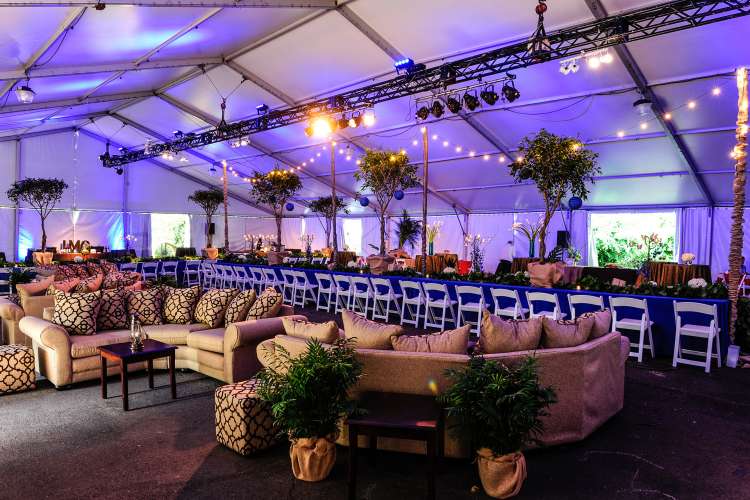 Make sure your booth stands out at your next event! Read The Most Creative Booth Design Ideas for Events and Trade Shows!
9. Ventanas
Neighborhood: Midtown
Capacity: 550
Ventanas is a sweeping event space that features two-story floor-to-ceiling windows that showcase views of downtown and midtown Atlanta. This venue offers 9,547 square feet of indoor and outdoor rooftop space and can host weddings, corporate events, large private parties, and more. Some exclusive amenities available for private events at Ventanas include self or valet parking, private entrance with optional VIP red carpet, a furnished green room, and an outdoor deck with bar, fire pits, and VIP seating area.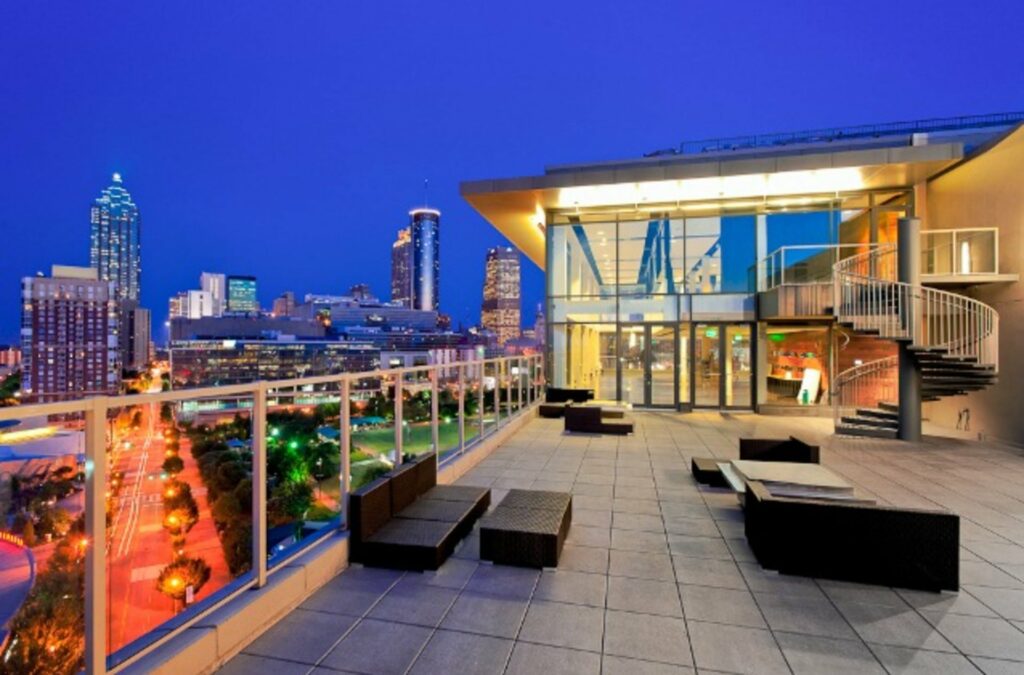 10. Flourish
Neighborhood: Buckhead
Capacity: Contact for more info
Flourish boasts elegant and stunning event spaces, including the Legendary Ballroom and the Courtyard Lounge with other spaces that add to the ambiance, including a sleek porte-cochère and a reception pre-event space. The Flourish Courtyard is a covered open-air courtyard that's 2,500 square feet and features black-and-white pavers and a chandelier sconce wall. The Legendary Ballroom is 11,200 square feet with 50 crystal chandeliers and sconces, and the Courtyard Lounge is 2,600 square feet and is ideal for VIP events.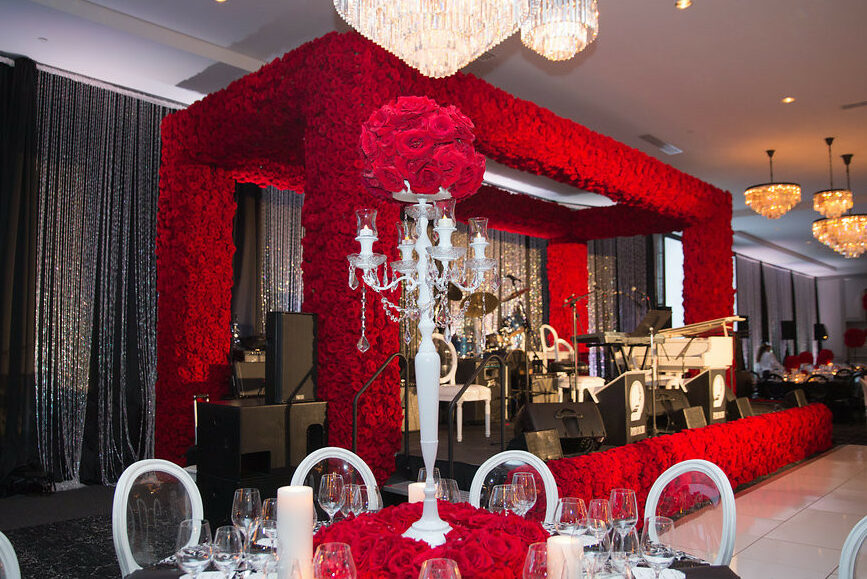 11. The Gate Museum
Neighborhood: Atlantic Station
Capacity: Contact for more info
The Gate Museum is a beautiful setting for private events, from weddings to private dinners to daytime lectures to corporate events. There is indoor and outdoor space available, including the stunning Millennium Gate Oval Lawn. The Petite Ceremony includes two hours of time to reserve your ceremony (the venue will be closed to the public during this time) and costs $1,000, and an intimate ceremony is one hour of time to hold your ceremony on the Oval Lawn or Terrace and costs $500.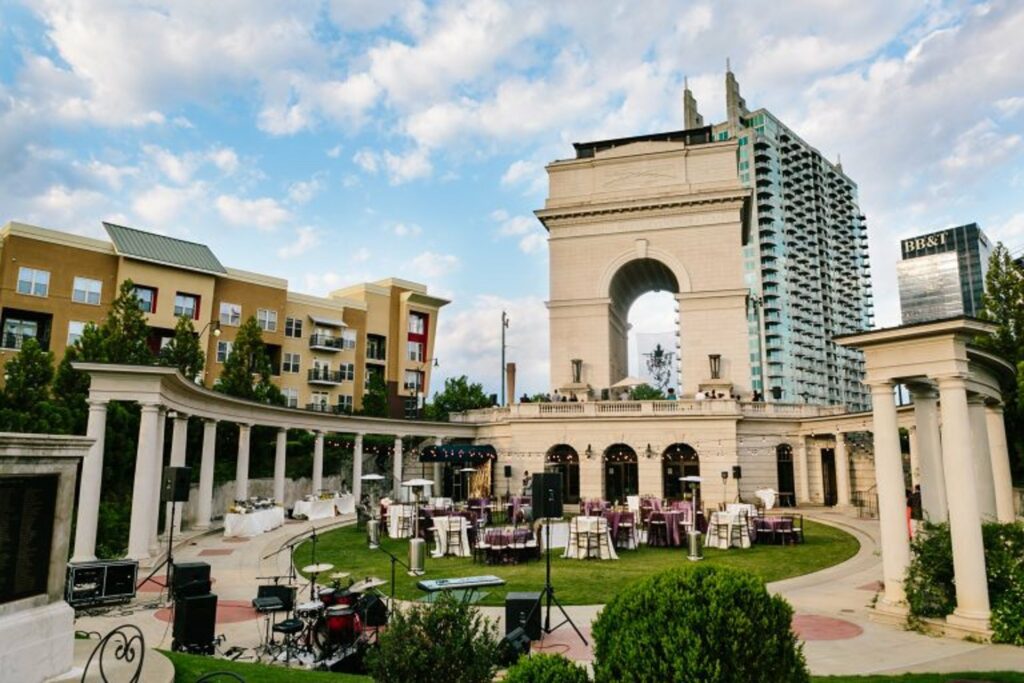 12. King Plow Arts Center
Neighborhood: Downtown / Midtown
Capacity: 800
King Plow Arts Center bills itself as "industrial chic on the Westside," and is a mix of modern and classic Atlanta. It's a renovated warehouse just minutes from Downtown and Midtown Atlanta, and can accommodate between 400 and 800 guests. There are two event spaces — one is 4,600 square feet, the other is 4,100 square feet — that can be separated or conjoined. The venue can accommodate up to 400 people seated or 700 reception style.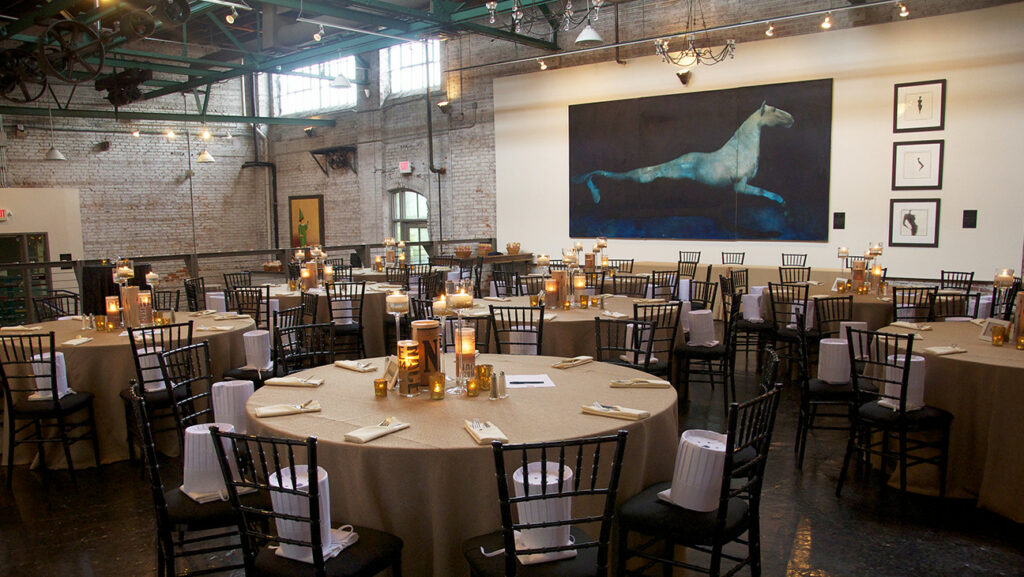 13. Atlanta History Center
Neighborhood: Peachtree Heights West
Capacity: 800
Atlanta History Center features seven indoor and outdoor venues for private events, including gardens, a grand ballroom, outdoor terraces, and a museum with rotating exhibits. The Atlanta History Center is ideal for any event, including weddings, photo shoots, corporate events, and other social events. The Swan House Gardens is a gorgeous venue with stunning outdoor lawns, and can accommodate 50 to 750 guests. The Grand Overlook Ballroom is a stunning indoor space that can accommodate up to 500 people for a seated dinner, or 400 for dinner and dancing.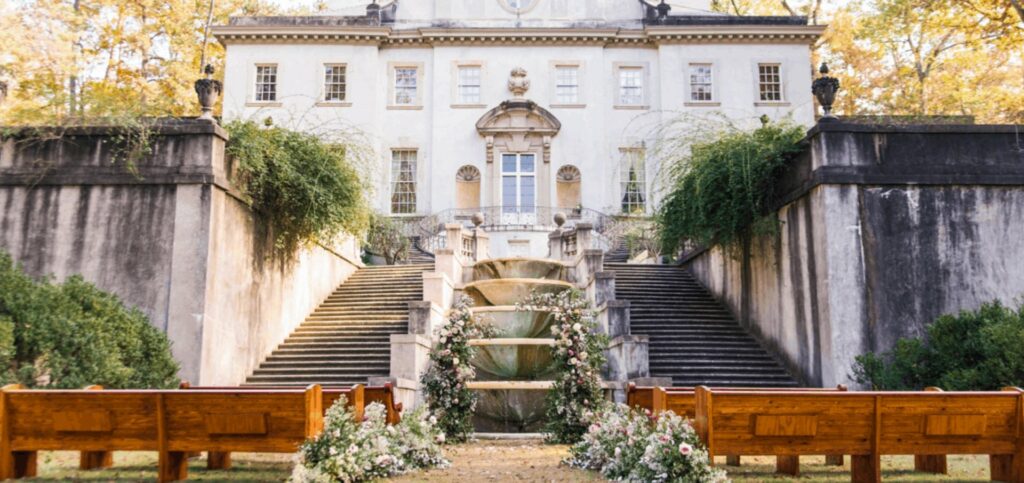 14. Summerour Studio
Neighborhood: Westside Atlanta
Capacity: 425
Summerour Studio is located in Atlanta's Westside and is a refurbished warehouse that was previously the home to Preston Rose Printing. It boasts 8,000 square feet of space in an open concept and can accommodate 50-425 guests (350 max seated, 425 reception style). The average cost for rental is $4,000-$6,000, and features a rustic courtyard and vibrant city views.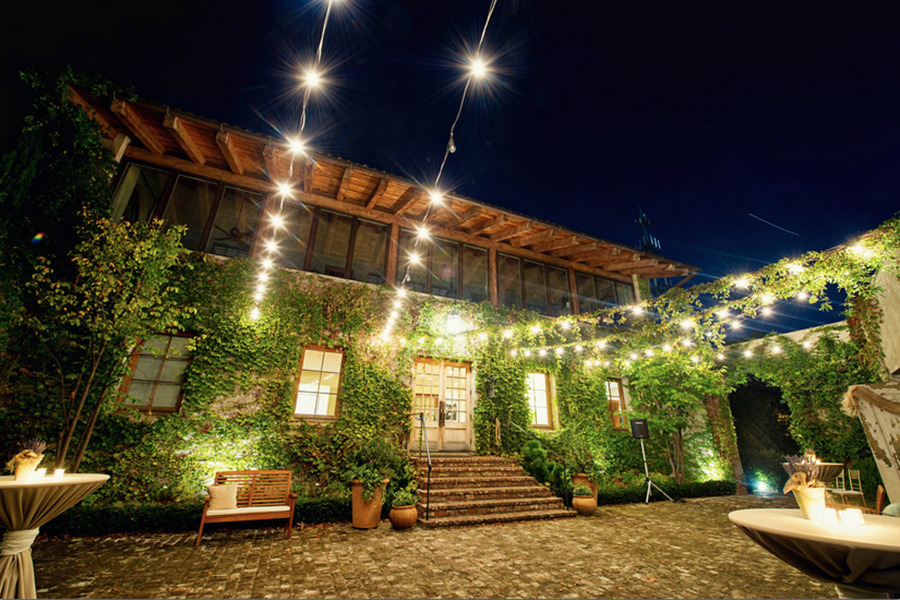 15. The Carlyle Venue
Neighborhood: Metro Atlanta
Capacity: 500
The Carlyle features three distinct spaces that can work together or separately, meaning its ideal for a number of different private events, from weddings to corporate events. The Carlyle has an outdoor courtyard, and two large ballrooms. They can accommodate events from 100 to 500 people, and feature amenities such as a permanent bar and liquor license. Rental fees range from $2,000 for an 8-hour block during the day Monday through Thursday, to $6,000 for an 8-hour block on Saturdays.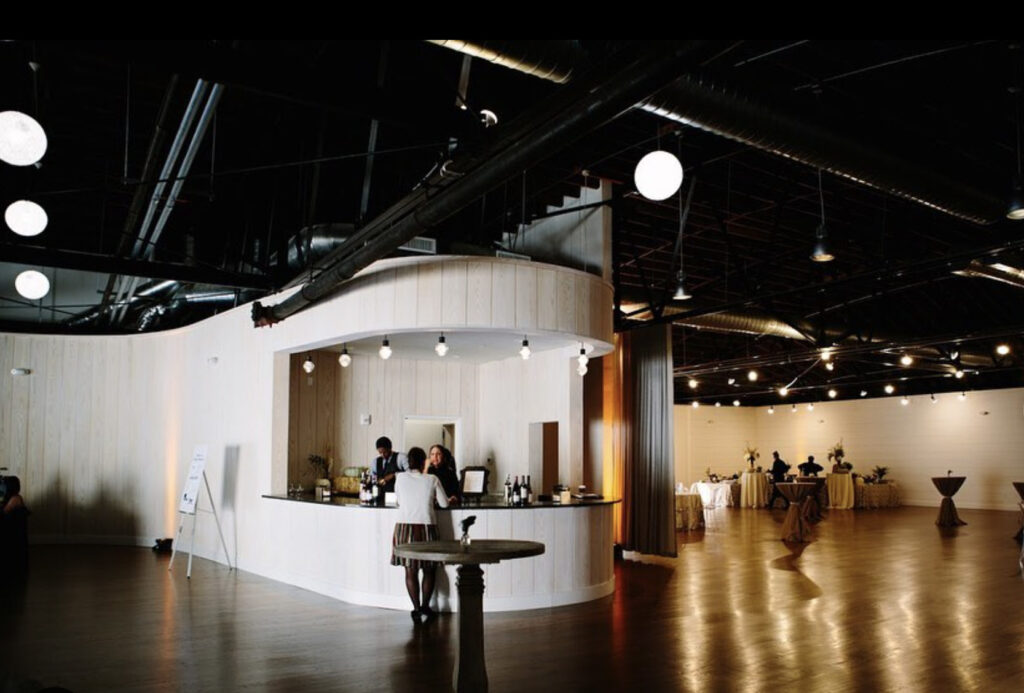 16. Cobb Galleria
Neighborhood: Cumberland
Capacity: Contact for more info
Cobb Galleria is an expansive, versatile convention center to host any large-scale event, including conventions, meetings, weddings, corporate events, proms, training events, and more. The venue features an elegant ballroom, 20 meeting rooms, four boardrooms, and an exhibition hall. One of the perks of Cobb Galleria is its close proximity to nearby hotels and restaurants in the Cumberland/Galleria district in northwest Atlanta.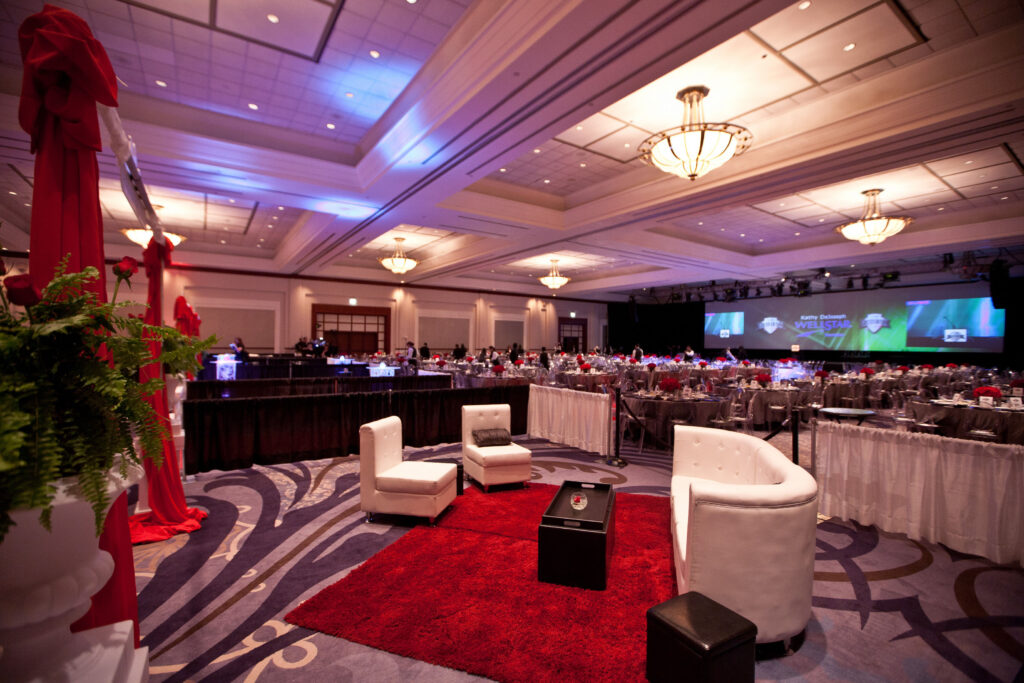 17. Atlanta Event Center
Neighborhood: Midtown
Capacity: 200
Atlanta Event Center makes planning your event easier as its an all-inclusive venue, which means one contract, one caterer, and one venue. Located near Midtown, Atlanta Event Center has several private event spaces, including the Main Room, Owner's Suite, the Ballroom, and outdoor spaces: the Cabana is an outdoor patio that features a large pool and water wall and can hold up to 200 people, and the Garden, which is a lush space featuring a grand fountain.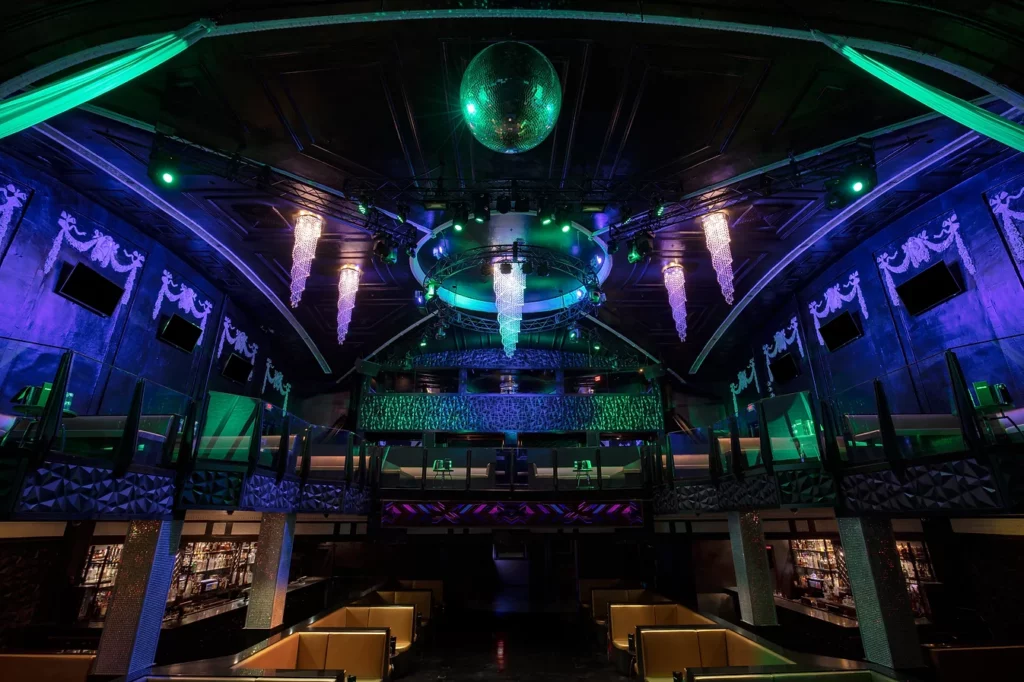 18. The Foundry at Puritan Mill
Neighborhood: Puritan Mill
Capacity: 1,200
The Foundry at Puritan Mill was built in 1921, and boasts 12,000 square feet of flexible event space. The venue can hold 100-1,200 guests, ranges from $3,000 to $5,000 for an average rental, and 250 parking spaces. They work with 11 preferred caterers, and the bar selections include a beer and wine hosted bar, a call brand hosted bar, and a premium brand hosted bar.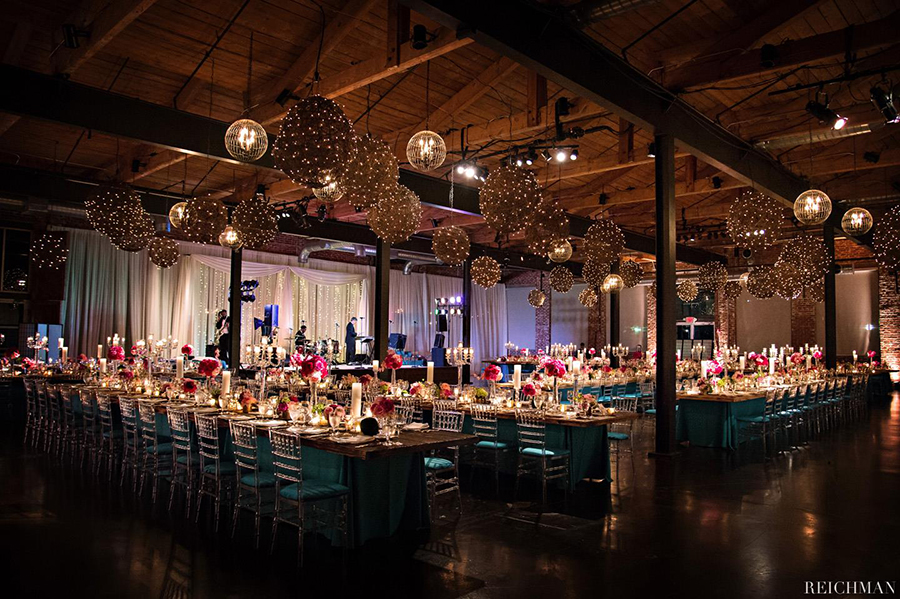 19. The Wimbish House
Neighborhood: Midtown
Capacity: 250
The Wimbish House in Midtown is a stunning event space with high ceilings, period furnishings, hardwood floors, and historic architectural details. The Wimbish House is a popular venue that can accommodate up to 150 people for ceremony/reception, and up to 250 people for reception only.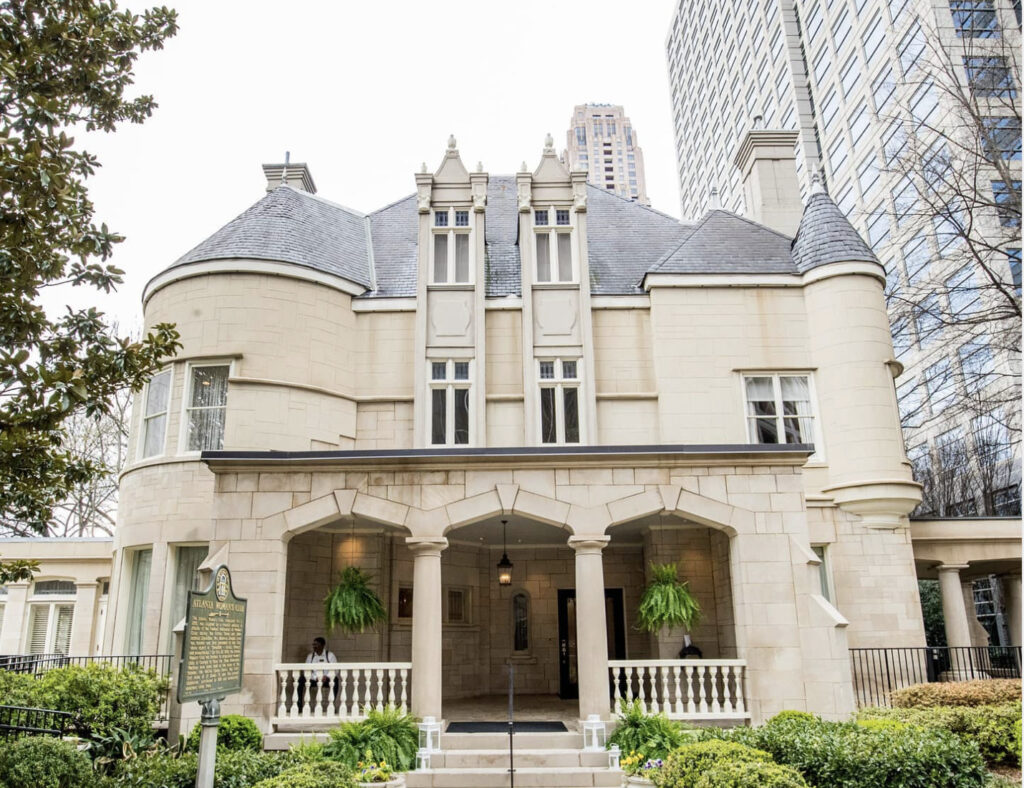 20. High Museum of Art
Neighborhood: Midtown
Capacity: 325
Give your guests an unmatched backdrop of world-class art by booking an event at High Museum of Art, located on Peachtree Street. You can book the Robinson Atrium, which features a four-story ramp leading to the museum's permanent collection galleries, and holds up to 325 people standing, and 150 seated. The Anne Cox Chambers Wing boasts an intricate roof system, which fills the space with natural light. You can also book the Hill Auditorium for lectures, presentation, and intimate conversations, which holds up to 220 people seated.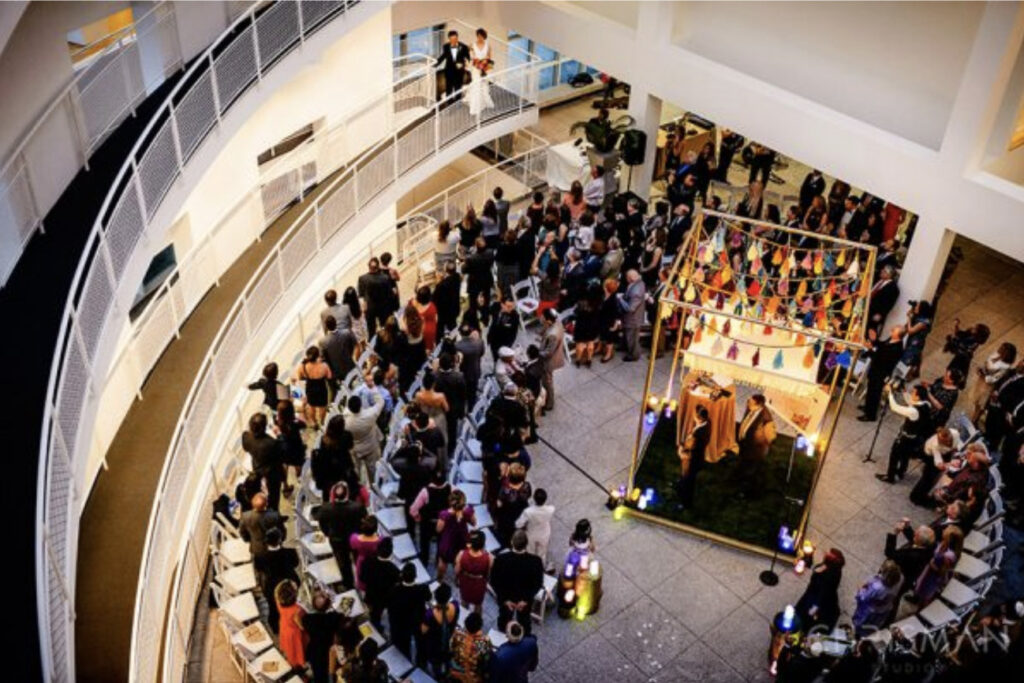 21. The Georgia Terrace Hotel
Neighborhood: Midtown
Capacity: 300
The Georgia Terrace Hotel is ideal for not only a special event like a wedding or bat mitzvah, it also has inclusive meeting packages for your corporate event needs. The venue boasts a Grand Ballroom that's 4,116 square feet and can accommodate 300 people reception style (no seating), plus two additional ballrooms. For company gatherings, the lower level conference center features six conference rooms, and the biggest conference room is 2,204 square feet and can hold 250 people reception style. Inclusive meeting packages come with an executive continental breakfast, all day beverages, LCD projector package and sound, a dedicated conference planner, and more.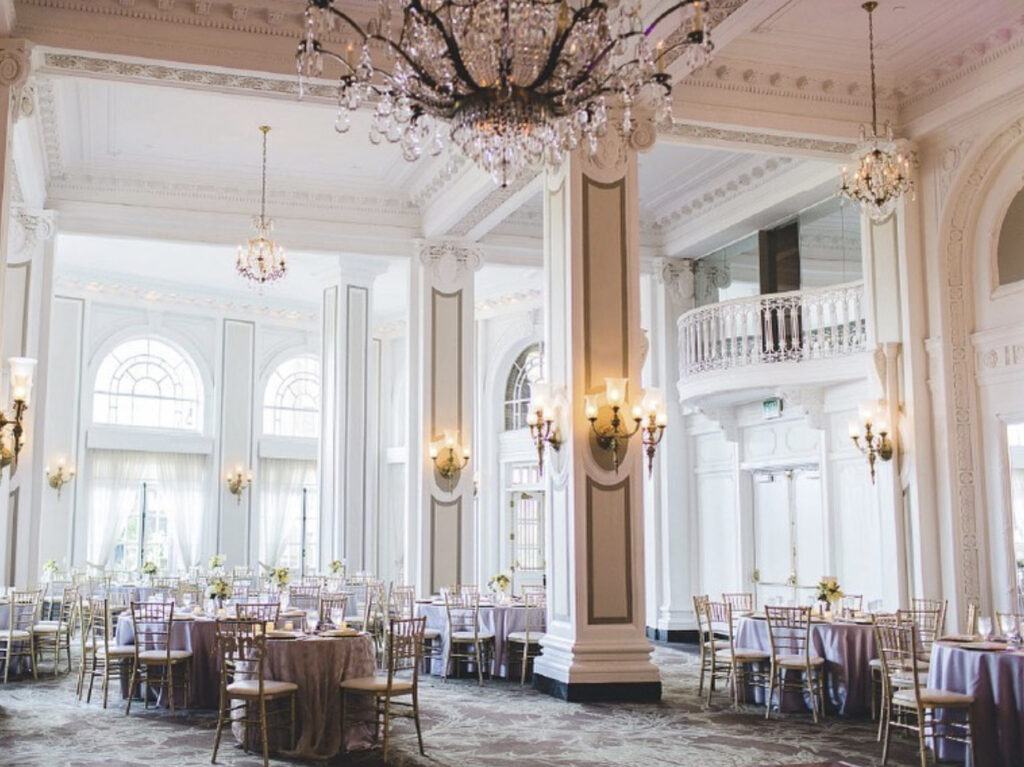 22. Illuminarium
Neighborhood: Atlanta Bentline
Capacity: 100
Illuminarium boasts 14,000 square feet of event space and makes for a unique immersive experience. Illuminarium has on-site catering that can serve up to 100 guests, and a list of approved catering partners they work with for events with more than 100 people. The venue also has a liquor license and can provide a full bar service.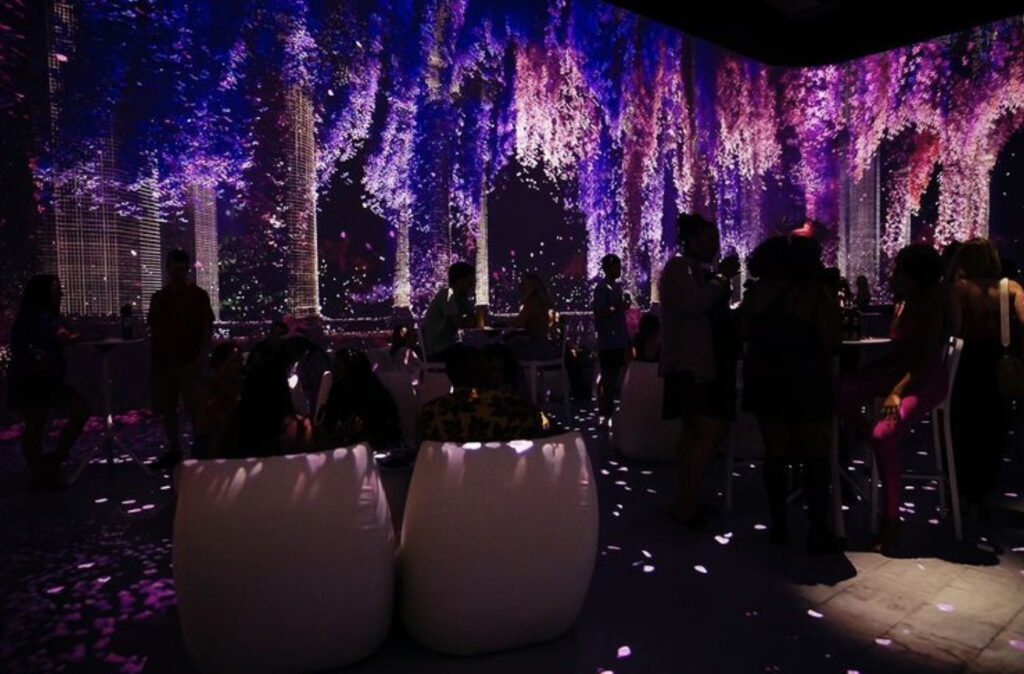 The Importance of Finding the Right Venue for your Event
There's no shortage of stunning venues in Atlanta to accommodate a large private event. Whether it's a big wedding or a corporate event, Atlanta's expansive event spaces are unmatched and bound to fit your aesthetic and vision. As you plan your large event in Atlanta, make sure your venue meets all of your requirements. Here's what to consider when booking your venue:
How many people will be attending?
Is the location convenient?
Is the fee within your budget?
Will you be serving food and alcohol?
Is there catering on site or do you need to hire a catering vendor? Does the venue have a list of vendors they work with and recommend?
Is it in a convenient and desirable location?
What is the parking situation?
Is it near public transportation?
Is there lodging on site or is there a hotel nearby?
What Are the Different Large Scale Venue Types?
Atlanta has so many large scale venues that offer not only the space to accommodate a long guest list (from 100 people to a couple thousand or more), but also unparalleled ambiance and amenities.
From renovated warehouses, like King Plow Arts Center and Summerour Studio, to museums, like The Gate Museum and the High Museum of Art, to grand ballrooms like the Grand Overlook Ballroom and the regal spaces at Southern Exchange, options abound in Atlanta.
Many venues offer full buyouts for bigger groups, or smaller spaces within to accommodate your guests. Which event you choose will depend on what you are looking for, whether that's a particular type of food, an immersive experience, or an atmosphere that captures the unique vibe of Atlanta.
What to Consider When Choosing A Venue For Your Corporate Event
While Atlanta is an excellent city to host a corporate event in, thanks to its rich history and vibrant scene, some things to consider for corporate events include:
Time of year: As a Southern city, Atlanta stays pretty warm year-round, but summers can be brutal with heat and humidity. Consider booking during winter or spring months when it's cooler in most other states, and avoid the uber-hot months of July and August.
Location: Consider booking a venue that's in a desirable location for your guests to explore before and after your event, like Westside, Midtown, or Downtown. Also, keep in mind the ambiance you are looking for for your venue, whether that's more modern in a hip arts district or something more historical.
Accessibility: Is your event near public transportation? Are guests staying nearby? Will there be enough parking? Is the venue easy to get to? Try to reduce the logistical complications of difficult directions or limited parking to make the event a breeze.
Flexible contracts: Since you can never be too careful with large in-person events in 2022, make sure you have a venue that offers flexible contracts so you aren't locked into a situation should you need to cancel or make changes last-minute.
The Vendry Can Help You Find The Best Large Venues In Atlanta
Booking an event for a large-scale event can seem overwhelming, especially in a big city like Atlanta with so many options, but let The Vendry be your go-to resource. The Vendry can help you search for the perfect venue for your event and filter by city, ambiance, neighborhood, and more.
Read More:
The Hottest Large Event Venues in Los Angeles
The Best Large Event Venues in Chicago
The Best Large Event Venues in Miami
Looking to explore some of the many attractions Atlanta has to offer? Read through our Atlanta Event Planning Guide to help get you started!