Welcome to Texas' capital city, where the music scene is hot, the food is innovative, the nightlife is rocking, and the culture is deep. Austin is having a moment right now, and for good reason. When it comes time to host your next conference, corporate meeting, product launch, or team building event, turn to this buzzy city and its plethora of unique venues from which to choose. You can't go wrong hosting an event in Austin – explore The Vendry's list below of unique venue ideas and you'll see why.
15 Unique Venues in Austin to Host Your Next Event
Austin is filled with an electric vibe and welcoming folks, a winning combination when looking for a place to host your corporate outing. Since you've already landed on hosting your event here, might as well continue to "keep Austin weird" by selecting a unique venue that will reflect that vibe. Know your crowd size, place your event must-haves top of mind, and dive into 15 unique venues in Austin.
1. Palazzo Lava
Neighborhood: Downtown
Capacity: 100
Just two blocks from the Texas Capitol sits the stately Palazzo Lavaca, a totally unique spot in Austin to host a private company outing. The location was once a storefront for a boot and saddlery shop, but now the main floor of this historic place is a ballroom. Evoking the time of a more glamourous era, this space has 18th century antiques, a coffered ceiling, and goldleaf walls. Utilize the 1000 square feet of outdoor space, framed by the turn-of-the-century carriage house and climbing roses. Work with their list of caterers and vendors and you'll have yourself a meeting no one will soon forget.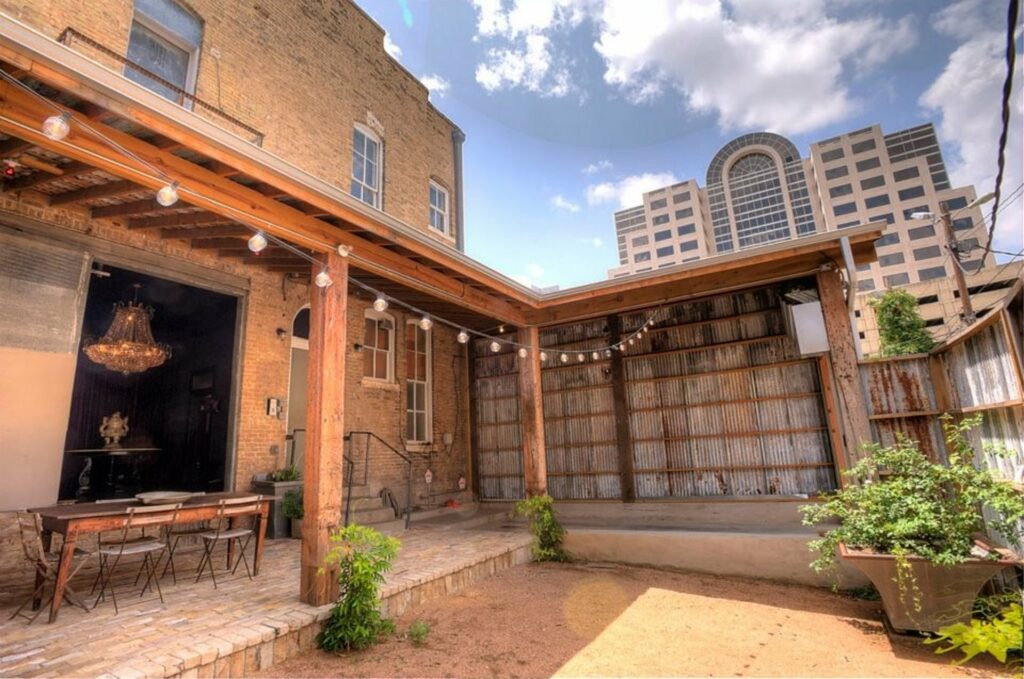 2. Umlaf Sculpture Garden & Museum
Neighborhood: Zilker
Capacity: 600
Productivity and creativity will come together at Umlaf Sculpture Garden & Museum, a tranquil, wooded venue just minutes from downtown Austin in Zilker. You don't need to roll in to this spot with a lot – it's already gorgeous and certain to inspire. There's four acres of bronze and stone sculptures, winding pathways, and serene ponds and brooks. The Crenshaw Room is an idea spot for staff retreats or meetings, or even lectures or small networking events. It's huge windows provide views of the Gallery and the Garden, and includes drop down shades, perfect for privacy. It also features an LCD flat panel display, wireless internet access, and access to the catering kitchen.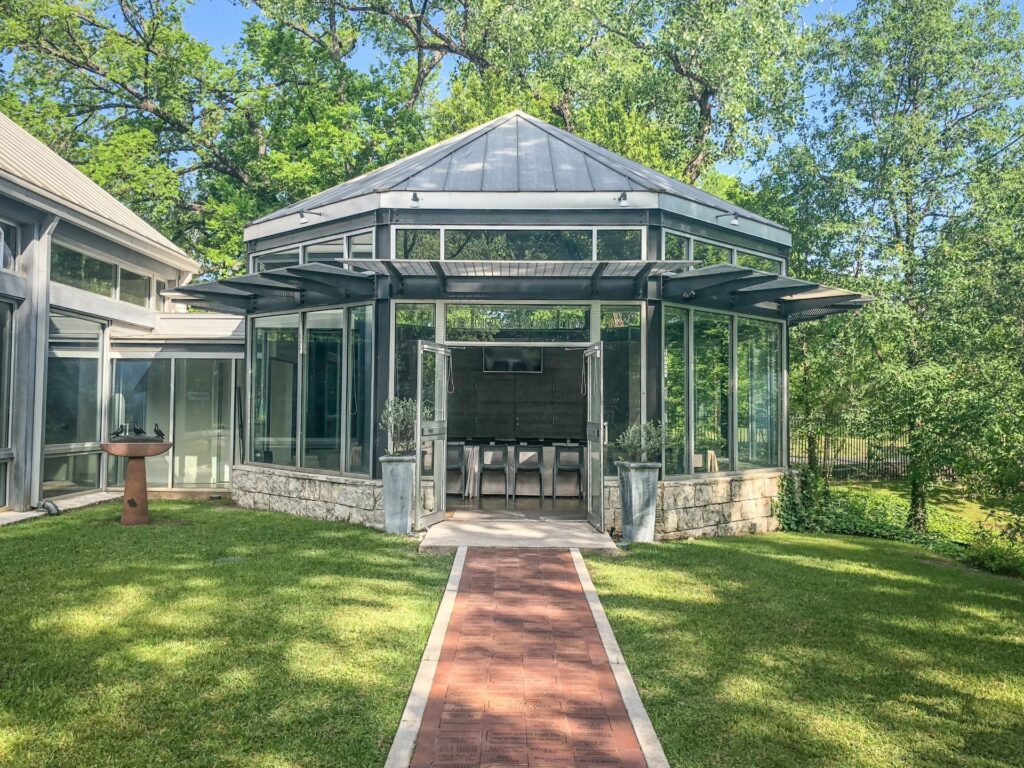 3. The Oasis on Lake Travis
Neighborhood: North West Austin
Capacity: 200
Welcome your guests to "lake life" as you meet 450 feet above Lake Travis at The Oasis Texas Brewing Company. Positioned on this popular lake just outside of Austin, The Oasis offers three different venues for meetings and events. The Top of the Oasis is the premiere space here, with stone columns, a natural stone bar, and an unreal view of sunsets over Lake Travis. Book the Lakeside Terrace for your meeting, a glass-enclosed, Tuscan-inspired villa with its own entrance. No need to worry about catering, as the food is in-house. All you have to do is kick back and enjoy life on the lake.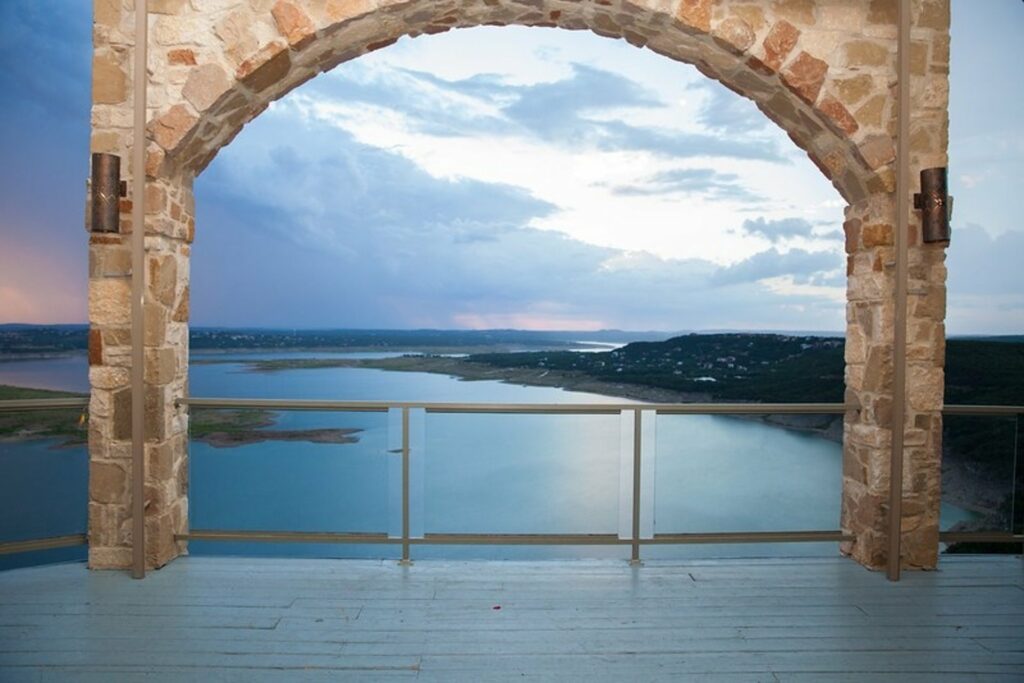 4. Smash ATX
Neighborhood: Downtown
Capacity: 350
Now, this is how to team build. Smash ATX is a spot for cocktails, comfort food, sports, and ping pong. Yes, ping pong. Located at the site of a former Austin blues bar, this hotspot offers up ten ping pong tables and a ton of big screen TVs. Smash ATX is a place to network or have an afterhours outing with the team. It's a rollicking, loud good time. And no worry on ping pong skill levels – they will take your crowd anyway they come.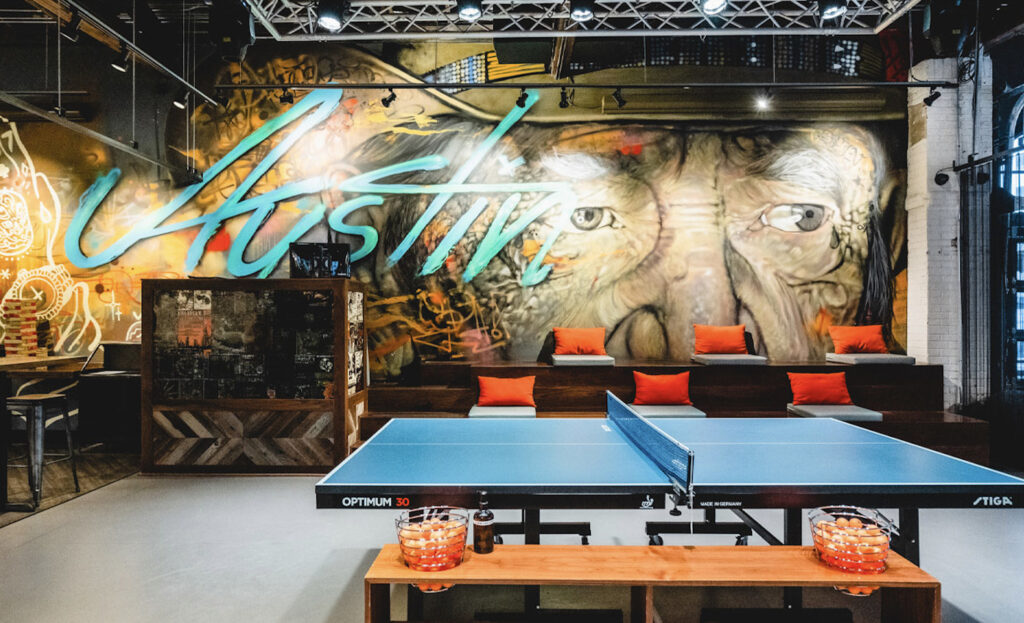 5. The Bullock Texas State History Museum
Neighborhood: Museum District
Capacity: 1,200
The Bullock Texas State History Museum is as big and vast as the great state of Texas itself. This totally versatile venue is fabulous if you are hosting a crowd, and has indoor/outdoor functionality that makes it in high demand. Hosting a lecture or presentation? Look into the Texas Spirit Theater, a multi-sensory, special effects theater with a fully customizable stage. Host a breakout session in the Boardroom up on the fourth floor, complete with deep leather chairs and a bird's eye view of the Museum's rotunda. Because this spot is genuinely in the heart of Austin, it makes for a spectacular choice when it comes to distinct venues.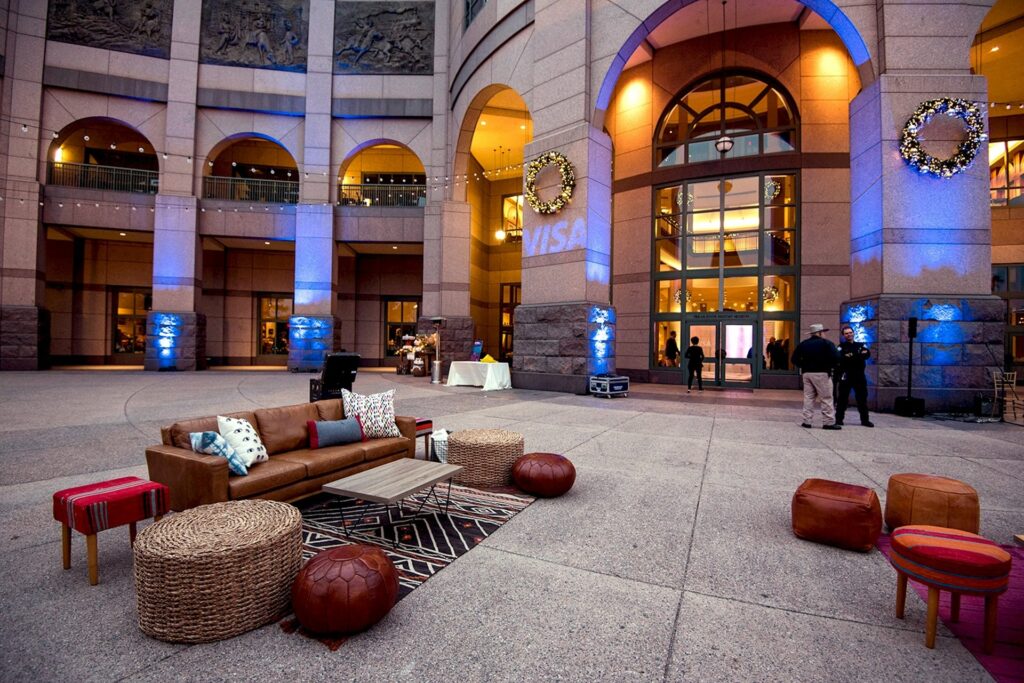 Make sure you capture the moment. Browse the top event photographers in Austin!
6. Pecan Springs Ranch
Neighborhood: Southwest Hills
Capacity: 350
Pecan Springs Ranch is where the city meets the country. While this is mainly considered an outdoor space, there's 6,000 square feet of climate-controlled indoor space to utilize, as well as a 4,500 square foot Creekside pavilion. This ranch is natural, serene, and a great spot to host a company retreat as its only ten minutes west of Austin. Allow your caterers to use the full prep kitchen, but not to worry about waitstaff – Pecan Springs Ranch has several highly trained "drink donkeys" fitted with baskets that will serve cocktails to your attendees.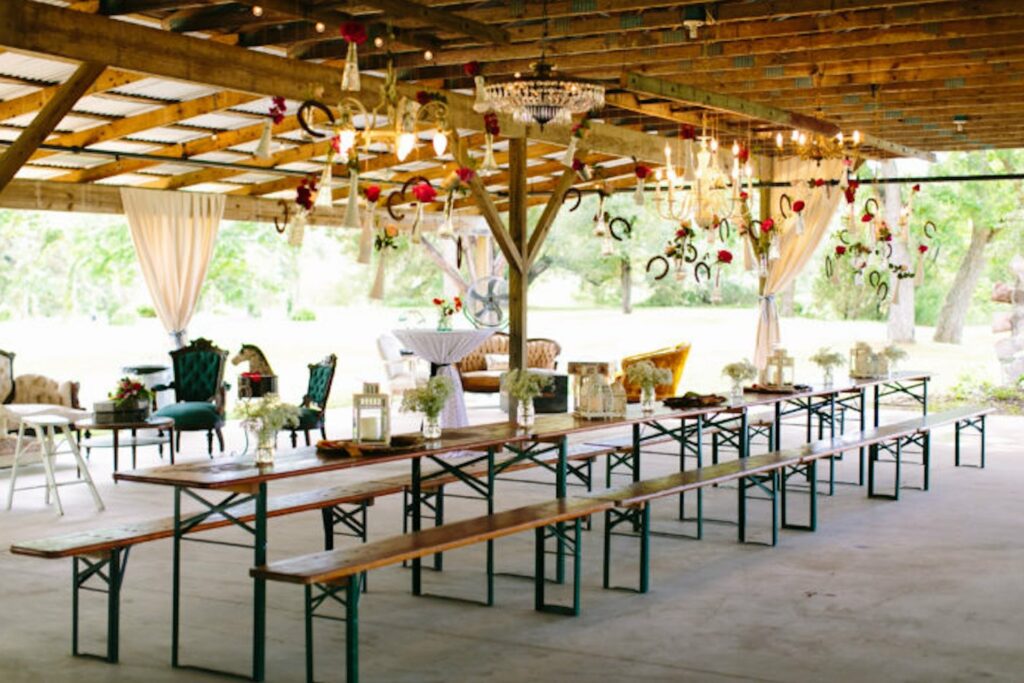 7. Austin Film Society Cinema
Neighborhood: The Linc Mall
Capacity: 500
Austin Film Society Cinema screens repertory, international, and arthouse films, but also serves as a really unique event venue for those looking for a distinct spot in the city. The creative process is baked into this venue, so look for your team or clients to be inspired to collaborate and partner. Events, expositions, meetings, conferences, panel discussions, or movie premieres all happen here. There's a two-screen arthouse theater and a 4,675 square-foot production hall, all just five minutes from downtown Austin. Enjoy a full concessions menu and loads of free parking.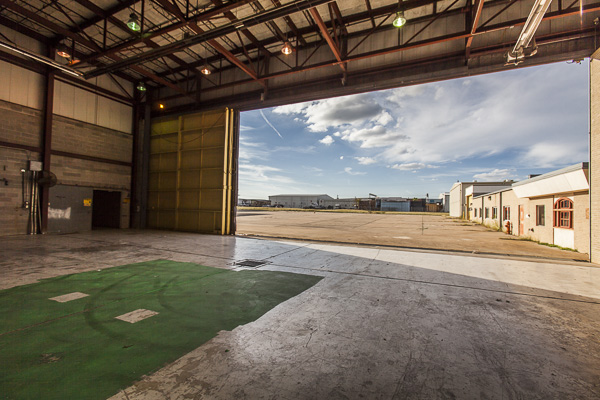 8. Sanctuary Event Space
Neighborhood: Zilker
Capacity: 150
Just as the name implies, one minute on Sanctuary Event Space's property will tell you that this is the place. Ancient oak trees provide a canopy of shade upon your entrance. Book the Studio, a large, climate controlled room with a deck. Or perhaps utilize the Loft and Tree-top Balcony, a fully furnished apartment, for a breakout session. Whatever you decide, the choice to book here is also a thoughtful one. Your rental fee will go toward the Amala Foundation, whose programs offer leadership training and culturally rich volunteer opportunities for young people.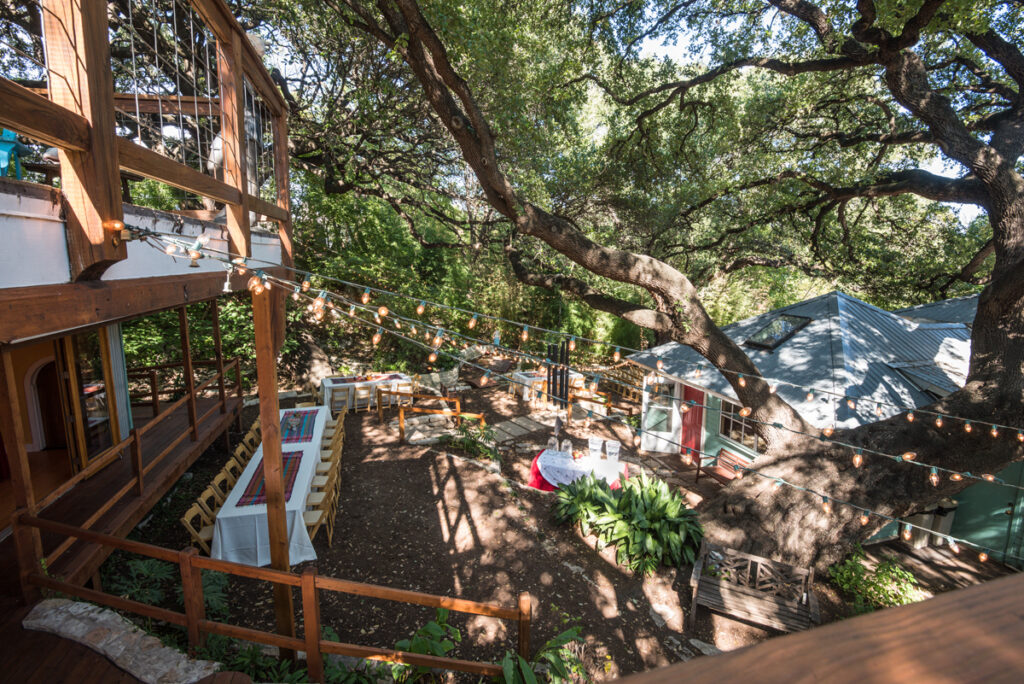 9. Eberly
Neighborhood: Zilker
Capacity: 175
Once an old print shop, Eberly has emerged on the scene as a lively hotspot of rich intrigue. This eatery loves to host private events, and they have lots of choices for venues in which to do so. The Study seats up to forty at long tables, as iron beams and greenery fill up the space right up to the glass skylights. The Cedar Tavern can seat 60 to 125 casually, while the Rooftop can fit up to 175 for a reception. The best part is you can start your day of meetings at the Eberly, as they offer gorgeous brunch options.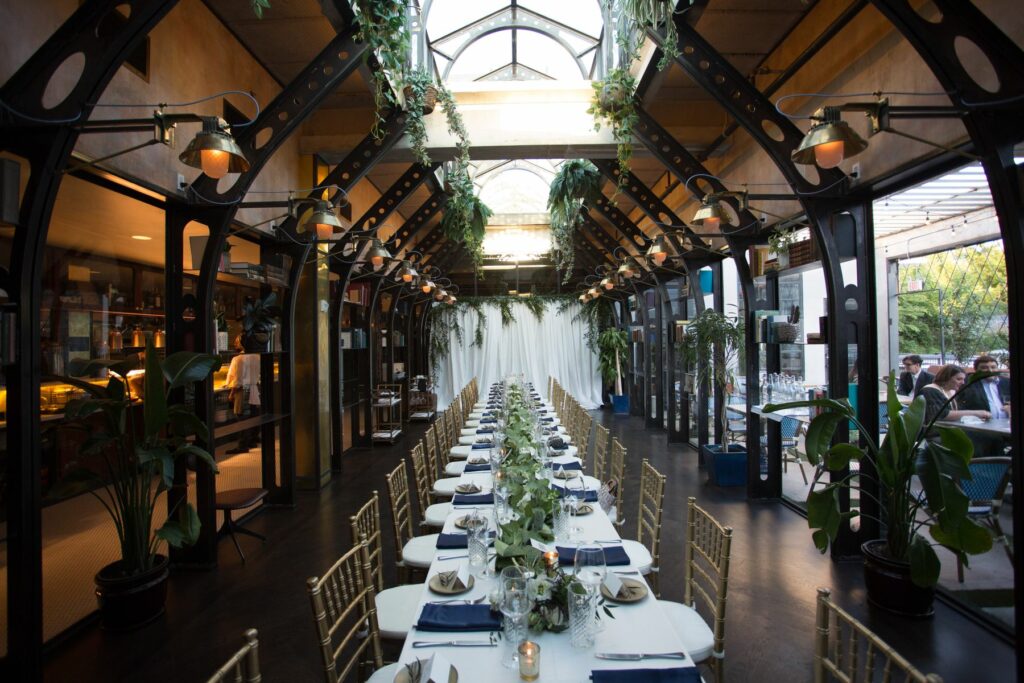 10. Blanton Museum of Art
Neighborhood: Capitol Complex
Capacity: 300
The Blanton Museum of Art sits on the University of Texas at Austin campus, and is a leader when it comes to collegiate art museums, thanks to its impressive collection. This spot is intriguing, and a great place to hold an off-site or meeting, as it will likely spark some creativity. The Blanton Museum offers up two venues: The Mari and James A. Michener Gallery Building and the Edgar A. Smith Building. The museum will supply you with a list of approved caterers and vendors, and are happy to make all your wishes come true.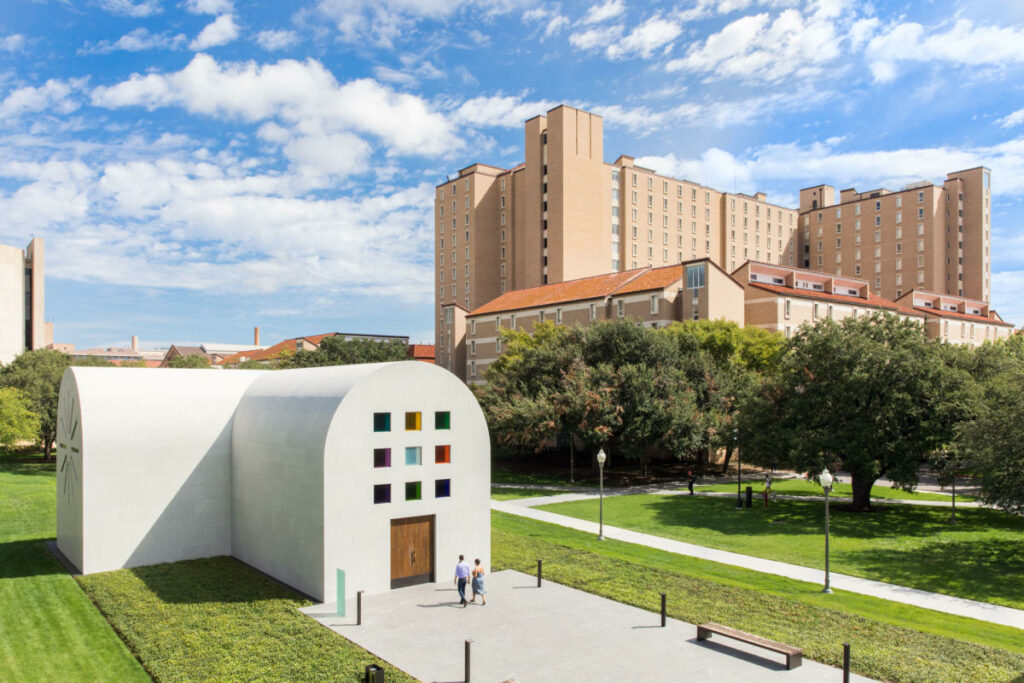 11. The Sunset Room
Location: Downtown
Capacity: 300
Positioned by Austin's Convention Center and historic Sixth Street District is The Sunset Room, a gallery-style venue with exposed brick walls, original wood rafters, and pristine oak floors. This inviting spot is picture perfect to gather your team or impress your clients after a busy day at the Convention Center. It's airy and light, and is totally raw and workable. There's even an additional 3,900 square foot outdoor space adjacent to the Sunset Room available for use, perfect for cocktails after a long day of conferencing hard.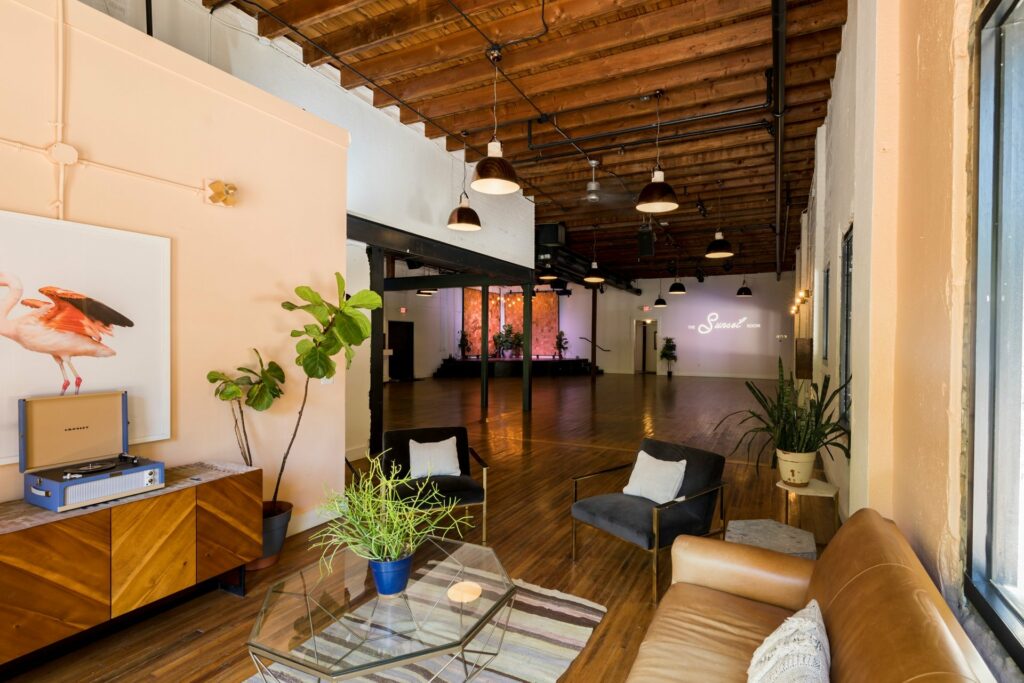 12. Central Machine Works
Location: Govalle
Capacity: 600
East of Austin sits Govalle, a former cattle ranch community that is home to gems like Central Machine Works. Formerly a steel machinery shop, CMW was transformed into a brew pub and beer hall, also offering up an intimate tap room with an outdoor beer garden. There's much respect to the spot's original aesthetic – steel framework remains with modern touches. There's polished picnic tables and string lights that just ooze a casual, Texan vibe. This is a great place to kick up your boots for an afterhours networking event – it just feels like a spot where you step in, take a deep breath, and let go of the day.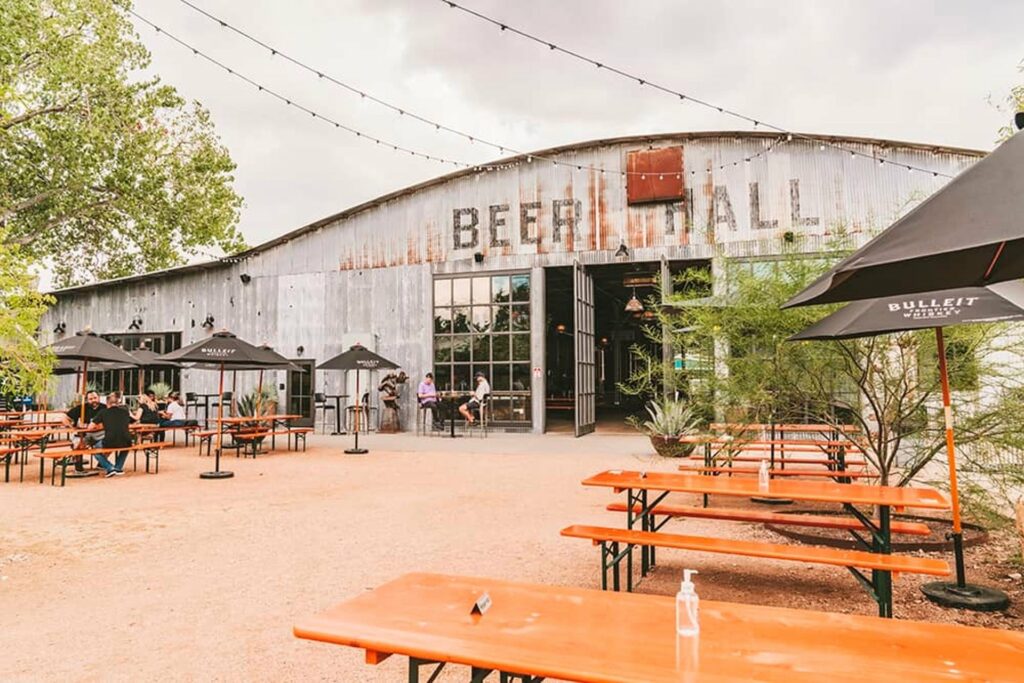 13. The Carpenter Hotel
Location: Zilker
Capacity: 75
This isn't your run of the mill hotel conference room. The hospitable vibe felt at the The Carpenter Hotel hits you immediately, as they offer a totally unique venue and setting close to downtown Austin. The Q-Hut is a 1,200 square foot open air facility fully equipped for audio/visual components, a projector, and screens. Plan a breakout sesh in the 400 square foot private conference room within the hotel. When the meeting is over, meet by the Pool and Pool Bar. And the catering from their on-site restaurant Carpenters Hall? Chef's kiss. They even offer to-go bagged breakfasts or lunches if your group is on the move.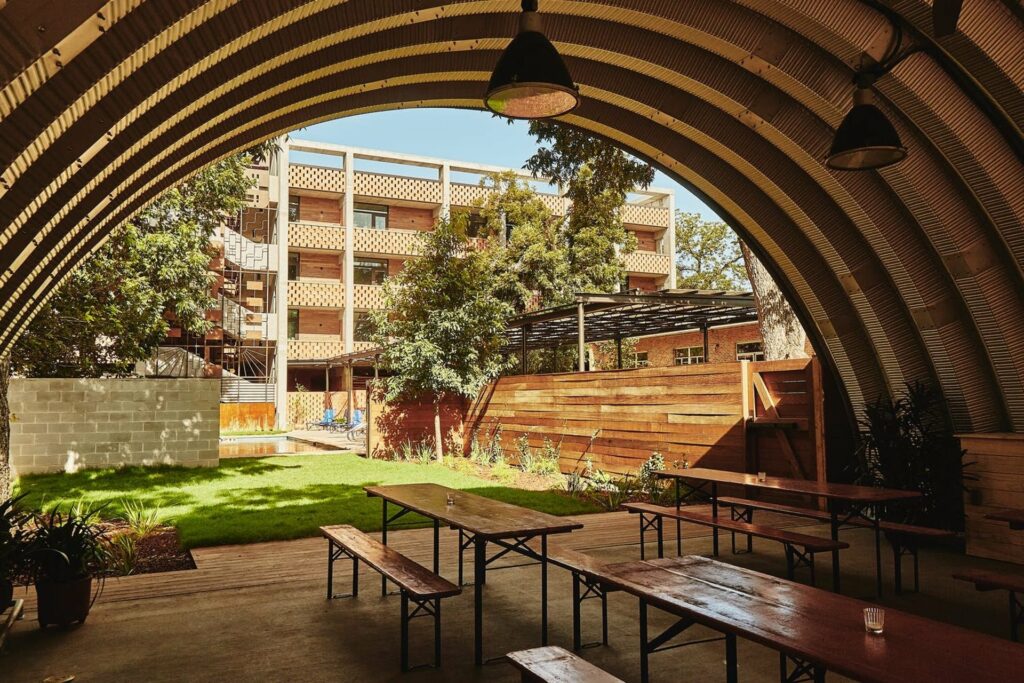 14. The Library
Location: Downtown
Capacity: 397
Pull a fast one on your team by booking your event at The Library. No hushed voices or cranky librarians here – this place is a party. This hotspot is a Sixth Street mainstay. Book your product launch party or award ceremony up on their second floor. They even have a photo booth so you can capture every moment. Your group won't get much work done at The Library, but they'll certainly take a crash course in Austin Nightlife: 101.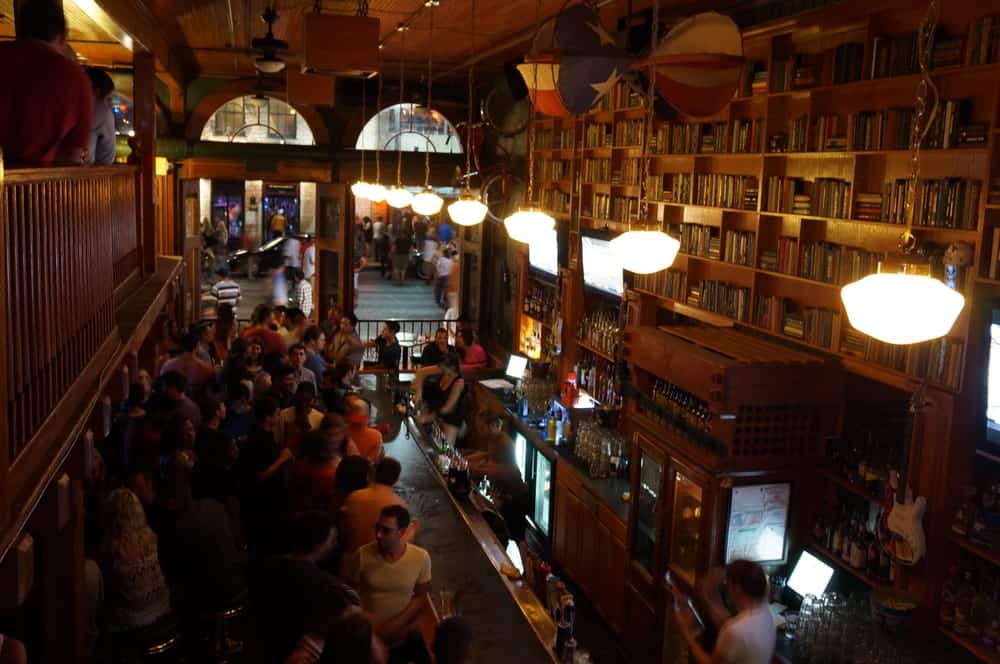 15. The Long Time
Location: Twin Creek Meadows
Capacity: 500
Say your crowd is from out of town and you want to give them a quintessential Texas experience. The Long Time should come first to mind. This spot, just 12 miles outside of Austin, was especially made for company retreats. Its nestled along a country road amid spacious family farms and is a whopping five acres big. The standout here is the sandlot baseball field, home of The Texas Playboys Baseball Club on the weekends. Host a presentation, award ceremony, company field day, or team building workshop on these gracious grounds. Cap off the day with a farm-to-table meal. Whatever your need is, the hardworking folks at The Long Time will make it happen.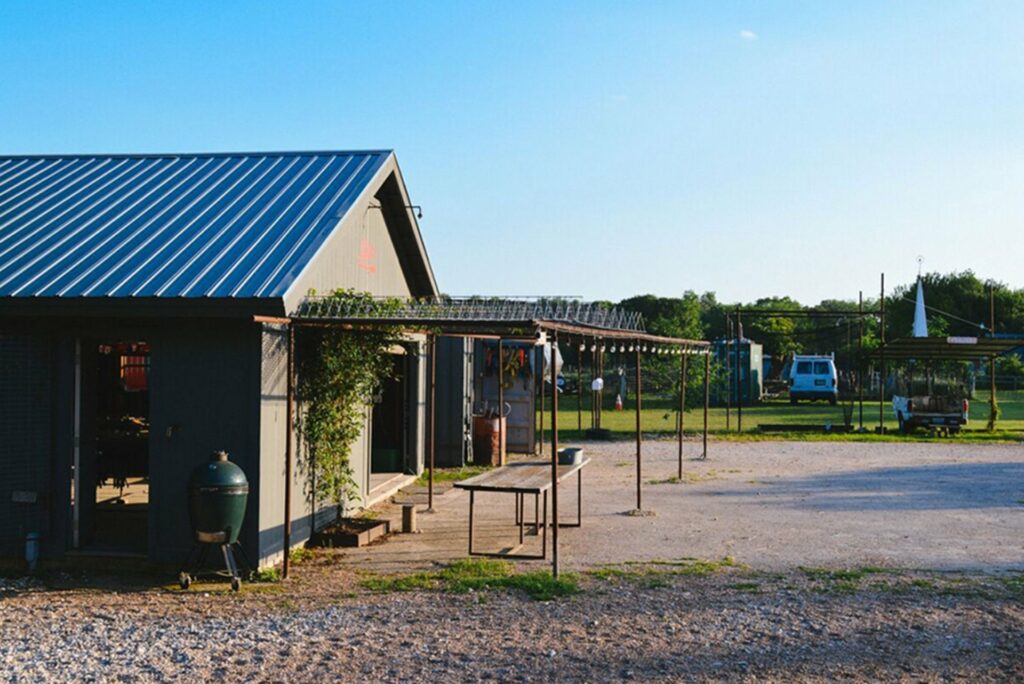 Why Finding the Right Venue is So Important
There's lots of reasons to explore booking a more unique venue when you are in Austin. While there will always be a good reason for a conference center or hotel ballroom, booking a venue that's outside the lines of convention will bode well for your organization. And here's why:
Tone. The venue you select should give off the right kind of vibe you are looking for. You don't see the tone – you feel it – and your clients or team members will get it right away if you've chosen the right place.
Experience. Austin has tons of culture and diversity. Perhaps select a spot that exposes your team or customers to something that they normally wouldn't see if they were stuck inside the walls of a convention center.
Consideration. Carefully selecting a venue that's out-of-the-box will show your clients or colleagues that you went the extra mile to explore something exotic, rather than what is expected.
Collaboration. Experiencing something new or being exposed to a novel setting will bring people together, which will spark creation and conversation.
Top Things to Consider When Booking an Event Venue
As a professional, there's certain items on your event checklist that hold a perennial spot. But when hosting in Austin, there's things to consider when booking your venue that are unique to the city. The weather is a big factor here, as it can be incredibly hot in the summer months. It's possible the venue you choose will have an outdoor or rooftop option, so make sure they have accommodations should it be sweltering or a thunderstorm swoops in. Also, everything is bigger (and spread out) in Texas, so be certain when booking your venue it's easy to get to and find. Finally, since you are booking a corporate event, there will likely be a need for technology. Whether it's audio/visual, Wi-fi, or some other non-traditional component, make sure the venue you select has all the tech needs you desire (and if they don't, they work with you on procuring what you need).
Find the Best Corporate Event Venues on The Vendry
The Vendry delivers the best selection of unique venues in Austin. Planning your next corporate outing is snap with The Vendry's search functions. Browse not only by city, but by venue, type of event, vendors, entertainment, experiences, or other keywords. The Vendry makes planning your next event in Austin worry-free.
Read More:
The Top Large Event Venues in Austin
The Best Austin Rooftop Venues For Your Next Event
The Best Private Dining Rooms in Austin