Article updated 9/25/23
Attendees of a corporate meeting are more likely to retain the event's subject matter when held in a memorable place. So what better choice than the Mile High City for a truly unforgettable experience? Centrally located and bursting with nature, Denver gives endless options for venues in which to host your organization's next big meeting, corporate outing, or major conference. Denver has become quite the desirable locale over the past few years, as this outdoorsy city is home to major conventions, concerts, and sporting events. Denver offers dynamite venues run by gracious Coloradans, all flanked by mountain ranges. Read on to uncover all Denver has to offer your next important corporate get together. 
15 Corporate Event Venues in Denver
Denver, known for its celebration of outdoor living and fresh air, seamlessly incorporates these elements into its event venues. Below, we've compiled a list of 13 corporate event spaces in the Mile High City that embody Denver's connection to the outdoors. These venues range from modern urban settings with breathtaking city views to rustic retreats nestled amidst scenic landscapes. They offer a diverse range of options for inspiring, motivating, and rejuvenating your team. Whether you're planning a corporate gathering, team-building event, or conference, these venues reflect Denver's commitment to fostering well-being, creativity, and connectivity, making them excellent choices for businesses looking to blend the city's vitality with the natural beauty of the outdoors.
1. Wellshire Inn
Neighborhood: Wellshire
Capacity: 400
Board meetings, training events, conferences, team building, client functions, and even holiday parties are the specialty of Wellshire Inn, a full-service facility ready to get down to business. Situated on the Wellshire Golf Course, this venue is steeped in stately charm. Just as their names imply, the Tudor and Windsor Rooms will make your guests feel like they've stepped into Old England, with barreled wood beamed ceiling and stained glass. Host up to 240 guests for cocktails or 180 seated in the Mountain View Pavilion, a popular space complete with glass walls and customized draping, overlooking the Rockies. Wellshire prides itself on being prepared to host your event, as they have rentals and catering on site, as well as lots of technical support at the ready.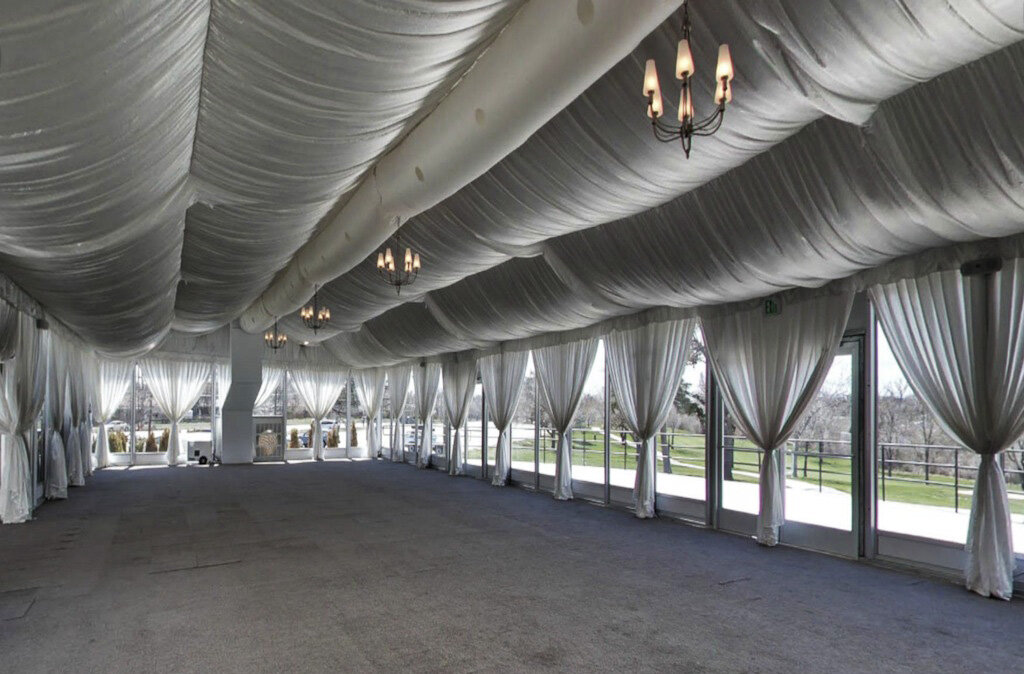 2. Mile High Station
Neighborhood: Auraria/Jefferson Park
Capacity: 1,200
If you are looking for a memorable venue right in the heart of the action, then your search might end with Mile High Station. Located within a former steel and ironworks building from the turn of the century and just south of where the Denver Broncos play, this venue can be dressed up or dressed down. Exposed brick and cherry wood warm this carefully preserved spot. Feel free to host your cocktail hour on their mezzanine before hitting the main floor, which can accommodate 350. This venue is huge and you can feel it. There's a great patio for your guests to enjoy the fresh air, too. Fundraisers, corporate meetings, holiday parties – you name it and Mile High Station can cover it. And here's the best for last: they offer more than 200 complimentary spots in a parking lot next to the building.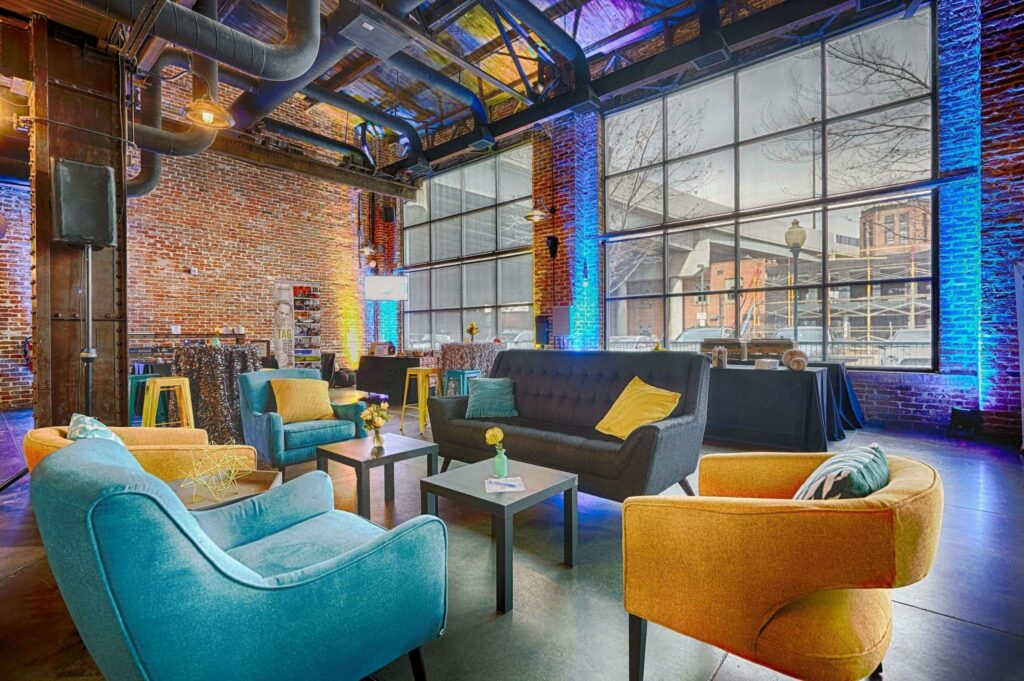 3. Wright Room
Neighborhood: Central Business District
Capacity: 75
You can't go wrong at The Wright Room, a custom-furnished modular space in the historic Denver Masonic Building with floor-to-ceiling windows and a bar topped with copper. There are two private, chic, jewel-toned rooms that overlook downtown Denver. Either keep the rooms separate or work with their staff to combine them into 3,300 square feet of stunning event space. The Wright Room prides itself on being up on tech, with a 109" HD projection television, AppleTV, video conferencing, and 40 MB internet access. Enjoy delicious catering from their in-house chefs, and ease of in-and-out with The Wright Room's central location and access to parking.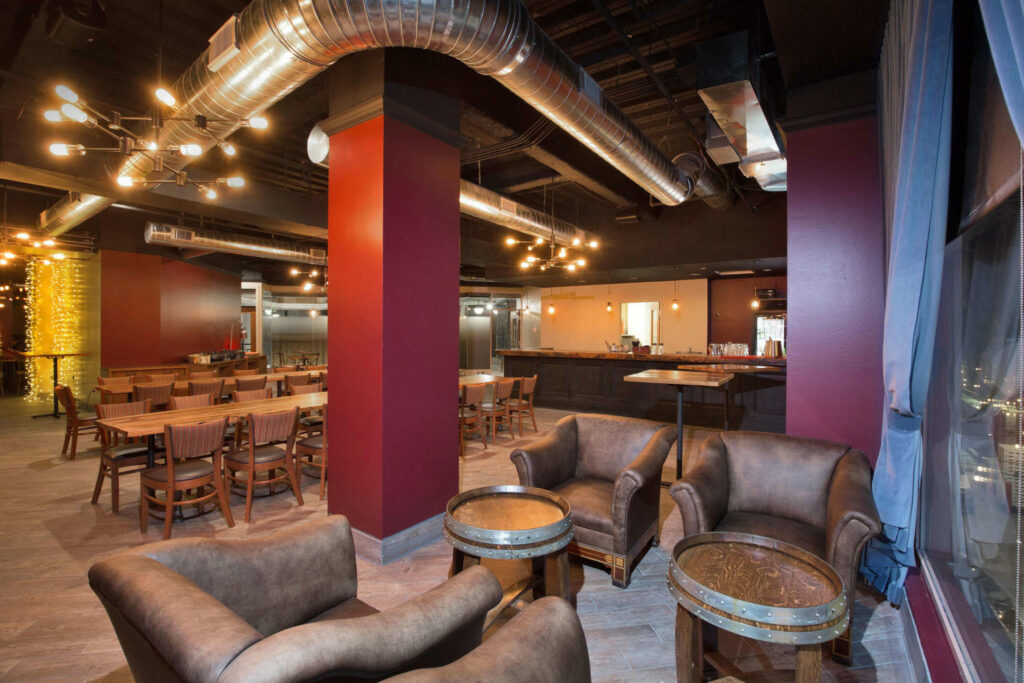 4. Field House
Neighborhood: Sun Valley
Capacity: 317
The Field House was given new life in 2015, providing a perfect canvas for your next corporate meeting, product launch, or training session. A mere 300 feet from Empower Field at Mile High Stadium, this open floor plan venue has a wrap-around bar, wood beamed ceilings, and garage door-style windows. The space would be privately yours, as they strictly host only one event at a time. There's lots of tech but production is The Field House's strong suit with an elevated stage, colored par lights, trees for stage lighting, and two projectors with four screens. They have a sizeable kitchen for outside caterers and lots of bar options including use of their in-house bartenders. The Field House is one of the most economical choices on the list, even offering a discount for non-profit organizations.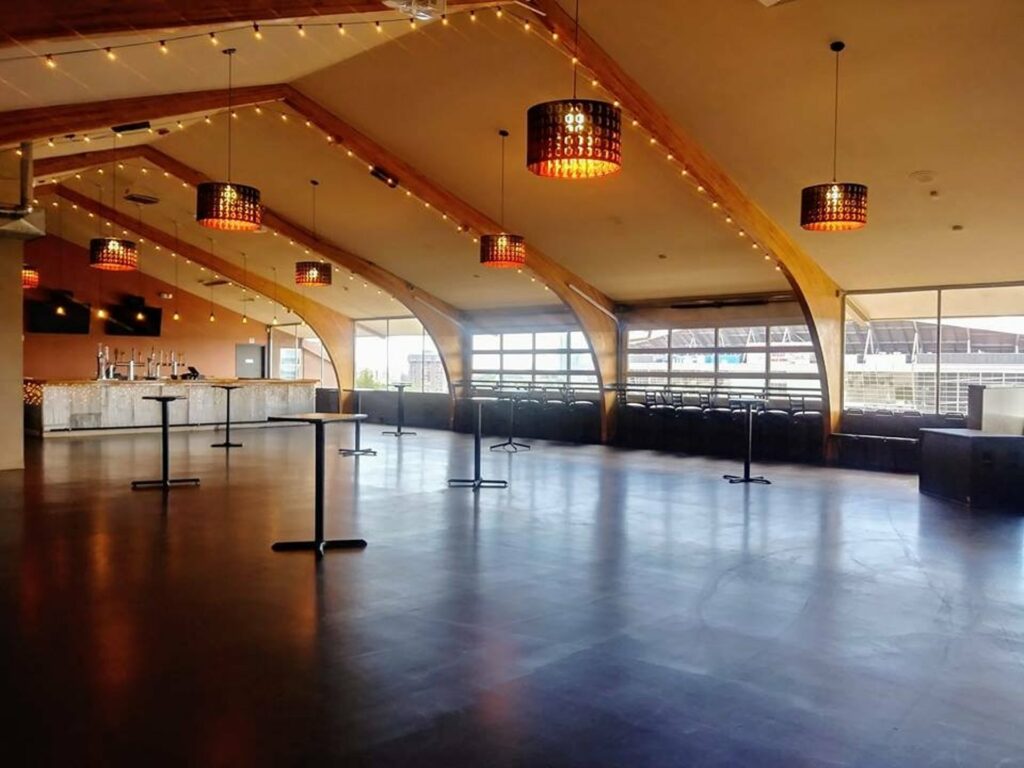 5. Vauxhall
Neighborhood: River North Art District
Capacity: 72
Privacy and elegance is the vibe of the non-conventional ballroom Vauxhall, located within The Ramble Hotel. There's 2,300 square feet of gorgeous space, set to the background of deep navy walls and herringbone wood floors. Host a private film screening or training session here, as they have top-of-the-line audio/visual equipment. Your team will delight as they see your company's name splashed up on the street-side marquee signage, as they duck under to meet through Vauxhall's private entrance. Enjoy a specialty selected menu by famed New York-based caterer Death & Co.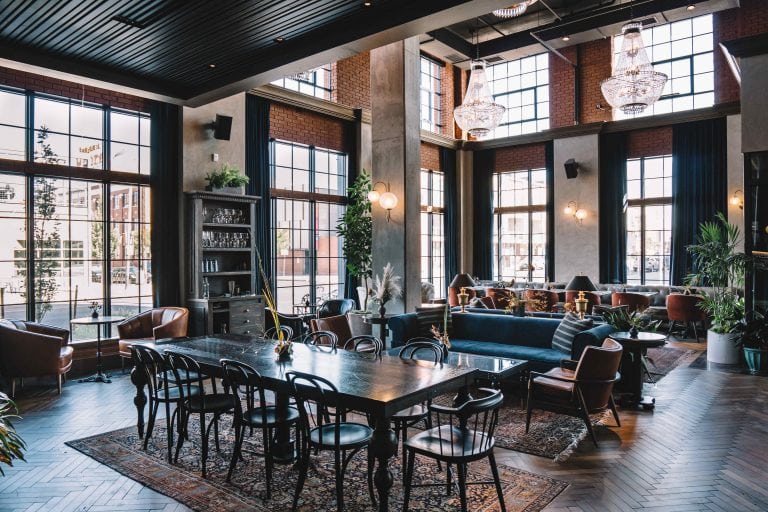 Relive the memories over and over again! Browse the top photographers in Denver!
6. Boettcher Mansion
Neighborhood: Golden
Capacity: 200
Built for businessman Charles Boettcher in 1917, Boettcher Mansion sets the bar high for a true Colorado meeting experience. Nestled on top of Lookout Mountain in Golden just outside of Denver, the Boettcher Mansion offers up the Carriage House or Fireside Room to hold your meeting. For a break between sessions or at the end of your busy day, invite your team to hit the hiking trails flocked with deer, elk, and other woodland creatures. The opportunity to connect with nature in a setting that was built by one of the state's most historic and successful entrepreneurs will likely set the tone for inspiration and collaboration.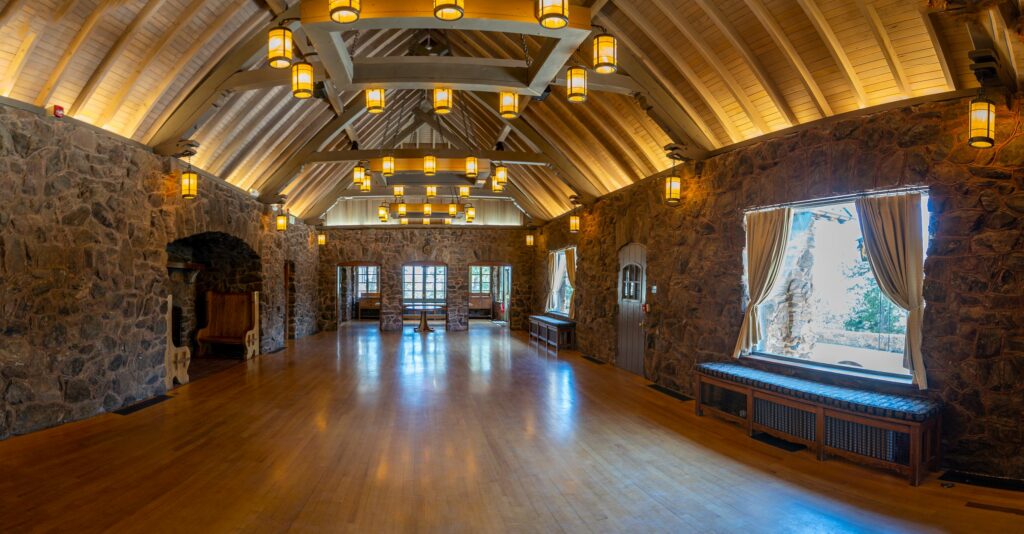 7. Studio 1481
Neighborhood: Washington Park
Capacity: 150
Looking for a minimalistic vibe? The modern Studio 1481 will be your jam. A photography studio with a sleek design, this 1,800-square foot studio has been awarded with loads of architecture accolades. This raw space has 12-foot ceilings, 10-foot doors, original art, and a full kitchen. Host a corporate retreat, training session, workshop, or private dinner here, a spot that allows the focus to be on your company. Plan for your own caterer, but not to worry about parking, as there's loads of free spots.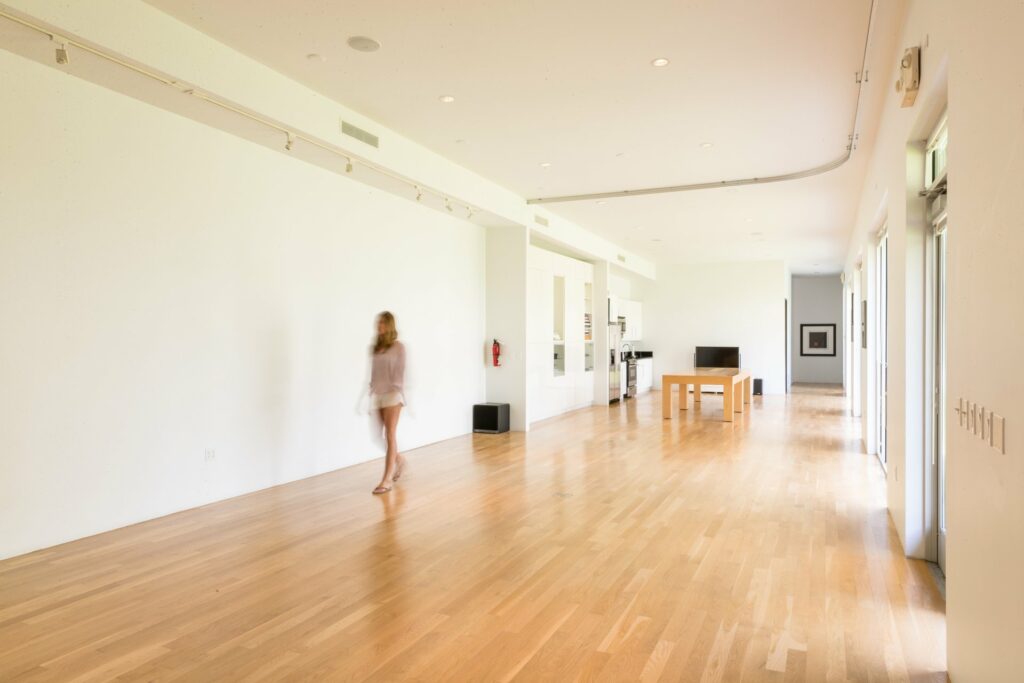 8. The Ramble Hotel
Neighborhood: River North Art District
Capacity: 125
The Ramble Hotel is a 50-room boutique hotel in Denver's quaint River North Art District. Not only might this location be the perfect venue to host your next corporate meeting, it has the bonus opportunity of offering an elegant place for your team to rest their heads at night. In addition to the aforementioned Vauxhall, Suite 6A is inspired by restauranteurs of Death & Co, the famed hotspot in the East Village, opening their first place outside of New York right here in Denver. Suite 6A can seat 22 seated, 35 standing, and is a moody cocktail lounge. The Ramble's Garden is a real standout, as an outdoor patio of whitewashed brick and bistro lighting. Greenery and vines remind your guests they are in Colorado, but the large, light-up neon "wish you were here" sign snaps them right back to chic Denver.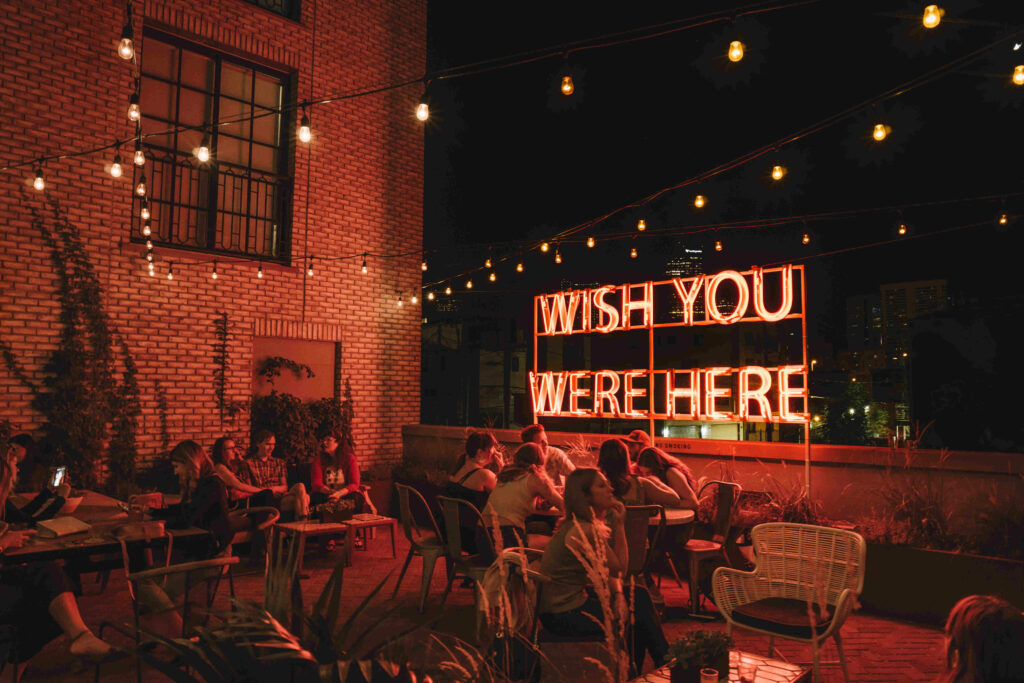 9. Skylight Denver
Neighborhood: Santa Fe Art District
Capacity: 300
A women-led raw space in the Santa Fe Art District, Skylight is considered one of Denver's most versatile event venues. The flexibility is just one of Skylight's many attributes. With space for 200, the possibilities are endless to host your event by the hour or by the day(s). Choose your own caterer, and make use of their prep kitchen. Have face-to-face meetings in their client suite, then head outside to get some fresh air in the outdoor patio. And no need to leave the company mascot at the office – Skylight is pet-friendly.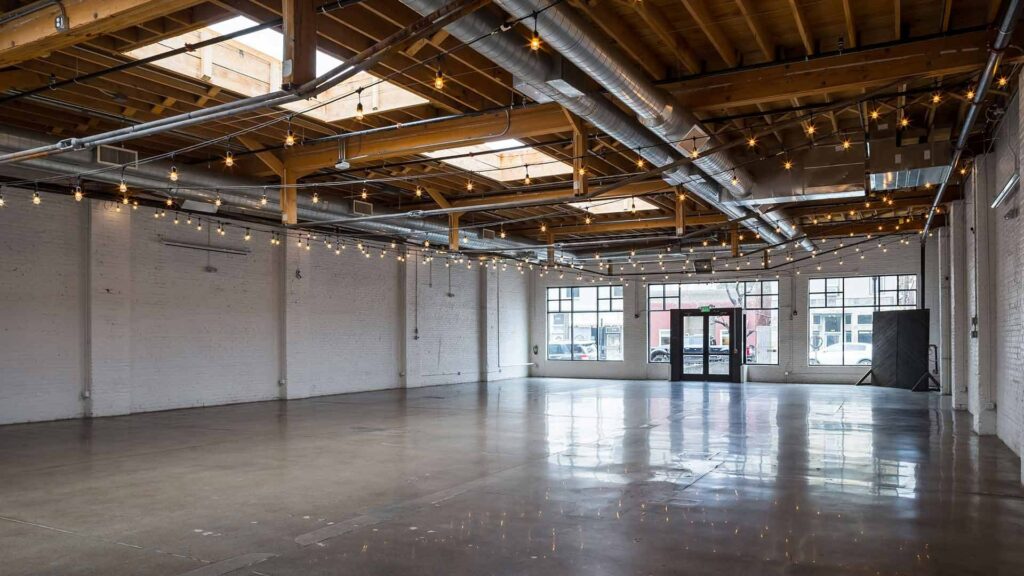 10. The Maven at Dairy Block
Neighborhood: Dairy Block
Capacity: 180
Nestled in the middle of the micro-district nicknamed the Dairy Block, The Maven is a meeting space and hotel offering up loads of charm in a setting thisclose to all the action. This 2,100-square foot venue prides itself on its indoor/outdoor functionality, perfect for all your meeting needs. The ballroom can be split into two sections, and opens up to The Alley, a quaint pedestrian walkway filled with art, restaurants, and bars. The Maven has a stage perfect for presentations and large garage doors, bringing that fresh mountain air in when you want to open up. There's catering onsite, and access to audio/visual equipment. The Maven's central location and undeniable charisma make it a top choice to hold your next corporate meeting.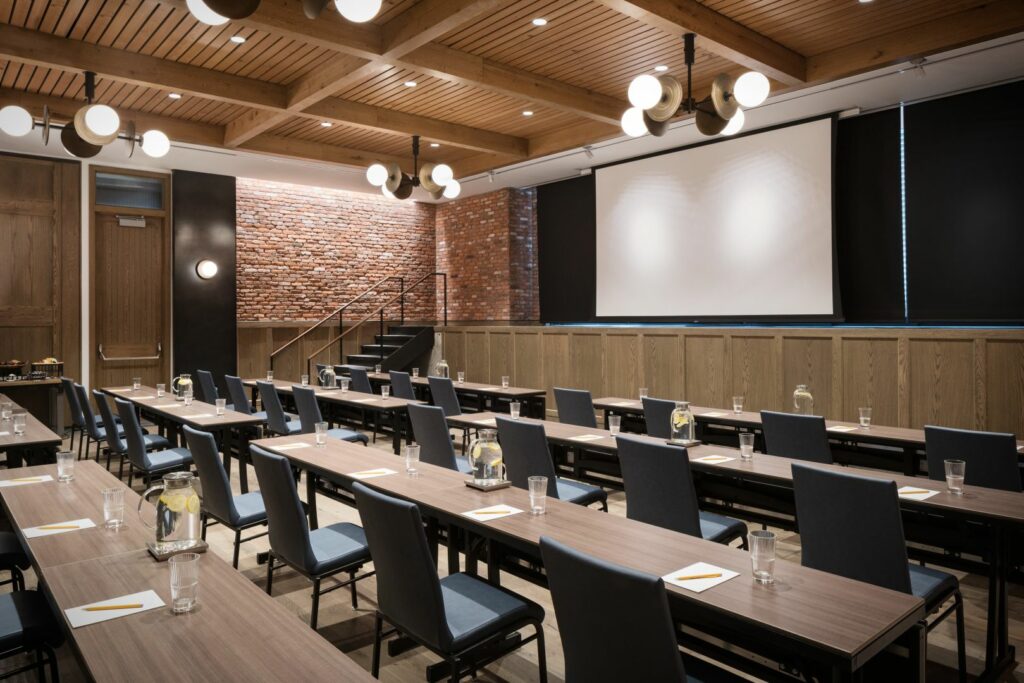 11. Polka Lola Social Club
Neighborhood: Dairy Block
Capacity: 120
So your team has spent all day in meetings, and now it's time to collaborate in another way. Uncover the other treasure within The Maven: Polka Lola Social Club. Fully embracing turn-of-the-century American soda fountain culture, this lively spot can accommodate as few as 20 and as many as 120. Host an intimate team building event with their "Interactive Bartending Classes", an opportunity for your colleagues to learn how to put together fun cocktails, all while noshing on a customized bar menu of festive appetizers. Polka Lola Social Club is the perfect place for your meeting attendees to unwind and connect.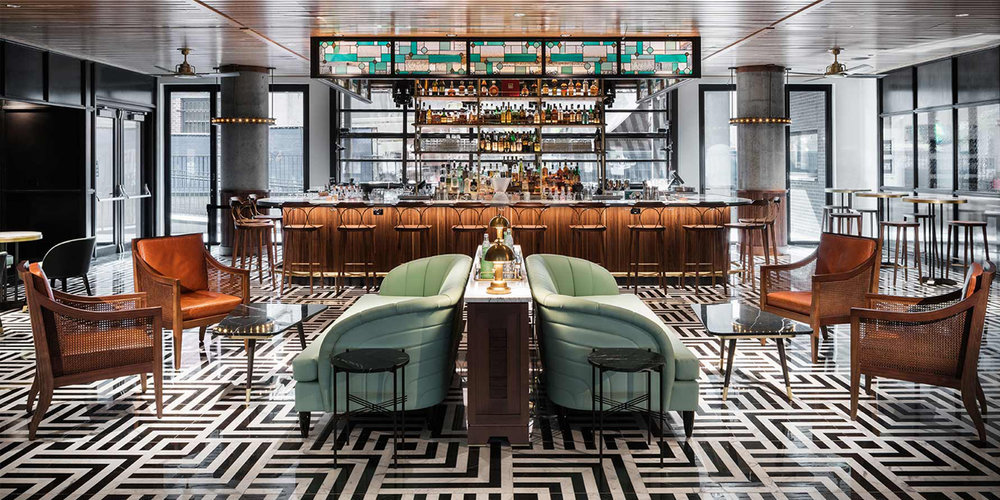 12. The Crawford Hotel
Neighborhood: Lower Downtown (LoDo)
Capacity: 350
Directly above Denver Union Station is The Crawford Hotel, a space opened in 2014 to much acclaim. If you hold your corporate event here in this bustling hub of a train station, you'll have more than 5,000 square feet of event space, personalized service, and dynamite cuisine. The Webb Gallery is the hotel's biggest offering, with 2,380 square feet of industrial-chic space, as well as two 80" HD monitors, ClickShare Wireless Presentation Technology, and a state-of-the-art sounds system. Adjourn to the Belz Boardroom, take a seat at the repurposed railway car floor conference table, and enjoy similar tech amenities. And rest easy knowing that The Crawford Hotel's attentive staff will make sure your event's every need is met.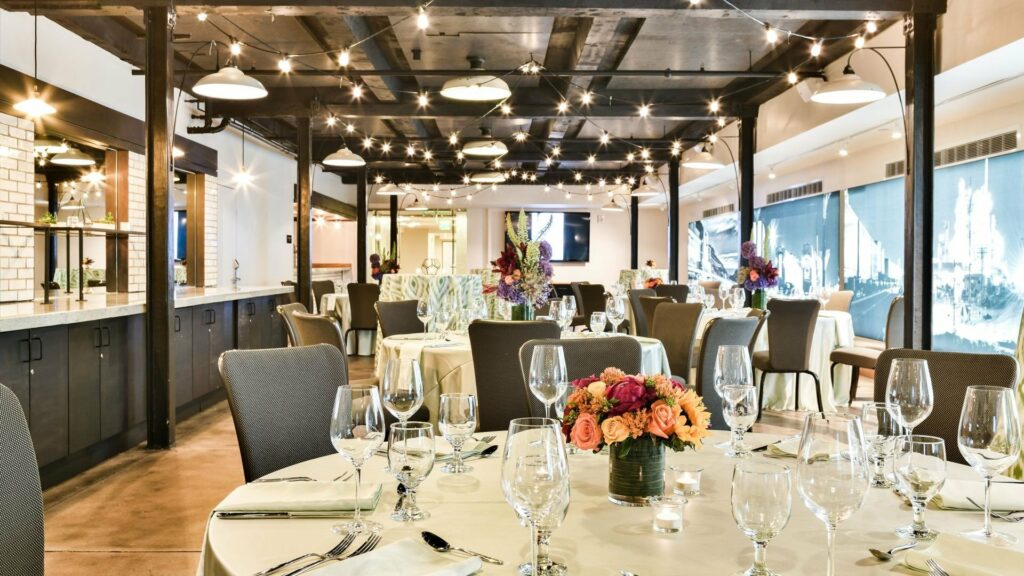 13. Limelight Hotel
Neighborhood: Lower Downtown (LoDo)
Capacity: 300
An "urban refuge" indeed, Limelight Hotel is elegant, comfortable, and ready to host your next corporate get together. When it comes to spaces, they offer a 3,400-square foot ballroom. And when it comes to details, the team at the Limelight Hotel leaves few stones unturned. The professionals here walk you through your day with a customized agenda, which can include an urban hike and kombucha shots in the morning, food trucks and surprise cocktails at lunchtime, poolside yoga and painting mid-afternoon, and a chef tasting dinner to end the evening. And if that isn't enough, booking at the Limelight Hotel is an eco-friendly decision, as it's a LEED silver certified luxury hotel.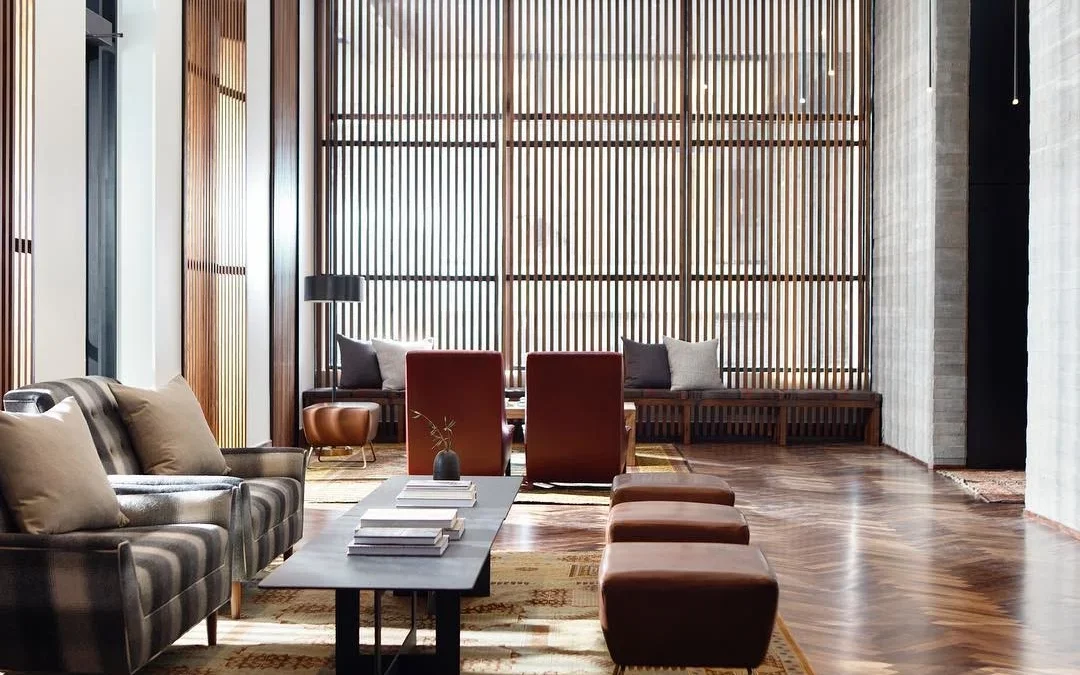 14. blanc
Neighborhood: Denver
Capacity: 150
Blanc in Colorado stands out as an exceptional venue for hosting corporate events, offering a versatile and inviting space that effortlessly combines modern amenities with urban-chic design. Inside, Blanc features a spacious gallery, an innovative conference room, exposed brick walls, and an abundance of natural light, creating a comfortable and flexible setting. What sets this venue apart is its unexpected exterior space, which includes a premier Courtyard adorned with leafy shade trees, market lights, and grapevines leading to a charming Gazebo. This seated area, nestled under a grape arbor with a market light chandelier, adds a touch of natural elegance to corporate gatherings. Adjacent to the Courtyard, the Brickside Patio provides outdoor furniture, allowing guests to bask in Denver's beautiful weather while networking or relaxing. Blanc's thoughtful combination of indoor and outdoor spaces makes it an ideal choice for hosting memorable corporate events in the heart of Colorado.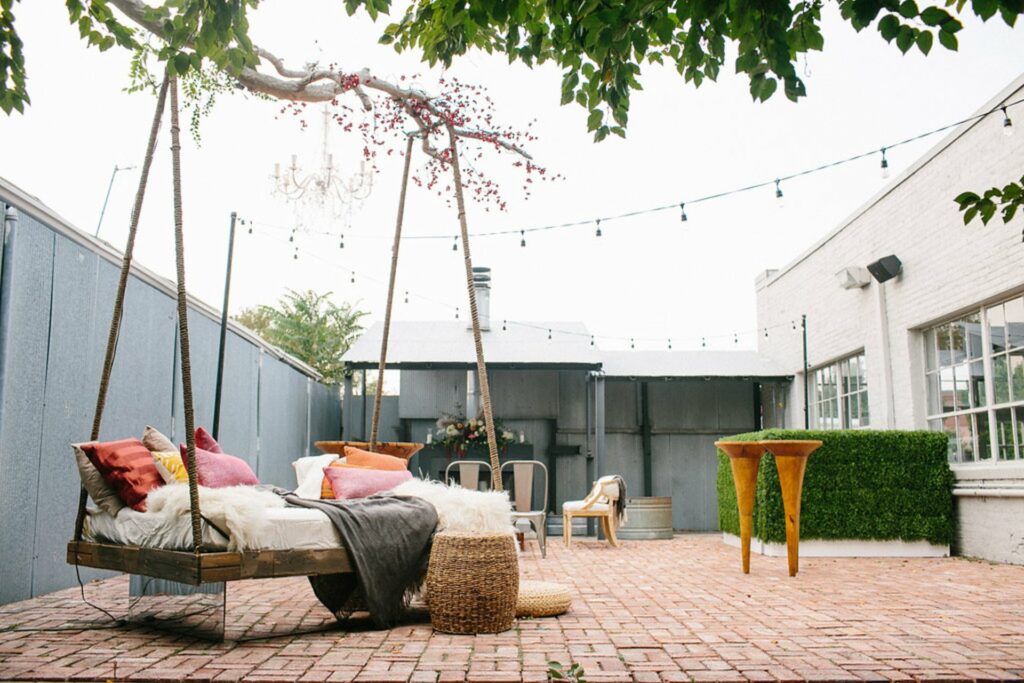 15. Redline Contemporary Art Center
Neighborhood: Five Points
Capacity: 250
RedLine in Colorado stands as a remarkable venue choice for corporate events, providing a unique and unforgettable setting that will captivate attendees with its contemporary and engaging artwork. The versatility of RedLine is its key asset, accommodating a wide range of corporate gatherings, from cocktail hours to educational lectures and everything in between. What sets RedLine apart is its ability to offer both indoor and outdoor event spaces, ensuring that your event can be tailored to your specific needs and preferences. Moreover, the convenience of free on-site and off-site parking, coupled with its proximity to the light rail and numerous bus stops, makes it easily accessible for all attendees. RedLine's commitment to fostering creativity and inspiration through art makes it a compelling choice for businesses seeking a distinctive and memorable backdrop for their corporate events in Colorado.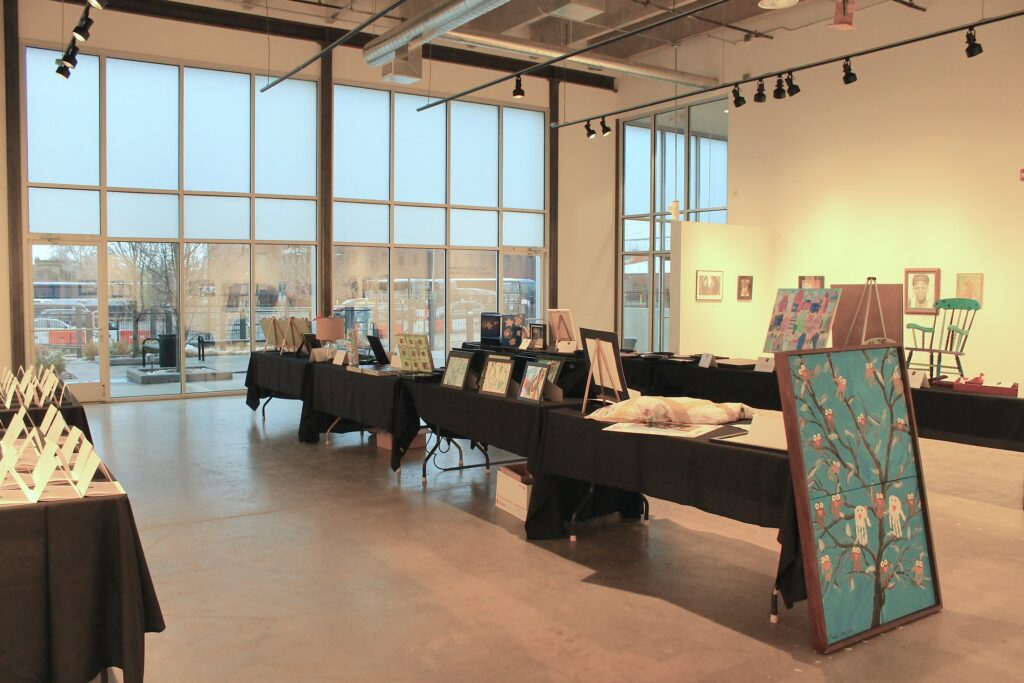 Why Finding the Right Venue is So Important
Sourcing a venue that's just right can feel daunting, as it's likely the most important task on your to-do list. Not only will the venue probably be your event's biggest price tag, it will likely carry the biggest impact. In Denver, not all venues are created equal. Some locations are great hosting a large crowd, while others offer an outdoor option. Or there will be a spot you love in a neighborhood that is perfect, but you will have to bring in your own caterer. No matter what elements are most vital in your event, the venue is the conduit of the message you want to get across to your audience, so take your time to choose wisely.
The Top Things to Consider When Booking a Venue For a Corporate Event
Denver is excellent at positioning itself as a big city with a small town feel. You've made an excellent choice to host your corporate event in this captivating city, so now it's time to select a location that will match your organization's tenor. Here are some questions to ask when weighing your venue options:
What is the budget? This one is obvious, but exploring all the extras that might come along with your venue's price tag is key. Caterer, rentals, experiential installations, and so on will all add to your bottom line.
What is the tone the meeting is shooting for? You want your attendees to remember the feeling they had when they came to your venue. Remember: the more memorable the locale the more likely your guests will retained what they learned. Aesthetic makes a difference.
Is the location both easy to find and easy to access? Make certain the spot you've chosen not only has easy access for your out-of-towners, but is in fact accessible for those who have special needs in your group. Attendees will remember if the spot you've chosen was a hassle.
What technological needs does the event require? There isn't a professional meeting today that doesn't require audio/visual, Wi-Fi, or some kind of specialized connectivity. Be sure to ask your contact at the venue about their capabilities, and plan to make sure your tech needs are met. Don't forget the tech dry run!
Is there an outdoor option? Your meeting, after all, is in one of the most outdoorsy and physically active cities in America. Celebrate all that altitude with the welcomed possibility of spending some time outside by choosing a venue in Denver with an outdoor space.
Find the Best Corporate Event Venues on The Vendry
Denver is just waiting to host your next corporate event, but where should you start to find a venue to suit all your needs? Allow The Vendry to show you where to begin, and request proposals right from your selections on the spot. As a digital marketplace and professional community, The Vendry offers up venues and vendors, as well as other resources event professionals need in order to stay in the know.
Read More:
Stunning Rooftop Venues in Denver for Your Next Event
Amazing Event Venues in Miami for Your Corporate Event
Venues in Los Angeles Great for Your Next Corporate Event