Los Angeles sees more than 30 million visitors a year. Professionals and tourists alike flock to the City of Angels, all to experience the innovative cuisine, nightlife, soft beaches, or maybe even to get a glimpse of celebrity life in Hollywood. Thanks to the large convention and conference centers, planning an event in LA offers up loads of unique and interesting corporate event venues from which to choose. To make sure you don't settle for a run-of-the-mill, ho-hum venue, The Vendry has rounded up the top choices for event venues in Greater Los Angeles.
14 Venues in Lost Angeles Great for Your Next Corporate Event
Your company has landed on Los Angeles to host their next be conference, meeting, presentation, product launch, or brand activation event. Let's make the next choice – selecting the right venue – and easy one, too. Below, find some of the most unique and exciting spots Los Angeles has to offer.
1. Millwick
Neighborhood: Arts District
Capacity: 250
Millwick is a venue that needs no introduction. Originally built as a livery then used as a cold-storage warehouse, this venue has a 7,000-square-foot floor plan with a huge courtyard. Your event will flow seamlessly between the two spaces, adding to Millwick's credibility as a true urban oasis. The courtyard is a sanctuary in and of itself, with its 20-foot brick walls, vertical gardens, and mature trees. Need to present or project? Utilize their 25-foot digital cinema sound screen, as well as their state-of-the-art sound system, mixing booth, and lighting system. And thanks to its central location in LA's Arts District, Millwick is close to tons of hotels and nightlife, making it a great place for your professional crowd to gather.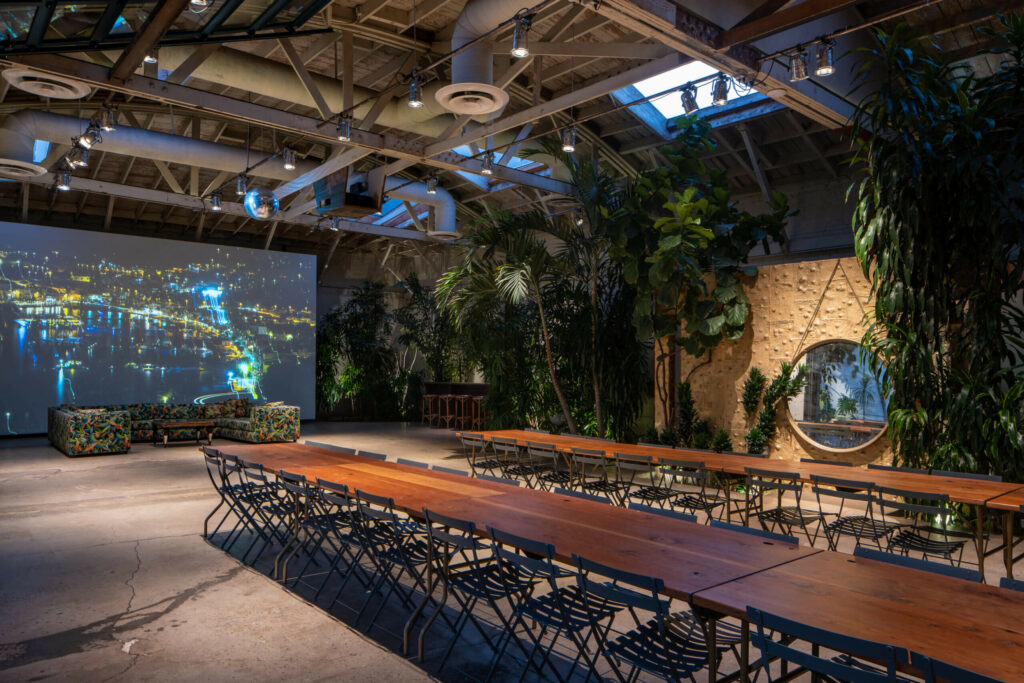 2. Grass Room
Neighborhood: North Sea
Capacity: 200
As delightfully quirky as they come, Grass Room is a distinctive venue to host your next corporate event in LA. The building alone has a history, as it's been a fish and oyster company and ice cream factory, all the way to a commercial site for far east imports and marijuana cultivation. Your guests will delight in the Grass Room's fantastic décor. The Ocean Dining Room is super versatile, as it seats guests at long wood tables made of salvaged wood, and features a 16-foot cinema screen, lighting system, mixing board, and tons of ambiance for screenings and live events. From the landscaped Courtyard filled with sunlight, lush gardens, and works by local artists, to the Back Alley Lounge where guests can enjoy the evening air under string lights and bamboo, the Grass Room delivers.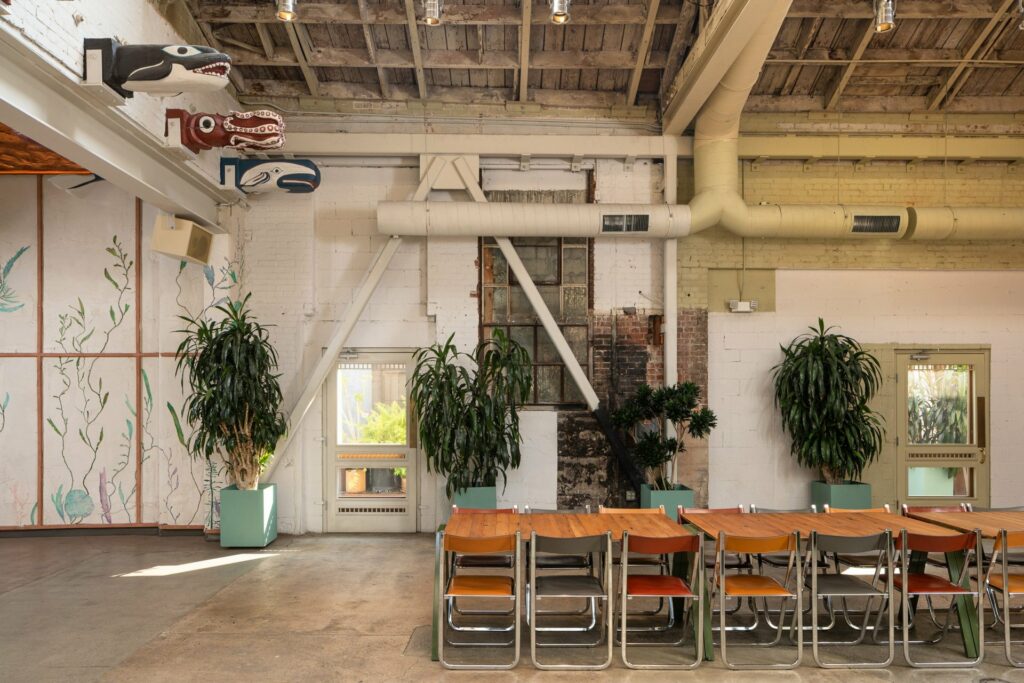 3. Festoon LA
Neighborhood: Culver City
Capacity: 120
Situated on the west side, Festoon LA is a 1,900-square-foot event space and creative studio brought to you by the masterminds of 100 Layer Cake. Host your next corporate outing or meeting in this bright designer space. The team at Festoon LA provides a kitchen for outside caterers, two 8-foot tables, 20 chairs, and a lounge area. They have a moveable white wall (that can be painted!) so feel free to partition where you see fit. Festoon LA is a light-filled, inspiring spot, perfectly outfitted for your next team building workshop or off-site.
4. City Market Social House
Neighborhood: Fashion District
Capacity: 1,016
It's tough to go wrong at City Market Social House, a 20,000 square-foot wonder of flexible indoor/outdoor event space. Even the interior feels like the outdoors with wooden truss ceilings. Located in what used to be LA's oldest produce market, City Market Social House is close to the Los Angeles Convention Center and Crypto.com Center, making it an easy-to-get-to locale after spending the day conferencing hard. This venue comes fully equipped with audio/visual, in-house lighting, and production services by VOX Productions. There's even a state-of-the-art kitchen on site. If you are hosting a crowd and are in need of a spot with a real "wow" factor, City Market Social House is your place.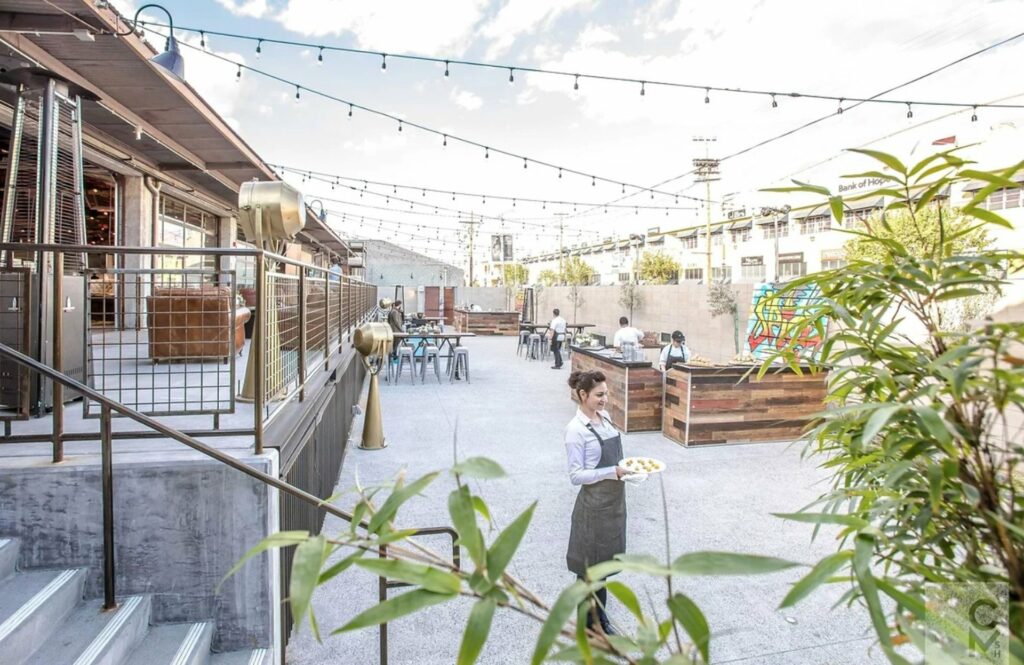 5. SmogShoppe
Neighborhood: Mid-City
Capacity: 250
It's almost impossible to believe SmogShoppe, with its vertical succulent garden, serene courtyard, and flowing fountain, was once a smog-check facility in the 1980s. This vintage style hotspot ran with the theme and became the nation's most environmentally friendly event space, as the facility is powered entirely by solar energy. It's a perfect spot for screenings or presentations, as there's a 20-foot outdoor movie screen. Host your product launch or brand activation event here, as SmogShoppe can accommodate 250 standing, striking that delicate balance of keeping an intimate feel with a large crowd.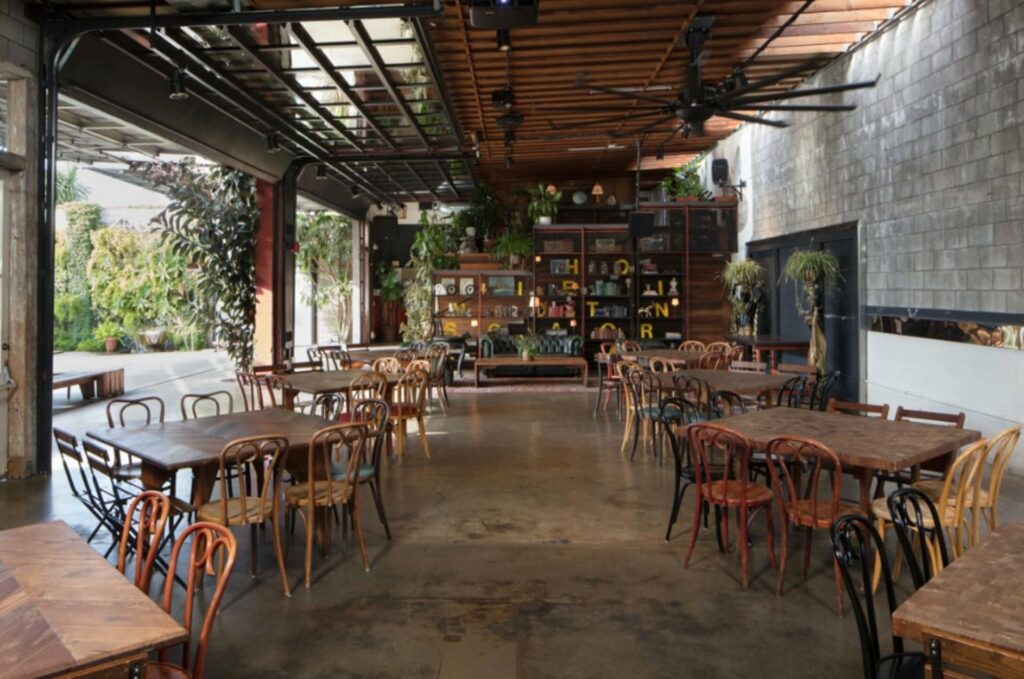 Give your guests something sweet. Browse the top dessert caterers in Los Angeles!
6. MESH space
Neighborhood: Redondo Beach
Capacity: 49
Co-working and commingling come together at MESH space, a newcomer to the LA event scene. Opened in 2021, their 2,600 square feet of clean-lined event space provides the perfect accommodations for team meetings, corporate events, or brunch or dinner parties. There's a buzzing espresso bar serving up delicious coffees and teas, as well as savory pastries, or bring in your own food and beverage. MESH space was designed as a spot to hold intimate, professional gatherings, and offers up conference tables, open desks, a private office, and event soundproof phone booths.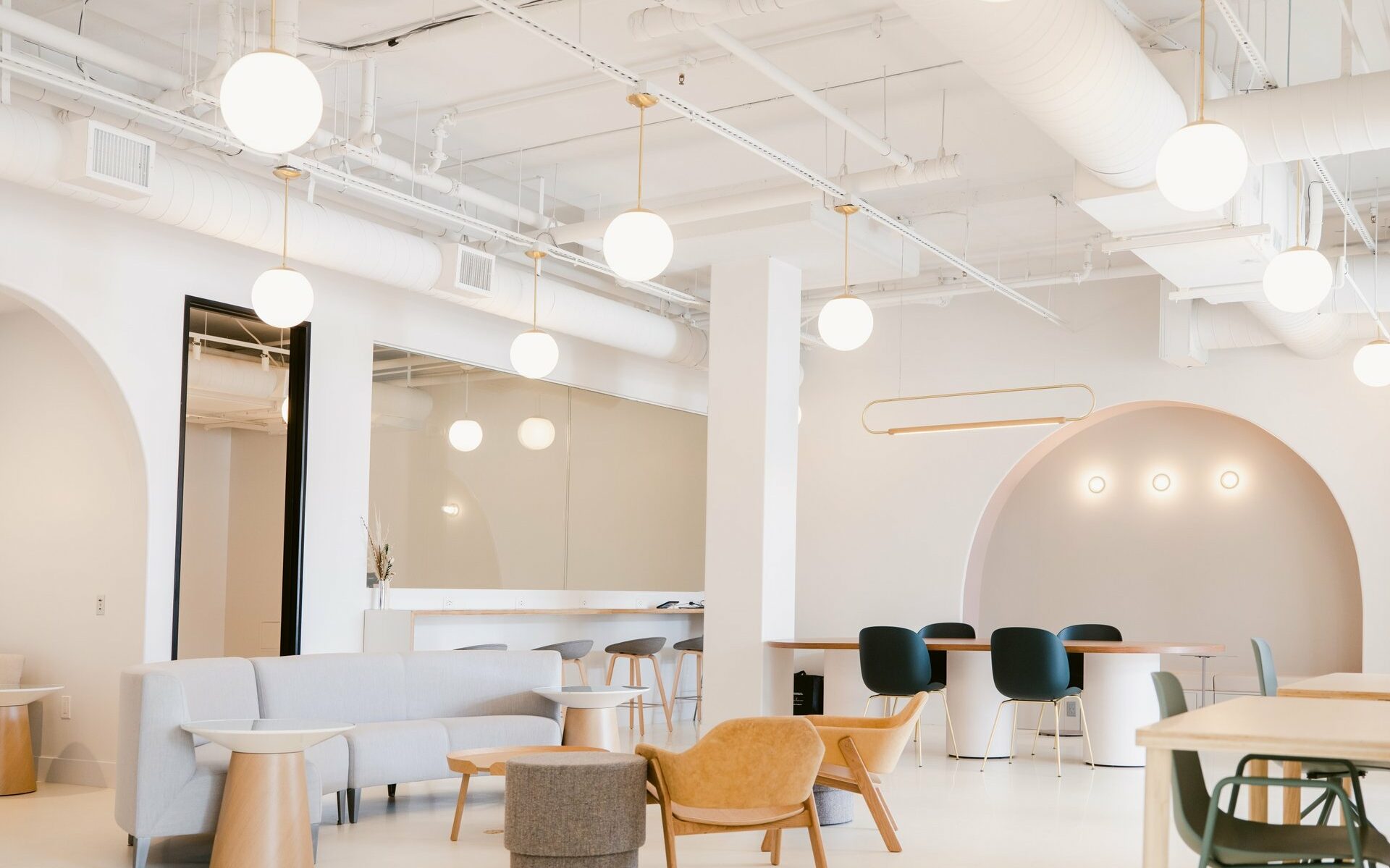 7. L.A. LIVE
Neighborhood: Downtown
Capacity: 3,000
L.A. LIVE is ready to roll out the red carpet for your next large event. Deemed "the most entertaining place on the planet", host your organization's next product launch or corporate event here. The skilled team at L.A. LIVE knows events, and will guide you through the six remarkable spots within this massive venue until you find your right spot. There's over 4 million square feet of event space, all situated in the area around the Crypto.com Arena and Microsoft Theater. The Event Deck is the true standout, as an indoor/outdoor customizable space, boasting its title as the largest carpeted tent in Southern California.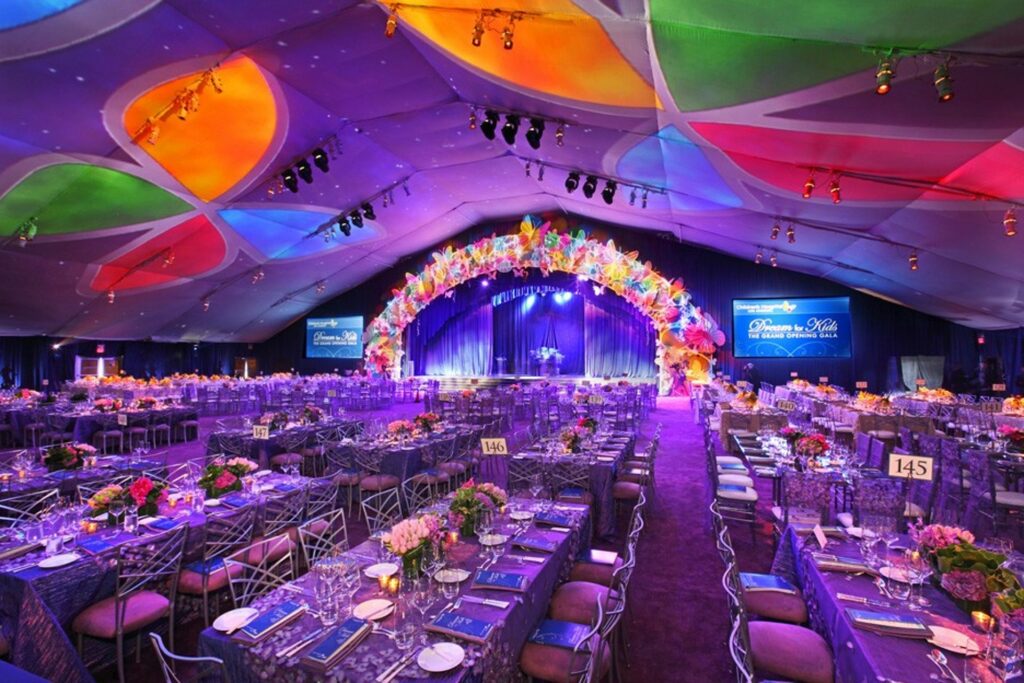 8. The Fig House
Neighborhood: Highland Park
Capacity: 450
Bright and glamourous with an ode to Mid-century modern décor, The Fig House is perfect for product launches, corporate gatherings, or brand activations. Founded by Steve Fortunato of roomforty Catering, this space was transformed into an art deco wonder of stained glass windows and tufted lounge furniture. Your team will delight in the indoor/outdoor functionality of this clean space, day or night. The Fig House is truly bespoke event planning at its finest, brought to you by professionals who know the market and the business.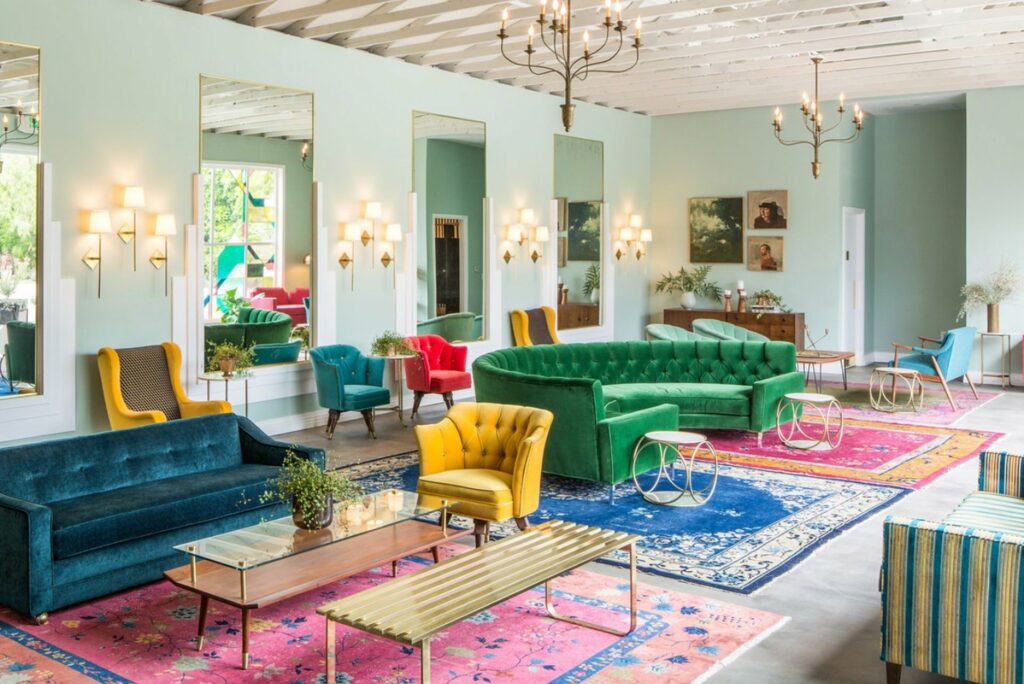 9. Flora Chang
Neighborhood: Arts District
Capacity: 32
Flora Chang presents a funky personality mixed with a gallery vibe at their intimate event space deep in the heart of the Arts District. Natural light pours into this offbeat spot. Perfect for a small cocktail party, meeting, or team event, Flora Chang has a built-in bar and indoor garden. Take a break from your meetings and chalk up some cues for a round of 8-ball at the billiards table. This spot is fresh and innovative, and certain to spark some inspiration.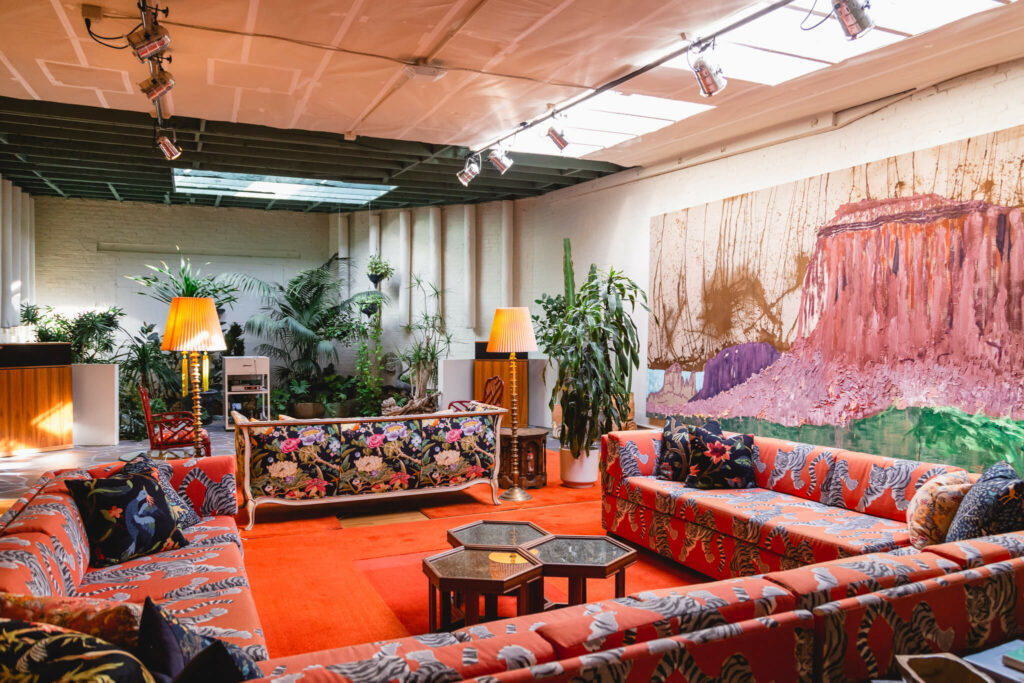 10. Honeypot
Location: Downtown
Capacity: 200
Thriving since 2014, Honeypot is a studio venue in downtown Los Angeles with a mission to provide a space where creatives of all types can build and inspire. Offering up 6,000 square feet of multi-functional studio space, host your next private corporate event, launch party, interactive experience, or influencer engagement event at this industrial-feel warehouse. The experienced team offers long or short term rental periods. Honeypot is situated right in the middle of the action, too, as its just steps from the Los Angeles Convention Center and Cryto.com Center. The floor plan and raw feel make this spot a workable, ideal locale.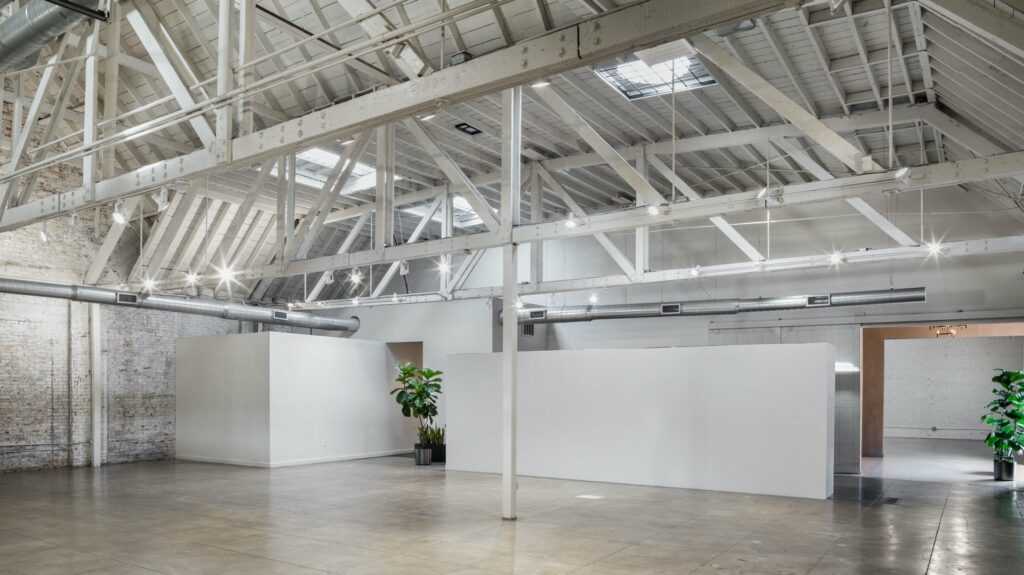 11. NeueHouse LA
Location: Hollywood
Capacity: 600
NeueHouse LA is where culture and commerce collide. There are six distinct spaces from which to choose in this fab locale, a genuine location for creators, innovators, and thought leaders. This venue offers state-of-the-art technology for your next in-person event, with all the audio/visual needs you can dream up. Utilize Studio A for a panel discussion, as there's room for 600 standing, or 300 seated. Consider hosting a presentation or film premiere in The Screening Room, then retire to The Terrace on the third floor for cocktails and dinner amid the Moroccan-inspired décor. It's impossible to take a wrong turn at NeueHouse LA, an authentic leader in the area's event scene.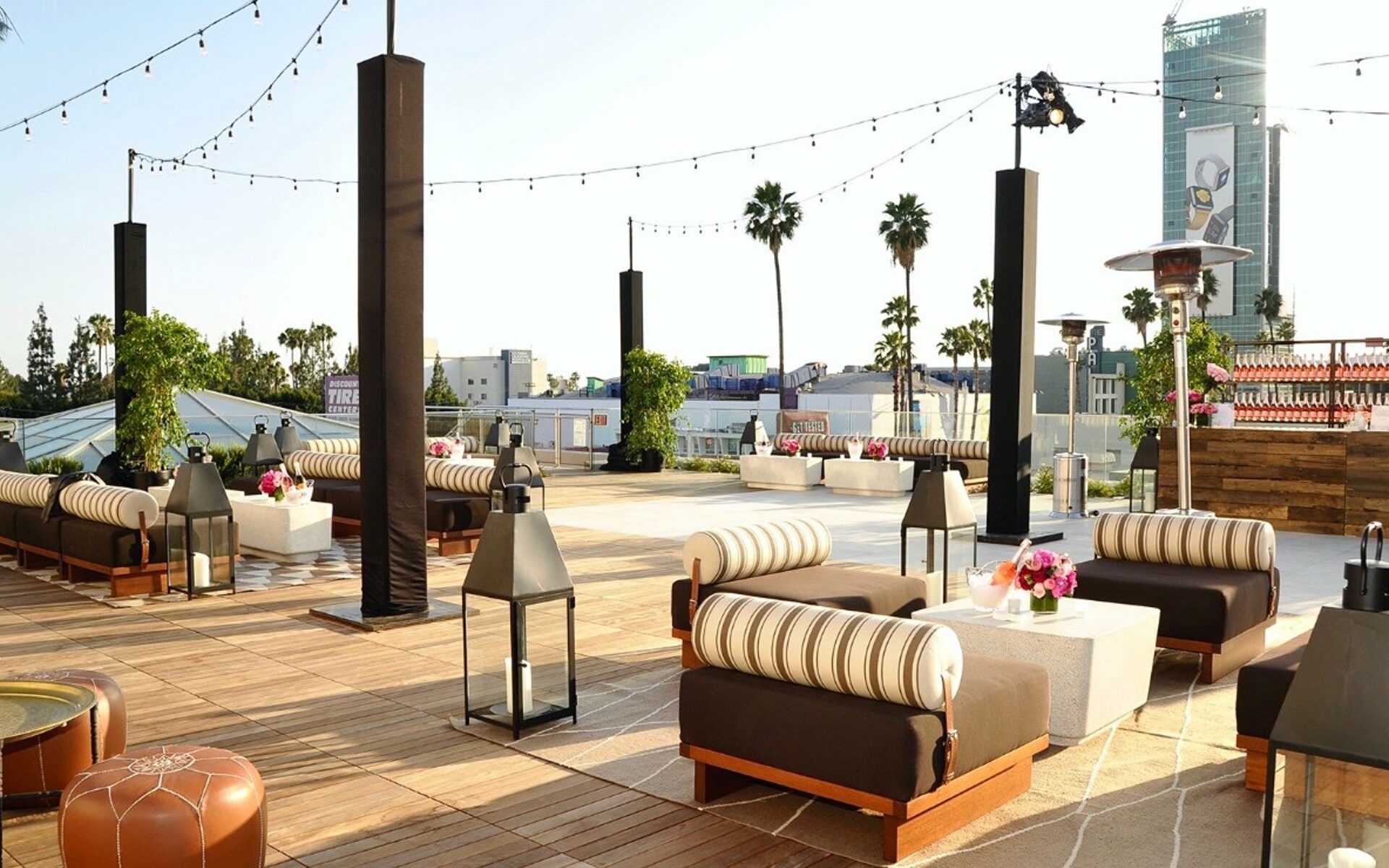 12. Hotel Shangri-La
Location: Santa Monica
Capacity: 175
Conjuring up vibes of Hollywood's Golden Age and welcoming guests and events since 1939, Hotel Shangri-La is quintessential Southern California. A standout place to hold your next corporate event in Santa Monica, this upscale hotel set in Art Deco design has lots of venue options. But since it's right there on the Pacific, it only seems right to book the Penthouse Private Venue, a 2,300-square-foot indoor/outdoor space within the hotel. There are totally unreal panoramic views of all of Santa Monica and the beach. This locale is chic and old-school all rolled into one.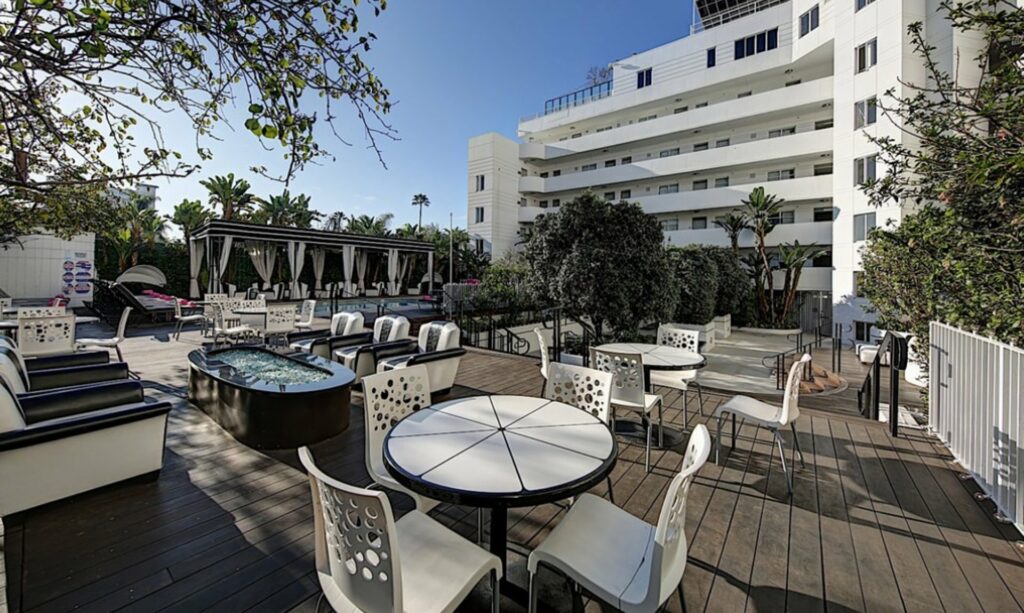 13. Whimsy Pasadena
Location: Pasadena
Capacity: 100 standing, 80 seated
Old town Pasadena is the setting of Whimsy, a quaint venue filled with natural light and 2,000 square feet of workable space. Hold your next off-site here, as the purveyors of Whimsy Pasadena do their very best to keep your meeting on track. There's lots of perks when you book at this spot, as your rental includes use of 60" round tables, folding chairs, three televisions, and a docking station for an iPhone. And because this is Southern California, take delight in the venue's free parking lots on either side.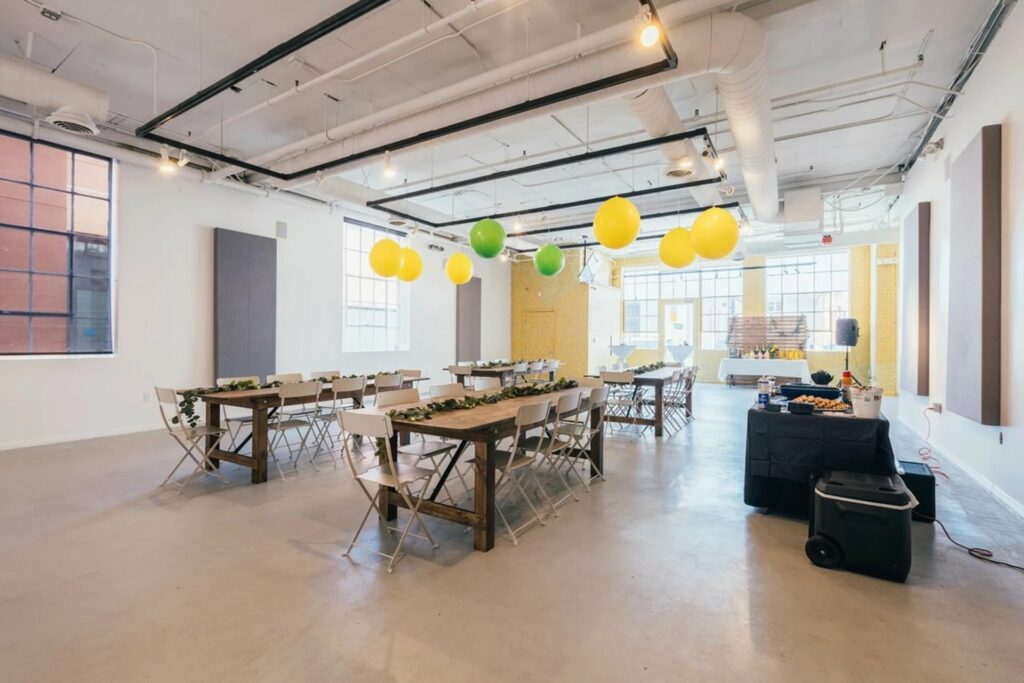 14. Hangar 21
Location: Fullerton
Capacity: 4,000
Just outside of LA sits charming Fullerton, home to Hangar 21 at Fullerton Airport. Hangar 21 is the real deal – a blank canvas to be designed any way the meeting or event sees fit. There's more than 20,000 square feet between the venue's two choices: Hangar 21 South and The Executive Hangar. Industrial-style space abounds at Hangar 21 South, which has 20-foot ceilings, floor-to-ceiling rolling doors, and an additional outdoor terrace. The Executive Hangar is bathed in natural light indoors, but has an 8,000-square-foot tarmac for event space use. Turn any corporate conference into something your colleagues have probably never done at a meeting before – grab Hanger 21's helicopter for a ride and take in SoCal from the skies.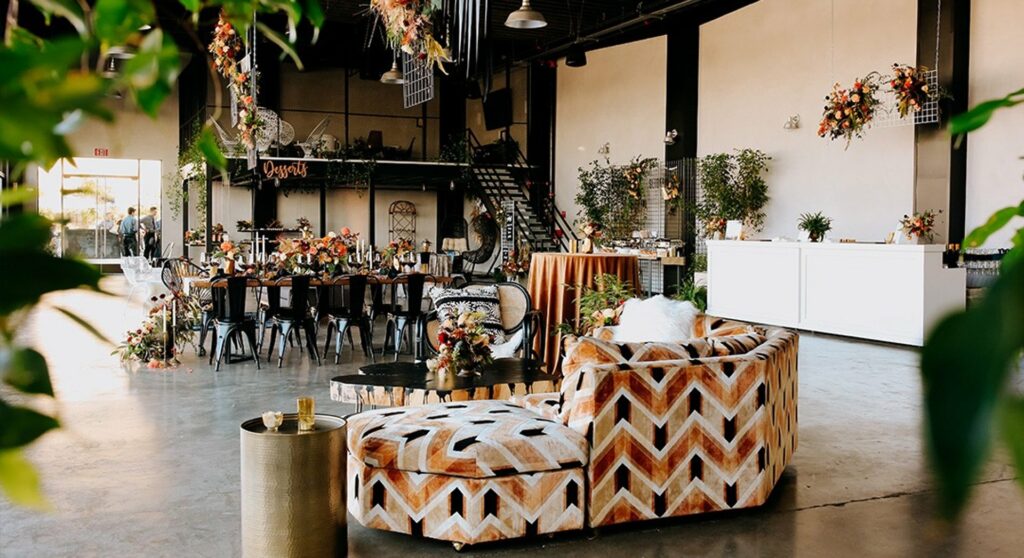 Why Finding the Right Venue can Make or Break an Event
A great event is about setting the tone, and your venue should speak for you. Every event professional knows that finding the right event venue is key. From the first moment you step foot in a new space, your experience will tell you if it's a fit. In addition to your space giving out the right vibes, your venue could also give your attendees an experience that they might not otherwise have when visiting Los Angeles. Also, selecting the right place for your corporate outing shows your clients and colleagues that you took the extra steps to show them a good time. Finally, the careful consideration you pour into your venue selection might very well bring your team closer together – which should lead to a shared human experience and likely more creative thinking.
Important Things to Consider When Booking an Event Venue
As an experienced event professional, you know that there are certain checklist items on your event planning list that are true for nearly every event across the board. When booking your space in Los Angeles, consider the following:
Ease of travel (and traffic considerations)
Technology (audio/visual, sound system, etc.)
Amenities (on-site venue representative, waste disposal, etc.)
Plan B if there's an outdoor component
Find the Best Corporate Event Venues on The Vendry
Search for an inspiring event space for your next corporate event in Los Angeles through The Vendry, the leading source of the world's best venues and vendors. The Vendry's search functions allow you to browse not only by city, but by venue, type of event, vendors in town, entertainment, and experiences. Plan your next LA event stress-free with The Vendry.
Read More:
Host Your Next Corporate Dinner at One of These Classy Private Dining Rooms in Boston
Top Corporate Event Venues in NYC for Your Next Event
The Hottest Large Event Venues in Los Angeles