Article updated 5/19/23
Washington D.C. event venues are a reflection of the city itself, whether it's a historical mansion or a contemporary warehouse. D.C. is obviously synonymous with government and politics from 30,000 feet, but zoom in and you'll find a very cosmopolitan city where 700,000 residents–and over six million in the greater metro area–indulge in a thriving food, music, theater, and art scene.
Major universities like Georgetown, Howard, and George Washington bring that intellectual touch. While working in, or proxy to, the government is the profession of many, events here can cater to not just the political or corporate needs of movers and shakers, but the personal celebrations of residents and visitors. There's an abundance of great event venues in D.C., so we know it can be daunting to find a space. We've whittled down 15 favorite large event spaces below for your next big affair. Read on!
Incredible Large Event Venues in Washington D.C.
Read on for the best of the best. Washington, D.C. offers a wealth of fantastic large venues for corporate events. From historic and elegant options to modern and sophisticated spaces, the city boasts a diverse selection of places to host your next corporate gathering. These venues not only provide ample space but also come equipped with top-notch amenities and services, making it convenient to organize impactful events in the heart of the nation's capital. Whether you're planning a grand gala or a cutting-edge conference, D.C.'s diverse array of venues ensures you'll find the perfect setting for your corporate event.
1. Culture House D.C.
Neighborhood: Southwest Waterfront
Capacity: 500
Heading to Culture House D.C. is going to be a visual experience. Instead of the District of Columbia, the people behind this lively space like to think of the city as the District of Culture. This quirky venue is based on the principle that art is a catalyst for change in the community, and the building itself makes an artful statement.
The entirety of the exterior building was painted by celebrated Atlanta-based muralist HENSE, and the interior gives way to over 15,000 square feet of equally vibrant settings to play with. A full buyout can accommodate over 500 standing, or you can choose between the courtyard, lounge, and performance/event space. This community-minded location is a win-win for exhibitions, live performances, idiosyncratic weddings, and more. Don't be afraid to host a corporate event there, too!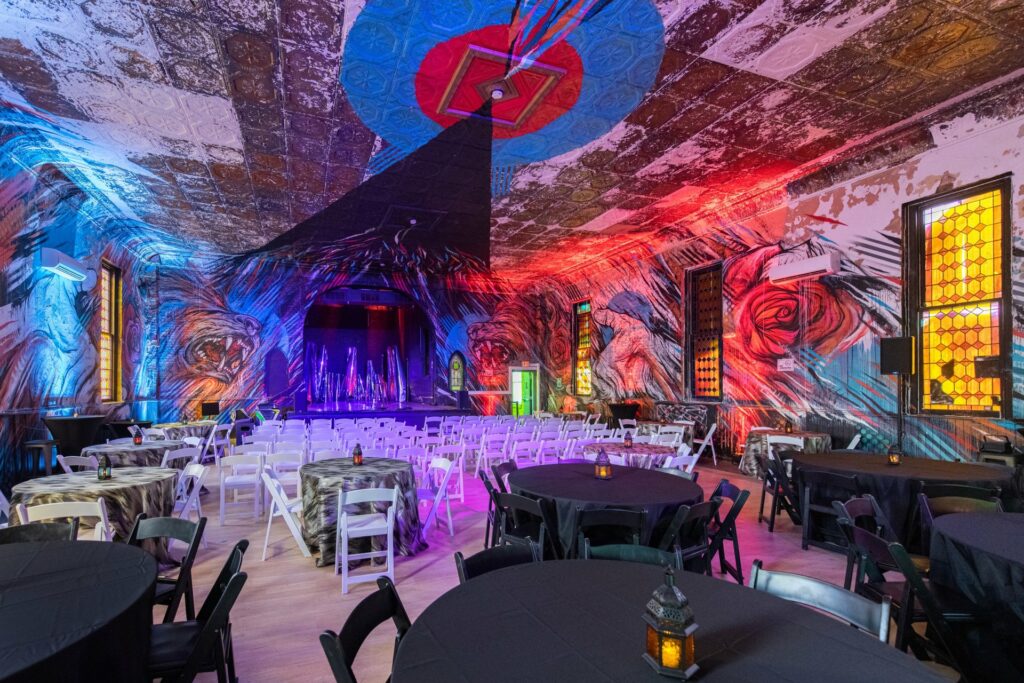 2. Smithsonian's National Museum of American History
Neighborhood: National Mall
Capacity: 3,500
The Smithsonian Institute is the largest complex of museums and educational and research centers in the world. It was first created by the U.S. government in 1846 for "the increase and diffusion of knowledge." It's been an integral component of the city ever since, whether you live here or you're visiting. The Institute's National Museum of American History both celebrates and takes a critical look at this country's history and culture. The thousands of artifacts range from George Washington's uniform to the original flag that inspired Francis Scott Key to write "The Star-Spangled Banner."
The museum also looks at history through a critical lens, like the exhibit "Righting a Wrong: Japanese Americans and World War II" which delves into the appalling internment of this populace during the war. There are a myriad of spaces to choose from here, but if you're really going big you can rent out the entire place for 3,500. Nothing says D.C. like having an event on the National Mall in a museum that encapsulates the American experience…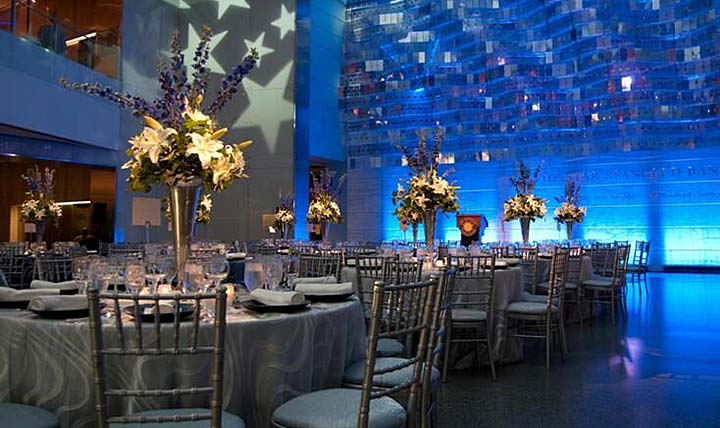 3. Special Events at Union Station
Neighborhood: Downtown
Capacity: 4,000
Union Station is, simply put, breathtaking. This transport hub first opened in 1908 and was designed by Daniel Burnham in the Beaux Arts style as part of the city's beautification plan. The grand Main Hall, stunning Presidential Suite, flexible Columbus Club, and sought-after East Hall can all be rented. The East Hall has been the location for presidential inaugural balls and a host of notable events. Even Prime Minister Margaret Thatcher rang in her 70th here.
The Main Hall is undoubtedly the crown-jewel of all the spaces and can accommodate up to 4,000 cocktail-style or 2,200 for a seated dinner. It was modeled after the Baths of Diocletian in Rome and the barrel-vaulted ceilings are lined with 23 carat gold leaf. White marble floors and oversized windows don't hurt to look at, either. If you choose to have an event here you'll join a prestigious historical lineup who have all used this venue, from presidents to royalty. It's definitely one of the most statement-making large venues D.C. has to offer.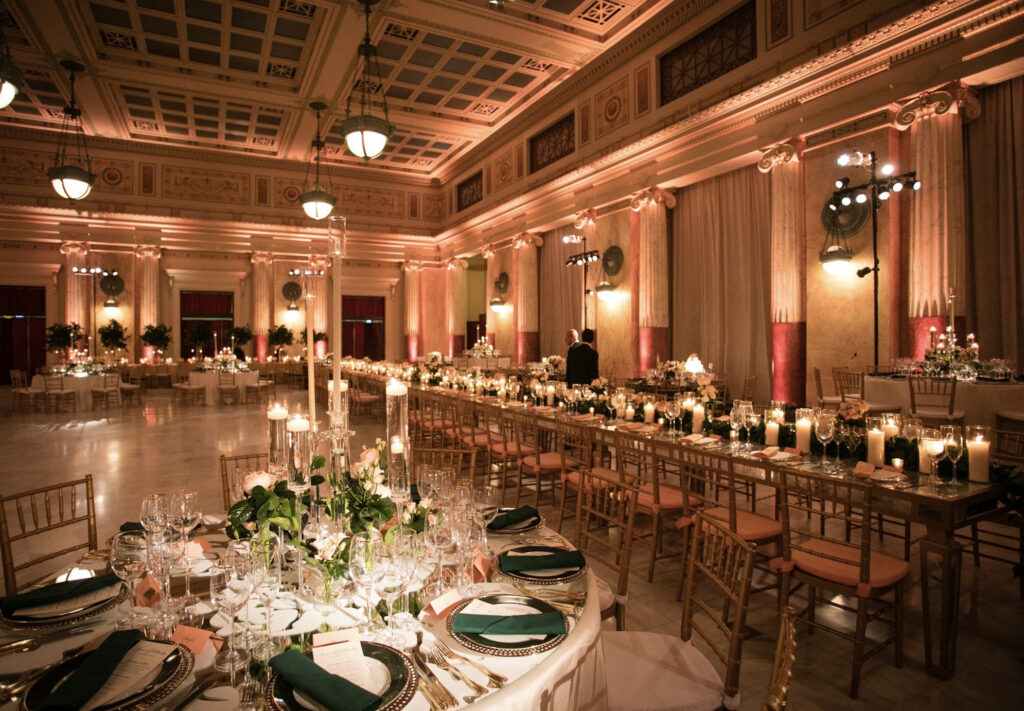 4. The LINE Hotel
Neighborhood: Adams Morgan
Capacity: 850
Whether you're in Los Angeles, San Francisco, Austin, or Washington D.C., you really can't go wrong with The LINE Hotel. 10,000 square feet of indoor/outdoor dedicated event space in the bustling Adams Morgan neighborhood includes 12 separate venues, but the most epic by far is the "No Goodbyes" area, a 110-year-old neoclassical church. An in-house banquets and catering team serves up food from acclaimed Chef Opie Crooks, all created from locally sourced ingredients.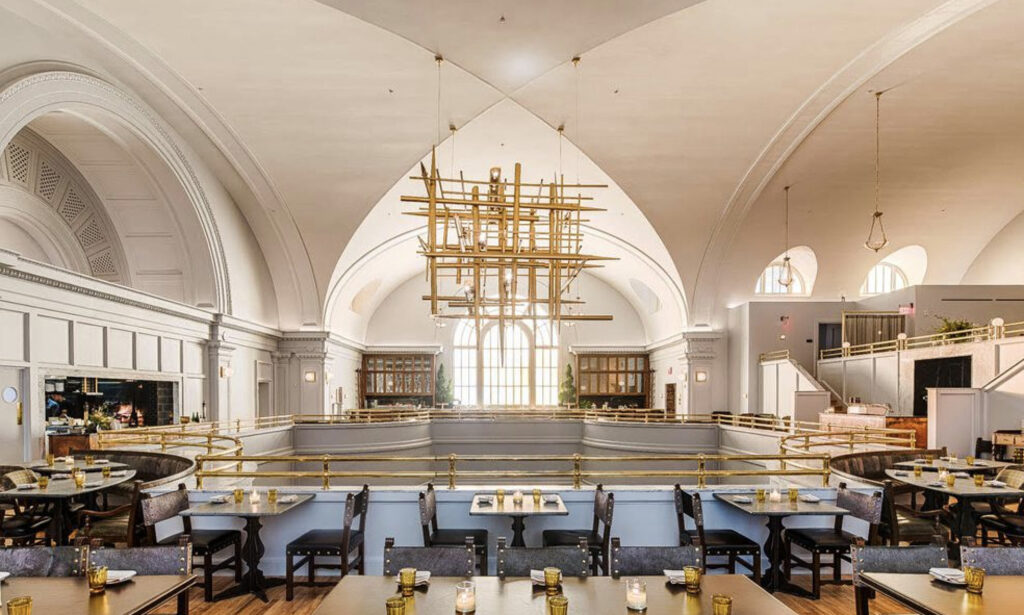 5. Union Market
Neighborhood: Union Market District
Capacity: 700
While it has experienced different incarnations over the years, Union Market has been around in one way or another since 1871. Now it's a mini-city unto itself. Restaurants, small businesses, 35 independent merchants and food and drink vendors, make this a thriving community destination with multiple event spaces.
If you're looking for a blank canvas, then the 12,000 square feet of Dock5 in the Union Market is an excellent bet. Directly above the artisanal market is Dock5 where you can enjoy a variety of amenities, including the opportunity to partner with Union Market vendors. The indoors at Dock5 hold up to 700 standing. The other available venue spaces at Union Market include the Autoshop that hosts up to 400 and the Rooftop with 15,000 square feet and 360-degree views of Washington D.C.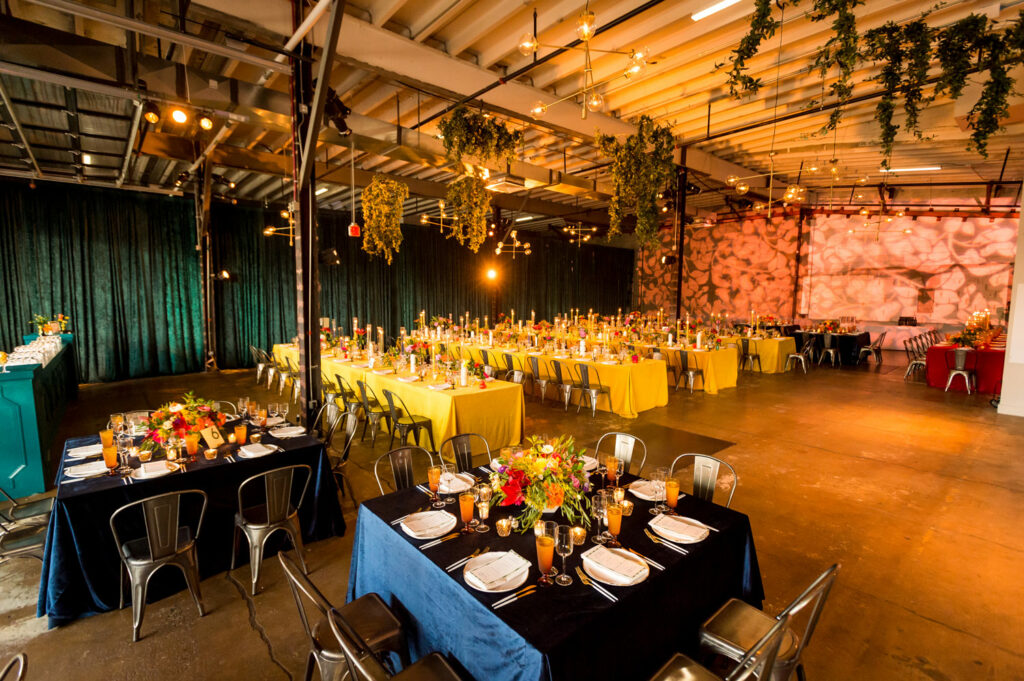 Collect the data that you need to run a successful event. Read: Questions to Ask on Your Pre Event Planning Questionnaire.
6. Smithsonian National Zoo & Conservation Biology Park
Neighborhood: Woodley Park
Capacity: 2,000+
The National Zoo, also part of the Smithsonian, is a big deal in D.C. and their event venues do not disappoint. There's 12 to choose between, but here's a taste: Host a company-wide picnic at the Lion-Tiger Hill, or have a fundraiser at the Elephant Community Center. Have a cocktail party in the Amazonia Exhibit or have a tented reception in the Conservation Pavilion. Bit of zoo trivia: D.C. takes this zoo's pandas very seriously, who first arrived in 1972 in an ongoing collaboration with China to improve international relations.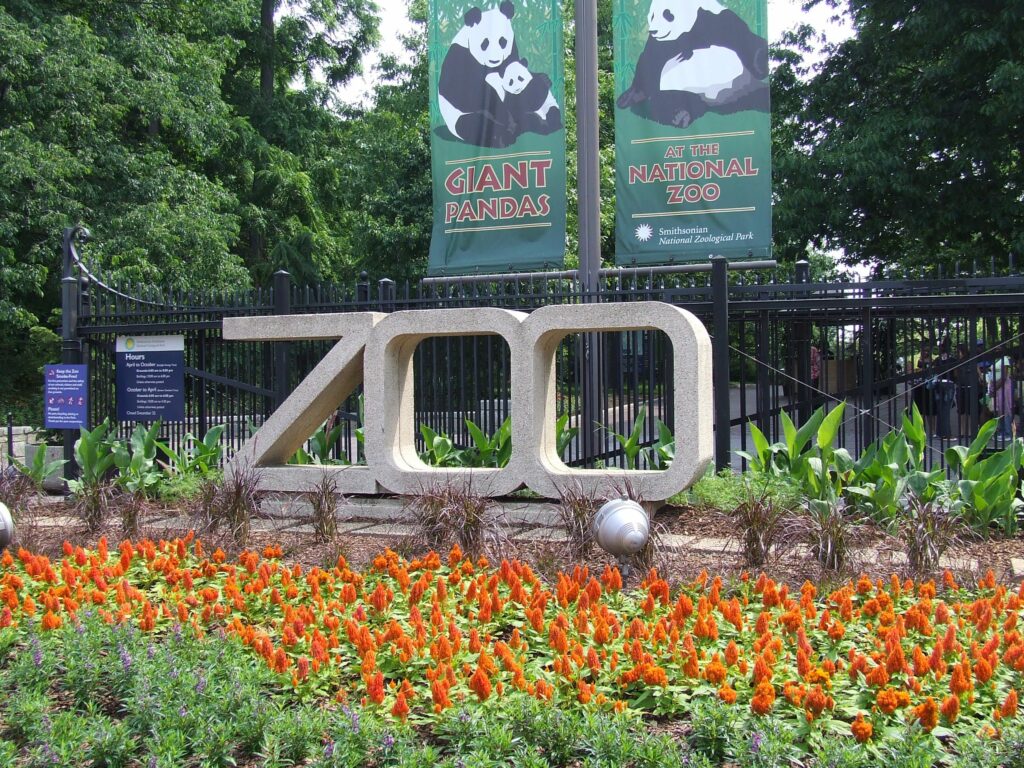 7. Long View Gallery
Neighborhood: Logan Circle
Capacity: 400
In summation, Long View Gallery is very, very cool. Their motto: "P'art Gallery. P'art event Space. All art." The 8,500 square foot event layout takes industrial chic to new heights–as in literally, the ceilings are 15-feet high. Exposed brick, a courtyard, and flexible interior space make it a great venue to work with, not just for aesthetic but for function. Dance away at a corporate gala or wedding on the finished concrete floors, and have your party of 400 enter through the sleek aluminum alloy glass doors.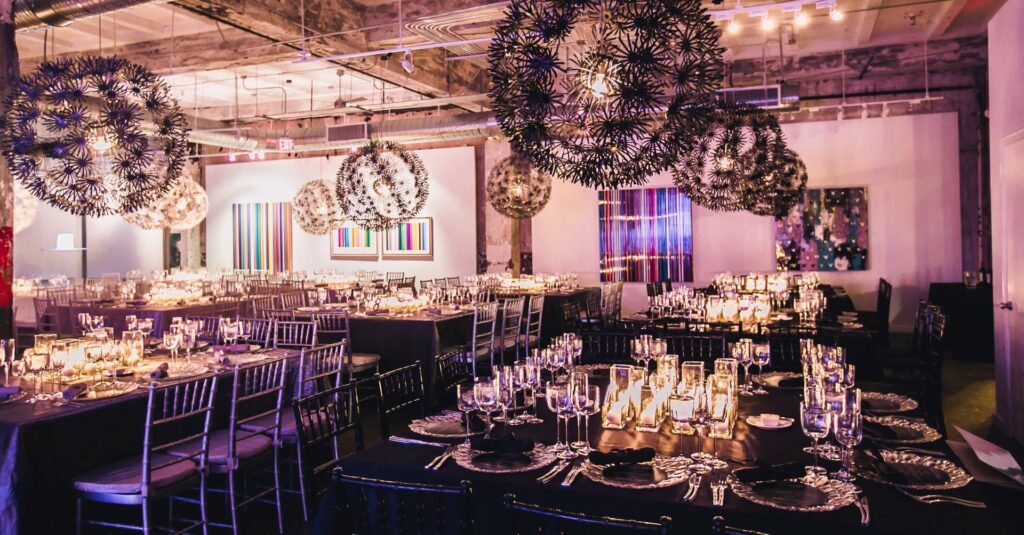 Dine in style. Find the best private dining rooms in Washington D.C..
8. The Whittemore House
Neighborhood: Dupont Circle
Capacity: Contact for more info
The Whittemore House once again represents D.C.'s historic charm and presidential connections when it comes to venues. It was originally built in 1892 for Sarah Adams Whittemore, a direct descendant of John and Henry Adams. She was an opera singer, and so the bespoke house design reflects her acoustic needs to this day. It joined the National Register of Historical Places in 1973, and in addition to its well-appointed spaces the building houses the Women's National Democratic Club which supports women's empowerment. Corporate luncheons, internal team meeting, product launches you name it: all nine rooms rented on their own or in combination are a win-win for aesthetic and function.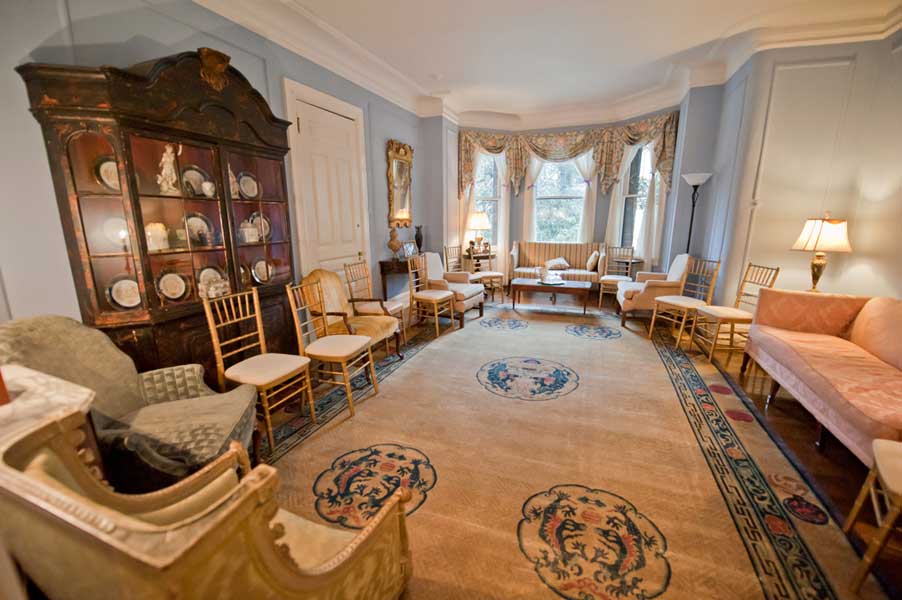 9. HQO Events
Neighborhood: Navy Yard
Capacity: 300+
HQO Events is a sleek location with an exterior of undulating glass on D.C.'s waterfront. It offers sweeping views over the Anacostia River and a variety of venues within, from a boardroom to an atrium. The building shape is due to it being built around a pump station, adding an idiosyncratic element to its contemporary feel. It makes sense since HQO is part of the new D.C. Water Headquarters. It's a blank canvas to work with allowing your own individual event vision to really come to fruition.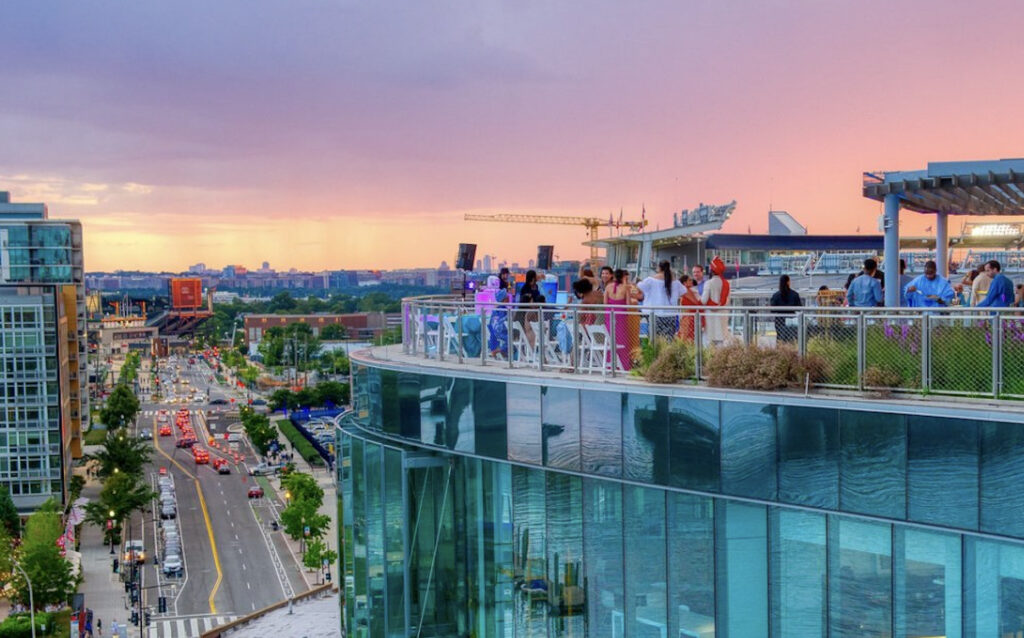 10. City Winery D.C.
Neighborhood: Ivy City
Capacity: 500
City Winery D.C. is located in the heart of what was historically an industrial zone populated with warehouses, factories, and a railyard. Like its sister locations in New York, Nashville, Chicago, and Atlanta, this has become a coveted destination for a range of events. The urban winery offers flexible space to work with from the music venue to a tasting room, and an industrial aesthetic compliments the area's roots. Enjoy award-winning wines, professional in-house event staff, state of the art A/V capabilities, and customizable menus.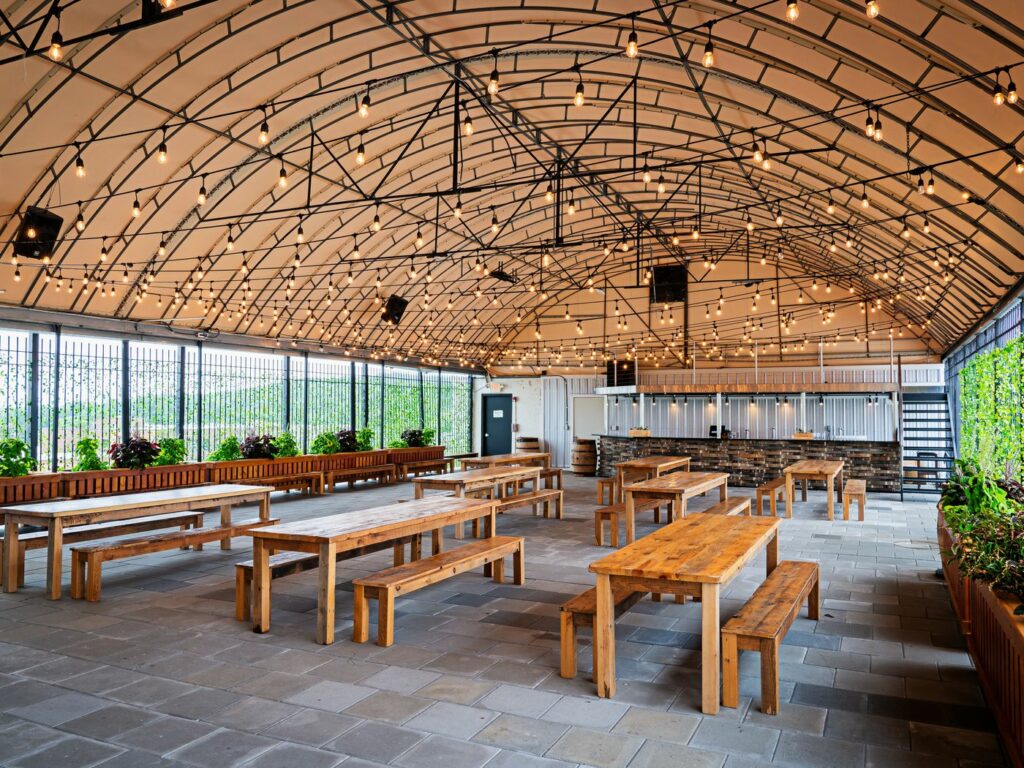 11. The Showroom
Neighborhood: Downtown
Capacity: 800
The Showroom, one of the newest venues in this roundup, is an impressive 8,000 square foot open floor plan. While it can be treated as a blank space, there's much to work with here: a great central location, a sleek almost industrial feel, and a built-in infrastructure to ensure a seamless experience. There's an event manager, security staff, building engineer, and cleaning staff in bathrooms on site-at every event, while the 18-foot ceilings add to the spacious setting for up to 800 standing guests.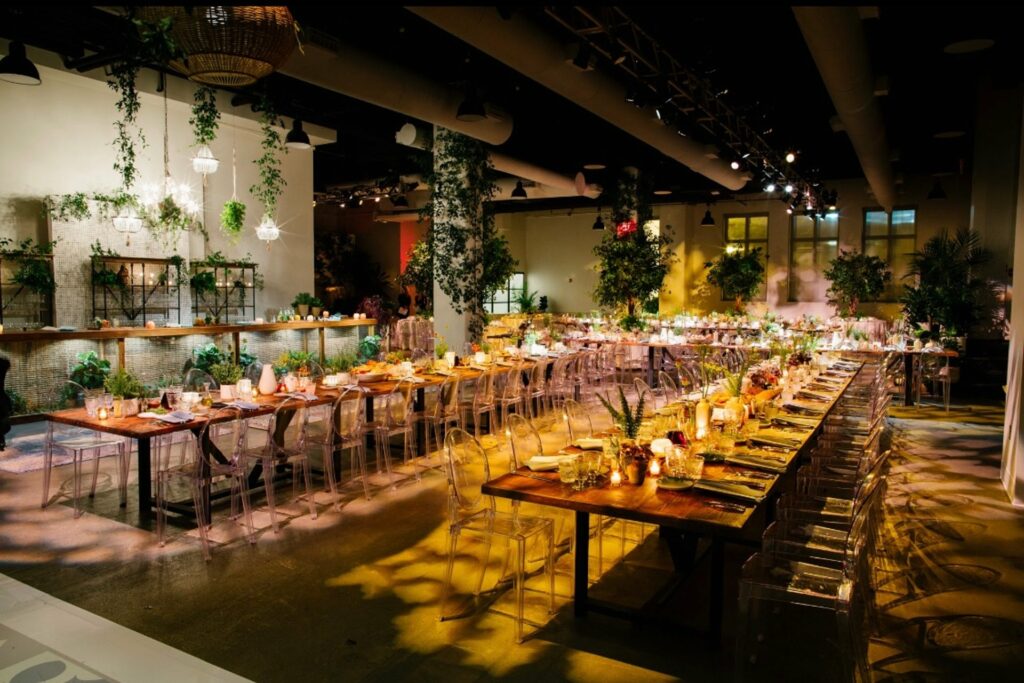 12. Park Hyatt Washington D.C.
Neighborhood: West End
Capacity: 580
Understated elegance is at the core of the Park Hyatt Washington D.C. event spaces. There is 12,000 square feet of event space to work with, and if meetings are on your mind there is access to the Business Center and state-of-the-art technology. The largest space on offer is 4,200 square feet which is perfect for weddings and galas. Speaking of weddings, the food is provided by the Michelin-recognized Blue Duck Tavern for a memorable evening all around.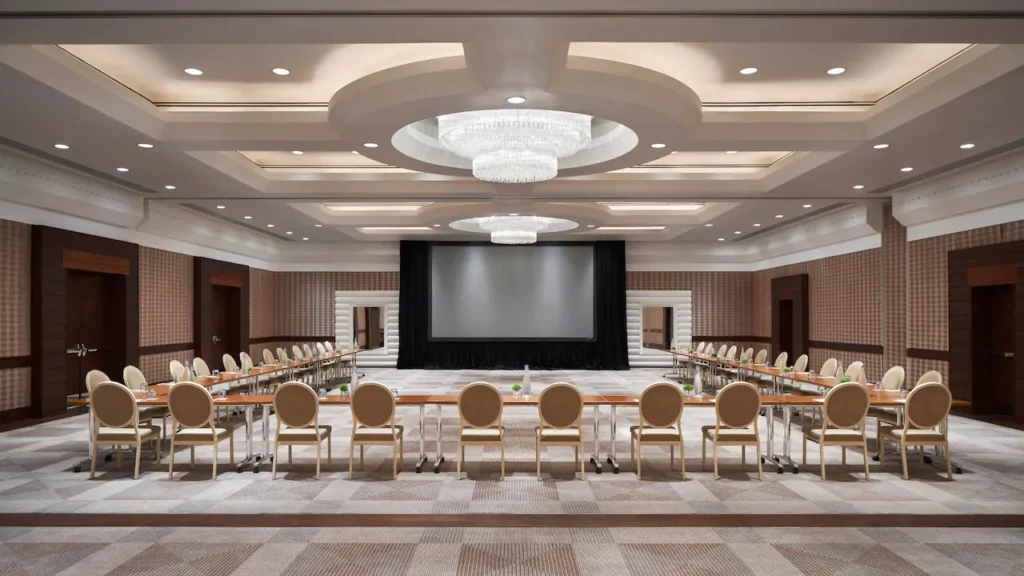 13. InterContinental Washington D.C. - The Wharf
Neighborhood: Southwest Waterfront
Capacity: Contact for more info
This InterContinental location is not lacking in space. Its 17,000 + square footage includes 11 unique meeting rooms and multiple sophisticated ballrooms, making it a luxurious choice for any and all events. The hotel chain's impeccable standards are on display throughout, and sweeping views over the Potomac River, with an incredible amount of natural light through the giant windows, add to the sense of occasion be it a wedding or a fundraiser.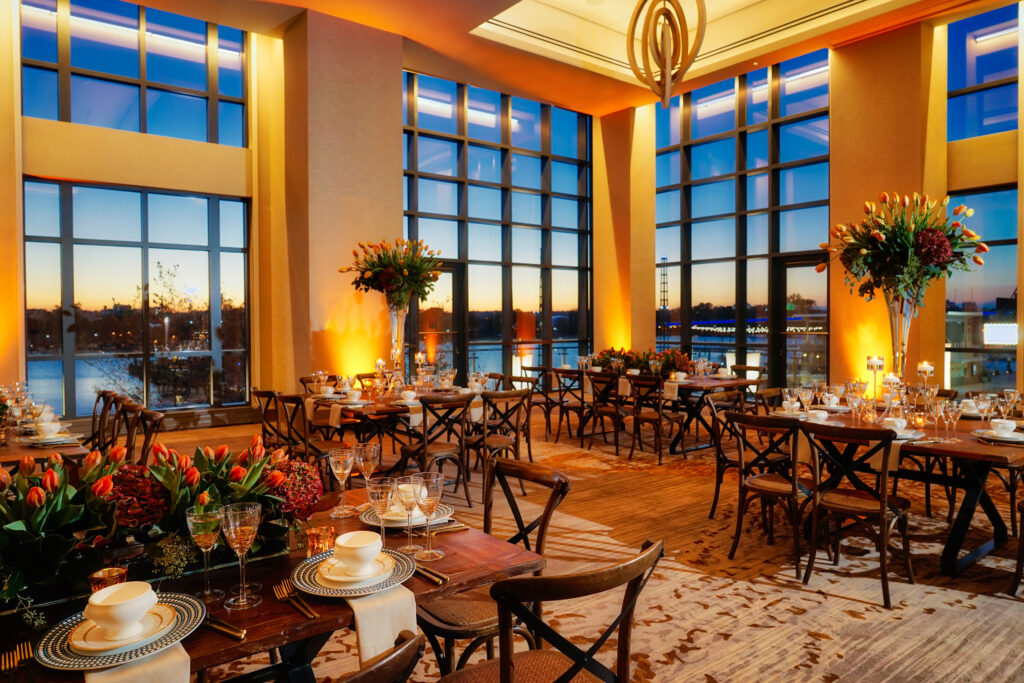 14. Meridian House
Neighborhood: Adams Morgan
Capacity: 200
John Russell Pope made an architectural splash in Washington D.C. In addition to Meridian House he designed the Jefferson Memorial, the West Building at the National Gallery of Art, and the National Archives. A mere mile-and-a-half from the White House, this has long been a plush event location amongst Washingtonians. The campus is technically two distinct but adjacent homes (The Meridian House and the White-Meyer House), and offers an upscale setting for up to 200 for weddings, corporate conferences, special events, and receptions.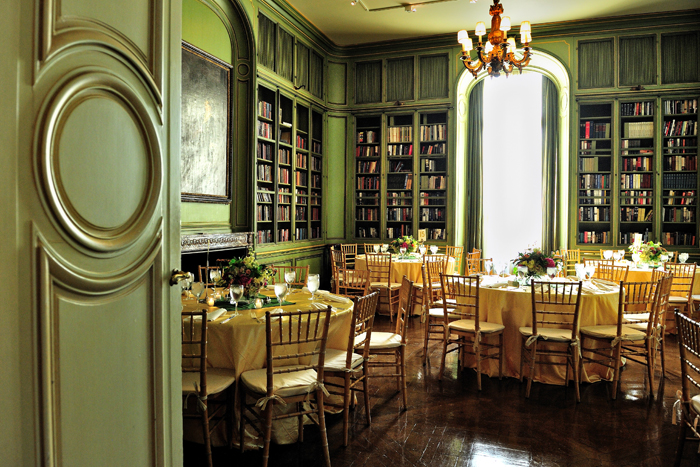 15. National Union Building
Neighborhood: Penn Quarter
Capacity: 150+
D.C. does the historic thing well, and the 1890 National Union Building is no exception. It was originally built for the National Union Fire Insurance Company and has been on the National Register of Historic Places since 1990. This Romanesque-style building houses eight unique venues over seven floors and 28,000 square feet, which can be rented individually or in a combination. Outside caterers are allowed and remember to check out The Speakeasy in the basement for a handcrafted tipple.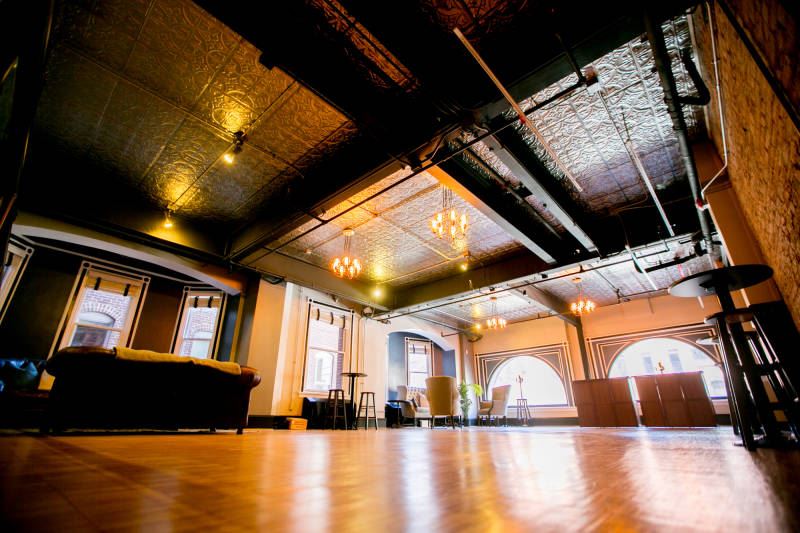 The Importance of Finding the Right Venue for Your Event
At the risk of sounding trite, the venue is really the essence of your occasion. Even if it's a blank canvas, finding the right space that speaks to occasion–even if it's a corporate boardroom meeting–sets the tone from beginning to end. So take your time and visit in person when possible to really get a sense of what works for your planning purposes.
What are the Different Large Scale Venue Types
Corporate event planners have a wide range of venue options to consider when organizing large-scale events. The type of venue you choose can significantly impact the success and atmosphere of your event. Here are some different types of large venues and the kinds of events that can be hosted in each:
Convention Centers:

Events: Trade shows, conventions, industry conferences, product launches, expos, corporate meetings, job fairs.
Benefits: Spacious and equipped with modern facilities, convention centers are designed to accommodate large gatherings and offer flexibility for various event setups.

Hotels and Resorts:

Events: Corporate retreats, conferences, seminars, training sessions, award ceremonies, holiday parties.
Benefits: Hotels and resorts provide on-site accommodation and catering options, making them convenient for multi-day events and offering a luxurious atmosphere.

Stadiums and Arenas:

Events: Sports-related events, concerts, product launches, team-building activities, large-scale corporate gatherings.
Benefits: These venues offer a unique and dynamic atmosphere, ideal for entertaining large audiences and hosting memorable events.

Ballrooms and Banquet Halls:

Events: Gala dinners, fundraising events, weddings, corporate galas, formal parties.
Benefits: Elegant and spacious, ballrooms and banquet halls are suitable for upscale and formal gatherings, often with customizable décor options.

Theaters and Auditoriums:

Events: Corporate presentations, keynote speeches, seminars, film screenings, cultural performances, live entertainment.
Benefits: These venues provide excellent acoustics and seating arrangements, making them ideal for presentations and performances.

Outdoor Venues:

Events: Picnics, team-building activities, corporate festivals, charity runs, outdoor product launches.
Benefits: Outdoor venues offer a breath of fresh air and unique settings, creating a relaxed or festive atmosphere depending on the event.

Museums and Art Galleries:

Events: Art exhibitions, cocktail parties, networking events, product launches, cultural and themed events.
Benefits: These venues offer a creative and inspiring backdrop, perfect for events that require a touch of culture and sophistication.

Cruise Ships and Yachts:

Events: Corporate cruises, team-building retreats, product launches, client appreciation events, conferences.
Benefits: A nautical venue provides a memorable experience with picturesque views, catering services, and a unique, on-the-water ambiance.

Historical Landmarks:

Events: Exclusive corporate dinners, themed parties, milestone celebrations, corporate strategy sessions.
Benefits: These venues offer a sense of grandeur and history, creating a distinctive and memorable setting for corporate events.

Industrial Spaces and Warehouses:

Events: Product launches, brand activations, themed parties, art installations, creative workshops.
Benefits: Industrial venues provide a blank canvas for creativity and can be transformed to suit various event themes and styles.
When selecting a venue, corporate event planners should consider factors like the event's purpose, size, budget, and desired ambiance. Additionally, they should assess technical capabilities, accessibility, catering options, and any specific requirements of the event. Each venue type offers a unique opportunity to create a memorable and impactful corporate event tailored to the organization's objectives and vision.
The Venue Can Help You Find the Best Venues in Washington D.C.
The Vendry has been lucky to help bring a variety of events in large venues to pass, and would be delighted to help you get your next large scale event going. D.C. can be admittedly divisive, but at the heart of things it's a very urbane city with a thriving cultural scene. Plus, there's one thing everybody can agree on: D.C. is a great place for a party. Get your venue search started today.
Read More:
The Best Private Dining Rooms in Washington D.C.
The Top Large Event Venues in Austin
The Best Large Venues in Atlanta