Article updated 5/25/23

If you find yourself sipping a handcrafted cocktail on a Washington D.C. rooftop, there's likely something that will stand out to you: D.C. has no skyscrapers. To understand and appreciate the city's unique horizontal skyline, you need to dip your toe into the history of Washington itself.
The story is fascinating, and deserves much more word count real estate (no pun intended), but here's a cliff notes version: in 1790 Congress authorized a federal district to be built along the Potomac River, conveniently located between the northern and southern states. City planning was entrusted to Pierre Charles L'Enfant–a Frenchman who fought with the Americans in the Revolutionary War–with input from Thomas Jefferson in what is now known as the "L'Enfant Plan." In 1791 as this city planning was happening, George Washington weighed in and enacted the first building height restriction to "provide for the extinguishment of fires, and the openness of the town."
Flash forward, and you get two Height of Buildings Acts in 1899 and 1910, basically solidifying that lower height principle and prohibiting "people's enjoyment of some of the district's greatest spaces and most striking views." Building restrictions remain largely unchanged over a century later. Long story short? At your next rooftop event in D.C. you can thank George Washington for those sweeping unobstructed views.
The Best Rooftops in Washington D.C.
Due to its mid-Atlantic location, weather can be tricky in Washington D.C. — especially when you're planning an event. Winters can bring the headaches of the north like snow and ice, and then the summers can get HOT and humid, à la the south. Spring and fall are (usually) delightfully mild. As such, open-air alfresco dining, drinking, and mingling is popular as ever for those seeking a nice breeze and gorgeous views, and the places open year-round offer an equally appealing setting. We've rounded up 17 Washington D.C. rooftops that raise the bar.
1. Top of the Gate
Neighborhood: Foggy Bottom
Capacity: 300
Those with at least a passing grasp of 20th century American history will know what role The Watergate complex played in a particularly chaotic episode fifty years ago. On the other hand, Top of the Gate, the Watergate Hotel's rooftop venue, has made a name for itself for all the right reasons. Condé Nast Traveler named it one of "The 15 Best Rooftop Bars in the U.S." and it's not hard to see why. The lively and urbane rooftop lounge features 360-degree views of the Kennedy Center, the Washington Monument, Potomac River, and Arlington, Virginia. Nibble on gourmet pizzas or sip a tasty beverage while watching unparalleled sunsets. If you want to mix it up you can also host a yoga class here for en plein air mindfulness.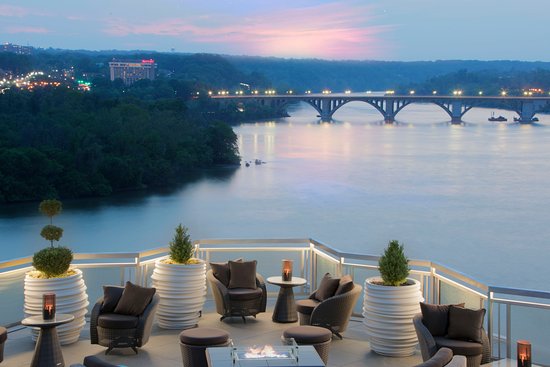 2. Conrad Washington D.C.
Neighborhood: Penn Quarter
Capacity: 140
Take the elevator to the top of the Conrad Washington D.C. hotel and you'll find yourself at the aptly named rooftop venue, Summit. Garden-forward items are on the menu this season, with a particular emphasis on flora from the Chesapeake Bay Watershed. The drink Executive Chef James Kerwin has been particularly inspired by lately is Veuve Clicquot's La Grande Dame–a tribute to the 18th century doyenne of champagne, Madame Barbe-Nicole Clicquot. If you're feeling fancy, order a bottle with a curated garden gastronomy sampling. Accommodates an event for 140.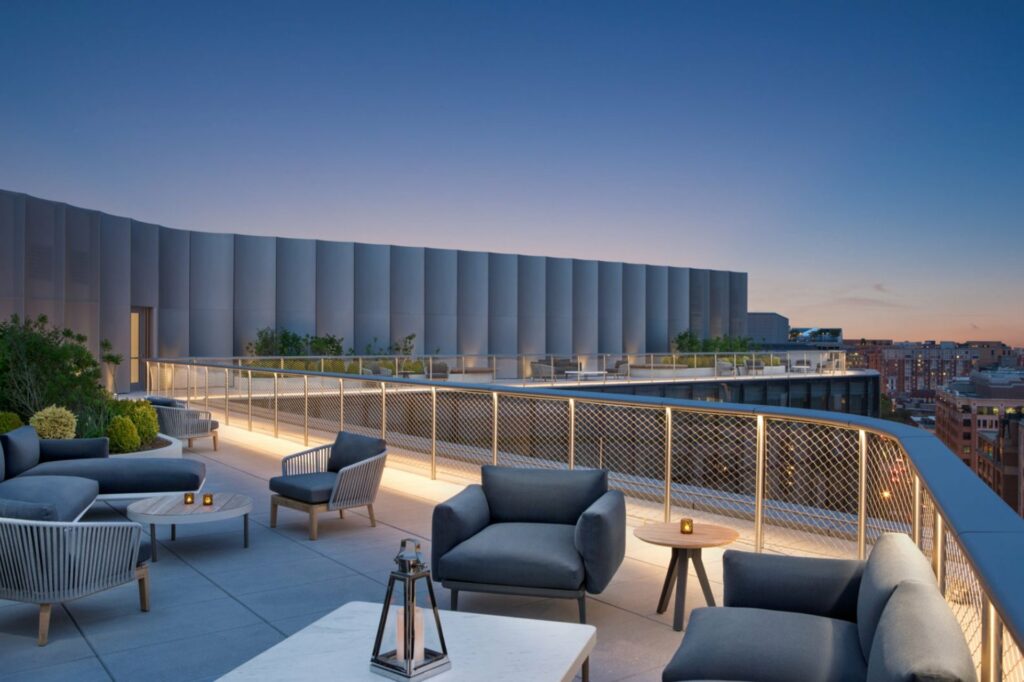 3. Hush Rooftop Bar
Neighborhood: Logan Circle
Capacity: 100
Hush Rooftop Bar, the Viceroy's new entertainment aerie, offers views and an intimate, chic feel for up to 100 patrons. The enviable small bites menu includes charcuterie, Mediterranean dips, and Catalan-style coca flatbreads. Meanwhile the handcrafted cocktail menu washes it down nicely with drinks like the refreshing "Hotter than July" made of honeydew-infused gin, ginger, and lime.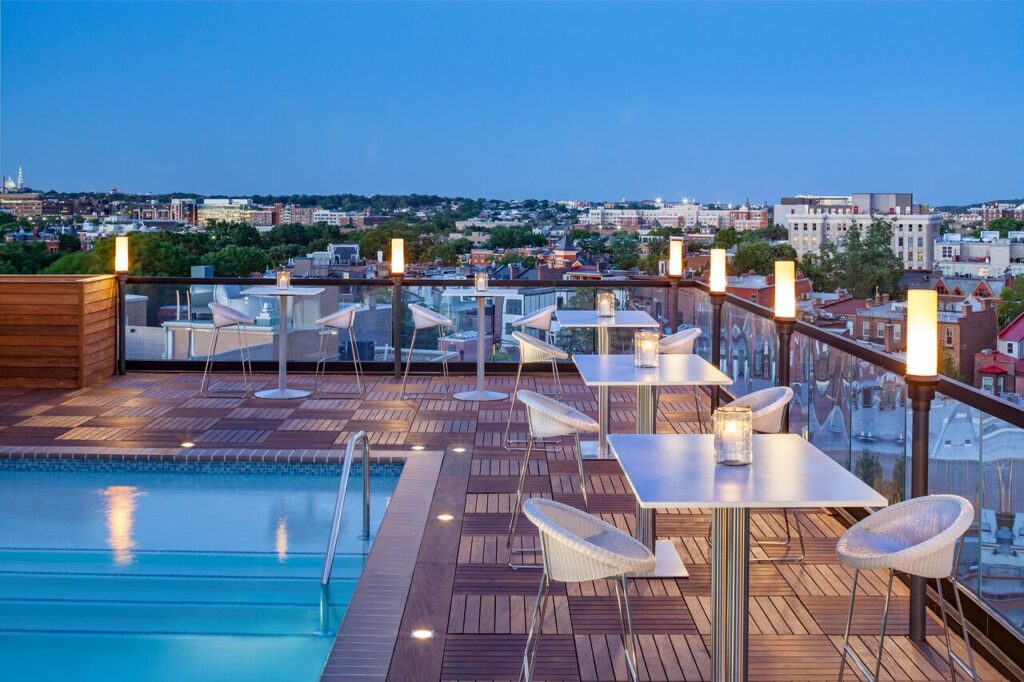 4. Rosewood Hotel
Neighborhood: Georgetown
Capacity: 125
The Rosewood Hotel rooftop bar, CUT Above, has over 2,700 square feet where you can take in views of the Washington Monument, Potomac River, and Kennedy Center. The open sundeck can be tented accordingly, making it an ideal weather-proof spot for large (up to 125 people) business luncheons, rehearsal dinners, and any other event that benefits from an indoor/outdoor feel with a setting to match.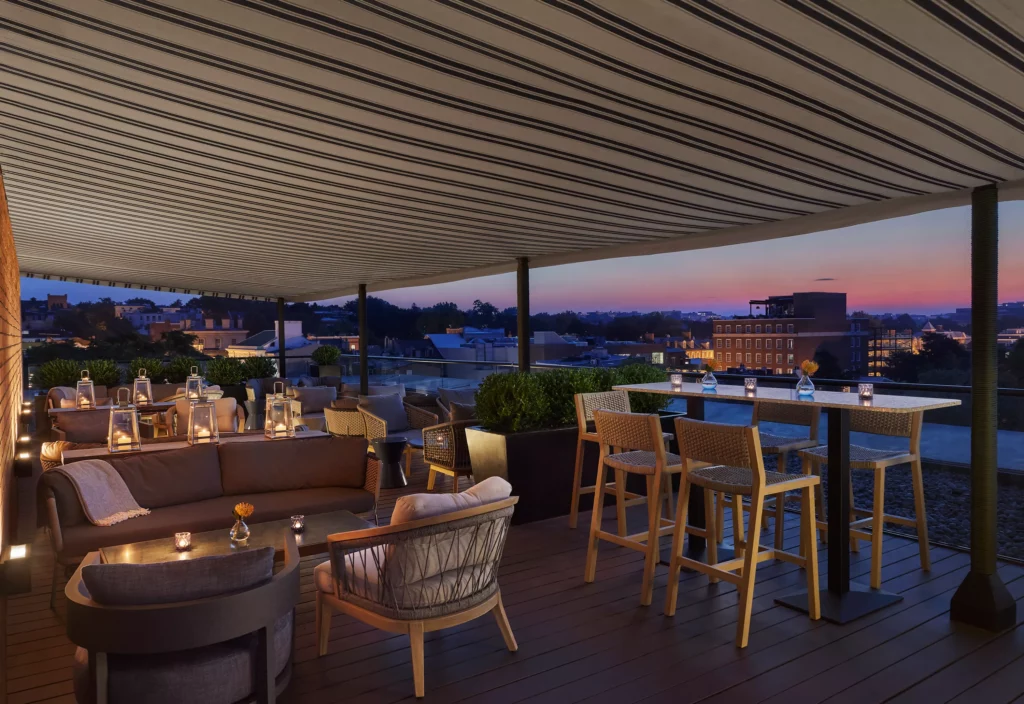 5. Smoke & Mirrors
Neighborhood: Capital Hill / Navy Yard
Capacity: 100
11 floors up the new AC Hotel Washington, and you'll land in one of D.C.'s most talked about new rooftop venues. In addition to views stretching from the National Cathedral to the Capitol Building, Smoke & Mirrors also has an all-weather appeal, ensuring a seamless experience no matter the forecast. A retractable canopy, fireplace, fire pits, and state-of-the-art a/v technology, round out the sophisticated open-air experience for up to 100.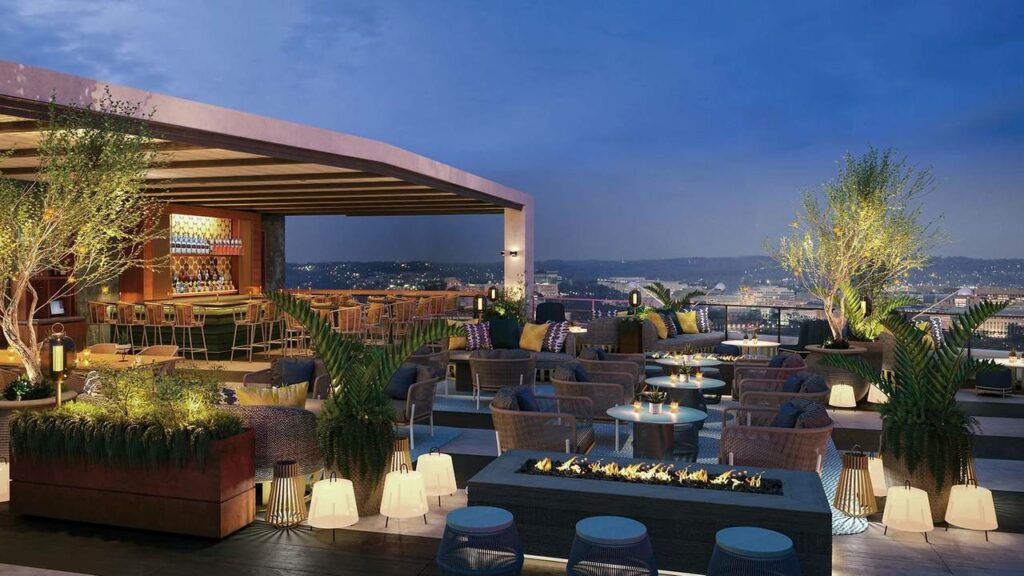 Time to party! Find the best event venues in Washington D.C.
6. Dirty Habit
Neighborhood: Penn Quarter
Capacity: Contact for more info
The Dirty Habit and its stylish, avant-garde aesthetic bring a delightfully eccentric touch to private events throughout the establishment, including the outdoor patio area. The aesthetic mix of casual gothic and industrial chic gives way to fine wines or cocktails in unique glassware, and an innovative food menu with unexpected ingredients. The perfect setting for a memorable, casual, and charmingly unique event.
7. 12 Stories Bar
Neighborhood: The Wharf
Capacity: 170
The Wharf, a multi-billion mixed use development that opened on D.C 's Southwest Waterfront in 2017, is the setting for the InterContinental Hotel and its equally luxe 12 Stories Bar. 3,500 square feet with floor-to-ceiling 13-foot ceilings and well-appointed contemporary furnishings make this an elegant choice for any event up to 170 guests. Not to be outdone in the view department, sightlines include the Lincoln, Jefferson, and Air Force memorials, not to mention America's favorite obelisk, the Washington Monument.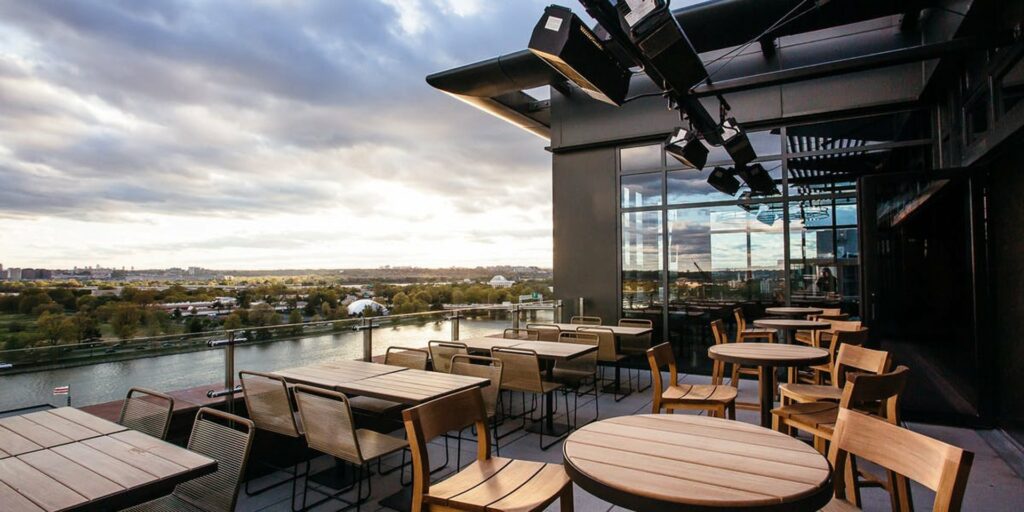 Capture the moment. Capture your event.
Find the best photographers in Washington D.C.
8. VUE Rooftop
Neighborhood: Downtown
Capacity: 228
VUE Rooftop is in/on the iconic Beaux-Arts style Hotel Washington which has been a D.C. favorite for decades. Despite the hotel's longevity, VUE is very much a contemporaneous locale with its private lounge area and modern decor. The VUE's almost next door neighbor, the White House, makes this a desirable rooftop setting for both Washingtonians and visitors. Up to 228 standing event attendees will appreciate the view, too. P.S., do you get a sense of deja vu looking out? The rooftop bar's POV is featured in the Wonder Woman sequel. If the view is good enough for Marvel, it will probably make the cut for your next event.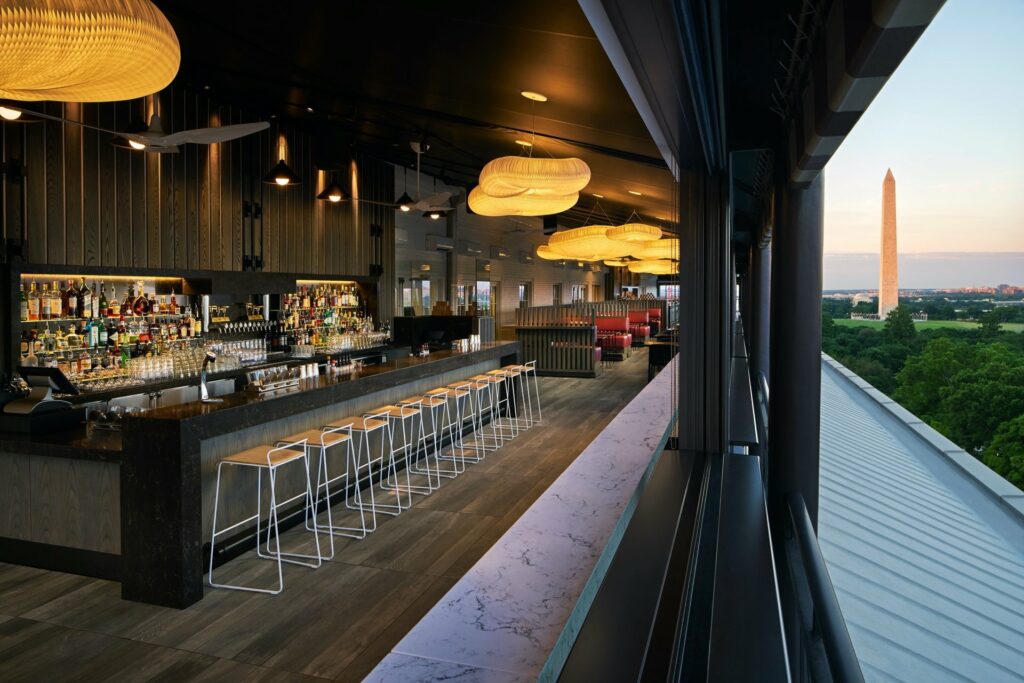 9. La Vie
Neighborhood: The Wharf
Capacity: 100
The Terrace Bar at swanky La Vie restaurant capitalizes on its waterfront location for 80-100 standing guests. The Mediterranean inspired bar, complete with a waterfall backdrop, is an added décor bonus. The La Vie Restaurant in its entirety is 10,000 square feet and they can accommodate basically any size event with a bookout, so if you want this bar, but your headcount is too large, look into expanding into other areas as an extension.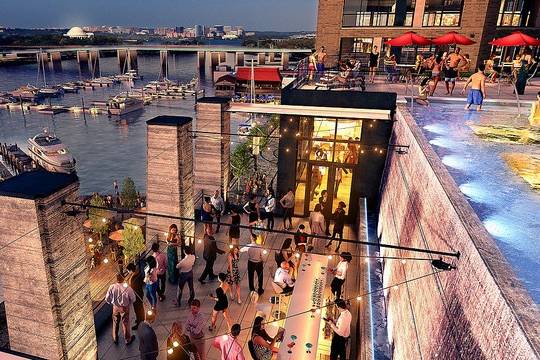 10. Whiskey Charlie
Neighborhood: The Wharf
Capacity: 120
When The Wharf is your desired venue location, then Whiskey Charlie, atop the Canopy Hotel, is an excellent choice if nautical vibes and marina views float your boat. Curious about the name choice? "Whiskey Charlie," or "WC" is the call signal boat captains use when entering the Washington Channel. An indoor lounge, called "the Cabin" sits adjacent to the roof deck for indoor/outdoor flow, while delicious finger food and extensive libation options round out the food/drink offerings for 120 people. You're basically on a boat, just 10 floors above sea level.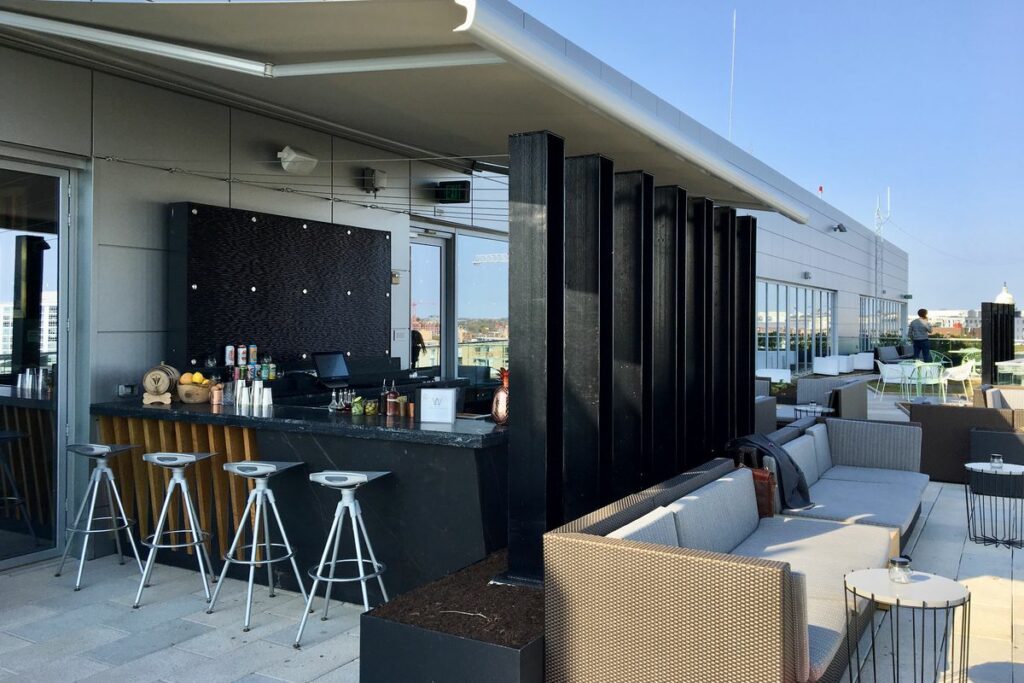 11. Officina at The Wharf
Neighborhood: The Wharf
Capacity: 125
The Rooftop Terraza, part of Officina at The Wharf, is modeled after the terraces of Rome. Chef/Owner (and Maryland native) Nicholas Steffanelli is something of a D.C. food scene wunderkind. He's the brainchild behind three different restaurant concepts that celebrate Italian cuisine, including this flagship Officina location. The restaurant's Terrace Room sits adjacent to the Terraza which you can book for overflow if you need to accommodate more than 125.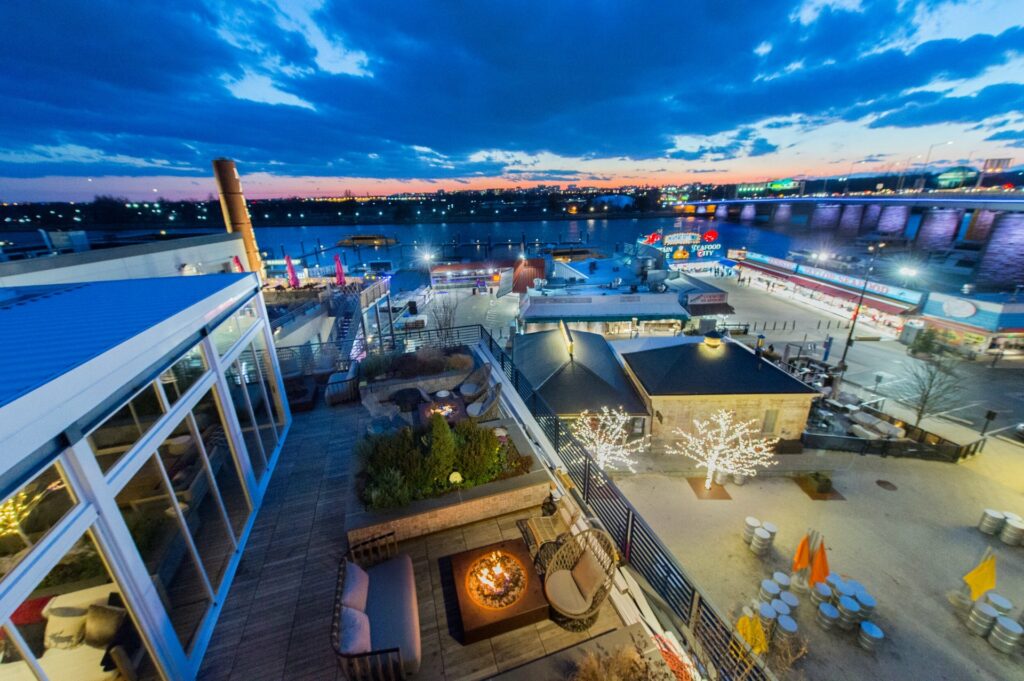 12. Takoda
Neighborhood: Shaw
Capacity: 120
Located in D.C.'s thriving U Street area, Takoda is an American restaurant with a year round rooftop beer garden. Located in a 1920s brick structure, originally a Federal Life Insurance Building, Takoda has an almost Brooklyn-brownstone feel with its exposed brick. The roof deck has a horseshoe-shaped bar to congregate around, along with a partially covered canopy system. Twinkling Edison bulbs hang from the wood ceiling beams with a variety of potted plants adding a sense of greenery, all a visual delight for up to 120.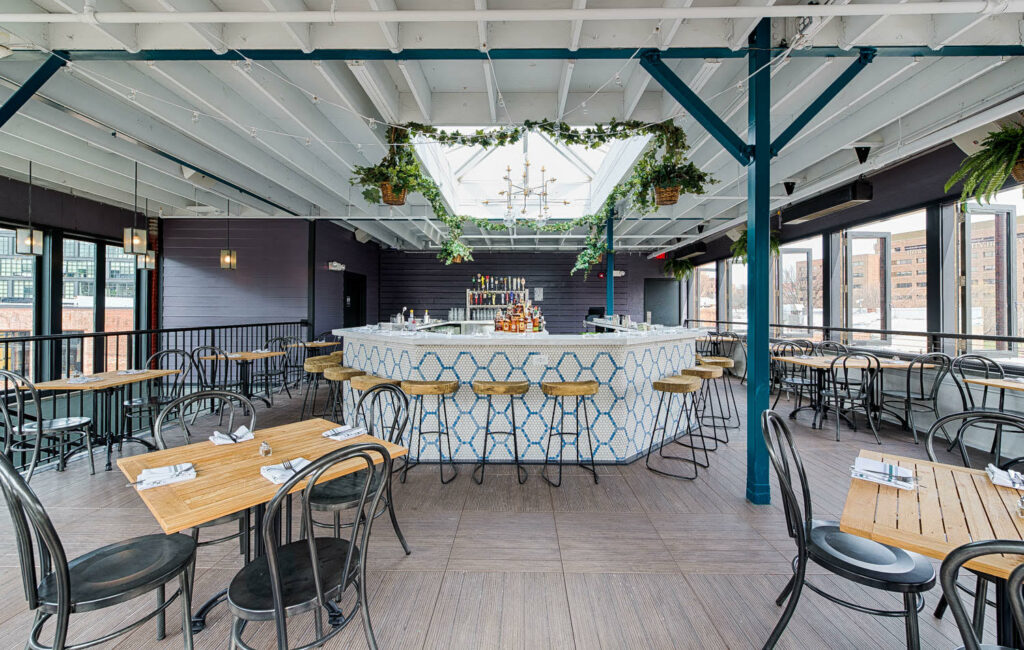 13. The Betsy
Neighborhood: Capitol Hill
Capacity: 50
Gin fans unite at The Betsy, an open-air rooftop centered on a cocktail program where gin runs the show. The Betsy is inspired by Chef Bart Vandaele's backyard chickens. (Betsy is his favorite, of course.) The intimate garden-style setting is perfect for up to 50 standing patrons, and this location has been used as a venue for mixology classes, birthdays, bachelorette parties, and more. It also makes a great rehearsal dinner spot.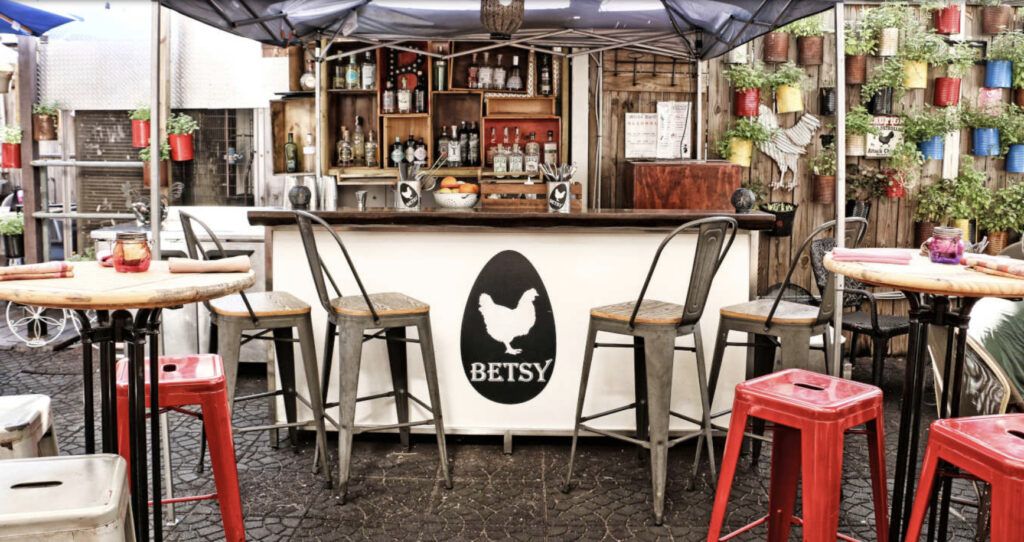 14. El Techo
Neighborhood: Shaw
Capacity: 100
At El Techo the motto is "good vibes only," and it's hard to consider anything but in this vibrant 1,100 square foot space which Washington Magazine dubbed "The Adult Treehouse." Latin-inspired tapas and entrees stand out on the menu, and El Techo will work with their sister restaurant, Rito Loco, to customize your private event menu. (Before its brick-and-mortar days, Rito Loco started out as a popular food truck.) El Techo aims to create a vacation feel for up to 100 guests with its jungle-esque decor, a goal accomplished in this tropical oasis slash rooftop venue.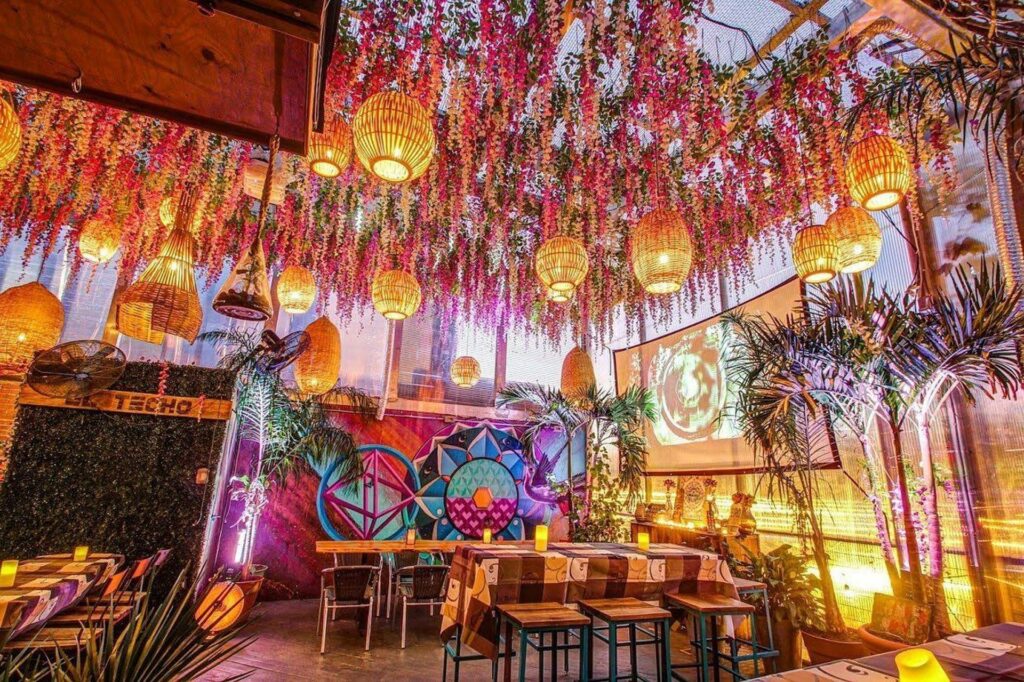 15. Colada Shop
Neighborhood: Logan Circle
Capacity: Contact for more info
Colada Shop brings Cuban epicurean delights to D.C. with this popular area chain. The buzzy 14th Street location has a rooftop garden area, a fabulous spot for a corporate or personal get-together. The savory Caribbean tastes are courtesy of Founder and CEO Daniella Senior, an immigrant from the Dominican Republic and graduate of the prestigious Culinary Institute of America. An added bonus? There's a retractable roof.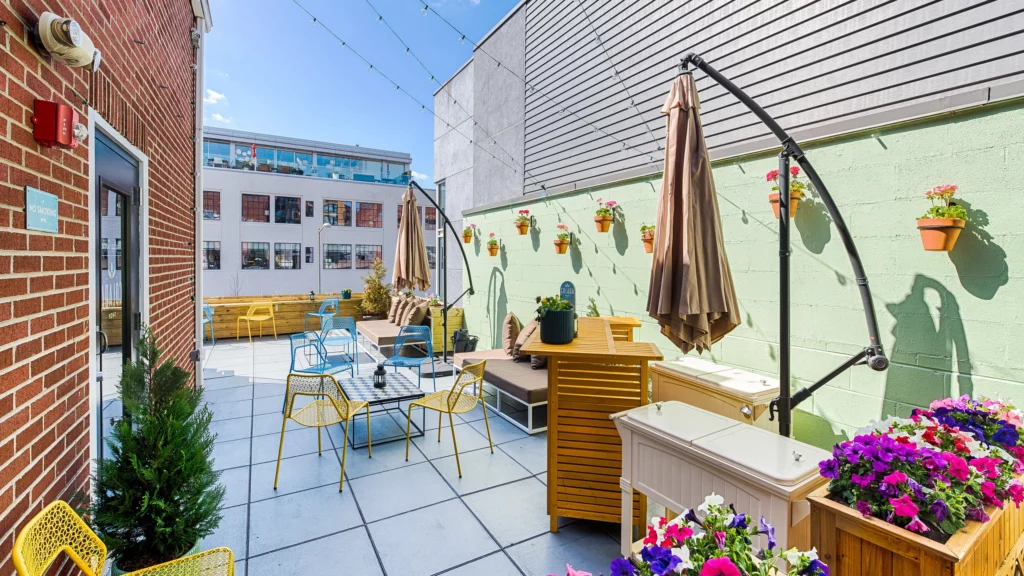 16. The Rooftop at the Graham Georgetown
Neighborhood: Georgetown
Capacity: 140
The Rooftop at the Graham Georgetown, a luxury boutique hotel, is an Instagram-friendly venue for up 140 visitors with its views-on-views. It's the quintessential Georgetown spot for a corporate happy hour or personal celebration. For those unfamiliar with the D.C. area, Georgetown combines the best of old and new, with its contemporary upmarket restaurant scene, and old Federal-style architecture in the residential areas. You'll also find cobblestone streets with markings from years of horse and carriage traffic. Toast the city and the neighborhood on this roof while indulging in their excellent bottle service.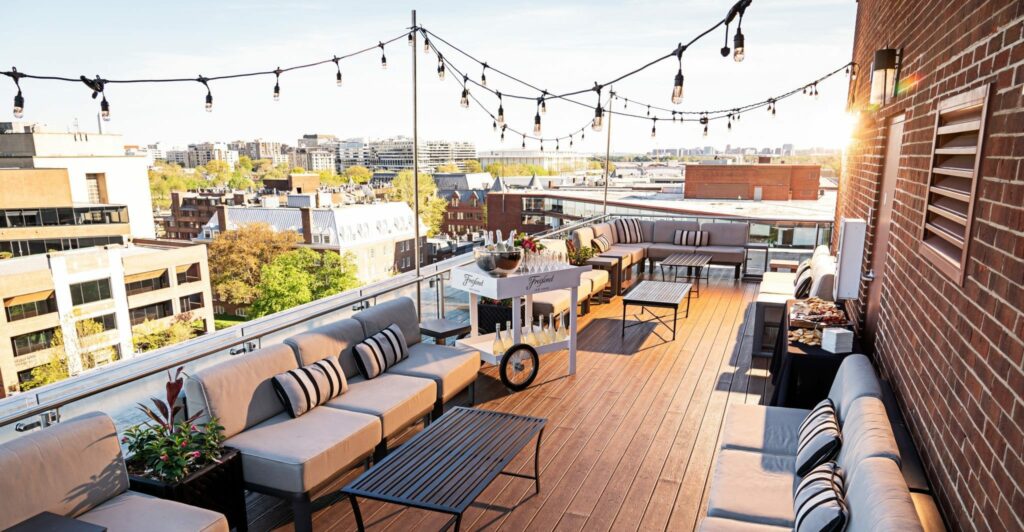 17. Crimson View
Neighborhood: Mount Vernon
Capacity: 50
Crimson View, the Motto Hotel's penthouse area, infuses southern hospitality into this popular cafe, diner, and whiskey bar. A consummate setting for a more intimate gathering of up to 50 standing guests, bi-folding glass doors ensure an indoor/outdoor experience that doesn't compromise the far-reaching views. All varieties of drinks are on offer, but it's particularly known for their bourbon selections, in-line with its southern inspiration.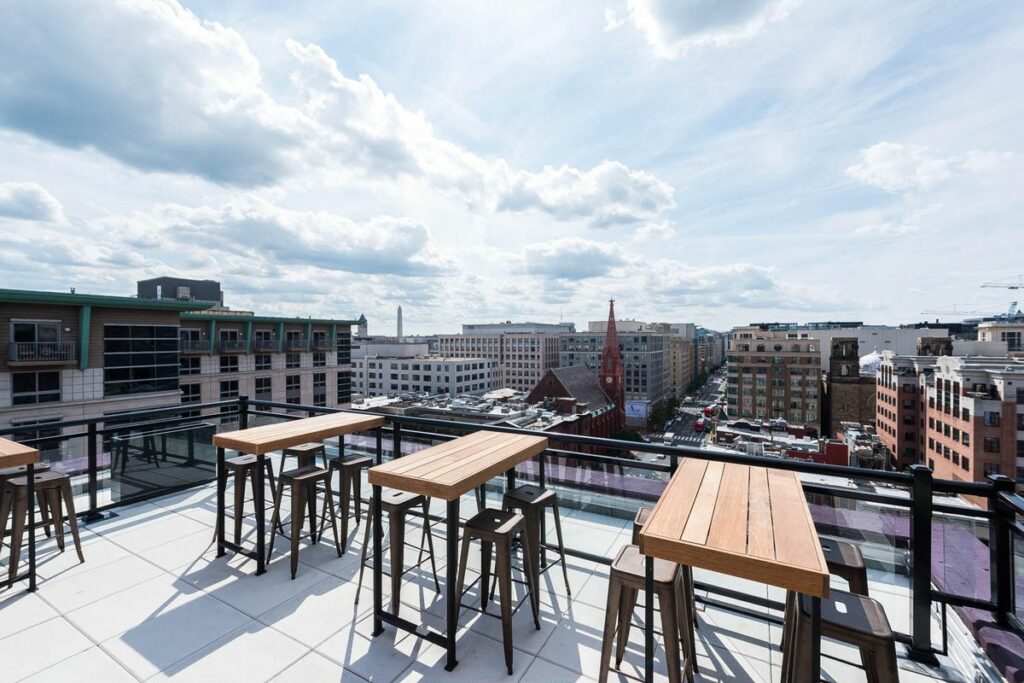 The Importance of Finding the Right Venue for Your Event
At the risk of sounding trite, the venue is really the essence of your occasion. Even if it's a blank canvas, finding the right space that speaks to occasion–even if it's a corporate boardroom meeting–sets the tone from beginning to end. So take your time and visit in person when possible to really get a sense of what works for your planning purposes.
What type of events are best for rooftop venues?
Rooftop venues offer a unique and captivating setting for a wide range of corporate events, adding a touch of sophistication and excitement to any occasion. Networking mixers and cocktail receptions are particularly well-suited for these spaces, as the panoramic views and open-air ambiance create a relaxed atmosphere that encourages meaningful conversations and connections among attendees. Additionally, team-building activities such as workshops and seminars can be enriched by the fresh outdoor setting, fostering creativity and collaboration.
Product launches and press events also benefit from the stunning backdrop, making a lasting impression on guests and media alike. Rooftop venues provide an excellent canvas for themed parties, enhancing engagement and creating a memorable experience. By hosting events at such locations, corporate event planners can effortlessly elevate their gatherings, leveraging the allure of the skyline and the allure of the outdoors to craft unforgettable moments for their clients and guests.
The Vendry Can Help You Find the Best Venues in Washington D.C.
The Vendry has been lucky to help bring a variety of events in large venues to pass, and would be delighted to help you get your next large scale event going. D.C. can be admittedly divisive, but at the heart of things it's a very urbane city with a thriving cultural scene. Plus, there's one thing everybody can agree on: D.C. is a great place for a party. Get your Washington D.C. venue search started today.
Read More:
The Best Private Dining Rooms in Washington D.C.
The Best Large Event Venues in Washington D.C.
The Best Rooftops in NYC