Closed a major deal? Midtown. Hosting associates in from out of town? Midtown. Looking to woo potential clients or investors with a night out in the most exciting city in the world? Midtown. The answer to all your happy hour questions is: Midtown. Home to Times Square and countless company headquarters, Midtown Manhattan sets the perfect backdrop for a night out with associates, colleagues, or clients. It feels like everywhere you turn in Midtown Manhattan, there are cocktail lounges, bars, and nightclubs ready to help you raise a glass. For your next corporate happy hour, let The Vendry help you narrow down the sea of choices in this electric neighborhood.
Venues in Midtown Manhattan perfect for your Next Happy Hour
1.  Harta
Neighborhood: Midtown
Capacity: 100
Harta — on 39th street — stands out as an exceptional choice for corporate teams seeking the perfect after-work happy hour destination. Located in the heart of Midtown, this restaurant, curated by the acclaimed Apicii hospitality group, offers a Mediterranean-inspired culinary experience that adds a delightful twist to traditional happy hour offerings. The chic and inviting ambiance of Harta provides an ideal setting for professionals to unwind, connect, and relax after a busy day in the heart of Manhattan. With its carefully crafted menu and convenient location, Harta sets the stage for enjoyable post-work gatherings, making it the go-to spot for corporate teams looking to elevate their happy hour experience.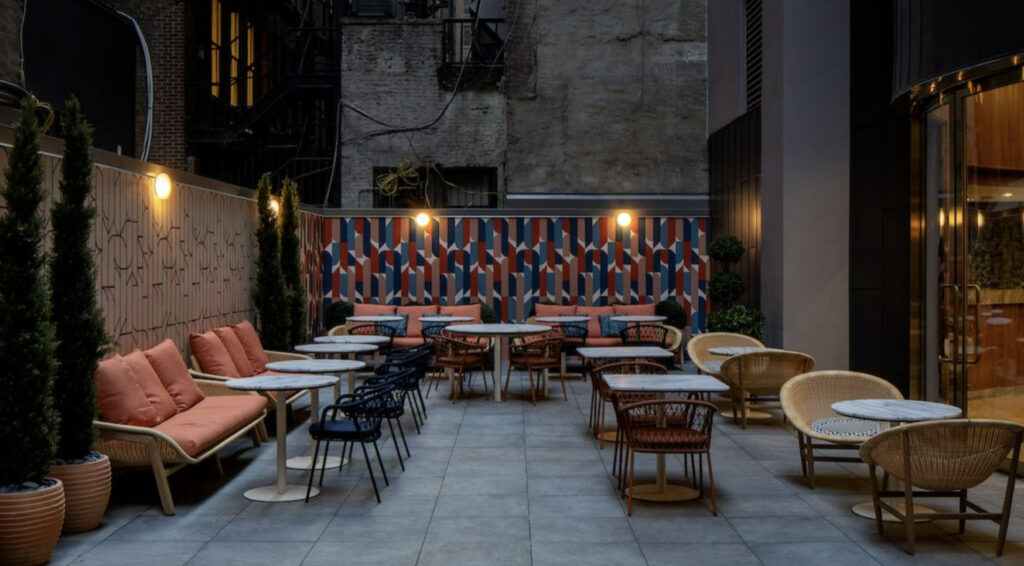 2. The Long Room
Neighborhood: Midtown
Capacity: 200 standing, 60 seated
Steps away from Times Square and the Theater District, The Long Room can be a space as big as you need, or as cozy. A full venue buy-out at this Irish gastropub grants you access for 200 guests standing, as well as use of their many private rooms. The Trinity Room and St. Andrews Corner conjure up memories of the old country with stained glass windows, bookshelves filled with the greats, and a stone fireplace. Perfect for mingling and providing opportunities for private conversations, The Long Room will certainly fit your happy hour bill.
3. Stout Bryant Park
Neighborhood: Midtown
Capacity: 300 standing, 60 seated
Stout Bryant Park is the newest location from the Stout Group, experienced purveyors of hospitality all throughout NYC. It's stellar location and comfortable atmosphere make Stout a great option for after-work drinks. Rent out the Mezzanine if you are looking for a more private event – it overlooks the entire restaurant, has seating for 60, and has six TVs around the room.
Stout is excellent for a full-venue buy-out, so invite your colleagues or clients to revel in their hearty American fare and delicious brews, ciders, and craft cocktails.

4.  Féile
Neighborhood: Midtown
Capacity: 200 standing, 50 seated
Feeling festive? Head to Féile, a lively, Irish spot in Midtown delighted to host your next corporate happy hour. Another winner from Stout Hospitality Group, Féile offers up a full buy-out, but also has terrific private rooms to rent. "The Stage" is kinda perfect – up three steps facing the bar, it's an intimate seated space corralling your group, but not so exclusionary that you are closed off from the festivities. Book the Dining Area or Marquee for a more private affair, and order food off Féile's wide menu.
5.  Maggie's Place
Neighborhood: Midtown
Capacity: 175 standing, 60 seated
Not sure how it was possible to make Maggie's Place even more welcoming, but this local mainstay recently underwent a fresh renovation of its Midtown location. Family-owned and -operated since 1974, Maggie's Place is known the city over as a comfortable, friendly Irish spot serving great food and drink. Book your happy hour at this centrally located bar, as it's just steps from Rockefeller Center and Grand Central. Book the Mezzanine or Nook for a more private space, or rent out the whole place for 175 of your closest colleagues and clients. Sláinte!
6.  The Independent
Neighborhood: Midtown
Capacity: 150 standing, 40 seated
Salute The Independent, another star from the Stout Hospitality Group. As those in the know call it, "The Indo" is known for handcrafted cocktails and local beers, all served up with a friendly attitude. Take your clients to this stylish space for an after-work experience just steps away from the Garment District. If your event calls for a private space, book The Gallery in the back of the restaurant, which offers a great space for a cocktail reception with lots of seating. They are pros at The Indo, and they will make sure your happy hour is just as you want it.
7. The Irish Exit
Neighborhood: Midtown
Capacity: 300 standing, 180 seated
No one in your party will be slipping out from The Irish Exit, a beloved pub right in Moynihan Train Hall. Coworkers and clients alike will love this train-centric spot, offering great food and drinks, as well as several private event spaces. The Irish Exit can fit 300 in its entire venue, but take a look at their stationed-themed spaces like The Pearse, which can comfortably seat 60. Or combine The Pearse and The Heuston or The Lanyon for even more elbow room. No matter where you land, The Irish Exit will meet your expectations to keep your event on the tracks.
8.  Stout Penn Station
Neighborhood: Midtown
Capacity: 400 standing, 120 seated
The first of its kind to launch a dozen more like it, Stout Penn Station is located one block from the major transportation hub and occupies 16,000 square feet of space in Midtown. So close to Madison Square Garden and major transportation, this might just be the perfect meeting spot for after-work drinks with clients, colleagues, or co-workers. There are six different private spaces, like the Greene Room, the Cellar, and the Pool Room, all offering a secluded area should some business go down. The Stout Hospitality Group will help you plan your evening, and work within your budget.
9. Ophelia Lounge
Neighborhood: Midtown
Capacity: 100 standing
High on the 26th floor of Beekman Tower sits the Ophelia Lounge, a cocktail bar with 360-degree views, a greenhouse terrace, and a 5-star menu of delightful fare. During the day, light floods in from the Beekman's art deco windows, and in the evening, Ophelia glows from the city below. There's a 1920s vibe here your guests will love, and the rooftop is the genuine showstopper. Take a break here for after-work drinks, or rent out the entire place for about 100 people.
10.  Magic Hour Rooftop Bar & Lounge
Neighborhood: Midtown
Capacity: 500 standing, 270 seated
Bring your happy hour to Magic Hour, a whimsical rooftop bar and lounge with killer Empire State Building views. This is more than just a bar – this spot is considered an "urban amusement park" with a rotating carousel, oversized topiary garden, and a mini-golf course all right there on the rooftop. Enjoy wildly inventive craft cocktails and shareable, State Fair-inspired light bites. There are three private event options, but to get the full experience of this eclectic venue, let your organization take over the place with a full buy-out.
11. The Polo Bar
Neighborhood: Midtown
Capacity: 136 standing
Not every after-work happy hour needs to be loud or high-energy. Consider taking colleagues and clients to The Polo Bar, where everyone can sip on vintage wines and enjoy the conversation around them. Ralph Lauren delivers quiet luxury with this offering in his list of fine lounges and restaurants. If you need total seclusion, consider booking the 16-person, richly wood-paneled Equestrian Room. No matter where you land at The Polo Bar, choose from a delightful menu of Ralph's American favorites, relax in a patina leather club chair, and conduct some afterhours business in style.
12. Daintree
Neighborhood: Midtown
Capacity: 120 standing, 80 seated
Perched high above the Manhattan skyline is Daintree, a rooftop and lounge where metropolitan-meets-bohemian. With greenery in every corner and plush seating, Daintree is a lively spot situated on the 29th floor perfect for after-work drinks. Invite your coworkers out onto the rooftop terrace, aptly named Treetop, for a world-class cocktail. If you need some quiet time to break away, there's even a velvet and wicker-adorned Bar Room, coming in hot with more dynamite views.
Offer your guests something they cant refuse! Find the top gifts and swag vendors in New York for your next event!
What to Know Before Planning a Corporate Happy Hour
When it comes to putting together a happy hour with your work crew, clients, or customers, there's lots to think about.
What's the purpose? Celebrating a big "W"? Finally nailed down a partnership your team has been after? Ask yourself why you've been tasked with this fun event, and how will your organization make the most of your time together.
Whom to invite? After-work get-togethers can sometimes be some of the strongest bonding opportunities for the team. Everyone is more at ease and natural in a relaxed environment. If you are celebrating, make sure to include everyone who made the win a reality and celebrate jointly.
What's the theme/agenda? Sometimes themes just avail themselves (aka: holidays), but other times there has to be a little framework placed around your after-work happy hour. Remember, a theme should also be felt, not just seen.
What to serve? Yes, happy hour conjures up images of drinks and laughs, but make sure you not only have some good food mixed in there, but some mocktail options to respect those who do not want to partake.
Find Your Next Happy Hour Spot on The Vendry
C'mon, get happy! Looking to find a venue to host your organization's next post-work happy hour? On The Vendry, you can search by city, neighborhood, venue features, cuisine, and capacity all in one spot – and even request a proposal for your event right there and then!
Read More:
Gorgeous Raw Event Spaces in New York City
The Most Uniquely Stunning Venues in New York City to Host an Event
The Best Venues in Los Angeles for Your Holiday Party