After two years of holiday zoom pandemic parties (A for effort!), we can * crosses fingers * once again expect end of year bashes in real life again. In anticipation of workplaces wanting a year-end soiré that says "we're back!" The Vendry has rounded up our latest compendium: holiday party venues in Los Angeles.
15 Venues in Los Angeles Perfect for Your Next Holiday Party
Looking for a venue in Los Angeles can be quite a feat. That's where we come in! If you're looking for a holiday party venue in Los Angeles, here are 15 spots to get you started, from beloved bougie hotels to industrial chic lofts with gritty flair, and everything in between.
1. The Highlight Room
Neighborhood: Hollywood
Capacity: 500
The Highlight Room is set to reopen in Fall 2022, just in time for the holiday season. Clocking in at an impressive 11,000-square feet, this rooftop venue covers the entirety of Dream Hollywood, a luxe and sophisticated hotel tucked into the Hollywood Hills. The space, with room for 500 standing patrons, includes a lounge, pool, and grill, with quintessential 360° L.A. views of the Hollywood Sign, the downtown skyline, and beyond.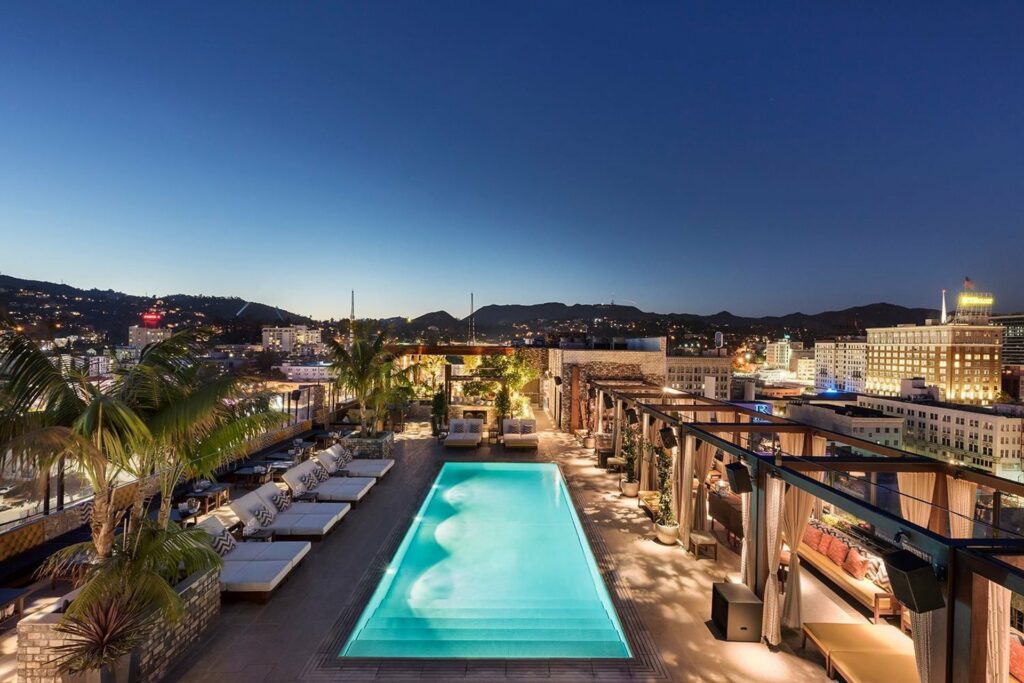 2. Employees Only LA
Neighborhood: West Hollywood
Capacity: 200 standing
Employees Only LA continuously earns rave reviews, and has even been dubbed one of the world's 50 best bars. This cocktail bar-restaurant takes an aesthetic cue from the prohibition area, ideal for any event where retro appeals. Within this West Hollywood favorite is the private Henry's Room, a speakeasy-inspired brasserie. You can book Henry's Room or go for a buyout which will accommodate up to 200 standing holiday revelers.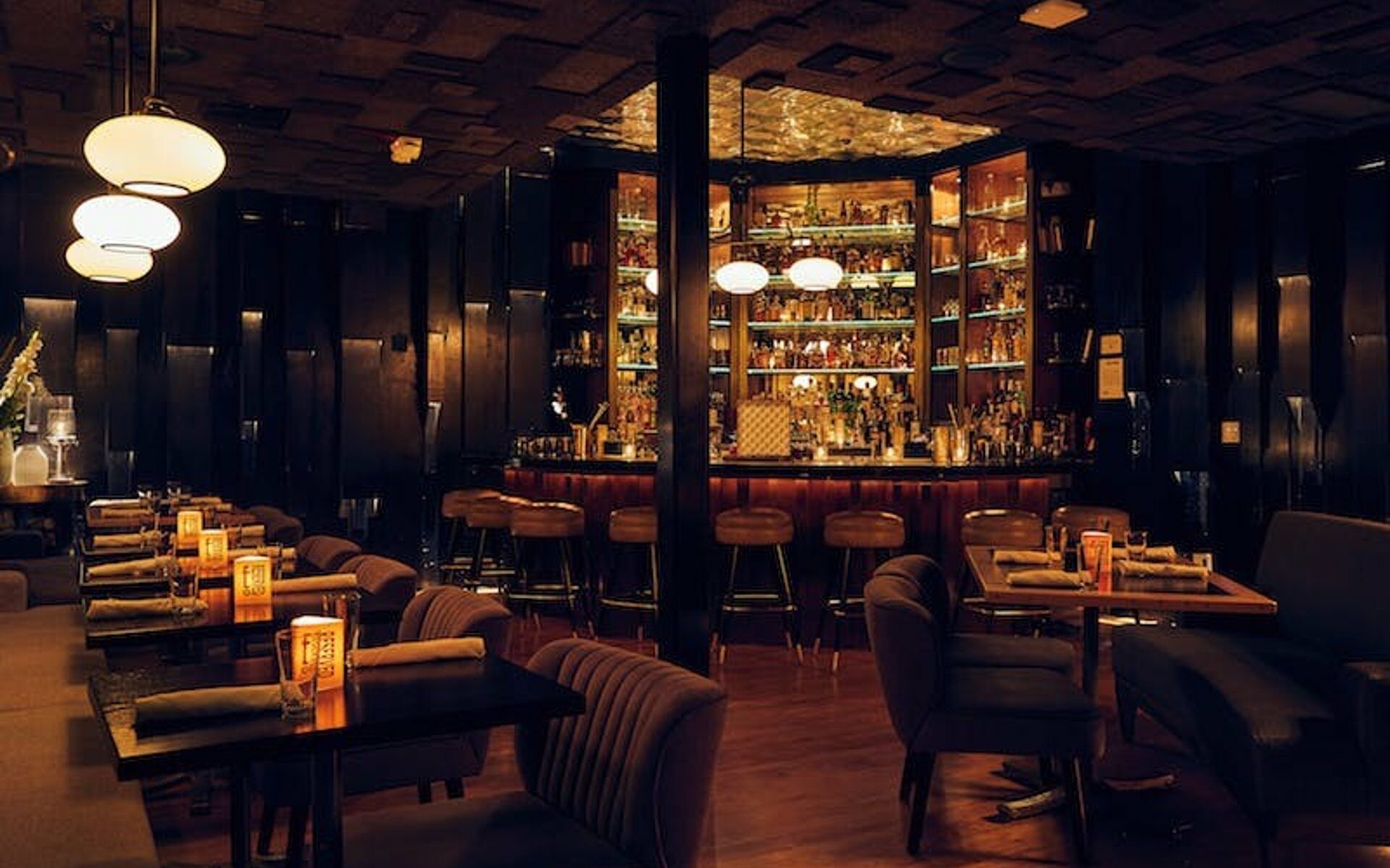 3. Crafted Kitchen
Neighborhood: Hollywood
Capacity: 100
Housed in a meticulously restored 100-year-old + brick warehouse, Crafted Kitchen is both unique and of-the-moment when considering your next holiday party location. It's an incubatory-style commercial kitchen—meaning, it's a large space (about 7,800-square feet in this case) that contains several commercial kitchen build outs. 225 people can enjoy this sleek and chic downtown locale. An added perk: Due to its location there are no noise ordinances or curfews, so if your holiday parties err on the raucous side, this might be for you.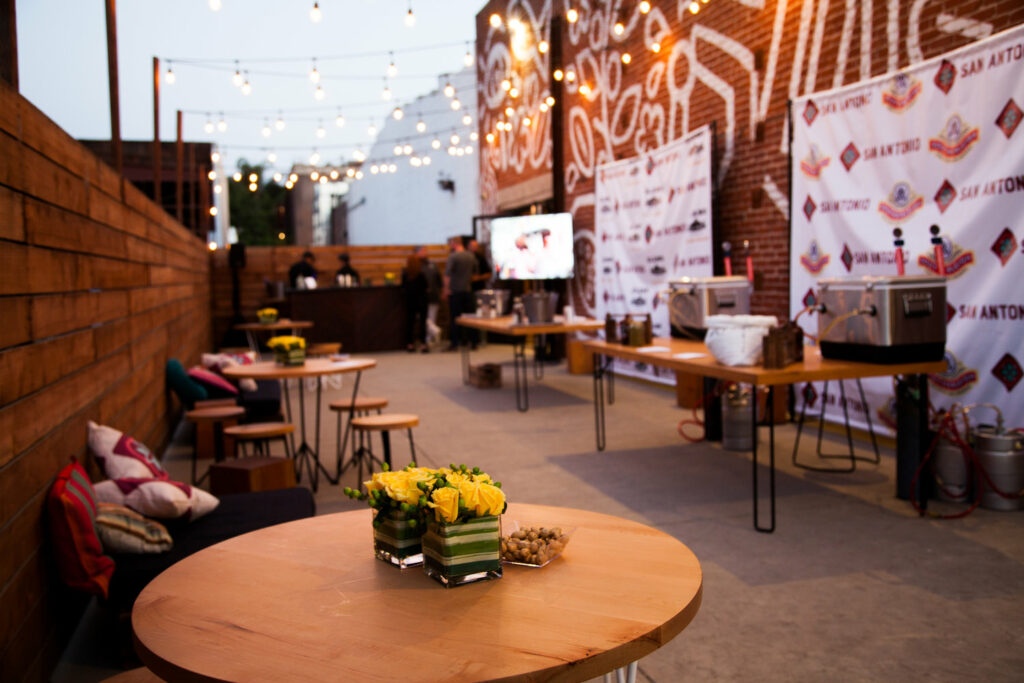 4. The Rose Room
Neighborhood: Venice
Capacity: 220
Despite being only steps from the Venice Beach Boardwalk, The Rose Room remains something of a hidden gem. This 2,000-square feet studio emcompasses the best of what you would want in an industrial-style setting. High-vaulted wood rafter ceilings, concrete floors, 12-foot white walls, and skylight windows mean you can put your own stamp on it for your 175 seated/220 standing guests, or leave as is for an equally stylish look. The best part? Enjoy December at the beach through the huge bay window where you can glimpse the ocean.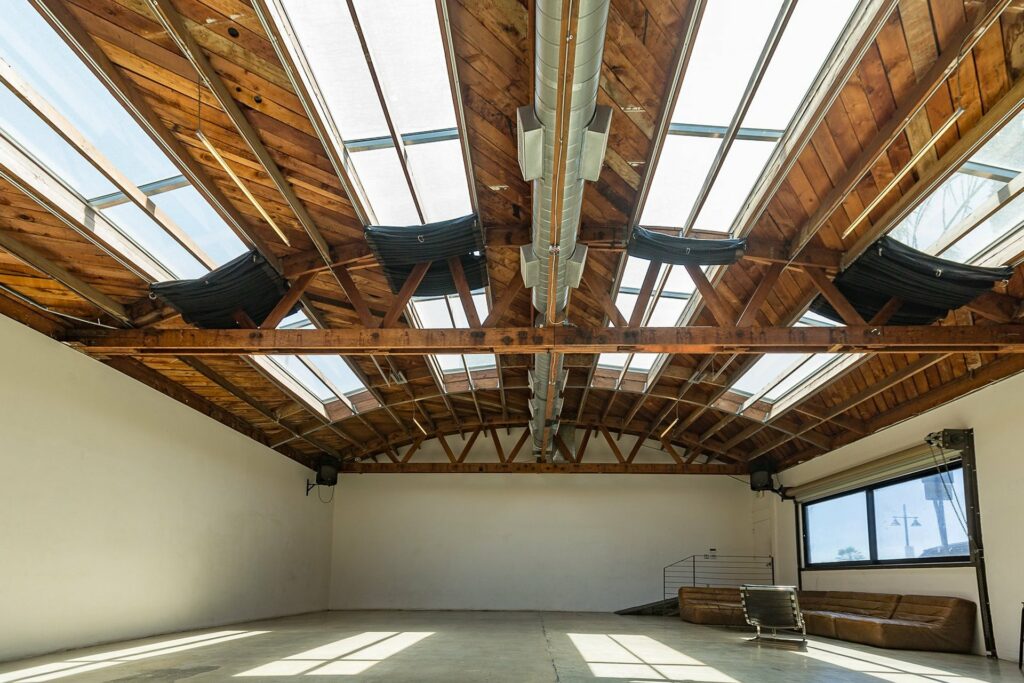 5. Stanley Social
Neighborhood: Hollywood
Capacity: 300
Stanley Social is epic for any occasion, up to 235 seated/300 standing, but it will definitely be a talking point long after the party wraps. Né Dar Mahgreb, a slightly infamous eatery, the space was relaunched as Stanly Social in 2019 melding Hollywood and Moroccan culture into 5,000-square feet of deluxe event space. Very Casablanca in the best way possible.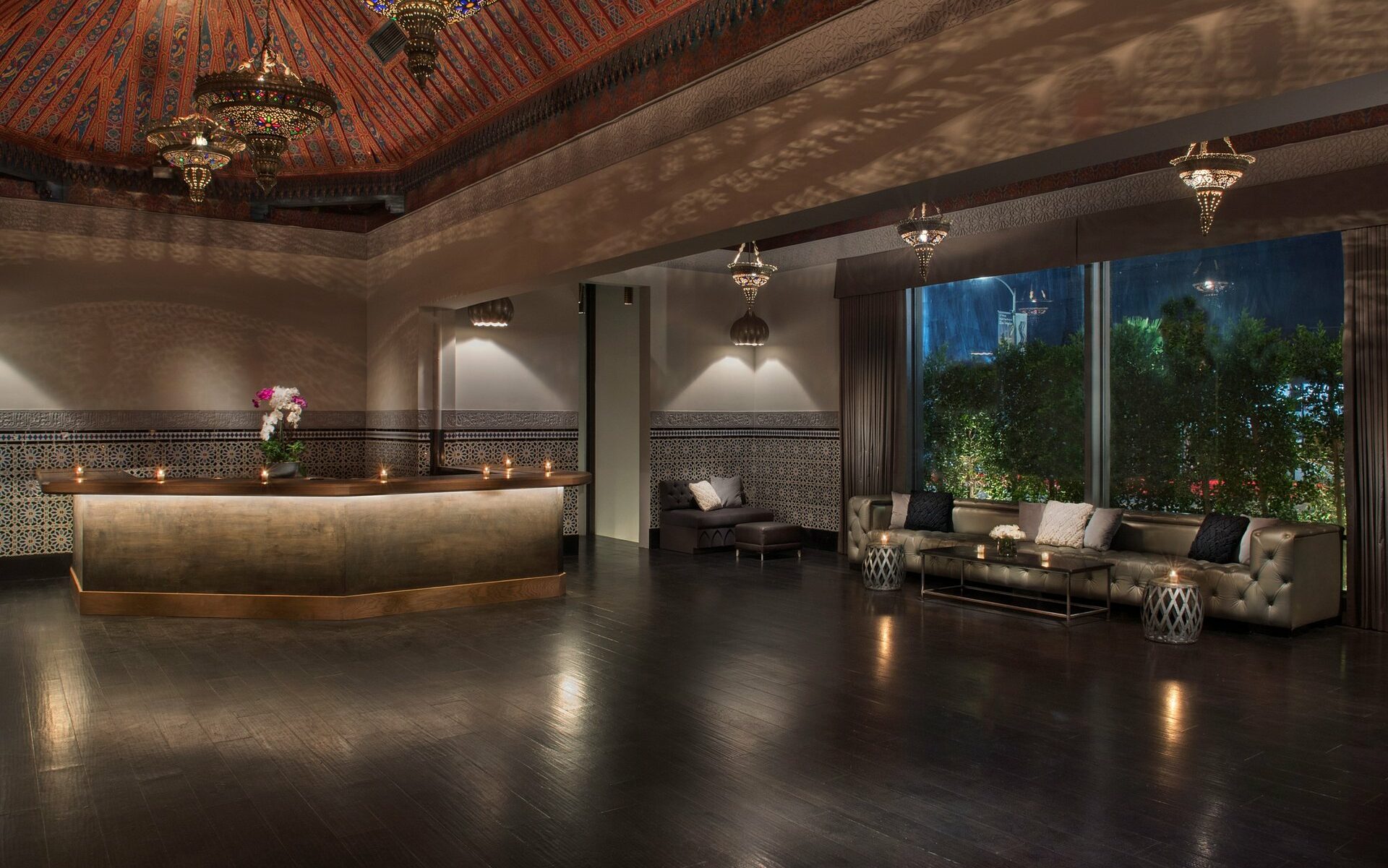 This will definitely be an event to look back on! Find the top videographers in Los Angeles.
6. Shade Hotel Manhattan Beach
Neighborhood: Manhattan Beach
Capacity: 300
Shade Hotel Manhattan Beach has the distinction of being the surfing mecca's first luxury boutique hotel. If you're looking for a venue that is indoor/outdoor and takes advantage of SoCal winter weather this is a top notch option. It's just blocks from Manhattan Beach and there's six spaces to choose from within the hotel. The largest is the upscale but colorful and playful zinc@shade Terrace & Lounge which will hold 160 seated/300 standing.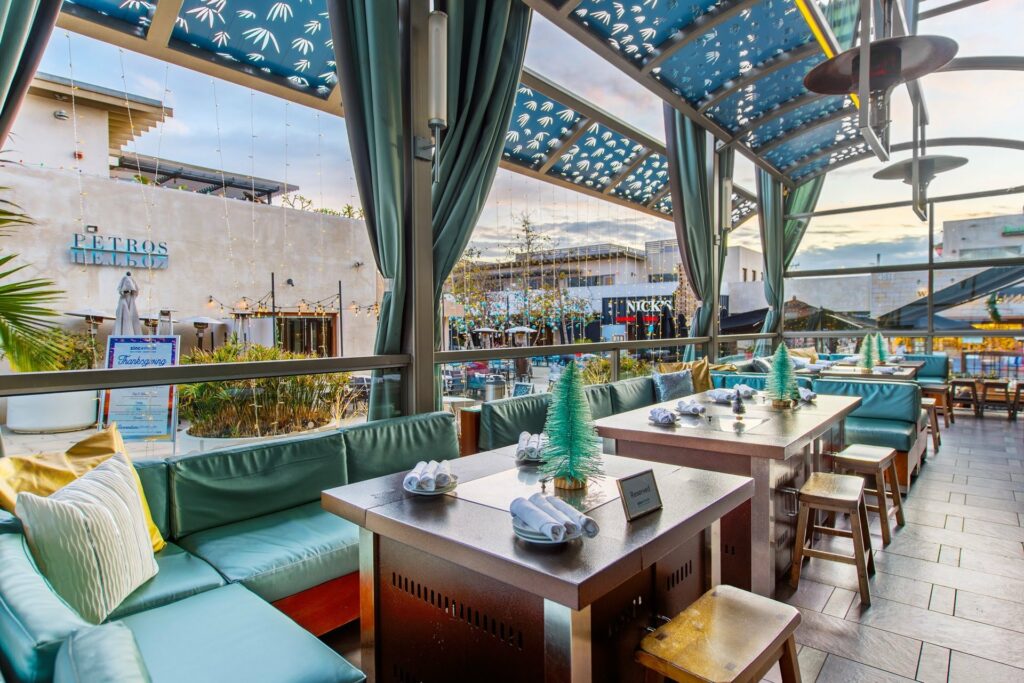 7. The Lazarus Experience
Neighborhood: DTLA
Capacity: 400
DTLA is the definition of industrial loft heaven, and The Lazarus Experience is Exhibit A. It's 6,350-square feet with loads of natural lighting and high ceilings. For planners with a specific vision of a holiday party where you want to put your own stamp on it, this is an excellent raw space to play with for a party of 300 seated/400 standing.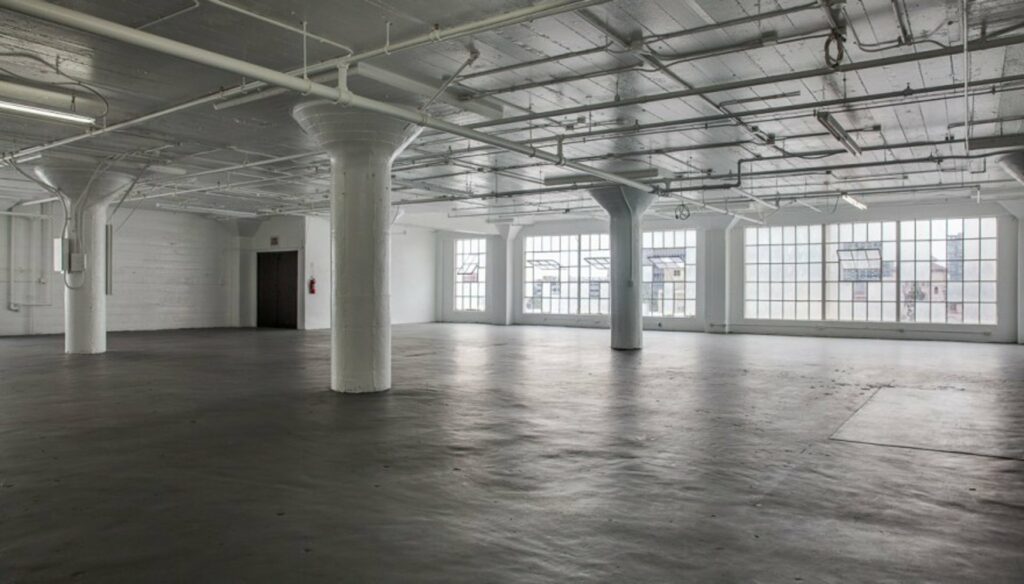 8. The Beverly Hills Hotel
Neighborhood: Beverly Hills
Capacity: 850
It doesn't get more iconic than The Beverly Hills Hotel. Hollywood darlings have been coming here since before movies had sound, and the fabled establishment—laid out over 12 gorgeous acres—has many a story to tell. There are six different event spaces to consider, but if you're looking to go big with your end-of-year bash the 7,500-square foot Crystal Ballroom will hold up to 835 seated/850 standing.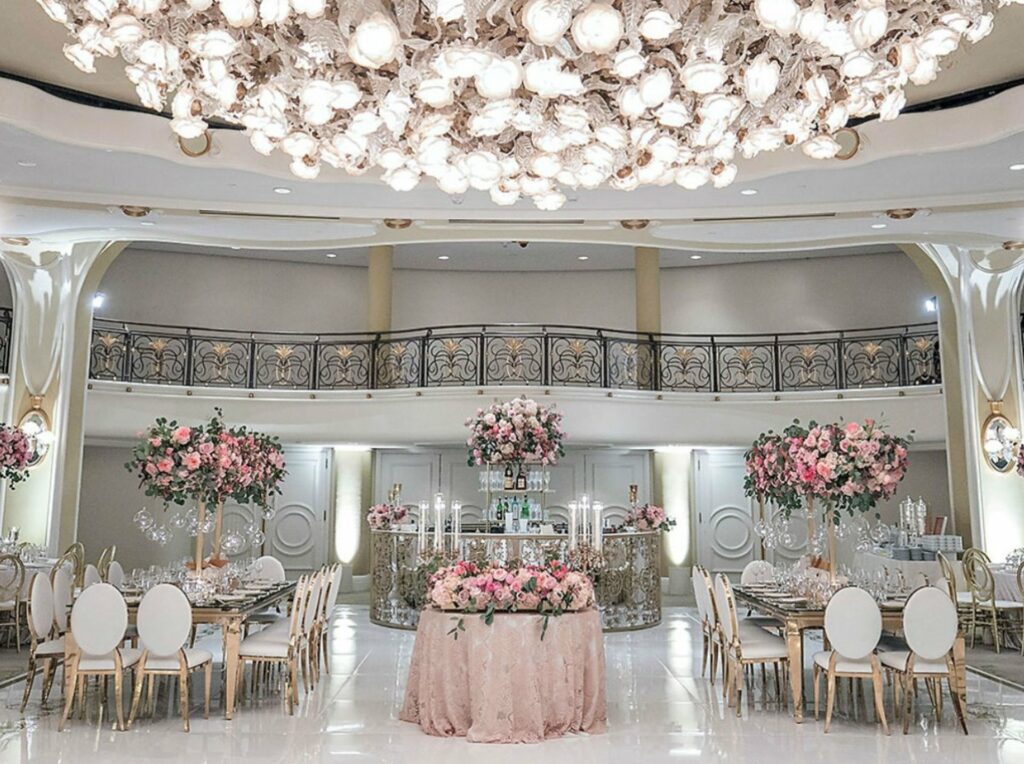 9. The Rooftop by JG
Neighborhood: Beverly Hills
Capacity: 450
The Rooftop by JG is a garden-inspired aerie sitting atop the glamorous Waldorf Astoria Beverly Hills. It offers a well-appointed al fresco experience where 150 seated or 450 standing guests can indulge in Jean-Georges fare while enjoying 360° unobstructed views. The perfect setting for indulging in crispy French fries with caviar. As one does around the holidays.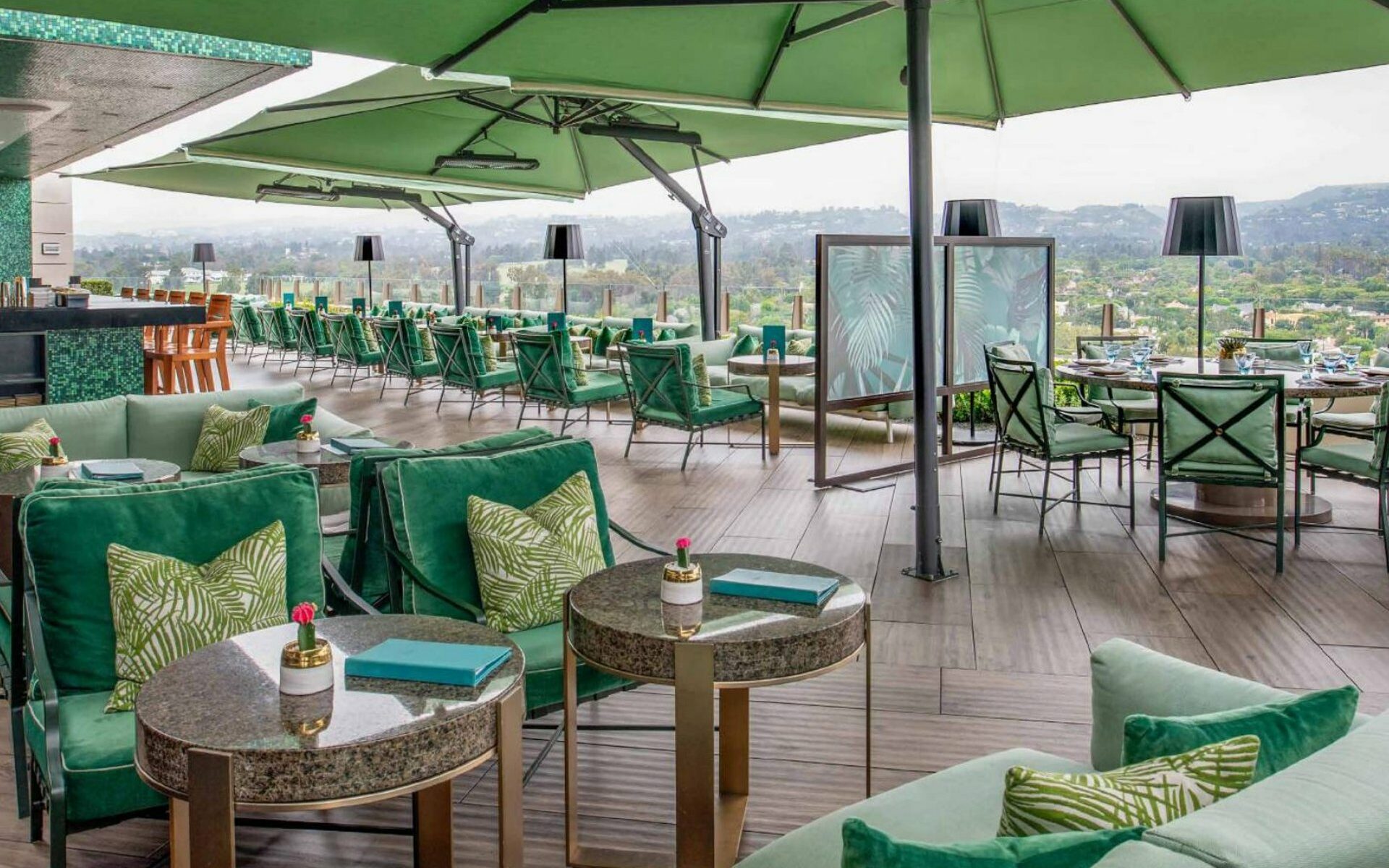 10. Gracias Madre
Neighborhood: West Hollywood
Capacity: 400
If you're looking for a venue that is stylish but unpretentious and a place you can let your hair down, Gracias Madre West Hollywood is a favorite among Angelenos. The twist at this Mexi-Cali restaurant is that the menu is entirely plant-based, and that extends to the drinks. The only spirits your 250 seated/400 standing guests can indulge in are made from the agave plant family, so tequila lovers rejoice.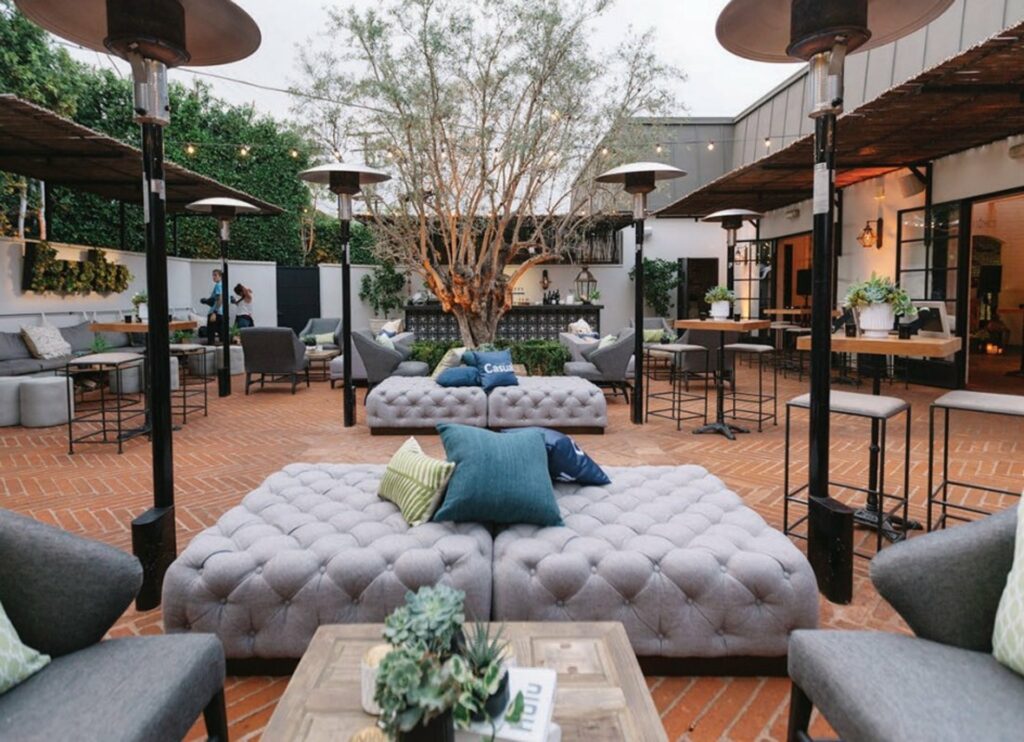 11. A.O.C.
Location: West Hollywood
Capacity: 200
Wine bar A.O.C. —which technically has two locations, including one in Brentwood—is the brainchild of James Beard honorees Suzanne Goin and Caroline Styme. The West Hollywood spot is a sophisticated layout complete with a fireplace, adding a certain something to the holiday season even when it's 75°. A buyout will hold 160 seated/200 standing, and the advantage of West Hollywood locations in general is that it's a relatively centralized point on the map for people coming from the westside and eastside.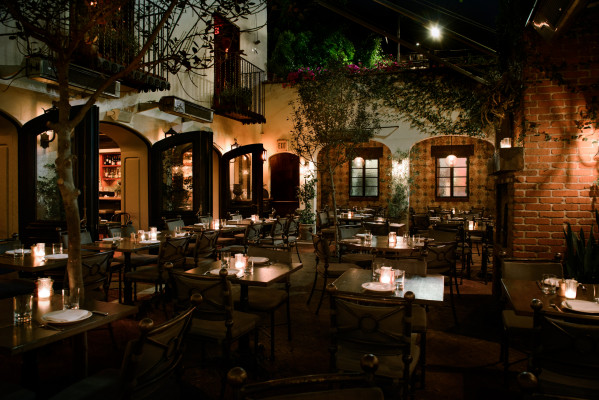 12. Cecconi's
Location: West Hollywood
Capacity: 450
Italian food is always a good idea. Cecconi's is no exception, and their hand-made pasta is a delicious epicurean experience. While Italian restaurants often evoke a certain design concept, this place is very light, bright, and their blue leather barstools are the perfect spot to grab a drink. While seating will hold about 40 in their private Butterfly Room, you can make a splash and rent the whole place out for 450.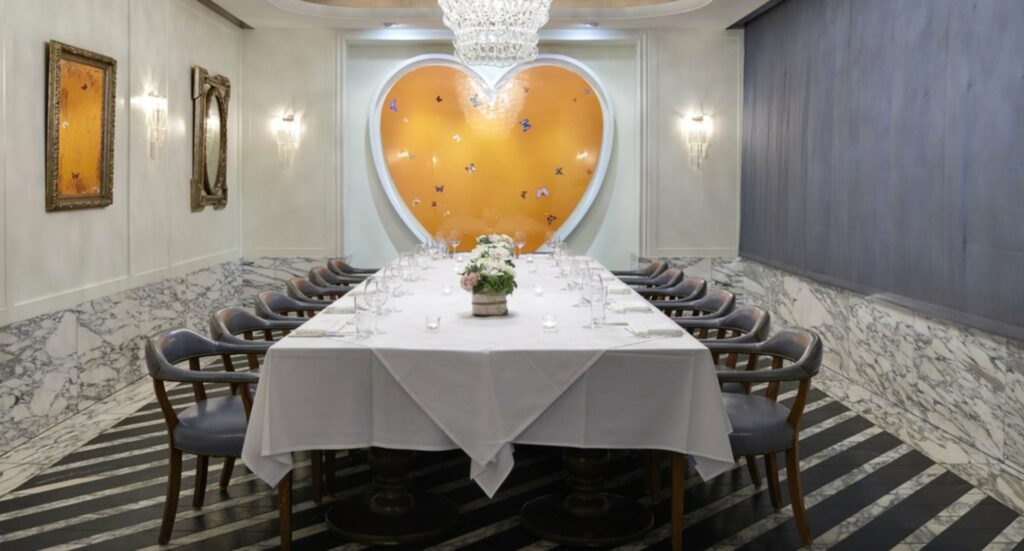 13. Greenbar Distillery
Location: DTLA
Capacity: 175
Greenbar Distillery was founded in 2004 but it was actually the first to open in LA since prohibition. If you're into the wood décor theme with an industrial edge then this craft distillery is perfect for holiday parties of up to 110 seated or 175 standing. However, there's technically two areas spread out over 4,200-square feet that you can do a buyout for if you want to go bigger. Non-alcoholic beverages are of course available, but for people who know their bourbon from their brandy this is an ages 21+ candyland—they make the largest portfolio of organic spirits in the world.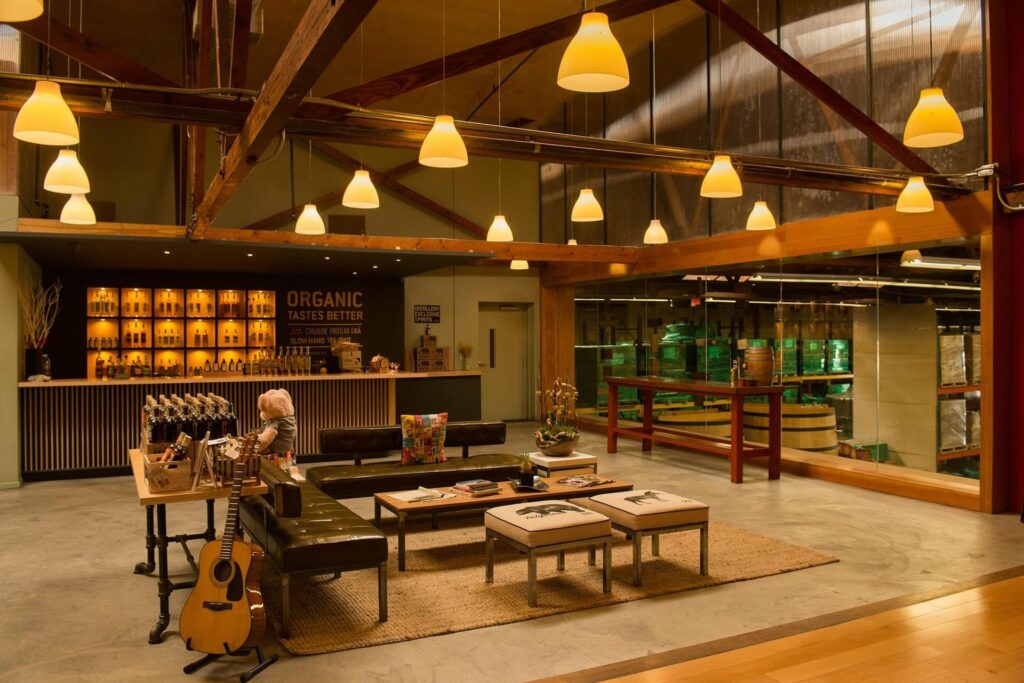 14. City Market Social House
Location: DTLA
Capacity: 22,000
Located in the DTLA Fashion District, City Market Social House is an enviable raw space for a holiday blowout. Its 20,000-square feet are highly customizable, but the bones of the place are stunning. It's in a newly-renovated warehouse with vaulted bow truss ceilings and exposed brick walls. There's a historical flavor to this place, too. This is part of a campus that was once the city's oldest produce market. Location-wise it's spot on with the behemoth L.A. Live only a mile away.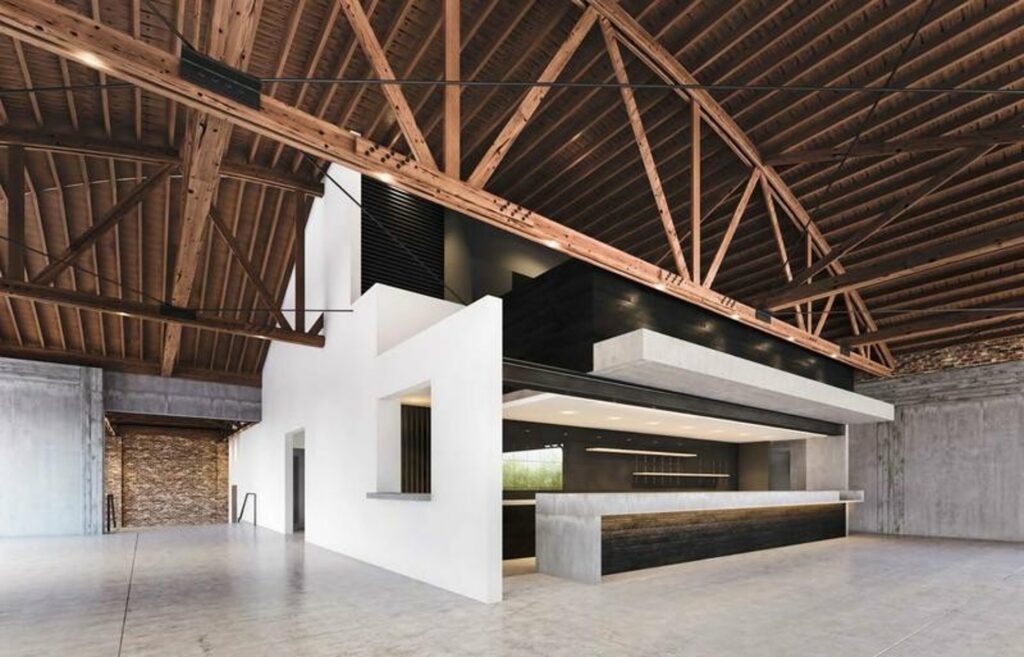 15. Valentine
Location: DTLA
Capacity: 750
Valentine is part of a collective called Marvimon Productions which reinvents overlooked, neglected properties by adding love, plants, and water. Originally built in the 1920s, this venue has had nine lives. It's been at various times a brothel, a hotel, a fish and oyster company, and a commercial site for everything from glass blowing to marijuana cultivation. Valentine is the group's largest at 9,000-square feet and while more intimate holiday parties will still work here, you can max out at 750 guests.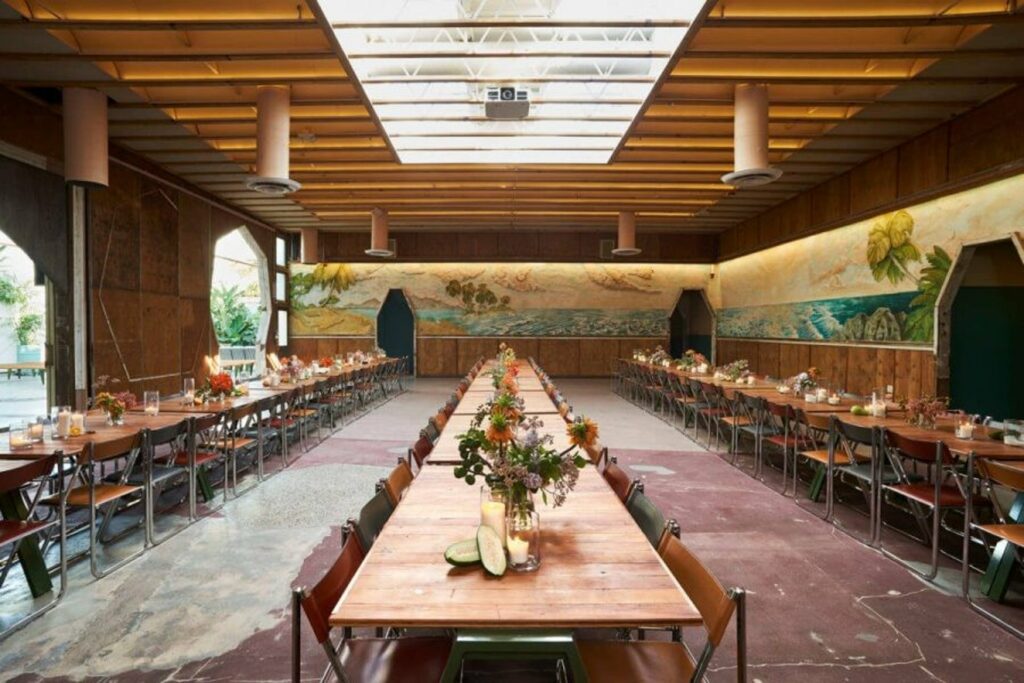 Why Finding the Right Venue for Your Event is So Important
Finding the right venue is important for any occasion, but when looking for a holiday party spot it's a chance to be particularly inventive and celebratory. After a two-year pause on most in-person celebrations, people are ready to enjoy new places and spaces.
Top Things to Consider When Booking an Event Venue
When looking for a corporate holiday party venue LA style you're going to have the standard checklist (location, transportation, budget, etc.) but really put an emphasis on A/V capabilities, since one way or another you need some background entertainment. What's a holiday party without music to sing along to karaoke-style?
Find the Best Corporate Event Venues on The Vendry
There's a lot that goes into picking a venue. Finding the right venue is kind of like online dating; you browse around and then meet in person if it feels right. The Vendry is here to be your venue Tinder. Get started on your venue search today — and find that perfect match!
Read More:
Incredibly Unique Venues in Los Angeles for Your Next Event
Festive Venues in Miami to Host an Epic Holiday Party
The Hottest Large Event Venues in Los Angeles