Article updated 5/8/2023

The unique venues Los Angeles has on offer are as varied as the city itself. A refurbished ice cream factory, a decommissioned smog-check center, a vaudeville era historic theater, a post-prohibition distillery, a bar that takes a cue from ye olde pharmacies, a sports stadium… You name it. El Lay is often viewed as a relatively young city of sorts by outsiders, but there's actually heaps of history here and many of the following venues reflect the story of the city itself. Herewith, some of the very cool venues L.A. provides, from the 19th to the 21st century.
16 Unique Venues in Los Angeles

Opting for a distinctive venue for a corporate event offers a plethora of benefits that extend beyond the ordinary. A unique venue injects an air of creativity and novelty into the event, instantly sparking the attendees' curiosity and engagement. It sets the tone for a memorable experience, making the occasion stand out in the minds of participants.From greenery-filled oases, to expansive museums and stadiums, LA has a lot to offer when it comes to inspiring and unique venues. But planning an event in Los Angeles can also be daunting if you don't know where to start. Read on for our favorite out-of-the-box venues Los Angeles edition. 
1. The Pavilion at Century Park
Neighborhood: Century City
Capacity: 800
The Pavilion at Century Park is a stunning venue that offers a unique space for hosting a corporate event. This large venue's contemporary design and state-of-the-art technology provide a sleek and modern atmosphere, making it a memorable backdrop for your corporate event. With over 15,000 square feet of indoor and outdoor event spaces, The Pavilion can accommodate a variety of corporate events, from large conferences and product launches to sales meetings and team-building events. The Pavilion at Century Park offers a distinctive and unforgettable setting that will impress your guests.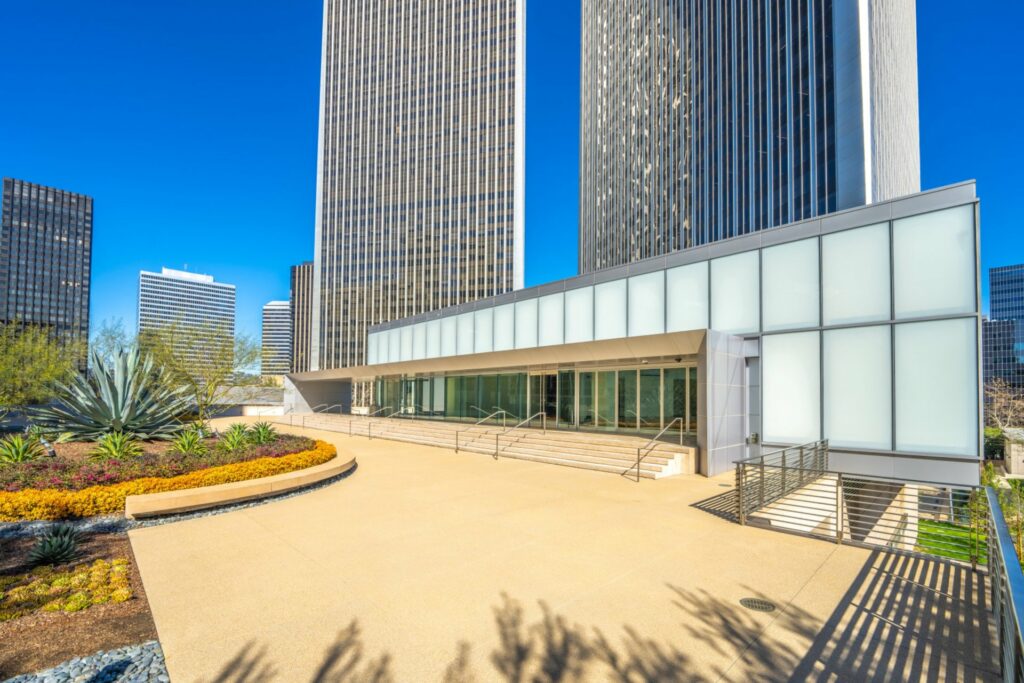 2. SmogShoppe
Neighborhood: Mid-City
Capacity: 250
Named after a smog-check facility from the 1980s, SmogShoppe is as uniquely LA as it gets. Its 6,500 square feet of wonderful indoor/outdoor event space and is powered entirely by solar energy, making it the area's – and the nation's – most environmentally friendly venue. There's vertical gardens that cover nearly 2,000 square feet of wall space within the courtyard. Their Grand Hall has 15 foot ceilings and offers up a 20 foot digital cinema screen, as well as a mixing board, sound system, and lighting equipment. Upcycled vintage furniture creates a vibe of relaxation. If unique, workable, and sustainable is all on your venue's "must-haves" list, then SmogShoppe is your spot.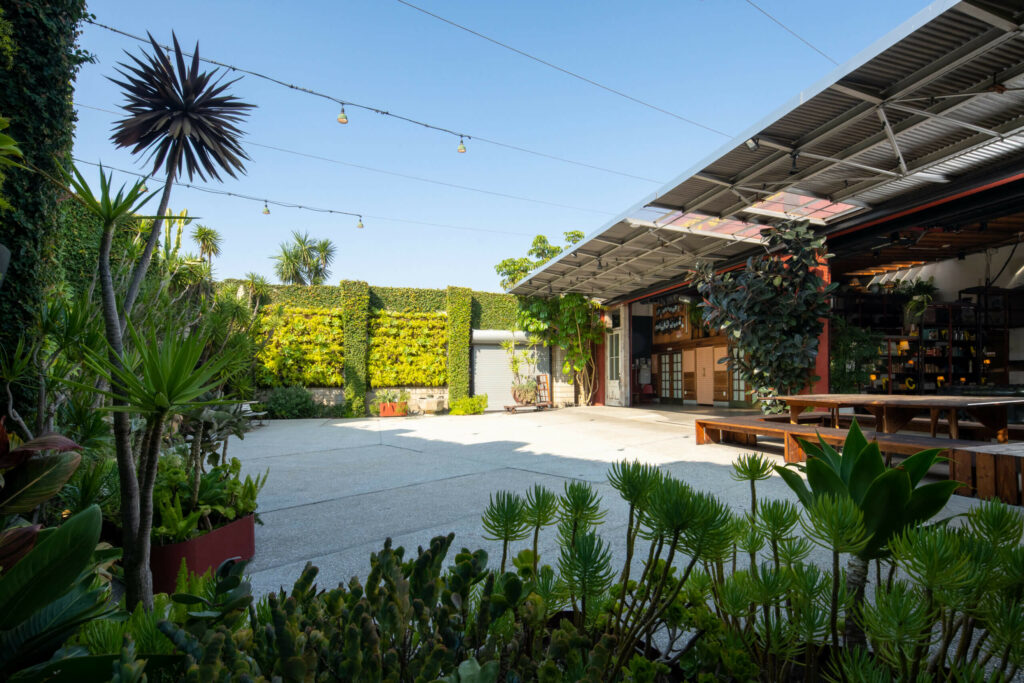 3. Apotheke
Neighborhood: Chinatown
Capacity: 160
Invite guests to step through the velvet curtains of Apotheke LA, an unforgettable spot in Chinatown offering up intimate private event space. What makes this venue unique is undoubtedly the drinks – they are entirely apothecary or medicinally-themed, and out of this world. While this spot is on the smaller side, Apotheke boasts a gorgeous patio in the back of the restaurant that has its own bar. Book far in advance as this spot is popular for obvious reasons.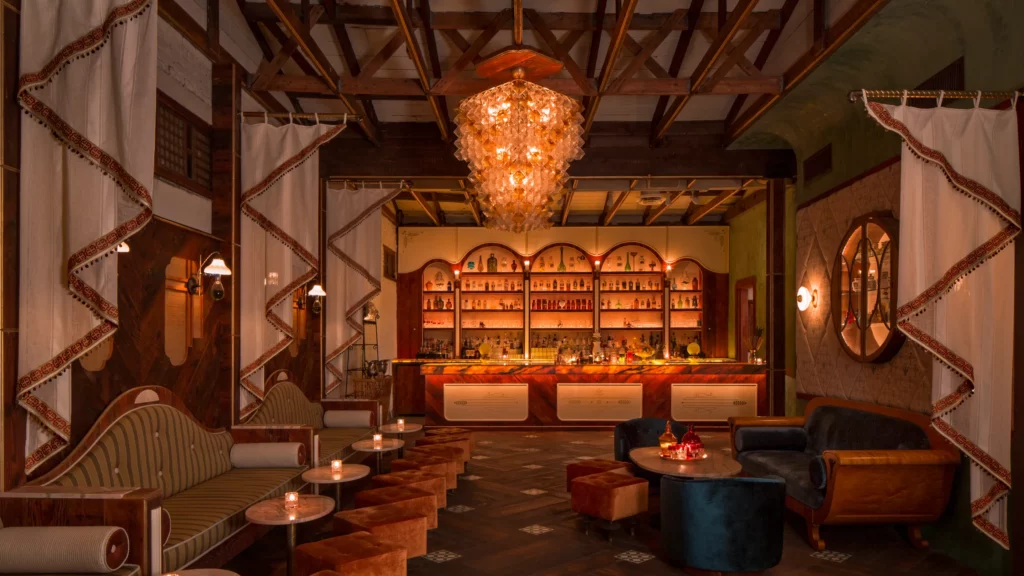 4. Foxhole Hollywood
Neighborhood: Hollywood
Capacity: 100
Deep in the trenches near the Walk of Fame is Foxhole Hollywood, a new, 2,700 foot event space perfect for meetings, receptions, or screenings. The building is the former John Raitt Theatre from the 1920s, but modern amenities abound. There's three distinct areas to host your event: the lobby bar, the main space, and even a back studio. Everything technical you'll need is already here – from a huge screen, projectors, and lights, to a state-of-the-art sound system and fog machine. Get ready for your customers and clients to be immersed in an authentic experience only a place on Hollywood Boulevard could provide.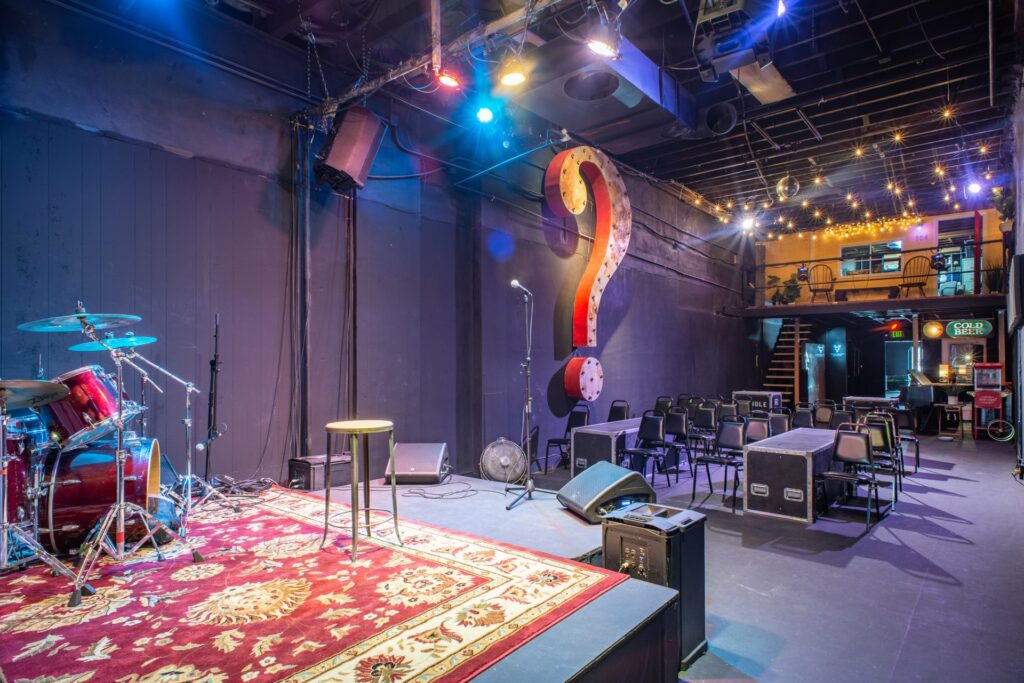 5. Natural History Museum of Los Angeles
Neighborhood: Exposition Park
Capacity: 400
Gathering amongst diorama exhibits within the North American Mammal Hall should definitely qualify as unique. Welcome to the Natural History Museum of Los Angeles, a distinct space in the heart of Exposition Park offering up several different options for events. Choose from the classical structure of the building's 1913 Rotunda and Grand Foyer, or the Erika J. Glazer Family Edible Garden. Let the vision of your meeting or conference run wild with all you can do here, leaving your guests with a very amicable view of Los Angeles.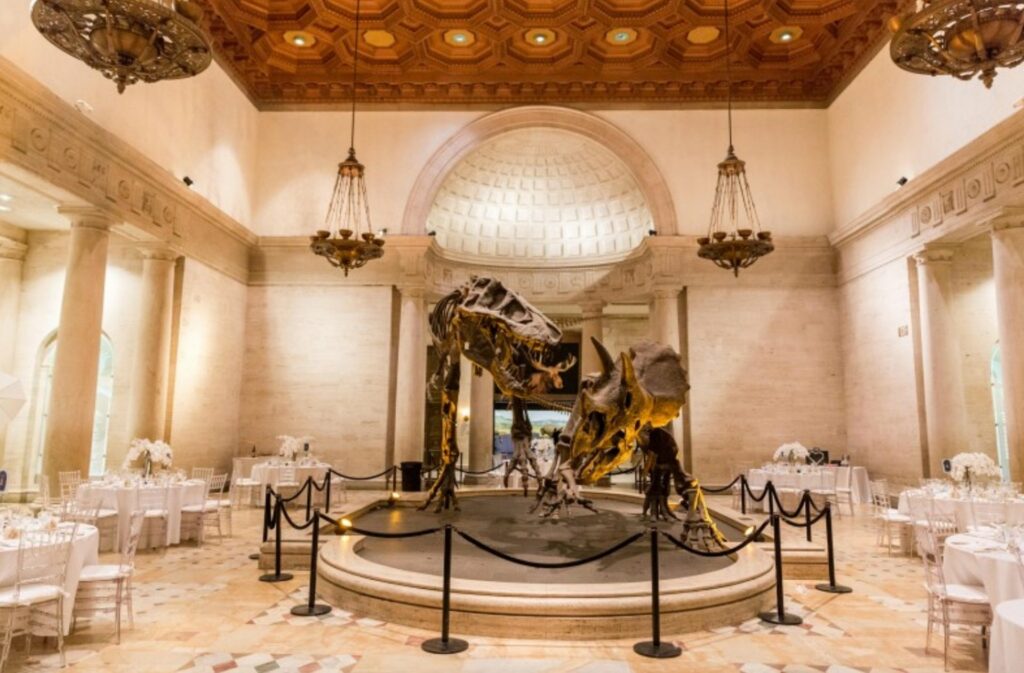 6. Carondelet House
Neighborhood: Westlake
Capacity: 220
Now this is a vibe. The Carondelet House was originally built in 1926 as an Italian villa, serving as the home of LA's most prominent architects. Acquired over time by the Otis College of Art and Design, it now offers up 7,600 square feet of event space, perfectly unique for meetings or team-building opportunities. Enter the Salle (Italian for room) and experience the wood-beamed ceilings and skylights mix perfectly with the industrial windows and crystal chandeliers. There are not one, but two courtyards the purveyors consider to be the heart of the house, with hexagon brick floors, greenery, and string lights. It is not an overstatement to say there's nothing like this space in Los Angeles.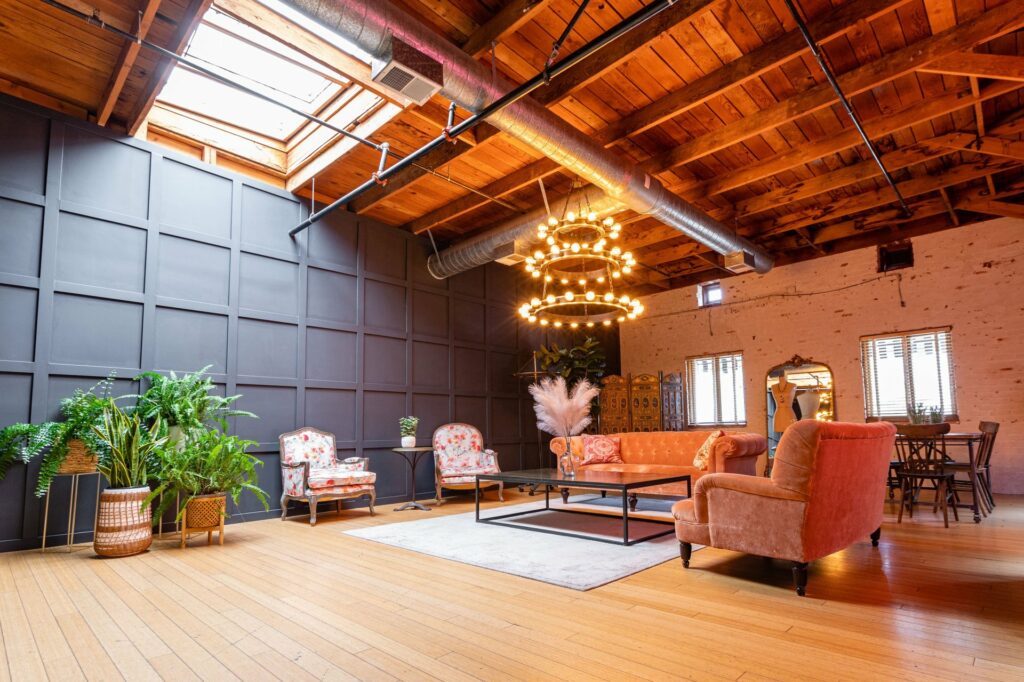 Make sure the music matches the mood! Find the top DJ's in Los Angeles.
7. Flora Chang
Neighborhood: Arts District
Capacity: 32
Brought to you by the Marvimon Productions masterminds, Flora Chang is as charming as it is intimate. With only enough space for 32, this spot is perfect for a small gathering or meeting of team members or clients. It's an event space, a showroom, and a gallery all wrapped into one. Whitewashed brick walls compliment the colorful print fabric lounge furniture. There's a pool table, working kitchen, and tons of greenery. It's hard to believe this was once an ice cream factory deep in the Arts District.
8. California Science Center
Neighborhood: Exposition Park
Capacity: 10,000
Prepare yourself for loads of space and options at the California Science Center, a premiere event destination in LA. There are 11 spaces within this remarkable venue to choose, each one serving a specific function. If a screening or presentation is on your meeting's to-do list, then check out their in-house IMAX Theater. But if you are looking for a raw space to transform to your liking, the Science Center delivers. From the Robert H. Lorsch Family Pavilion to the Ecosystems Galleries, there's no shortage of square feet primed to make your vision come to fruition. Inspire with an event in the Samuel Oschin Pavilion, where your team or clients can gather underneath the space shuttle Endeavour, a craft that traveled to space and back 25 times. The Center has an entire team dedicated to their events, so they've got the process down to a science.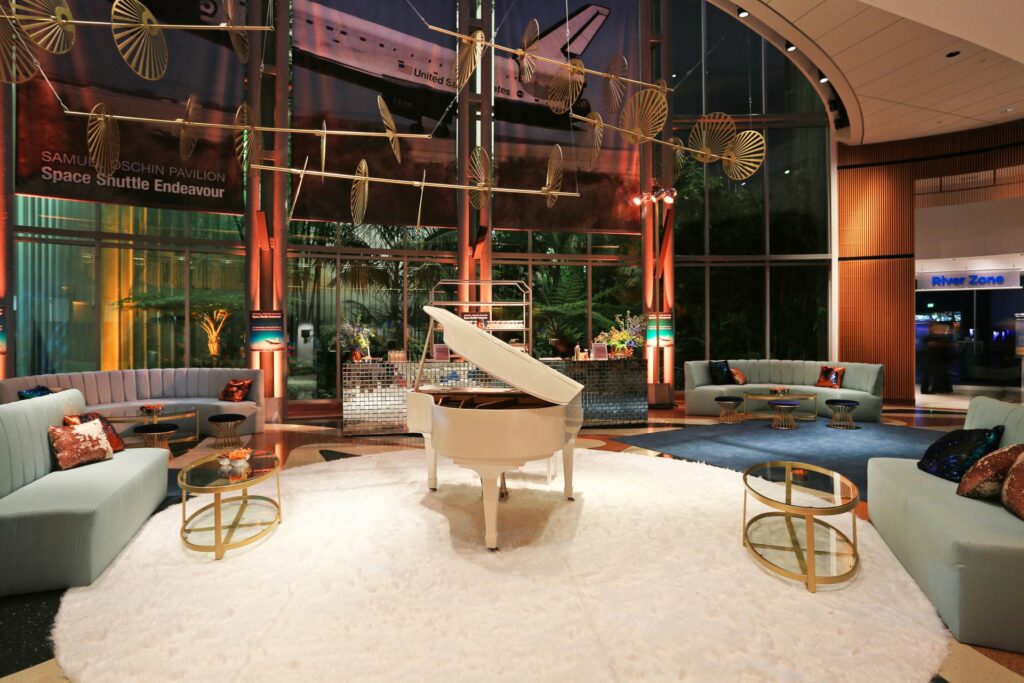 9. GRAMMY Museum
Neighborhood: Downtown
Capacity: 400
Your meeting will sing a new tune at the GRAMMY Museum, located within the vibrant entertainment district. The Museum offers up a music-infused locale for your next meeting, conference, or product launch, in a setting that can only be provided in Los Angeles. There's lots of spaces within the Museum to choose, but the Terrace is a real standout. Perched high on the rooftop, the Terrace provides 180-degree views of downtown LA as well as the Hollywood sign. Or book the Clive Davis Theater, the perfect arena to host meetings, film screenings, or performances, fully functional with lighting, sounds, and projection.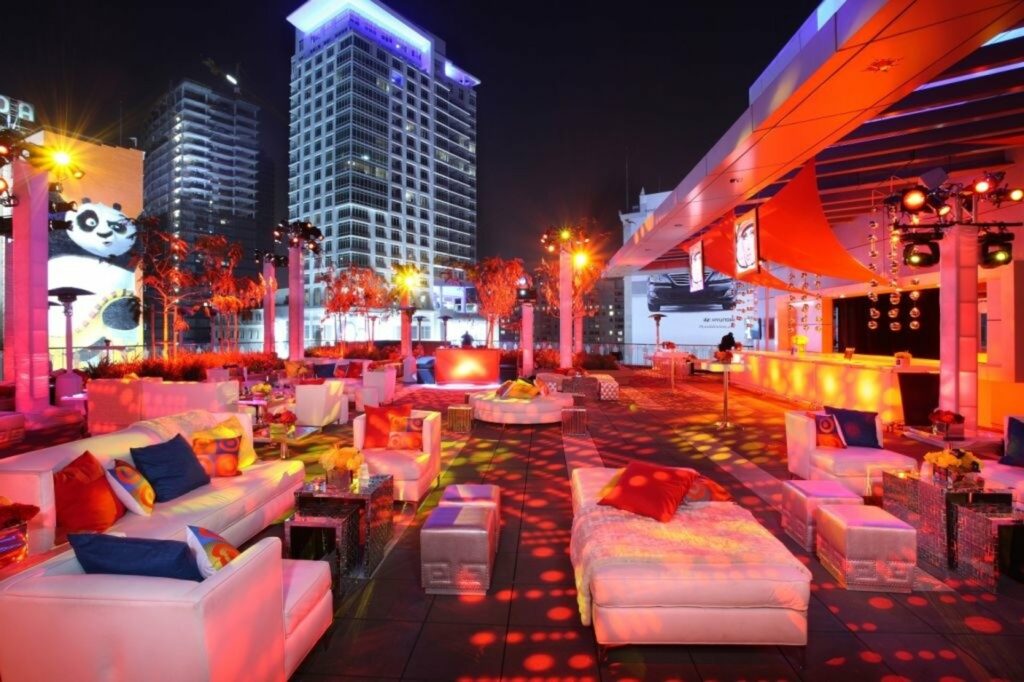 10. LA Plaza de Cultura Y Artes
Neighborhood: Downtown
Capacity: 500
LA Plaza de Cultura y Artes – an institution of stories that makes known the roles of Mexicans, Mexican Americans, and All Latinos in shaping the past, present, and future of Los Angeles – is open for your next meeting or workshop. This treasure is located at the actual founding location of the City of Lost Angeles. Get your team's wheels moving in the outdoor green space, or book one of the many conference rooms or halls. Their seasoned staff has floor layout options galore, as LA Plaza is used to hosting a crowd. Enjoy a handful of amenities like a flatscreen and bar, so be sure to ask what is at your disposal.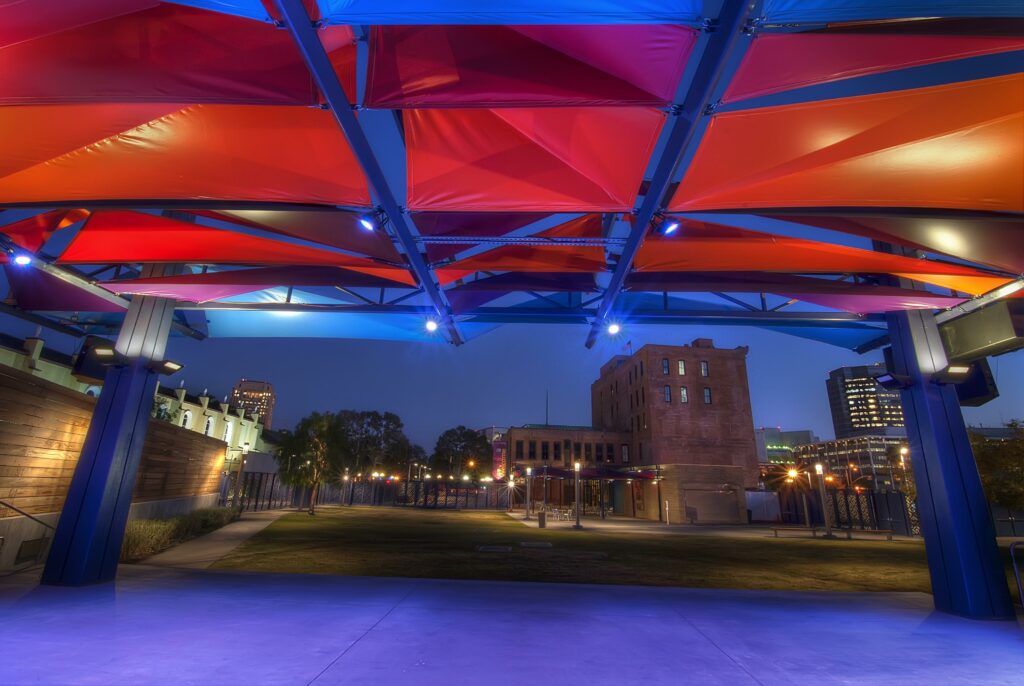 11. Globe Theatre
Neighborhood: Theater District
Capacity: 1,600
Majestic and historic, The Globe Theatre was opened in 1913, and has welcomed celebrities from Marilyn Monroe to Charlie Chaplin. But after a five-year restoration of meticulous detail, the Globe now offers 27,000 square feet of raw space, complete with world class sound, lighting, and a video screen. Launch your new product or get your team collaborating at this full-service venue, which features catering, production, and audio/visual services. There's even in-house special effects services like a bubble or snow machine – and don't sleep on that confetti cannon. You can even customize the historic marquee on Broadway to welcome your guests. This is show quality craftsmanship at its finest.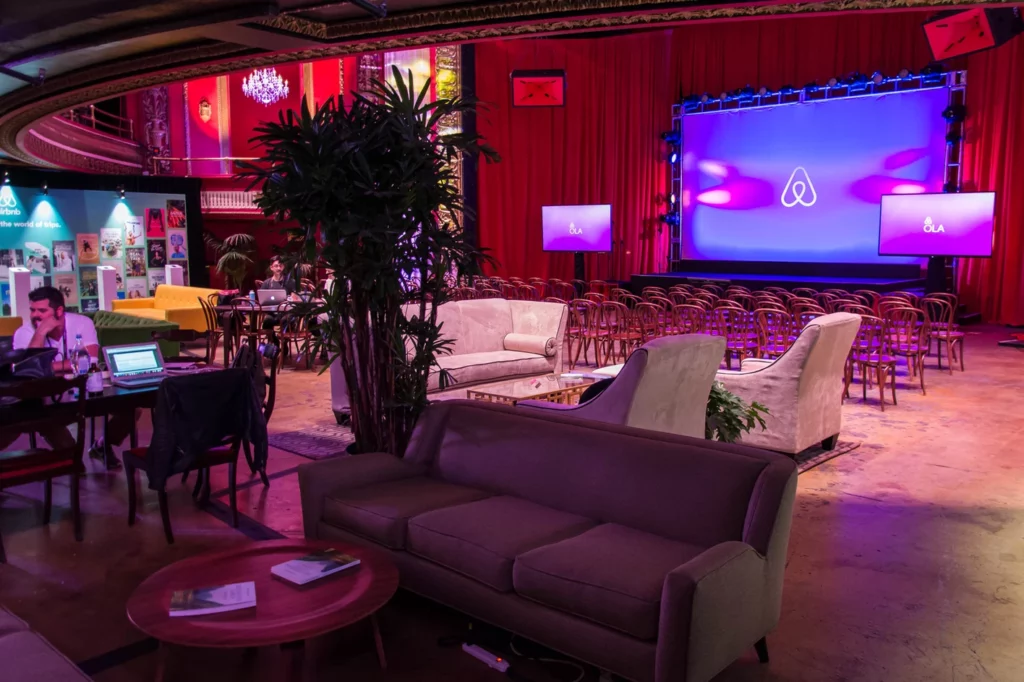 12. Greenbar Distillery
Location: Downtown
Capacity: 175
If you have a discerning crowd with a socially conscious palate, Greenbar Distillery might be the perfect place in LA for your next corporate gathering. This distillery makes the largest portfolio of organic spirits in the world, home to TRU Vodka and IXA Tequila. Hosting a team building event here will be unique, as they give guided distillery tours for private events, of course ending with everyone's favorite part: the tastings.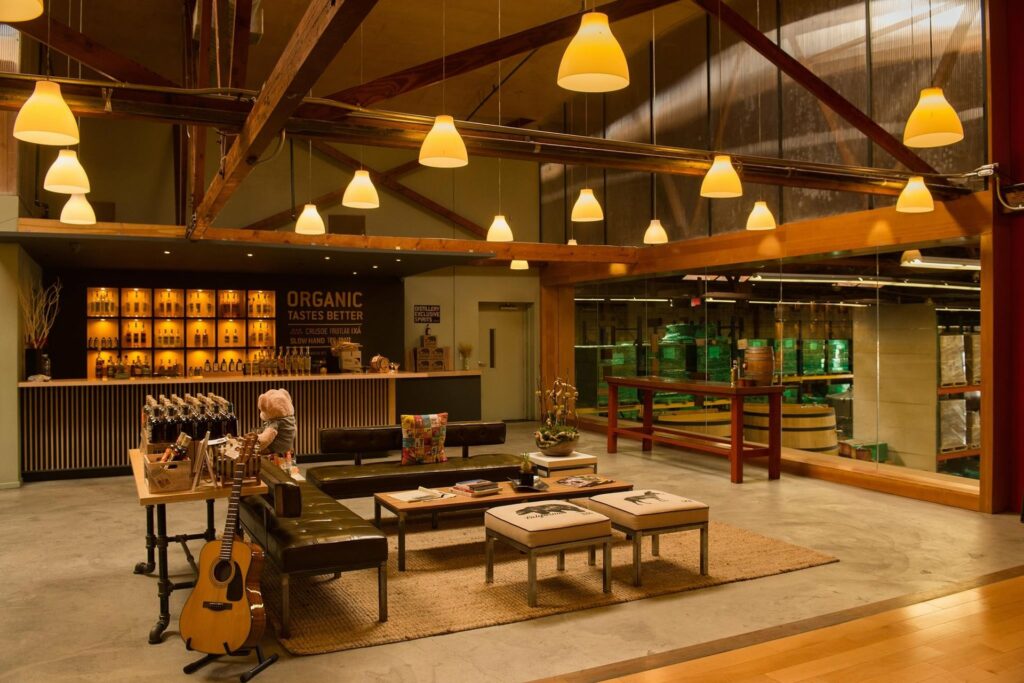 13. Orly Color Labs
Location: Fairfax
Capacity: Contact for more info
Perfect for a team building outing, ORLY Color Labs is a unique and creative spot in Los Angeles' Fairfax neighborhood. At this destination, your team can create custom nail polish, then watch their shade be brought to life by mixologists at the color bar. But the experience your team will have here is so much more than nail polish – it's truly an experiential space to come together and share in the appreciation of art, beauty, wellness, and self-expression. Very LA.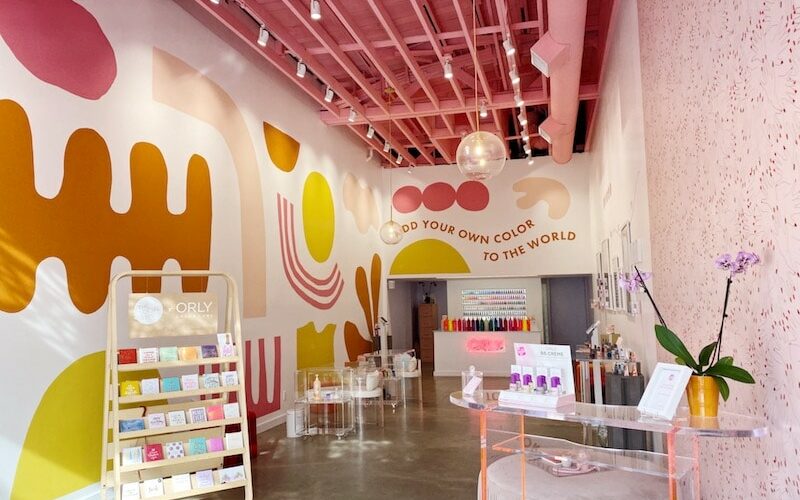 14. The Fig House
Location: Highland Park
Capacity: 450
Brought to you by The Hospitality Collaborative, check out The Fig House, an art-deco gem in burgeoning Highland Park. This indoor/outdoor venue shows off its glamour with jewel-toned velvet couches set against stained glassed windows and mint green walls. There's an outdoor garden, on-site tables and chairs for up to 200 people, and even security guards. Bring in your own food and drink, and you'll be ready to meet at this relaxed setting where mid-century California meets lush greenery.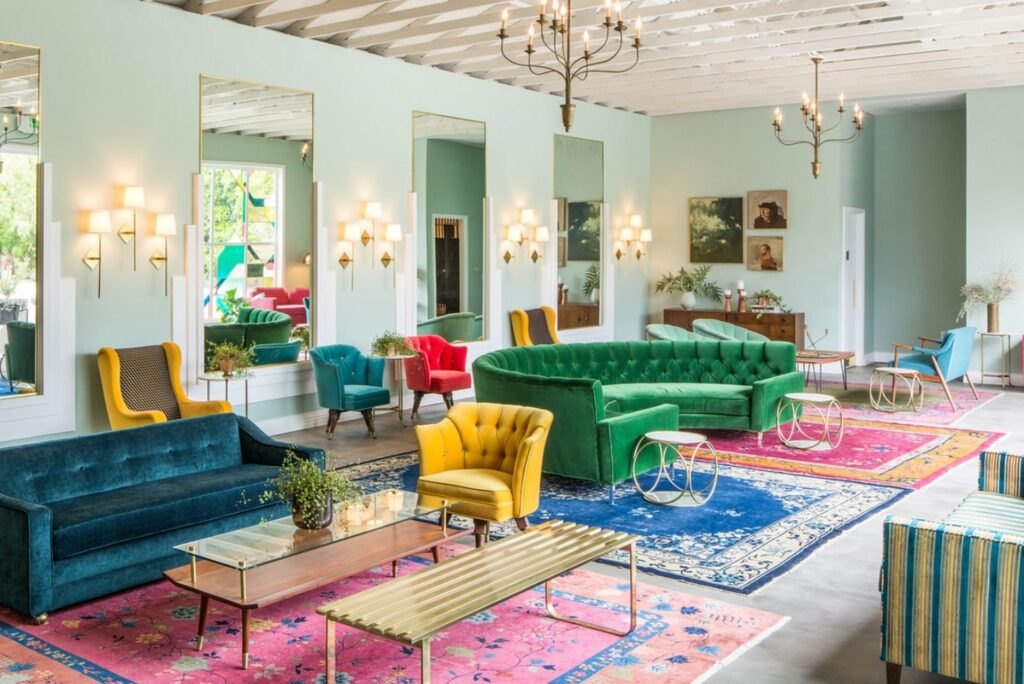 15. Banc of California Stadium
Location: Exposition Park
Capacity: 22,000
The Banc of California Stadium is positioning itself as the new place for entertainment in the heart of Los Angeles. Home of the Los Angeles Football Club, this engaging venue offers five spaces from which to choose, complete with catering. From the Founders Club on the mezzanine with views of the pitch and a 1,400 square foot patio, to the sleek Figueroa Club that perfectly captures the feel of Downtown LA with communal seating and local graffiti art, this venue is as non-traditional as it gets. From presentations to meetings, this locale will bring your crowd to its feet.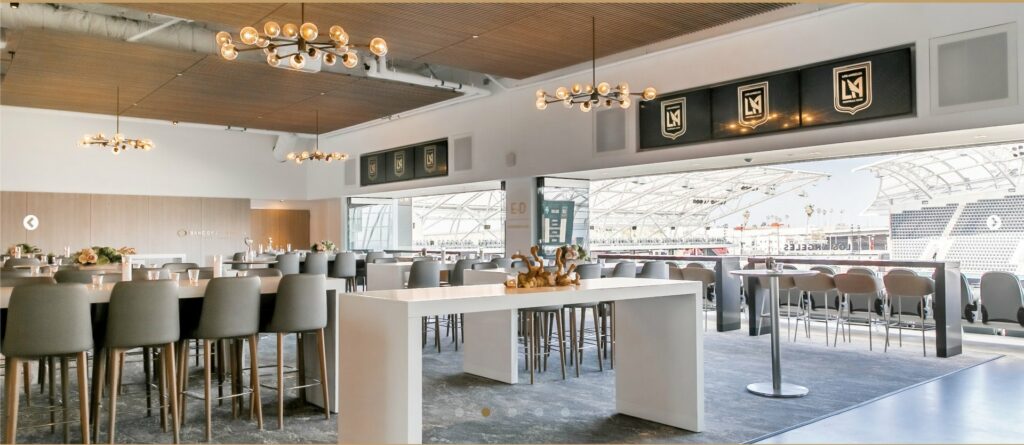 16. Openaire
Location: Koreatown
Capacity: 200
While Openaire is inside The Line Hotel in Koreatown, it's as outside the lines as it gets. It's a poolside greenhouse-style restaurant and meeting space right in the center of all the action. Host 200 professionals here for a meeting as well as some out-of-this-world cuisine. Chef Josiah Citrin puts his two Michelin stars on full display on this eatery's ever-changing menu. Hold your private event under the lushness of the greenhouse's display of hanging plants, and watch your team's inspiration grow.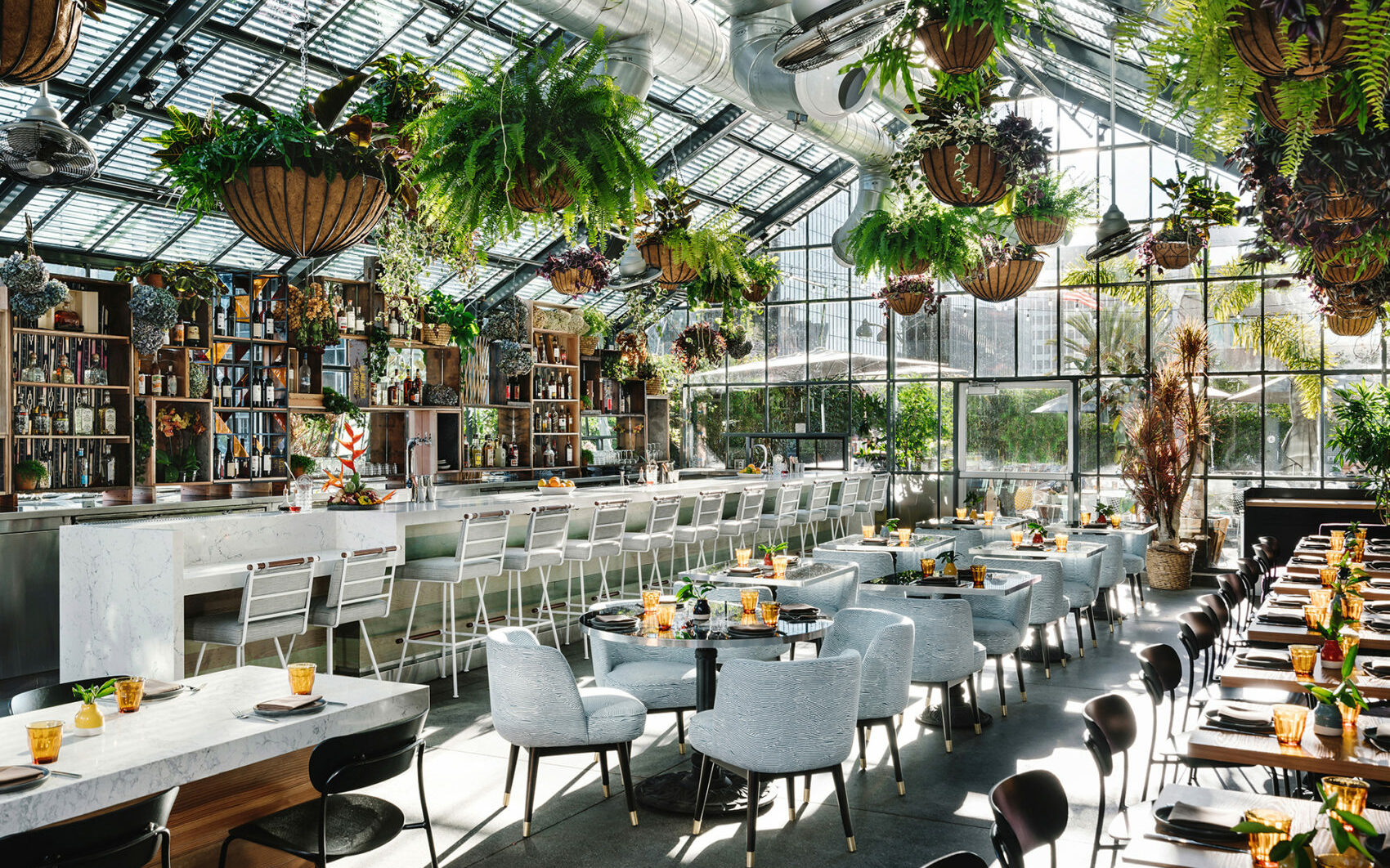 Why Finding the Right Venue is So Important
Let's face it – the venue is the single biggest decision (and likely expense) of your event. Where you put your time and resources is so important and here's why:
The right venues sets your event's tone.
The right venue may show your clients or team members a portion of your chosen city's culture they might not otherwise experience.
The right venue makes your guests feel like you went the extra mile to show them their experience matters to you.
The right venue sparks inspiration and conversation, hopefully creating more collaboration.
Top Things to Consider When Booking an Event Venue
When booking a venue, your list of "must-haves" is likely well honed. You'll know the right spot when you see it, but there's always so much to take into consideration. When planning an event in LA, the weather won't play too much into your decision of holding your event outdoors (or at least having an outdoor element). Think about your crowd size and be thoughtful to social distancing. LA is known for many wonderful things, but the traffic is not one of them – make sure your event venue is easy to get to and find. And lastly, technology plays a big role in any conference or meeting, so be certain your venue has the tech support and equipment you require. 
Find the Best Corporate Event Venues on The Vendry
Source out the world's best unique venues on The Vendry. Plan your next corporate event in Los Angeles with ease by utilizing The Vendry's search functions. Narrow down your needs by dates, locations, crowd size, etc. and get going on your next awesome meeting or conference in the City of Angels.
Read More:
Gorgeous Raw Event Spaces in New York City
The Hottest Large Event Venues in Los Angeles
The Best Private Dining Rooms in Los Angeles