It should come as no surprise that New York City (population 8 million) is in no short supply of stunning event spots. And while it may seem intimidating to book a raw event space, think of these venues as blank canvases for you to create an entire atmosphere or experience more or less from scratch. NYC is brimming with rich history and impressive architecture, which makes for a plethora of raw event spaces at the ready for your event needs. No matter your vision, there's a space in New York that will serve as the perfect backdrop, from a penthouse in the West Village to a private terrace in NoMad.
The Best Raw Event Spaces in NYC
New York City's neighborhoods are as different and diverse as its people—whether you want to have an industrial vibe in DUMBO or a more classic New York elegance on Fifth Avenue, there's bound to be a venue in NYC that works for your event. We've put together 17 raw event spaces from all over the city so you can get a taste of what the Big Apple has to offer.
1. Chelsea Industrial
Neighborhood: Chelsea
Capacity: 150
Chelsea Industrial is located in Manhattan's burgeoning Midtown West neighborhood, which is near Chelsea and Hudson Yards on Manhattan's west side. The venue boasts 22,000 square feet of production-worthy space, 18-foot ceilings, and multiple rooms. It also has one of the city's largest internal LED screens, which will add another stunning element to your event. Chelsea Industrial is located on one single floor and has two entrances, including ADA-accessible entrance doors and restrooms.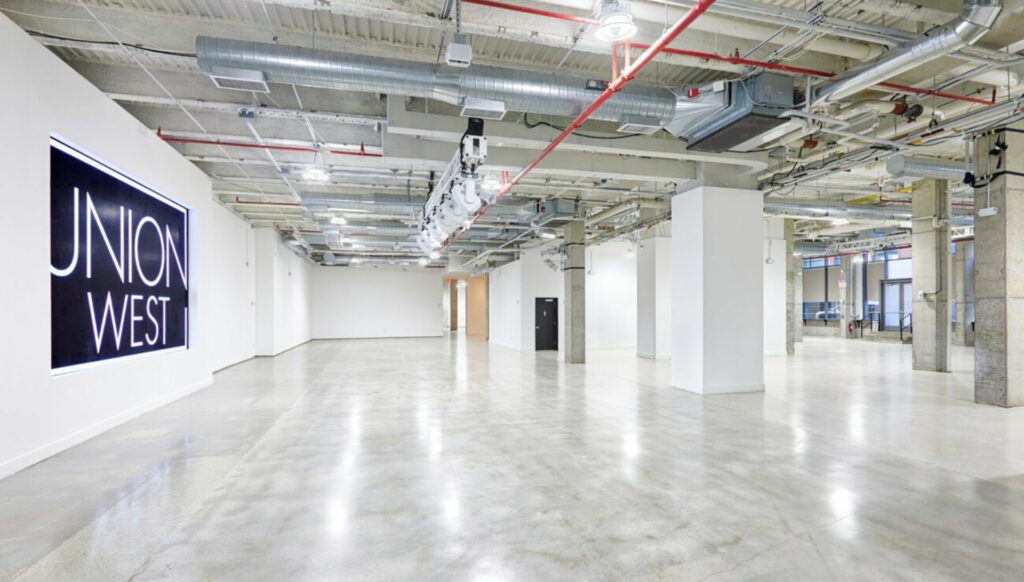 2. Home Studios Inc
Neighborhood: Chelsea
Capacity: 175
Home Studios has 6,500 total square feet of event space spread across two separate studios. There's also a rooftop with views of Union Square. Both studios feature large windows that get plenty of natural sunlight, and each has a working kitchen, which makes the space incredibly versatile. Home Studios has held tons of large events, including product launches, cocktail receptions, corporate events, fundraisers, private dinners, fashion shows, and more. Located near Union Square, this venue is also close to several subway lines so it's easy for guests to get to.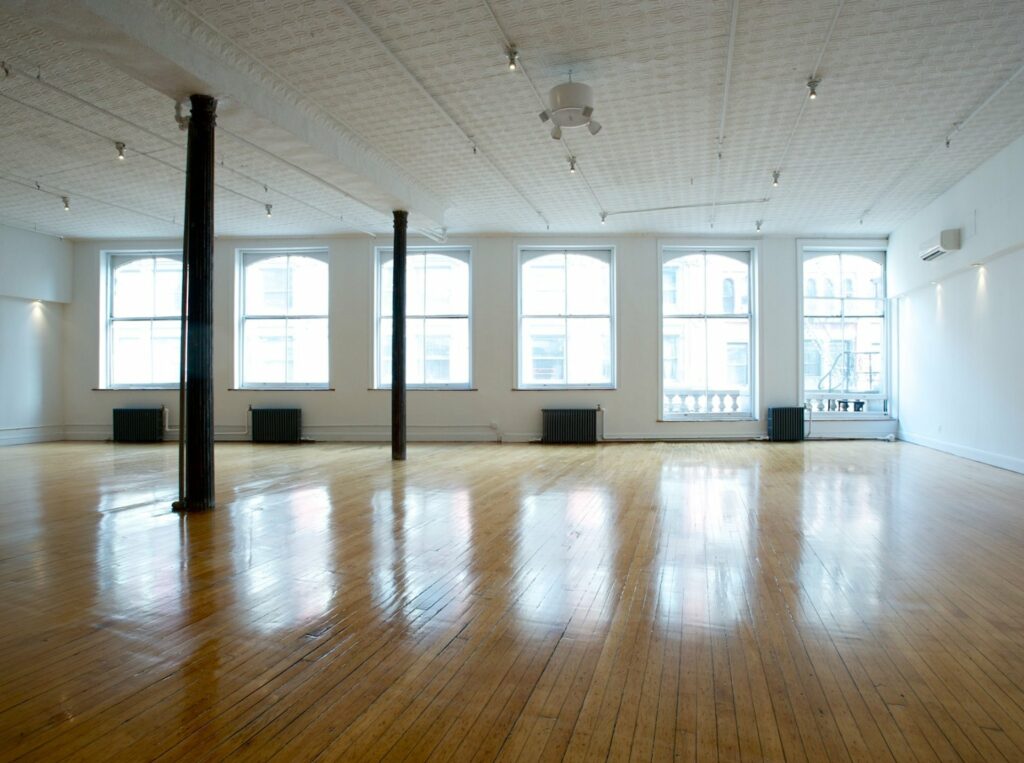 3. Hudson Mercantile
Neighborhood: Hell's Kitchen
Capacity: 350
Hudson Mercantile is a portfolio of "clean, modern, white spaces" in the Hudson Yards district of Manhattan. The venue includes three spaces: the Gallery, the Studio, and the Roof. The Gallery has 5,200 square feet and features high ceilings and white walls, making it perfect for big events like a fashion show or trade show. The Studio has 6,000 square feet of space with 14-foot ceilings, natural light, white walls and concrete floors. The Roof has 5,000 square feet of venue space and views of both the Hudson River and the Empire State Building. The Roof at Hudson Mercantile is one of the biggest rooftop venues in Manhattan, and can be used as an outdoor venue or tented and climate controlled.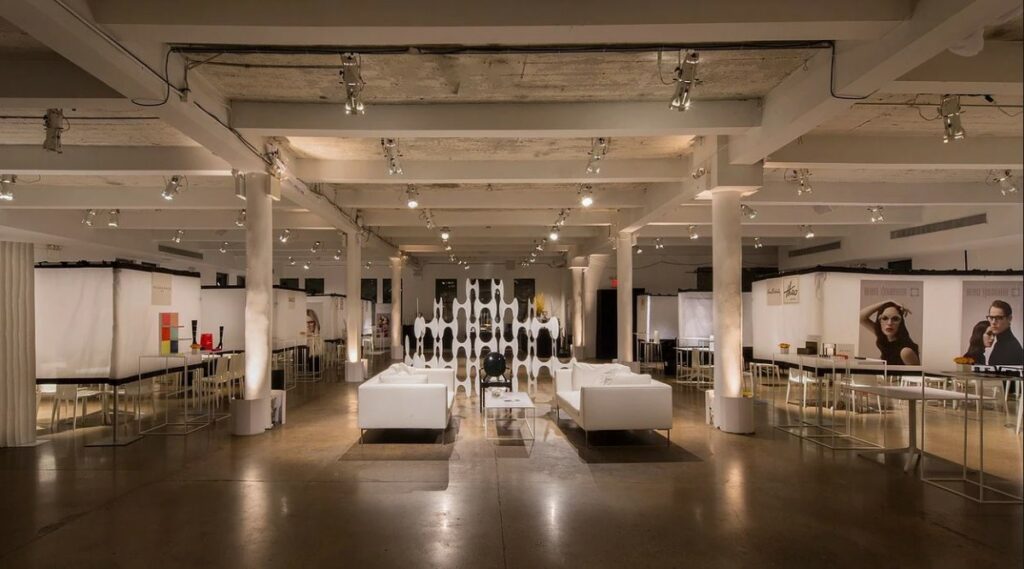 4. Ramscale Penthouse
Neighborhood: West Village
Capacity: 150
The Ramsacle Penthouse encapsulates the chic vibe of the West Village neighborhood it's located in. Featuring big 9-foot windows with stunning skyline and Hudson River views, not to mention tons of natural light, this venue boasts 3,000 square feet of interior space. The South Studio features two raised stages, a conference room, and a makeup and wardrobe room. The Ramscale also features a 1,000 square-foot private terrace that has unmatched views. With a max standing capacity of 150 (100 seated), the event possibilities are endless.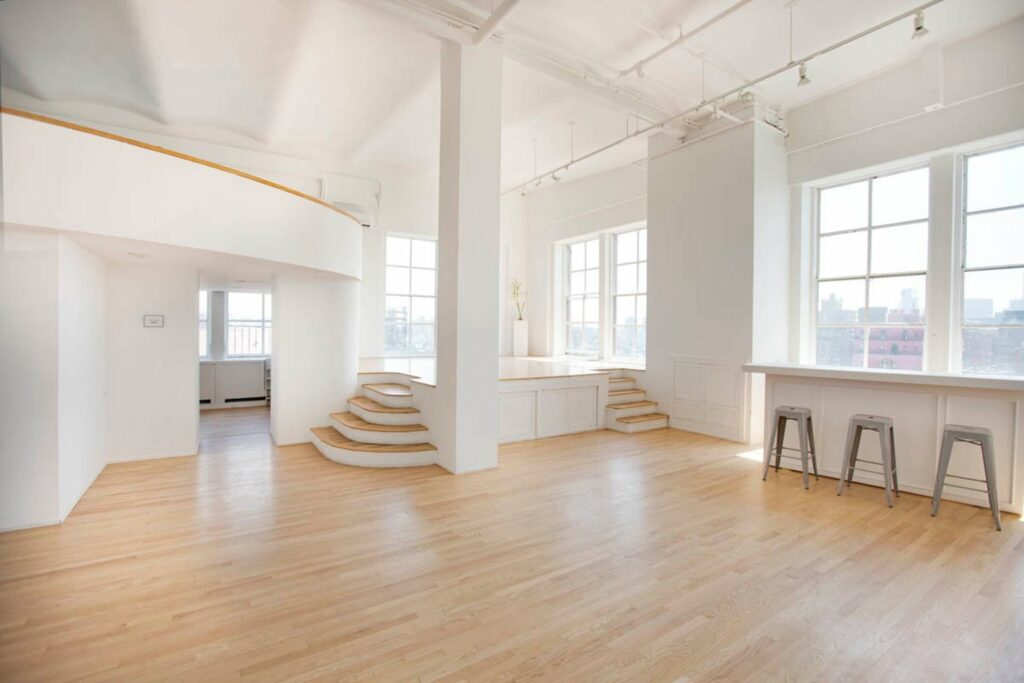 Host your next team gathering at one of the most beautiful meeting spaces in NYC!
5. Spring Studios
Neighborhood: TriBeCa
Capacity: 774
Spring Studios is a collection of sleek and stunning event spaces that can accommodate 10 to 800 people. With 9 spaces total, including a roof, most of the studios feature 30-foot ceilings and floor-to-ceiling windows, drenching the spaces in sunlight. Spring Studios offers white-glove service and cutting edge technology. Spring Studios is home to some of the most iconic events in the city, including New York Fashion Week and the TriBeCa Film Festival.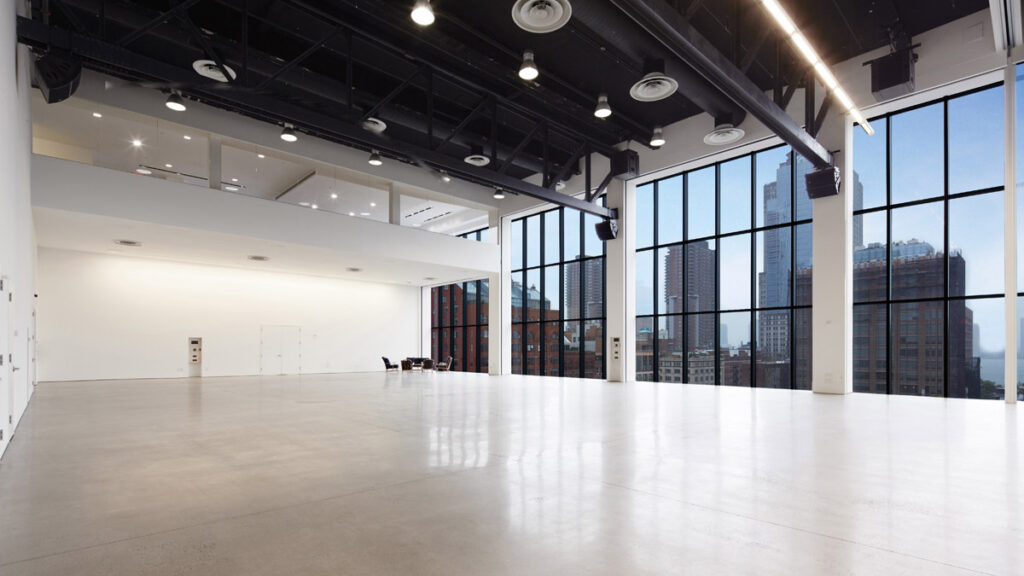 Elevate your event through interactive activations! Browse the top experiential agencies in NYC.
6. Glasshouse Chelsea
Neighborhood: Chelsea
Capacity: 200
Glasshouse Chelsea is a multifunctional event space that features stunning floor-to-ceiling windows and dazzling views of the Hudson River and downtown and midtown Manhattan. The venue can hold up to 200 people and features a full event planning service, which includes audiovisual and lighting services. The space features clean white walls and is ideal for a wide variety of events, including weddings, corporate meetings, product launches, movie shoots, and more.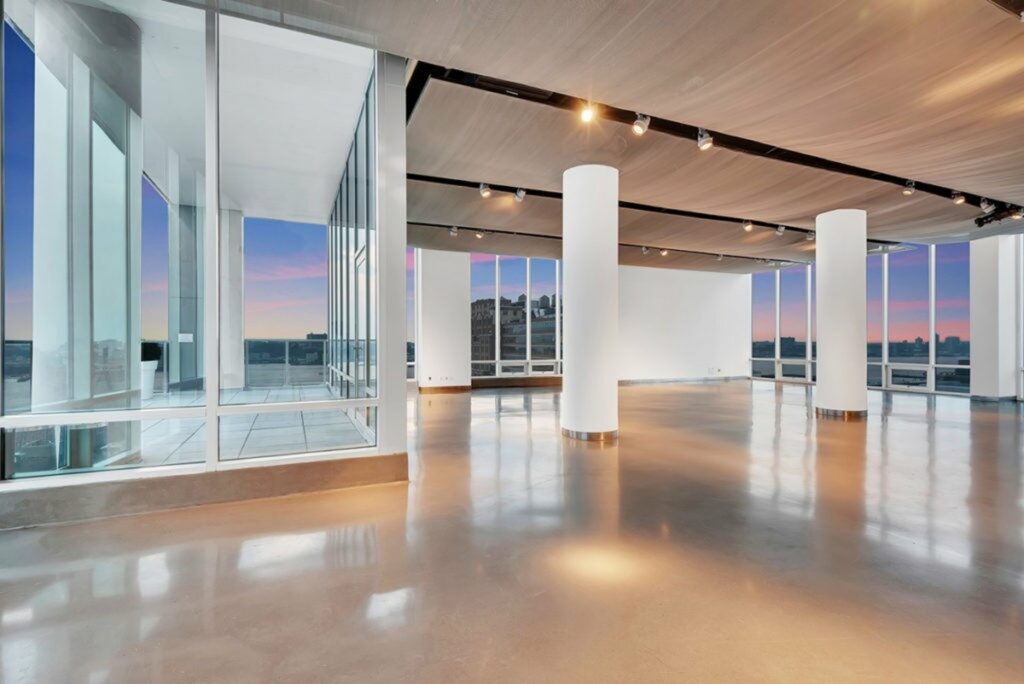 7. Midtown Loft and Terrace
Neighborhood: Midtown
Capacity: 200
Midtown Loft and Terrace offers two distinctly elegant spaces in the NoMad neighborhood in midtown Manhattan. Midtown Loft is the premiere 5,000-square-foot indoor space that features high ceilings and is ideal for corporate events, conferences, or private events like weddings and Bar and Bat Mitzvahs. Midtown Terrace is 4,400 square feet of an open-air terrace that can accommodate up to 150 people. The terrace space also has a retractable enclosed rooftop so it can be used year-round.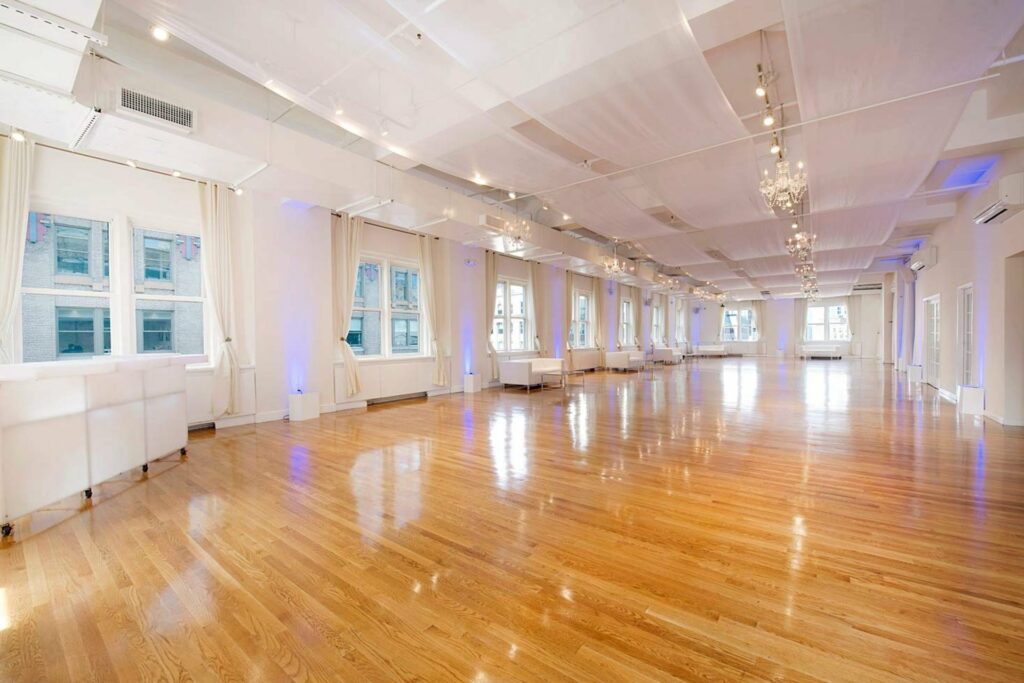 8. Iron 23
Neighborhood: Flatiron District
Capacity: 750
Iron23 has a raw, industrial feel in the heart of the Flatiron District, making the large event possibilities endless. The space is 17,000 square feet and can accommodate up to 750 guests. The ceilings are up to 17 feet high and there's a loft overlooking the ground floor, which can serve as a VIP space. What makes Iron23 unique is its well-trafficked location on the street level on West 23rd Street between 5th and 6th Avenues, which makes for unique branding opportunities.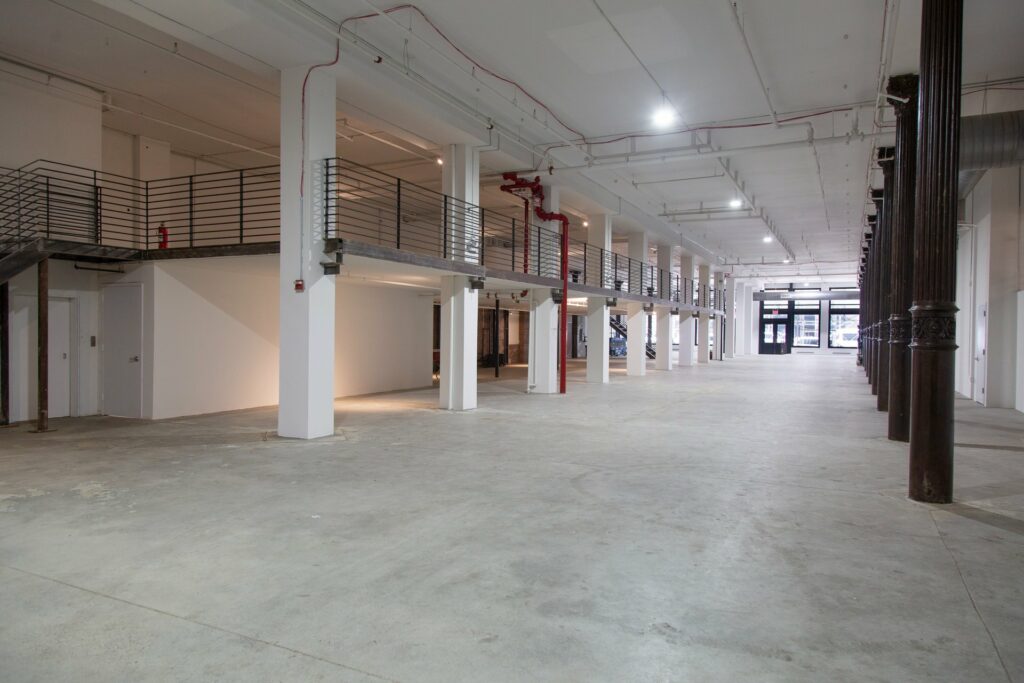 9. Center 415
Neighborhood: Midtown
Capacity: 1,200
Center 415 is divided over two floors for a total of 32,000 square feet of space. The venue boasts high ceilings up to 18 feet and can accommodate up to 1,200 guests. It's located in Midtown Manhattan, so it's easy to get to by trains, subways, and buses. Center 415 is perfect for big events like fashion shows, galas, art exhibitions, conferences, trade shows, and more. The venue has a large on-site catering kitchen, which streamlines catering and food service for events.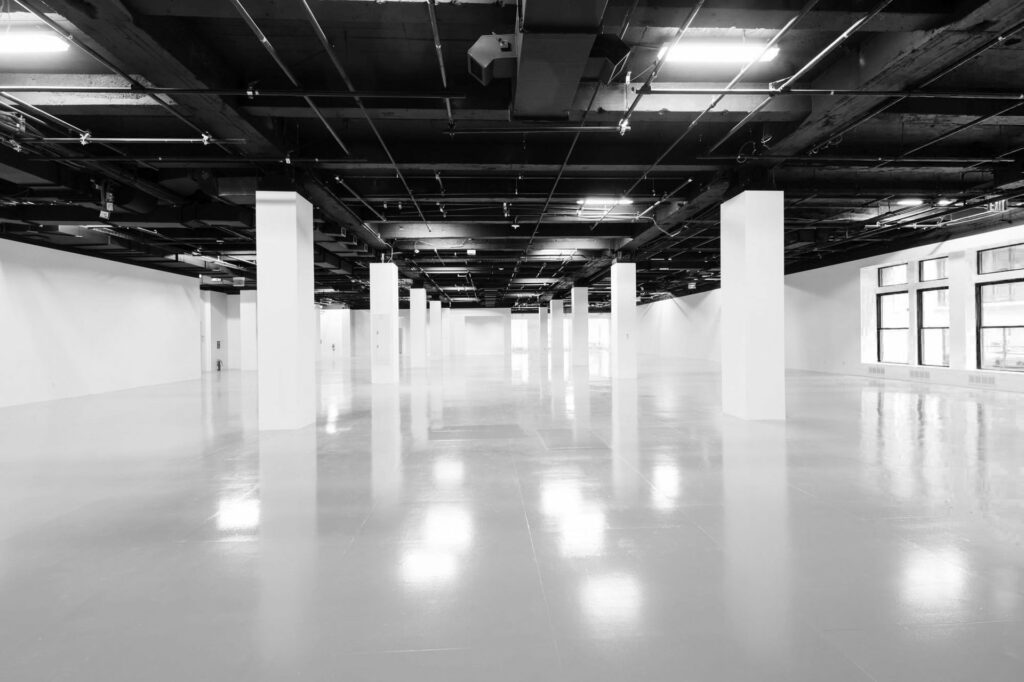 10. Sound Rivers Studios
Neighborhood: Long Island City
Capacity: 400
Long Island City, just over the East River in Queens, is home to a lively art and performance scene, plus trendy breweries and restaurants. Sound River Studios captures the vibe of this neighborhood as a unique warehouse / gallery space on the waterfront with views of the Manhattan skyline. The space is more than 5,500 square feet and has huge 30-foot ceilings. The open gallery space makes it ideal to transform into any event, from weddings to fashion shows to corporate events to art exhibitions and more.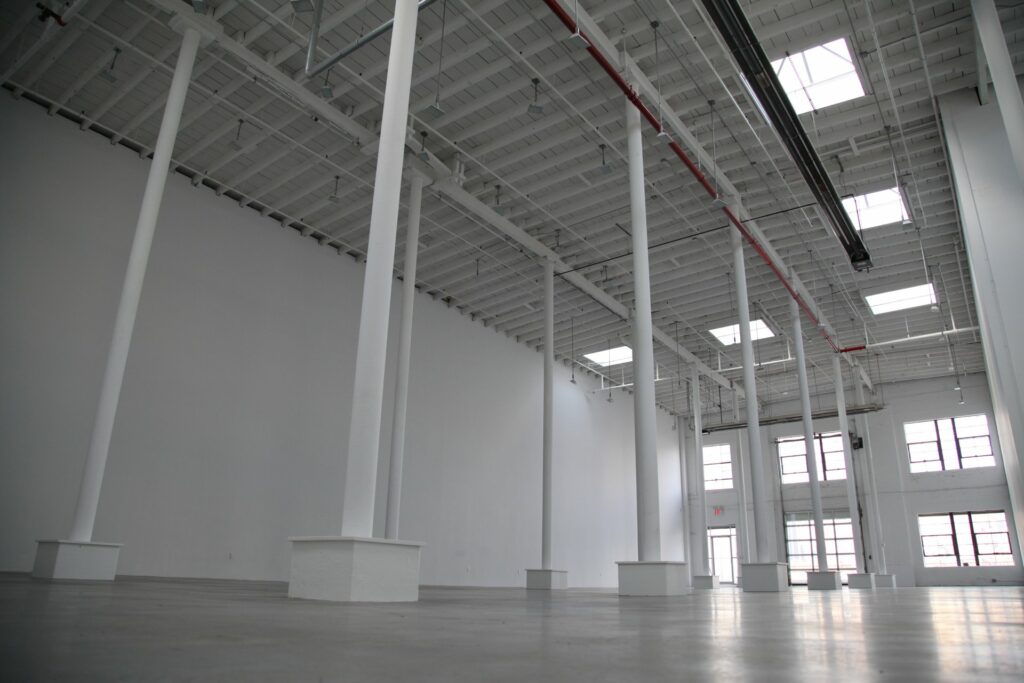 11. West Edge
Neighborhood: Chelsea
Capacity: 300
Located in West Chelsea, near the Meatpacking District, West Edge encapsulates the contemporary vibe of the neighborhood while staying true to the raw loft space that made the neighborhood popular. West Edge sits over the Hudson River, and features high ceilings and floor-to-ceiling windows to showcase views of the western waterfront. It can scale up to 10,000 square feet or scale down for a more intimate event. The Edge is powered by the Chicken People at Creative Edge Parties and has been home to some of the city's most iconic events and product launches.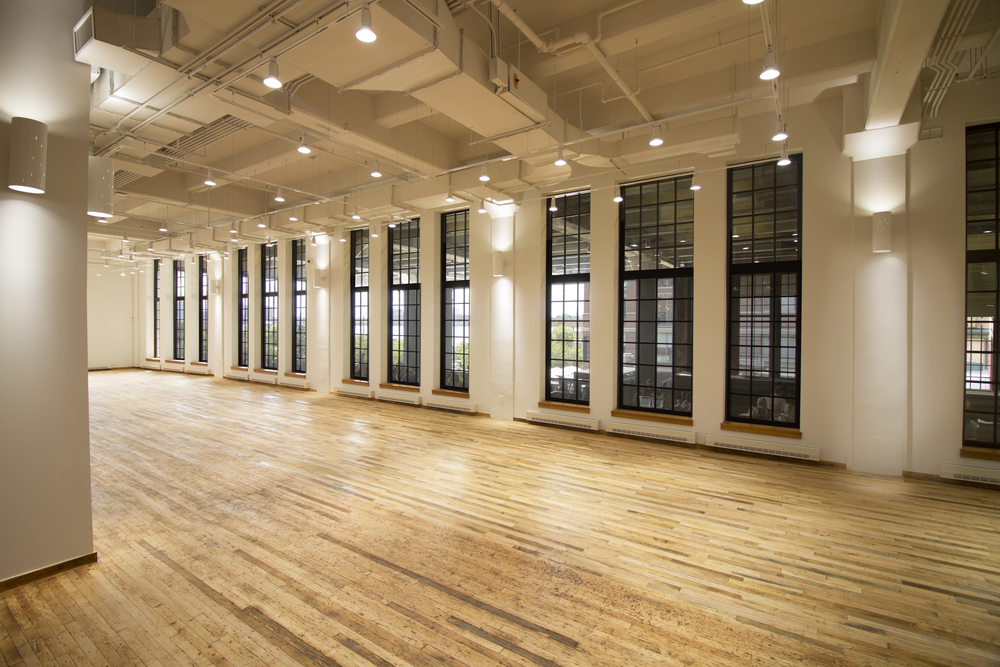 12. White Space Chelsea
Neighborhood: Chelsea
Capacity: 300
Located in Chelsea's iconic arts district, White Space Chelsea is ideal for art exhibitions, fashion shows, photo and film shoots, corporate events, product showrooms, and more. The street-level venue is 3,350 square feet with 12-foot ceilings and dark oak floors. Rental starts at $5,000 and features professional gallery lighting. White Space Chelsea also partners with Frost Productions for projectors, speakers, and other audiovisual capabilities.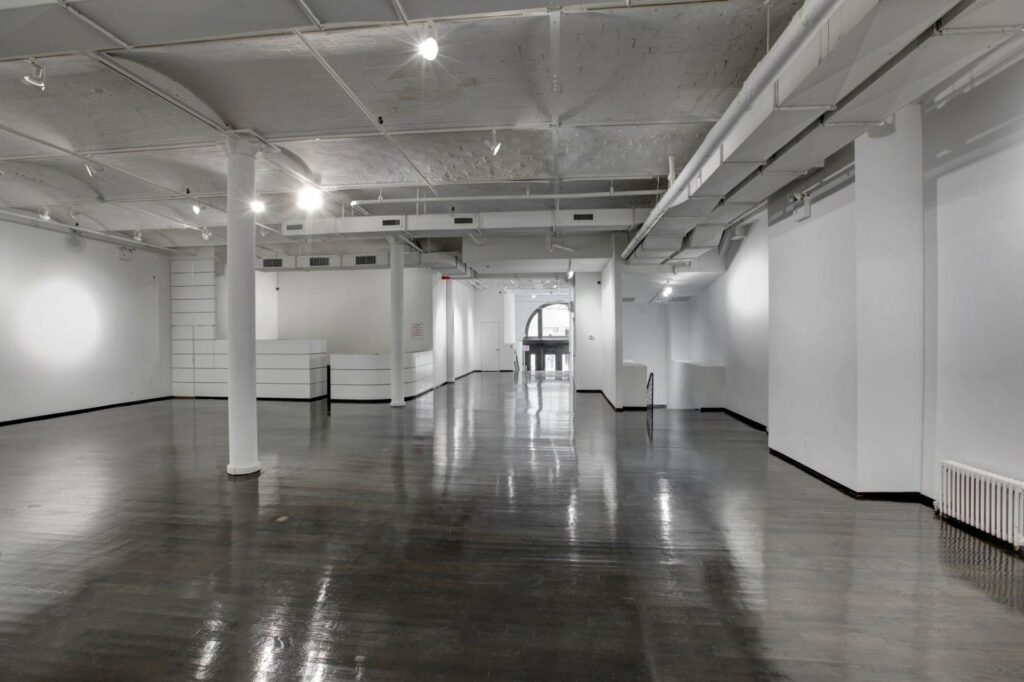 13. Sixth Floor Loft
Neighborhood: Chelsea
Capacity: 200
The Annex at Sixth Floor Loft off Union Square boasts 3,000 square feet of raw space that you can transform to fit your event. With a max standing capacity of 200 guests, the raw space is perfect for weddings, Bar and Bat Mitzvahs, corporate events, or a film or photo shoot. The venue also has a custom projector service, projector and screen, and a sound system, so you can work with them for your audiovisual needs.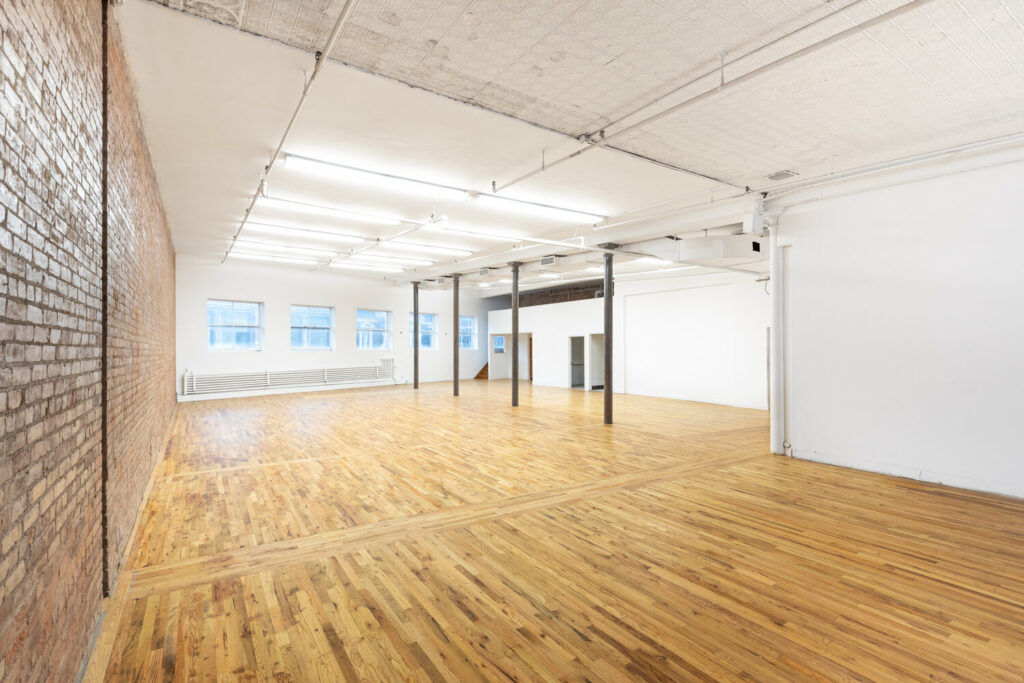 14. The Dumbo Loft
Neighborhood: Dumbo
Capacity: 200
The Dumbo Loft is a renovated old tobacco warehouse from the 19th century, and definitely captures the industrial loft vibe remnant of old Brooklyn. The location is in the heart of DUMBO, steps from the Manhattan Bridge overpass and near the iconic cobblestone streets and photo spots that made DUMBO famous. The space is 3,000 square feet with exposed brick, wood columns, hardwood floors, and huge windows that overlook the Manhattan bridge and Brooklyn Bridge park. Transform this stunning space into any large event, from weddings to company dinners.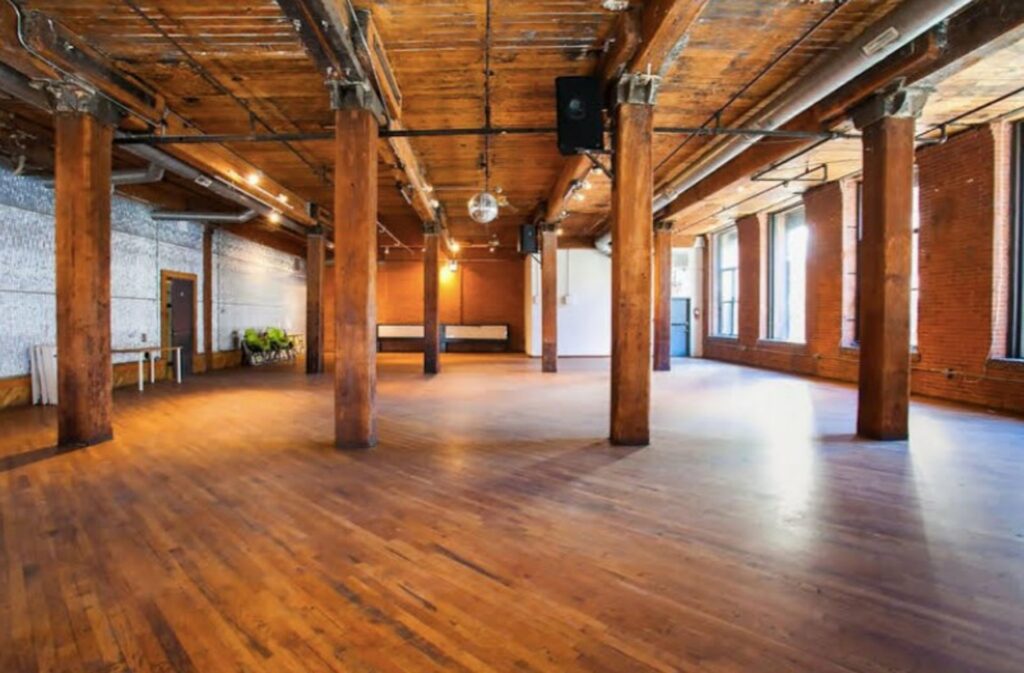 15. The Mezzanine
Neighborhood: Buckhead
Capacity: 80
The Financial District is a sleek neighborhood home to trendy restaurants, historic landmarks, and towering high-rises. The Mezzanine captures the essence of the neighborhood as "the Financial District's most stylish venue." The Mezzanine works with an exclusive list of vendors and offers packages for weddings, cocktail parties, productions, and an a la carte selection for the raw space.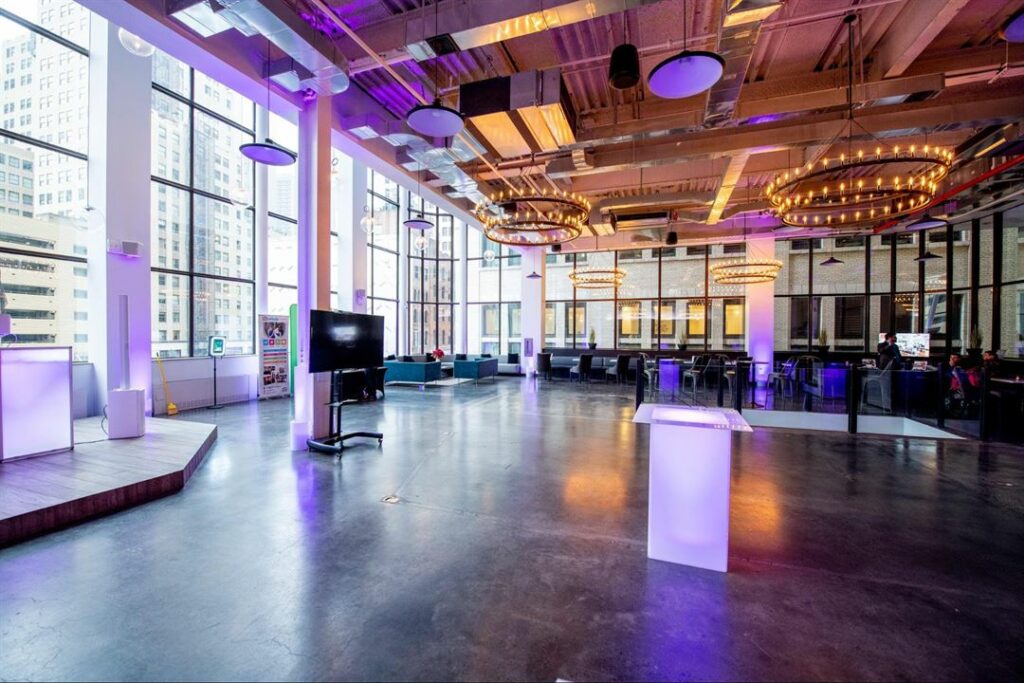 16. The West Side Loft
Neighborhood: West Village
Capacity: 320
The Westside Loft is located in one of Manhattan's trendiest and vibrant neighborhoods: the West Village. The 8,000 square-foot-space can accommodate up to 320 guests standing and offers sweeping panoramic views of the Hudson River—drenching the space in sunlight during the day and offering incomparable sunset views at dusk. The venue is the full floor, and the space includes a VIP lounge, coat room, two built-in bars, and a kitchen.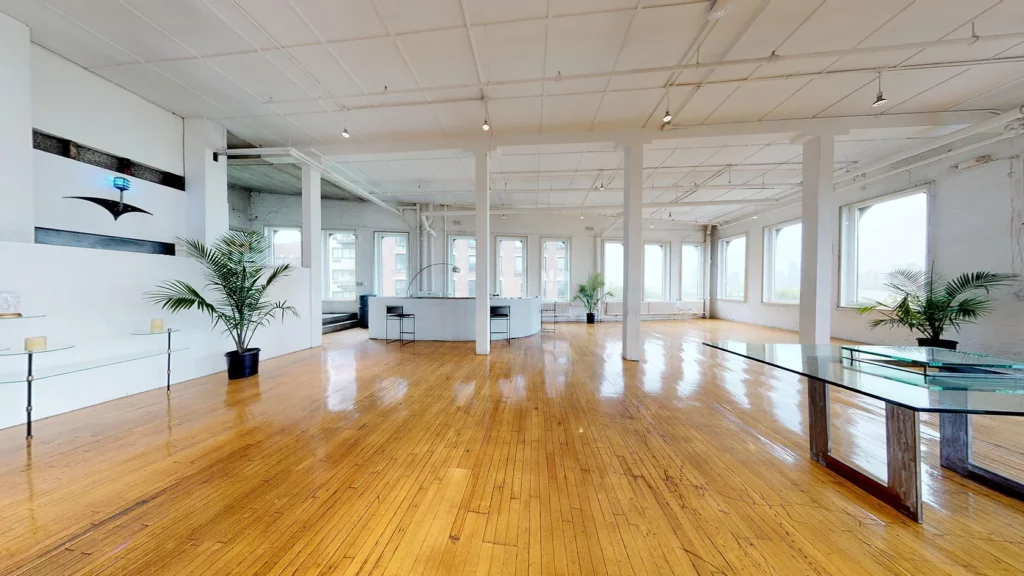 17. 548 West
Neighborhood: Chelsea
Capacity: 700
548 West is an expansive venue situated between Chelsea and Hudson River Park. Located in West Chelsea's gallery district, the building has a rich history as an arts gallery and museum. Now, 548 West offers four floors and a rooftop of raw event space that's a whopping 50,000 square feet. You can rent the space in floors or as a whole, and rentals start at $12,500.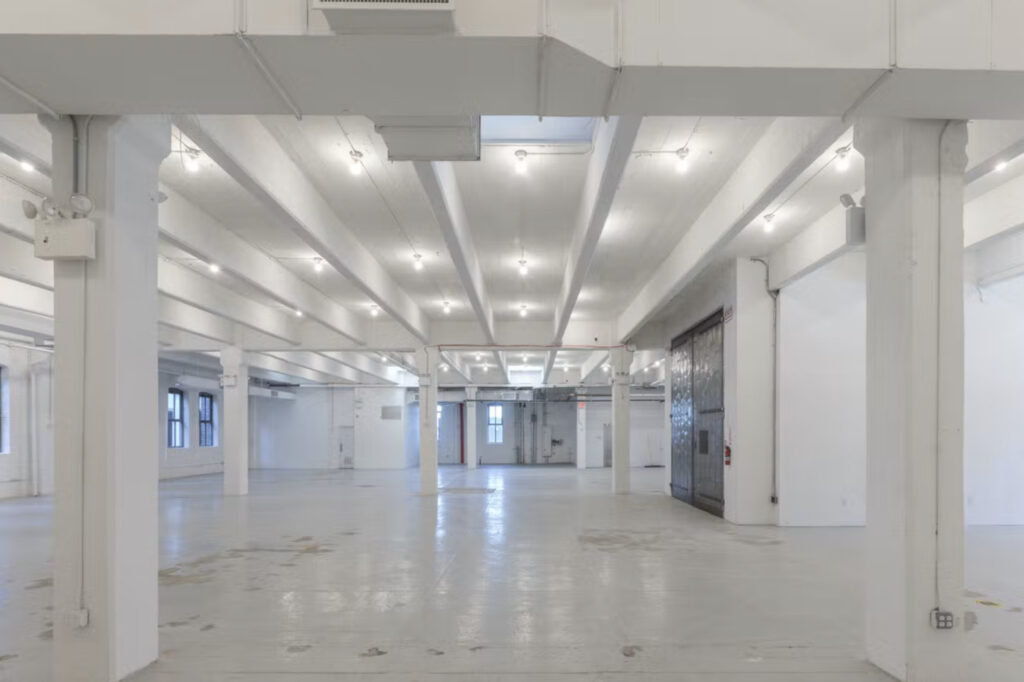 Why Finding the Right Venue for Your Event is So Important
New York City is the center of international finance, fashion, entertainment, art, and culture—with endless options for things to do, from museums to theaters to live music to galleries to fine dining, planning your event in New York ensures your guests will have an unforgettable experience. New York is a major global city, and with its proximity to three major airports, it's easy for guests to get to from all over the world. When thinking about the right venue for your space, keep in mind what your guests would like to do and see beyond your event so they can maximize their time in NYC.
When Should You Consider Booking a Raw Event Space?
The advantage of raw event spaces is that you can get creative with how you utilize the space. You can leave it bare bones for a more industrial look, or create an entire experience from scratch with decor, furniture, and installations. When booking your event, keep in mind location, accessibility, proximity to transportation, and capacity. Since raw event spaces are like a blank canvas, it's important to have the big picture for your event in mind and how you will best utilize the space before you put down the deposit.
What to Look for When Booking a Venue
In addition to the important factors listed above, you should also know how many vendors you'll need to coordinate with the venue (or if the venue works with a preferred list of vendors), what your audiovisual needs are (whether the venue provides equipment like projectors, LED screens, and a sound system or if you'll have to bring your own), and how you want to decorate the space to fit the aesthetic you're going for. It's also helpful to know what amenities are included like bathrooms, kitchens, and private rooms, and if the venue is ADA compliant.
Find The Best Venues in NYC
New York City is a global destination, and with so much to offer, makes for an ideal location for a big event, from conferences to product launches to live activations and more. Although it can seem overwhelming to choose a raw event space in the Big Apple with so many options, let The Vendry be your go-to resource. The Vendry can help you find the perfect venue for your event and let you filter by ambiance, neighborhood, and more.
Read More:
Top Women-owned Restaurants in NYC
The Best Private Dining Rooms in NYC
Incredible Rooftop Spaces in NYC