They don't call it the City of Big Shoulders for nothing – Chicago is home to big venues that host big events. If your plan is to hold a corporate outing, conference, product launch, convention, or cocktail party with a large guest count, looks like Chicago is your city with hundreds of event venues to choose from. Thanks to its central geographical location, juxtaposition next to the great Lake Michigan, and over-the-top Midwestern hospitality, there are few places in the United States like Sweet Home Chicago. Read on to learn more about Chicago's different venue options, likely to check all the boxes for your next large event.
16 Incredible Large Venues in Chicago
While choices for venues in Chicago are plenty, each option is positioned to make your event feel one-of-a-kind. But where to start? Below is a listing of The Vendry's favorites in the Windy City, all to help you curate a great experience for your customers, clients, employees, or all of the above.
1. The Field Museum
Neighborhood: Museum Campus
Capacity: 4,500
As Chicago as it gets, The Field Museum is the largest venue on the list. Invite your customers or employees to mingle under the bones of Máximo the Titanosaur in the main concourse of Stanley Field Hall, a 21,000 square-foot space with a balcony accommodating 4,500 for cocktails, or 1,500 for a seated dinner. Or maybe choose Rice Hall, a 5,000 square-foot gallery coming capable with audio/visual and custom lighting, all within the Mammals of Asia exhibit. The seasoned professionals at The Field Museum will make sure your event goes off without a hitch, partnering with local caterers and vendors who are the best in the business.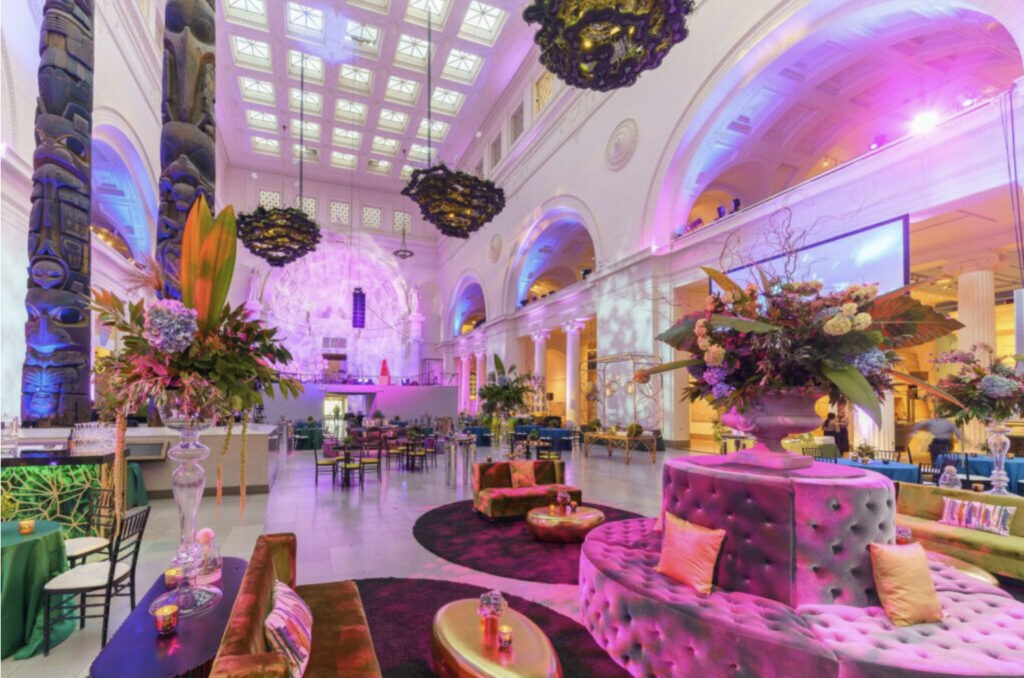 2. The Geraghty
Neighborhood: Lower West Side
Capacity: 1,500
Offering "a venue of possibilities", The Geraghty stands out as an ultimate blank canvas. Formerly a paper mill, this remarkable event venue was transformed in 2015, and offers two enormous event spaces with 25,000 square feet of workable area. Host a seated dinner for 1,000 or a cocktail event for 1,500, all amidst overhead, LED wall-to-wall lighting, designer furniture, and a separate VIP lounge. Owner Tom Kehoe is a Chicago planner legend, so every event is graced with the famous Kehoe Designs' touch.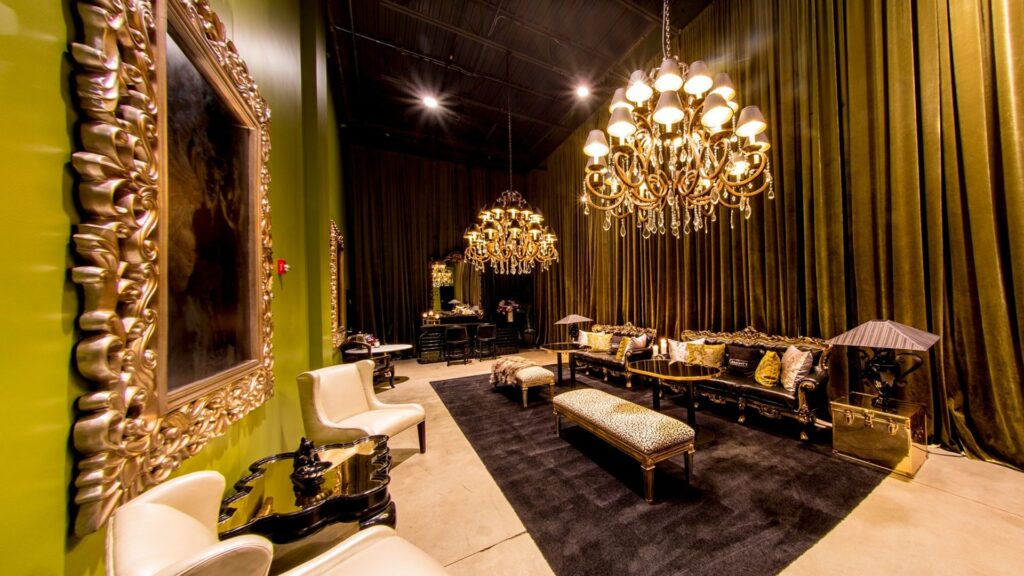 3. River Roast
Neighborhood: River North
Capacity: 1,000
There are six event spaces to choose from at River Roast, a lively social house featuring contemporary American tavern fare in the heart of downtown with stunning views of the Chicago River. Their Murdoch Room can host up to 400 for a standing reception or 280 seated, or the entire property can be rented out for a 1,000-person reception. The food will definitely be what all your guests will be talking about, as Chef Cedric Harden offers whole roasted chicken, fish, and slow roasted beef in a dramatic presentation.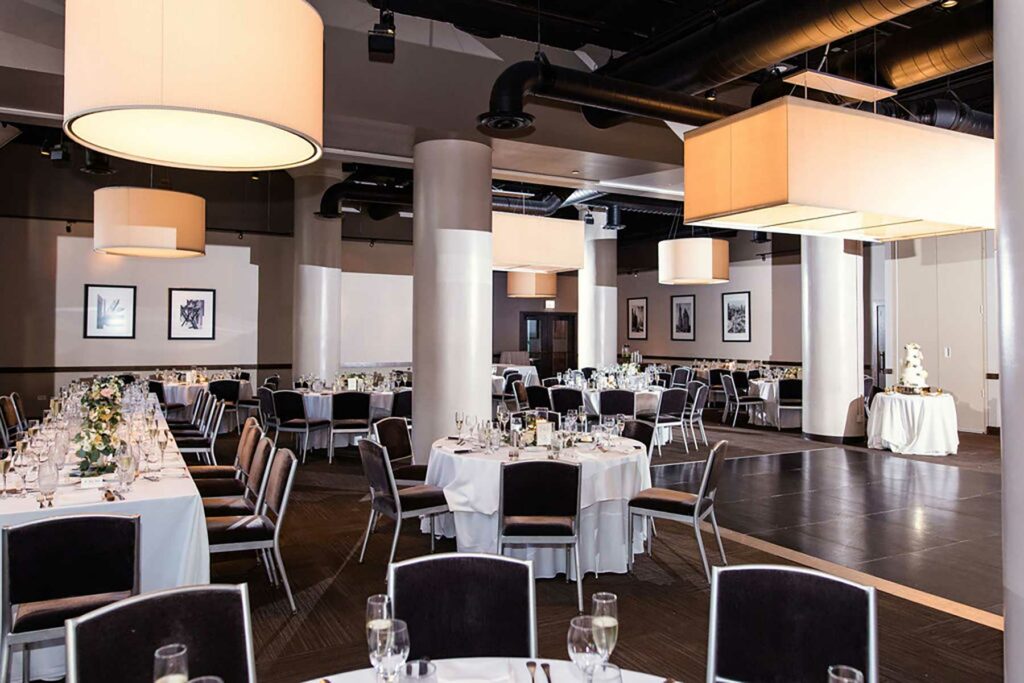 4. Chicago History Museum
Neighborhood: Lincoln Park
Capacity: 1,500
If you want to host a truly Chicago event, why not have it in the place that houses all the city's history? The Chicago History Museum sits right in the middle of famed Lincoln Park, and provides a flexible and fascinating destination for corporate events, meetings, or receptions. There's an outdoor space, separate conference rooms, and even a theater. Event space rentals vary for crowd size, but taking over the entire museum – complete with the tented, outdoor plaza – will fit 1,500.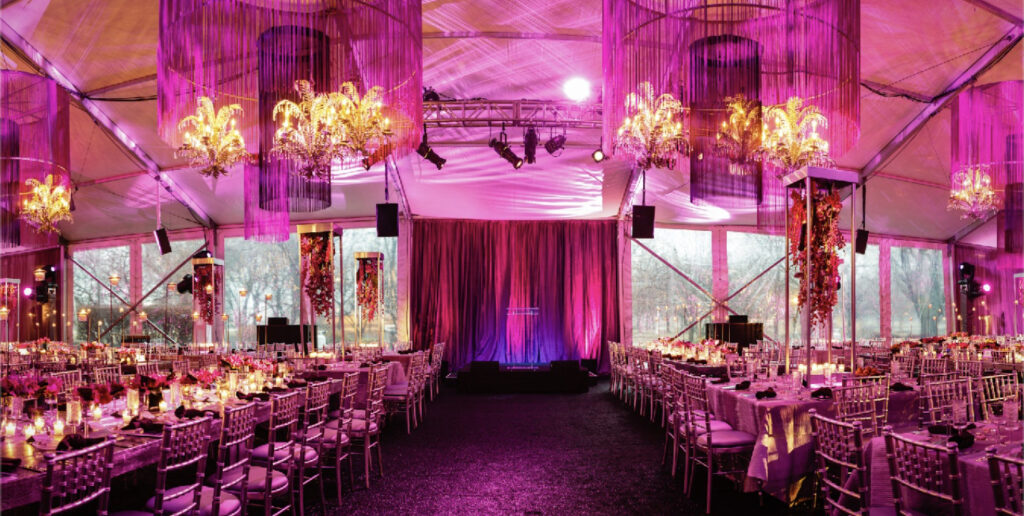 5. Venue SIX10
Neighborhood: Chicago Loop
Capacity: 1,000
With 50,000 square feet of versatile meeting and event space, Venue SIX10 is a dynamic venue for large scale gatherings. Its modern esthetic makes it a stylish choice, but its LEED Silver certification for sustainability (which includes 100% renewable-sourced energy) also makes it a smart one. More than 1,000 guests can gather around its spine-tingling 10-story faceted window that showcases sweeping views of the skyline, Lake Michigan, Navy Pier, and Buckingham Fountain. There are four private event spaces, as well as 12 meeting rooms, perfect for your next big-crowd corporate get together.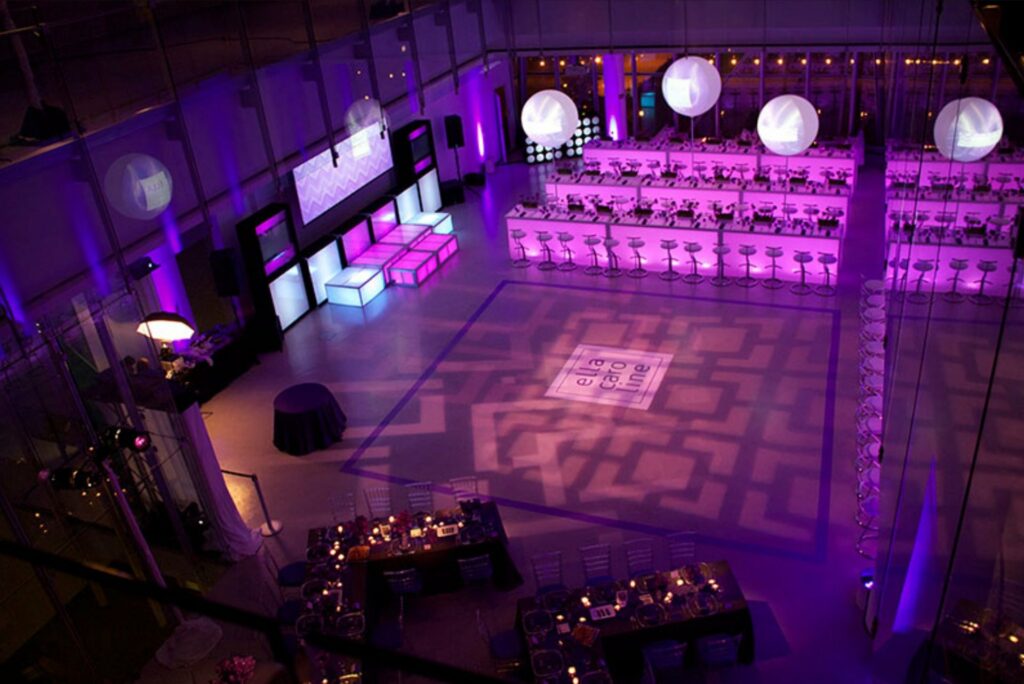 Ready to plan your next event but don't know where to start? Read How to Plan an Event: The Ultimate Guide to learn the ins and outs.
6. The Builder's BLDG
Neighborhood: Riverwalk
Capacity: 750
Old Chicago vintage opulence is the name of the event game at The Builder's BLDG. Here, fundraisers, trade events, or corporate outings take center stage with the capacity for 150 for a seated dinner, or a reception for 750 on the two levels of event space. DineAmic Catering works with each guest to customize an unforgettable menu, all within this chic spot adjacent to the famed Merchandise Mart along the Chicago River.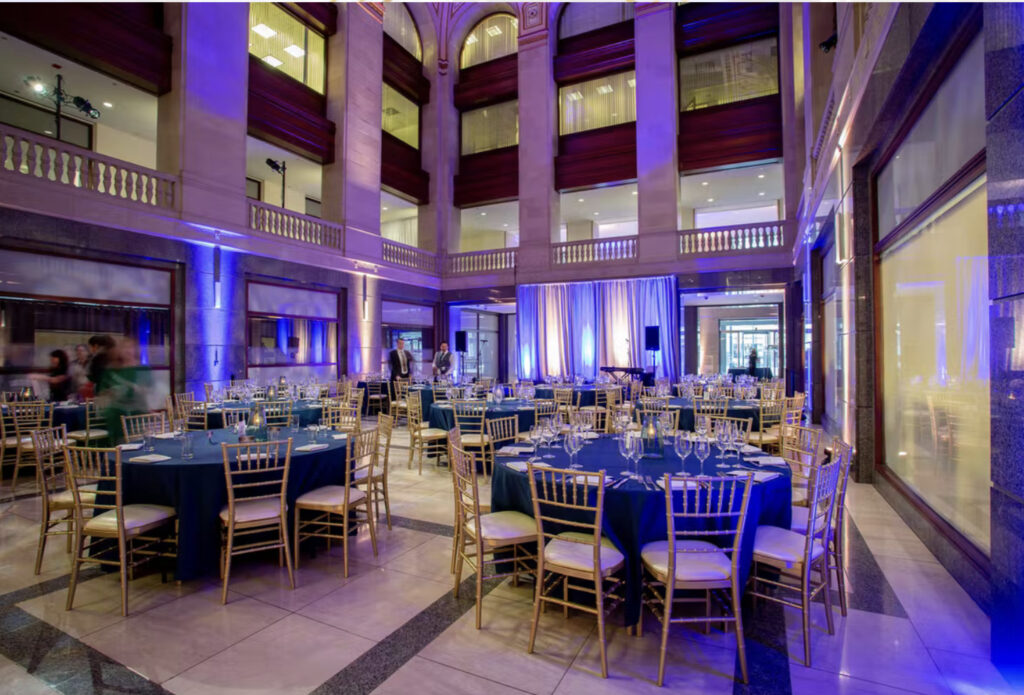 7. PALMHOUSE
Neighborhood: Evanston
Capacity: 800
Just north of Chicago sits historic Evanston, home to Northwestern University and some of the most breathtaking homes on Lake Michigan's shores. Evanston is also the site of PALMHOUSE, a top-to-bottom meeting and event space that scratches every planner's itch. Its run by industry professionals, who have carefully examined how to bring that city vibe to the suburbs with total panache. There are two event spaces within the exposed brick, industrial-chic locale, that can be divided or made whole, for a total of 6,500 square feet, accommodating up to 800 standing.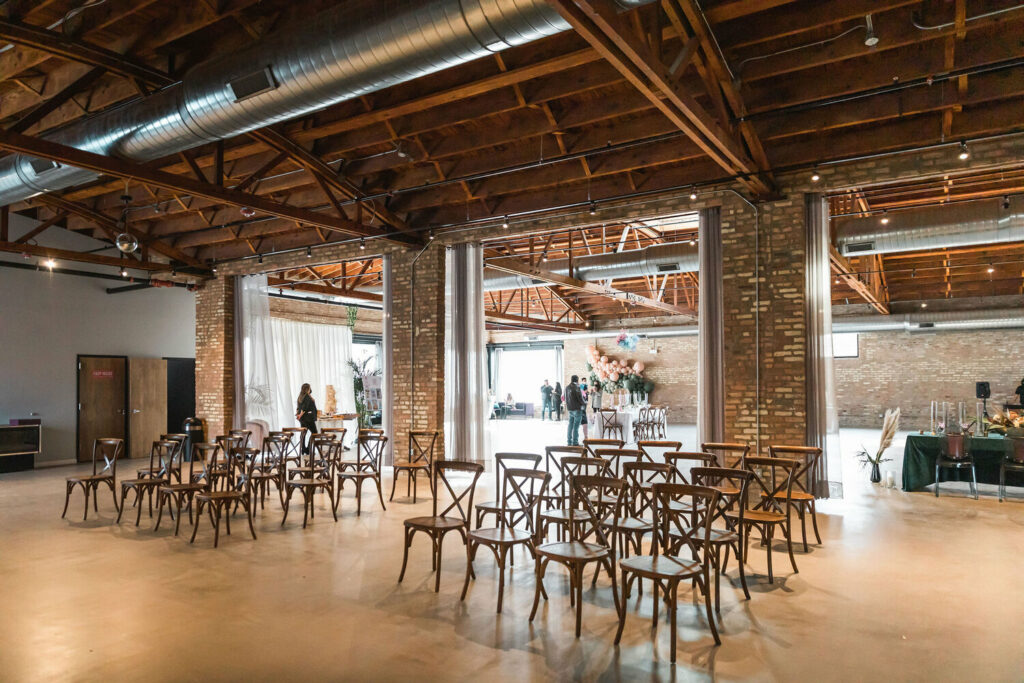 Looking to plan your next company offsite in NYC? Browse The Best Offsite Locations Near New York City for your company retreat!
8. The Exchange
Neighborhood: Michigan Avenue
Capacity: 500
Dubbed "one of the most exciting and architecturally spectacular venues" in the city, The Exchange is an homage to Daniel Burnham, an American architect responsible for much of the city planning Chicago enjoys today. Five event spaces grace this gem, situated along the hustle and bustle of famed Michigan Avenue. Two hundred and fifty guests can fit under the glass ceiling, marble-ensconced Atrium, or 50 can breakaway to the modern-retro vibe of the Listening Room. Theo's is a clubby bar with wood paneling and soft leather, also accommodating 50 for a seated affair. 
9. Pendry Chicago
Neighborhood: Chicago Loop
Capacity: 500
Chicago's Loop is home to Pendry Chicago, one of the few event spaces listed here with an adjacent, 364-room hotel. The Art Deco-designed ballroom, salons, and galleries offer up a combined 13,000 square feet of special event space, with seating for guests up to 500. Just opened is the Château Carbide, the combined indoor/outdoor space atop the hotel's 24th floor.  Providing sweeping skyline views of Chicago, this new space delivers flexible areas for seating/lounge capabilities up to 150.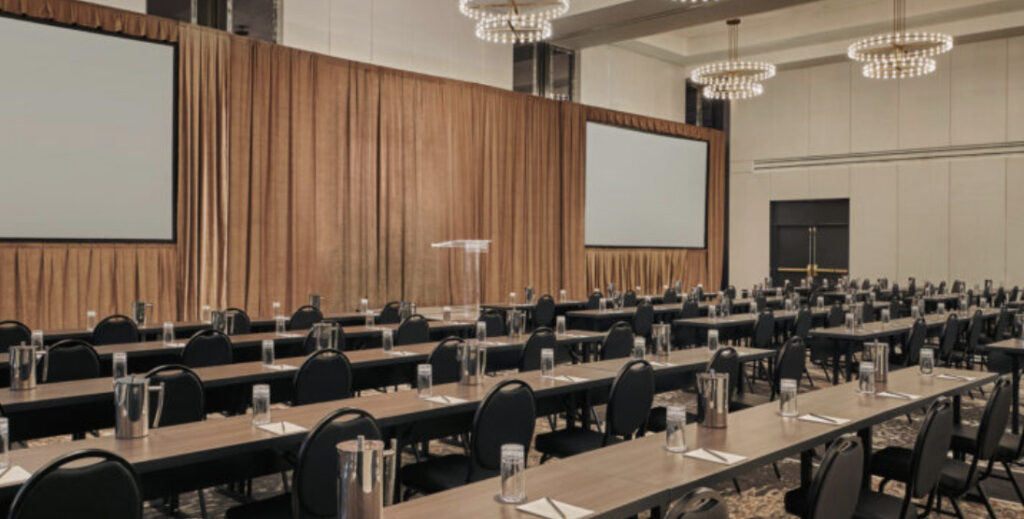 10. The Gage
Neighborhood: Chicago Loop
Capacity: 400
Looking for a spot offering a sophisticated, cool vibe for your large event but don't want a ballroom? Located steps from popular Millennium Park and just north of the famed Art Institute, The Gage is your place. This popular restaurant offers up the Theodore Ascher Room, a private space capable of hosting a board meeting, cocktail party, seated lunched, or dinner for 85 to 150. A full venue buyout can accommodate up to 400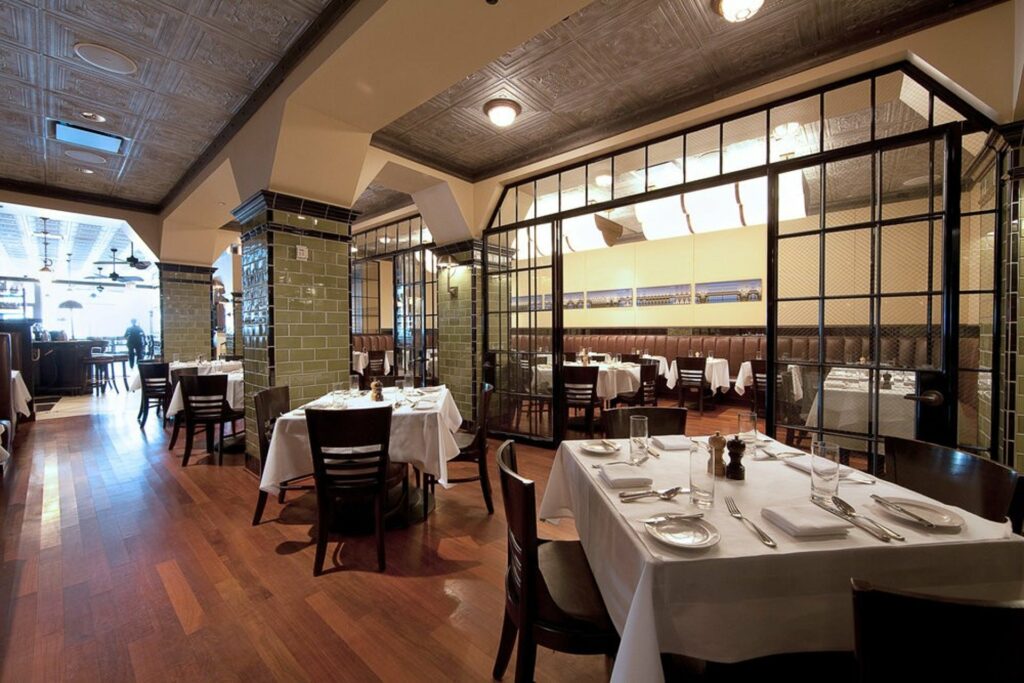 11. LM Studio Chicago
Neighborhood: Chicago Loop
Capacity: 350
Flooded with natural light, LM Studio Chicago is a two-story wonder, perfect for hosting your large event. With enough space for 200 seated or 350 standing, this spot overlooks Michigan Avenue and historic Grant Park through floor-to-ceiling windows, and is fully customizable. Business meeting are a specialty, as LM Studio offers in-house catering and equipment, so there's nothing to worry about from beginning to end of your planning.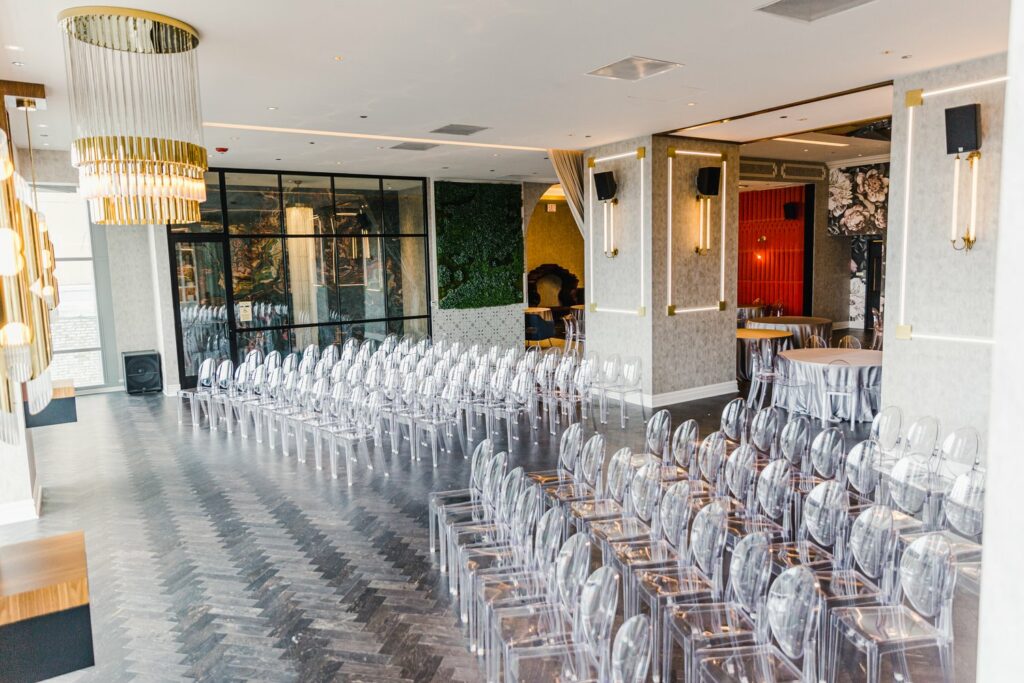 12. The Penthouse Hyde Park
Neighborhood: Hyde Park
Capacity: 250
Nestled in vibrant Hyde Park (the historic neighborhood where the Obamas still own a home), The Penthouse exudes a modern deco design that begs to host your next gala or corporate event. Just as the name suggests, the space boasts a rooftop ballroom and open-air terrace, capable hosting a dinner for 180 or a reception of 250. The locale, which is the former Piccadilly Hotel, offers up some unreal views of the city. The Penthouse even gives access to a VIP Suite with every ballroom booking, which is a private, two-story space to use if you need a breather from the crowd.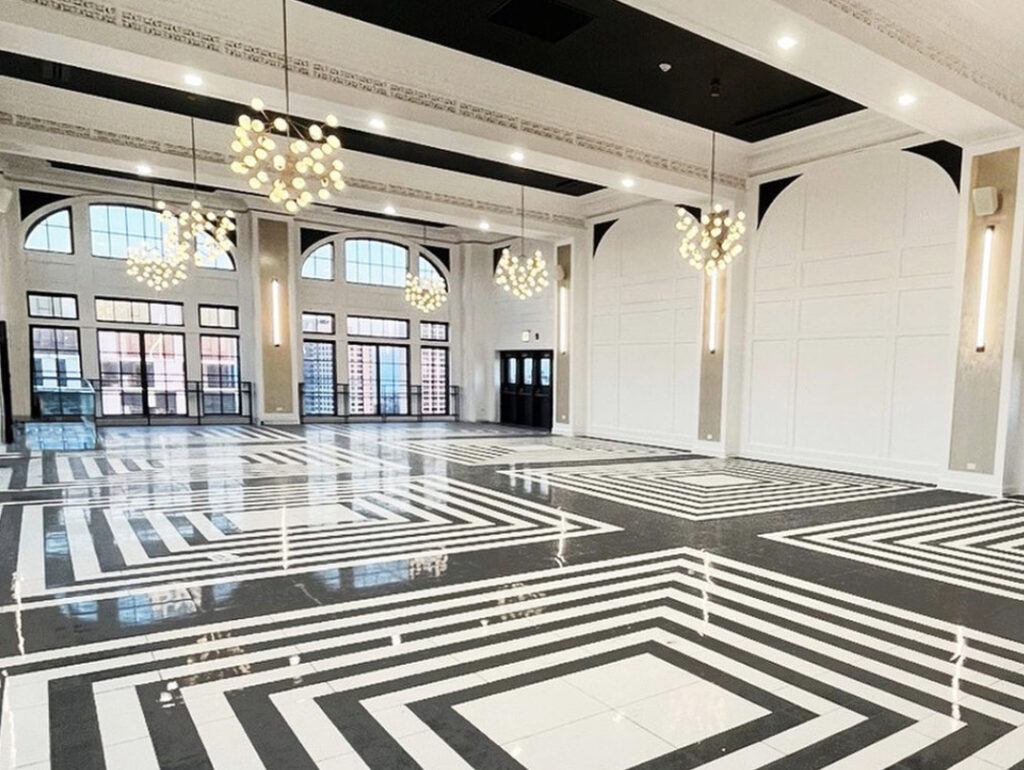 13. Loft Lucia
Neighborhood: West Loop
Capacity: 180
The premier West Loop event space is Loft Lucia, a two-level venue with a full commercial kitchen, two bars, and a stunning outdoor rooftop. The space defines urban chic with oversized industrial windows and exposed brick, and event offers up a large furniture inventory and in-house décor. Loft Lucia even provides a team for set-up and clean-up, making this 7,500 square foot event space one to remember.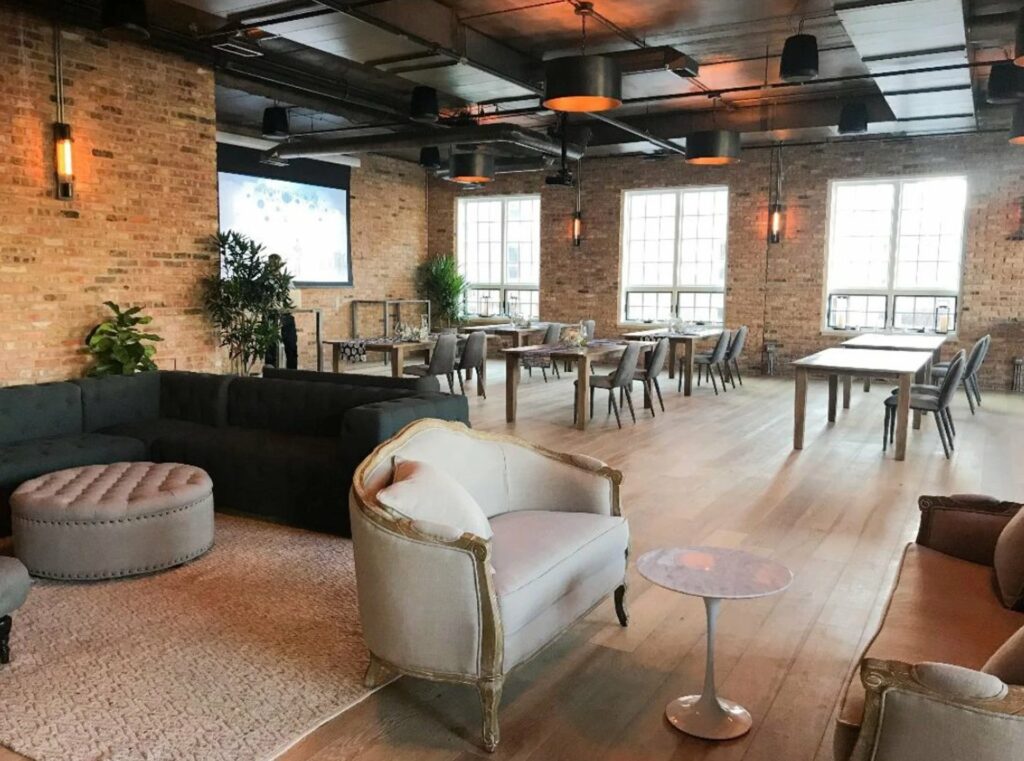 14. Café Brauer at Lincoln Park Zoo
Neighborhood: Lincoln Park
Capacity: 400
Looking for elegance, but need the planning to be a breeze? Café Brauer has been holding meetings, special gatherings, and fundraisers in Chicago for decades, so they know events.  Nestled within the Lincoln Park Zoo amid the Nature Boardwalk, this spot is an architectural homage to the treasured Prairie Style so well known to Chicagoland, and is even listed on the National Register of Historic Places. It is a two-story, indoor/outdoor space, boasting Tiffany-inspired chandeliers, stained-glass windows, and a skylit roof. Sitting 250 for a sophisticated dinner, or 400 for cocktails, it only takes one step into Café Brauer to know why this hotspot is consistently booked so far in advance.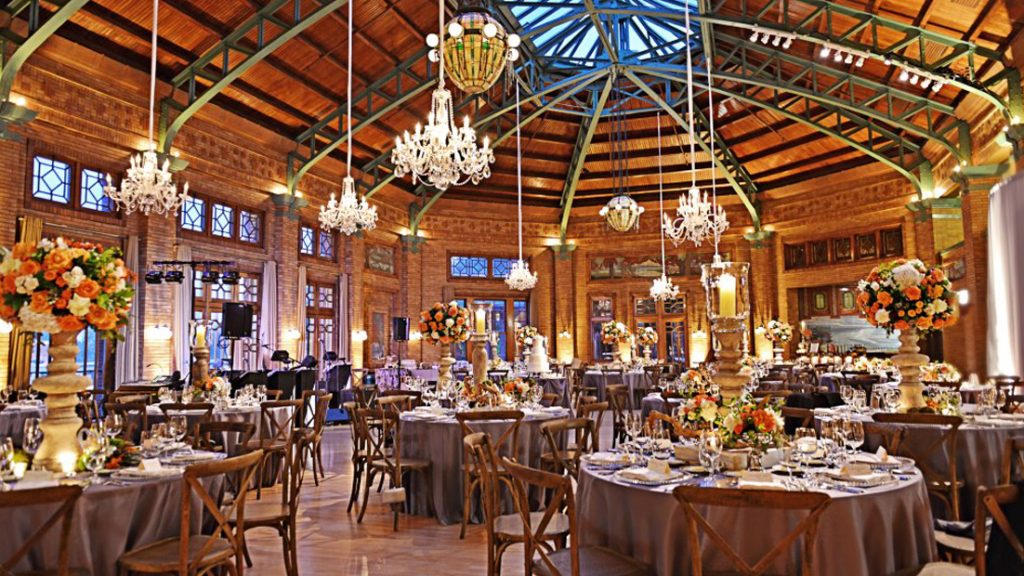 15. Chicago Athletic Association
Neighborhood: Chicago Loop
Capacity: 400
Constructed during the World's Fair in the late 1800s as a private sports club for local elite, the Chicago Athletic Association is a true architectural wonder steeped in history. Any event hosted in this iconic building is sure to wow, and the options are vast. There are eight meeting rooms in total, with the White City Ballroom offering over 3,500 square feet of workable space, accommodating 230 seated or 400 standing. And since this was a genuine athletic club for so long, additional event spaces include Stagg Court, an actual gymnasium, and the Tank, the former pool deck. Don't forget about the showstopping Game Room, an old school Chicago tavern on the second floor that can accommodate 250 with a full-space buyout.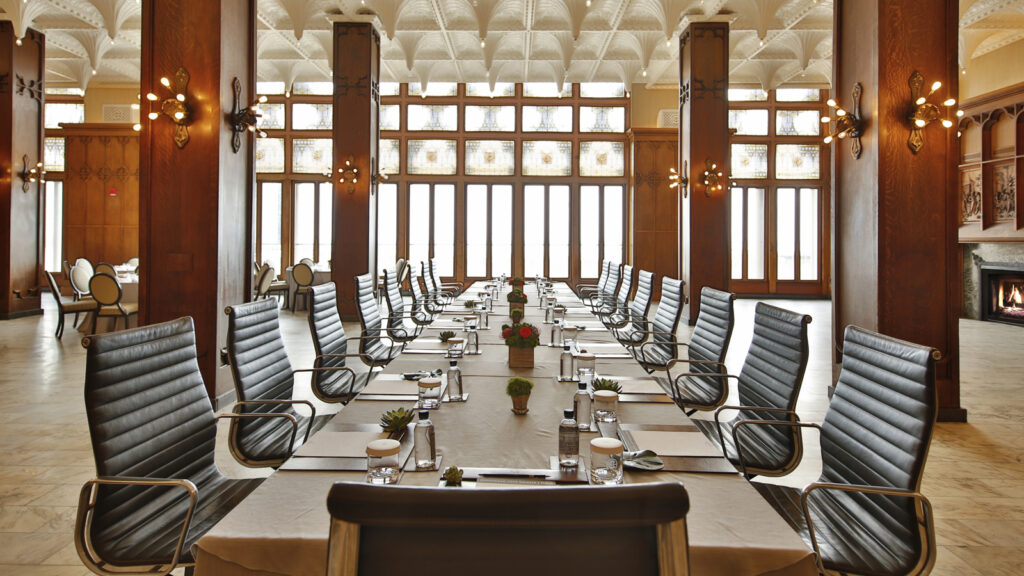 16. Hotel Zachary
Neighborhood: Wrigleyville
Capacity: 225
Sports fan or not, the energy of the Wrigleyville neighborhood can't be denied at Hotel Zachary, which does a great job of bottling it up for guests. It sits across the street from Wrigley Field, and is the newest event space/hotel addition to this pulsating neighborhood. Make your event a one-stop shop, where guests can stay, work, dine, and play. There are six meeting rooms available, with a combined 5,000 square-feet of available space, with the largest room accommodating 225. With this proximity to Wrigley, chances are good your guests will leave as diehard Cubs fans. 
Why Finding the Right Venue is Important
You've already landed on the right city, so where to host your corporate event or conference is the next big decision. Set your expectations high when it comes to your venue in Chicago. The meeting and event world is excited to be back and hosting, so chances are good your needs will be met.
Know your numbers before you set out to find your venue: How much is your budget? How many will be attending? Will they need parking spots or use public transport? How many meals do you need to serve? How many will need to be connected to wi-fi? You will know your venue is right when all your questions have been answered.
What Types of Venues Can Host Large Events?
If you're planning an event in Chicago, you've picked a great city. Many large corporations call Chicago home. The city also hosts countless conventions and conferences all 12 months of the year. Understanding how to accommodate large crowds is considered Chicago's specialty. There are large conference centers like McCormick Place and Navy Pier, and historic hotels that have hosted dignitaries and presidents. Museums steeped in history and architecture abound, but raw spaces in the artistic neighborhoods are often a delightful option. And you can't talk about Chicago without talking about sports – large arenas like Soldier Field and the United Center host large scale events at every turn.
Top Factors to Consider When Choosing A Venue for Your Corporate Event
You already selected one of the most international, vibrant cityscapes to host your event, so nail down these factors before you book your venue in Chicago:
Weather. As Baseball Hall of Famer Ralph Kiner put it years ago, "You know what they say about Chicago. If you don't like the weather, wait 15 minutes." Weather unpredictability does happen to follow Chicago around like a shadow, but when its beautiful, its beautiful. If you are relying on an outdoor space as part of your count, make sure there's a covering, or at the very least, a plan for one.
Accessibility. So many event spaces in Chicago are in the greater metro area, so public transportation is always a great option. There are some venues that have their own parking lots or garages, and others where parking is limited. Be certain to research and plan.
Ambiance. Looking for Old World Chicago? Something more sleek and chic? Not only does this city truly offer something for everyone's taste, there are many local resources available to customize nearly every event space.
Amenities. Check with your venue in case you need to make special plans for those who require it, and check on services like audio-visual, rentals, catering, and wi-fi accessibility.
How The Vendry Can Help You Find the Best Large Venues in Chicago
Planning an event with a large crowd can be an easy-going experience if you know where to start. If you are hosting a large-scale event in Chicago, let The Vendry help you put together the who, what, when, where, and how with total ease. Start browsing thousands of venues today.
Read More:
The Best Large Event Venues in Miami
The Best Private Dining Rooms in NYC
The Best Private Dining Rooms in San Francisco
Looking for an outdoor space for your next NYC event? Check out these Unique Outdoor Event Spaces in NYC and browse the top event spaces!