Miami is caliente right now. It's tough to find an American city with more going on than this glittering oasis on the Atlantic. Positioning itself as a global gathering spot of culture, art, tech, fashion, and food, Miami definitely seems like the perfect spot to host your next big event. Whether a conference, convention, employee retreat, or customer cocktail party, Miami and its awesome climate offers large event venues both remarkable and memorable. Explore some of the options below, and be certain this international city will roll out the red carpet for you like no other.
17 Incredible Large Venues in Miami
It can be a challenge to find the perfect venue, let alone when you are planning for a big crowd. But Miami easily solves this problem with tons of options, garnished with loads of amenities. Read on to see The Vendry's top choices for large event venues in Miami.
1. The Alfred I. duPont Building
Neighborhood: South of Market
Capacity: 550
If creating a memorable event for your customers or employees is top on your list, then the Alfred I. Dupont Building is your spot. As Miami's only art deco skyscraper, this venue is as historic as it is unparalleled. Built in 1939 of limestone, granite, marble, and brass, the duPont Building has two large ballrooms, the North and South. Within its 6,500-square-foot space, the North Ballroom also has a former bank vault, fitted with a 50,000-pound round door. The South Ballroom has the matching amount of square footage, and transforms into any kind of atmosphere, accommodating 550 people. One step in the duPont Building makes it clear why this is one of Miami's most in-demand locales.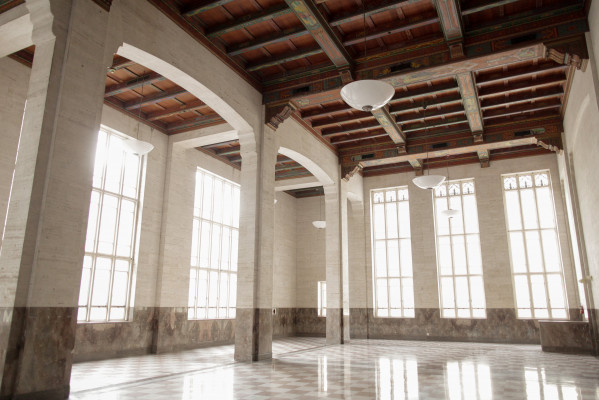 2. Pérez Art Museum Miami
Neighborhood: Bicentennial Park
Capacity: 6,000
Pérez Art Museum Miami (PAMM) is a fixture in town, with stylish event space offerings like no other – including a beach overlooking Biscayne Bay. This is a buzzy spot for your business meeting or product launch, as you can do a full museum buyout for 6,000 guests. If your needs aren't quite that large, not to worry, as there is surely a space within PAMM to suit you. Their East Portico space seats 300 and faces the water. Rent the Auditorium for presentations for film screenings, and have your guests retire to the Southside Terrace on the third floor with sweeping views of downtown Miami. The Deborah and Larry Hoffman Boardroom, equipped with a mounted LCD touchscreen, shares the third floor with the Northern Trust Terrace, a perfect spot for your guests to break for lunch.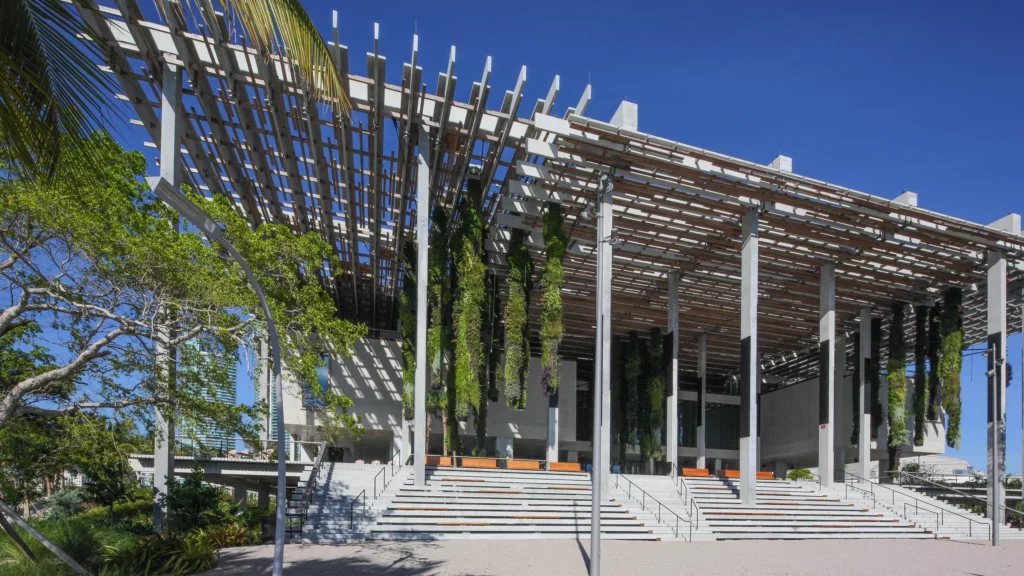 3. Little River Studios
Neighborhood: Midtown Miami
Capacity: 2,750
If you are looking for unique, Little River Studios near Miami's Upper East Side is as distinct as it gets. This space is actually a production studio, where creatives can shoot movies or photographs, but it doubles as a chic spot to host large events, especially since it can accommodate 2,750 for cocktails. There's Insta-worthy vignettes everywhere, including the popular Cape Cod Barn, Greek Set, or Green House. The Courtyard and Cottages serve as the largest choice in space, with little styled houses that serve as perfect breakout rooms for your next big meeting.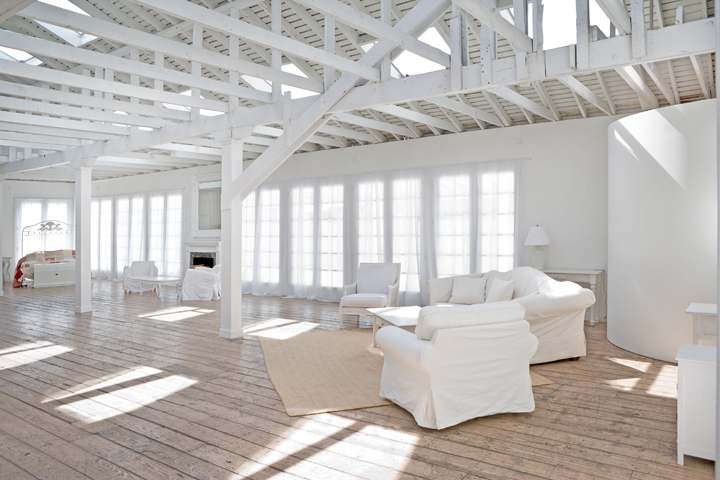 4. The Rubell Museum
Neighborhood: Allapattah Industrial District
Capacity: 400
A contemporary art museum near downtown Miami, The Rubell Museum is an ideal spot for receptions, presentations, panel discussions, galas, or large meetings. The Rubell was built with events in mind, as the East Wing offers up 7,300 square feet of open space with endless possibilities for fashions shows or conferences up to 400 guests. Two hundred and fifty guests can gather within the art-adorned walls of Gallery No. 23, with more than 4,600 square feet. Have your guests cocktail amid the art installations of Gallery No. 25, which boasts more than 3,400 square feet. And last but not least is the Garden, meticulously landscaped with native Florida plants, offering a sound system, lounge furniture, and permanent bar.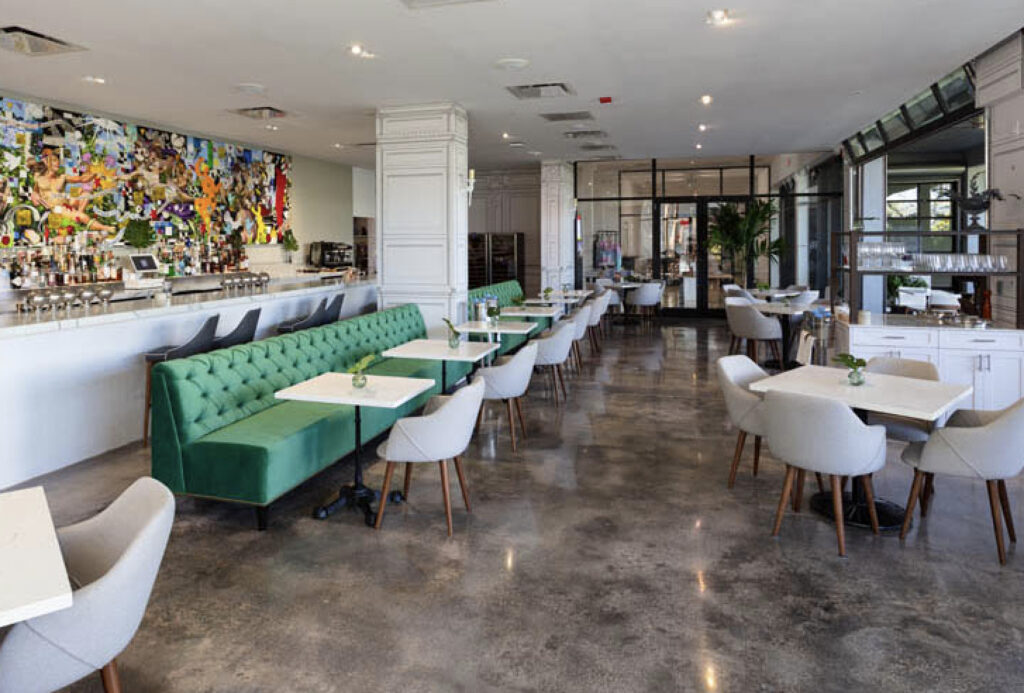 Capture the events most memorable moments! Browse through the top Photographers in Miami.
5. The Temple House
Neighborhood: South Beach
Capacity: 600
Completely private? Check. Heart of South Beach? Check. Able to fit up to 600 people in a totally transformable space? Check! The Temple House does more than tick everything off your list, it makes event dreams come true. If you are looking to impress clients, guests, or your very own employees, this design-ready venue offers it all: 23-foot ceilings, indoor vehicle accommodation, break out rooms, CEO lounge, an outdoor terrace, and thematic projection mapping. If you can imagine it, The Temple House will create it.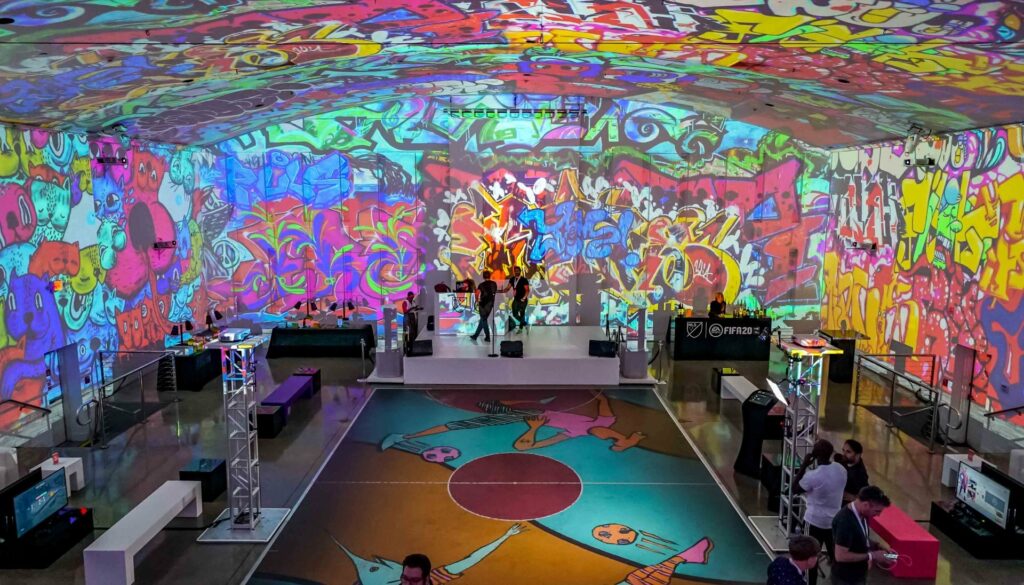 Looking for a private dining room for your next company event? Browse The Best Private Dining Rooms in Miami for the top restaurants in the area.
6. The Villa Casa Casuarina
Neighborhood: South Beach
Capacity: 250
If vintage Miami opulence is the name of your event game, then The Villa at Casa Casuarina is your place. Extravagant spaces abound at the former Versace Mansion on Ocean Drive, offering five premium event spaces equaling 4,150 square feet, as well as ten custom guest suites. The real stunner is the Thousand Mosaic Pool, a spot where you'll certain to find your clients mingling after hours.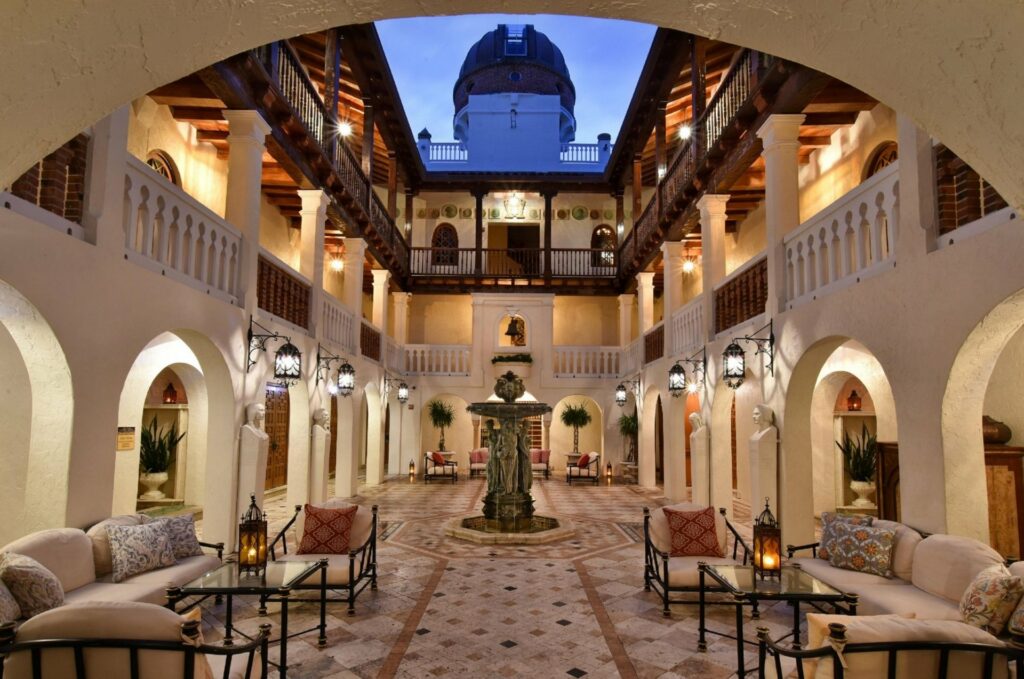 7. Mr. C Miami Coconut Grove
Neighborhood: Coconut Grove
Capacity: 280
The Cipriani family offers up hospitality four generations in the making at Mr. C Coconut Grove in Miami. This residence and hotel offers up four options for event spaces, totaling 20,000 square feet. Their largest is the Starlight Ballroom located on the 5th floor, with sweeping views of Biscayne Bay off the wraparound outdoor terrace, and capability to fit 280 with theater-style seating. The Pool Deck offers 1,200 square feet of breezy delight, perfect for cocktails after a busy work day in one of the many meeting room salons.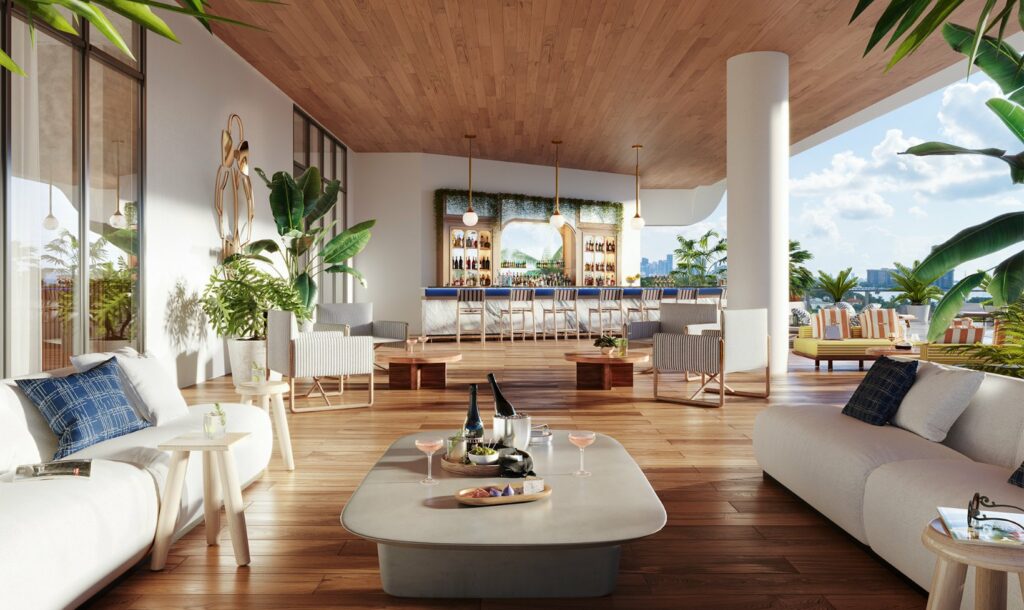 8. Four Seasons Hotel Miami
Neighborhood: Brickell Business District
Capacity: 450
This one is classic for good reason. The Four Seasons Hotel Miami allows you to customize your meeting or conference experience with several choices, all brought to you by some of the leaders in the meeting industry. From their 5,800-square-foot grand ballroom able to seat 450 for dinner, to the floor-to-ceiling windows of the Sky Bridge overlooking Biscayne Bay for meetings or cocktails, The Four Seasons Hotel Miami will have your guests feeling well cared for at every turn.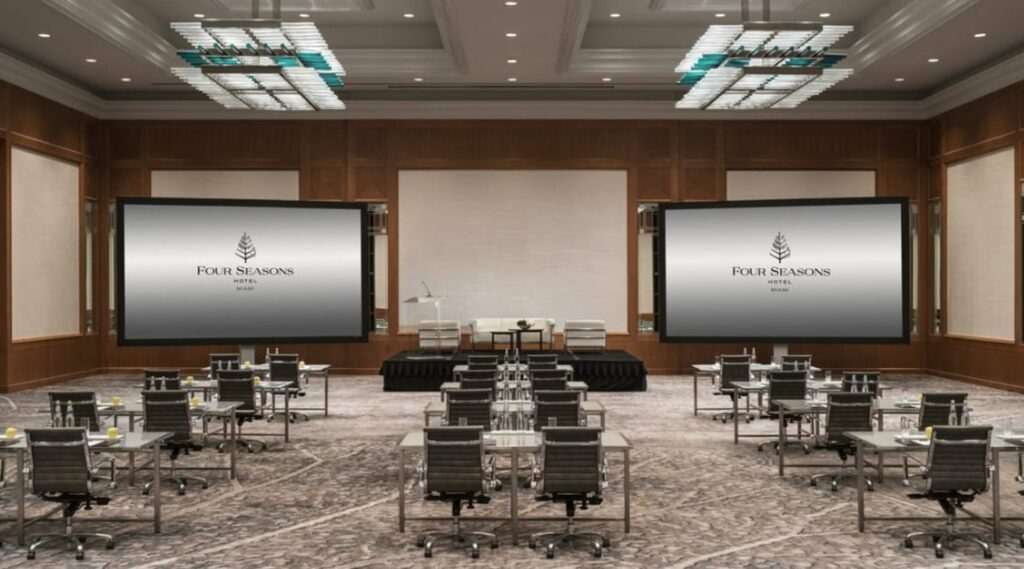 9. Miami Design District
Neighborhood: Design District
Capacity: 500
More than just a district, it's a lifestyle. The Miami Design District is a neighborhood completely dedicated to art, fashion, design, food, and cultural experiences. There are seven venues on the property, including the aforementioned Palm Court. Most booked is Jungle Plaza, an ideal, mural-adorned spot for large-scale events like live performances or festivals, with an option to contract the District's in-house 6,500-square-foot tent with adjustable vinyl/glass walls and air conditioner. Paradise Plaza is an additional District offering, a functional space able to fit 500 guests, as well as kitchen capabilities and custom doors that seemingly disappear to bring the outdoors in.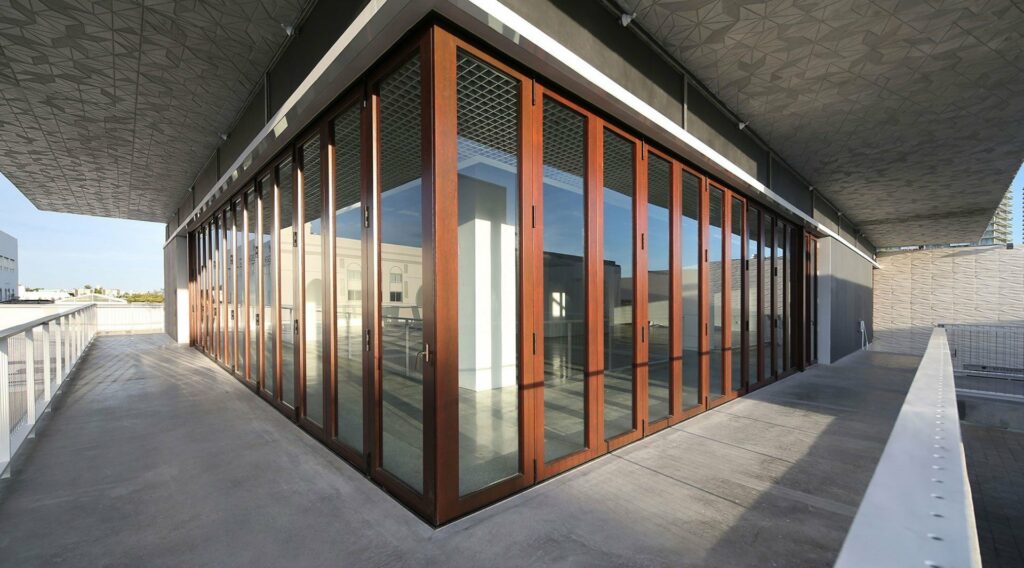 10. Miami Beach Convention Center
Neighborhood: City Center
Capacity: 7,970
Planning a large crowd conference, trade show, or convention? The Miami Beach Convention Center is your answer, particularly after its recent $620 million renovation. This venue calls four city blocks of South Beach home, offering more than 500,000 square feet of exhibition space. Flexibility is the name of the game at this mainstay, which provides 84 meeting rooms, four exhibition halls, one grand lobby, one grand ballroom, four junior ballrooms, and 800 rooftop parking spots. Your customers, clients, and employees will be steps away from the Art Deco District, where culture, innovative food, and lively nightlife abound at every turn.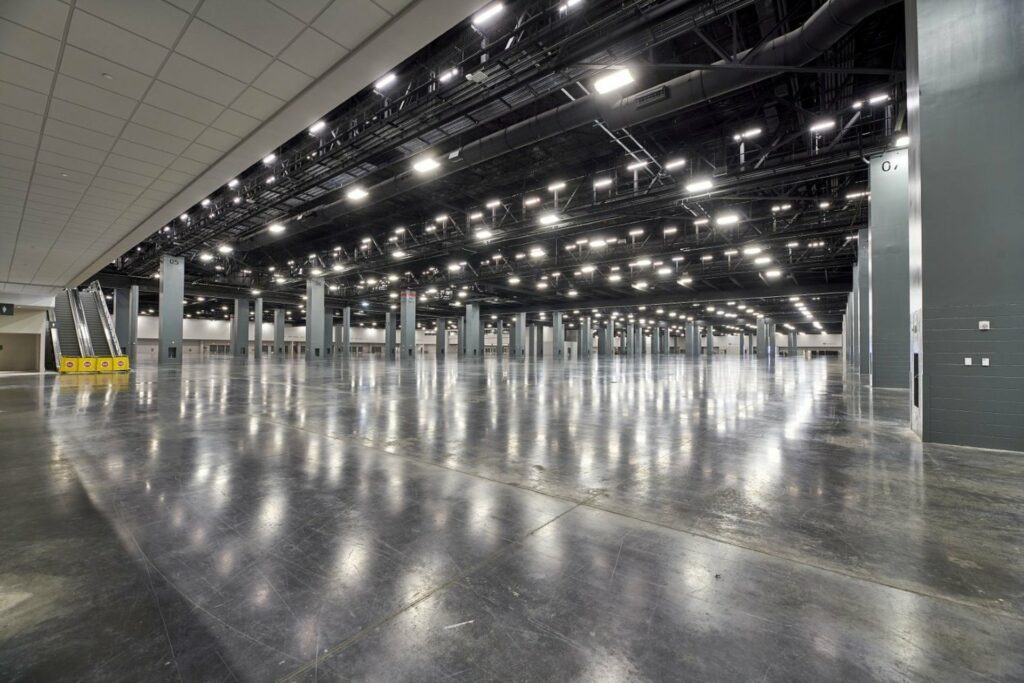 11. MAPS Backlot
Neighborhood: Wynwood Arts District
Capacity: 1000
Be prepared to have your customized vision become a reality at MAPS Backlot, deep in the heart of Miami's Wynwood Arts District. The MAPS Backlot is a 10,000-square-foot studio, with a 1,200 square foot indoor space and two bars, and often serves as an outdoor professional photography studio.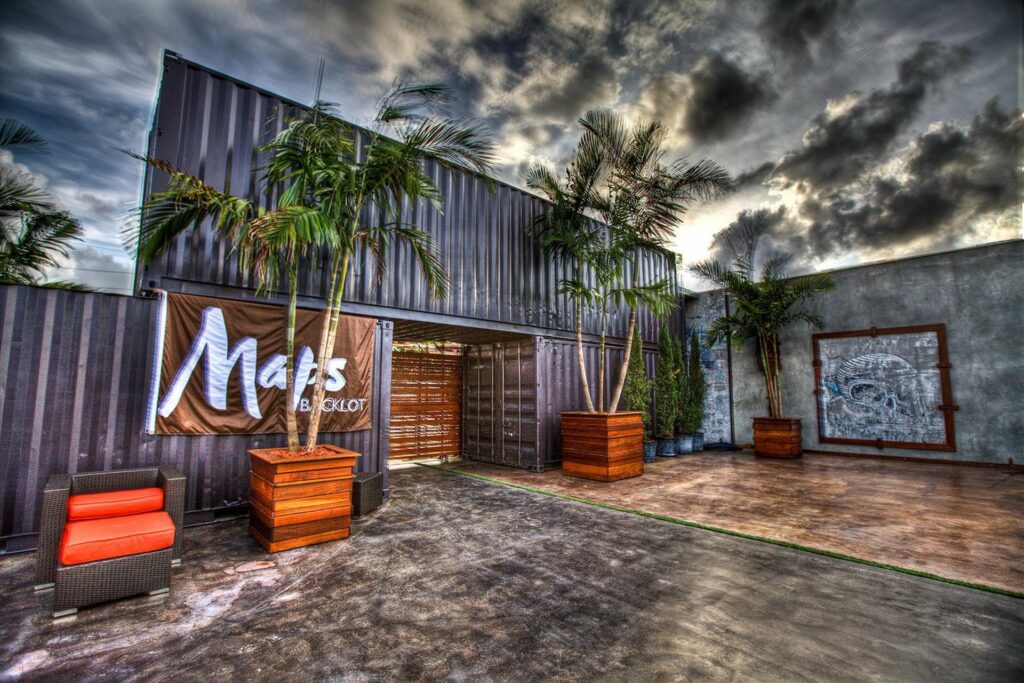 12. Soho Studios Miami
Neighborhood: Wynwood District
Capacity: 3,000
Another raw gem in the Wynwood District, hosting extra-large events is Soho Studios Miami's specialty. Have your experiential event come to life in this dynamic space, that has hosted many live participation marketing events for thousands. Choose between the Armory, Pavilion, or Parliament Studios, collectively offering over 42,000 square feet of workable space. Capable of hosting crowds of 200 to 3,000, Soho Studios is legendary on the Miami event scene.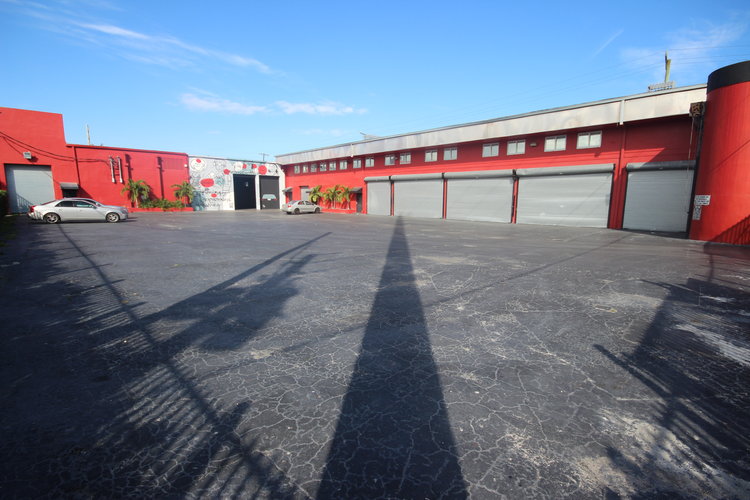 13. Marion Miami
Neighborhood: Brickell
Capacity: 307
A versatile event space in the heart of Brickell, Marion Miami offers up five event spaces to host your customer cocktail party or product launch. Working directly with the dedicated Event Director, book the entire restaurant for a dining capacity of 307. The outdoor terrace is a stunner, and you'll want to sneak away to one of the tufted booths for a private conversation. This spot is more a party than a meeting, but might very well be the most memorable.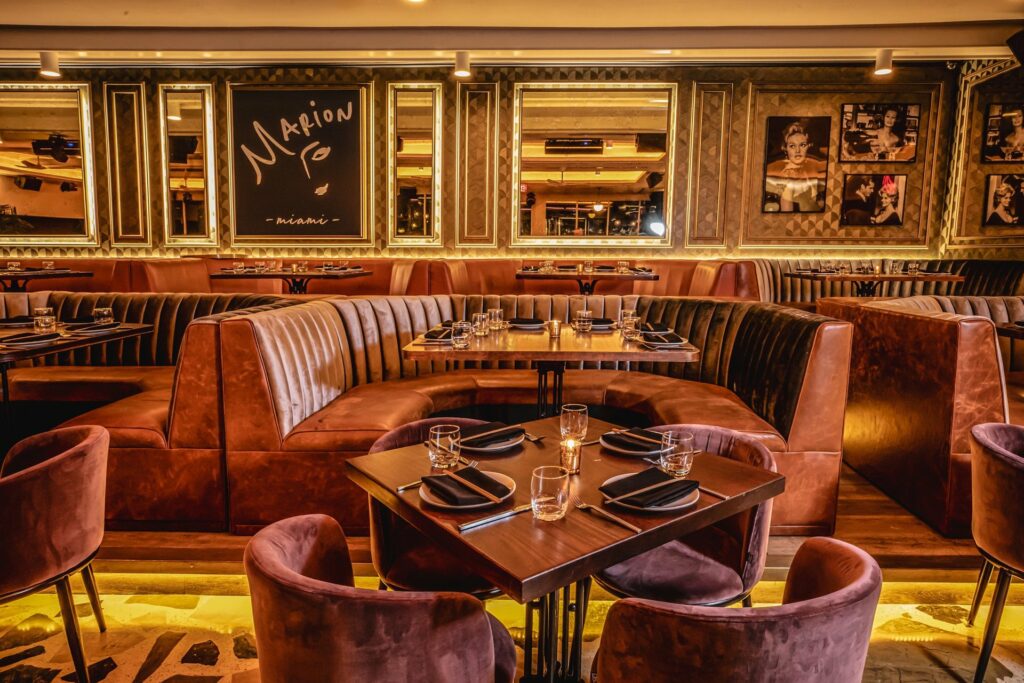 14. The Confidante Miami Beach
Neighborhood: Mid Beach
Capacity: 600
Mid-century modern details abound The Confidante Miami Beach, which offers 30,000 square feet for creative meetings and events. Full-service amenities that provide a place to work, stay, and play, The Confidante is part of Hyatt Hotels, sitting directly on Miami Beach. Check out their newest space, the Carmen Miranda Ballroom, which features 4,600 square feet of venue, complete with a private, wrap-around terrace with views of the pool and ocean.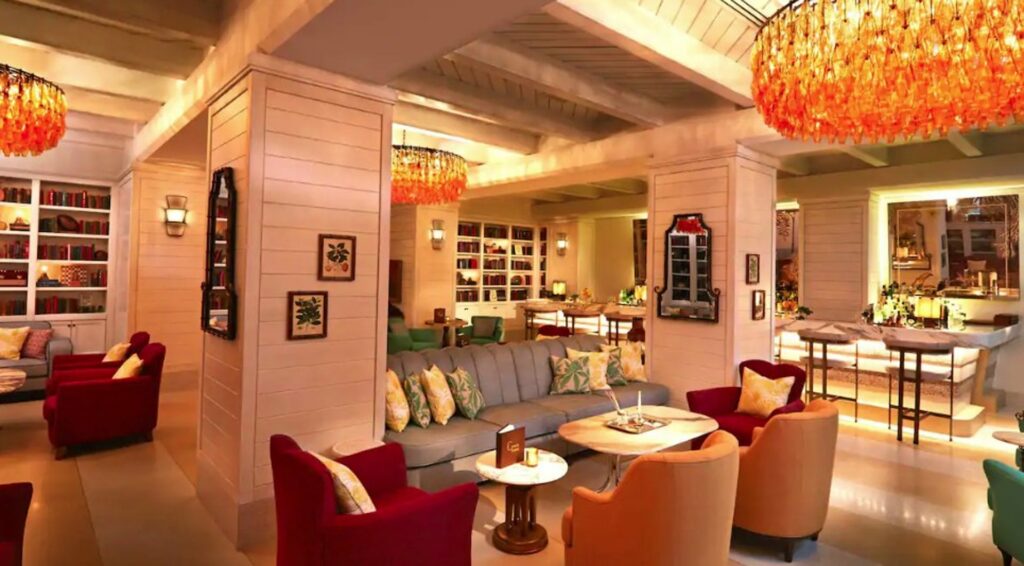 15. EAST Miami
Neighborhood: Brickell Village
Capacity: 300
If you want your conference or employee meeting to be right in the thick of buzzy downtown Miami, then EAST Miami is your vibe. Each boardroom has floor-to-ceiling windows (wow!), equaling 20,000 square feet of meeting space. The pros at EAST Miami offer the latest audio-visual equipment, technical support, and Wi-Fi, making all your tech worries fly out the window. Take a break on one of their many outdoor options, including The Shrubbery or Pool Deck.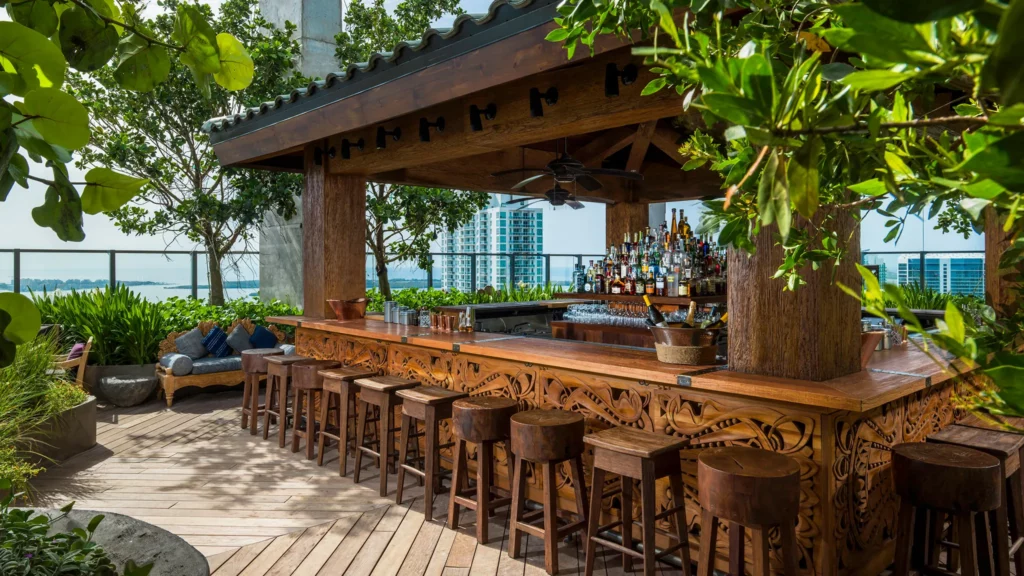 16. Palm Court
Neighborhood: Design District
Capacity: 250
Capable to host 250 for cocktails and 140 for a seated dinner, Palm Court is a premier outdoor space encapsulating the modernism vibe that defines Miami. Its over 7,000 square feet, perched high above the famous Miami Design District, and is the ultimate spot to host corporate receptions and dinners. Palm Court is known for its iconic, glowing geodesic dome, designed by architect and inventor Buckminster Fuller.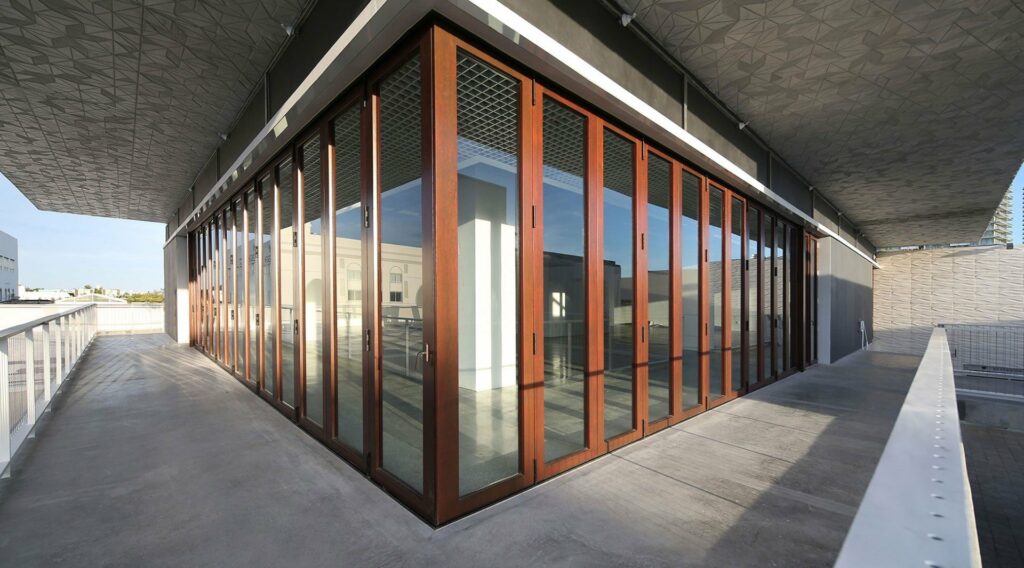 17. North Beach Event Space
Neighborhood: Miami Beach
Capacity: 240
Run by South Florida catering and event legend Bill Hansen, North Beach Event Space is a hidden gem of endless possibilities, hot on the Miami scene. Steps away from the beach with unfiltered ocean views, this space hosts product launches and corporate meetings galore, and has the capacity for 240 guests. Not a detail will be overlooked, as Mr. Hansen and his hospitality group provide the most innovative in culinary fare and individual attention.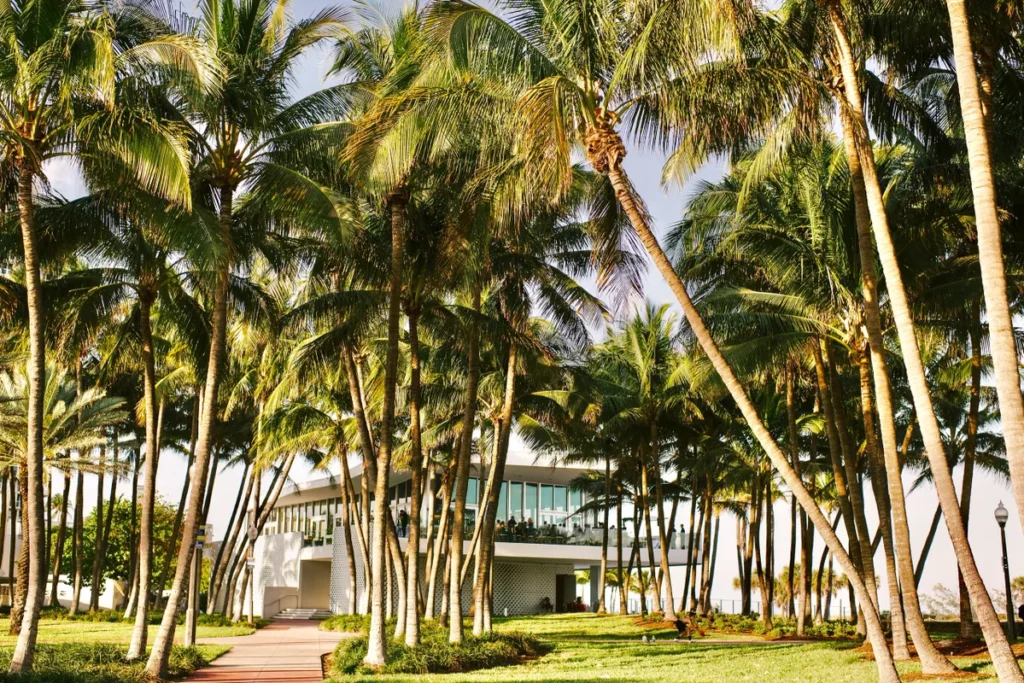 Why Finding the Right Venue is Important
Miami knows events. This sparkling city has hosted just about everything, from product launches, to fashions shows, to art openings and employee outings. So as you begin to plan your large-scale event in Miami, come prepared with questions to make sure the spot you choose has all the answers:
How many are attending?
Do they need access to a hotel?
Do they need public transportation?
Will you be feeding your guests meals? How many?
Do you need room in your space for presentations? Unveilings? Entertainment?
What connectivity or tech is necessary for your event?
Do you need an outdoor space?
What Types of Venues Can Host Large Events?
From the Miami Beach Convention Center to the production studios in the Wynwood Arts District, there's lots of options in Miami. Be certain to explore each venue's capabilities, specifically addressing what your event's needs and wants will be. Hotels, convention halls, museums, and restaurants all provide different options, different food, and different vibes.
Top Factors to Consider When Choosing A Venue for Your Corporate Event
You already selected one of the most international, vibrant cityscapes to host your event, so nail down these factors before you book your venue in Miami:
Time of year. While the climate is mostly awesome, hurricane season can be an issue in Miami from early June to late November. Also, booking an outdoor event in August might be ill-advised, so be sure to examine the calendar carefully.
Accessibility. If most of your guests are staying on South Beach, don't pick a venue that's far or hard to get to. Miami is easy going, so let your event take on the same sensibility.
Flexible Contracts. These days you can't be too careful. Make sure all your bases are covered and get a contract with flexible terms – definitely one that includes all the verbiage should there be a cancellation.
Ambiance. From old school opulence to crisp, linear presentation, Miami gives you choices on the kind of Southern Florida you want to show off during your event.
How the Vendry Can Help You Find the Best Large Venues in Miami
Hosting a large-crowd event is a snap when you know where to start. If you are ready to host at this international hotspot, let The Vendry be your first stop for all your Miami event planning needs.
Read More:
Incredible Los Angeles Rooftop Venues for Your Next Event
The Best Private Dining Rooms in Miami
The Best Private Dining Rooms in Austin
Looking for a rooftop for you next Miami event? Check out these Incredible Miami Rooftop Venues and browse the top event spaces!