The food scene in Austin is ubiquitous with all that is fresh and innovative in culinary fare. When it comes time to host a special event, this buzzing capital city provides private dining room options galore. Recognizing the global shift to smaller affairs, Austin has planned accordingly. From casual corporate gatherings in Zilker, to high end product launches in downtown Austin, local restaurants serve up world-class choices, no matter the size. Austin delightfully checks all the boxes of any private dining whim.
Below is a compilation of all the best Austin private dining rooms, whatever your style.
When Should You Consider Booking a Private Dining Room
Booking a private dining space in Austin shouldn't be a daunting process. When planning a networking event, product launch, or influencer brunch, make a list of all the essentials for your private event.
Locale. Enjoy the pulse and accessibility of downtown? Prefer the casual vibe of the city's outskirts? Like the old saying goes, location is everything.
Headcount. Not only with this help determine the venue, but it will also assist in countless other checkpoints like price and event feel.
Fare. Consider the event's demographic. The time of day–as well as guests' willingness to adventure into new culinary horizons–should all be considered.
Ambiance. Total privacy for the space? Or is the energy of the main dining room welcomed? Consider the atmosphere. If the ambiance is of highest importance, try filtering by vibe - like 'modern and industrial'.
Requirements. If a 100-slide presentation for a business luncheon takes top billing, best to find a space offering the proper tech and AV options.
Cost. Why throw a seated dinner when a cocktail party will do? Or maybe there is no question a four-course meal is the only way to celebrate a team milestone. Either way, ask and plan ahead.
The Best Private Dining Rooms in Austin
Whether looking to host a small corporate dinner or a SXSW brand event, here are 11 private dining rooms to explore in and out of Austin city limits.
1. Uchiko
Neighborhood: Rosedale
Capacity: 34
Chef and owner Tyson Cole puts his James Beard Award-winning talents on full display at Uchiko, the Rosedale offspring of his widely popular Japanese restaurant, Uchi. Uchiko is the entire dining experience, offering up specialties that will make your taste buds sing.
With its glass doors and warm red brick, the private dining room accommodates up to 34 guests, with the ability for the room to be split in half. The space comes presentation-ready with a flat screen, surround sound audio, and secure Wi-Fi. For an added surprise, a sliding copper window reveals chefs at work in the kitchen. Engagement with fellow partygoers is essential, as Cole's full intention is for all items off his hot and cool tasting menu to be shared.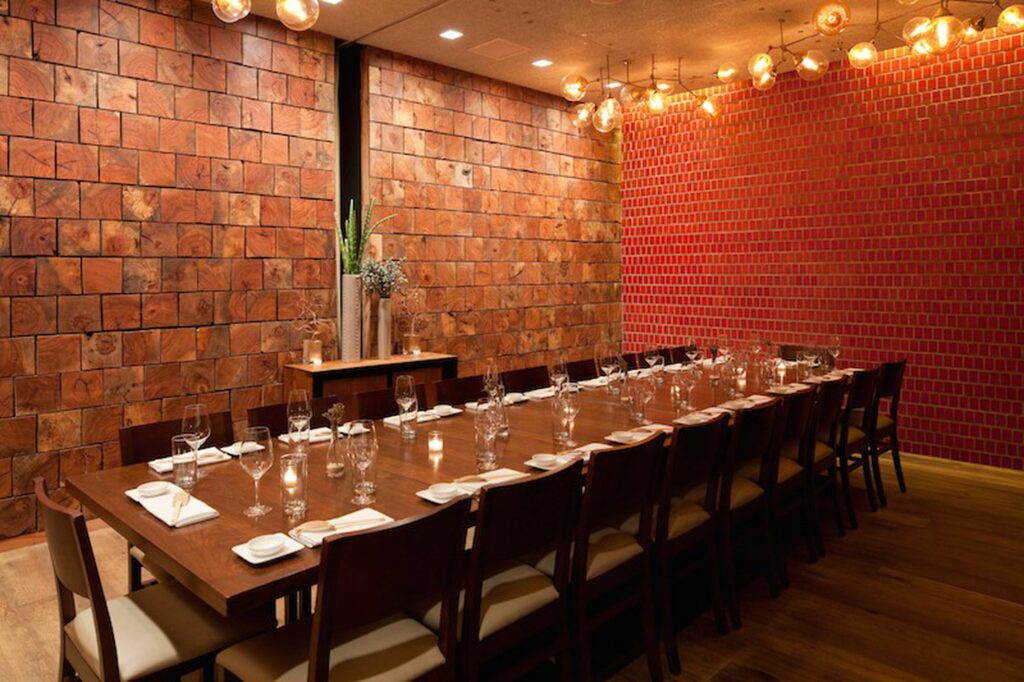 2. Tiny Boxwoods Austin
Neighborhood: Windsor Road
Capacity: 20
Tiny Boxwoods Austin might be where all the charm and ease have come together in a shiplap-adorned, ethereal daydream. Nestled in enchanting Kerbey Lane Village in downtown Austin, the decade-old restaurant is airy, with an open kitchen and vaulted ceilings. White hydrangeas dot the tables, drawing the eye out to the green lawn and inviting outdoor space.
With a white wine mojito in hand, toast a new client in the Rosemary Room, a private dining room tucked inside the Thompson + Hanson Garden House. Mingle with 45 people, or host 20 at the long, white farm table for a seated brunch, luncheon, or dinner. The event menu boasts French fare, like rustic cheese boards and bistro salads.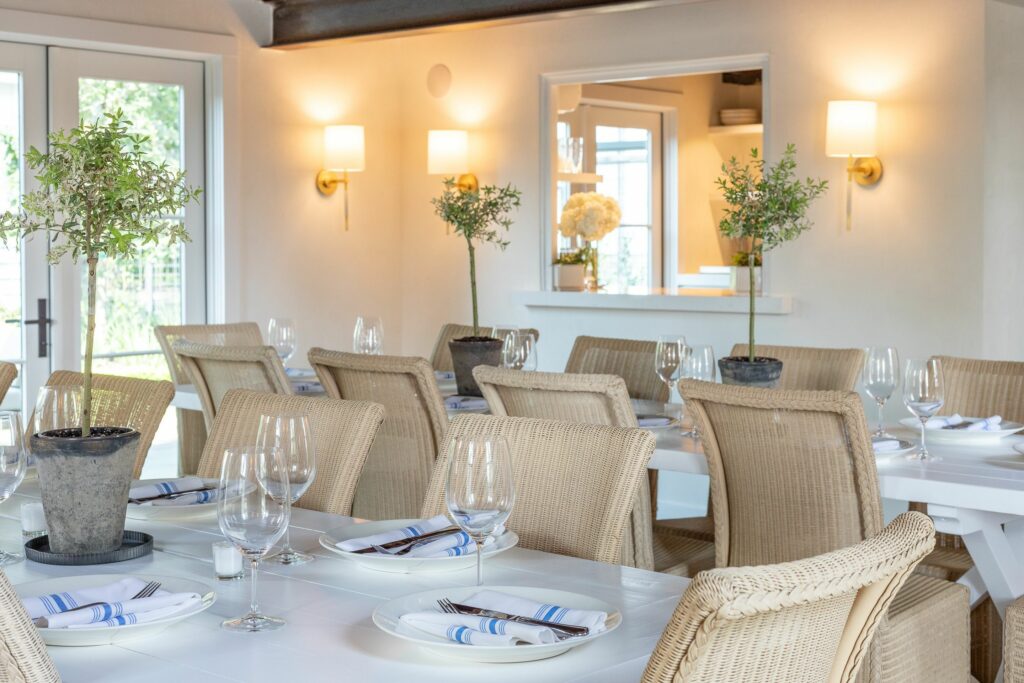 3. L'Oca d'Oro
Neighborhood: RMMA
Capacity: 12
Contemporary and fresh, L'Oca d'Oro is situated in the Mueller neighborhood of Austin, offering family-style dishes prepared fresh daily. The handmade pastas abound as the wines flow at this award-winning mainstay, justly priding itself on community and sustainability. All dishes are prepared with locally grown produce and meats, a true reflection of their farm-to-table philosophy.
Private dining options are plentiful, but the real standout is the 12-guest Pasta Room. A butcher block chef's table with high-top seating anchors this space and makes for a private dining dream.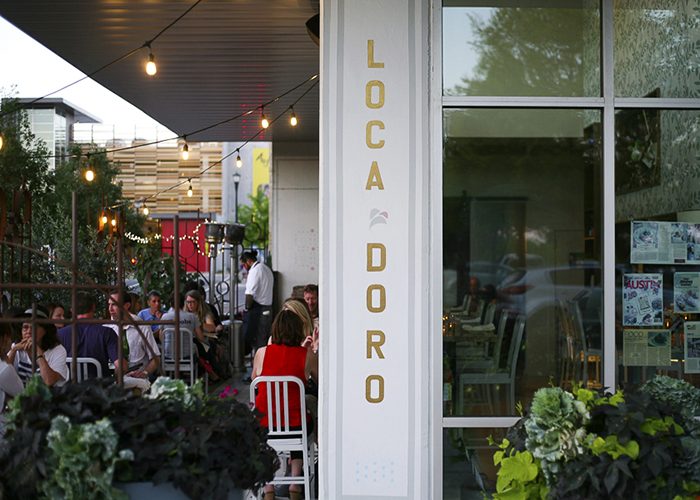 Looking spruce up your event with stunning decor?
Browse local floral and event design companies in Austin.
4. Walton's Fancy and Staple
Neighborhood: Downtown
Capacity: 30
Looking for a perfect one-stop spot to host a team lunch or client meeting? The Hideaway Room within Walton's Fancy and Staple is the cozy answer. With its brick walls and rustic décor familiar to patrons of the Market District eatery, the Hideaway Room seats up to 30.
Curate a menu special to guests, with American fare served plated or buffet-style. No request is too much, as the Walton's full-service catering team can fulfill any wish, from memorable cakes and desserts to breathtaking floral. Hosting an event at Walton's is truly a foolproof experience–owner Sandra Bullock would have it no other way.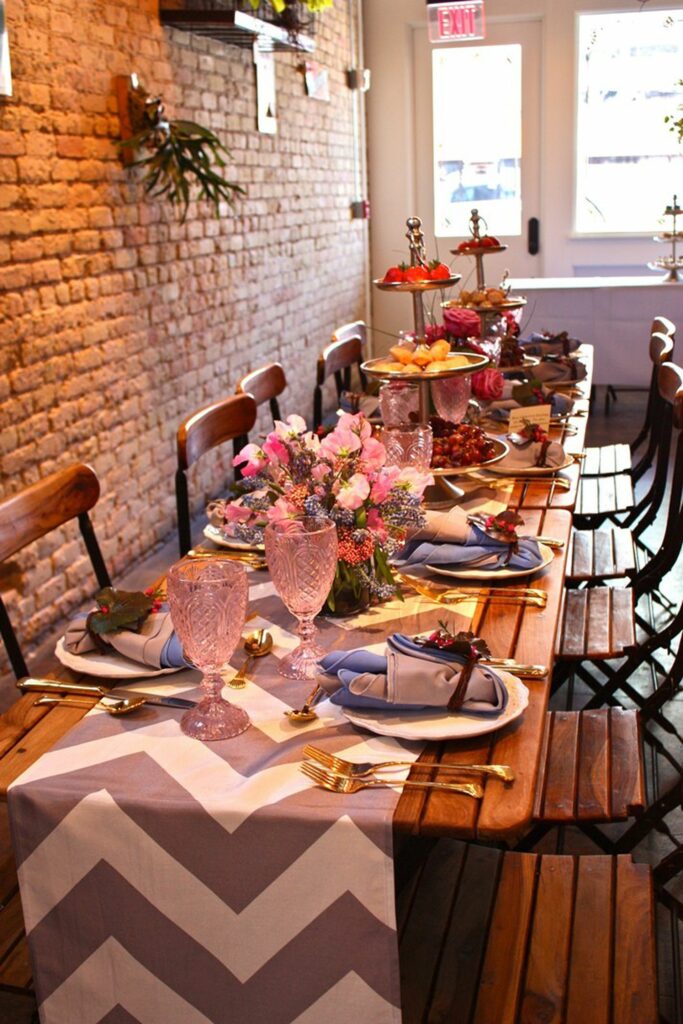 5. Moonshine Patio Bar and Grill
Neighborhood: Downtown
Capacity: 25
Unabashedly Texan, Moonshine Patio Bar & Grill stays true to its promise of offering Austin history with Southern hospitality. Moonshine Patio and its historic roots as the Waterloo compound – Austin's first namesake – harken to a simpler time.
Indoor options include the private dining space, Sunday House, the second oldest building in the city, which seats up to 25. With American comfort food as the venue's star, hosting a cocktail party or team dinner at Moonshine will make it one to remember.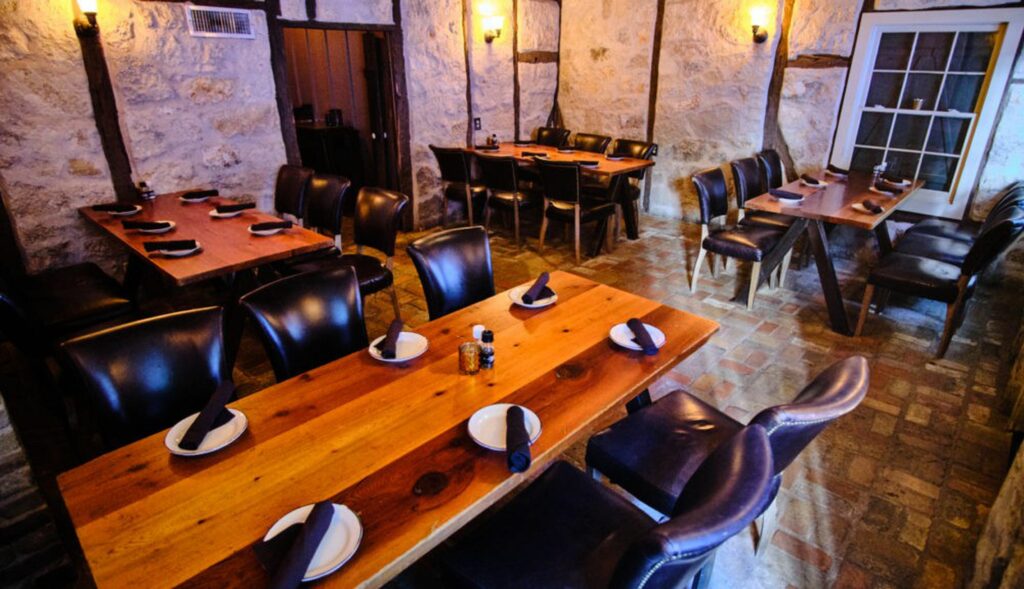 6. Suerte
Neighborhood: East Cesar Chavez
Capacity: 24
If life calls for an intimate fiesta, Suerte is the place. This modern Mexican eatery calls East Austin home. Driven by amor for the cuisine and culture, Chef Fermin Nunez and his team curate a thoughtful menu highlighting masa, the special ingredient at the heart of Mexican cooking, combining it all with local Texas flavors.
Up to 24 guests can enjoy the semi-private dining space, a colorful nook aside the hum of the dining room. Exclusive to private occasions, Chef Fermin Nunez will pull together a menu featuring popular dishes, suiting every party guest's need and want. Before dashing back out to bustling East 6th Street, raise a glass to some of the most inspired agave and succulent cocktails in town.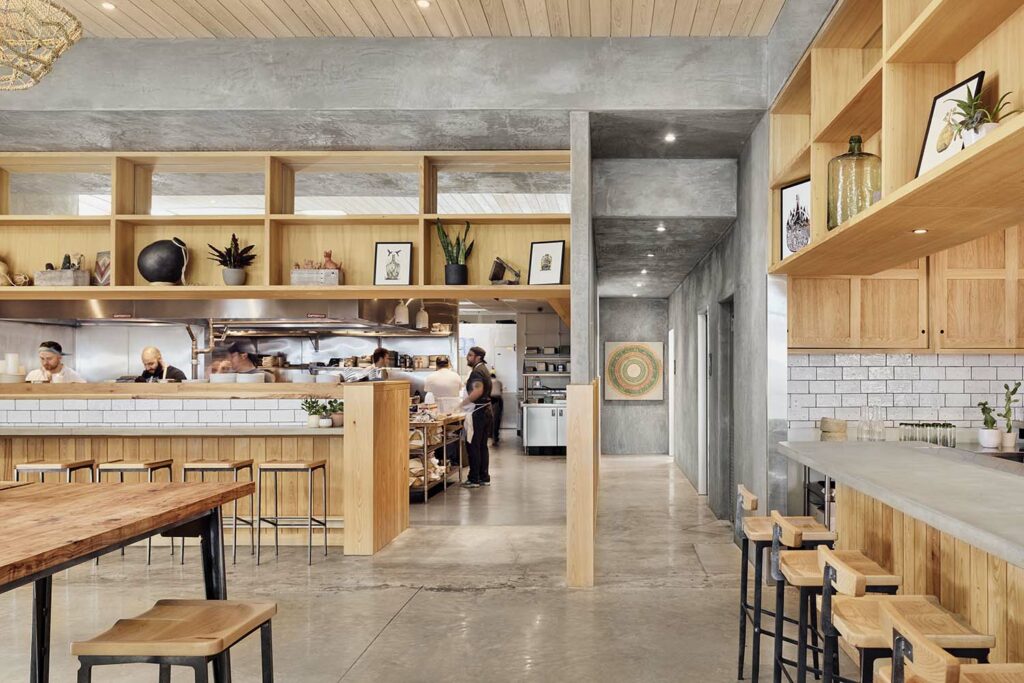 Ready to find the perfect space for your upcoming event? Book a one of a kind private dining room in Austin today.
7. Tillie's
Neighborhood: Dripping Springs
Capacity: 20
A standout private space for a special dinner or corporate outing, Tillie's in Hill Country's Dripping Springs offers up its own dining room, Mr. Kiem's Private Dining Room, an ornate space adjacent to the renowned restaurant.
A reassembled structure from Vietnam, Mr. Kiem's is a unique space that transports guests, boasting a secluded patio ideal for cocktails, additional dining space, or break-out sessions. Serving up to 20 guests, Mr. Kiem's provides patrons with their own staff, and the private bathroom proves to be a real perk. The cuisine at Mr. Kiem's is from Chef Andy Knudson at adjacent Tillie's, which is described as American Nouveau, blending cooking traditions from all around the world.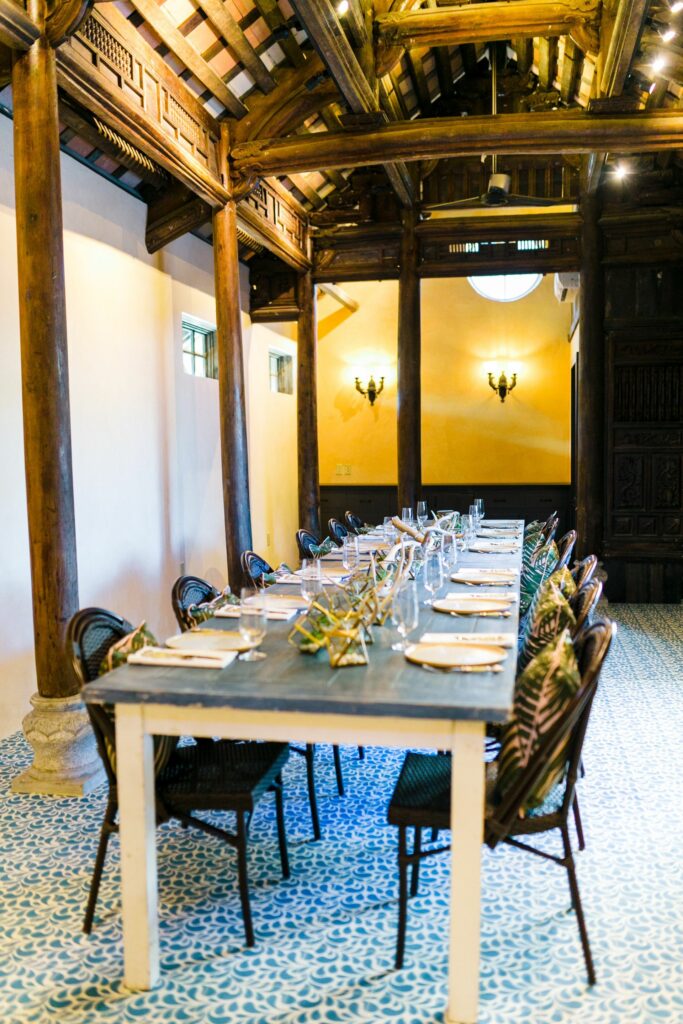 8. Geraldine's
Neighborhood: Downtown
Capacity: 35
The spirit of Geraldine (the infamous guinea fowl that once roamed Rainey Street in the early 2010's) is alive and well at the multi-faceted eatery that bears her name. With a view of Lady Bird Lake and the downtown skyline, Geraldine's boasts some of Austin's hottest food and coolest live musical acts. The sky's the limit in this beautiful space.
Geraldine's loves to host small intimate gatherings to larger corporate events, and anything in between. Work with the knowledgeable staff to put together a specialty menu for the big event, featuring contemporary Austin fare. The private dining space accommodates up to 35 people.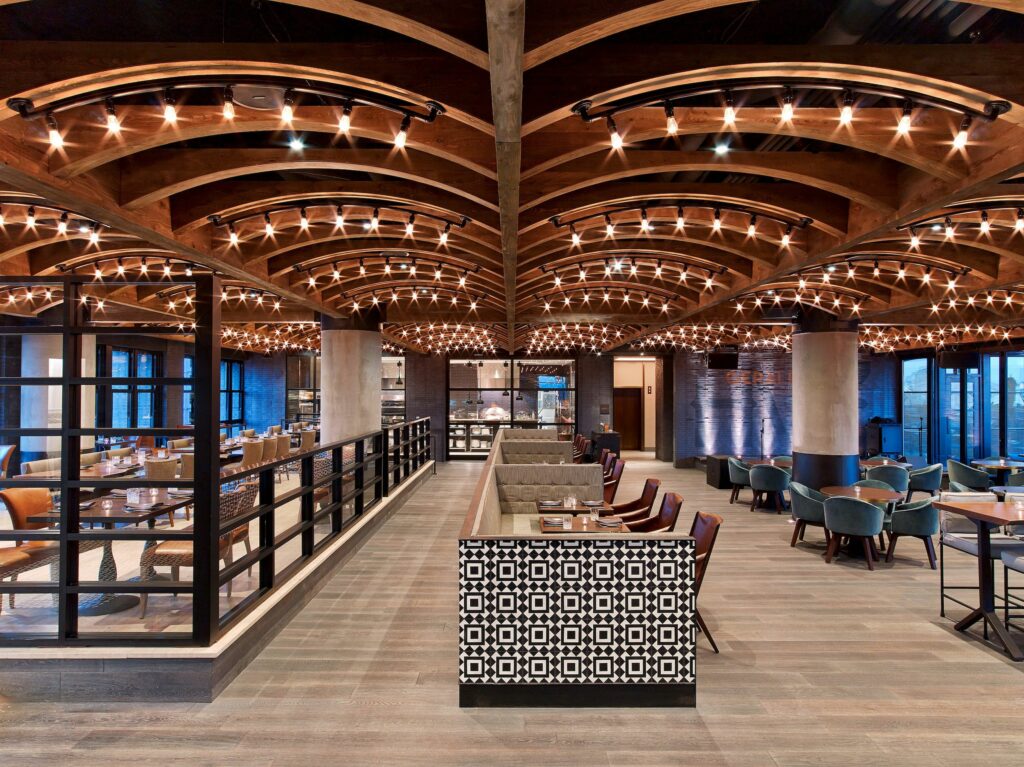 9. Simi Estiartorio
Neighborhood: Downtown
Capacity: 20
A Greek fine dining experience in the heart of downtown Austin, Simi Estiatorio is a newcomer in the Austin dining scene. Fresh seafood is front and center, with fish being flown in from the Mediterranean to Austin weekly.
If looking to host an evening event with a real "wow" factor, head upstairs to the lofted Wine Room. There, in the clean, airy space, 20 can sit for dinner, or 30 guests for a standing cocktail party. Work closely with the Simi team of experts to develop the perfect menu, paired with Greek wine or specialty cocktails.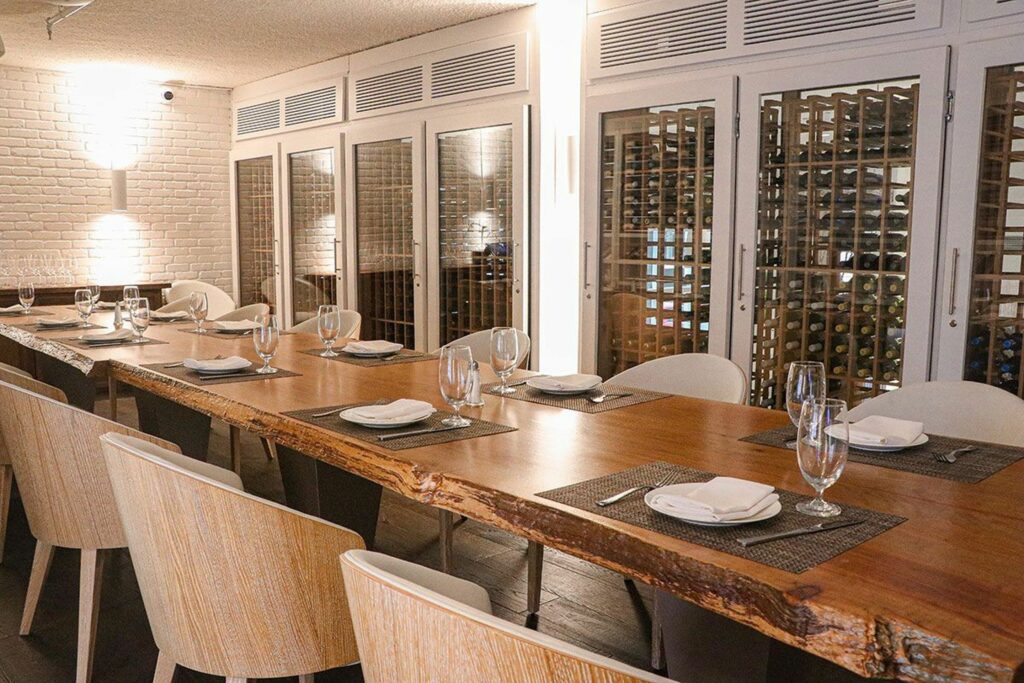 10. Juniper
Neighborhood: Holly
Capacity: 64

Revelers will delight in the simplistic beauty of East Austin's Juniper. Chef Nic Yanes serves up effortless Northern Italian fare in a casual, hip atmosphere.
Book the popular private dining room that can host up tot 75 people for a cocktail party or 64 for a seated affair. This loft-feel, exposed beam room is just ripe with possibility, complete with its own entrance and bar.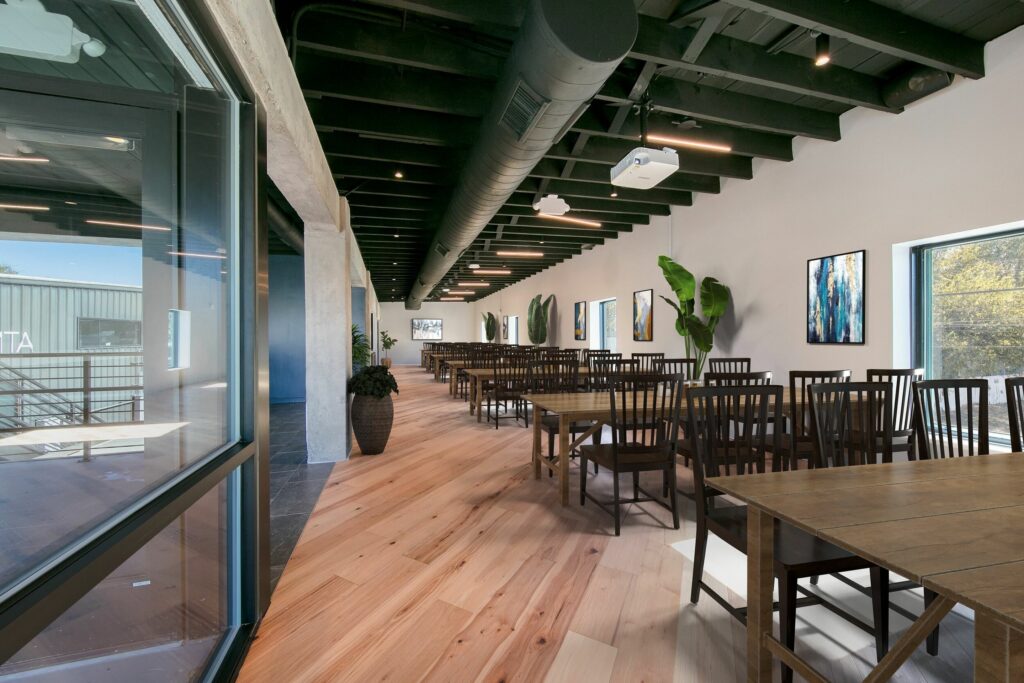 11. Vespaio
Neighborhood: Bouldin Creek
Capacity: 18
Leading the way in Austin's South Congress District for fresh Italian, Vespaio is as comforting as it is delicious. Engage in a totally private dining experience for a special night out or business dinner meeting in Vespaio's private dining room.
Up to 18 guests can dine comfortably in the secluded spot, with a minimum food and beverage of $1000 Sunday through Thursday, and $1,500 on Friday and Saturday. All wines are carefully chosen from boutique, family-owned producers. And everything tastes remarkably homemade because it is. The chefs do their own butchering and make their own stocks, pasta, breads, and desserts.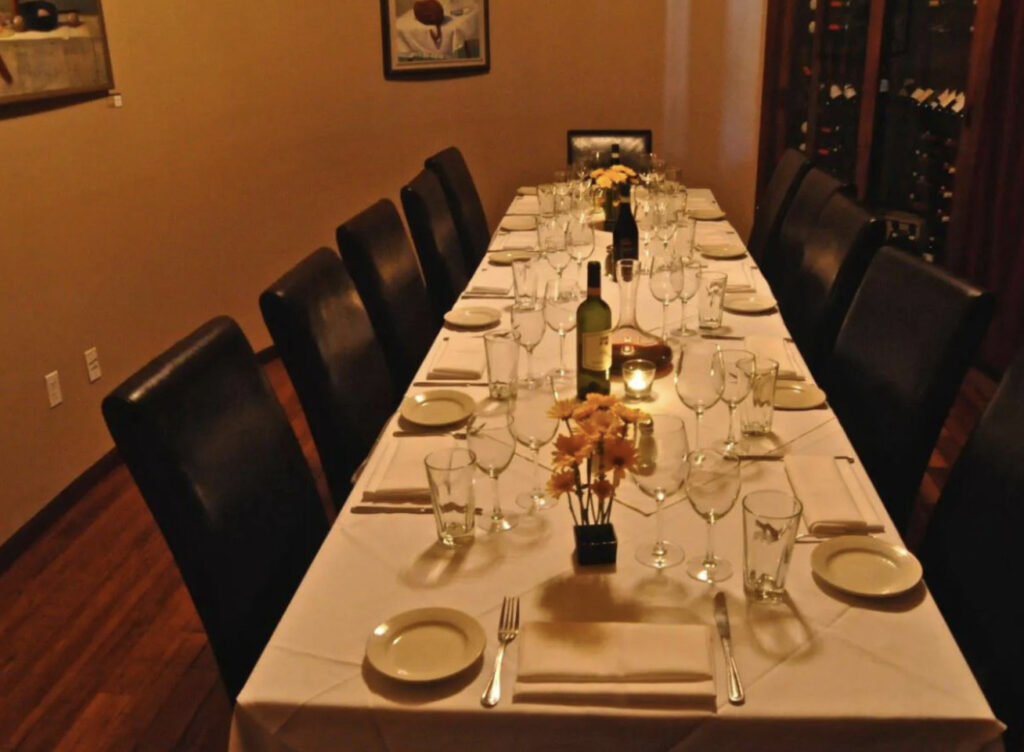 How The Vendry Can Help You Find The Best Private Dining Rooms in Austin
With so many modern, accommodating choices, choosing a private dining room in Austin will be an exciting endeavor. Weighing all these different and fabulous options has never been so delicious. And, the Vendry is here to help – source and book the perfect dining room in Austin today.
Read More:
The Best Private Dining Rooms in Miami
The Best Private Dining Rooms in New York City
The Best Private Dining Rooms in San Francisco
Planning an event in Austin and don't know where to start? Check out our Austin Event Planning Guide to get started!