As a tech startup focused in the events space, it's no surprise that we love to take full advantage of gathering IRL. Any chance to get together — whether it's a full scale event or casual hang — it's what gives us energy! So, when we were tasked with planning our in-person corporate summer offsite, we knew it had to be one for the books. Since event planning (and corporate offsite planning) doesn't come easily to everyone, we wanted to share a bit about our planning process. Read on to see our process and itinerary for our most recent corporate summer retreat on Long Island, NY!
Hosting an Offsite on Long Island
When choosing a location for our summer offsite, we wanted to find a spot that was driving distance from New York City. It was important for us to escape from the hustle and bustle of the city and ultimately enjoy the summer sun. We knew almost immediately that Long Island was where we wanted to host our offsite, but we weren't sure exactly where on Long Island.
At 118 miles long, Long Island is home to many incredible towns and hot spots. While we were tempted to host our offsite somewhere in the Hamptons, which is on the South Fork of Long Island, we wanted to choose an area that most of our team hadn't experienced before. Since The Hamptons is a popular weekend getaway for a lot of New Yorkers, we decided to dig a little deeper. In the end, we chose the North Fork, a 30-mile long peninsula that runs parallel to the South Fork on Long Island. The North Fork is known for its wineries and low-key beaches and is less than a 2 hour drive from Manhattan.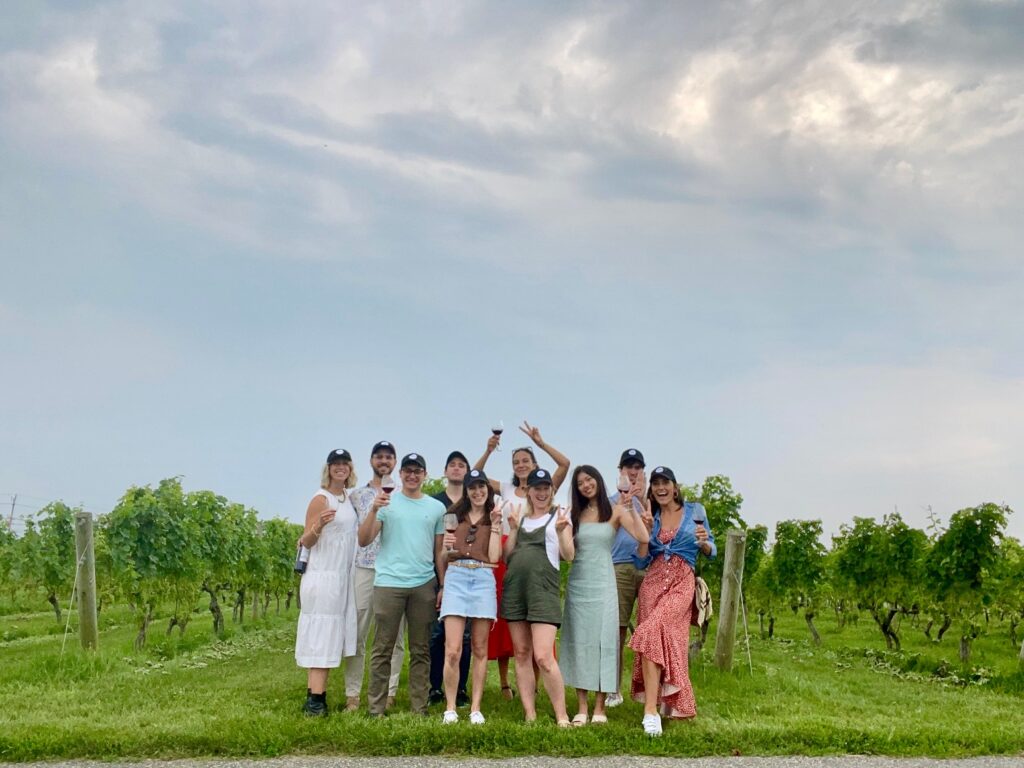 Where to Stay on the North Fork on Long Island
From expansive hotels with top notch amenities, to quaint boutique bed and breakfasts, there are many options to choose from when picking a location for an offsite on Long Island. Once we narrowed down our location to the North Fork, it was easier for us to decide where to stay. We were looking for a space that had enough hotel rooms to accommodate our team of 11 and we wanted a place that felt more casual and boutique.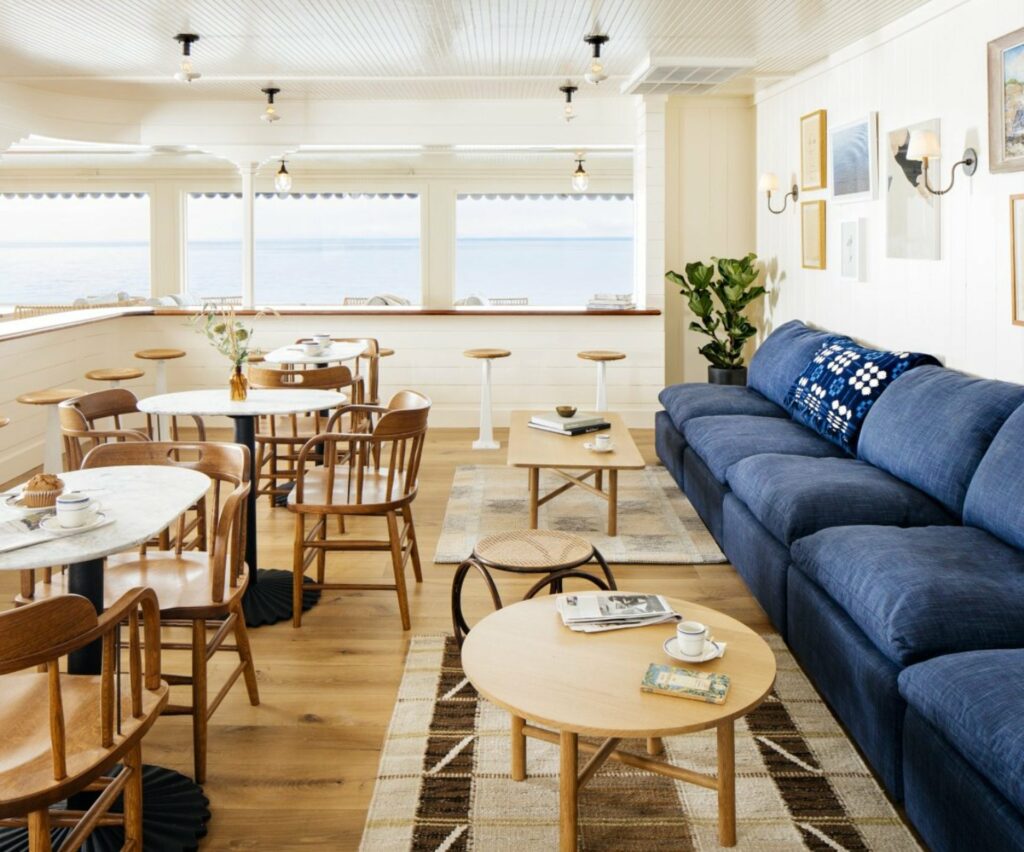 Stay at the Sound View Greenport Hotel
When we found Sound View Greenport Hotel, we knew this was our spot! The rooms at Sound View Greenport Hotel were roomy, yet quaint, each with a view of the Long Island Sound. Because the rooms were directly on the water, many team members took advantage of morning walks on the beach to start each day. After spending busy, jam-packed days with the team, it was nice to come back to our own oasis-like rooms right on the beach.
Not only were the individual hotel rooms fantastic, but the Sound View Greenport Hotel also had a wide variety of rooms and spaces for our team to convene. They have a large conference room that we had access to throughout our stay. This was the perfect spot for our strategy sessions and team activities. The meeting room has panoramic views of the Long Island Sound which made our working sessions that much more enjoyable. We also took advantage of the lobby and lounge areas for casual chats and quick meals.
The gang's all here! Learn how to optimize your next offsite.
Group Activities on the North Fork
Everyone knows that a good company retreat must include a team building activity or two! When it comes to choosing an activity, you need to first decide what type of activity you want to host. Not all team building activities are the same, so it is important to decide the goals you want to achieve from each activity.
Questions to ask when planning a team activity:
Are you looking to focus on the company's strategy?
Do you want to use the activity as a brainstorming session?
Do you want to strengthen bonds between team members?
Is the goal to just allow the team to 'take a break' and let loose?
For our retreat, we wanted a mix of team building exercises — which we hosted in the mornings at the hotel — and more entertainment-focused activities where we could explore the area and get to know one another.
Take an Intimate Tour of Peeko Oysters Farm
Prior to planning our offsite, we welcomed several new members to our team. So, our goal for the offsite was not only to regroup on company strategy but also to have our team get to know each other. We also wanted everyone to get to know each other in an organic way – without forced conversation or forced participation.
For one of our main offsite activities, we went to Peeko Oysters. Here, we took a tour of the oyster farm and learned Peeko's oyster harvesting process. Afterwards, we were taught how to shuck oysters over beers and rosé. For us, this was an engaging experience where our team members not only learned something new, but also learned a bit more about each other in the process. 10/10 would recommend!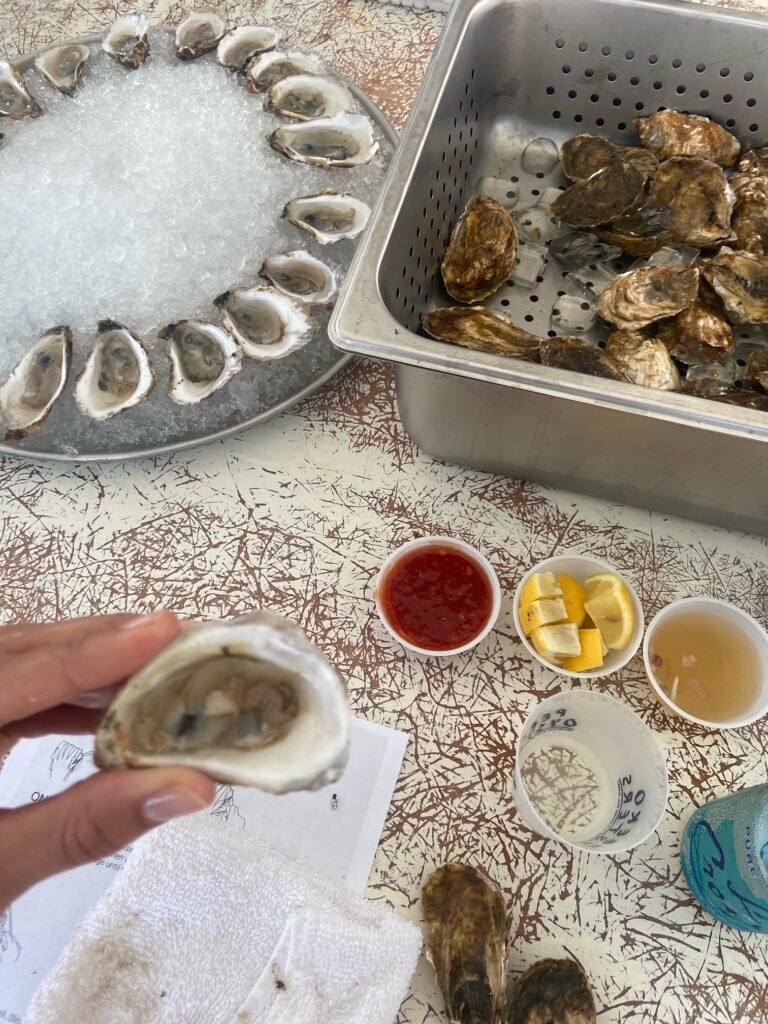 Treat Your Team to an Experience at Macari Vineyards
It would be remiss for us to make it all the way out to the North Fork and not take advantage of touring a winery! Like our experience at Peeko Oysters, we also wanted our winery experience to be a mix of learning something new and fostering a space for connection and conversation. Macari Vineyards delivered just that.
Macari Vineyards is just a quick 15 minute drive from Sound View Greenport Hotel. We took a brief tour of the winery and learned the history of the estate. Afterwards, we were escorted to the tasting room, which was an incredibly beautiful space complete with a porch leading out to the vineyards. We had a guided wine tasting with a sommelier and ate from an incredible selection of gourmet sandwiches, meats and cheeses, and pastries. After our wine tasting, we voted on our favorite bottle and brought it out on a walk through the vineyards, sipping as we took in all the views.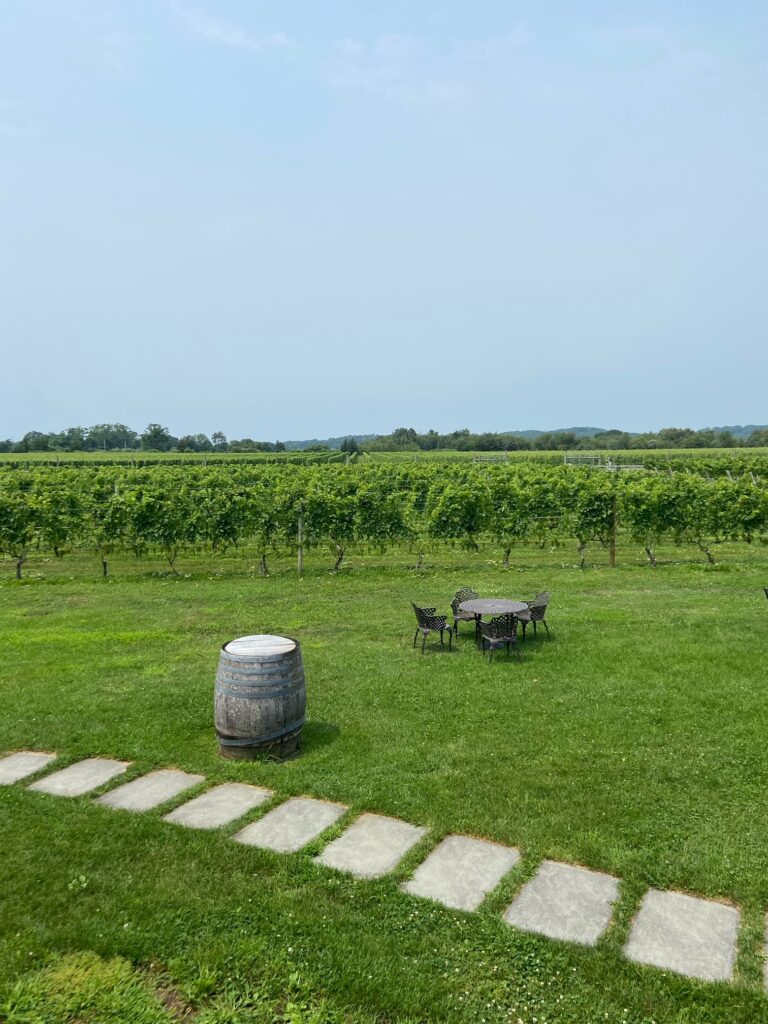 Planning an offsite in New York City?
Browse the best private dining rooms in the city — perfect for meetings and team dinners.
Where to Eat on the North Fork
One of the best parts of a corporate retreat is gathering for epic meals. And our team sure knows how to eat! The North Fork offers up a lot of delicious dining experiences (with seafood options, galore). Since our days were packed with working sessions we took advantage of the hotel's breakfast and lunch options so we could stay near the conference room and keep the group together. For dinner, we explored a couple of different options, below, that we'd highly recommend.
Dine at Noah's Greenport
One evening we had a group dinner at Noah's Greenport where we enjoyed sidewalk seating, taking in the quaint downtown vibes of Greenport. Noah's Greenport offered up really delicious cocktails and more seafood options than we even knew what to do with (don't worry, we ordered most of them!). Noah's supports local farms and fishermen so the dining experience is a local-friendly one. The menu is seasonal, dishing out the freshest ingredients in every bite. While we dined outdoors, Noah's also has a private dining room that is conducive for private team dinners, seating up to 30 guests.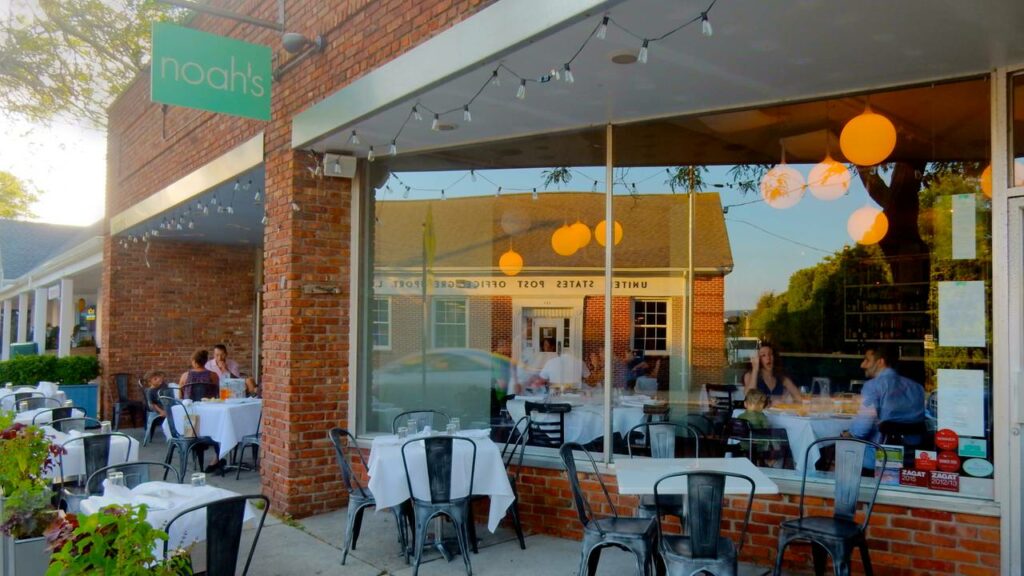 Enjoy a Nice Meal at The Halyard
On our last night, we stayed 'close to home' and took advantage of our hotel's restaurant – which came highly recommended from the locals. The Halyard Restaurant is situated in the middle of the Sound View Greenport Hotel, and offers up a lively and sophisticated atmosphere. Again, we ordered cocktails to start and shared many appetizers. After dinner we continued our night at the hotel's Piano Bar next door.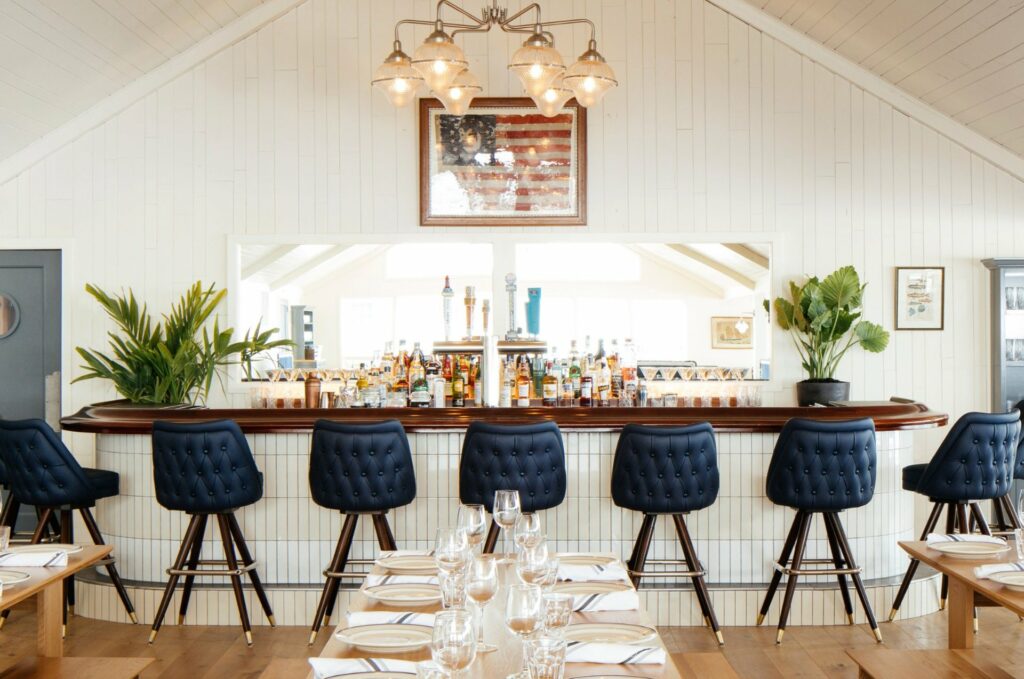 A Stellar Offsite Itinerary
We know how challenging it can be to plan a day-by-day schedule for a company offsite. There are so many questions to keep in mind. How much time should you have between each event? How should you space out your different activities? Do you want to give your employees downtime at the end of each night? Since we had a successful company retreat, we figured we would just share our entire itinerary with you!
TUESDAY, JULY 20
12:30pm: Arrival at The Sound View Inn & Check In
1:00pm: Lunch
1:45pm: Introductions
2:00pm Kick Off Meeting
3:30pm: Break
4:30pm: Depart for Peeko Oysters
5-7:00pm: Oyster Farm Experience & Happy Hour
7:30pm: Dinner at Noah's in Greenport
WEDNESDAY, JULY 21
9:00am: Breakfast Onsite
9:45am: Team Building Session
12:00pm: Break
1:00pm: Depart for Macari Vineyards
2-5:00pm: Vineyard Lunch at Macari
5-7pm: Free Time/Pool Time/Nap Time
7:30pm: Dinner at The Halyard at The Sound View
THURSDAY, JULY 22
9:00am: Breakfast Onsite
9:45am: Team Building Session 12:30pm Depart
1:00pm: Lunch on the Drive Home 4:00pm Arrive Back in NYC / Brooklyn
Booking an Offsite on Long Island

If you couldn't tell already, we thoroughly enjoyed our offsite on the North Fork of Long Island. Whether or not your company is based in New York City, the North Fork is a fantastic place to host an offsite filled with team building activities and mini adventures. At The Vendry, you can source from thousands of venues for your next offsite, which can help make the planning process a whole lot easier.
Read More:
The Eight Best Offsite Locations Near New York City
How to Optimize Your Offsite: Connection
How to Plan an In-Person Offsite or Corporate Retreat Right Now