Private Dining Rooms in NYC
Searching for the right private dining room in NYC can feel like looking for a needle in a haystack. There are over 24,000 restaurants in Manhattan alone. Trying out each one would take you somewhere in the neighborhood of 20 years. New York moves fast, so we put a guide together to make booking the right venue for your event faster. Whether you're hosting a small corporate event or celebrating the launch of a new product, a New York City private dining room can make for the perfect backdrop.

Here are the top private dining options to have a stellar restaurant experience in NYC.
When Should You Consider Booking a Private Dining Room?
The type of event you're hosting dictates what you'll need out of a venue. If you're catching up with a friend from out of town, the new Thai restaurant down the street might suit your needs just fine. If you're hosting a dinner for your entire marketing organization, you may need a bit more space and a bit more privacy to make sure your event is a success.
The key variables to take into consideration are the size of your party, the degree of privacy you'll need, the ideal ambiance you're after, and whether you want a more casual or more formal experience.
The Best Private Dining Rooms in NYC
We've put together some of our favorite spots for a private dining experience in NYC. Whether you're after Mediterranean cuisine in the heart of SoHo, or new American staples looking out over the Manhattan skyline, you can find the venue you're looking for on this list.
1. Gramercy Tavern
Neighborhood: Gramercy
Capacity: 22
Gramercy Tavern's private dining room is adorned with antique decor, early American art, and Celeste Gainey chandeliers. The rustic setting offers private parties a stately escape and a deep menu of American classics.
The restaurant excels in celebrating the season, offering the best market-fare dishes from Grilled Summer Squash to Broccoli and Farro Salad with Smoked White Fish. Even the flowers on their tables are plucked to match the seasonal menu.
Their private dining room is best for a party of 22 guests.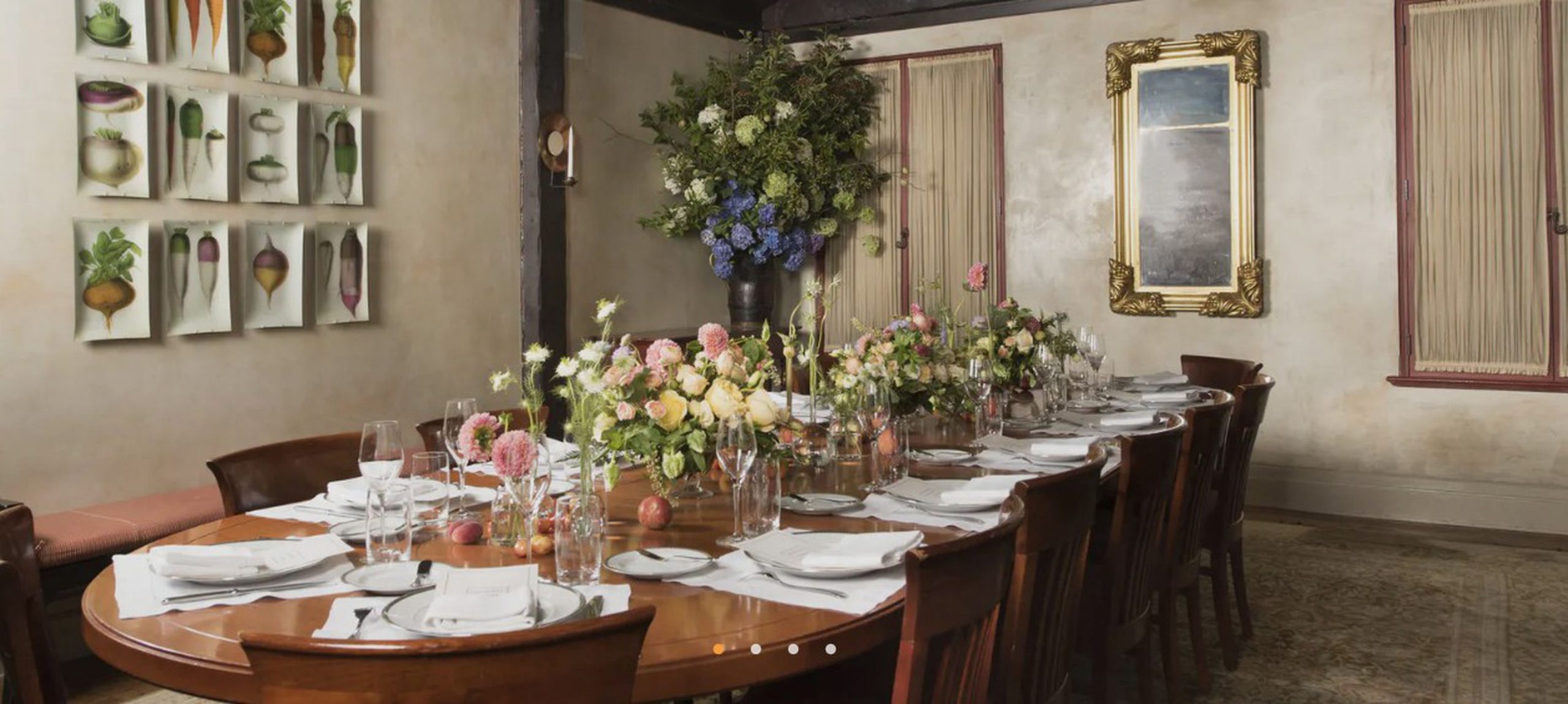 2. Olmsted
Neighborhood: Prospect Heights
Capacity: 24
Many restaurants boast locally-sourced ingredients. Olmsted might take the cake. They source some of their vegetable-heavy menu right from their backyard garden. The restaurant even has a living wall of greenery flanking the intimate restaurant.
Located blocks from Prospect Park and named after the architect who designed that park, Olmsted embodies new, modern American fare with an emphasis on seasonal vegetables.
Their private dining experience offers you the chance to eat in a lush, backyard garden or to move inside and enjoy their welcoming dining room, complete with bookshelves dotted with picture frames and wine selections.
The Olmsted private dining room is perfect for parties of around 24 seated guests.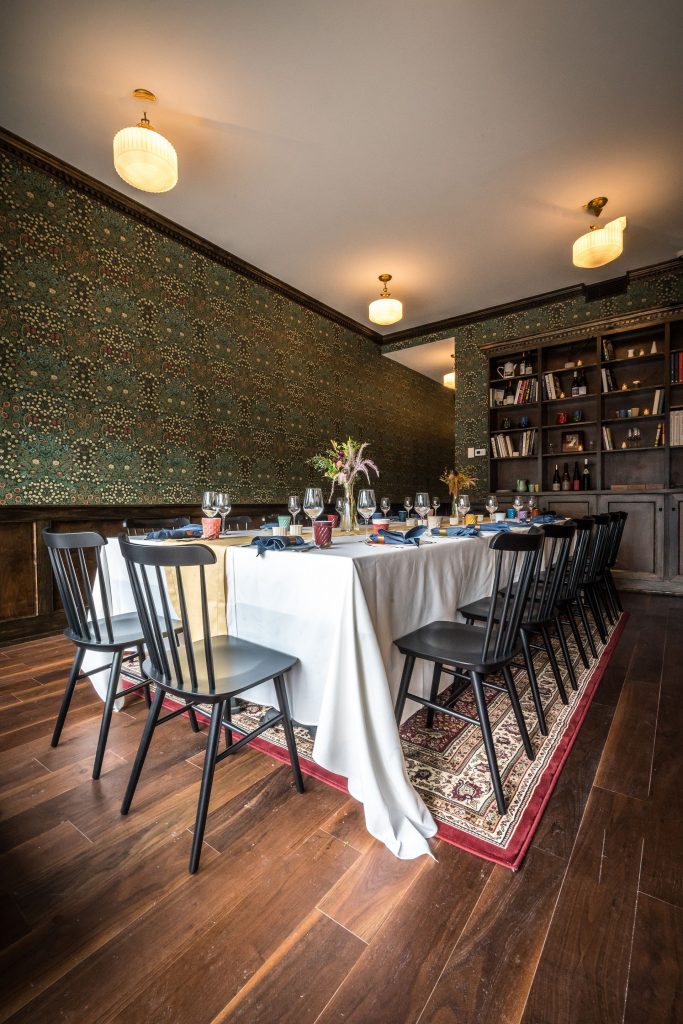 3. Market Table
Neighborhood: West Village
Capacity: 20
At Market Table, a gorgeous setting with floor-to-ceiling windows offers guests a view into New York City's coveted West Village neighborhood. A menu is seasonal American, influenced by Chef Mike Price's childhood on his family farm in Maryland.
Hidden below the bustling restaurant is the intimate private dining space, perfect for a seated brunch, lunch, dinner, or cocktail party — seating up to 20 guests.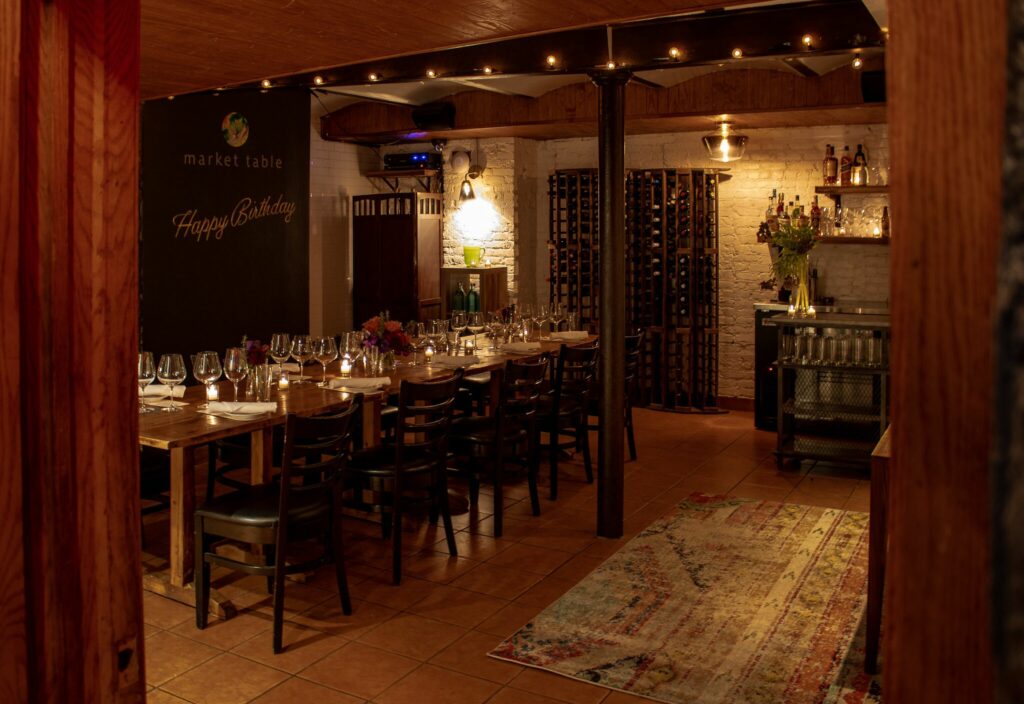 4. Bryant Park Grill
Neighborhood: Bryant Park
Capacity: 30
In the heart of Manhattan, Bryant Park offers a four-acre scenic oasis. Bryant Park Grill is nestled in the center of Bryant Park, offering contemporary American fare in an inimitable setting. The restaurant boasts a range of dishes from black ink risotto to perfectly seared Moroccan Lemon Chicken, as well as a heralded whiskey collection.
The restaurant's semi-private dining room accommodates 30 seated guests for dinner, and can host 40 standing guests for cocktail receptions in its 325 square foot space.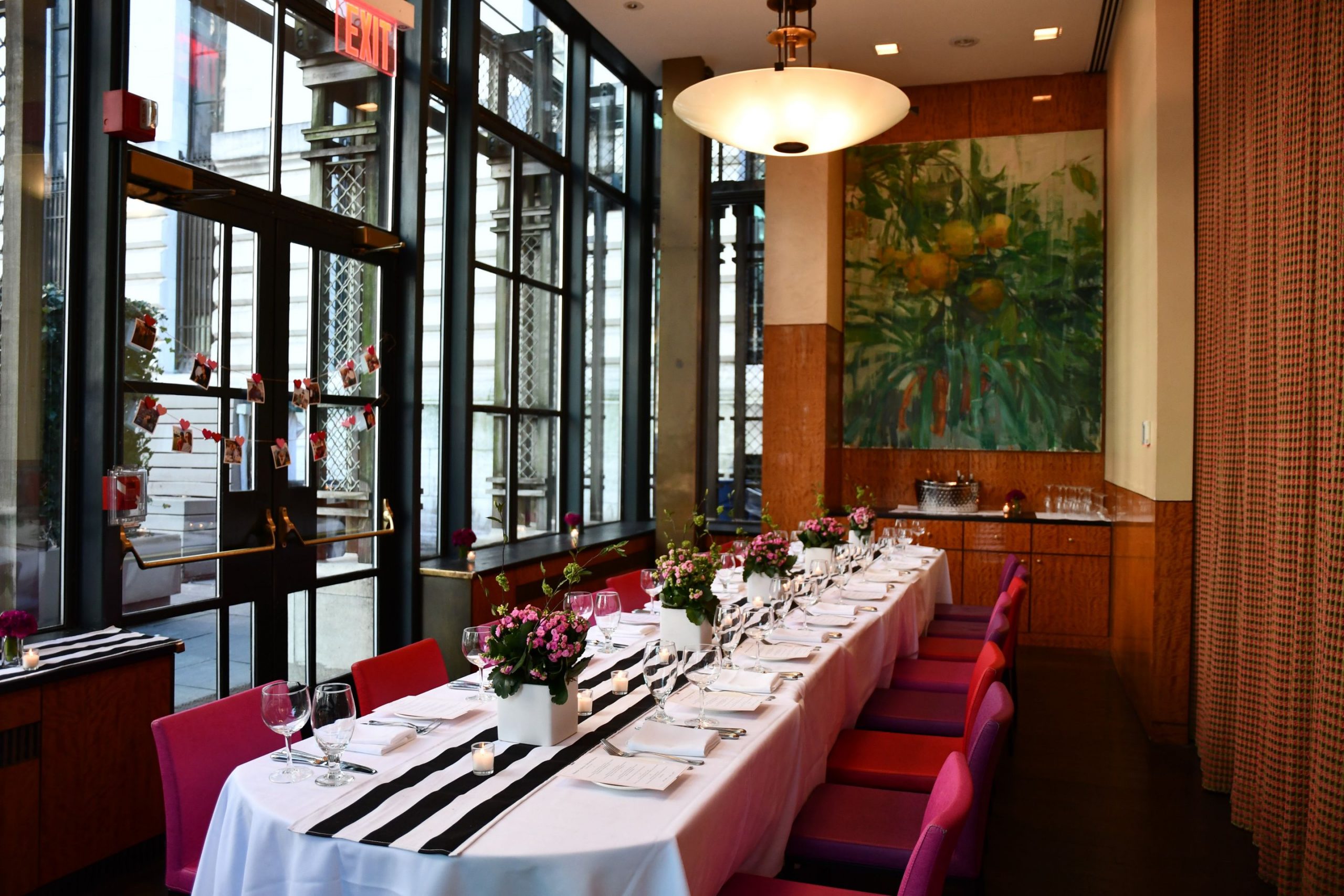 5. Blackbarn Restaurant
Neighborhood: Flatiron District
Capacity: 100
Blackbarn is true to its name, offering upscale American cuisine in a rustic, barn-inspired setting right in the middle of Manhattan. The restaurant was founded by renowned chef, John Doherty, and prides itself on using seasonal, sustainably sourced ingredients prominently in its immaculately prepared dishes.
You can choose from vegetable-forward dishes like Black Mission Fig White Pizza, or Heirloom Tomato and Burrata or opt for heartier fare like Beer Braised Cheshire Pork or Amish Chicken. If you can't decide, you can always opt for the Chef's Table, in which Chef Doherty prepares his favorite dishes for you.
The restaurant's private dining room, the Loft, is best for larger parties as it accommodates up to 100 seated guests and 100 standing.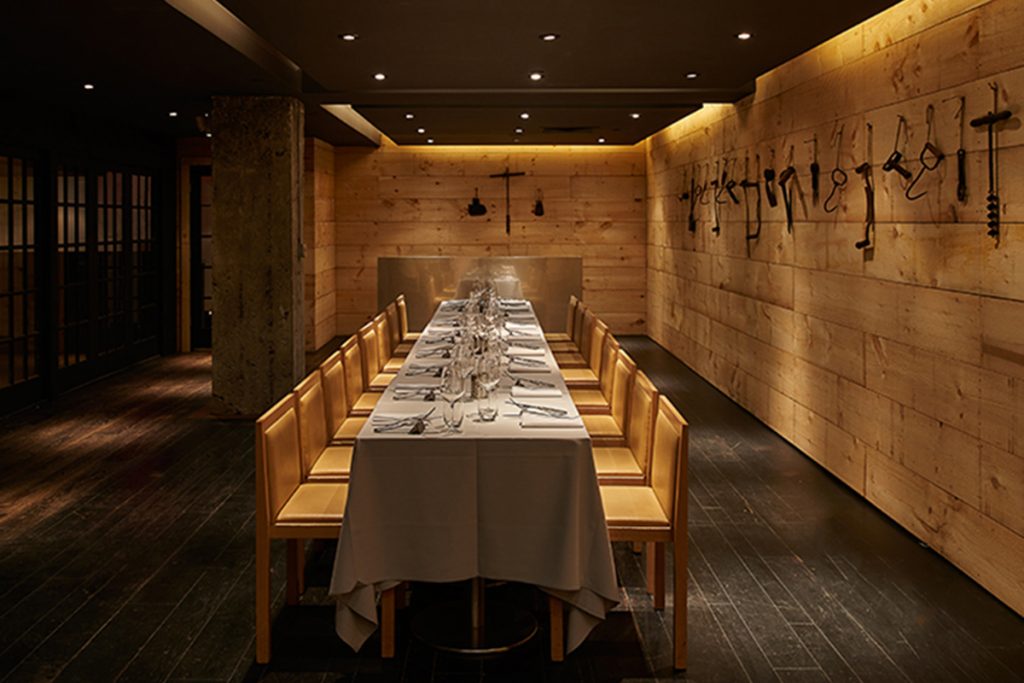 Need dinner party inspiration for your next soirée?
Browse real events for fresh, unique ideas.
6. Cote Korean Steakhouse
Neighborhood: Flatiron District
Capacity: 24
This Michelin-star restaurant is guaranteed to leave an impression on you long after you've had your last bite. Cote offers upscale Korean-style barbeque, in which a team of expert servers prepare stellar cuts of meat at your table over a grill built into your very table. The heralded restaurant also prepares Steakhouse classics such as Hanger Steak and Filet Mignon.
The entire culinary experience is wrapped in a jungle-like ambiance with accents of neon lighting and marble countertops.
Cote's private dining room, Undercote, hosts 24 seated guests and 55 standing guests.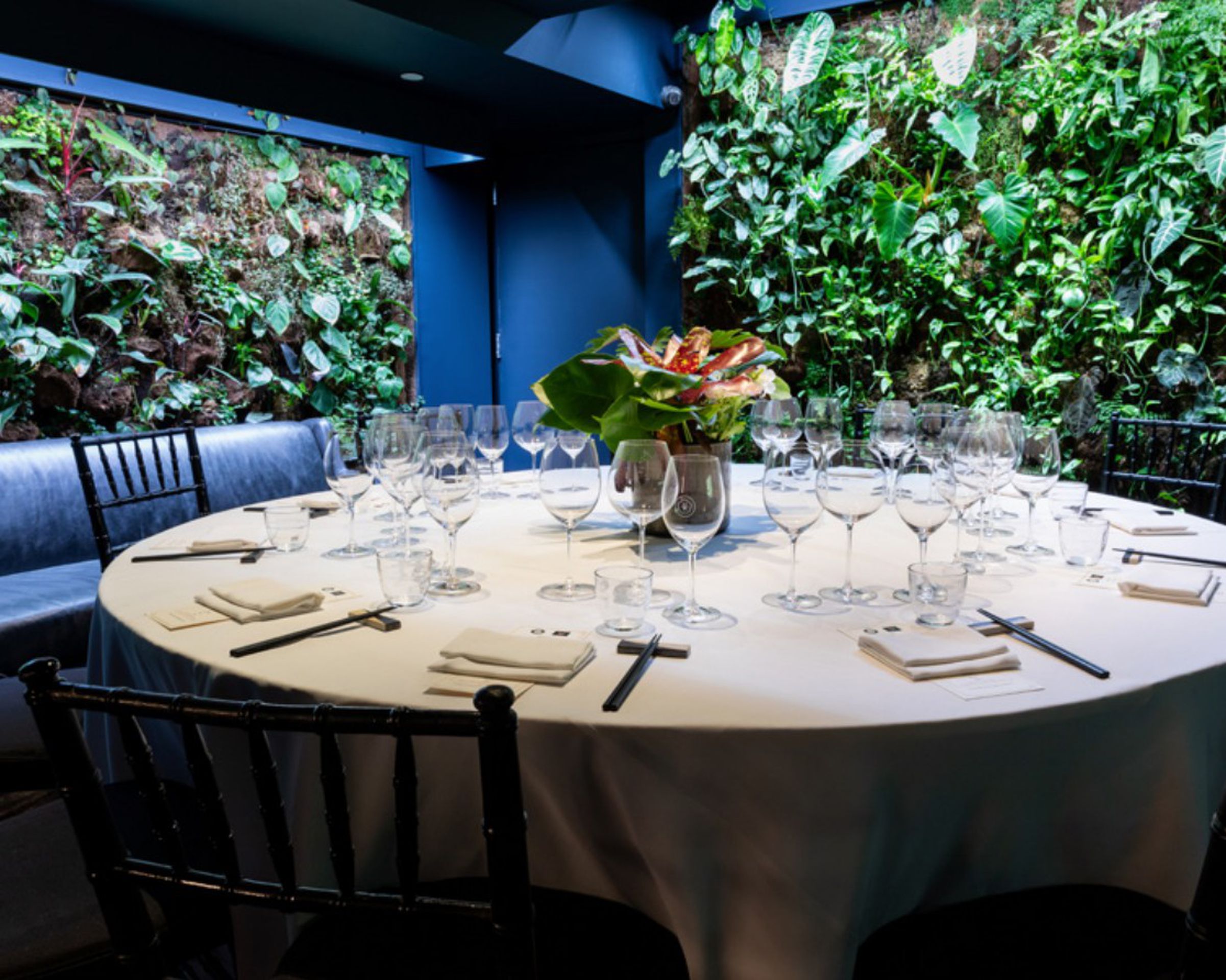 7. Hearth
Neighborhood: East Village
Capacity: 30
Hearth's story extends beyond their menu. The Italian-inspired restaurant prides itself on sourcing wild caught fish, using the "good fats" from olive oil and free range animals, and maintaining an ethical and sustainable supply chain. All of that translates into every plate served at their lower Manhattan private dining room.
The classic light Italian fare they prepare is complemented by the abundant natural light in the private dining room. The intimate space seats up to 30 guests for a medium-sized party.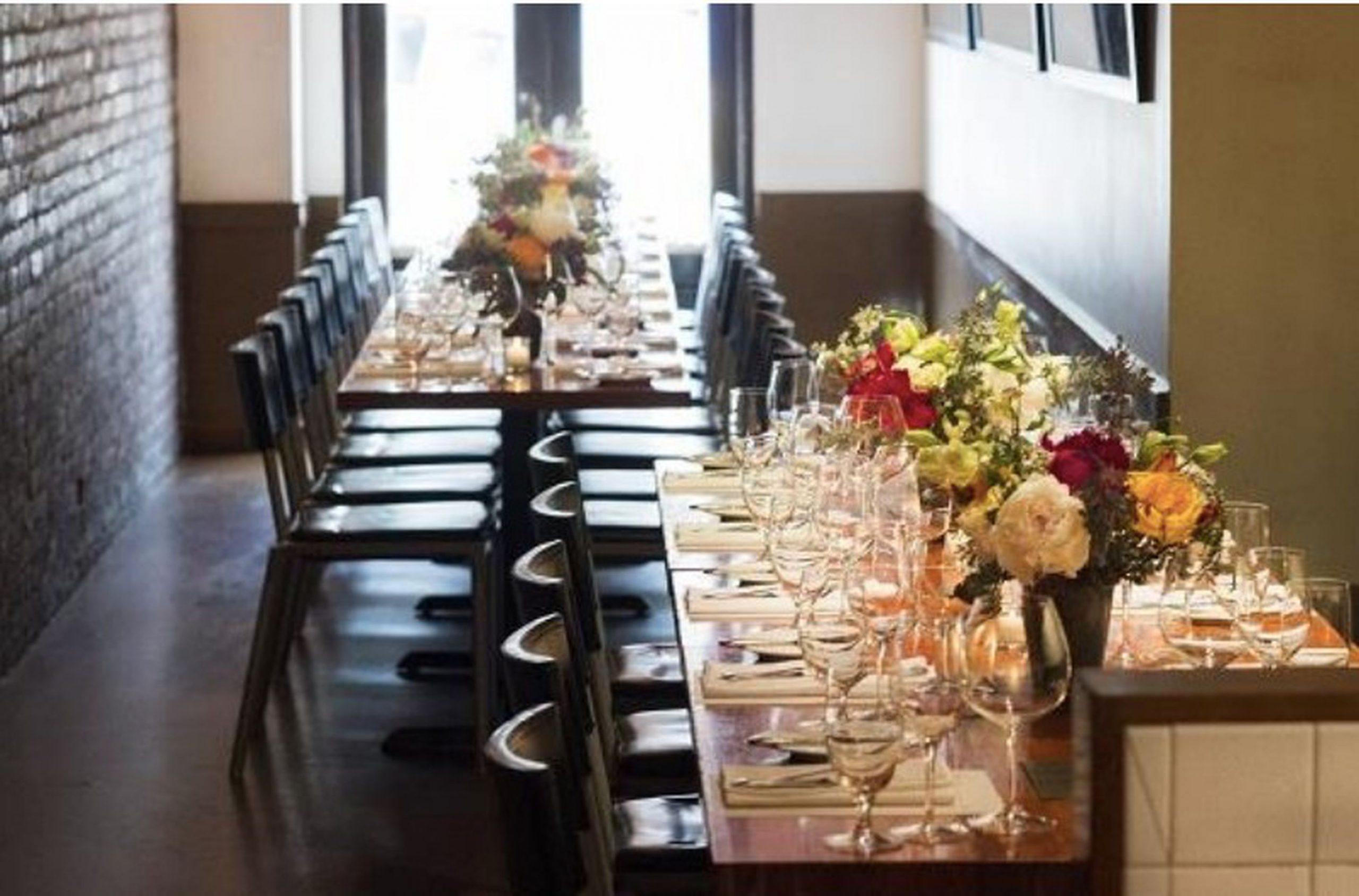 Ready to plan your event? It all starts with a venue.
Book your NYC private dining room now!
8. Frankies 457 Spuntino
Neighborhood: Carrol Gardens
Capacity: 40
Looking for a delicious family-style dinner with ultimate Brooklyn charm? Look no further than The Stable at Frankies 457 Spuntino. From roasted vegetable antipasti dishes to house-made pastas, Frankies 457 Spuntino serves up the best of the best Italian.
The private event space is a converted blacksmith's stable located in the garden behind the restaurant. The rustic brick building, constructed in the early 1900's can accommodate up to 50 people — either for a family-style dinner or a buffet-style event.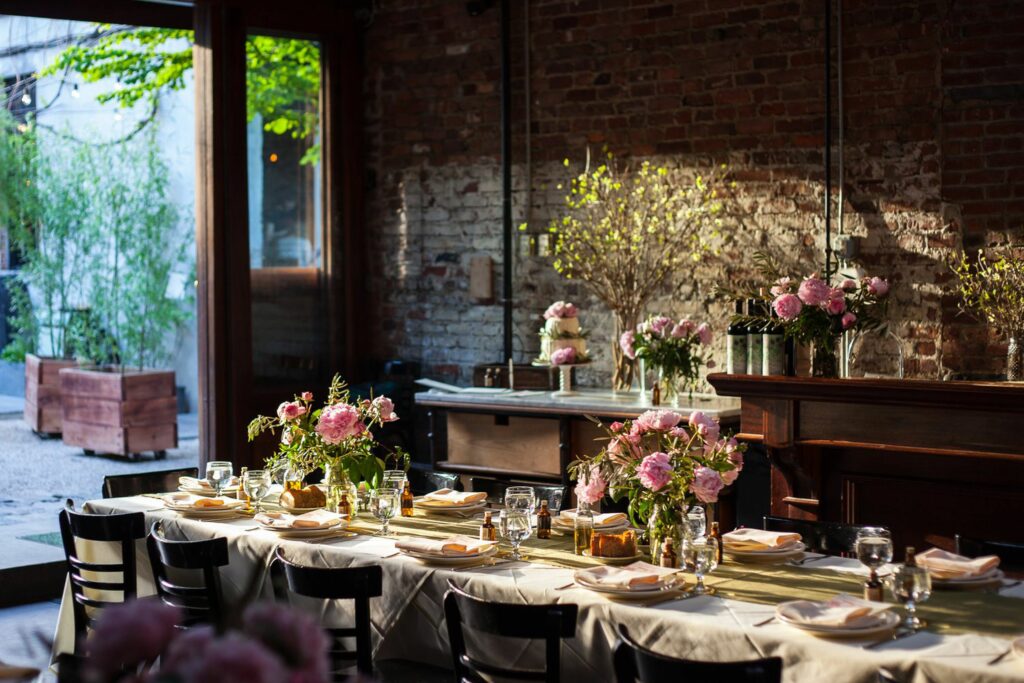 Bottoms up! Check out NYC's best bars and book your next corporate happy hour.
9. Claudette
Neighborhood: Greenwich Village
Capacity: 28
Claudette's dining space feels like a warmly lit French cottage. The inviting decor and soft white walls are relaxing and welcoming, offering guests a comforting environment to enjoy Parisian cuisine.
The restaurant's private dining room, The Flamingo Room, is secluded with vibrant wallpaper and elegant long tables. It seats smaller parties of 28 guests or fewer.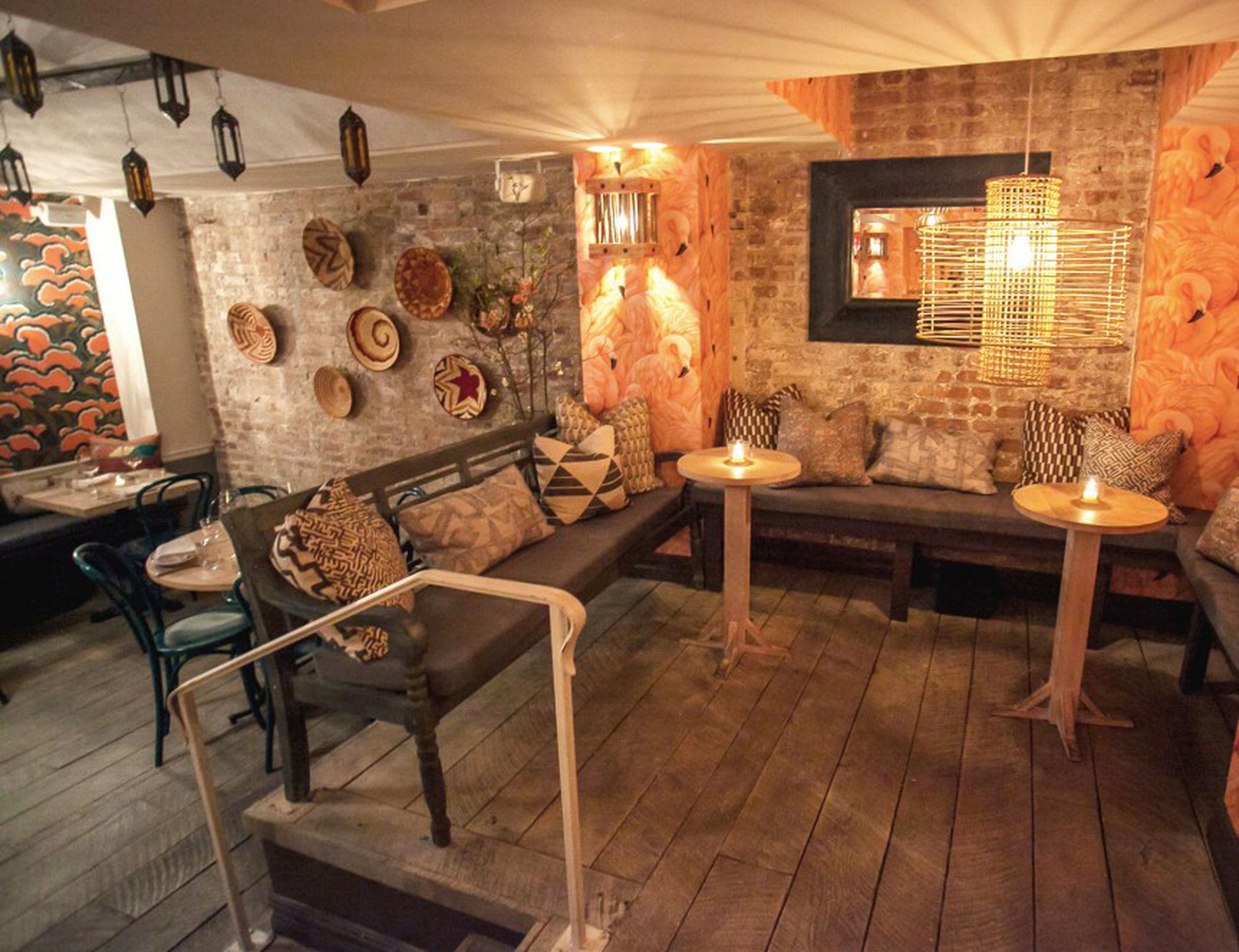 10. Dirty French
Neighborhood: Lower East Side
Capacity: 60
Dirty French serves classic French bistro staples with a modern twist. While you'll find go-to entrees like Mussels Etoufféé and Steak Au Poivre on their menu, you're unlikely to find their signature variations anywhere else. Whether it's serving mussels beside crispy rice and a green tabasco mignonette or preparing a trout in berbere brown butter, Dirty French makes a lasting impression.
Their private dining room hosts 60 seated guests and 80 standing guests in a 900 square foot room.
11. Charlie Bird
Neighborhood: SoHo
Capacity: 14
For the ultimate intimate experience, the back room at Charlie Bird has you covered. Tucked behind the bar, this cozy space will give your guests that exclusive VIP feeling without being too stuffy. The Italian-inspired, American-executed menu will have something for everyone. The private dining room seats 14. However, if you're looking to host a larger affair, Charlie Bird also offers a fully buyout of the restaurant.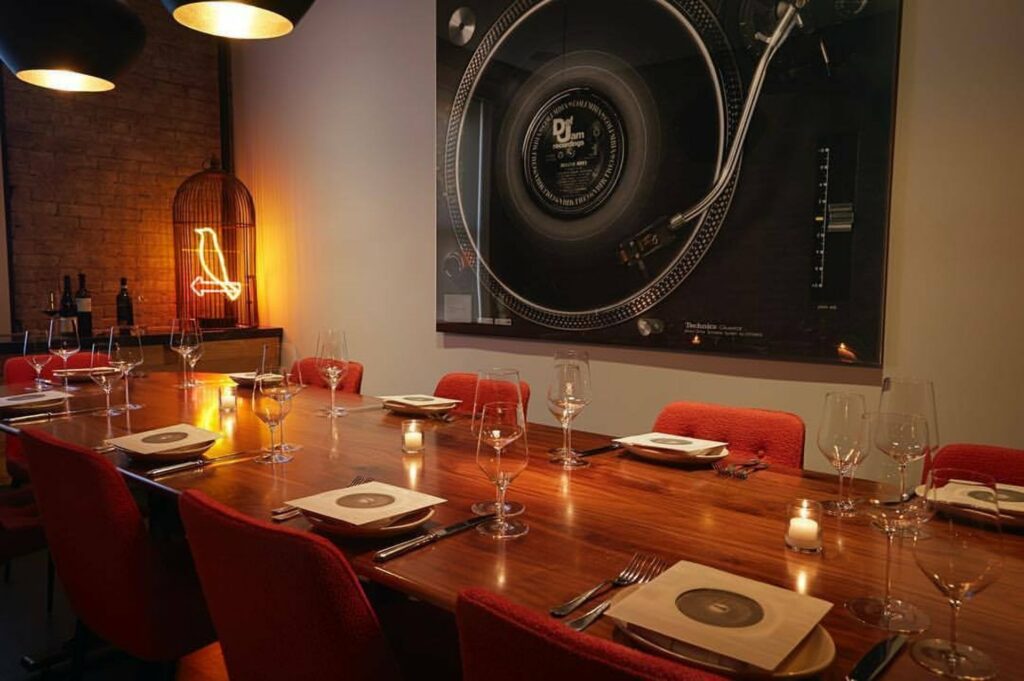 12. Cosme
Neighborhood: Flatiron District
Capacity: 14
An intimate experience awaits at Cosme in the heart of the Flatiron District.
The sophisticated Mexican restaurant from Enrique Olvera and Daniela Soto-Innes offers set menus of either four or five courses that will leave you guests wanting more. The sleek and moody private dining room seats up to 14 people.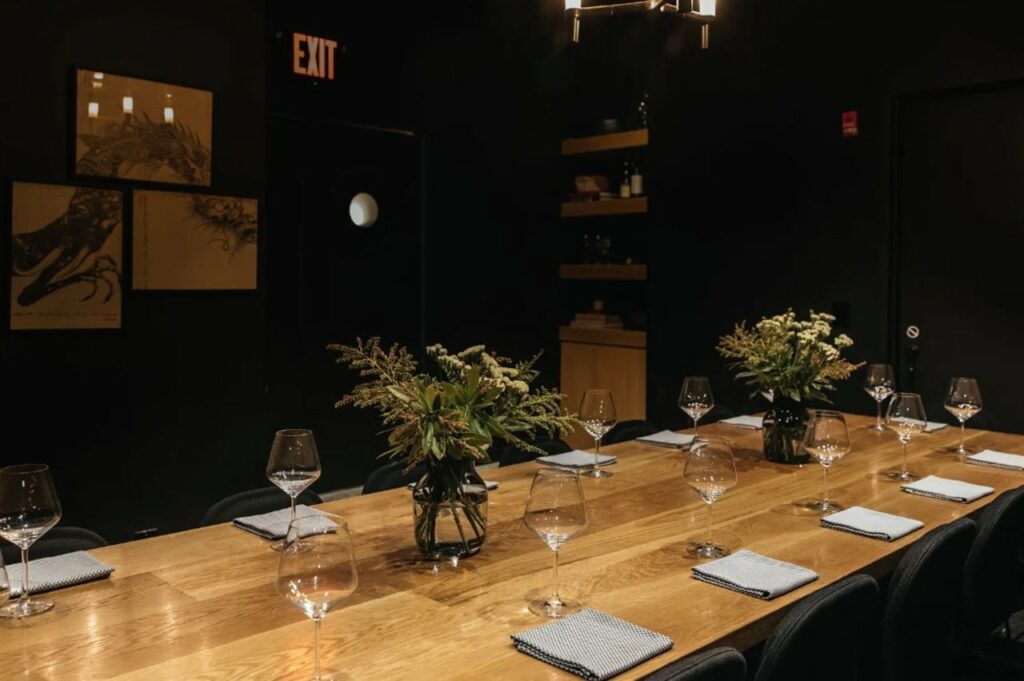 13. Tribeca Grill
Neighborhood: Tribeca
Capacity: 40
Tribeca Grill reflects the energy and vibrancy of the neighborhood that surrounds it. It's a lively, exciting restaurant that offers hearty, delicious Italian meals in a venue frequented by celebrities, senators, musicians, and sports teams.
Tribeca Grill's private dining room is flanked by colorful art, exposed brick, and rich wood tones, making it a welcoming festive environment for parties of up to 40 seated guests or 50 standing guests.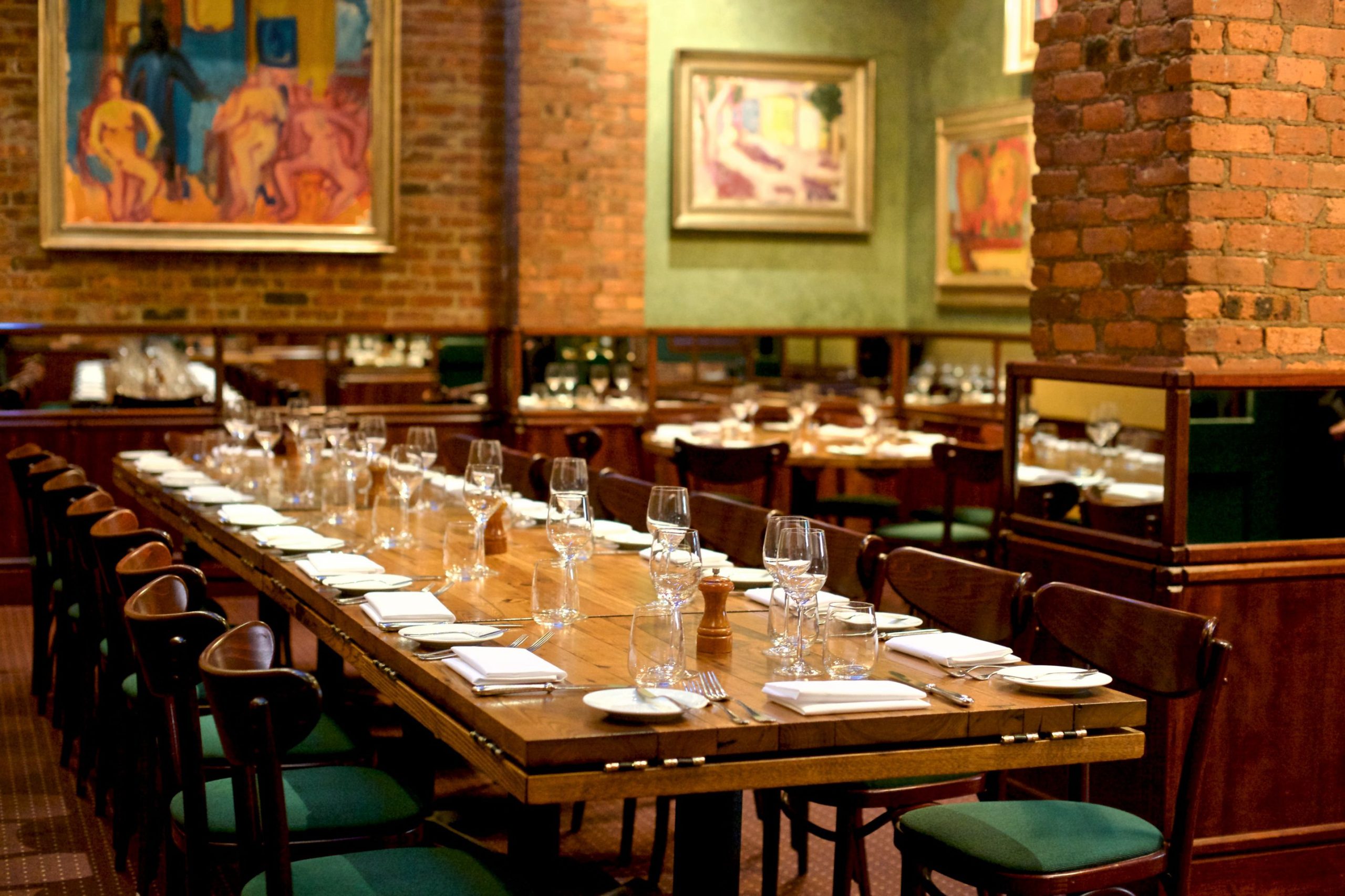 14. La Mercerie
Neighborhood: SoHo
Capacity: 24
The private dining room at La Mercerie is stunningly ornate and elegant. The lush walls are accented with lifelike murals of flowering cherry blossom trees. The dining room, called House of Bowls, maintains that earthy palette with a dark wood long table as the centerpiece of the room.
Lead chef, Marie-Aude Rose, studied perfecting Parisian cuisine in both Paris and the French countryside before moving to New York to pursue her culinary career further. Their menu offers a refined take on French classics.
La Mercerie's private dining room can accommodate 24 seated guests and 50 standing guests.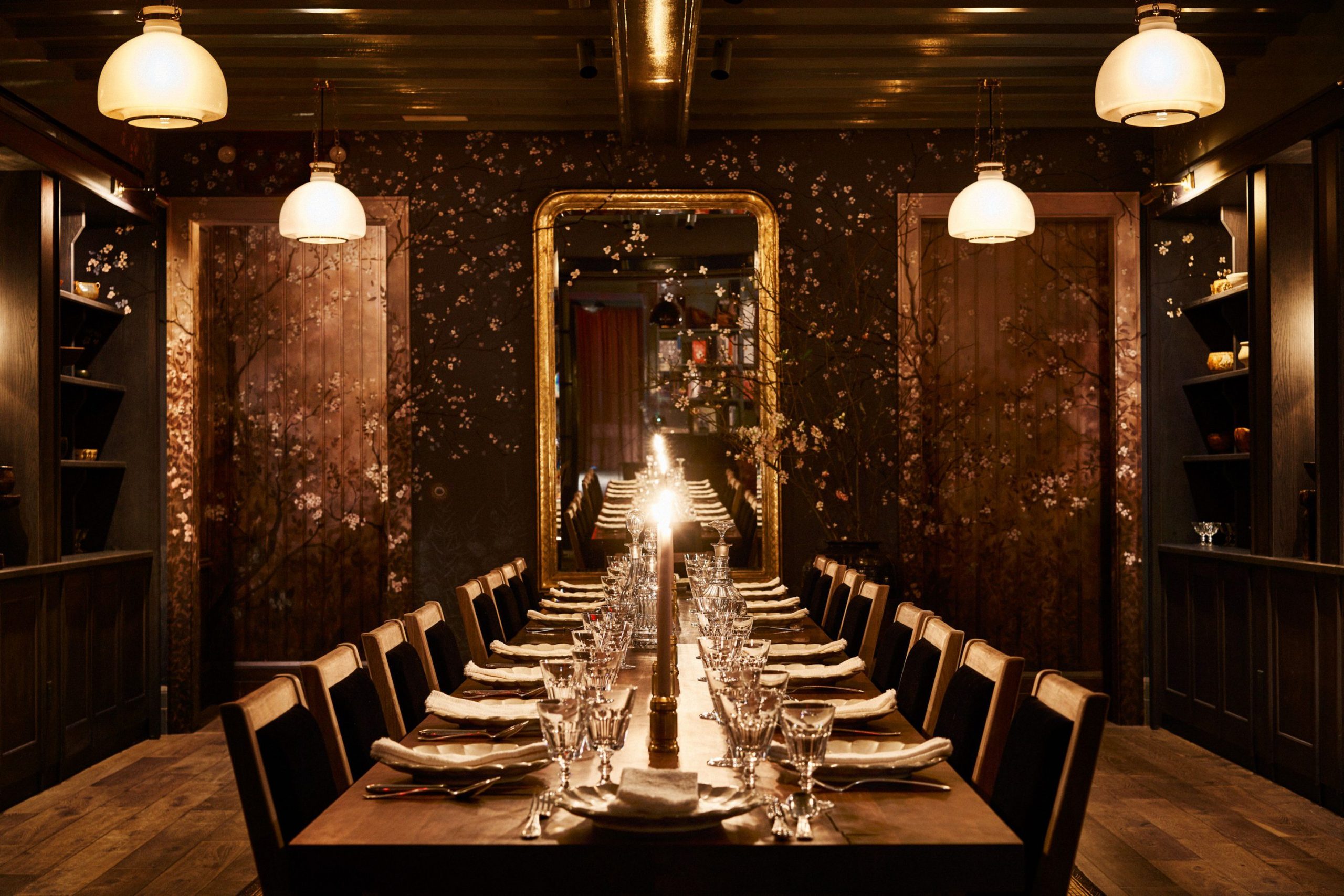 15. The Beekman
Neighborhood: Financial District
Capacity: 80
The private dining room options at the The Beekman oozes sophistication and class. It offers diners a touch of elegance with a splash of modern decor and a quintessentially classic American menu, specializing in seafood.
The hotel's private dining space, Farnsworth Room, is known for its vintage-inspired pastel terra cotta ceiling and classic NYC exposed brick.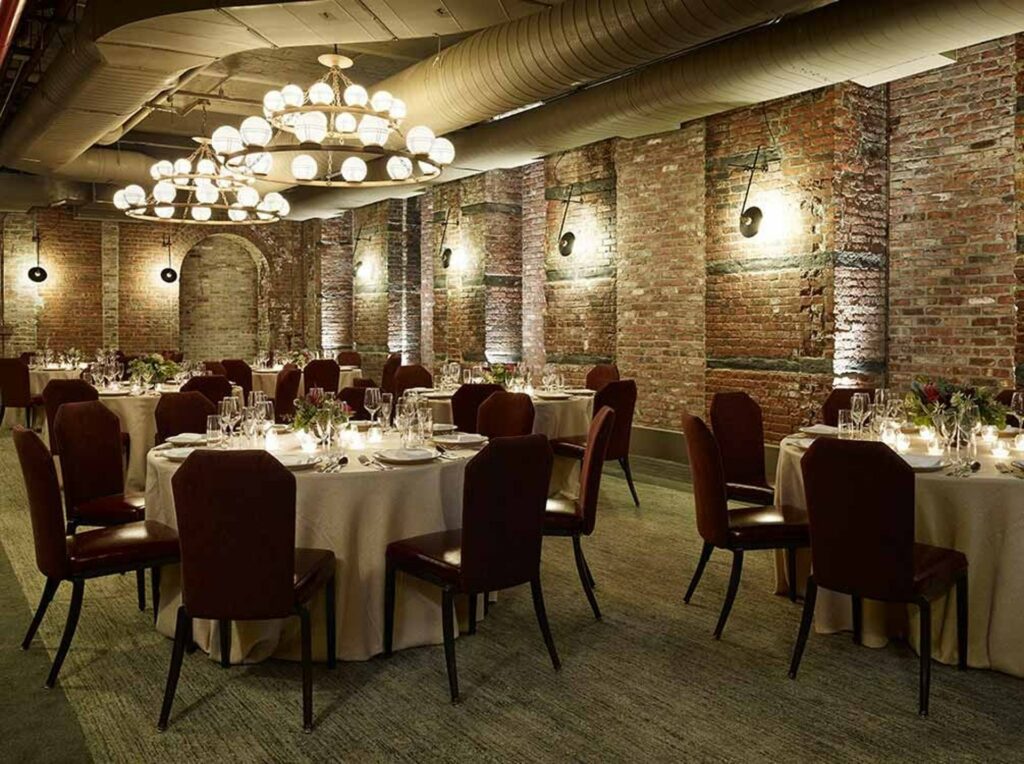 16. Bottino
Neighborhood: Chelsea
Capacity: 52
Bottino's menu is as lush and fresh as its surroundings. The restaurant's open-air patio is surrounded by greenery and blooming plants. This Tuscan-focused establishment serves classic central-Italy dishes from squid ink mafaldine to tagliatelle.
Their private dining room, The Pool Room, is indoors, but still feels like an open-air environment when the patio doors are open. The room can be used on its own or combined with the North Garden for additional capacity for larger cocktail receptions or dinners.
It hosts 52 seated guests.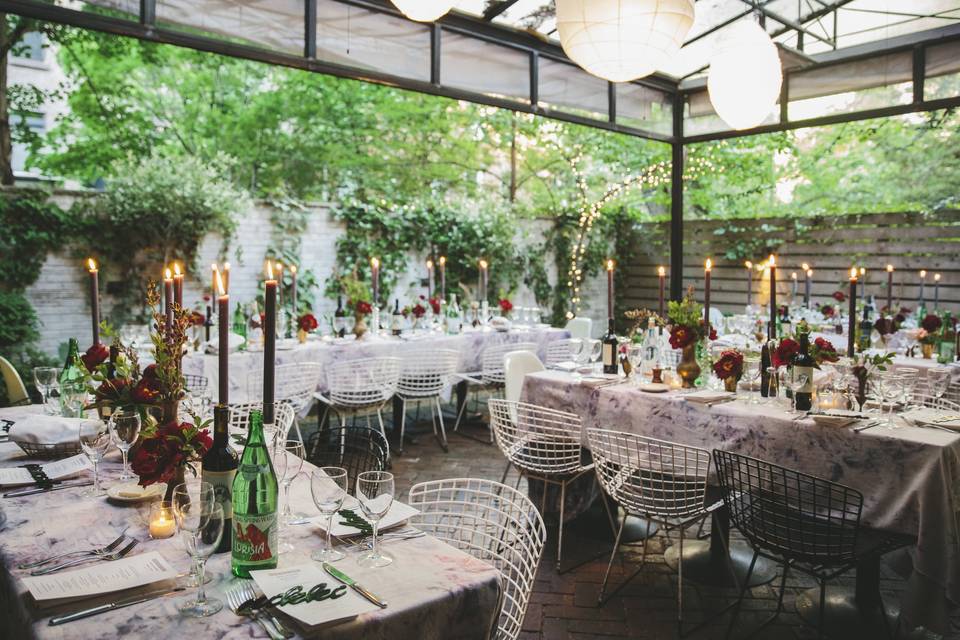 17. Charlie Palmer Steak NYC
Neighborhood: Theater District
Capacity: 70
Charlie Palmer Steak NYC's private dining room, is hyper modern, with sleek lighting fixtures paired against slate marble and suede walls. At the center of the room, a spiraling chandelier of lights tucked elegantly above the palatial dining table.
As you may have guessed, Charlie Palmer specializes in steaks from the New York Strip, to Wagyu A5 Miyazaki Striploin, to Dry Aged Porterhouse. But, the restaurant also offers a raw bar with oysters, clams, and shrimp as well as fresh vegetable-forward starters.

Their private dining room is best suited for 70 seated guests or 80 standing guests.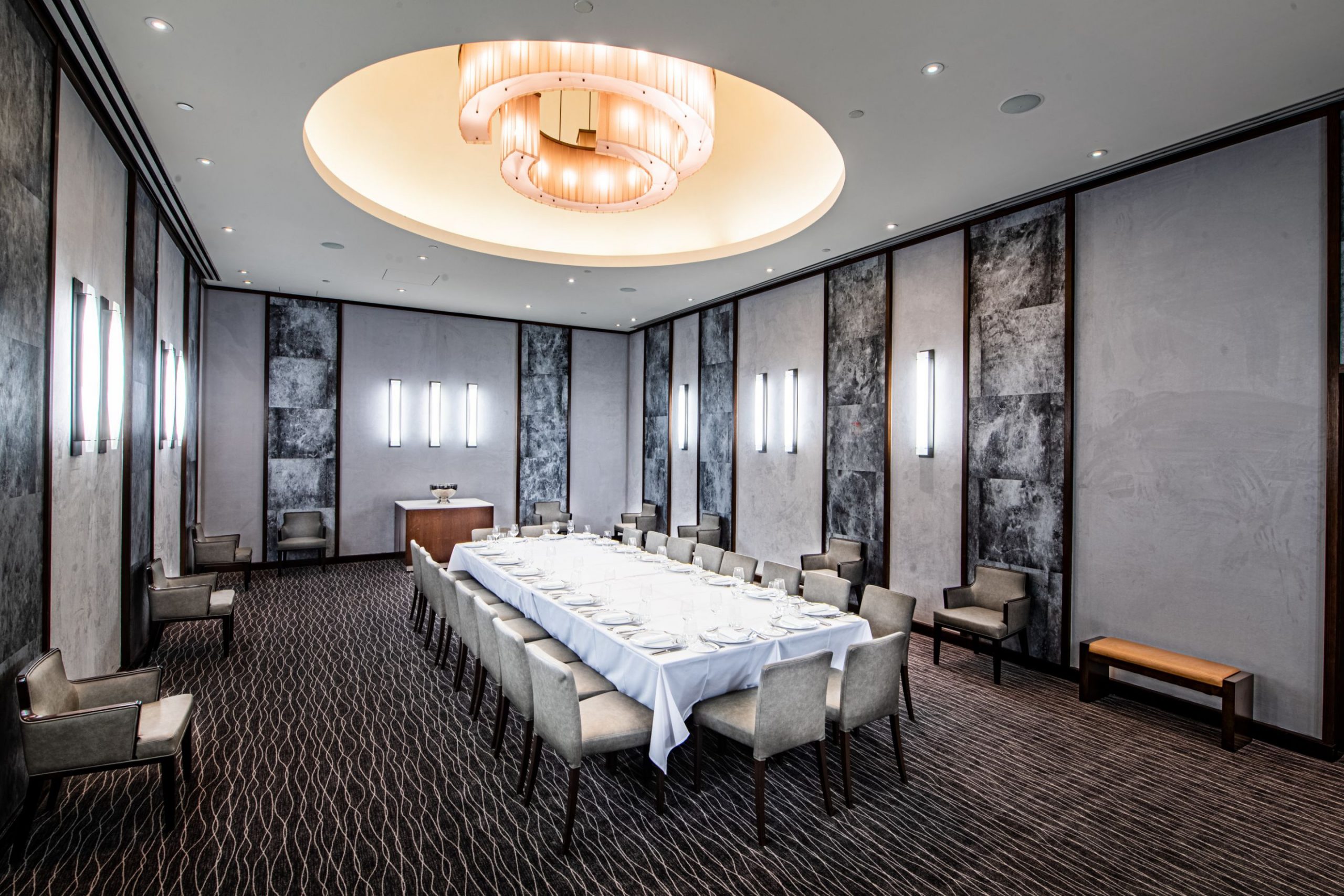 Bonus: Chef's Dinner Table
Neighborhood: Little Italy
Capacity: 26

If you're looking for an experience beyond a restaurant head down to Little Italy to Chef's Dinner Table. This warm and lively space feels just like home and welcomes outside chefs or catering for a completely bespoke dining experience. Host 40 for a cocktail reception or 26 for a sit down dinner. The space includes an open kitchen and bar and lounge area, making it feel just like home.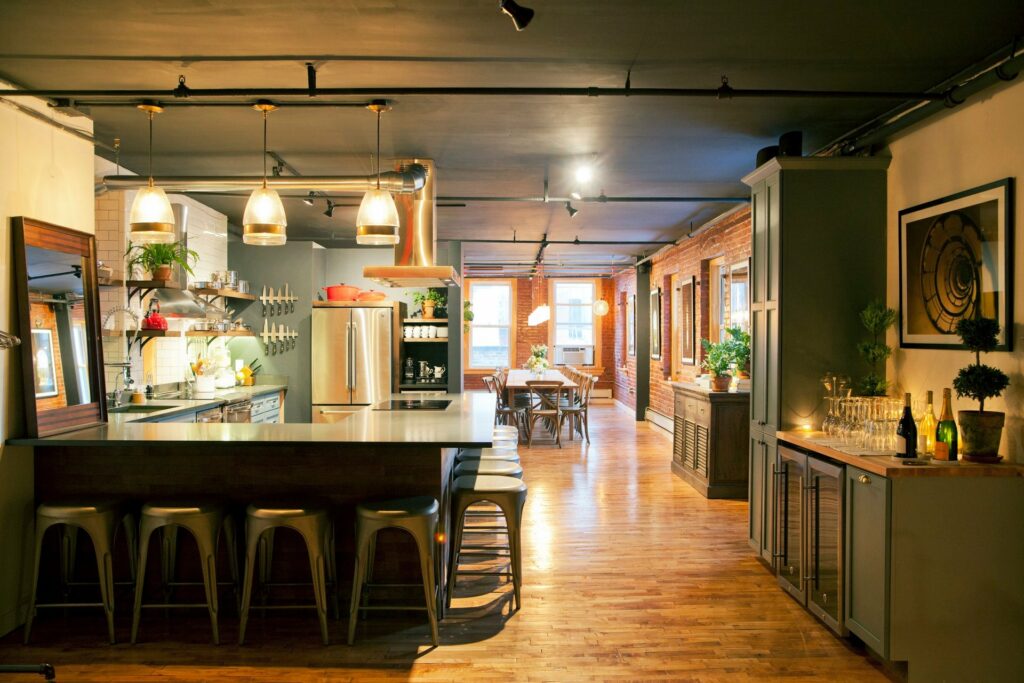 What to Look for When Booking a Private Dining Room?
When you're putting an event together, you want to tailor your venue to the needs of your invite list and the goal of your evening.
If you're having a small team get-together over drinks and food, a semi-private venue that offers a reserved space for your party might work perfectly. You can enjoy the restaurant's ambiance, food, and drink in a spot reserved just for you.
But, if you're having a corporate event celebration highlighting all the great work your team has done that quarter, you might want a more private environment. A separate dining room or event space ensures that you can recap the information that's worth celebrating, without the risk of sharing privileged company information with the rest of the restaurant. If you need to broadcast video presentations or host speeches, check with the restaurant to see if they have A/V capabilities. If not, you can always book additional A/V and production needs separately.
When you're making the call on which events space you'd like to book, remember to consider the type of food that your party prefers, the type of formal or informal atmosphere they'd feel comfortable in, and the budget you have to work with.
Find Private Dining Rooms in NYC
Now, finding a great restaurant for your private event should be much easier. With so many great options the only tricky part is deciding which spot to try first.
Read More:
The Best Private Dining Rooms in Miami
The Best Private Dining Rooms in Austin
The Best Private Dining Rooms in San Francisco