Article updated 3/28/23

Centered at the nexus of cool and cool, Brooklyn might very well be one of the most sought-after spots in the country to hold events in 2023. Its proximity to New York withstanding, this bustling borough stands out on its own right, emerging as a destination to live, work, eat, and play. So all these people in Brooklyn need a spot to convene, right? Below, The Vendry has put together some of the biggest and brightest venues in Brooklyn to hold your next large event.
15 Incredible Large Event Venues in Brooklyn
Brooklyn has effortlessly struck the right chord of rustic, historic, and hip. You'll want your next big corporate event here to directly keep in step with the direction of this trendy borough and you'll find that planning an event in New York City boasts a world of opportunity. Below are the top event venue options in Brooklyn, considered some of the best choices this side of Kings County.
1. Industria Williamsburg
Neighborhood: Williamsburg
Capacity: 700
Industria is the brainchild of photographer Fabrizio Ferri, who began with his first open-space venue concept in Manhattan in 1991. Ferri and his team now offer Industria Williamsburg, an industrial-chic spot with four available studio spaces. Combine them all together to accommodate 700 for a massive event, or utilize each Studio for a customized feel. Studios 1 and 2 are at the ground level with street access, two furnished mezzanines, and column-free open spaces. Combine Studios 3 and 4 to enjoy a large skylight and a retractable wall.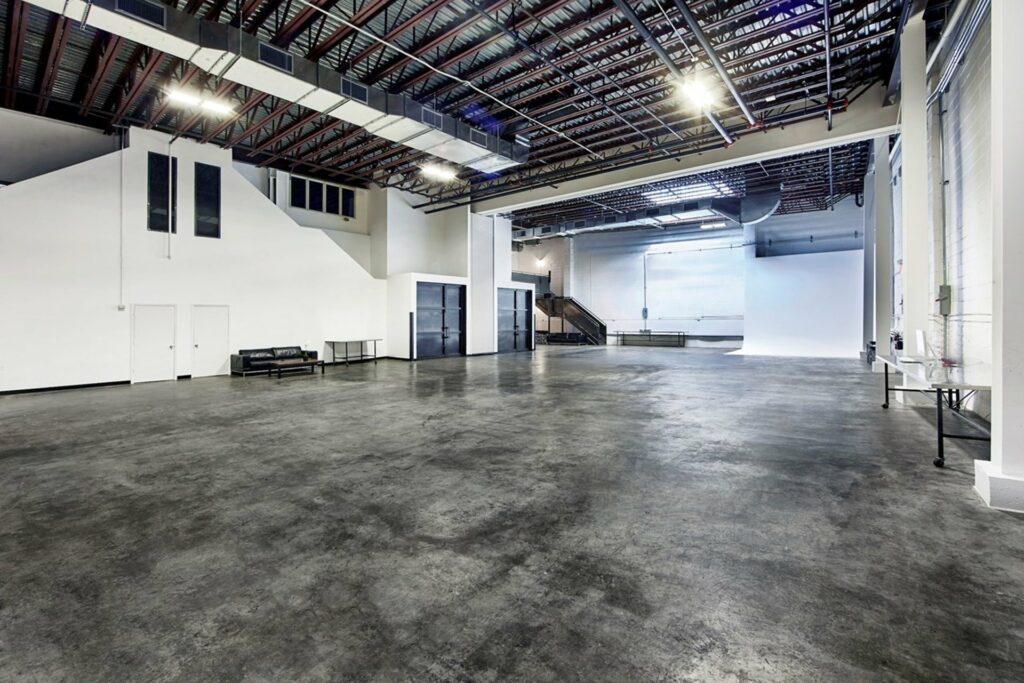 2. The Liberty Warehouse
Neighborhood: Red Hook
Capacity: 1,200
The historic shipping yards of Red Hook are home to The Liberty Warehouse, a right-on-the-water large event space with sweeping views of New York Harbor. Why the name? This locale is the only location in all of New York where guests have a clear view of the Statue of Liberty's face as she looks toward France. Located on Pier 41, The Liberty Warehouse is a restaurant offering 15,000 square feet of space, so there's no need to outsource catering. In addition to a full venue buy-out, there are three unique rooms – the Governors, Harbor, and Bridge Rooms – all ready to host your next corporate outing, meeting, fundraiser, or product launch.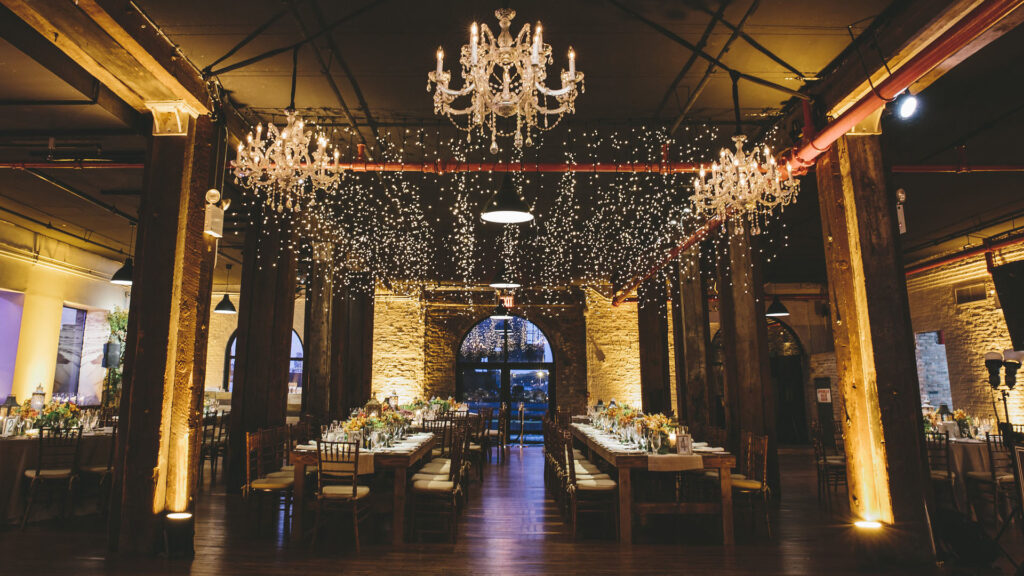 3. Brooklyn Expo Center
Neighborhood: Greenpoint
Capacity: 3,000
The main exhibition hall of the Brooklyn Expo Center is teeming with possibility for your company's next meeting or conference. Located in the thriving and historical neighborhood of Greenpoint, this open-concept building has a glass exterior, parking, and on-site storage. Once you step inside, you'll be impressed with the 68,000 square feet of workable space and 24-foot ceilings. Plan for breakout sessions, as there's individual office and meeting rooms. This large amount of square footage with great amenities is definitely a rarity in Brooklyn.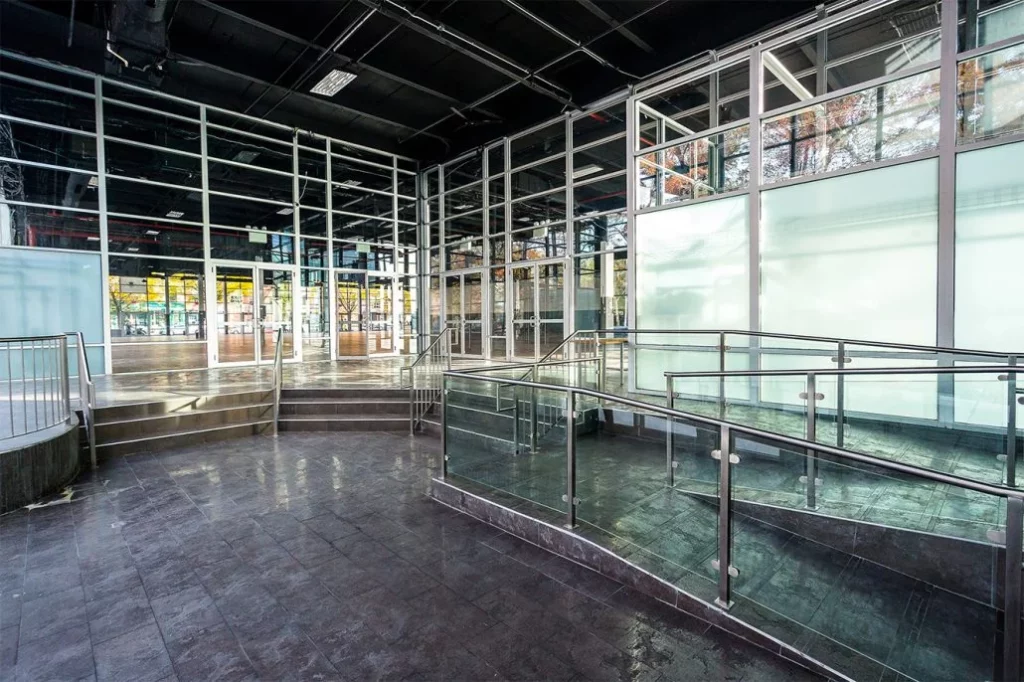 4. Industry City
Neighborhood: Sunset Park
Capacity: 850
Touting "our campus is your event canvas", Industry City delivers on their promise with a waterfront property perfect for hosting large-scale events. Industry City is a creative hub in Sunset Park, and has over 35 acres of campus and is home to more than 550 companies, so it's truly an innovative ecosystem where 8,500 come daily to work. Their event space is unique, as Industry City offers two indoor spaces, as well as one outdoor option. Their Industrial Space is perfect for large get-togethers, and just as the name implies, offers raw space to customize. The second option is Five Two A, set on the second floor, delivering 10,000 square feet with waterfront views, 14-foot ceilings, and the ability to divide the room in half. The open-air Courtyards are perhaps the most fun, where your company could host a picnic or food trucks. Invite your guests to listen to music from the bandshell while lounging in comfy seating, all under twinkling string lights.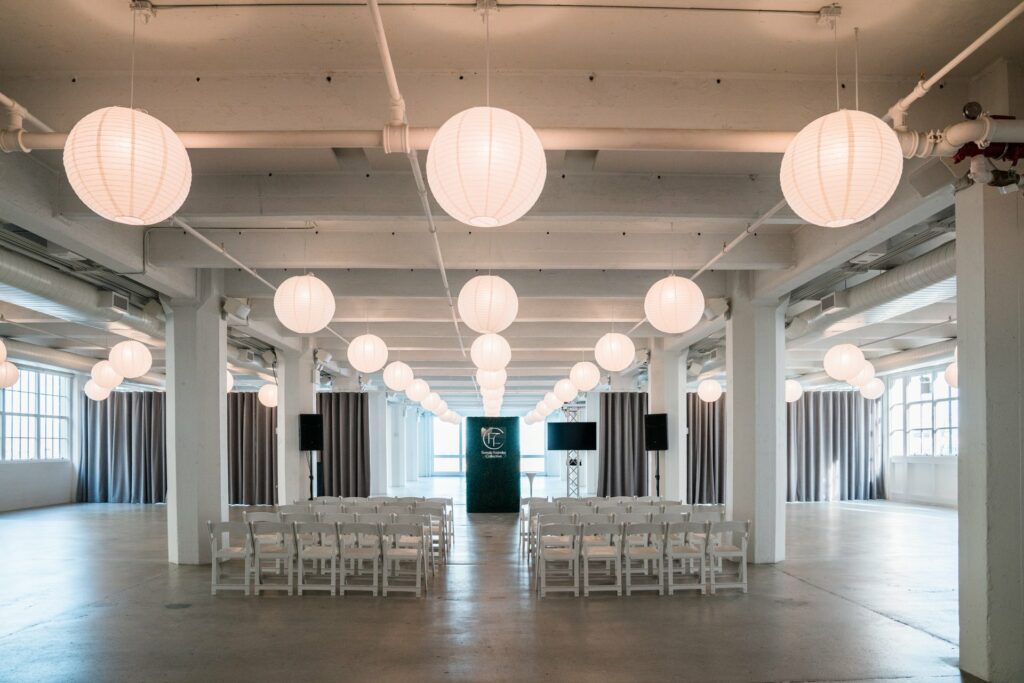 Make sure the music matches the mood! Find the top DJ's in New York for your next event!
5. Weylin
Neighborhood: Williamsburg
Capacity: 1,000
After a gorgeous renovation, Weylin became one of Brooklyn's premier event venues. Weylin is the former site of the iconic Williamsburg Savings Bank, and features a frescoed dome, wood carvings, and period décor, reminding you at every glance this building was built back in 1875. When it comes to choices for your large-scale corporate event, Weylin has several. The Main Rotunda at 3,500 square feet can sit 400 theater-style, making it perfect for presentations. This can be combined with the awe-inspiring Oculus Dome, making 6,000 square feet of space. The 1875 bar is just about as cool as it gets with its tin ceiling and prohibition-era feel, providing a respite for your guests.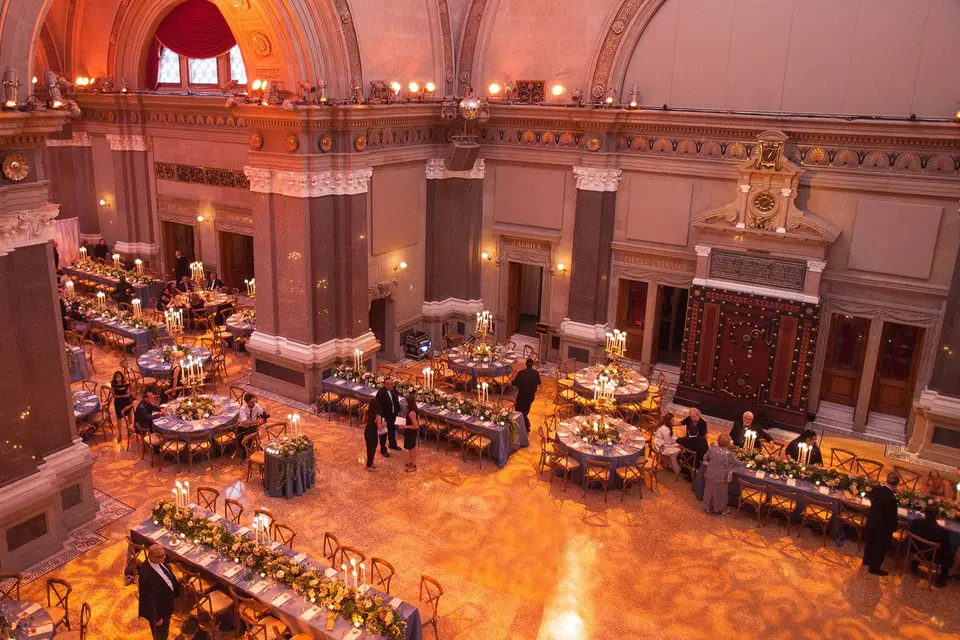 Dinner and a view? Browse the Top NYC Rooftop Venues with the Most Stunning Views!
6. Music Hall Williamsburg
Neighborhood: Williamsburg
Capacity: 650
If you're looking for a unique and spacious event space in Brooklyn with a rocker vibe, consider booking the Music Hall of Williamsburg. The iconic tri-level industrial venue can accommodate up to 650 guests and features bar areas on every floor, as well as comfortable lounge seating with cocktail tables throughout. Whether you're planning a corporate event or large gala, the Music Hall of Williamsburg is a great choice for a big event.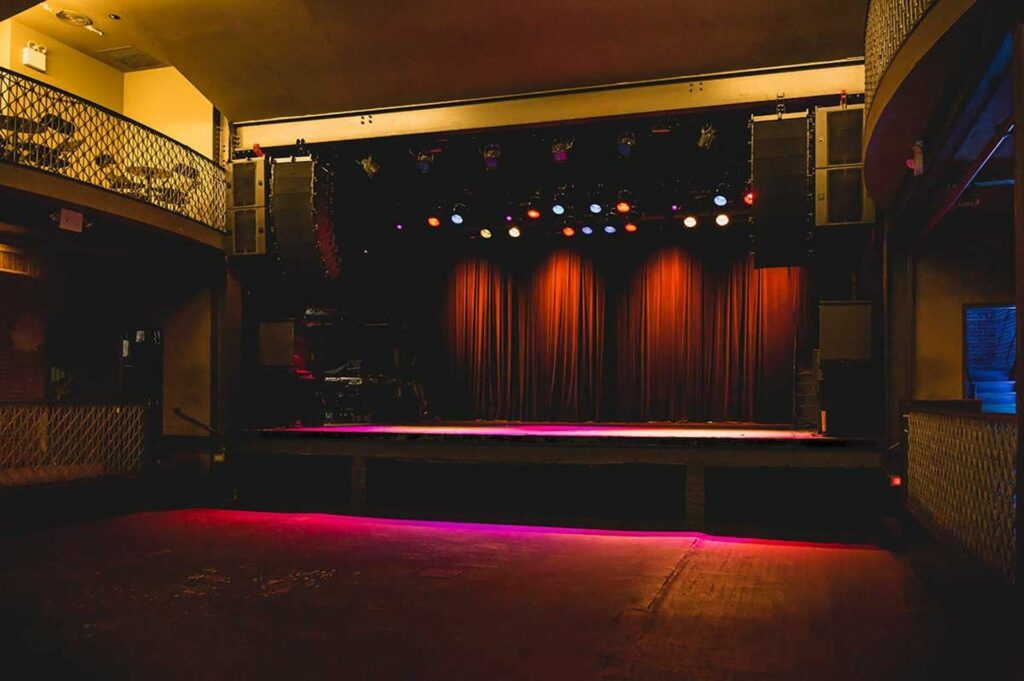 7. The Brooklyn Museum
Neighborhood: Prospect Park
Capacity: 880
An impressive building sitting in the center of Prospect Park, The Brooklyn Museum brings art, life, and culture to the community it respects and cherishes. When it comes to hosting an event at this iconic place, the Beaux-Arts Court delivers 10,000 square feet of space, and is truly something to behold with its dramatic skylight, original archways, and glass-tile floor from 1927. Perhaps after a presentation in the 400-person Iris and B. Gerald Cantor Auditorium, your company can retreat to The Martha A. and Robert S. Rubin Pavilion and Lobby to revel in its sheer glass splendor, marrying the contemporary with the historic.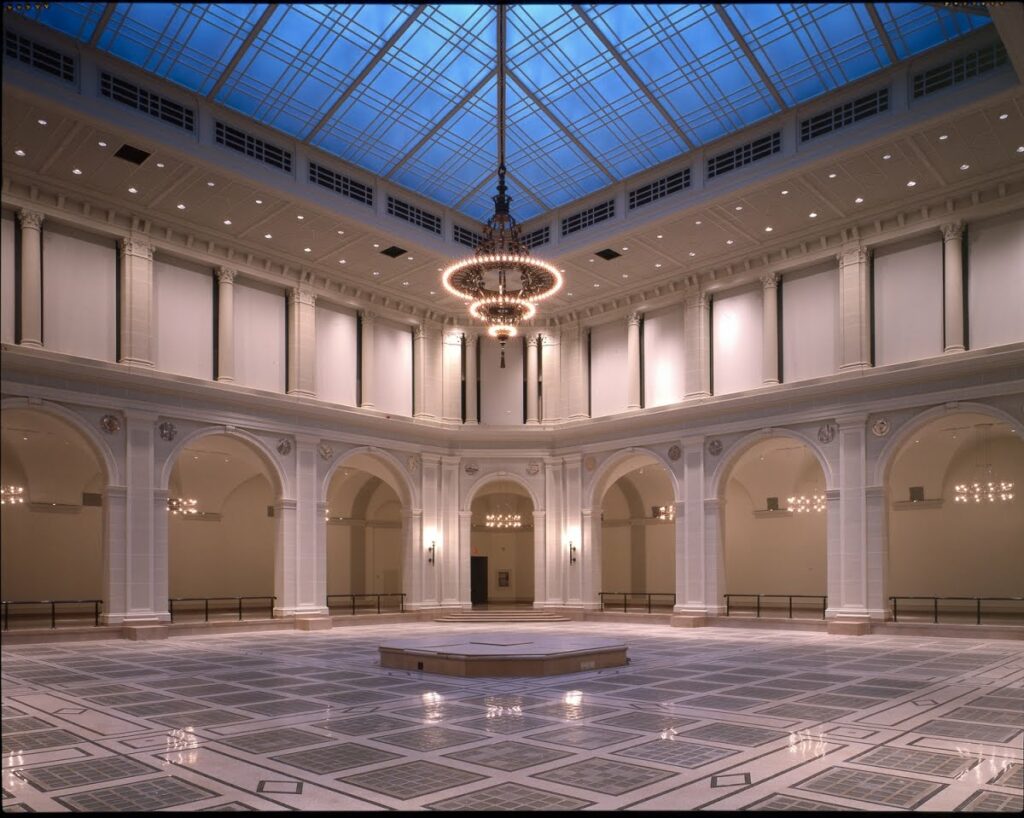 8. 99 Scott
Neighborhood: Williamsburg
Capacity: 900
Simplicity is at the heart of 99 Scott, a mixed-use venue with the option of three settings in which to hold your event. The light-filled Industrial Warehouse has 20-foot ceilings and huge casement windows. With the concrete floors and exposed wood beam ceilings, this space really excels at the industrial-chic look. There's a minimalistic outdoor space, that can be combined with the Industrial Warehouse, to deliver more than 1,200 square feet of workable space. As an added bonus for functionality, there's a full catering kitchen and green room in the basement, as well as two additional spaces open to rent.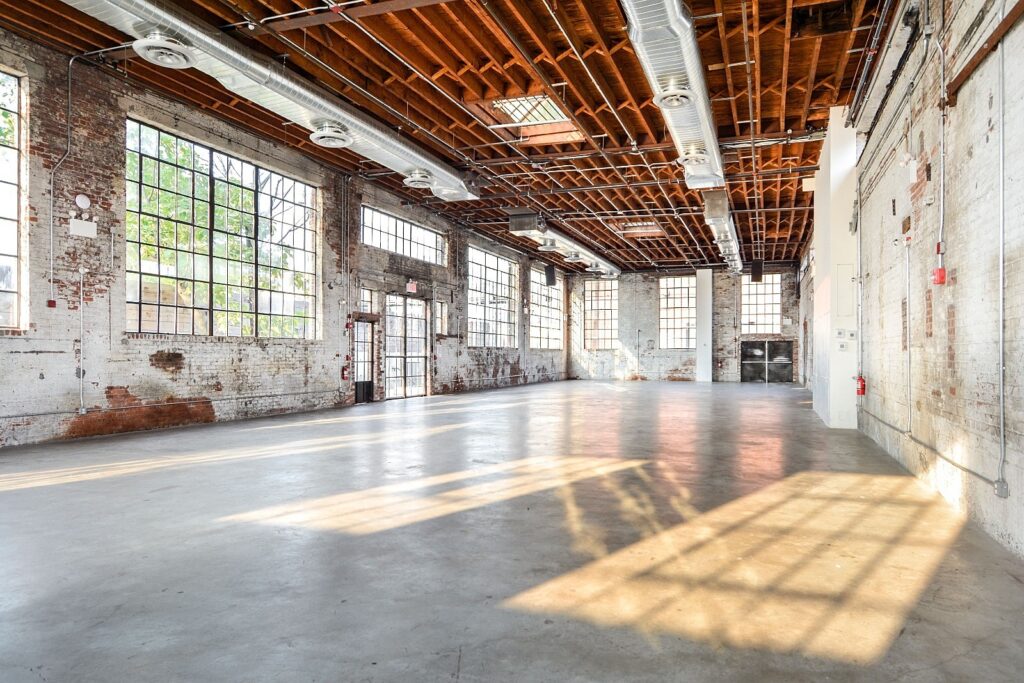 9. Brooklyn Steel
Neighborhood: Williamsburg
Capacity: 1,800
One of the largest venues on the list, Brooklyn Steel is the site of a former steel factory, as well as many, many awesome events and concerts. This will suit your company's big event just fine, thanks to its large capacity and industrial look. There's a main floor, balcony, and three bars, as well as a private VIP room. This would be an impressive place to hold a product launch or large conference, not only for its size, but for its vast experience for putting on events big in scale.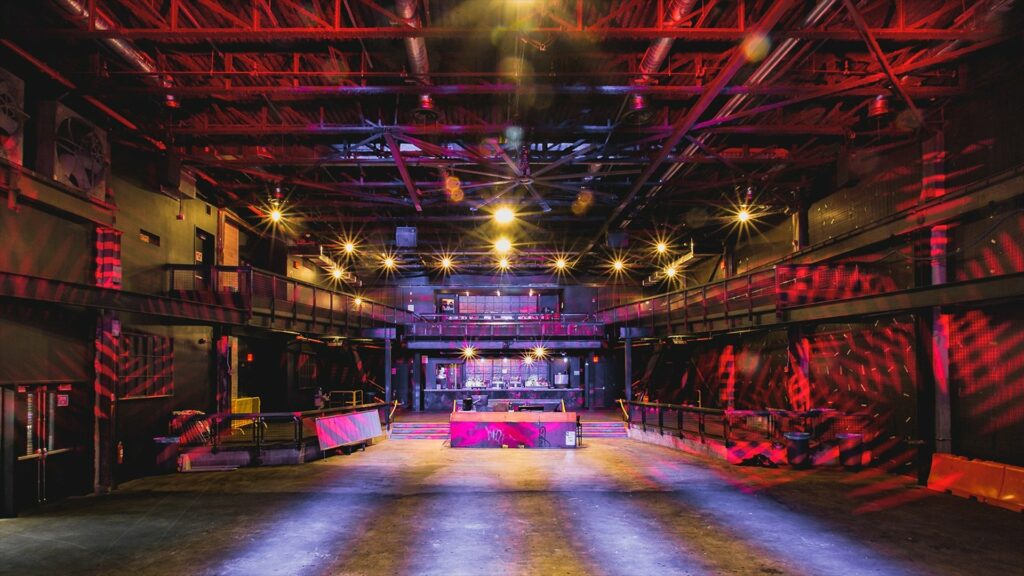 10. 26 Bridge
Neighborhood: DUMBO
Capacity: 375
Once a metal works foundry, 26 Bridge boasts historical character thanks to a careful restoration. A great spot to hold an event in the DUMBO (Down Under the Manhattan Bridge Overpass) District, this venue has original brick, all under the canopy of 27-foot ceilings and wrought iron beams. There's 8,000 square feet of raw space, as well as a loft overlooking the main space, as well as a coat check room.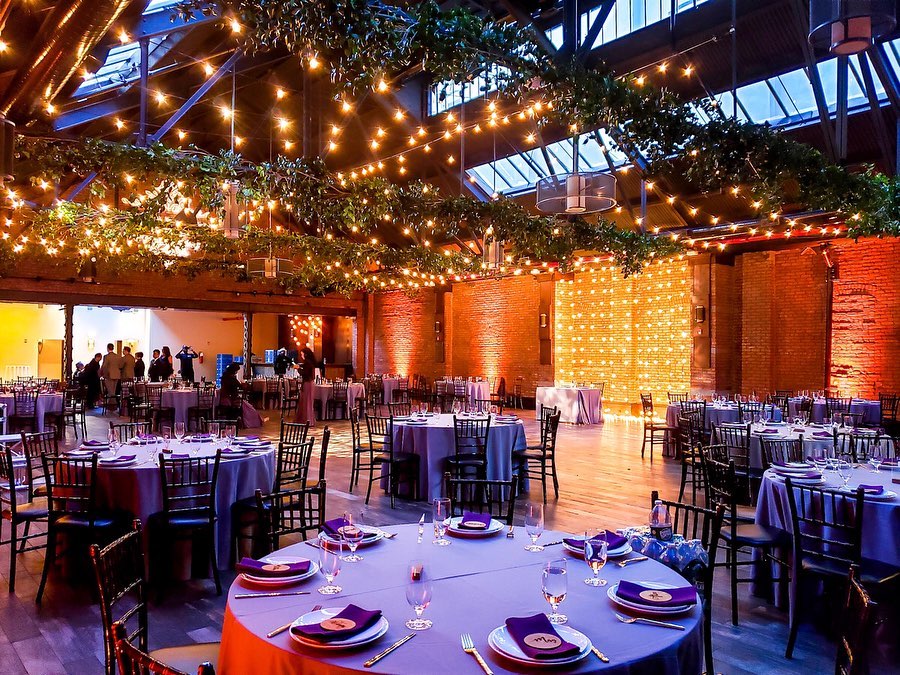 11. XX Venue
Neighborhood: Williamsburg
Capacity: 300
XX Venue is a standout as a loft and private rooftop event space in Williamsburg. Modern and fresh, this venue is a renovated warehouse building that still radiates that old Brooklyn charm. Head up to the 4,000-square foot rooftop for an unobstructed view of the East River and Manhattan skyline. This is a great place to host a big corporate event or presentation, as there's 15,000 square feet of space with lots of natural light, breakouts rooms, and an elevator. There's a designer element here, so if a sleek feel is your intention, an event at XX Venue would be a memorable one.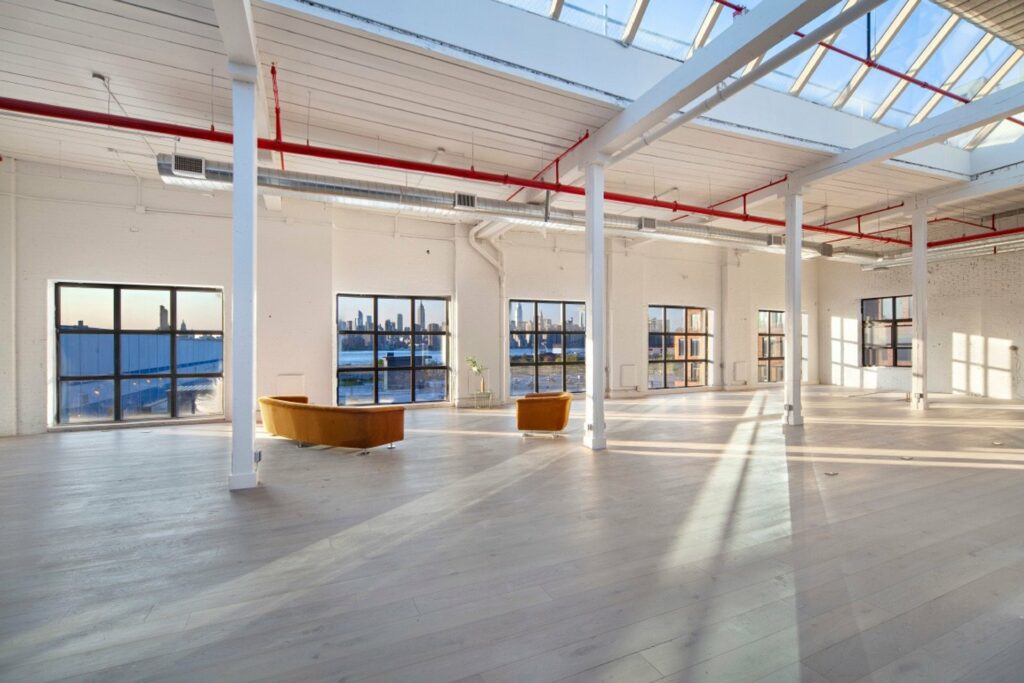 12. Greenpoint Terminal Warehouse
Neighborhood: Greenpoint
Capacity: 900
If you are looking to sprinkle some history into your large-scale event, then set your sites on Greenpoint Terminal Warehouse in Brooklyn. Built in the 1890s and once a rope manufacturing center for the shipyards along the East River, this landmark structure played a big role during the American Industrial Revolution. Thanks to a beautiful restoration with a nod to the past, Greenpoint Terminal Warehouse is now a functional venue for events as large as 900 people. There's 8,500 square feet of space, and the professionals here will hook you up with all the caterers, audio/visual tech, rentals, and entertainment you can dream up.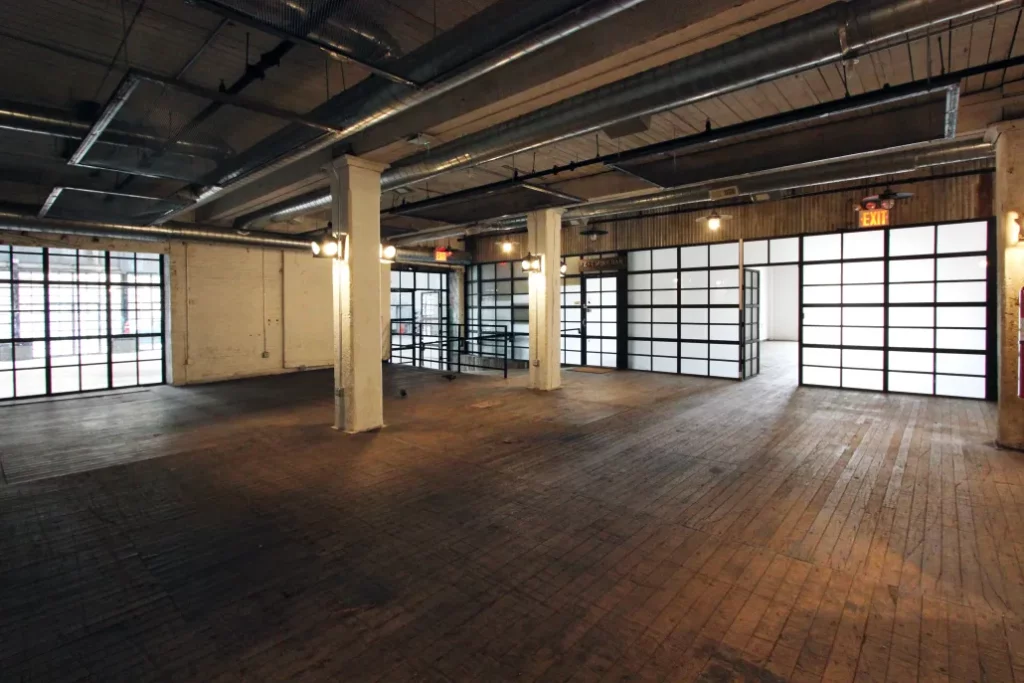 13. BAM
Neighborhood: Fort Greene
Capacity: 350
The Brooklyn Academy of Music (BAM) is the center of theater, dance, music, opera, and film in Brooklyn for more than 150 years. Events held here are dynamic and distinct, and there's several choices depending on your company's needs. The Lepercq Space was originally a ballroom and is totally flexible, hosting 325 standing or 150 seated. BAM's Rooftop Terrace is not only a lovely, landscaped dream, it has a retractable roof for year-round use.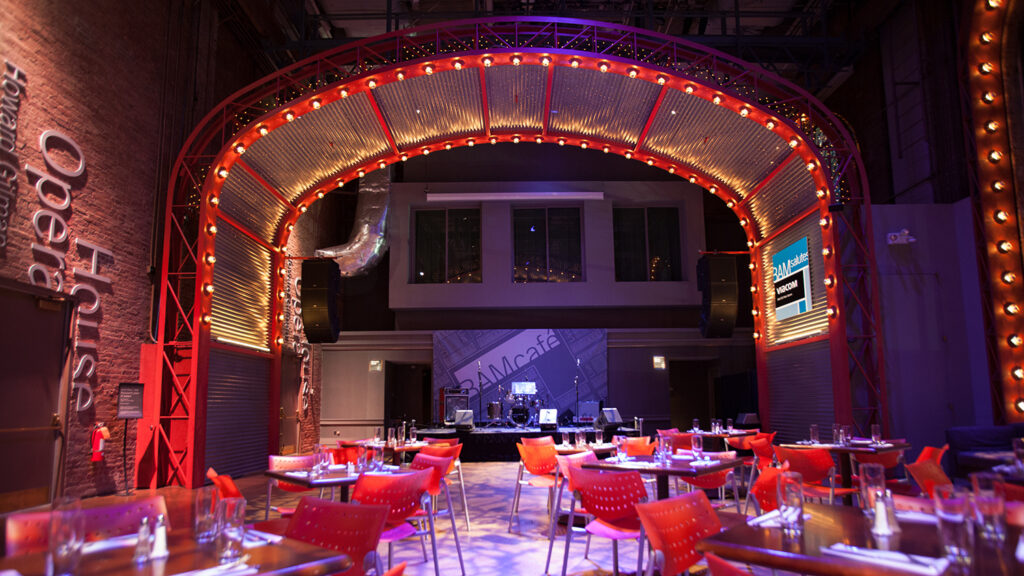 14. Patina Events at Brooklyn Botanic Garden
Neighborhood: Prospect Park
Capacity: 250
If you are looking to hold your next large corporate event in a stunning space with excellent food to feed lots of people, look no further than Patina Events at Brooklyn Botanic Garden. Talk about a gorgeous setting – The Palm House is a glass-walled, greenhouse-style structure within in the Garden, and can seat 250. Or set your sites on The Lillian and Amy Goldman Atrium, Brooklyn Botanic Garden's newest ecologically sustainable event space, all set beneath a living roof of native grasses and wildflowers. Hopefully you can keep your employee's attention, as their collective gaze will want to take in the Garden's Cherry Esplanade, directly in view out of the Atrium's floor-to-ceiling windows.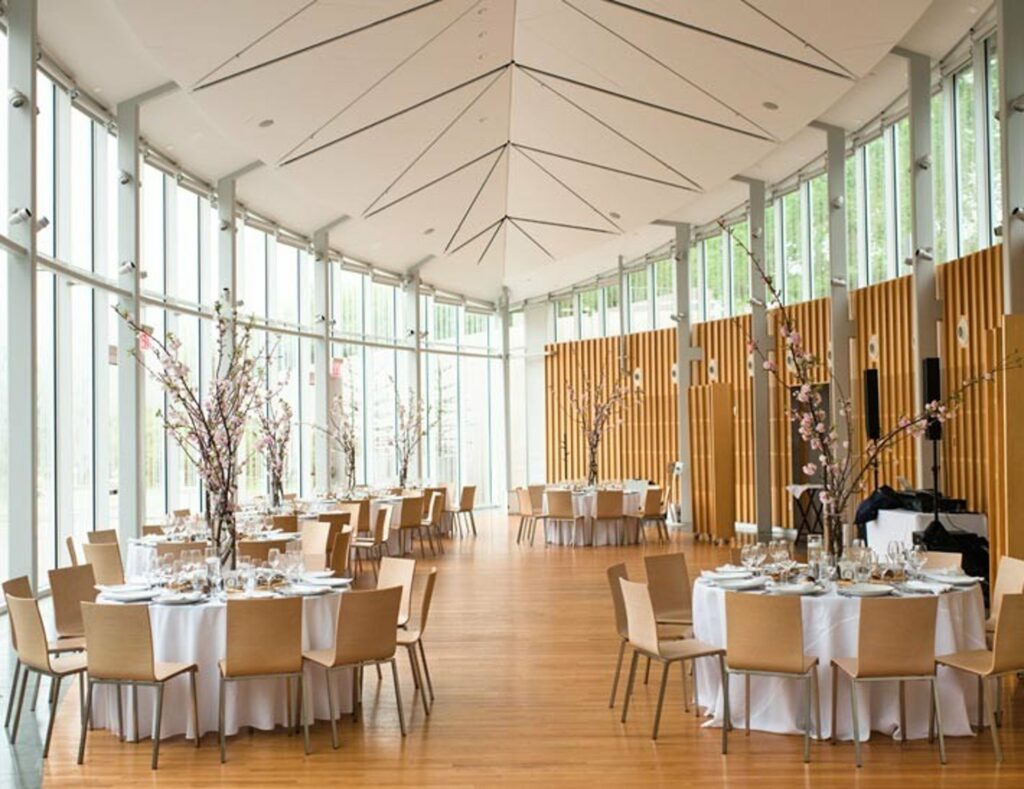 15. 501 Union
Neighborhood: Gowanus
Capacity: 299
A local favorite, 501 Union is the site of a former classic car restoration shop, and is a reminder that Brooklyn keeps things modern while honoring the past. Industrial chic is on full display here, with The Atrium and The Main, serving up 3,900 square feet of raw space. If you are looking to strike a tone of vintage chic Brooklyn for your corporate meeting or product launch, you'll want to explore this spot. With its 50-foot skylight, two 15-foot Carrara marble top bars, lofted ceilings, woodwork, brass fixtures, and white tin ceiling, 501 Union sets a mood.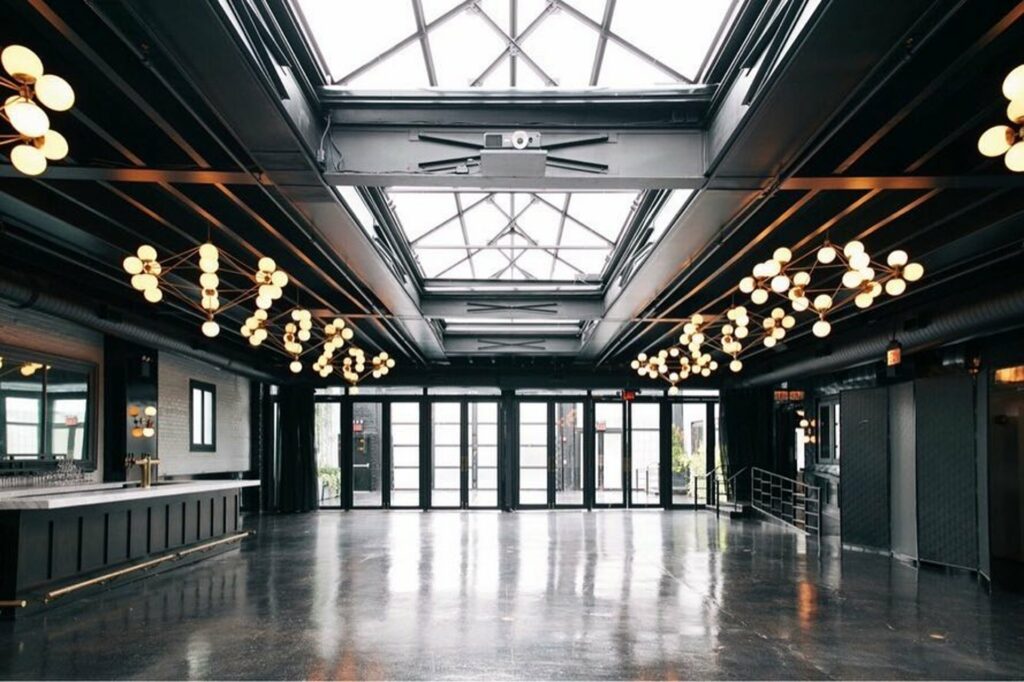 16. The Dumbo Loft
Neighborhood: DUMBO
Capacity: 200
Known locally as a highly customizable space with exposed brick walls and high ceilings, The Dumbo Loft gives a delightful nod to a bygone era. Make this space your own, as Brooklyn's BK Venues hospitality group provides a long list of caterers and rental houses from which to choose. Your team can overlook the remarkable district of DUMBO, with its cobblestone streets and Manhattan Bridge archways. If your company needs a break after meetings, the Brooklyn Bridge Park is right there for a welcomed breather.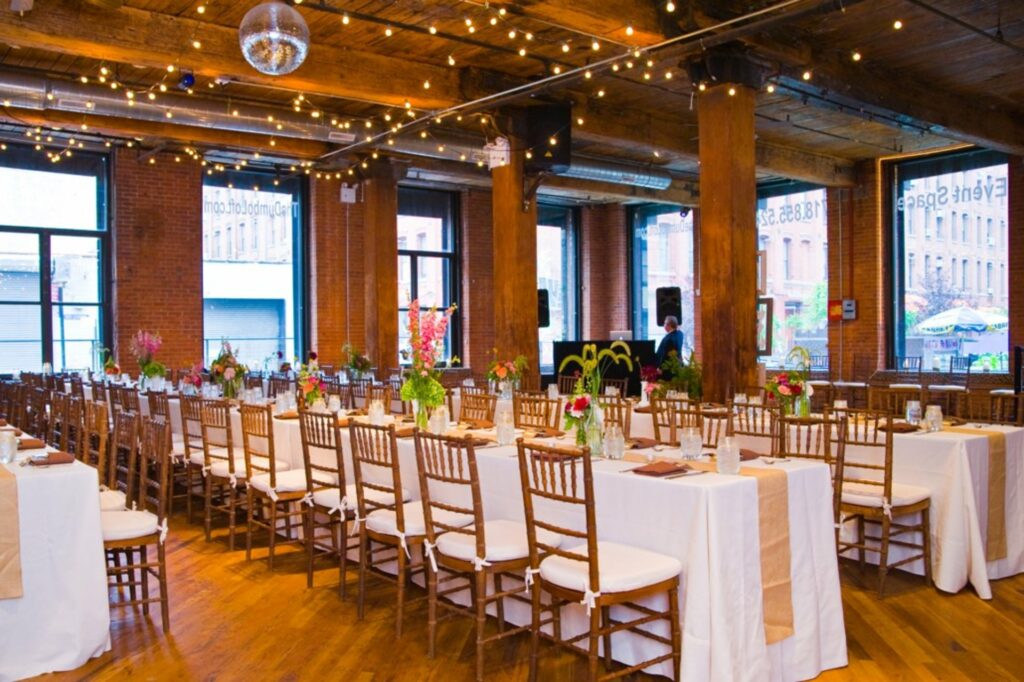 Why Choosing the Right Venue for Your Event is So Important
Brooklyn has grown into its own so much in the past decade, it's easy to forget that not every restaurant or venue is created equal. When planning a large corporate event in this special borough, you'll have to take a hard look at what your event's needs are, and devise a list that will make sense of it all.
Ask yourself what your most important event elements are and what venue out there will help you achieve them. There are some spots that have great views, but you'll need to bring in all your own rentals and catering. There's other locales that really possess that vintage feel of old Brooklyn, while others make way for the next generation of venues. No matter where you land, the beauty of Brooklyn and its accessibility flanked with support, will make sure the job gets done.
The Top Things to Consider When Booking a Venue For a Corporate Event
Brooklyn feels like it might very well be the center of the event universe right now, so you already know you've landed in the right part of the world to hold your meeting, conference, or product launch. Here are a few things you'll need to have ironed out before you sign the dotted line of that venue contract.
Your event's tone. The vibe of your event will provide the tenor of your meeting or affair, which leads to your event's objective. Creating a purposeful event begins with the right setting.
Your event's budget. This is a big one. Without a budget or guidelines, you won't be able to determine a venue. Be certain to ask all the right questions. You'll want to know what's included in your rental fee, and what you'll need to plan to outsource.
Your event's tech needs. Are you planning projections? Experiential elements? A 100-slide Google presentation? If any audio/visual services are on your list, make sure your venue has it covered, or the means to help you figure it out.
Your event's format. If your company's plan is for a lengthy presentation or demonstration, make certain your venue has the right kind of set up. Or if your meeting has breakout sessions on the agenda, best be sure your locale has rooms in which to do so.
Your event's safety. These are certainly unique times right now, so adapt you will. You are bringing a large group together. Does your venue have a plan in place if there's an emergency? Does your location have enough room so everyone feels comfortable and distanced? Make sure your contract reflects cancellations or any other items that might be out of your control.
Find Unique and Versatile Event Venues on The Vendry
You know you want to host your event in Brooklyn. Good news because The Vendry knows Brooklyn. Use our search functions and filters to find that perfect venue to host your next large-scale event in New York's largest borough.
Read More:
The 15 Best Large Venues in Washington D.C.
The Top Large Event Venues in Austin
The Best Large Venues in Atlanta