Article updated 3/29/2023

The New York City skyline is arguably the most famous and most recognizable in the world. Whether you zoom in or out on it, it's a vista that continuously delivers. So, hosting an event in New York is a no-brainer. There are thousands of event venues across the five boroughs to consider, but we've whittled it down to a list of 21 NYC venues with the best views. 
The Top NYC Venues with the Most Stunning Views
NYC venues with views are not in short supply, and yet another great reason why you should host an event in New York. Some might take you almost to the clouds at 102 floors up for a helicopter-style panorama, and others take you closer to earth where you can look out onto bustling city streets. Here are 21 venues to get your event ideas flowing.
1. 74Wythe
Neighborhood: Williamsburg
Capacity: 400
Some of the best Manhattan skyline views are actually to be had off the island, something that becomes abundantly clear when you step into Williamsburg's 74Wythe. This multi-functional event venue spans 15,000 square feet over four flexible and interconnected spaces. While a furnished greenroom, mezzanine, hidden cocktail lounge with a glass ice display, and private loft space with an outdoor courtyard are all fabulous, the proverbial cherry on top is the 5,000 square foot rooftop with a retractable glass roof. That really enables you to drink in those views, rain or shine.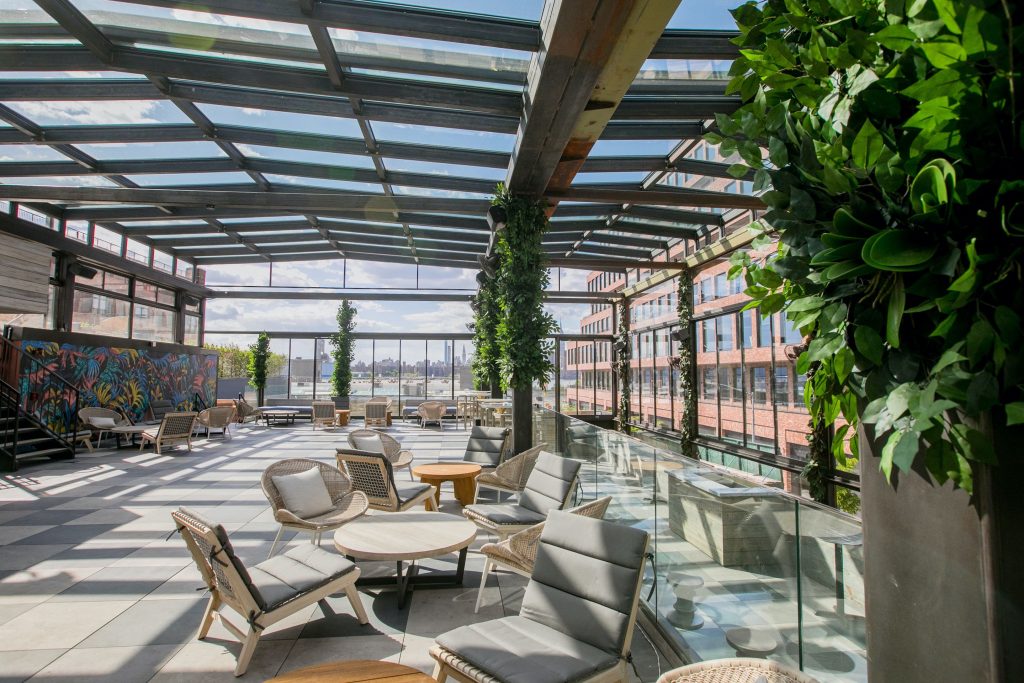 2. Tribeca Rooftop + Tribeca 360 °
Neighborhood: Tribeca
Capacity: 720
Much of New York's hottest and most coveted real estate is now in the Tribeca area. Old mercantile architecture is conducive to those wanting loft-style space, ideal for both residences and businesses. Along the neighborhood's cobblestone streets and in/on a 1920s printing press building you'll find Tribeca Rooftop + Tribeca 360°. Large windows, 15 foot ceilings, and 15,000 square feet are perfectly suited to both corporate and social events of up to 720 standing, while the rooftop offers sweeping views over Manhattan and the Hudson River.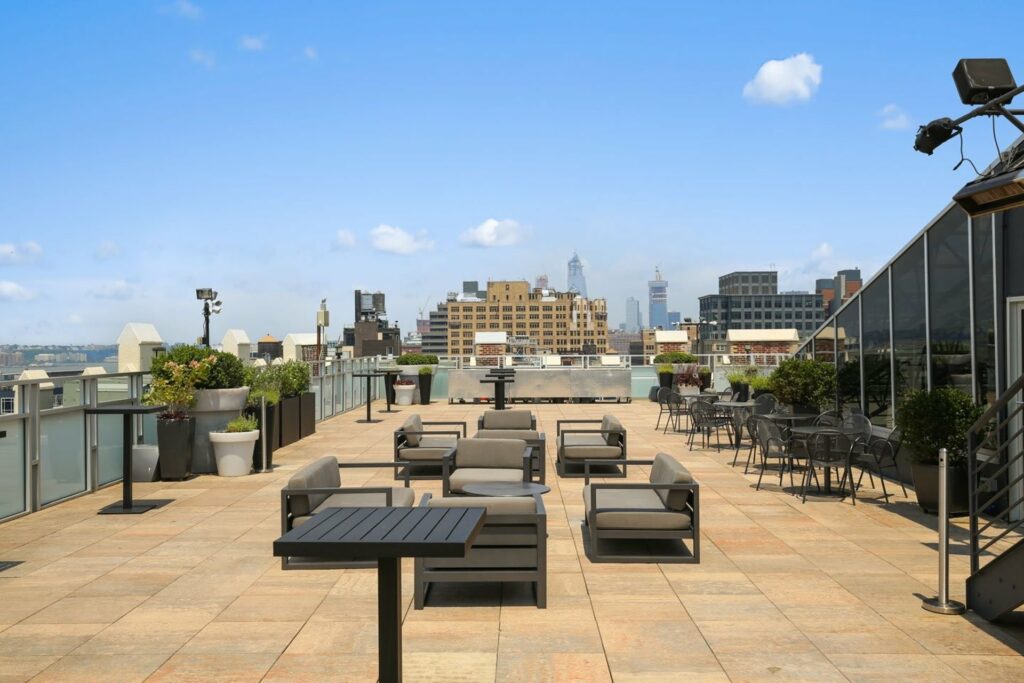 3. Westlight
Neighborhood: Williamsburg
Capacity: 110
Head back across the bridge to The William Vale, a noted luxury hotel, and you can experience their desirable event space 22 floors up. Noted design firm Studio Munge handled the sleek interiors of Westlight, installing decor which perfectly compliments the floor-to-ceiling windows and panoramic views. Up to 110 people can utilize the inside space and the warp-around-terrace, but if you are looking to book something extra special, head to "Upstairs at Westlight" where you and 240 others have a bird's eye view of all five boroughs.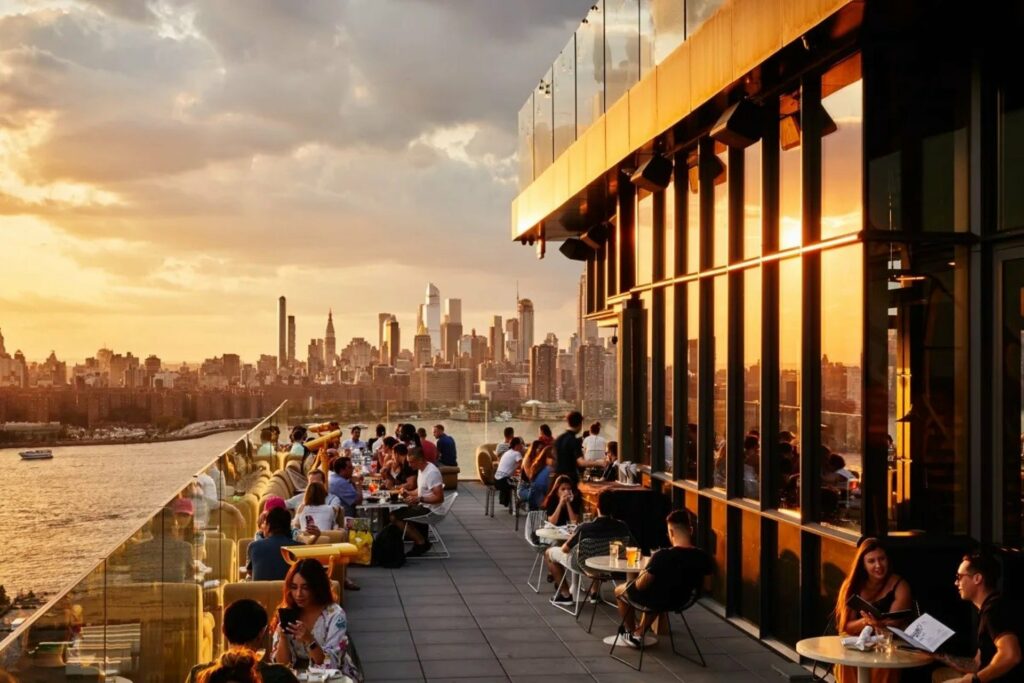 4. 620 Loft and Garden
Neighborhood: Midtown
Capacity: 165
Rockefeller Center is an iconic New York complex. While its 14 original Art Deco buildings were built in the 1930s, 620 Loft and Garden offers a contemporary appeal within that setting. 3,300 square feet of loft space provide close-ups of Fifth Avenue and the famed St. Patrick's Cathedral. While this venue can cater to a variety of events, it's definitely a wedding favorite.
5. The Liberty Warehouse
Neighborhood: Red Hook
Capacity: 1,200
The Liberty Warehouse is, to put it mildly, incredible. Go to Pier 41 in Red Hook, Brooklyn's historic shipping yards and you'll find this equally historic venue. The building dates back to the 1850s and looks out over water for unparalleled views of New York Harbor. This venue is especially significant because it provides the only vantage point in all of New York where the Statue of Liberty is face front. (She's looking towards France, the country who gifted her to us in the 1880s.) The venue consists of two large event rooms, each with working wood burning fireplaces and large windows. It's an epic spot to hold an event, with a view that holds particular meaning.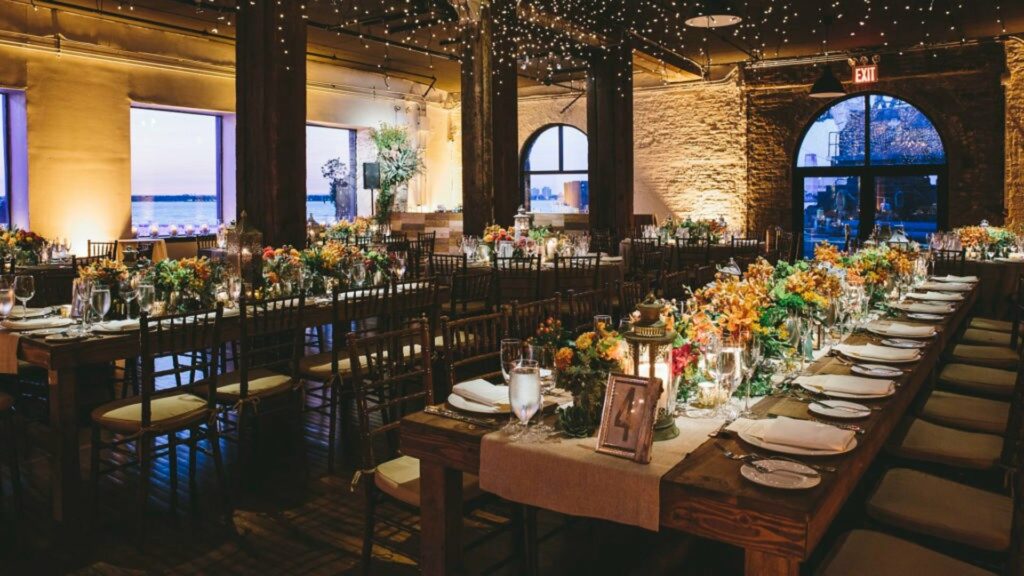 Set the mood at your next event ! Find the best event lighting companies in NYC.
6. Rainbow Room
Neighborhood: Midtown
Capacity: 60
Like 620 Loft and Garden, the Rainbow Room is within Rockefeller Center. It's 65 floors up so it's one of the highest venues in New York, and there's views to match. It originally opened as a restaurant in 1934 and became a go-to favorite among the city's high society. Over the years it's gone through different ownership and incarnations, but its storied history cements its place in New York lore. Perhaps Dance magazine summed it up best in 1942: "The Rainbow Room is unique in many ways. The highest 'high spot' in the world, it is also the super night club in the world of the dance. From the beginning the Rainbow Room has done the unexpected, sponsored the new, and set the fashion for the rest of the world to follow."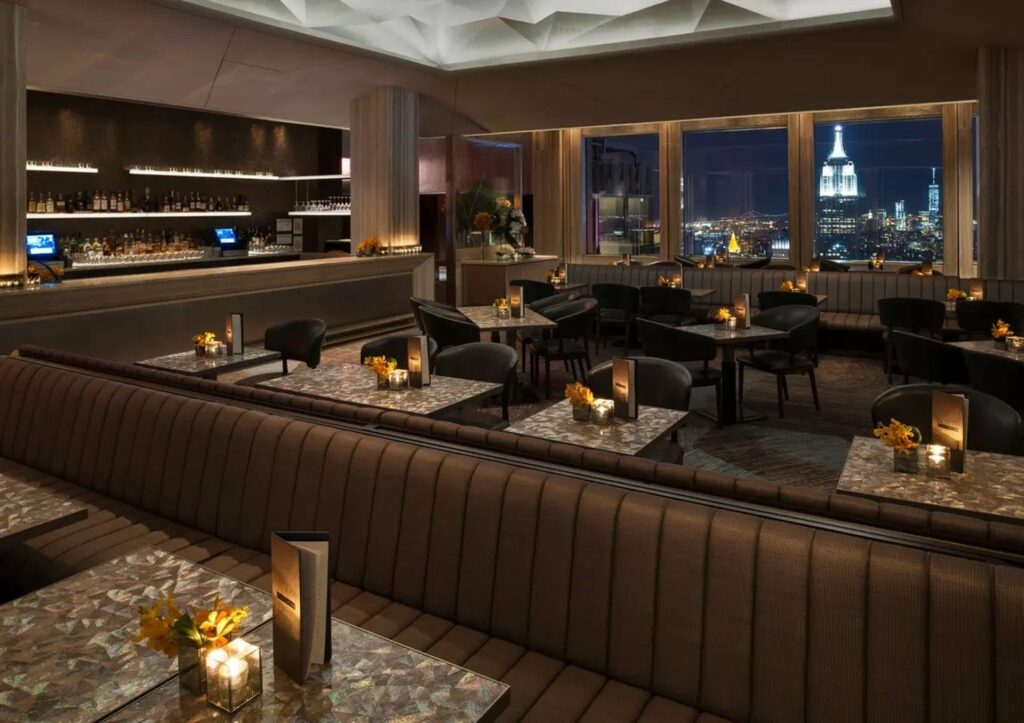 7. The Box House Hotel
Neighborhood: Greenpoint
Capacity: 293
The Box House Hotel is a luxury boutique hotel in Brooklyn's vibrant Greenpoint. It offers a few event options, but their rooftop "Top of the Box" undoubtedly provides the wow factor. Due to its location it provides exceptional views over Manhattan, Brooklyn, and Long Island City. The fully retractable rooftop weather-proofs 10,000 square feet of event space including a wrap-around marble bar.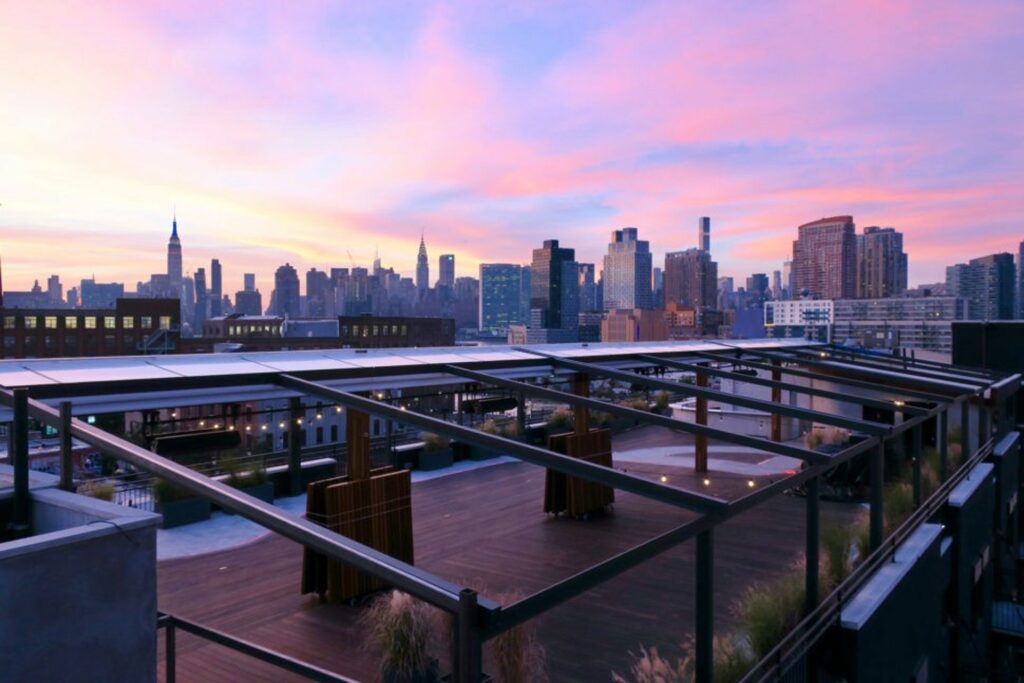 8. Penthouse 45
Neighborhood: Hell's Kitchen
Capacity: 100
Penthouse 45 is a unique venue that during the day is sun-drenched with natural light and at night remains equally impressive. It's a 4,250 square foot blank space to work with for up to 100 standing people, but one that offers a lot: panoramic views, wraparound terrace, high ceilings, restored fireplace, in-house staff members, state-of-the-art A/V equipment, and more.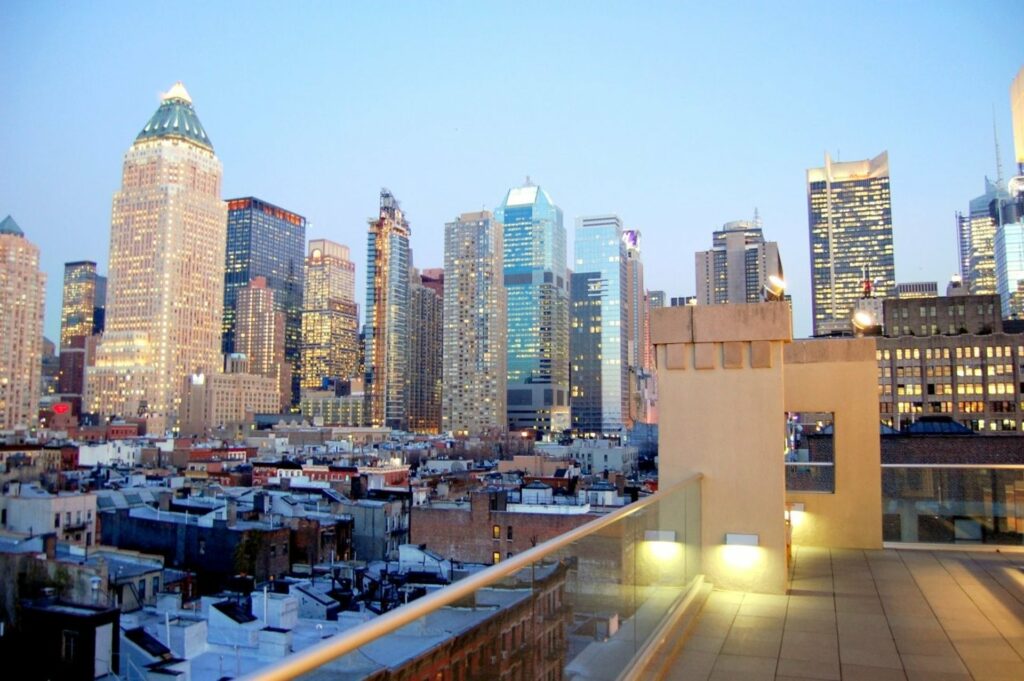 9. The Glasshouse Chelsea
Neighborhood: Chelsea
Capacity: 200
Speaking of blank canvases with drop-the-mic views, the Glasshouse Chelsea is another brilliant location to consider for up to 200 guests. It's a multifunctional venue with impressive built in infrastructure. There are two locations, both over 3,000 square feet, within the building that you can consider, but the higher one on the 21st floor of course maximizes the view and it also includes a 200 square foot terrace.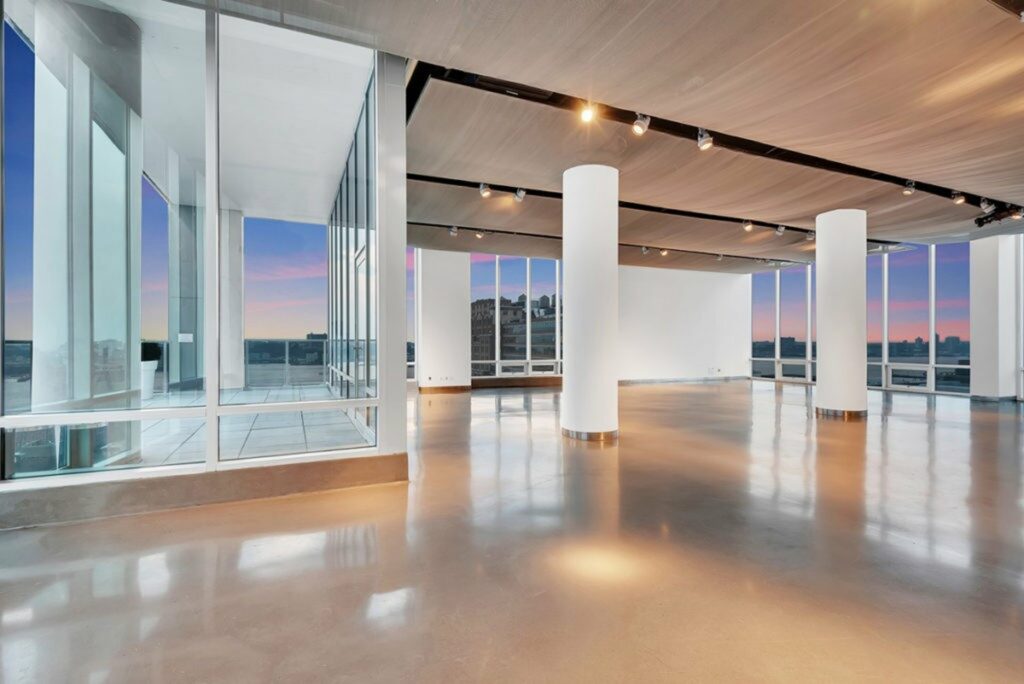 10. Midtown Loft and Terrace
Neighborhood: Midtown
Capacity: 200
Two elegant and sophisticated venues share an address at Midtown Loft and Terrace. As its name suggests you can choose between the Loft or the Terrace spaces, which each offer a distinct feel but equally high caliber of service and quality. The indoor loft is an expansive 5,000 square feet and a great space for weddings, conferences, and it has even hosted some pretty epic birthday parties. However, if you're really looking for the views, the open-air 4,400 square feet is a must. It provides a breathtaking 360° view including the Empire State Building and gorgeous Marble Collegiate Church.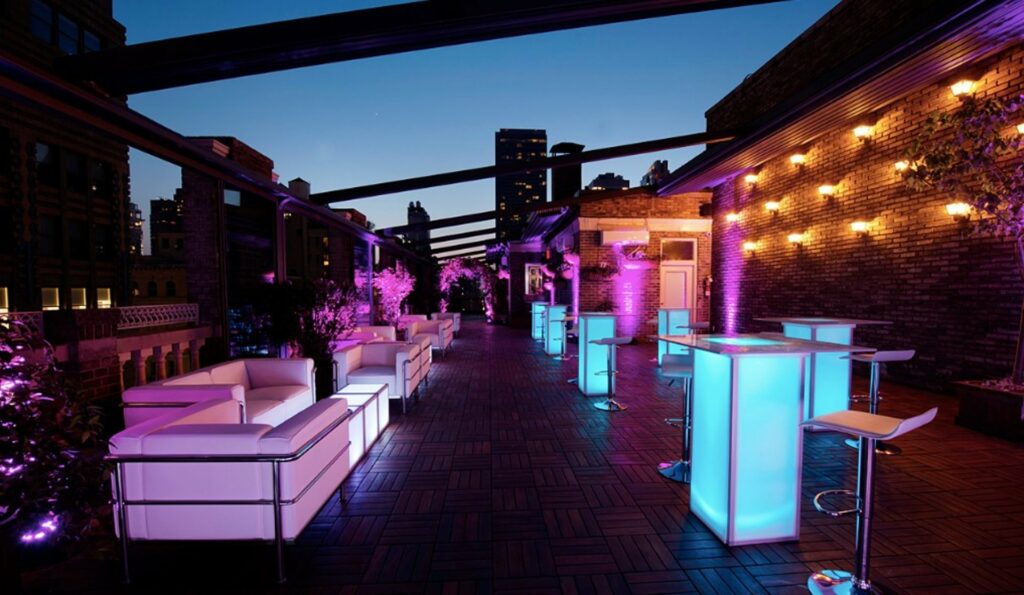 11. ASPIRE at One World Observatory
Neighborhood: Financial District
Capacity: 400
If you're set on a good view then the 102nd floor of the tallest building in the Western Hemisphere is a good place to start. ASPIRE at One World Observatory is a 9,000 square feet venue that offers a bird's eye view in the most literal sense. While the setting is purposefully minimalistic since there's already enough to look at, the team here is a well-oiled machine here to help meet the most exacting of standards for up to 400 people. The elevator ear popping will be more than worth it.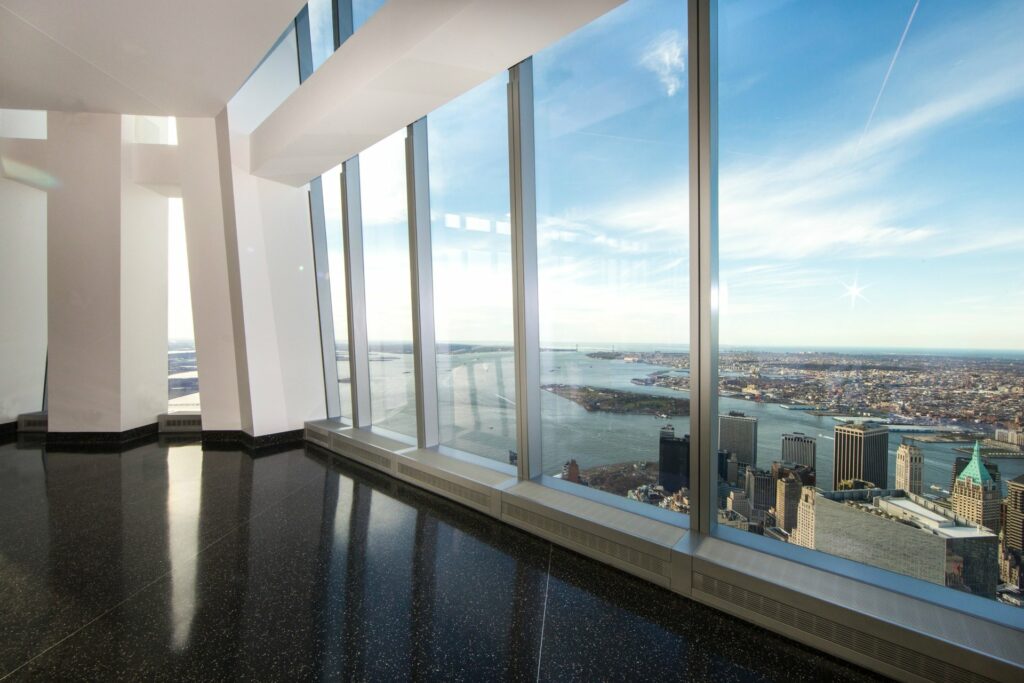 12. Ramscale Penthouse
Neighborhood: West Village
Capacity: 150
While it was first established as a photo, film, and art studio in 1984, Ramscale Penthouse added events to their offerings in 1995 and since then has created an intimate atmosphere for up to 150. It's in an enviable location just below the High Line and the Whitney Museum, and its 1,000 square foot terrace makes the most of lower Manhattan, New York Harbor, and Hudson River views.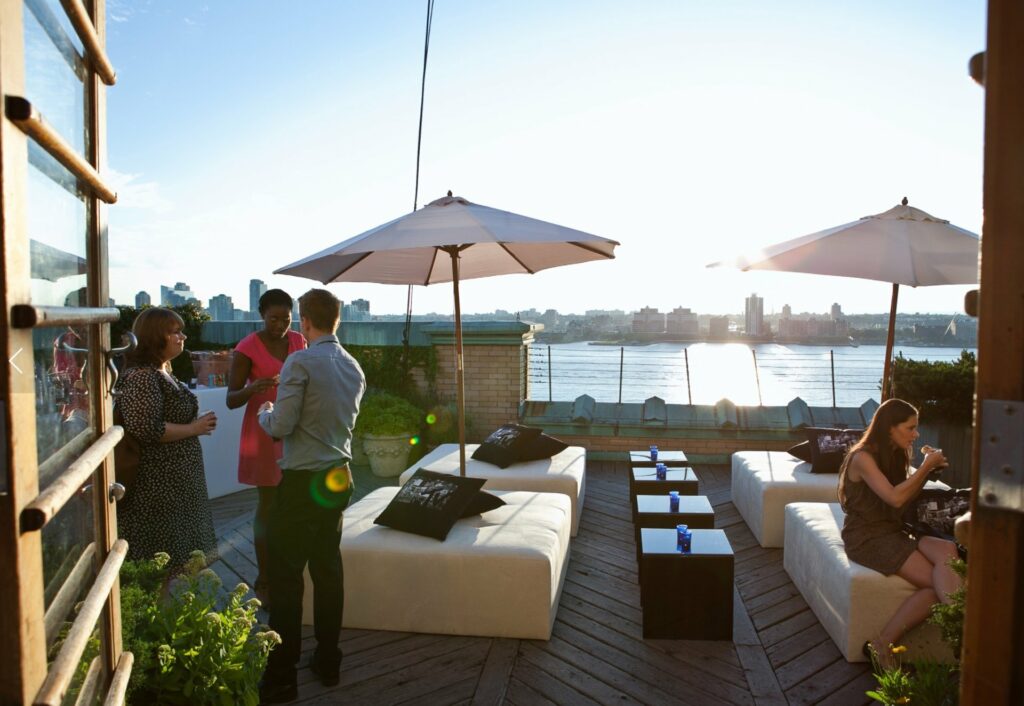 13. Manhattan Penthouse
Neighborhood: Union Square
Capacity: 180
The Manhattan Penthouse is a hidden gem when it comes to New York, views, and venues trifecta. Like many buildings in Union Square, loft-like space provides a footprint for up to 180 guests. Gaze out of stunning Palladian windows to appreciate the 360° top floor views over the city. Its choice amenities include but aren't limited to a private entry with a doorman, coat check, Chiavari chairs, votive candles, bar, ballroom, suite, A/V tech, and a grand piano. Oh, and they validate parking.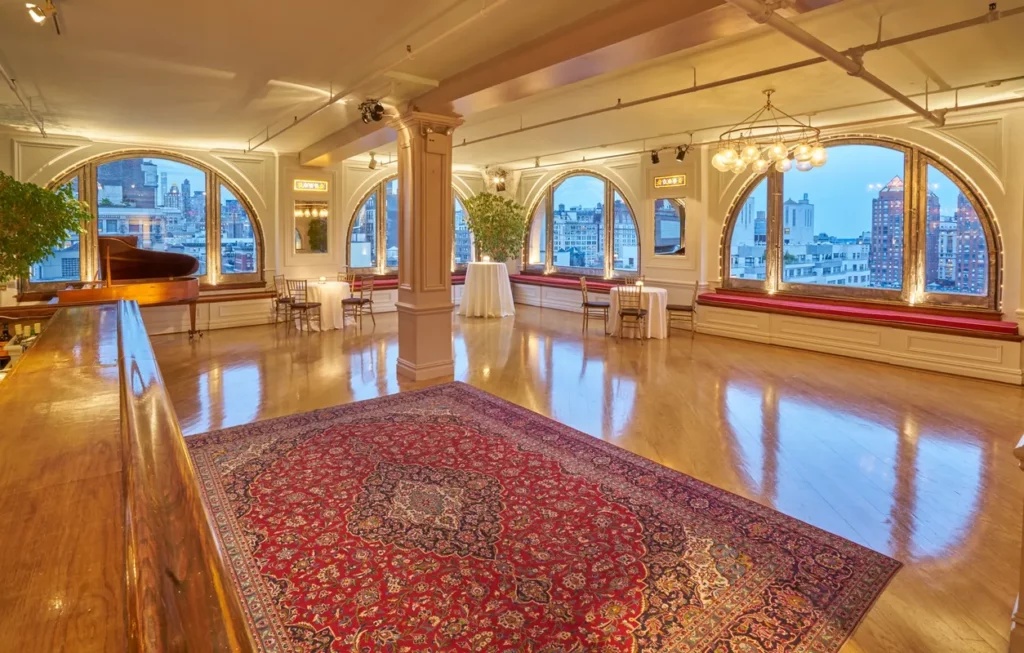 14. The W Loft
Neighborhood: Williamsburg
Capacity: 150
The W Loft, a newly renovated waterfront venue, is a fabulous space already making a splash on the events scene. 150 standing attendees can look across the East River to the quintessential Manhattan skyline, while also appreciating views over the other boroughs. The venue is a polished setting to build on, and a 1,600 square foot terrace roof deck is an added bonus.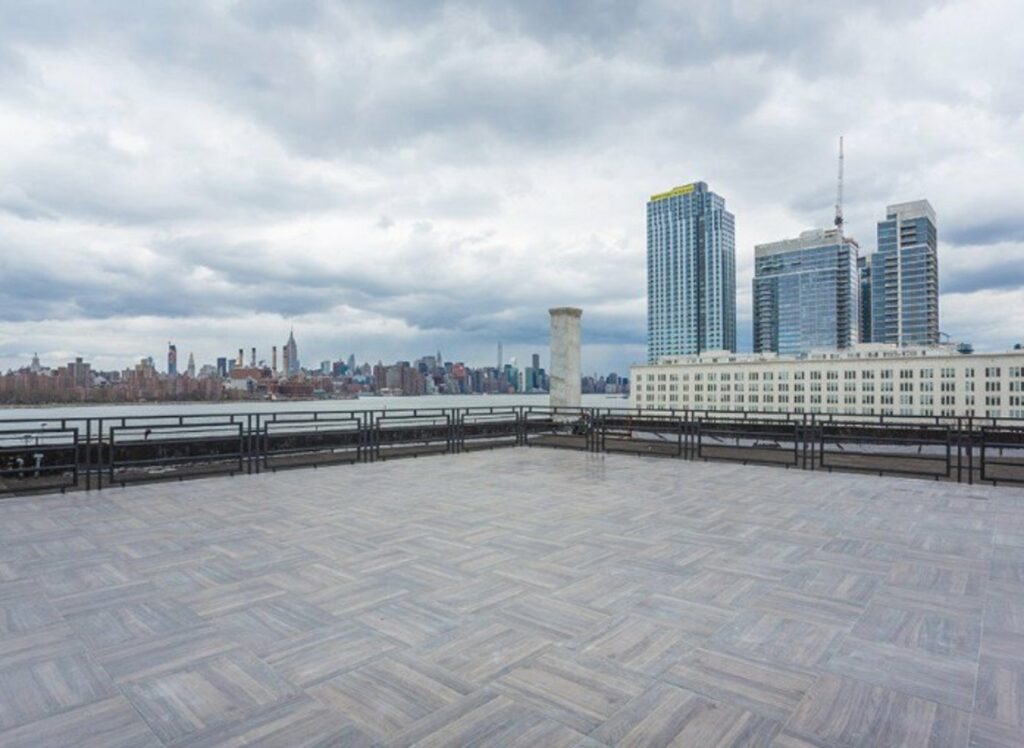 15. The Bordone LIC
Neighborhood: Long Island City
Capacity: 500
Long Island City has become a fashionable location for high-end residential buildings with a host of amenities and sweeping views to match. It has a thriving restaurant and bar scene, too. Therefore, LIC is also an increasingly popular destination for events. The Bordone LIC has a few layouts to work with, including 5,000 square feet of indoor space (with high ceilings), and a 6,000 square foot terrace that epitomizes those spectacular LIC views. It's an ideal location for a larger event of up to 500 standing.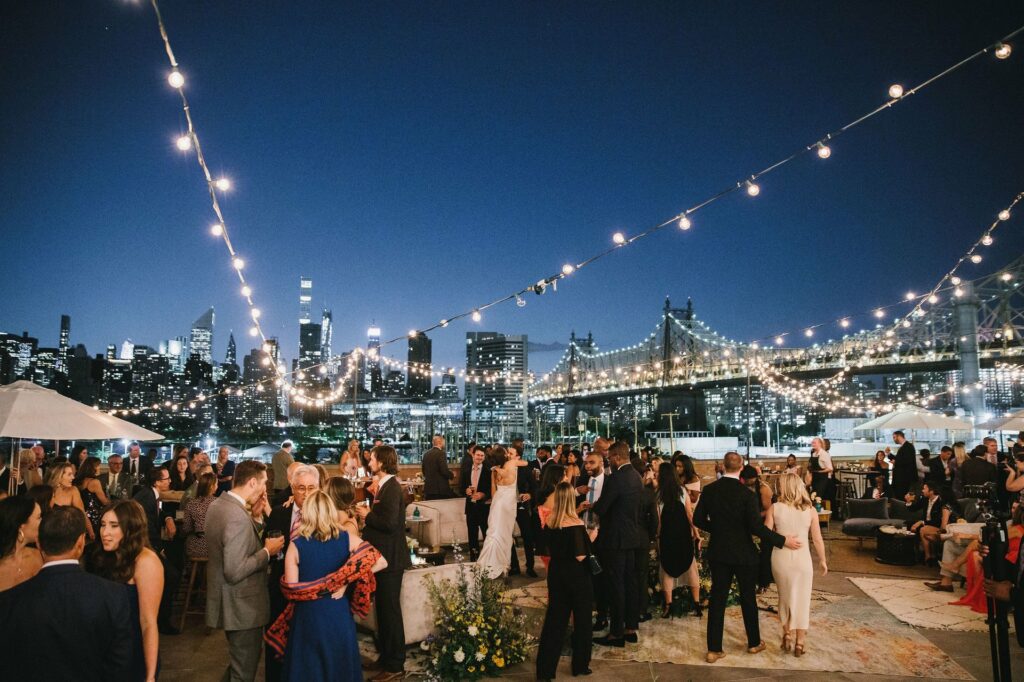 16. Monarch Rooftop
Neighborhood: Midtown
Capacity: 200
Monarch Rooftop likes to say they pride themselves on white glove service without the white gloves. This 18th floor penthouse venue comprises six different spaces over 5,000 square feet with a common denominator: views on views. You can have a more intimate event here or go slightly larger up to 200 standing. The club-like decor is still well-appointed, and a flavorful specialty cocktail menu is very much appreciated among the patrons.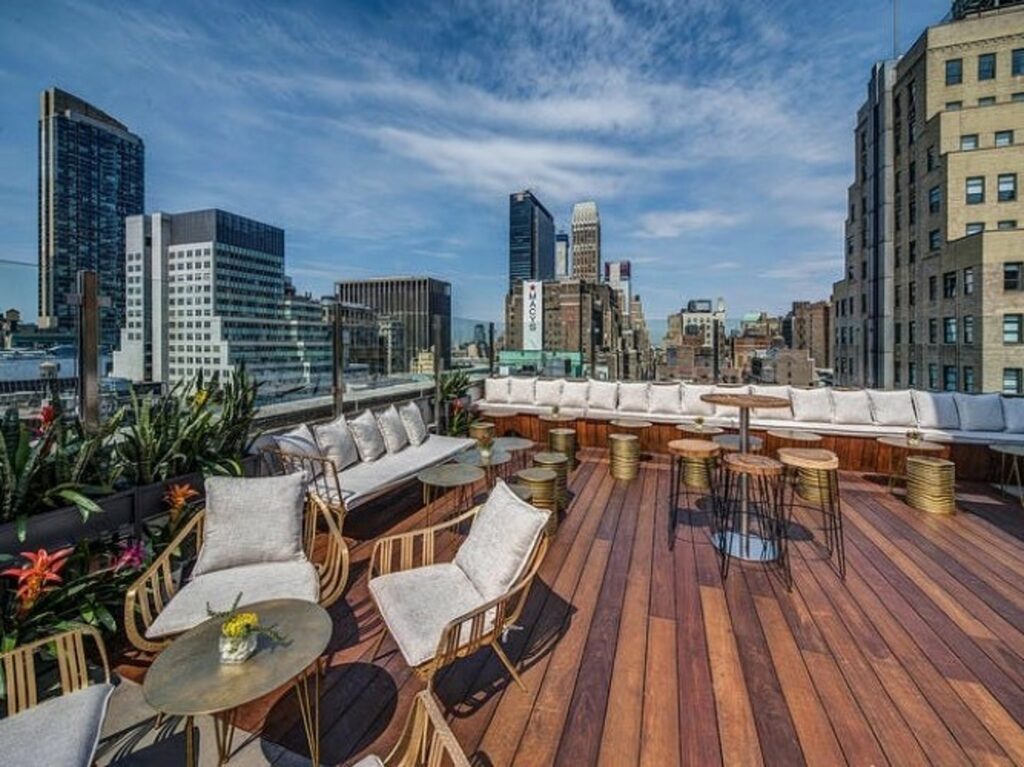 17. Dear Irving on Hudson
Neighborhood: Hell's Kitchen Square
Capacity: 300
There are technically two Dear Irving locations in the city, but Dear Irving on Hudson at/on top of the Aliz Hotel in Times Square offers particularly exceptional space. It's a bi-level venue spread out over the 40th and 41st floors, which is a nice touch to break up the space. The delightfully quirky and whimsical aesthetic reflects James Bond and Art Deco time travel themes, so whether you're enjoying the view from inside or outside on the terrace, it will be a definite hit for your event of 300. The old adage "all roads lead to Rome '' is applicable here as well—just swap subways for roads and Times Square for Rome. It's our long-winded way of saying the location is convenient.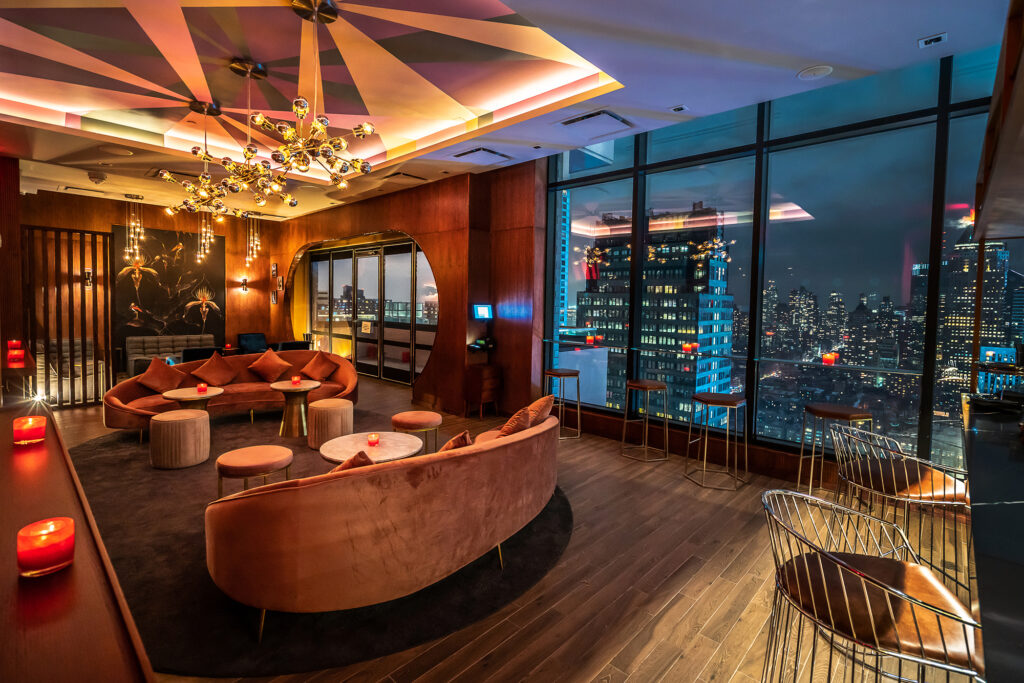 18. XX Venue
Neighborhood: Williamsburg
Capacity: 300
Williamsburg is quickly becoming the MVP when it comes to great venues with great views. Next at bat is the XX Venue. It's light, airy, and open with huge windows, 18 foot ceilings, and 15,000 + square feet. 270° views treat you to an unobstructed vista of the East River and Manhattan. It's a floor plan you can really play with for any of your corporate or social needs (up to 300 standing people) with office space, breakout rooms, and a huge open area for activations.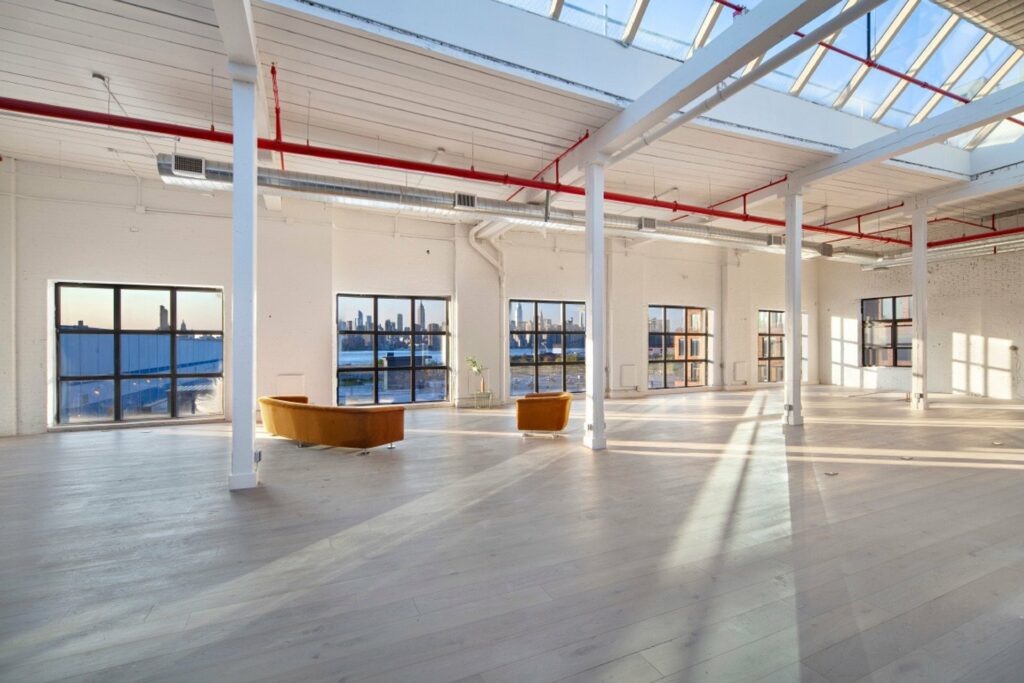 19. The Water Tower Bar
Neighborhood: Williamsburg
Capacity: 70
Water towers are an integral part of New York City's skyline and city planning history. In the 1800s city buildings started getting higher and higher, and it became apparent that with anything over six stories the main water infrastructure couldn't handle the water pressure. So, it became a city requirement that any buildings seven floors or higher be equipped with a rooftop tank and pump. The legacy of this 19th century stipulation is evidenced today in New York's approximate 15,000 + water towers. As a tribute to these iconic building accessories, The Water Tower Bar at The Williamsburg Hotel stands out for all the right reasons. To get those 360° views you walk up a winding steel staircase where a slightly retro interior design with vintage-style pop art provides an amazing and relaxing venue for up to 70.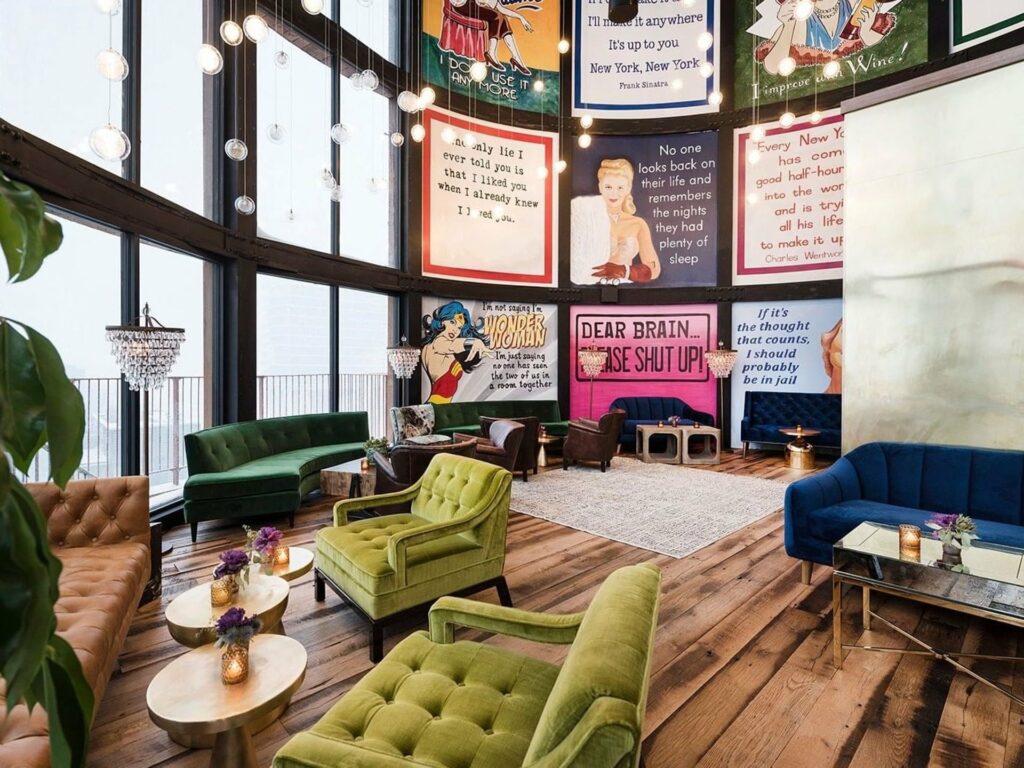 20. 75 Varick
Neighborhood: Hudson Square (Manhattan)
Capacity: 150
75 Varick is part of the Hudson Collective, a chic assortment of high-end event spaces. The highlight of this contemporary venue is, of course, the 18th floor views over downtown, the Hudson River, and Canal Street. The almost 4,000 square feet on offer has been used in the past for everything from brand activations to holiday parties and from product launches to press events. It's a single floor but plenty of space for 150 standing attendees to enjoy the views and the event.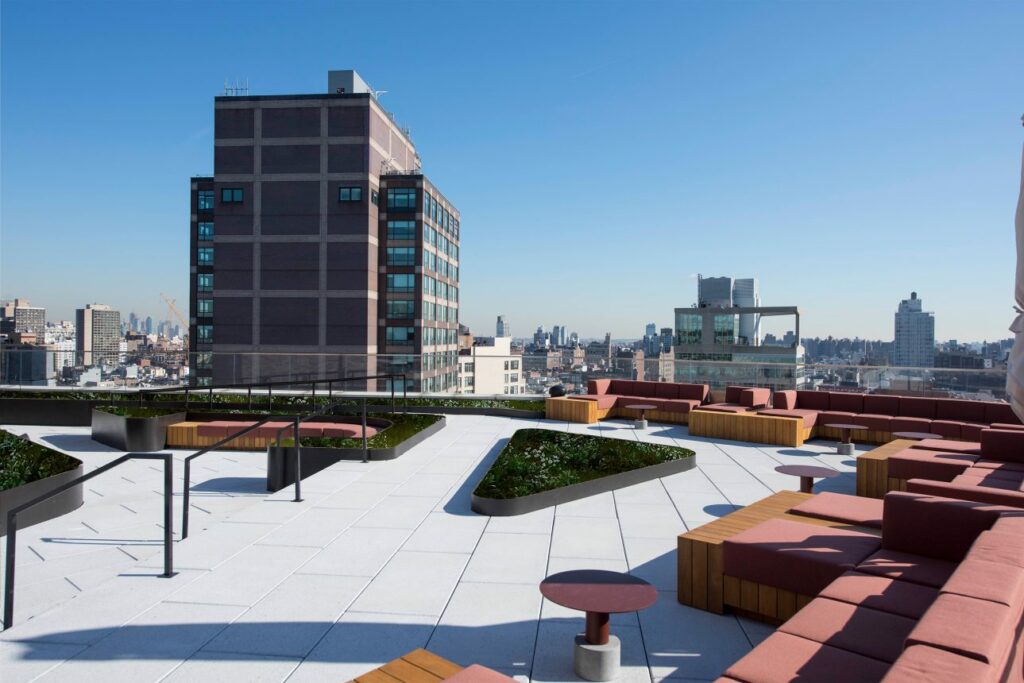 21. Panorama Room
Neighborhood: Roosevelt Island
Capacity: Contact for More Info
Situated on the East River between Manhattan and Queens (although Manhattan claims it administratively), Roosevelt Island has long been known for having some of the best views in town with its vantage point. Extensive building renovations and development has also been ongoing in the past twenty years or so, with a lot of luxe dwellings popping up. The Panorama Room, atop the Graduate Hotel, is a rooftop lounge and bar that really capitalizes on Roosevelt Island's unique location. The result is sweeping views over Manhattan and Queens. Come for the view but stay for the drinks and upscale industrial feel.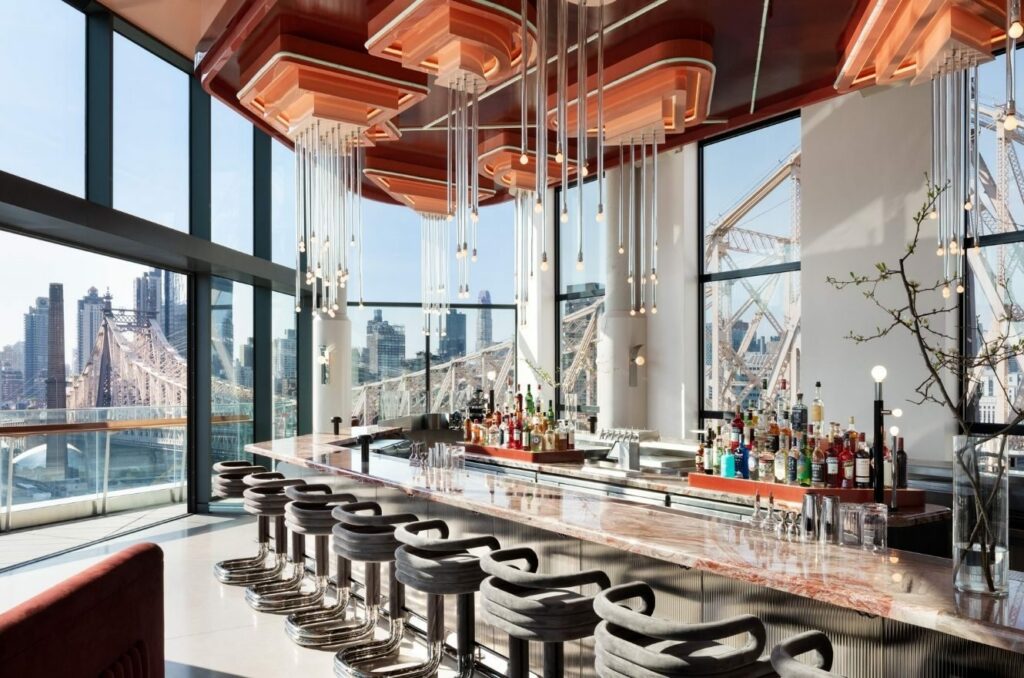 Why Finding the Right Venue for your Event is So Important
Choosing the right venue for your event is always important, and luckily in New York there's pretty much a place for anything you can think of or want with an event. Like actually anything— NYC has seen and done it all. That said, a venue with a view is always a hit, and in New York you don't have to rely solely on rooftop venues to find places that make a statement. With this city–and budget dependent, of course–you really don't have to make as many compromises with your venue choice as you might have elsewhere. The right place is definitely out there, if not on this list!
What to Look for When Booking a Venue
When it comes to hosting a successful corporate event, one of the most critical decisions you'll make is choosing the right venue. The venue you select sets the stage for the entire event, influencing attendee experience, logistics, and the overall atmosphere. In this pursuit, several key considerations come into play. From accommodating your guest list to ensuring accessibility and providing essential amenities, the venue's role goes beyond its physical space. This list highlights seven essential factors to keep in mind when booking a venue for your corporate event, helping you make an informed decision that aligns with your event goals and leaves a lasting impression.
Capacity and Layout: Ensure the venue can comfortably accommodate the expected number of attendees and that its layout suits your event's format, whether it's a conference, seminar, workshop, or networking event.
Location and Accessibility: Choose a venue that is conveniently located for your attendees, with good access to transportation options and amenities like hotels and restaurants.
Amenities and Technology: Check if the venue provides essential amenities such as audio-visual equipment, projectors, screens, microphones, and reliable Wi-Fi connectivity to support presentations and digital interactions.
Catering Services: Inquire about catering options, dietary accommodations, and whether the venue has its own catering team or if external vendors are allowed.
Ambiance and Brand Alignment: The venue's atmosphere should align with the tone and image of your corporate event. Consider factors like decor, lighting, and overall ambiance.
Flexibility and Customization: A venue that allows flexibility in terms of room setup, decor, and event timing can better accommodate your specific event needs.
Cost and Budget: Understand the total cost of booking the venue, including any additional charges, and ensure it fits within your event budget without compromising quality.
Find the Best Venues in NYC
The Vendry has become a leading and comprehensive Rolodex of event professionals, venues, vendors, and more. If finding a New York venue with a view is on your agenda, The Vendry is here to get you started with the process. There's been books and books filled with quotes about New York, but here's one that speaks to this particular subject: "I look out the window and I see the lights and the skyline and the people on the street rushing around looking for action, love, and the world's greatest chocolate chip cookie, and my heart does a little dance." — Nora Ephron
Read More:
Gorgeous Raw Event Spaces in New York City
The Most Beautiful Meeting Spaces in NYC
The Best Private Dining Rooms in NYC