Hear that faint jingle in the distance? That's your reminder that it's never too early to book your corporate holiday party in New York City. Holiday parties will be back in a big way this year, so it's time to research, plan, and lock down the venue where you shall celebrate your team. But every company will be thinking and planning like you, so it's best to get started, oh, about now.
The Vendry has put together a list of fantastic, sparkly venues to host your corporate holiday party for 2022. There's nothing like the holidays in NYC, so select a place that matches the city – and spirit – of your hardworking corporate culture.
The Best Corporate Holiday Event Venues in NYC
Here's a list of restaurants and venues to hold your upcoming corporate holiday party. Whether your mood is old-world classic, or up-and-coming New York, you are sure to find the right spot for a sophisticated, corporate night out. It's time to toast a job well done.
1. NoMo SoHo Penthouse & Terrace
Neighborhood: SoHo
Capacity: 120
NoMo SoHo is the tallest building in SoHo. High atop it's 26th floor sits the Penthouse & Terrace, the perfect indoor/outdoor spot for your holiday party. There's a full 360-degree view of Manhattan, Brooklyn, and New Jersey. Comfortable lounge furniture will set the tone for your event in this spot that has floor-to-ceiling windows, an island kitchen table, big screen tv's, and a built-in sound system. The Penthouse & Terrace is perfect for mixing and mingling, and can accommodate 120 for a reception.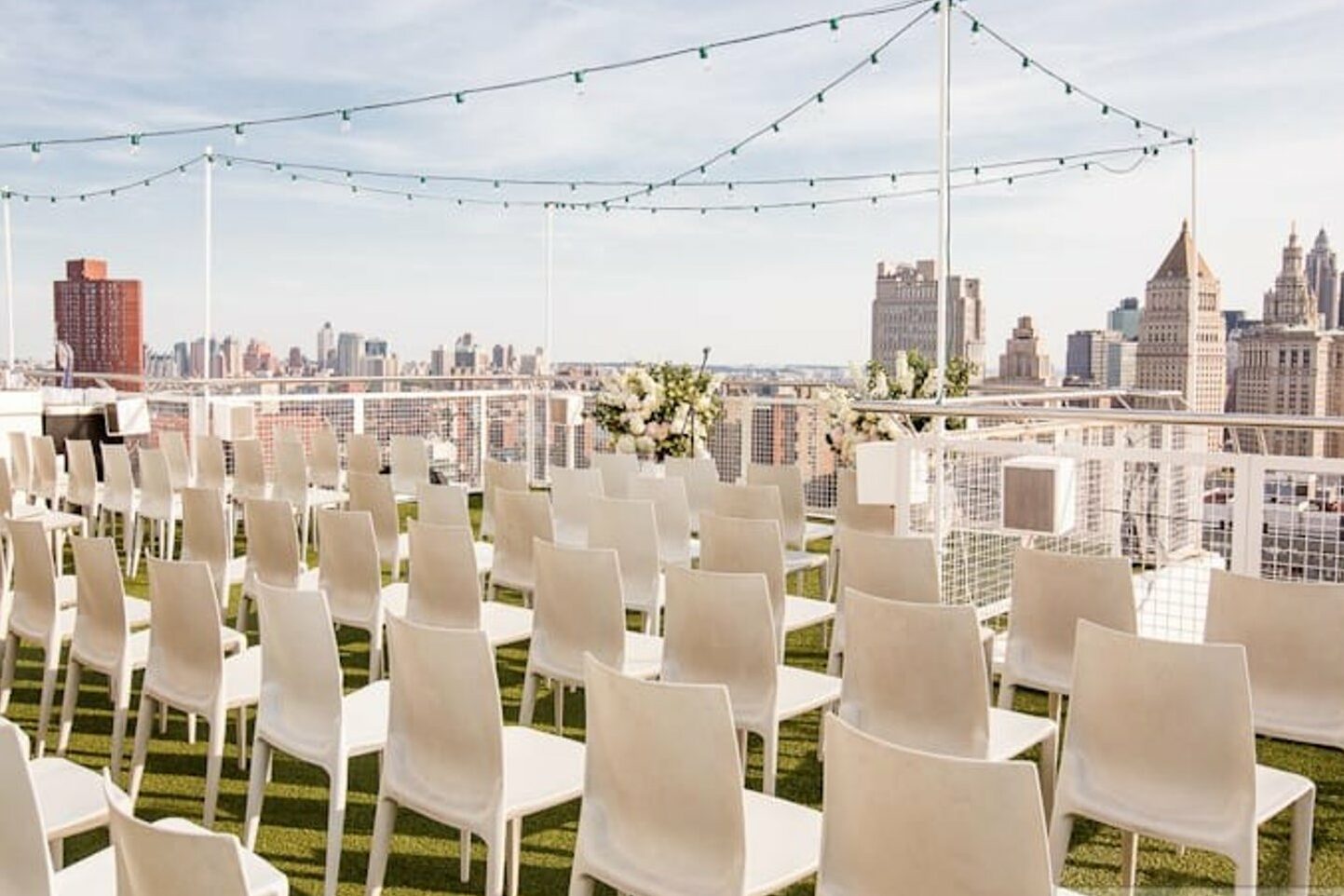 2. Wythe Hotel
Neighborhood: Brooklyn
Capacity: 225
Wythe Hotel and its many options makes the idea of an old-fashioned holiday party come to life. The building itself is 120 years old, but those views of the Manhattan skyline amidst all their beautifully updated features, makes Wythe Hotel a magical spot. You can almost feel the history amongst their exposed brick walls and hardwood floors, as taper candles dot the long communal tables in the Main Hall. And don't miss The Lofts on the 8th floor, an intimate space that leads to a rooftop terrace.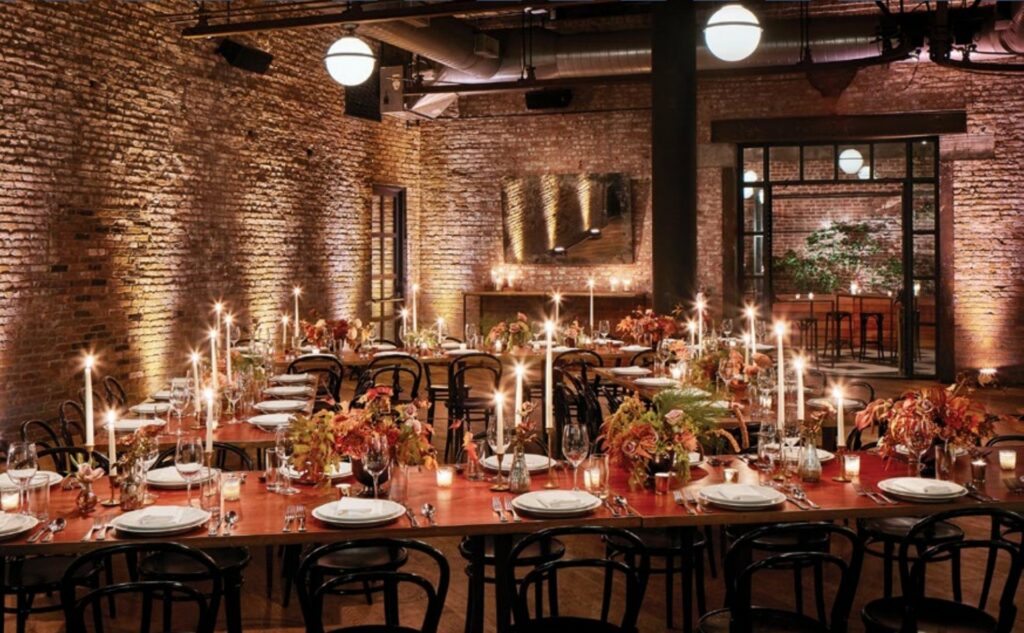 3. Ramscale
Neighborhood: West Village
Capacity: 150
A 3,000-square foot loft space just longing for your holiday touches awaits at Ramscale. There's floor-to-ceiling windows here, and even an outdoor terrace featuring killer skyline views. It's housed within the former historic home of Bell Labs, the workspace of Alexander Graham Bell and Thomas Edison. The space is light, and ready for your ideas. If you are looking for a spot that's unique, customizable, and memorable explore this West Village stunner.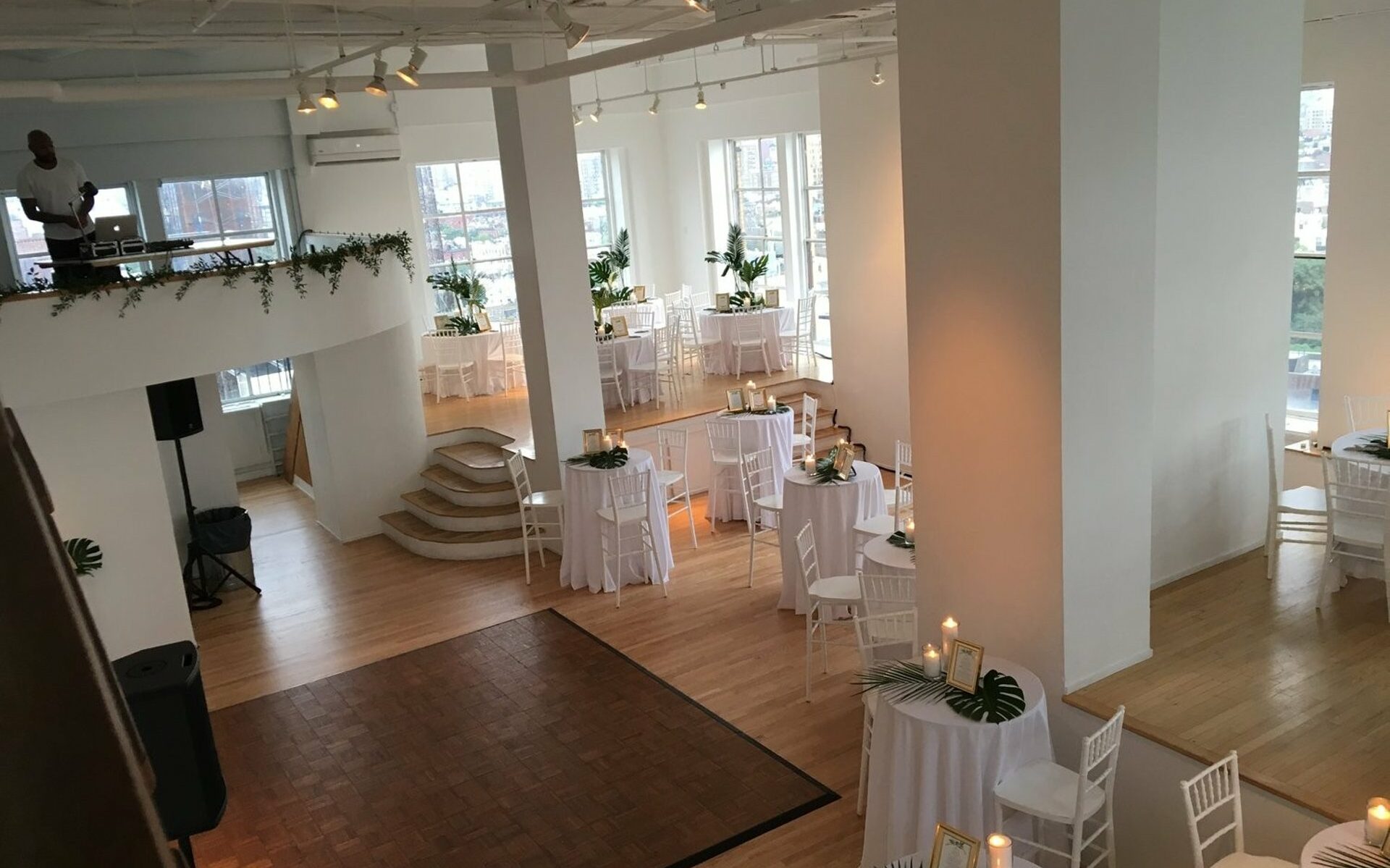 4. Lightbox
Neighborhood: Midtown
Capacity: 300
If you'd like to see your corporate holiday party come alive with light projections and experiential events in an interactive, tech-enabled environment, then Lightbox is your place. A converted industrial garage in Midtown, Lightbox has thrown events and dinners with some of the biggest corporate names in the country. Your holiday event would be given the full-service treatment, as there is an in-house digital and design team, a food and beverage team, and a production and planning team. When putting together your holiday party at Lightbox, you will have expert assistance every step of the way, but will get all the credit for pulling off one of the slickest, most memorable nights your company will ever experience.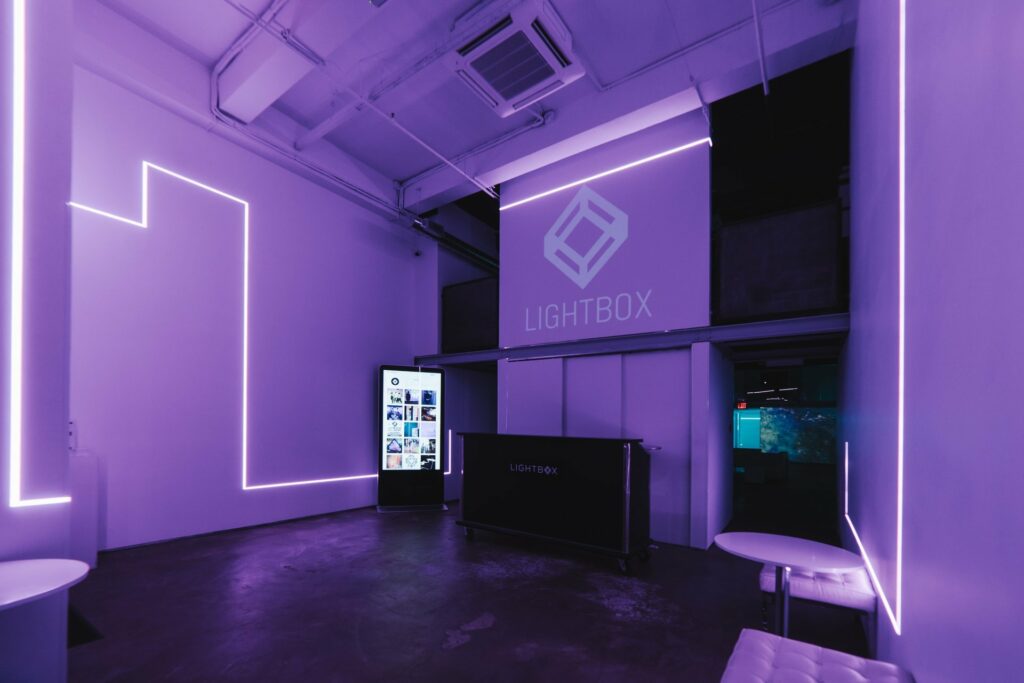 Offer your guests something they cant refuse! Find the top gifts and swag vendors in New York for your next event!
5. Penthouse 45
Neighborhood: Midtown
Capacity: 100
Just as the name implies, Penthouse 45 will elevate your holiday event high above the Manhattan skyline. This open-concept venue has generous space, floor-to-ceiling windows, and even a wraparound terrace that provides sweeping views below. Light the restored fireplace to create a wintertime escape right in the heart of Manhattan. Penthouse 45 makes it easy on the event planner, too. There's a long list of in-house audio/visual capabilities, tables, chairs, and other rentals to make all the coordination a breeze.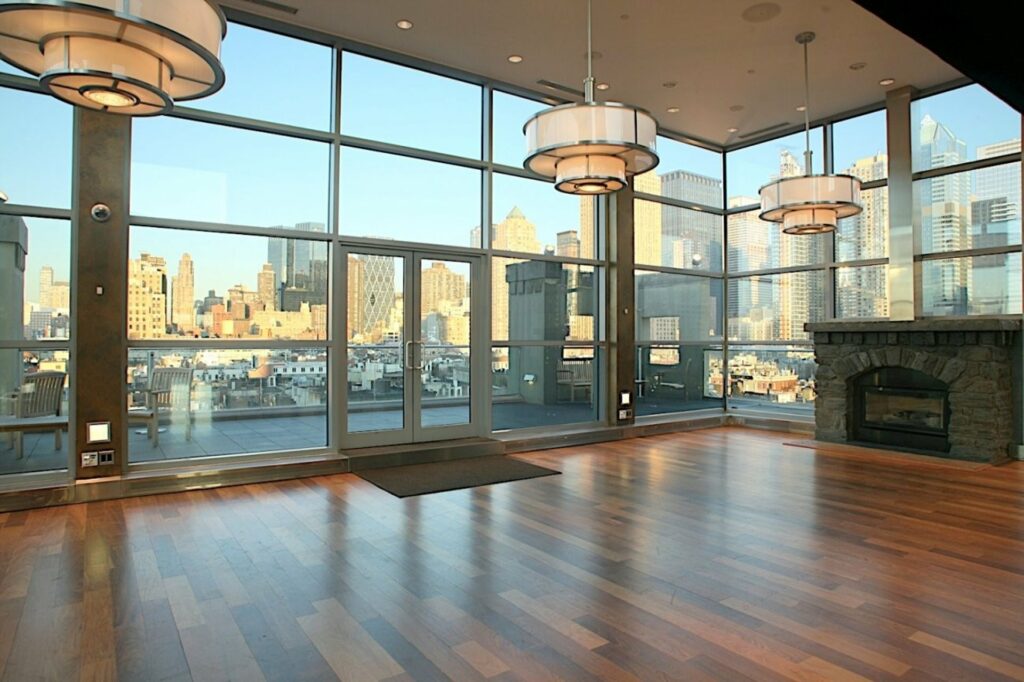 6. American Cut
Neighborhood: Tribeca
Capacity: 350
If your holiday party this season begs for sophistication with a touch of nostalgia, look no further than the elegant American Cut. Chef Marc Forgione and LDV hospitality group creates an homage to the steakhouse of New York dining experience at this instantly classic spot in Tribeca. There's always a full restaurant buy-out option, but American Cut also has other private dining options. The Morrison Room is the real star, with a private bar and dining room, complete with built-in audio/visual and an 80" projection screen. Happy holidays, indeed.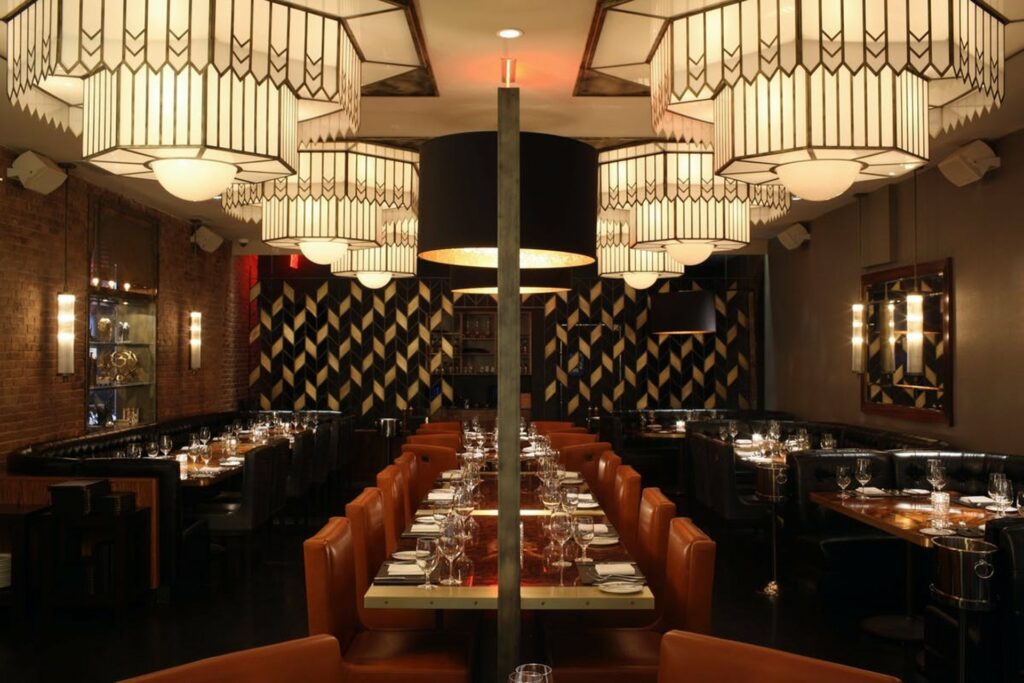 7. Acme
Neighborhood: NoHo
Capacity: 120
If holiday cool is the vibe you are going after for your corporate event, Acme will have all the feels. Acme is definitely a mood, as their faded mirrors, deep banquets, brick walls with candlelit recesses, and wood flooring scream old-world New York. Their Downstairs is a former rock'n'roll club, and has been renovated into a bar, making it a perfect spot for a corporate holiday party. Your guests will enjoy the hearty American fare just as much as the unique locale.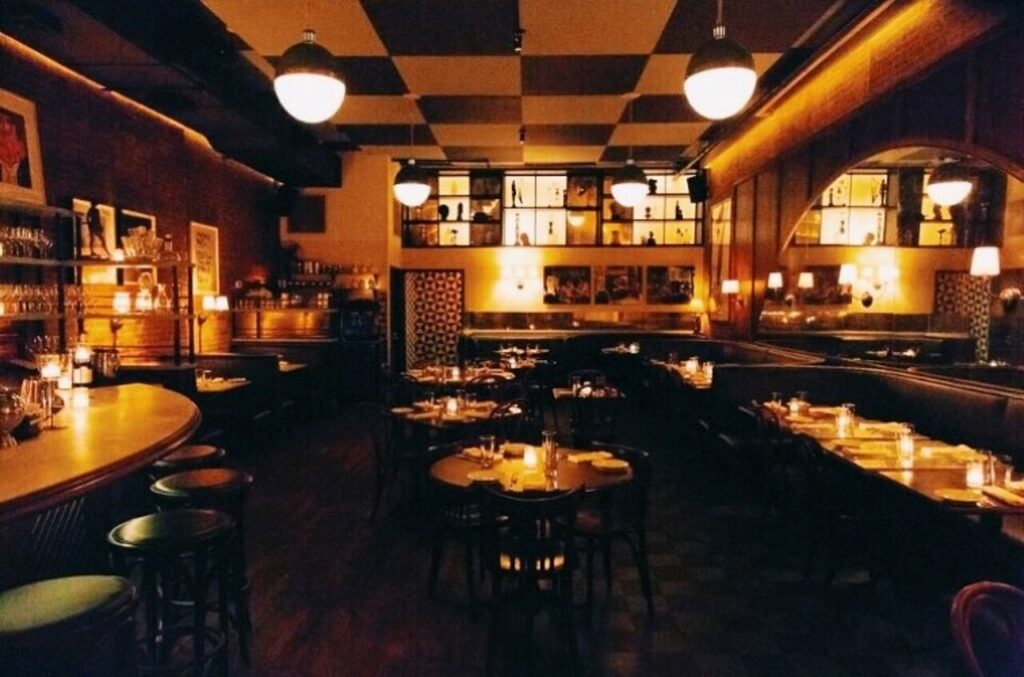 8. Library of Distilled Spirits
Neighborhood: Union Square
Capacity: 150
Long on charm, Library of Distilled Spirits right in Union Square delivers holiday cheer in the form of hand-crafted cocktails. Looking to impress your guests with never ending choices of boozy delight? They feature more than 1,000 different liquors created by distilleries from around the globe. There's floor-to-ceiling shelves of bottles and a private bar. When you host your holiday event here, LDS' sister restaurant, Bowery Road, provides the food, which features a menu inspired by local farmers and the produce of Union Square Greenmarket.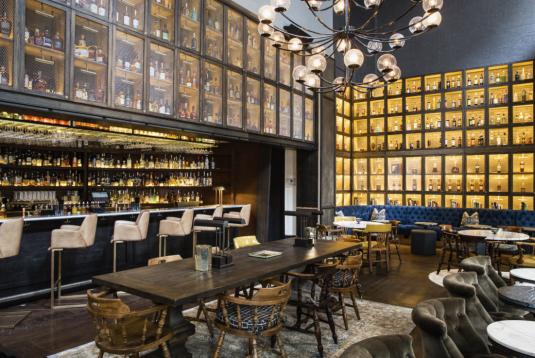 9. Brooklyn Winery
Neighborhood: Brooklyn
Capacity: 325
The holidays are covered at Brooklyn Winery, a totally charming and sophisticated place to hold this year's corporate party. It's easy to set the wintertime tone here – there's barn wood walls, hanging succulents, vintage décor, and even a 25-foot glass ceiling atrium. Just as the name implies, this is a fully functioning winery, so the wine pairing dinner comes highly recommended. Brooklyn Winery can also incorporate a hybrid of in-person and virtual elements, to ensure you toast the entire team, no matter from which part of the world they Zoom. And if you are planning a giveaway or gift at the end of the night, Brooklyn Winery has it built-in: present your staff with a bottle of wine, premium wine gifts, or a wine tasting kit.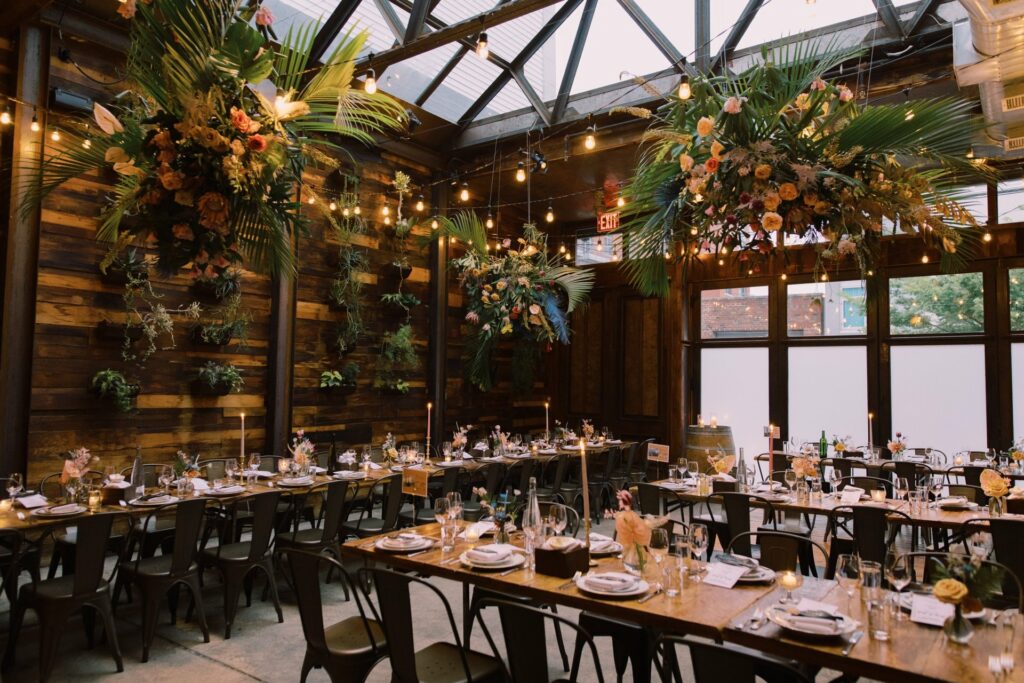 10. Rainbow Room
Neighborhood: Midtown
Capacity: 300
A holiday party at 30 Rockefeller Center? Yes, please. As classic New York as it comes, the Rainbow Room looms 65 stories above 30 Rock and has been hosting top-shelf events in NYC since 1934. Even more impressive than an invite from this classic address will be the level of service your guests will experience, as expectations for this venue are set at the highest level. The Manhattan skyline wraps around your guests, as they enjoy cuisine and hospitality from some of the best purveyors of events in the country.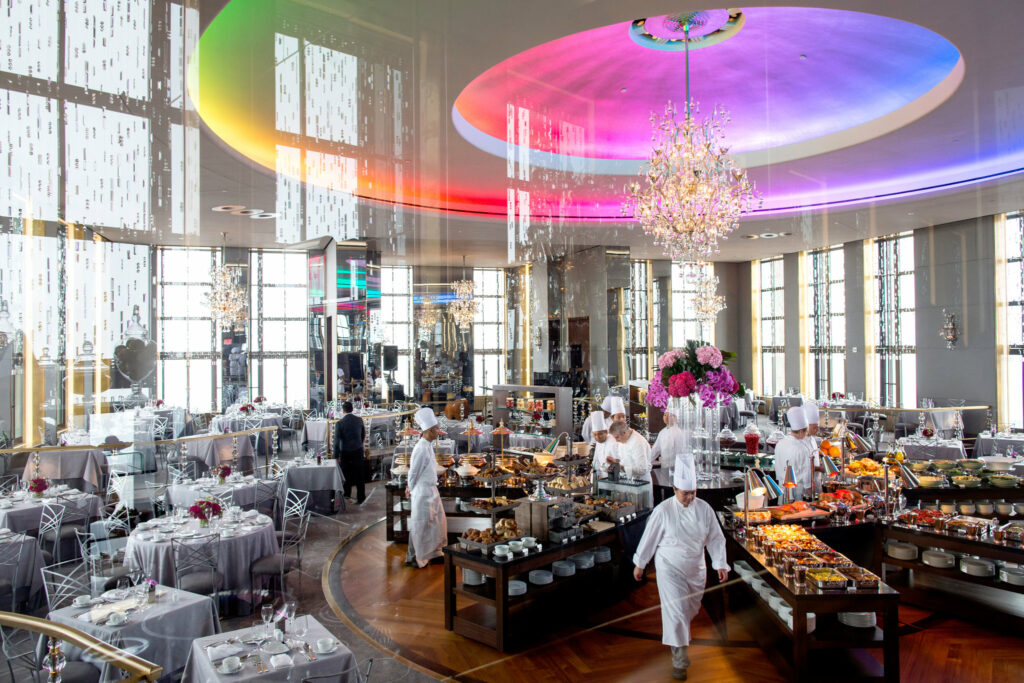 11. 501 Union
Neighborhood: Brooklyn
Capacity: 299
Your company can take over a former classic car restoration shop in Brooklyn for this year's office party by booking 501 Union, a local favorite that really sets the tone. When combined, The Atrium and The Main Space provide 3,900 square feet of industrial-grade raw space. While the venue is yours to be customized, you get all the support you need baked right into your rental fee. There's a pre-event support manager, a day-of event staff including an operations manager and host, and there's even in-house rentals galore. Pick from a list of approved caterers and you are just one jingle away from a perfect night.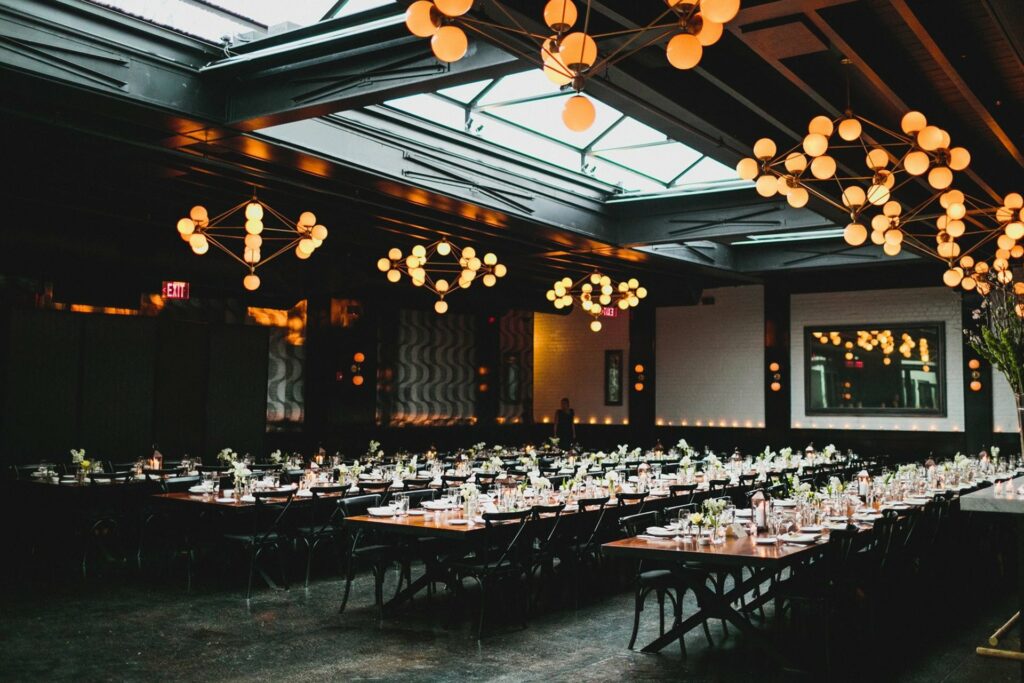 12. The Water Club
Neighborhood: Kips Bay
Capacity: 225
Just because its wintertime, doesn't mean the waterfront can't be just a spectacular. The Water Club, situated perfectly on the East River, is a premier, classic event spot to host your organization's holiday party. There's three, glass-enclosed rooms, so the Manhattan skyline is everywhere you turn. And if your guests are able to bear December in Manhattan, there's even The Crow's Nest, an open-air rooftop. An added bonus you wouldn't expect from a venue on the river? There's easy drive up parking for drop off and valet, a genuine NYC rarity.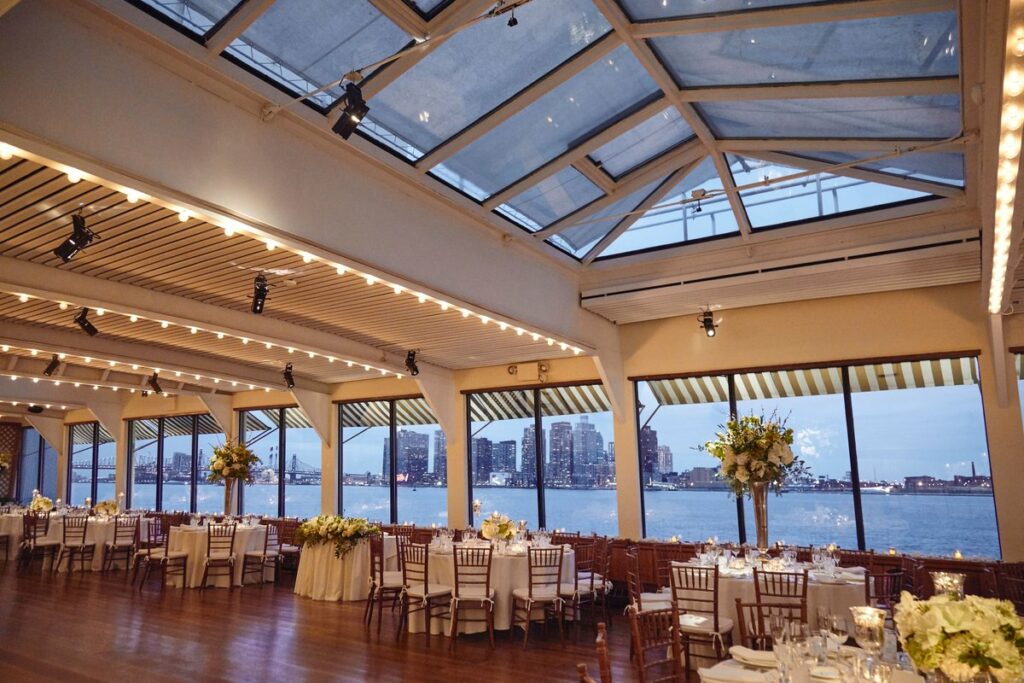 13. Pier Sixty
Neighborhood: Chelsea
Capacity: 2,000
Chelsea Piers is home to Pier Sixty, the largest waterfront venue on the island of Manhattan. No shortage of space here, as there's 20,000 square feet of venue, primed to host a rollicking holiday bash, complete with all the tech capabilities, valet parking, audio/visual needs, and shuttle bus service offerings. This spot is ideal for larger crowds, and Pier Sixty will certainly give you all the full-service amenities you need to plan an unforgettable night.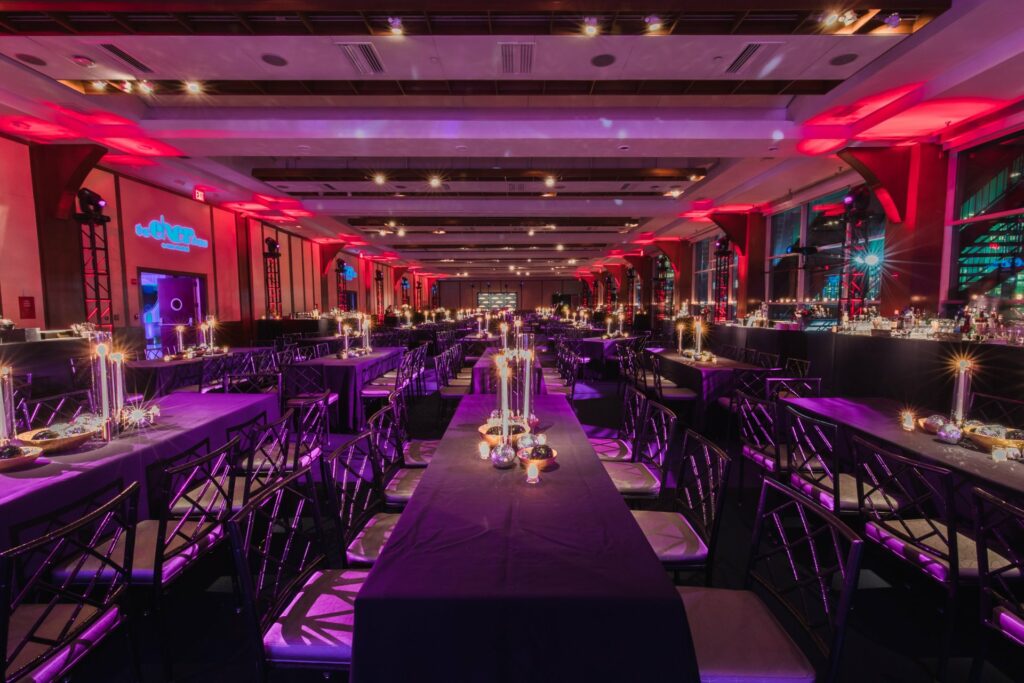 14. The Skylark
Neighborhood: Midtown
Capacity: 225
Floating 30 stories above Bryant Park is The Skylark, a rooftop lounge and event space just begging to be the spot for your holiday party this season. The Skylark strikes that perfect balance between comfort and style with floor-to-ceiling windows and plush furniture. There are several event rooms – add them together for your company to enjoy the run of the place. The Skylark Room and Roof Deck are charming on their own, but add the Living Room and Pool Room (complete with the felt!) and now you have yourself a swanky holiday party.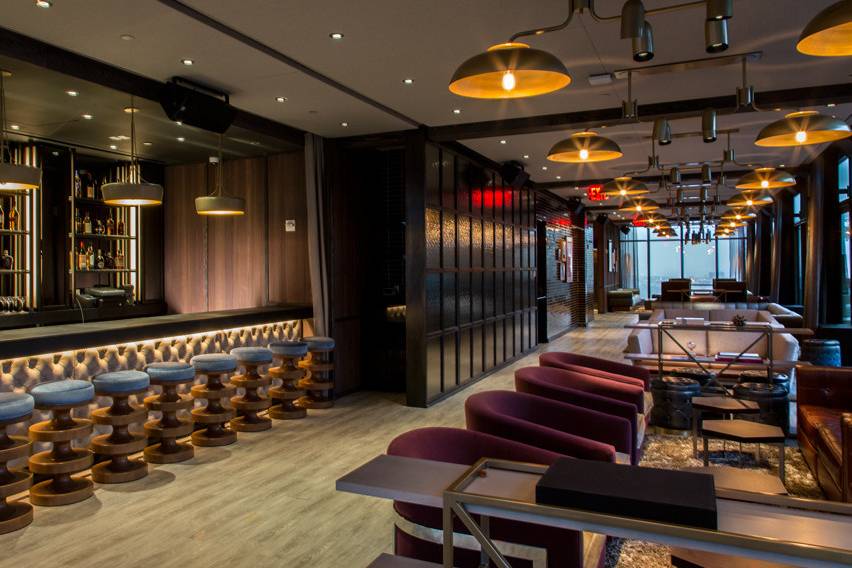 14. Chef's Dinner Table
Neighborhood: Little Italy
Capacity: 40
Not all holiday party venues need to accommodate large and boisterous crowds. If you're looking to host a gathering for a small team or department, head down to Little Italy and make yourself at home at Chef's Dinner Table. The space includes a welcoming lounge, an open kitchen and bar, and a bright yet cozy dining space. Host up to 26 for a seated dinner or 40 for a cocktail reception.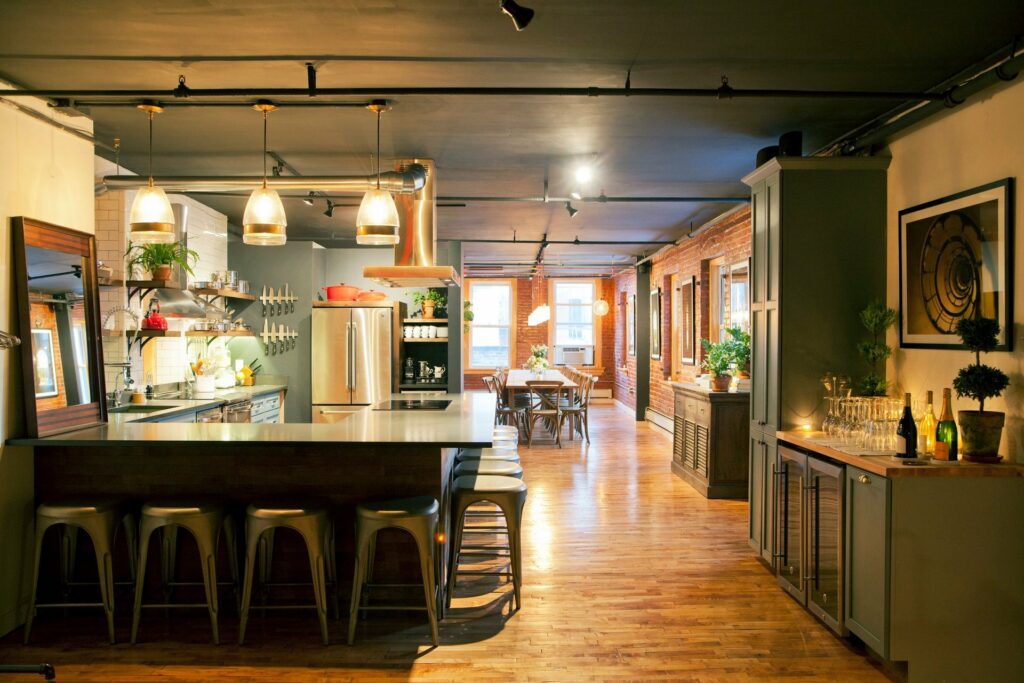 Why Finding the Right Venue For Your Event Is So Important
If the movies have taught us anything, New York is the perfect spot to host an event — especially your company's holiday gathering. From the skaters swirling at The Rink in Rockefeller Center to the holiday windows decked out at Macy's, New York sets the stage as the definitive holiday city. So you've already landed on the right town, now the venue you select has to reflect the same vibe. Be sure to choose a spot that has plenty of room for the crowd you plan on hosting. Also be certain the spot has the right space for what your party wants to accomplish (example: if you are planning on having a dance floor, can your room accommodate?). The right spot not only will toast the previous year's hard work, this event will motivate and elevate employees for the year ahead.
The Top Things to Consider When Booking a Venue for A Corporate Holiday Event
It's probably been a minute since your company has hosted the big, corporate holiday party. Whether your company's employees are all remote, work in a hybrid situation, or are at HQ each day, there's a few things to think about when planning your holiday event this season:
Date. If everyone is traveling to come to your event, would it be best to book your night in January? Or would a preferred time be right in the middle of the already-busy season? It's a hard truth, but your desired venue and their calendar might make that decision for you.
Plus Ones. Naturally you will be inviting your employees, but be certain to account for each person and their date.
Transportation/Accessibility. Make sure the spot you choose is easy to get to or find, especially if you are asking employees to a place in a different part of town than your office. Also be certain you have accounted for those who need an elevator or special circumstances.
Dietary Needs. Be sure to have a full sweep of any allergies or dietary needs of your crowd and their guests – that's just good planning.
Entertainment. Are you treating employees to a live band or DJ? What about a special act or guest speaker? Just like your venue, better book now.
Budget. It goes without saying, but finding a spot that will meet all your needs that leaves wiggle room for entertainment or décor will be your sweet spot.
Find the Best Corporate Holiday Event Venues in NYC
It might feel early, but getting a jump on your company's holiday party now will save time and stress down the road. Allow The Vendry to help you plan by searching venues, comparing pricing, and requesting proposals right on the spot. Happy Holidays!
Read More:
Gorgeous Raw Event Spaces in New York City
The Most Uniquely Stunning Venues in New York City to Host an Event
The Best Venues in Los Angeles for Your Holiday Party