Article updated 5/17/23
San Francisco is a savvy city. It knows tech, food, fundraising, retail, and culture. There's not much San Francisco hasn't done, dined on, or debuted to the world. So, when it comes to hosting a stand-out product launch, corporate get-together, fundraiser, or special occasion, choosing a rooftop venue in San Francisco immediately separates your event from the rest. San Francisco rooftops vary in size, location, and ambiance, so it's best to know what you're looking for before your start your search!
From the Dogpatch to Union Square, the mild climate of the City by the Bay creates a perfect backdrop for a memorable event.
Why Hold Rooftop Parties or Events?
Now that you've landed on hosting an event in San Francisco, it's time to set your expectations as high as your venue. Whether a daytime corporate event or nighttime soiree, your occasion held on a rooftop will naturally stand out.
Here's why a rooftop event is a game-changer:
Rooftop events do more than raise the roof. An event that literally lifts your crowd up and away from the hustle and bustle of the steepest streets in San Francisco will make for a noteworthy night.
Rooftop events offer exclusivity. Typically, a rooftop is separated from the venue at large, making the event feel more private, treating your guests like the VIPs they are.
Rooftop events bring in the outdoors. You can feel confident hosting your event in the pleasant climate of Northern California, where the evenings are typically tepid. And keeping health concerns in mind, it's great to offer an outdoor option for guests to get some air.
Rooftop events tend to me more, well, fun. Food, décor, drinks, and theme can all be more playful on a rooftop, where the sky is genuinely the limit when it comes to creativity.
What Types of Events Can Be Held on Rooftop Venues?
Consider hosting these types of events when the Bay Area is your glittering backdrop:
Product Launch. Your new product, app, or concept is the industry's most anticipated introduction. Why not give it an unveiling worthy of its value? Select a spot that reflects the essence of your product.
Fundraisers. Those big-hearted donors are already giving so much. It only seems right to give them a party high aloft San Francisco to mirror their generosity.
Corporate Happy Hour or Team Building Workshops. A rooftop provides a secluded, private place for a day of inter-team bonding or a night of networking for your company. Look for a locale that allows for your team to mingle without distraction.
Personal Parties. What bride and groom wouldn't want to be toasted as the Bay glistens behind them? Anniversary parties, birthday parties, showers, or even intimate weddings are the right type of events to hold on a rooftop.
Top Factors to Consider When Choosing a Venue for a Rooftop Event
There's always so much to think about when planning for your corporate event, launch, or fundraiser. And it's likely that the location of said event will be your costliest item. Give this important step on your pre-event checklist the attention it deserves by thinking of all the angles when booking your rooftop in San Francisco.
It's always recommended that you visit the physical space before locking it down. Here are some items to toss around before you sign your name on the dotted line:
Location – Is there a certain neighborhood within San Francisco that your guests will gravitate toward? Is it near the hotel where your guests are staying? Or the convention center? Or the company headquarters?
Accessibility and Parking - Do you need parking or will public transport do the trick? Always think of your guest list: is there anyone in your party that need certain accommodations so they can access the rooftop?
Layout – What activities are you planning where you'll need the room to be set up a certain way? Can every guest have a clear view if there's a speaker or screen? Are all the outlets accessible if you need electrical?
Ambiance – What is the vibe of your event? Does the space you have your heart on achieve the feel you are looking for before you even add decor?
Capacity – How many are on your guest list? Can your space accommodate so that people aren't too crowded? Or will it look sparsely attended if the venue is too big?
Amenities – What is available to you in-house? Caterer? Tech capabilities? Audio/visual? Rentals? Clean-up?
Plan B – What if bad weather rolls in? Can the venue swing your event into another spot? Do they have a retractable roof? Heaters if it gets cold?
9 Outstanding Rooftop Event Venues in San Francisco
Let's roll out the standout choices of rooftop venues in San Francisco. Each option highlights a neighborhood, a cuisine, or vibe sure to suit the needs of your next gathering, no matter the crowd size.
1. The Pearl
Neighborhood: Dogpatch
Capacity: 500
Tough to think of a better moniker for this multi-use event space than The Pearl. Just like its namesake, it's a rare find and a real one-of-a-kind. The Rooftop at the Pearl was voted the #1 rooftop bar in San Francisco by Time Out Magazine for all the right reasons.
The chic, former iron and boiler workshop provides sweeping views of Dogpatch, The Bay, and Oakland Hills. It has space for 220 seated, offering up an ambiance that can't be outdone. Porcelain tile, bistro lights, lounge seating, and a lush garden set the tone for your special occasion, big or small. Accessibility is simple, and there's even a good-sized catering prep area, allowing a spot for all the magic to happen without guests knowing a thing. And as a bonus, rest-easy element, The Rooftop can be tented with heaters, so your event will pop off, rain or shine. The Pearl is truly a gem, nestled deep in the heart of San Francisco's most culturally rich neighborhoods.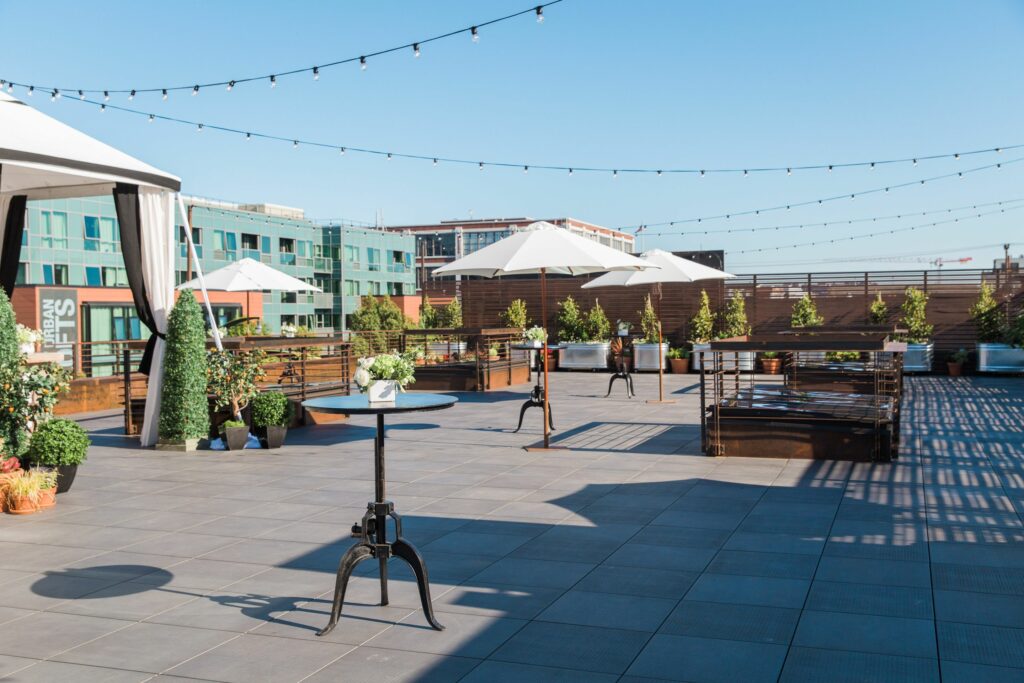 2. 620 Jones
Neighborhood: Lower Nob Hill
Capacity: 300
The term "urban oasis" suits 620 Jones just right. Blocks away from Union Square, right in the heart of the Tenderloin, guests slip through the wrought iron homage to the Spanish Colonial revival style of the restaurant to get to the stunning Rooftop.
The lush, 8,000-square foot Rooftop feels almost secretive, making it an ideal place to hold a private affair. Your anniversary party or corporate gathering on the 620 Jones Rooftop could be for 200 seated, or 300 standing. They have an extremely experienced staff to guide you through the planning process. And the food? Chef Erik Hopfinger has opened 30 restaurants, has been on Top Chef, and guides guests through culinary delights of classic American bar-fare to fresh spins on contemporary favorit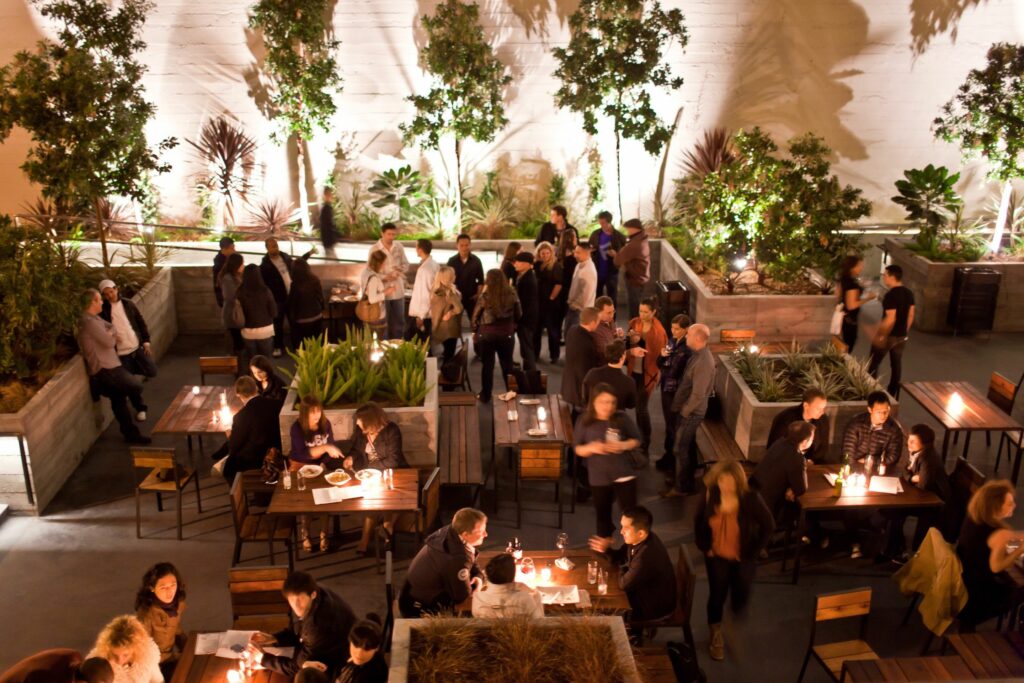 3. Waterbar
Neighborhood: Rincon Hill
Capacity: 50
If unreal views of the Bay Bridge are on your event's short list, look no further than Waterbar. Complementary only to the views is the cuisine, which many consider some of the finest seafood in town. Executive Chef and owner Parke Ulrich changes the menu daily, keeping his promise to deliver sustainably-sourced seafood and fresh, local organically grown produce to his discerning clientele.
When it comes to rooftop options, The Bridge Tower Room is Waterbar's indoor/outdoor space, and sits virtually under the bridge on the San Francisco Bay. Host a sit-down event here for 60 (or a 75-person cocktail reception) where wall-to-wall windows in the room and patio bring liveliness of the Embarcadero indoors. The Looking Glass is an additional indoor/outdoor space, that begs to be used for celebratory sit-down birthday dinner for 24 guests, or for an after-work cocktail reception for 50.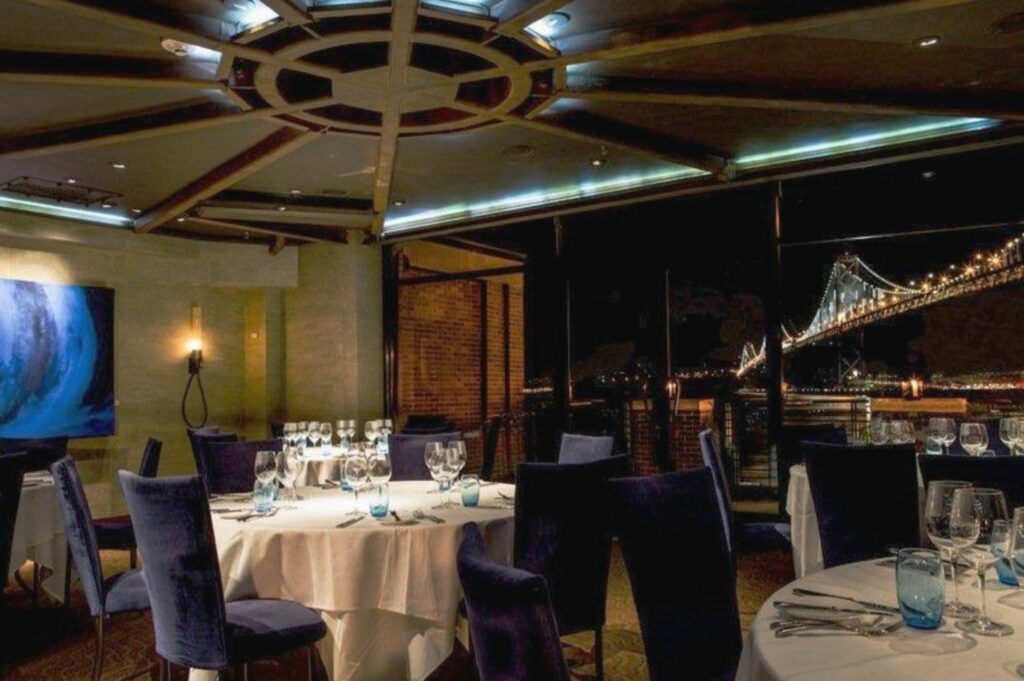 Bottoms up! Time to unwind. Browse the best bars in San Francisco for your next happy hour.
4. Mad Oak Bar 'n' Yard
Neighborhood: Civic Center
Capacity: 415
Thinking you need more of a relaxed and casual feel for your rooftop event? Oakland's Mad Oak Bar 'n' Yard might very well be your ideal spot. It's truly a laid-back neighborhood place. Their Rooftop Deck is lofted above their patio, and has its own bar and plenty of beautiful iron and woodwork to set the rustic scene.
Perfect for an afterwork event or birthday party, Mad Oak offers 40 beers on draft. One item on your event checklist to plan for should be food – Mad Oak has a rotating kitchen that changes every six months, but they welcome outside vendors or food trucks to feed your guests.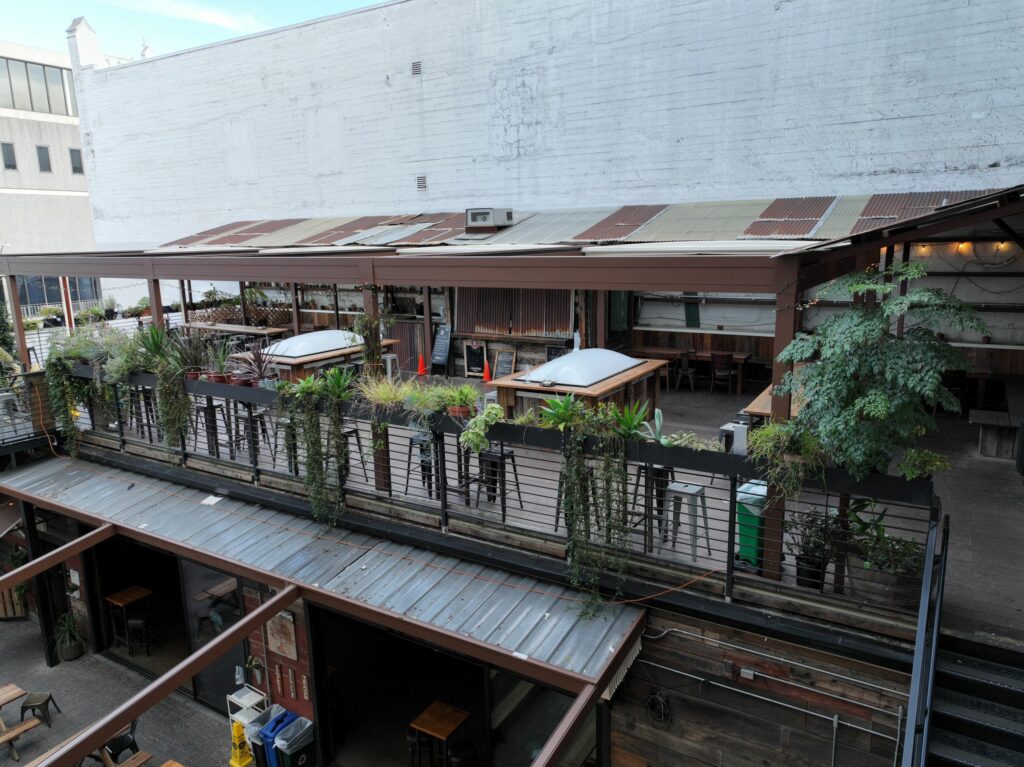 Think (way!) outside the box. Discover 15 creative marketing ideas to try at your next event!
5. Fiorella Sunset
Neighborhood: Inner Sunset
Capacity: 70
If you are planning an intimate corporate outing or private event, you'll rest easy at night knowing your special occasion is at Fiorella Sunset. The rooftop space at this neighborhood Italian eatery is most definitely prepared for all kinds of weather. Fiorella offers built-in heaters, a retractable roof, and even high walls to keep the wind in check without any hinderance of the views of the Inner Sunset neighborhood.
But there's more: their rooftop venue can easily be divided into two spaces, perfect if you need to customize your night. A full buyout of the deck will accommodate 60 seated or 70 standing, while the semi-private option known as the "Upper Roof Deck" will comfortably serve 28 seated or 35 standing. Fiorella is known for great service. The pleasant staff will serve up woodfire pizzas made with the freshest ingredients on buffet tables, or make the entire event a sit-down dinner.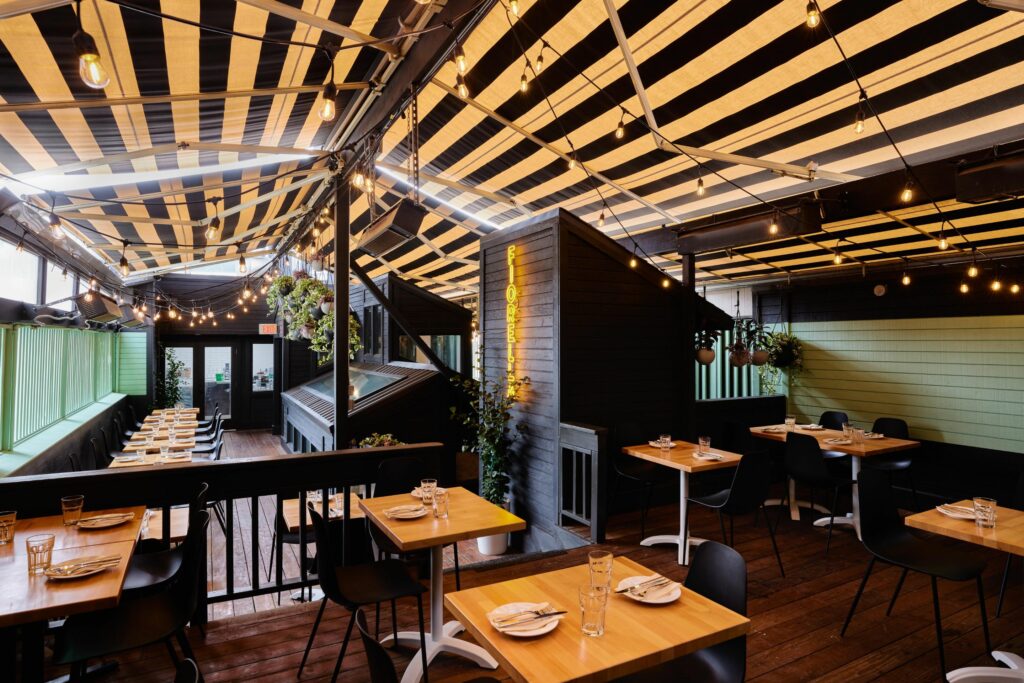 6. Charmaine's Rooftop Bar & Lounge
Neighborhood: Tenderloin
Capacity: 200
Now this is California cool. The Proper Hotel is home to Charmaine's, a Rooftop terrace that showcases unparalleled panoramic bay and city views. No matter if you are hosting a black-tie fundraiser or milestone birthday party, your guests will be buzzing about this spot, which simply nails that indoor/outdoor vibe perfectly. Partial or full buyout options are available.
Every event hosted at Charmaine's comes with the staff's special touch – swank details like handpicked glassware or expertly crafted cocktails with bitters and syrups are what this place is known for. With seating for 100 people or standing for 200, your evening should blow away guests, as they mingle against the backdrop of sophisticated décor and roaring firepits. The hotel below is an added bonus, should your out-of-towners need a posh place to crash.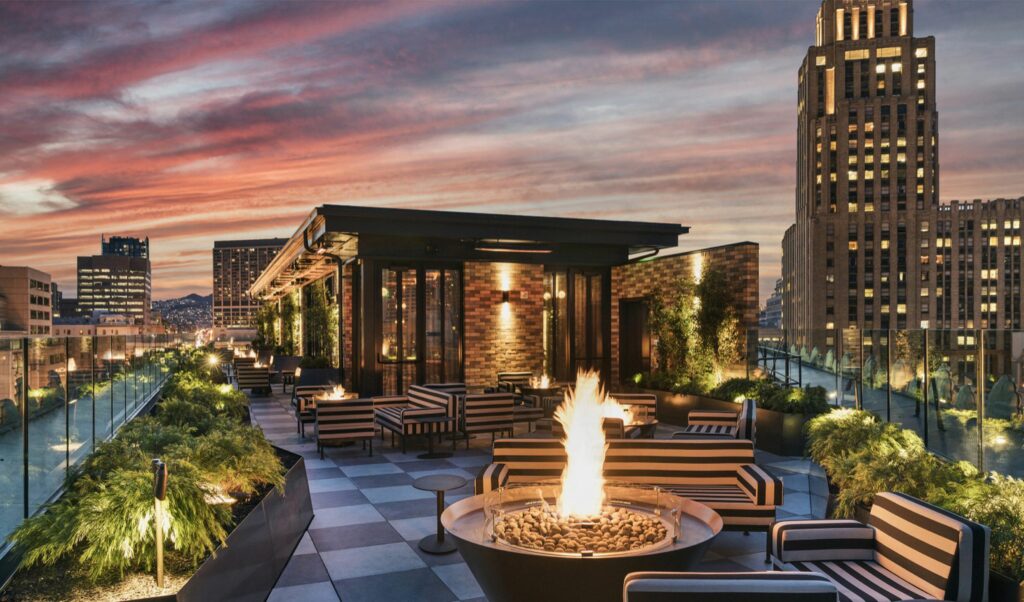 7. Rooftop at VIA
Neighborhood: South Beach
Capacity: 225
Sitting aloft the 12 stories of Hotel VIA, it's hard to find a San Francisco landmark that isn't part of the awesome view of The Rooftop at VIA. Embracing the indoor/outdoor feeling of Northern California, this hotel hotspot is 3,000 square-feet of relaxed elegance.
A standout at The Rooftop at VIA are the cabanas, with fabric that gently flows from breezes off the Bay. Your guests might be able to hear the crack of a bat, as Oracle Park, home of the San Francisco Giants, sits right next door. This venue is a great choice for a daytime event, but nighttime brings your party to life as San Francisco glitters below. One major feature this venue has going for it is exclusivity – only private event or hotel guests allowed!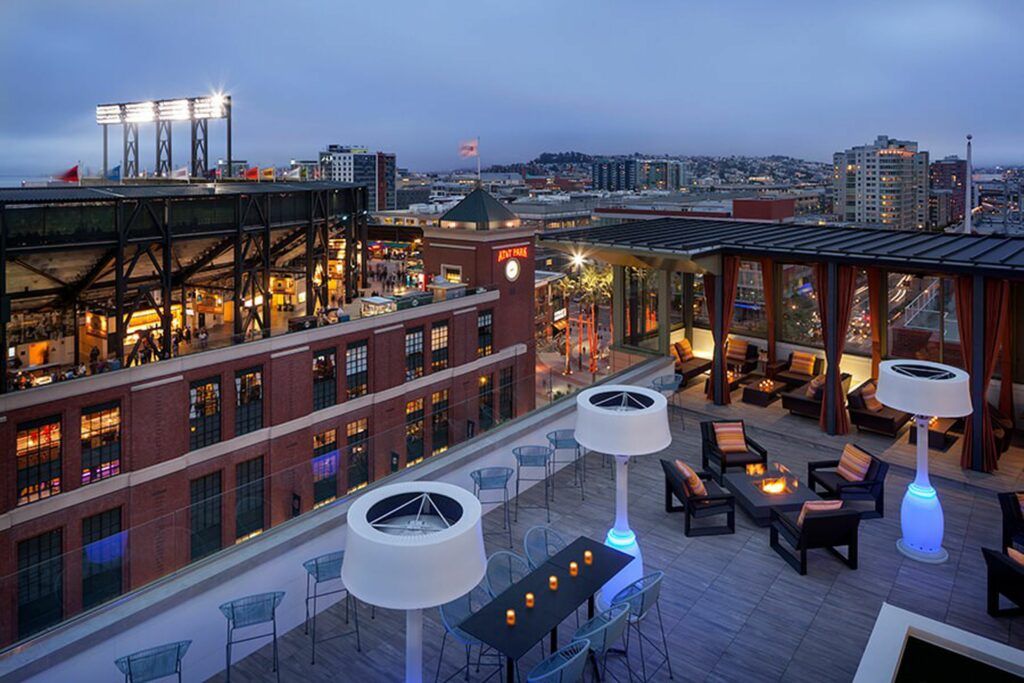 8. City View at Metreon
Neighborhood: South of Market
Capacity: 2,000
Space is king when hosting a large event. The Terrace of City View at Metreon is an 11,000-square foot rooftop event space overlooking the tranquil Yerba Buena Gardens will certainly fit the bill. The overall event capabilities of the City View at Metreon is definitely something to behold. It boasts over 31,000 square feet of divisible space.
Each of the Twin Peaks, Presidio, and Embarcadero Rooms has floor-to-ceiling windows, and are all connected to the Terrace. If your event requires renting out one or all of the available rooms, your party will have access to the customizable Terrace, allowing you to make it a space all its own. It's tough to beat the views of this place, and the proximity of City View to culture, public transit, parking, and big hotels makes it a near perfect large event venue.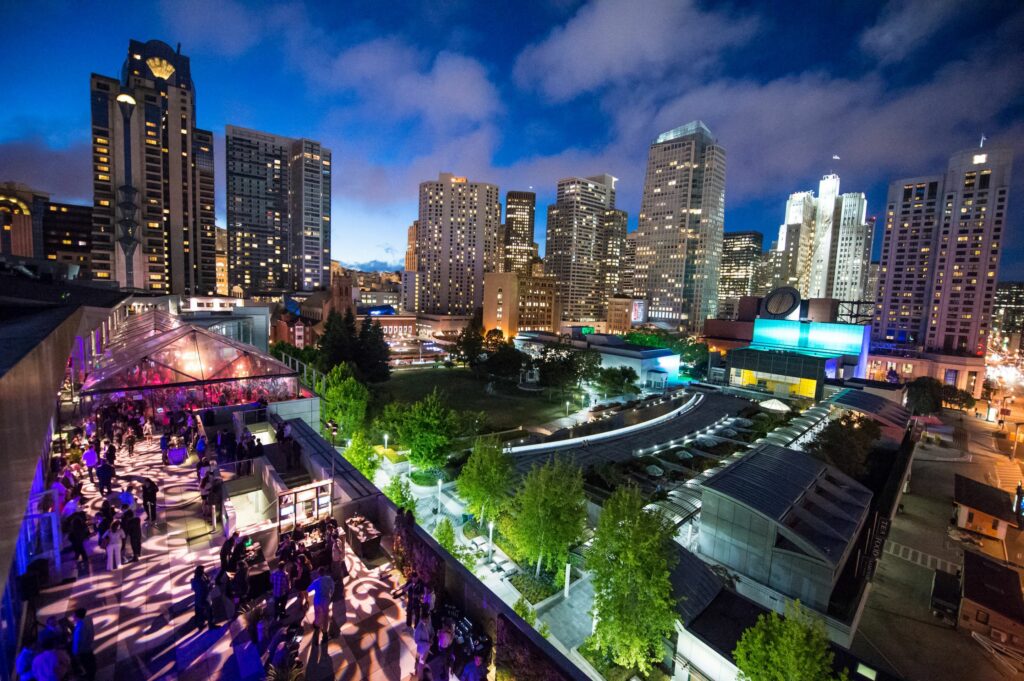 Questions to ask When Booking a Rooftop Venue
When booking a rooftop venue for a corporate event, it's important to gather all the necessary information to ensure the venue aligns with your event's goals and requirements. Here are some questions you should ask:
Availability and Capacity:

Is the rooftop venue available on the desired event date and time?
What is the maximum capacity of the rooftop area, and does it comfortably accommodate your expected number of attendees?

Layout and Space:

Can the rooftop space be configured in various layouts (reception, theater, banquet, etc.) to suit your event's needs?
Are there designated areas for different activities such as dining, networking, presentations, and entertainment?

Weather Contingency:

Does the venue offer a backup plan in case of inclement weather? Is there an indoor space available as a backup if needed?

Amenities and Services:

What amenities are included with the rental? (e.g., seating, tables, AV equipment, lighting, Wi-Fi, sound system)
Can the venue provide event planning and coordination services, or do you need to handle these aspects separately?

Catering and Beverages:

Are there catering options available, and can the venue accommodate specific dietary preferences or restrictions?
Is there a bar service available, and can you choose from a range of beverage options?

Logistics:

What is the load-in and load-out process for event equipment and decorations?
Are there parking facilities or transportation options nearby for attendees and vendors?

Timing and Noise Restrictions:

Are there any restrictions on event timings due to local noise regulations?
Is there a specific time by which the event needs to end?

Insurance and Liability:

Does the venue require event liability insurance? If so, what are the coverage requirements?
What is the venue's policy in case of accidents or damages during the event?

Accessibility:

Is the rooftop accessible for guests with mobility challenges?
Are there elevators or ramps available for easy access?

Decorations and Branding:

Can you bring in your own decorations and branding materials? Are there any restrictions?
Are there any limitations on the types of decorations you can use (e.g., open flames)?

Vendor Restrictions:

Does the venue have a list of approved vendors, or can you bring in your own preferred vendors (caterers, decorators, etc.)?
The Vendry Can Help You on Finding the Best Rooftop Event Spaces in San Francisco
Using The Vendry makes it simple to book your next rooftop corporate gathering, product launch, fashion show, or special dinner in San Francisco. Click on "Plan Your Next Event" and search San Francisco. From here you can either scan the choices yourself, or have The Vendry search for you by filling out a short questionnaire.
A proposal will be sent back to you from a partner venue or vendor. The Vendry offers the most locations and flexible pricing with their partners. Click, Click, and done. So easy.
Rooftop events featuring San Francisco as the backdrop sets the stage for an unforgettable corporate event or private affair. The Vendry makes it easy for your vision to come to life.
Read More:
The Best Private Dining Rooms in San Francisco
The Best Rooftops in NYC
The Best Rooftops in Miami
Planning an event in San Francisco? Check out our San Francisco Event Planning Guide and browse the top venues, vendors, and much more!