Article updated 7/2/23

When you're trying to figure out where to throw your next event, taking the elevator up can make that decision a whole lot easier. Rooftop event spaces in NYC are a great place to celebrate company milestones, throw an engagement party, get together with friends, take your team out for a drink, and take in the New York City skyline. Don't be afraid to take your special event to new heights. We'll help pick the right rooftop venue in NYC for any occasion, and any party size.
Why Hold Rooftop Parties Or Events?
Some of the world's best restaurant designers, taste makers, and experts in décor are right here in New York City. But, however immaculately decorated a restaurant, bar, or venue is, its ambiance still only extends as far as the restaurant's walls. With rooftop venues, that ambiance extends as far as the skyline.
What Types Of Events Can Be Held On Rooftop Venues?
From corporate dinners to intimate social celebrations, a variety of events can be held on rooftops. If you're looking for more than just a dining room to host your event, consider opening up your gathering to a rooftop. Rooftop venues offer the best of both worlds, giving you the comfort of an indoor seated space as well as the wonder of an incredible view from up high. Before you book the right spot for the occasion, be sure to consider these critical factors.
Top Factors To Consider When Choosing A Venue For A Rooftop Event
Let's say you've got a great venue in mind for your event with an expansive view. If that venue is miles from the nearest subway stop, or a tight squeeze for your big group, it might not be the right fit.
When you're perusing through rooftop venues to book, always consider the cost of the event, the location of the venue, the square footage of the rooftop, and the parking amenities.
Keeping those key factors in mind will help you tailor your night to your group's needs. Now, let's dive into a few of our favorite venues for rooftop events.
15 Outstanding Rooftop Event Venues in NYC 
There's no shortage of stellar views, amazing food, and incredible cocktails in this list of rooftop venues. The choice of which one to book is all yours. Let's dive in.
1. 74Wythe
Neighborhood: Williamsburg
Capacity: 400
74Wythe sits right in the heart of Williamsburg, boasting an incredible view of the East River and Manhattan. The newly launched venue's attention to detail is stellar. From intricately patterned stone floors, to mock brick long benches, to the lush floral installations throughout the venue, 74Wythe has pulled out all the stops.
The sizable rooftop venue offers a large main gathering area as well as several offshoot bar areas perfect for smaller groups to split off and chat while enjoying a cocktail. The venue suits large parties best, accommodating 200 seated guests and 400 standing guests.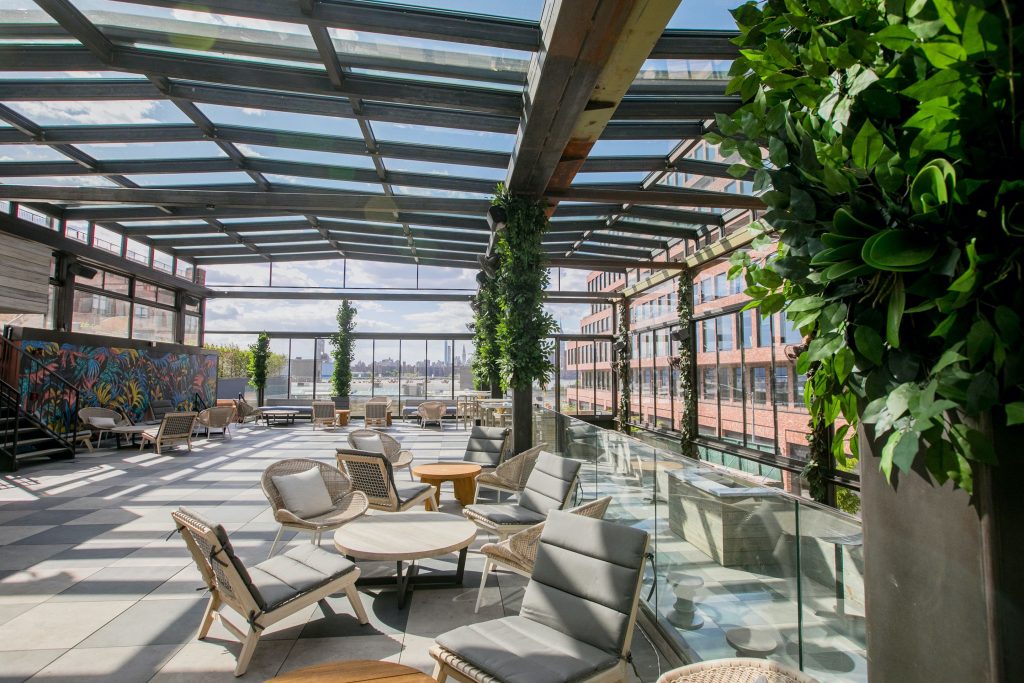 2. Bar Cima
Neighborhood: Midtown
Capacity: 100
Bar Cima, nestled atop the newly inaugurated Grayson Hotel in New York City, is an exceptional choice for hosting a classy corporate event. Its breathtaking panoramic views encompass the iconic Empire State Building and stretch across both the East and Hudson Rivers. What truly sets Bar Cima apart is its rooftop space that provides an exquisite backdrop for corporate gatherings. With the capacity to seat 78 guests and up to 100 standing, this terrace adds an extra layer of versatility to the venue. Bar Cima's acclaimed interiors by Dutch East Design elevate the ambiance and serve as a stunning foreground to its breathtaking views.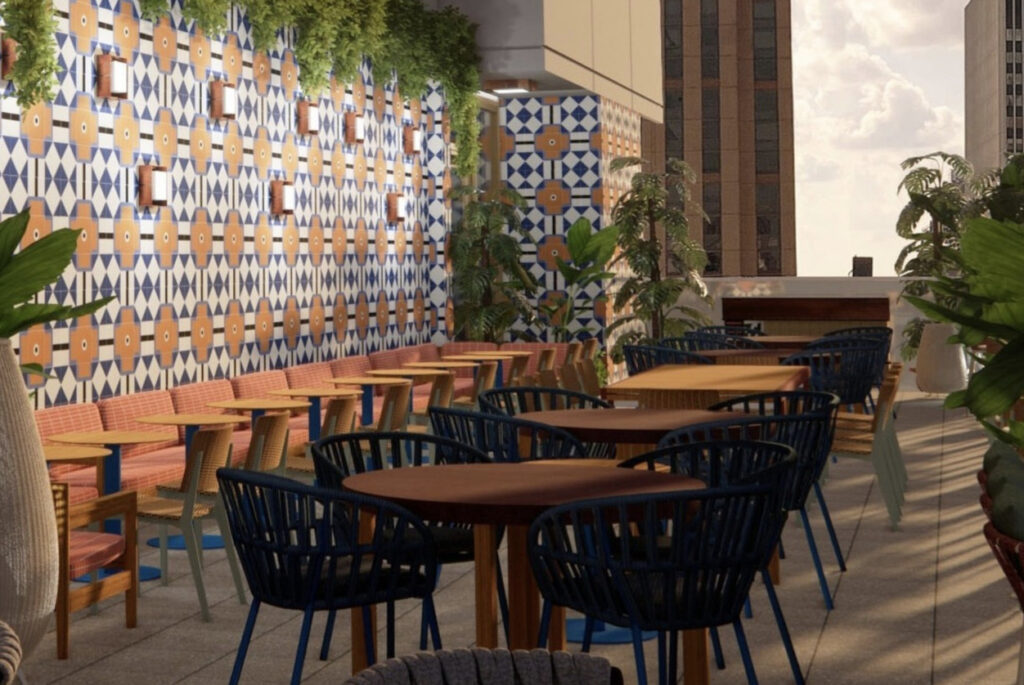 3. Spyglass Rooftop Bar
Neighborhood: Midtown
Capacity: 65
If you're looking for stunning views of the classic Empire State Building in New York City, look no further than the Spyglass Rooftop Bar in Midtown. Perched on top of the Archer Hotel, the Spayglass Rooftop Bar serves up delicious bar food options like sliders, burgers, and bacon-wrapped jalapeños that pair well with their craft cocktails. You can host your event in one of a few spaces including the Empire Room, Back Lounge, or the East and West Terraces. Capacities range from 15 to 56.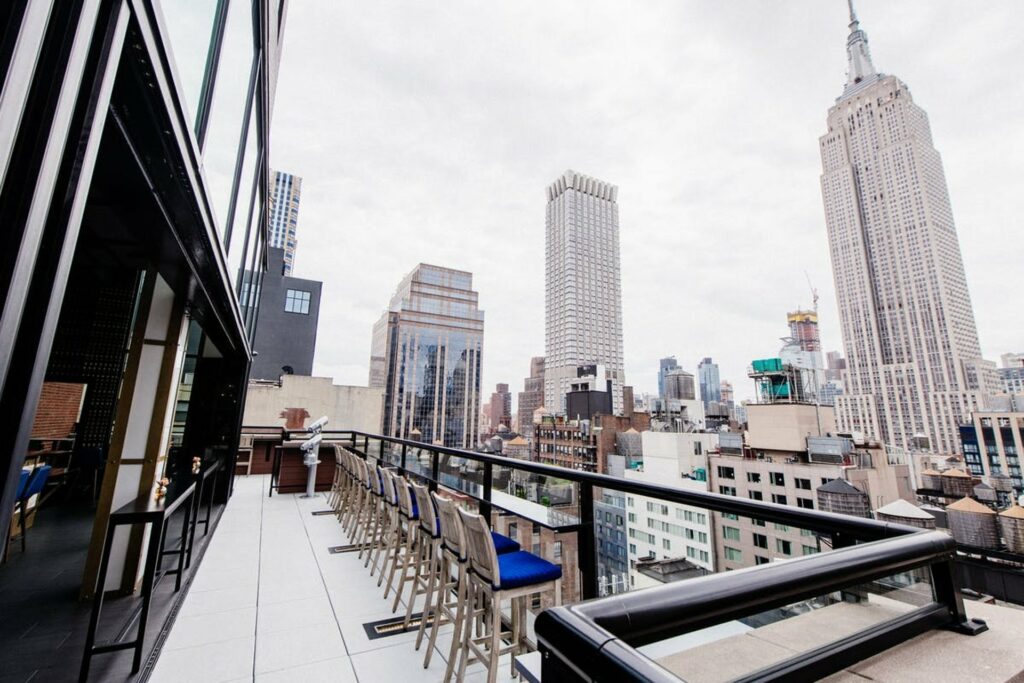 4. PH-D Rooftop Lounge
Neighborhood: Midtown
Capacity: 350
A boutique experience with an elevated touch, PH-D Rooftop Lounge atop of the Dream Downtown in Chelsea offers up an open and diverse space to host an event. With both indoor and out door lounges, PH-D Rooftop Lounge is great for gatherings in every season. Sweeping views of the Hudson River and city skyline make this space a class New York City hot spot for events of all types.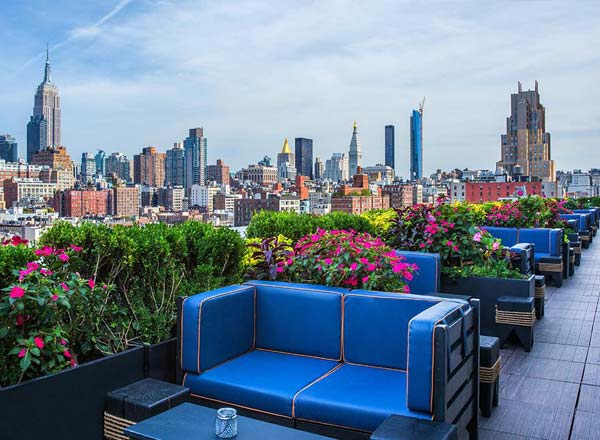 5. The Rooftop Deck at Times Square
Neighborhood: Times Square
Capacity: 150
High above the frenetic and equally entertaining Times Square, there's The Rooftop Deck at Times Square. This spacious 5,220 square foot venue is a relaxing and beautifully designed oasis of greenery in a busy cityscape.
The rooftop features a mock lawn with summer chairs and spacious couches where you can relax and host an outdoor working session. The venue is best for larger parties of 110 seated guests or 150 standing guests.
Hosting an event in NYC and don't know where to start?
Check out our NYC Event Planning Guide for everything you need to know about the Big Apple.
6. The W Loft
Neighborhood: Williamsburg
Capacity: 150
The newly renovated The W loft is sleek and elegant. Its indoor space features floor to ceiling windows on both sides of the building, letting an incredible amount of light into the space. Its minimalist aesthetic makes the space feel clean and precise, while still inviting to guests.
The rooftop terrace boasts unobstructed, expansive views of NYC's skyline and the East River. It's best suited for 80 seated guests or 150 standing guests.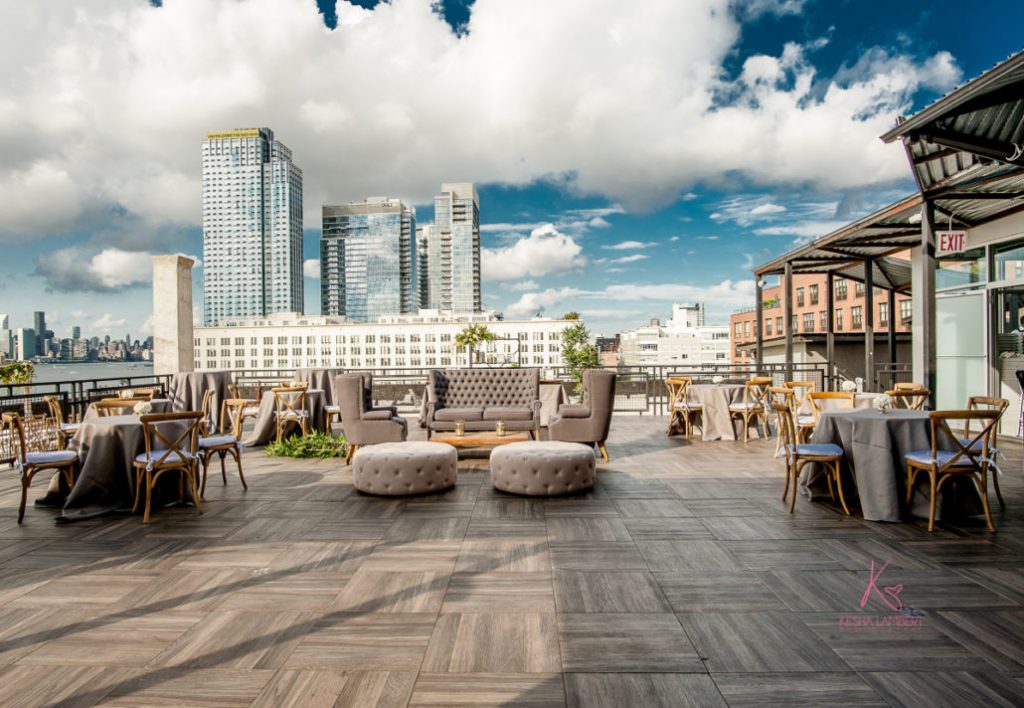 7. Panorama Room
Neighborhood: Roosevelt Island
Capacity: 250
Flooded with light and decorated in chic mod décor, Panorama Room on Roosevelt Island has become a hot destination for all New Yorkers looking to unwind in style. With views of the East River, Manhattan, and Brooklyn, guests will feel enveloped by the beauty of New York. Located atop the 18th floor of Graduate Roosevelt Island, this rooftop bar boasts both indoor and outdoor areas great for events of all types and sizes.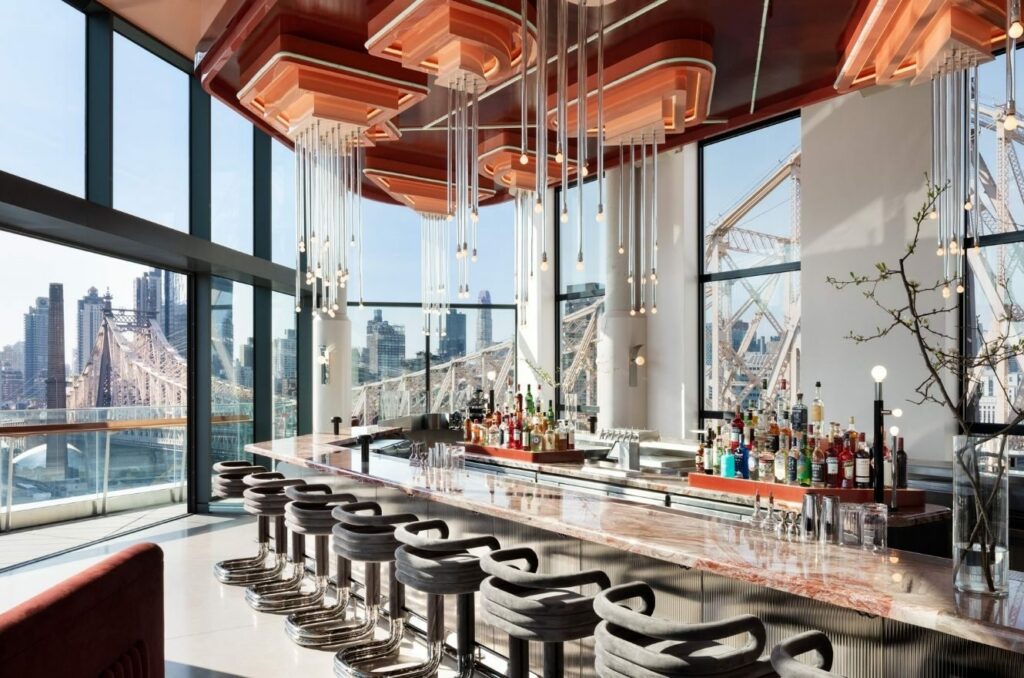 8. MEET on Broadway
Neighborhood: Midtown
Capacity: 75
MEET on Broadway has everything you need for a company retreat or team offsite. Its sleek and beautifully designed meeting rooms, conference rooms and indoor event space come equipped with LED screens, lighting equipment, microphones, projectors and screens for presentations.
When it's time to take a break from a full plate of presentations, MEET's spacious rooftop terrace offers an expansive view of the city with a wealth of tables for lunch or dinner. The massive 8,000 square foot venue is best for a seated team retreat of 75.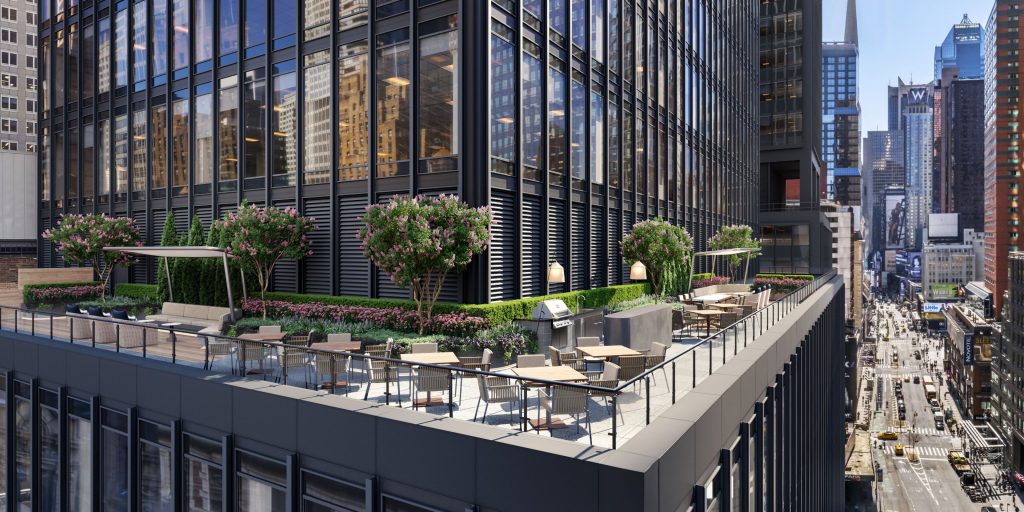 Time to book that picture-perfect NYC Rooftop.
9. Elsewhere
Neighborhood: Williamsburg
Capacity: 500
If you happen to play in a buzzworthy Brooklyn band, or are an avid music fan, you've probably been to Elsewhere already. For the uninitiated, Elsewhere is a top-tier music venue with a beach-style rooftop that looks out on the Manhattan skyline behind it.
Elsewhere's fun and lively event space can be outfitted to suit team gatherings or large parties of 150 seated guests or 500 standing guests. When you book this venue, be sure to line up a caterer for any lunches or dinners you plan to host.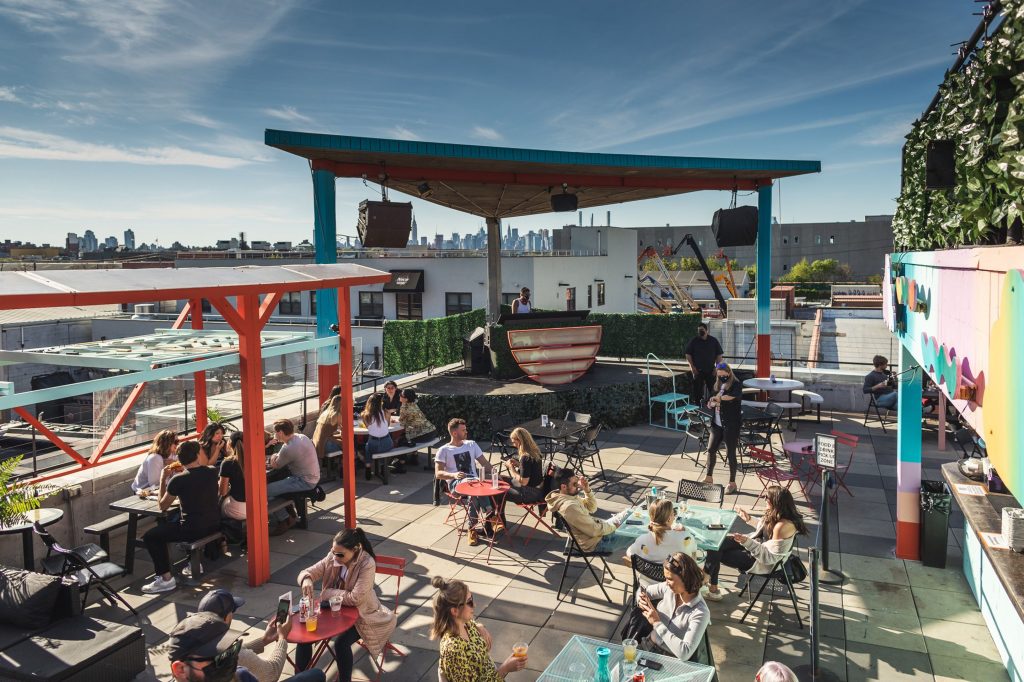 10. Good Behavior
Neighborhood: Midtown
Capacity: 139
MADE Hotel's rooftop bar and events space, Good Behavior, sits at the intersection of disco and tiki and offers up both food and beverage. Above the indoor / outdoor bar you'll see a variety of lush greenery paired against disco balls and festive light fixtures.
The tiki theme is best carried by Good Behavior's extensive cocktail menu offering everything from refreshing floral drinks to spicy, spirit-forward options. The lounge style chairs and couches dotting the rooftop terrace offer a great place to enjoy those drinks, too. Good Behavior fits up to 139 guests for any event.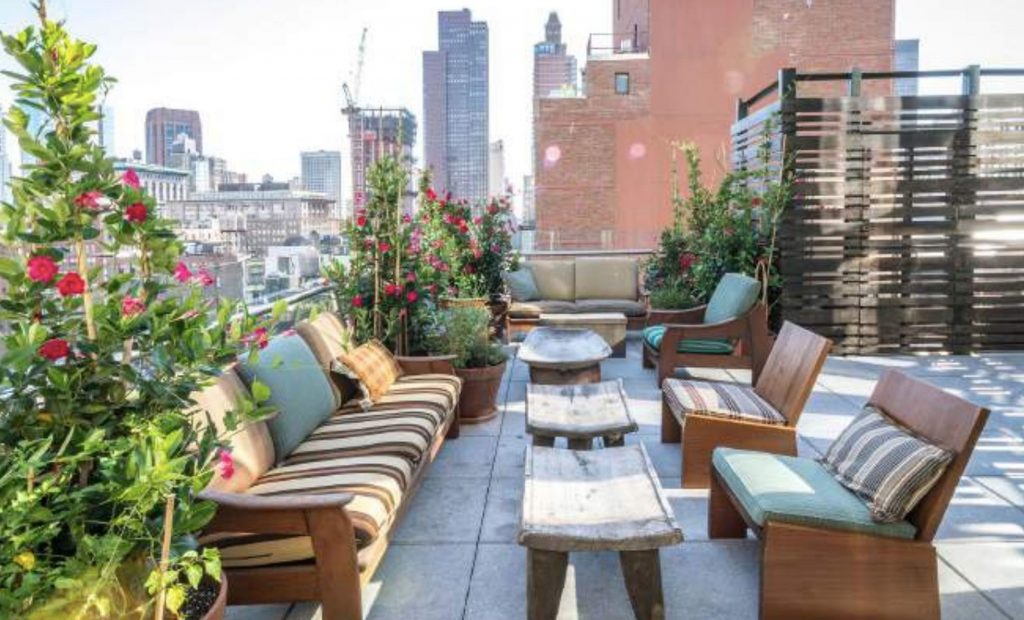 11. Midtown Loft and Terrace
Neighborhood: Midtown
Capacity: 150
Midtown Loft and Terrace is a slice of classic New York. Located in the middle of Midtown Manhattan, its open air rooftop terrace features a retractable roof in case some unpredictable weather arises during your event.
One truly unique touch this event space offers is their fireplace. As the centerpiece of the rooftop, aside from the incredible view, the fireplace is well set alongside mahogany floors, copper windows, and antique copper fixtures.
This 4,400 square foot terrace suits 150 guests and is popular for team offsites and company retreats.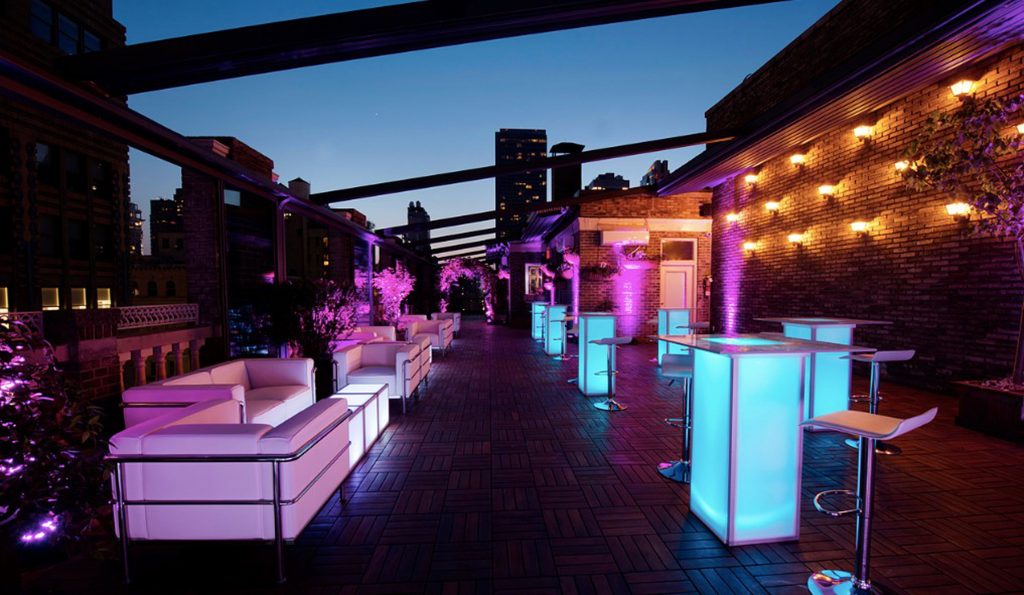 12. Jimmy
Neighborhood: SoHo
Capacity: 150
There are few event venues that take their stylistic cues from one of the most famous painters of all time. Jimmy is one of them. Located in the ModernHaus SoHo Hotel, the sleek bar is inspired by Picasso's Blue period and curated by heralded restaurateurs David Rabin and Johnny Swet with contemporary furniture and an inviting fireplace.
Jimmy's bar and rooftop venue can accommodate gatherings year round, as it has indoor and outdoor heated spaces. With a Michelin-starred chef at the helm and a deep menu of cocktails, Jimmy is perfect for a lively gathering of 59 seated guests or 150 standing guests.
13. Loopy Doopy Rooftop Bar
Neighborhood: Battery Park City
Capacity: 75
Take the Conrad Hotel's elevator 16 stories up and you'll walk out on to Loopy Doopy Rooftop Bar. This bar space is as fun as its name. Its crisp grey and white tables and long benches are dotted with bright purple pillows and menus, giving it a playful, energetic ambiance.
From the rooftop deck, you can see the Statue of Liberty, clear and unobstructed, offering guests an incredible view. Loopy Doopy Rooftop Bar also has a one-of-a-kind cocktail menu with everything from classic staples to their signature Mom & Icepops Boozy pop, a frozen treat filled with your choice of spirit.
This venue is best suited for a standing crowd of 75 guests.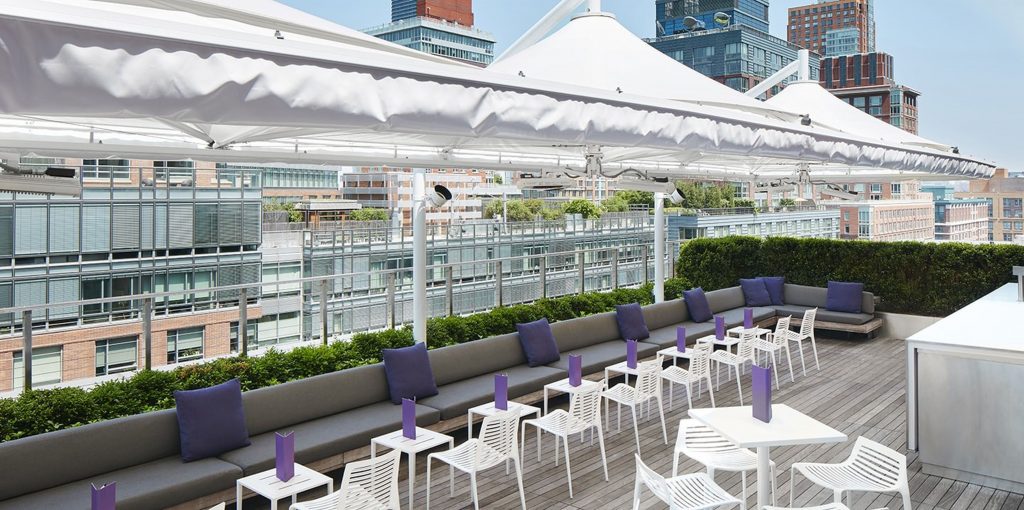 Cheers to that! Discover NYC's best bars and book your next after work event.
14. Bryant Park Grill
Neighborhood: Bryant Park
Capacity: 275
Bryant Park Grill's rooftop terrace is a little world that's all your own in the middle of Bryant Park. The venue's ivy-covered facade makes the restaurant and bar feel like it's part of the park itself.
The rooftop bar hovers just one or two stories above Bryant Park and looks out onto the park green. While you're taking in the city, you can enjoy the venue's Parisian-style menu as well as their extensive cocktail selection.
The 4,498 square foot venue is best for seated groups of 150 guests or 275 standing guests.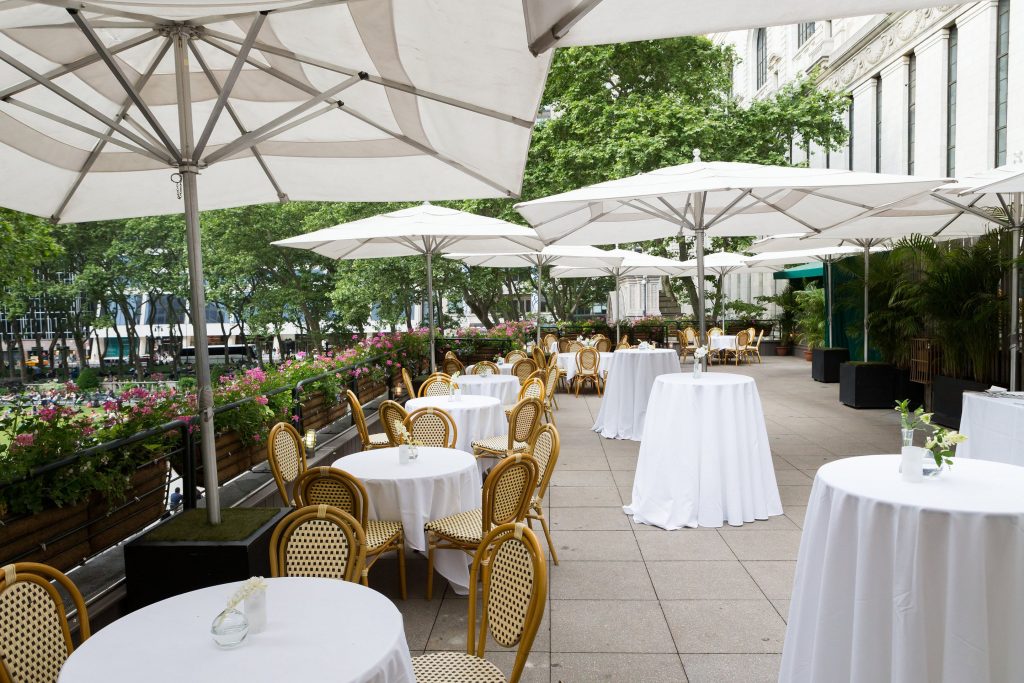 15. Make Believe
Neighborhood: Lower East Side
Capacity: 100
Make Believe is equally suited to host a mid-day work retreat as it is to host a rollicking cocktail party.
An extension of SIXTY Lower East Side, the bar itself feels like being inside a jewel box, with floor to ceiling windows highlighting Manhattan's skyline and letting in natural light as well as tropical plants scattered throughout the venue. The brightly colored bar has fuchsia, lounge-style seating paired against slate flooring.
This festive bar is best equipped to host 100 standing guests.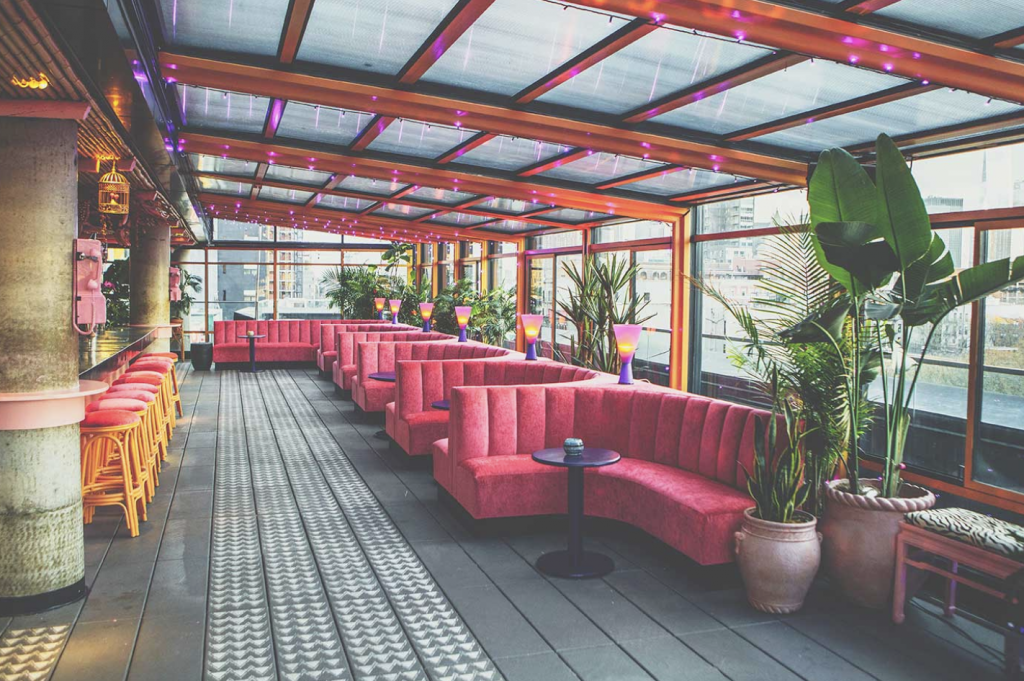 16. Hudson Mercantile
Neighborhood: Hudson Yards
Capacity: 350
Hudson Mercantile is nestled right at the edge of the Hudson River in Hudson Yards, offering sweeping views of the river as well as iconic buildings like The New Yorker hotel and One World Trade Center.
This versatile venue has hosted fashion shows, workout classes, weddings, company retreats, and parties. You can make the space your own and tailor its decor to your needs. With 5,000 square feet at your disposal, the possibilities at Hudson Mercantile are endless.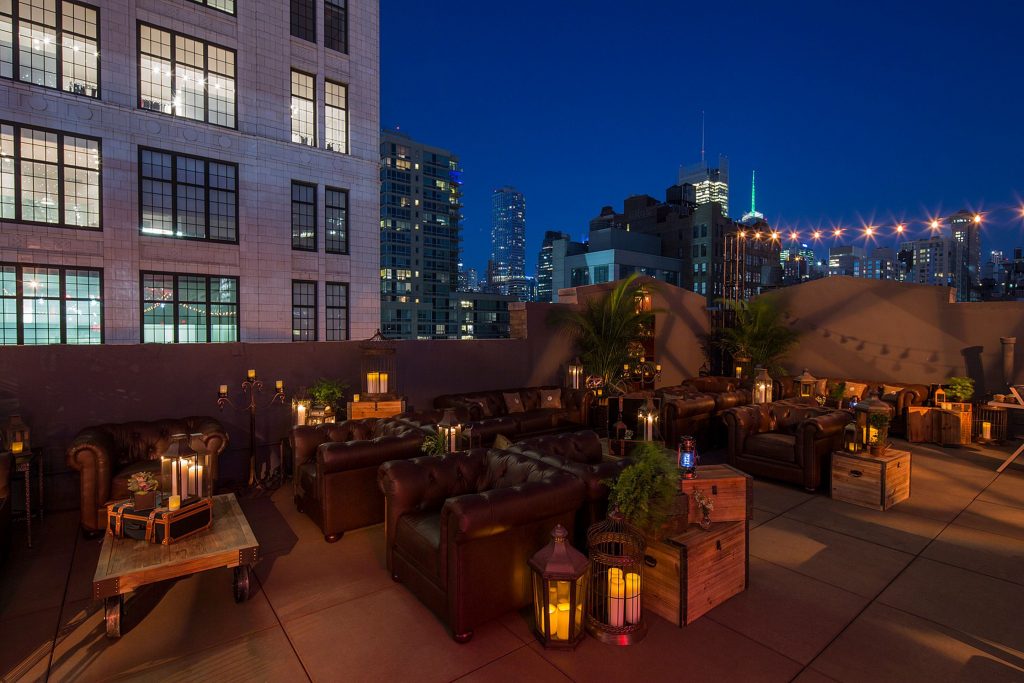 17. The Penthouse at The Standard, East Village
Neighborhood: East Village
Capacity: 85
Imagine your hyper-minimalist living room was perched several stories above the Manhattan skyline and also extended out to offer expansive views of the city. That's what The Standard East Village's, The Penthouse, rooftop venue feels like.
This East Village indoor / outdoor venue is filled with light and offers a generous panoramic view of the city. It's 1000 square foot terrace is great for anything from company retreats that require A/V equipment such as a PA and presentation system, as well as cocktail hours.
It's best suited for 50 seated guests or 85 standing guests.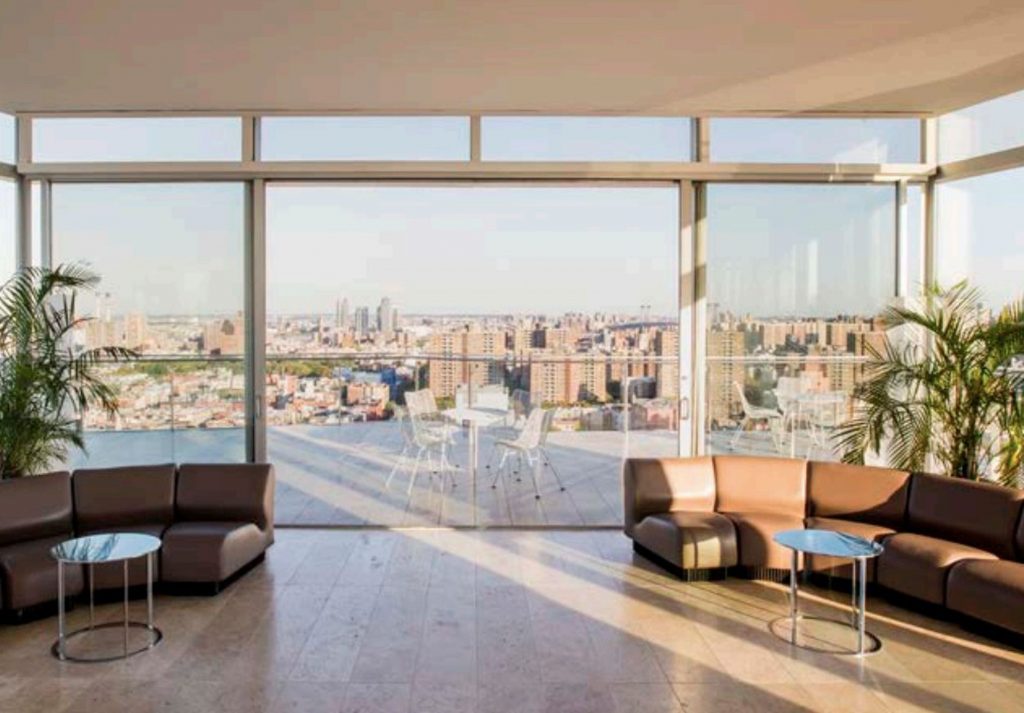 18. Monarch Rooftop
Neighborhood: Midtown
Capacity: 200
Conveniently located in Midtown — the heart of New York City — Monarch Rooftop offers up spectacular views and multiple terraces, making it the perfect fit for a buzzing corporate soirée. It's largest space, The Skylight Lounge, can host up to 200 people and has a permanent roof so weather is never an issue.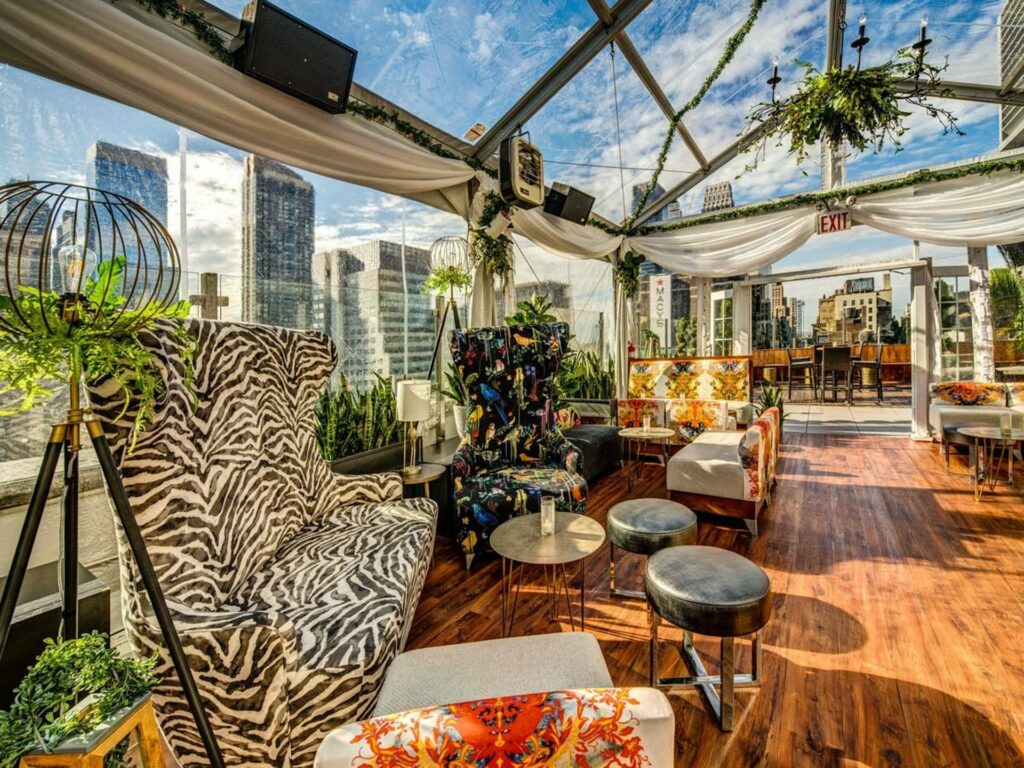 19. Magic Hour Rooftop at Moxy Times Square
Neighborhood: Midtown
Capacity: 450
Over-the-top and playful, Magic Hour Rooftop at Moxy Times Square is like a giant amusement park for adults. It features a rotating carousel, mini-golf, and an oversized topiary garden, giving guests build-in actives all night long. If you're looking for a venue with a spirited theme Magic Hour Rooftop has you covered.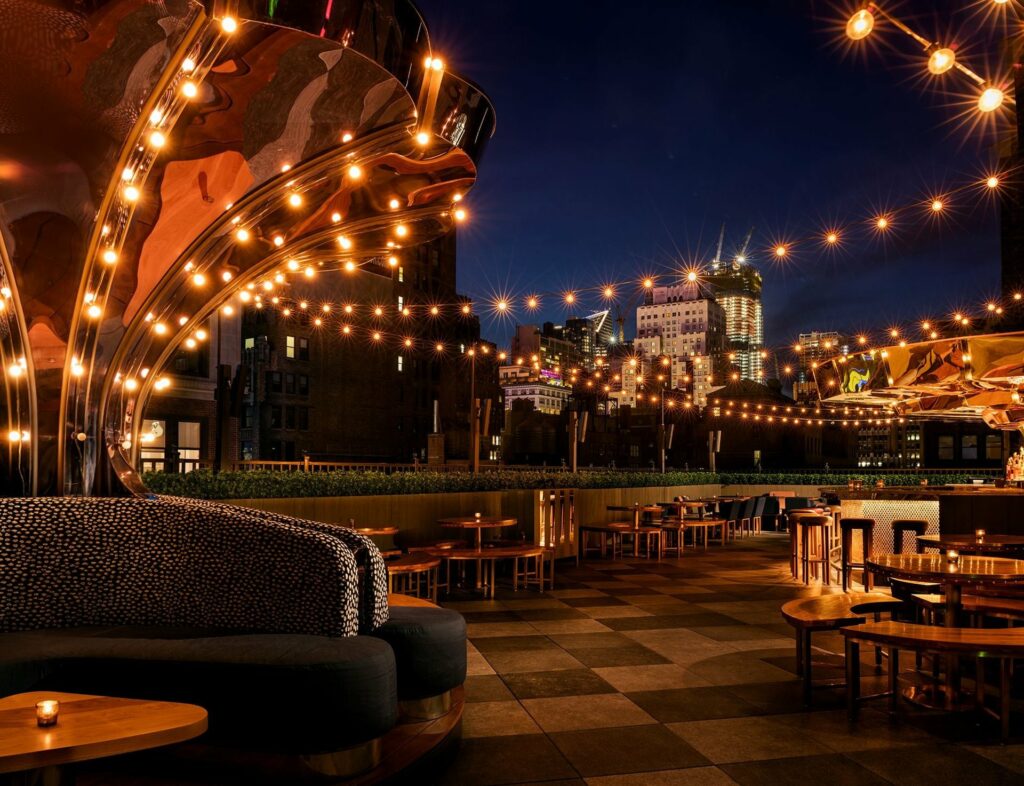 How The Vendry Can Help You on Finding the Best Rooftop Events Spaces in New York City
Hosting a corporate event at a rooftop venue in New York City offers an unparalleled experience that seamlessly combines sophistication, innovation, and breathtaking skyline views. These elevated spaces not only provide a stunning backdrop but also the flexibility to tailor the event to your unique vision. Whether it's a corporate dinner, cocktail reception, or team-building gathering, NYC rooftop venues elevate the atmosphere, creating an unforgettable ambiance for attendees.
The city's vibrant energy and iconic landmarks add an extra layer of allure, making rooftop events a memorable and impactful choice for corporate gatherings. So, consider the skyline as your canvas and the city as your muse when selecting a rooftop venue for your next corporate event in the heart of the Big Apple. We like to think of finding the right rooftop venue as a good problem to have. The question is not, "is there a venue that's right for me?" as much as it's "which venue will be perfect for me?" We hope this list gets you one step closer to finding the answer to that question.