Elevate your next corporate gathering with a fresh-air, sun-filled rooftop experience in the fair city of Boston. The warmer months mean everyone in Boston is out – out enjoying the weather, the food, and the views. Host clients or employees alike on a rooftop venue for an unforgettable afternoon or evening. You'll quickly see for yourself why all the locals battle New England's tough winters just to get to these glorious months of al fresco delights.
14 Dazzling Rooftop Venues in Boston
From Beacon Hill to Cambridge, this city and its rooftop offerings do not disappoint. There's lots to unlock and discover here in this historic town, but The Vendry starts you off on the right foot with the 14 most unique rooftops. Each featuring some of Boston's finest eats and craftiest cocktails, these hotspots prove that the sky's truly the limit.
1. Blue Owl
Neighborhood: Cambridge
Capacity: 50
Central Square is home to Blue Owl, one of Cambridge's only rooftops, new to the scene in 2021. All aglow atop the Sonder 907 Main Hotel, this rooftop offers up globally-inspired fare and seasonal cocktails while looking over the colorful streets of this charming part of Boston. Up to 50 people can fit on their rooftop terrace, but combine this space with Blue Owl's Indoor Bar for dual functionality, accommodating 150.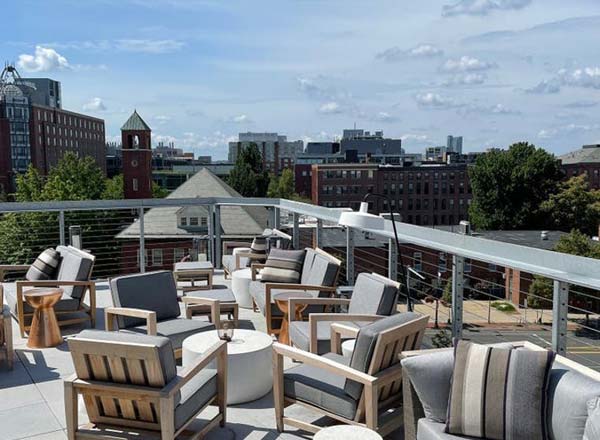 2. Mooo Restaurant
Neighborhood: Beacon Hill
Capacity: 48
A steakhouse filled with modern art and a large wine cellar, Mooo Restaurant is a staple in Beacon Hill. Regulars rely on the premium steaks and chops, and word is spreading on their two-tier Roof Deck. Able to host 48 guests, entertain your customers or clients here in this hidden gem on the 11th and 12th floors, high atop the XV Beacon Hotel. Boston's skyline will be a stand-alone feature, as everyone will be talking about the views.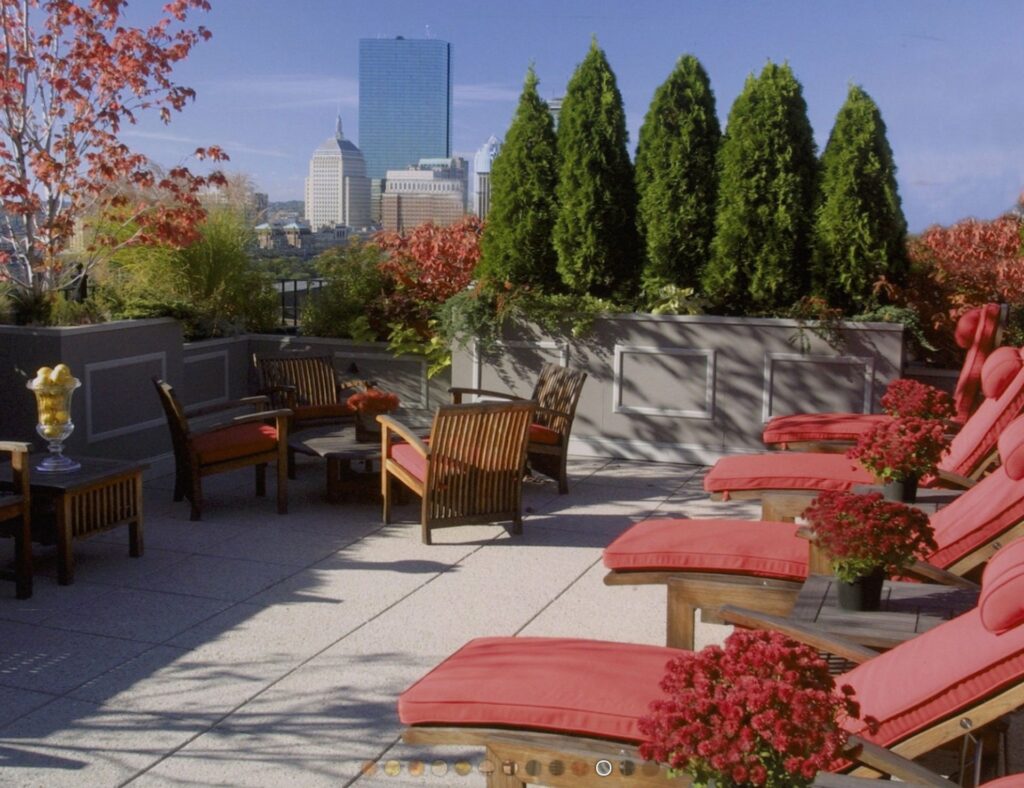 3. Six\West
Neighborhood: Downtown
Capacity: 30
The 14th floor of the Cambria Hotel offers up Six\West, one of the area's sleekest rooftops. Truly sophisticated, this hotspot almost feels like it's the chic gateway to South Boston, with its panoramic views over the city's skyline. Six\West is awesome in the summer, but don't let that keep you and your guests away in the colder months, as they have greenhouses with small but mighty heaters. Treat your guests to their modern, American fare and specialty crafted cocktails. Word on the street is the Cambria Hotel has terrific conference spaces, so maybe the rooftop at Six\West will be just the place to retire after a long day of meetings.
4. Contessa
Neighborhood: Back Bay
Capacity: 50
Atop the luxurious Newbury Boston perches Contessa. Comforting Northern Italian fare is served here, but it's just one of the many jewels that makes this crown shine. Designed by Ken Fulk, this unparalleled eatery is from Major Food Group, one of the largest hospitality companies in the world. Contessa's glass-enclosed rooftop harkens to another era, one of grandness, glitz, and splendor. There are retractable panels for sunny days, offering full views of the Boston Public Garden and Back Bay. They serve all meals here, so consider bringing the team here for a sunny breakfast or starry dinner.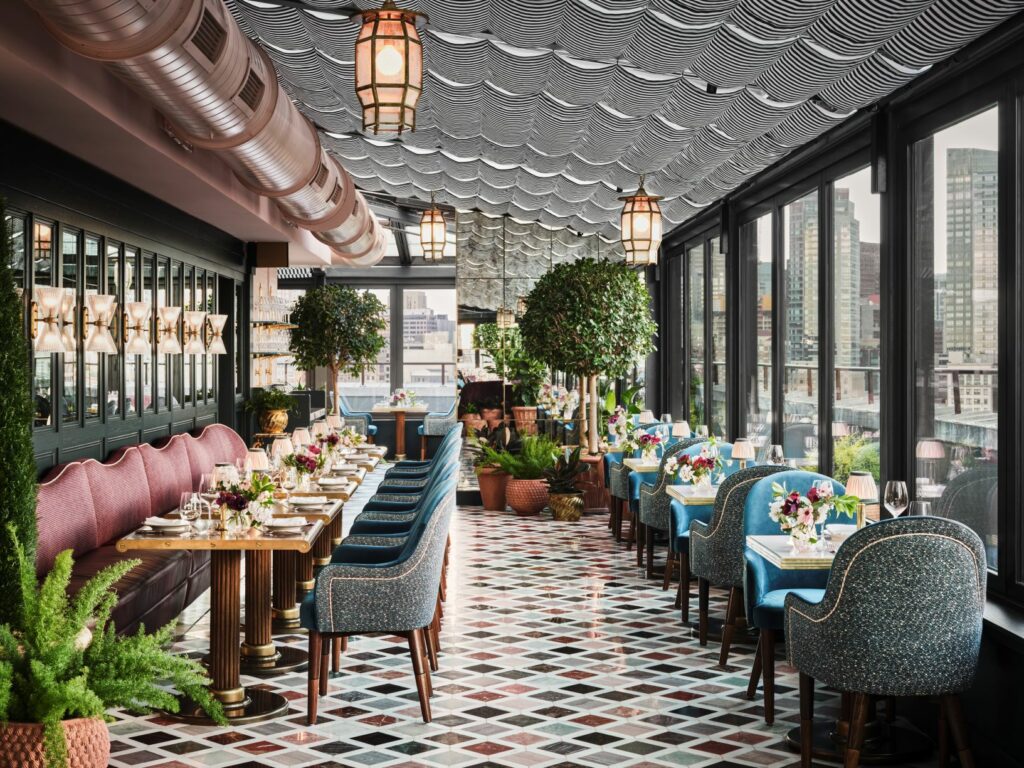 5. Lookout Rooftop at The Envoy Hotel
Neighborhood: Seaport District
Capacity: 375
If your next corporate outing or team meeting requires a more sophisticated space in Boston, check out the Lookout Rooftop, high up on the 8th floor of the Envoy Hotel. Centrally located, this Insta-worthy spot is adaptable for cozy cocktail receptions or multi-course dinners. Lookout Rooftop is expansive to say the least, and puts emphasis on luxurious comfort with a stylish edge. The views are unreal. The skyline panorama over the Fort Point Channel alone will influence you to get up from your firepit table to snap a shot. And if inclement weather rolls in? Grab one of their cool rooftop igloos and wait for that New England rain to pass.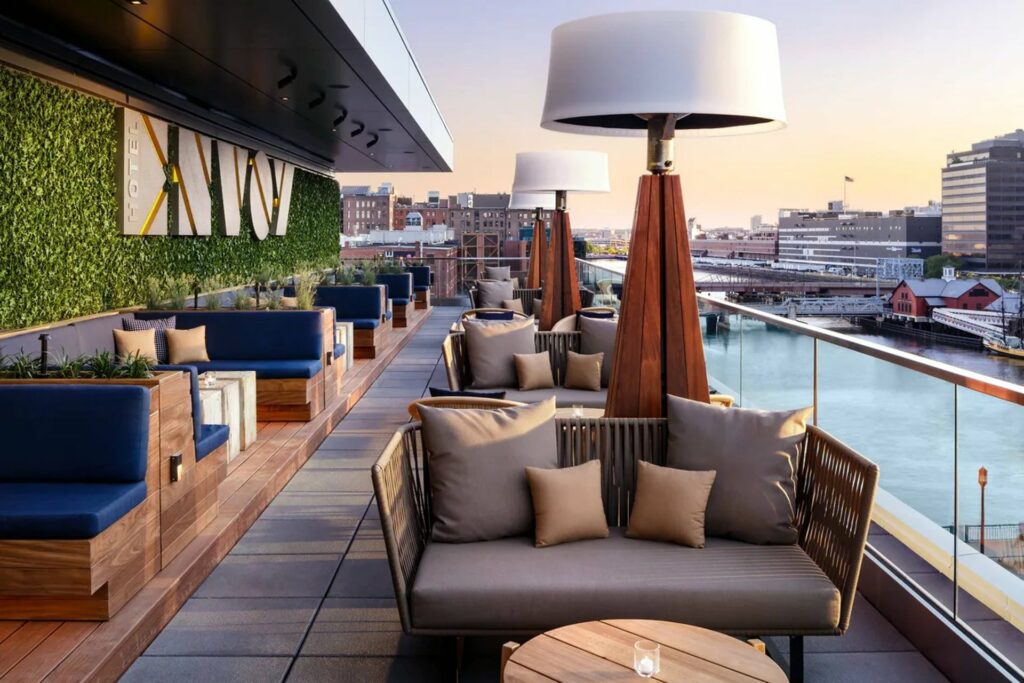 It's all about the finishing touch. Find the top floral designers in Boston.
6. Rooftop Bar & Lounge at Revere Hotel Boston Common
Neighborhood: Back Bay
Capacity: 125
Bringing a serious vibe to Back Bay is Rooftop Bar & Lounge, hovering high atop the Revere Hotel Boston Common. Host a memorable corporate event here, where sunbathers mix with professionals looking for a respite. Yes, there's cabanas and an indoor pool, but there's also some of the best views in the city and 16,000 square feet of stylish space to snack and sip. This spot is more celebratory in nature, so plan to host a wrap party or product launch here. An event at Rooftop@Revere with its amazing views will not soon be forgotten.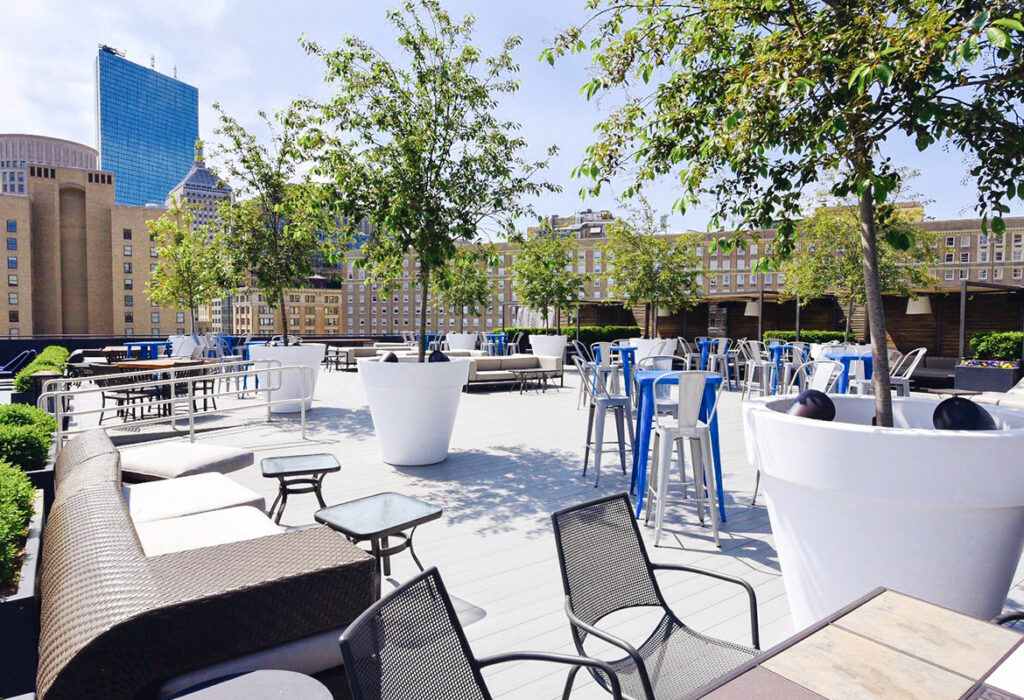 7. Deck 12
Neighborhood: Seaport District
Capacity: Contact for more info
Set on the waterfront, high above the Seaport District, is Deck 12, aptly positioned on the 12th floor of the Yotel Boston. This spot is terrific for many reasons, but the indoor/outdoor seating and eastwardly views make it a great option to hold your next corporate gathering. Deck 12 says "brunch is in our DNA", so consider booking an upcoming team-building event here in the morning before using one of the many meeting rooms the Yotel Boston has to offer. Even winters at Deck 12 are worth it – there's a glass-enclosed seating that's very cozy when the snowflakes fly.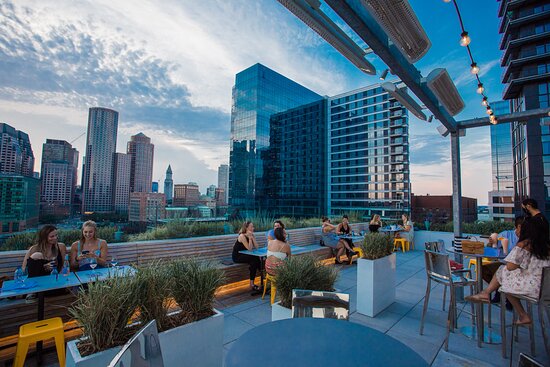 8. Earls
Neighborhood: Back Bay
Capacity: 200
Earls at Prudential Center offers up a their three-season, 3,200-square foot convertible indoor/outdoor rooftop patio as the spot to host your next corporate gathering. Pay no mind to the weather – this rooftop has patio heaters for when its chilly and a retractable roof for when its sunny. Earls, including their 14,500-square foot restaurant, has major real estate at "The Pru", but it's their rooftop that's the real stunner. Settle in amid the greenery and chic décor for a great night of networking.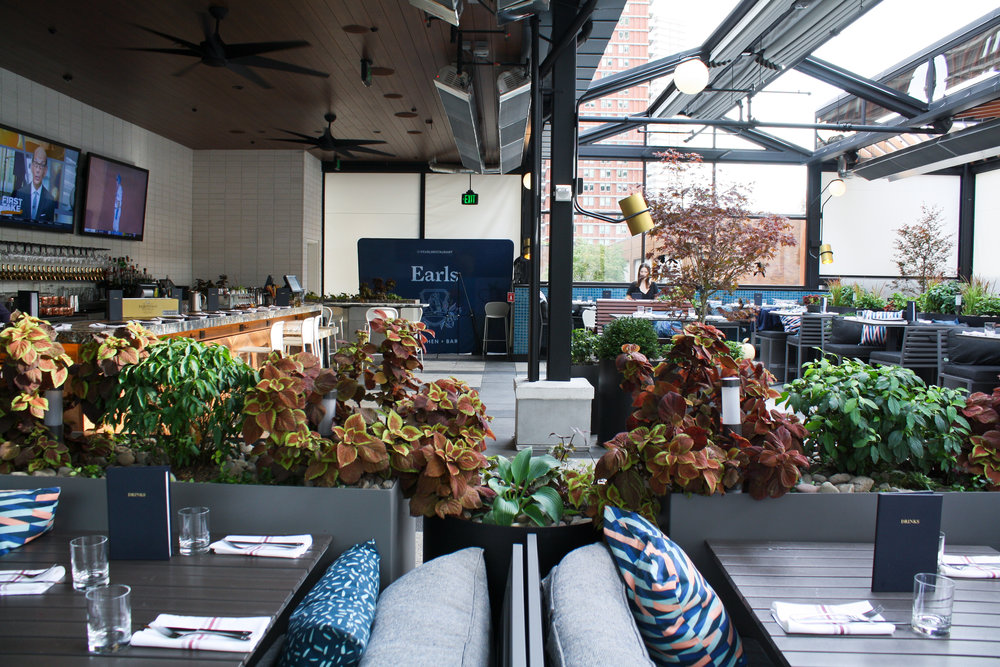 9. Dorchester Brewing Company
Neighborhood: Dorchester
Capacity: 150
The Rooftop Greenhouse above Dorchester Brewing Company is just as cool as it sounds. The Greenhouse is an all-season, all-year rooftop space that offers up a good amount of casual, uncovered seating. And Dorchester Brewing Company knows corporate events. They are prepared to host your crowd, as they offer up space for 150, in-house audio/visual, and a large screen with projector for presentations. There's a Tap Room and Rooftop Hopservatory, all prepared to make the planning easy on you. No need to worry about catering, either. Ready to pair with some of Dorchester's tasty ales, M&M BBQ downstairs can feed your group some of their famous ribs and fried chicken sandwiches.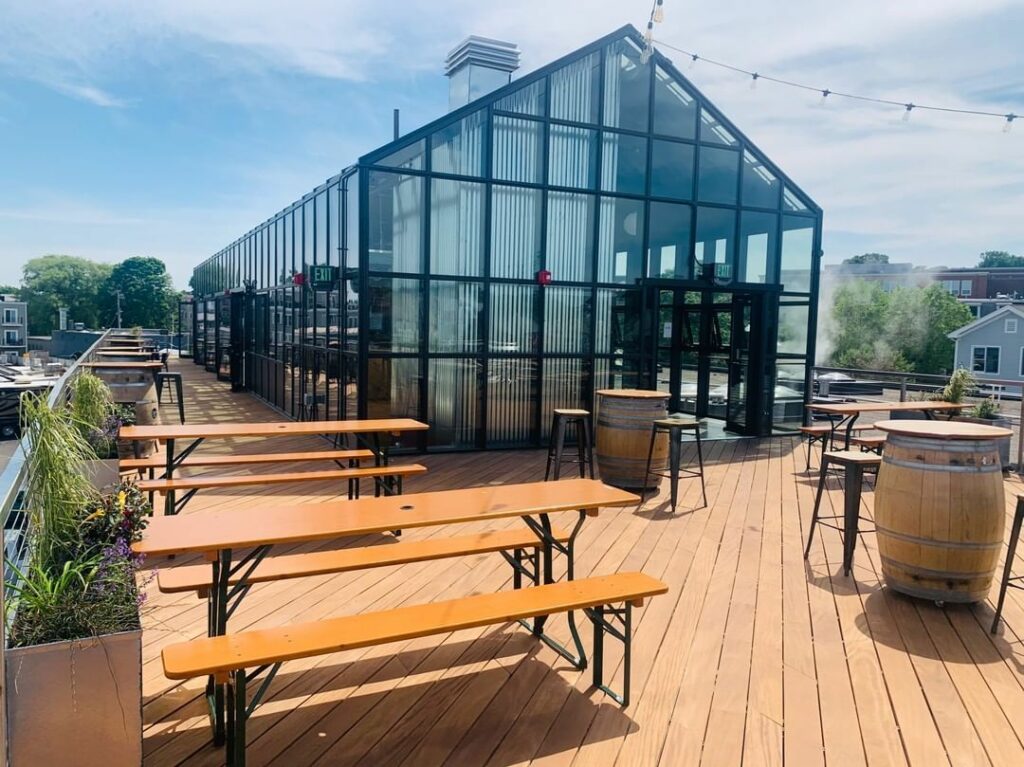 10. Sam Adams Taproom Boston
Neighborhood: Government Center
Capacity: 120
Only seems appropriate that the Sam Adams Taproom Boston would make the list for classic rooftops in the city. Fairly new to the scene, this spot takes up three floors, with the rooftop offering up great downtown views over Quincy Market. Your corporate crowd will eat this spot up – there's 20 taps of Sam Adams choices, some experimental. And when your event is done, take the group to visit the statue of the man himself. Hey, when in Boston, right?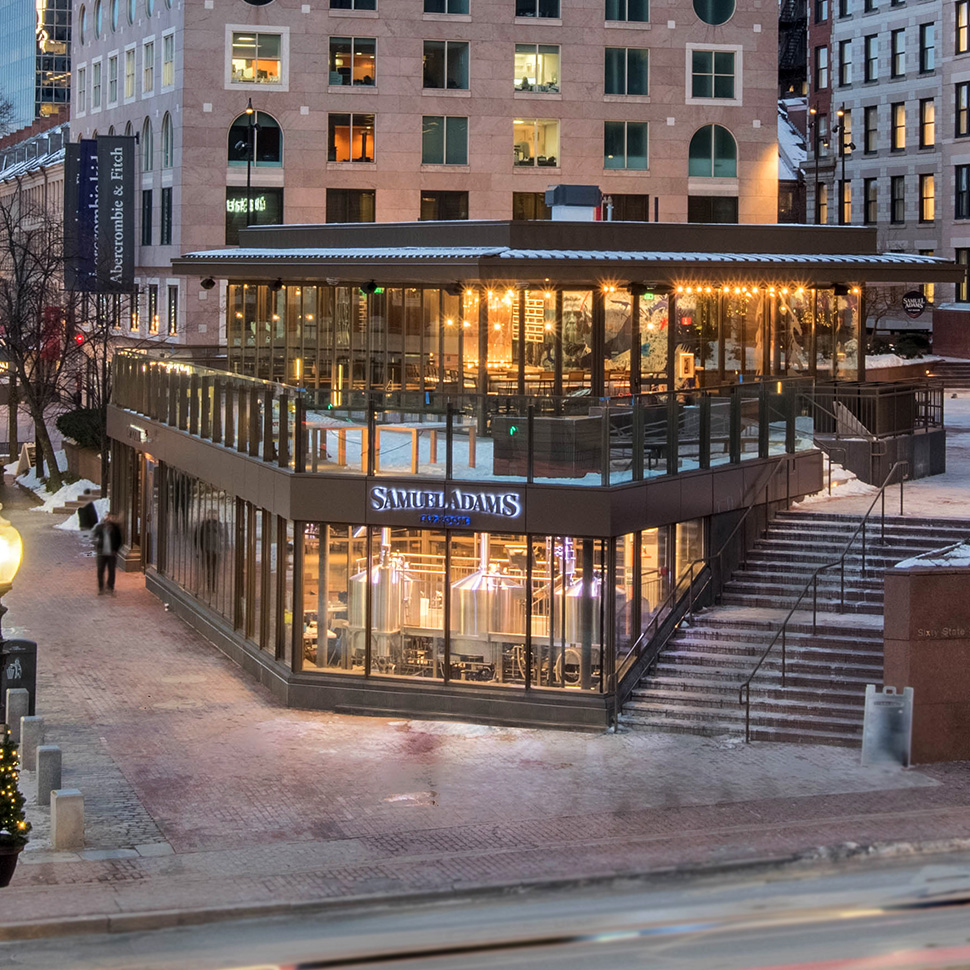 11. The Lexington
Location: East Cambridge
Capacity: 40
Offering a breezy rooftop greenhouse is The Lexington, another newcomer to the scene in East Cambridge. The Lexington is impossibly cool, and their rooftop is just the same. Host an intimate corporate event here, and watch your guests delight in the expressive cocktails and New American bar fare. Experienced owners Puritan & Co. have kept their finger on the pulse of what Bostonians want, and they've hit it out of the park with The Lexington.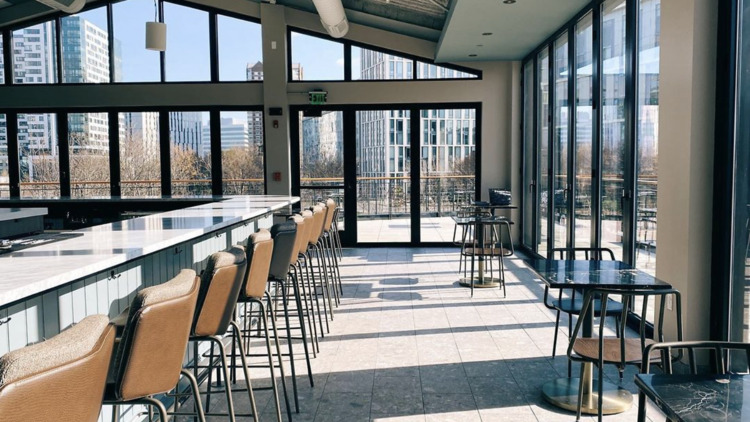 12. Over the Charles
Location: Allston
Capacity: 100
The 16th floor of the DoubleTree Suites by Hilton Hotel Boston-Cambridge is home to Over the Charles, a lively rooftop offering river and city skyline views to tourists and locals alike. This spot is laid back and is easy in the warmer months, and has charming igloos for the winter. Available to host 100 on the rooftop, this centrally located spot offers tons of amenities thanks to the hotel below.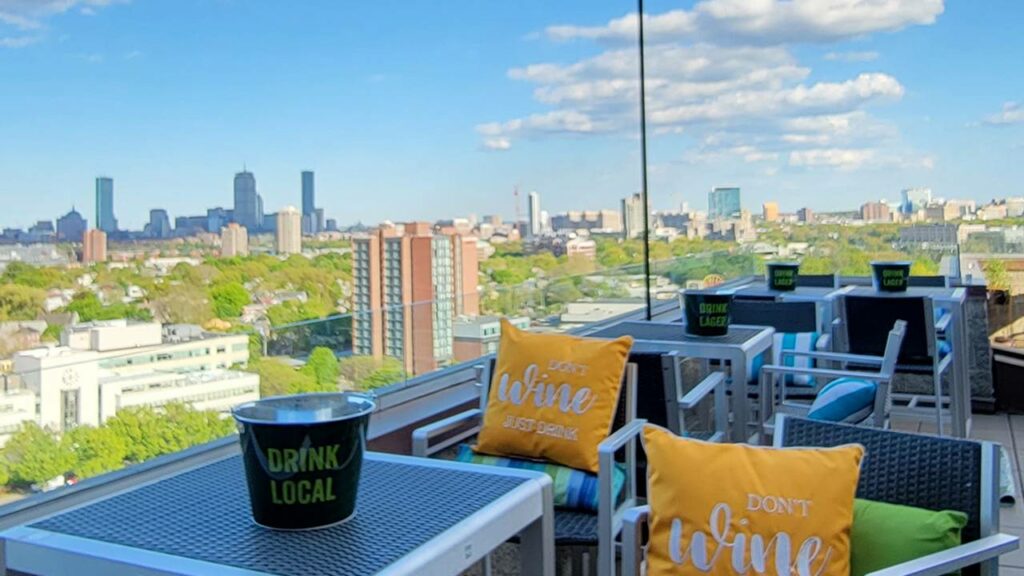 13. Top Deck @ Cunard Tavern
Location: East Boston
Capacity: 35
The Top Deck @ Cunard Tavern is begging to host your next small corporate event. Cunard Tavern finds itself at the center of a booming food and drink scene in Boston. While only packing the punch of 900 square feet, the upper level TopDeck makes you feel like you're drinking and eating atop a metal seaworthy shipping container. This totally private spot would make for a great team-building offsite, only if you can tear your associates away from the fresh lobster rolls and skyline views.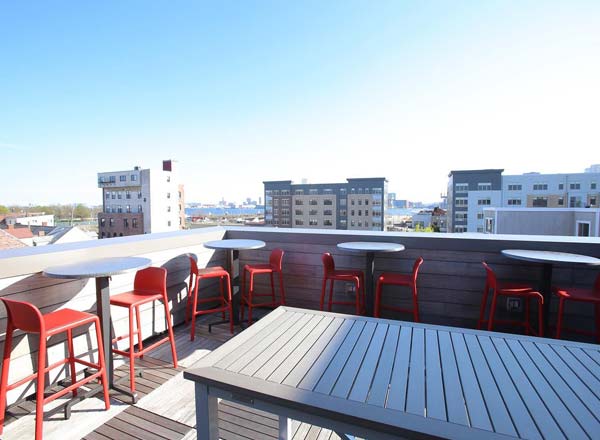 14. Legal Sea Foods Harborside

Location: Libery Wharf
Capacity: 250
While there's lots of Legal Sea Foods locales, the Harborside has a third floor promenade deck with a four-season rooftop lounge and bar. Not to worry if the weather turns, as there's a fully retractable glass wall and roof. During the colder months the glass enclosed space can accommodate 150 people and Legal lights up the copper fire place. When its warmer, there's an East Deck and West Deck, all ready to host your corporate group with amazing views and table seating. Connect it all together for a full buy-out for 250, and you have yourself a righteous spot directly on the water to take in some of the best New England Clam Chowder money can buy.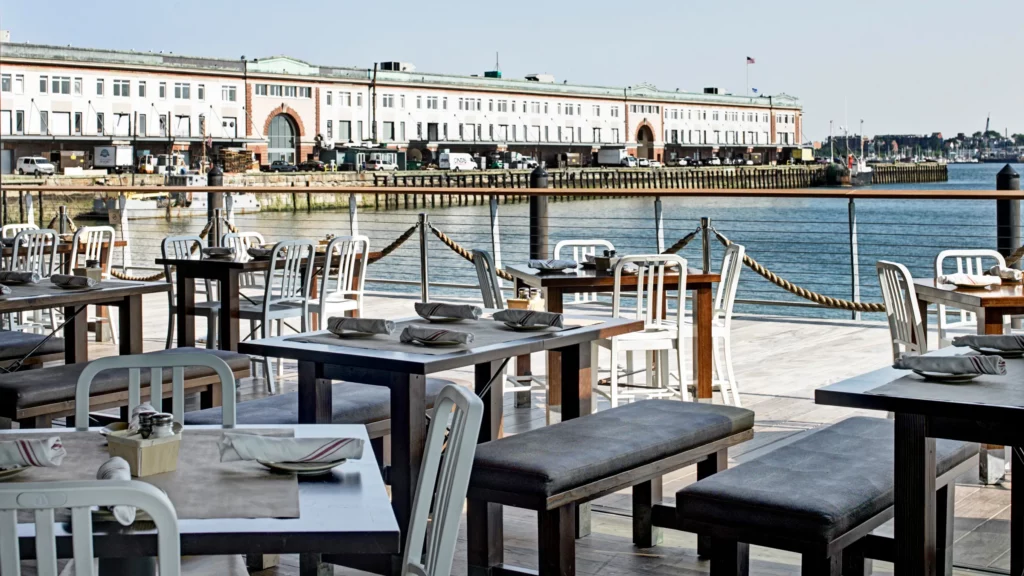 Why Finding the Right Rooftop Venue for Your Event is So Important
Before booking your rooftop, examine the type of event you are throwing. When trying to find the right spot, you'll want your venue to match the tone of your event. Rooftop venues take your crowd up and away from the hurry of the streets below, offering an air of privacy and exclusivity. If your theme is an employee training or team-building outing, a rooftop will put all your associates at immediate ease. Perhaps you are launching a new product or software to clients. Rolling out the red carpet on a rooftop ushers in a light-hearted approach. If you want your target crowd to leave your experience with a solid feeling about your company's mission, then host in a spot where the sky's the limit.
Top Things to Consider When Booking a Rooftop Space For Your Event
You've already landed on Boston to host your corporate event. And you know you want a rooftop. But now there's other things to toss around before you book your venue. Here's what to think about:
Weather. Let's face it: New England and its fickle climate isn't exactly like the Caribbean. There's lots of unpredictability. Be certain to communicate with your intended venue about their weather-related abilities. Several spots have retractable glass roofs or igloos. Just make sure there's a Plan B should Plan A get sidetracked thanks to Mother Nature.
Crowd Size. Some rooftops are more intimate than others. Some provide several thousand square feet of space to sprawl out. No matter the venue, know the size of the group you are expecting and find a space that will allow for all the agenda items you want to accomplish.
Ambiance. Is your event a product launch party? A celebration of accomplishments? A customer appreciation dinner looking to impress? Whatever the occasion, be certain the rooftop you've selected properly relays your intended tone.
Décor. If there's one bonus aspect of a rooftop event, its planning for very little décor. With the twinkling lights of greater Boston spread out before your guests, it would be nonsensical to spend time on decorations. That's one of the beauties of having a rooftop event - let the skyline speak for itself.
Location. Perhaps your meetings are taking place in the same hotel as your rooftop later than evening. Maybe your headquarters are just down the street from your venue. Whatever you choose, make sure your guests are able to find, get to, and get back easily from your rooftop. Afterall, a guest that arrives stress-free from travel is a happy one.
Amenities. Be sure to ask your venue if they have lounge furniture, audio/visual technology, televisions, or any other special rentals or equipment you need. Some spots are bursting with this type of inventory, others you'll have to source out. Ask, ask, and ask again.
Find the Best Rooftop and Outdoor Spaces on The Vendry
There's so many great choices for rooftops in Boston. From Beacon Hill to Cambridge, The Vendry has you covered. Create an RFP to find what you need, get proposals to review, and pick your favorite – it's all right there.
Read More:
Host Your Next Corporate Dinner at of These Classy Private Dining Rooms in Boston
Top Corporate Event Venues in NYC for Your Next Event
Not Your Average Venue: The Most Unique Venues in Seattle