Article Updated 6/4/23

It's easy to see how Tony Bennett left his heart in San Francisco. It's a magical spot. Hosting an event in San Francisco is a no brainer if you want a gorgeous backdrop and buzzing city to be the foundation of your event. If you're looking for a large event venue, San Francisco has some great options, from old bank buildings to modern museums. Read on for 15 of our favorite large event spaces in San Francisco.
17 Fabulous Large Event Venues in San Francisco
"Large venues" can mean different things to different industry professionals. For some, that means a massive convention center that can hold many thousands of people. Others may think of it along the lines of a huge ballroom for an upcoming gala or a unique venue space with room to creatively build out the room. We've catered to both mentalities in the following San Francisco large event venues roundup, with a bit of everything for everyone.
1. SVN West
Neighborhood: South of Market
Capacity: 2,429
The SVN West, a venue operated by Non Plus Ultra, boasts an impressive array of features that offer a high degree of versatility. With three floors, a mezzanine, a spacious outdoor rooftop, and over 100,000 square feet of space, this raw, multi-level open floor plan has a rich musical history as it was once home to the iconic Fillmore West and Carousel Ballroom. The venue is an ideal setting for a wide range of events, from concerts to corporate events, galas, and more. SVN West is conveniently located at the intersection of San Francisco's two main thoroughfares, South Van Ness Avenue and Market Street, making it easily accessible to visitors. Under Non Plus Ultra's management, SVN West has become one of the most popular venues in town. So if you're ready to rock, permission granted!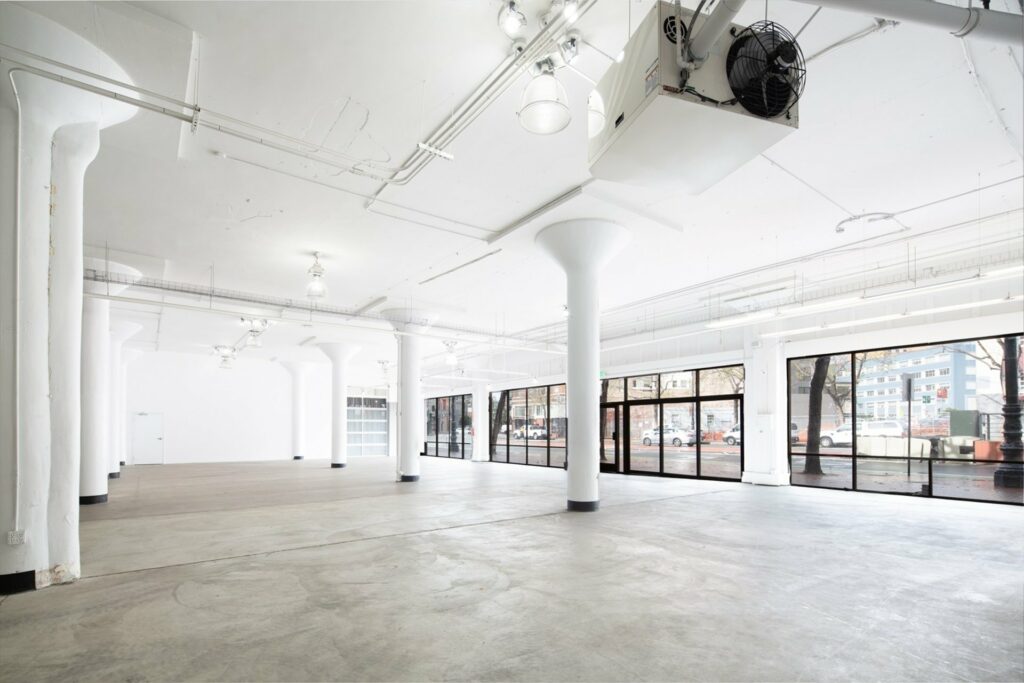 2. Storek
Neighborhood: South of Market
Capacity: 1,000
Add a touch of history and coziness to your technology gatherings or add a unique acoustic dimension to your performances and galas with Storek, a space that blends early 20th-century architecture with modern event capabilities. Storek is an ideal venue to create timeless moments, as it has all the necessary elements. This charming brick-and-timber building has been beautifully restored and was once a saddlery in the 1930s, which later expanded to supply leather and canvas goods throughout the Bay Area. You're invited to explore the myriad possibilities and rich history by booking your next event at Storek.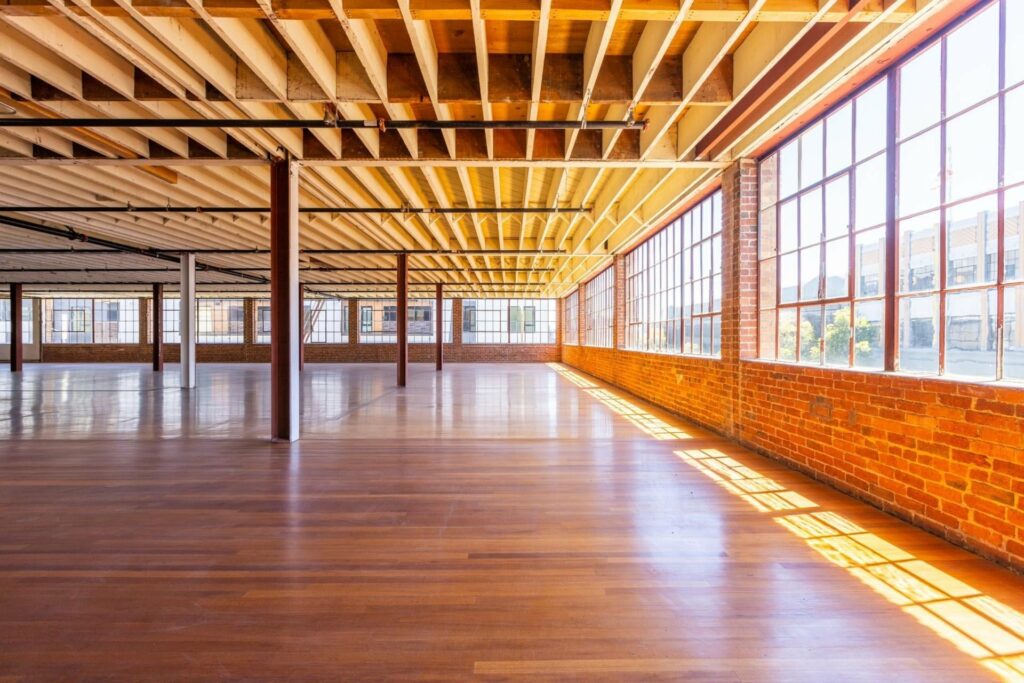 3. Moscone Center
Neighborhood: South of Market
Capacity: 40,000 +
If you really want big with a capital B, then check out the Moscone Center, a.k.a. The George R. Moscone Convention Center. Named for a beloved former mayor, this is built to handle pretty much whatever large event you could conceive of. There are four event spaces total to play with, and you can easily accommodate over 40,000 people. More large and in charge numbers to consider: you're looking at well over 500,000 square-feet to play with, 82 meeting rooms, and two ballrooms (one 50,000 square-feet alone). There are also massive outdoor terraces where you can look out over the Yerba Buena Gardens.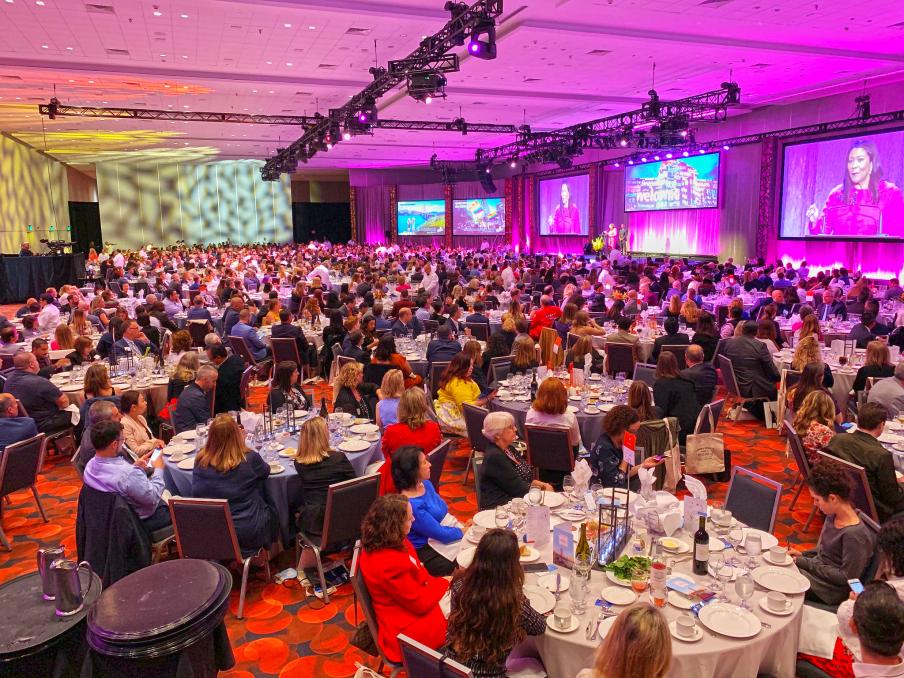 4. Exploratorium
Neighborhood: Northern Waterfront
Capacity: 3,500
Museums are always a great option when shopping for large venues. It works for both private and corporate events, you don't need to worry as much about the decor, there's inherently an interactive aspect to the setting, and honestly it's just fun. Exploratorium is a museum that tackles science, technology, and the arts, which is really the San Francisco trifecta.
When it reopened in 2013 after 40-odd years in a different location it was described by one magazine as "a mad scientist's penny arcade, a scientific funhouse, and an experimental laboratory all rolled into one." Again, sort of perfect for this city. There are six event spaces, but a full buyout/gallery bundle will accommodate 1,100 seated or 3,500 standing. In 2018 it was awarded San Francisco magazine's "Best Museum Party" award, which really speaks for itself.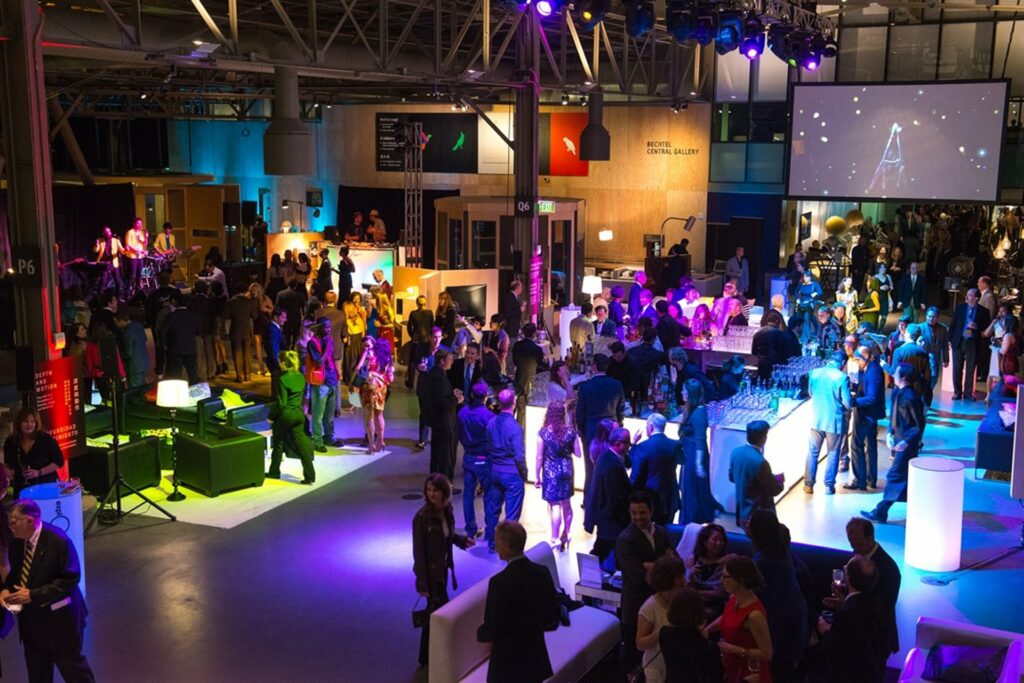 5. City View at Metreon
Neighborhood: South of Market
Capacity: 2,000
If you live in San Francisco then you are definitely familiar with the four-story shopping center and entertainment complex, Metreon. It's a behemoth, with over a dozen restaurants, tons of shops, and more. To give a sense of the size, there's a 16-screen AMC Theatres on the third floor which includes the largest IMAX screen in North America.

If you are planning an event for up to 2,000 then City View at Metreon checks a lot of boxes. First, Metreon's location is right downtown and centrally located. It's a good access point for people coming from different directions on the local level, as well as proximity to many of the city's hotels. Square-footage is in your favor here too, clocking in at 31,000. Floor-to-ceiling windows maximize fantastic views over the San Francisco city skyline, at least when Karl is cooperating. This newly renovated and flexible space offers a layout that you can put your own stamp on, but there's a lot to work with here.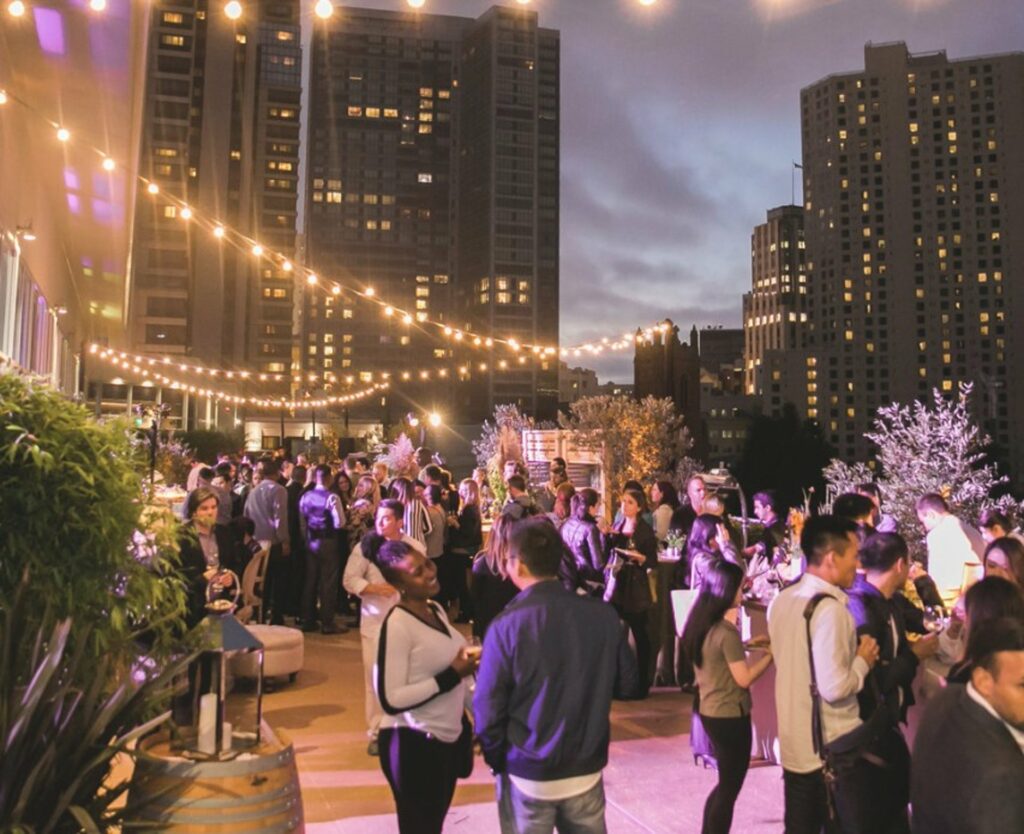 6. The Midway
Neighborhood: Central Waterfront
Capacity: 2,500
The Midway is an interactive and dynamic 40,000 square-foot complex for up to 2,500 people. It has an artistic grittiness about it that would appeal to guests from any business sector. It just feels very cool, for lack of a better word. There are four avenues to choose from (or in combination): Ride, which is by far the largest room which is fantastic for large-scale presentations. Gods & Monsters is more lounge style with booth seating. The Patio is an open-air respite with custom murals from Bay Area artists. Lastly, there's the Block Parties option. This requires a bit more research since it's not available at all times, but think food trucks, art cars, massive temporary stages, etc.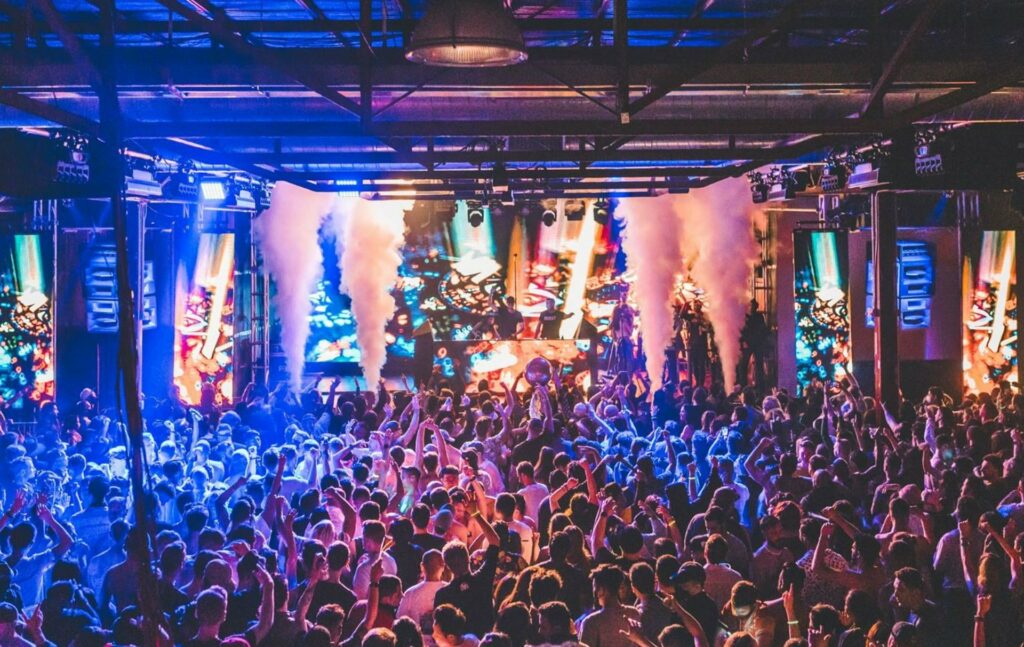 7. The Westin St. Francis
Neighborhood: Union Square
Capacity: 1,500
Speaking of historic areas, The Westin St. Francis is a San Francisco classic. It was built in 1904, just two years before the major earthquake, but survived without any structural damage. Over the years this stately building with a classic turn of the (20th) century European style has hosted events for a who's who of socialites, politicians, and even royalty. These days it's even more in demand with 35 event event rooms to consider, which in all total 50,792 square-feet. The largest space will hold 1,500 people but you can certainly combine places accordingly if you need more. The drop-the-mic space is their Golden Gate venue — it's 32 floors up and has been called "the most spectacular special event venue in Northern California."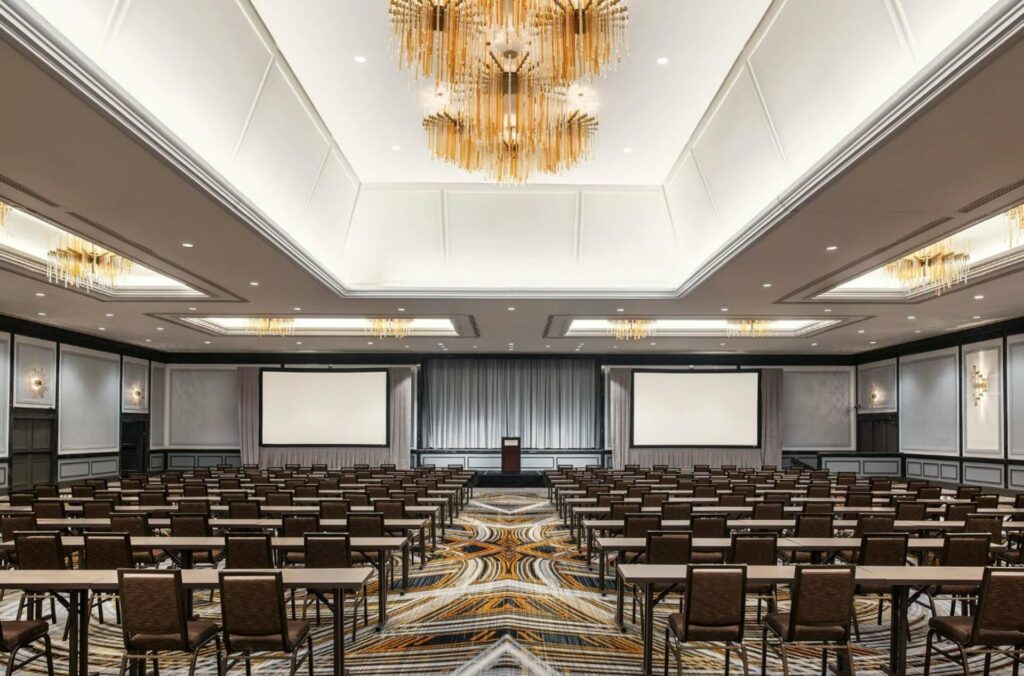 Dine in stye! Find the best private dining rooms in San Francisco.
8. Pier 27
Neighborhood: Northern Waterfront
Capacity: 1,200
Pier 27 provides a boat-like feel for any event of up to 1,200 with its floor-to-ceiling windows which provide sweeping, up-close views over the water and up to the Bay Bridge. It's a contemporary space, and the 54,000 square-feet is flexible. The location along San Francisco's Embarcadero boulevard means great access, not to mention its relative proximity to the aforementioned Ferry Building. For New Yorkers reading this, it's actually a very comparable venue to the Chelsea Piers event spaces Pier Sixty, Current, and The Lighthouse.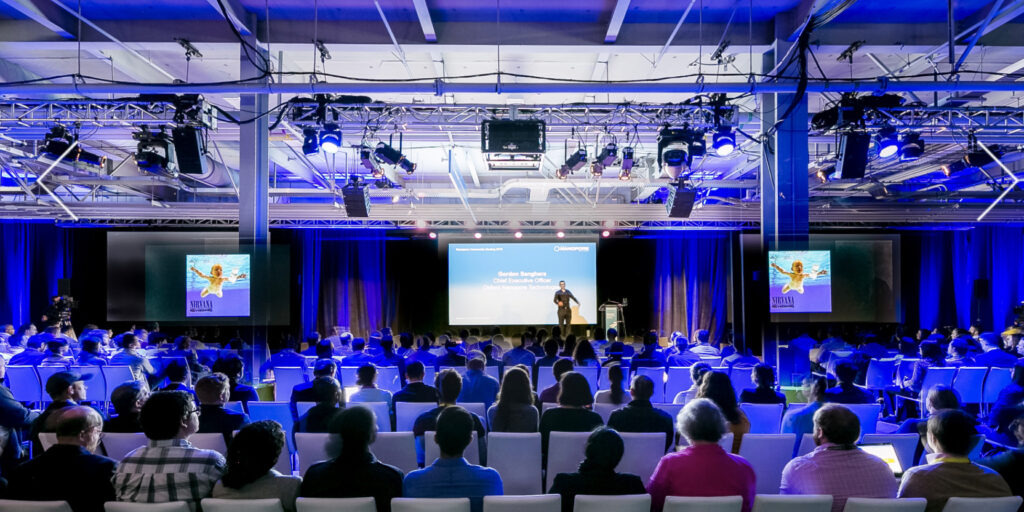 9. 715 Harrison
Neighborhood: South of Market
Capacity: 1,200
715 Harrison is a place for a party, be it your end-of-year office holiday shindig, wedding reception, or anything in between. Along with the state-of-the-art A/V equipment that serves the three bars and two dance floors (totaling 15,000 square-feet), there's also technobeams and a fog machine to really help let your hair down. They staff their own bartenders who are known for whipping up a good cocktail. However, this space has also been a popular event venue for more daytime and abstemious activities, like fitness classes (always a great work bonding experience ps) and expositions. Holds 1,200 standing.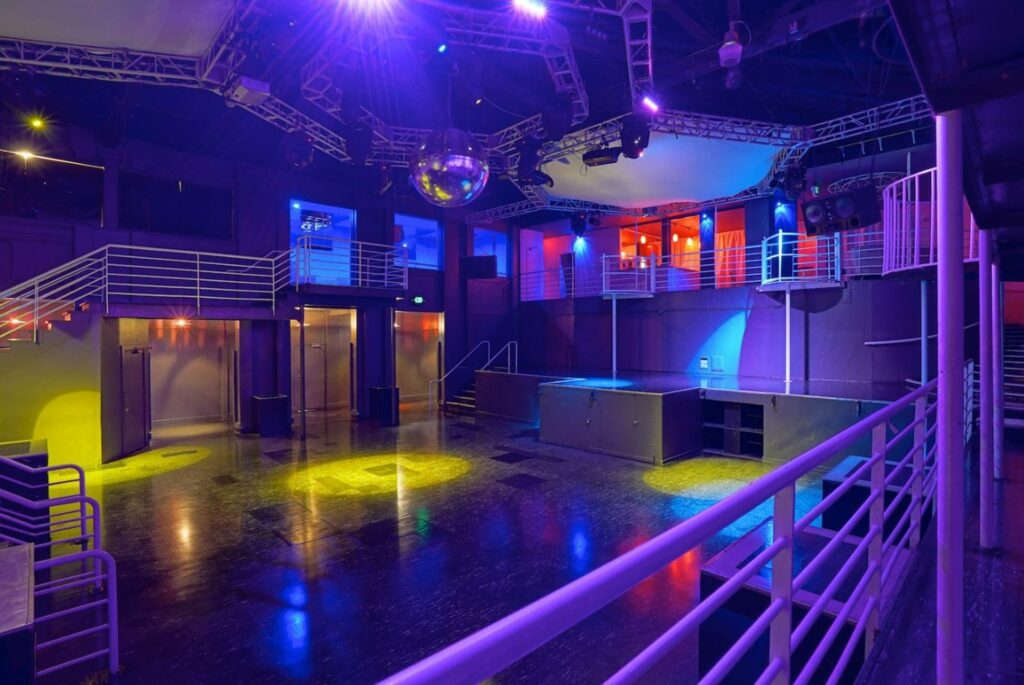 10. The Fillmore San Francisco
Neighborhood: Fillmore District
Capacity: 1,000
The Fillmore is a Live Nation venue with some storied music history. San Francisco in the 1960s and 1970s was unlike any other place; a cultural hub where hippies and radicals and artists and musicians mixed in this urban melting pot. It was during this era where, at The Fillmore, bands and artists like The Grateful Dead, Led Zeppelin, The Doors, and Jimi Hendrix launched their careers. However, whatever your personal musical tastes, this is a fantastic venue. It's 9,136 square-feet and has been used for private concerts, business meetings, weddings, and more for up to 1,000 people.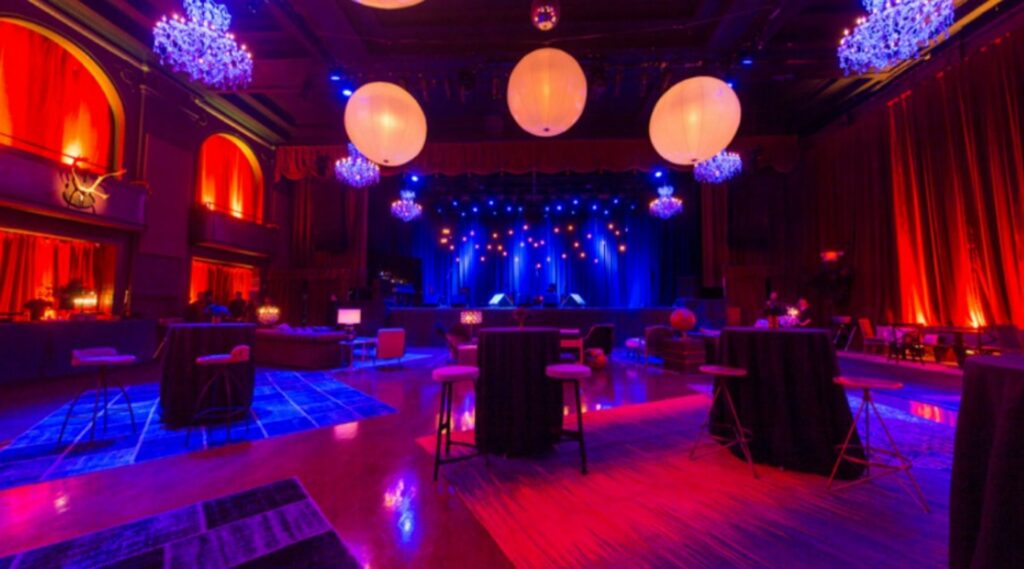 11. Palace Hotel San Francisco
Neighborhood: South of Market
Capacity: 1,000
If you like all-things Gilded Age, then the luxe Palace Hotel San Francisco event venues will delight. It's like stepping into a Julian Fellowes show here, where vaulted ceilings with crystal chandeliers and gold trim throughout add to the sumptuous aesthetic. As it goes with many, if not most, hotels there's options within options. Here that means a total of 24 event rooms and 20 breakout rooms which total 43,838 square-feet. (The largest space holds 1,000.) This is suitable for any and all events, but if you're planning a big black-tie wedding this place will definitely meet the moment.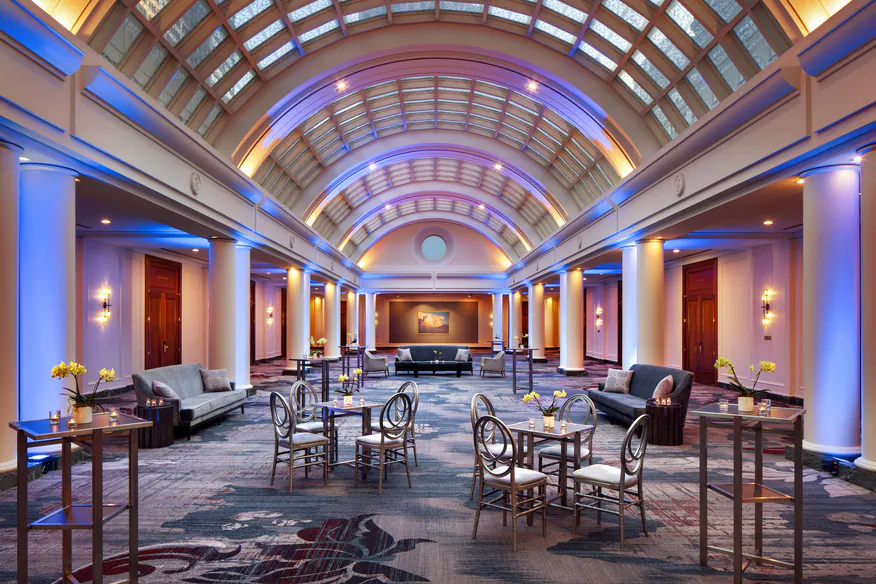 12. The San Francisco Mint
Neighborhood: South of Market
Capacity: 1,000
The San Francisco Mint has been impressing residents and visitors with its Classic Greek Revival Architecture since it opened in 1854 to meet the needs of the California Gold Rush. The 52,000 square-foot usable space and 30-foot tall ceilings have accommodated just short of 1,000 patrons for myriad events, from fashion shows to corporate galas. While you can absolutely put your own stamp on this place, the building's grandeur and history really set the scene. Guests can check out the Vault Level with industrial gold vaults and an ore mill to get a taste of life pre-crypto. Gaslight chandeliers with modern LEDs that tune to any color, on-site management, easy access to a public parking lot, and a truck loading dock round out the logistical appeal.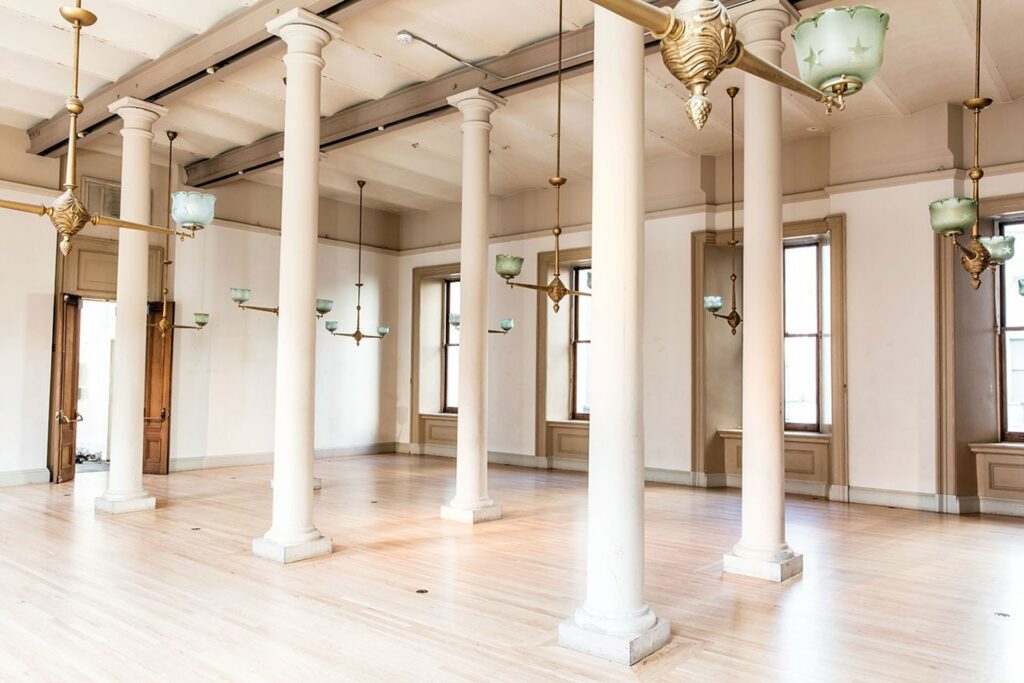 13. The Pearl
Neighborhood: Dogpatch
Capacity: 500
The Dogpatch neighborhood in San Francisco is a fascinating area. This was one of the few parts of the city that survived the devastating 1906 earthquake and fire relatively unscathed, so some of the oldest houses in San Francisco still standing are located here. This area has real industrial roots, which is reflected at The Pearl, a gorgeous multi-level event venue. There are four event spaces to choose from, but if you book it all out you can host around 800. There's the main floor, mezzanine, rooftop, and more intimate area called School Night. The rooftop space is the largest square-footage wise at 4,655 but it's spacious throughout the inside as well.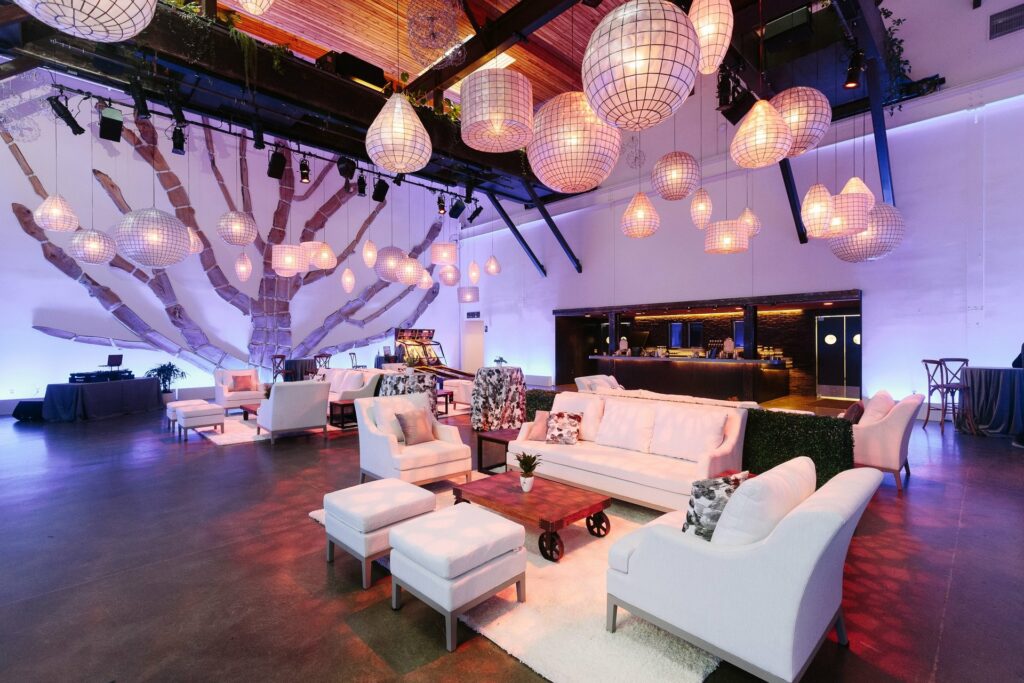 14. San Francisco Ferry Building
Neighborhood: Financial District
Capacity: 800
The San Francisco Ferry Building is arguably the most iconic location in this roundup. This 1892 Beaux-Arts complex remains an integral part of the Bay Area, with around 50,000 (at least pre-pandemic) commuters passing through here every day. A full venue buyout will get you multiple spaces within the building, but the favorite of these is definitely the Grand Hall. As its name suggests, there's a real wow factor with the 6,500 square-foot historic mosaic tile and huge ceiling with skylights. This actually can work for small events as well, but you can go up to 800 for a cocktail reception.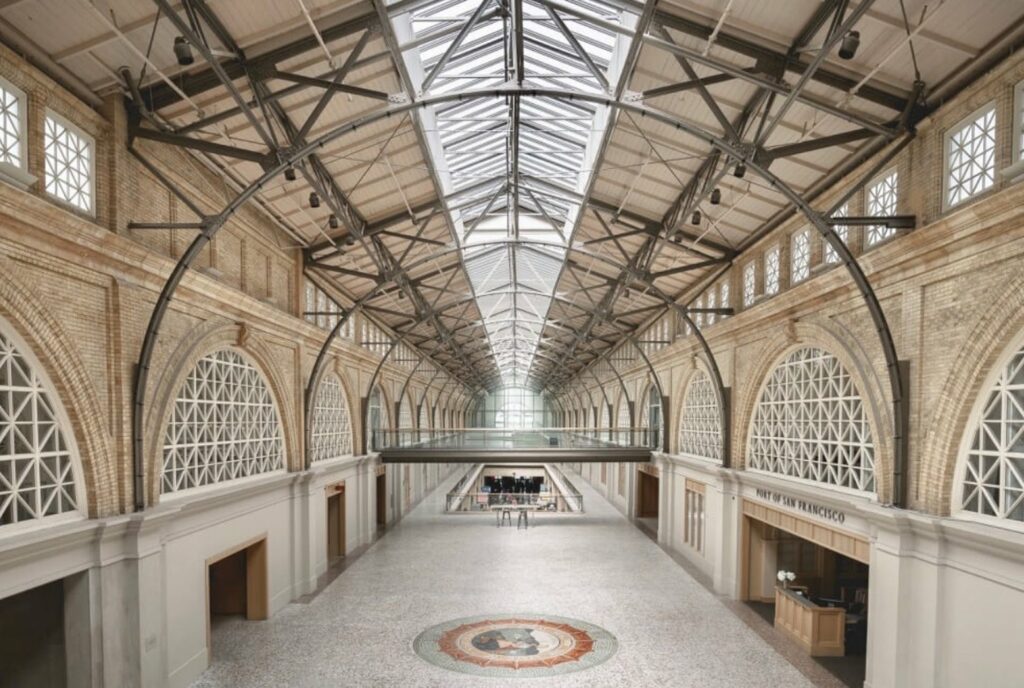 15. Terra Gallery & Event Venue
Neighborhood: Rincon Hill
Capacity: 725
Terra Gallery & Event Venue is an elegant option for any event, but it's not hard to see why this spot is considered one of the area's premiere wedding locations. The 24,000 square-feet over two levels can be utilized to suit your needs. The upper level, Terra, is absolutely stunning. Huge 20-foot ceilings with equally large windows provide sun-drenched natural light in the day, and at night twinkly city lights are a perfect backdrop to look out on. Brazilian cherry hardwood floors, white gallery walls hung with art, and well-placed hanging plants add a fresh feel. Plus, there's the grand piano. Downstairs, called Mer, is a fun and contemporary area with glass tile bars and a built-in oak stage. This leads to a large landscaped outside area, which can be tented.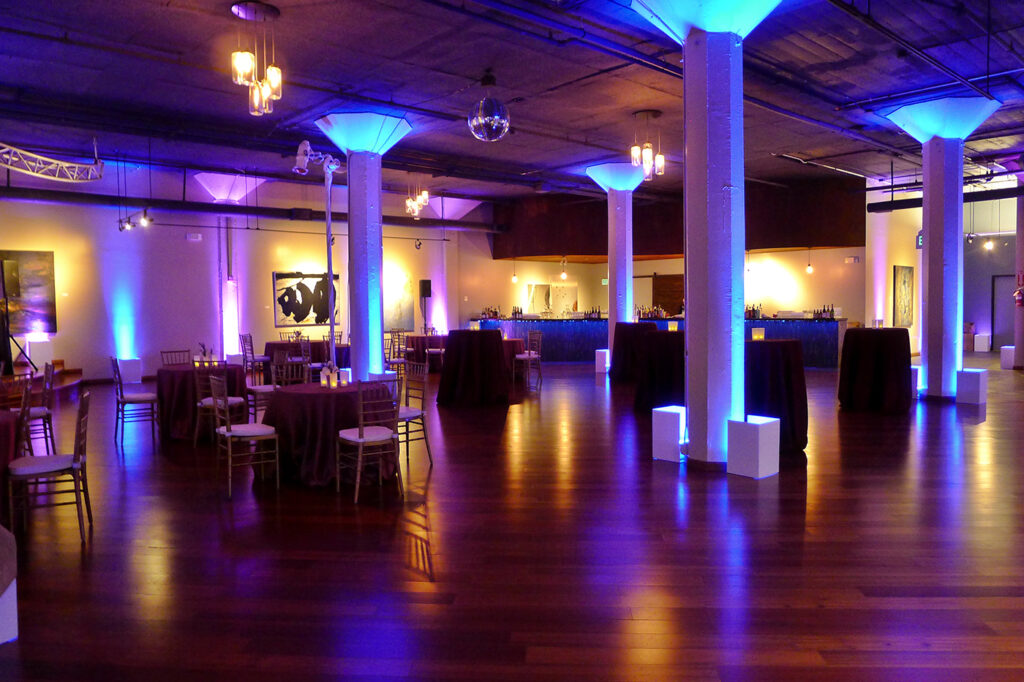 16. Gallery 308
Neighborhood: Marina
Capacity: 430
Gallery 308 at the Fort Mason Center for Arts & Culture is an excellent 3,835 square-foot raw space that's ideal for art exhibits and any kind of party. This venue was originally used to house maritime trade and repair shops at Fort Mason, a former base that hasn't been used militarily in many years, but dates back to the Civil War. It's now a complex of multi-use buildings and gardens with views of Alcatraz and the Golden Gate Bridge.
Gallery 308 has been lovingly and meticulously rehabbed back to a polished, industrial blank canvas. The windows are huge and provide those fantastic water views. (Multi-purpose blackout shades are available as well if you need them for presentation purposes.) It's an open floor plan with polished concrete floors that up to 430 people can mill about on.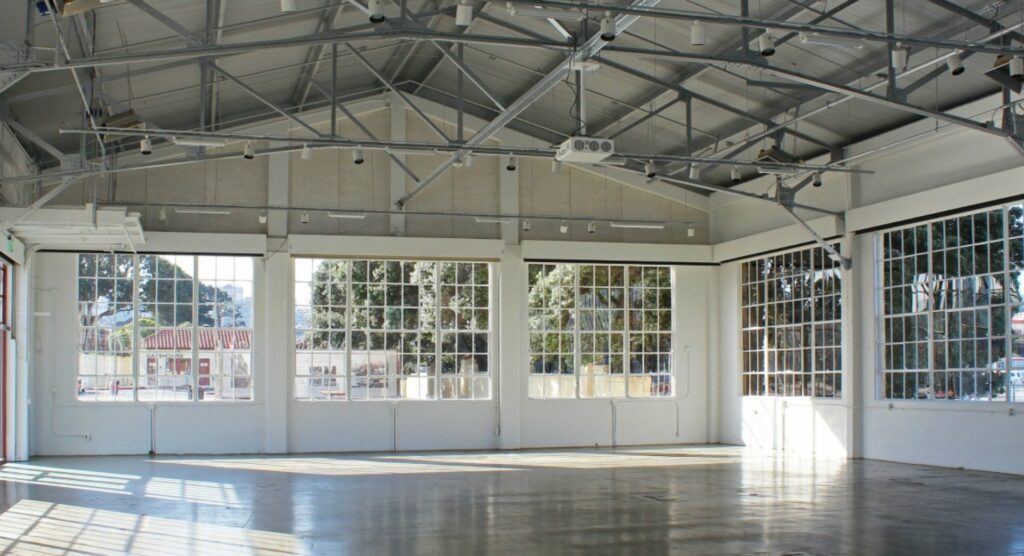 17. Folsom Street Foundry
Neighborhood: South of Market
Capacity: Contact for more info
As a recap with venue jargon, a foundry is a workshop, factory, or other area where metal is casted. That type of building, like the Folsom Street Foundry, really lends itself to events. This historical warehouse provides industrial chic in spades. The high-domed ceiling in the Main Theatre dates back to the 1930s, and this space is very tech-friendly. Four projectors and a central A/V control station are available as needed, and the open design has a great flow to it. The Front Foyer is also used, but has a cozier feel with wood beams and lower ceilings than the 80-foot Main Theatre. If you're looking for a special extra, rent out the Nautilus VIP bar area that overlooks the main floor. The room is named after the fictional submarine in Jules Verne's classic 2,000 Leagues Under the Sea and styled accordingly.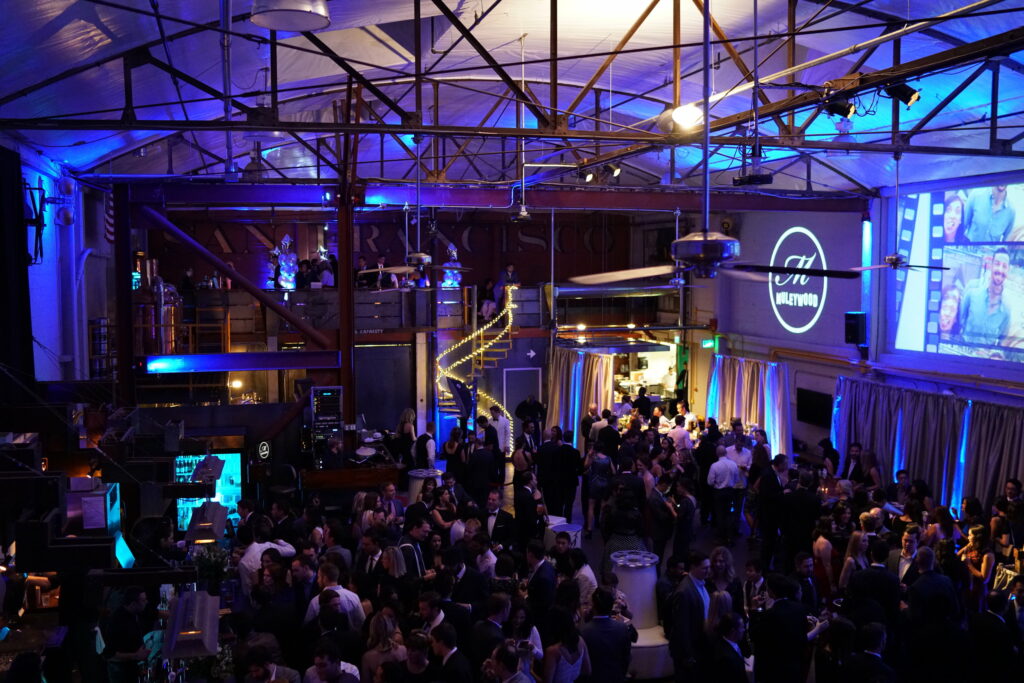 Why Finding the Right Venue for Your Event is Important
The careful selection of a venue for your corporate event transcends far beyond mere logistical considerations. It serves as the cornerstone upon which successful and memorable occasions are built. The right venue becomes an embodiment of your company's values, a catalyst for meaningful connections, and a canvas upon which your vision takes life.

From sparking creativity among attendees to leaving a lasting impression on stakeholders, the venue's influence is undeniable.Large venues are often raw spaces ready for you to import everything and really make it your own. Others have a set list of options to choose from and have more going on in the background, like a museum. There's no wrong answer, it's all about what works for you, your client(s), and the event itself.
Top Things to Consider When Booking an Event Venue
When booking a large venue for a corporate event, there are several key considerations that can significantly impact the success of your occasion. These factors go beyond the physical aspects of the space, encompassing the overall experience and effectiveness of your event:
Capacity and Layout: The first step is to ensure that the venue can comfortably accommodate your expected number of attendees. Consider the seating arrangements, stage setup, and flow of traffic within the space. A layout that encourages networking, engagement, and easy access to key areas like restrooms and refreshments can enhance the overall experience.
Location and Accessibility: Opt for a venue that is conveniently located for your attendees, whether it's near the company headquarters, easily reachable from the airport, or situated in a central area. Adequate parking or proximity to public transportation options is essential. Accessibility is not just about physical distance but also about ensuring that all participants can easily reach the venue, including those with mobility challenges.
Amenities and Services: Look beyond the empty space and consider the amenities and services provided by the venue. These can include audio-visual equipment, Wi-Fi connectivity, technical support, catering facilities, and even event planning assistance. Choosing a venue that offers these services can streamline the planning process and ensure a seamless event execution.
Atmosphere and Brand Alignment: The ambiance of the venue should align with the nature of your corporate event and the values of your company. Whether it's a formal conference, a product launch, or a team-building retreat, the venue's atmosphere should complement the event's purpose. The venue's decor, lighting, and overall vibe should resonate with your brand's identity and the message you want to convey.
Cost and Budget: While it's tempting to aim for a grand venue, it's crucial to strike a balance between the event's scale and your budget. Take into account the venue rental fee, additional services, and any potential hidden costs. Transparent communication with the venue management about your budget can help you tailor the event to your financial constraints without compromising on quality.
In the end, selecting the right large venue for your corporate event involves a thoughtful assessment of these factors. By evaluating each consideration against the specific needs and goals of your event, you'll not only secure an impressive space but also set the stage for a memorable and impactful occasion that aligns with your company's vision.
Find the Best Corporate Event Venues on The Vendry
The Vendry has been lucky to help bring all kinds of events — in venues big and small — to fruition. Whether you're ready to start a proposal or still just venue window shopping, we're here as a resource.
Read More:
The Best Private Dining Rooms in San Francisco
The Best San Francisco Rooftop Venues For Your Next Event
The Best Large Venues in Washington D.C.