Article updated 3/24//23
While New York plays its annual game of is-it-actually-spring-or-not, where one day it's a sunny 75 and the next a brisk 43, Los Angeles laughs while sipping its green tea. In a city where it's rooftop season all year round (heaters are rarely necessary in winter), the rooftop has long been a natural setting for the Southern California event experience.
Most L.A. neighborhoods have their own distinct feel and even subculture, and as a result there is an eclectic mix of venues to choose from. One common denominator? It's all about the view. Herewith, read on for The Vendry's Los Angeles rooftop venue roundup. 
Why Hold Rooftop Parties or Events?
When comparing the downtown Los Angeles skyline with, say, New York, Chicago, San Francisco, etc., you'll notice something you can't unsee once you flag it: the skyscrapers here are flat. Real flat. In the 1950s, L.A. adopted a unique city ordinance–so unique in fact, that it was the only U.S. city to do so. The code required that any building over 75 feet tall had to have a helipad for emergency landings during a fire.
While arguably practical at the time, it soon became obsolete with other counter-fire measures, and Mayor Eric Garcetti finally tossed the outdated ordinance in 2014. With all that said, there are an abundance of rooftops in L.A. to hold an event — from intimate dinners to show-stopping parties.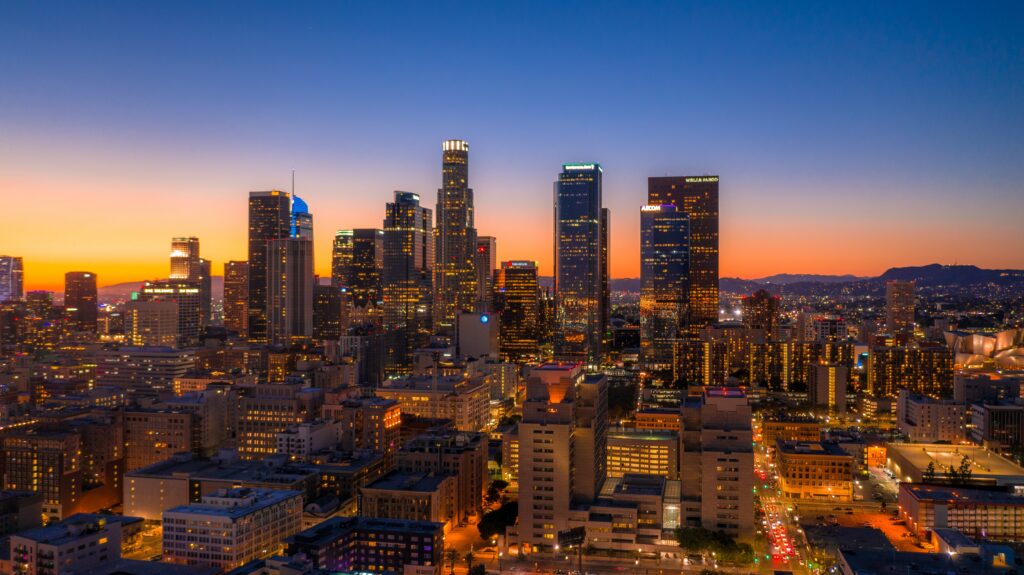 In downtown Los Angeles–DTLA to locals–a real estate development surge and booming artistic scene has resulted in an abundance of rooftop venues situated on these mostly-still-level spaces.
Elsewhere in the city, flat or not, Angelinos have long had a love affair with rooftops, well before it became the thing to do in the event industry. Glorious weather (earthquakes and wildfires aside), a varied topography, and outside-oriented lifestyle to begin with, have been a driving force to maximize the inside/outside event experience for years.
That said, there are other benefits for rooftop parties or events to be had. For one, you can cut down on costs for decor because there's no more wow factor than a great view. Regardless of budget, an outdoor venue inherently elevates your event.
Of course, while we've turned a major (knock on wood) corner in the pandemic and hope future variations cool their jets, a large portion of the population remains more comfortable with an outdoor option when it comes to large gatherings.
What Types of Events Can be Held on Rooftop Venues
You name it, and it works. Cocktail receptions, fashion shows, outdoor meetings, product launches, corporate parties, happy hours, your dog's birthday… A rooftop venue is always a great choice to consider, and over here you can take advantage of them 365 days a year.
Top Factors to Consider When Choosing a Venue for a Rooftop Event
As always, it's important to find a venue which perfectly complements your desired event. If you're going for an intimate rehearsal dinner, maybe the 10,000 square foot pool deck is unnecessary, and if you're holding a company wide holiday party, that lovely but smaller terrace doesn't really work when it comes to flow. Other things to consider:
Cost: Set your bottom line budget first and then work backwards from there.
Location: As always, an event's location is of the utmost importance. However, in this vein, there's something to consider that is particularly apropos re: L.A. All cities deal with traffic congestion at various times of the day, but in the City of Angels traffic is unpredictable at best, and at its worst is terrible with a capital T. Distance on maps should be taken with a grain of salt, and if you are planning a soiree in conjunction with a larger event, keep the center of gravity in the same area.
Style: There's a lot on offer in Los Angeles when it comes to rooftop venues. Do you want something with an industrial chic feel in the Financial District, a beachy al fresco feel looking towards the Pacific, or a cinematic flair in Hollywood? There are plenty of options with venues to reflect the tone of what you're looking for with your event.
Catering: Most venues will have in-house catering options, so you can shop around for whatever taste palate you're looking to satisfy. If you plan on hiring outside catering, make sure you have that conversation in detail with the venue about what's feasible.
Season/Climate: L.A. doesn't really have this problem when it comes to rooftop venues. Sorry, Boston! That said, even in sunny SoCal it does rain every once in awhile, so contingency plans should be made if only for peace of mind.
Services/Facilities: Do you need audiovisual capabilities? What's the parking situation? What extra fees are possible to incur? All things to consider.
Outstanding Rooftop Venues In Los Angeles
Regardless of what you're looking for, you'll be hard-pressed to find one with a bad view. Whether it's looking out on the Pacific, up into the Hollywood Hills, or out across the town, Los Angeles knows how to maximize a good backdrop. Here are 11 rooftop venues to get you started:
1. The Broken Shaker L.A.
Neighborhood: Downtown Los Angeles
Capacity: 250
A Condé Nast Traveler-approved oasis in the heart of DTLA, this hotel spot was a finalist for a prestigious James Beard Award, and up to 250 people can gather for a standing event around the bar and pool. The Broken Shaker L.A. has a creative approach to mixology, crafting drinks like a "PB & J Old Fashioned" or "Hibiscus Bliss" which can be ordered off the cocktail menu. If the Broken Shaker appeals, you can also head to their other locations in New York, Miami, and Chicago.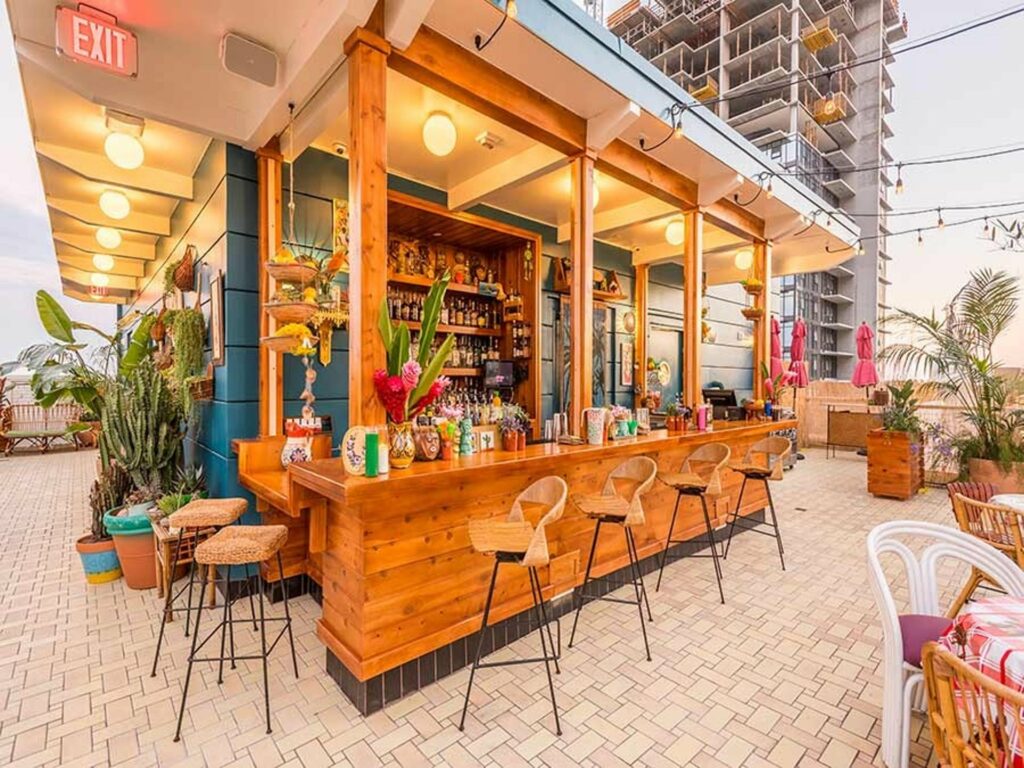 2. The Rooftop Terrace at the GRAMMY Museum
Neighborhood: South Park District
Capacity: 400
The GRAMMY Museum is an L.A. staple where locals and tourists alike come to kiss the ring of the musical greats. Located in the L.A. Live area–an entertainment complex in the South Park District – The Rooftop Terrace rises to the occasion, pun intended, for its impressive location. The 8,100 square foot space is suitable for any kind of event, and 200 seated or 400 standing patrons can play I Spy the Hollywood Sign while enjoying Wolfgang Puck catering.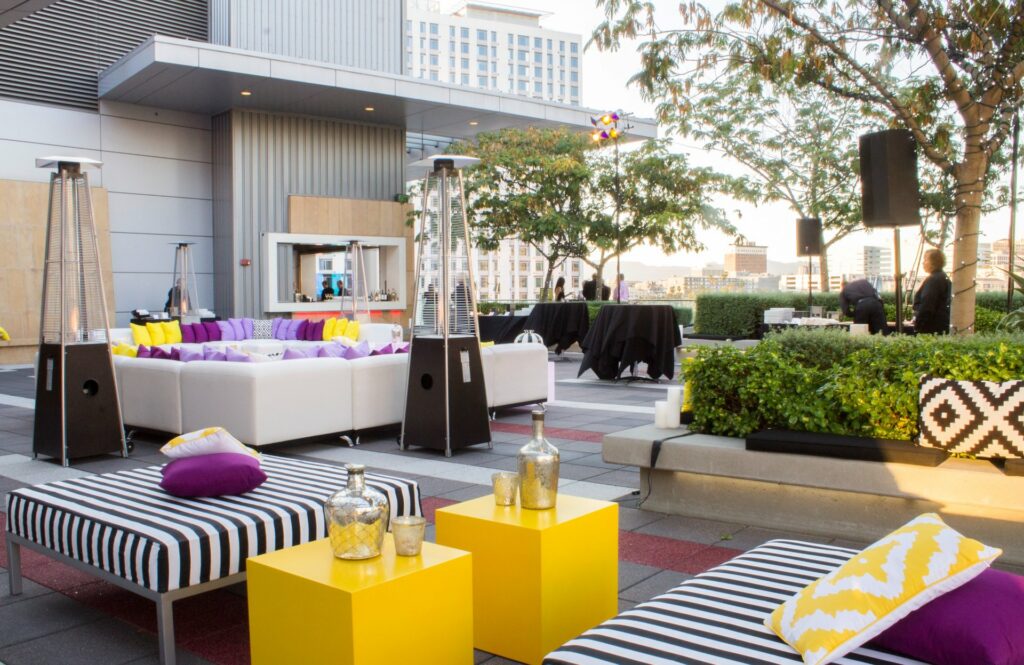 3. Petit Ermitage
Neighborhood: West Hollywood
Capacity: 150
It doesn't get more special than the Petit Ermitage rooftop. Nestled on Cynthia Street in West Hollywood's iconic Norma Triangle, this rooftop retreat is an intimate setting for up to 150 standing guests. The Garden Dining area is a tranquil and magical area for up to 35 seated diners, while simultaneously doubling as a hummingbird and butterfly sanctuary. Indulge in epicurean delights with Italian, Japanese, and Egyptian influences or reserve a private cabana poolside.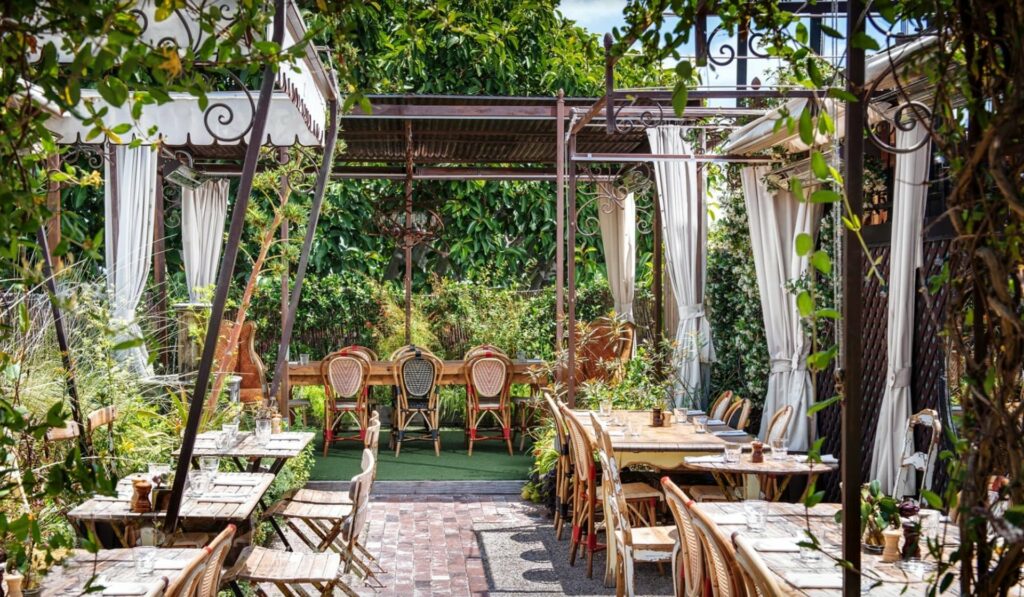 4. The Rooftop by JG
Neighborhood: Beverly Hills
Capacity: 450
This garden-inspired aerie sits atop the glamorous Waldorf Astoria Beverly Hills. The Rooftop by JG offers a well-appointed al fresco experience where 150 seated or 450 standing guests can indulge in Jean-Georges fare while enjoying 360-degree unobstructed views. The perfect setting for indulging in crispy French fries with caviar. As one does.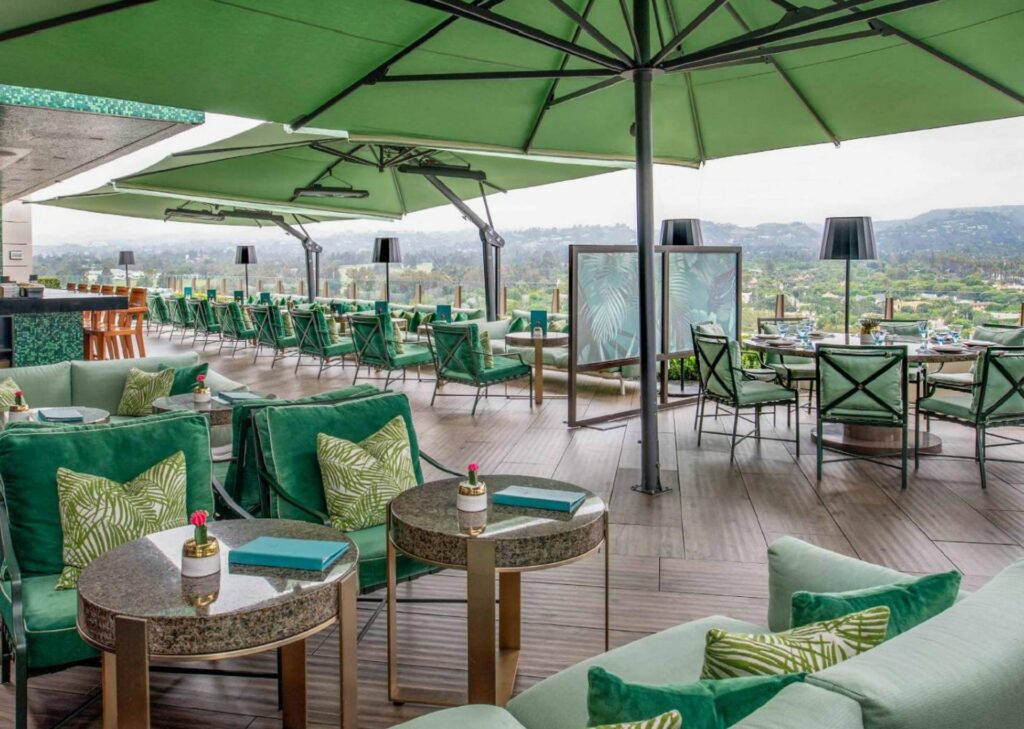 Décor can make or break an event. Browse the best Floral and Design Companies in Los Angeles to give your event that finishing touch it deserves.
5. Kimpton La Peer
Neighborhood: West Hollywood
Capacity: 250
The boutique Kimpton La Peer Hotel rooftop offers an enviable 4,000 square feet of entertainment space, including a 2,100 square foot terrace and 900 square foot open air pavilion. 150 seated/250 standing patrons can benefit from being in one of West Hollywood's most walkable areas. In short: math is in your favor here. Bring a bathing suit!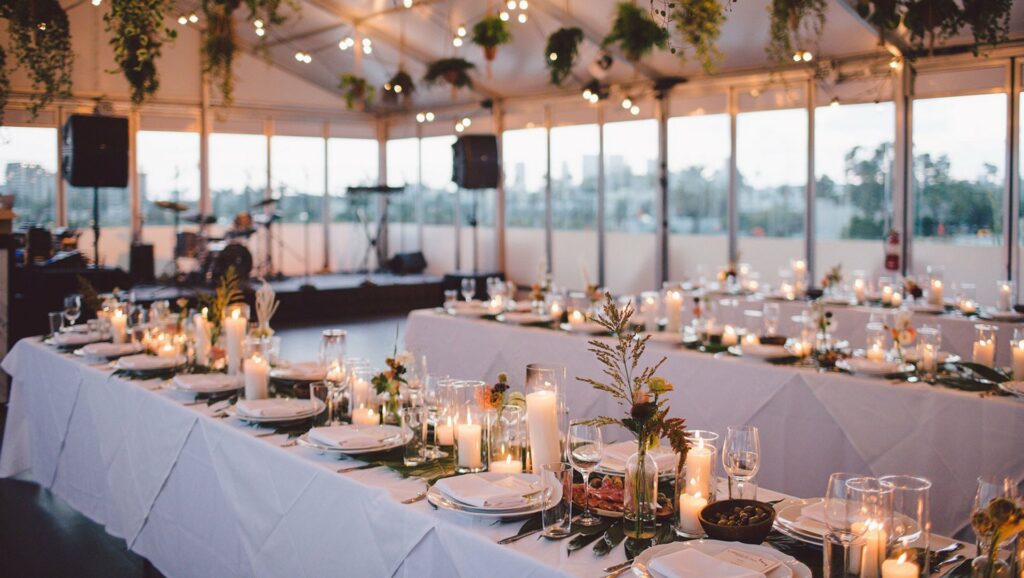 Keep it intimate. Browse the best private dining rooms in Los Angeles for your next event.
6. Perch
Neighborhood: Downtown Los Angeles
Capacity: 325
The historic 1924 Pershing Square Building is one of the more architecturally interesting city skyscrapers, with its Italian Renaissance Revival style. Also located in the thriving DTLA area, this venue is aptly named Perch. This hip locale offers French inspired eats with indoor/outdoor options. Fire pits and sweeping city views await an event for 200 seated or 325 standing.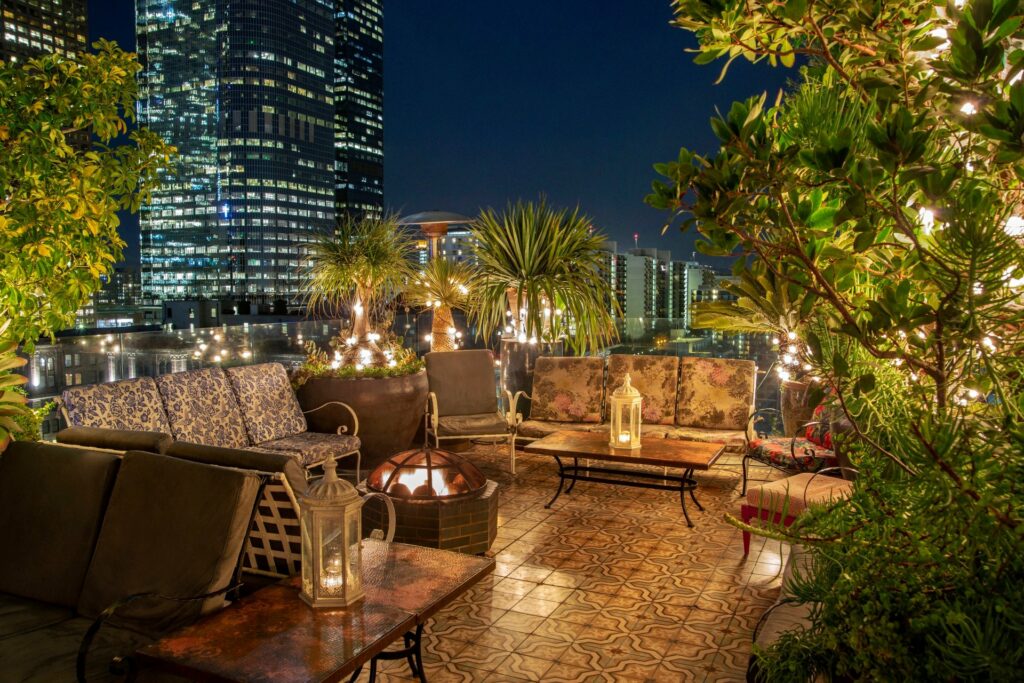 7. The Wayfarer Downtown Hotel
Neighborhood: Downtown Los Angeles
Capacity: 194
Take an elevator up 12 stories at the chic Wayfarer Downtown Hotel and you'll find the ultimate spot for up to 194 standing visitors. Views extend beyond the Financial District as the Instagrammable backdrop for your 10-course brunch. Great for myriad occasions, from a corporate happy hour to an artistic product launch.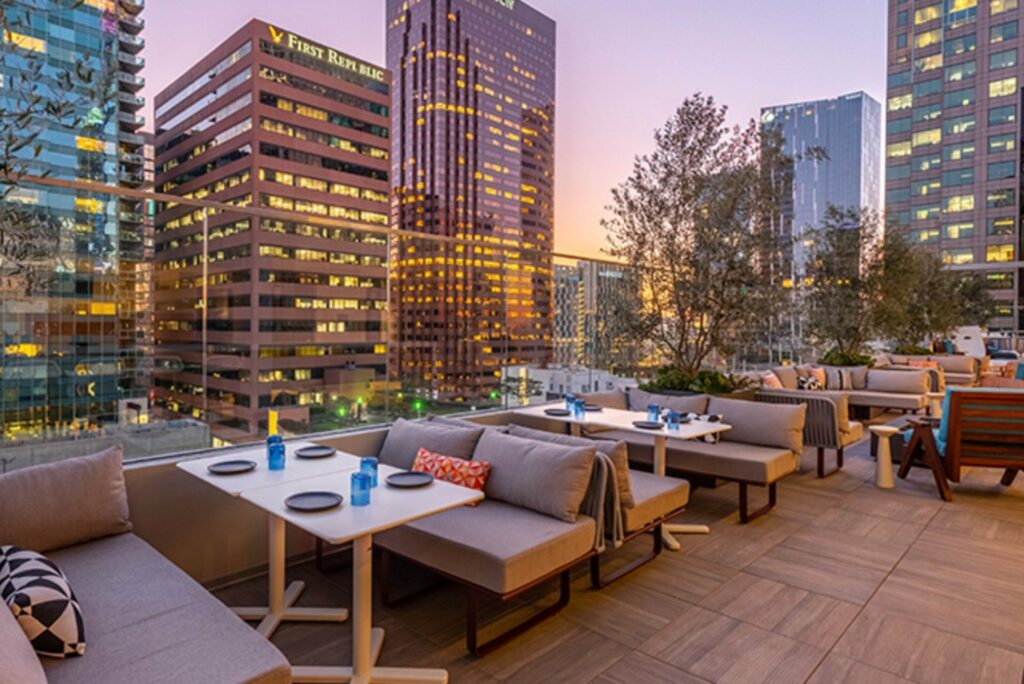 8. Above Sixty Beverly Hills
Neighborhood: Beverly Hills
Capacity: 125
At the summit of the luxe eponymous hotel, this rooftop pool, bar, and lounge is an exclusive spot for an event of up to 125 standing guests. Whether you're taking a dip in the Swaravoski crystal-studded pool or relaxing in a private cabana, Above Sixty Beverly Hills won't be your standard backyard pool party.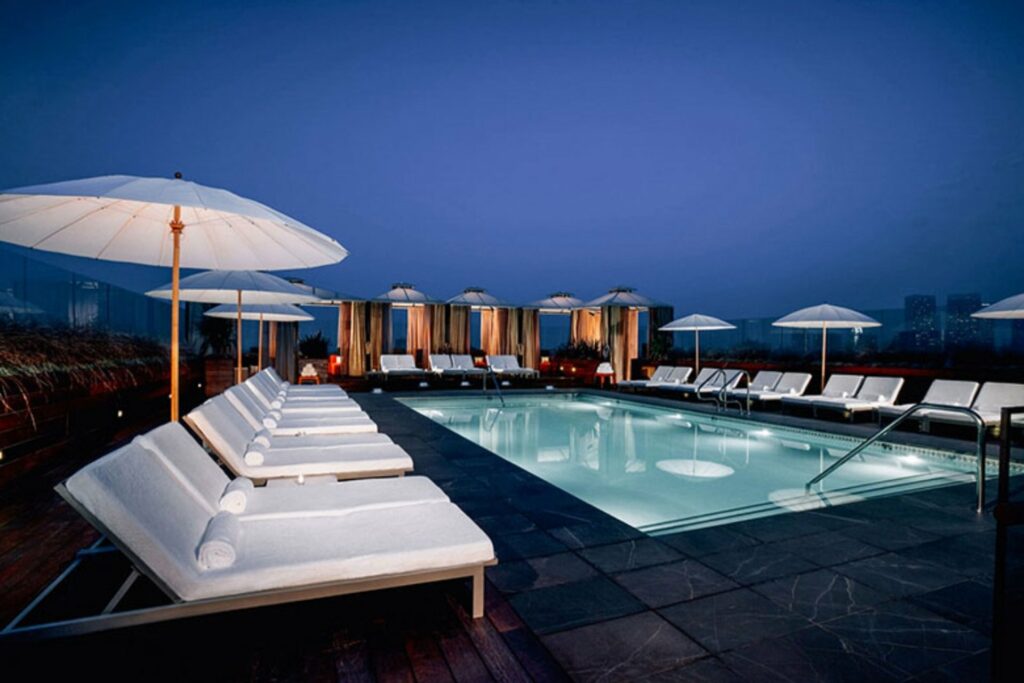 9. Spire 73
Neighborhood: Downtown Los Angeles
Capacity: 548
73 floors up and atop the InterContinental in DTLA, Spire 73 boasts the distinction of being the tallest open air bar in the Western Hemisphere. 548 people can mill around while enjoying sweeping views, hand-crafted signature cocktails, with views out to the Pacific.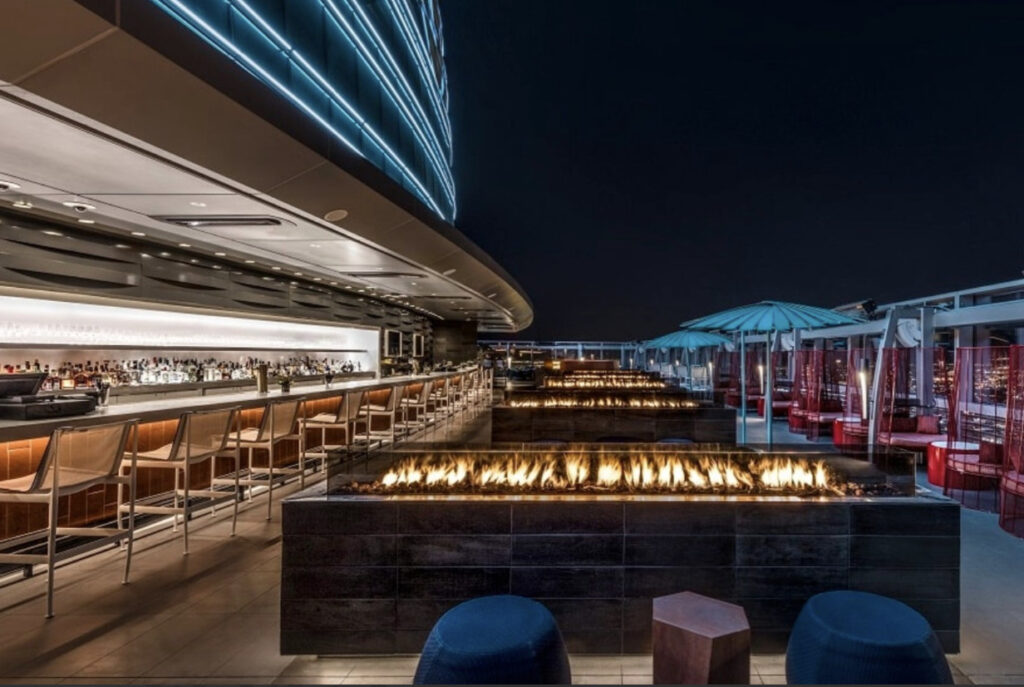 10. Bar Lis
Neighborhood: Hollywood
Capacity: 200
If you can't hold your next event at the Hotel du Cap-Eden-Roc, just head to Wilcox Ave. Southern California meets the South of France in this new luxury Thompson Hollywood spot. As if out of a Slim Aarons photo, Bar Lis evokes a nostalgic Old Hollywood feel with a Cannes Film Festival of yesteryear vibe.
Enjoy the weekly live modern jazz series or French Riviera inspired canapes. The 10,000 square foot venue features a pool area, interior lounge, and an outdoor bar with a retractable roof for that rare rainy day.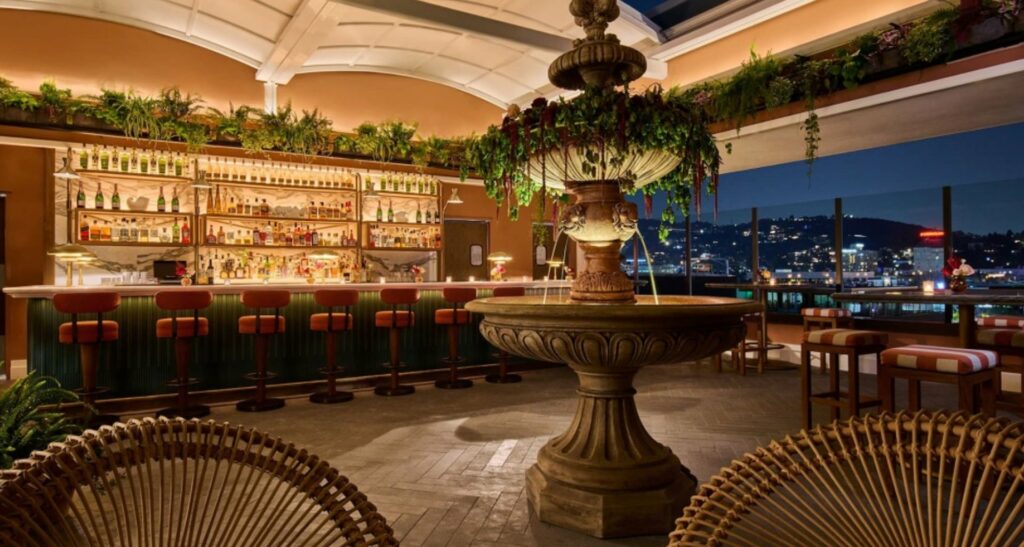 11. ONYX Rooftop Bar
Neighborhood: Santa Monica
Capacity: 40
This swanky Santa Monica indoor-outdoor lounge style venue is atop the Shangri-La Hotel. Sunset photo ops over the Pacific don't get better than the ones at the ONYX Rooftop Bar where you can comfortably seat 40 people.
The menu is fresh and seasonal, reflecting its beachside location. Whether you're planning a smart but casual event for the daytime or need a more upscale club-like atmosphere at night, this space is versatile while always maximizing the SoCal ocean proximity.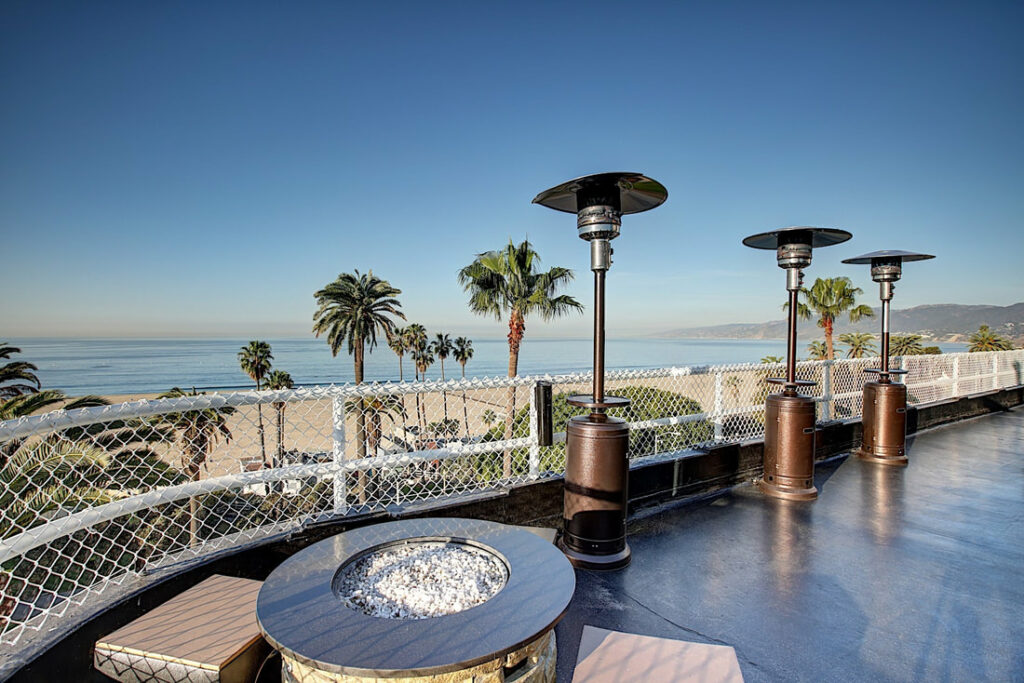 Questions to Ask When Booking a Rooftop Venue
When you're thinking about throwing a corporate event on a rooftop, it's all about asking the right questions to make sure everything runs smoothly (and your guests have a blast). Here are the top three questions to shoot over to the rooftop venue manager:
Weather Contingency Plans:

What is the venue's plan in case of inclement weather? Rooftop events can be vulnerable to weather conditions, so inquire about options like tents, indoor spaces, or backup plans to ensure the event can proceed smoothly.

Amenities and Services:

What amenities and services are included with the rental? Ask about available equipment (e.g., sound systems, AV equipment), staffing (e.g., bartenders, servers), and any additional services like catering options or event coordination.

Permits and Restrictions:

Are there any permits required for rooftop events, and does the venue assist with obtaining them? Additionally, inquire about any restrictions or noise ordinances that may impact your event, especially if it involves live music or amplified sound.
How the Vendry Can Help You on Finding the Best Rooftop Events Spaces in Los Angeles
The Vendry is a leading destination to help you plan and source your organization's next event, and has been lucky to help industry professionals plan rooftop venue events across the country. From the flat roofs of downtown to beachy and breezy coastal spots, Los Angeles has organically capitalized on the rooftop event space for years. Great weather makes the rooftop applicable year-round, and no matter where you are, a view of some sort is practically guaranteed. Whether it's the Hollywood sign, a Pacific sunset, or cityscapes galore, there's really no bad option and will guarantee a memorable event. As they say, "Came for the party, stayed for the view."
Read More:
The Best Private Dining Rooms in Los Angeles
The Best Rooftop Venues in Austin
The Best Rooftop Venues in NYC
Heading to L.A. for an upcoming event? Browse our Los Angeles City Guide for all the best recommendations.