In the past few decades Austin, Texas has experienced an unparalleled population and cultural boom. A city once known as a relatively low-key state capital—albeit with hippie undertones—and as a university town has swiftly become a mecca for music, film, and food. Much of this explosion is thanks to the annual South by Southwest (SXSW) film, music, and interactive media festivals and conferences, which began in 1987. It's also become a huge tech hub with both startups popping up (no state income tax makes it easier to invest back into your business) and major companies (hi, Tesla) moving shop to the southern business oasis. In fact, Austin is such a tech-friendly city it's even nicknamed the "Silicon Hills," a nod to the surrounding Texas Hill Country.
An appealing destination for its thriving job market and laidback lifestyle, an estimated 150 people or more move to the city each day. Outside the city are a host of opportunities for weekend jaunts, providing residents and visitors the best of both worlds. The Austin event planning and hospitality industry in turn has seen its own boom to accommodate this cultural epicenter. With its short, mild winters, variety of buildings, and well-appointed rooftop spaces, an Austin rooftop venue is an ideal spot for your next big festivity or private event. Whether you're looking for an intimate al fresco rehearsal dinner spot or an all-out company-wide holiday party with nightclub vibes, The Vendry can help make your dream Austin rooftop event a reality. Herewith, it's Friday Night Lights: rooftop venue Austin edition.
Why Hold Rooftop Parties Or Events?
The history of rooftop bars and event spaces can trace its roots to 1890 in New York, New York and the storied Casino Theater (which closed in 1930) on Broadway and 39th Street. The original theater roof was designed as a place where visitors "could sit for a time in the open air, drinking cooling beverages and listen to music" which was then a small orchestra. "The noises of the street were so far below that they blended harmoniously with the brass and strings," wrote one patron in 1893. This outdoor experiment was massively popular and the city, plentiful in roofs but not necessarily ground floor outside space, took note. Society columnists began referring to "rooftop garden season" and rooftop joints—many initially modelled after the German beer garden—began to open. The first Madison Square Garden (demolished in 1926) had such a lavish and large rooftop venue that it could comfortably host 800 people or "1,200 in a jam." Pre-air conditioning a rooftop party was not only an event gamechanger but also a comfort issue, and while the invention of A.C. moved many New Yorkers back to inside spaces, the rooftop venue was there to stay.
These days a major draw for holding a rooftop party or event is that it raises the bar of any get-together. Whether it's on the second floor (Parkside) overlooking an historic street or 165 feet up (SXSW Center Roof Deck) with sweeping city and country views, the location becomes a key backdrop and adds to the sense of occasion. A major benefit of a rooftop event in Austin is the climate, with year-round appeal for that indoor/outdoor feel and event experience. On a subconscious level, a rooftop outdoorsy feel is conducive to mingling for guests, rather than sticking to one area of a room. Then there's the Instagram factor, which is very real—who doesn't love a picture with views? —with an opportunity for people to tag an event. The rooftop is in and of itself a decoration piece, so you can potentially save some money on dressing up a space to begin with. Lastly, while the Covid-effect on events is much less profound than it was a year ago, having an outdoor option on an Austin rooftop could also frankly make some people more comfortable at the end of the day, even as the pandemic—fingers crossed—continues to wind down.
What Type of Events Can Be Held on Rooftop Venues?
These days any-and-all types of events are suitable for rooftop venues. Corporate parties, launch events, holiday parties, galas, fundraisers… Fashion week shows have even been held on roofs. With buildings increasingly doing up their roofs as an event space, a variety of options are available to accommodate whatever you're looking for in an Austin event venue.
Top Factors to Consider When Choosing a Venue for a Rooftop Event
Finding the right venue is a delicate dance of balancing all your event needs. Things to take into consideration:
Capacity, for obvious reasons.
Cost.
Parking. This will be less of a problem in, say, New York, where Uber/Lyft, taxis, and the subway are the usual transportation modus operandi, but be aware of what's available in Austin as a car-friendly city.
Services and Amenities. Is catering in-house? Do you need live-stream capabilities? What's the sound system? Is there air conditioning for hot summer nights?
Weather Contingency Plan: Is a rooftop covered in places, or is there an inside area? Peace of mind is priceless.
Layout: Not all rooftop event spaces are going to be a single-level rectangle or square shape as a blank canvas. Take into consideration not only the size but flow of the layout.
Location: Location, Location, Location.
10 Outstanding Rooftop Event Venues in Austin
1. The Venue ATX
Neighborhood: Downtown
Capacity: 538
Located in the heart of downtown Austin, The Venue ATX is a veritable hotspot. It boasts the largest balcony on Sixth Street—an historic nine block area now known as the entertainment district—with great views and great amenities. Its 6,500 square foot, multi-level floor plan has a seated capacity for 400 and standing for 538, making it ideal for your next SXSW brand activation, corporate holiday party, and more. Their fantastic stage is a particular highlight for event planners as is their LED wall with eight screens.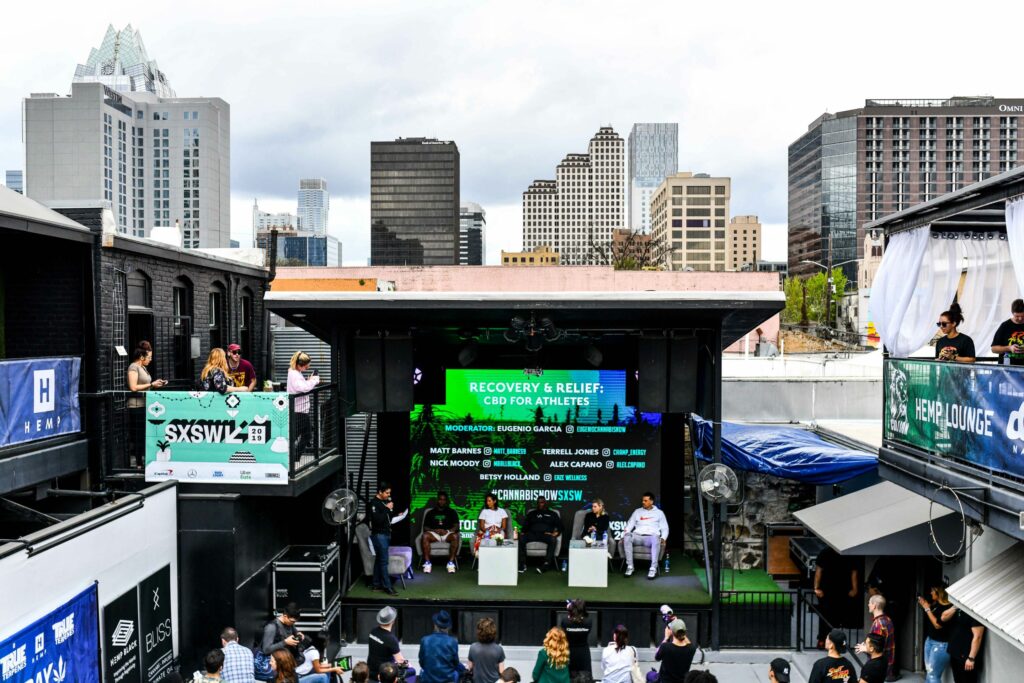 2. Austin Public Library
Neighborhood: Downtown
Capacity: 225
There's something inherently sophisticated about holding an event at a library. The 3,625 square foot Austin Public Library Roof Garden is no exception, with literary meeting greenery. Views of downtown Austin and Lady Bird Lake perfectly compliment the natural feel of the space, which features a live oak tree and other trees and plants indigenous to the area. An indoor seating area serves as a weather backup and both locals and visitors rave about this open-air garden spot. Perfect for any occasion but especially appealing to those with a green thumb. Seats 83 with space for 225 standing.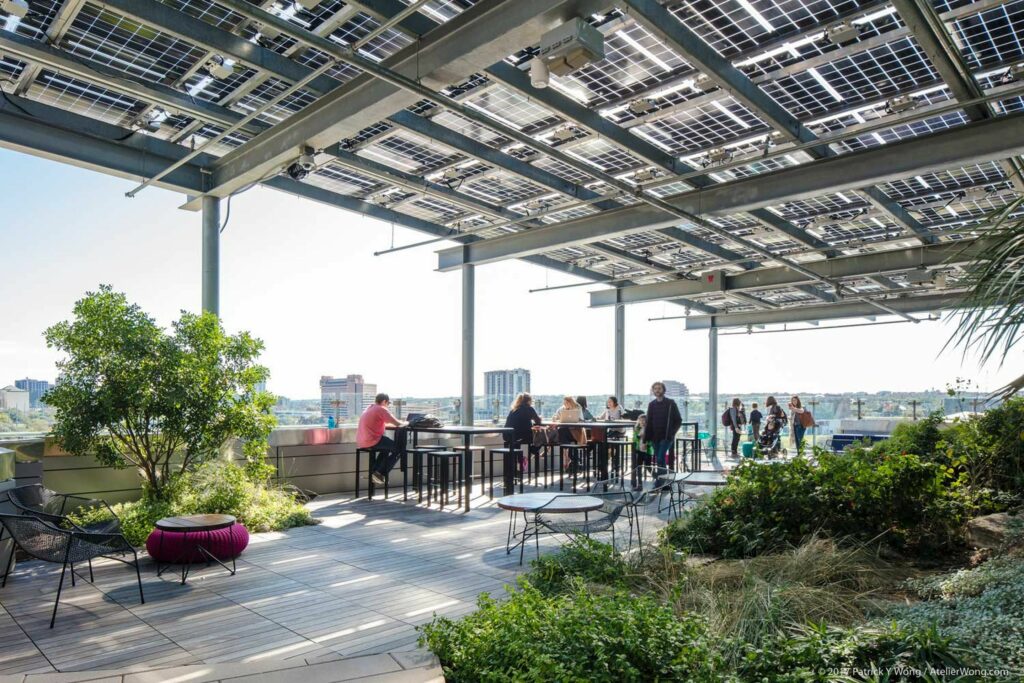 3. Parkside
Neighborhood: Downtown
Capacity: 200
Also located on Austin's historic Sixth Street, the event space at Parkside is a stylish yet unpretentious setting for events from 100 seated to 200 standing, whether it's cocktail parties, rehearsal dinners, corporate luncheons, or company happy hours. Located on the building's second floor, a private banquet room, bar, and rooftop patio set the scene with a private dining room and restaurant buyout available. The New American Cuisine/ingredient-driven menu changes seasonally but constantly earns raves from patrons. Apricot mint sorbet and a raw oyster bar with 12 varieties are just some items that have graced the menu.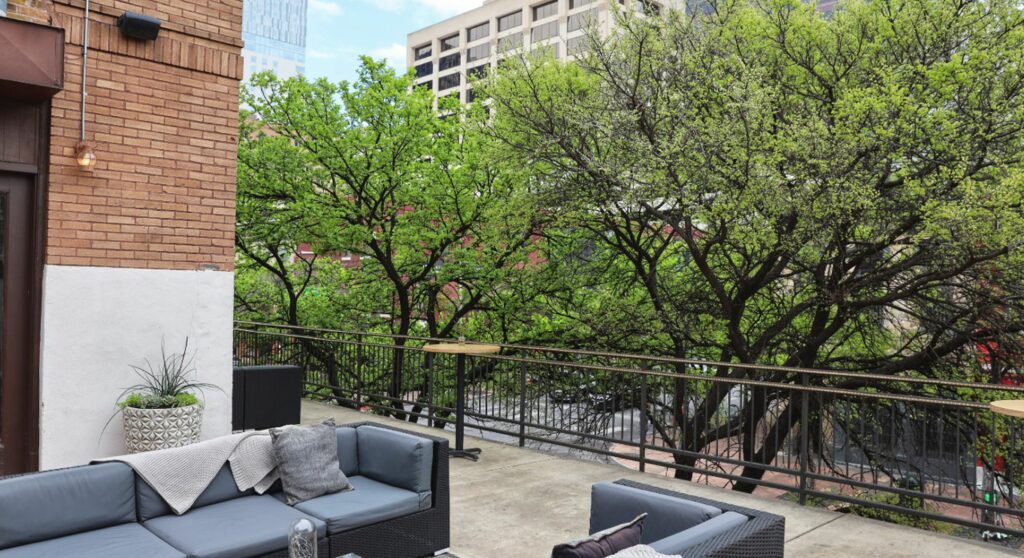 Planning an after work happy hour? Browse the best Austin bars and breweries.
4. Summit Rooftop Lounge
Neighborhood: Downtown
Capacity: 600
They say everything is bigger in Texas, and at the 5,000 square foot Summit Rooftop Lounge that old saying rings true. Located in Austin's hip Warehouse District—known for its refurbished warehouses, trendy watering holes, and quality restaurants—the city skyline serves as a backdrop to the immense deck. Ideal for a full-on party of up to 500 people, the Rooftop Lounge features a state-of-the-art sound system and impressive LED wall. Definite nightclub vibes here.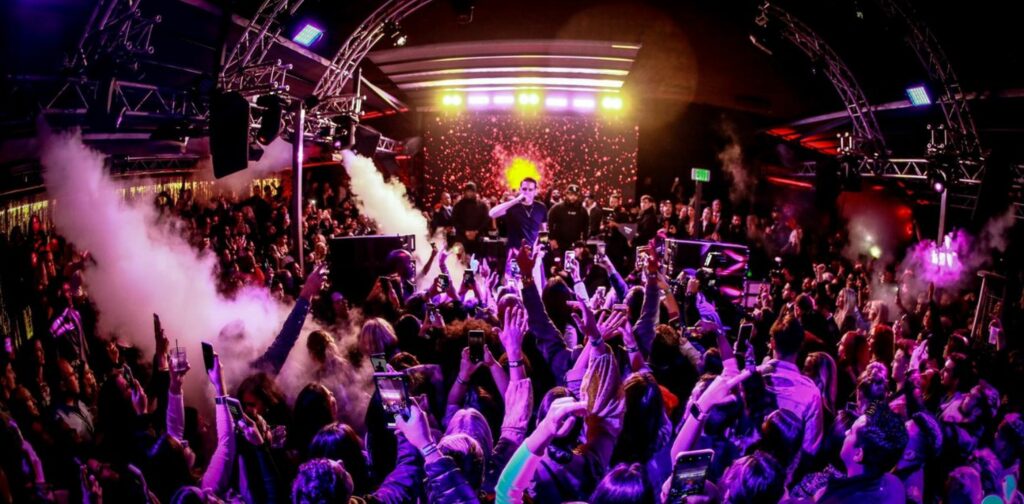 5. Speakeasy
Neighborhood: Downtown
Capacity: 250
The Austin Chronicle voted this Austin's "Best Swanky Joint" and "Best Place to Party." Speakeasy's Terrace59 Rooftop, offers custom catering and a covered/heated 2,200 square foot outdoor space round out the whole party package for 150 people seated to 250 standing. The Speakeasy building also plays host to a live music area, lounge area, and mezzanine (complete with a bowling alley) if you want to add on an indoor space or spaces to your event.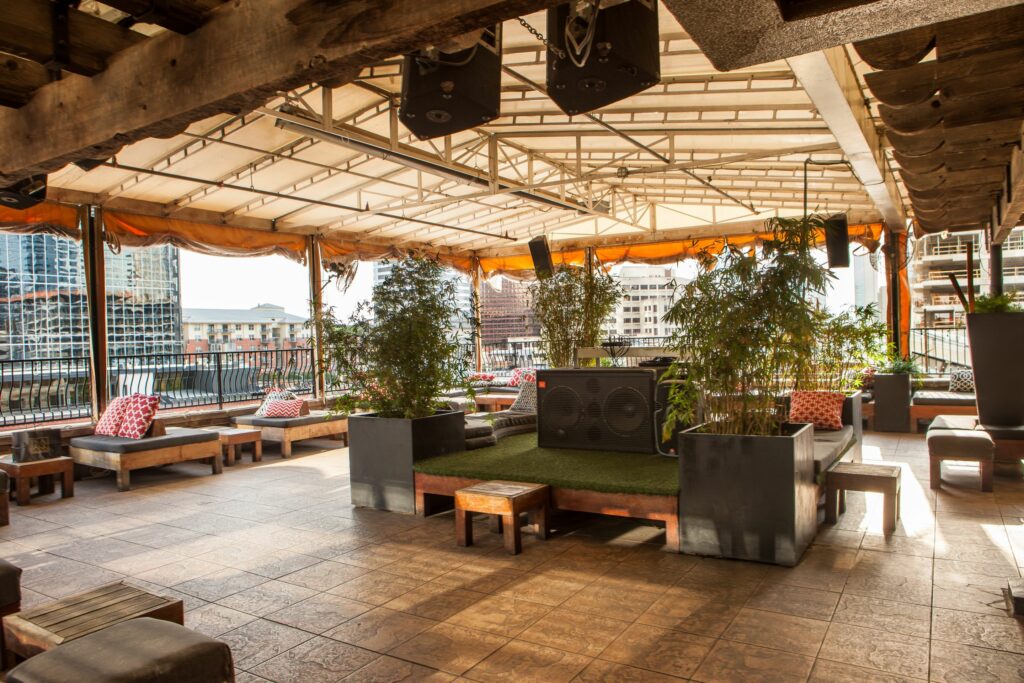 Ready to find the perfect event space? Book a one of a kind Austin venue today.
6. Otopia Rooftop Pool and Lounge
Neighborhood: West University
Capacity: 240
Located atop the boutique Otis Hotel (11 floors high), this is the only rooftop bar in the Campus District. Otopia Rooftop Pool and Lounge has been referred to by visitors as "a hidden rooftop gem." Golden Hour—their answer to Happy Hour— is especially popular with locals who indulge in views, specialty cocktails, and their signature raw beef + sushi bar. An ideal venue for up to 240 people year-round, but a pool-friendly event is especially appealing in hot Texas summers.
7. Green Light Social
Neighborhood: Downtown
Capacity: 230
Casual meets upscale at this self-described "organic Austin patio bar." A popular spot for Austin networking events and holiday parties, Green Light Social is aptly located in the West Sixth entertainment district. Indoor/outdoor space? Check. Imaginative cocktails? Check. Intimate speakeasy (Benny's Room) downstairs that is members-only but can be booked for an event or add-on lounge for up to 40 people? Check. (The roof can accommodate 100 people seated, and 230 standing.) There's also a sister location in Dallas if you city-hop in Texas.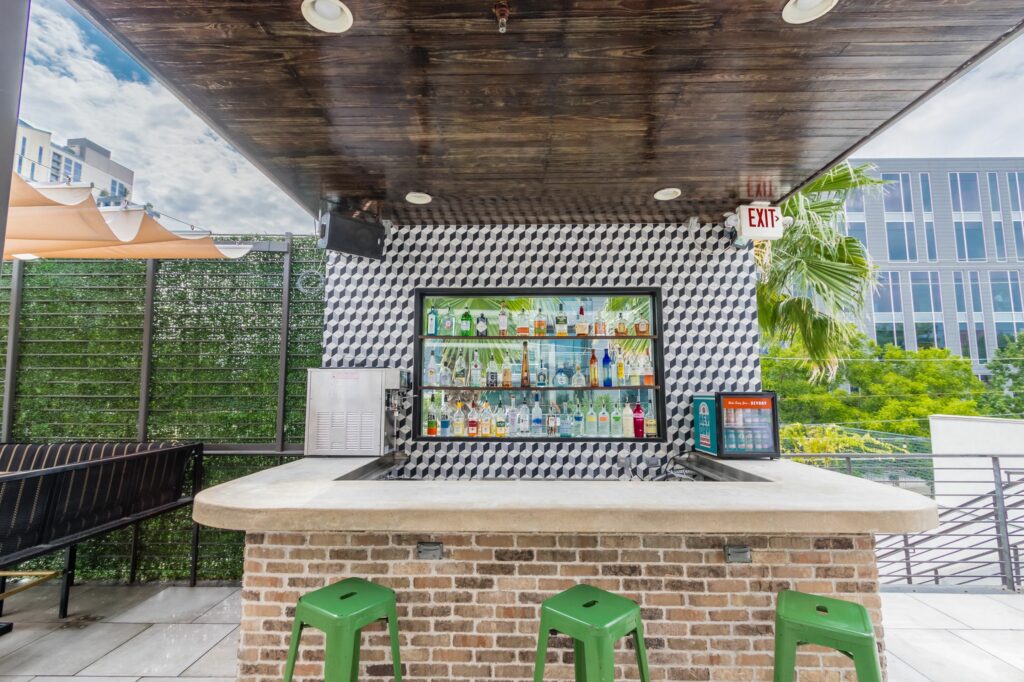 8. The Riley Building
Neighborhood: Downtown
Capacity: 150
A blank canvas with an industrial edge, The Riley Building Rooftop continuously earns rave reviews as a venue, from cocktail receptions to SXSW brand activations, and even yoga events. This more intimate space can seat 96 or up to 125 people standing. Its attached indoor pavilion and retractable ceiling round out the appeal for weather protection and peace of mind. Panoramic skyline views free of charge.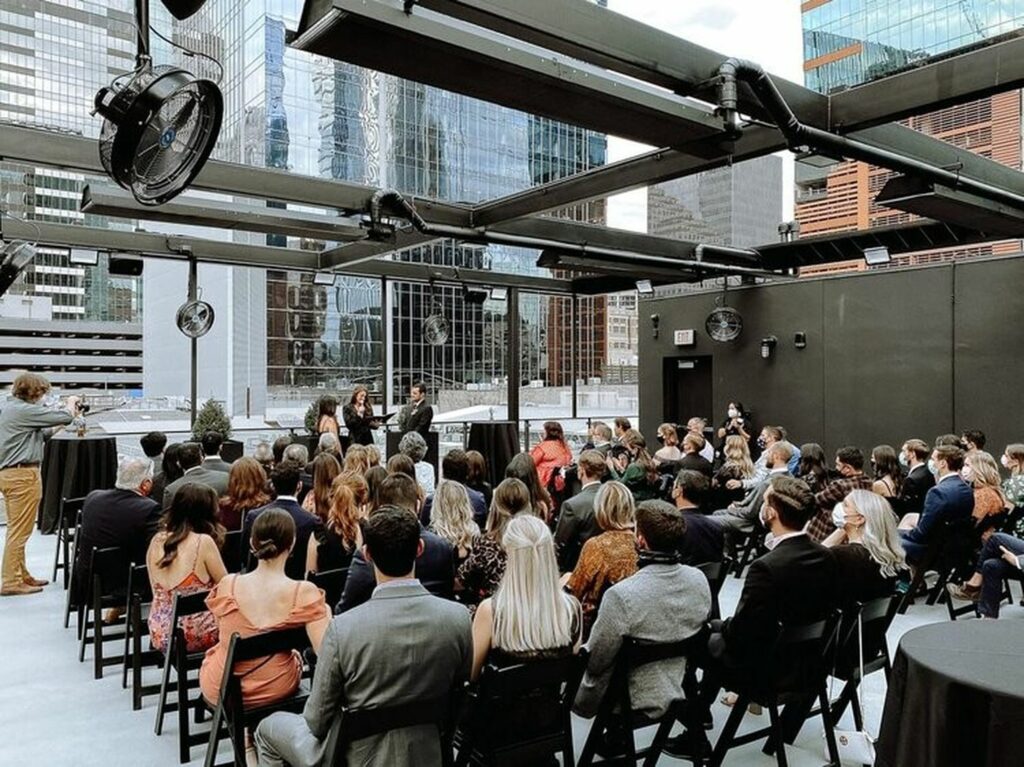 9. East Austin Hotel
Neighborhood: East Cesar Chavez
Capacity: 125
Located near UT Austin and overlooking East Sixth Street, The 1,765 square foot Upside delivers on taste for up to 125 people. Classic and modern cocktails are mixed with exotic ingredients and spirits from Central and South America, the Caribbean, and more. The boutique East Austin Hotel itself is worth a visit or stay, which patrons have complimented for its cozy, modern feel and walkability to a variety of bars and restaurants.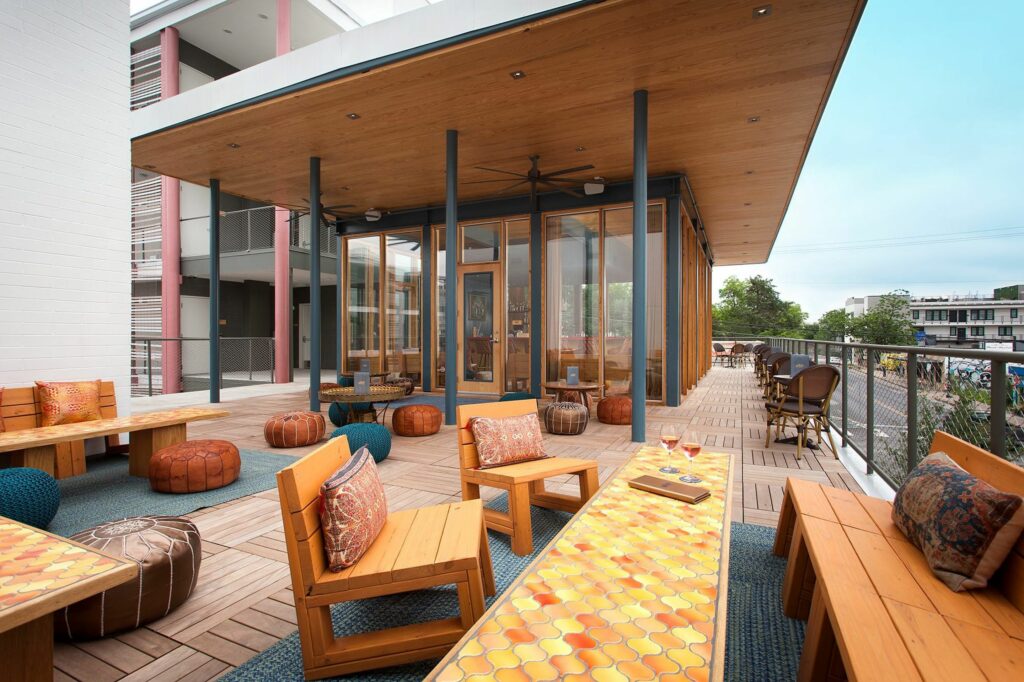 How The Vendry Can Help You on Finding the Best Rooftop Events Spaces in Austin
The Vendry has been fortunate to help bring virtual, hybrid, and live events across the country to fruition. For a variety of reasons Austin rooftops are an ideal venue, whether you want to host an intimate open-air livestream event or put together a large product launch. As a leading destination to help you plan your event from the ground up, The Vendry would be delighted to help you find the perfect Austin rooftop for your event; get started browsing today! The sky's the limit, as they say.
Read More:
The Best Private Dining Rooms in Austin
The Best Rooftops in NYC
The Best Rooftops in Miami
Planning an event in Austin and don't know where to start? Check out our Austin Event Planning Guide to get started!