Chicago is the city of big shoulders and big business. Planning an event in Chicago means you've got plenty of options. The restaurateurs know the professionals of this city want a great place to meet, and it has to be just right. That's why Chicago and its eateries are filled with private dining options galore. When it comes to restaurants in this buzzing town, there's laid-back options all the way to the super refined, and every cuisine in between. So where to start? Allow The Vendry to help you narrow down the crowded field of private dining options in Chicago with ease.
Incredible Private Dining Rooms in Chicago to Host Your Next Corporate Dinner
Whether you are looking for a place to hold a corporate networking cocktail event for 100 or a private dinner for your company's top five clients, sourcing out private dining in Chicago starts with your list of "must haves". Is a sweeping view of the city high on your list? A chef demonstration? Killer audio/visual capabilities to make a product launch look amazing? Make a checklist of all you need to ensure your event is a success, then take a look below of The Vendry's top 14 incredible private dining rooms in Chicago.
1. Tanta Chicago
Neighborhood: River North
Capacity: 70
Peruvian fare within a lively atmosphere is the specialty at Tanta – just ask their droves of loyal followers. This River North hotspot has been successfully hosting private functions for nearly a decade. Tanta presents wonderful options for private dining, located on their second floor. Enjoy cocktails on their rooftop deck before adjourning to the private dining room, where your guests can explore the tastes of Peru. Plus, the experienced staff at Tanta helps you pull together the floral arrangements, audio/visual needs, chef demonstrations, or live music for your event, all to enhance your guests' experience.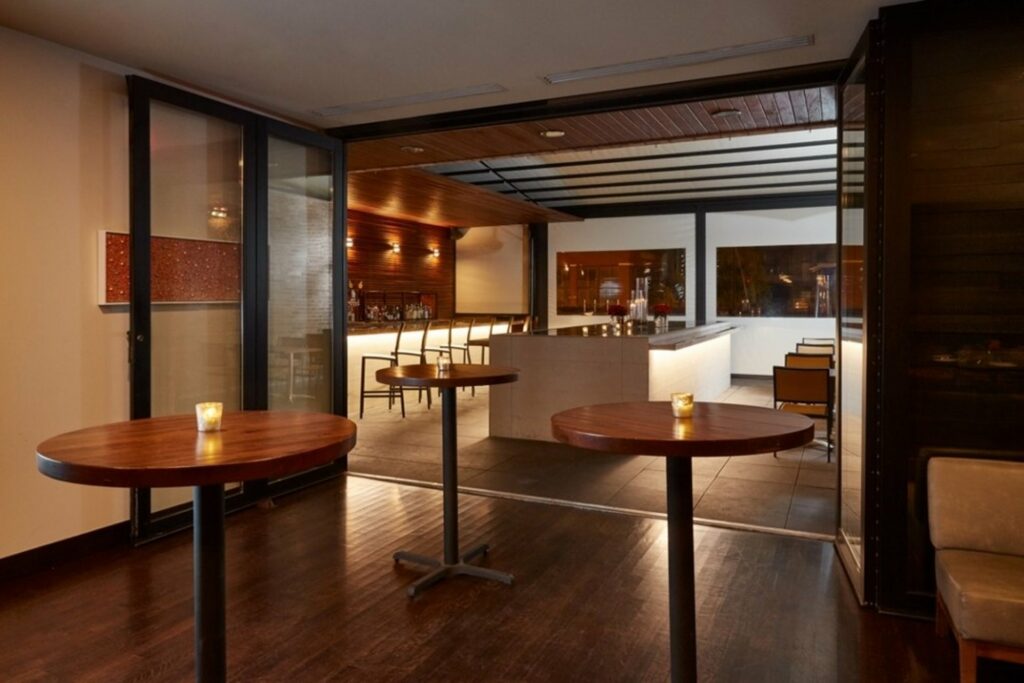 2. Marisol
Neighborhood: Streeterville
Capacity: 40
Immerse your guests in a truly all-encompassing art experience at Marisol. Situated within the Museum of Contemporary art (MCA), this freshly opened space features a primary colored palette and innovative flavors from Chicago chef Jason Hammel. This is strictly a daytime spot, so it presents itself perfectly for an impressive brunch gathering before hitting the office, or a private business luncheon. And the location can't be beat – the gorgeous MCA building is just steps off of the hustle and bustle of The Magnificent Mile.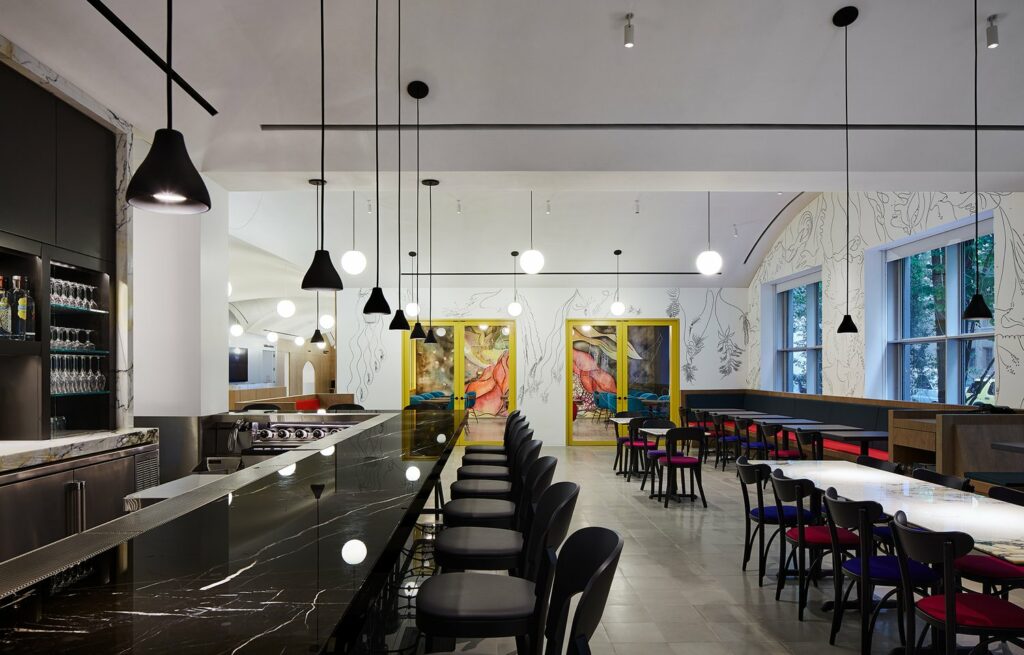 3. The Hampton Social River North
Neighborhood: River North
Capacity: 40
The modern coastal cuisine at The Hampton Social River North does not disappoint, and neither do their private dining options. This is the flagship location of the widely popular enterprise, opened in 2015. If you are looking for a seaside vibe awash in nautical details, consider their completely Private Dining Room, which seats 24. Or share cocktails and bites in the Patio Room, a semi-private space with retractable windows, ambient string lighting, and a pink, light-up "Rosé All Day" sign. Their Lounge and Cocktail space can accommodate 80 standing, or choose a full-restaurant buy-out for 300. Ahoy, indeed.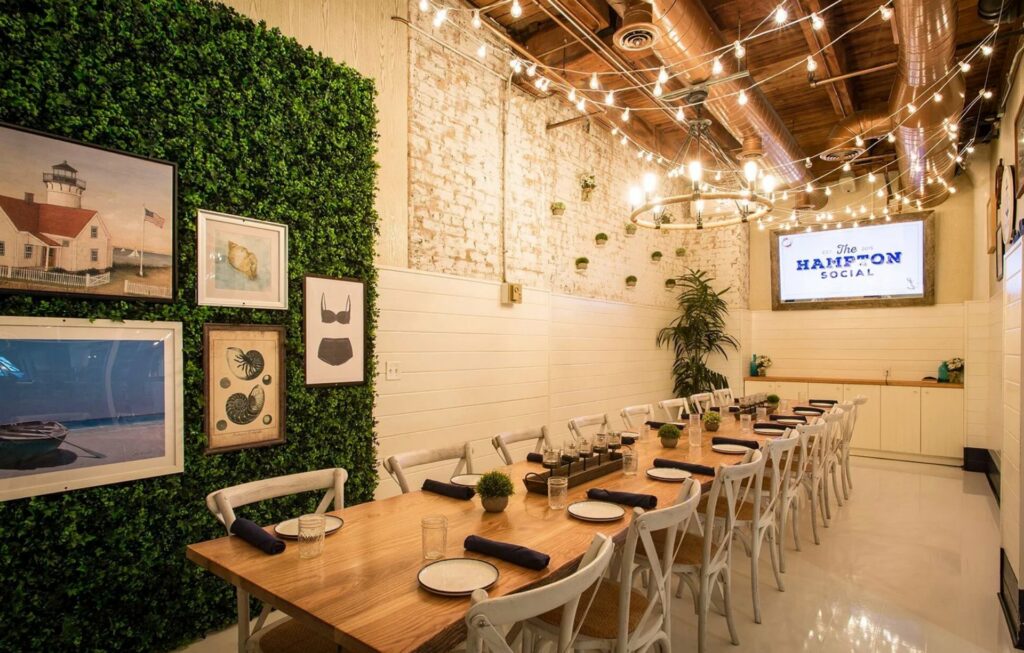 4. Nico Osteria
Neighborhood: Gold Coast
Capacity: 200
Elegant with remarkable city views, Nico Osteria is prepared to effortlessly host your corporate private dining affair. Serving Italian fare in Chicago's famed Gold Coast, this established restaurant offers several private dining opportunities. An extension of the main dining room, the private event space on the second floor features Nico's Reserve Bar, as well as the Fellini, Factory, and Chelsea private dining rooms. Combine them all together for a large event of 80 for a seated dinner. Head on up to the third floor where you will find the Davis, Dellinger, and Hayden Rooms, perfect for corporate gatherings with floor-to-ceiling windows. Up on the fourth floor is the Hoffman, Rubin, Froines, and Lee Weiner Rooms, with the Froines Room featuring an iconic arc-shaped window that faces north, and can accommodate 40 seated guests.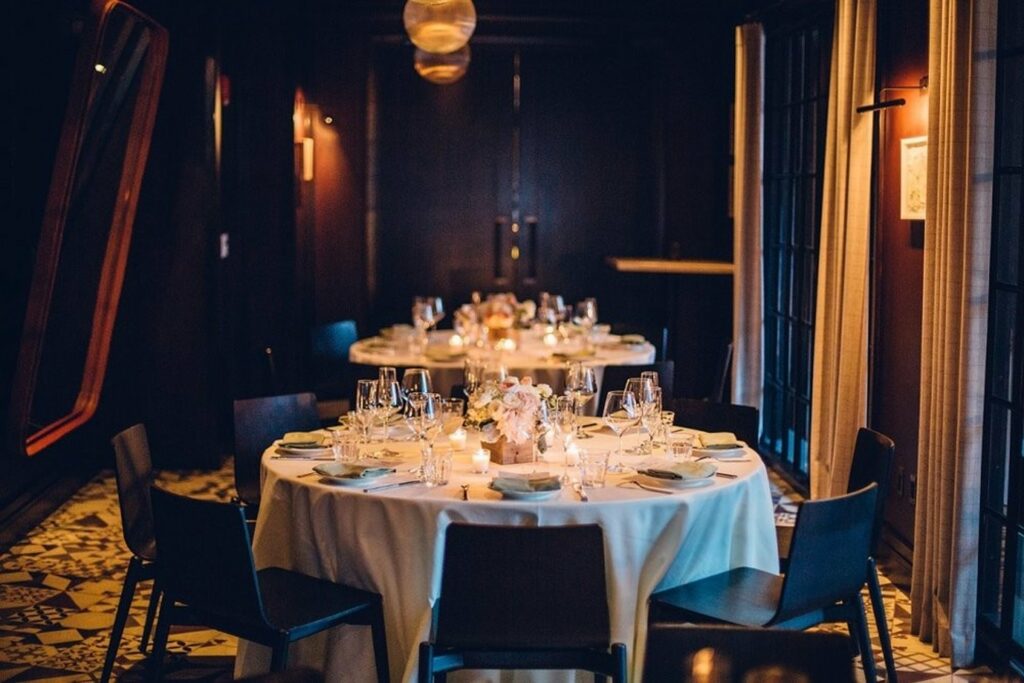 Make it an event to look back on. Browse the top photographers in Chicago!
5. Forbidden Root Restaurant & Brewery
Neighborhood: West Town
Capacity: 30
Forbidden Root Restaurant & Brewery in West Town has dark, moody wood, lively greenery, and really good botanic-based brews. If your corporate private dining outing is looking like it wants to take a casual, boho-chic turn, then head on up to Forbidden Root's upstairs. There's a long, wooden table for all to gather and order delectable items off the menu like crispy duck. Seat 15 for dinner and drinks, or 30 for cocktails. The high-low feeling at Forbidden Root Brewery will really put all your colleagues at ease.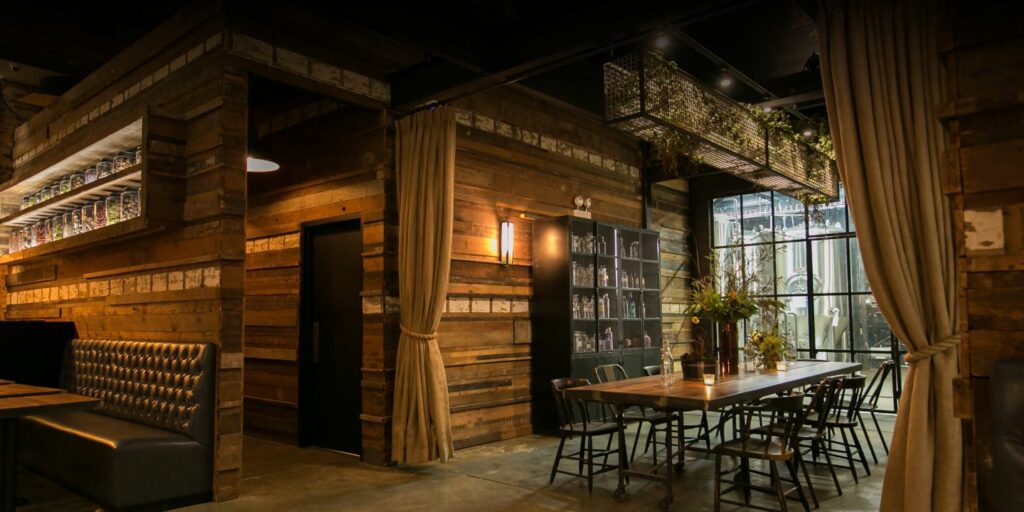 6. Eden
Neighborhood: Avondale
Capacity: 22 seated
A contemporary spot in up-and-coming Avondale, Eden features sleek private dining options, serving up new American cuisine. Eden has your corporate dining event totally covered, from brunch to dinner. There are two options at Eden for private dining – Slate or Selenite – both with full audio/visual capabilities, music control, and Wi-Fi. Slate is a transportive space that can seat 22, complete with a woodland mural that immediately makes guests feel at ease. Selenite is more of a nod to Eden's original interior of brass and lightness, offering up a fireplace and seating for 18. Pro tip: Ask their in-house mixologist to create a custom-crafted cocktail to add some personalization to your private dining experience.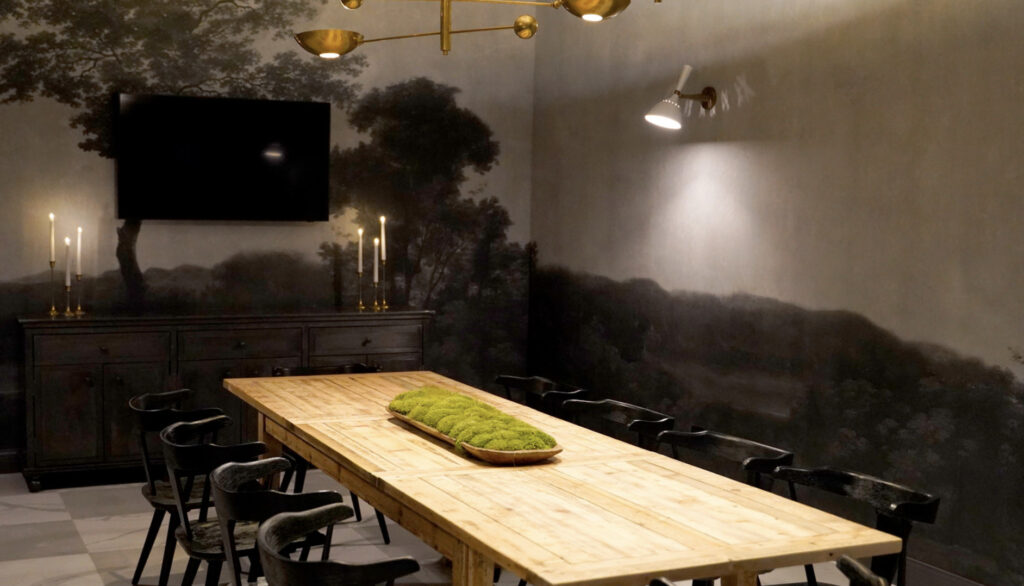 7. Girl & The Goat
Neighborhood: West Loop
Capacity: 26
If a truly private (almost secretive) corporate dining experience is on your short list, check out "Underground Goat" at the nationally-acclaimed Girl & The Goat. The world fell in love with chef Stephanie Izard a while ago, and the affair continues nightly as diners pour in and out of her popular restaurant. Downstairs this cozy little undercover spot lies, lit by candlelight and ensconced in exposed brick. Your clients and colleagues will be led downstairs through the "staff only" halls to finally arrive at Underground Goat. Once seated, they will be treated to some of the most bold, innovative fare Chicago – or the country for that matter – has to offer.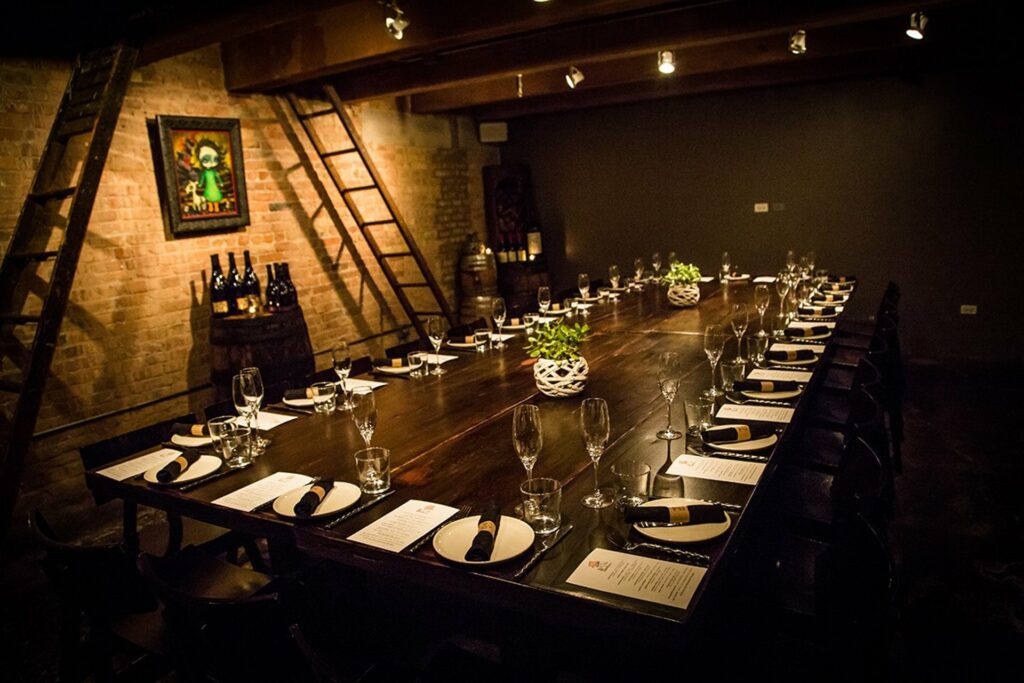 8. Chicago Firehouse Restaurant
Neighborhood: South Loop
Capacity: 64
Formerly Engine Company 104 of the Chicago Fire Department, Chicago Firehouse Restaurant is a reclaimed wood, exposed brick gem of a steakhouse. There are four private dining options at this casual, classy spot. The Palmer and Kimble Parlors both have rich walnut walls that seem to ooze history. The Mayor's Room is sophisticated, with a built-in fireplace, exposed brick, a 46" TV, and ability to accommodate an elegant dinner for 18, or a cocktail reception for 25. And finally, the only outdoor space of its kind in the South Loop, The Veranda on the second floor overlooks the patio and can accommodate 40 people seated.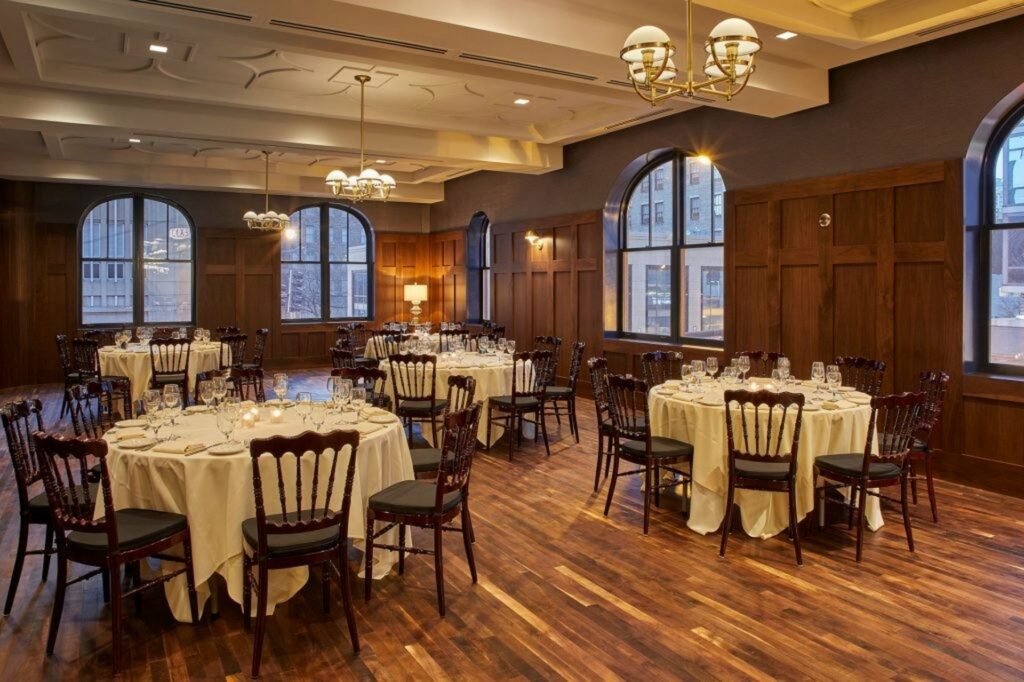 9. The Florentine
Neighborhood: The Loop
Capacity: 80
The JW Marriott is home to The Florentine, a serene Italian restaurant on the second floor that offers up six different private and semi-private dining spaces for your next corporate event. Private Dining Rooms A and B can be rented separately or combined, both boasting a HDMI compatible 52" TV and sound system. Florentine's Tasting Table is a lively, semi-private space placed right in front of their wine cellar with seating for 12, allowing a peek or two into the kitchen. There's also the Lounge, which is a perfect spot for your next networking event. There's high-tops and booths, and access to some of the finest collection of Italian and domestic wines in the city. From brunch to cocktails, The Florentine is a lovely way to experience a great meal in Chicago.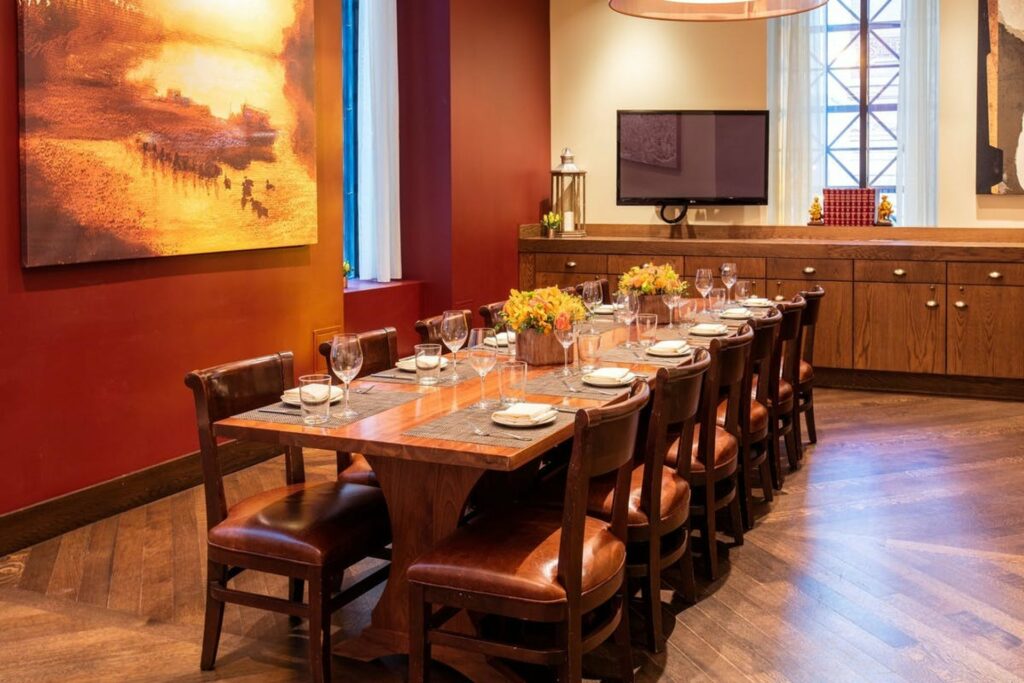 10. Frontera Grill
Location: River North
Capacity: 50
Chicago is home to countless influential chefs, with Rick Bayless and his Frontera Grill leading the way. Since 1987, Chef Bayless has offered up fantastic options for private dining. La Vista at Frontera is his newest space, and features views of River North, as well as a cart that serves tacos, street snacks, seafood, and guacamole. Treat your team to the subterranean pleasures of the Morales Room, a space that encapsulates all the energy of the Frontera Grill but is private for up to 40 people. Finally, spark some conversation over Chef Bayless' collection of rare cookbooks in the open-kitchen Library Room at Topolobampo, which features a five-course tasting menu. There's literally no way to go wrong when your fiesta is on Bayless' watch.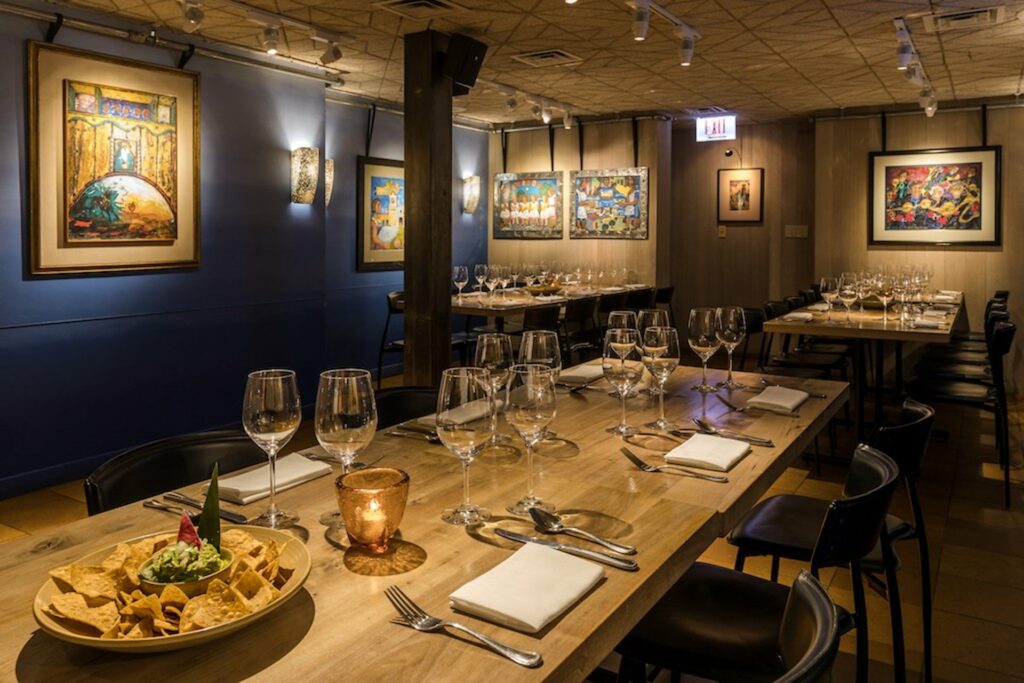 11. Beatnik West Town
Location: East Village
Capacity: 120
Featuring "globetrotting food" set in a showy, old-world style homage to the freethinkers of the 1950s and '60s, Beatnik West Town is quite the place. Host your corporate outing amid the big palm leaves, eclectic vintage furniture, and deep textures and patterns of this hotspot. There's a full buy-out for the entire restaurant, but each nook of the restaurant has its own flair. Consider cocktails in the courtyard before dinner in the Main Dining Room or at the Family-Style tables that can seat 26. Even though Beatnik strikes a nostalgic chord, they are fully prepared to host your crowd with DJ/music hook-ups, divisible spaces, and customizable menus.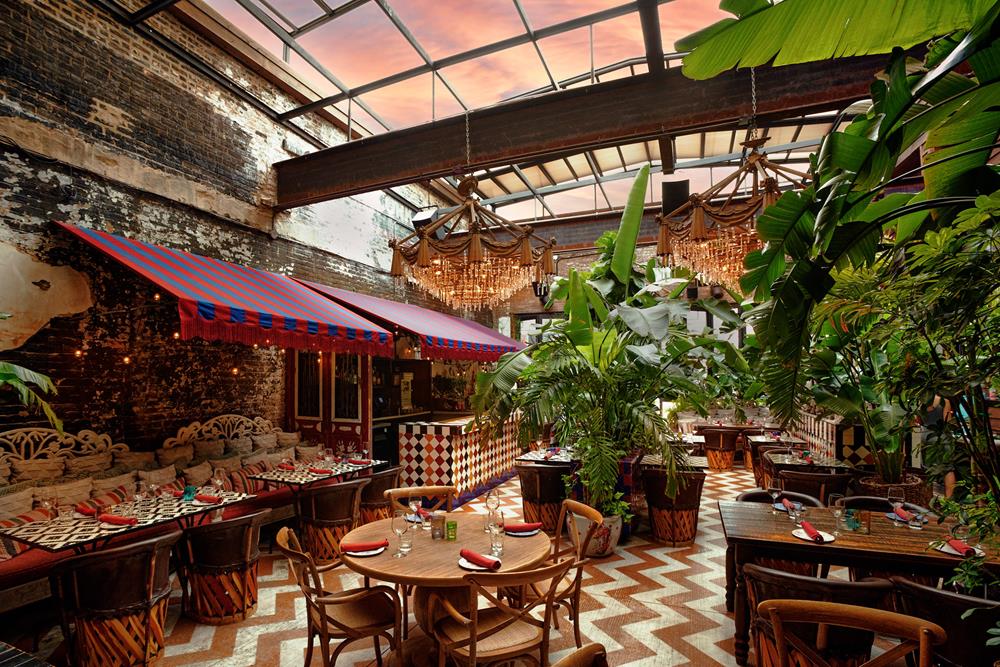 12. Swift & Sons
Location: Fulton Market
Capacity: 50
Sleek, sophisticated, and sure to make an impression, Swift & Sons is premier steakhouse in trendy Fulton Market. There's two private dining spaces, but the real standout is the Wellington Room. It's an extension off of the main dining room, and can seat up to 50 guests. The Wellington Room is dressed with the same modern finishes and slick décor as the rest of the restaurant, but offers an air of exclusivity with its own private entrance and bespoke bar. Enjoy some of the city's finest chops in the same spot where the concept of the American steak was born.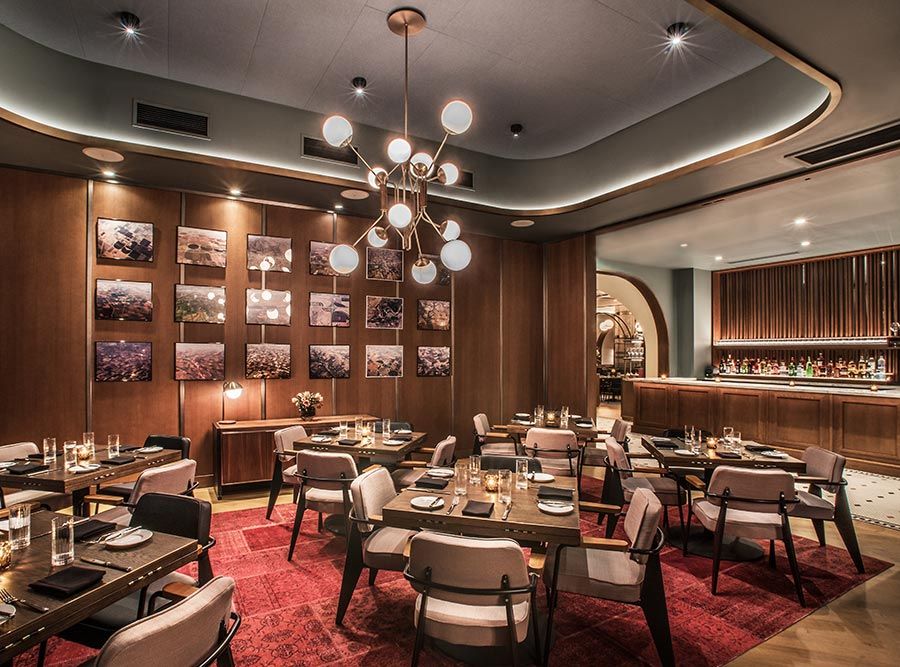 13. River Roast

Location: River North
Capacity: 280
If variety and a killer view is the name of your corporate dinner game, then River Roast is your place. Chef Cedric Harden is happy to serve up his spin on Midwest American steakhouse fare to your hungry crowd, and offer six event spaces in which to host them. There's always the option of a full property buy-out, but the River Roast team is happy to set you up any way you like. From the large, totally private Murdoch Room, to the Veranda Center overlooking the Chicago River, this spot has every space to suit your needs. Breakfast, lunch, dinner – no matter. River Roast has you covered to meet and eat any time of the day.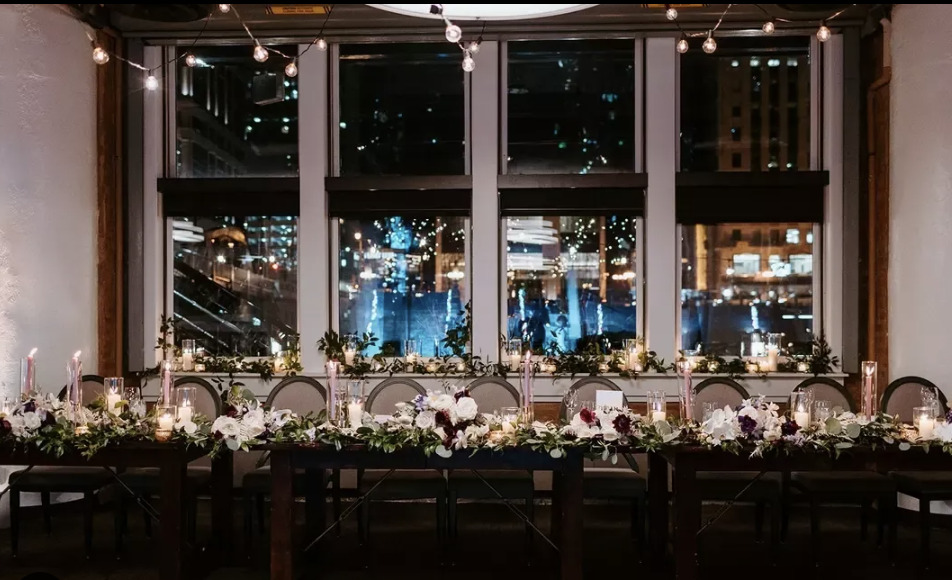 Why Finding the Right Private Dining Room is So Important
Chicago is a big, bustling city. There's movers and shakers here, so you'll want your corporate dinner to feel just as important. Selecting the right location and finding the right venue that sets the right tone can make all the difference when you are entertaining clients or trying to impress your own employees. While it's certainly hard to go wrong in a city offering as much as Chicago, striking the right chord with your intended audience is an important step in making your event a successful one. Select a restaurant where the management is easy with which to work, and the setting conveys the proper milieu.
Top Things to Consider When Booking a Private Dining Room
When booking a private dining room in The Windy City, you'll have lots to think about in addition to the tone you want to set. Naturally, laying eyes on your intended venue is always best, so think about the questions you'll want to ask before you sign the dotted line.
Is this spot totally private or semi-private? If you are planning something very exclusive or special, you might want a space that doesn't mix with the rest of the restaurant. On the other hand, perhaps your event would benefit by feeding off the energy of the dinner crowd, so consider semi-private option instead.
What is the size of my crowd? Make sure to do an accurate head count, especially if you are hosting a sit down dinner. And in the day and age of social distancing, it might not be a bad idea to have a space that allows for a little extra elbow room.
What tech do I need? If your private dining brunch is a product launch, you'll want to make sure you have all the tech capabilities on hand so the rollout goes off without a hitch. If your dinner is a recap of your fiscal year and your deck is raring to go, make sure you have a screen and the hook up you need to show off all those charts.
What will it take for my guests to get to the location? If your crowd isn't familiar with the city of Chicago, make sure the spot you've landed on is easy to find and consider providing transportation. Or if everyone is coming from out of town, select a restaurant close to their hotel.
What time of year will the event be hosted? It's tough to beat Chicago during the summer, so hosting during this season might benefit everyone (maybe sneak in a Cubs game on the North Side while you are at it). But be aware if your venue has an outdoor component, as not all Chicago rooftops and patios are ready for the weather.
Find the Best Private Dining Rooms on The Vendry
Sourcing out the finest private dining rooms in Chicago can be a snap with The Vendry. Filter by neighborhood, vibe, capacity, or diversity attributes right within the Chicago private dining page. Find your locale, then click "request proposal" right then and there. Done!
Read More:
The Best Large Event Venues in Chicago
The Best Private Dining Rooms in Atlanta for Team Outings
The Best Private Dining Rooms In Washington D.C.