It's not just about the peaches in Georgia. Atlanta has long been a hospitality hub, as evidenced by the city's Hartsfield-Jackson International airport, aka the world's busiest. On the restaurant front Atlanta is the picture of world-class dining, up there with eateries in places like London, Paris, or New York. Whether you're looking for a steakhouse embellished in mahogany, southern comfort food on a breezy terrace, or hand-crafted cocktails 30 floors up, private dining space in Atlanta delivers on all fronts. Read on for 18 of Atlanta's best dining digs.
The Best Private Dining Rooms in Atlanta
Atlanta private dining rooms accommodate myriad tastes and space needs for events. There are over 12,000 restaurants in the Atlanta metro area, but the following offer versatile private, semi-private, or even buyout options for corporate lunch meetings, celebratory dinners, baby showers, rehearsals, and every event in between.
1. Marcel
Neighborhood: Home Park
Capacity: 100
If you're looking for a classic steakhouse and bar, but with an upscale feel, Marcel is an excellent place to start. Evoking a sense of nostalgia is the goal here, starting with the name: Marcel Cerdan was a French boxer known for his athleticism–many still consider him France's greatest ever boxer–and his great love affair with Edith Piaf until his untimely death in a 1949 plane crash. The pair are cemented in France's grand tradition of tragic but epic couples, and the French even made a movie about them. While their life wasn't exactly La Vie en Rose, it's the good life at this locale.
The menu here is seasonal but always top quality with, of course, a French edge, and the impressive wine list is a bibulous bonus. Semi-private dining is available for 16 people in "Marcel's Boxing Table" area but with a buyout you accommodate over 100.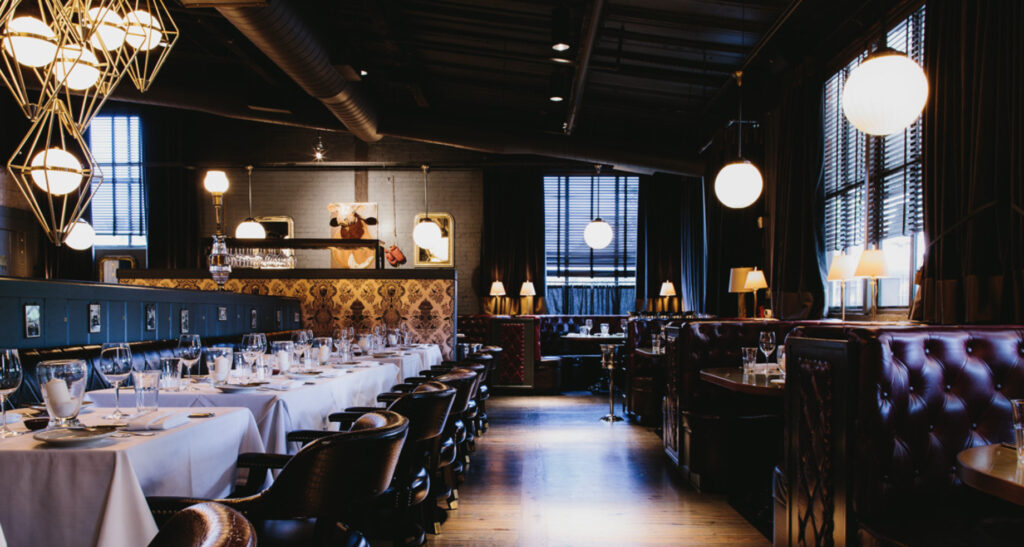 2. Pricci
Neighborhood: Buckhead
Capacity: 70
If you're looking for classic Italian food but with a modern flare, Pricci is routinely included in "best of" style roundups, not to mention its prestigious award of excellence from Wine Spectator. Lauded executive chef Piero Premoli, a Milan native, oversees the menu bringing a sense of authenticity to his cuisine. There are three private dining rooms here, ideal for any occasion be it a corporate luncheon or a celebratory team dinner.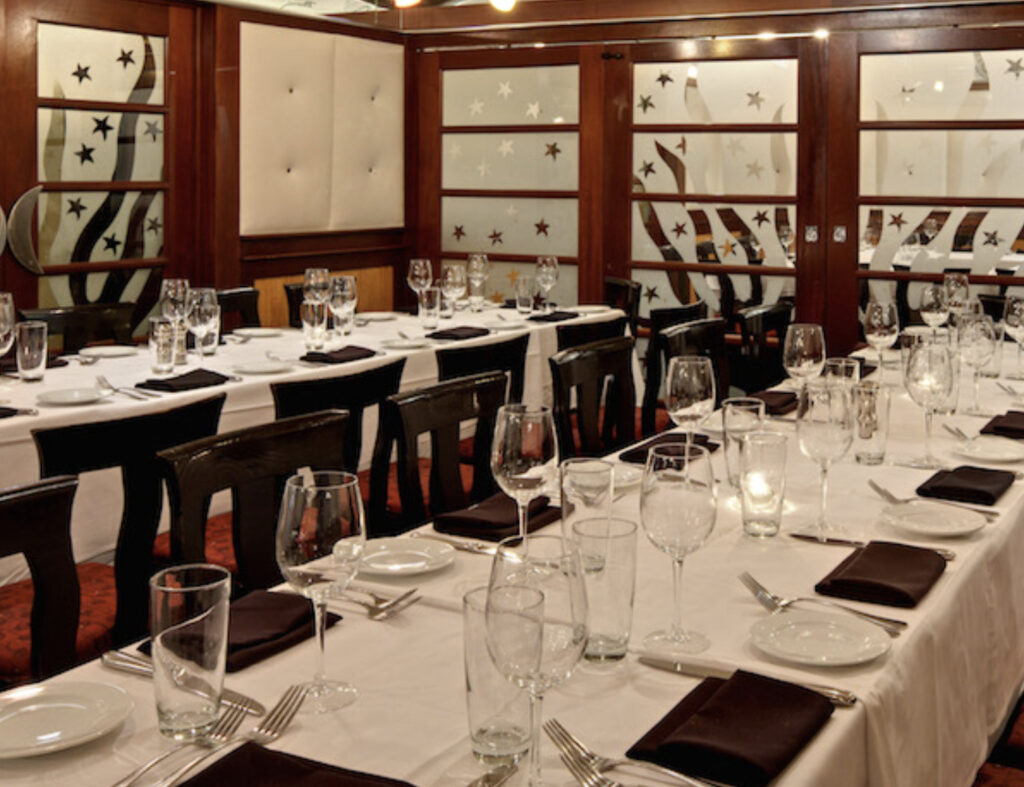 3. Empire State South
Neighborhood: Midtown
Capacity: 60
If you're itching for a four-to-six course meal, as one does, then head to southern eatery Empire State South. It's a seasonal and locally focused tasting menu here. Who can resist a buttermilk pie? A private dining room buyout and partial buyout are all possible, but if you want the whole place over 60 can play bocce on the patio between courses.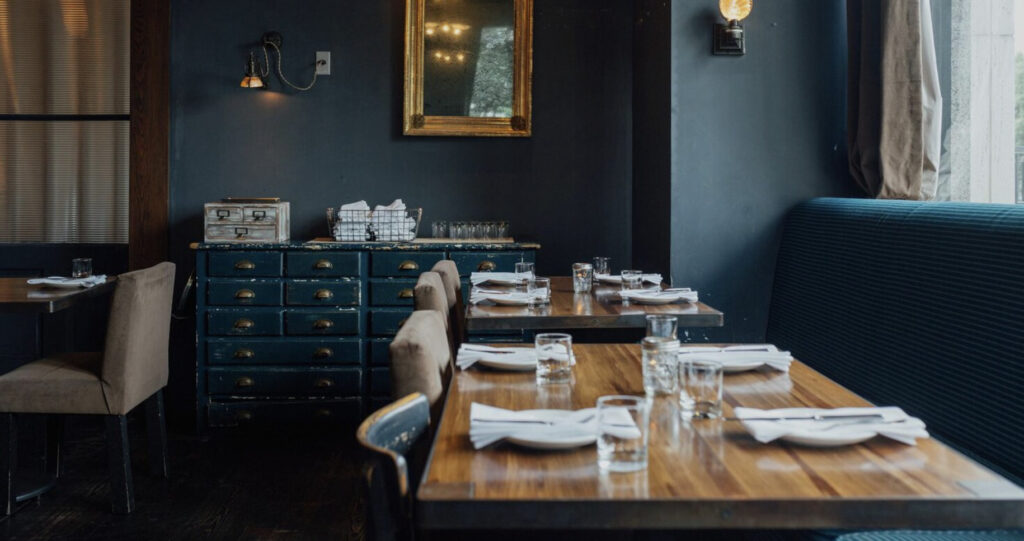 4. Atlas
Neighborhood: Buckhead
Capacity: 90
Atlas meets the moment in terms of sophistication, which makes sense given its location within The St. Regis Atlanta. Your private dining needs can be very customizable here, whether you need something more intimate for 10 or make it a big splash for 90. The dining room menu changes daily, so despite the consistent level of excellence they like to mix it up.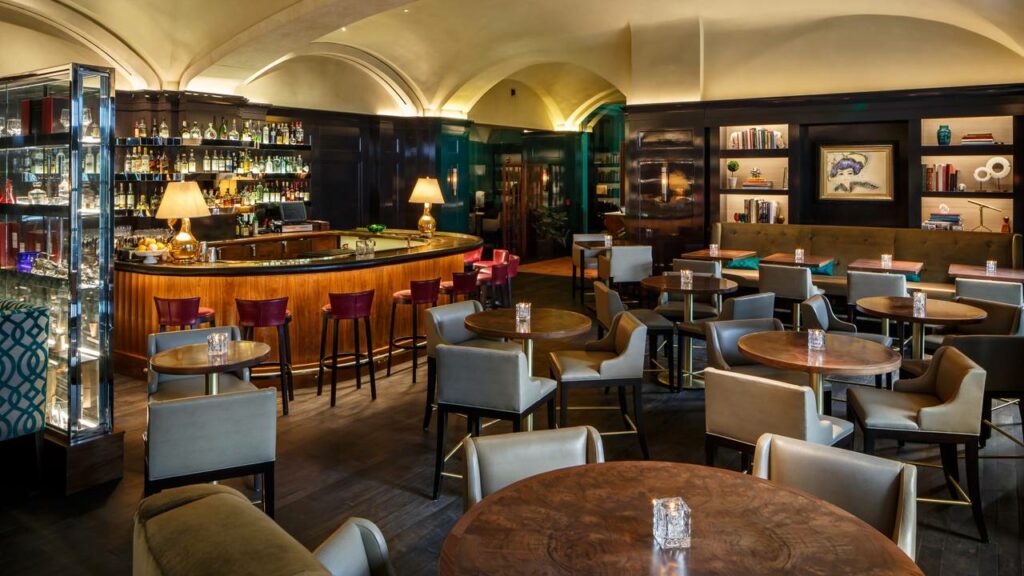 5. Blue Ridge Grill
Neighborhood: Buckhead
Capacity: 45
Looking for private dining for 8 to 45 people? Blue Ridge Grill is an established spot for Atlanta's movers and shakers. Named after the Blue Ridge Mountains, this eatery goes for the feel of a centuries old cabin, complete with a stacked stone fireplace, timbers rescued from an 1890s cotton mill, and painted log walls. Don't let the rustic charm fool you: this is a high-end spot, complete with a dress code.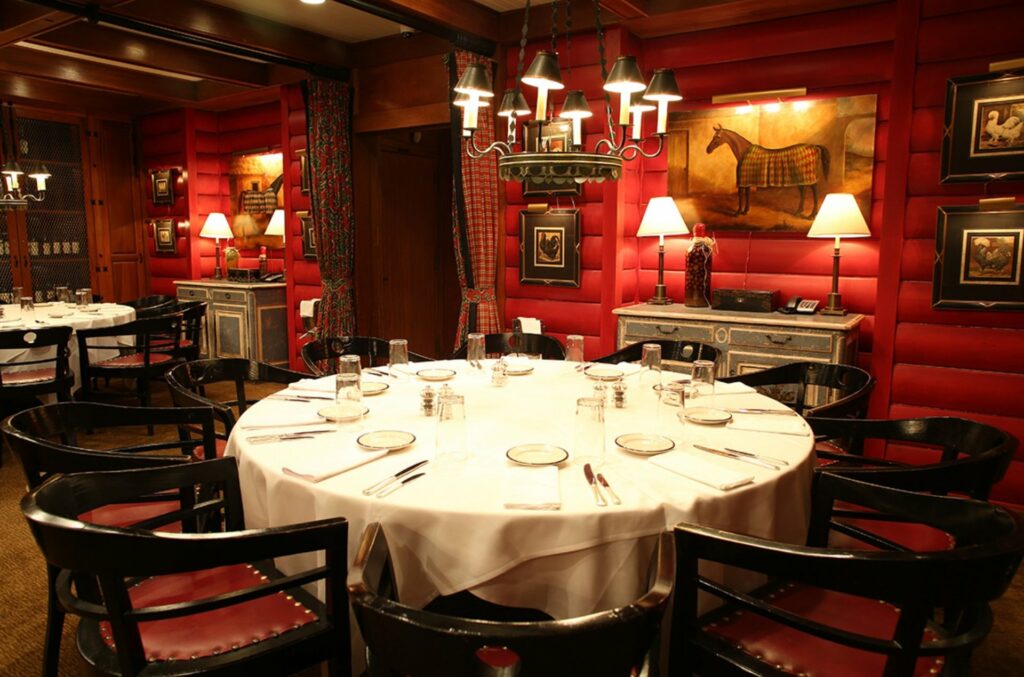 Seize the memorable moments! Find incredible Photographers in Atlanta.
6. St. Cecilia
Neighborhood: Buckhead
Capacity: 160
If you've missed traveling to Italy, Spain, or France over the pandemic you're in luck. St. Cecilia brings the best of these three countries' coastlines, whether it's hearth roasted octopus or pear pudding cake. The flavorful menu is courtesy of chef/owner Ford Fry, who mixes up the menu daily. Choose between the East Wing, Main Dining Room, Lounge, Balcony, or go big with a restaurant buyout for 160 seated.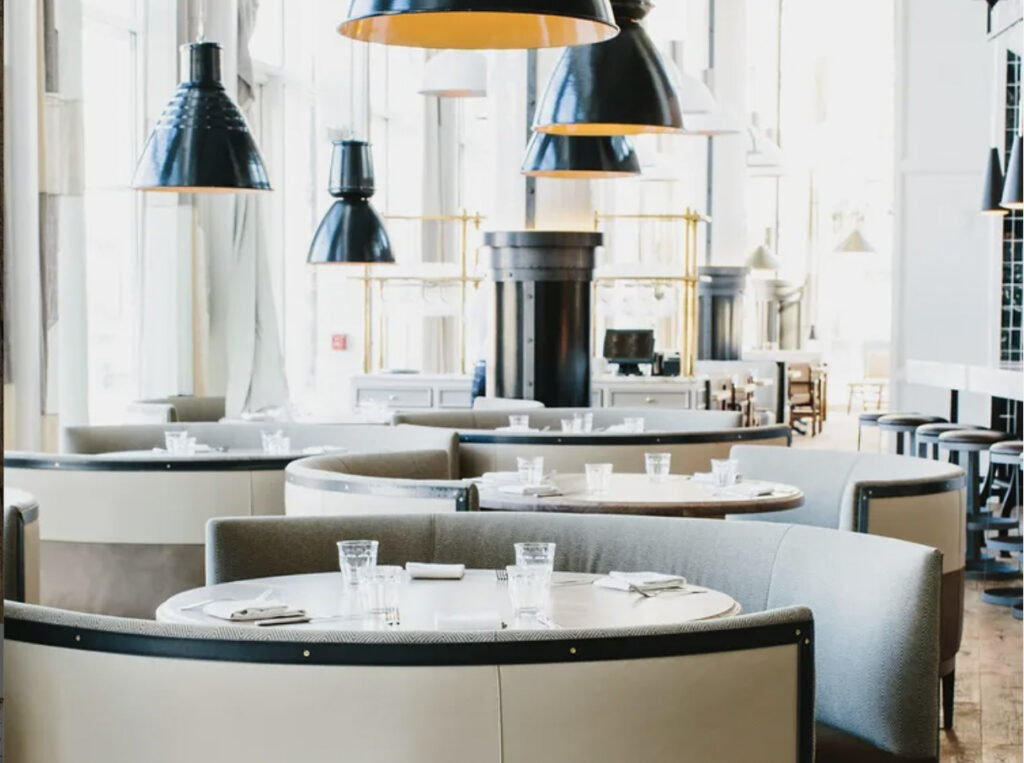 7. Ray's in the City
Neighborhood: Downtown
Capacity: Contact for more info
Be it a rehearsal dinner or a corporate dinner, Ray's in the City has been a staple of the Atlanta culinary scene since 1984. Seafood is flown in daily for the freshest catch, or take a meat-and-potatoes appetite to the next level with their prime steaks and chops. Thirsty? Indulge in their award-winning wine list or sip on a hand-crafted cocktail. This place is about all six senses though, so jazz music and piano are performed on the regular.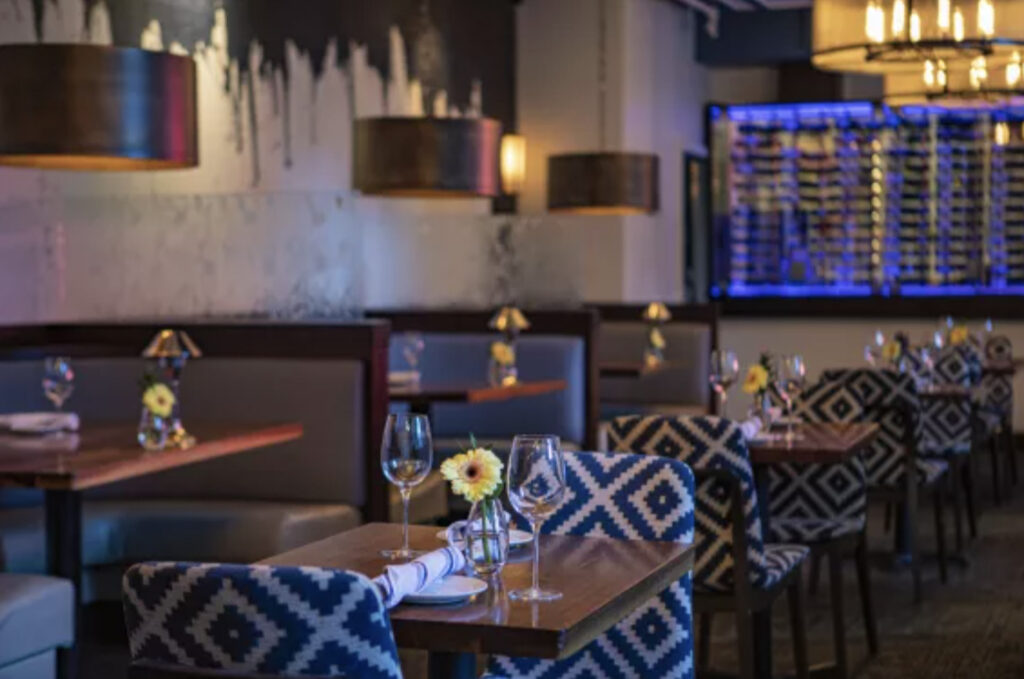 Planning a networking event? Read our 8 Tips to Successfully Host a Networking Event at a Conference!
8. Nikolai's Roof
Neighborhood: Downtown
Capacity: 100
It's all about the view at Nikolai's Roof. This epicurean aerie sits atop the Hilton Atlanta with panoramic views stretching over the city. While it started with a focus on Russian cooking in 1976, that was long ago replaced for a more all-encompassing European palette. (Although their signature caviar service and house-infused flavored vodkas remain a welcomed self-indulgence.) Its private dining room accommodates 100 for the 30-floor-up culinary escapade.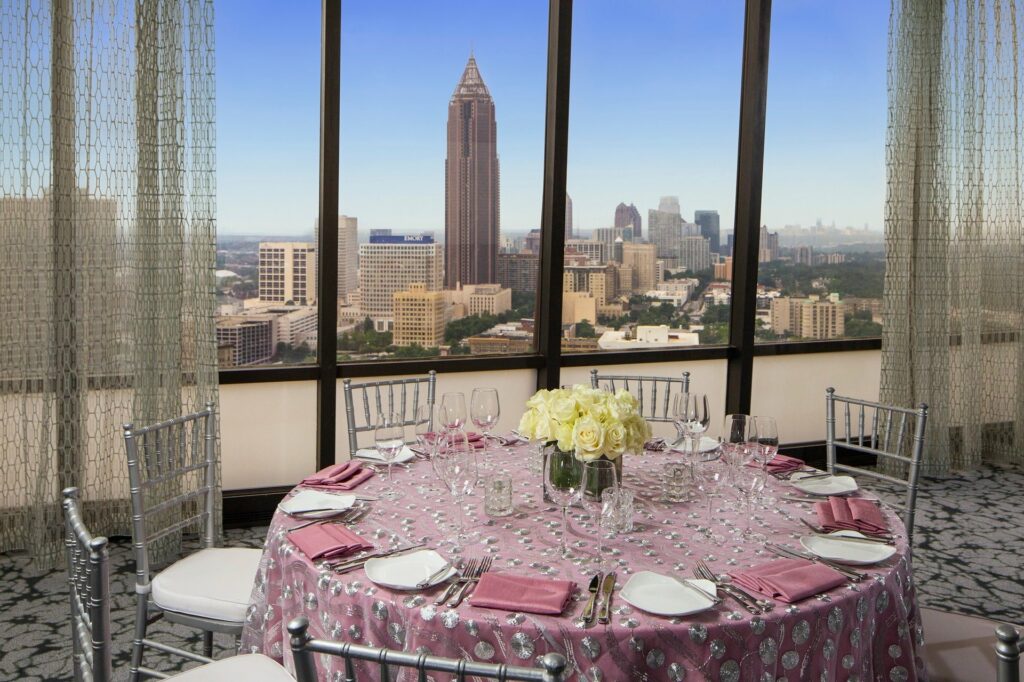 9. Bacchanalia
Neighborhood: Midtown
Capacity: 90
For those hoping to avoid a mini-mythology lesson here, mea culpa. The word "bacchanalia" comes from the ancient Roman festival of Bacchus (known as Dionysus in the Greek tradition). Bacchus was the god of wine and pleasure, and these somewhat infamous gatherings became the stuff of, quite literally, legend. Despite its scandalous etymology, "Bacchanalia" instead now evokes a respectable sense of celebration for food and drink. A place for an (above board) party. Bacchanalia can seat up to 90 in the dining room or 20 in the bar area for a semi-private gathering. This contemporary American spot is consistently rated as one of Atlanta's best restaurants, and its industrial chic aesthetic completes the package.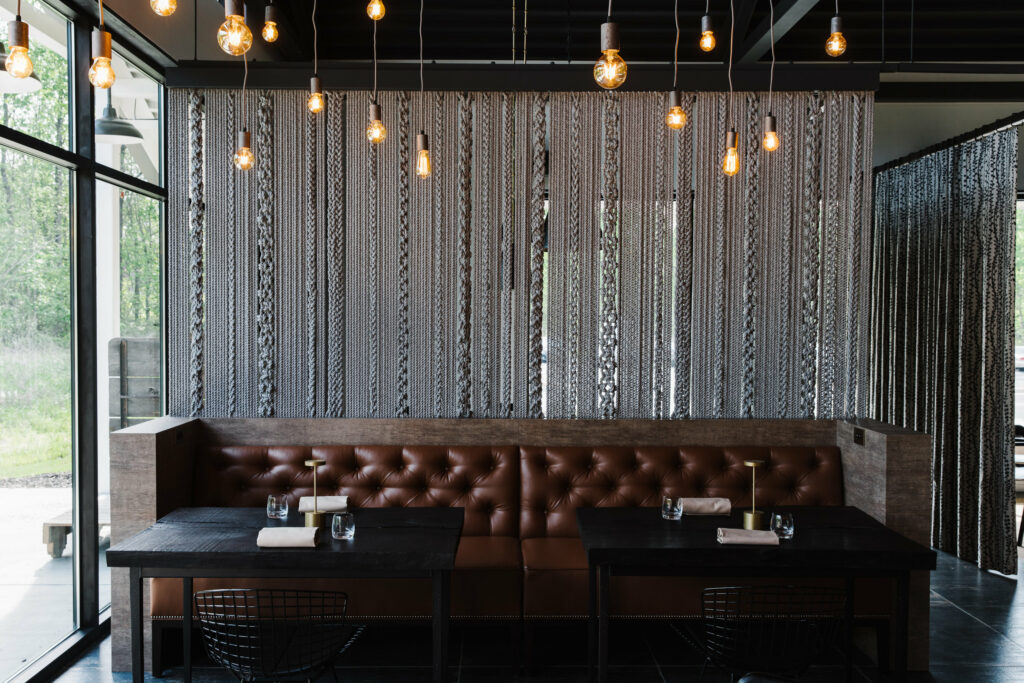 10. Ecco Midtown
Neighborhood: Midtown
Capacity: 55
It's not hard to see why Esquire named Ecco the "Best New Restaurant in America" in 2006. Seasonal European fare, award winning design, a buzzy bar scene, and friendly atmosphere combine for a well-rounded event option. Their private dining room seats 55, but you can also plan for 180 if you utilize the whole flexible space. Hot tip: make sure to try their award-winning flatbreads.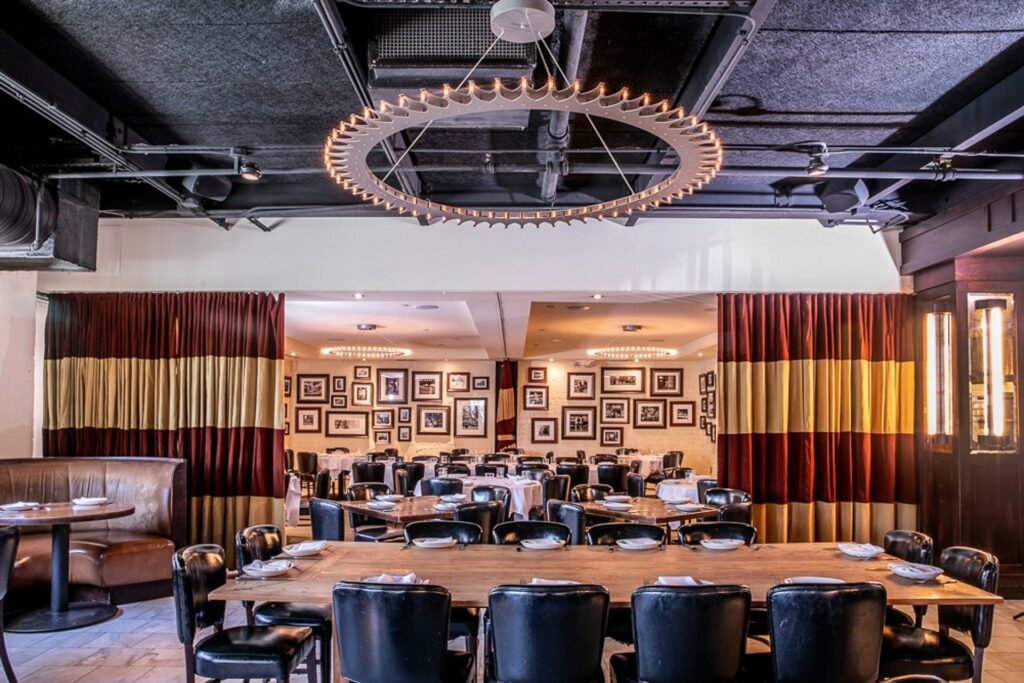 11. The Capital Grille
Neighborhood: Buckhead and Dunwoody
Capacity: Contact for more info
The Capital Grille is an undisputed national favorite: they have 61 locations across 25 states and D.C. Since the opening of its flagship Providence, Rhode Island location in 1990, this chain of deluxe steakhouses has become a gold standard for a carnivorous night out. (Vegetarians welcome, too). It's a bold face name among upscale restaurant chains so if you're looking to impress some associates with your choice of restaurant this will more than do.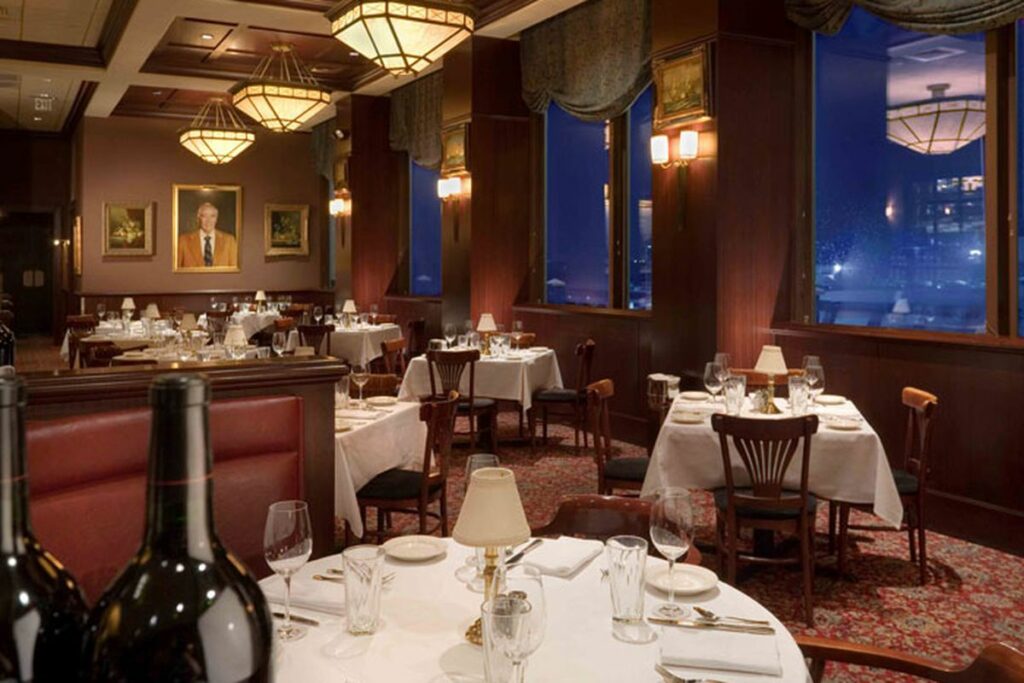 12. Bones
Neighborhood: Buckhead
Capacity: 65
Speaking of steakhouses, check out Bones, which Zagat recognized as having the highest rating for food and service in any American steakhouse. There's over 10 private dining rooms to choose from, big and small, so whatever the occasion you'll find a size that works for you and your event. While it's technically a steakhouse they still have plenty of options for those looking to lay off the meat.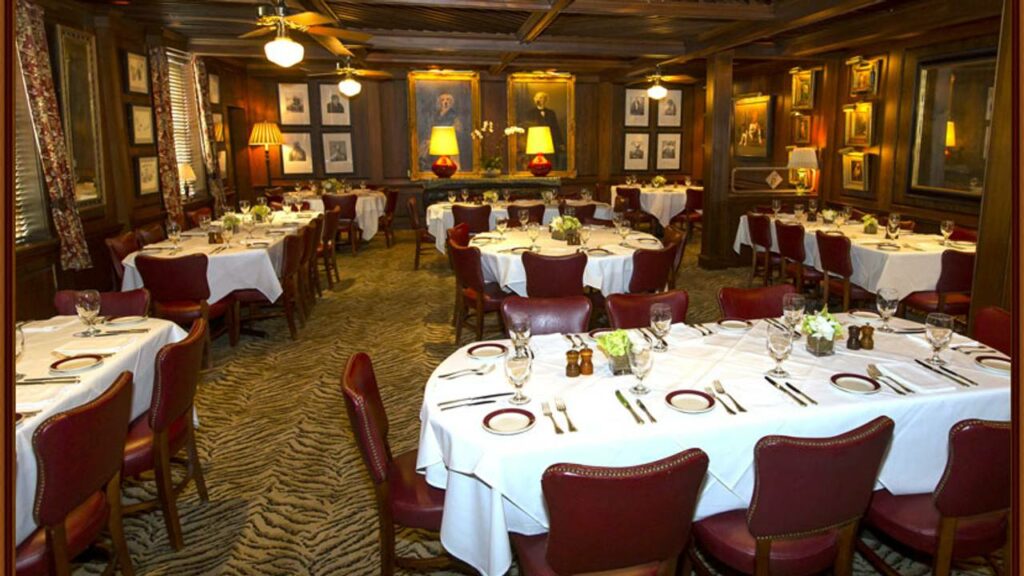 13. Aria
Neighborhood: Buckhead
Capacity: 65
The James Beard Foundation, Zagat, Atlanta magazine, and Wine Spectator are just a few of the Aria fans out there. Aria is flexible and can work with smaller or larger size parties, up to 120 standing visitors if you want to reserve the whole place. The atmosphere is elegant but not stuffy. They are only open for dinner so while lunch meetings need to happen elsewhere this will definitely end your day on a high note.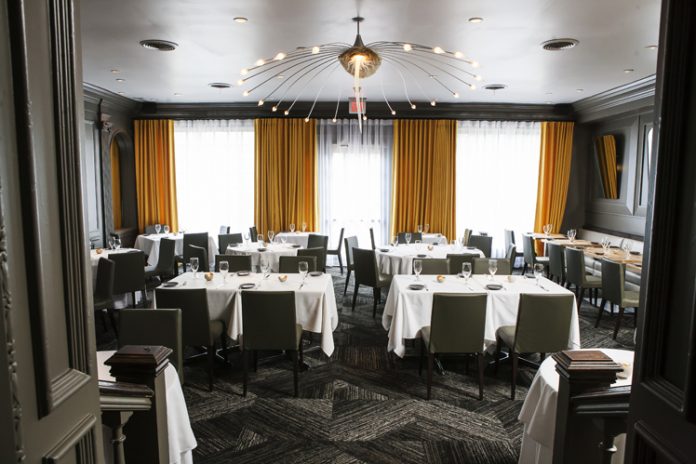 14. Cooks & Soldiers
Neighborhood: West Midtown
Capacity: 250
Now that we've had a mini-mythology lesson, here's your mini-geography refresher: Basque Country is a culturally distinct area that straddles the border of southwest France and northwest Spain. Basque people are fiercely proud of their identity, an ethos which is reflected in the Cooks & Soldiers cuisine. Pintxos are the Basqe version of tapas, and equally as delicious. Unwind over a glass of txakoli if you're craving a sparkling dry white wine. Spaces within the restaurant are suitable for groups from 10-80, but a buyout can land you space for 250.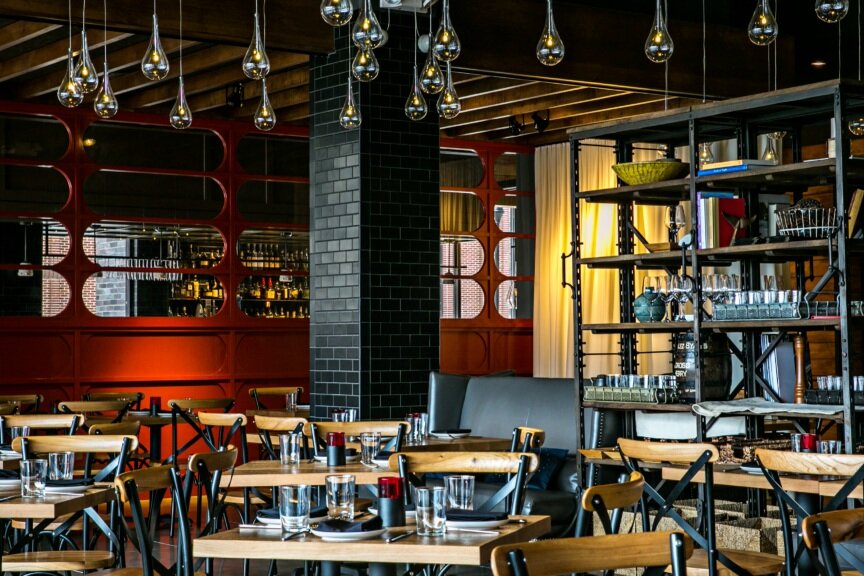 15. The Optimist
Neighborhood: West Midtown
Capacity: 125
Glasses are half full at seafood hotspot The Optimist. Located in an old ham-aging house (which is apparently a thing), this restaurant brings the best of East Coast ocean sustenance to the landlocked table. Maine sea scallops, Alabama oysters, and Georgia trout are just some of the staples at this pescatarian utopia. You can have a smaller semi-private dining experience or rent the whole place for 125 if you have a large headcount.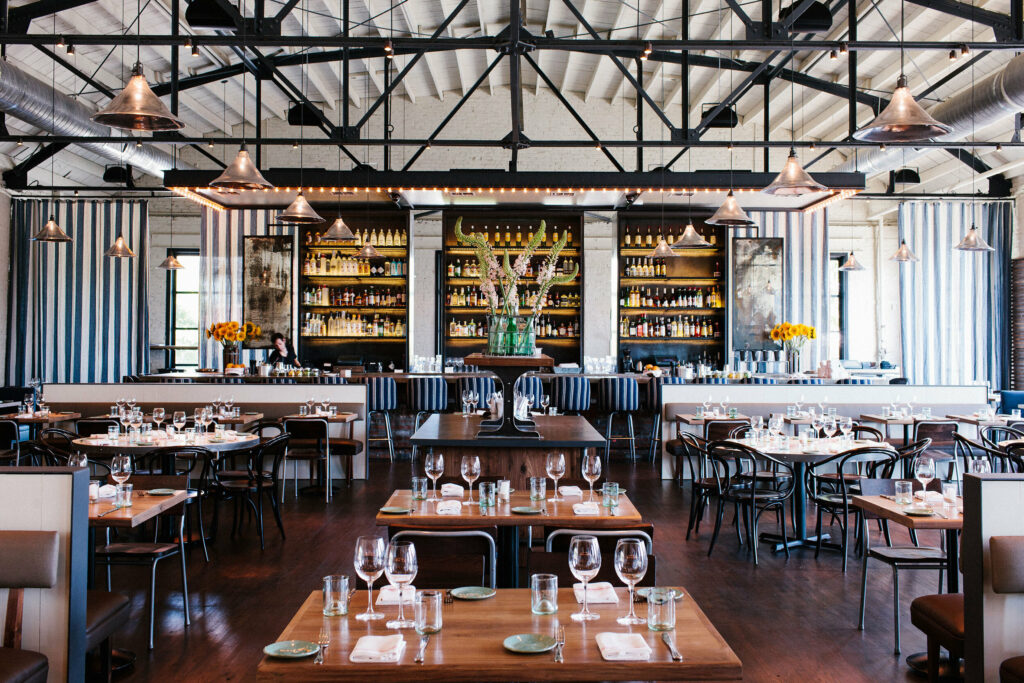 16. Murphy's
Neighborhood: Virginia-Highland
Capacity: 150
Murphy's is the ultimate food and beverage trifecta: it's a restaurant, bakery, and wine shop. The chef and wine sommelier can customize a personalized menu to suit your event needs, whether it's a business lunch or a rehearsal dinner. Murphy's is located in an historic neighborhood with great proximity to universities, downtown, and midtown. Have a meal on the patio or do a buyout for access to their brick-accented atrium.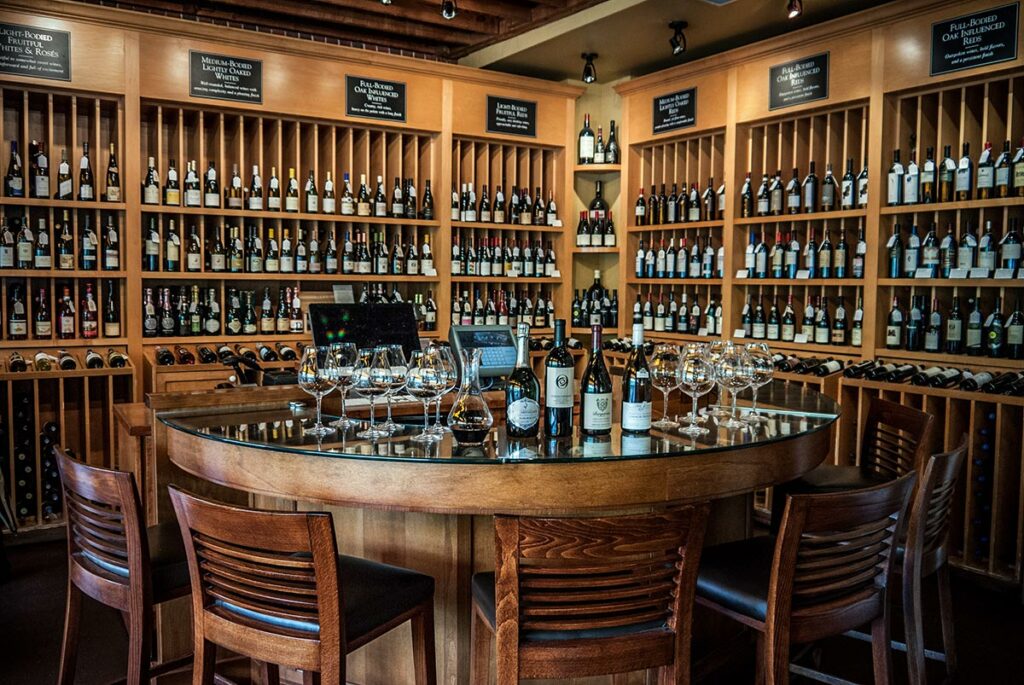 17. AG Modern Bar and Steakhouse
Neighborhood: Downtown
Capacity: 12
If you're looking for a high level of hospitality in a well-appointed setting, a restaurant in the Ritz-Carlton should do it. AG is a modern bar and steakhouse that is beloved by critics and civilians alike. Meals peppered with local and sustainable ingredients are served at leather booths under vintage photographs. The two private dining rooms, The Kitchen and The Distillery, really deliver: The Kitchen has a rustic, communal chef's table as its centerpoint while The Distillery leans into the mixology experience with bitters, herbs, and whiskeys highlighted throughout the room. 
Why Finding the Right Venue for your Event is So Important
Venues big and small set the tone for your event. Unlike many other types of venues which can be treated more as a blank slate, restaurants have their own distinct personality that you are walking into. While layout and headcount are of course vital planning ingredients, make sure you get a sense of the feel first.
When Should You Consider Booking a Private Dining Room?
A private dining room is perfect for an occasion where food is at the heart of the event, whether it's a seated dinner or a company cocktail party. What's ideal about the aforementioned venues is that there is a flexibility for your desired guest size. Opt in for a semi-private experience in a cordoned off area, rent out a private dining room, or do a whole buyout if the size is large scale.
Top Factors to Look for When Booking a Private Dining Room
It will all start with headcount. Most of these places can accommodate a variety of sizes, but go into your search with a fairly set number. Other things to consider: ambiance, location, parking, menu, and general atmosphere. If you choose not to do a buyout or a private room and opt for semi-private cordoned off space, make sure to consider noise level, especially if it's a corporate meeting with a more serious agenda. You can do some fun legwork here. Book yourself a table for some research!
Find Private Dining in Atlanta
If you're going for a bacchanale, a lobster roll, a light lunch salad, a steak, or a six-course extravaganza, Atlanta can make it happen. The Vendry has been lucky enough to bring a variety of private dining experiences to fruition and would be delighted to help you start the process for your next event. Start searching for your next venue now.
Read More:
The Best Large Event Venues in Atlanta
The Best Private Dining Rooms in San Francisco
The Best Private Dining Rooms in Los Angeles