As the saying goes — "the more, the merrier." Whether you're organizing a large corporate fundraiser or throwing a big internal conference, Austin and its surrounding area does not disappoint. Austin, Texas, has recently emerged as an outstanding choice for hosting large corporate events. The city boasts a wide array of venues, ranging from sophisticated conference centers to unconventional outdoor spaces, accommodating events of varying styles and sizes. Austin's burgeoning tech hub status ensures seamless technical infrastructure for events, while its vibrant arts and music scene adds a cultural flair. The Vendry rounds up the best large event venues Austin has to offer. As they say, everything's bigger in Texas.  
Incredible Large Venues in Austin
The Austin area topography is the ultimate assist when it comes to area venues. The city is surrounded by the bucolic Hill Country, and Lady Bird Lake and Lake Travis (among others) add to the mix. Alternatively, Austin's thriving and historic downtown brings an industrial appeal for a sense of nostalgia with modern amenities. Here are 20 venues to get you started:  
1. Palmer Events Center
Neighborhood: Downtown
Capacity: 70,000
If planning a BIG corporate event is on your calendar, the Palmer Events Center is the ultimate one-stop-shop. Overall it offers more than 125,000 square feet and a flexible floor plan for over 70,000 if you use the entire complex. They like to say they are "uniquely Austin," and the shoe certainly fits. Skyline views, in-house catering, in-house IT department, a garage with 1,200 places… the advantage of going big with a venue is that there is the infrastructure to make everything a well-oiled machine.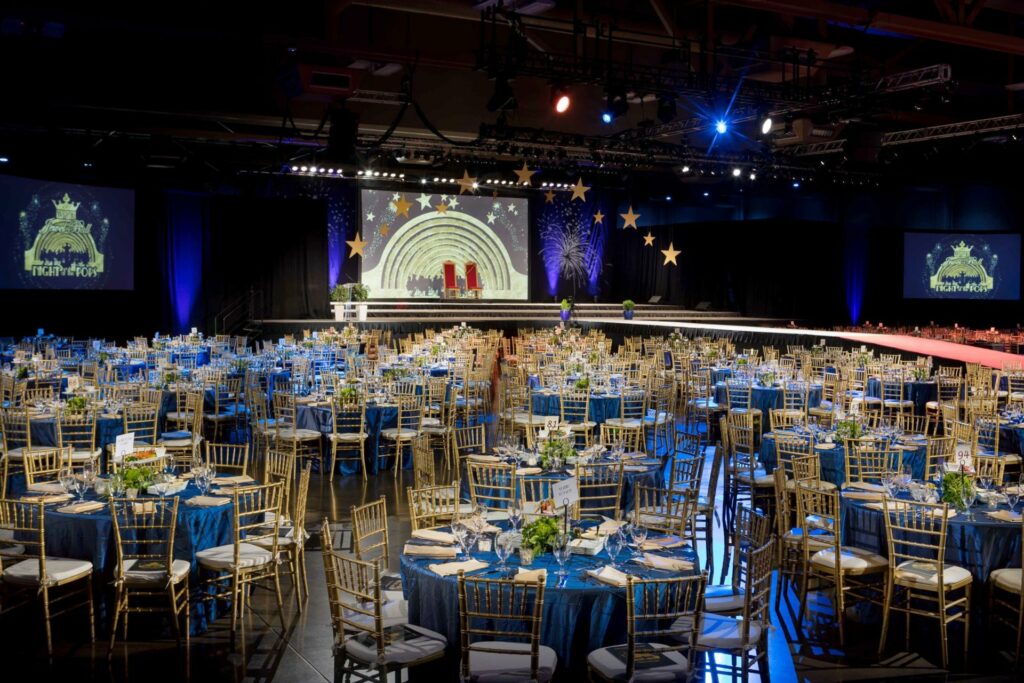 2. Renaissance Austin Hotel
Neighborhood: Arboretum
Capacity: 1,800
Located in Austin's upmarket Arboretum area, the 4-star Renaissance Austin Hotel is a great destination for meetings, weddings, galas, you name it. While it can cater to gatherings of any size with its 24 event spaces to choose from, you can ultimately accommodate up to 1,800 people in the largest area. The hotel itself sits on a lush and peaceful 95 acres and the airport is a short 25 minute drive away, making this a particularly friendly venue for out-of-towners.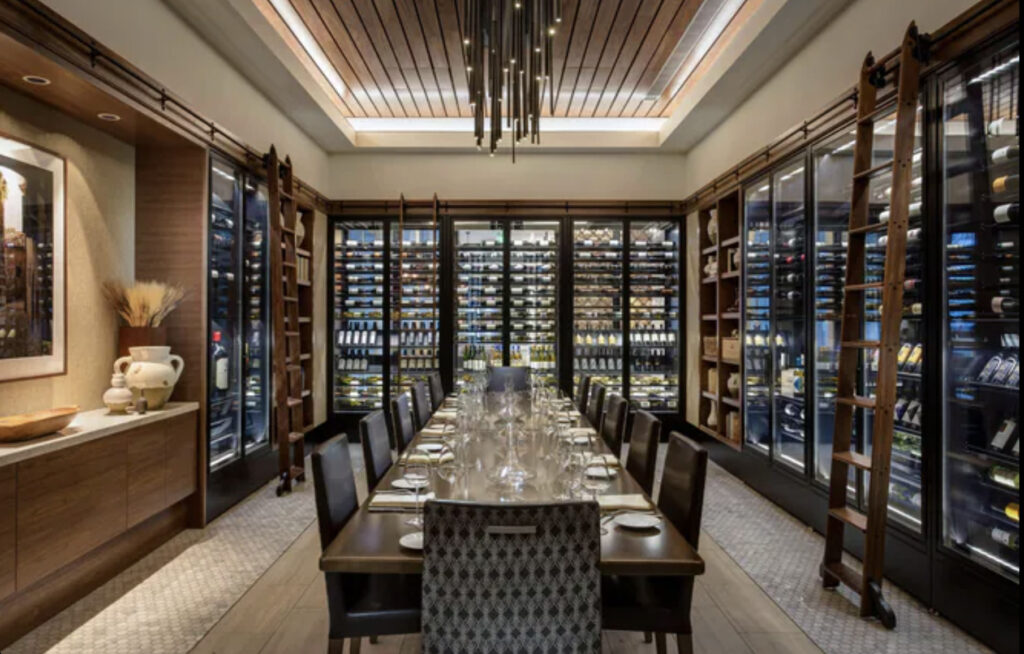 3. Fair Market
Neighborhood: East Austin
Capacity: 450 seated, 1,200 standing
The combined 22,000 square feet of indoor/outdoor space at Fair Market in vibrant East Austin are a city favorite for cultural exhibitions, concerts, weddings, and more. The Quonset hut (Google it, they're cool) style building is versatile, unique, and offers a desirable interior space to work with.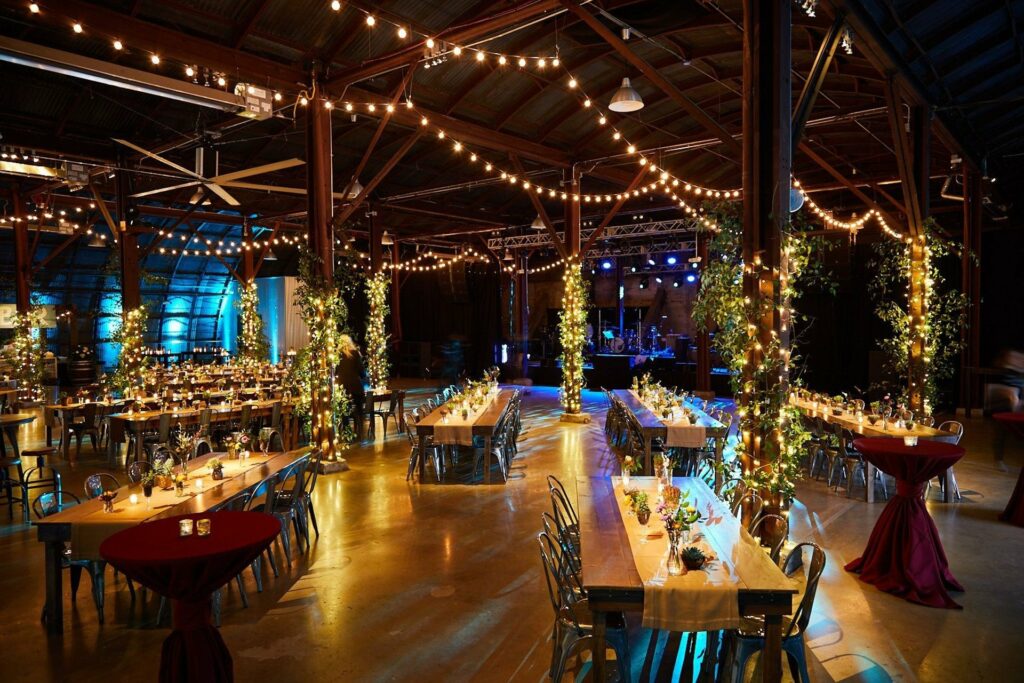 4. The Belmont
Neighborhood: Downtown
Capacity: 1,000
If a swanky downtown lounge with an ivy-covered courtyard, rooftop terrace, and industrial skyline are your thing, then The Belmont is right up your alley. 1,000 people can spread out over 12,000 square feet inside and outside at this coveted location, again in the hip Warehouse District downtown. State-of-the-art sound and lighting systems have come in use for Facebook's Carnivalesque Concert and Company Party, charity galas, SXSW events and shows, private concerts, cocktail tastings, and much more.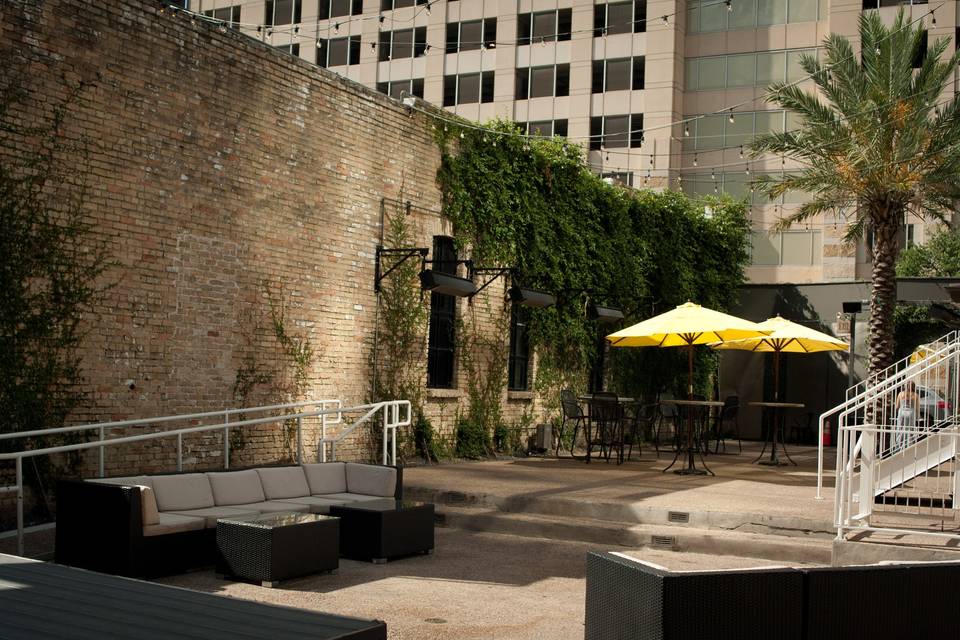 5. The Sunset Room
Neighborhood: Downtown
Capacity: 750
While The Sunset Room seats 150 you can technically plan an event for up to 750 people with overflow. Located in downtown's historic Sixth Street District–and in the heart of Austin's Convention Center–The Sunset Room is a flexible gallery-style venue that stays true to its 1930s origins with exposed brick, oak floors, and wood rafter ceilings. There's over 3,700 square feet of indoor space and an adjacent 3,900 square foot lot is available as well which can be tented and turfed for any large occasion.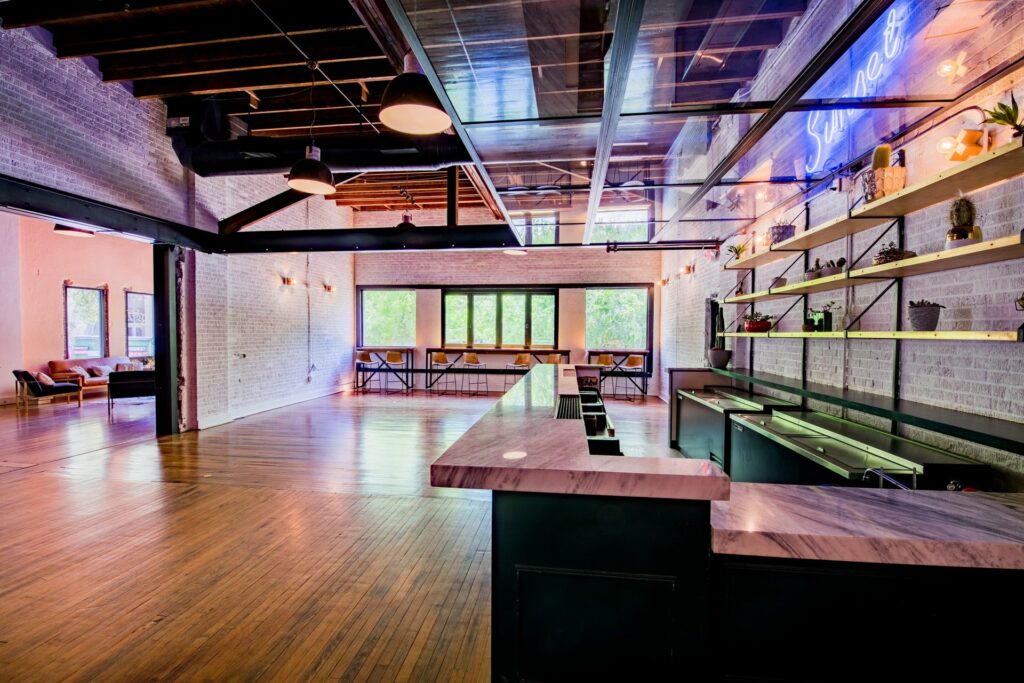 Up up and away. Dine in style at one of these rooftop restaurants in Austin.
6. The LINE Hotel
Neighborhood: Town Lake/Downtown
Capacity: 600
A stone's throw from Lady Bird Lake and you'll find 20,000 square feet of event venue space at The LINE Hotel. The largest area, the Onyx Ballroom, is 6,000 feet and can host up to 600 people. The in-house catering focuses on seasonal ingredients from the Hill Country and urban farms. The building itself used to house a jazz club in the 1960s which would broadcast over the radio, so there's a sense of history despite its major revamp.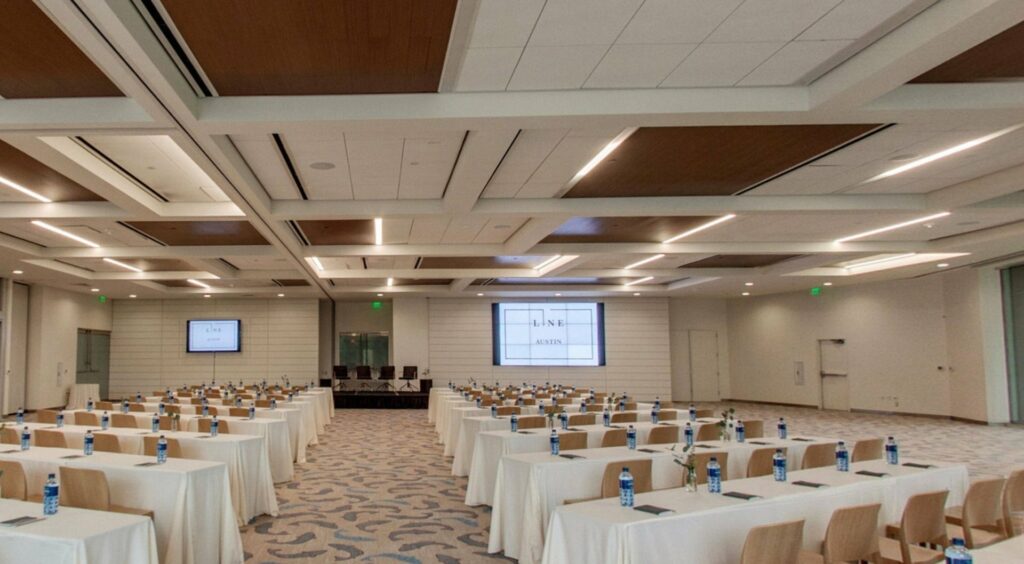 7. Hotel ZaZa
Neighborhood: Downtown
Capacity: Contact for more info
The luxury boutique Hotel ZaZa, in Austin's downtown Warehouse District, is aptly described as a place that marries big city sophistication with authentic Texan style. The hotel offers a variety of space options which work for any kind of event, be it corporate meeting or large wedding. If you really want to indulge your Texana spirit the "Don't Mess With Texas" room should do the trick.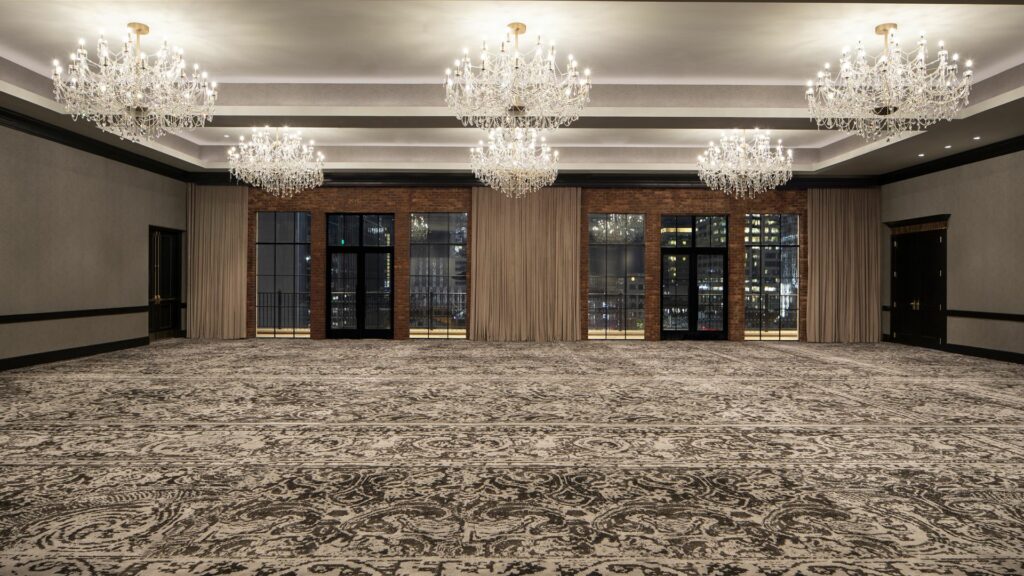 Bring your creative direction to life! Find the top experiential designers in Austin, TX.
8. Star Hill Ranch
Neighborhood: Bee Cave, Texas
Capacity: 500 +
A half hour outside of Austin and you'll find yourself in a blast from the past at Star Hill Ranch. Modeled off of a typical 1900s Texas Hill Country community, all of the buildings have been relocated from around the state and lovingly restored. Brothers Adam and Matt Woolley, native Austinites and fifth generation Texans, run the ranch which has hosted large weddings, corporate events, holiday parties, and non-profit fundraisers over the past twenty years. It's even been a film production set. While the 1899 Chapel–originally built in Pontohonoc, Texas–is the undisputed focal point of the complex, an outdoor pavilion, biergarten, banquet hall, and much more can spoil in excess of 500 guests.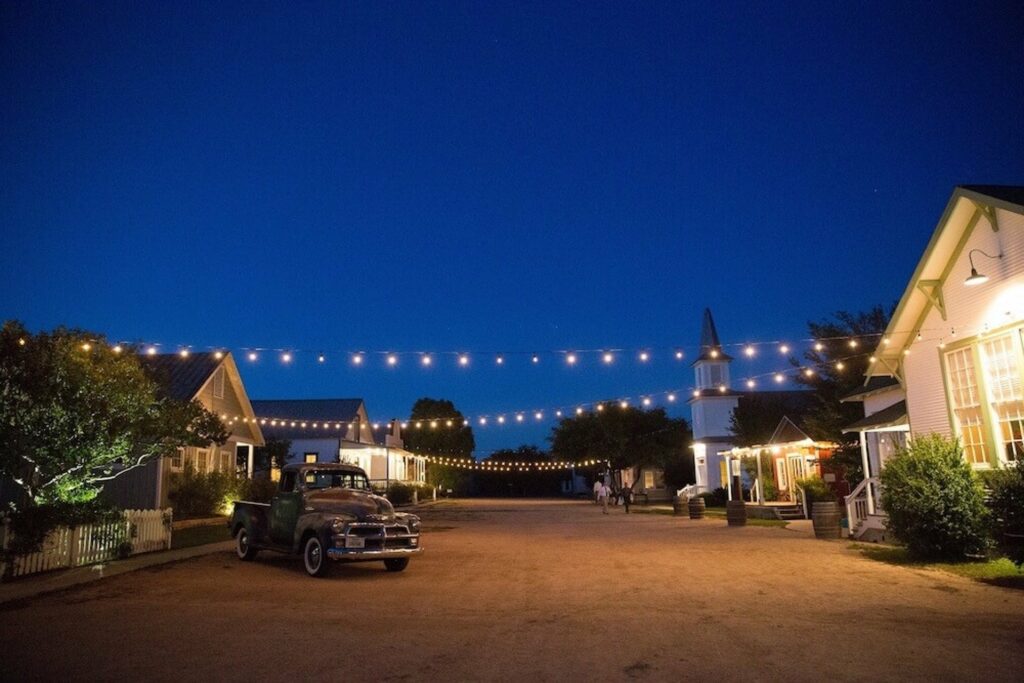 9. Waller Creek Boathouse
Neighborhood: Downtown
Capacity: 500
For a sporty twist to your event head to Waller Creek Boathouse on Lady Bird Lake. The Boathouse is a collaboration between the City of Austin Parks and Recreation Department and the Austin Rowing Club. Up to 500 guests (indoor/outdoor) can watch the University of Texas crew team practice while sipping on a cocktail.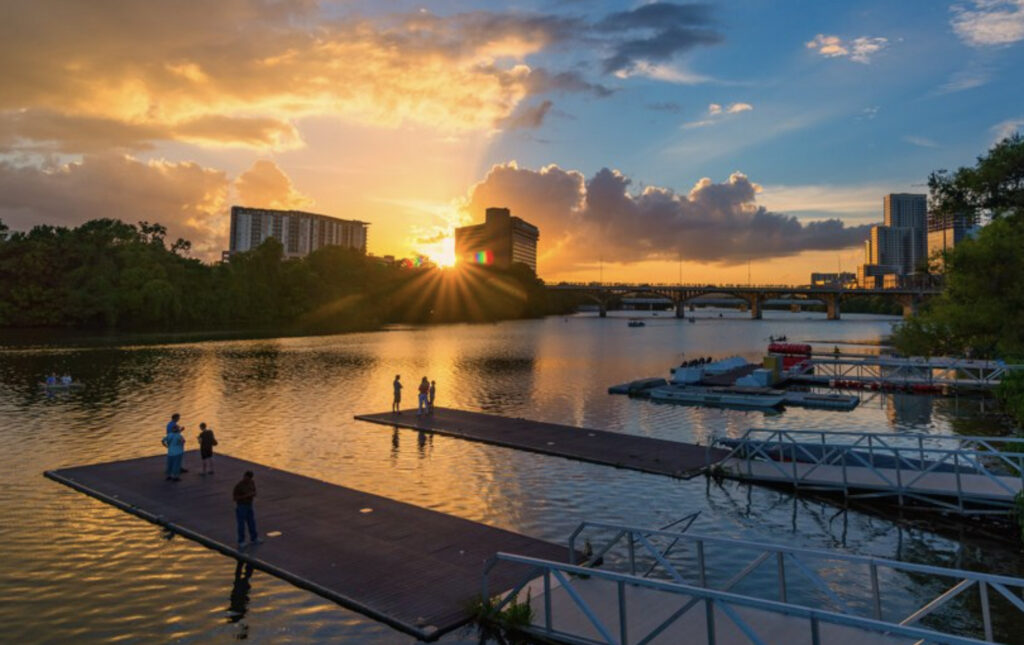 10. Oasis Brewing Company
Neighborhood: Lake Travis
Capacity: 500
Craft brewery and the city of Austin is a great combination. Add a great view and it's the ultimate party trifecta. Oasis Brewing Company and its award winning beer is a laidback multi-functional venue for up to 500 standing patrons. Their tex-mex bar bites seal the deal.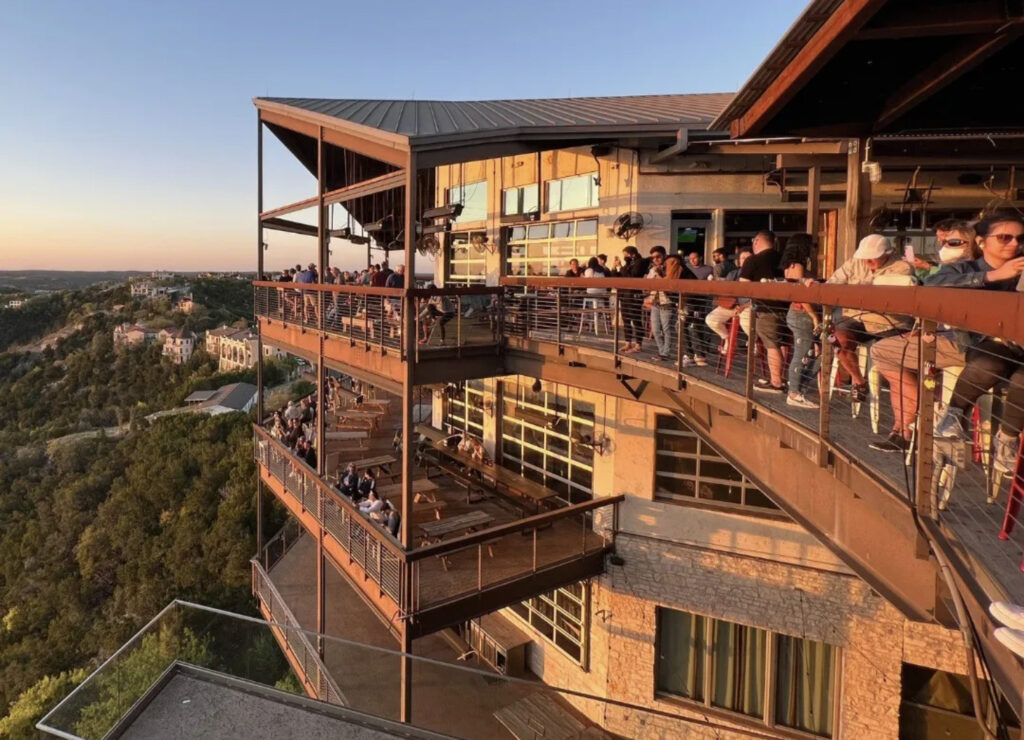 11. SKYBOX on 6th
Neighborhood: Downtown
Capacity: 480
If you're looking for 9,000 versatile square feet in the epicenter of nightlife and hotels, SKYBOX on 6th is a great bet. 480 people can enjoy great city views at corporate events, private parties, product launches, meetings, exhibitions, and large-scale SXSW activations. Rooftop venues are always a statement itself, and SKYBOX's size maximizes the views for all the pics.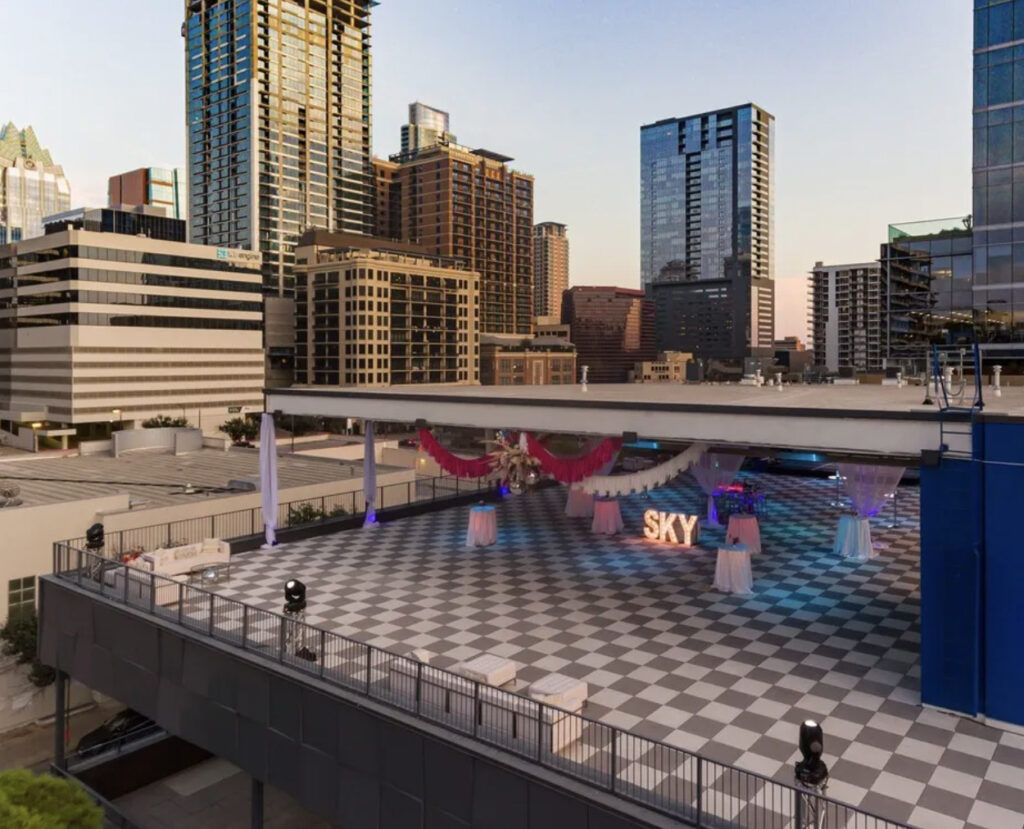 12. The Bullock Museum
Neighborhood: Museum District
Capacity: Contact for Specific Options
The Bullock Museum, aka the Bullock Texas State History Museum, conveys Texas grandeur and tradition for galas, holiday celebrations, weddings, film screenings, and beyond. There's a huge variety of venues to choose from, including the Grand Lobby and Bob Bullock Atrium.
13. The Mansion
Neighborhood: Central Austin
Capacity: Contact for Specific Options
While known simply as The Mansion, the building's 1931 real estate birth certificate reads "The Texas Federation of Women's Clubs Headquarters." The Georgian revival building lets you choose all your own vendors, and is a relatively affordable but elegant option for all events on the spectrum. You can book the entire mansion, the 4,000 square foot grand ballroom, or just the front of the mansion (think photo shoots). Other rooms in this historic landmark include a formal dining room, a large foyer, victorian parlor, Library of Texas Women, Georgian tea room, and garden courtyard.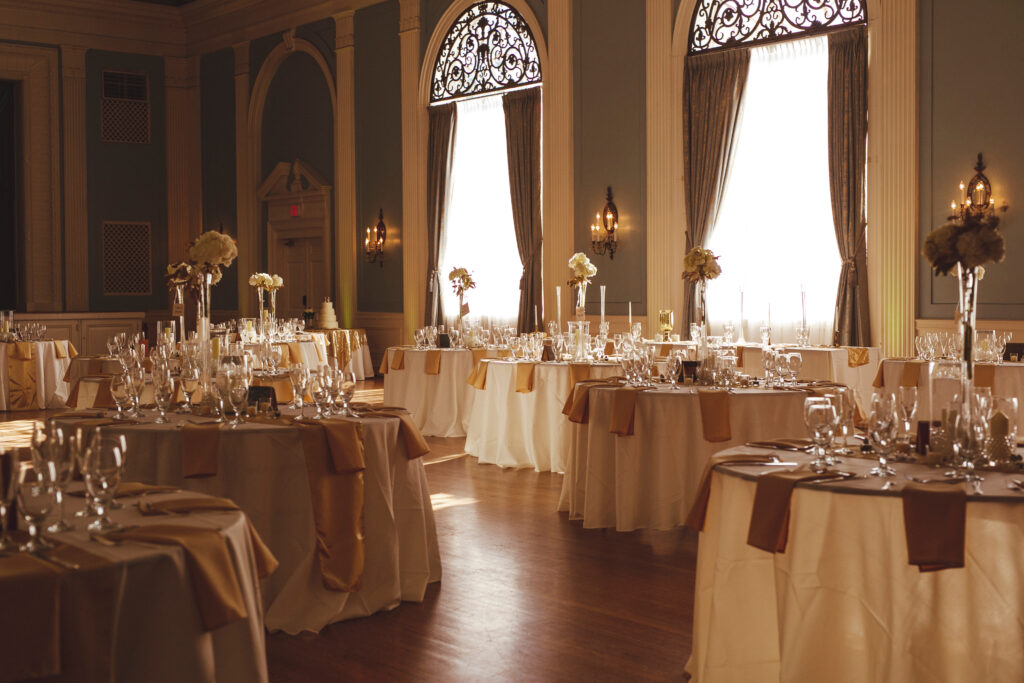 14. 800 Congress
Neighborhood: Downtown
Capacity: Contact for Specific Options
800 Congress is 5,800 square feet of industrial chic. Exposed bricks and an open warehouse feel perfectly compliment its location on the historic Congress Street. A go-to Austin venue for events of all kinds, the covered street-level terrace and in-house catering round out the experience. Views of Austin's distinctive Capitol Building don't hurt either!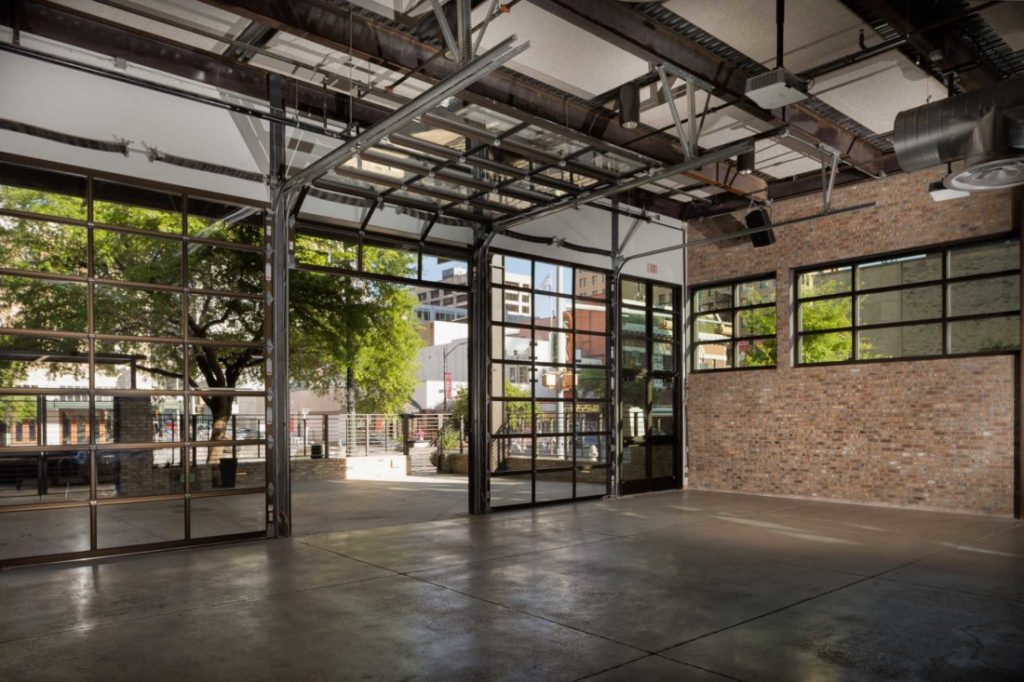 15. The Driskill
Neighborhood: Downtown
Capacity: Contact for Specific Options
Austin's oldest operating hotel, The Driskill, is an iconic Texas establishment. Completed in 1886, this Romanesque-style building has hosted presidential victory parties, gubernatorial inauguration balls, and high society gatherings for over 100 years. Despite its storied past, The Driskill is very much a contemporary favorite for weddings, meetings, and corporate events. There's a variety of venues within the hotel to choose from—no less than 12—so whatever the event, it'll work.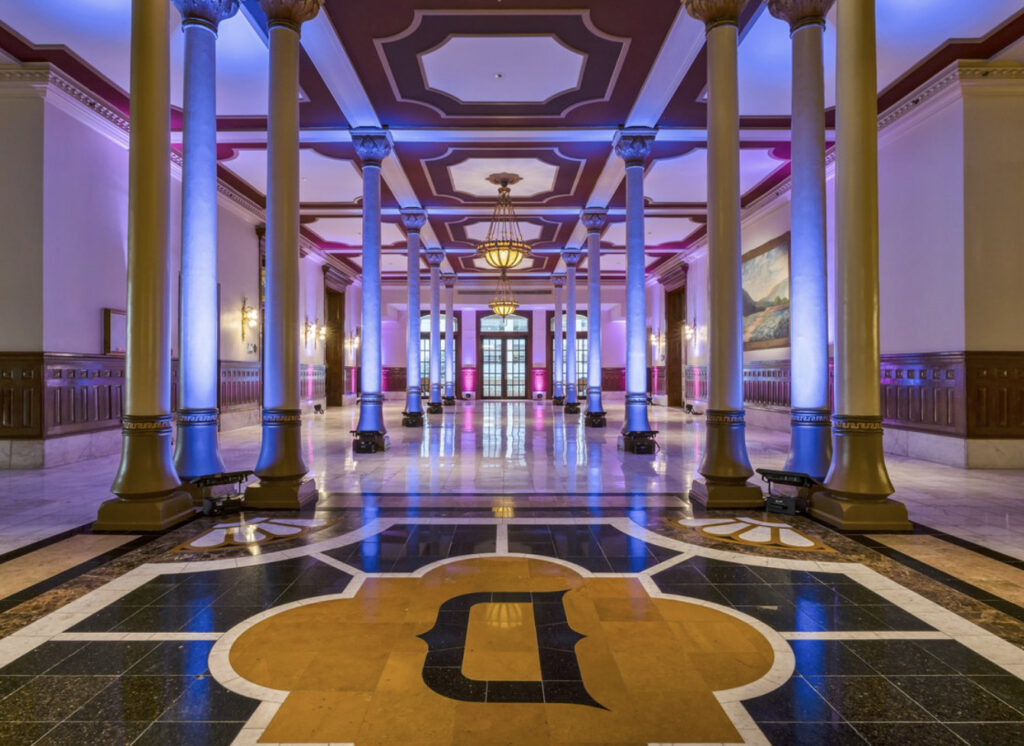 16. Vuka
Neighborhood: Central Austin
Capacity: 250 seated, 380 standing
Invite up to 380 standing guests to your next event at Vuka. This workspace slash event space has become a dynamic gathering place whether you're attending a holiday party or using a shared workspace. Vuka in Zulu means to wake up, in the hopes that patrons of Vuka wake up to their fullest potential. Vuka has two locations to consider, each with their own layouts, but both are excellent choices for any type of event. Vuka as an organization is very focused on the community so you'll get a venue with a conscience here.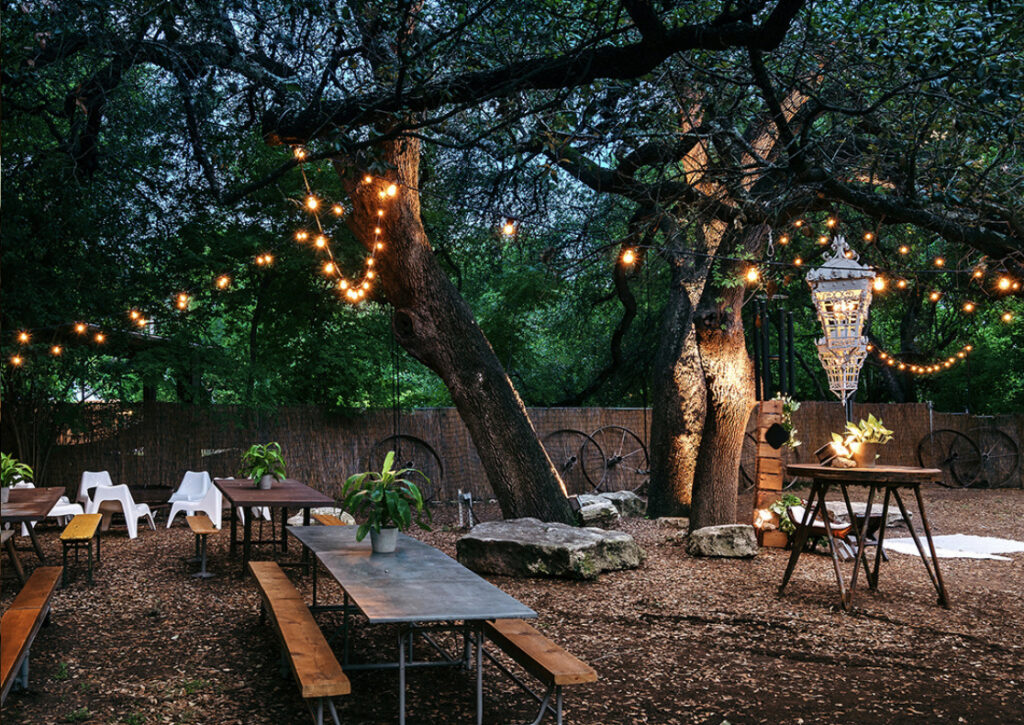 17. The Eleanor
Neighborhood: Warehouse District
Capacity: 350
The Eleanor is an elegant event space that can host 380 standing visitors. 3,750 square feet offer up a front lounge, downstairs bar, main room, dance floor, mezzanine, balcony, and prep kitchen. The standout feature is undoubtedly the sophisticated, curved bar that evokes a sense of nostalgia; a perfect place to indulge in a craft cocktail like the "White Tuxedo" or "First Lady of the World."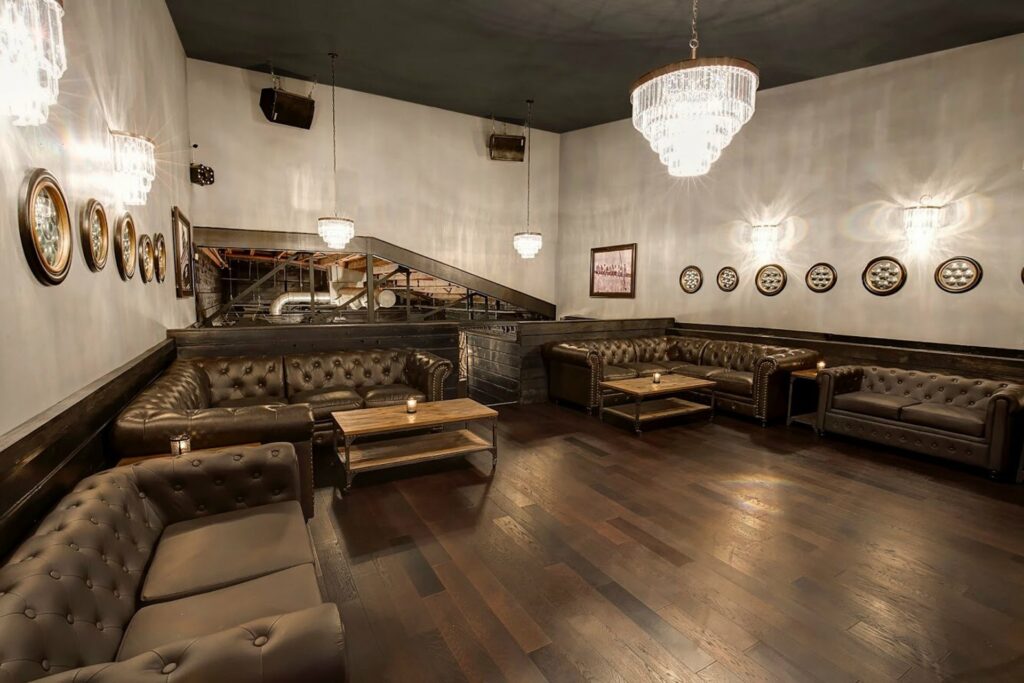 18. Brodie Homestead
Neighborhood: Sunset Valley
Capacity: 250 seated, 350 standing
Just 10 minutes from downtown and you'll be in a 280 acre country oasis. Brodie Homestead is a venue whose main structure originally served as a barn for cattle, horses, and donkeys, among other animals. Now the 6,000 square foot barn melds historic charm with modern elegance. Up to 350 standing guests can admire the 38-foot wooden gambrel roof ceiling with six crystal chandeliers, and custom white draping to break up the space as needed.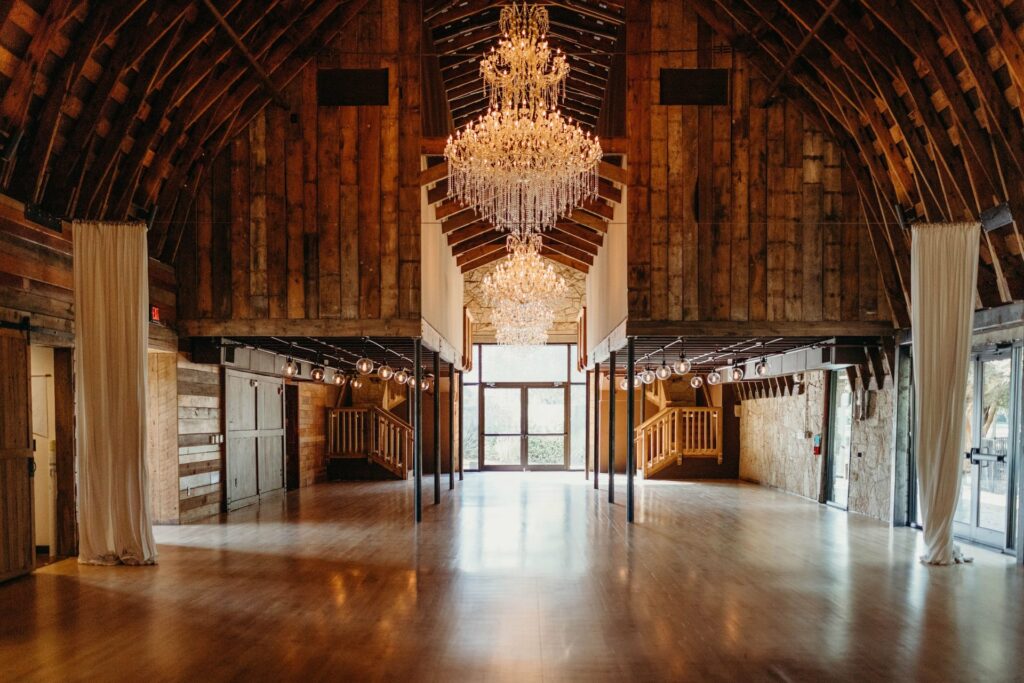 19. The Riley Building
Neighborhood: Warehouse District
Capacity: 96-125 seated, 250 standing
Also in the Warehouse District you'll find The Riley Building, a contemporary, sleek blank canvas to work with. The building was originally constructed in 1928, but it retains an industrial touch in line with the area's roots. Weddings are very popular here, as are SXSW events–the Warehouse District where a lot of the SXSW goings-on happens. There's a main hall and a rooftop with a retractable ceiling, meaning you can have an indoor/outdoor feel without being weather dependent. It's also very close to other venues in this roundup like Hotel ZaZa and The Driskill.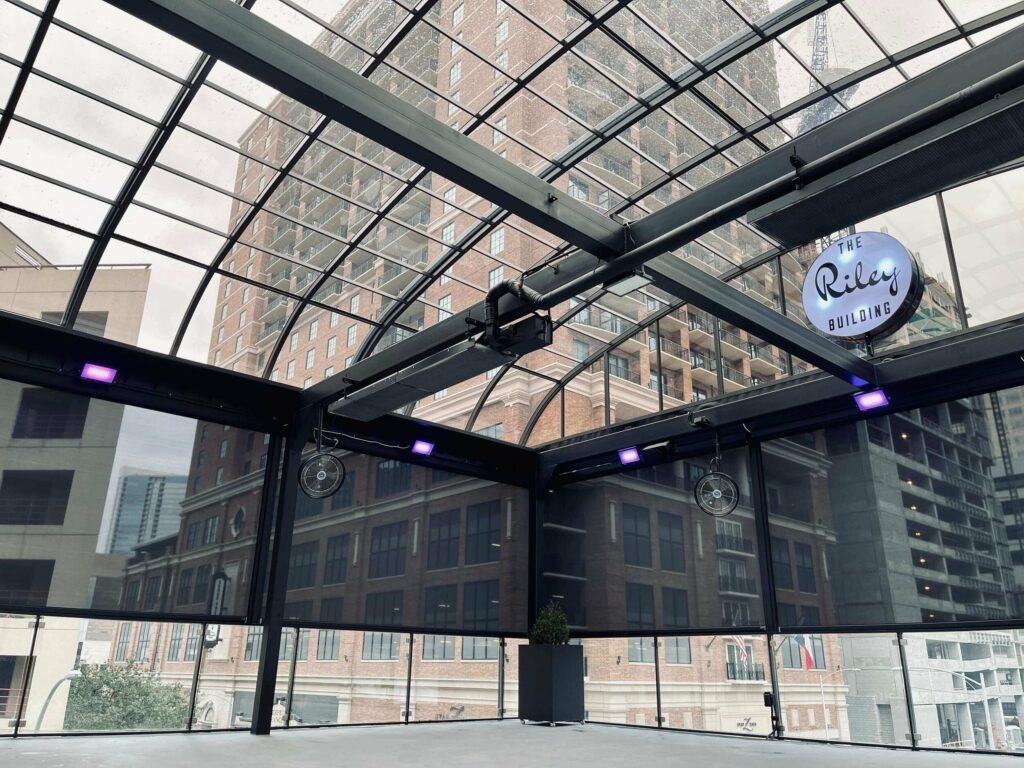 20. Peached Social House
Neighborhood: Brentwood
Capacity: 250
Peached Social House is a multi-functional event space that can host up to 250 standing (104 seated) guests. A 130-inch drop down projection screen and BassBoss speakers are just some of the amenities that you can enjoy. Modern, clean lines, and fabricated shipping containers round out the aesthetic while their in-house catering includes a food truck and craft cocktails.It's also an altruistic location. If you're holding a non-profit event check out their discounts of up to 20 % on certain nights.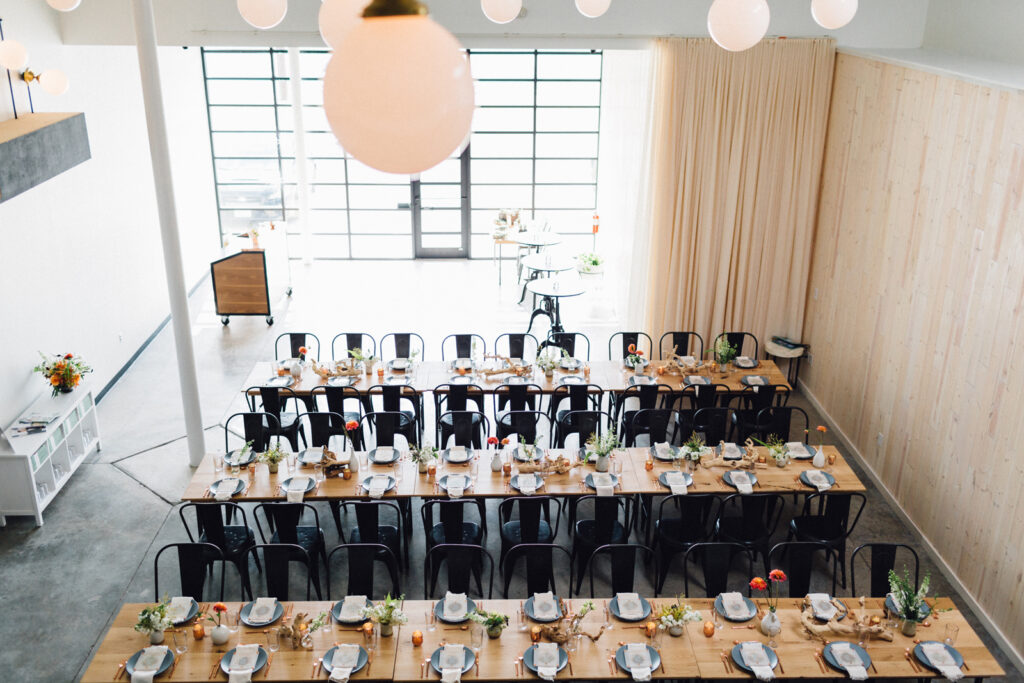 The Importance of Finding the Perfect Venue
While Austin has long been a city known for a thriving music and art scene, it's now become a major powerplayer among American cities. It's an entertainment mecca largely thanks to SXSW, and now a thriving tech hub with companies flocking to the tax-friendly state. With this in mind, Austin event venues run the gamut. Whether you're looking for rustic charm that takes advantage of the Texas Hill Country, or you need a sleek board room for a corporate meeting, it's all on offer in the Austin area.
What Types of Venues Can Hold Large Scale Events
Large scale events are often held in venues that have a variety of spaces within it to choose from, like a hotel or entertainment complex. Conference centers, industrial buildings, and museums are also large scale event friendly.
What Are the Top Factors to Consider When Choosing a Venue for Your Corporate Event
While your need for an especially large venue could be for any type of event, they often have a corporate angle. As always, taking your venue choice into consideration, think about the location (obvs), parking, capacity, services, and amenities. Remember to first get your bottom line budget and work backwards. Here's an overview of the questions you should ask:
Availability and Dates:

Is the venue available on the dates you have in mind for your event?
Are there any other events or bookings on the same day that might affect your event's setup or scheduling?

Capacity:

Does the venue have the capacity to comfortably accommodate your expected number of attendees?
Are there different room options or layouts to consider to optimize space usage?

Layout and Setup:

What are the available room layouts, and can the venue accommodate your preferred seating arrangement?
Does the venue provide tables, chairs, podiums, or other necessary equipment?

Technology and A/V Equipment:

Does the venue offer audiovisual equipment, such as projectors, screens, microphones, and sound systems?
Is technical support or an A/V technician available on-site?

Catering and Food Services:

Does the venue have an in-house catering service, or can you bring in an external caterer?
Are there dietary restrictions or special menu options available for your attendees?

Parking and Accessibility:

Is there ample parking available for your guests, and is it included in the rental fee?
Is the venue accessible to individuals with disabilities?

Costs and Budget:

What is the total cost of renting the venue, and what does it include (e.g., rental fee, A/V equipment, catering)?
Are there any additional fees or hidden costs to be aware of?

Cancellation and Refund Policies:

What is the venue's cancellation policy, and are there penalties for rescheduling or canceling the event?

Contract Terms and Policies:

What are the terms of the rental contract, including payment schedules and deadlines?
Are there any specific policies or rules you need to adhere to while using the venue?
The Vendry Can Help You Find the Best Large Venues in Austin
Be it a non-profit fundraiser, SXSW activation, big wedding, or everything in between, the Texas capitol provides venues that go big. Literally. Taking on a large event in a large venue can feel daunting at first, but ​​The Vendry is here to help streamline your venue sourcing process and get your proposal started.
Read More:
The Best Austin Rooftop Venues for Your Next Event
The Best Private Dining Rooms in Austin
The Best Large Event Venues in Chicago