Article updated 8/20/2023

Event professionals the world over turn to New York City as the place to host company conferences and corporate meetings. NYC has positioned itself as the global leader of meetings and events thanks to its proximity to culture, the arts, and unmatched cuisine. Because of what New York can handle, your expectations for your NYC event should be set high. Your venue should treat your corporate event like second nature – from tech to audio/visual, to the availability of breakout rooms to custom catering – no ask too big, no request too small. The Vendry has put together the 16 best top corporate meeting venues in NYC. Here are spots that have shown their stripes and have the glowing reviews to prove it.
The 16 Best Corporate Event Venues in NYC
With a city of 8 million people, narrowing down the spot on where to hold your important corporate meeting can definitely feel overwhelming. Do you want a unique New York City venue with endless possibility or a turnkey meeting space? You have a budget to follow, an agenda to adhere to, and lots of people to make happy. To help ease some stress and get your list going, here's some of the top spots in NYC for your upcoming conference or meeting:
1. Iron23
Neighborhood: Flatiron District
Capacity: 750
Raw, intriguing, and just plain cool, Iron23 invites you to bring your vision to their workable event space deep in the Flatiron District. Seventeen-foot ceilings soar above the 17,000 square feet of open space, complete with a VIP loft. There's 14 (14!) bathrooms, a prep kitchen, and is crazy outfitted for every power, tech, lighting, and amp need your head can imagine. As an added bonus, there's 1,000 square feet of well-trafficked, street-level frontage for branding galore.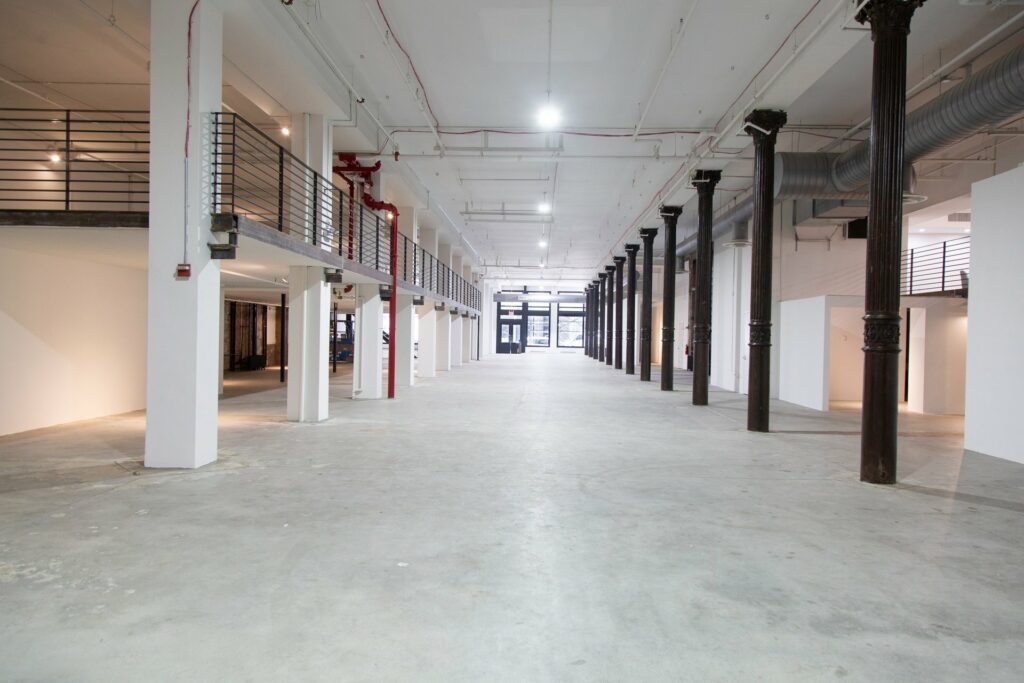 2. The Palace NYC
Neighborhood: Tribeca
Capacity: 300
At The Palace NYC — one of New York City's nightlife hotspots — you'll find two levels of continuous space that cater to both small intimate gatherings and extravagant affairs. The 4,000 sq foot venue is the latest venture of Ben Robertshaw and nightlife trailblazers Tom and Anthony Martignetti. With extensive experience in orchestrating events across the domains of arts, fashion, entertainment, business, and technology, The Palace NYC can create a show-stopping experience for every occasion.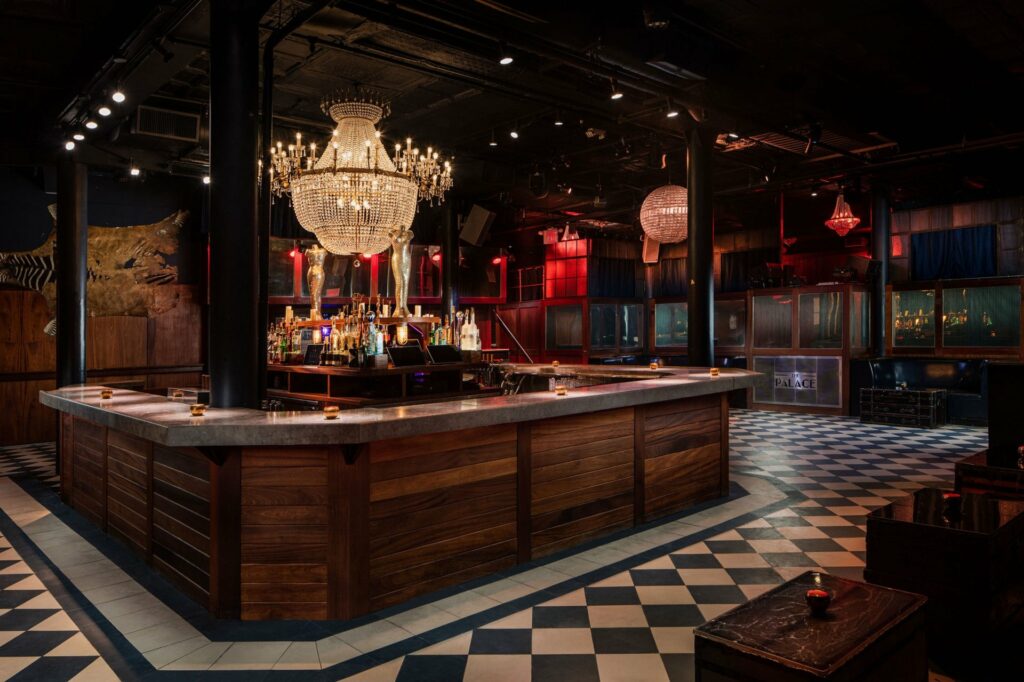 3. Glasshouse Chelsea
Neighborhood: Chelsea
Capacity: 200
If a super-sleek, clean-lined event space with a terrace is your desire, then Glasshouse Chelsea is your place. Situated on the 21st floor, this venue offers a blank canvas of endless possibilities, with its 3,400 square-foot event space and 200 square-foot outdoor terrace. A fully equipped caterer kitchen will allow you to bring in the cuisine of your choice. And let's talk tech: their built in production infrastructure is clutch, with audio/visual, lighting, rigging, high bandwidth internet, and power distribution capabilities.
4. 583 Park Avenue
Neighborhood: Upper East Side
Capacity: 1,200
Big product launches or large corporate events are the perfect affairs to host at 583 Park Avenue, a restored church on the Upper East Side, grand in nature and versatile in ability. Here you will find 10,000 square feet of event space across three functional rooms, all housed below the impressive 2,500-pound chandelier and Dutch glass window panes. The venue's breakout rooms are a wonderful discovery, particularly when separate spaces are required for brainstorming sessions.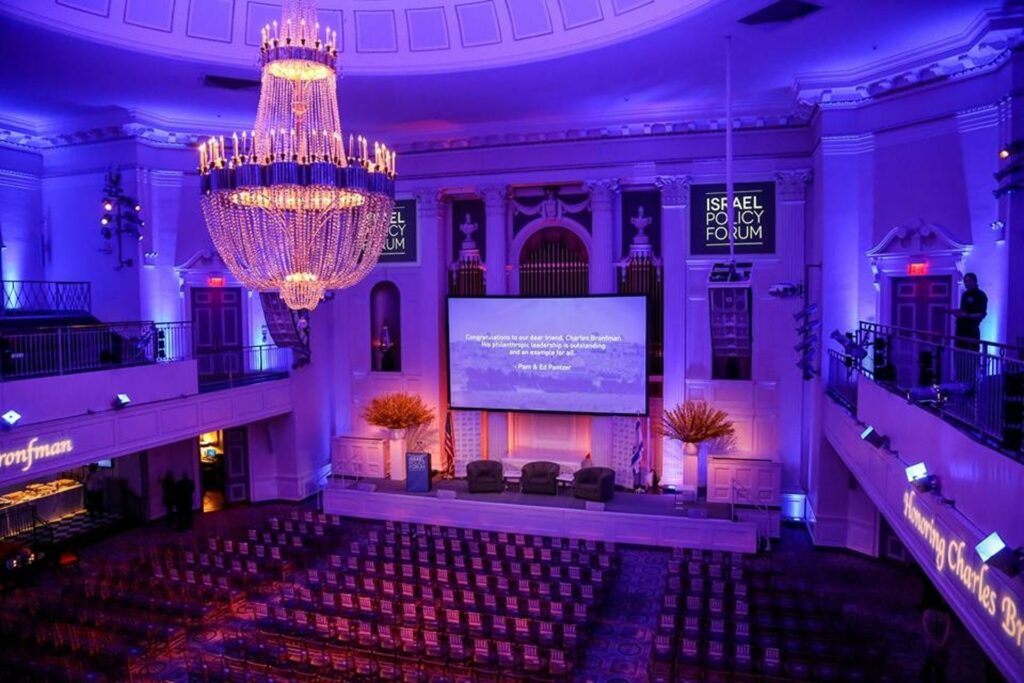 5. The Altman Building
Neighborhood: Chelsea
Capacity: 750
With their Main and Gallery Floors combined, The Altman Building brings a 14,000 square-foot blank canvas right to the heart of Chelsea. In the event game for more than 20 years, this versatile and private venue was originally built in 1896 as the carriage house for the B. Altman department store. Boasting an old-world-charm-meets-modern-technology-vibe, hosting your corporate meeting or conference at The Altman is going to be a seamless process. A rare added bonus to this turn-of-the-century venue? It's virtually column-free for great views from any seat.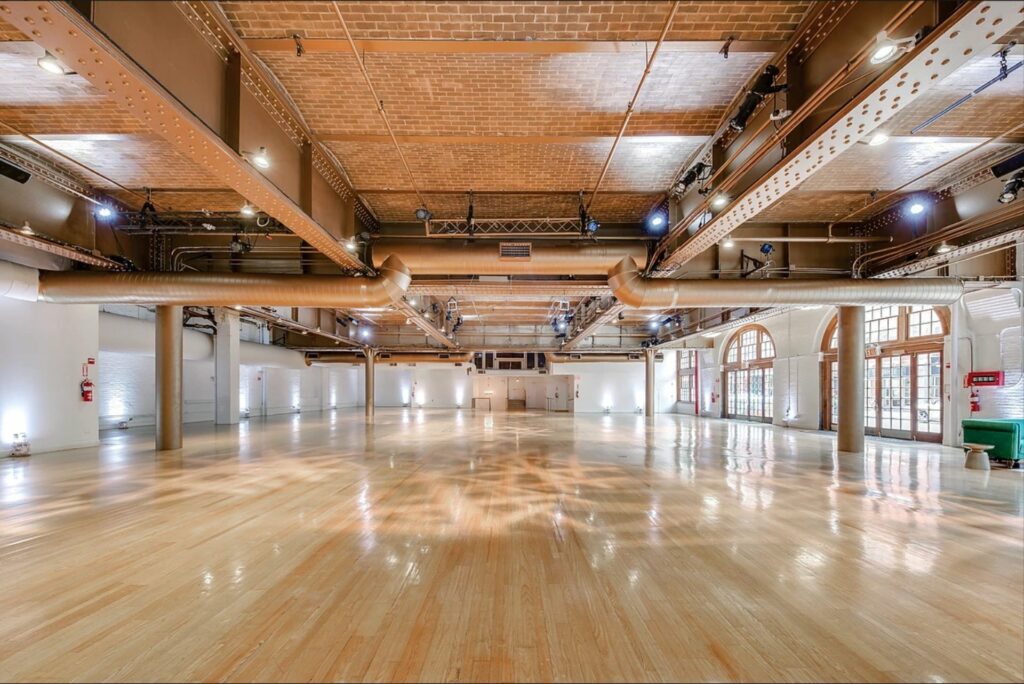 Don't let your guests leave empty-handed! Find the top gifts and swag vendors in New York for your next event!
6. Tribeca Rooftop + Tribeca 360°
Neighborhood: Tribeca
Capacity: 720
A customizable floor plan within a chic, industrial-style space, makes the options at this venue great, but that 14,000 square foot terrace makes it unbelievable. Watch the sun set over the Hudson River at Tribeca Rooftop+ Tribeca 360° situated in the center of one of Manhattan's coolest neighborhoods. This setting just begs to host a corporate meeting or conference, as it boasts 15,000 square feet of interior space, a 25-foot glass atrium, and comes complete with tech capabilities, rentals, and catering services. After your team has put in a hard day's work, retire to the 14,000 square-foot terrace for remarkable views of the city. Tribeca 360° is a loft-like venue space, with minimalistic design and over-sized windows with a wraparound view. There's even a private entrance and in-house lounge furniture.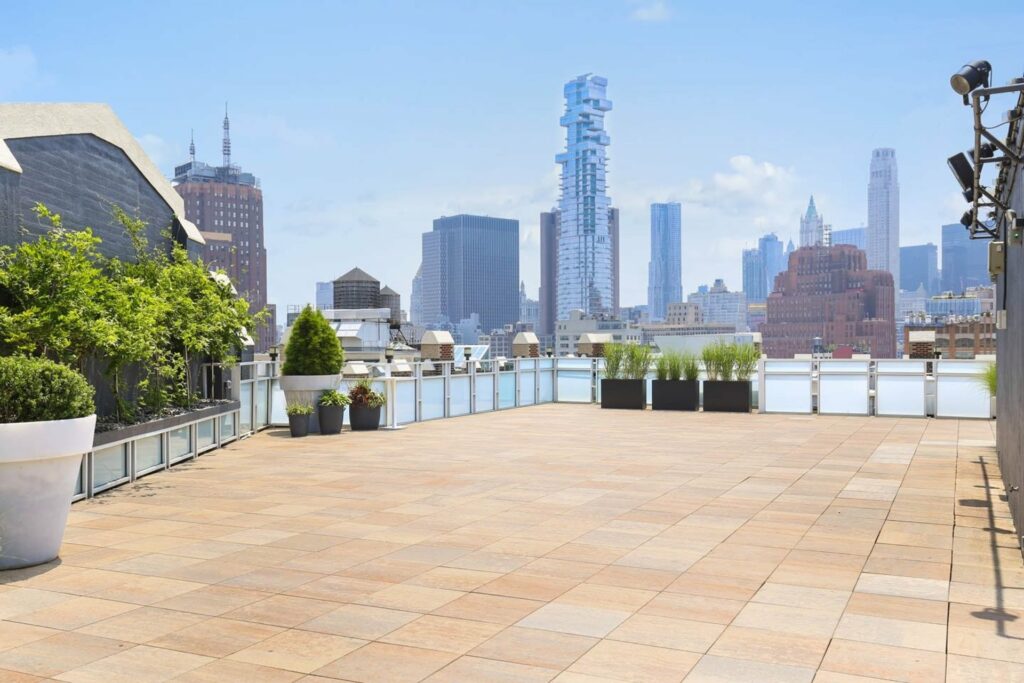 Take in the city views with the wind in your hair. Browse the hottest NYC rooftop venues.
7. Pier Sixty
Neighborhood: Chelsea Piers
Capacity: 2,000
Pier Sixty is the largest waterfront venue in all of Manhattan. This instantly recognizable fixture on Chelsea Piers has 20,000 square feet of column-free space, floor-to-ceiling windows, and simply the best views of the Statue of Liberty and Freedom Tower around. No matter if your event is 200 or 2,000 – corporate meetings and seminars love to call Pier Sixty home thanks to its on-site audio/visual specialist, valet parking, and shuttle bus service offerings. And how about that all-season, glass-enclosed terrace? If classic New York is your event's vibe, and professionalism and efficiency is your event planning must, then Pier Sixty is your spot.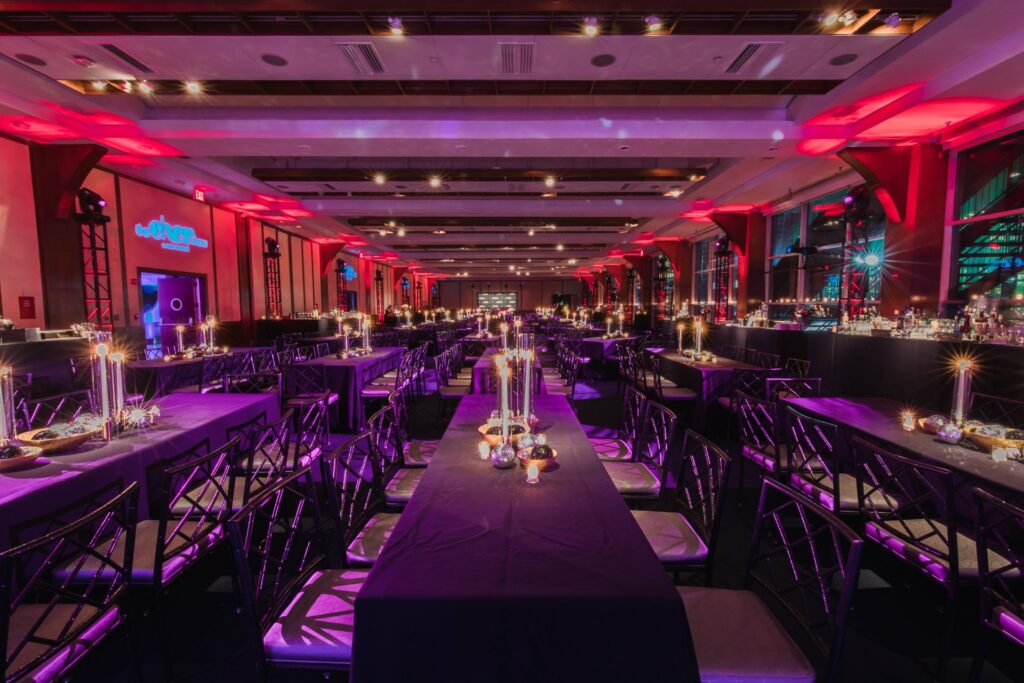 8. Gotham Hall
Neighborhood: Midtown
Capacity: 950
The locale of the former Greenwich Savings Bank until 1980, Gotham Hall radiates the riches of its past with soaring 70-foot, stained glass-lit ceilings high above a 9,000 square-foot ballroom. Big and bold is the theme here, with four other event spaces within Gotham Hall to host your next large corporate meeting, boasting 17,000 square feet in total. The Gotham Mezzanine Green Room is perfect for a breakout space that can seat 40, or the Gotham Hall Oak Room with its old-world paneling, accommodating 50. There's no shortage of space, ideas, or wow factor at this classic spot, right in the middle of the action of Broadway.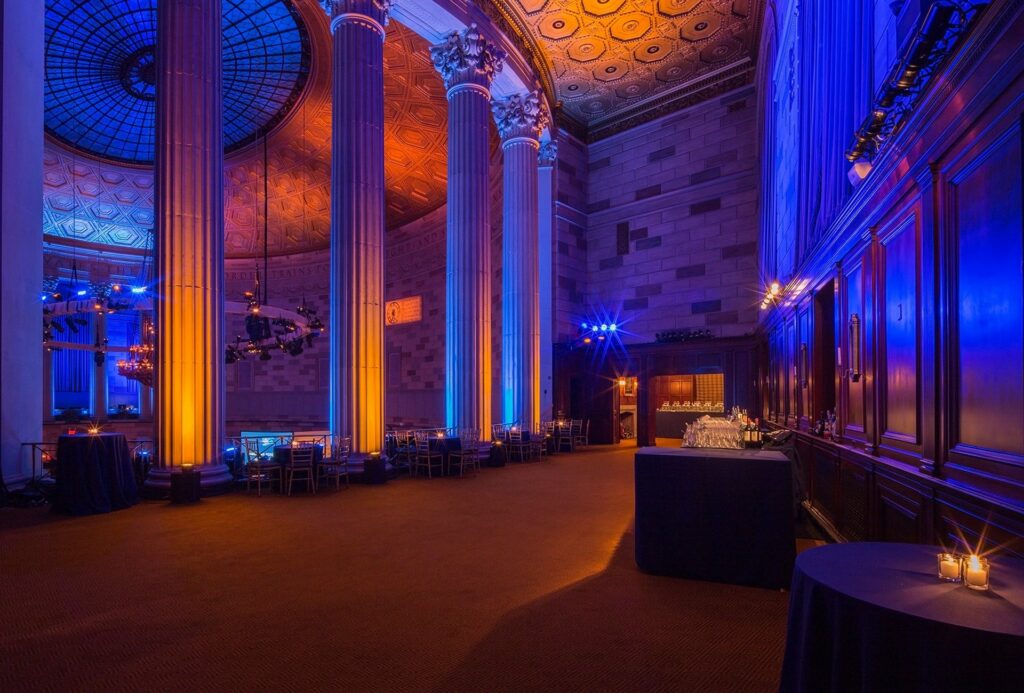 9. Midtown Loft and Terrace
Neighborhood: Midtown
Capacity: 200
Just as the name implies, this event venue in the heart of it all might just have everything you are looking for. Midtown Loft and Terrace touts two distinct event spaces, all at one exclusive address. The Loft has 5,000 square feet of raw event space, complete with high ceilings, marble bathrooms, a full equipped kitchen, and room for 300. Step out to The Terrace, where 4,440 square feet of open-air views await, complete with mahogany floors and a private elevator. But that's not even the best part. Your company can entertain your 150 guests any time of year because of the retractable, enclosed rooftop – a true rarity in NYC.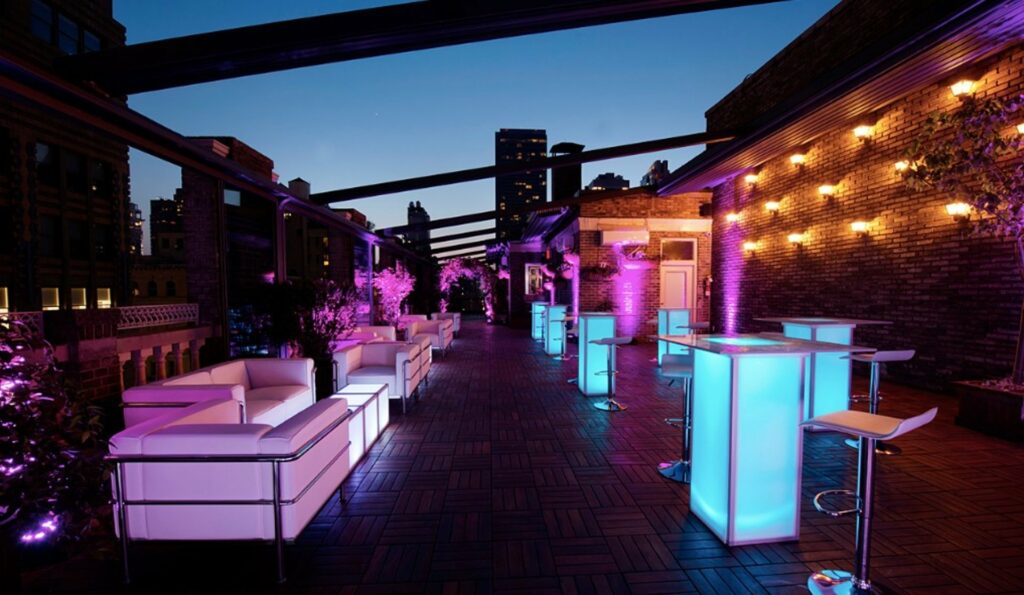 10. The Beekman
Neighborhood: Financial District
Capacity: 225
Built as one of Manhattan's first skyscrapers in 1881, The Beekman, a Thompson Hotel, was restored and reopened in 2016, and is a sought-after destination in New York City for meetings and events. There are five spaces in which to choose within the hotel, each playing off the cool beat of downtown. The largest offering is the 1,200 square-foot, 130-person Clinton Hall, boasting 10-foot floor-to-ceiling windows and an in-house sound system. The Kelly Room, Chapel Street Room, and Farnsworth Room all possess their own charm, and feature the gastronomic creations from award-winning chef and restauranteur Tom Colicchio.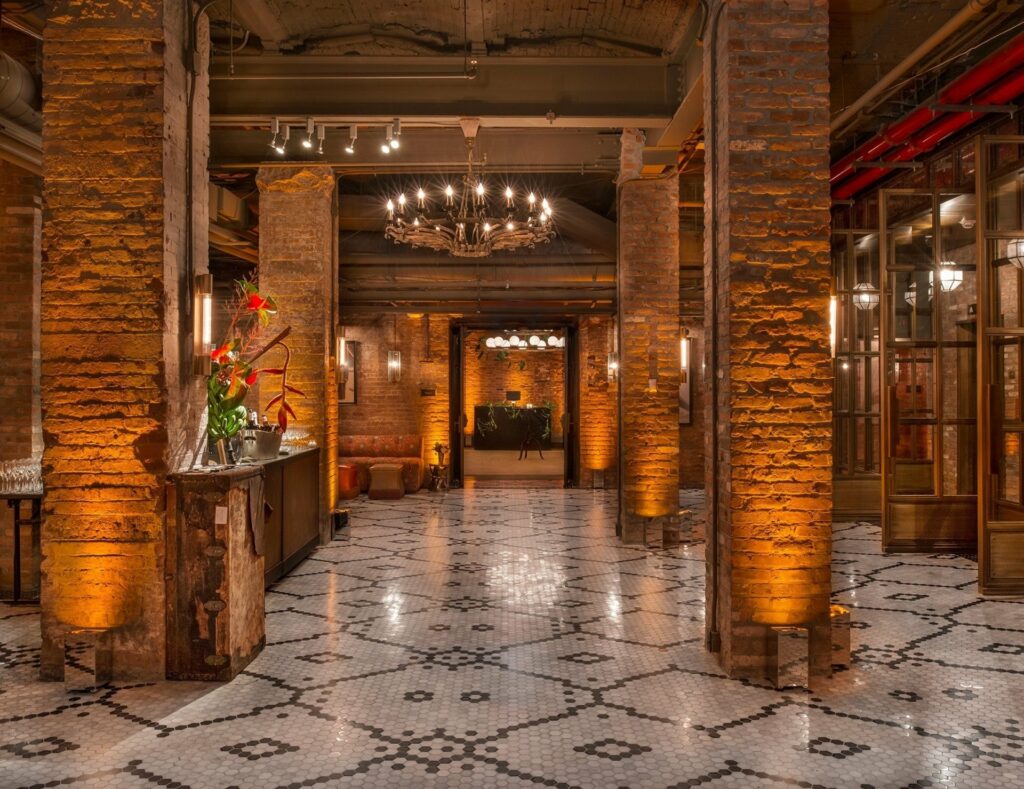 11. Metropolitan Pavilion
Neighborhood: Chelsea
Capacity: 1,565
The whitewashed walls and warehouse-style vibe of Metropolitan Pavilion makes this event space in Chelsea ripe with possibilities. There's a whopping 50,000 square feet of workable space, all across four functional rooms. You can feel their more than 30 years of experience planning meetings and events in New York City, as they will work with you on which space will fit your needs. The Full Pavilion is their largest offering at 25,000 square feet, followed by the sophisticated Suite, which can accommodate 300 people in 8,500 square feet. The Gallery and The Level are both around 7,000 square feet. All floors can be combined via a 20-person elevator. This event is also a standout on the list when it comes to safety precautions. During events, they sanitize the event floor every 30 minutes, and their HVAC system features surgery-grade filtration.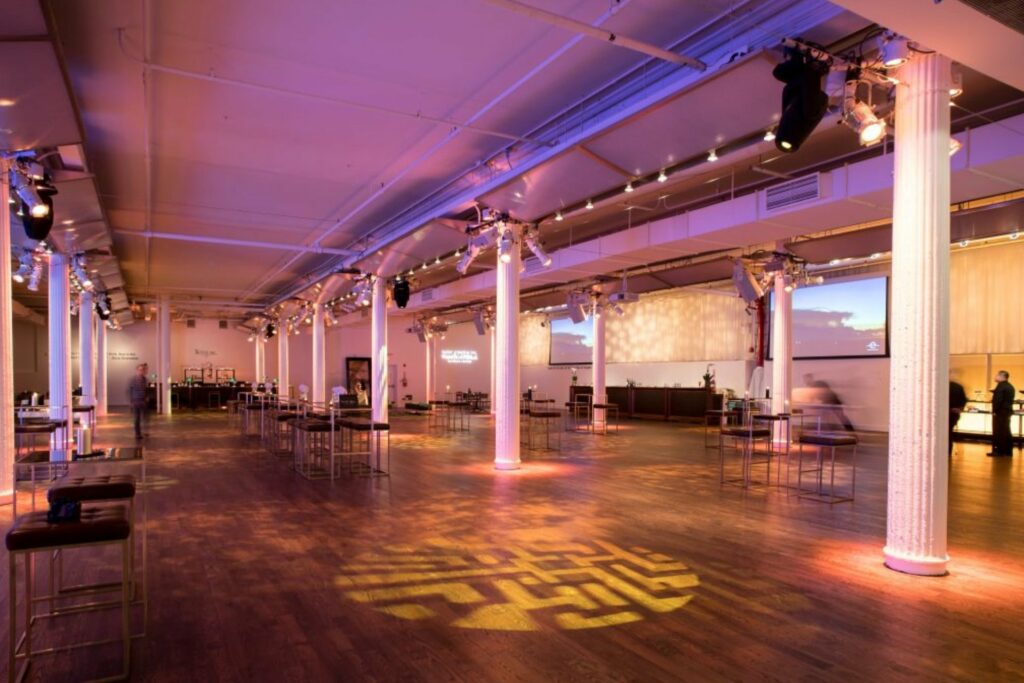 12. Lightbox
Neighborhood: Midtown
Capacity: 300
An event space imagined for the digital world, Lightbox is a new, multi-level, cutting edge venue right in Midtown. Their impressive client list of over 250 companies can attest to the dynamic experiences this event venue can create. The space is slick, but the real star of Lightbox is the white glove treatment you'll receive with its experienced staff. They will be totally dedicated to your corporate event's experiential experience, as they will customize immersive, digital activations to meet your desired message or mood. And that's just the production and planning team – the hospitality team will be certain all your catering or mixology needs are met and then some. Lightbox is an interactive, cooperative experience of event planning that is not to be missed.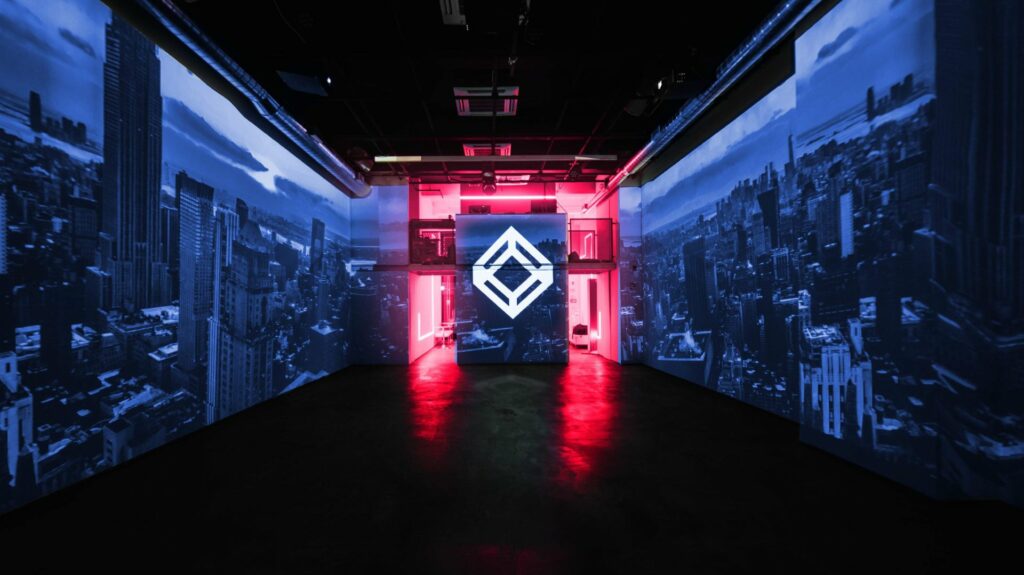 13. Manhattan Penthouse
Neighborhood: Greenwich Village
Capacity: 180
Sitting high atop Fifth Avenue is Manhattan Penthouse, a true venue with a view. Palladian windows offering sweeping vistas of the skyline set the tone for this loft-like space. The amenities list is long, from in-house, no-worry catering, to a private entry, fine linen rentals, furniture, and complete audio/visual. With many thanks to the experienced staff, planning a corporate meeting at Manhattan Penthouse takes the pressure off.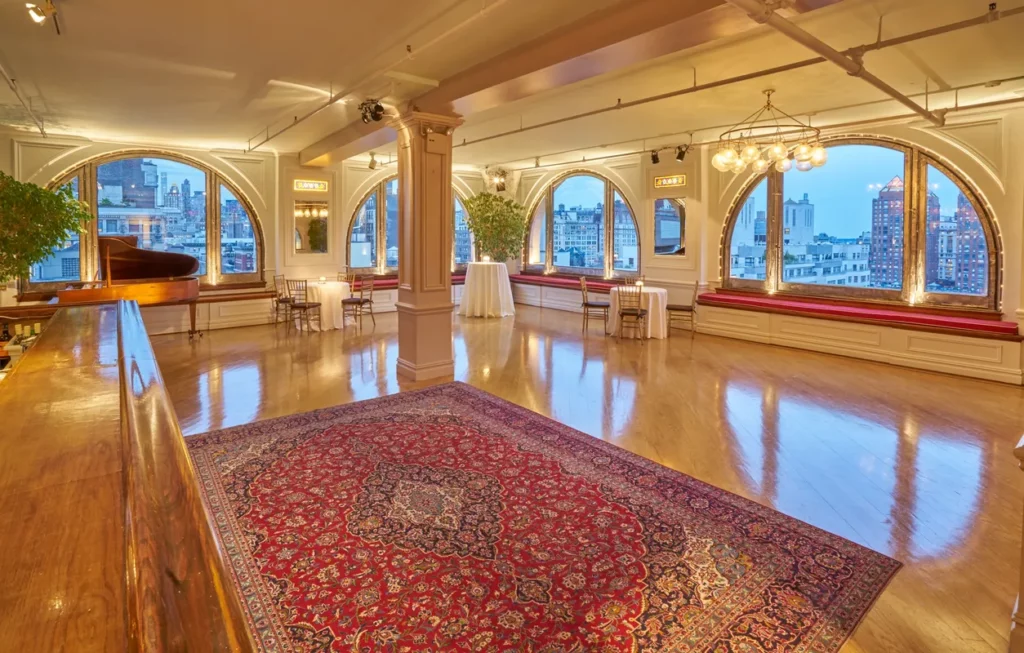 14. 3 West Club
Neighborhood: Midtown
Capacity: 350
Versatility is the name of the game at 3 West Club. This space – boasting the elegance of an Old New York mansion with the distinctiveness of a city landmark – has six spaces in which to hold your corporate meeting. Located off of busy Fifth Avenue, 3 West Club can accommodate small meetings in their Library Room or Lincoln Room, or host up to 350 in the Grand Ballroom. This striking space is 1,700 square feet, featuring Austrian crystal chandeliers, 20-foot ceilings, and a marble staircase. But the local favorite is the sun-drenched Solarium up on the ninth floor, with is all-season charm of floor-to-ceiling windows, checkered floor, and open-air terrace.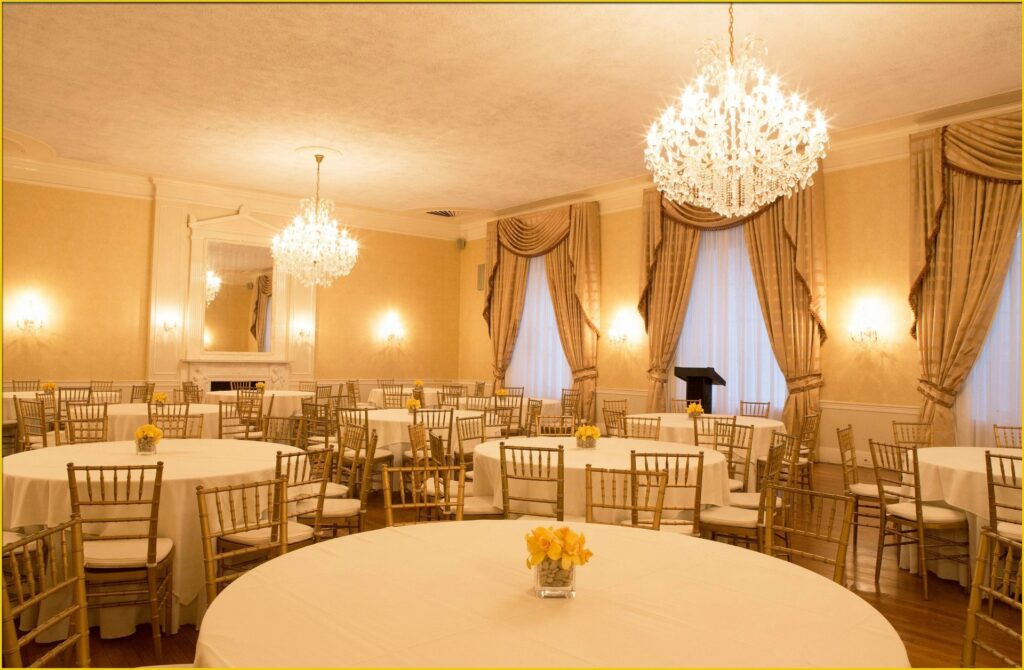 15. 620 Loft & Garden
Neighborhood: Midtown
Capacity: 165
Take in the hustle and bustle of Fifth Avenue and the flying buttresses of St. Patrick's Cathedral from the rooftop venue of the 620 Loft & Garden, an all-season event space with tons of opportunity at Rockefeller Center. Inside the loft there's 2,500 square feet of whitewashed walls and customizable space. Retire after your day of busy meetings to the show-stopping rooftop garden, complete with a reflecting pool and totally unreal views. This spot is memorable, and can't be more centrally located in the action.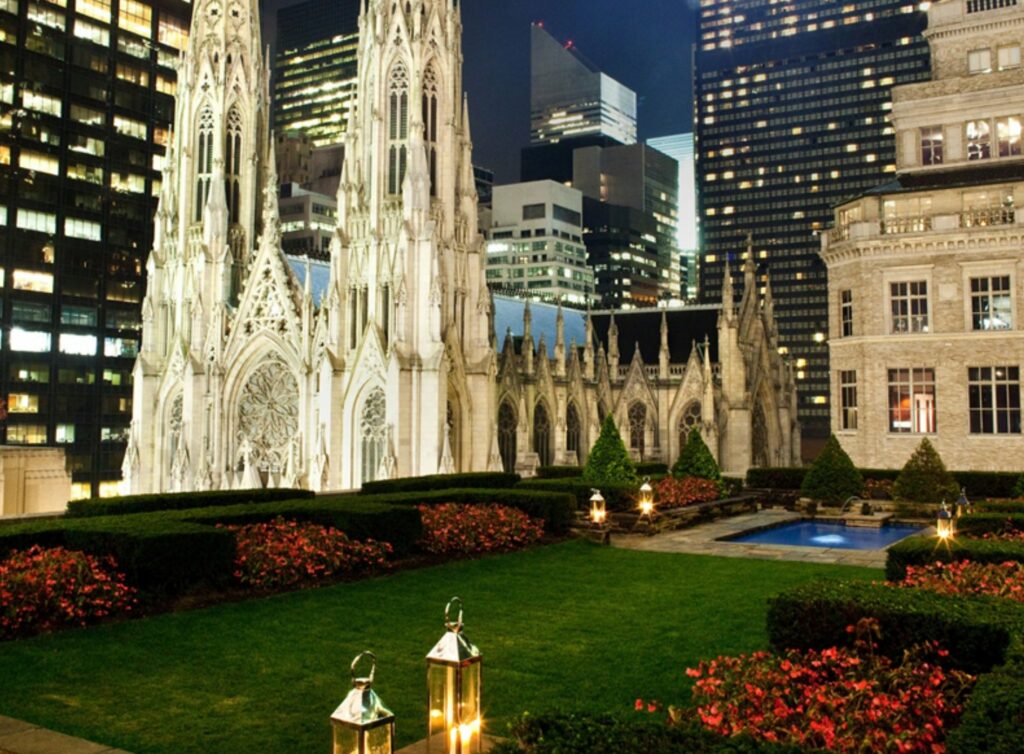 16. Loft 29
Neighborhood: Chelsea/Hudson Yards
Capacity: 100
If you are looking for an impressive event space for under 100 employees or clients in a central spot in Manhattan, look no further than Loft 29. Take one glance at their long corporate client list and you'll see why. This spot feels full of texture and life – there's industrial concrete, mixed with gold-brushed walls, and 100 year-old doors. There's a private back-of-the house area, as well as a full kitchen. All your audio/visual needs for your meeting will be met, as Loft 29 offers a stationary HD projector with a 100" drop screen.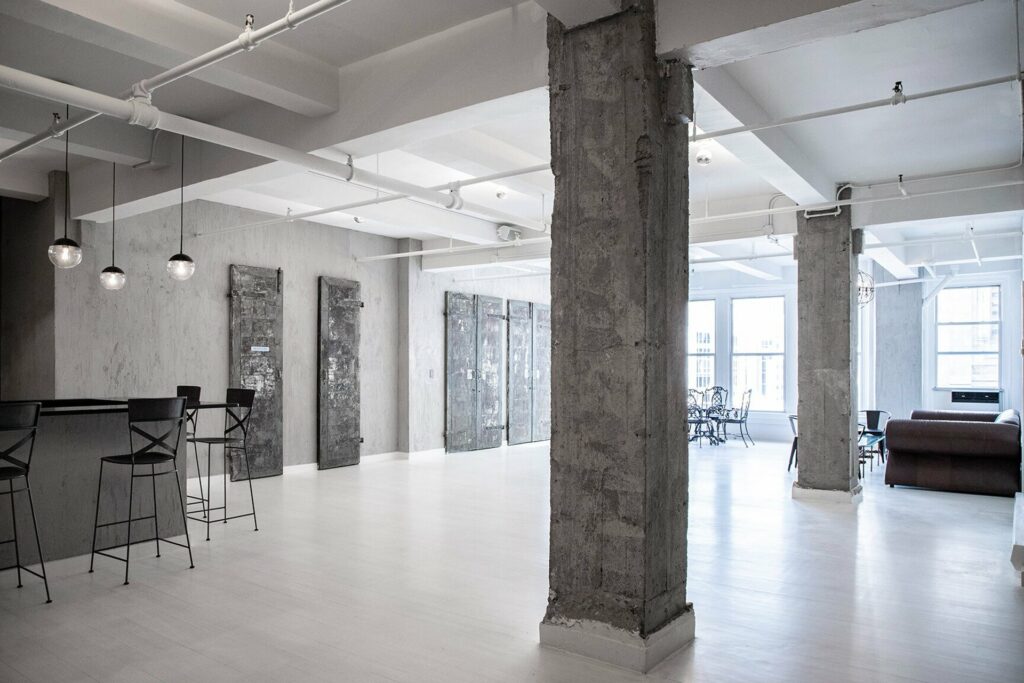 17. Penthouse 45
Neighborhood: Hell's Kitchen
Capacity: 100
With its panoramic views of NYC and the Hudson River through floor-to-ceiling windows, a wrap-around terrace, and ample natural light, you'll need to remind yourself that you are simply renting Penthouse 45 and can't move in permanently. There's 4,250 square feet of space, hardwood floors, 18-foot ceilings, a restored fireplace, and a full professional kitchen. Staff will be dedicated to your event only, a rare find these days. Penthouse 45 also delivers a full Bose ControlSpace Audio System and rentals galore, making it tough to uncover fault in this high-rise stunner.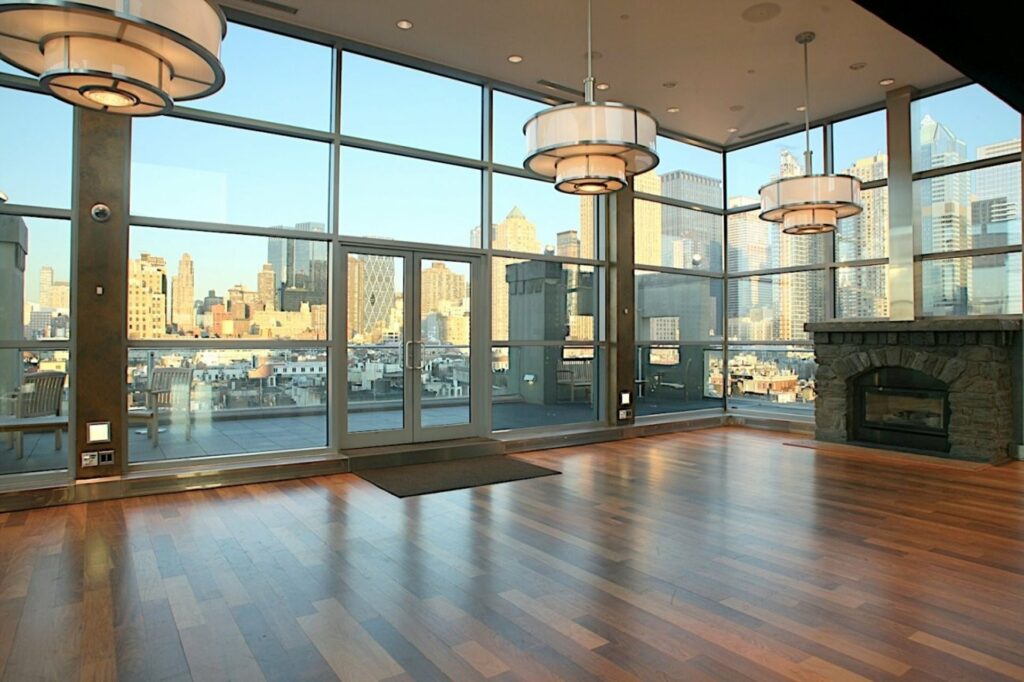 18. Webster Hall
Neighborhood: East Village
Capacity: 1,350
Webster Hall is a legendary and historic event venue in the heart of New York City's East Village. This versatile space boasts three floors, each with its own unique ambiance, perfect for hosting a variety of events such as large conferences, team offsites, and holiday parties. The venue can accommodate up to 1,350 guests, and features state-of-the-art audio and lighting equipment, as well as a customizable stage setup. With a central location, stunning architecture, and a rich cultural history, Webster Hall is sure to impress guests and make for a memorable corporate event.
19. Racket NYC
Neighborhood: Chelsea
Capacity: 650
If you're looking for a unique and trendy venue to host your pop up event in NYC, Racket NYC might be just what you need. This stylish and modern event space in Chelsea offers an industrial-chic atmosphere with exposed brick walls, polished concrete floors, and high ceilings. Racket NYC can accommodate up to 650 guests, making it a great option for larger activations. The venue is fully equipped with state-of-the-art sound and lighting systems, and offers a range of amenities including a full-service bar and expansive stage. With its prime location and unique aesthetic Racket is a great choice for hosting a pop up event in New York NYC.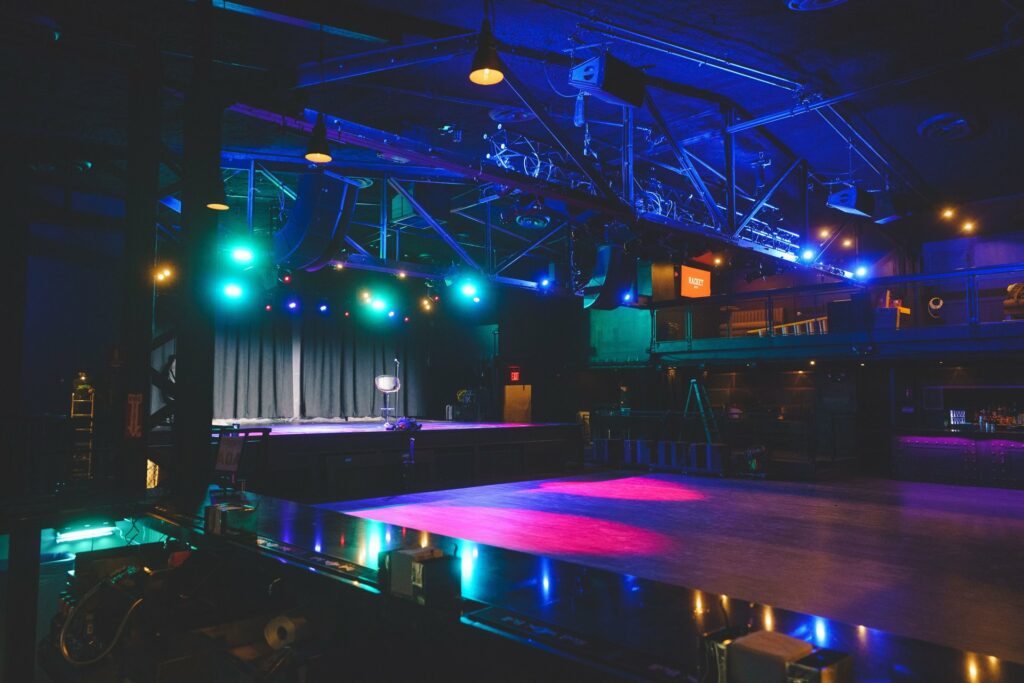 Why Finding the Right Venue for Your Event is So Important
Not all NYC event venues are created equal. Some are excellent at hosting a large crowd, some have amazing views. There are venues that provide catering, and others where food will need to be coordinated. Some feel sleek and new, while others embody old New York charm. In a city as big as New York, you will certainly find a space in which your vision can play out. Finding the right venue for your corporate event all comes down to your checklist: what elements are most important to you, including the message you want to get across to your audience.
The Top Things to Consider When Booking a Venue For a Corporate Event
You've landed on New York for your meeting – good choice. Now what is the tone you want to set for your corporate event? The setting creates the event's tenor and vibe, all to help you march toward your event's main objective (i.e.: creating buzz around your company's new product, bringing employees together to collaborate, and so on). Here's what to think about when selecting your venue:
Cost. This seems like a no-brainer, but the price tag of your event's location needs to fall squarely in your budget. Food, rentals, experiential installations, etc. are all going to be a cost, so be sure to ask what's included.
Aesthetic. How do you want your attendees to feel when they arrive and work in your space? How will the space engage your employees or clients? Do you need a blank canvas so your presentation shines, or would a space with lots of hustle and bustle work more in your favor?
Accessibility. If your guests are from out of town, select a location for your meetings that is easy to find or easy to get to. Make sure to address if anyone in your group has special needs for access. You don't want the spot you select to be a hassle to any employee, guest, or client in any way.
Tech. Chances are good you'll need some kind of equipment, connectivity, or audio/visual at some point for your event. Ask your event partner about their capabilities, and plan or pivot if your requirements aren't met.
Find the Best Corporate Event Venues in NYC
New York might be the best, most capable American city to host a corporate event, but how do you even start to find a venue to suit all your needs? Allow The Vendry to show you where to begin, and request proposals right from your selections on the spot. From unique meeting spaces, to intimate private dining rooms, The Vendry has your venue search covered.
Read More:
Gorgeous Raw Event Spaces in New York City
Host Your Next Corporate Dinner at One of the Top Women-Owned Restaurants in NYC
Host Your Next Team Gathering at One of the Most Beautiful Meeting Spaces in NYC